It seems like we have only had the kittens for a few days, because in reality, that is all the time we have spent with them since we adopted them. They are both such sweethearts and the bigger cats are adapting much better. Hawkeye (kitten) is obsessed with Bearcat (cat) and he cannot get enough of him – he definitely idolizes his big brother. The older two don't really seem to like Henley as much – we told her its because nobody wants to be friends with the bed(couch)-wetter – thankfully, she hasn't peed on the couch (that we know of) for over a week and a half (we were up to five times at one point). We finally trusted her to roam last night while we slept and the couch is still smell free (they have all had to sleep in the basement the last few weeks due to Henley's mishaps). It's a good thing she is so stinkin' cute and cuddly.
Although there has been a lot of illness (the big cats are on their third medication and the kittens are on their second) the disease, viruses, and other crap finally seem to be clearing up. The kittens had another doctor appointment yesterday. Henley gained a full pound in the last week and half (bringing her total weight to 3lbs 6oz) and Hawkeye gained 9oz (bringing his total weight up to 3lbs 8 oz). Here are the happy kids this weekend (Bailey was under the end table and refused to have her picture taken – so I will post her picture first from two weeks ago).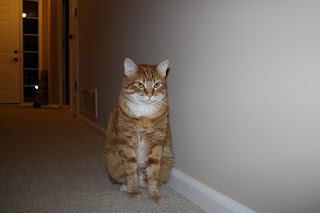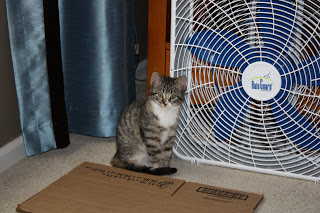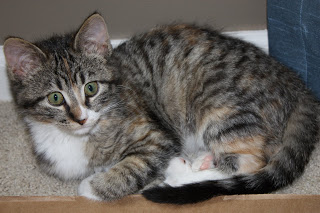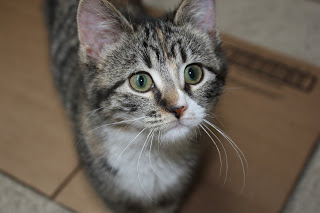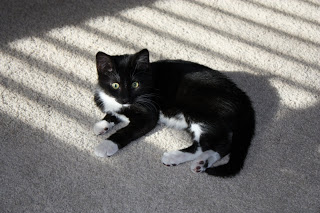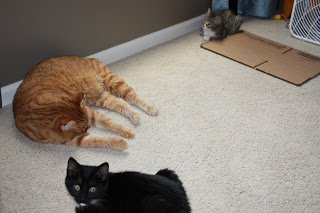 Here is Bearcat peacefully sleeping…until his stalker decided to watch him, then pounce on him and then run away from him. Hawkeye decided it was much safer to sleep ten feet away.