Here is my kitchen renovation week 1 update!
We're almost halfway done with the kitchen renovation! As I left it in this post, demo started and we had about half of the kitchen torn out. So, I'm now going to talk about all that transpired last week. I can't believe how much was done in so few days! I'm giving all the credit to Erica for just how smoothly (and quickly) this process has gone so far.
If you're new around here you can get caught up by reading some of the following posts (listed in order from oldest to newest):
Let's dig in to where we stand today and what's happened last week as the kitchen was partially re-built again!
Monday night, the guys came to finish tearing out the old kitchen, and then they added drywall to area that previously never had any or had been cut out because of the backsplash tile.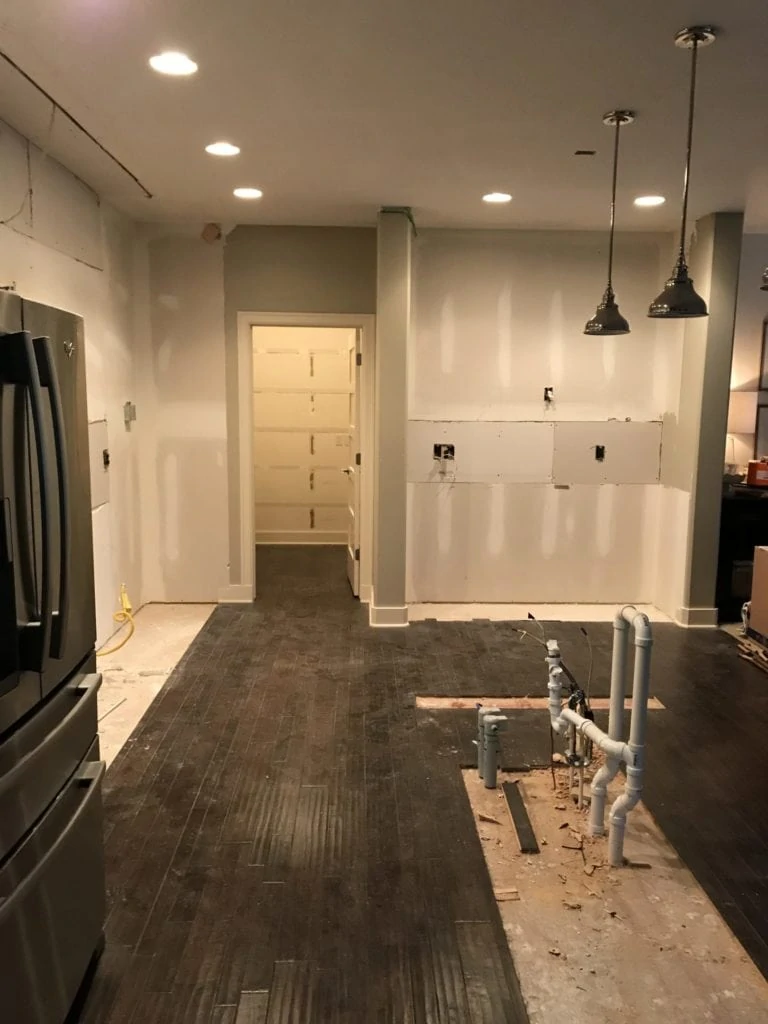 McClain's Custom Cabinets delivered the new cabinetry Tuesday afternoon last week and most were brought inside so they could start acclimating to our kitchen. The guys starting bringing them in but then we realized some more electrical work needed to be done in order to move forward. So, they left for the day and the electricians came in to do their thing.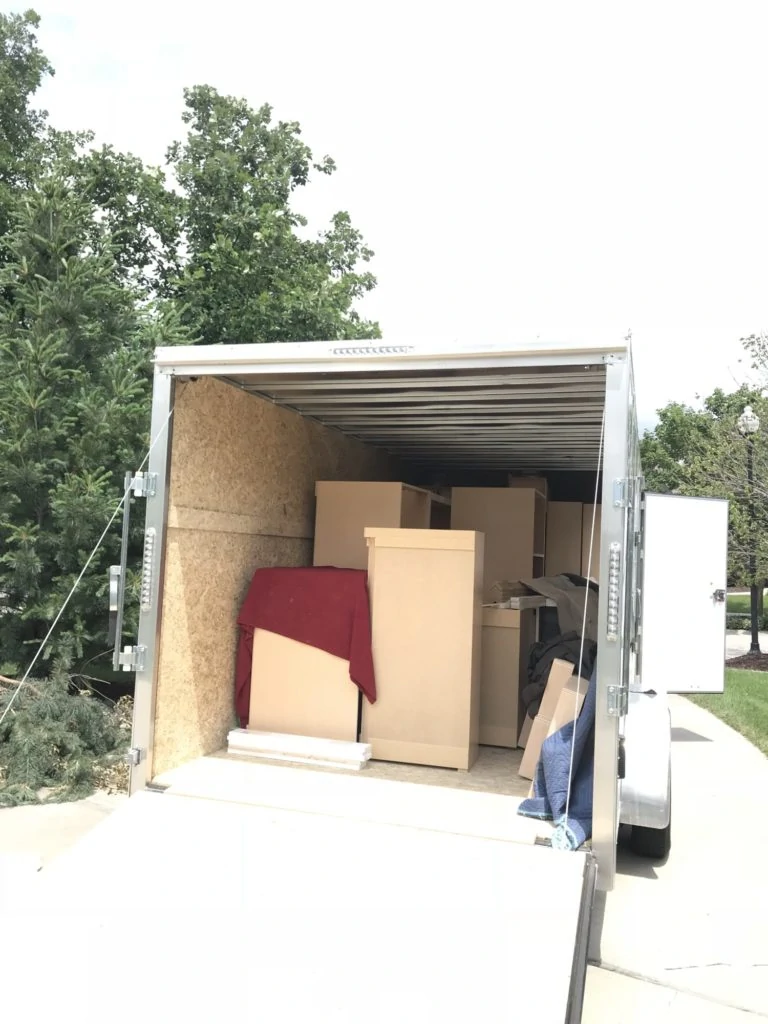 Here you can see that a bunch of the drywall had to get ripped out again when the electricians came. Never a dull moment around here!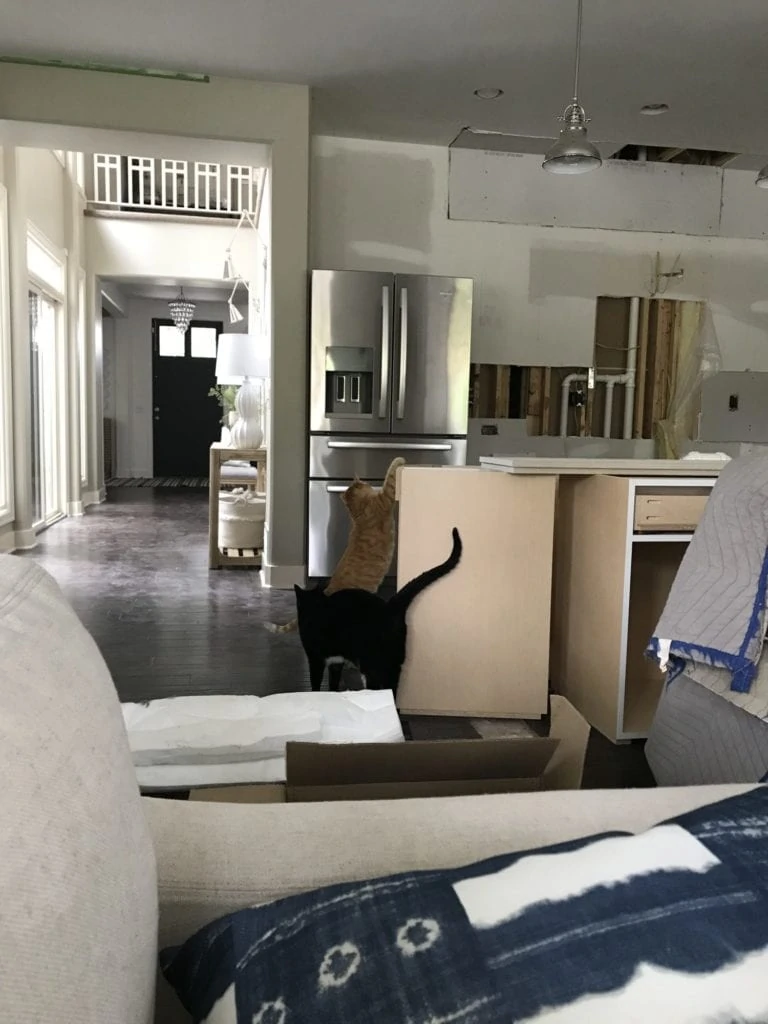 Here's a sneak peek at how the kitchen island will look! I wasn't going to share the color I chose, but I can't wait any longer. We ultimately went with Benjamin Moore Providence Blue. It looks a lot darker in this photo than it actually is. But the choice was between Providence Blue and Hale Navy, and we decided the Hale Navy looked way too dark against our wood floors. So, the island was built last Thursday in order to fabricate the countertops, but, they then had to tear it down because we ran into our first major issue.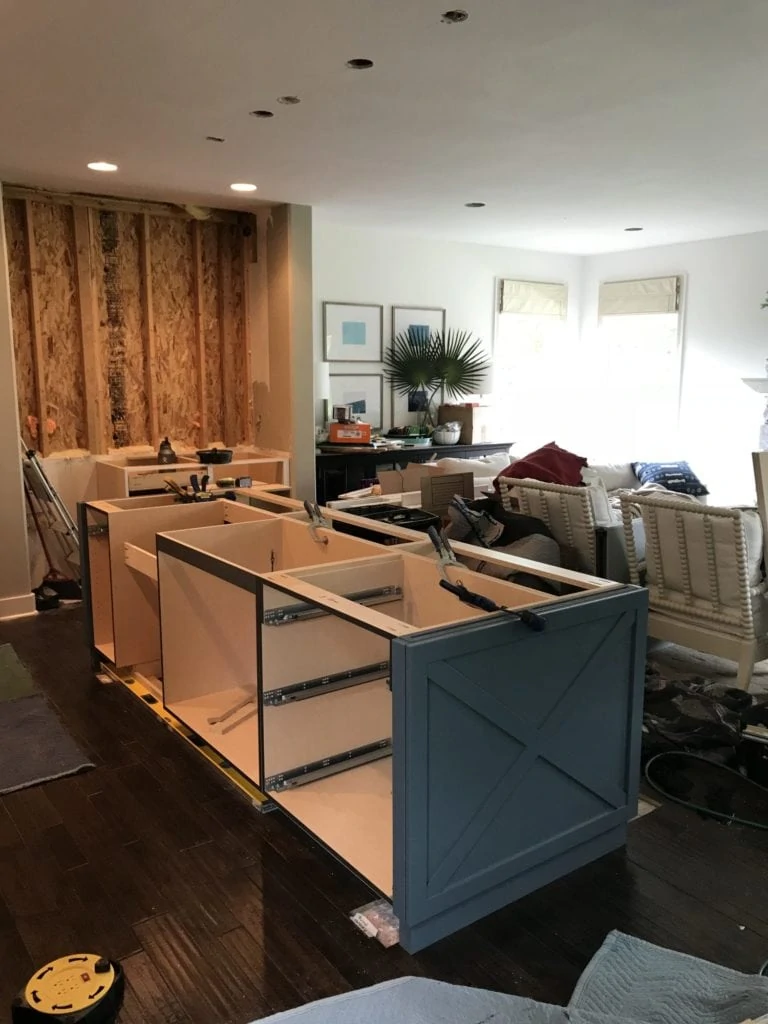 If you look closely in the image above, you can see there are several areas where the old island covered more of the floor than our new island will (even though this island is technically bigger). This includes two small areas in the front and then a bit larger chunks in two places in the back. So, the island had to be taken back down after a day of setup so that we could have our floors patched. So, the floor basically had to be repaired before any additional island work could be done. Given that the countertops are going in tomorrow, that meant we were under a crazy tight time crunch. Unfortunately, tons of people are remodeling right now because the housing market is going so crazy, so getting someone to come on short noticed was super challenging!
Meanwhile, the guys at McClain's finished the amazing pantry shelves and the lowers in the rest of the kitchen. They have completely knocked it out of the park so far, and I know I'm going to really be freaking out when I see everything with the doors. We can't believe just how much more storage space we gained in the pantry already!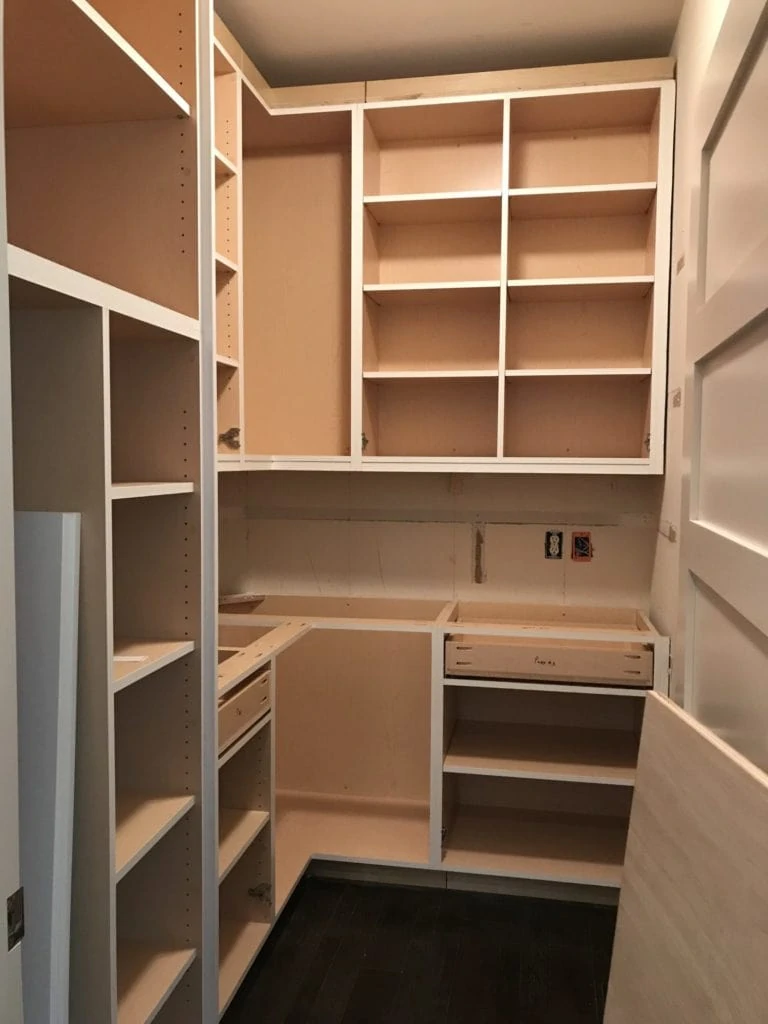 The drywall mudding process started on Thursday. They came every night thru Sunday before wrapping it up. After the first day, everything already looked so much cleaner and more finished!
Starting to look a little more like a kitchen again! As a reminder, we're going from three pendant lights down to two, so we also had three light boxes that had to be moved/patched/etc. in the ceiling.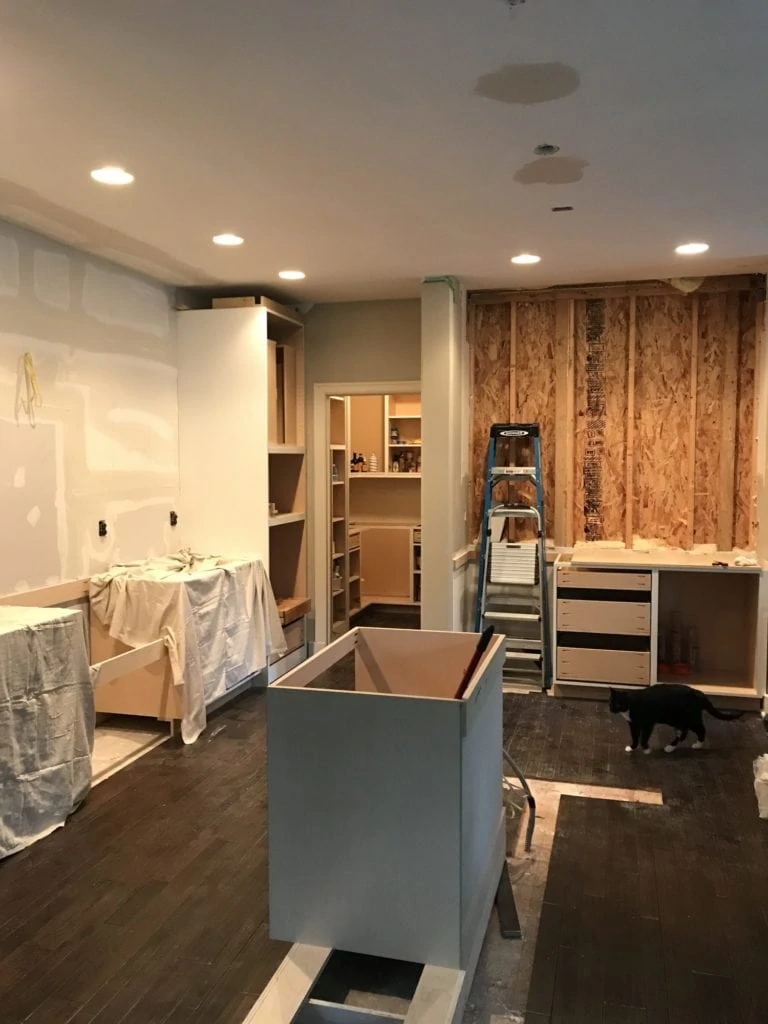 On Friday, our windows arrived. The guys from Mapes-Hornig Homes probably thought I was acting a little crazy when I saw the window and was following them around taking pictures 😉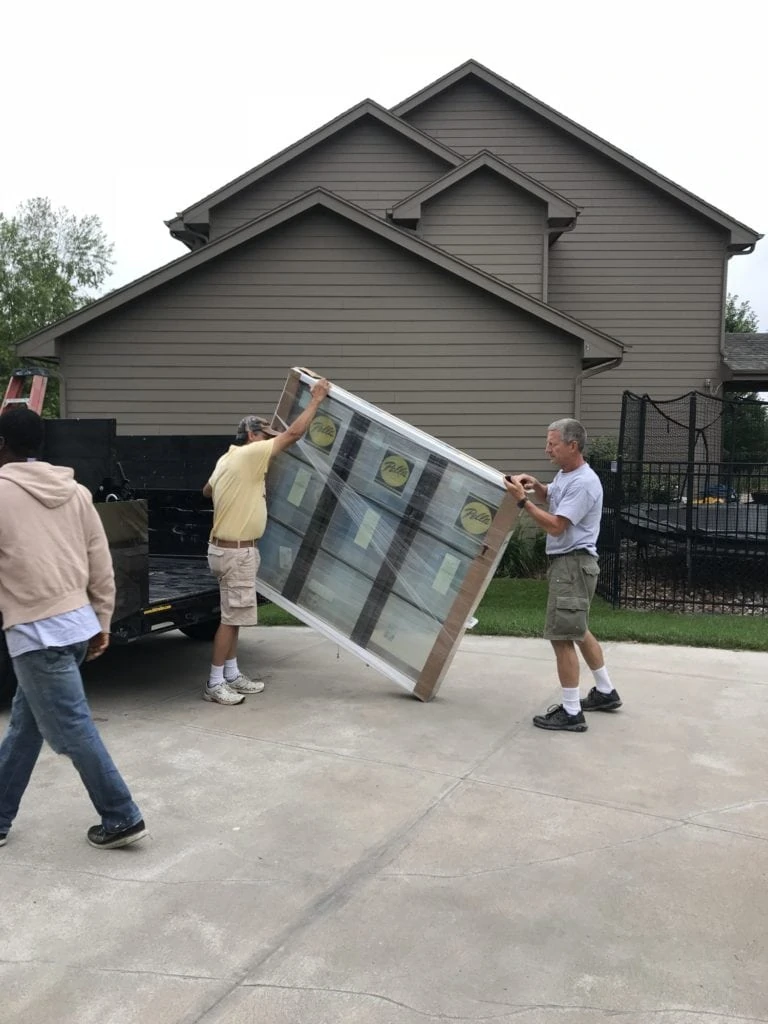 I can't even begin to explain how much the windows have changed our kitchen and pantry. It seriously feels like a different house! And although the pantry is a bit tighter now with all the cabinets, it doesn't feel like a closet any more thanks to the window!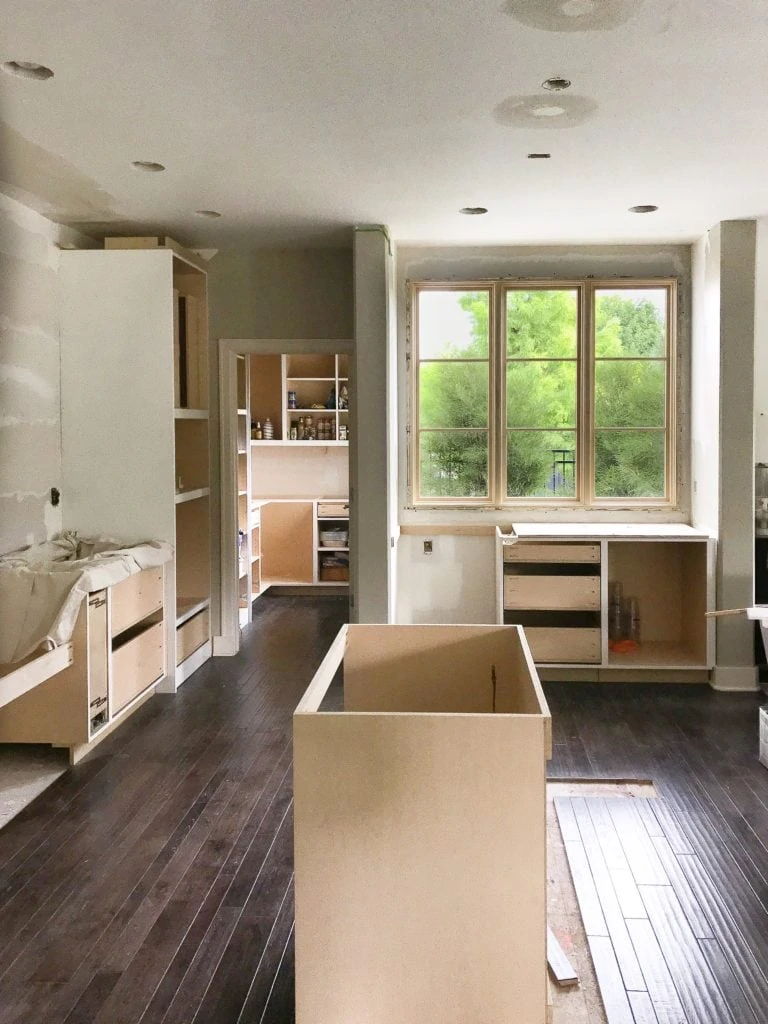 Due to space limitations, it's really hard to get a photo of the pantry window, but you can see it below out the kitchen window. It's a 36×36″ square with one vertical pane. It doesn't open either.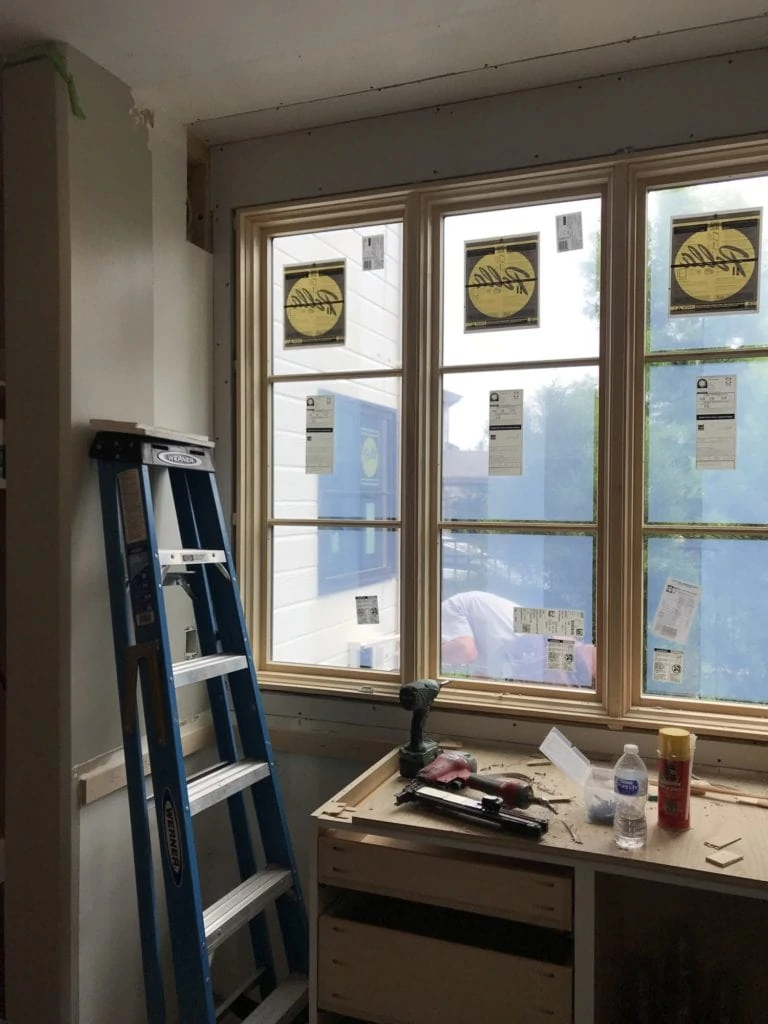 And here you can see the view we have out of most of the window. Kurtis keeps saying it looks fake like we taped a photo of a landscape on the backside of the glass. Haha! I totally get what he's saying though because it feels so weird to actually be looking outside in here! I'd also like to insert my "told you so" here that was inevitably coming when Kurtis swore we would be looking into our neighbors dining room. You know, because I wouldn't have thought of that if it were actually true 😉 We do see one of our air conditioners a bit more (when right up next to the counter looking down), so I may try and come up with a creative solution to block that a bit. Maybe a window flower box of some sort!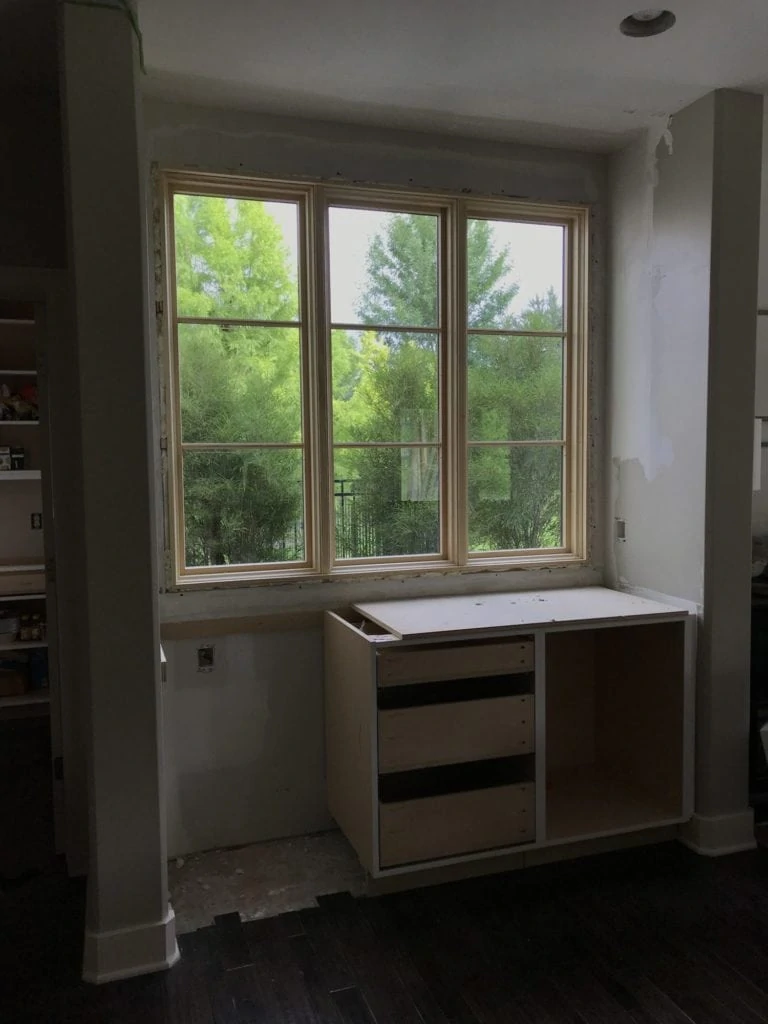 You can see in the image below where the window falls on our exterior. They also had to move the radon mitigation system for the pantry window, so I'm going to have to touch-up the paint in that area.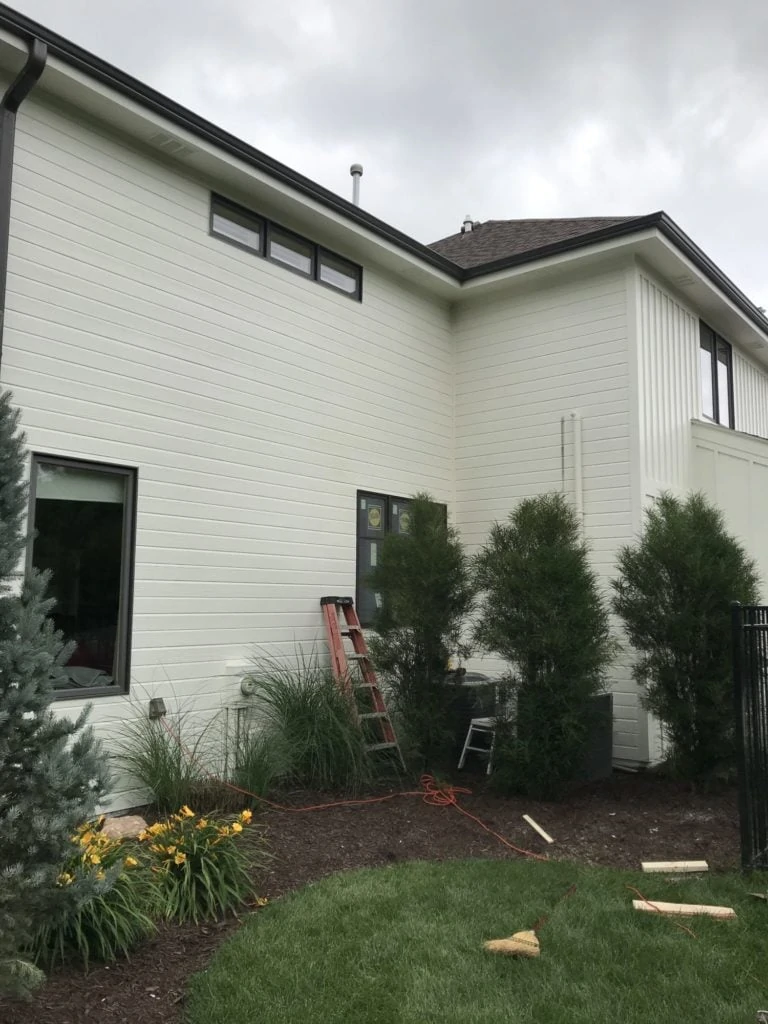 Here's the view we see when we pull into the garage. I just think they're the cutest windows ever and they blend in seamlessly with our old windows!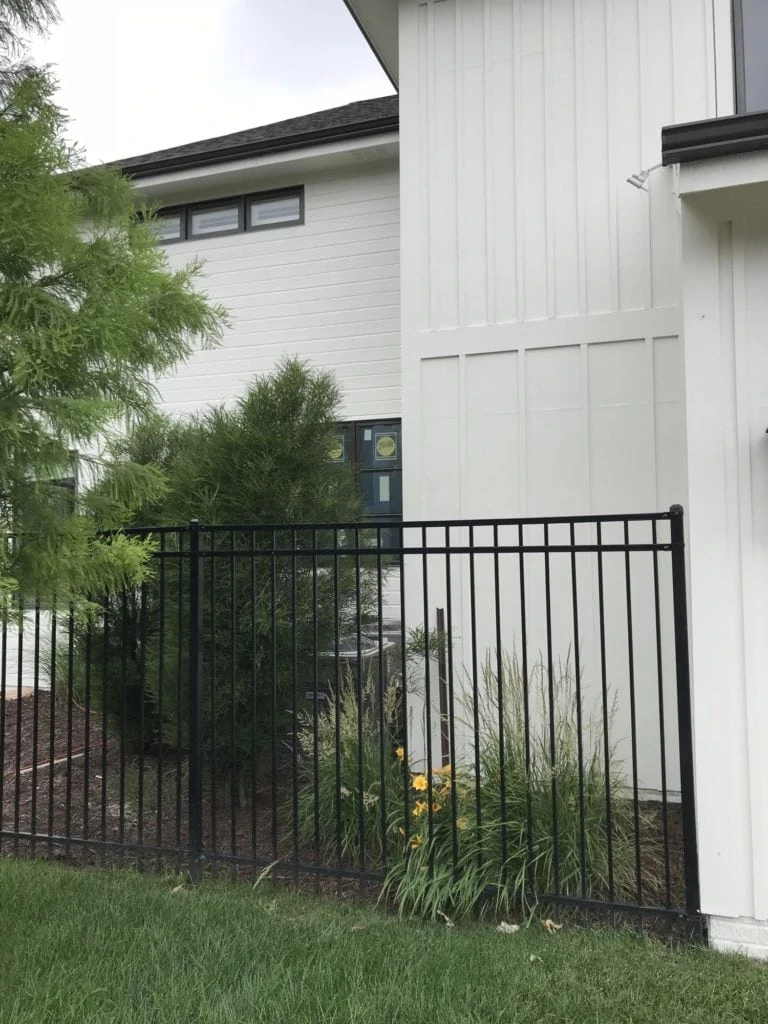 I'm also compiling a list to tips and other random thoughts about surviving a kitchen renovation that I think I'll compile into a standalone post once everything is done. Hopefully you'll all find it helpful!
This post contains affiliate links for your shopping convenience. Click here to read my full disclosure policy.
I moved forward with ordering most of the items in the design board I shared last week. Sadly my lights are back-ordered until the end of July, but I'm hoping they come in early so I can do the reveal before then 🙂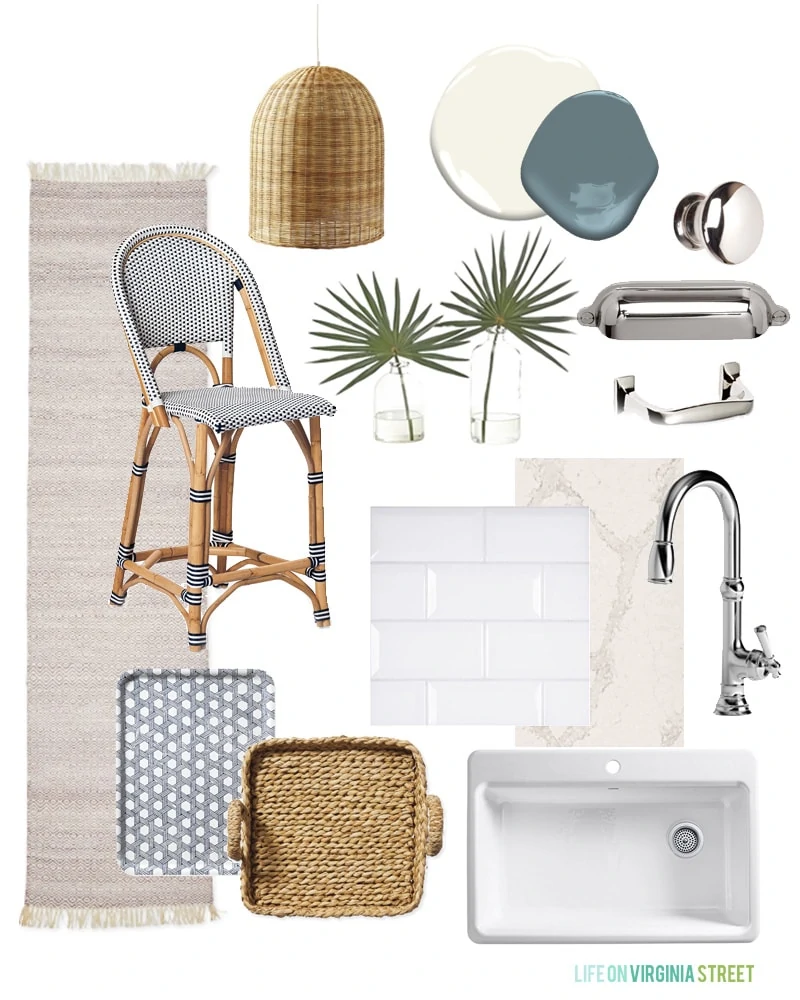 Faucet | Sink | Subway Tile | Caesarstone Countertops | Counter Stools | Indoor/Outdoor Runner | Hardware Collection | Basket Pendants | Graphic Tray | Woven Tray | Faux Fan Palm Arrangements
And a huge thank you goes out to everyone that gave me such great feedback on the Lowe's beveled subway tile! It sounds like so many of you have it and love it, so I went ahead and bought it all yesterday! I can't wait to see it installed!
And although the picture on the left is an old one, it basically shows the changes that occurred in a little over a week. So crazy!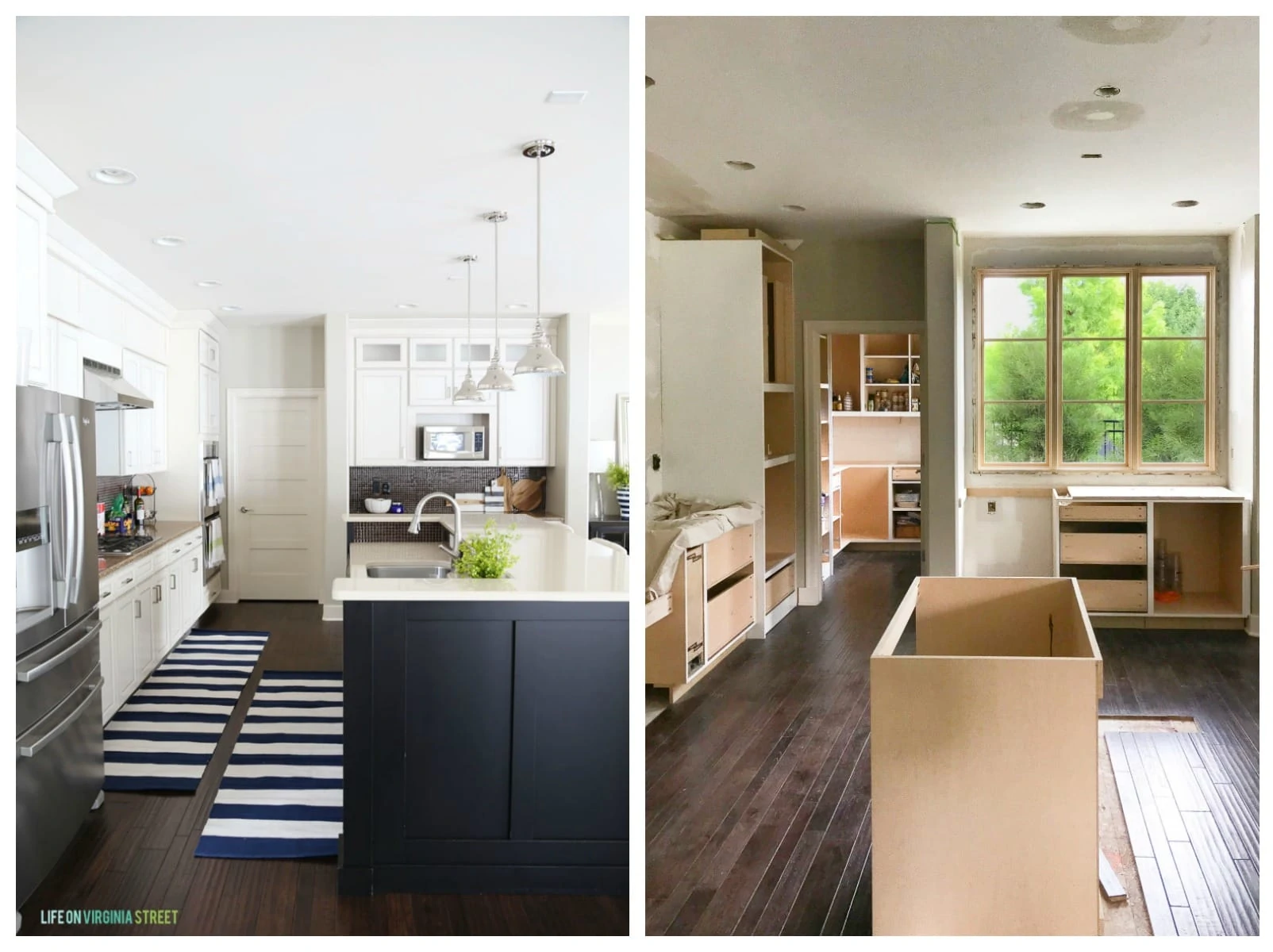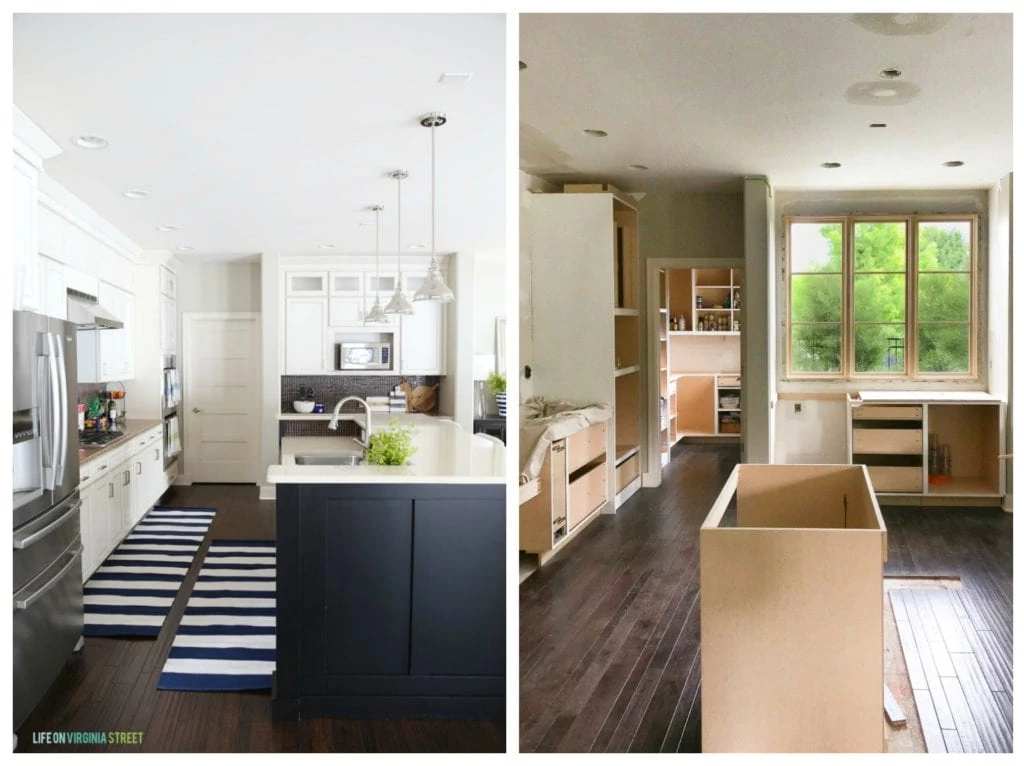 This week should move crazy fast again, as well. All of the cabinets are going in today, the countertops get installed Wednesday, appliances are delivered Thursday, and paint and backsplash are also set to start sometime this week. It may actually look like a real kitchen again by the time my parents arrive Friday night! Not only that, I'm having two secret (small) projects being done that should start this week. I figured while we're in the mess, let's just get them done. So, I'll plan to share more on those soon!
If you would like to follow along on more of my home decor, DIY, lifestyle, travel and other posts, I'd love to have you follow me on any of the following:
Pinterest / Instagram / Facebook / Twitter / Google+
disclosure: some affiliate links used