On Friday, I talked about our 2018 home goals and how one of our biggest priorities this year is the kitchen. If you search 'kitchen plans' on my blog, you'll probably laugh about the fact this topic has come at least once a year since we moved into our home over five years ago. But, this time around, I think we're fully ready to commit! Today, I thought I'd give a little background on the space, what's facilitating the changes and some very high-level plans for what we have in mind.
Since the day we bought the house, we knew a kitchen remodel would be needed at some point in the near future. Therefore, we budgeted accordingly and have had money set aside for this project. This is also why we've considered it multiple times in the past. The reality is, other things just took priority and we weren't 100% sure where we wanted to take things. At this point, I think we both have a much clearer understanding of what we're looking for. If you haven't already, it's worth taking our kitchen tour I posted four years ago, to show some of the items we want to change. Nearly everything posted there stands today.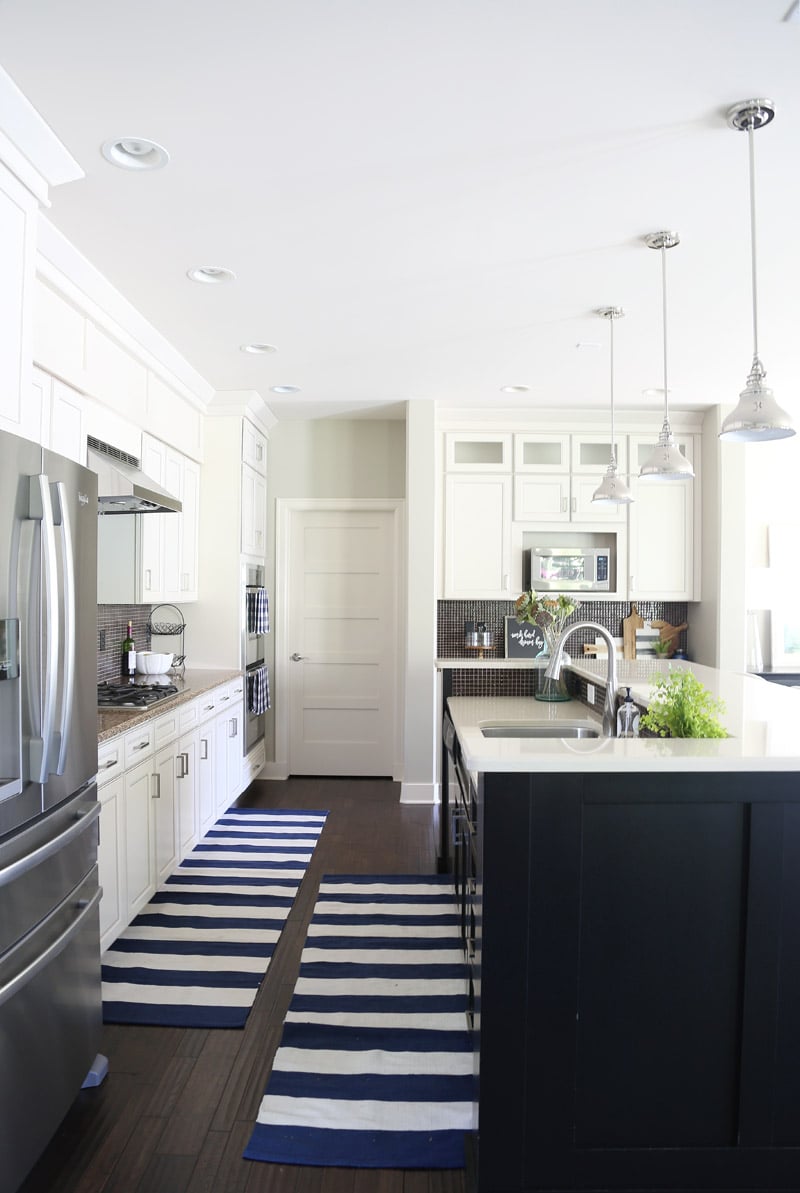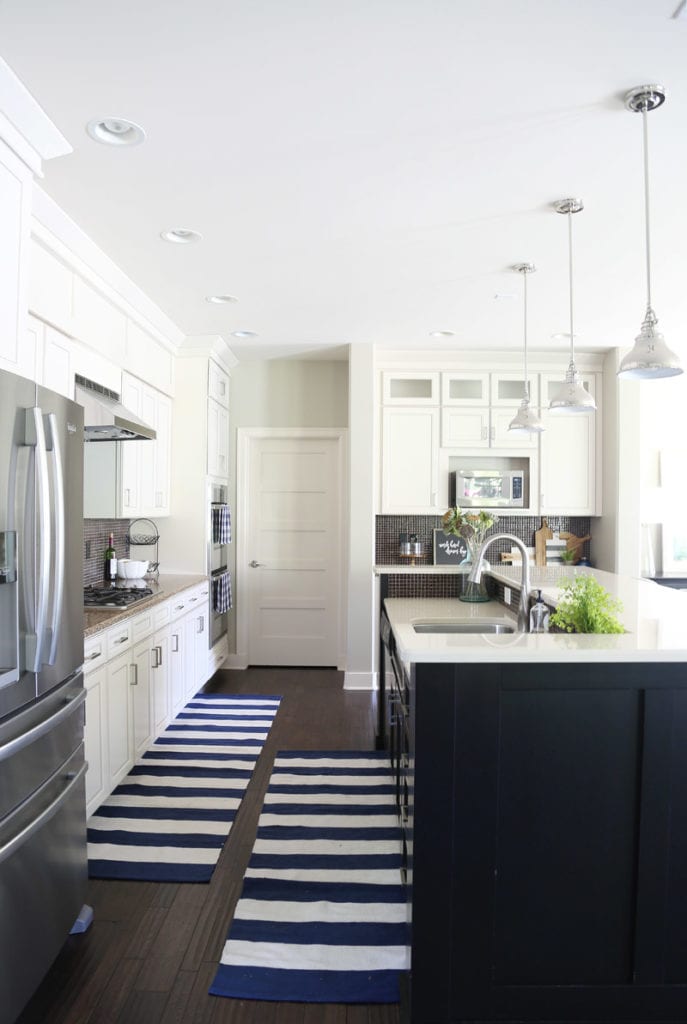 At this point, this is our forever-home. We have zero intention of ever leaving, and unless something major changes, we plan to be here until retirement (or longer). With that being said, we have more interest in re-designing so the space works for us – not what is considered best for resale. We obviously don't want to be stupid about anything, but if we're living here for thirty+ more years, we want to do what makes us happy. Not some random future homeowner that will likely think the space is dated by then anyways!
Our house is on the low-end of homes in our neighborhood (and many actually are worth double what we paid for ours). So, we are also not concerned about pricing ourselves out of our home value (even if we're not planning to sell anytime soon).
The cabinets are currently the biggest issue. They are definitely not white, although I know they can appear that way in some of my photos. They are definitely more of an antique white / almost almond color with brown glazing. The biggest issue is that they are thermofoil. And, while I painted our thermofoil cabinets in our powder bathroom about a year ago, the jury's still out on how well it will hold up over time. Especially in a high-traffic area like our kitchen. A year or two back, I called several experts and most did not recommend painting them. And those that said they would actually were charging so much, I may as well re-face the cabinet doors. Another issue is how they are wearing. Our house is about ten years old, and several cabinets are peeling and, as shown below, bubbling from exposure to heat or steam from the kitchen. Not a good combination! Once the thermofoil peels or chips off, you're left with raw MDF board below.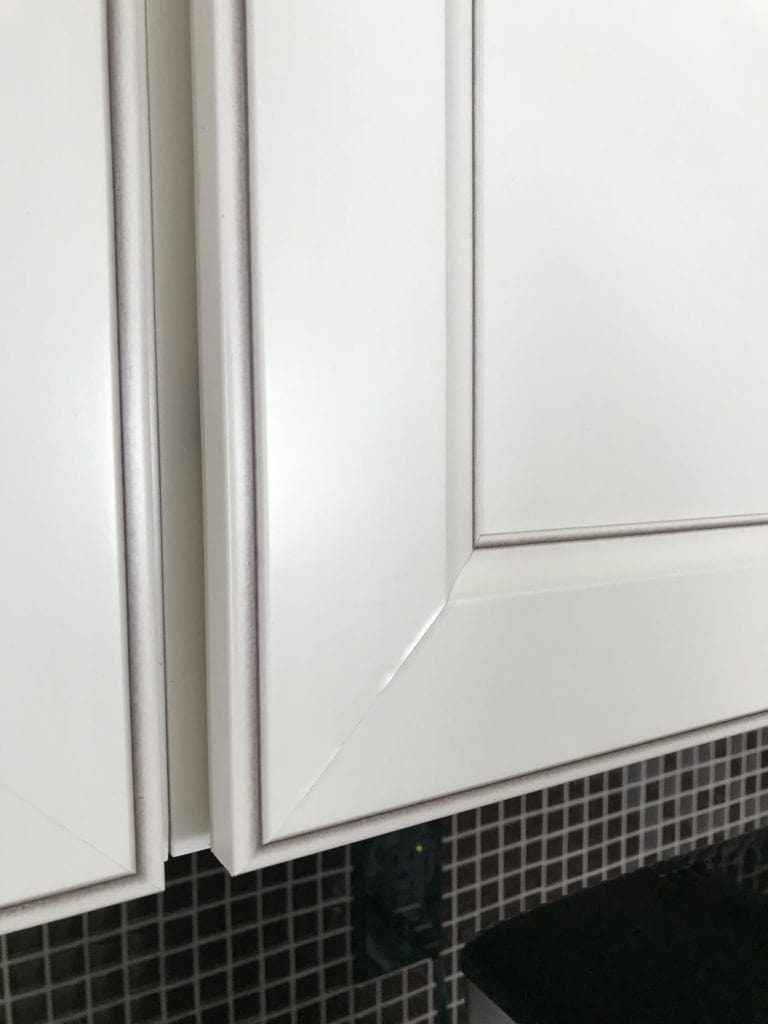 If we're dealing with the cabinets, the backsplash and countertops are absolutely going as well. I've always wanted a white kitchen. I know they are everywhere, but for me, that doesn't matter. I feel like from a long-term planning perspective, that is what will work for us the longest and will stand the test of time. I love the look of Carrara marble countertops in other kitchen, but a) Kurtis refused to have marble and b) I think it may be a bit too gray for us. I'm leaning towards a quartz that looks more like a Calacatta marble with a bit warmer veining. It's been a few years since I researched marble alternatives, so it's definitely something I'll need to look into again! My hope is that we can repurpose a few of the existing pieces of countertop (or even cabinets) for one of our rental homes.
We're going for mostly classic elements vs. what is trendy. I know open-shelves are hot right now, and while I love the look, we will not be using them. A) I don't want to deal with the dusting. B) They just aren't practical with us and the cats. C) I prefer to shove random crap behind a cupboard door rather than try to make it part of my decor. Totally personal preference, but any storage in our kitchen will be behind a door!
After years of discussion, we've decided we want to take the island all down to one level. With the current layout, there really isn't much prep space and each section of countertop is relatively small. We also plan to take it a color other than the current black. The cabinets on the island are not thermofoil, so we may be able to keep them and just have them repainted! This picture is from the fall but shows our island layout fairly well. It also shows the relationship of the kitchen with the living room.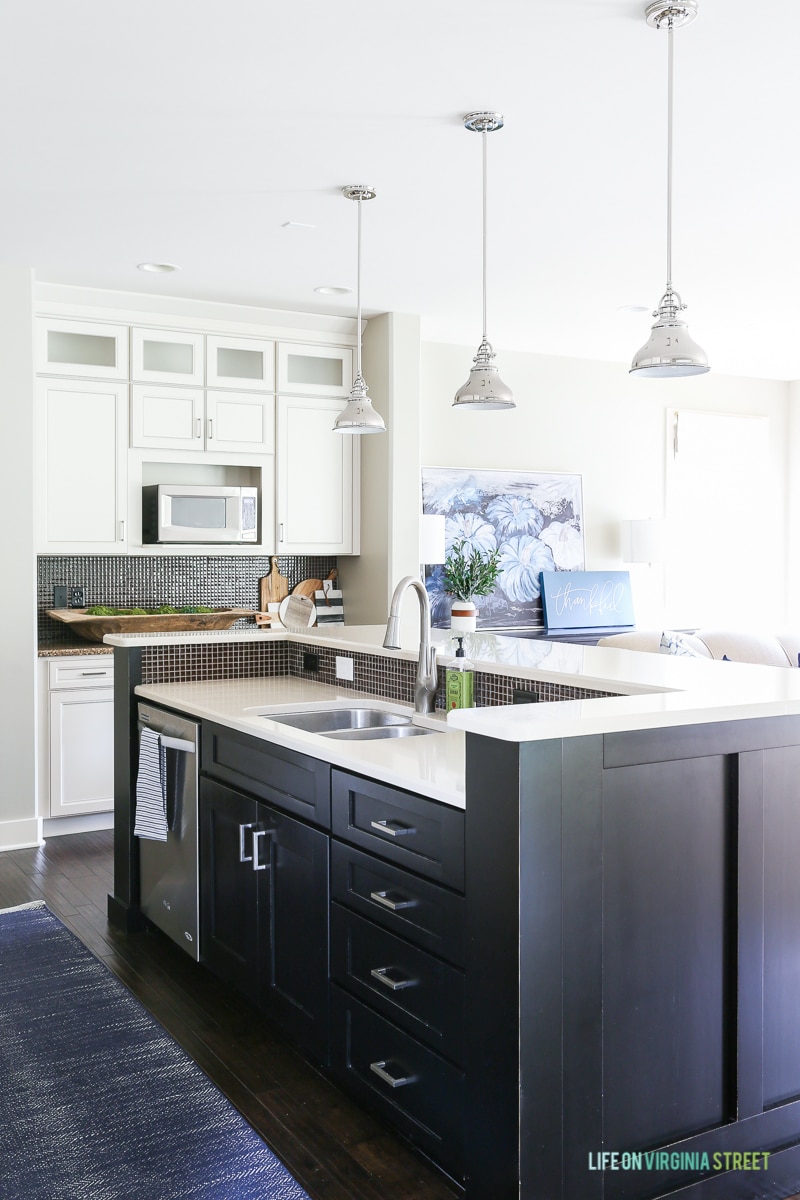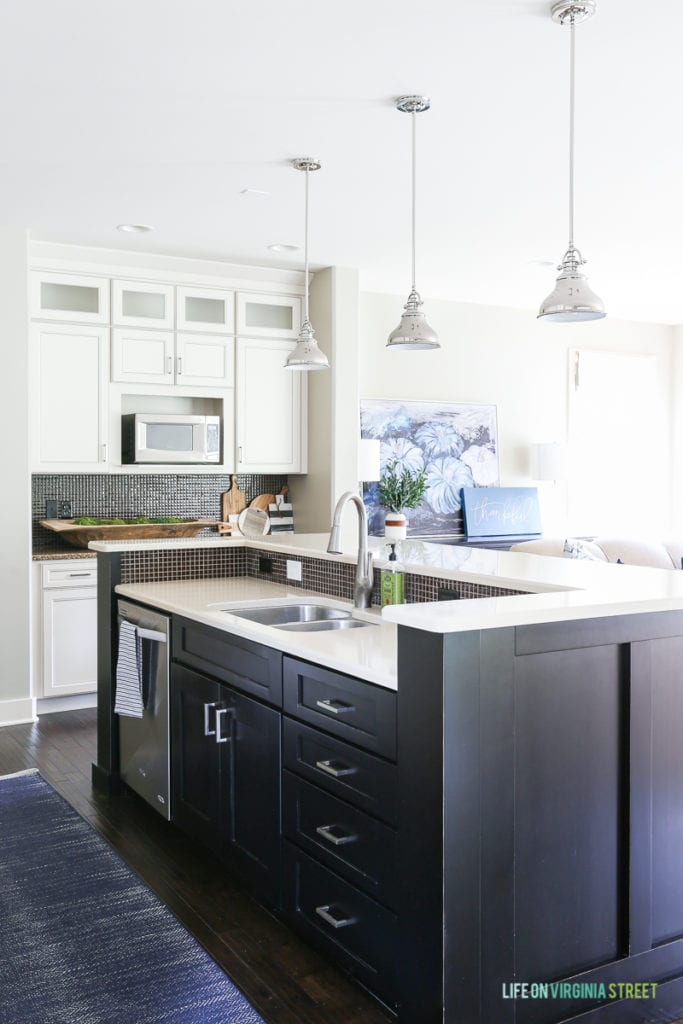 Our goal is to meet with a designer and finalize all of our selections. At that point, I may reach out to the brands we have chosen to see if they are interested in collaborating on the project. This would mean they could use my photos for advertising their products, etc. in exchange for product and/or wholesale pricing. If it doesn't work out that way, we're okay with that, and will still move forward as planned.
We'd love our pantry to become not only food storage, but a functional working/prep area. I hate that Kurtis leaves his oatmeal/protein shakes/waffle maker permanently on the counter. But I get that he does because he uses it all daily. So, if we could have a prep space in the pantry for items like this, that would be perfect. Kurtis hates the messiness of the shelves. So, ideally we'd continue cabinets (even if they are a lower quality) into the pantry with a countertop to work on.
We would love to move our "barcart" items to the pantry. With our constant activity in and out of the back sliding door (in the dining room) we had several glasses fall off our wine rack last year. Now that we have much more traffic thru that door with the pool, we'd also love to free up that area and move it all to the pantry.
The microwave (which currently sits on a random shelf sticking out from the cabinets quite a bit) will either be moved to the pantry, the island or we'll change one of our ovens to a convection oven that works as both oven and microwave. Right now, it makes our kitchen look really unfinished.
I would love to add a window to the space where the microwave currently sits. For as many windows as our home has, the kitchen is one of the few rooms that has zero. So I would love to allow some natural light in! Here's a little mock-up of where the window(s) would go. This is updated from this post, to add a covered fridge and the window: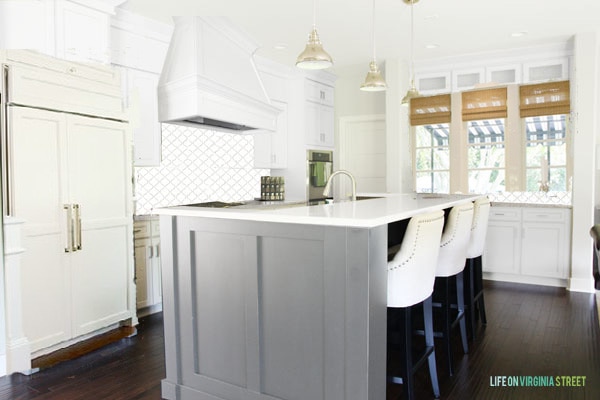 I had several people message me because they had assumed the wall for the window faced our garage. The pantry does, on the left-hand side, but we'd be free to add a window as shown above (and even in the pantry wall straight ahead or to the right). I totally get the confusion because our floorplan is pretty unique and until you see it, it doesn't make much sense at all! Our house is basically a U-shape on it's side and this side of the house is the base of the U. I made this quick little map below to show you where I am referencing everything. The photo itself is about three years old so our landscaping has changed quite a bit. The buckthorns by the air conditioners are now about eight or nine feet tall! So, they'd give some good privacy around the kitchen window. We also have a twenty foot high (or so) bald cypress now in about the area where it says garage, so there is further coverage. I also already tested to make sure the window(s) would be high enough not to see the air conditioners, and the angles make it such that we'd be okay there!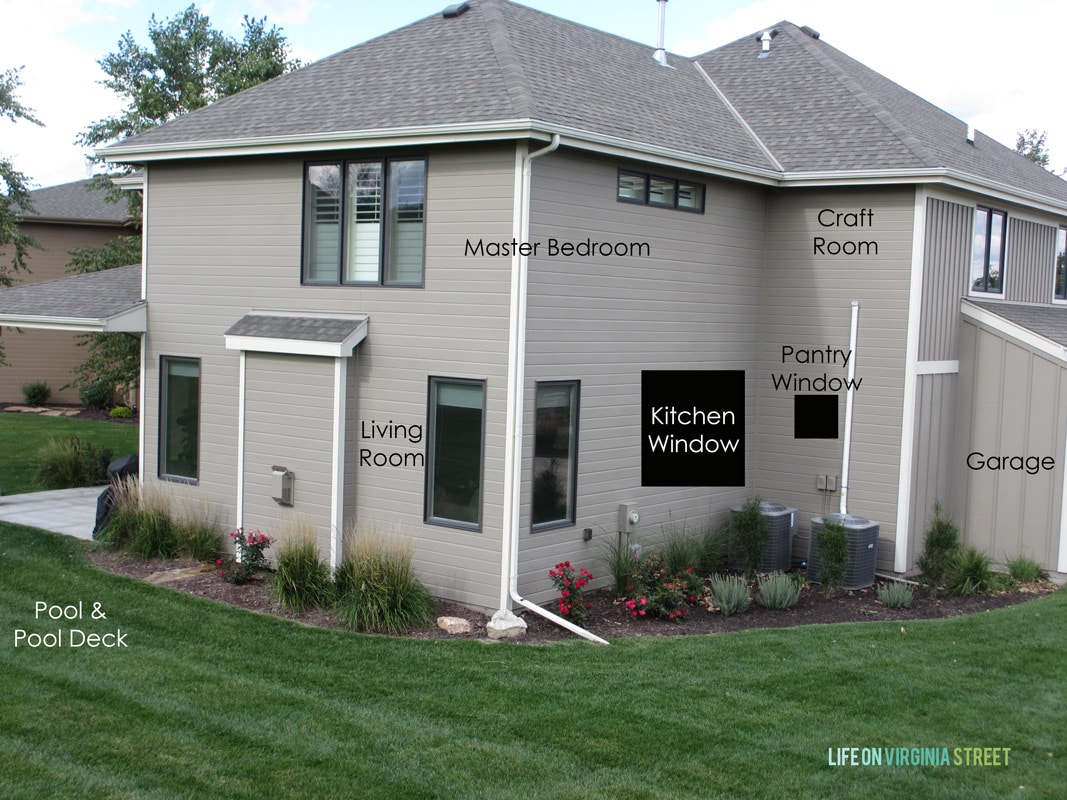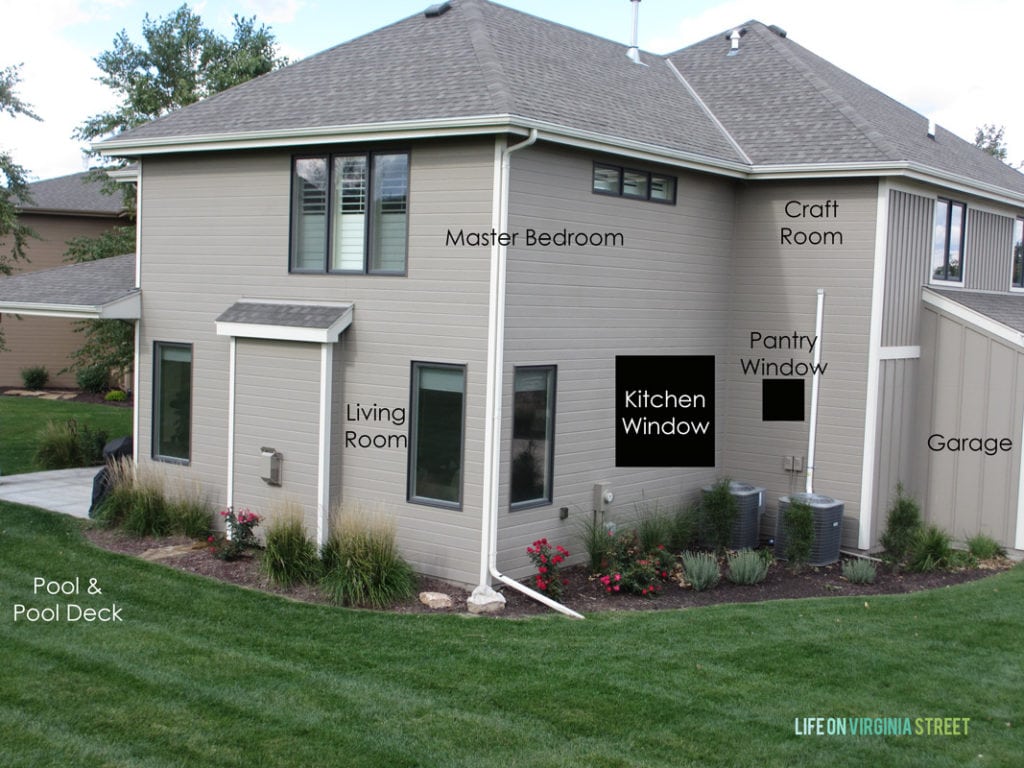 Lastly, keep in mind all of these ideas are without any sort of bid. I can talk all day about our changes, but the reality is, it could vary quite a bit between now and when we finalize those plans. SO, our plans may be changing drastically once we hear what this will all cost. A few years back, I did have countertops, a custom range hood and new cabinet doors bid, and it wasn't nearly as high as we thought it would be. We're hoping we're still at least in that ballpark and not much higher. I'll be sure to keep you posted every step along the way though!
We would love to begin in late spring or summer time when we know we won't need our kitchen as much (since we can grill outside). But, we want to make sure we get the plans right so if it means pushing it off until fall, we're okay with that too! I hope this post helps give some clarity on our thoughts. If you have something in your kitchen you can't live without, we'd love to hear!
If you would like to follow along on more of my home decor, DIY, lifestyle, travel and other posts, I'd love to have you follow me on any of the following: