I'm off to Nashville today to spend the next four days with my original blogging posse! We've rented an Airbnb and are self-hosting a mastermind retreat where we talk all things blogging and business! They are the first group of bloggers I "met" online, and we officially got to meet in person at my very first Haven conference back in 2014. I'm looking forward to an action-packed weekend away with some of my favorites! With that being said, today I'm going to share all my tips and tricks on how to pack a carry-on like a pro – regardless of what type of trip you're headed on!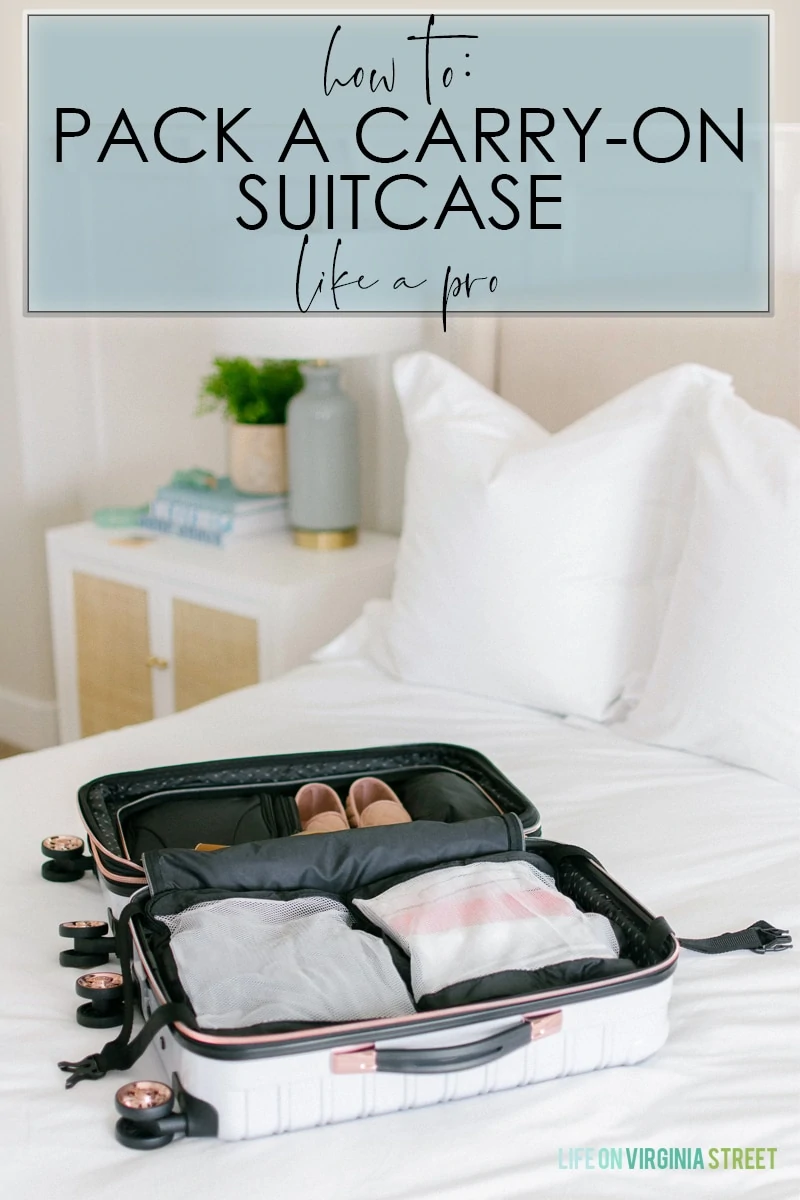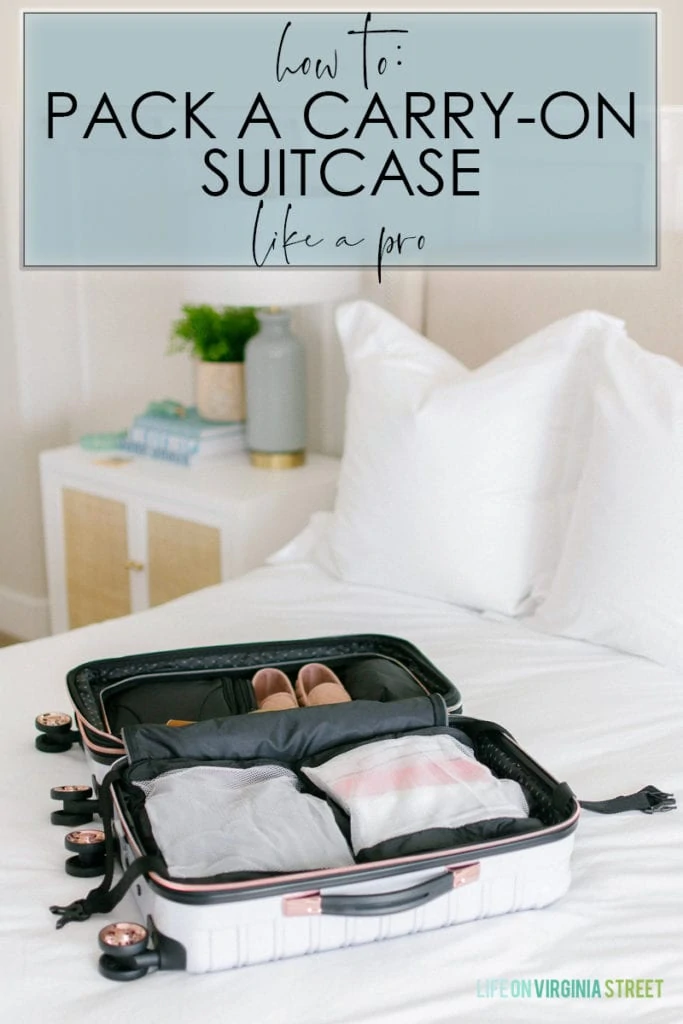 This post is sponsored by Walmart and ShopStyle and contains affiliate links for your shopping convenience. As always, all thoughts and opinions are my own. Click here to read my full disclosure policy.
Fact: I hate buying luggage. But, based upon much as we travel, our luggage routinely takes a beating! When we got home from the Bahamas recently, my luggage literally had no zipper pulls left and I knew it was time to face the fact that I needed new luggage.
Last month, I shared some unexpected finds from Walmart and have been loving those items ever since! But, what I didn't mention is that I also picked up some new luggage while perusing Walmart's site. I found this luggage set for a great price and the reviews were excellent (with over 2000 reviews)! So, I decided to give it a try. It comes in ten colors and I opted for the white version. I realize it may not be super practical given luggage handling these days, but I loved the look and figured they'd be easy to clean with a magic eraser. The pieces are all sold individually, as well, if you don't need a full set. Talk about chic luggage that will be easy to spot on the baggage carousel!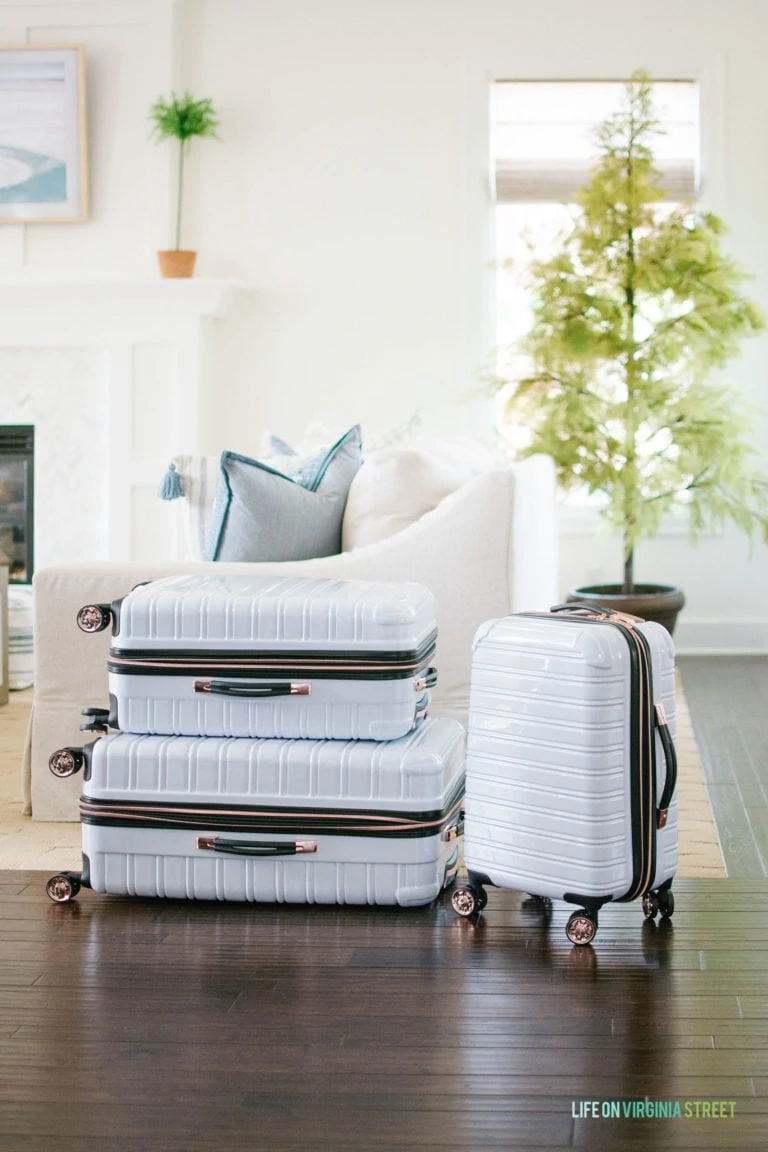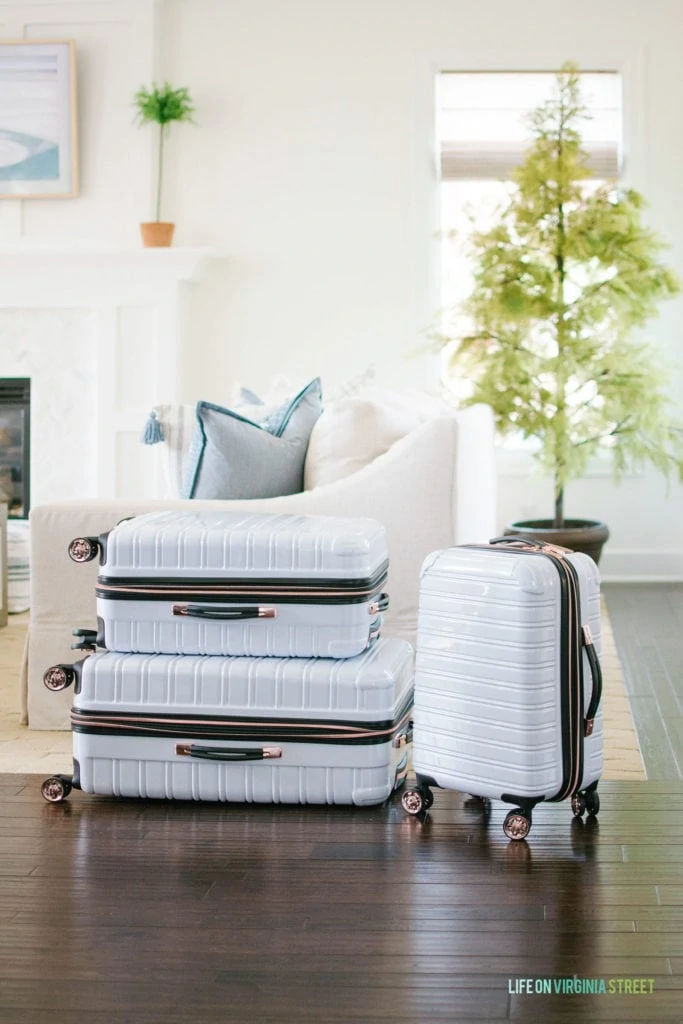 Since I'll be test-driving the set today for the first time, I thought I'd let the reviews speak for themselves. So today, I thought I'd share my tips and tricks on how to pack a carry-on like a pro! But first, I wanted to share my typical travel day uniform.
My Travel Day Uniform
I'm all about the layering when it comes to selecting a travel day outfit. In fact, I typically go with a nearly identical outfit nearly every time I travel – regardless of season! I like to stick with a basic tee shirt, skinny jeans, comfy shoes, and a jacket or long cardigan.
The pieces I'm wearing below represent my travel uniform guidelines to a T! They all fit true to size and are all so comfy, they're perfect for travel days. They are all part of Walmart's We Dress America campaign. The campaign focuses on spring trends that are affordable to everyone in styles that still allow you to express your individuality with current trends!
I raved about these skinny jeans and canvas shoes in my last post with Walmart, and am still loving them! I love that the jeans have faux pockets, so they're perfect for layering and keeping the overall look smooth! And the shoes couldn't be comfier and the more I wear them the more I love them! The striped tee should be an obvious choice for me, and you know I've been all about the tortoise shell lately, and these earrings are a steal! The overall look is cute, comfy and pull-together. So perfect for travel days! I love that I can then re-wear several of these versatile pieces when packing light!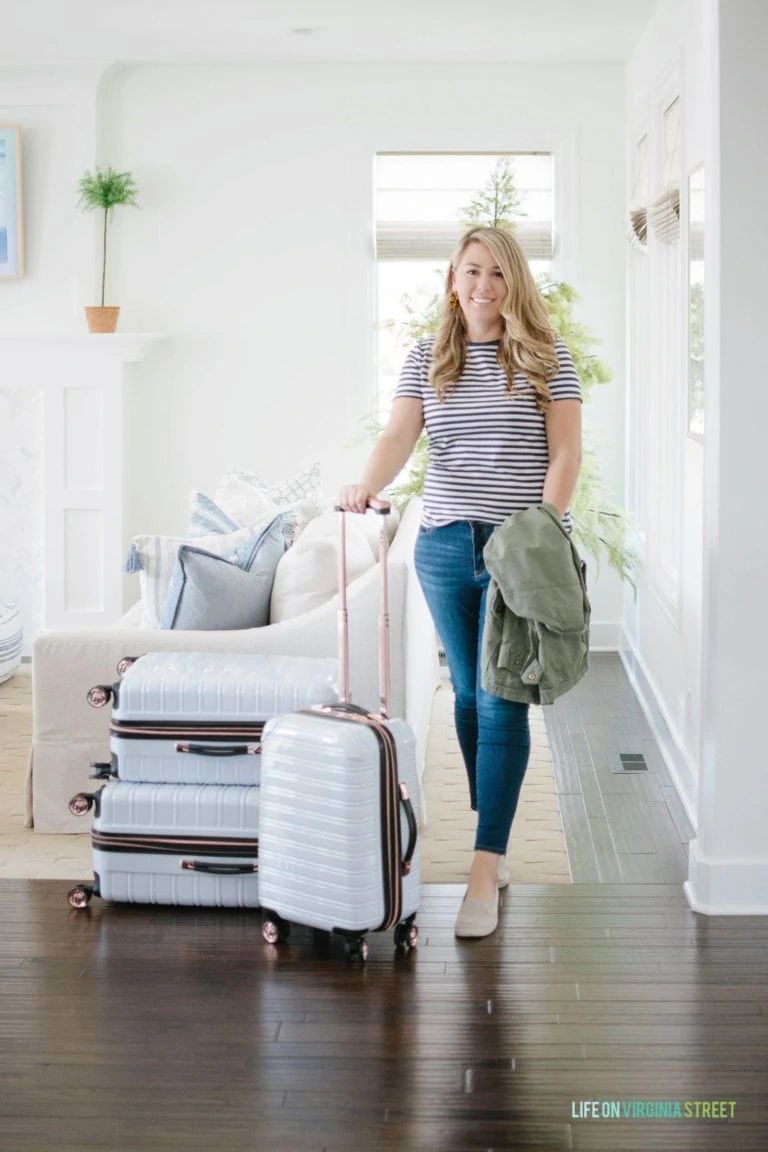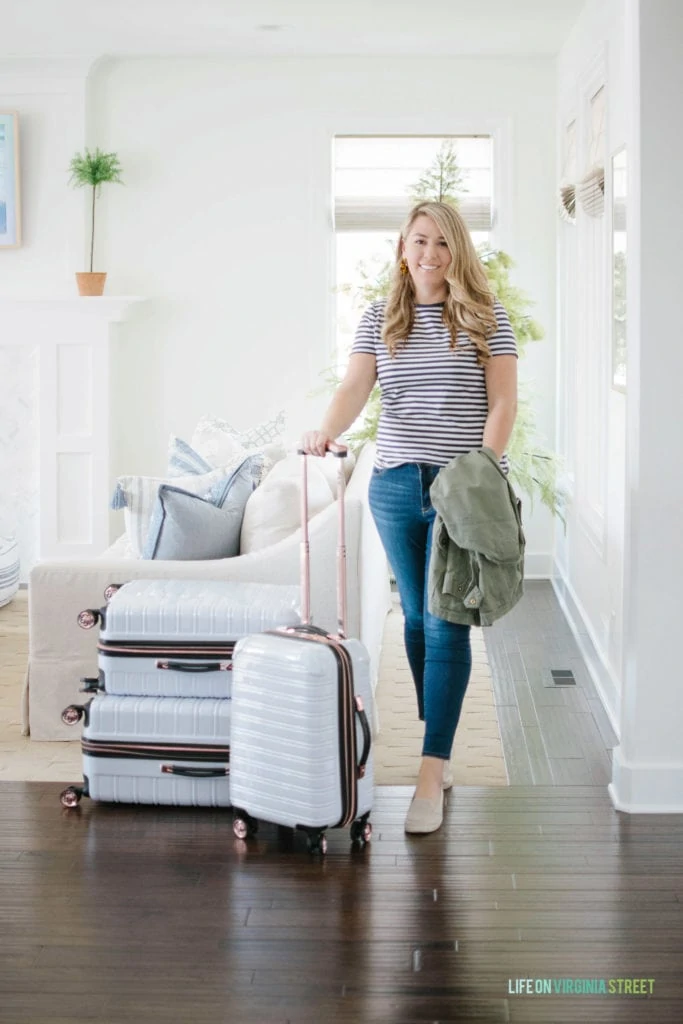 Striped T-Shirt | Skinny Jeans | Canvas Shoes | Earrings | Luggage
How To Pack A Carry-On Like A Pro
Admittedly, I'm not typically a light packer. Especially if I'm on an airline that allows me to check bags for free. With that being said, there are many times I travel that I either don't want to pay for checked luggage or I don't want to deal with the hassle. It can be tough to pack for more than a weekend in just a carry-on, so I've honed my skills over the years to make the packing process much easier!
Efficient packing really comes down to efficiently selecting the items you want to bring along. I look for versatile pieces (depending upon the reason for my trip) and go from there. Typically I'll lay out all of my options on our bed and then narrow down what I pack from there. I also find that selecting items that can be mixed and matched will make me much happier once I arrive at my destination. It gives me options without over-packing.
First and foremost, I'm learning to be better about rolling my clothes. It definitely saves space and ends up making clothes less wrinkled when done properly (and tightly)! I've found that when I use packing cubes, it helps keep my clothes from unrolling, as well. Much like my typical travel outfit (you can see more of this at the end of the post), I try to pack with layers in mind and include basics with accent pieces that can be rotated if needed. These basic t-shirts are a recent favorite and work well in every season!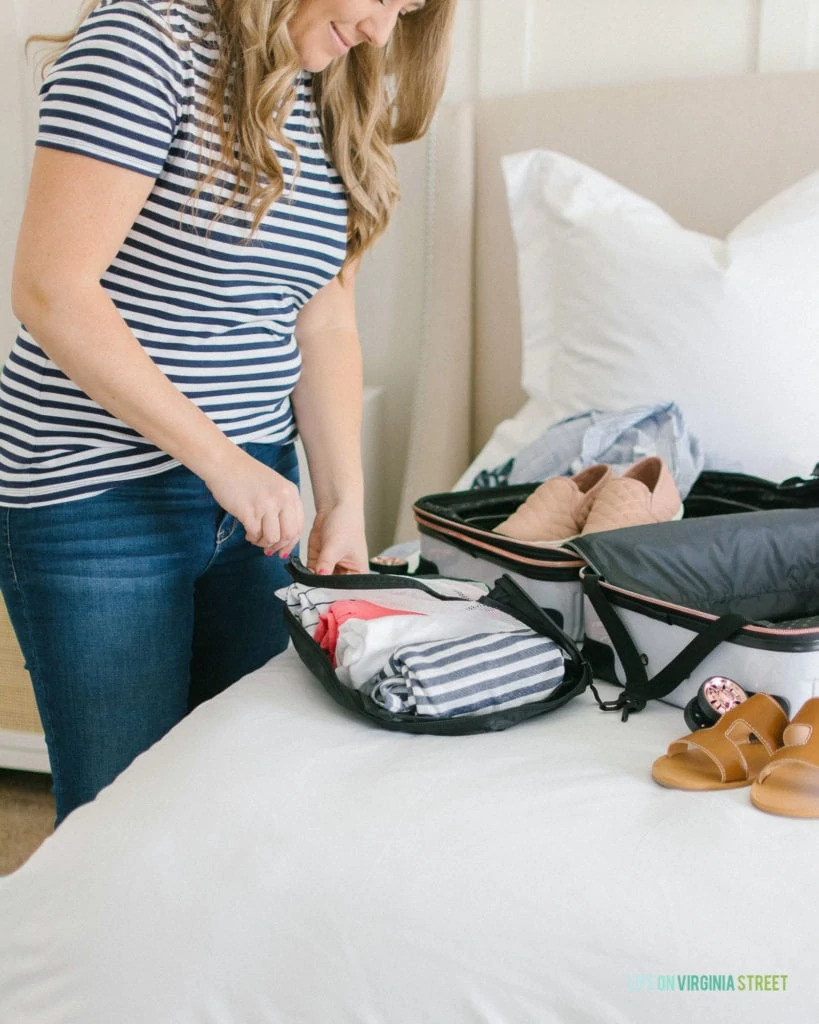 Packing Cubes | Twist Front Striped Tee | V-Neck Slub Tees | Luggage Set
One of the biggest issues for me when traveling with only a carry-on is the liquids rule. I prefer, if possible, to bring my full-size hair care products, but that isn't always an option. So, I've learned to pare down what I bring and I've been loving this toiletry bag (additional options here) to store all of my hair and body care products. I'm a big fan of Burt's Bees products, so I've found that having one of these kits on hand is always great for travel. It includes the miscellaneous self-care products you may forget to pack otherwise. I then use travel bottles (that come with a zip pouch) filled with my usual shampoo, conditioner, face wash, etc. if I don't have travel size options available.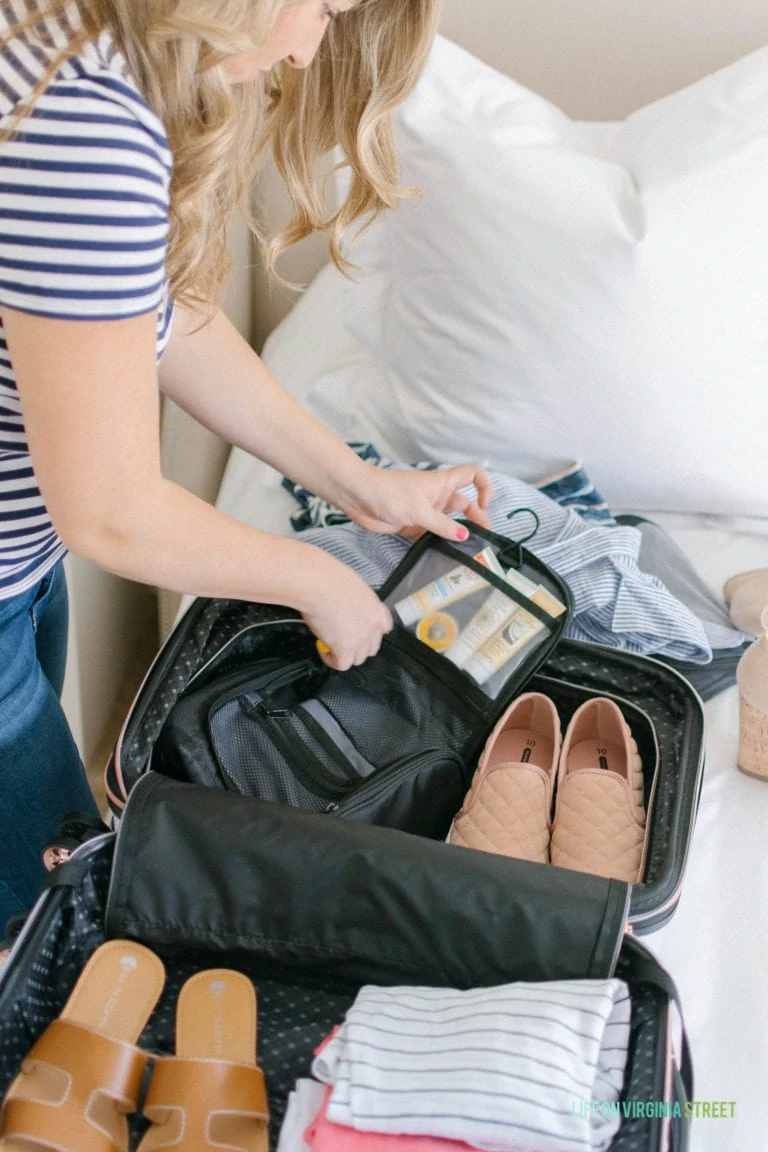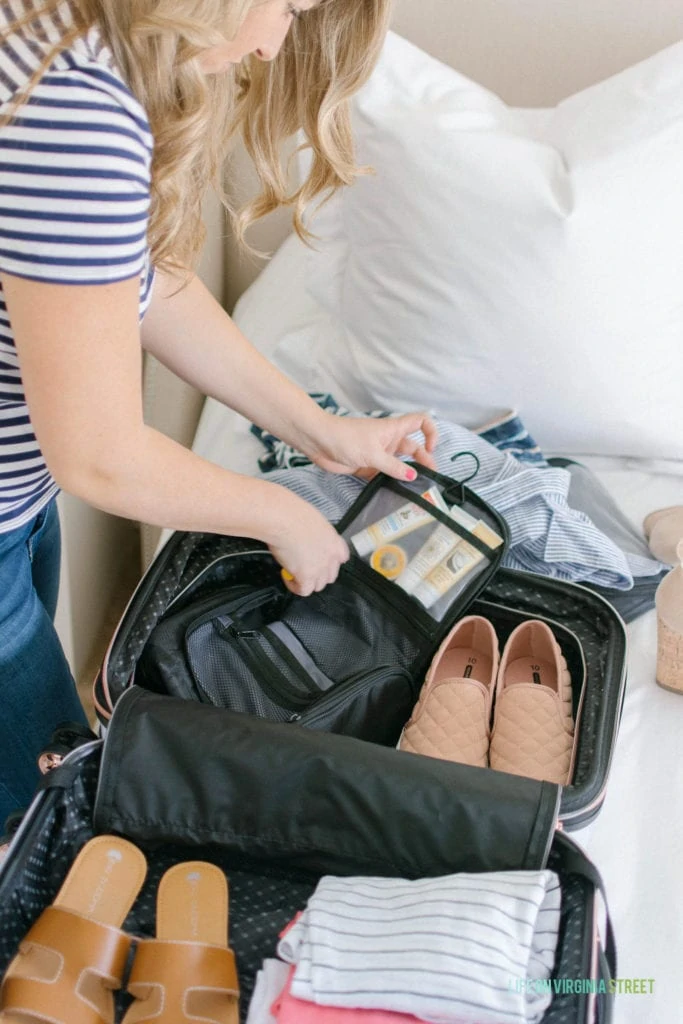 I love that I can see everything I've back by simply unzipping the bag, but it also folds up tight and compactly to pack in the suitcase! I typically store deodorant and dry shampoo in the side pockets and then my make-up bag in the main pouch.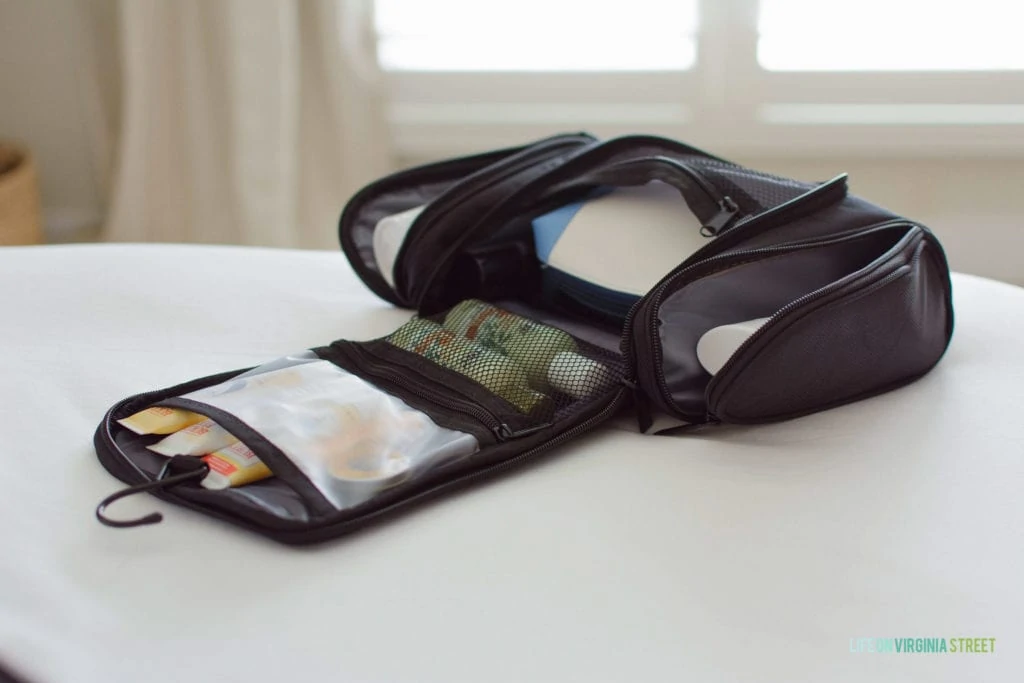 Be sure to think through your shoe needs and only pack one of each style required! I try to wear my bulkiest pair of shoes on the plane (as long as they're comfy) and then limit my other selections to two pairs if possible. For this particular trip, I didn't need any dressy shoes, but if I did, I'd bring one less pair of comfy loafer sneakers. And, if you're needing more space, be sure to use the dead space inside shoes. You can fill them with socks, chargers, underwear, etc. wrapped in a plastic bag. This will also help your shoes keep their shape if you suitcase is packed fairly full.
You can see below how I place everything in my carry-on suitcase below. From top to bottom on the left I have a packing cube with underwear and socks (and bathing suits, if needed), shoes, and my toiletry bag.  On the right hand side, I have all my shirts/tops for the trip in the top packing cube, and then pants and pajamas in the lower packing cube. I love that the netting on the one cube allows me to see the contents at a glance so I know what's inside for easier retrieval. I'll usually wedge a bag with any jewelry I need to bring in between the two cubes.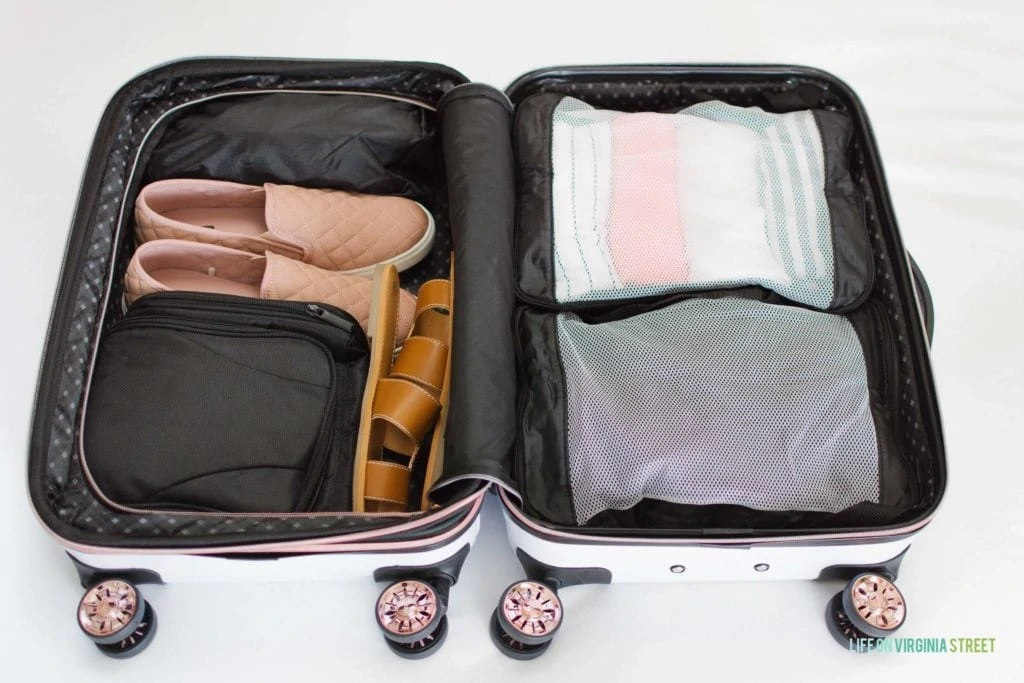 Quilted Slip-Ons (I tried this pair and love them too!) | Sandals | Toiletry Bag | Packing Cubes | Luggage Set
I find that if I pack a bit light in the carry-on, I can then also put my laptop inside. The cubes, once zipped in and/or strapped down, help to keep everything secure if I need to take my laptop out at any given point. So much less chaotic!
I hope you found these tips helpful! Do you have any other tips for packing light? I'd love to hear!
If you would like to follow along on more of my home decor, DIY, lifestyle, travel and other posts, I'd love to have you follow me on any of the following:
Pinterest | Instagram | Facebook | Twitter 
disclosure: some affiliate links used
Thank you to my talented friend, Mandy, for all of the gorgeous photos for this post!