Be sure to enter the giveaway at the end of this post!
A week or so ago, I talked about everyday cleaning tips for living with pets. Today I'm going to dig a little deeper into that conversation.
Every late fall, prior to the start of the holidays, we like to do a deep clean of our home. It's a lot like spring cleaning for us, but done in the fall and we tackle everything from closet purges to decor purges to cleaning the garage. It ends up being the perfect start to the holiday season and helps lower stress levels when you're in the thick of parties and get-togethers!
Today I'm going to talk about cleaning your carpets as part of getting your home ready for the holidays. Don't stop reading! I promise you, this is a fairly quick and fairly easy process that makes such a difference if you have the right tools and it is a task you'll be so happy you did!
I ended up using my new BISSELL ProHeat 2X® Revolution™ Pet Carpet Cleaner along with BISSEL's Deep Clean liquid cleaner to clean the carpets. I loved the smell and it was rather gratifying to see stains coming out!
I wish I could say I staged these two shots, but Henley managed to pose all on her own. I was in the entryway taking a pick for Instagram of all the chaos in the hallway, and when I came back, this is what I saw.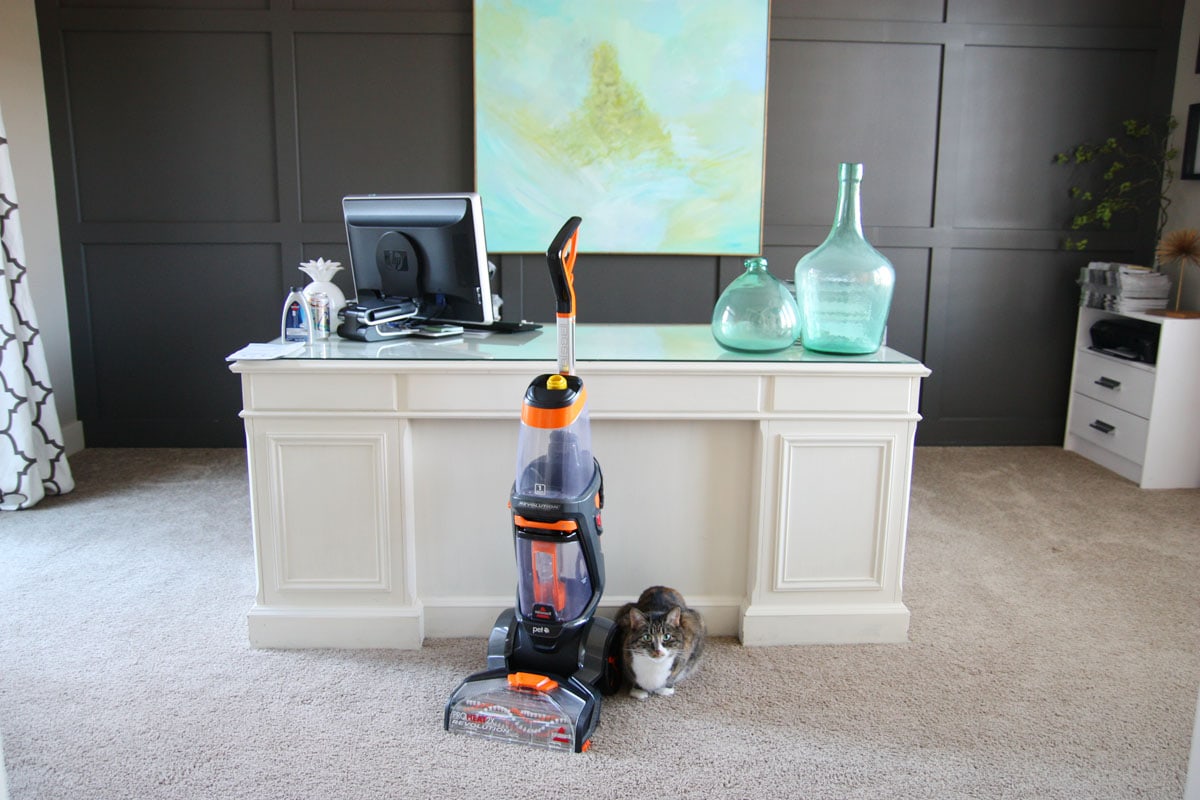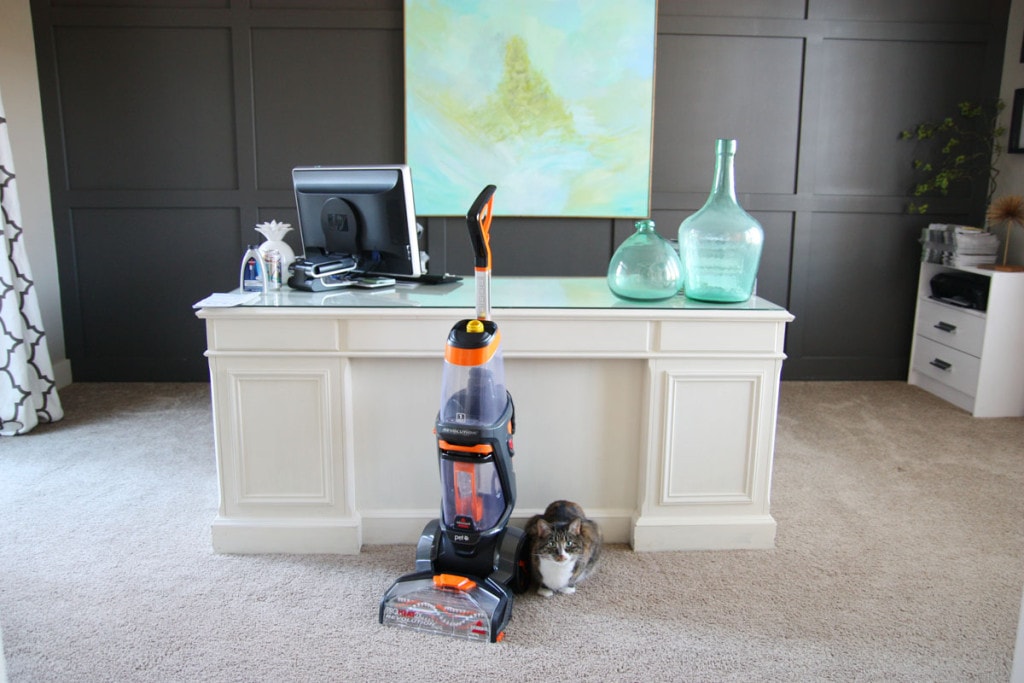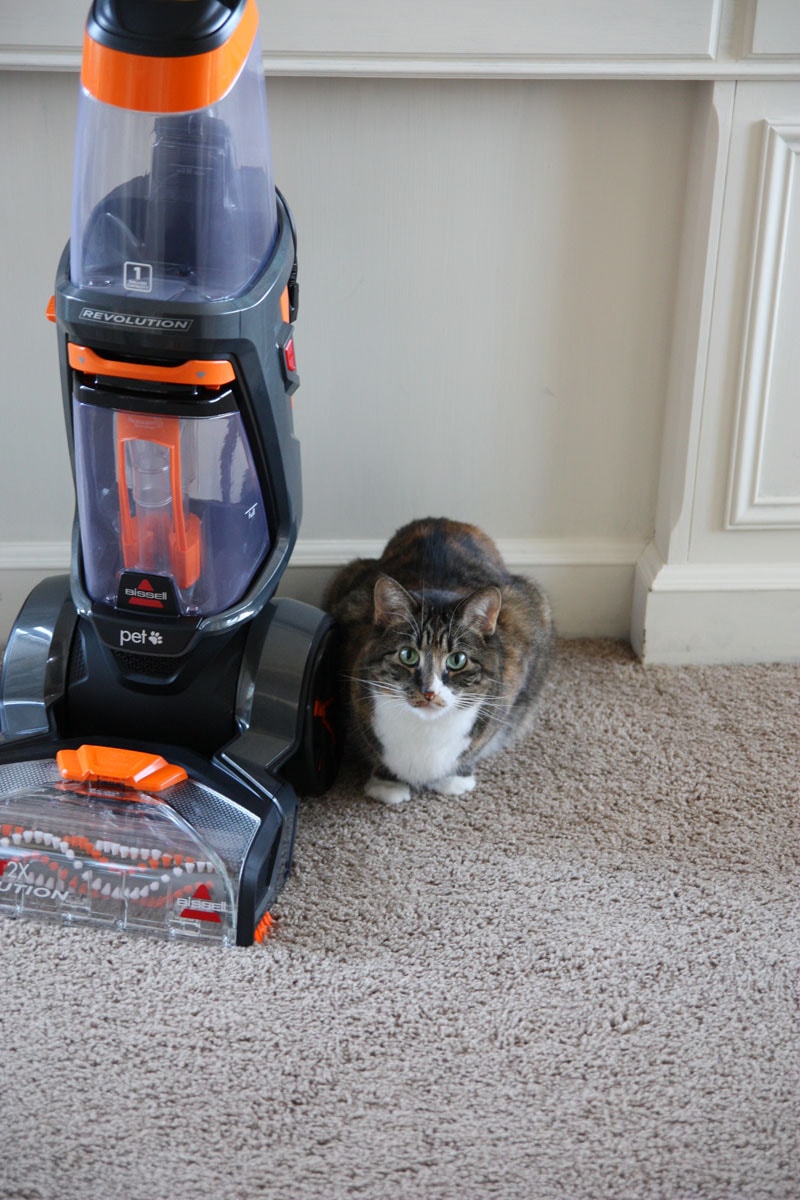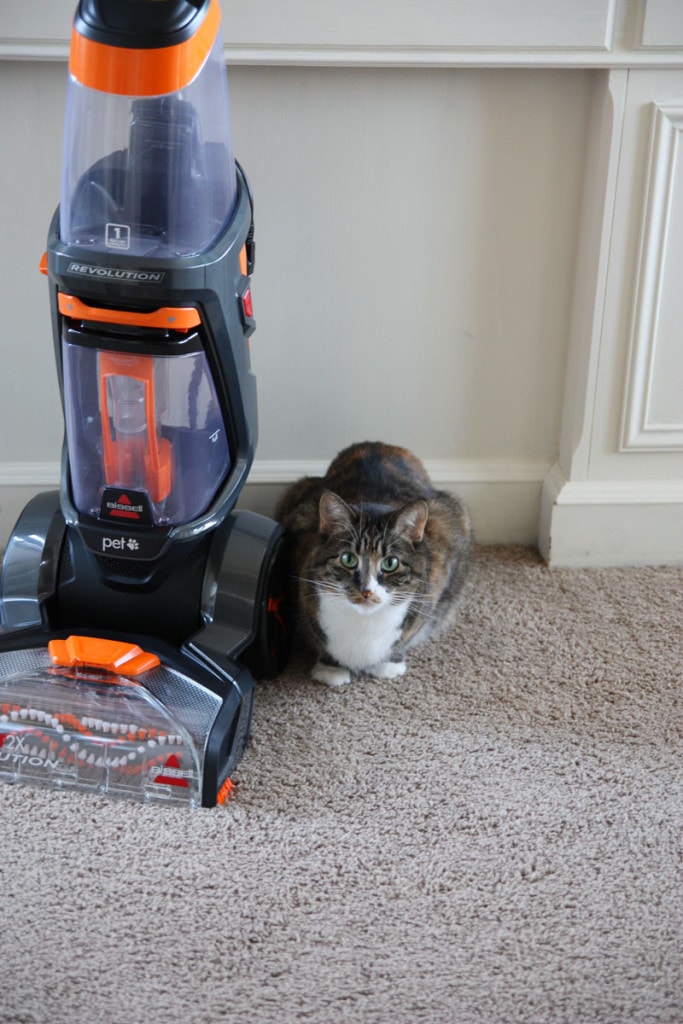 If that isn't the face of a little angel I don't know what is 😉
And if this picture from my Instagram feed isn't the look of chaos, I don't know what is!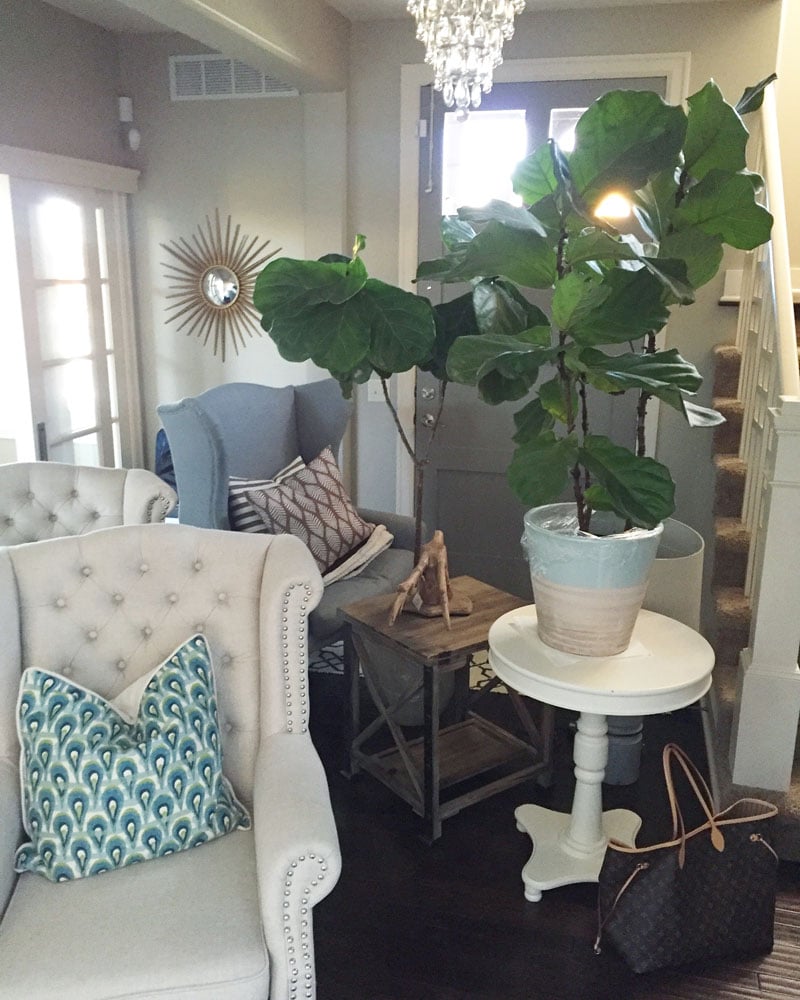 First, as you can clearly see, I moved all the furniture out of the office other than my desk and printer station. I then gave the room a really thorough vacuum. There were a few stains from a somewhat wreckless DIYer that lives in our house…mostly the remnants of dark furniture wax I had accidentally gotten on the carpet a few years back. I had conveniently set a table over it with a fiddle fig on top – nothing like a little camo! #reallife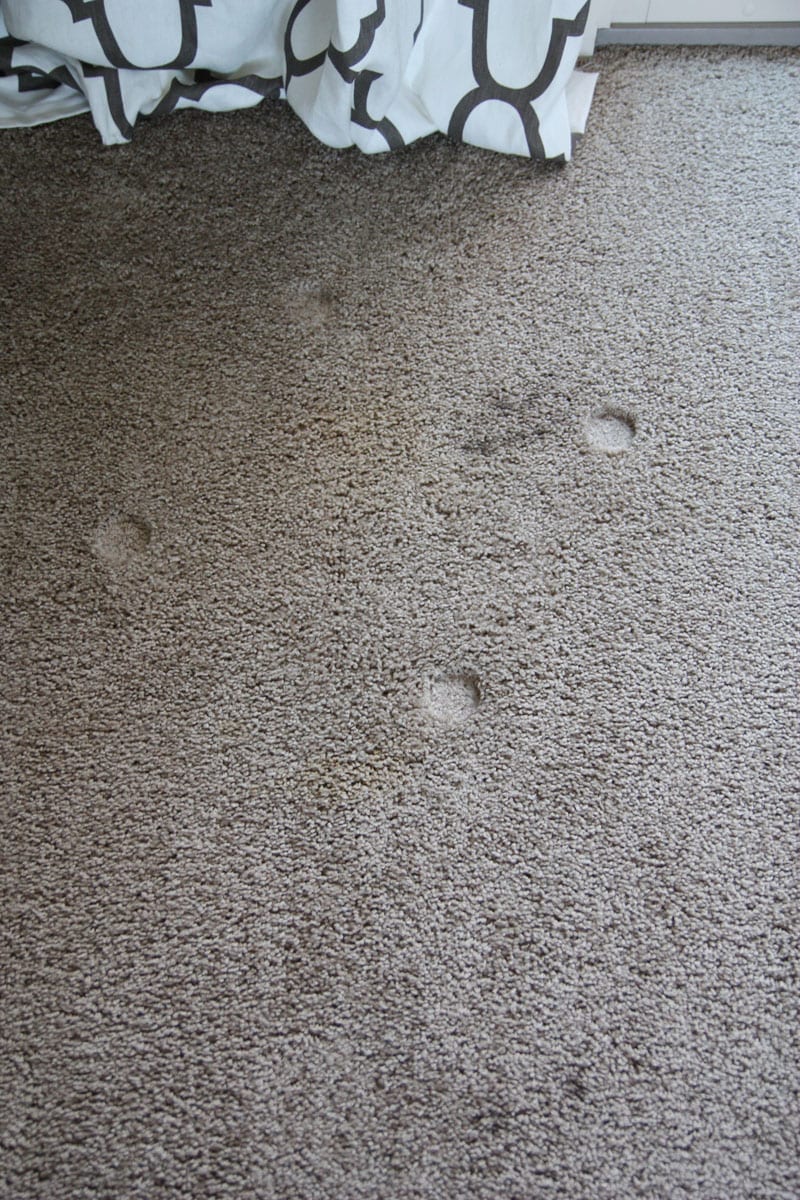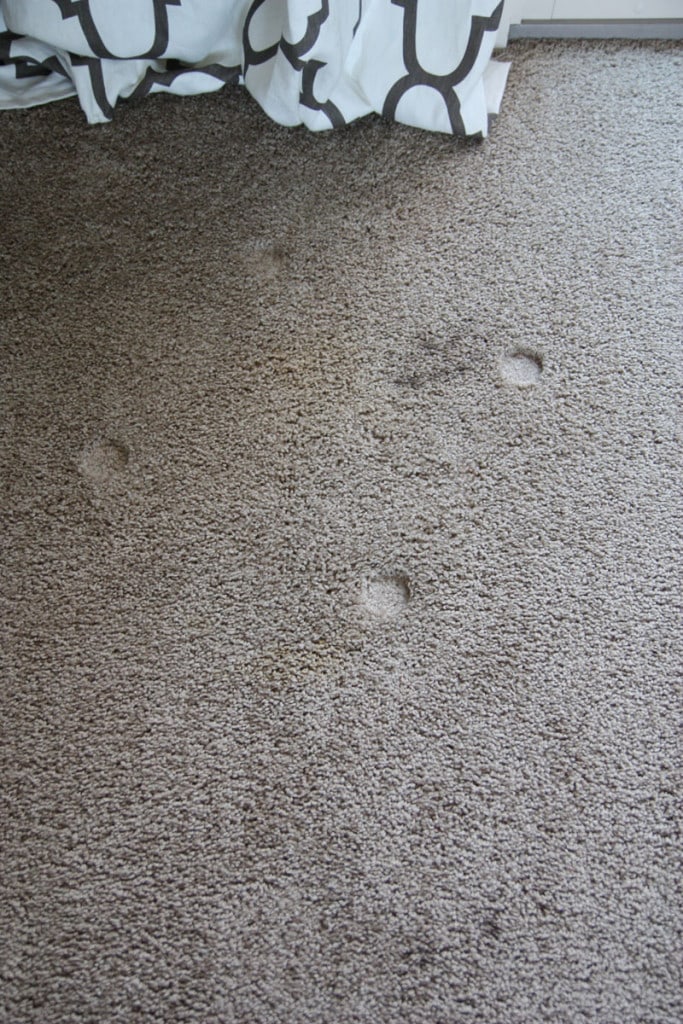 I was a bit short on time, so I opted to use the Express Clean Mode. The entire room took about 20 minutes start to finish and it dried in about an hour. See? I told you it was quick and easy!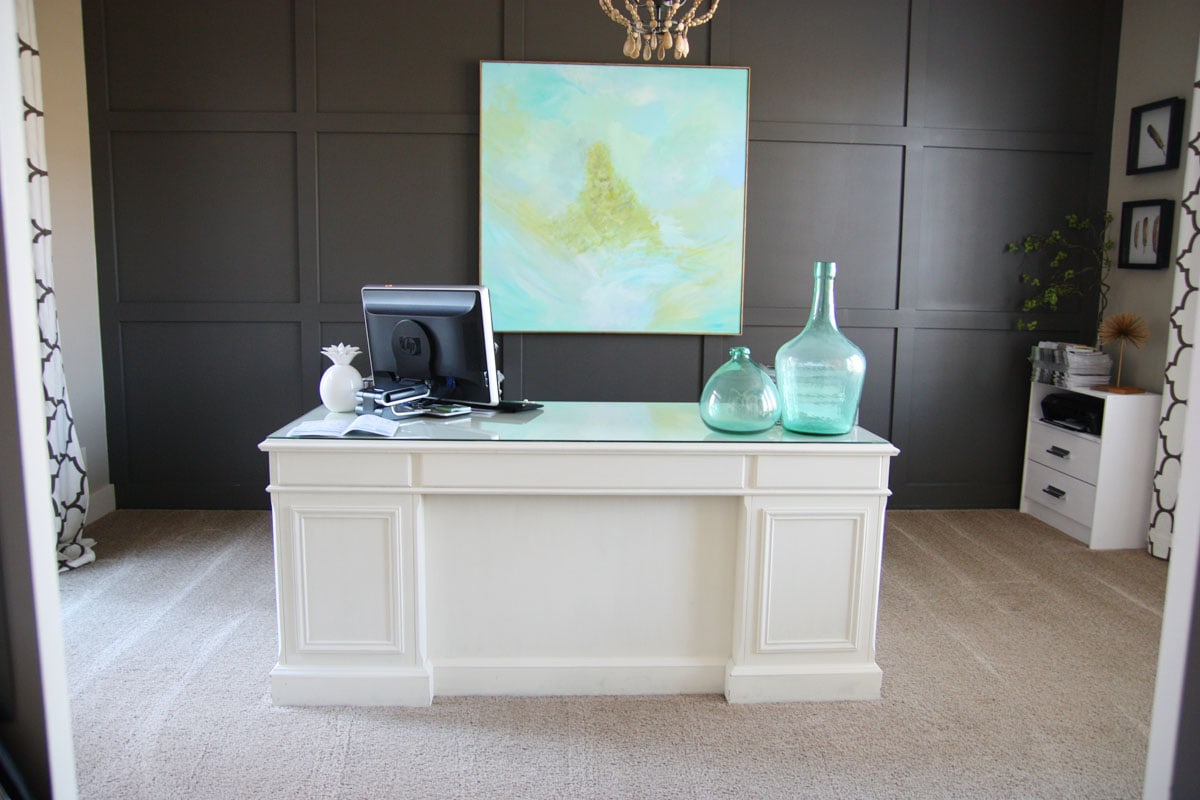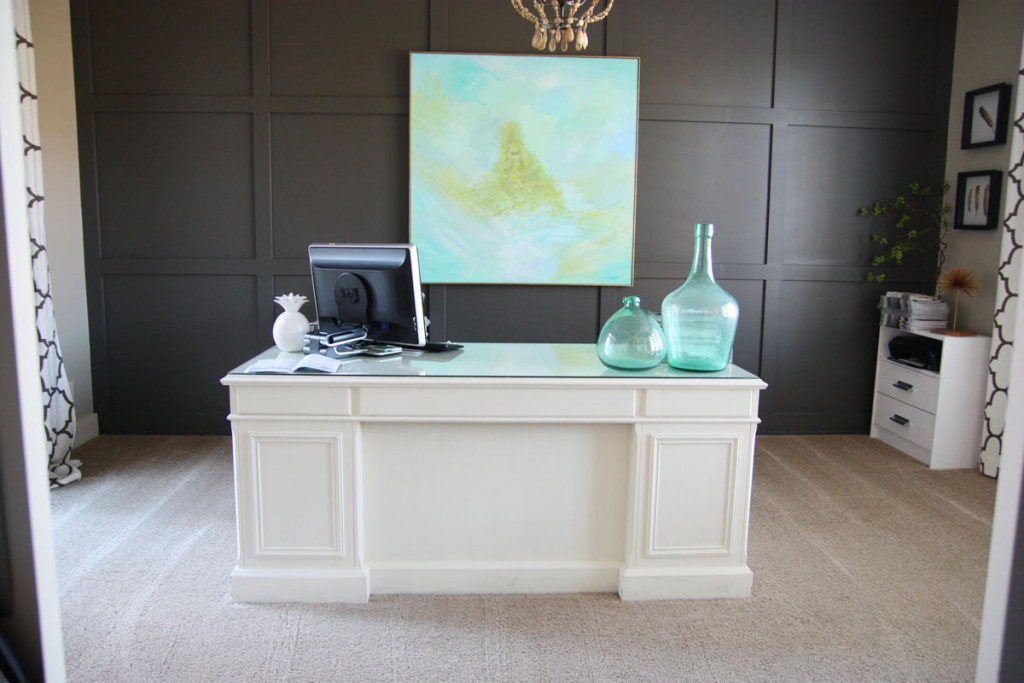 Not only that, I was able to get out those DIY wax stains that I had given up hope on!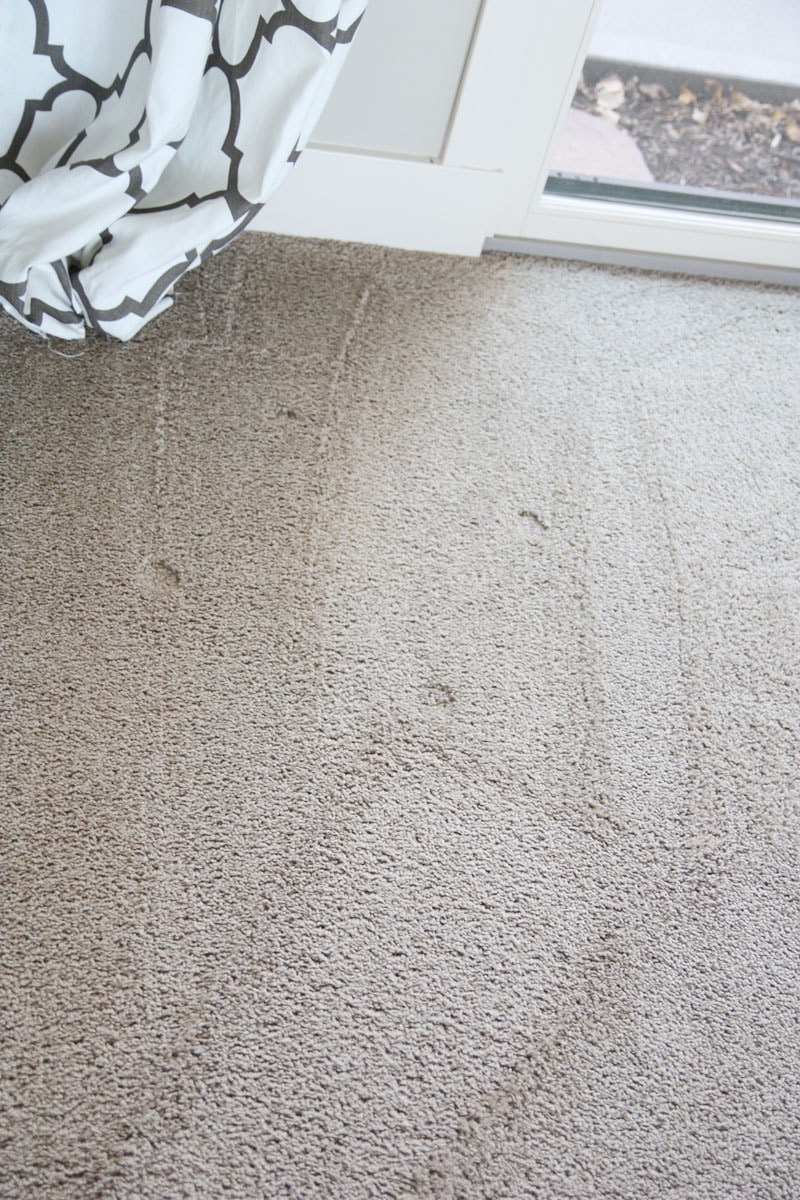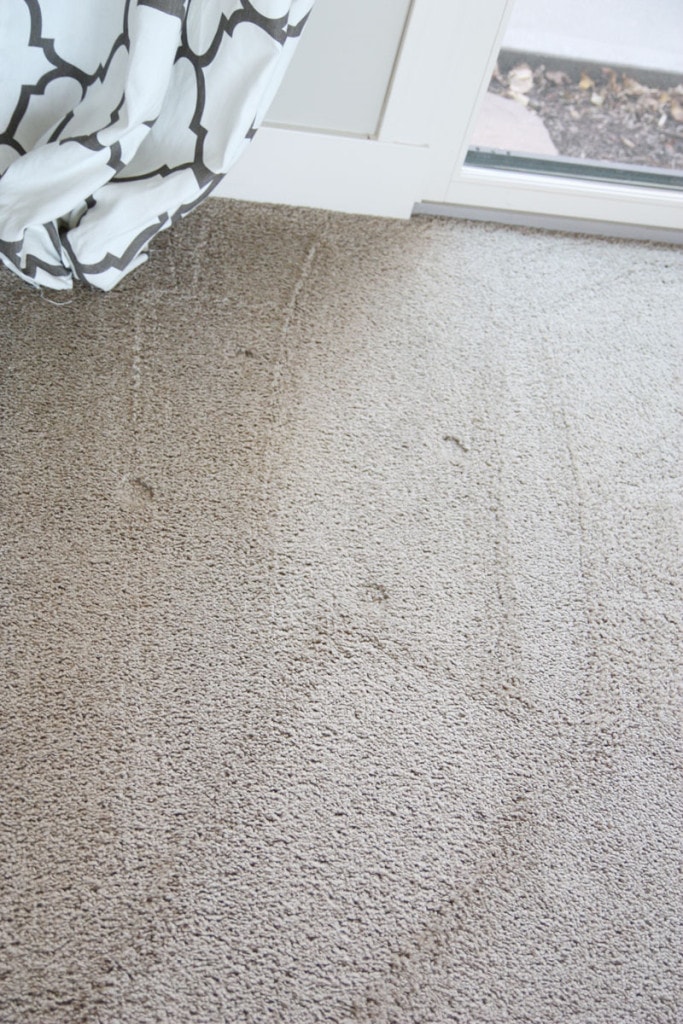 I was shocked at just how much dirt came up. Not only that, it managed to get fur that my vacuum was apparently missing. Once done with the carpets, dumping the dirty water was a bit like driving by a car wreck – you can't divert your eyes away from it as gross as it may be! Don't judge just how dirty our carpets were.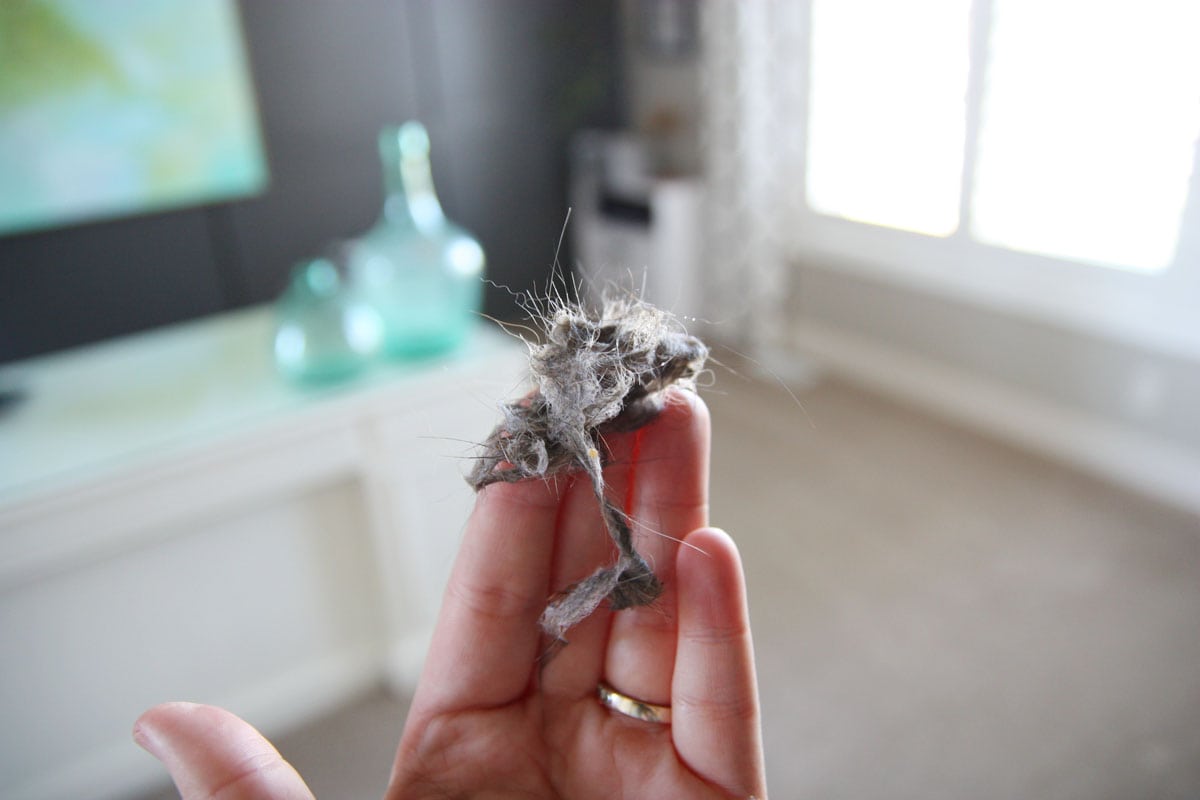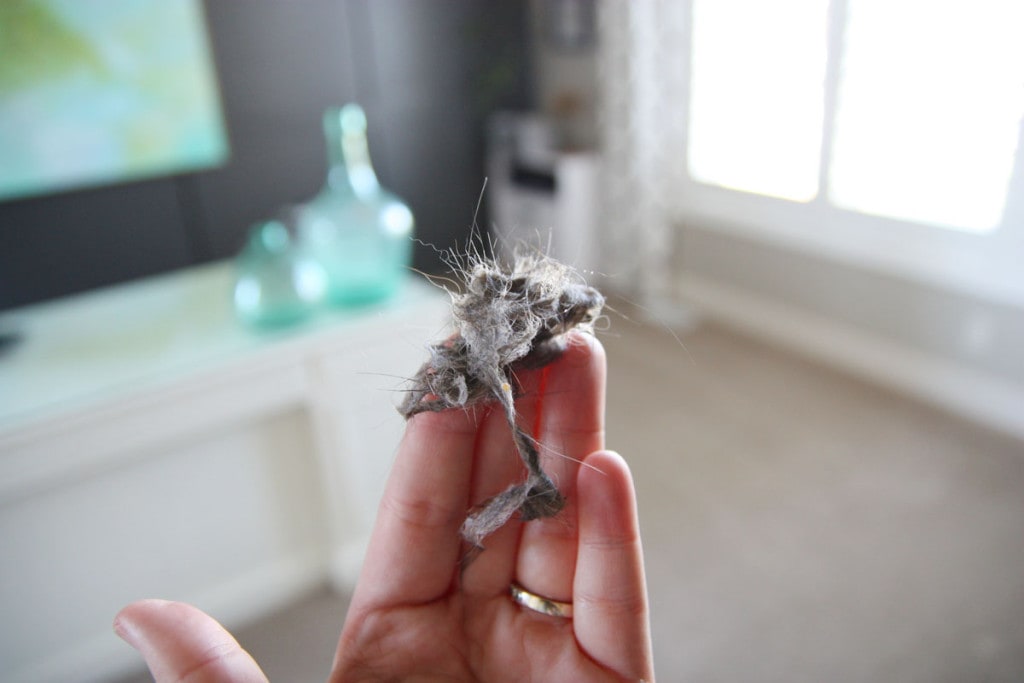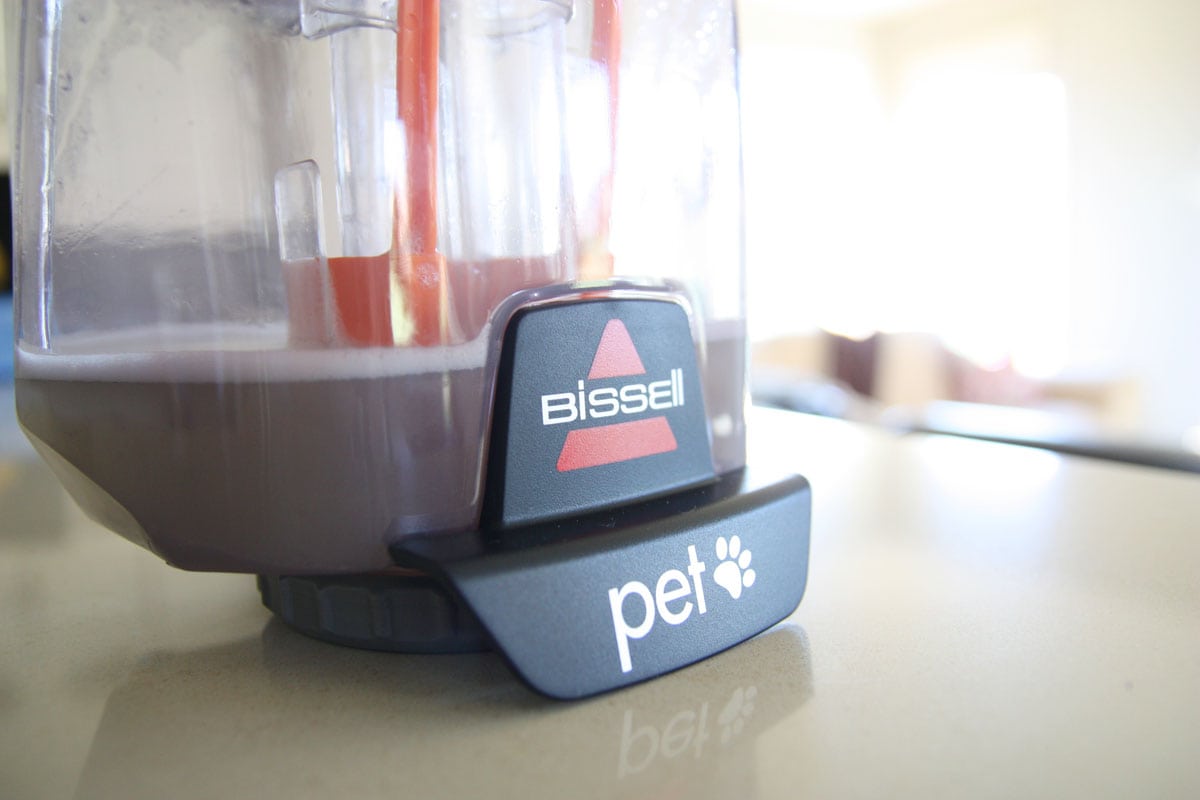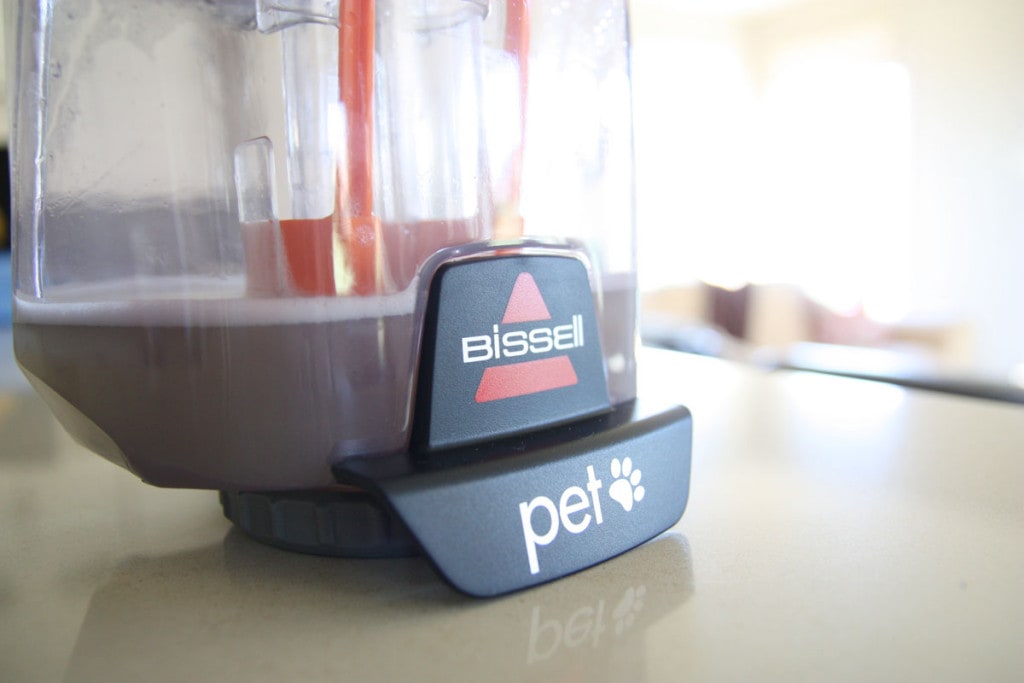 So gross, right? I would like to think it is solely the result of the furniture wax it picked up, but I'm pretty sure that's not the only dirt it found 😉
I was really dreading this task but was shocked at just how easy it was. Not only that, it is such a good feeling knowing just how much dirt I was able to get out of our house! I'm looking forward to using it in our living room and on our stairs – two areas I know could definitely use a good, deep cleaning as well!
And now for the giveaway! BISSELL is offering two product bundles (including a BISSELL ProHeat 2X Revolution Pet and BISSELL Deep Clean + Antibacterial formula). Two winners will be chosen at random across participating blogs in this campaign.
All you need to do to enter is leave a comment on this post with your favorite fall or spring cleaning tips. BISSELL will review all the comments and pick the winners that will receive the product bundles! So, be sure to leave your email address in comments if you're profile doesn't include it. Good luck!
Are you doing any deep cleaning over the coming week(s)? Any dirty jobs you hate doing but love once you're done?
If you would like to follow along on more of my home decor, DIY, lifestyle, travel and other posts, I'd love to have you follow me on any of the following:
Pinterest / Instagram / Facebook / Twitter / Bloglovin' / Google
Disclosure: This post was sponsored by BISSELL. As always, all comments, photos and dirty carpets are my own.