I recently made some exciting updates to my garage and added some stunning fall planters!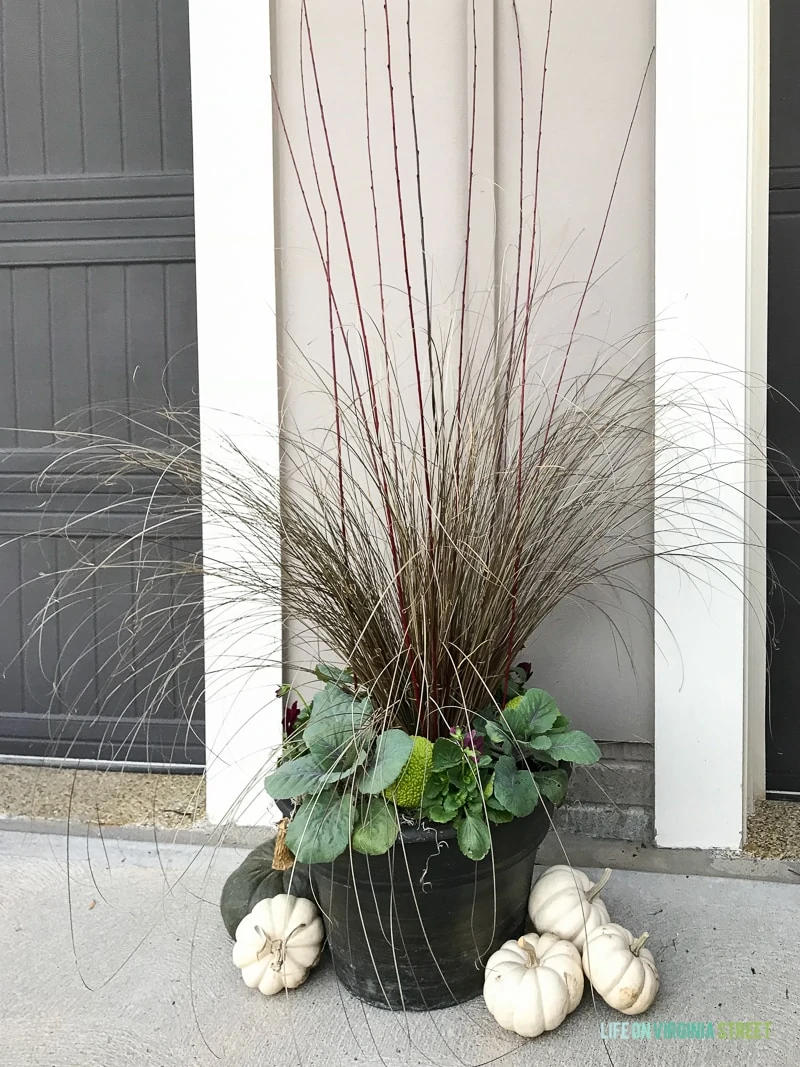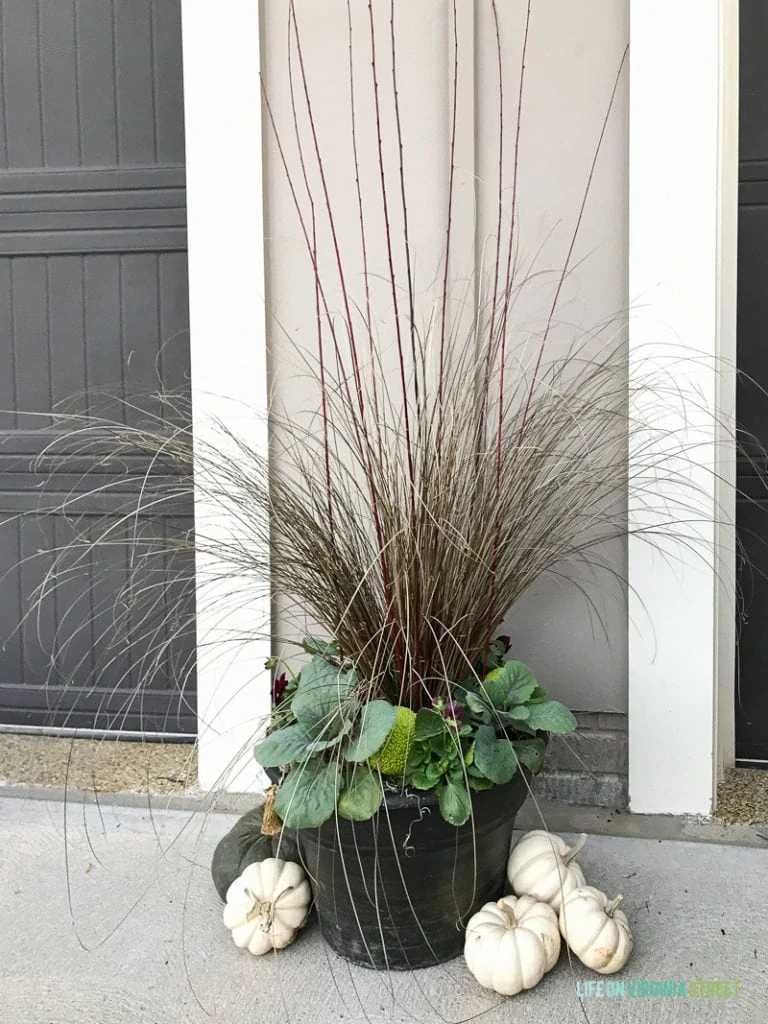 Thank you to LiftMaster for partnering with me on today's post. As always, all thoughts and opinions are my own.
Occasionally, we'll make updates around our home in areas that don't really excite me, so they rarely make the blog. For example, the workout room Kurtis created in our unfinished basement or the cat bedroom (also in the basement) we'll occasionally refresh. Typically, our garage is one of those "uninteresting to me" places, but today I'm sharing a few updates to the garage that we made recently that have me excited!  Plus some beautiful fall planters that I found!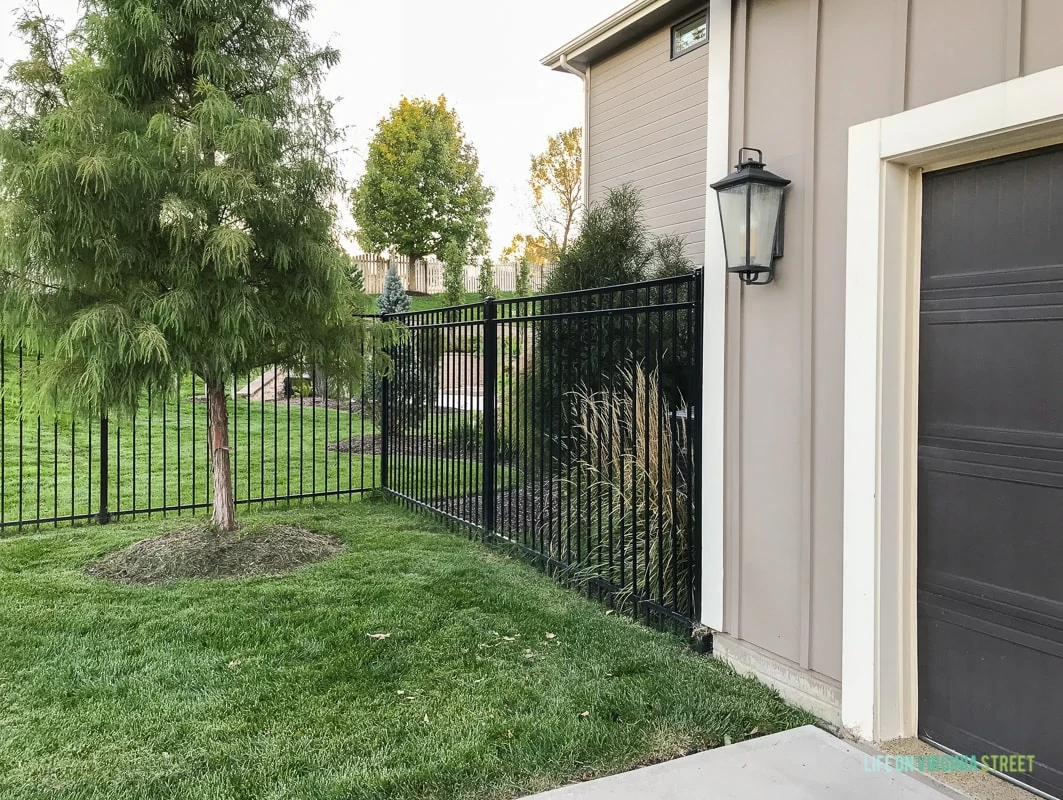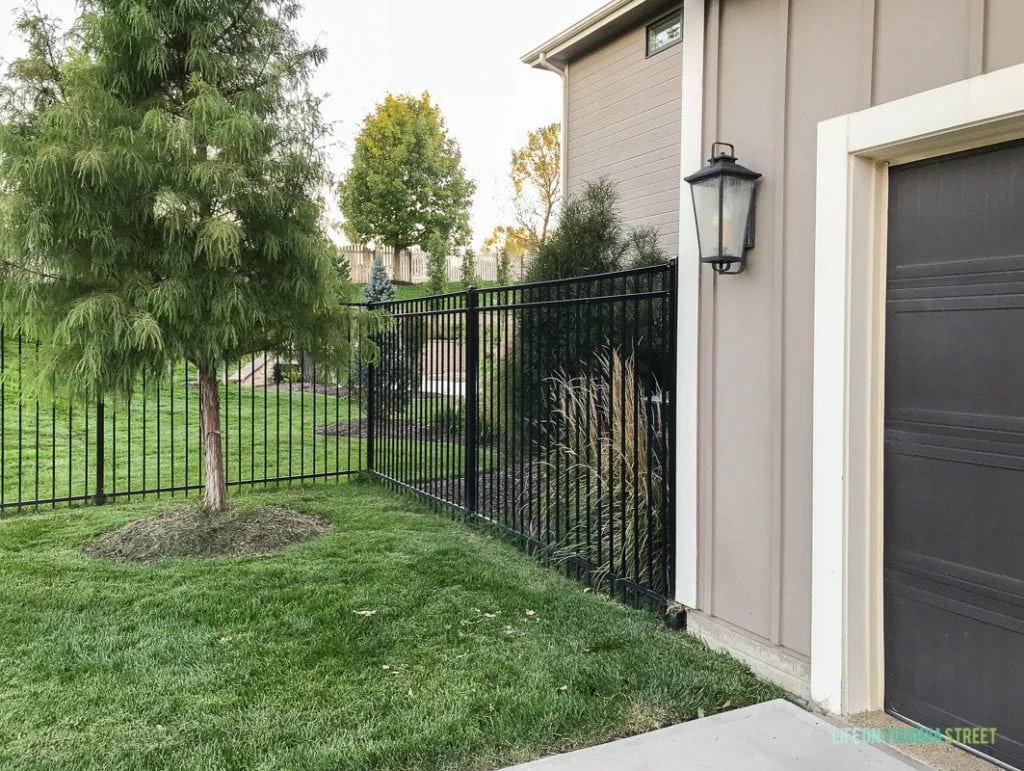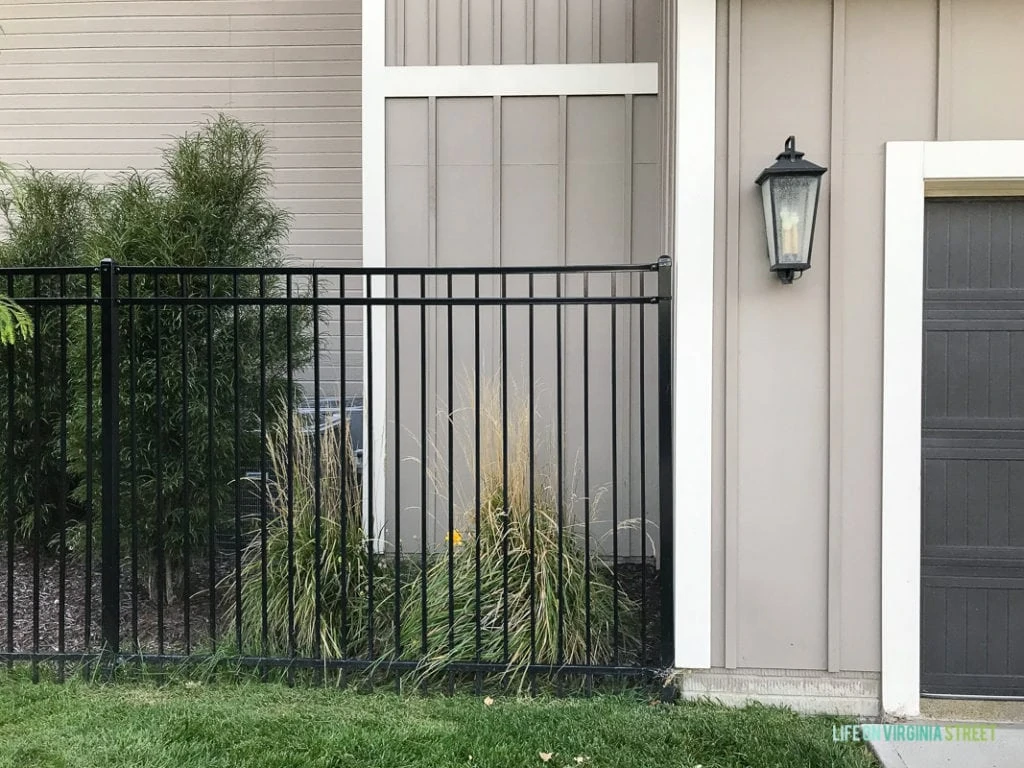 But first, a little backstory. So often I share tips and tricks to make the inside of our homes more welcoming and beautiful. But all of that is completely irrelevant if we don't feel safe and secure in our own homes! Recently, our neighborhood has had an increase in garage break-ins. Burglars have been using the garage as a way to gain access into the house, have simply taken a few items from the garage, and in some cases have stolen vehicles. One of the thieves ran through our backyard as part of his escape plan (the police caught him at the end of our street, thankfully). But, to be honest, it's all really scary.
Garage Security
So, first on our garage update list was finding a way to better secure our garage. We have an alarm system for our home, but had nothing at the time to protect our garage. About a year ago, Kurtis noticed our then current LiftMaster garage opener panel had the option to set an automatic close for both of our doors. Essentially, you can pick the amount of time that your door will auto-close if nobody is in the garage. We had ours set to 20 minutes, so that if we accidentally left the door open at night, it would automatically close after those 20 minutes were up. That was certainly an improvement.
However recently, LiftMaster created an Automatic Garage Door Lock that is an added accessory compatible with the LiftMaster 8550W, 8587W and 8360W garage door openers. It's essentially a like a deadbolt for your front door and acts to secure your garage in a similar manner!
A few weeks ago, we had two new garage door openers installed (we chose the LiftMaster 8550W Wi-Fi Garage Door Opener and Automatic Garage Door Lock) so that we could also use the Automatic Garage Door Lock feature. The pair are also compatible with the auto-close feature we loved so much in the past. We love that each and every time we close the garage door, the lock sets. When we use our exterior panels or garage remotes, the lock releases prior to opening the doors. You can actually hear when the lock sets so that you know your garage is secure. It gives us so much peace of mind knowing that our garage is locked up tight each and every time we close the doors and that our garage is virtually impenetrable. If you're interested in this revolutionary system, be sure to visit LiftMaster's site for dealer lookups in your area! For those of you that are local, we had Omaha Door & Window install our sets and we were very pleased with their service, friendliness and timeliness!
Following is a short video I made to show the features in action:
We are also in love with the MyQ App you can use with this set. We can check any time to see if our doors are closed, and if they're not, we can close them from our phones. The app also stores a log of when the doors were opened and closed and you can enable alerts for each time the door is opened and closed. It's a super slick process!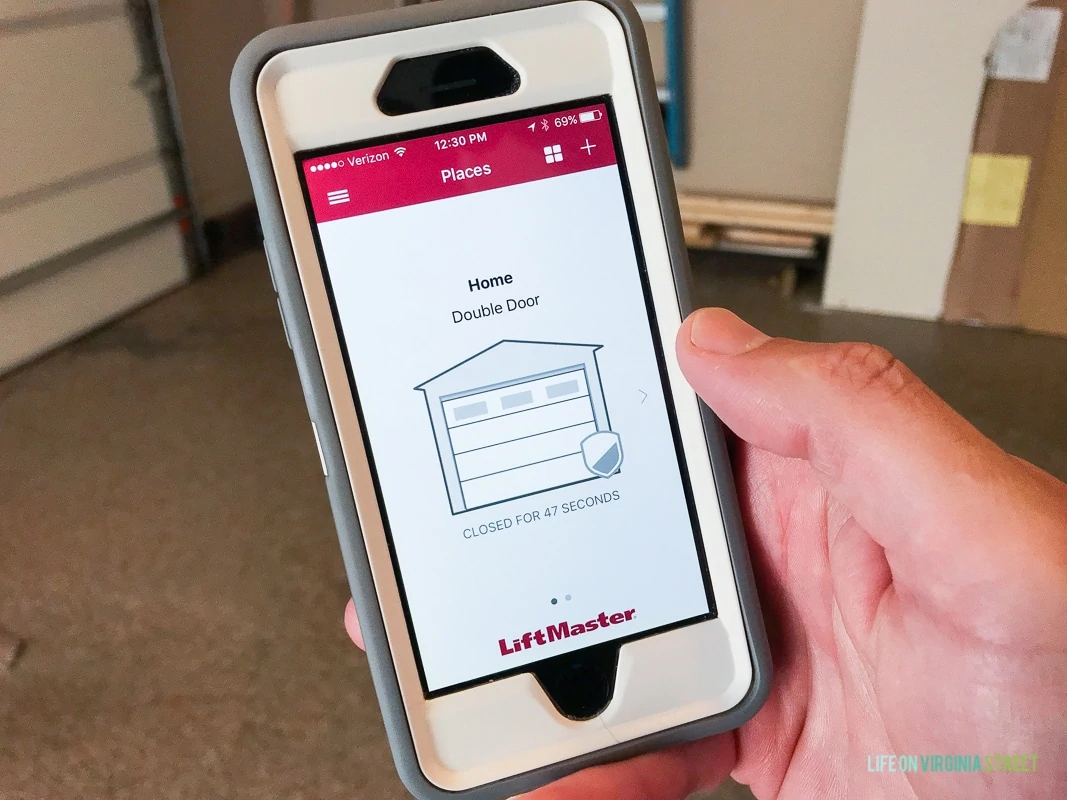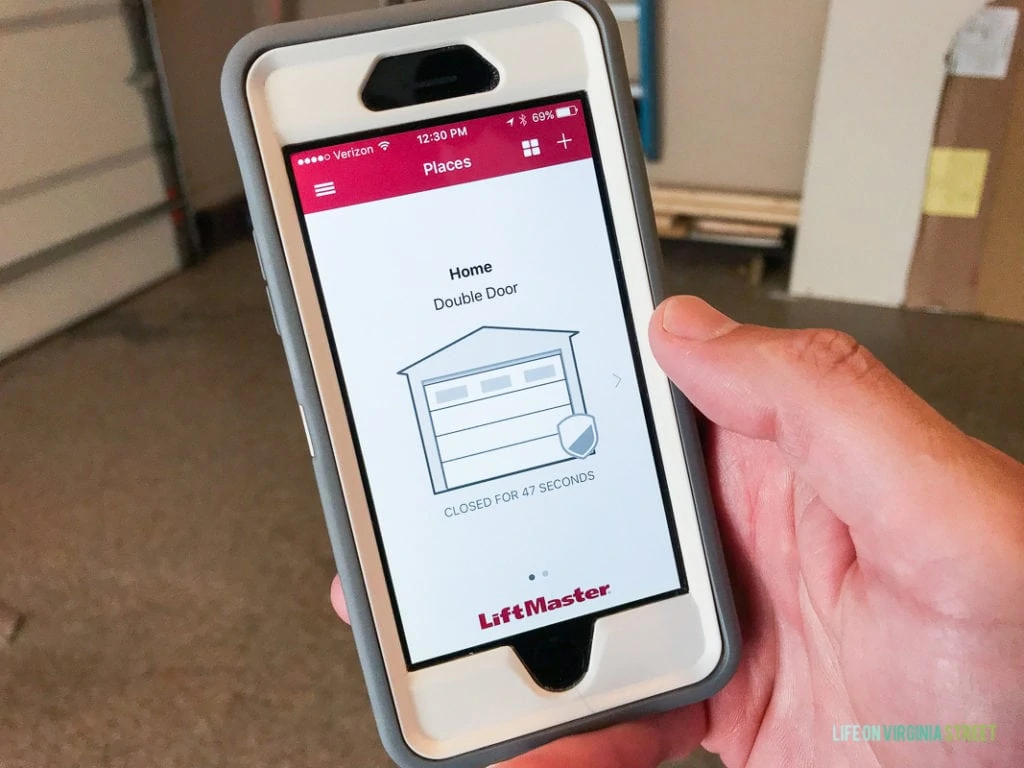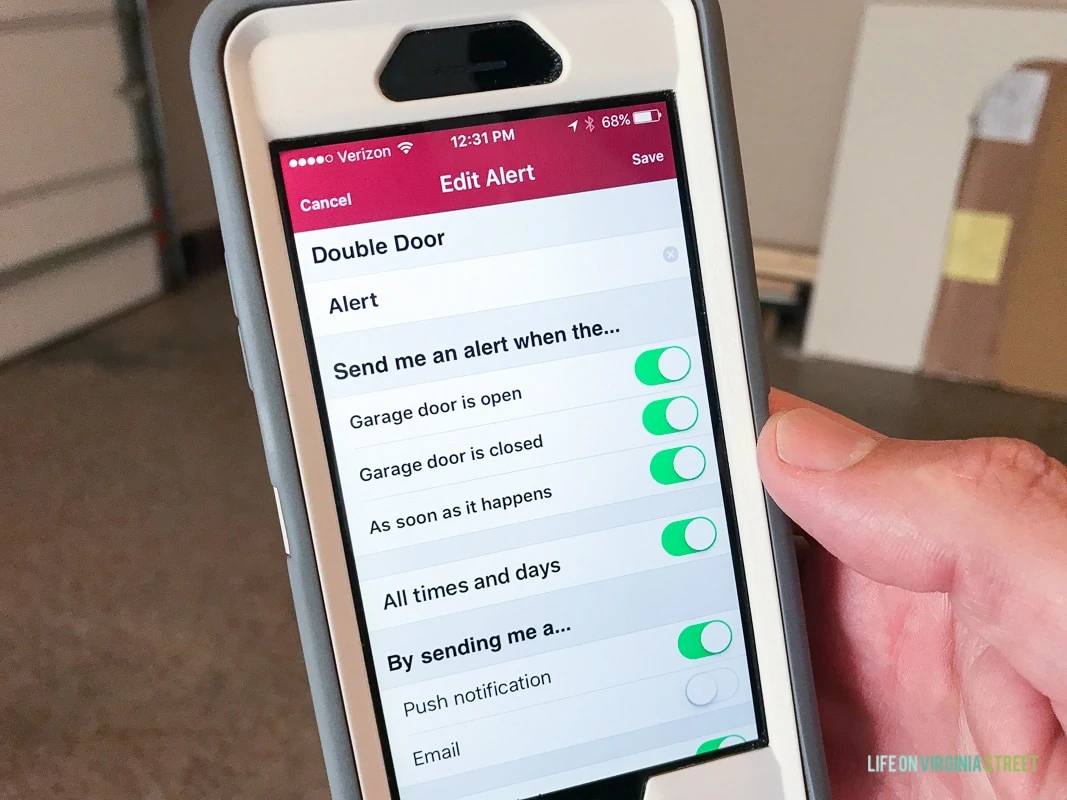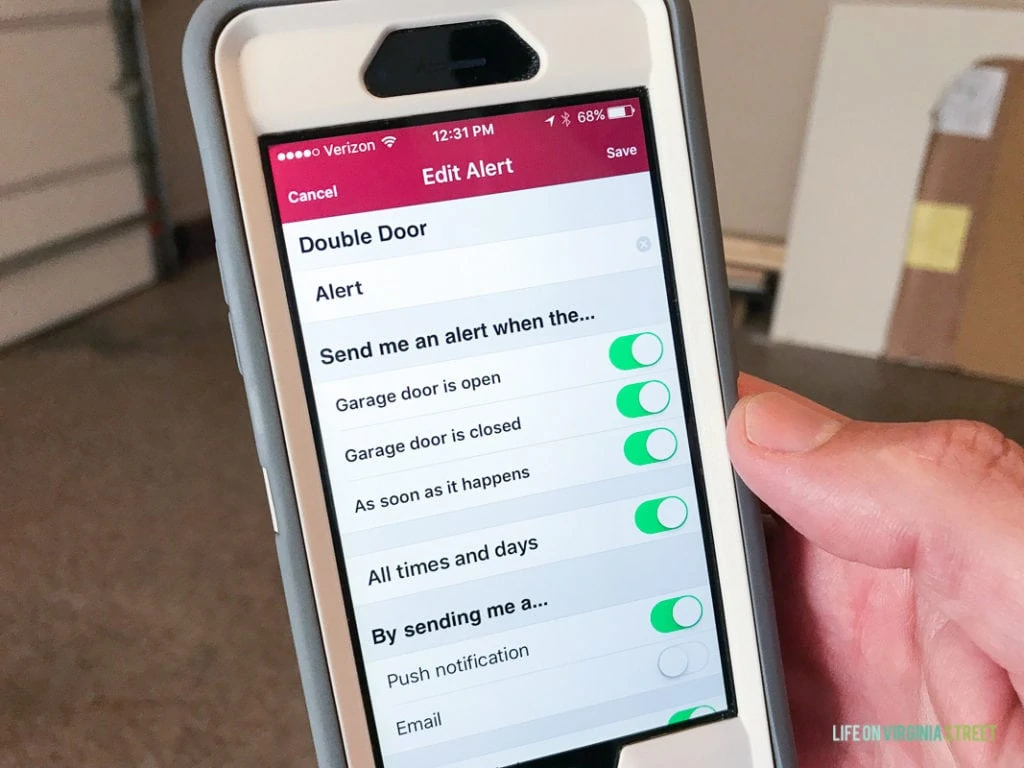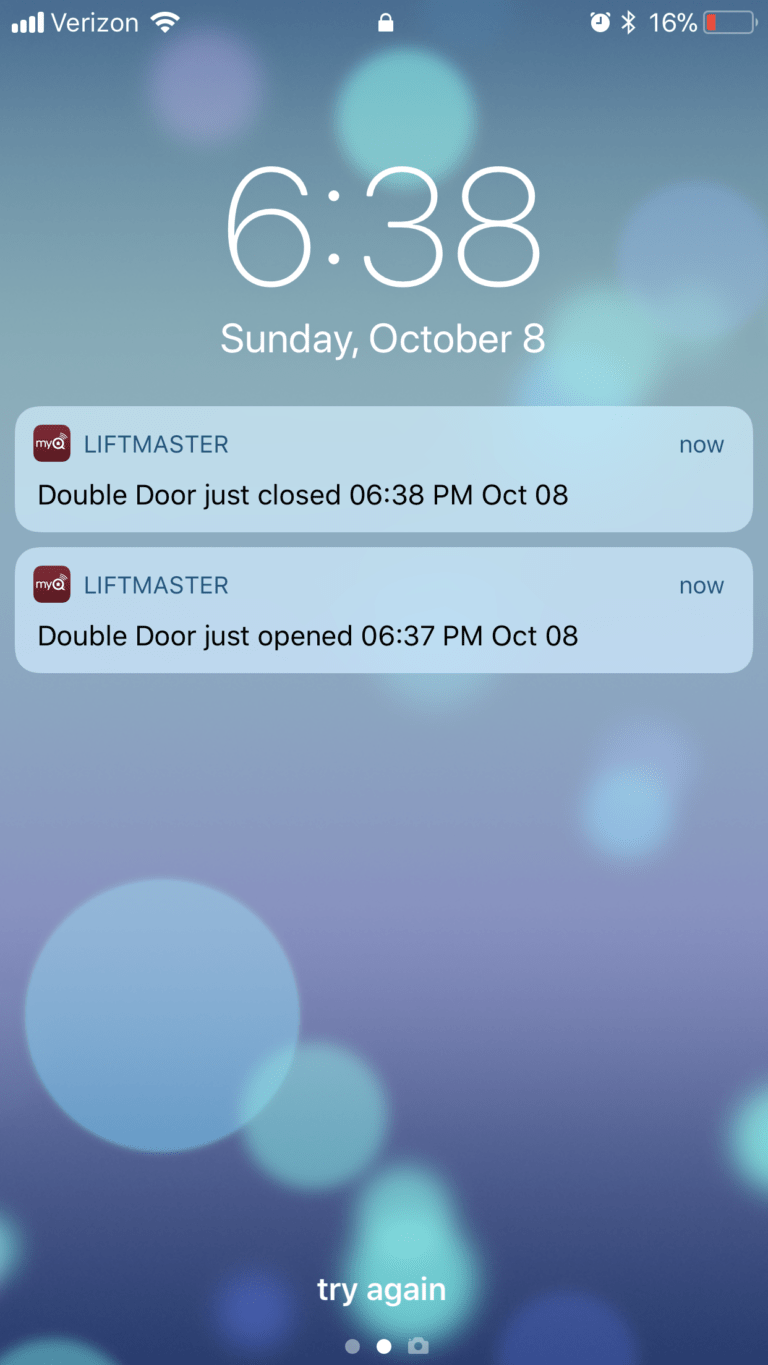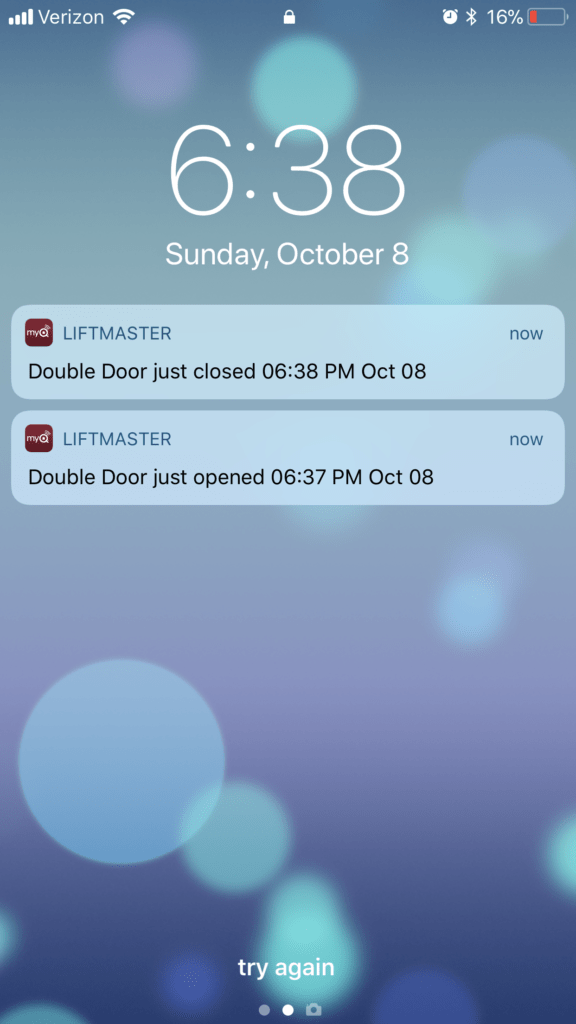 Once we knew our garage was fully secured, we moved on to a few other projects in the garage that have made a big difference in terms of functionality!
We added two overhead shelving units to store all of our pool furniture. Last year, we stacked it all in our third car stall, but unfortunately, that made that side of the garage nearly unuseable. Kurtis found these units at Costco and then installed them a few weeks ago.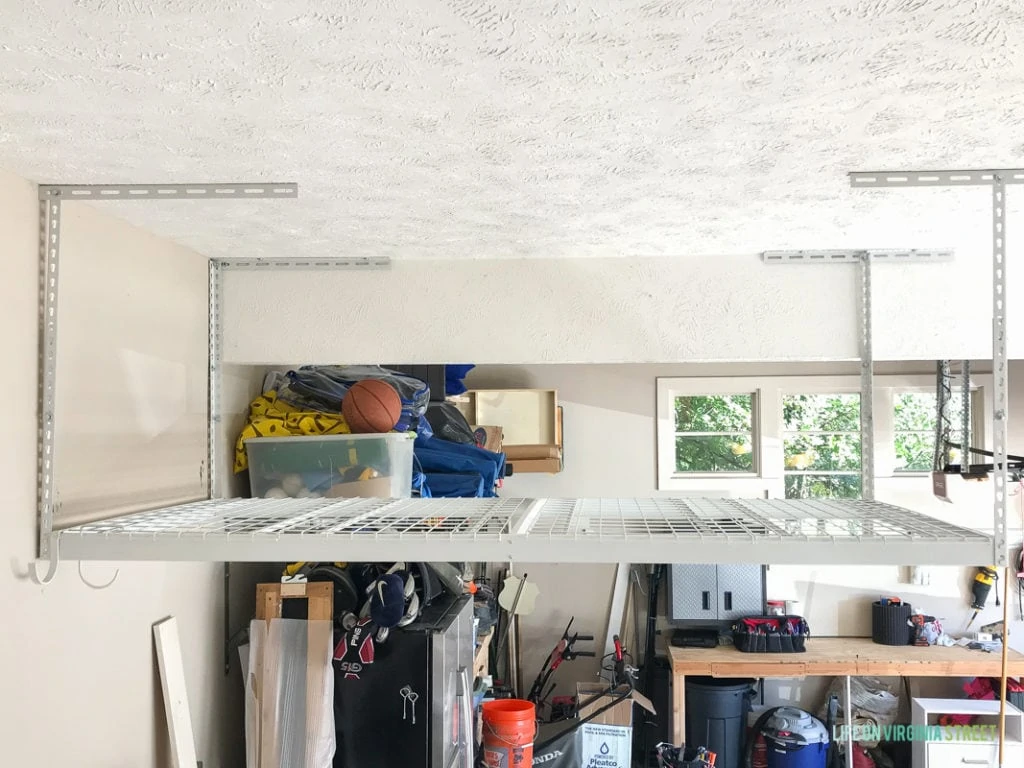 After cleaning our pool furniture, we then stacked it all on the overhead shelves. I'm not going to pretend it was an easy feat balancing these chaise lounges overhead on ladders, but we're so glad we have this alternative now for storing!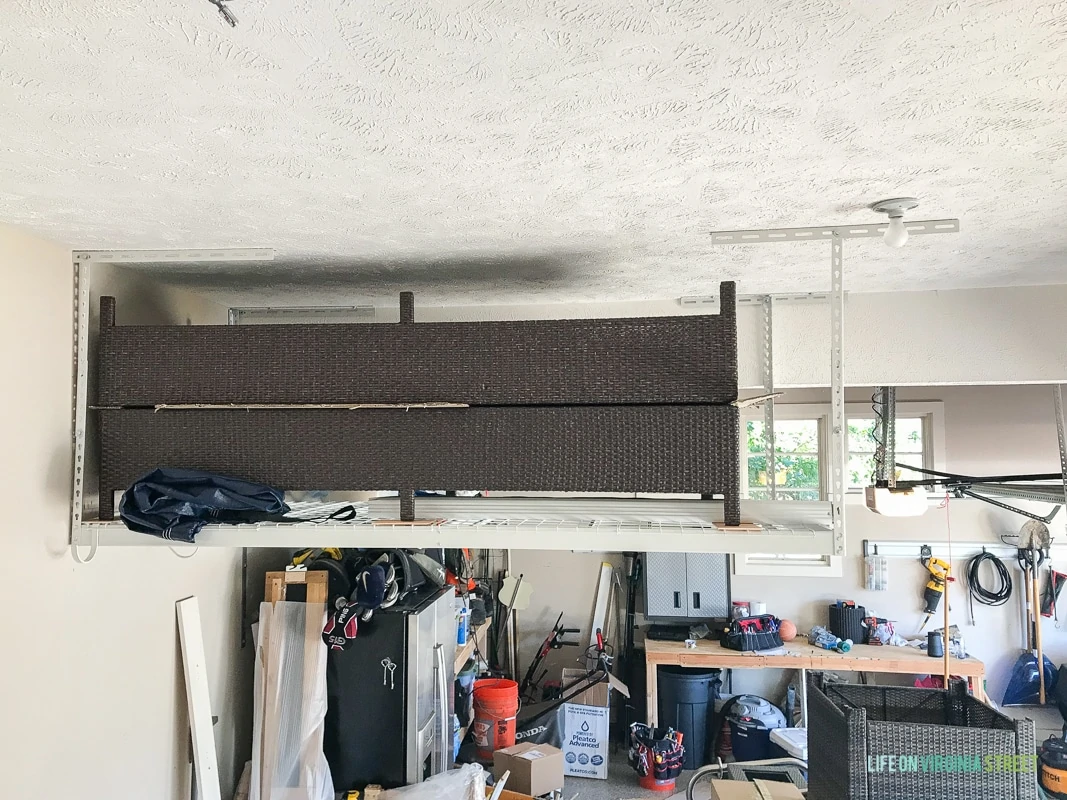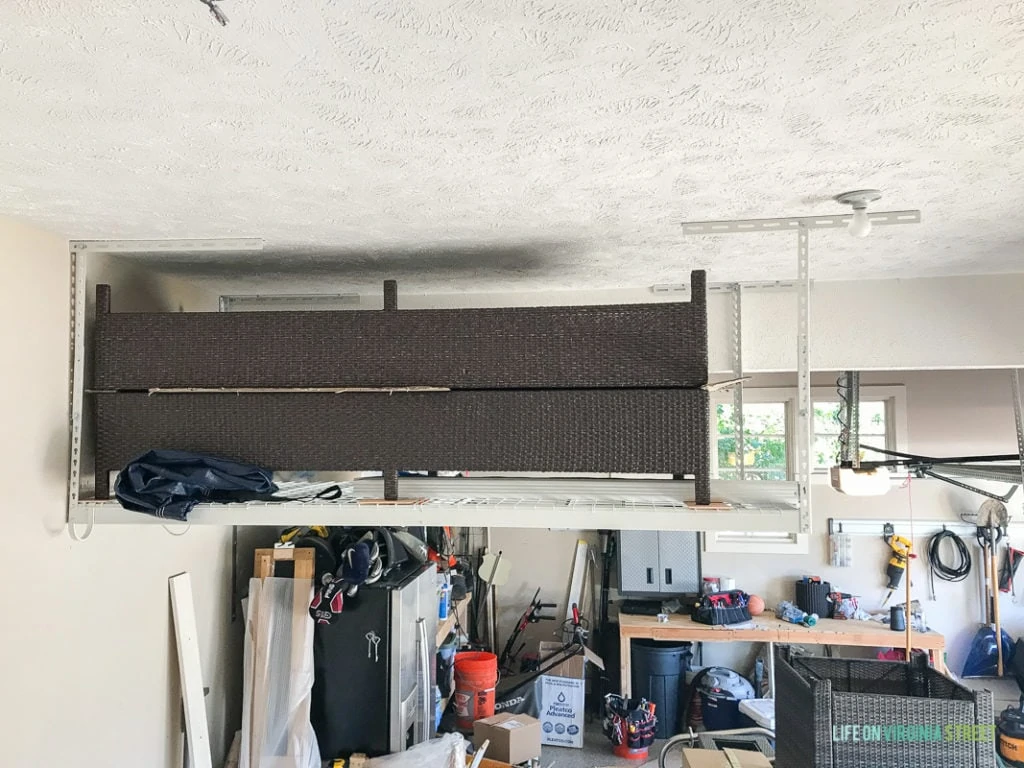 While I was at Haven this summer, Kurtis also did some major purging and cleaning in our garage. He installed a cabinet to store batteries for our drills/leaf blower/etc. and to serve as a hidden charging station. Kurtis also split our tools into two sets (one for our house and one for the rentals). He then added the wall rails to store miscellaneous equipment. As chaotic as it still may look (it is a garage afterall), it has made a huge difference in keeping our tools and supplies organized!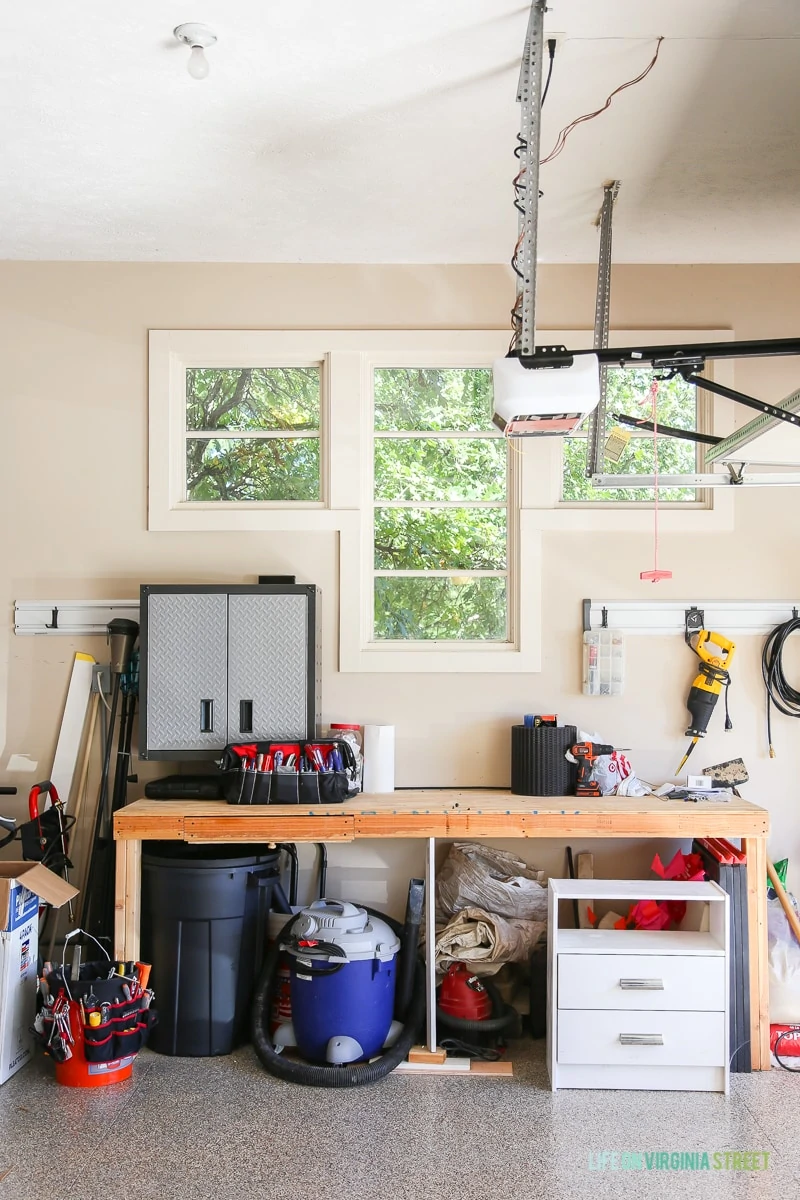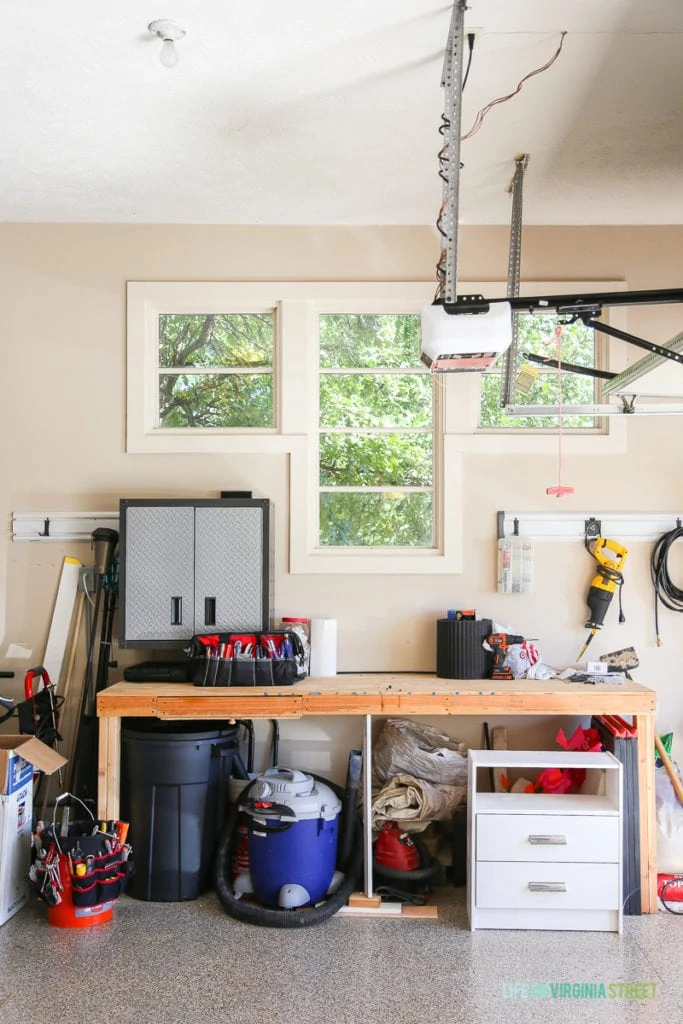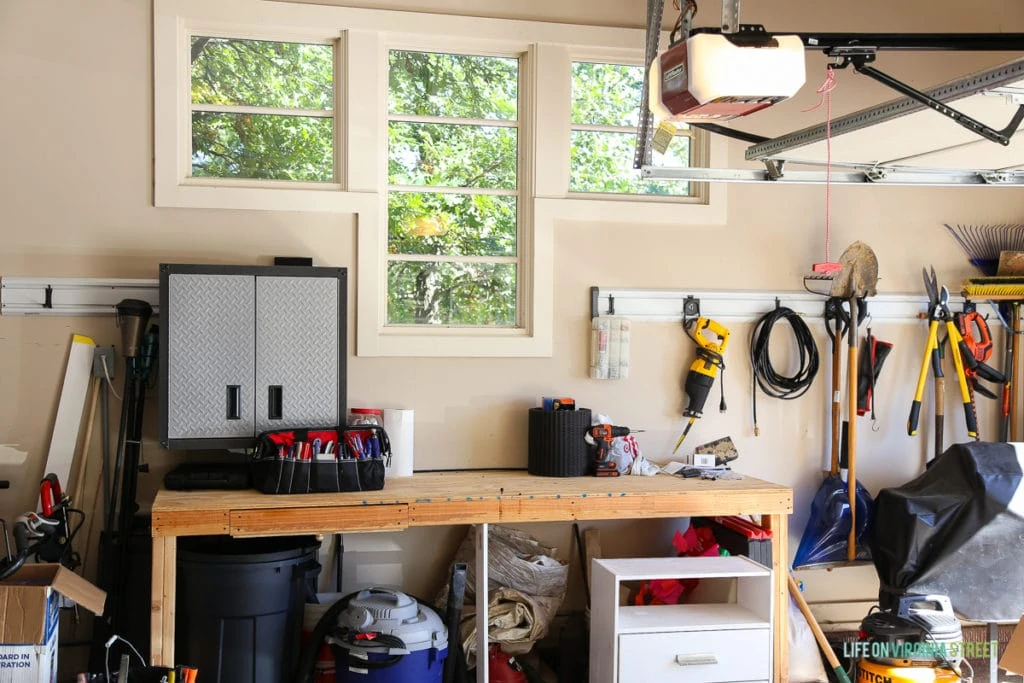 And you know I don't consider any makeover complete without an aesthetic update! I found these fall planters at a local nursery and absolutely love how they look flanking the garage doors! I stacked a few heirloom pumpkins around them to finish off the look for fall. It's such a pretty view now each time we come home!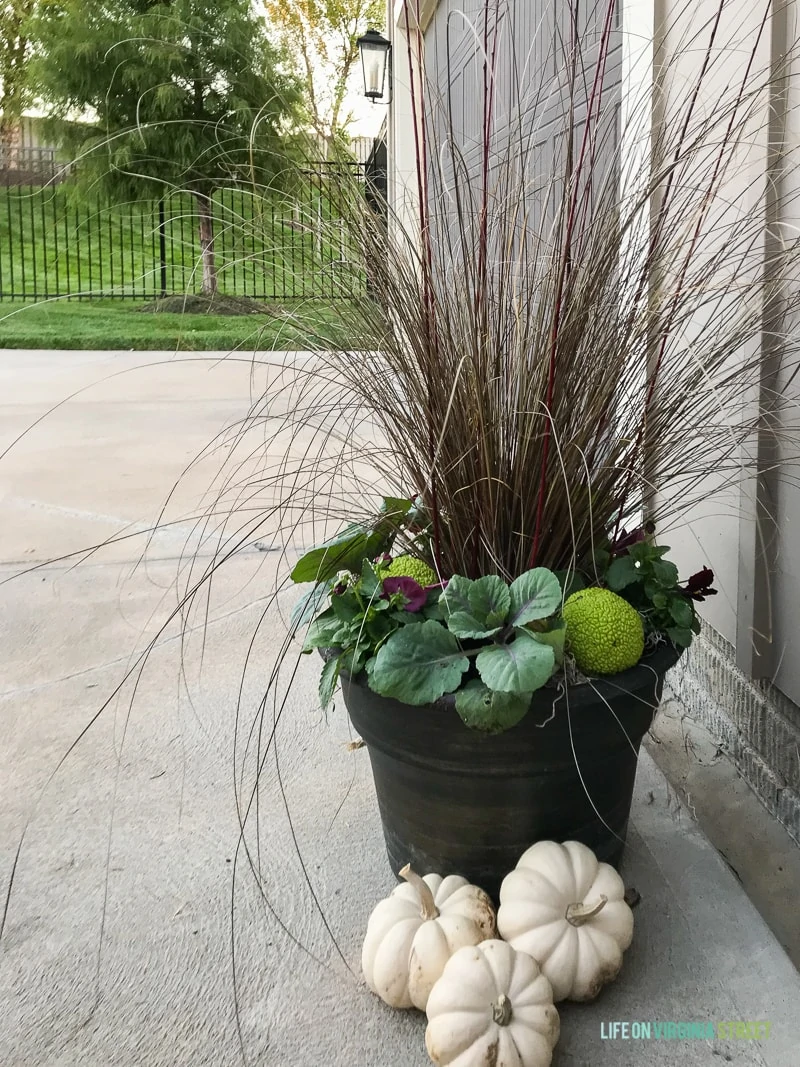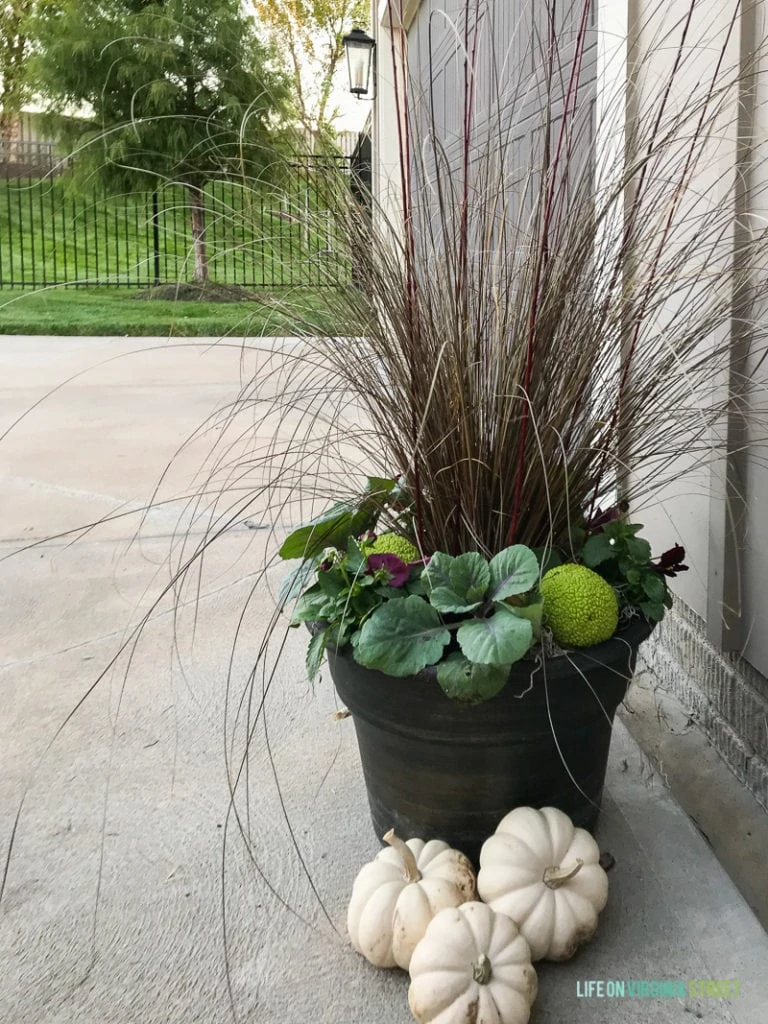 Kurtis and I are so happy with these functional and aesthetic updates and we can rest easier knowing that our garage is fully secure any time the doors are closed. A big thank you to LiftMaster for partnering with me on this project!
If you would like to follow along on more of my home decor, DIY, lifestyle, travel and other posts, I'd love to have you follow me on any of the following: