I hope you all had a great weekend! It officially got COLD in Omaha. We had a few nights below freezing and the high on Friday was only in the 40's. I was able to pull out my sweatshirts and soup recipes!
This was actually a favorite outfit from last week but it made an appearance again this weekend too 😉 The details on the tie-sleeve sweatshirt are hard to see but I this top is quickly becoming one of my favorites! And it's currently 33% off and comes in several other solid and striped colors.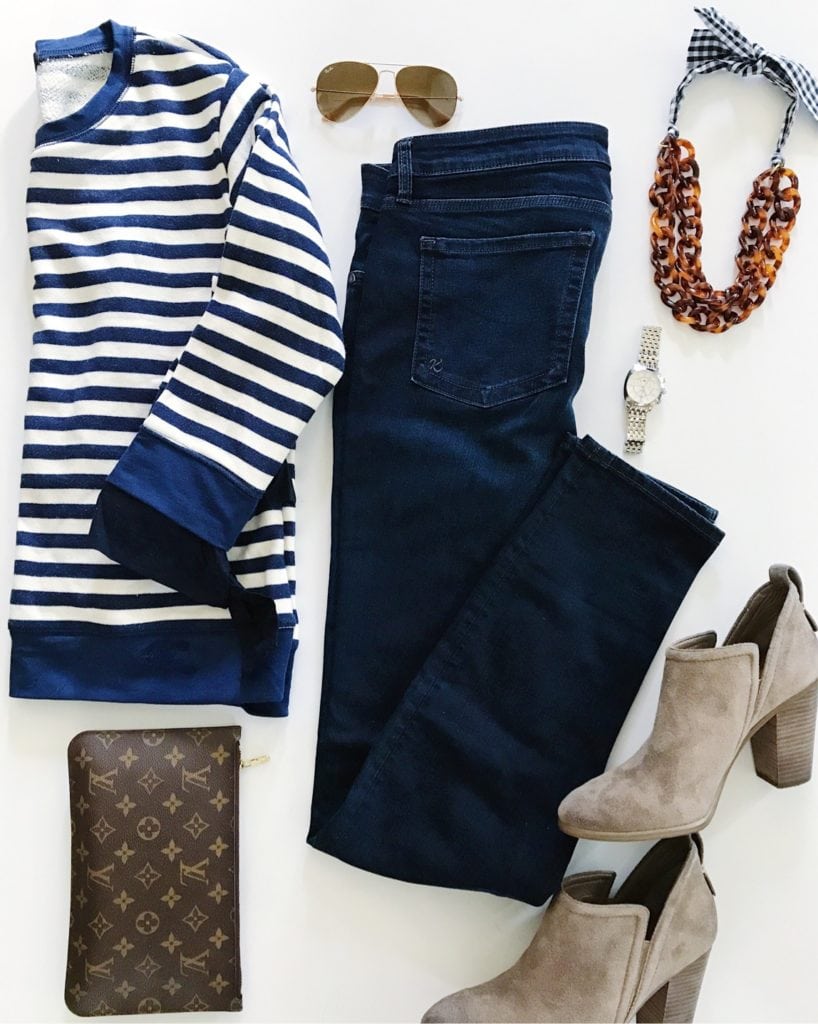 Tie-Sleeve Sweatshirt (33% off) | Jeans (33% off) | Booties (20% off) | Sunglasses | Necklace (46% off) | Watch | Clutch
One night last week I made this chicken and vegetable soup that we used to make quite a bit back when we were hardcore following the Jillian Michaels plan. It's really good when the weather gets cold and it is LOADED with vegetables. It's a great, clean recipe. I opted not to add the beans and add two yellow squashes instead. I also cooked it in our crockpot instead of on the stove (I used pre-cooked chicken).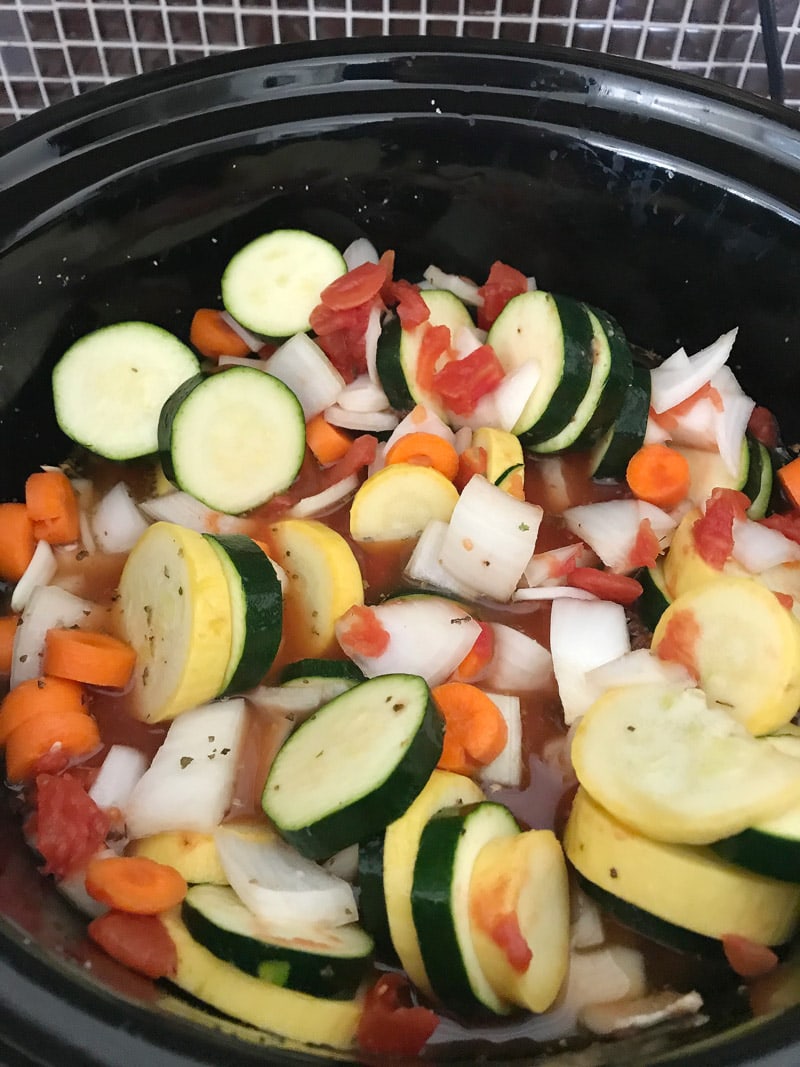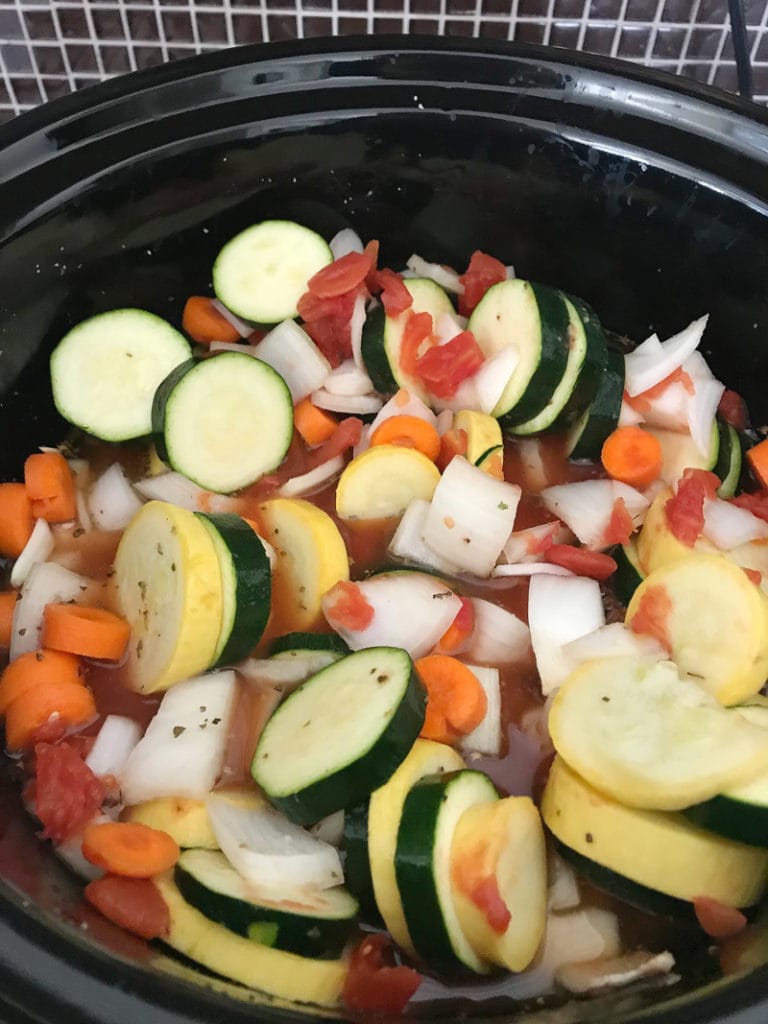 Thursday night, I went to a blogging event at Mom's Good Eats' house down in the Old Market downtown. We were supposed to bring a treat or appetizer to share, and being the great food blogger that I am, I went to Jones Bros. Cupcakes and bought a dozen to share 😉 I love that Dana put them on a cute tiered stand so they looked like they were handmade. I had a great night chatting with a few new faces and some old blogging friends!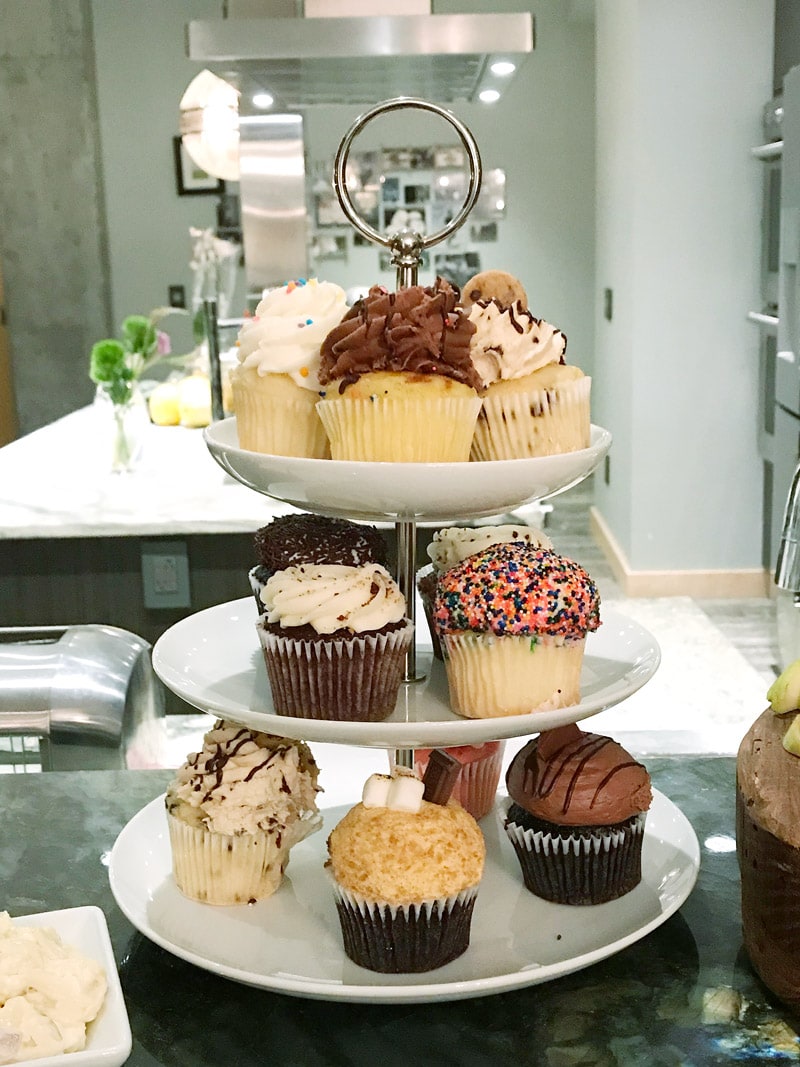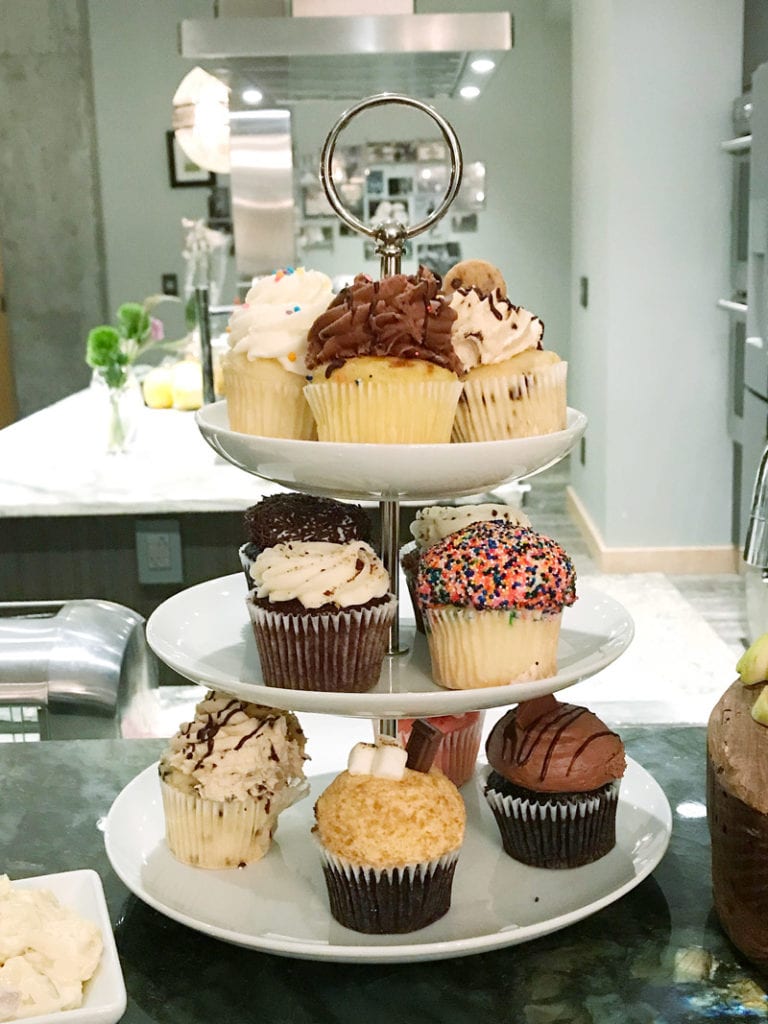 On Friday, there was a new Rush Market that opened near our house. It opened around lunch time, and although I got there about five minutes early, there was already a line. I was specifically looking to see if they had these chairs. I feel like a lot of what they carry is also on Wayfair, but at even better prices (wondering if they purchase returns or something like that??). But it's kind of hit or miss since most items are one-of-a-kind and they don't have duplicates of many.
I really liked this chair (minus the plaid pillow on it) but it was a bit large for our space and they only had one.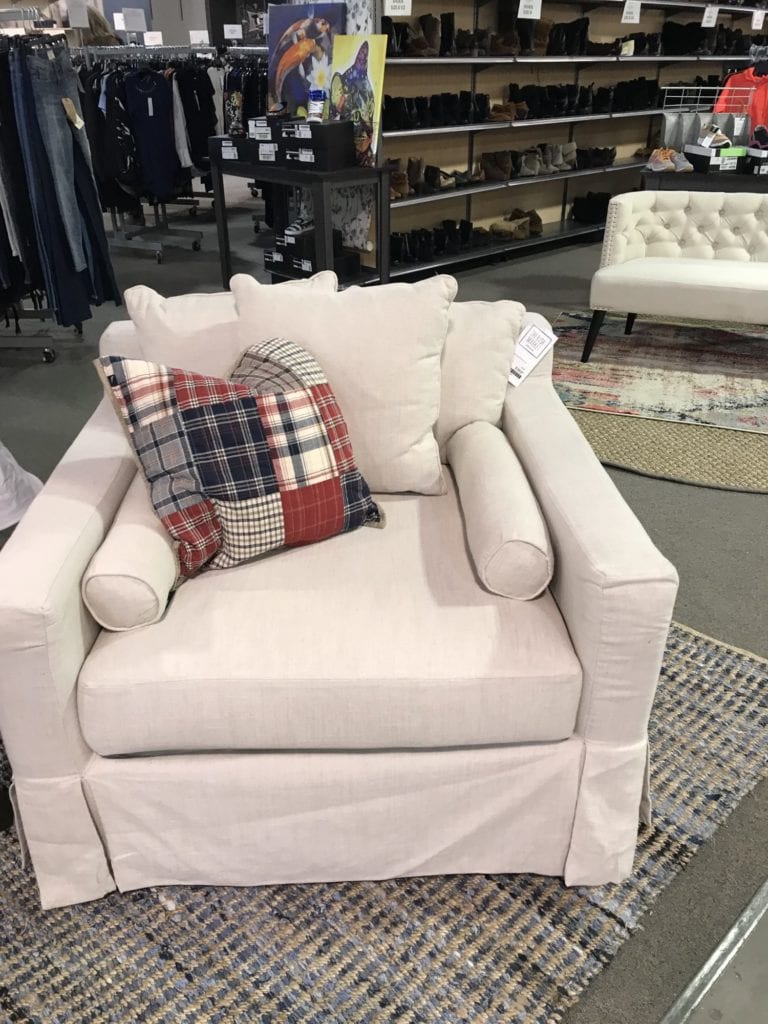 This cabinet was gorgeous and reminded me a lot of the one we have in our dining room.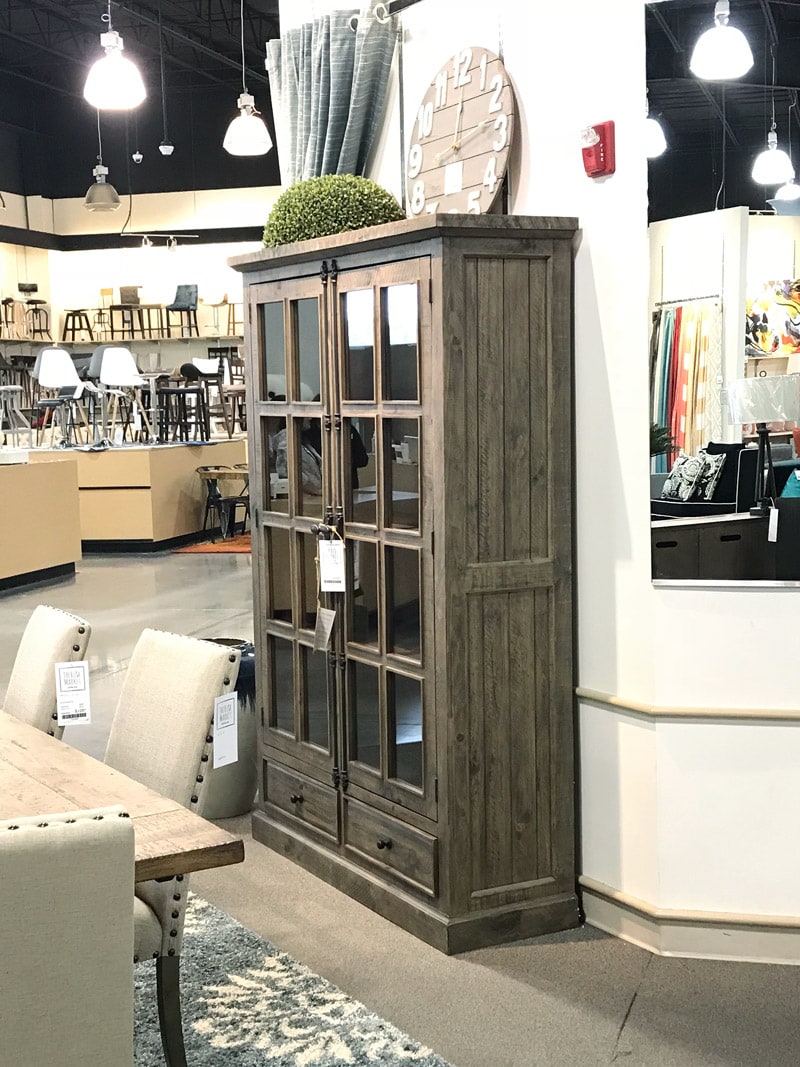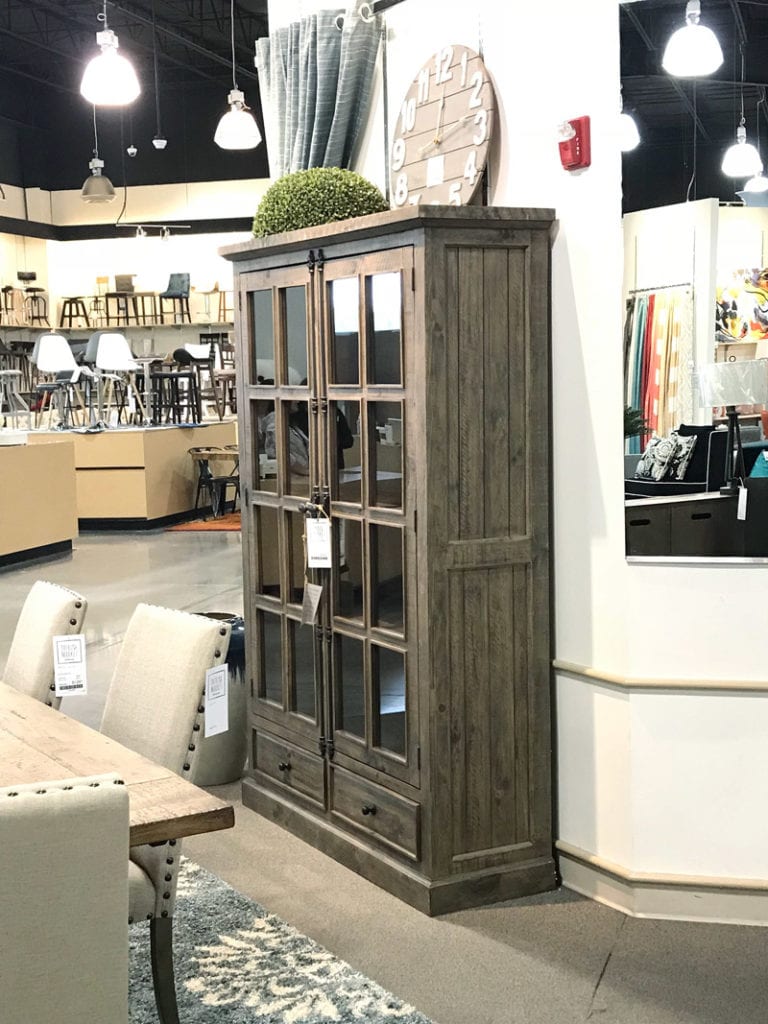 They had a bunch of killer deals on vanities, with countertops included. If we were working on a rental, I would have snagged this one (it was only $279 for everything)!!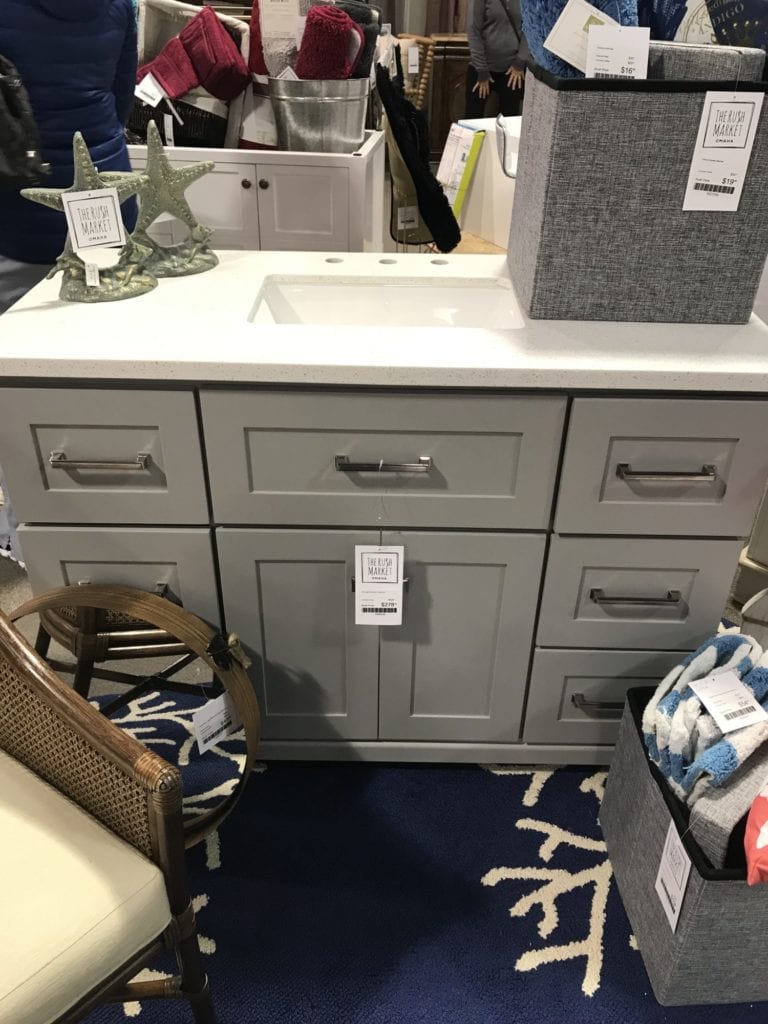 Most of everything else I captured was via my Instagram live, so I don't have any other still shots. But, if you're local, it's worth checking out! You do have to sign up for their emails in order to get location dates/times as well as entry at the door. It's free to sign-up but they do require you be on their list.
Friday night we finalized details on the open rental house. I'm having the ducts cleaned tomorrow (we never did that previously) and the carpets cleaned on Wednesday. Then, it should be ready for our new tenant to move into on Friday!
I also got a call from the Rachael Ray show (?!?!) on Friday. I was shocked to say the least. But they were needing me for a segment this week and the subject wasn't something that I felt was best suited for me. But I was incredibly flattered and asked them to keep me in mind for other possible segments! I recommended a few of my blogging friends that I thought would be a better fit and my fingers are crossed one of them will be selected!
All the bedding arrived for my craft room. I went with a really basic and cheap white duvet cover (it's actually not on the bed yet in the first pic below). It's perfect for the space and now I've been playing with pillow options. These are just quick iPhone pictures since I didn't finalize anything yet. But I thought I'd give you a sneak peak on where I'm headed. The art from Minted will likely stay in the room, but maybe not over the bed as it feels a bit too top-heavy/tall here.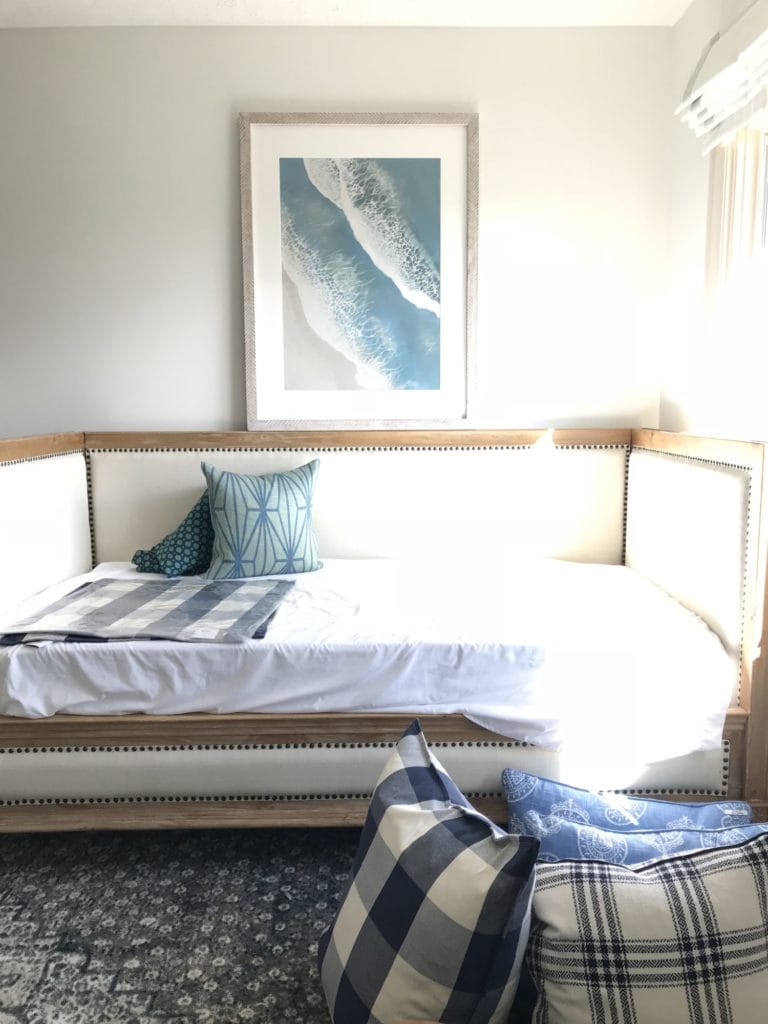 Art | Daybed | Turquoise Pillow | Buffalo Check Pillow | Rug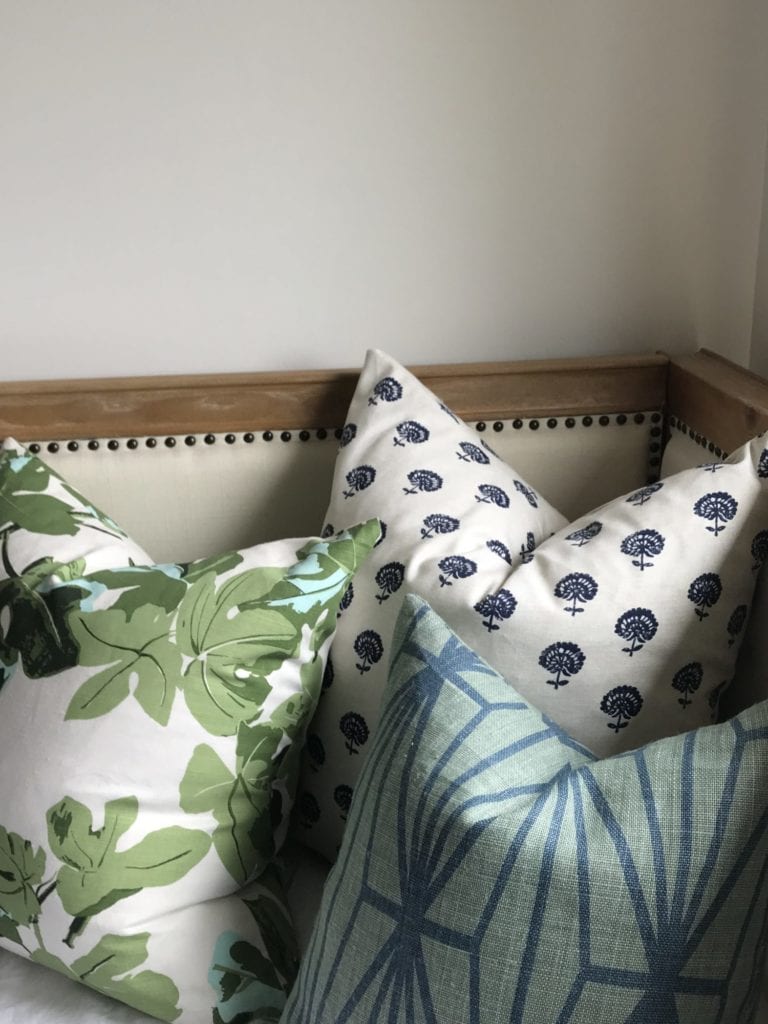 Fig Leaf Pillow | Turquoise Pillow | Navy and White Flora Pillow
I also wanted to share that our dining room rug and our kitchen runner are both 25% off right now! I'm obsessed with this brand and love both of the rugs so much!
We were in desperate need of new pillows for our bed. So, we headed out to HomeGoods. I didn't get a chance to browse much but we loaded up on pillows (and hand soaps!) before heading to Red Robin for lunch.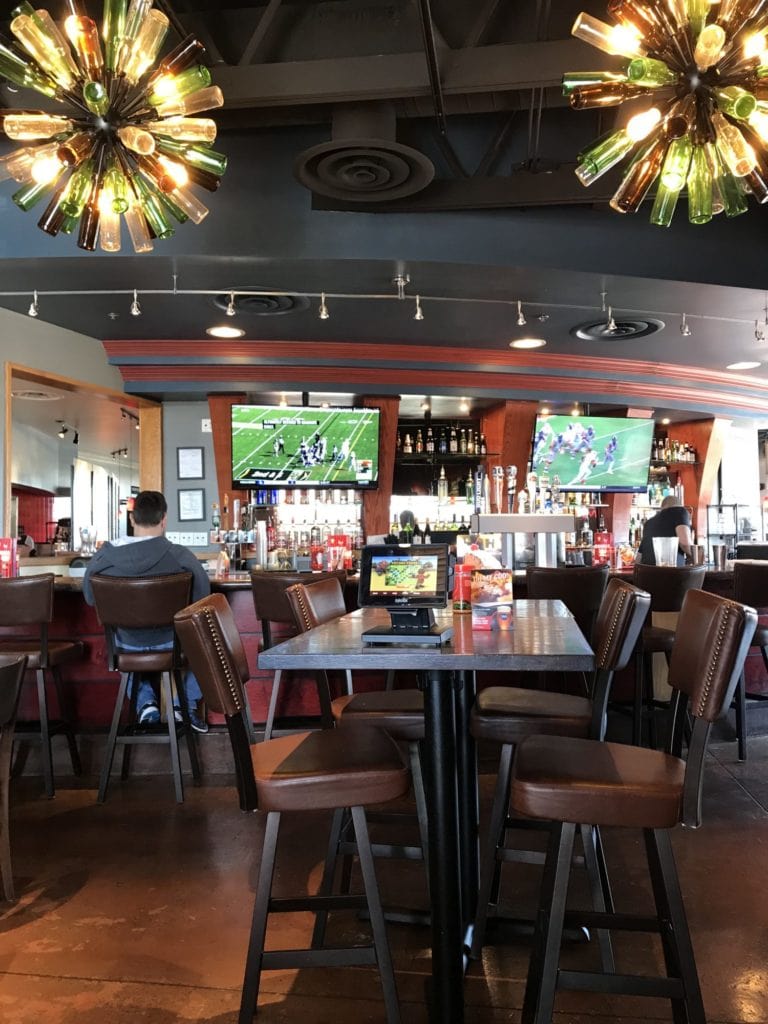 After that, we had a really lazy afternoon and night. The cats just can't get enough of our fireplace! We like to call it 'family movie night' when we all crash in here 😉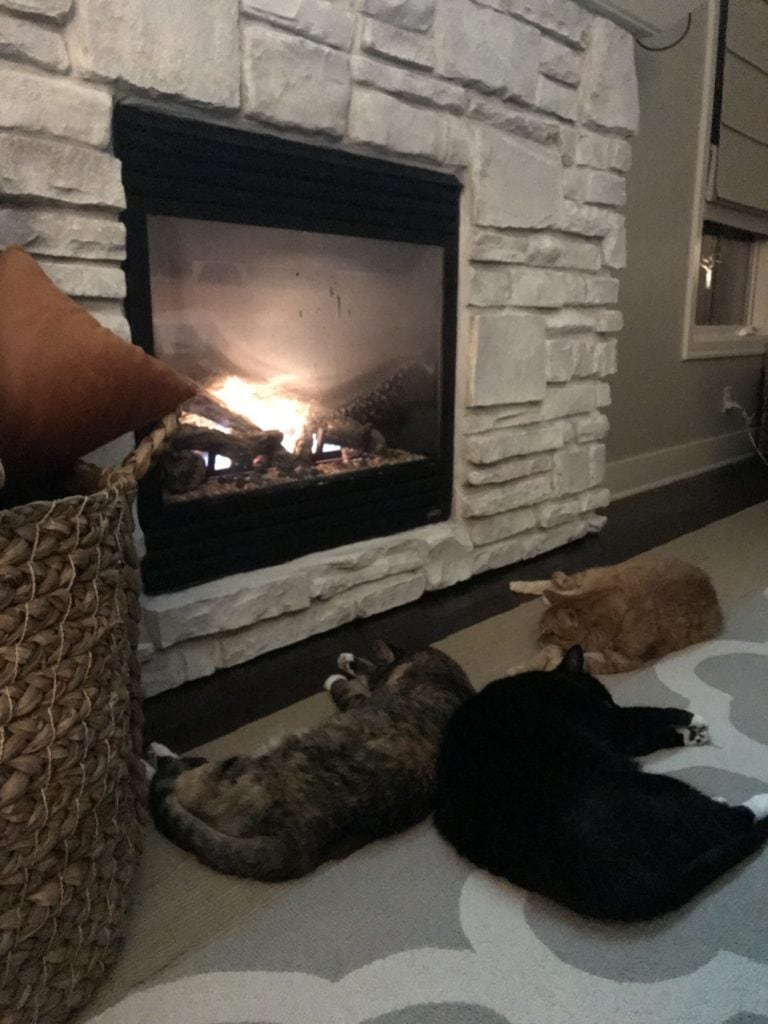 We saw these at the grocery store after church yesterday. Like how is this even possible?!? There were skull and Frankenstein versions, and I'm still confused by the whole thing!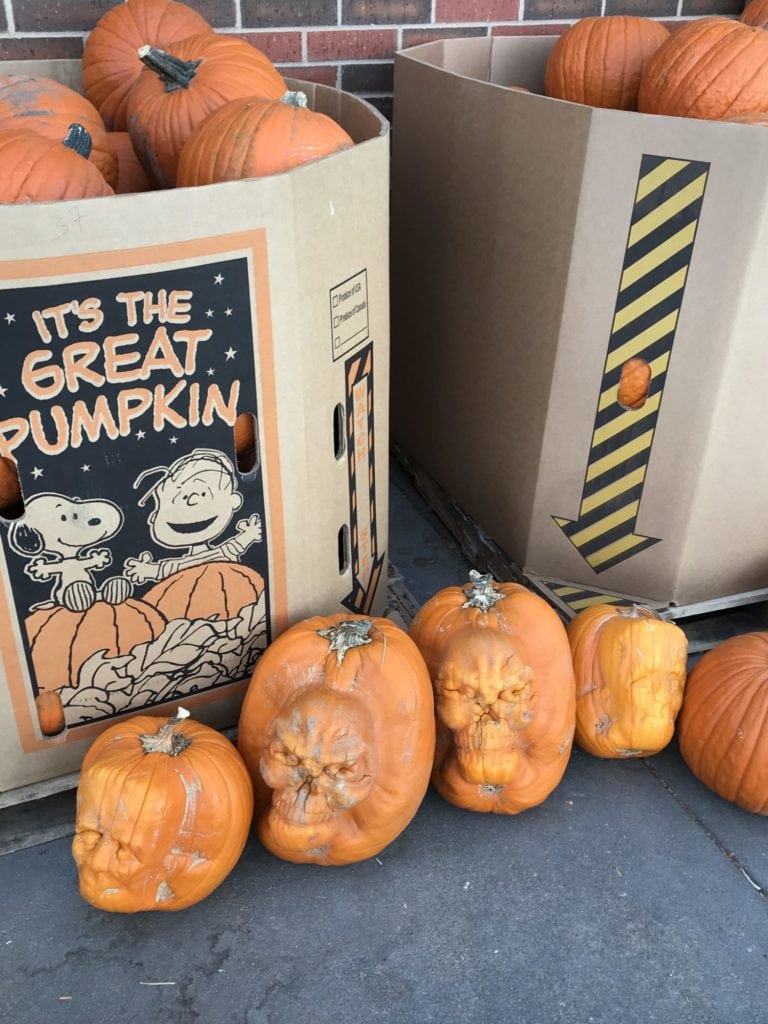 The wind has been out of control around here the past week. So much so that it actually tore down one of our curtain rods outside. So, Kurtis and I finally brought the curtains in yesterday afternoon.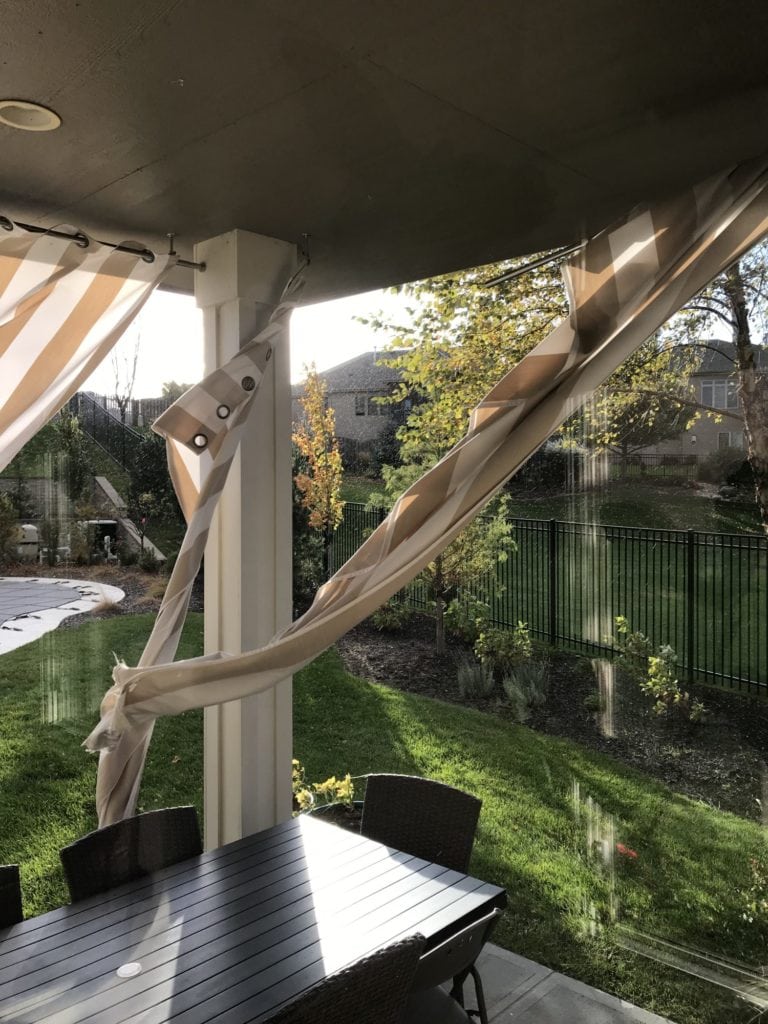 Kurtis also went out to trim our bald cypress out front a bit more and cut the wrong limb, so he had to cut a second to clean it up. But it actually looks even better now! These two pictures can also help you to better see the scale of these trees. This is why it felt like our house was being consumed by trees!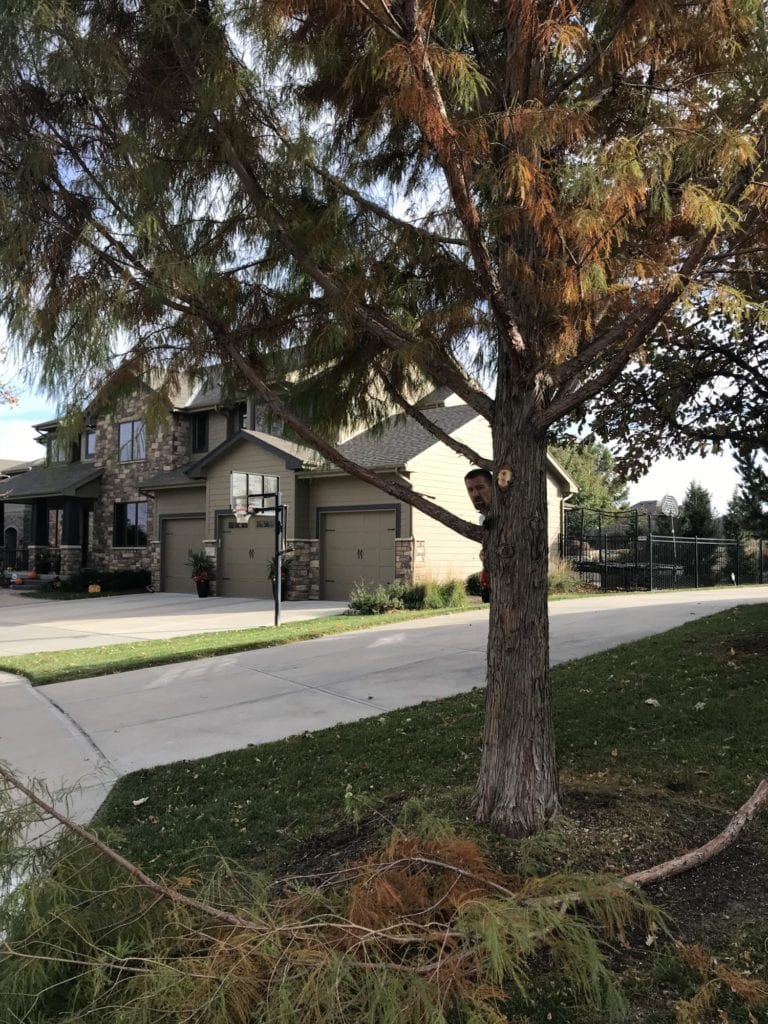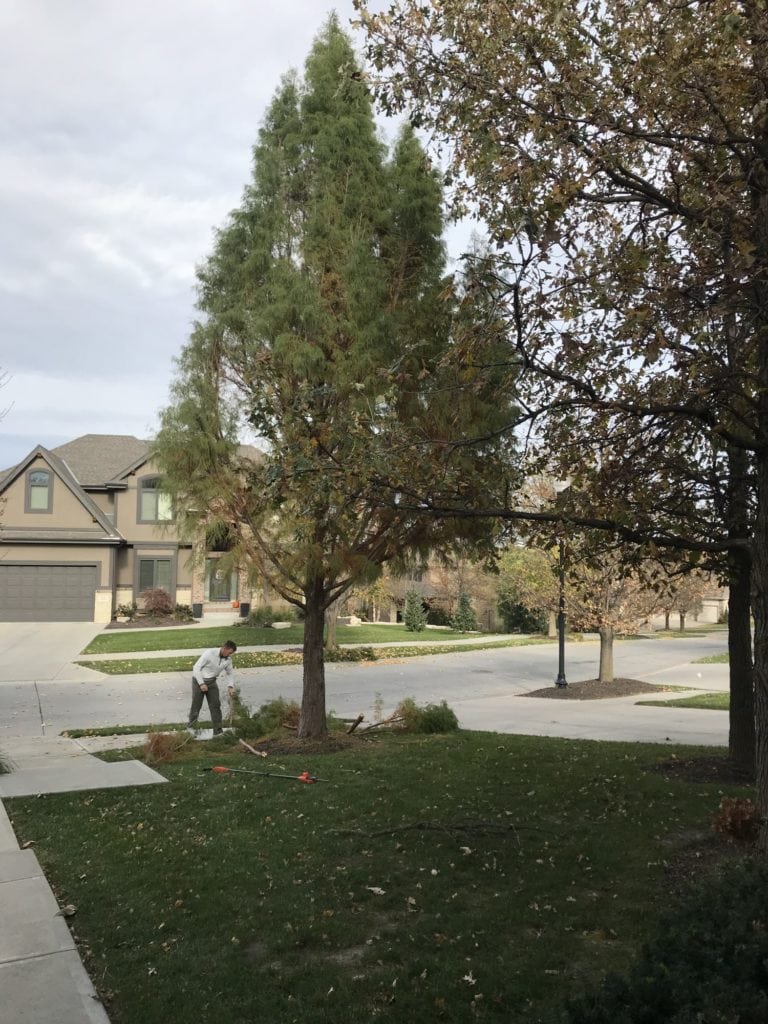 We ended the weekend buying another season of VEEP, mostly because we didn't want to get emotionally invested in a new show. We're liking the light and easy right now!
Lastly, I sent out a special subscriber-only email on Saturday with some sale alerts and posts of interest. If you're not signed up, be sure to do so in the box below (after the end of the post). I got a lot of great feedback on it, and will likely continue to do something similar a more frequently!
Have a great week!
If you would like to follow along on more of my home decor, DIY, lifestyle, travel and other posts, I'd love to have you follow me on any of the following:
Pinterest / Instagram / Facebook / Twitter / Google+
disclosure: some affiliate links used