Good morning! I hope you all had a great weekend! Ours was a busy one, but we're excited the weather is starting to warm up again. I'm really hoping to get a few planters going this week! Here's what else we've been up to the past week or so.
This post contains affiliate links for your shopping convenience. Click here to read my full disclosure policy.
Home Projects & Updates
We gave laundry stripping a try since it's all the rage lately. I used my friend Kris' laundry strip recipe. You can read her post to see why we were so excited to try it!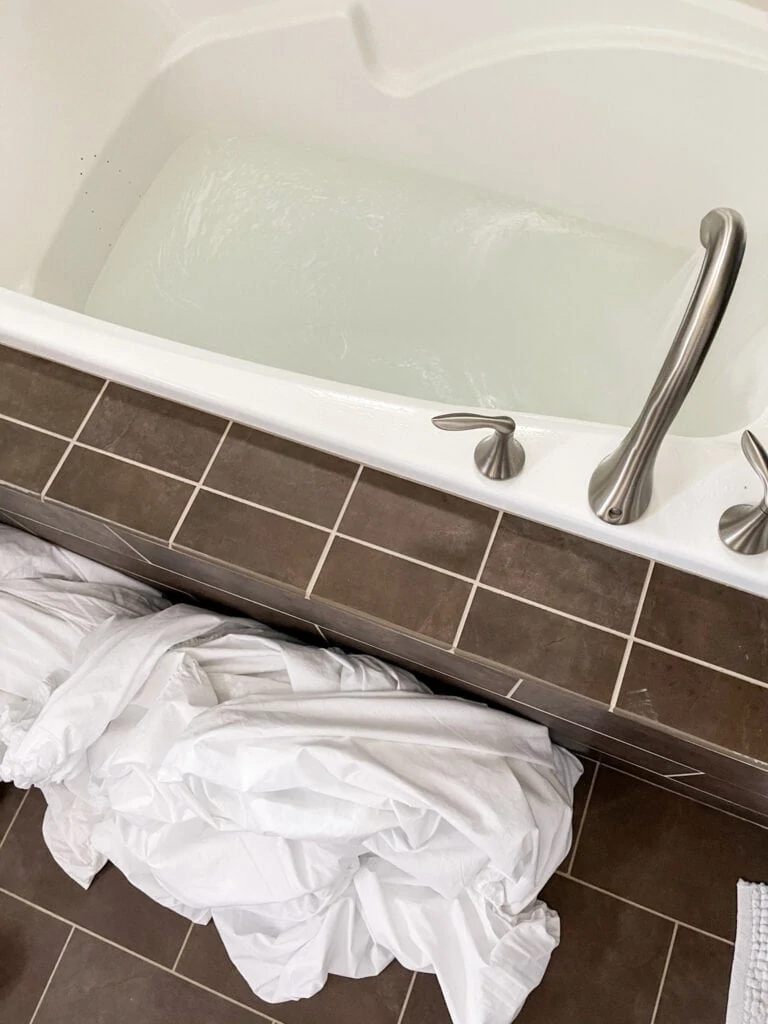 Is it weird we were hoping for grosser water? Ha! After six hours, the water honestly didn't look that much worse than when we started. I texted Kris and she said so much can depend on the water you have in your home (and how much build-up it causes). But we feel good knowing our sheets are much cleaner now!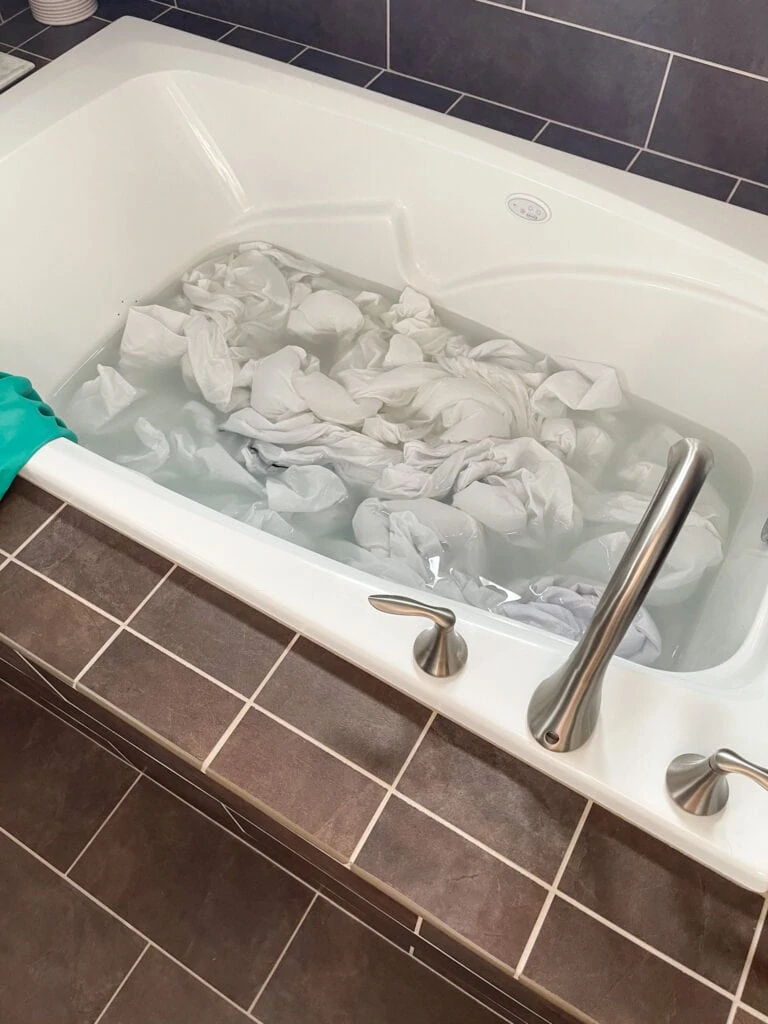 The guys finally came back on Tuesday to finish opening the pool. After a few days, we didn't notice the water quality getting any better. Kurtis assumed the filters were just dirty so he took them out to clean them. Turns out the guys totally forgot to add the filters. Yeah, that was a fun day!
Thankfully it's starting to clear up after Kurtis added filters, but we're still having some other issues with the system now. We're hoping we can get some answers once they open today!
But in other news, we had a duck couple promptly back to visit. For their safety (and the safety of our pool) we have to scare them off every time we see them. They have a pond nearby and we need to make sure they nest over there rather than near our pool! It's an annual battle and typically lasts a week or two 😉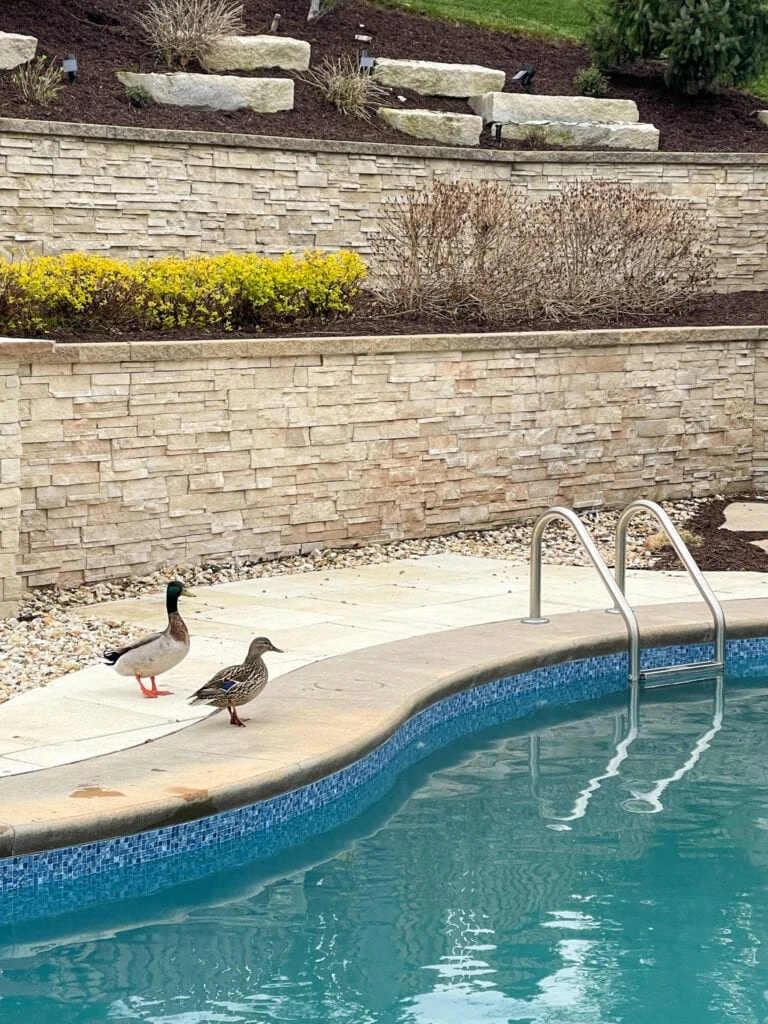 I bought some new landscaping lights a few weeks back and have been testing them. I took this photo with my iPhone so it makes them look a little brighter than they are (I have them on the low setting so they last longer), but I'm really happy with them! You'll remember I found some at Lowe's a few years ago I loved! But the new model last year wasn't doing it for me so I searched for more. These new ones definitely seem brighter! I have a mix of the two sets in the pic below, but I can immediately tell which are which. The one thing I don't love as much on this new set is they don't have a battery back-up (so you definitely need to put them in sunny spots) and the charging cell isn't moveable, so you definitely have to play around with angles a bit. But I love how they look at night – and it's so much less expensive than hardwired sets!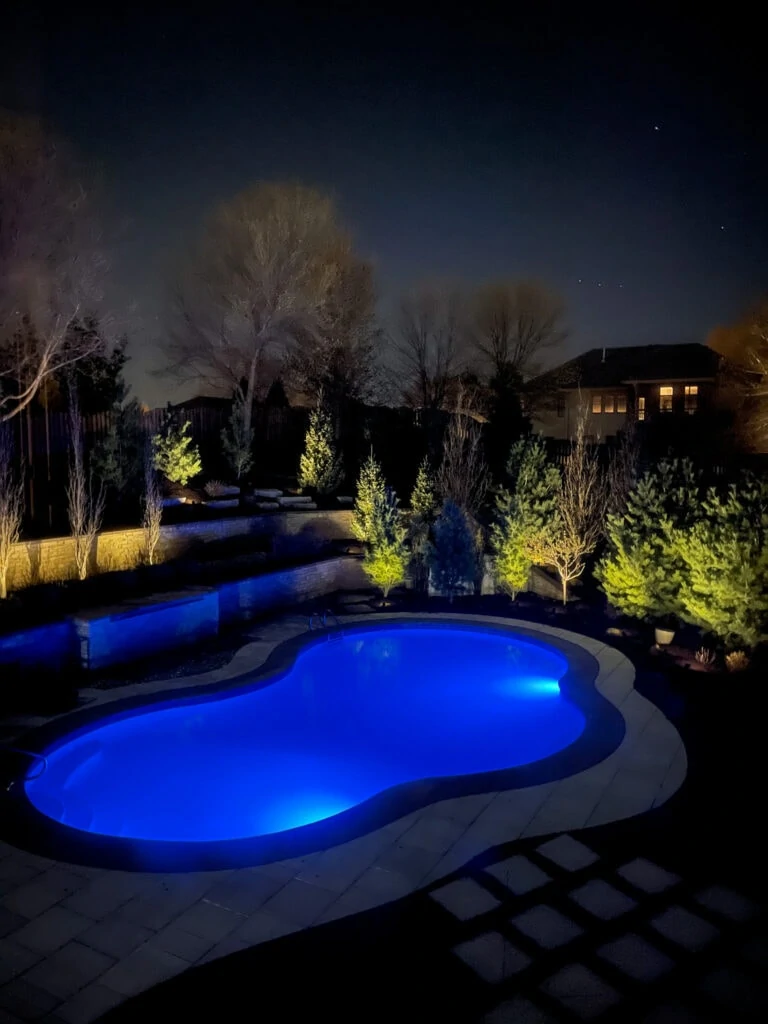 Hoping we can fully get the pool back up and running this week!
Top Sellers Of The Week
Following are the top sellers of the past week across all of my channels. Links to each item are below the graphic.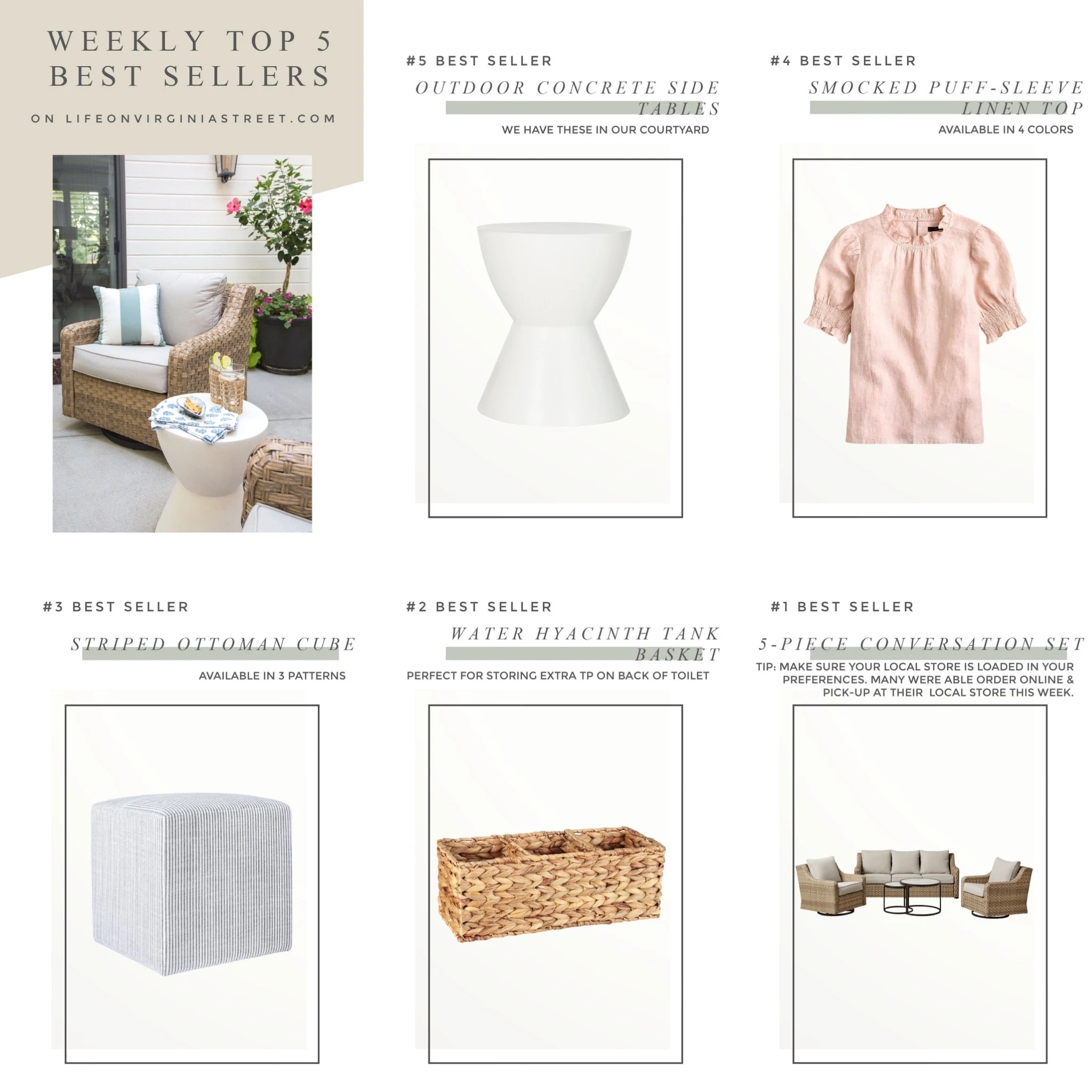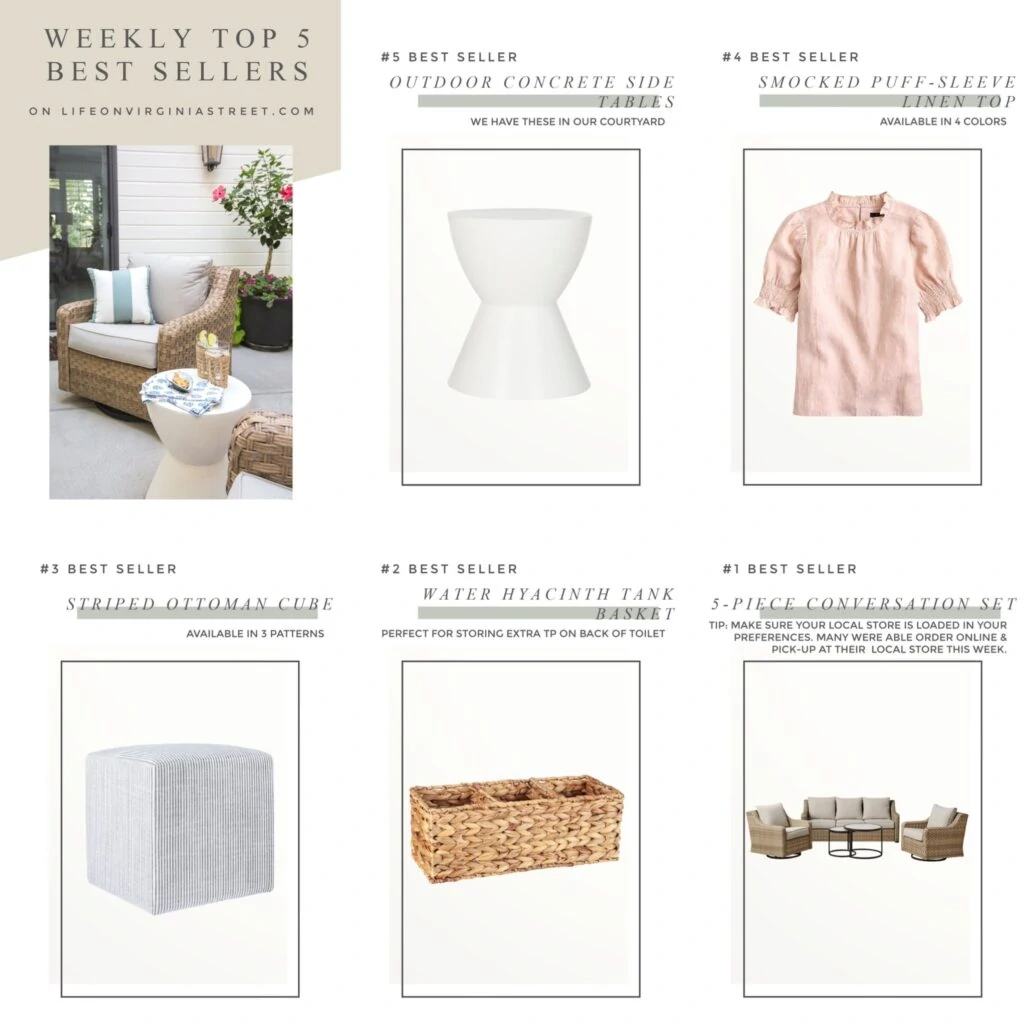 Okay, so let's talk about the patio set. Between Instagram, Facebook, my blog and email I don't think I've ever received so many questions! This set is hot. From what I can tell, they are only selling it this year as the full set (last year they also offered just the chairs and just the sofas, as well). The full set has come back in stock multiple times this spring, but is selling out within minutes (most times before they send out the in-stock notification emails). There were a bunch of people that were actually able to buy it last week though! I would recommend making sure your correct local store is set, because those that found it ordered it online but picked up in store because their local store had a set. I think they're experiencing a lot of the other inventory issues many other retailers are. And on top of that, virtually every blogger on the planet now owns it and is also promoting it. Long story short, if you want it, I'd check the site frequently, and if it's available, I'd check out as fast as you can! Hopefully once the spring demand dies down a bit, we'll see them staying in stock a bit longer! I'll continue to share if I see them in stock though!
Around Town & For Fun
Kurtis turned the big 44 yesterday! So, he mapped out our entire weekend and it was a lot of fun!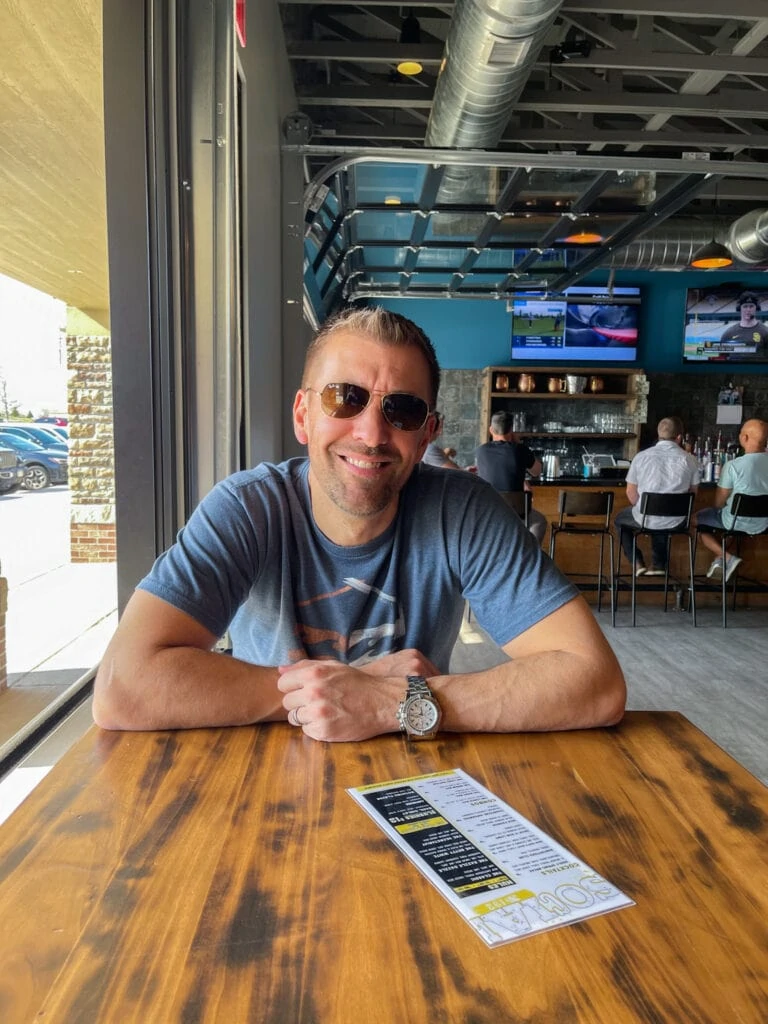 First on his list was heading to Blackstone District to go to Scriptown. We had been since pre-lockdown and it was fun to get back out!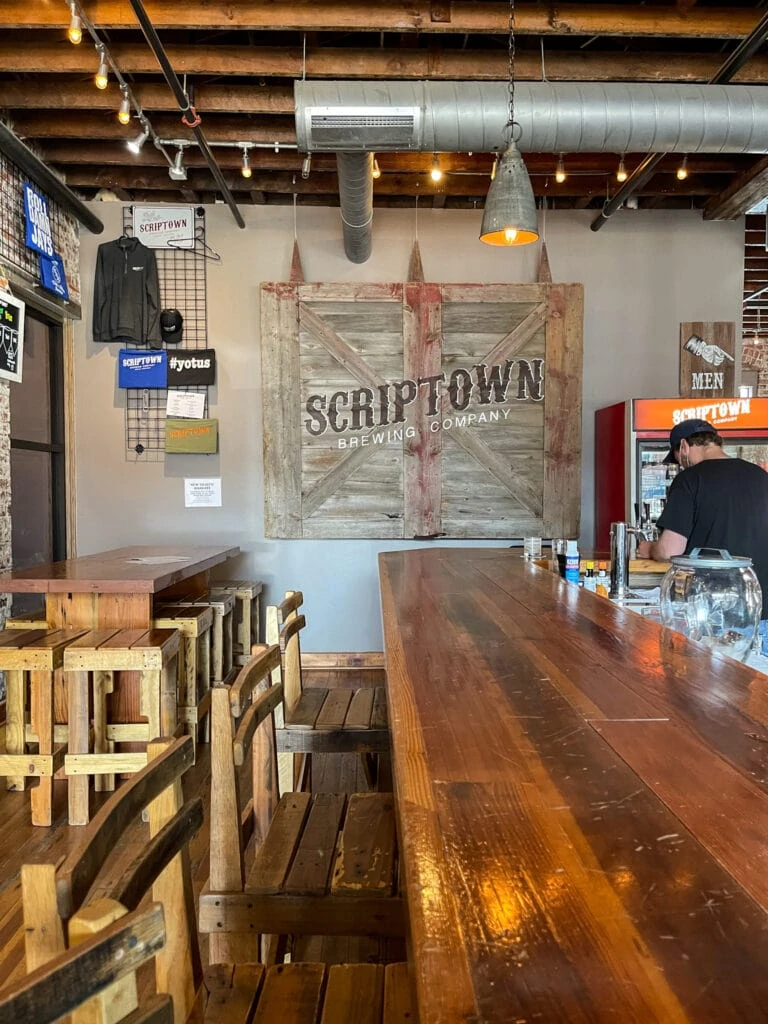 Of course we had to order a Noli's pizza while we were there. We dug in so fast, my photo is after our first pieces were devoured. We had never tried their caprese pizza and it was off the charts good. Like maybe one of the best pizzas I've ever had. EVER! We topped the afternoon off with homemade ice cream from Coneflower!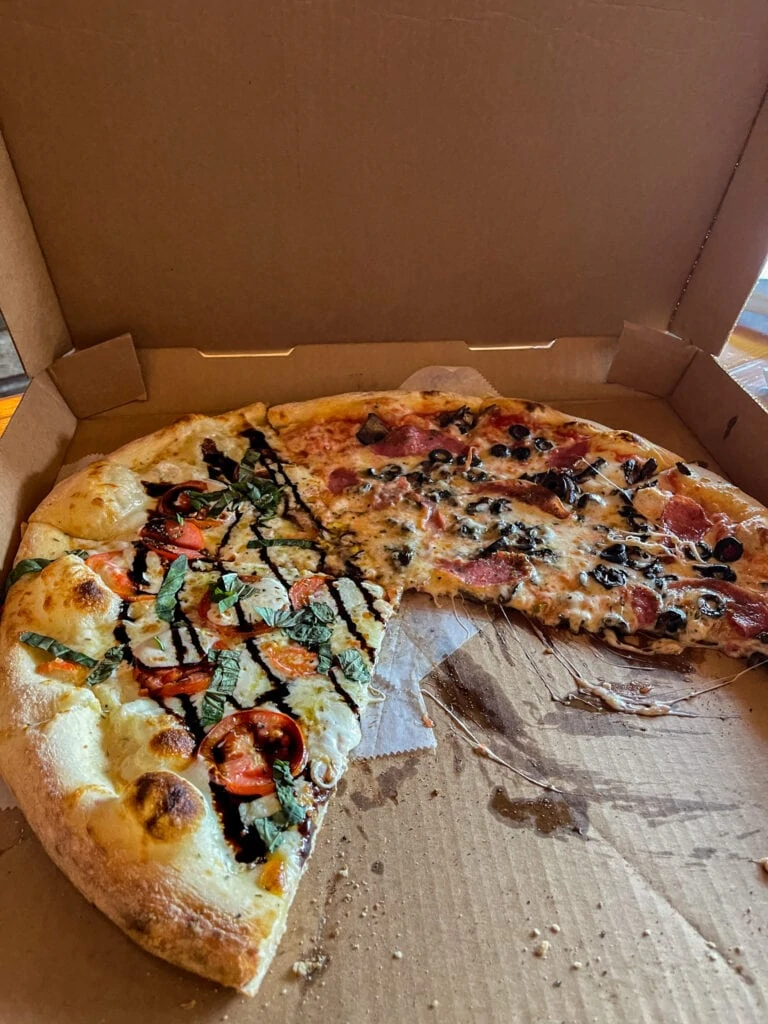 Sunday, we had to go check on our kitty niece. Afterwards we hit up Backlot for lunch and then went for a little drive. The trees are starting to bud and bloom and looked so pretty! I'm loving all the lime green mixed with pink!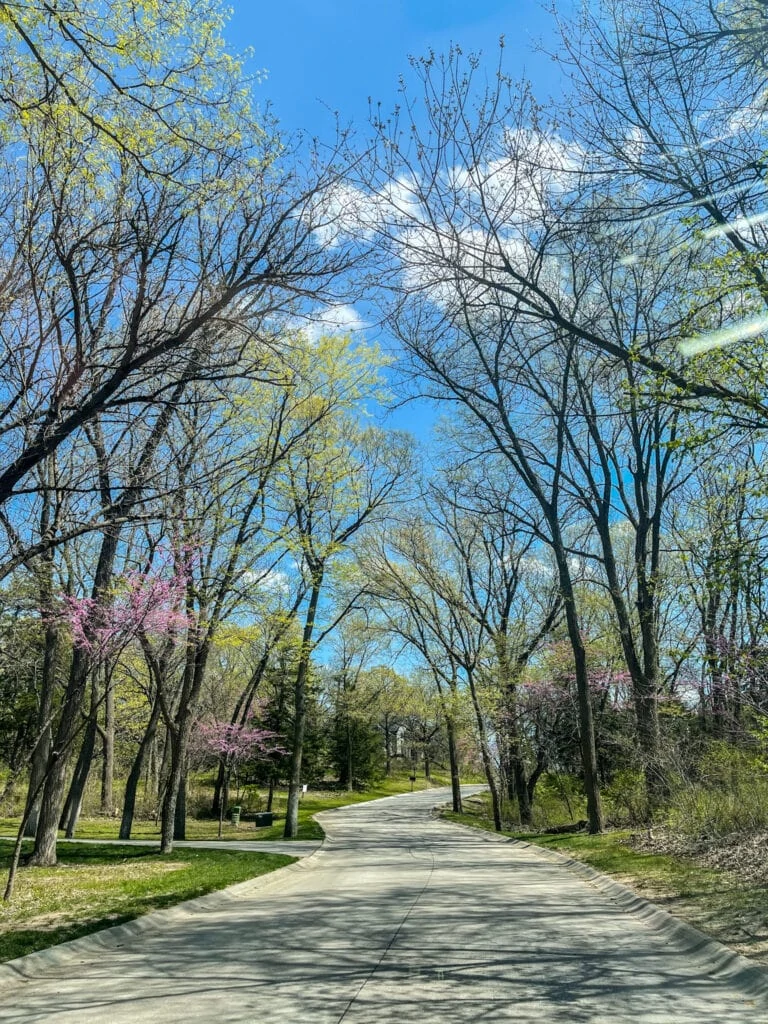 We then went to my happy place! Lanoha was having their spring open house and apparently every other person in Omaha decided to go as well. The weather was beautiful (despite the wind) and it was so great to see all the beautiful blooms and plants again!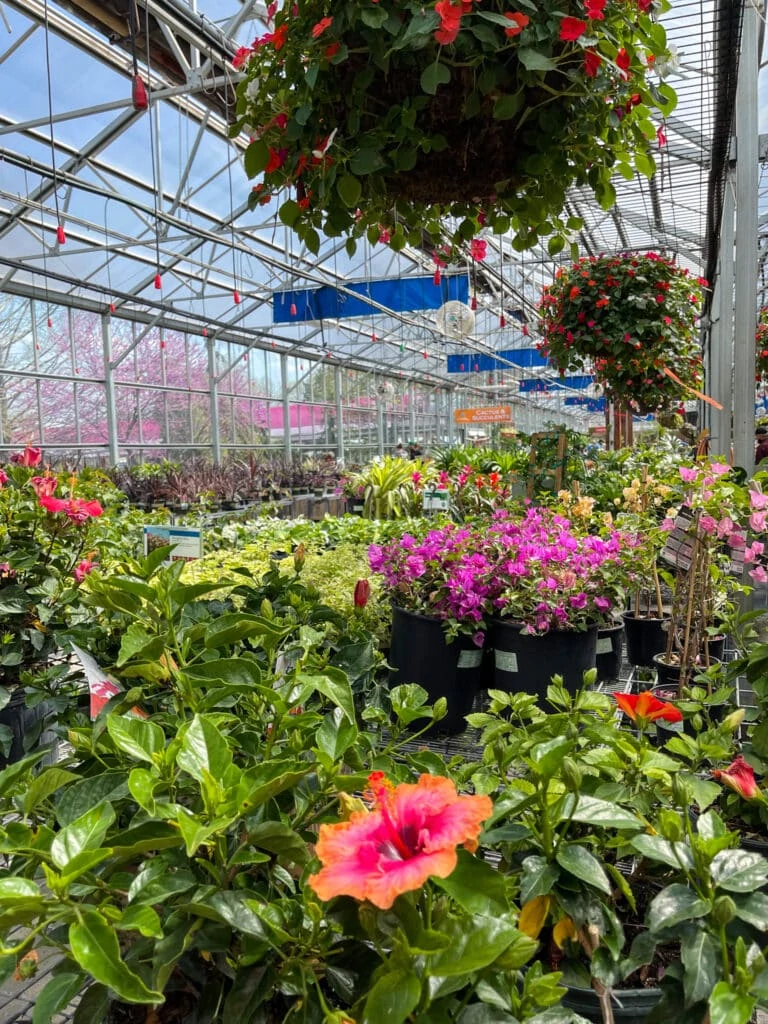 We always love when they have Plinko to try and earn a discount. But honestly, it's not nearly as fun with COVID rules where we just tell them where to drop the discs 😉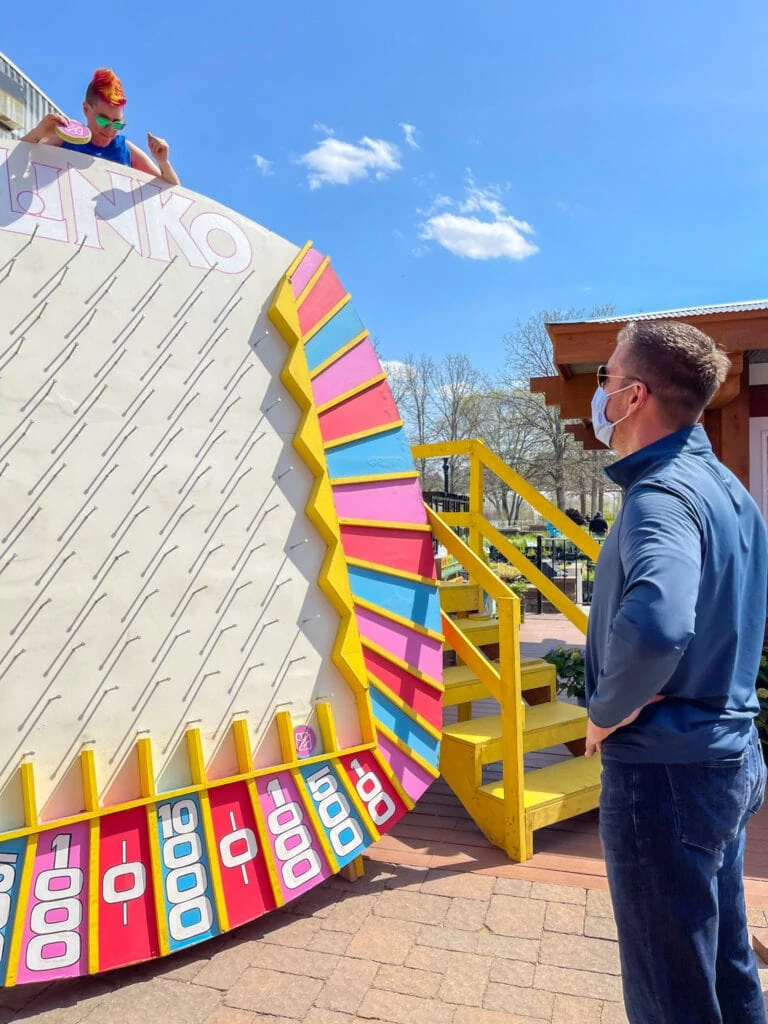 I was able to earn a 25% off discount, so I picked up a few things. I didn't go too crazy because our sprinklers haven't been turned back on yet, and it's supposed to be close to 90 degrees out today!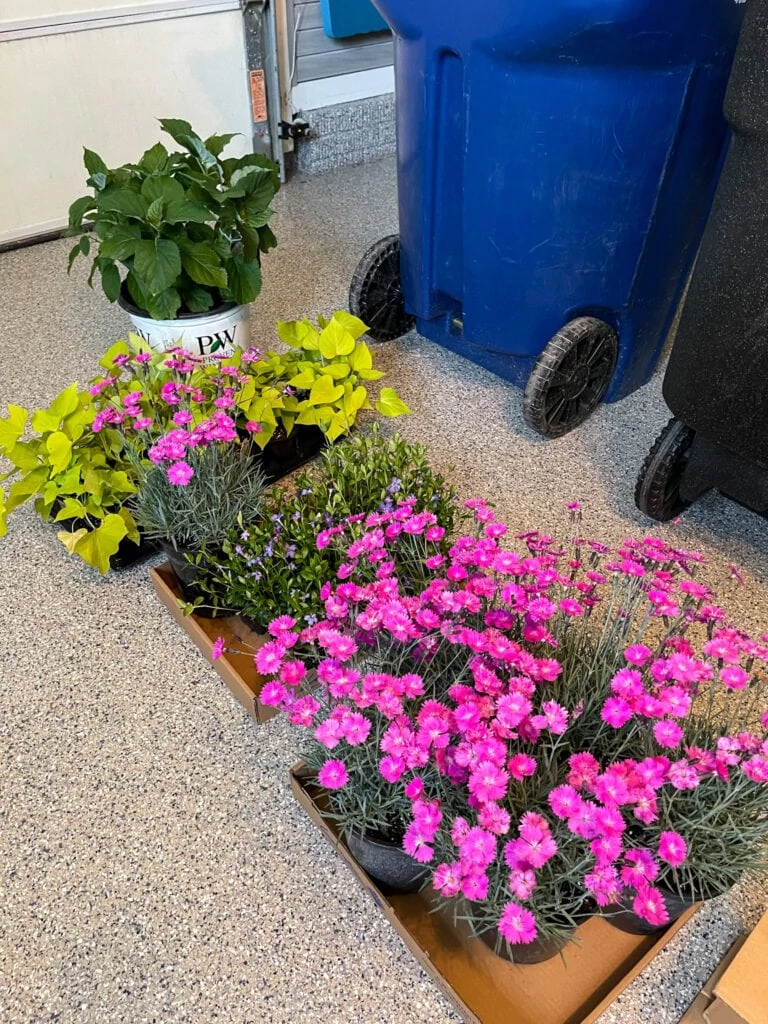 Here's Hawkeye modeling behind one of the pillows in this affordable set that I got last week! The inserts aren't super full, but considering the price, they work great! The covers also have zippers so if you ever wanted to upgrade the inserts, they're still a great price!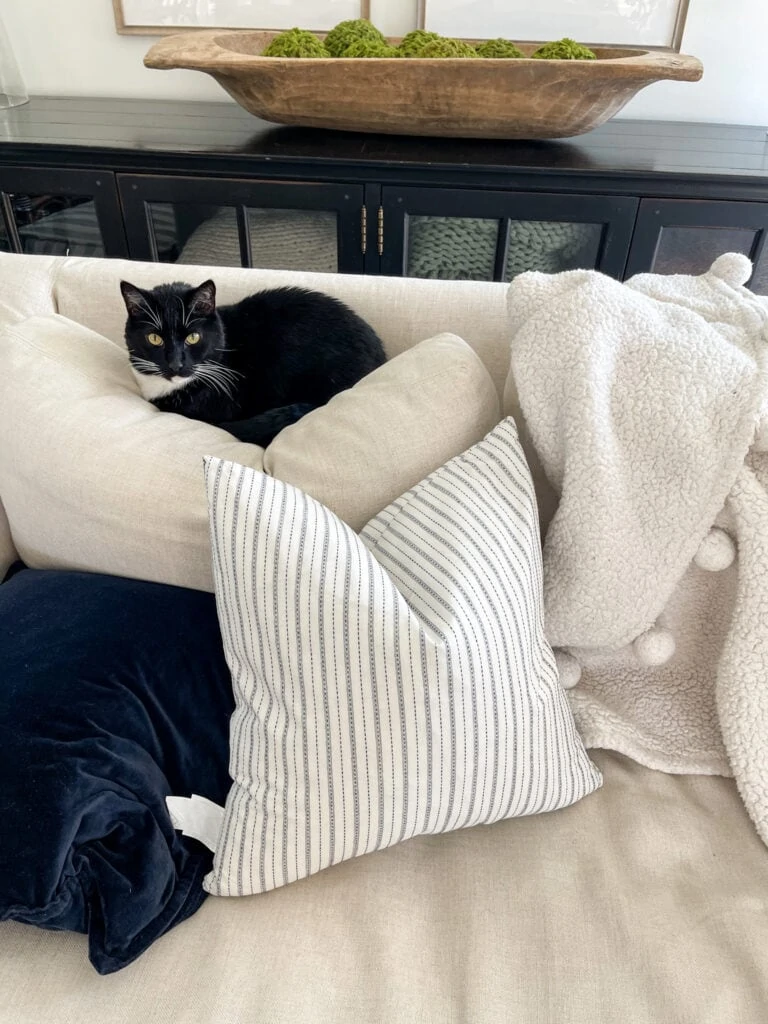 Kurtis took today off of work for his birthday, so we're hoping to at least lounge around the pool even if we can't get in it. Looking forward to the extreme heat and a little sunshine!
I'm also wrapping up our garage reveal post and plan to share that with you tomorrow on the blog!
Recent Buys & Sales
Following are the sales from the weekend that are still going strong (some have even gotten better!). You can see my top sale picks from the week here.
I hope you all have a great week!
If you would like to follow along on more of my home decor, DIY, lifestyle, travel and other posts, I'd love to have you follow me on any of the following:
Pinterest | Instagram | Facebook | Twitter
disclosure: some affiliate links used