Miraculously, we finally wrapped up several projects this weekend. We had a lot of "mostly finished" tasks (a.k.a. the pergola) but were very productive today and took advantage of the high 70 degree weather (amazing for this time of year in Omaha).
The moment you all have been waiting for, the revelation of the pergola: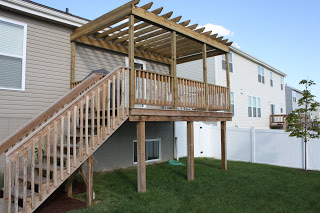 I am still impressed that we were able to do this one on our own (trust me, I was a little doubtful when I was having to hoist those beams over our heads) ~ our first true carpenter-esque feat on our own. We also managed to get some landscaping done this weekend as well around the landing which I think makes the pergola look even better!
Before: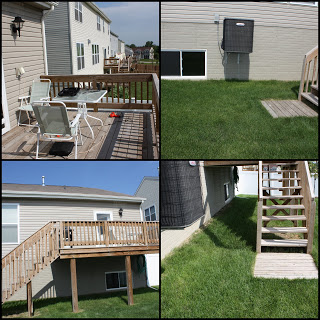 After (check out the size of the hydrangea blooms ~ this bush is supposed to get 9 feet tall and six feet wide ~ I am so excited!):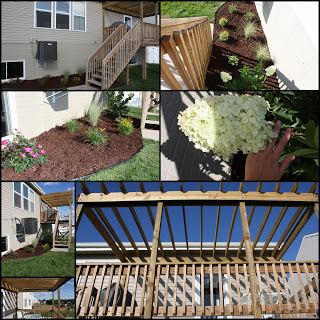 Next, we finally settled on some bedding (I went with the Kohl's option from
this
post). It still looks pretty boring because have nothing on the walls, but I think it is going to turn out good once I find something to hang up.
Before (although this is from right after we moved in ~ we were actually using a tan Pottery Barn linen duvet that had nothing to match it and it was really boring) :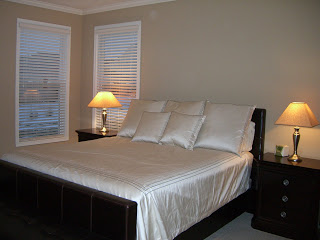 After (it is not so shiny in real life):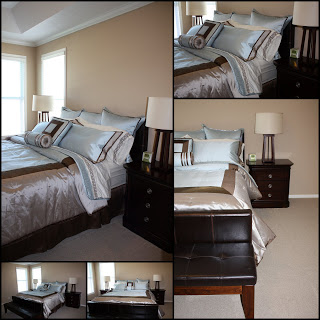 Lastly, my little foray into spray painting. I had some items that I had bought with the intent of re-painting. Many years later after a lot of procrastination, I finally got to work on the items today. The set of 3 pots of grass I found at Goodwill for $3. I knew they had potential but they were a little bold to start. The second items was an 'S' that was a gold color ~ obviously not going to work.
Before: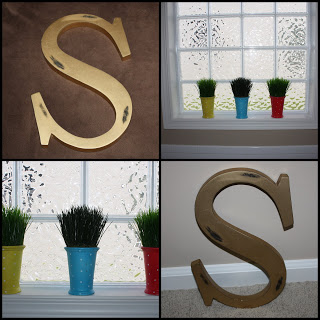 After ~ cutest things ever! I love the high gloss white spray paint ~ I intend to find a lot more to try this little trick on!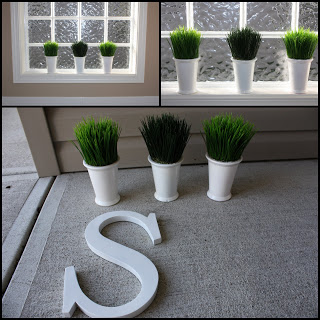 We also still need to finish a few more projects that are nearly done ~ hopefully I will be able to post about them tomorrow!