We have three empty lots behind us because of our pie-piece shaped lot. Technically one of the three is being built on currently, but it may as well be empty. The weeds on our back lot line somehow overtook our entire landscaping over the past week or two. The fact that we have had mild temperatures and lots of rain probably hasn't helped the situation. It was out of control.
One Friday, my husband and I started our summer vacation and spent most of the morning and early afternoon pulling weeds, trying to run them over with our lawn mower, and trying to buzz them with the trimmer.  Bottom line, it still looks horrible, but it already looks a lot better.
The befores. Clearly I spend more time working on the inside of our home than I do the outside. Its hard to get a perspective for the size of those weeds, but many were getting to be as tall as me. Yikes.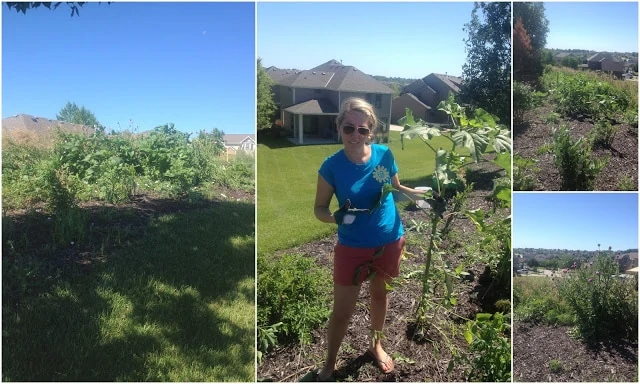 The afters. Please let me you see at least a slight difference. Ugh. I should probably just call this the mid-point because we have so much left to do. Our goal was basic to get the weeds back to the lot line so there is still a ton behind in the lots behind us. The good news – I found a lavender bush thriving among all the weeds.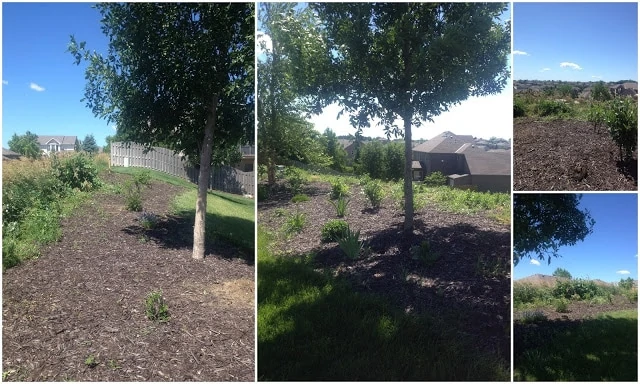 While I was on the hill it also gave me a good opportunity to take a shot of the exterior of the master bedroom shutters. I love. At least there is something non-ugly to look at in our backyard!