I am sharing with you how to make this unique fresh pineapple vase that you can fill with flowers!
Over the last two weeks, I shared Part I and Part II of my summer home tours. Throughout the tours you saw this cute little DIY fresh pineapple vase popping up and today I am going to share the easy tutorial to make one of your own!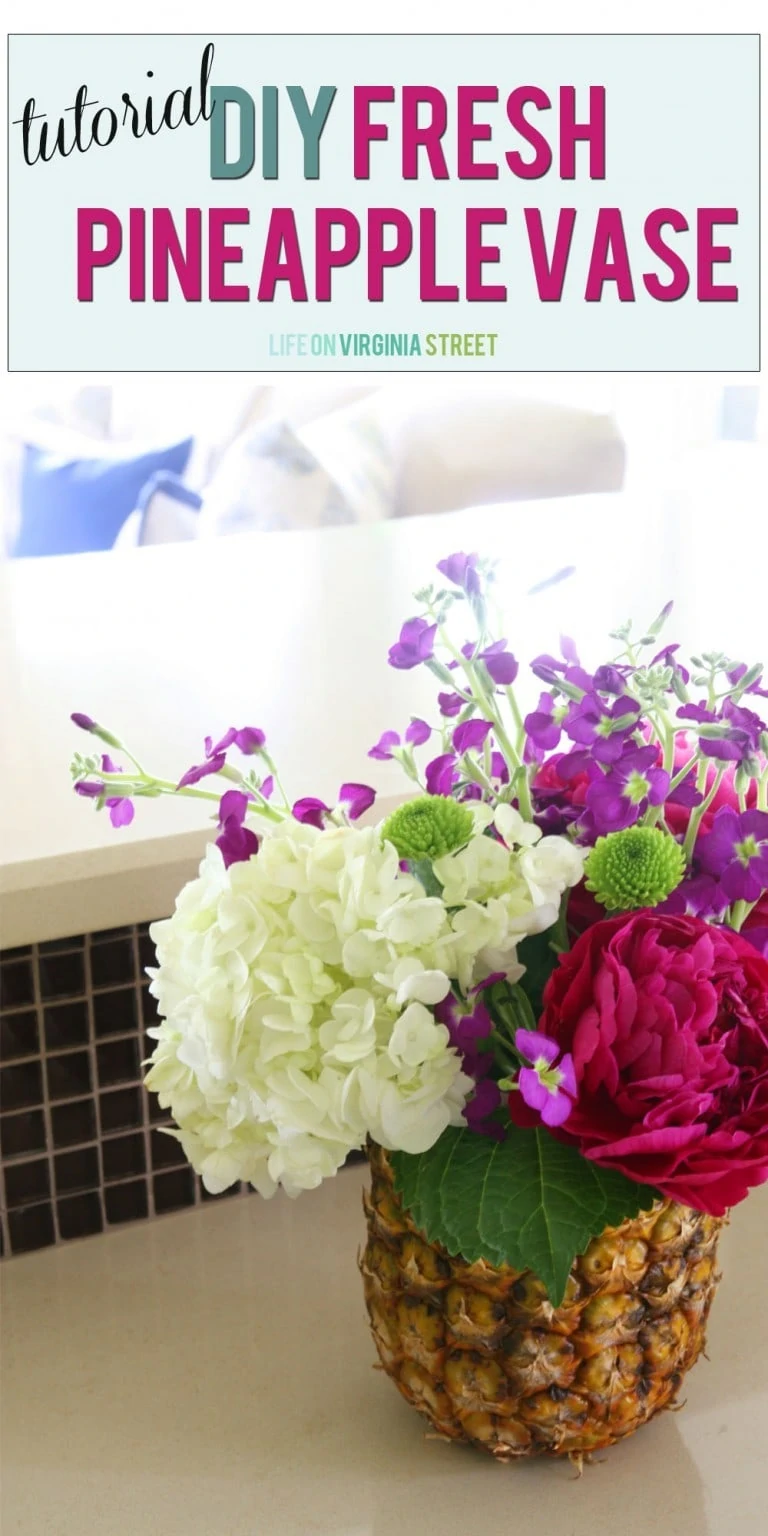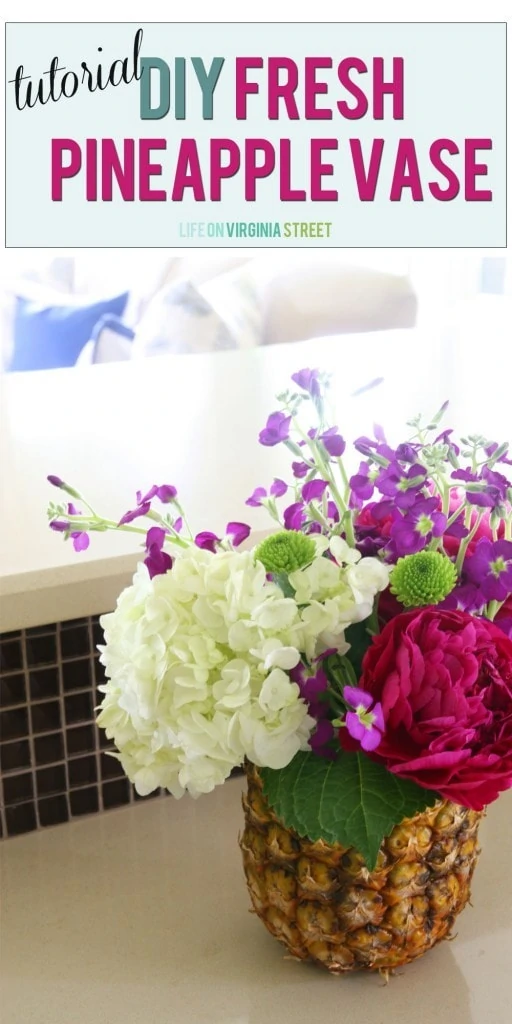 First, I must give credit where credit is due. I was inspired by this pineapple vase I found and featured during a Wednesday Watch List post a few months back. Instructions weren't included but it looked fairly easy to recreate – and it was! Today I'll be sharing my full DIY fresh pineapple vase tutorial!
This post contains affiliate links for your shopping convenience. Click here to read my full disclosure policy.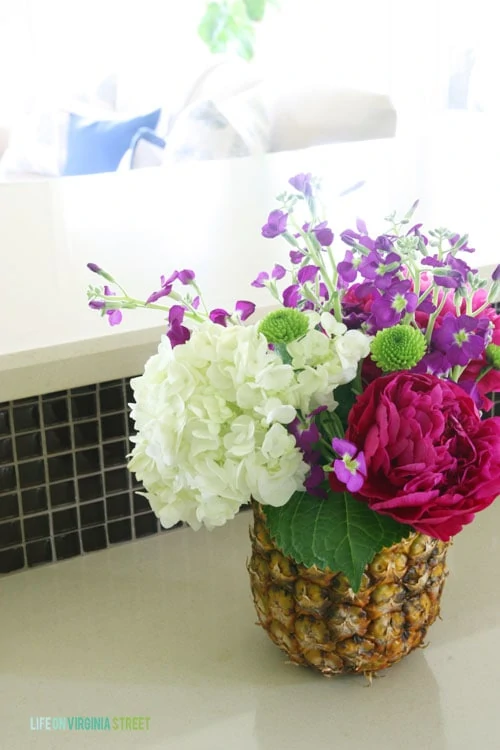 When looking for fresh pineapples to use for this projects, look for ones that stand up straight and evenly on their own. It will make for a much more stable flower vase. If you plan to eat the pineapple after you make your vase, you'll also want to try and find ones with a bit more of a golden exterior like the pineapple in the front in my picture below. This is how to tell if a pineapple is ripe! The two behind are still a bit too green for eating, but a few days on your countertop and they should be good to go!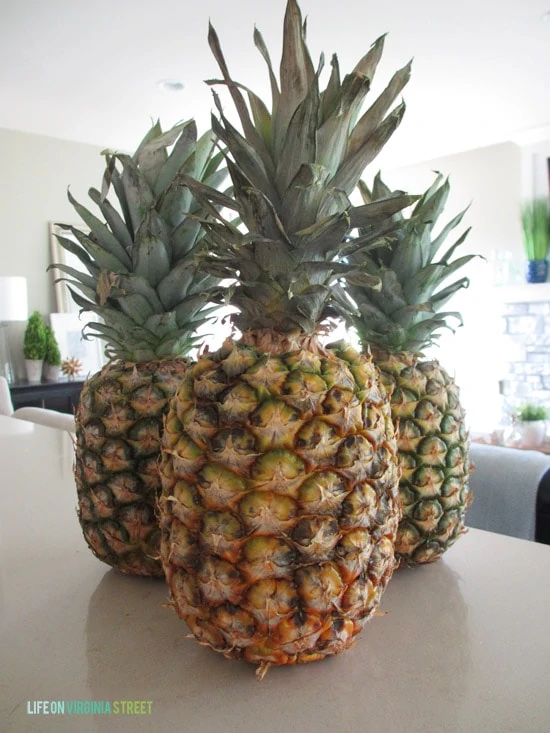 First up, I purchased and used this pineapple corer and slicer. I wasn't sure just how well it would work but figured it was worth a try. Seriously, this thing is like a dream machine. After cutting off the top of the pineapple, I was able to core the pineapple in less than 15 seconds, and it sliced all the pineapple so it was perfect to eat too! You'll then want to cut out and throw away the core that is remaining.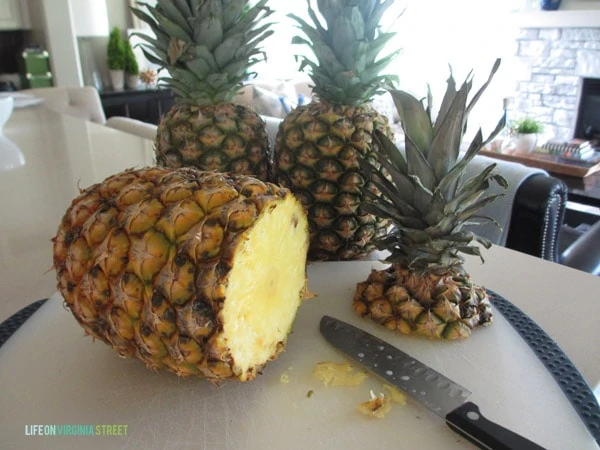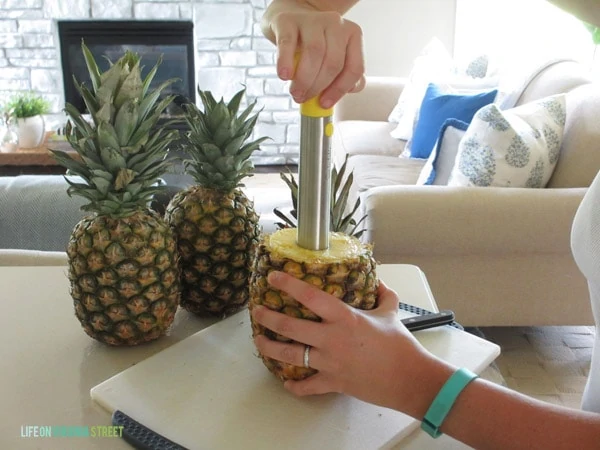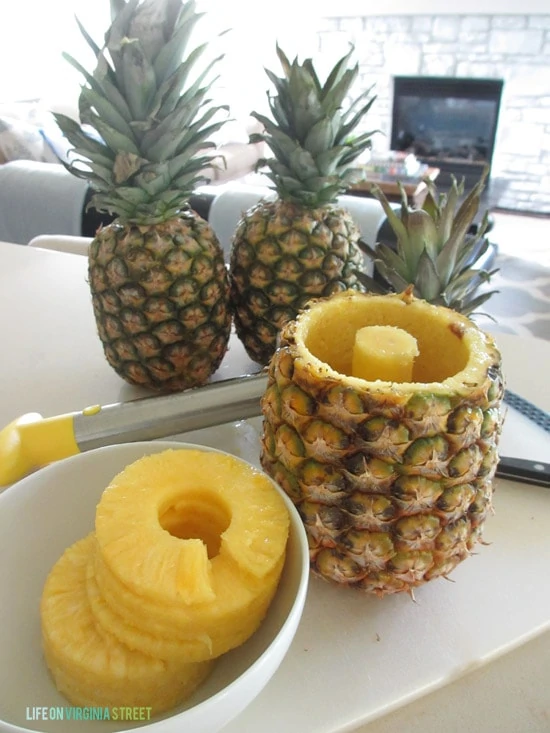 Next up, I used a little plastic sandwich baggie to line the inside of the fresh pineapple (I then filled it with water for the flowers). This doesn't have to be exact (and maybe doesn't have to be done at all?) but I wanted to make sure the acid from the pineapple didn't affect the fresh flowers. My mom also said a baggie filled with floral foam might work well as well (you would also then have more control over flower placement).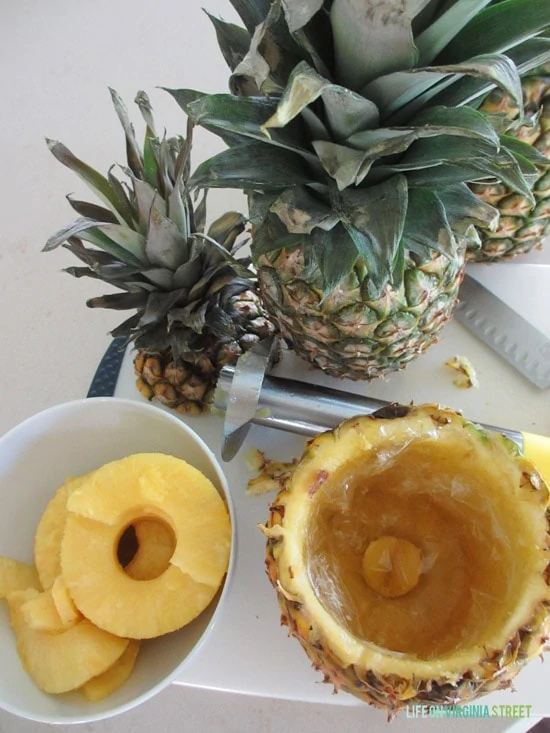 Fill with your favorite fresh flowers! I went with some vibrant hydrangeas, peonies and fillers from Trader Joe's. And just for reference in regards to the pineapple slicer, the bits you see in the bowl below that don't look as pretty were pieces we tore off to eat. The slicer/corer really does cut them perfectly 🙂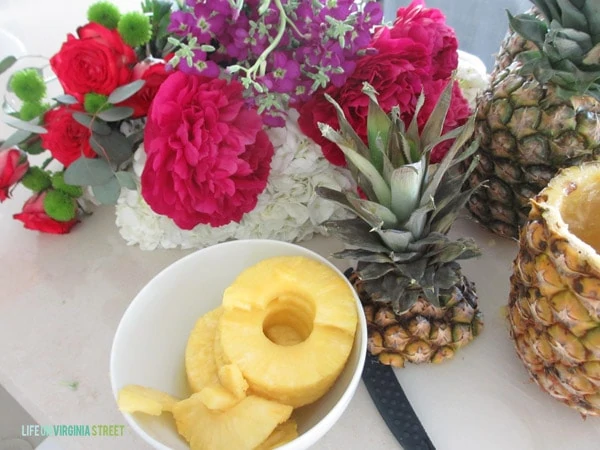 That's it! I can pretty much guarantee that we'll be having several of these pineapple vase arrangements in our home throughout the summer for various parties or other events. I think they would be gorgeous used in weddings, as well. The added bonus is that the fresh pineapple is so fragrant (and we turned the insides into popsicles with our Zoku I talked about a week or two back)! Two projects in one. Done!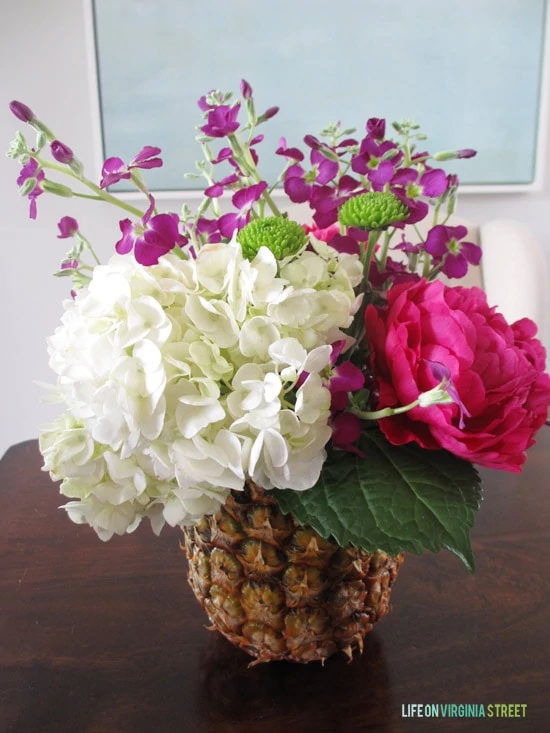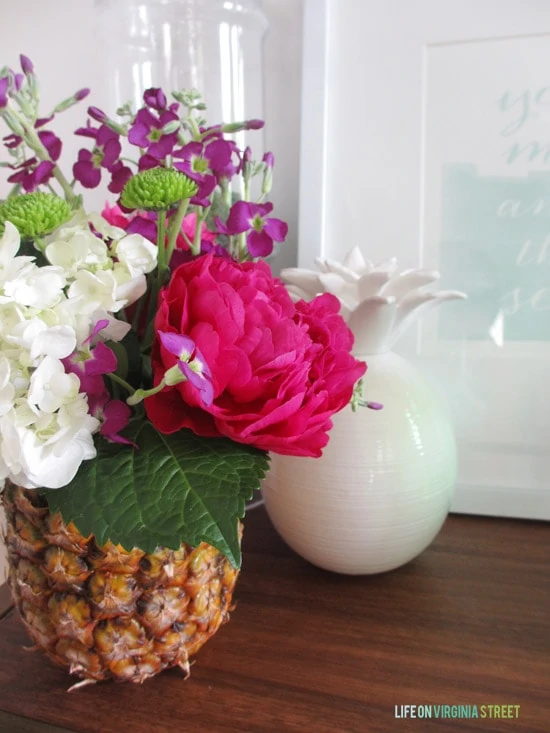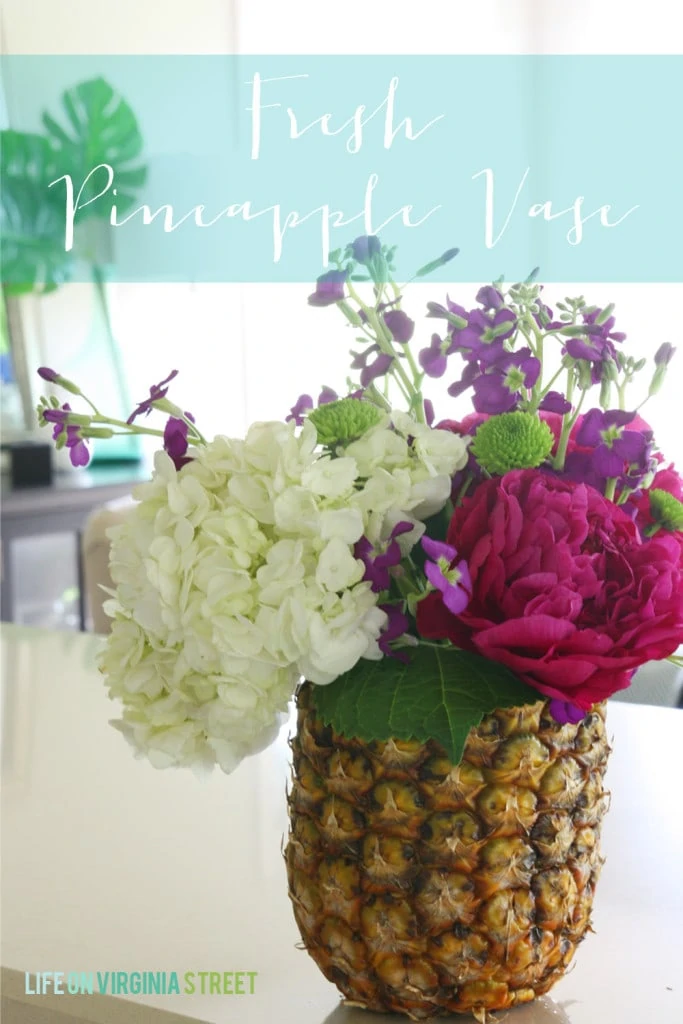 If you would like to follow along on more of my home decor, DIY, travel, lifestyle and other posts, I'd love to have you follow me on any of the following:
Pinterest | Instagram | Facebook | Twitter
disclosure: affiliate links used