Today I'm sharing part two of our European trip last spring. Last week I shared part one of the trip: Ireland and London. Today I'll be picking up the story for the other half of the trip in Munich, Austria and Venice which occurred over the first week of May last year.
Once our trip came to a close in London, we took a flight from Heathrow Airport to Munich, Germany. My sister-in-law had been to the area several times, and thought that based upon the time of year, it would be fun to go through the Austrian Alps to get from Munich (via Austria) down to Venice. It was such an incredible experience and I feel like it was so authentic as we traveled through each of the small towns along the way.
As you'll quickly tell, this was the true roadtrip part of our trip. We stayed in four different hotels for the time we were there (a new place every night for the first four days). It was exhausting but so rewarding!
We arrived in Munich fairly early, rented our car that we would use until our arrival in Venice, and then check into our hotel, Cortiina Hotel. We didn't have a lot of down time, as we had booked a bike tour of the city shortly after our arrival. We used Mike's Bike Tours and I highly recommend them. This was such a unique and fun way to see this beautiful city. We learned a bit about the history, tried the local food and brews and overall just had a great time and a lot of laughs! Talk about small world, our guide actually went to the same college as my husband (Northwest Missouri State – go Bearcats!)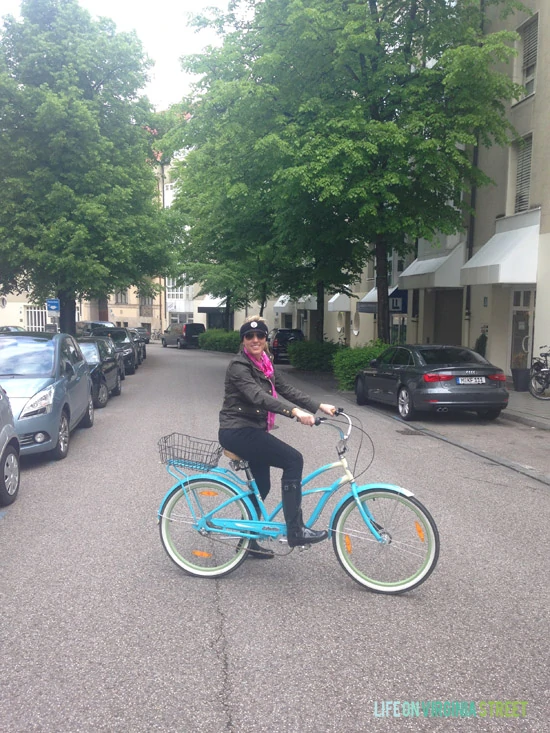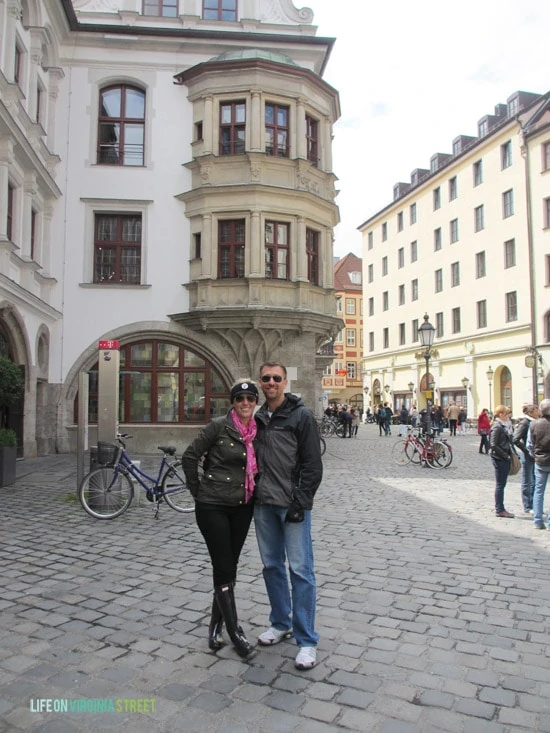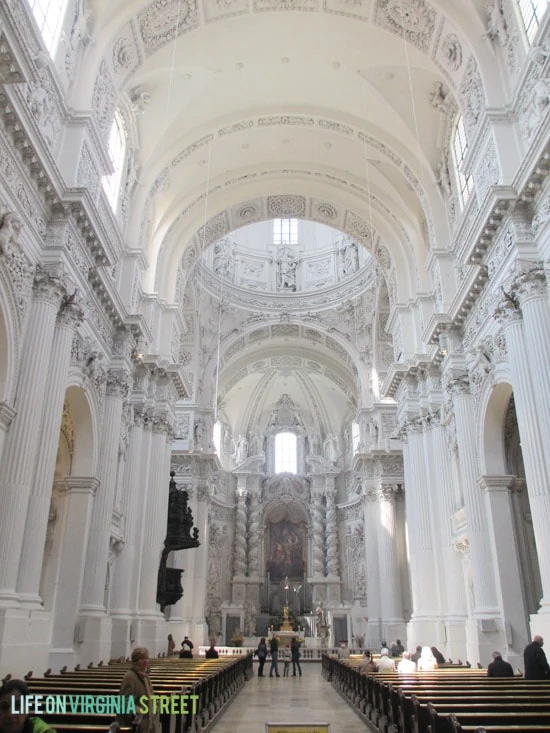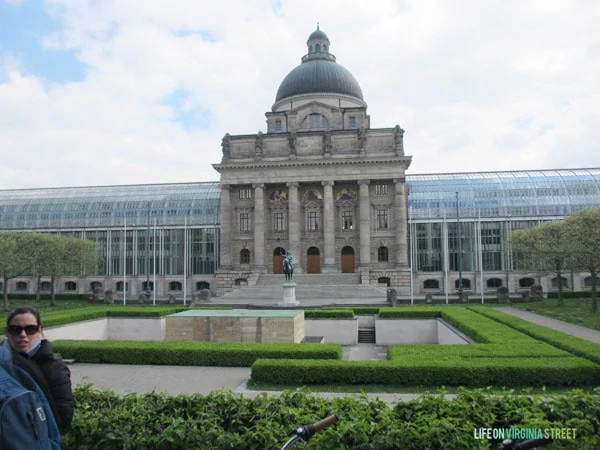 About halfway through our bike tour, in the middle of The Englischer Garten (German for The English Garden), we stopped to "rest" at this beer garden. The sun came out and started to warm us all up a little as we enjoyed some amazing German food and drink.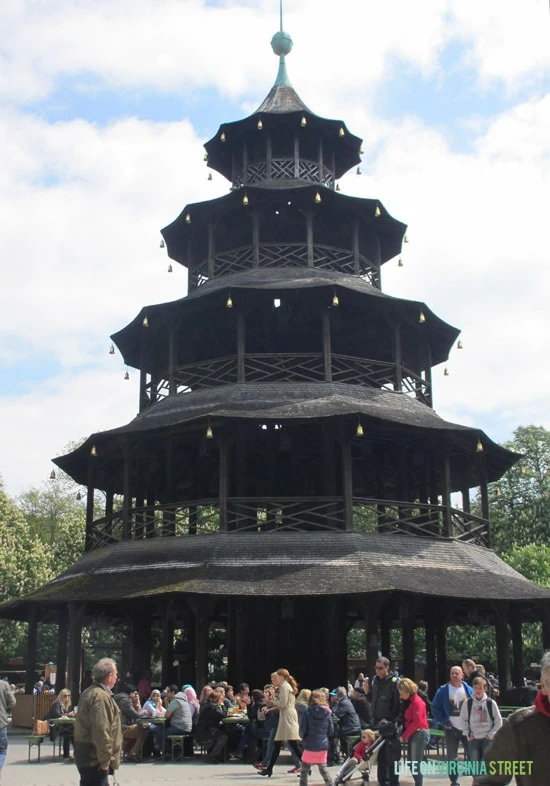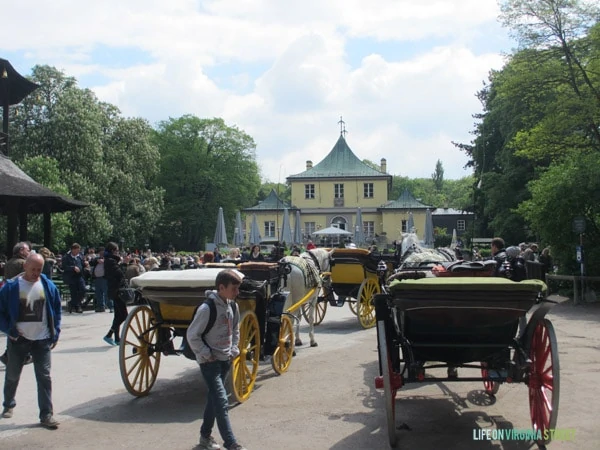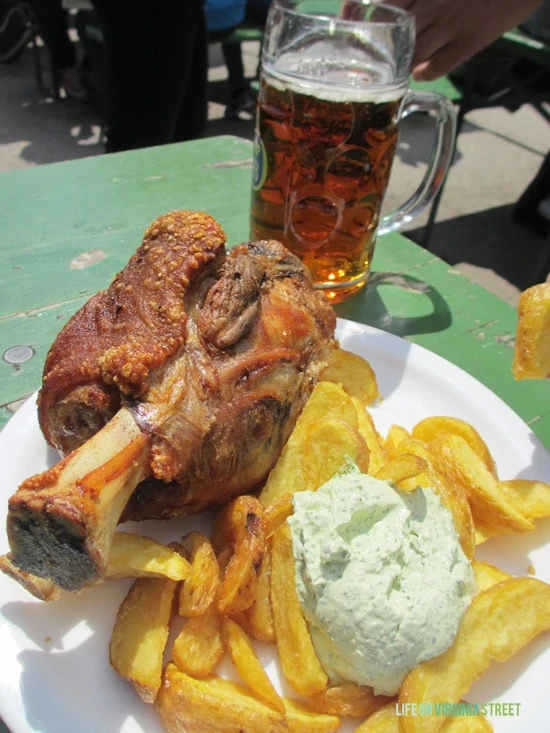 After our lunch, we continued our tour and came upon these locals "surfing" in the river. This seemed insanely dangerous as each surfer took a turn hopping in and out of the waves but it was a lot of fun to watch!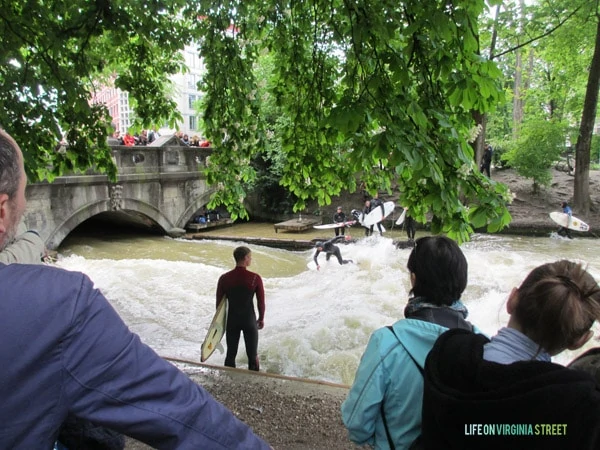 The next day, we got up bright and early for breakfast in Munich before we headed out towards Salzburg, Austria. The drive was beautiful and we gave the award for "world's cleanest highways" to the Germans. You could eat food off of their interstate system and feel totally safe. My brother was really sad once we hit Austria as it signaled the end of the autobahn. We all fell in love with Germany on this trip and want to plan a trip just to spend a week in Germany alone to see more of the country. Munich is highly recommended!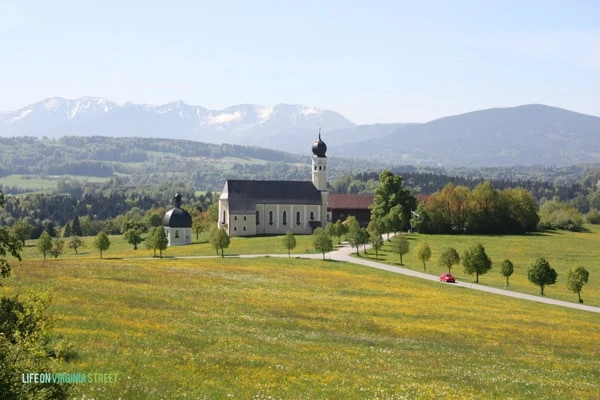 On our way to Salzburg, we detoured for several hours at Lake Königssee in Germany. My husband is a huge history buff and his hope was that we could get up to see Hitler's Eagles Nest. Unfortunately, the pass was a few days away from opening yet (it varies that time of year depending on snow melt). Instead we took a boat ride to the other side of the lake, and to say it was gorgeous is an understatement. The water was so clear and the towering mountains were unbelievable. I felt like I was on the set of 'The Sound of Music'.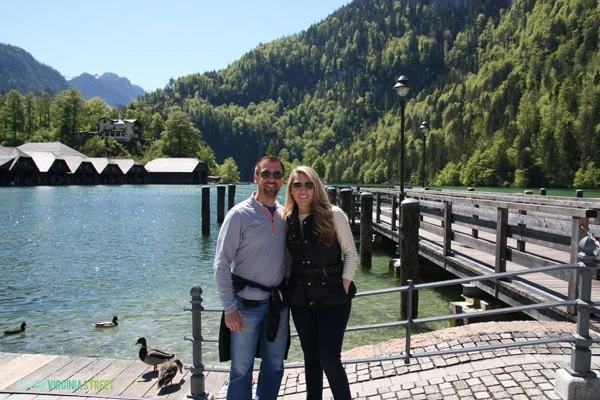 Once on the other side of the lake, you could get out and spend as much time as you wanted in the area. There was a place to order food and drinks and just relax. We stayed for about an hour and enjoyed the gorgeous weather and fresh air.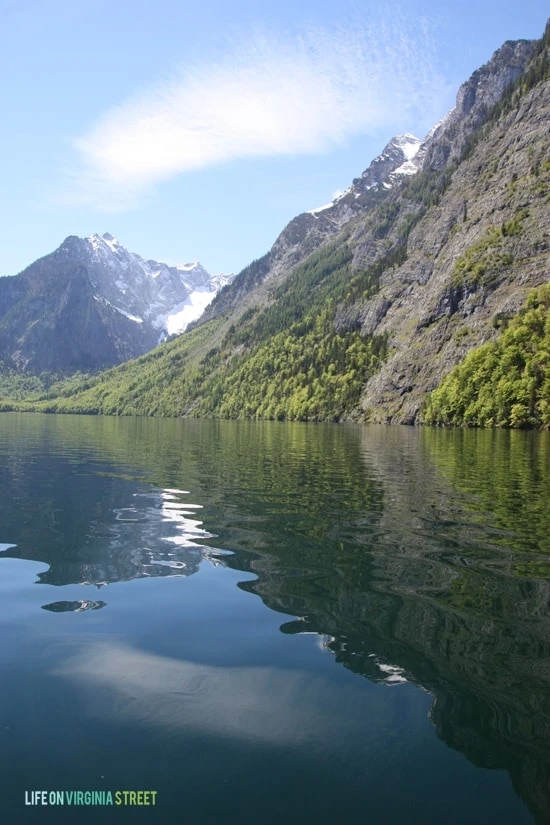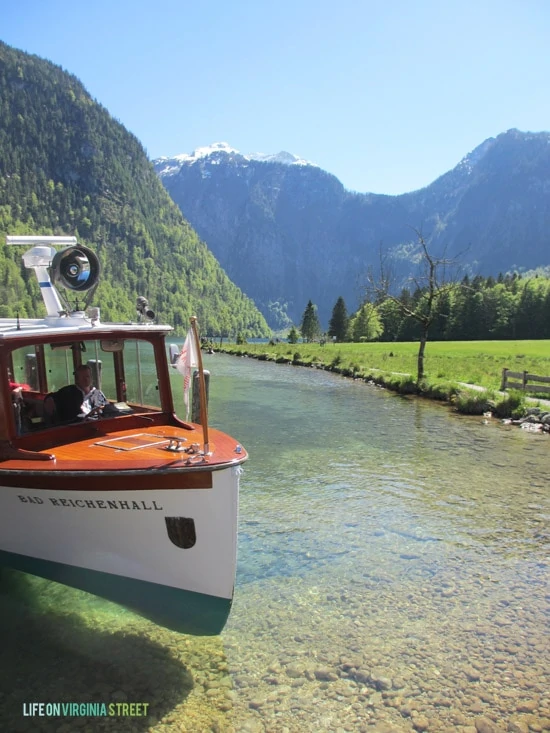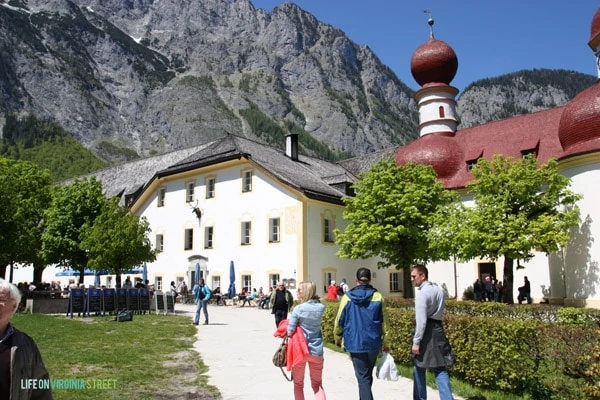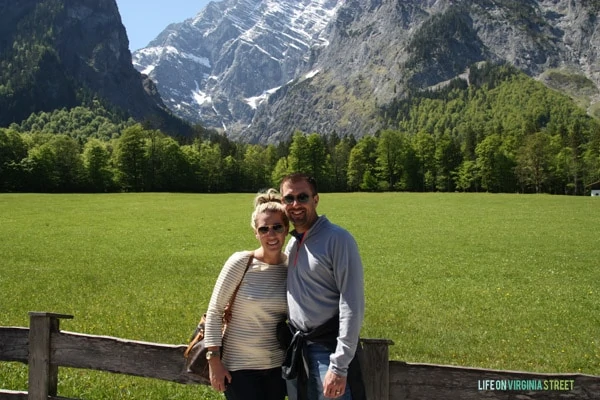 And for those that think we are always serious…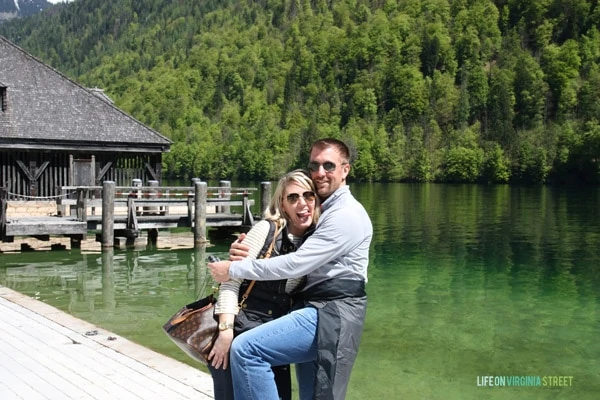 Upon our arrival in Salzburg, we checked into our hotel (The Goldener Hirsch – loved it!) and we did our own little walking tour of the town. Salzburg is full of history and is the birthplace of both Mozart and The Sound of Music. After doing a little shopping, we ate dinner in a quaint little restaurant built into the side of the mountain (Restaurant Alt-Salzburg), which was completely overpriced but a fun experience.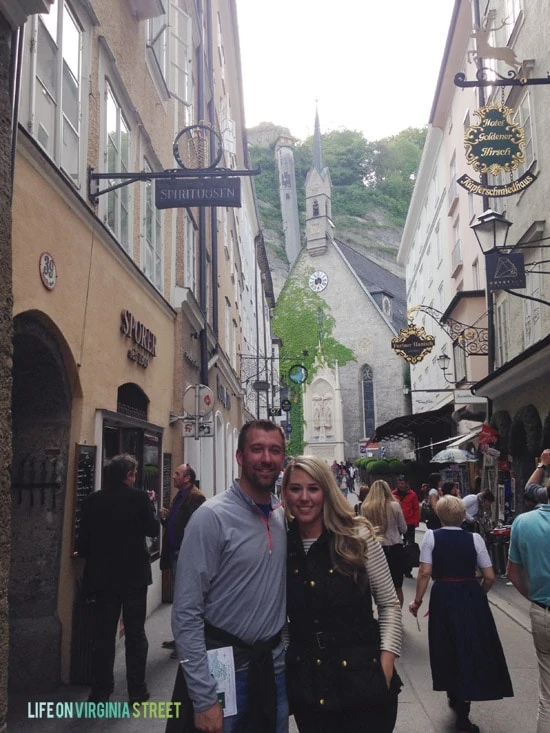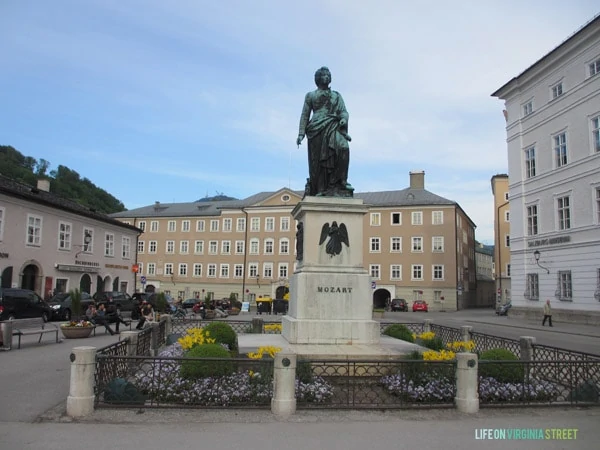 The next morning, we walked to breakfast and toured the gardens.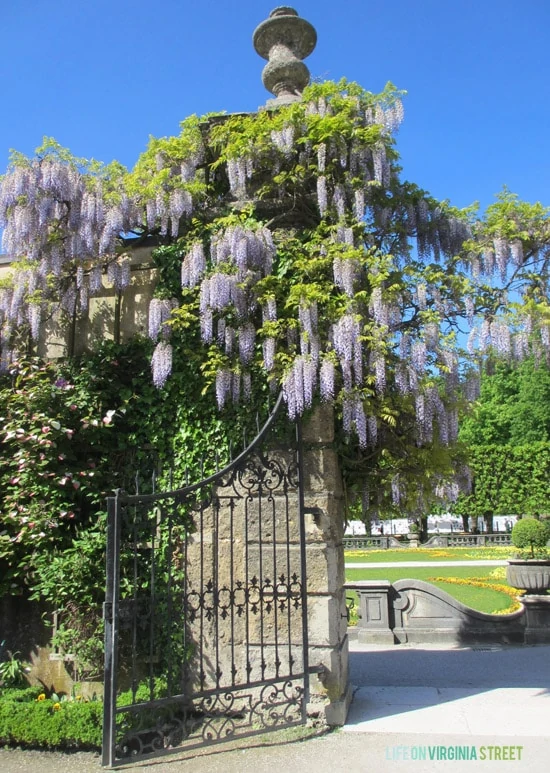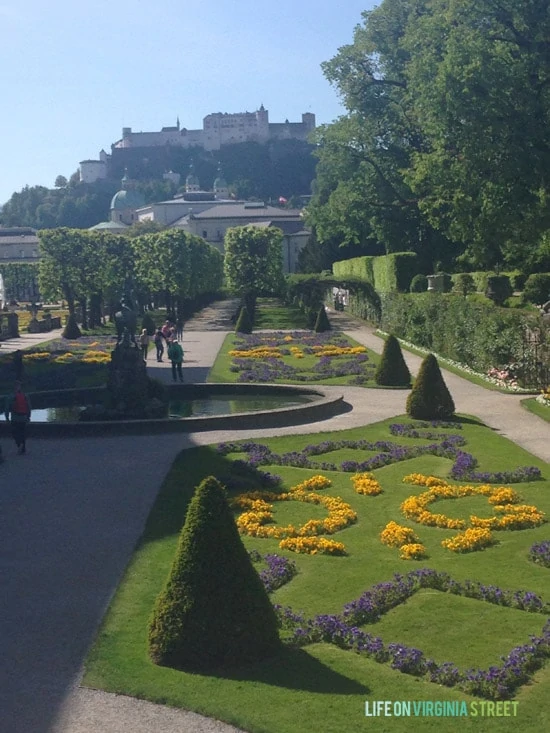 That afternoon, we headed to do a salt mine tour. This was one of those things everyone told us we had to do, so we did. It was interesting but I can't say that it was my favorite thing ever. Honestly, I would have rather spent more time touring Salzburg, but at least now I can say I've been in a salt mine, right?! I'm not one to think I get claustrophobic but this one had me reconsidering that stance several times throughout the tour (knowing that we were so far underground).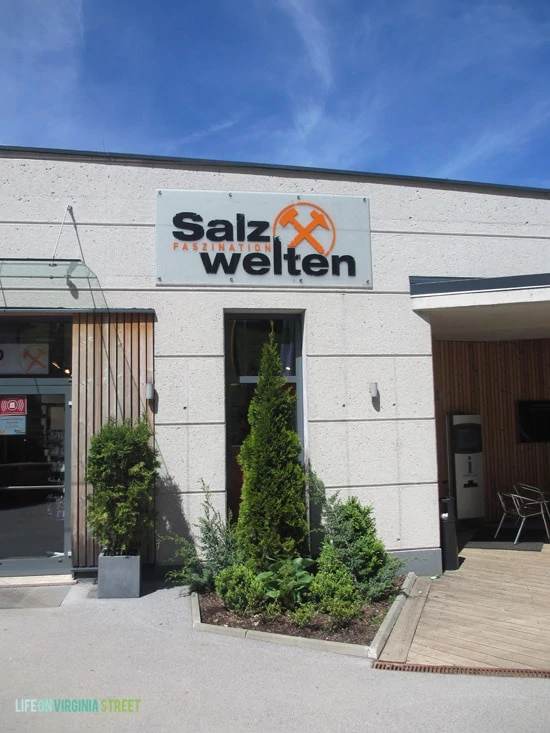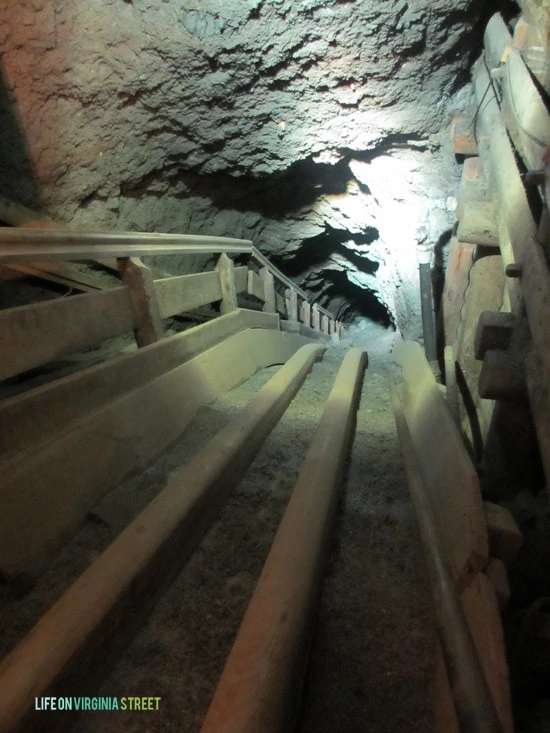 After the salt mine tour wrapped up, we began our trek to and through the Austrian Alps. This was such a gorgeous, albeit lengthy, trip. Before starting up the mountain, we stopped in the gorgeous lake town of Zell Am See for lunch. Definitely somewhere I would like to return!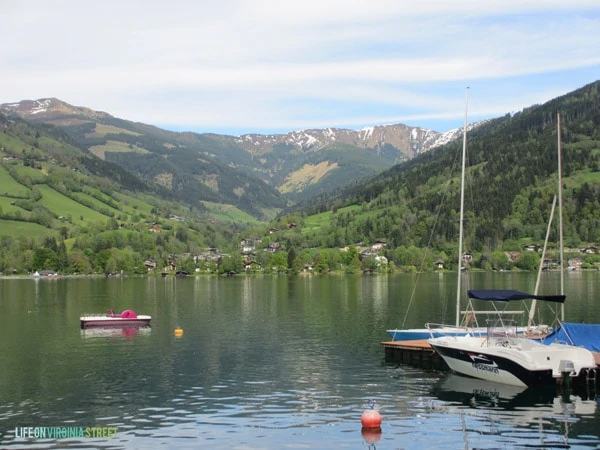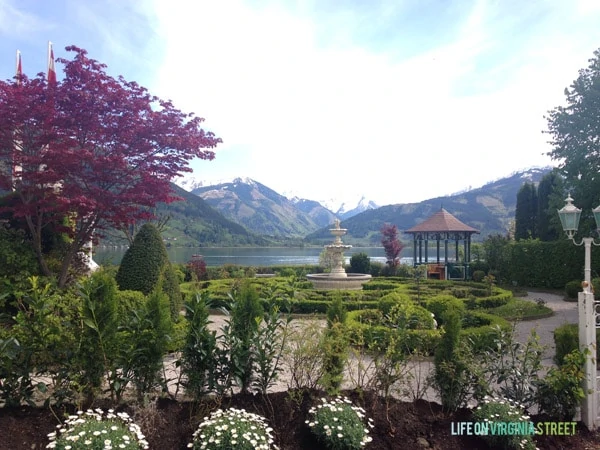 As we climbed closer and closer to the summit, the snow along the road got deeper and deeper and the clothes got layered and more layered 🙂 .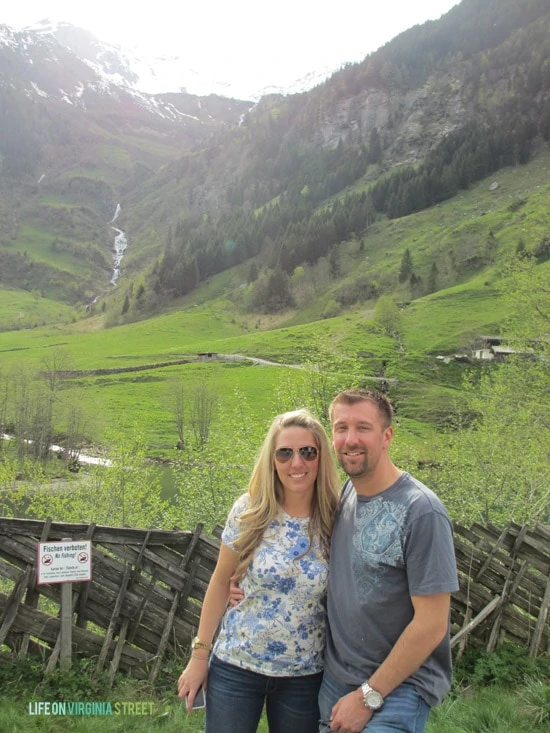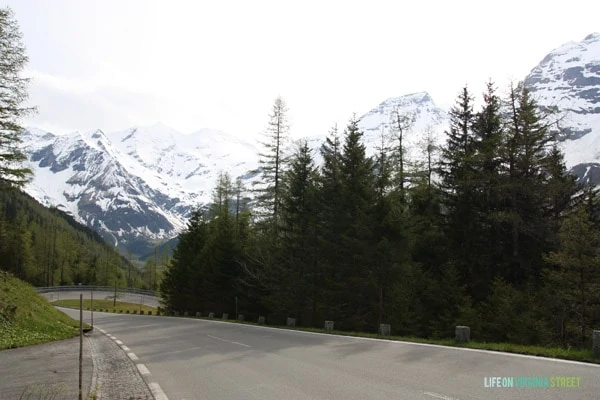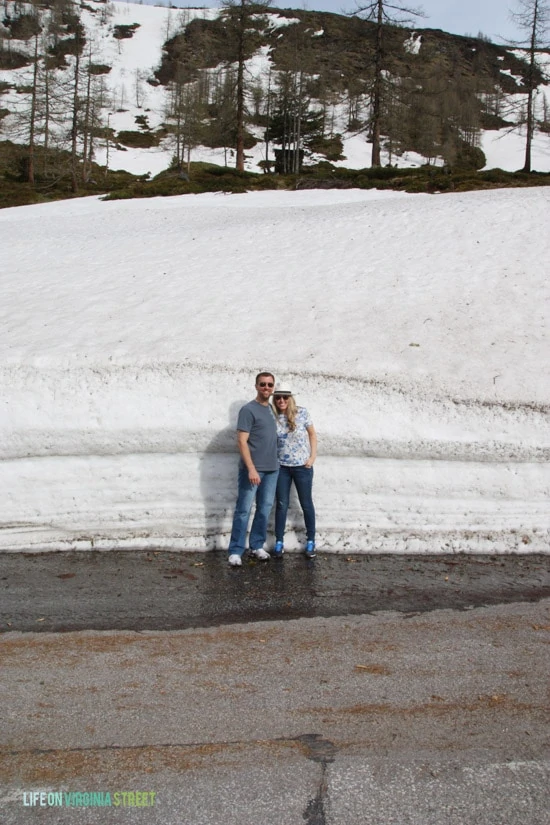 You can see this drive wasn't short on hairpin turns! This is only a small fraction of the drive we took up through the Alps. Needless to say, once we got to the top (which felt like it took forever), the views were stunning!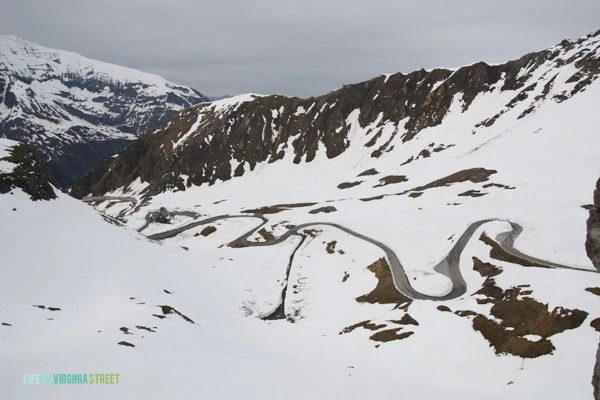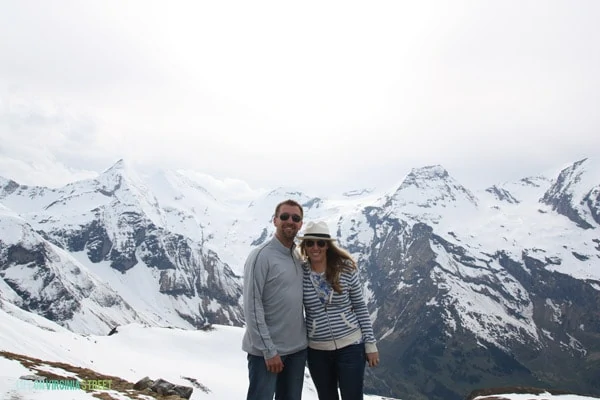 Heading back down the mountain, we finally got to our stop for the evening, in this beautiful valley town of Heiligenblut am Großglockner. I believe this town typically survives on the ski season so it was rather barren in the early spring. The views were rather stunning as we drove down into town.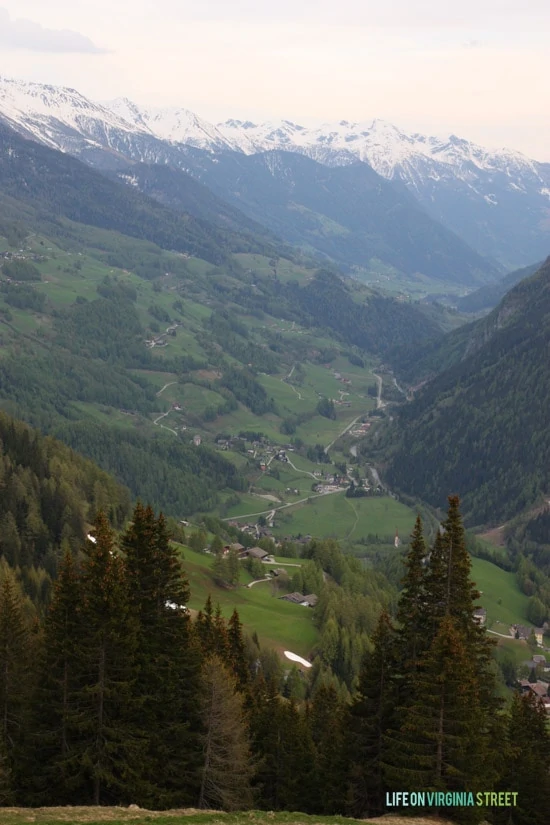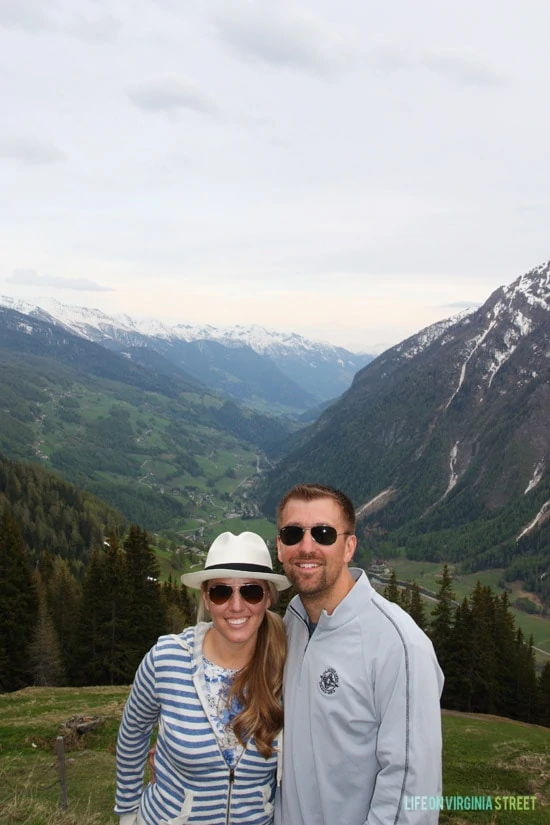 We stayed the night in Heiligenblut am Großglockner at the Pension Edelweiß, a quaint little bed and breakfast. It was the perfect stop for the night and it was fun to get to chat with the local family and hosts that lived in the B&B.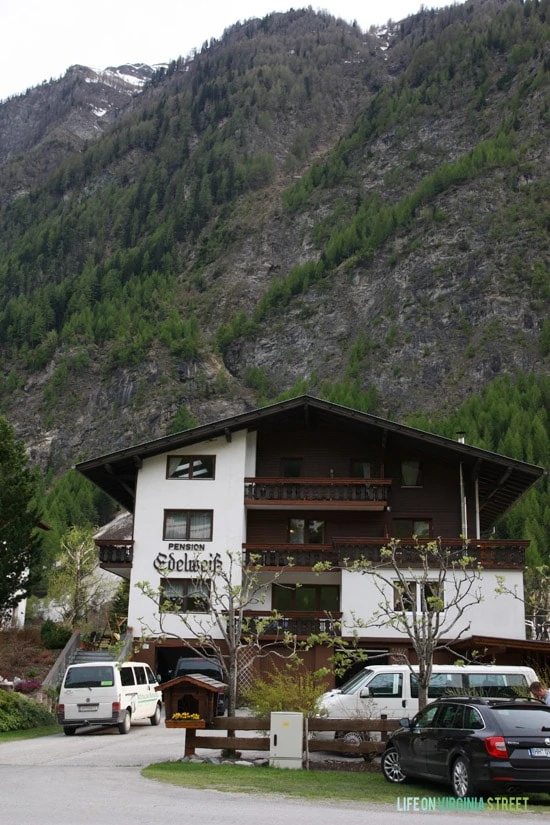 We had dinner that evening at Casa Restaurant. Exactly the name of the restaurant you think you'd eat at in Austria 😉 But, let me tell you. This was arguably the best meal of our trip, and maybe the best salad and goulash of my life. Not only that, the views were breathtaking.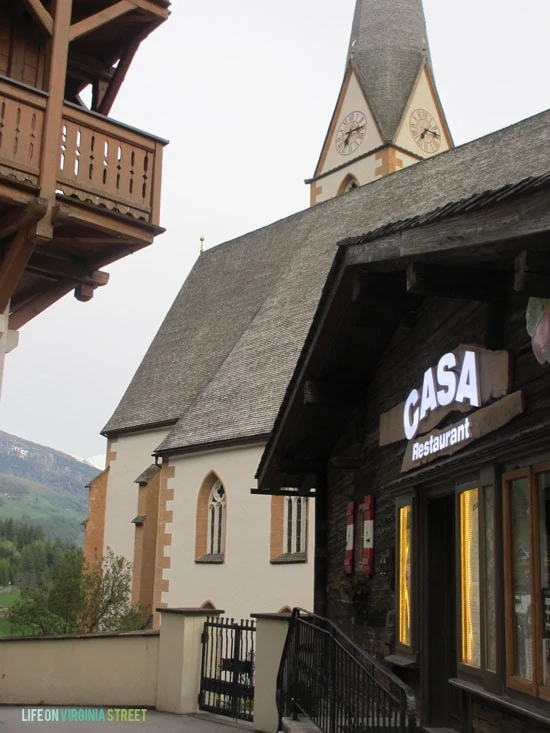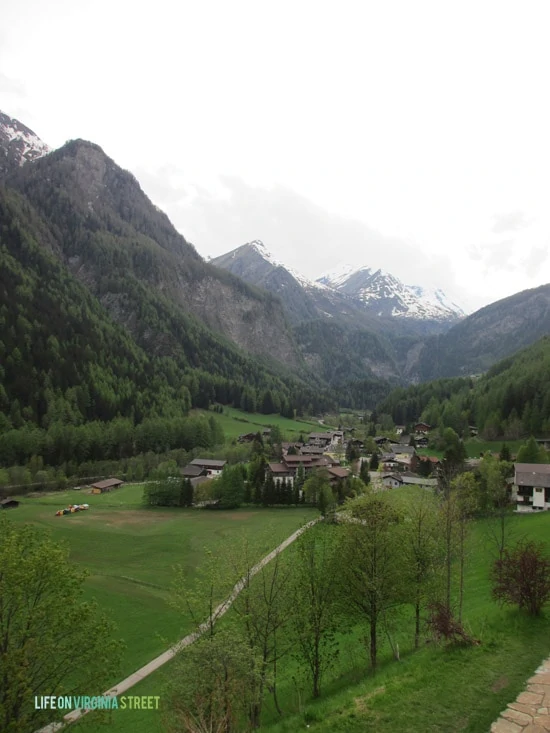 The next morning we traveled several more hours to get to Venice.
I'm sad (and surprised) to say this was my least favorite part of the trip. I should preface that by saying that upon our arrival, we had been away from home for ten days, had spent a lot of time in a car together, and were all just ready to be home. Italy is one of my favorite countries ever, but I have to say, I didn't feel like I was in Italy while I was in Venice. I am glad we went there, but I'm not sure I'll make an effort in the near future to return. Long story short – my expectations were likely too high for the city and it fell short. It is still a really amazing place to visit and is worth going sometime in your lifetime, but I wouldn't plan to stay for more than three days.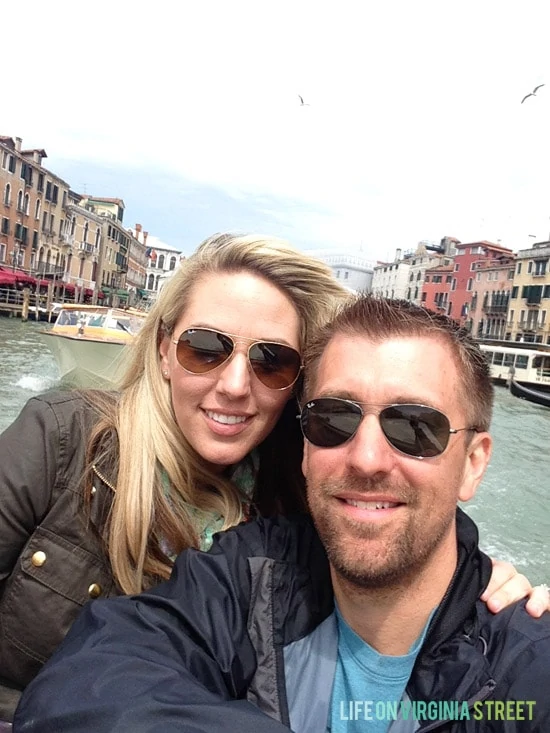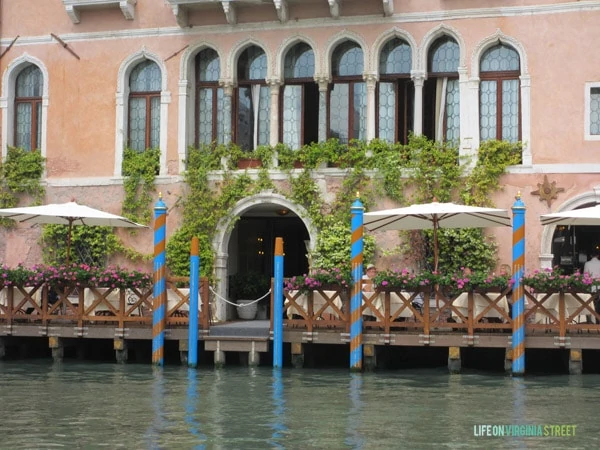 Upon arrival in Venice (near the airport) we dropped off our rental car before we took our water taxi to Venice. It was so much fun to arrive by boat and see the city we had only ever seen in movies. You honestly feel like you're on a movie set. We arrived at our hotel (Best Western Hotel Cavalletto – excellent location and around the corner from St. Mark's Square) and got settled in before heading out for lunch.
We didn't have much of an itinerary for Venice because we knew we would be tired at this point of the trip and we wanted to just enjoy the Venetian way of life. This meant wandering various streets, shopping, eating, and just doing the whole touristy gawking thing. We loved buying Italian leather (the boys) and drinking my new favorite Venetian drink – the Aperol spritz. It was bitter at first but I quickly fell in love with it.
I'm going to sound like a bit of a romantic and a dreamer here, but there is something pretty magical about winding down an empty street in Venice. It really is hard for me to not fall madly in love with Italy. Even in Venice.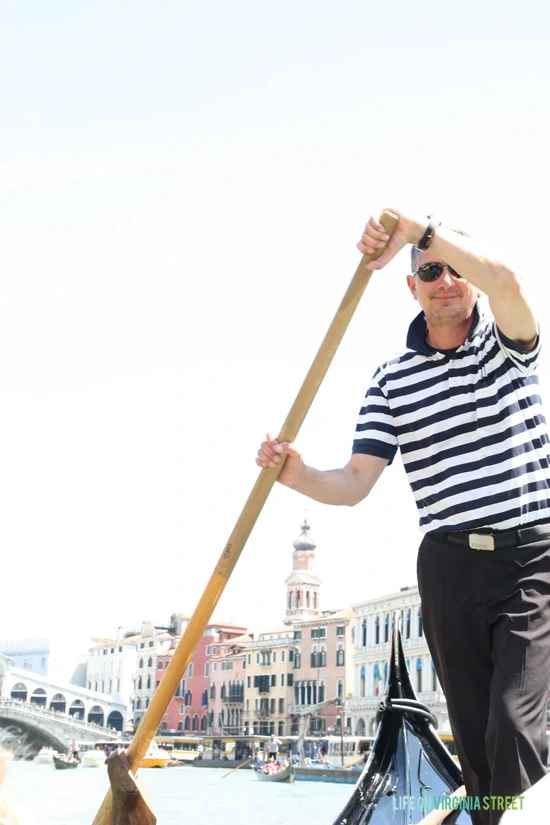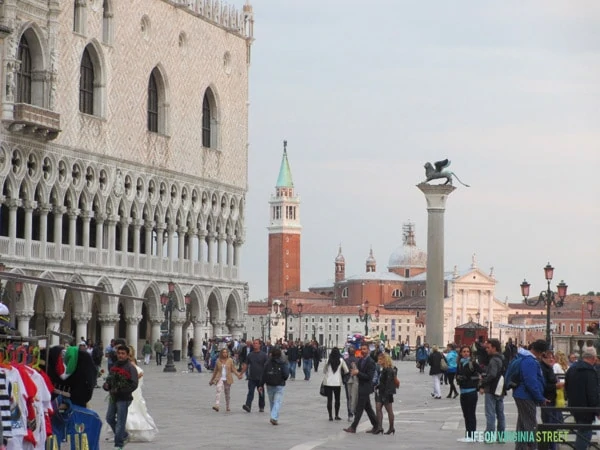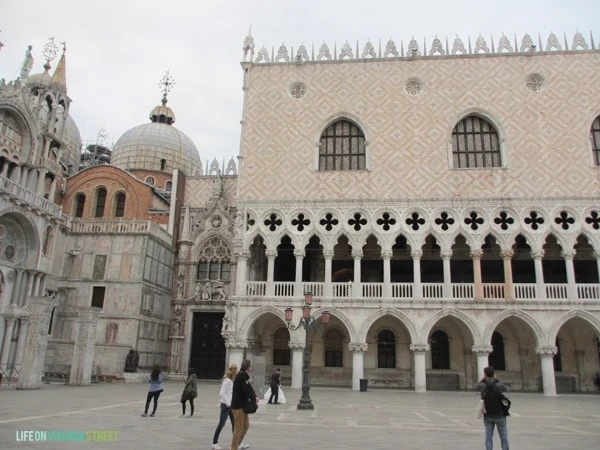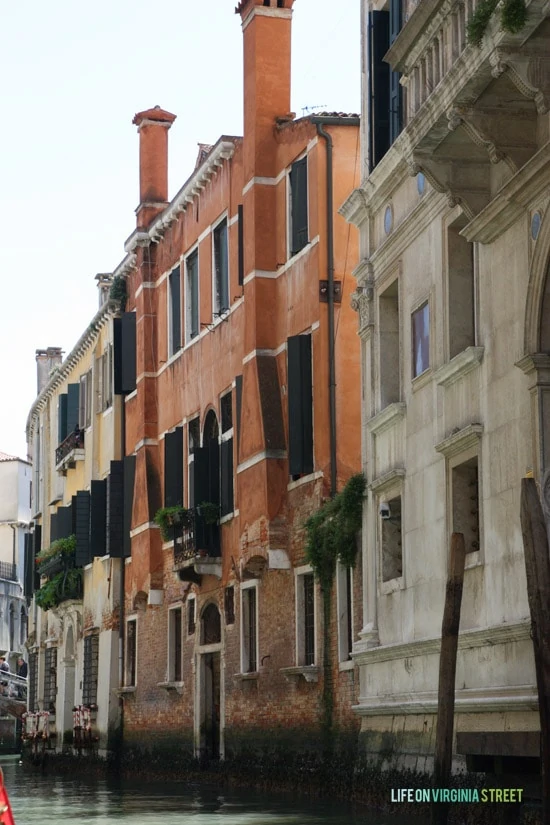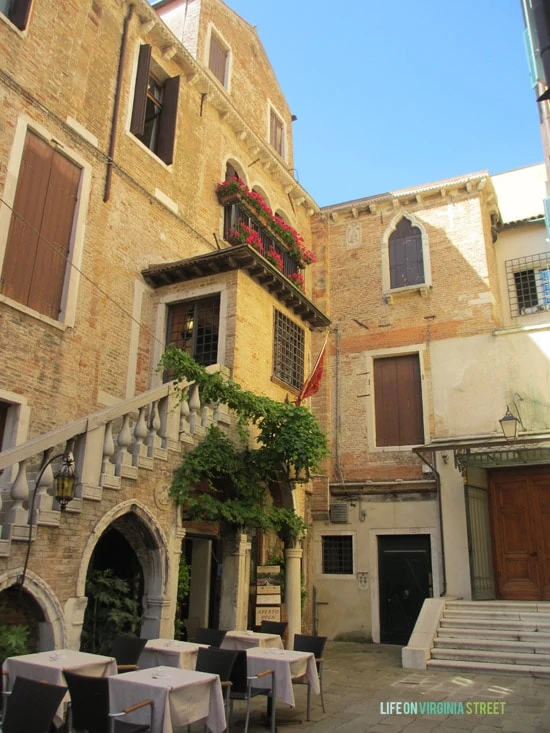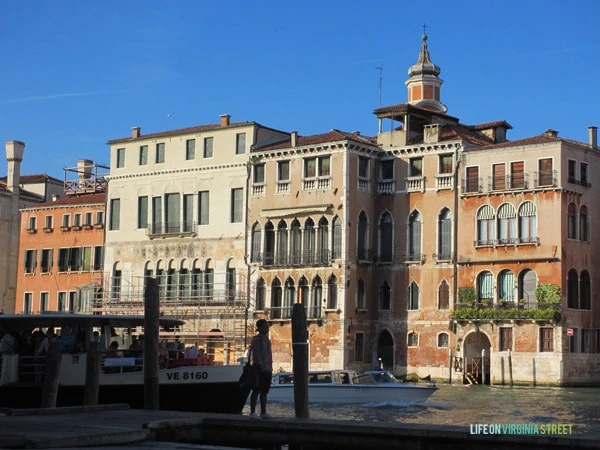 Although I wasn't 100% in love with Venice, it sure is hard to argue with it's picturesque beauty and gorgeous architecture!
Have I ever mentioned I just love this world?! I'll be back next week with a trip that may qualify as the polar opposite to this trip. Both amazing, but just different. Have a great weekend!
If you would like to follow along on more of my home decor, DIY, lifestyle and other posts, I'd love to have you follow me on any of the following:
Pinterest / Instagram / Facebook / Twitter / Bloglovin' / Google