How does the saying go? It gets worse before it gets better? Or maybe, good things come to those who wait?
I feel like the dining room makeover has been on about the same course as all of my other projects lately (mud room makeover, anyone?). You may recall that I started planning the dining room makeover in January, with updates here, here, here, here, and here, and I'm happy to finally report some more progress in the space! Here's where I left you last: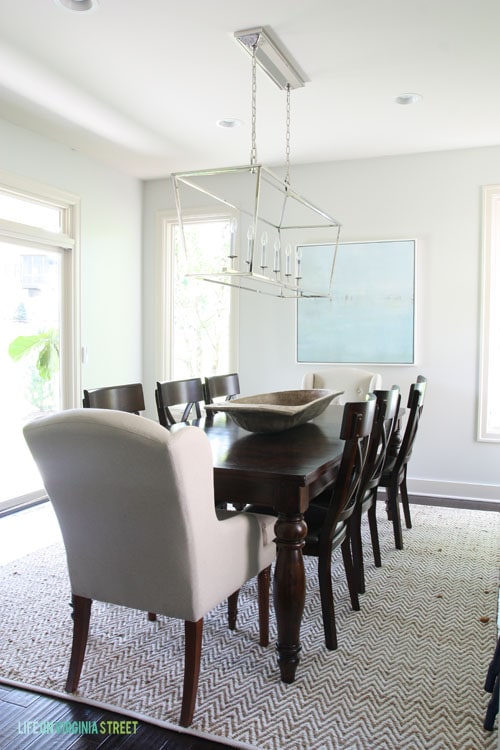 Clean but rather blah because the final accessories and window treatments hadn't been added. But, as of last Friday, I shared a current shot on Instagram. It included the drapes that have been pinned to the window trim for month, all the home decor I have used in months, the prior trim color (which looks gross with the new paint) and holes from the wires that were installed for the new chandelier.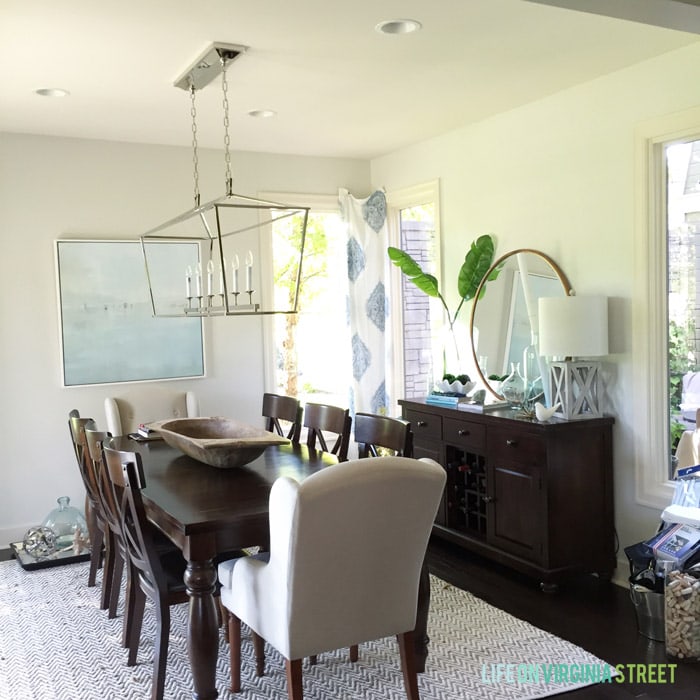 Even crazier? Here was a shot of the room last night when I got home from work.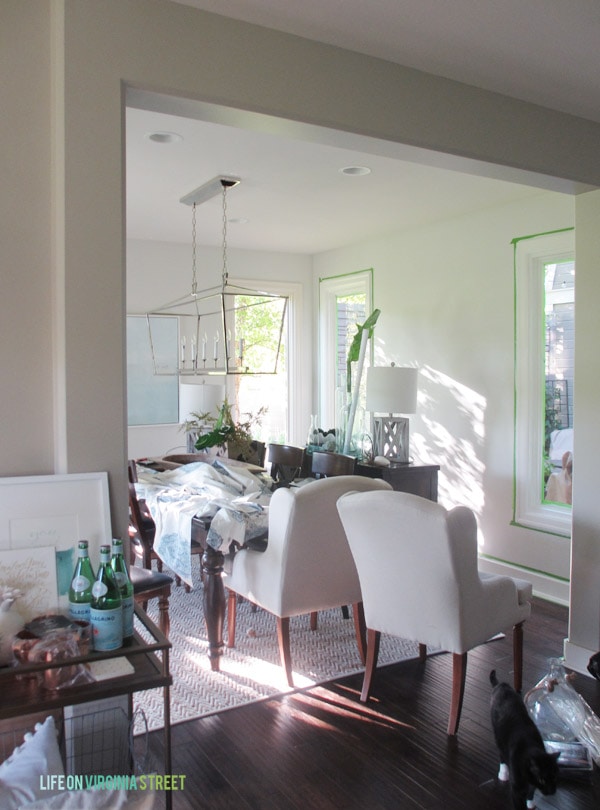 Notice anything? It seems to be getting worse! In reality, things have actually improved, although sometimes it doesn't always feel that way.
This past weekend was the first weekend I had been home in six weeks, so it was good to finally jump into a DIY project again. I almost forgot what it felt like! Over the weekend, I got one coat of paint on all the baseboards and two of the windows, and I feel completely revitalized with this project again! I used my favorite Behr Swiss Coffee paint in a semi-gloss finish.
I felt like it was much easier this time around and I didn't hate it nearly as much as I expected to. I did add a little more Floetrol to the paint that I typically do and it went on so smoothly and the brush strokes melted away (if you don't use Floetrol on trim, you don't know what you're missing out on!) I was quickly reminded how much I love the new trim color versus the old and the work seemed totally worth it! Look closely at the photo below. The new trim color is on the right and the old is on the left. I actually feel like the details of the trim pop even more with the new color.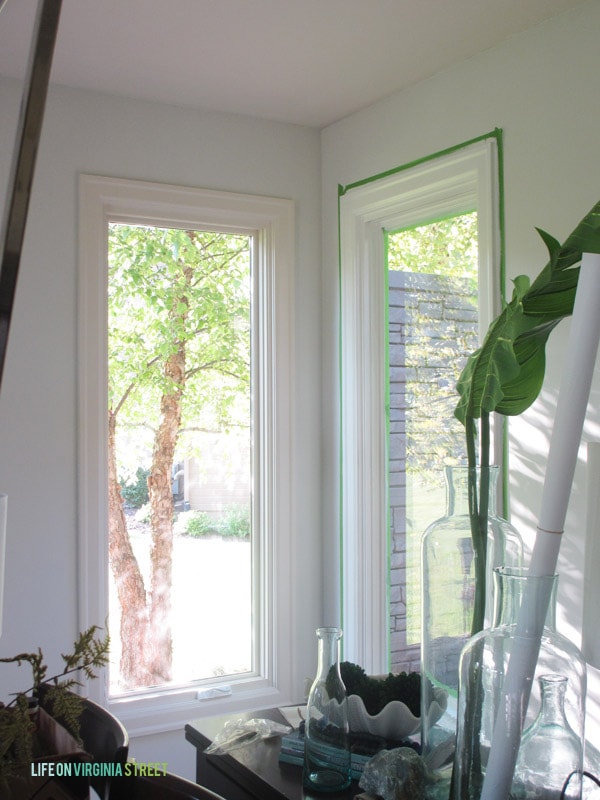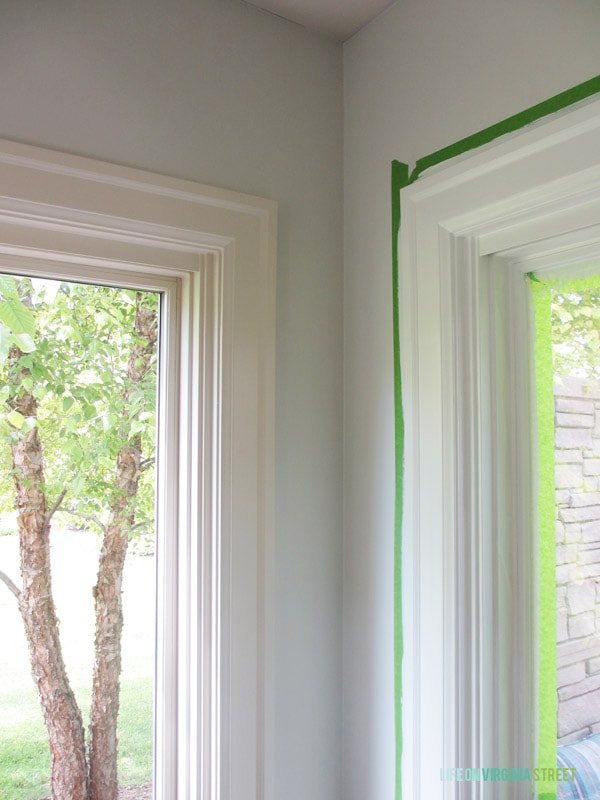 Here you can see the baseboards (freshly painted) compared to the window trim (old paint color):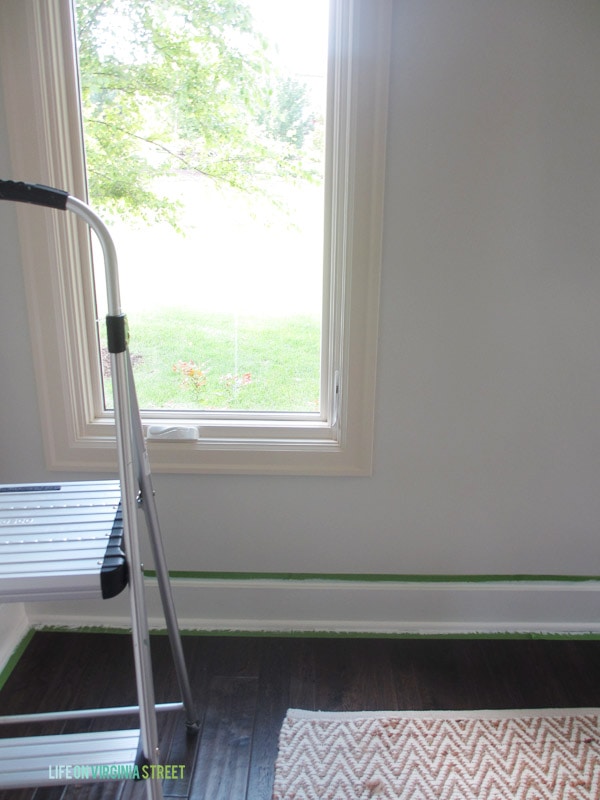 One day (hopefully soon) we'll get back to the pretty, including some accessories a styled space. But until then, I have reality, and this picture to keep me going 😉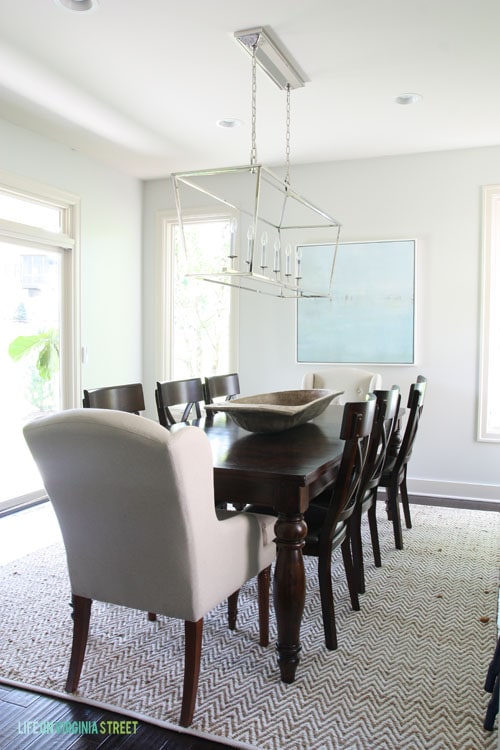 Current source list for the space (click on the item below for more information):
Art / Light / Drapes / Rug / Mirror / Bar Cart / Lamps / Wall Color: Behr Silver Drop / Trim Color: Behr Swiss Coffee

Slowly but surely, it's all starting to come together. And on the even brighter side, I feel like I have my DIY juice back! I hope to wrap up all of the remaining trim paint this weekend and can *hopefully* share a reveal with you next week! Thanks for your patience in following along with this project!
If you would like to follow along on more of my home decor, DIY, lifestyle, travel and other posts, I'd love to have you follow me on any of the following:
Pinterest / Instagram / Facebook / Twitter / Bloglovin' / Google
disclosure: some affiliate links used