I am very excited to share my coastal guest bedroom progress with you today, even though it isn't fully finished!
As promised, today I'm sharing some of the progress I've made in our charming coastal guest bedroom. I really struggle with sharing a space before I feel it's "finished", but given that things are always a work in progress around here, I thought I'd share where we are as of today.
But first, a look at where we started. This was the bedroom shortly after we moved in. Pretty dark and beige and blah!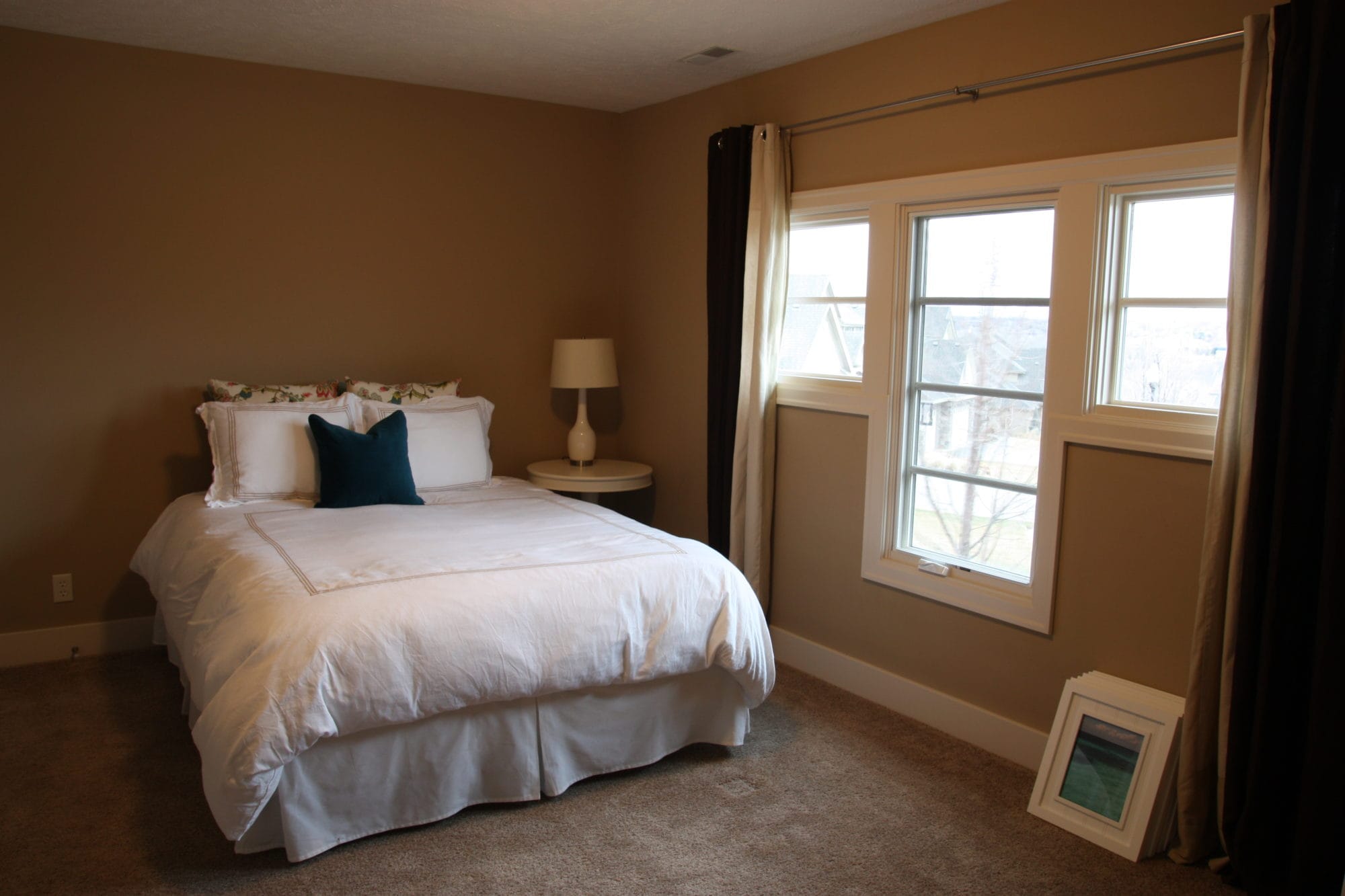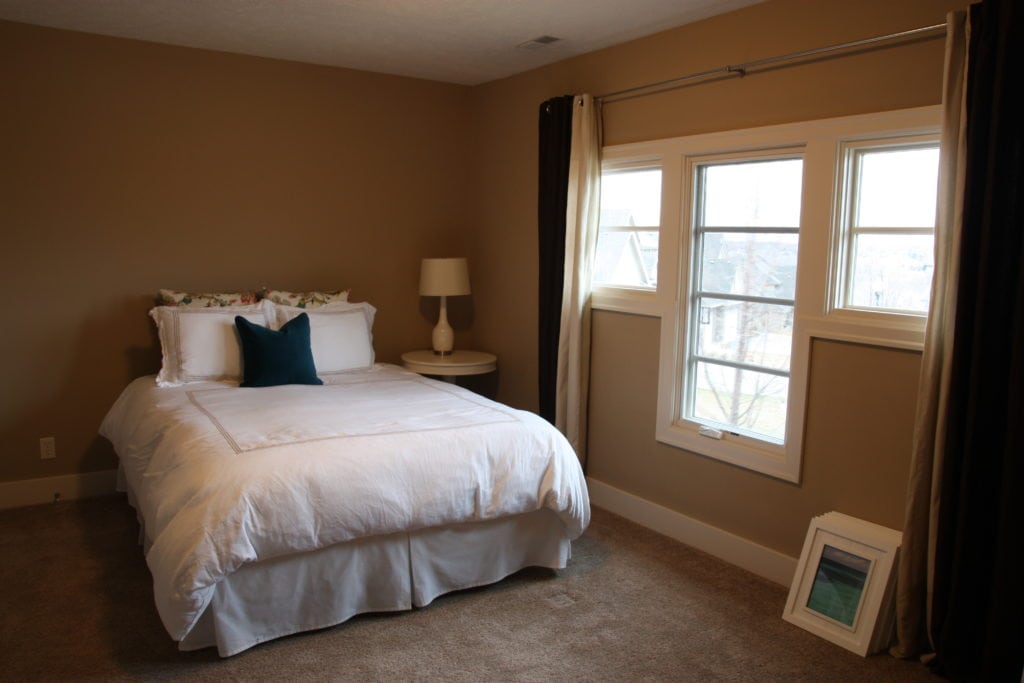 The room has undergone several updates/refreshes in the last five years that we've lived here. You can see the original makeover here. A few months back I shared this coastal bedroom design board to show how I wanted to update the space.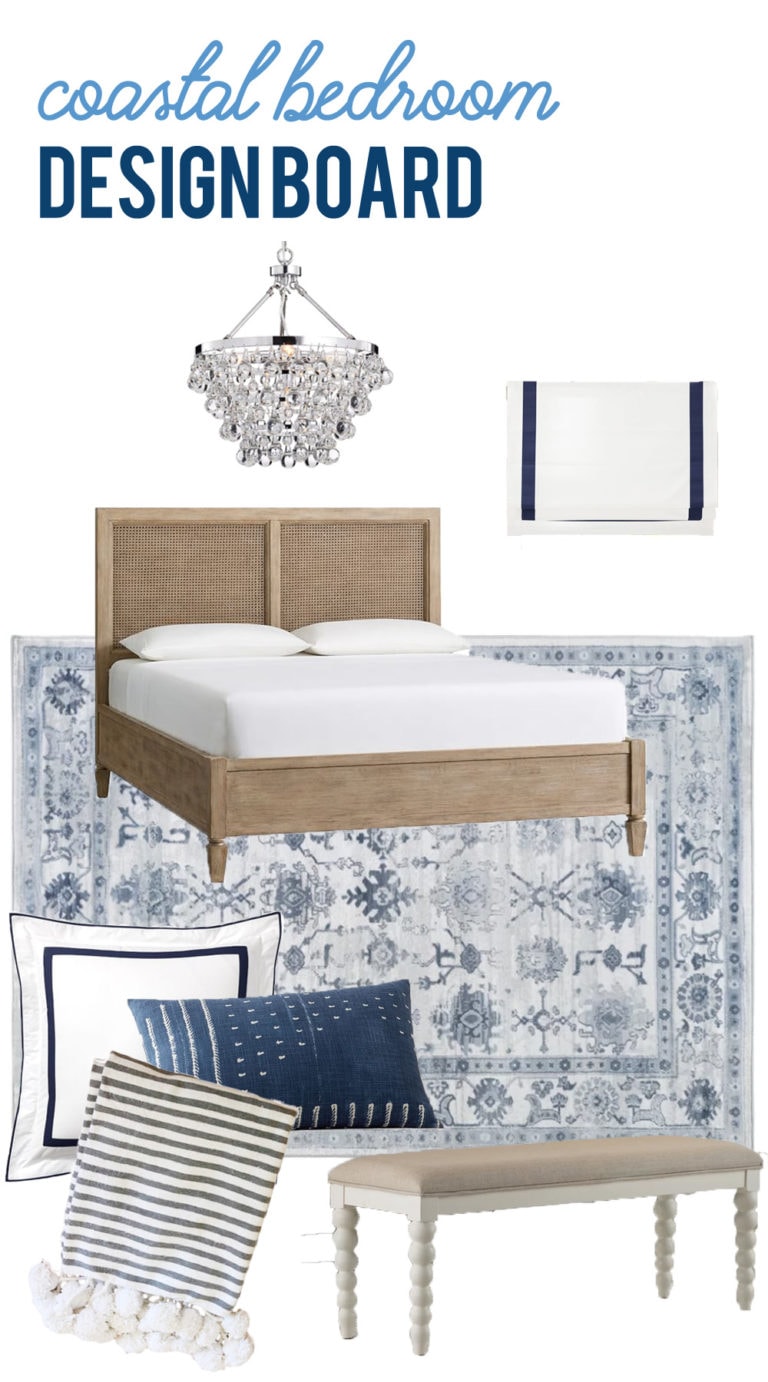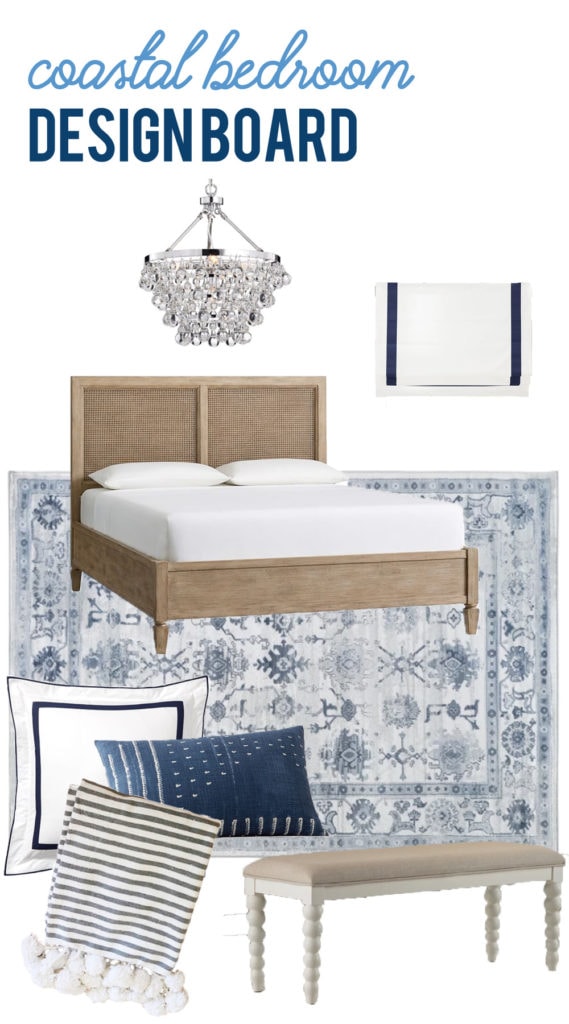 This post contains affiliate links for your shopping convenience. Click here to read my full disclosure policy.
The last time I shared the room was at Christmas and you can see the old paint color on the side walls (Behr Castle Path). The image below actually makes it look lighter than it felt in real life.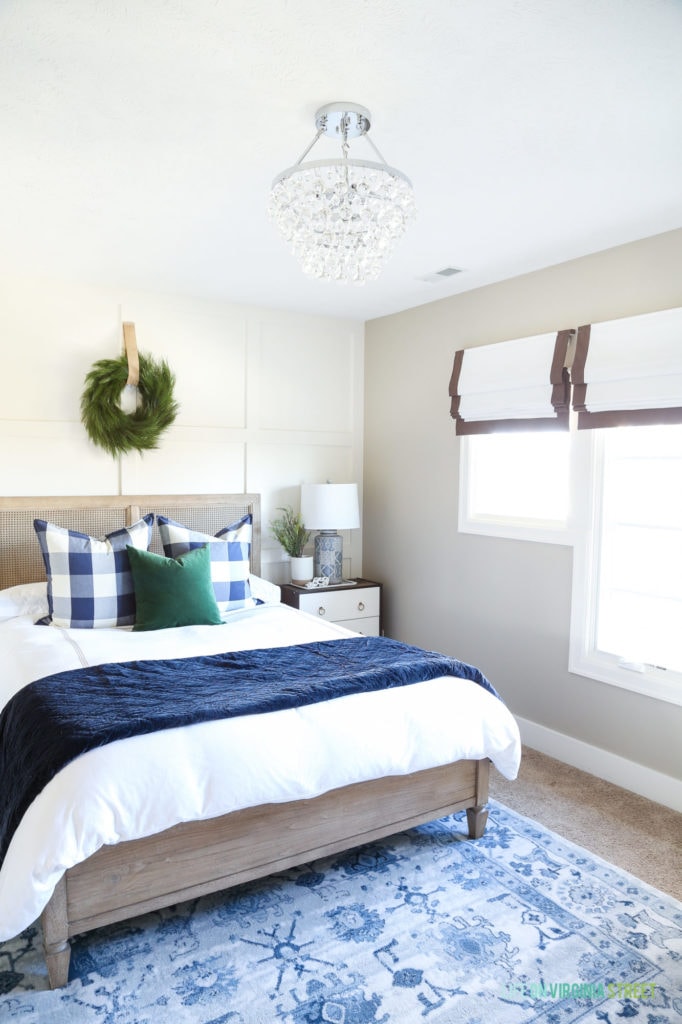 The biggest issue, which I mentioned before, is the IKEA EXPEDIT that had been moved to the room. We were needing a second desk area for when we're both working at home. The EXPEDIT was like a junk magnet. It was too easy to store stuff in it and you'd be shocked at all the random crap I found in the bins. I donated a bunch of the craft items to our church's preschool and VBS program, shredded old documents we no longer needed and really tried to deal with everything once and for all! We temporarily added the desk extension to the EXPEDIT to see if we could make it all work and it was way too tight in the room.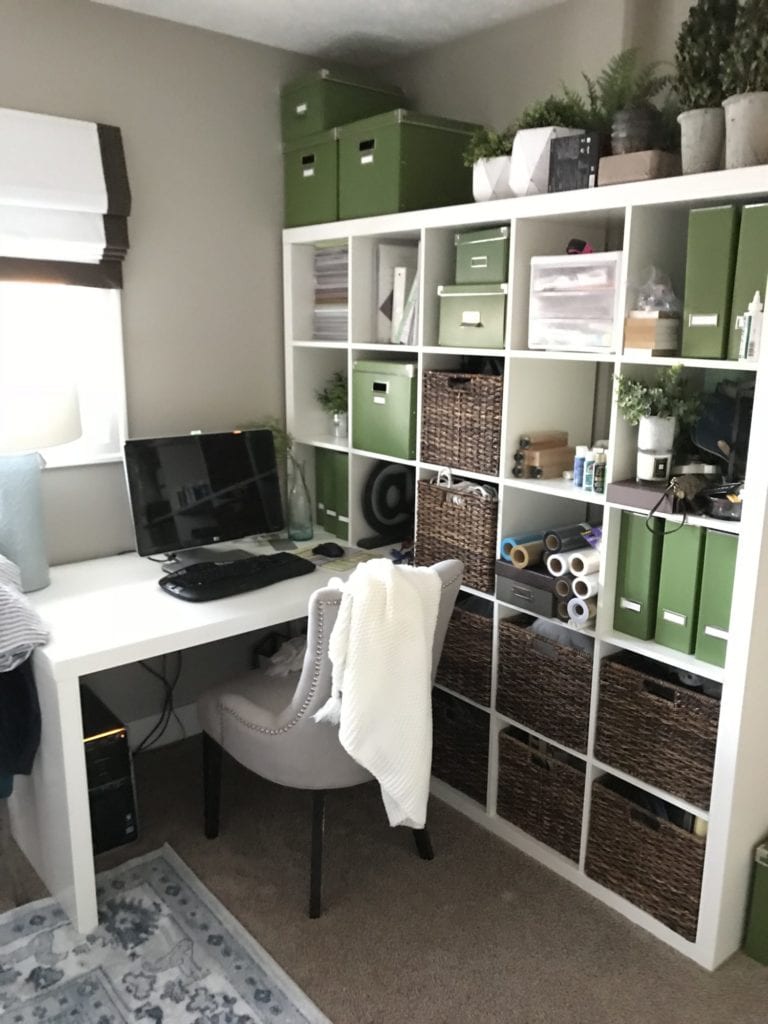 Here's a shot of the contrast once I started painting. You can also see the Pottery Barn desk I found on a local Facebook group. I got it, along with the matching linear filing cabinet, for $200.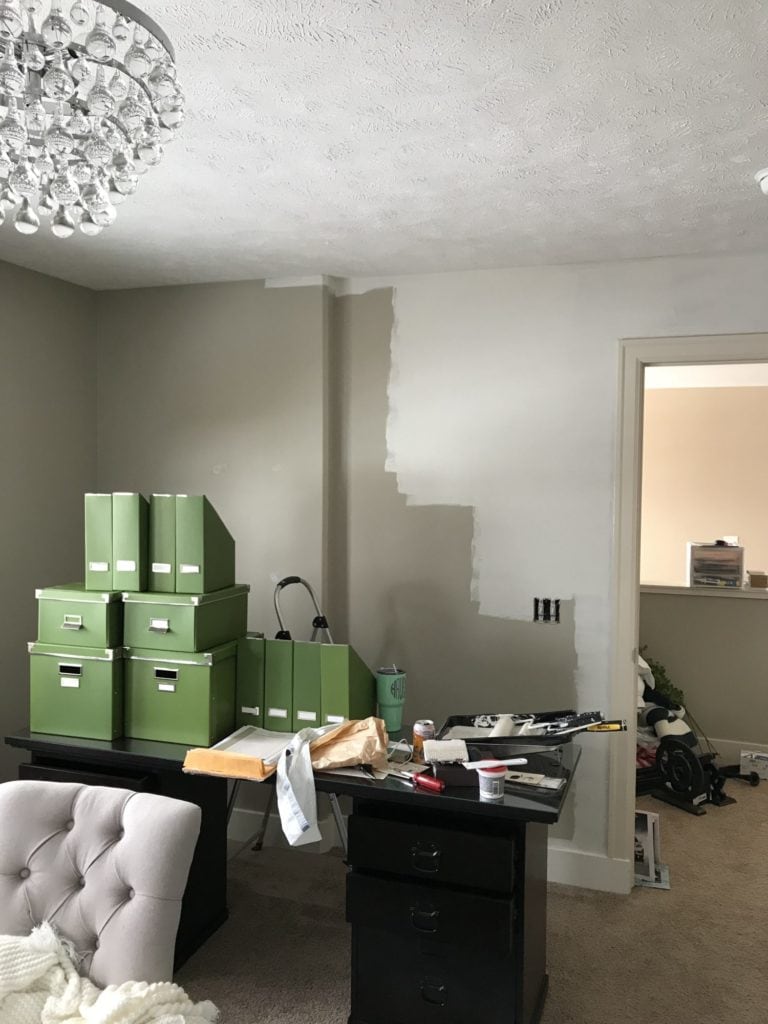 Here's how the room looks now. I'm loving the new look of the Benjamin Moore Classic Gray paint. The board and batten and trim are still Behr Swiss Coffee, so I may take them a bit whiter to BM Simply White. The room is a bit barren at this point, but for now, I'm happy with the brighter and cleaner look! Funny story. Until I was editing the photo below, I honestly had never noticed that we totally didn't get the rug centered under the bed. Like how did we mess it up that badly!?! The striped throw pillows are recent HomeGoods clearance finds.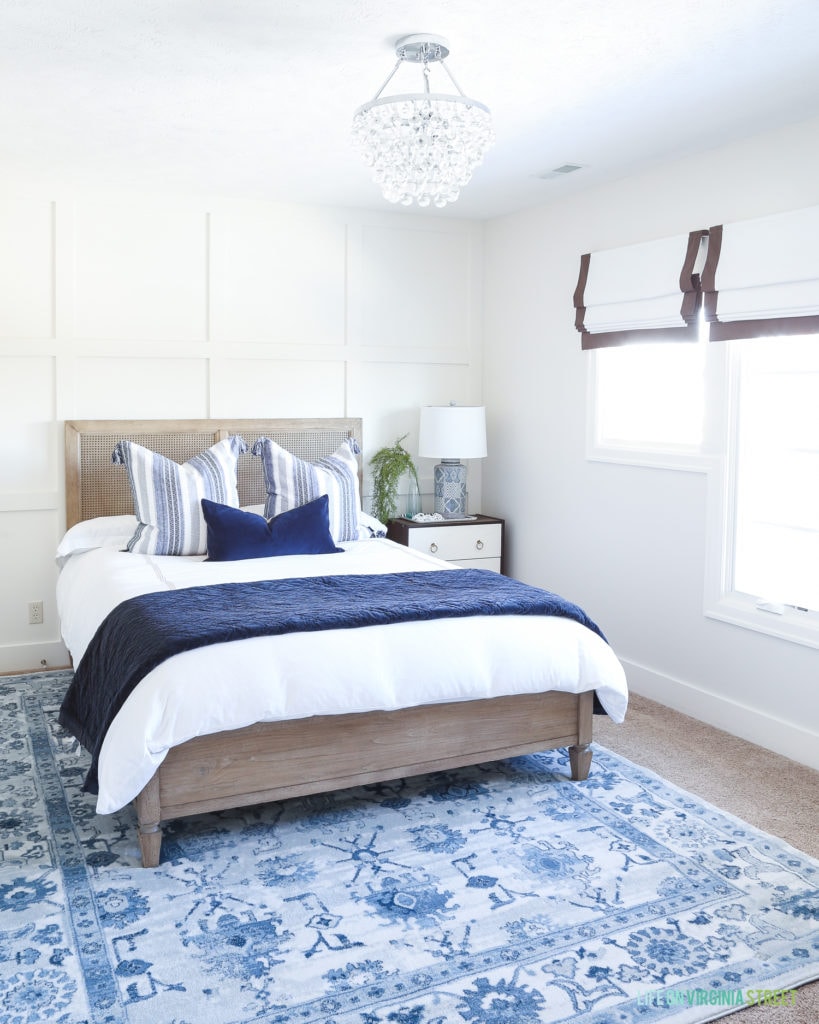 I'm still debating on whether or not I leave the roman shades on the windows. They're a five year old Restoration Hardware Baby & Child clearance find (similar style here) and when I took them down to paint, I couldn't believe how much brighter the room got. The windows face the street so they definitely need full coverage at times. I'm contemplating doing drapes instead, but still deciding! The shades are currently hung about a foot above the window, but I can't go any higher or the middle shade isn't long enough.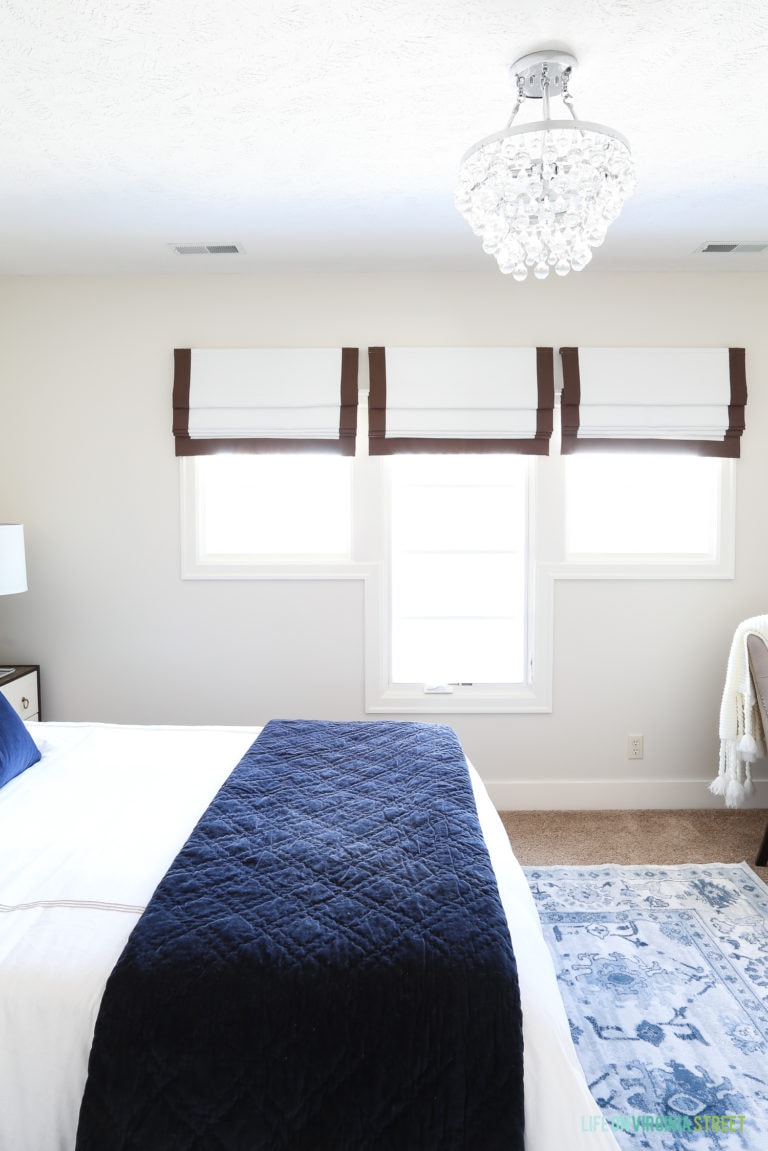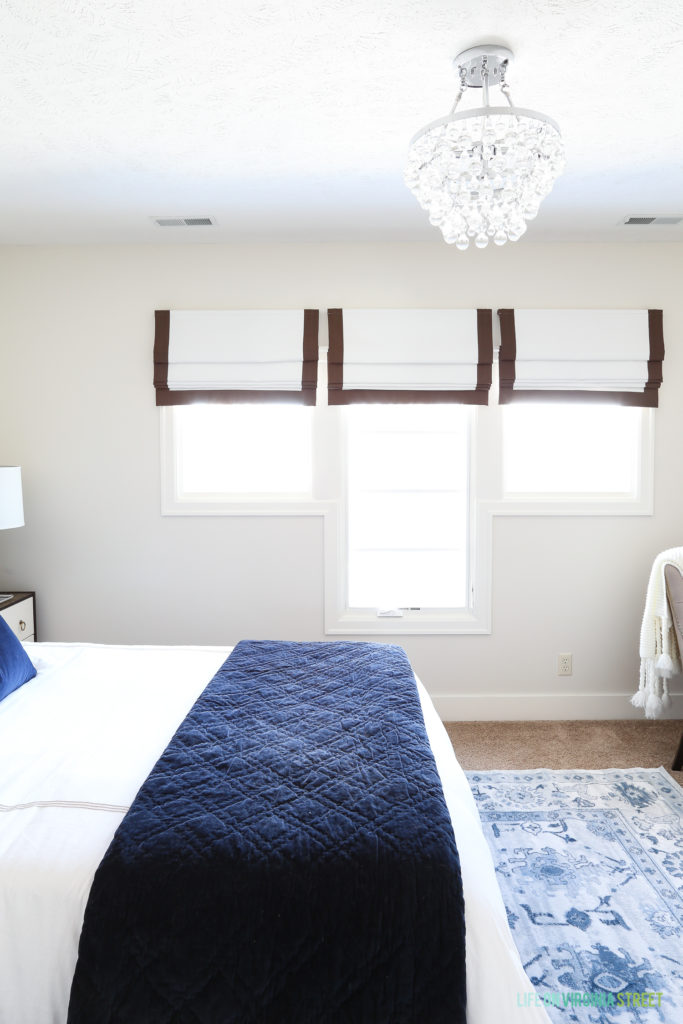 Over on the side where we placed the desk it's definitely still a work in progress! I moved my DIY inspiration board in here, but I'm still undecided if I'll hang it in here or not. It makes it a bit challenging to style with the jog in the wall. I found that white ceramic bamboo lamp at HomeGoods a month or two back, and when I saw it online for nearly $400 I about fell out of my chair! I think I paid $40 for it! HomeGoods is definitely the place to go for lamps if you need them. I'm definitely loving how much more open this side feels though now that the EXPEDIT is gone! It's amazing how much bigger the room feels in general now!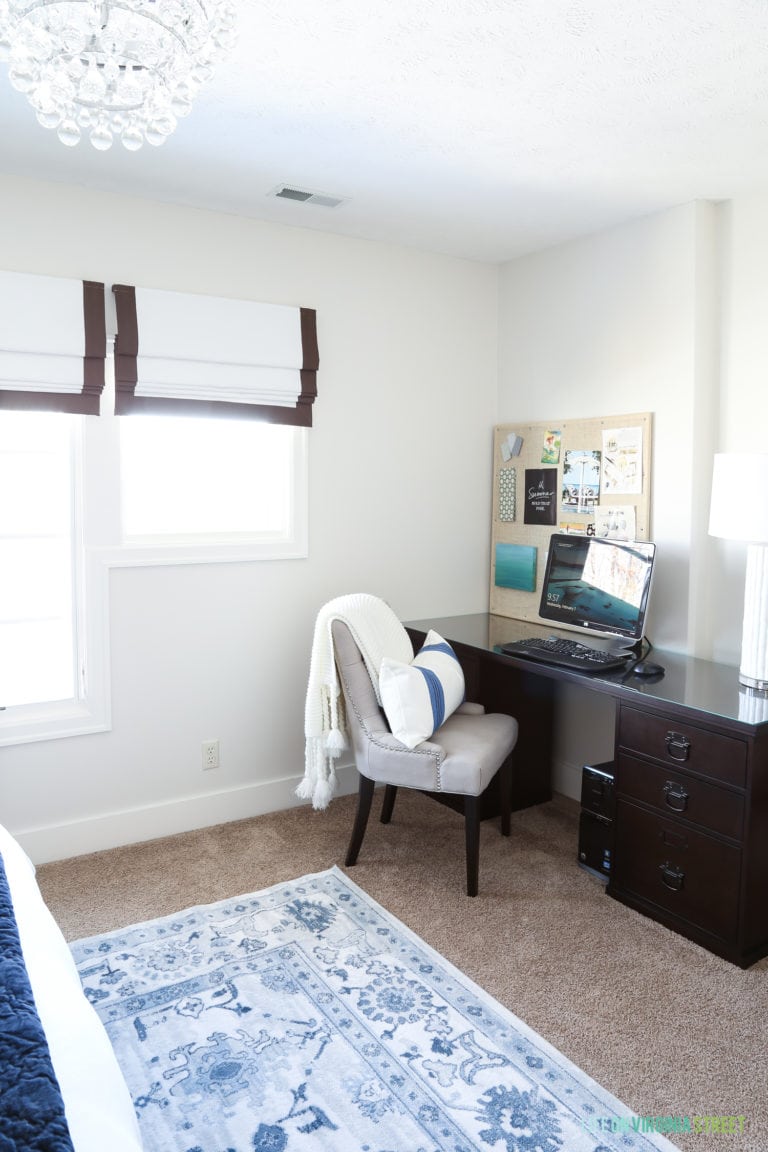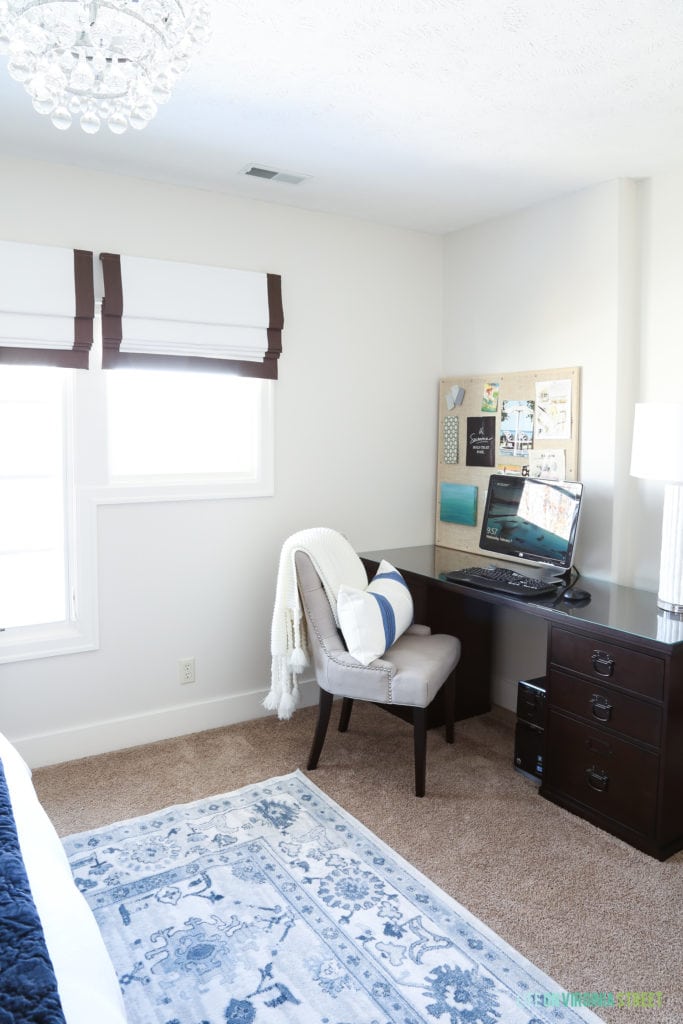 I'll keep you posted on further progress. I may actually paint the adjoining bathroom soon. It's one of the few spaces in our entire home that still have the original paint color. Keep in mind our home is ten years old and it's flat paint, so it's badly in need of a refresh! I'm still deciding if I need to hang something above the bed or if I keep in empty for now to really show the board and batten work.
Have a great weekend!
If you would like to follow along on more of my home decor, DIY, lifestyle, travel and other posts, I'd love to have you follow me on any of the following:
Pinterest / Instagram / Facebook / Twitter / Google+
disclosure: some affiliate links used