Candles for Valentines Day definitely set the mood for romance!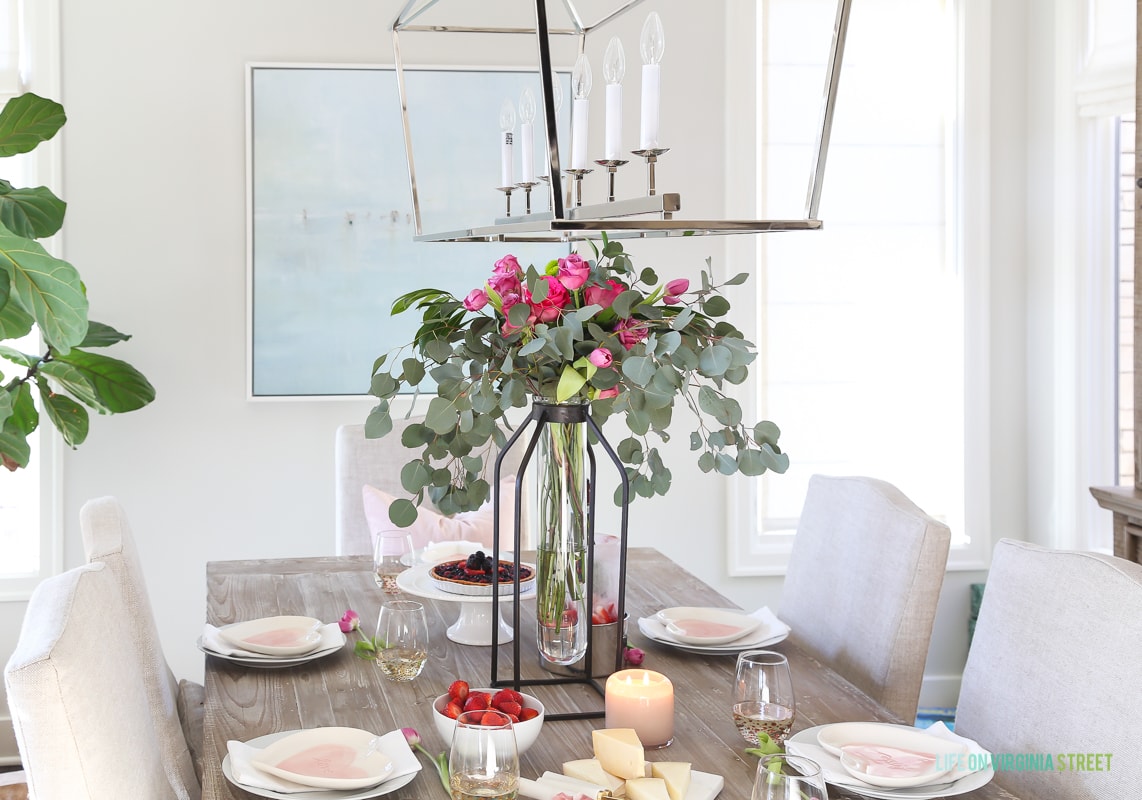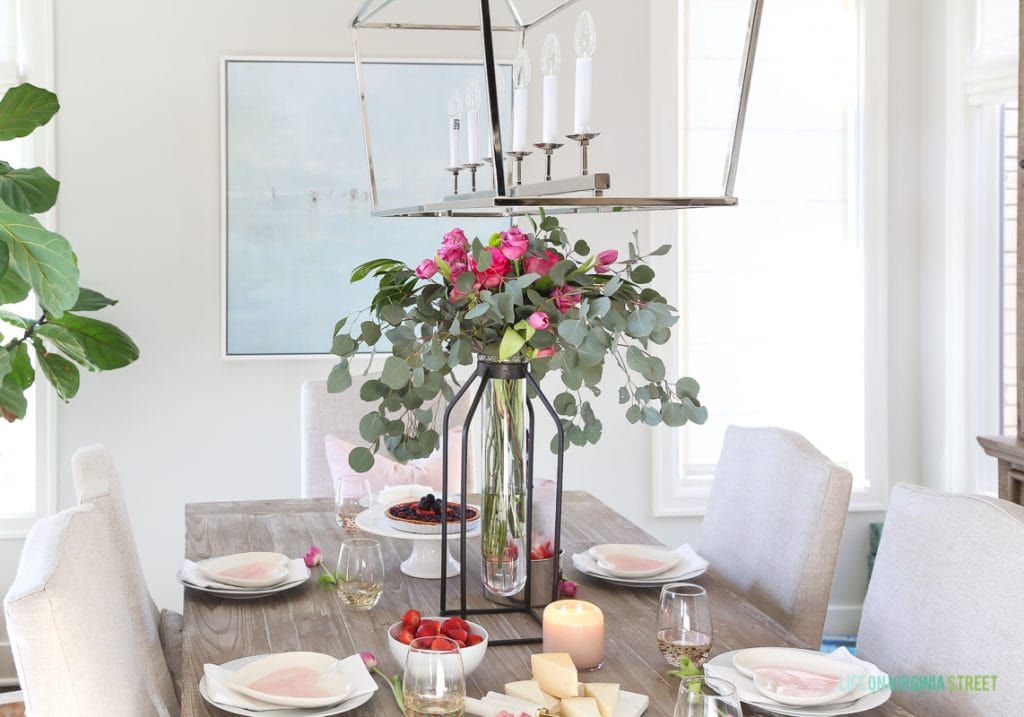 Thank you to Chesapeake Bay Candle for sponsoring today's post. As always, all thoughts and opinions are my own.
I've mentioned this before, but Kurtis and I aren't usually big on making a huge deal out of Valentine's Day. We'll typically make a point of going out for a Valentine's Day dinner (rarely on Valentine's Day) and then we try to find a few joint items to buy that we typically wouldn't purchase otherwise. Never gifts, per se, but rather special items we want to splurge on for around the house.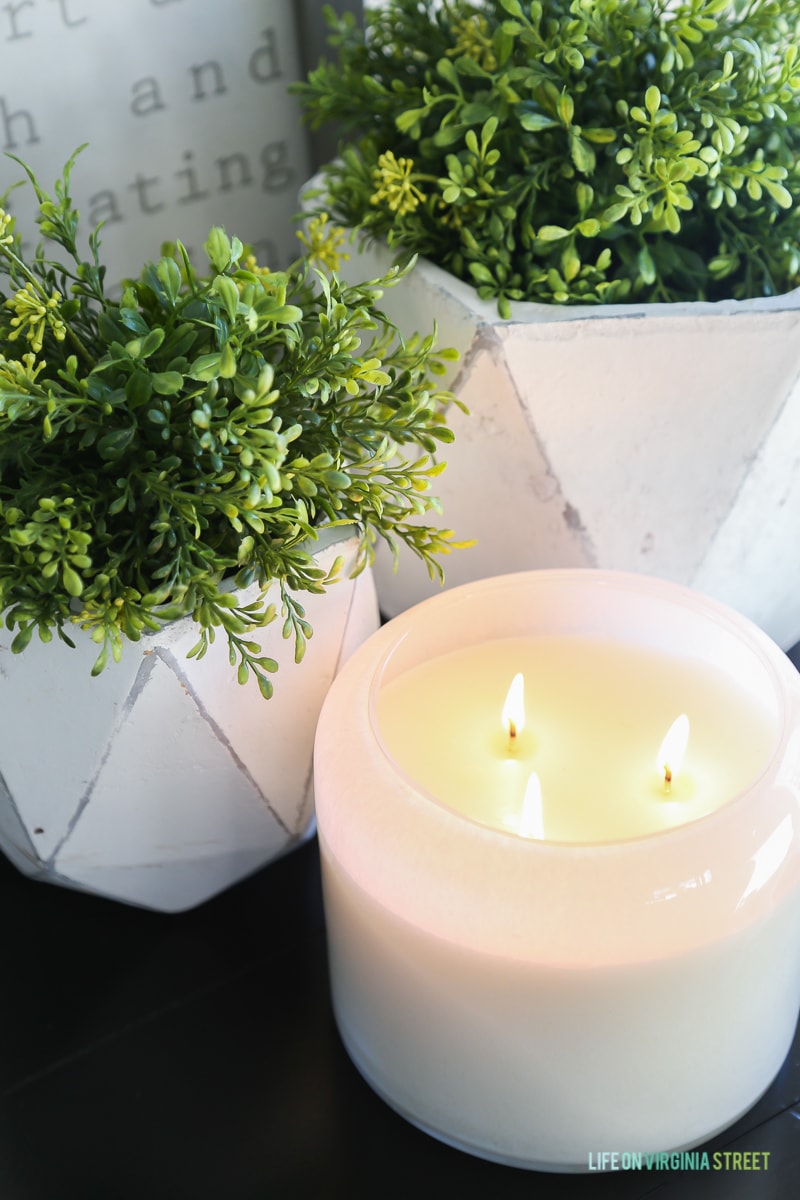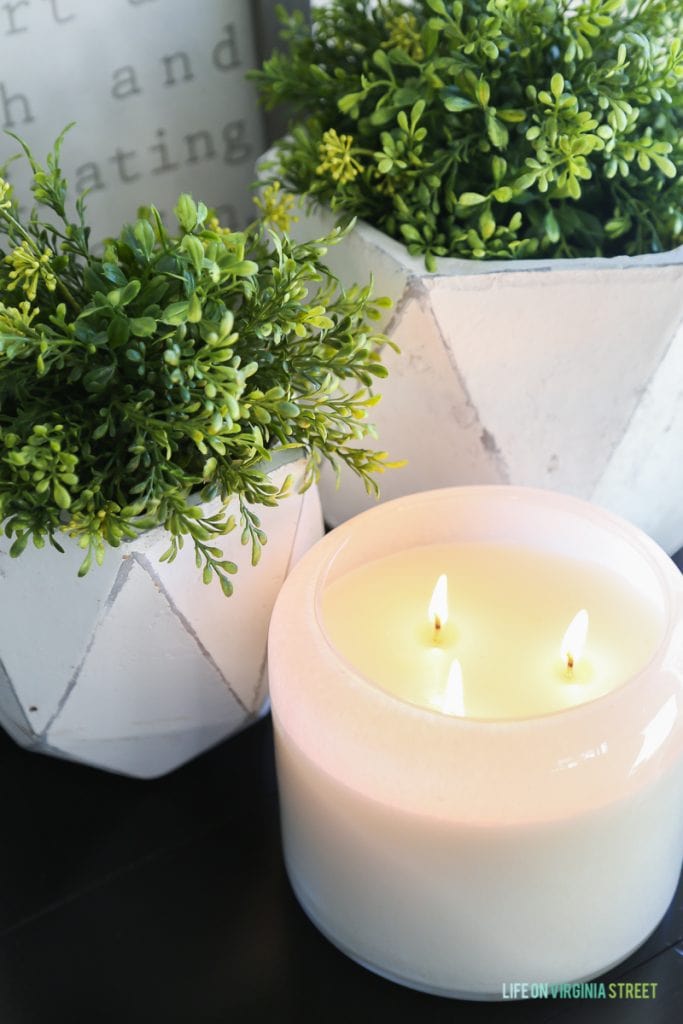 Kurtis and I both find that we love to burn candles in the cold winter months more so than in the summer. But, we have very few that we actually can agree upon and I've gotten to the point where I rarely buy them because of this. You also know I've tried countless designer candles recommended by others, only to be really disappointed in the scent when it arrives (so much so that I don't even end up using them).
When Chesapeake Bay Candle offered to send us a few candles for Valentine's Day to review, I jumped at the opportunity, especially when this was one of the types of gifts we had jointly bought in years past. But to be honest, I really only expected to maybe like one scent. I've become a bit skeptical at this point about finding scents we both love.
Decorating With Candles
Lucky for us, the scents they sent us were all amazing! We received a few candles from their Alassis collection, which is an exclusive collection of fragrances inspired by sophisticated ancient scents that transport you back in time to early Mediterranean civilizations and lush, fragrant gardens – evoking a seductive and elegant aura in your home. Given that the Mediterranean is one of our favorite regions in the world, the collection sounded ideal for us. Not only that, they are all soy candles with hand-blown glass jars, and are all designed and poured in the USA. Even better!
If you've been paying close attention, you've probably seen these soy candles popping up around our home the past few weeks in various posts. We're getting lots of use out of them and wanted to share our favorites!
One of my personal favorites from the collection is the Blush Orchid and Plum. It's been on repeat since I got it and it even made an appearance in my recent elegant Valentine's Day tablescape. The fragrance is sweet and super yummy. The blush pink color of the glass is perfect for any Valentine's Day event or dinner and the smell is the perfect accent.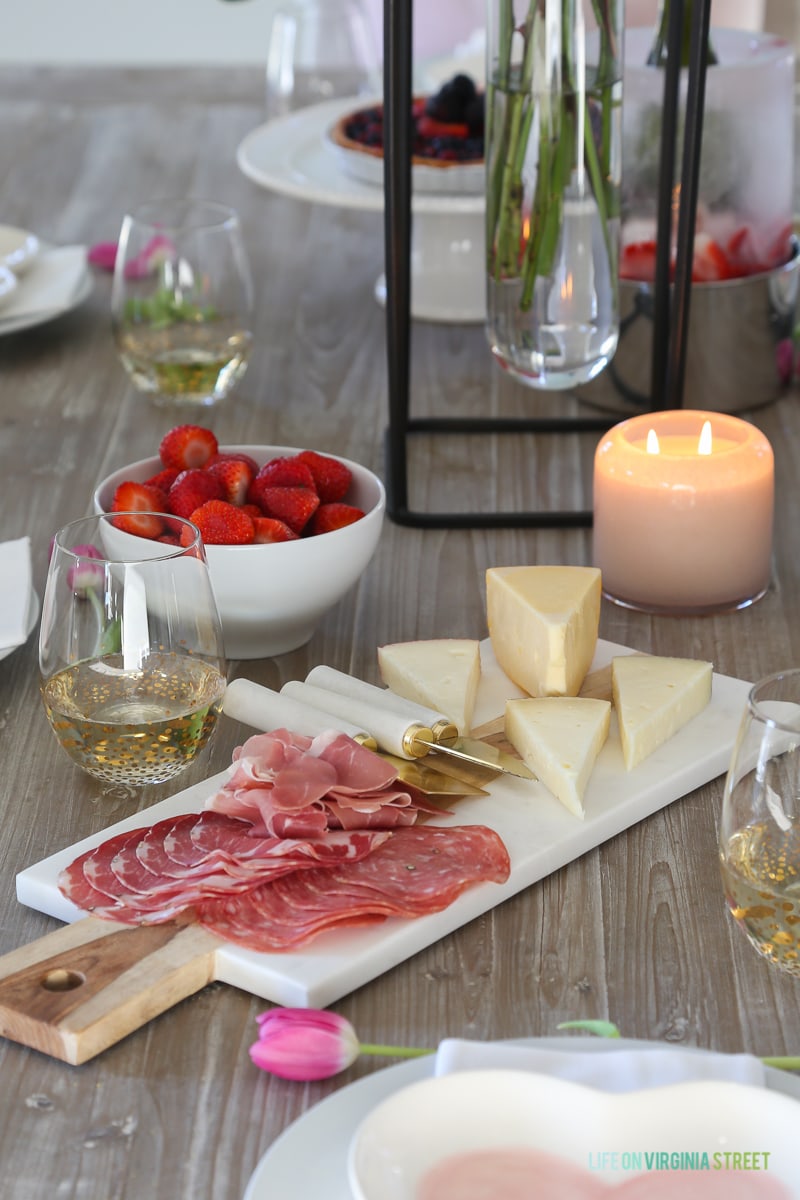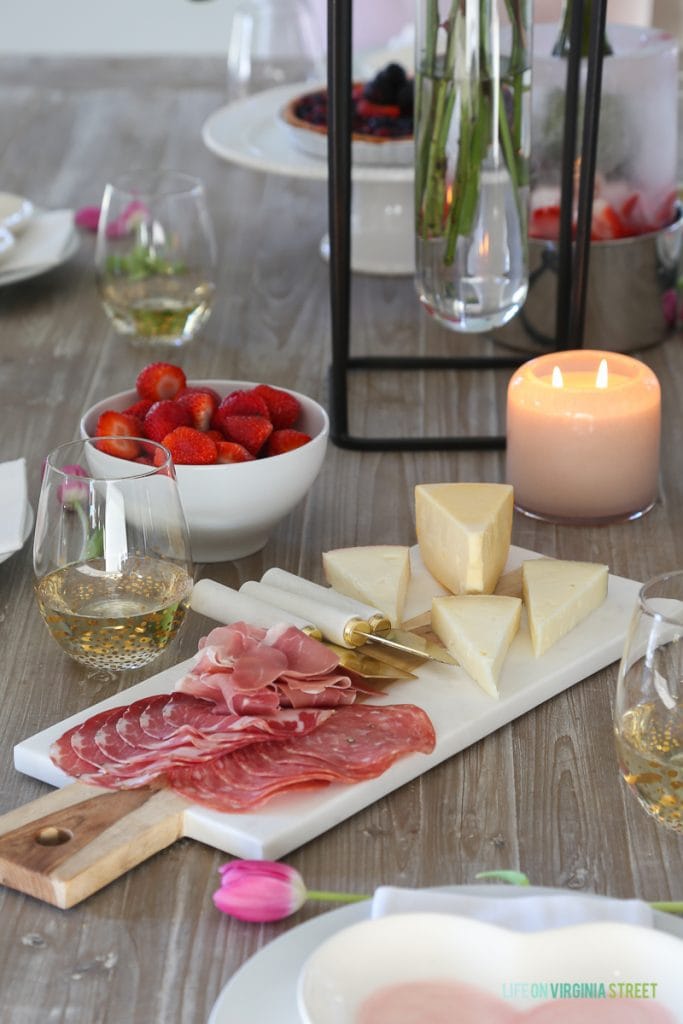 Not only is the Verbena & Cedar a joint favorite scent (and that's saying a lot because Kurtis is tough to please in the candle category), but I love that the soft blue-green color works so well with our decor! It is such a clean and fresh scent and the official description alone makes me giddy: "Reminiscent of picturesque Italian villages nestled above the sea, a fresh accord of verbena, wild bergamot, and crisp orange zest fill the air. Violet leaves, orange flower, and white rose add an elegant aura, with accents of rich cedar, marine musk, and sandalwood." Any time I can be transported to the seaside hills of Italy, you know I'm all over that!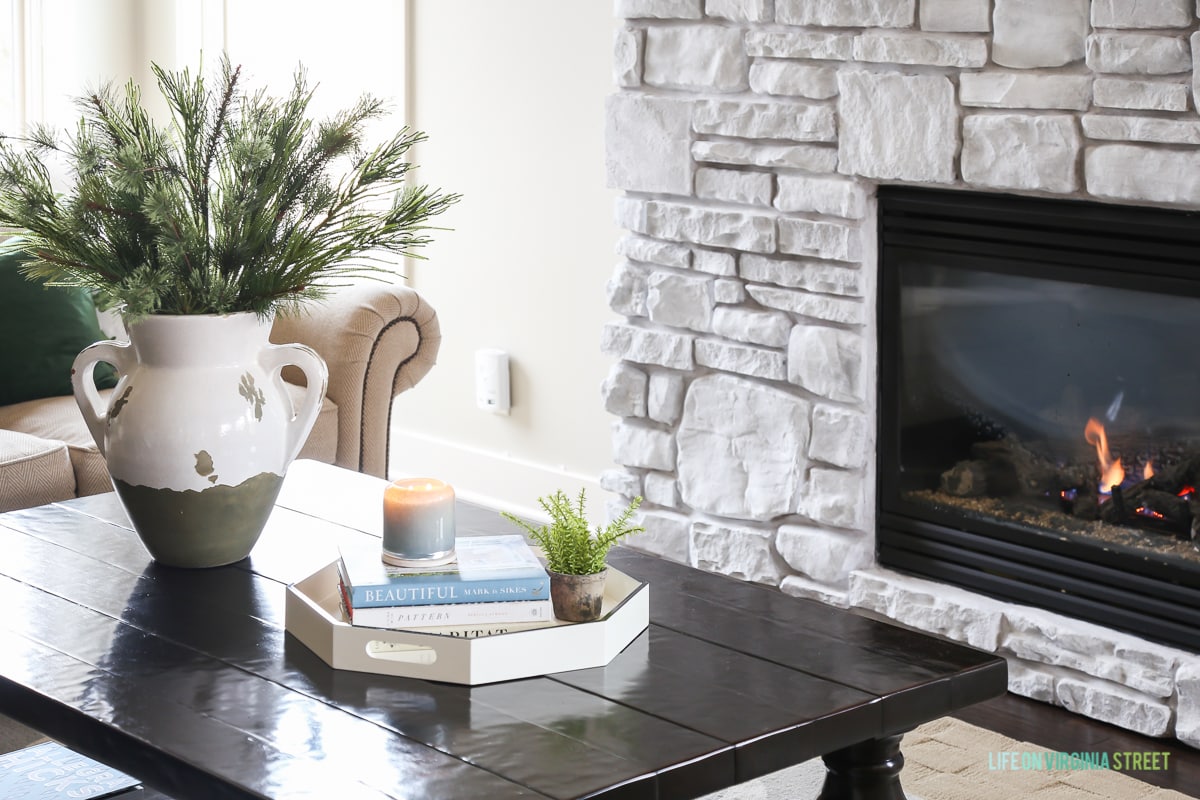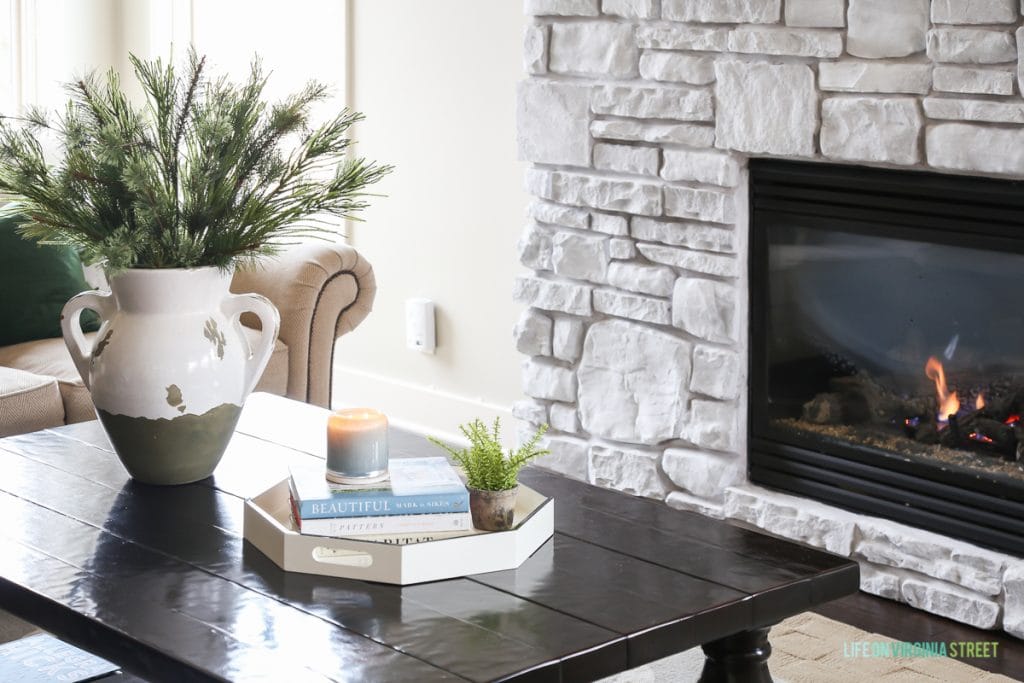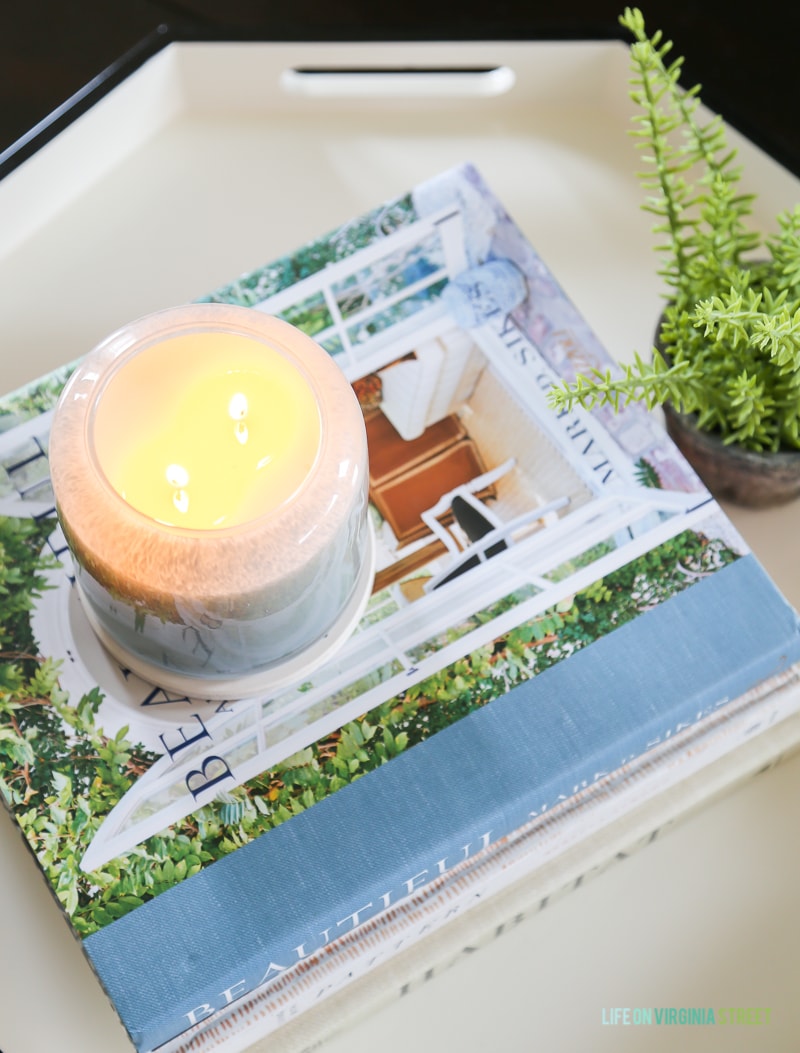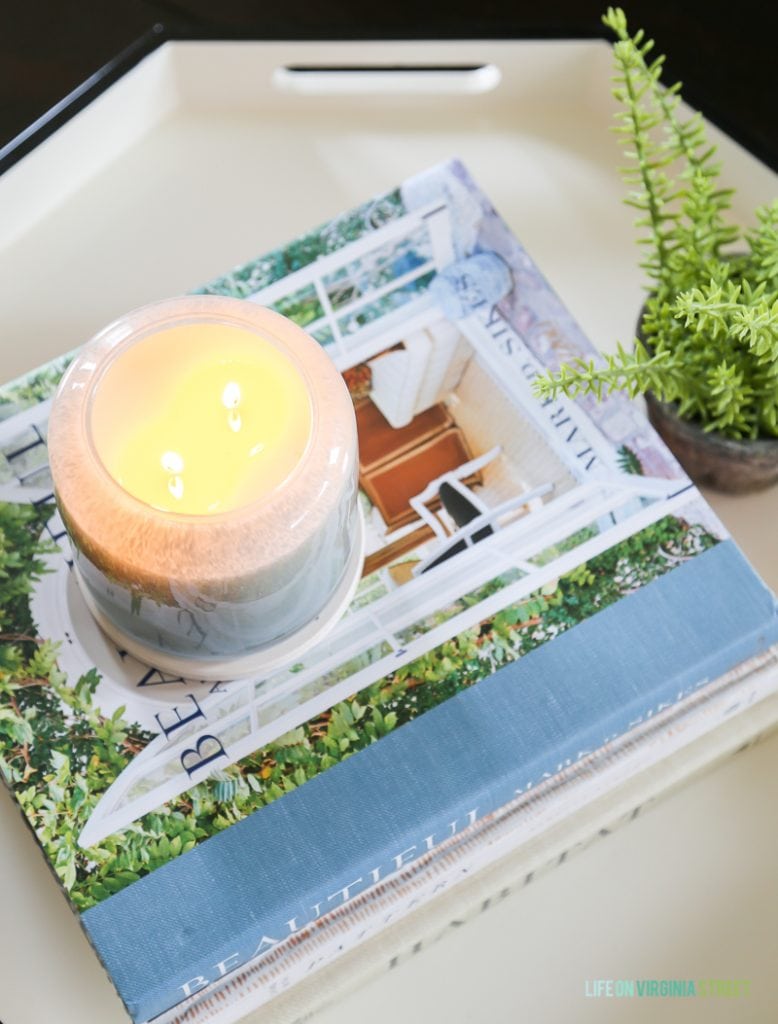 The last scent we received was the Honeysuckle and Lily. This one was a bit too floraly for Kurtis' preference, but for me, it felt like an exquisite spring day in a glass jar. I immediately thought of Easter and the joy and freshness spring evokes. Plus I also love that scale of this oversized 3-wick candle in larger vignettes around our home.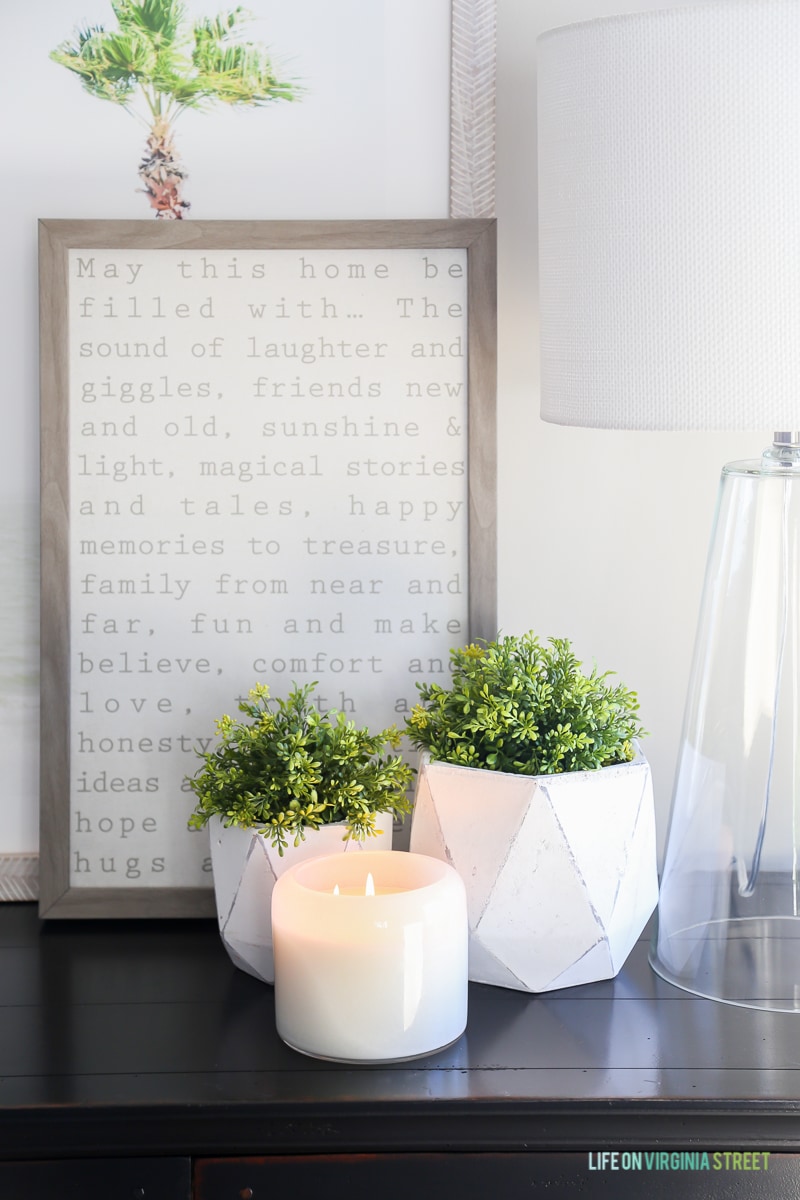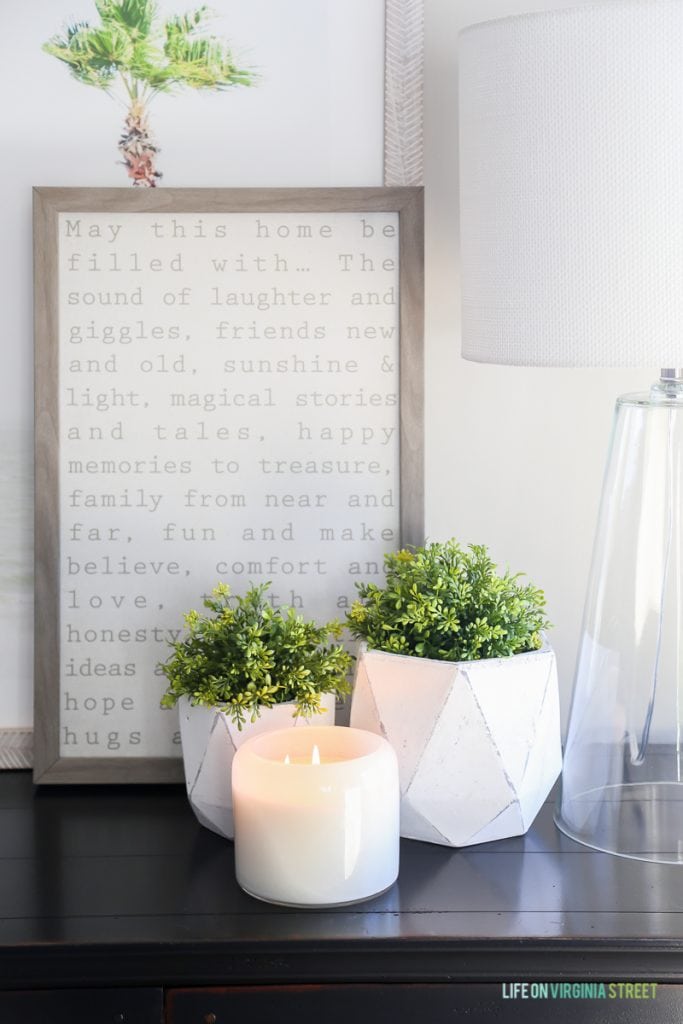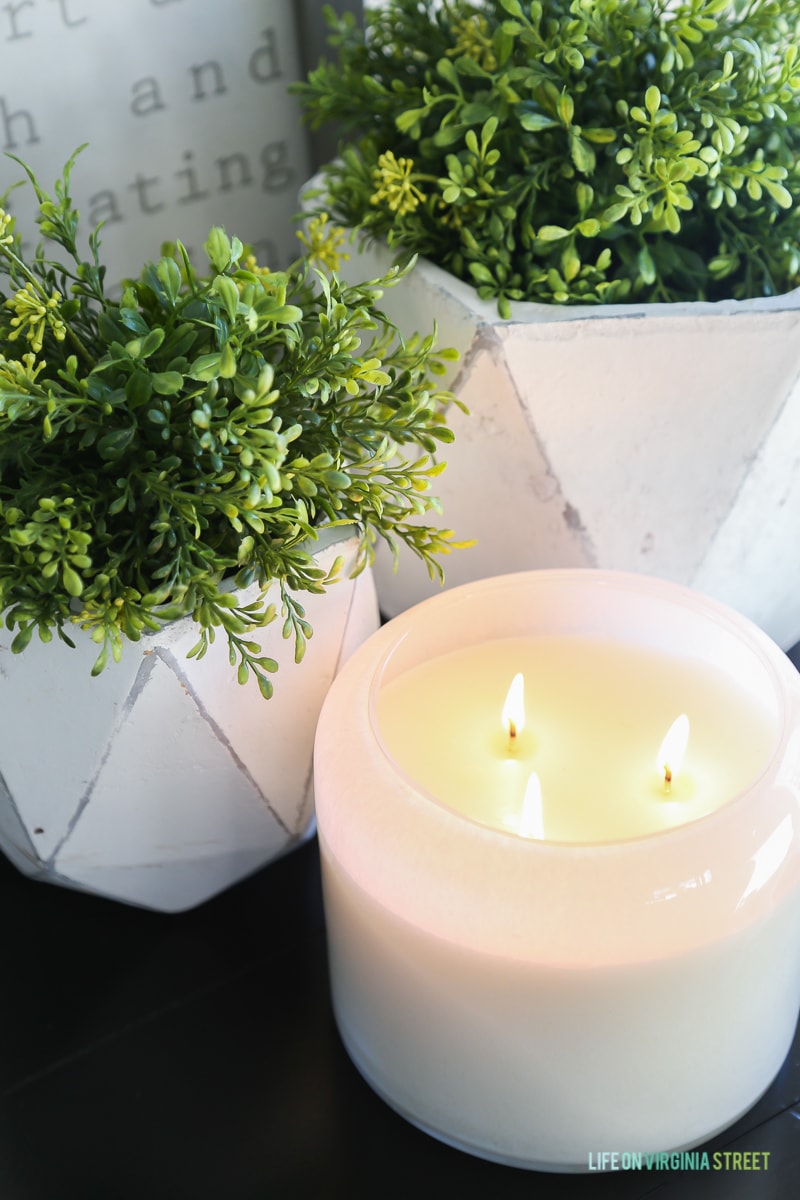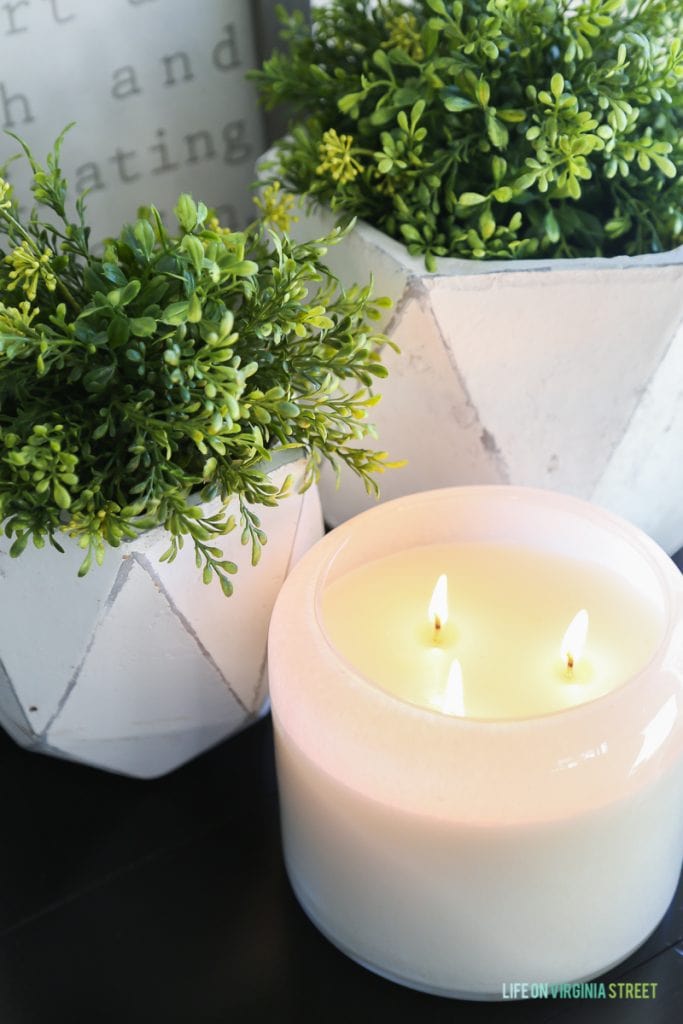 I love that most of these scents come in four sizes so you can buy whatever size fits your needs or even sample a few here and there with the affordable $4 travel tins! It makes finding a favorite that much easier. The large 2-wick candles also come in beautiful boxes, making them perfect for gifts. I'm excited to try out more of their scents!
So, what non-traditional Valentine's Day gifts do you love to give or receive?
For more Valentine's Day inspiration check out Simple Valentine's Day Decoration Ideas
If you would like to follow along on more of my home decor, DIY, lifestyle, travel and other posts, I'd love to have you follow me on any of the following: