It's hard to believe, but today is the sixth anniversary of us moving into our current home (which is also close to the start of the blog as you currently know it)! Not to be dramatic, but buying this home was one of our best decisions ever! Not only do we love the home we've created here, but we've met so many amazing new friends (including our BFFs) and we love the area of town!
This day each year, I share the progress we've made since moving in. Some times in "real time" it's hard to remember just how far we've come. When we bought the home, it was more of a mission style with brown tones. But, I knew the great bones would also allow it to easily transform into the modern coastal vibe we love so much with some paint updates and a few changes! This year may have marked some of the biggest changes over the past six years! If you'd like to see the posts from prior years to see more of the incremental changes, I have them listed below:
I know a few of you are worried our house is officially "done", but I can promise you we still have some big changes in store over the next year (or five)!
The majority of the 'before' photos were taken two weeks after we moved in, so you can really get a sense of the true "before". Most were taken at night, but that's all I have (and it makes the changes seem even bigger). 😉 If you're interested in all of our paint colors through the years, be sure to check out my Paint Colors tab with all the details.
This post contains affiliate links for your shopping convenience. Click here to read my full disclosure policy.
Home Exterior Before & After
One of the biggest changes of the year was having our house painted white! Although we've only lived here for six years, the house is now ten years old and it was time for a paint job (along with a lot of caulking!). Rather than stick with the existing brown-tones, we opted to paint it white (I have a full before & after post dedicated to our white house exterior paint project). It has totally changed the vibe from the street and in the backyard (which you'll see at the end of this post). We're so happy with this decision! We may eventually do something with the stone but for now, we're happy with the results!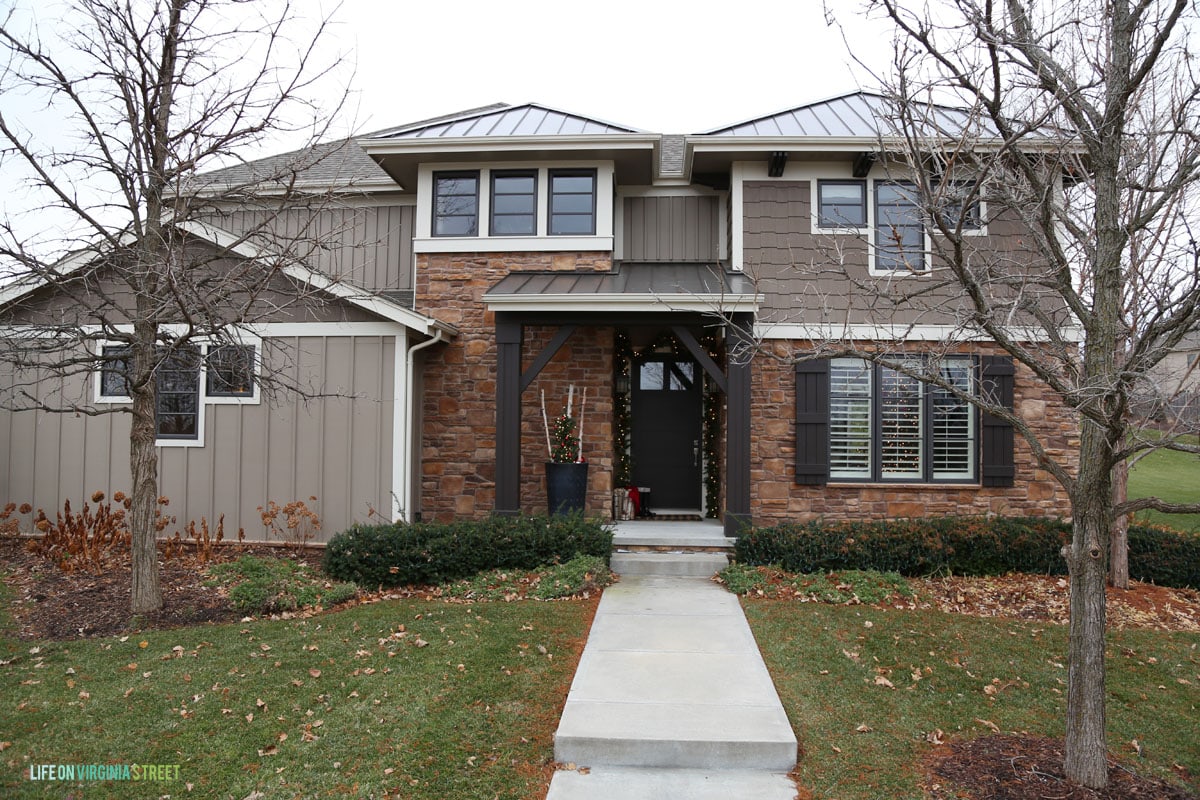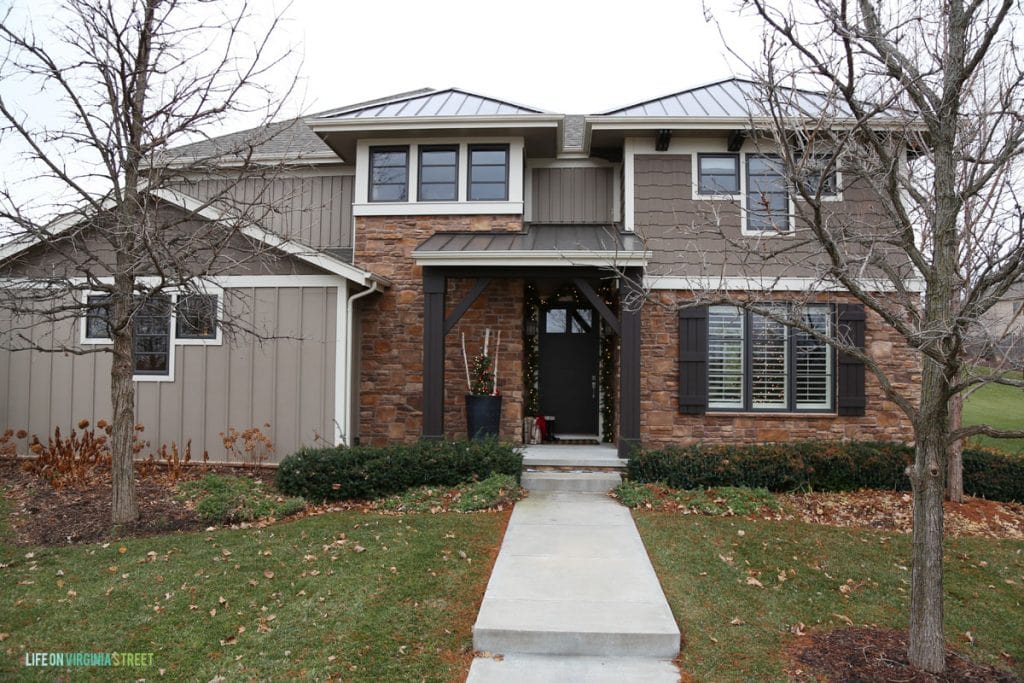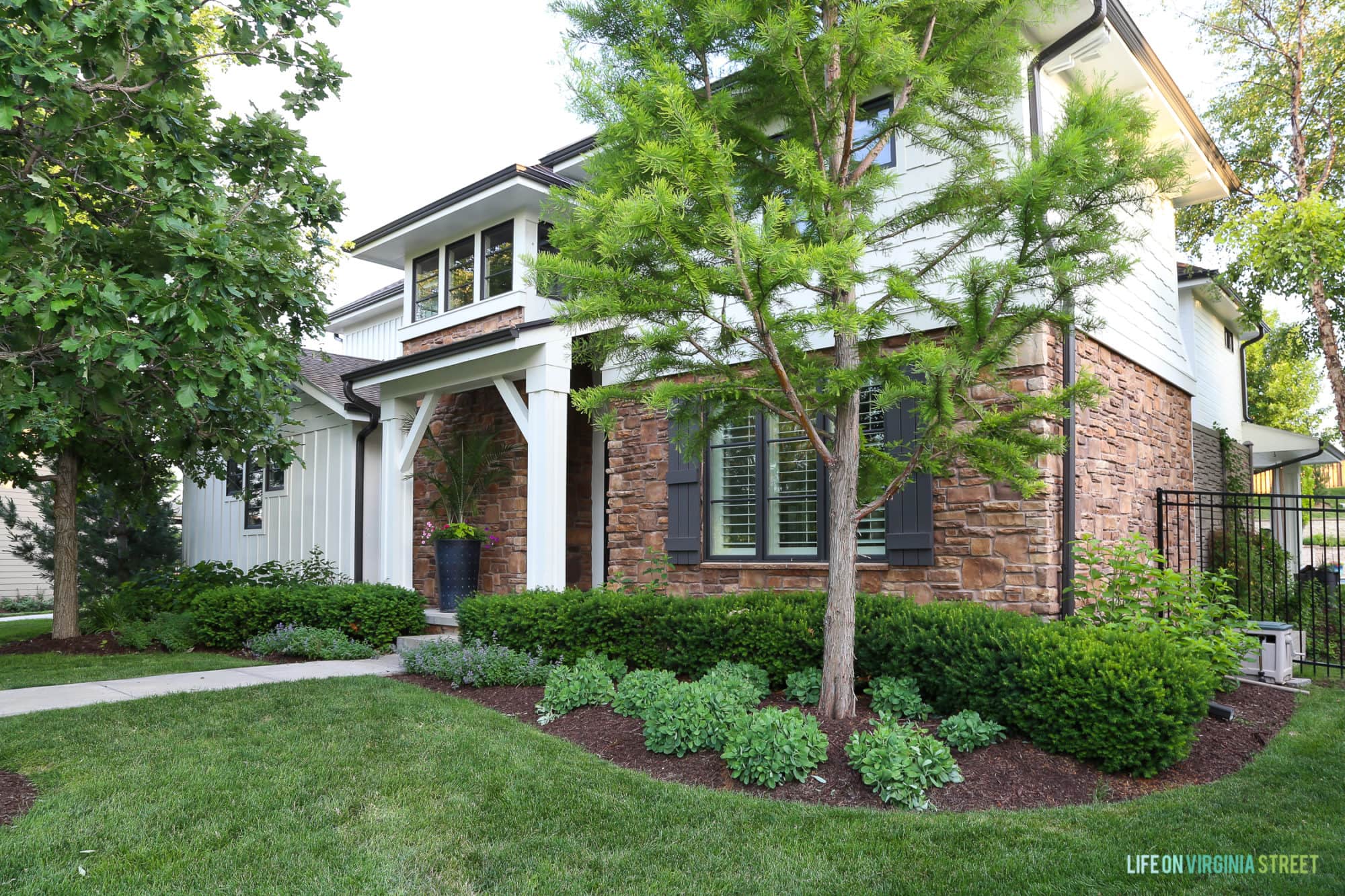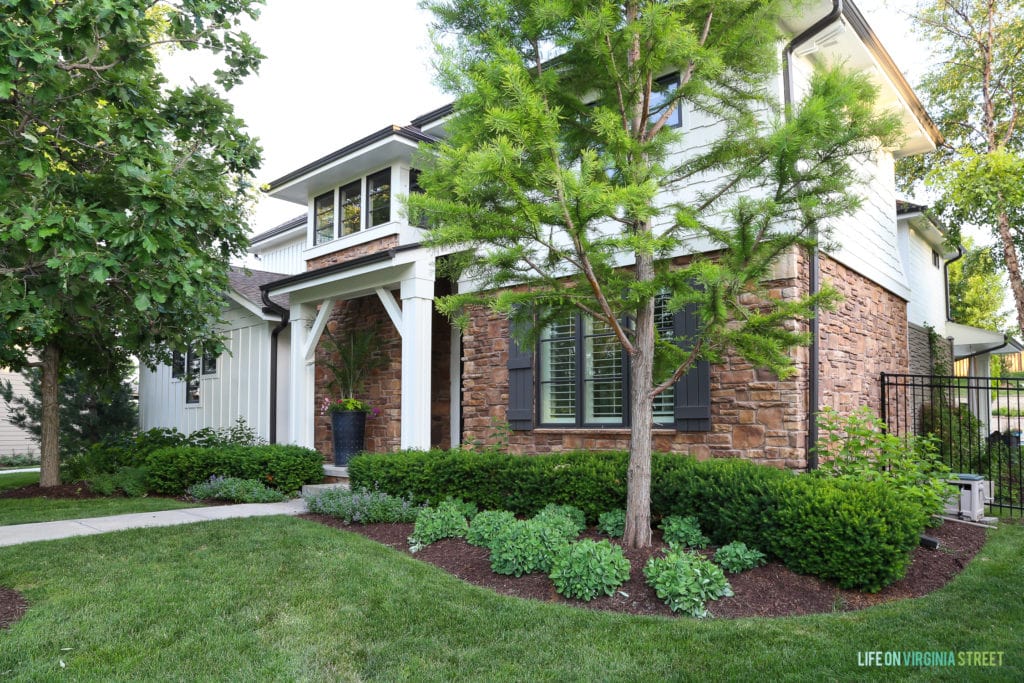 Entryway Before & After
The entryway saw a few changes this year, as well! I swapped out the light fixture, painted the ceiling and the walls white, and finally had our trim painted! It's brightened this area up so much! It's been updated a few times along the way to get to this point, but here is the original before and the current 'after'!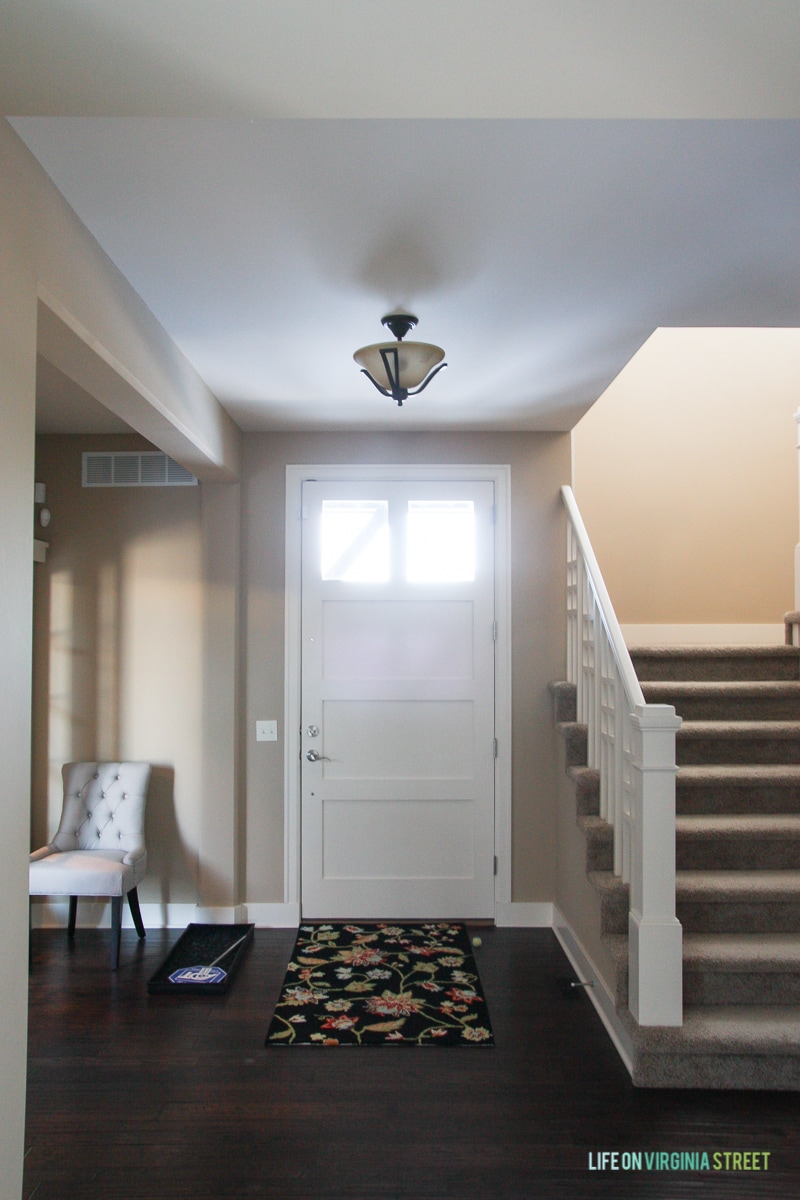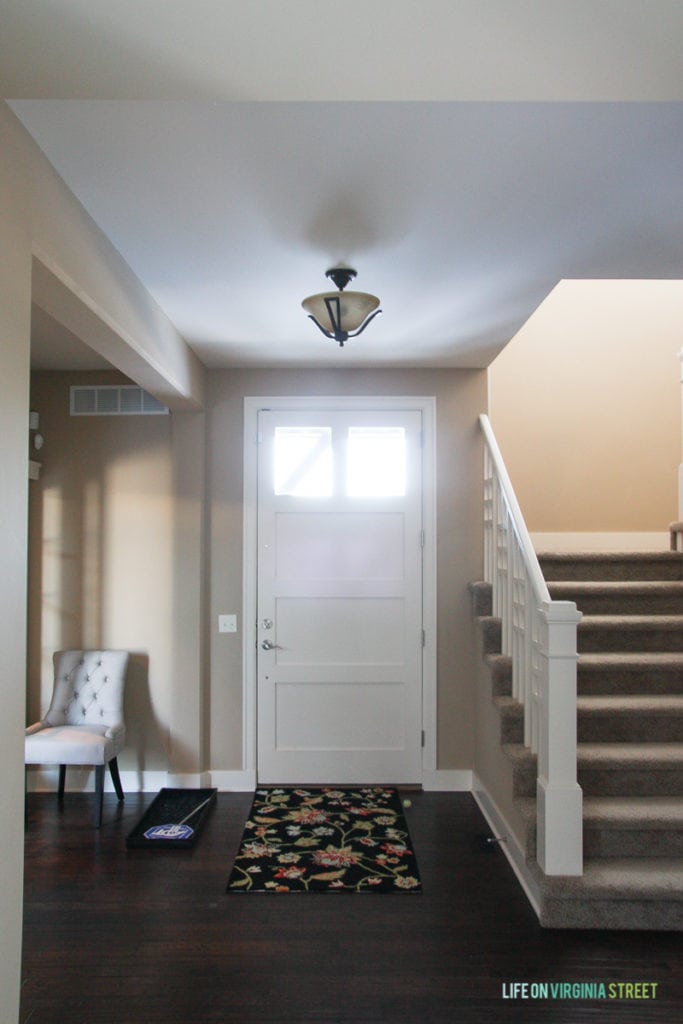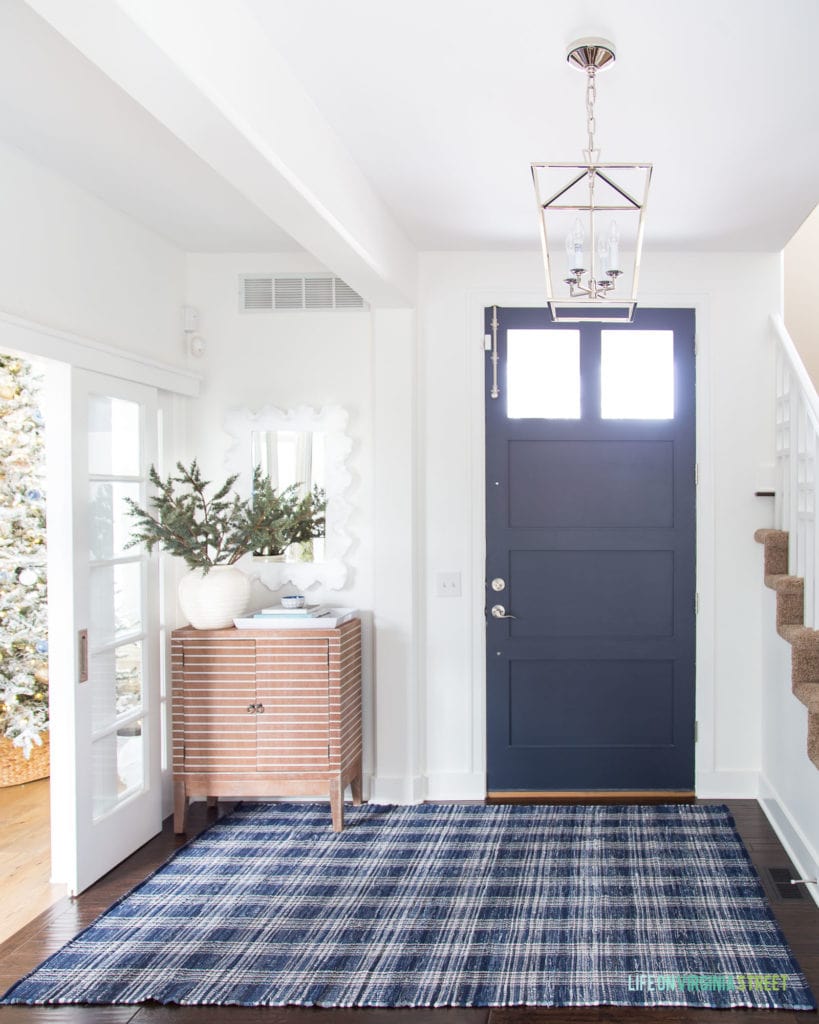 Entryway Hallway Before & After
The view down our entryway hallway has changed quite a bit over the years too! We got rid of the Tuscan style lights, and although I don't have a full shot with our new entryway light I shared above, you can see here the changes are still pretty dramatic! I actually think the 'after' photo was pre-white trim and white-ceiling so it looks even better currently!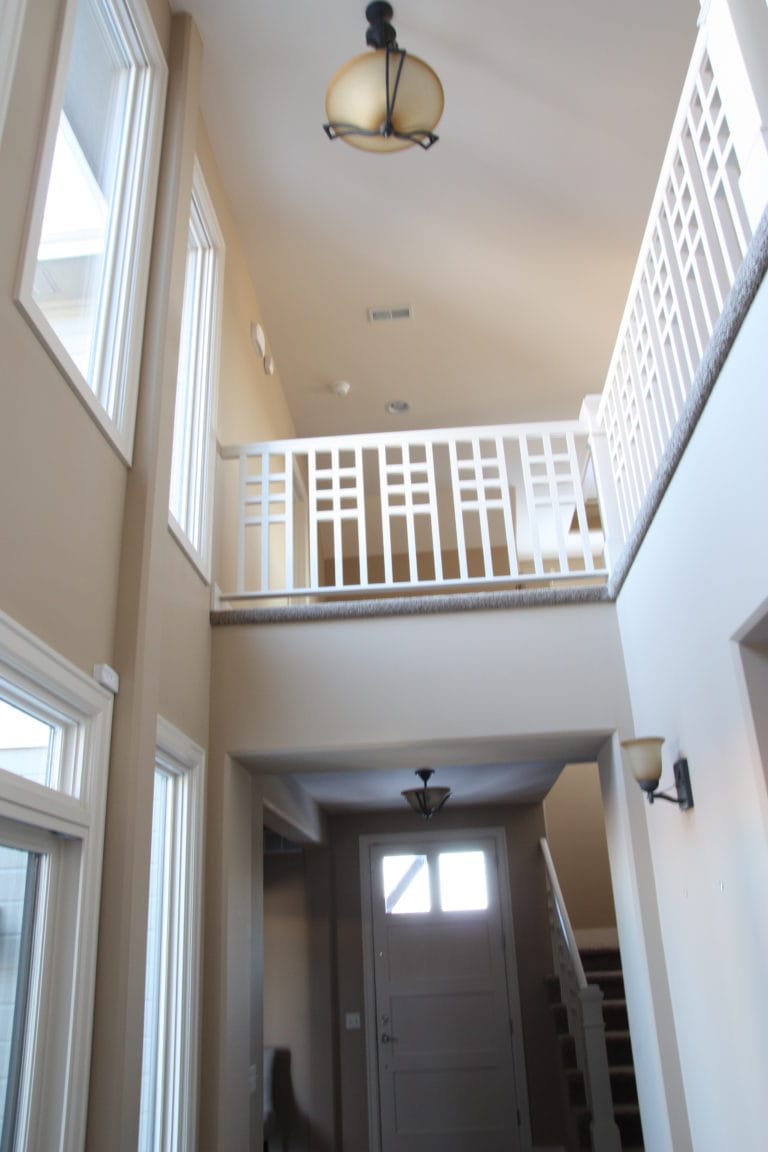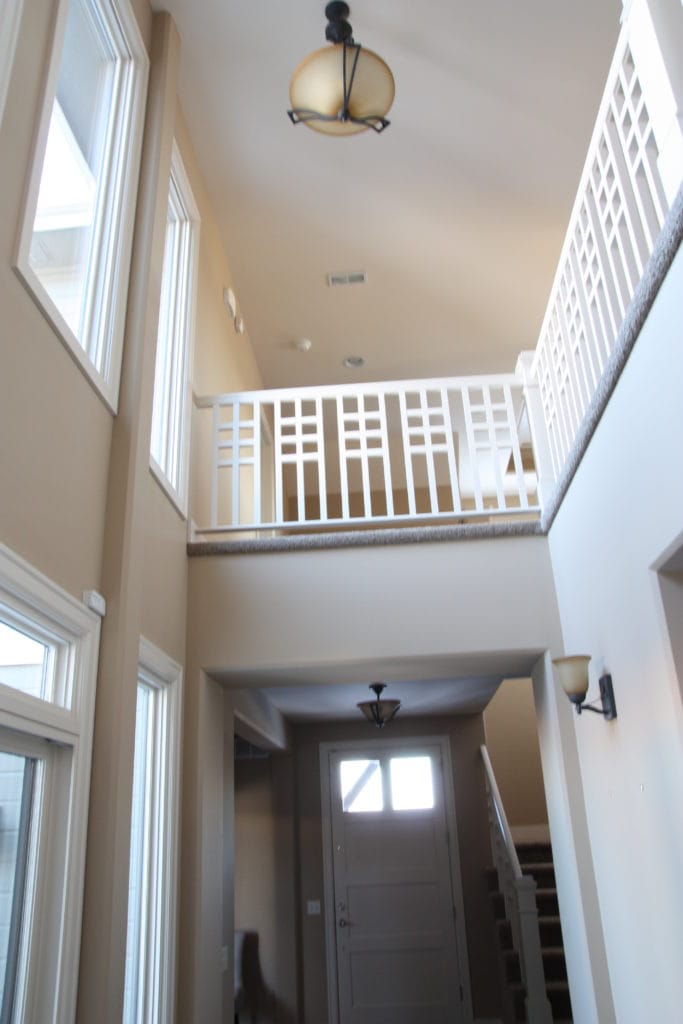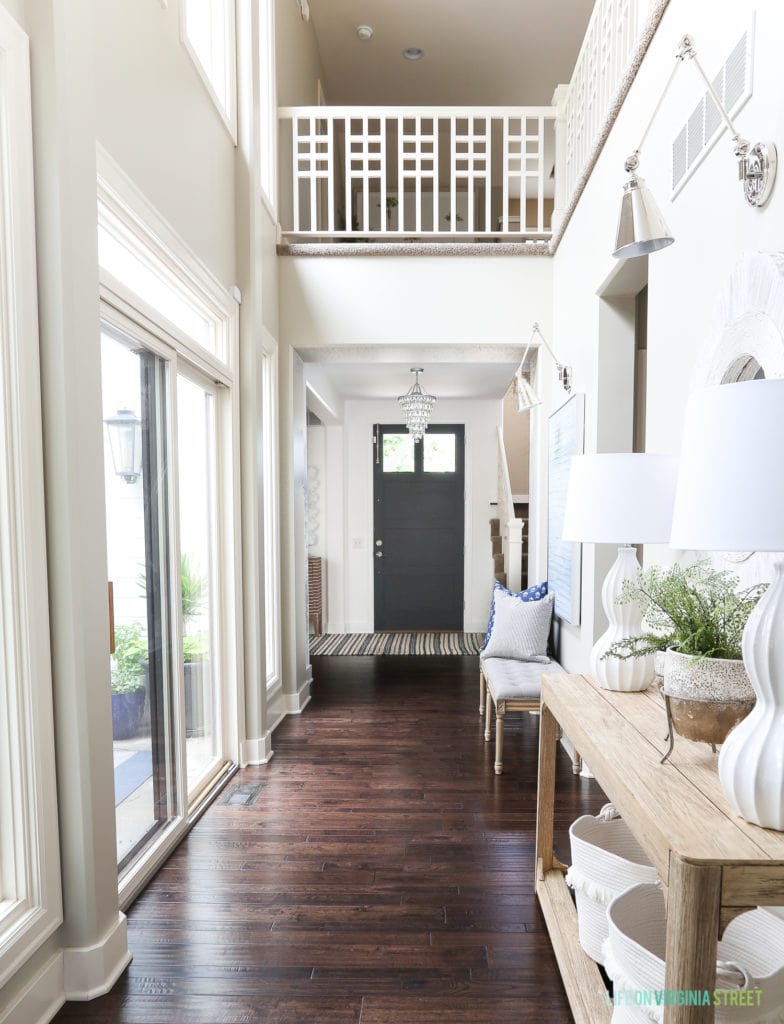 Kitchen Before & After
And now, for the change of the year! Our kitchen! We knew from day one of moving in that we'd eventually make some big changes to the kitchen. But I don't think we realized just how different it could look! Although we talked about tackling the project many times over the past six year, it actually worked to our advantage to wait as long as we did so we really knew what we wanted. And that window!!! I'm so glad I "forced" Kurtis into making that happen 😉 He actually loves it just as much as I do now! If you want more info on this project, you can see our Coastal Kitchen Reveal as well as the remodel FAQ posts!




Pantry Before & After
Along with the kitchen reno came a major improvement to our pantry. This one was actually Kurtis' idea and it's absolutely one of the best changes we made! I was also pretty forceful about the addition of a window in here too, and it's amazing how much that small change brightened up this space and made it feel like an actual room, rather than a closet! All the pantry details and specs can also be found in our Coastal Kitchen Reveal and remodel FAQ posts!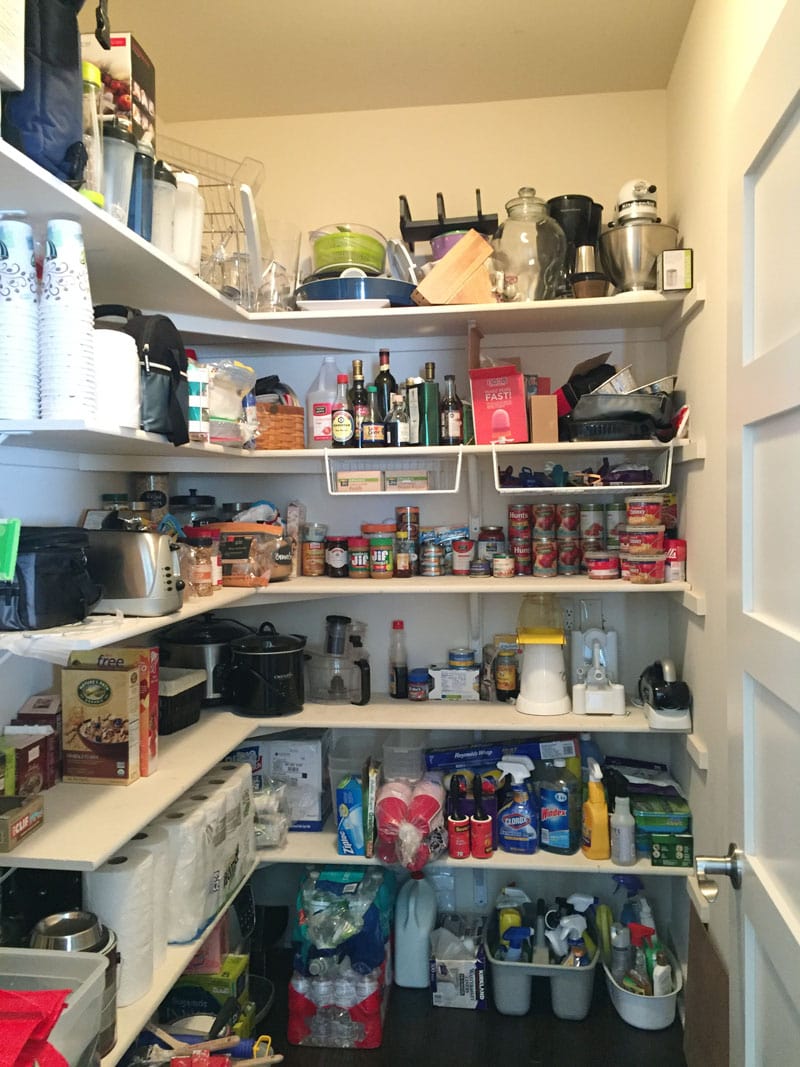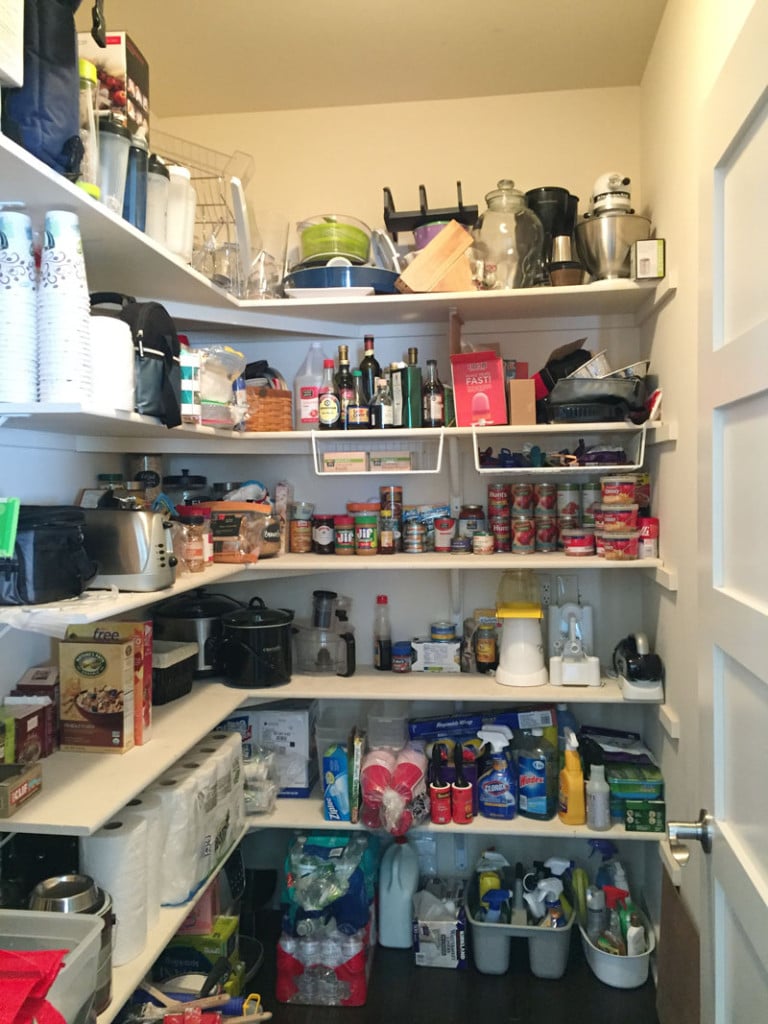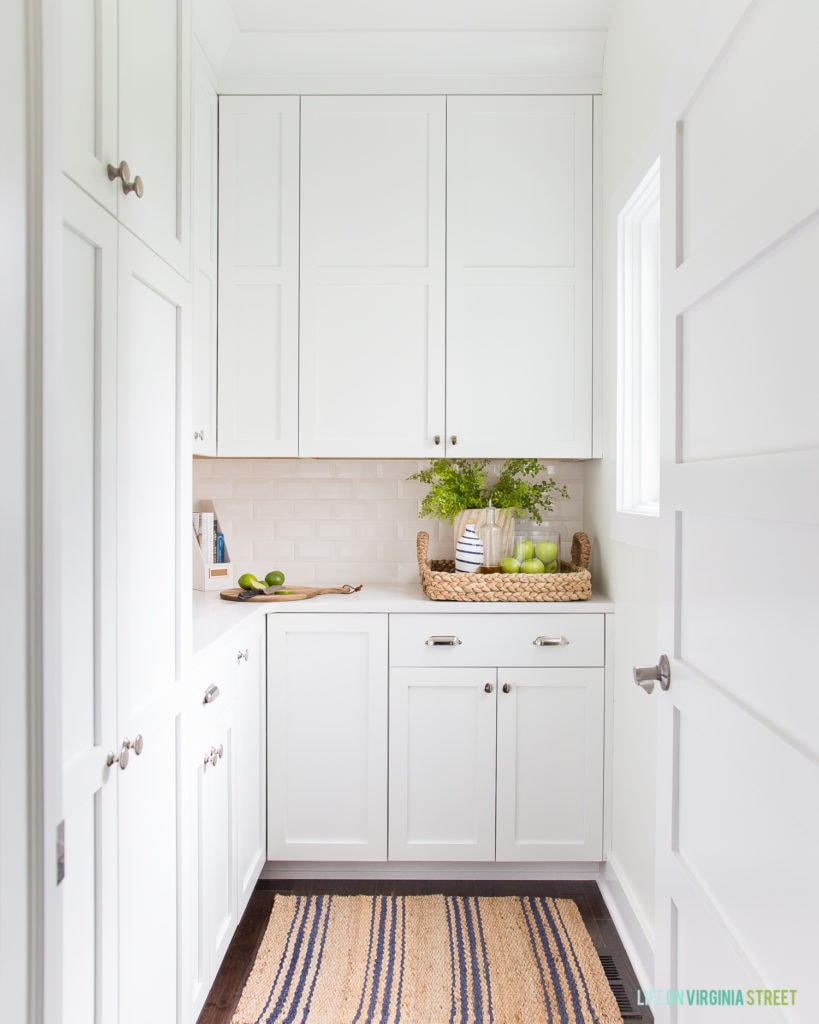 Living Room Before & After
With the kitchen reno, we did make one change in our living room and that was to the fireplace. I had updated the room many times over the years (including two paint jobs) but changing the fireplace to go more with our clean coastal style was a total game-changer!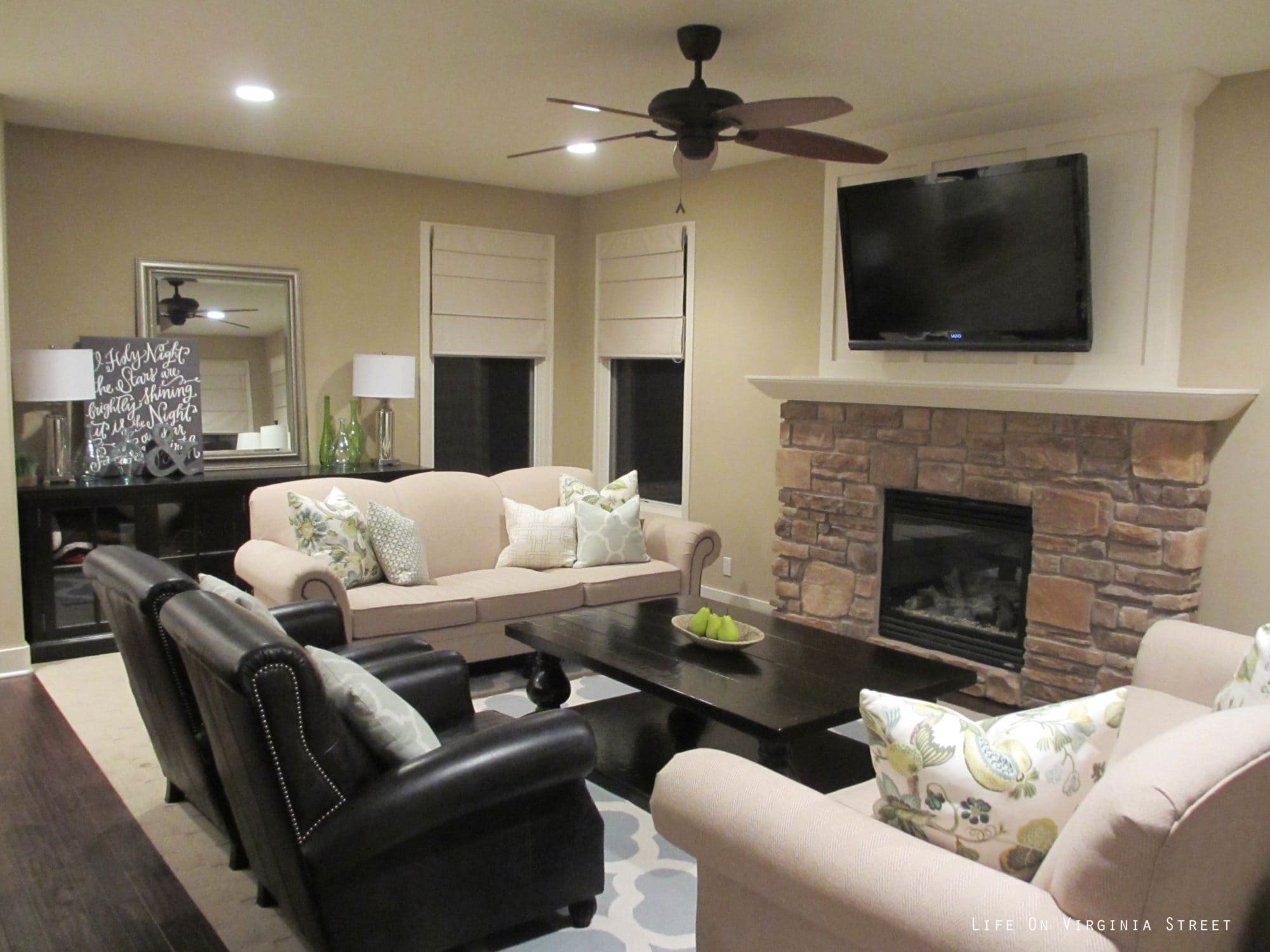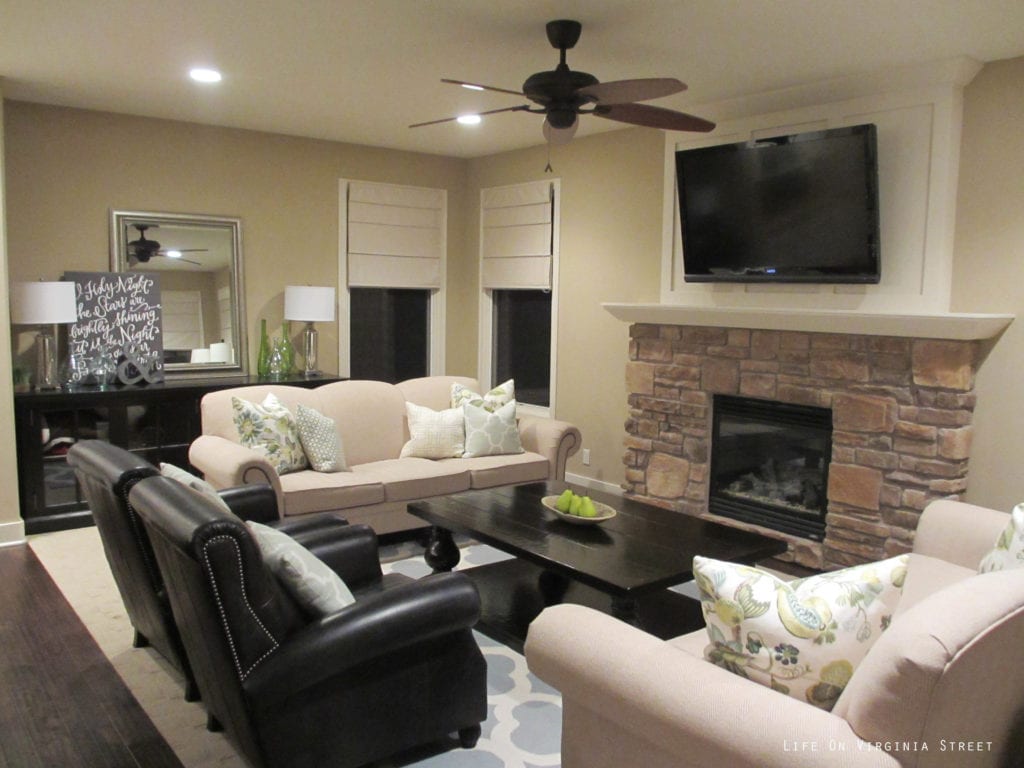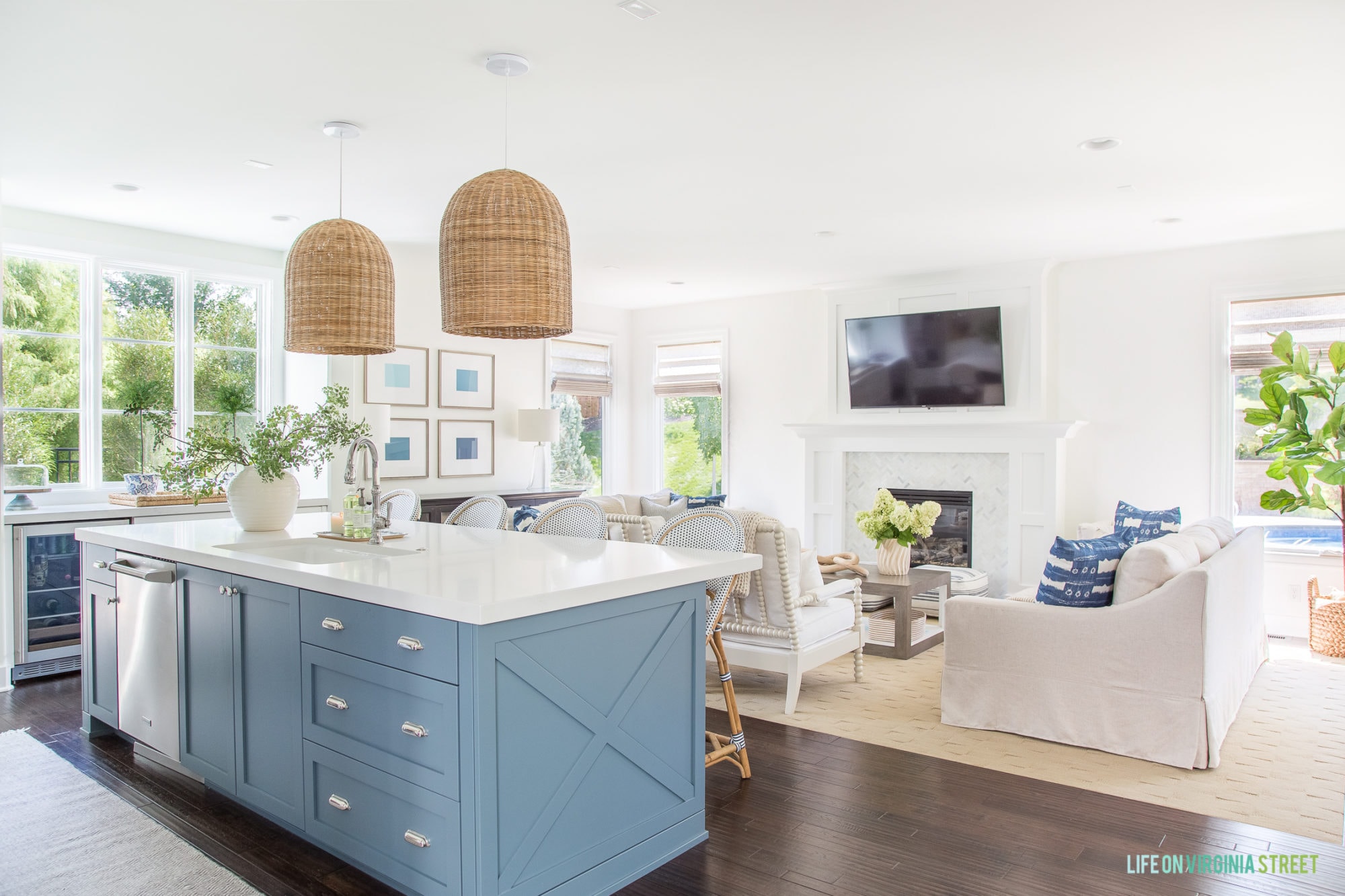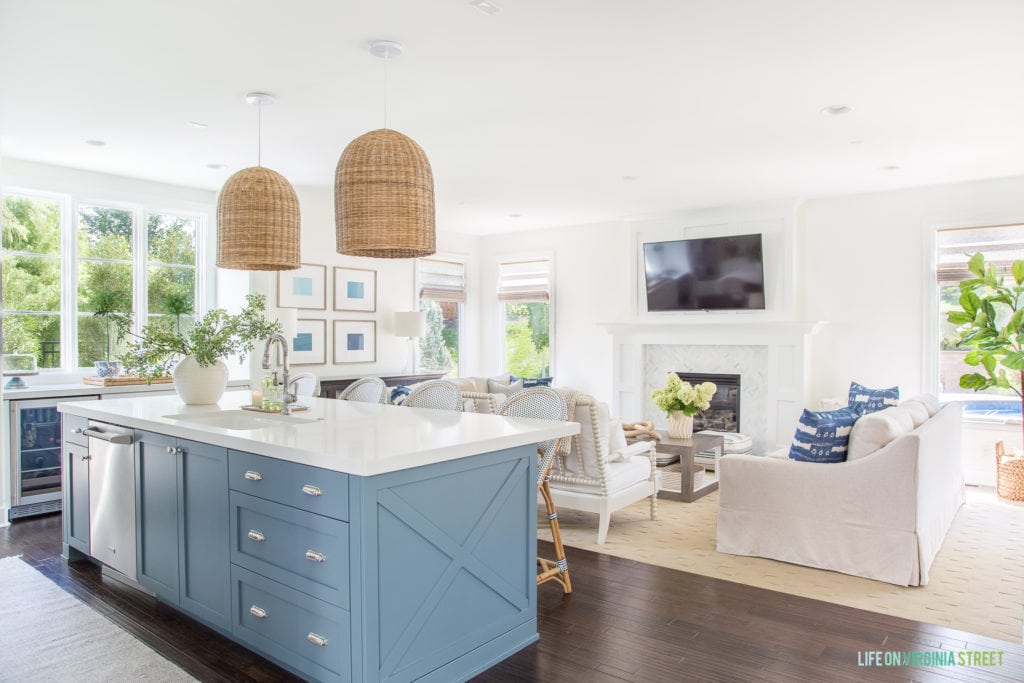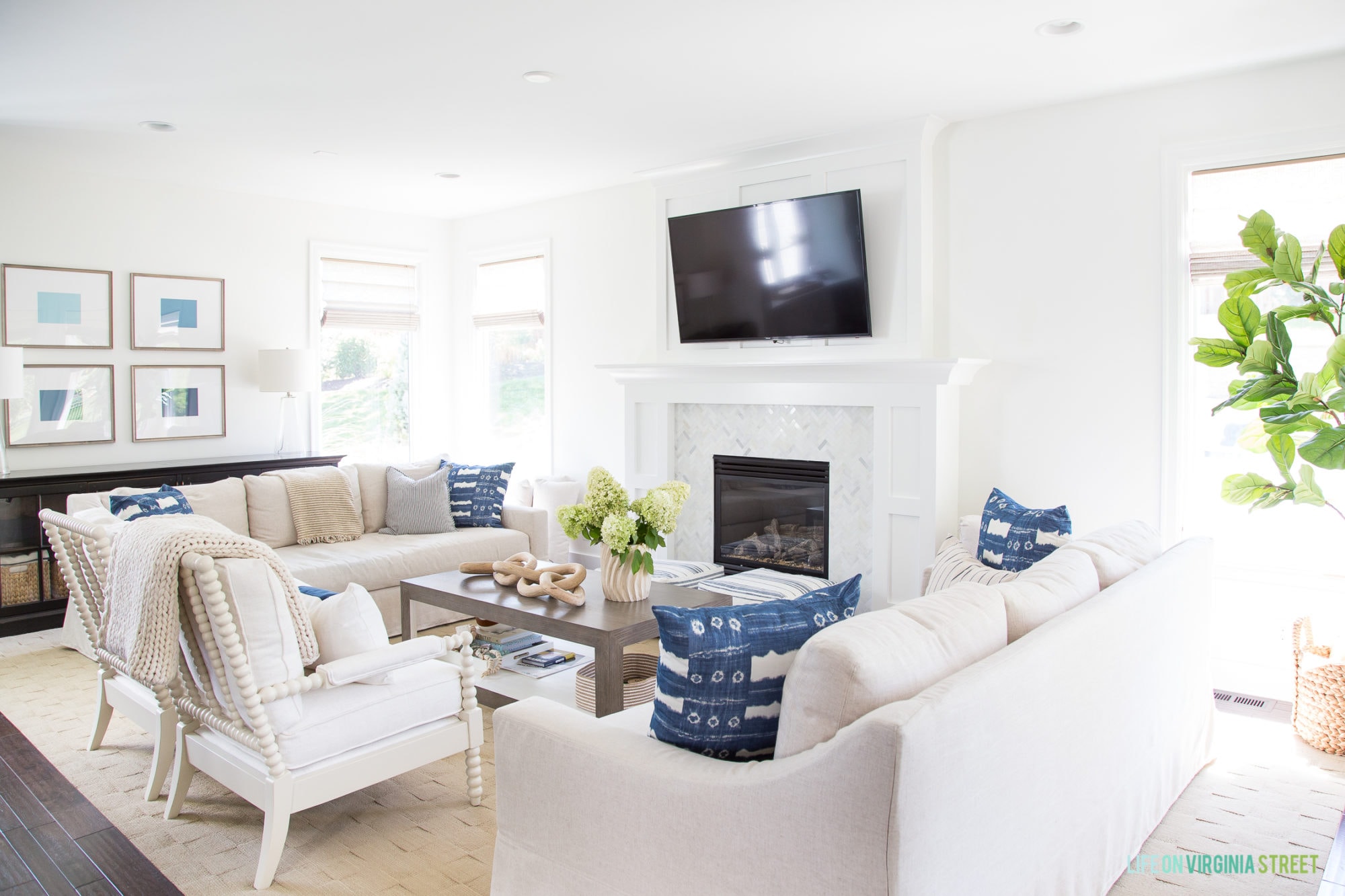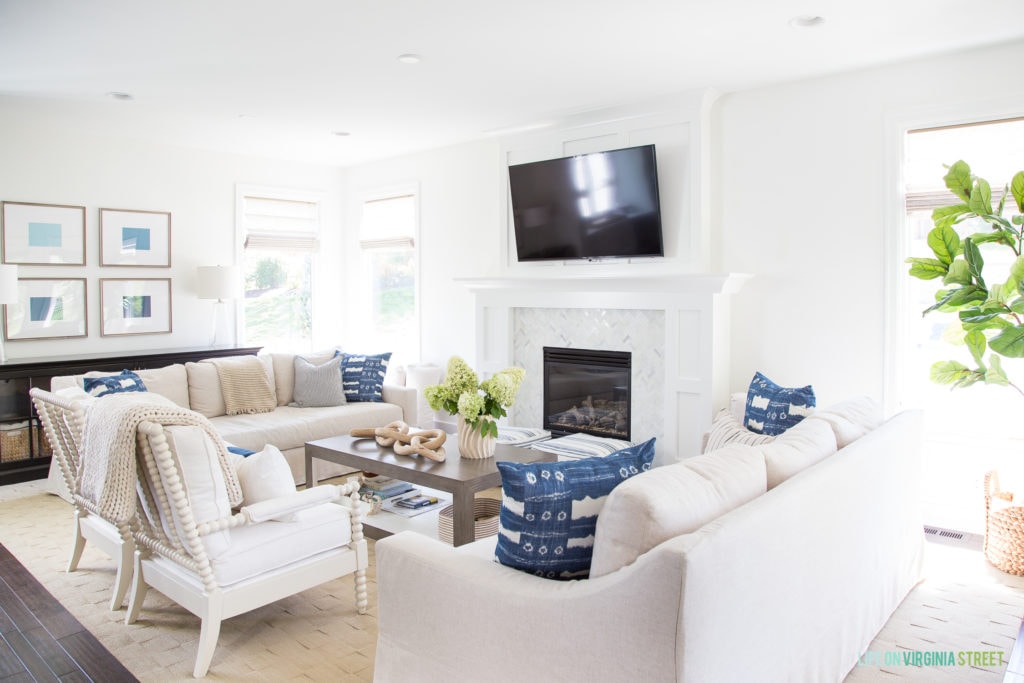 Dining Room Before & After
Our dining room is another space in our home that I've made no less than five major changes too. As my style has evolved this room has always been an easy target because an update with paint was never a major disruption. I think I'm on my third or fourth color in here! But some manual labor and $40 in paint is nothing compared to the changes paint can make! I actually have a few minor updates coming soon in this space that I'll be sharing more about after the first of the year once the holiday decor is down!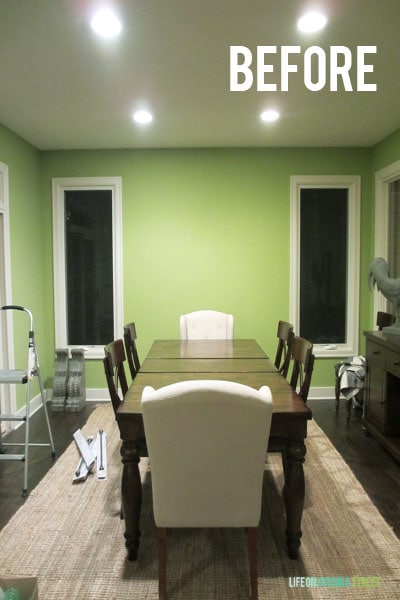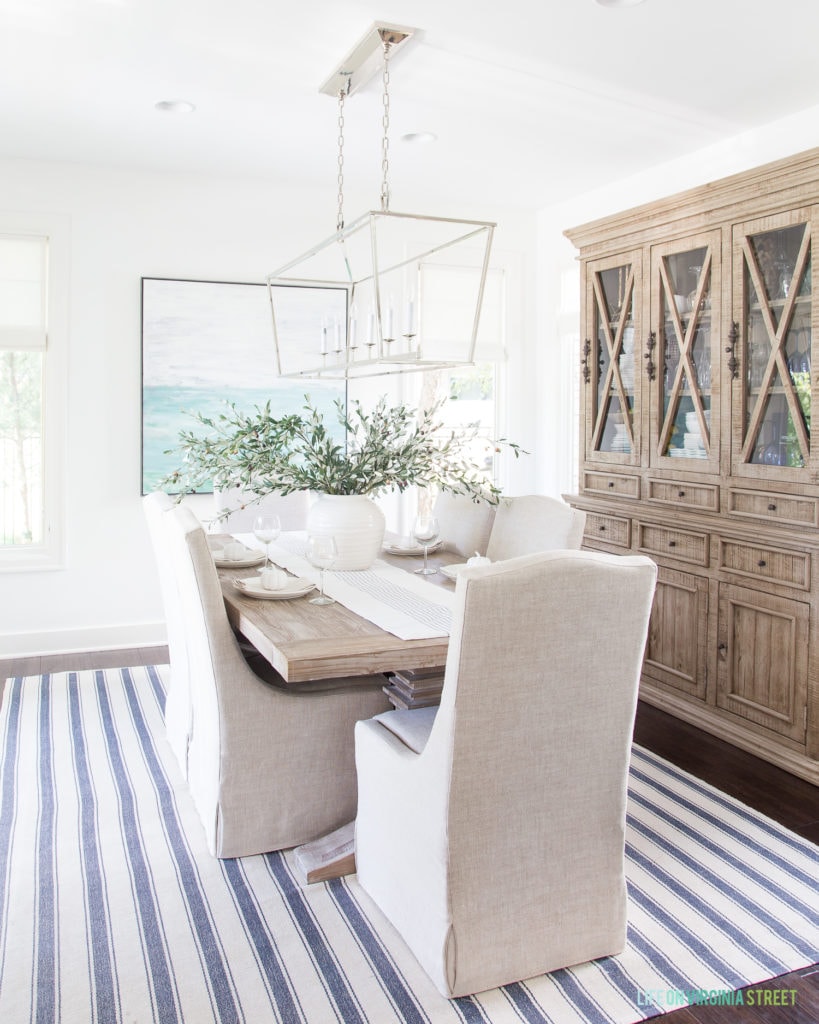 Office Before & After
We made the biggest changes to the office last year and admittedly it virtually hasn't changed since then. But that's because we love the updates so much! I need to add a rug here in 2019 to protect the floors from our chairs, but other than that, I'm thinking not much else will change!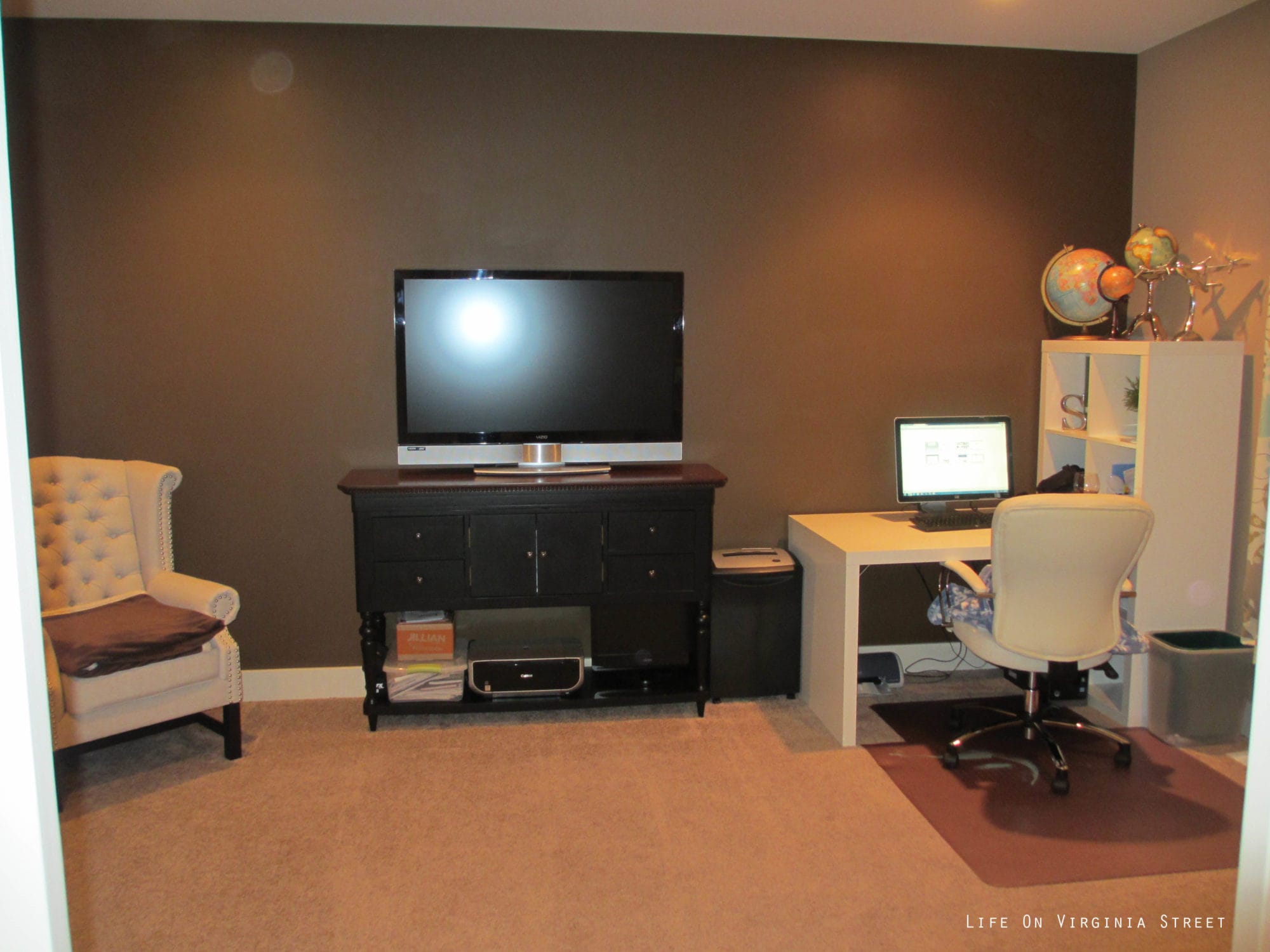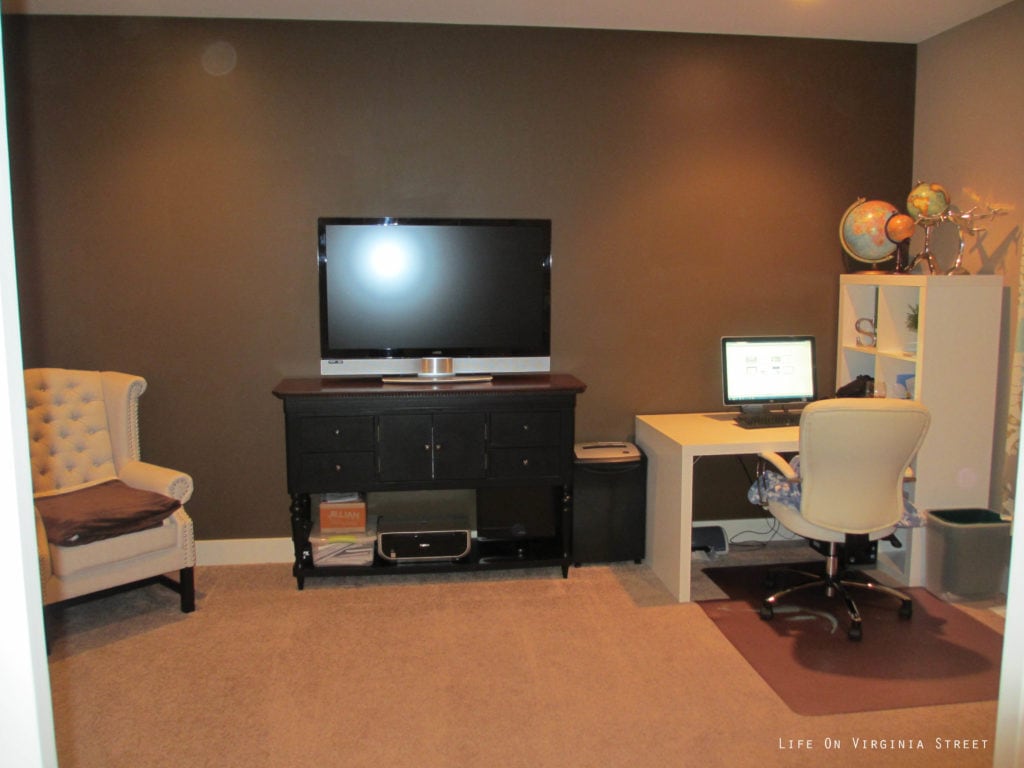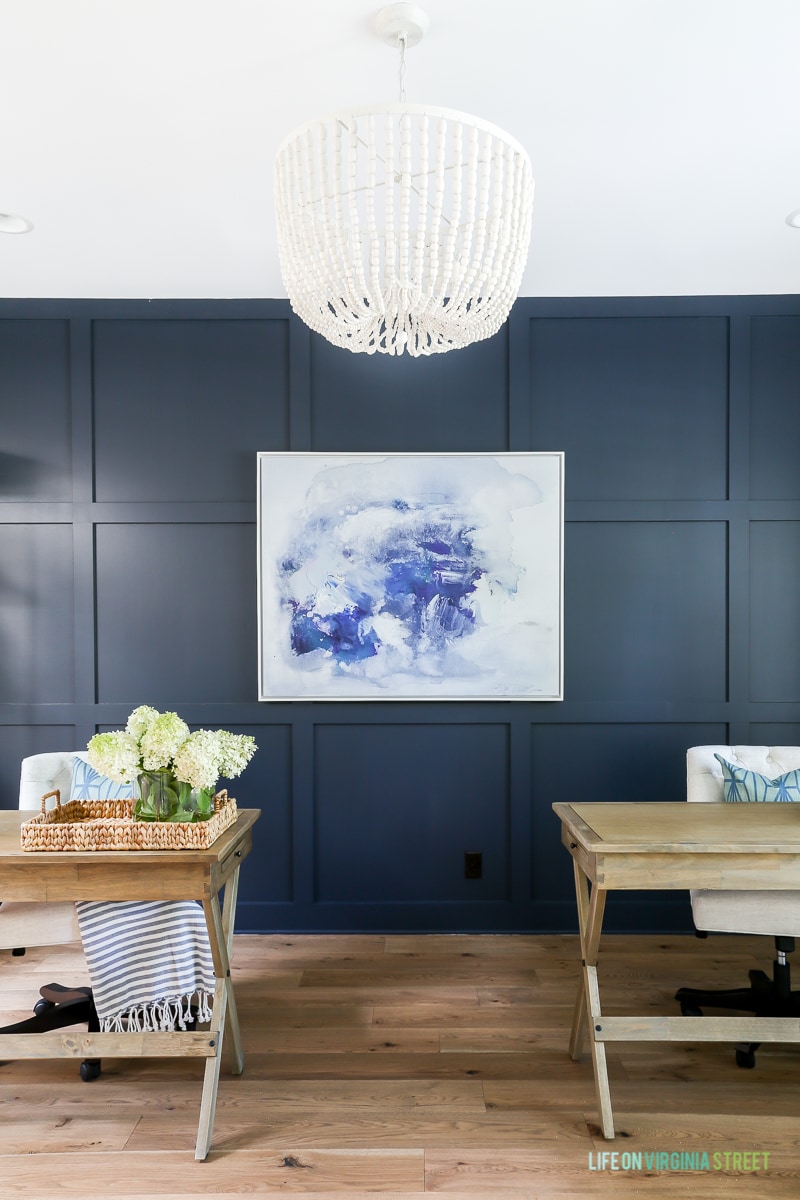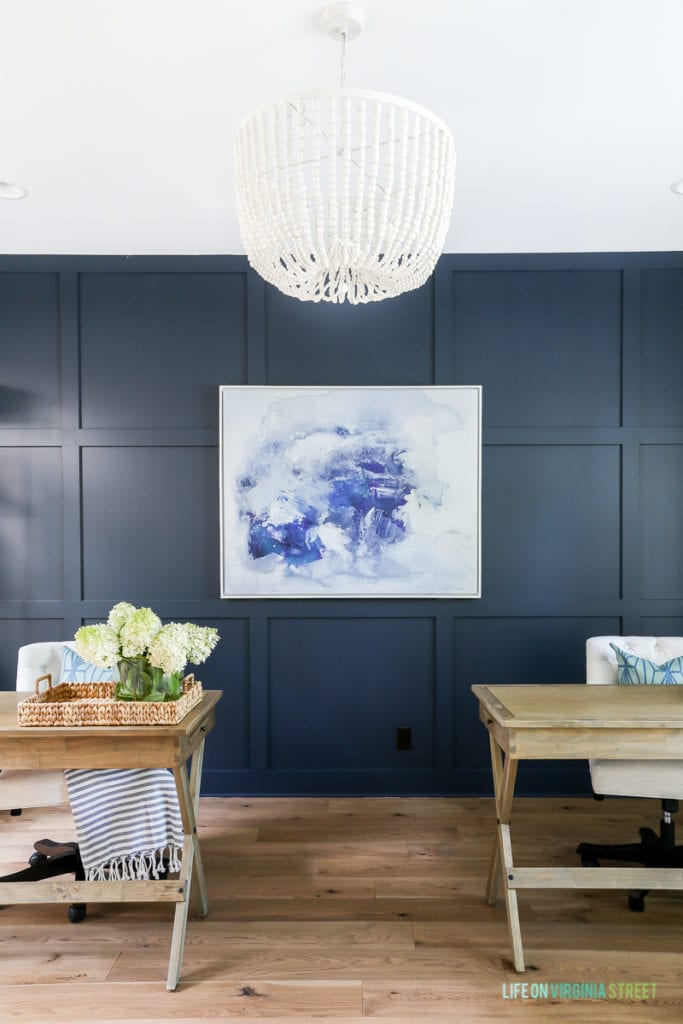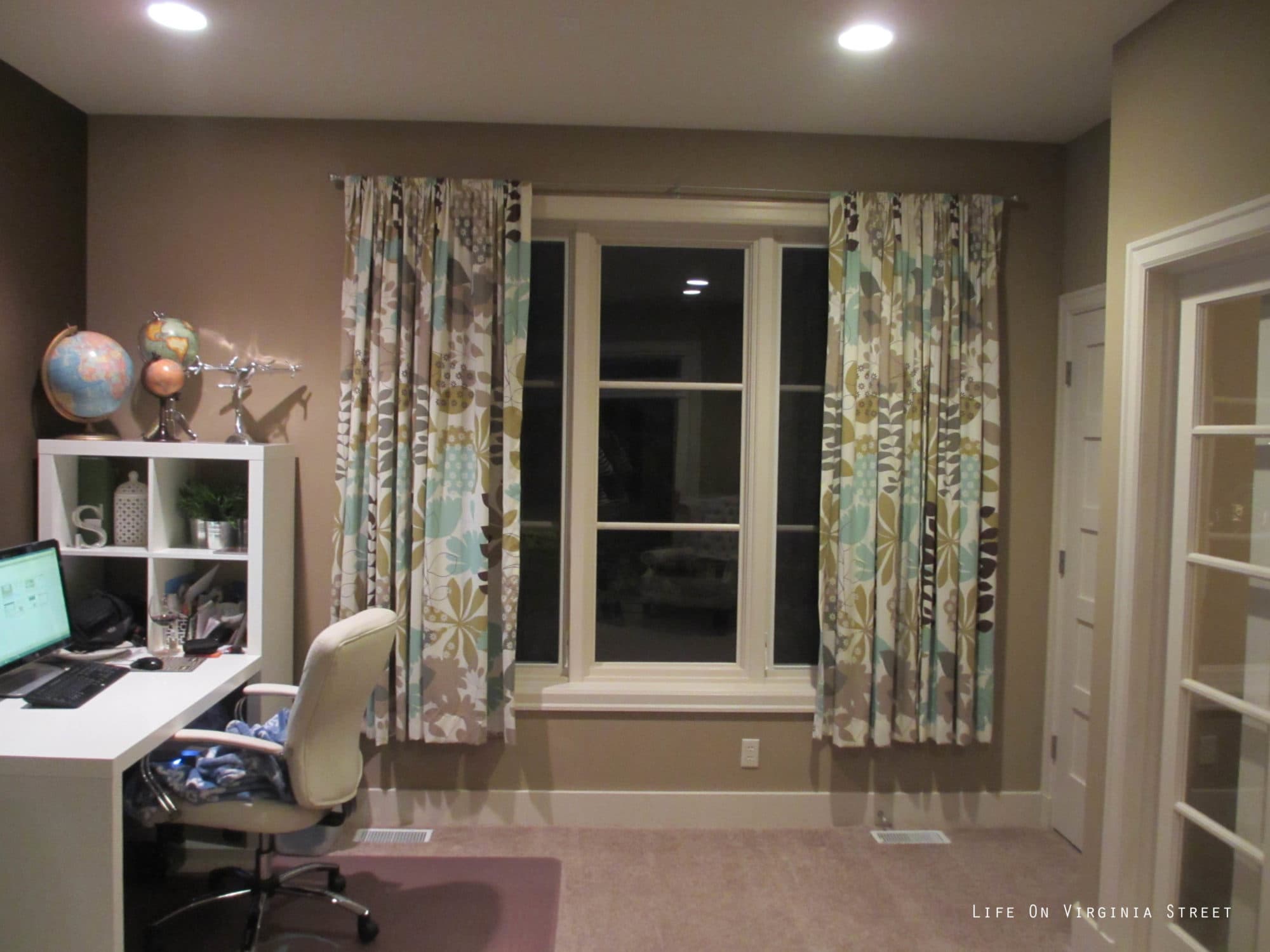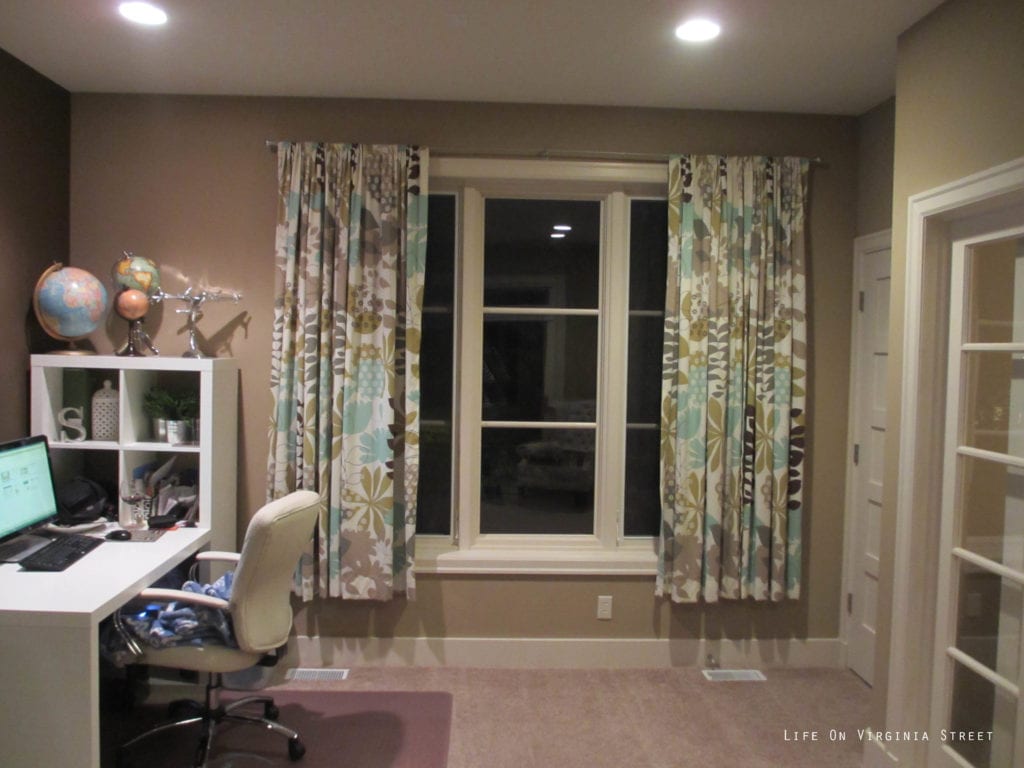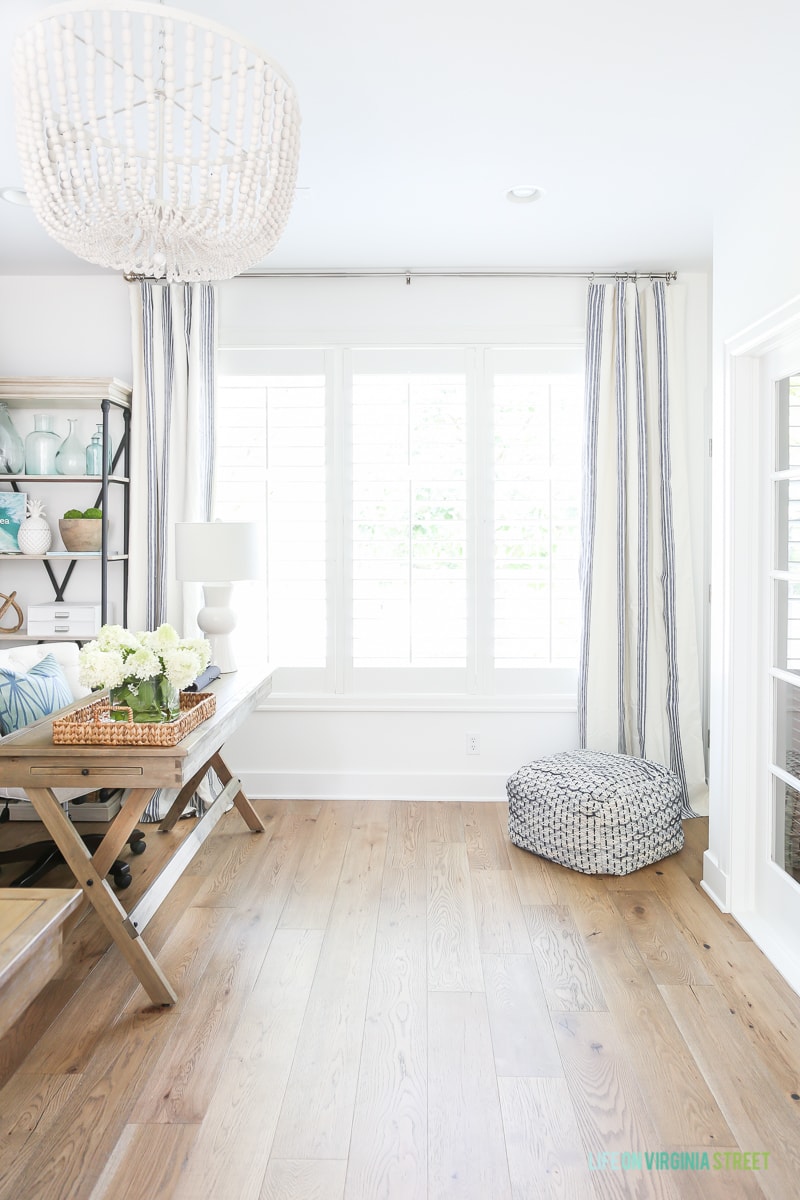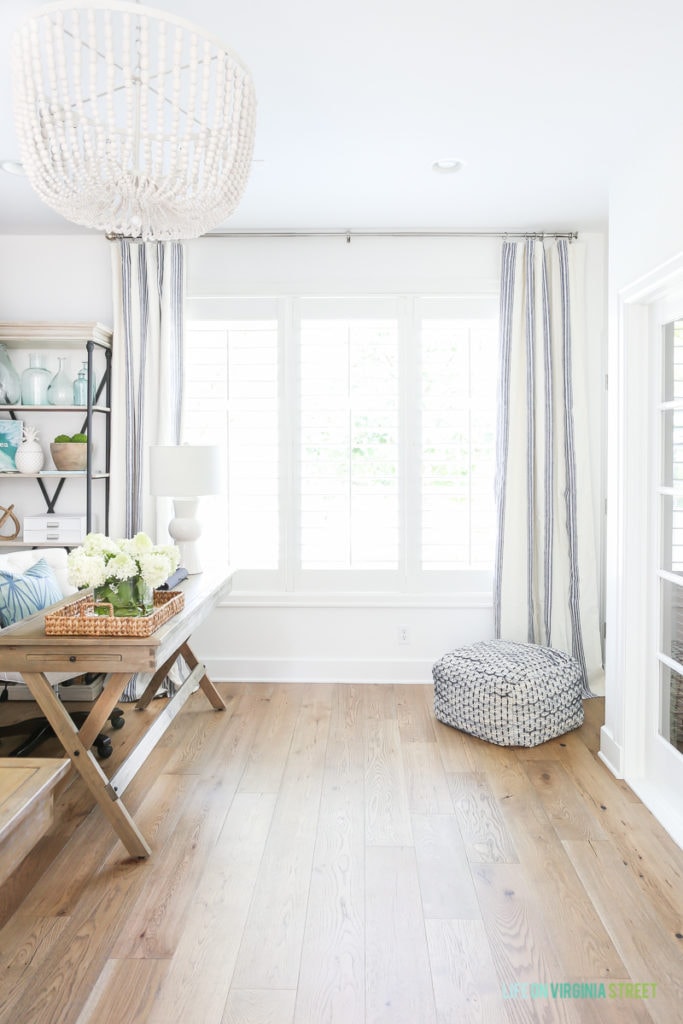 Powder Bath Before & After
Not much has changed in our powder bath since last year either. We're so happy with the updates we made here in 2017! I'll say it over and over – paint can make some of the biggest changes!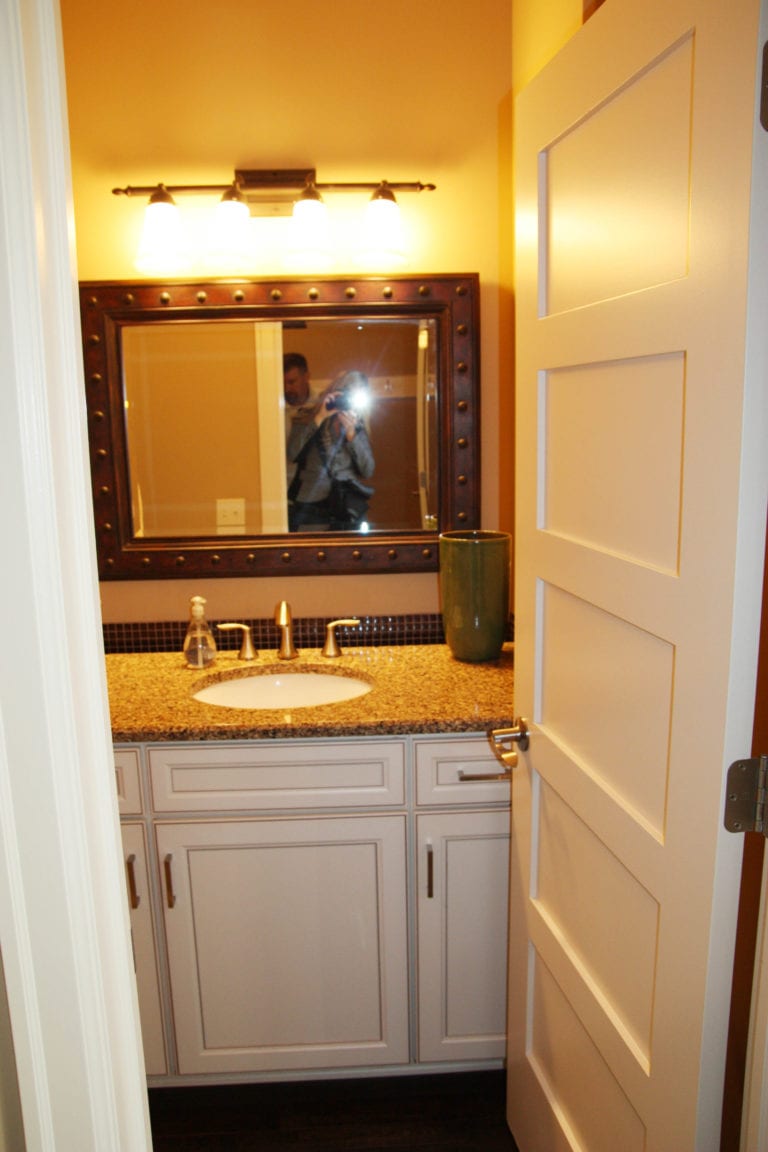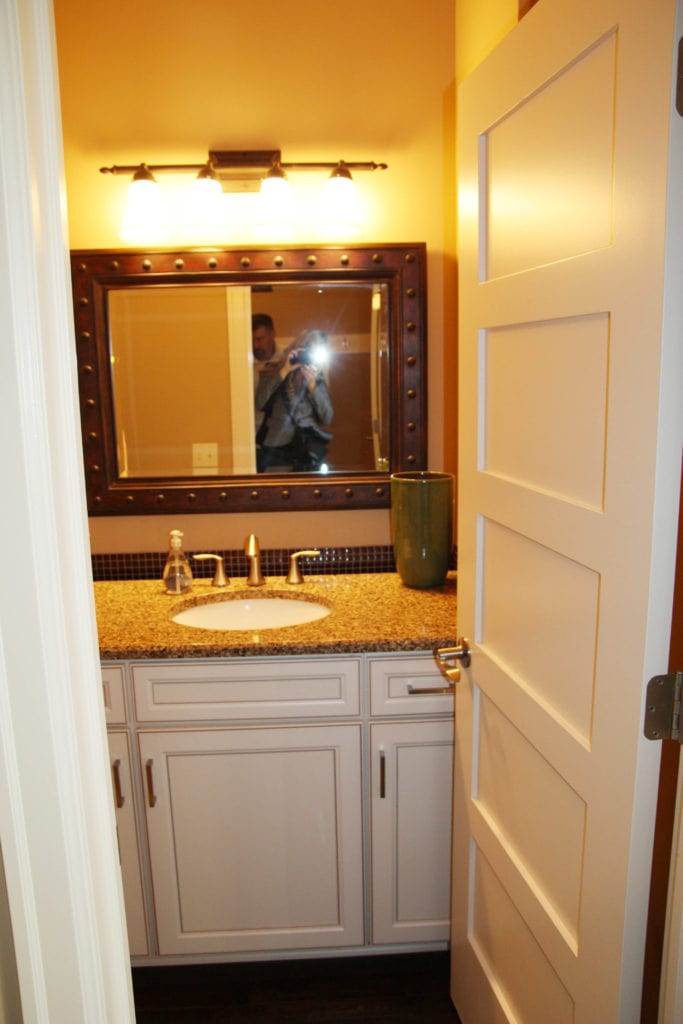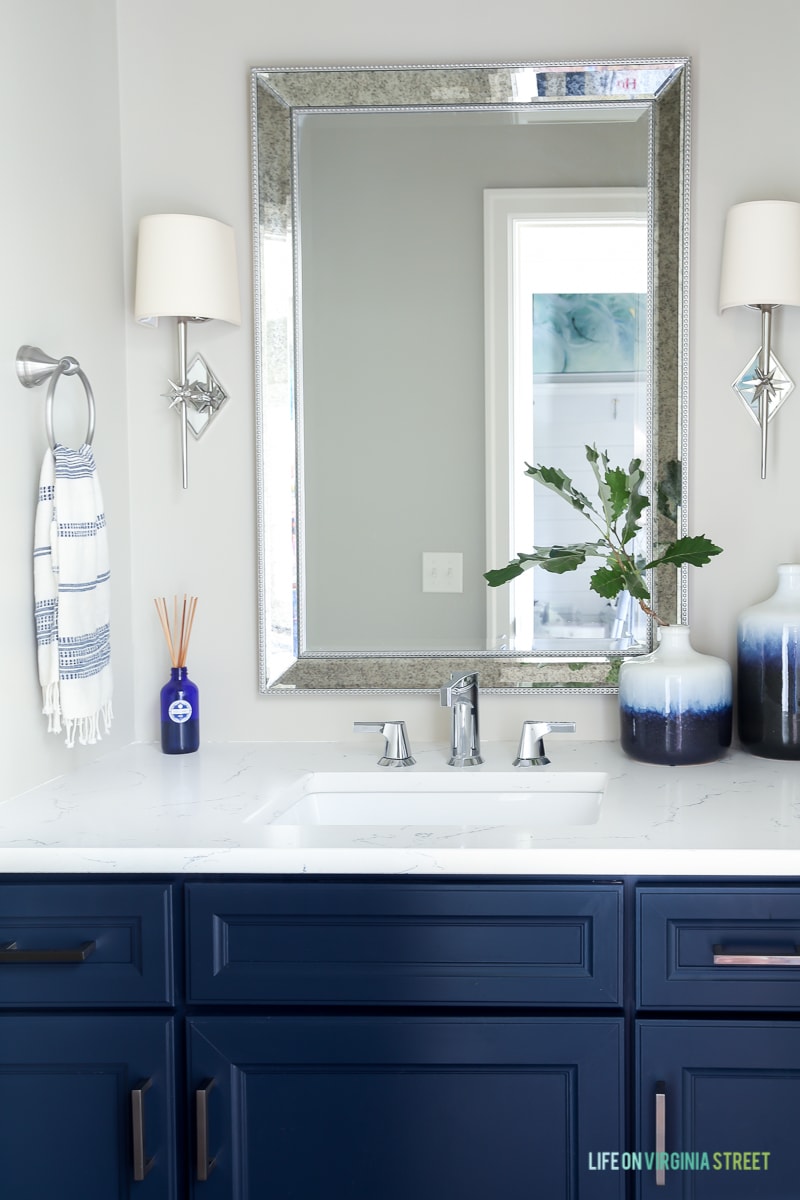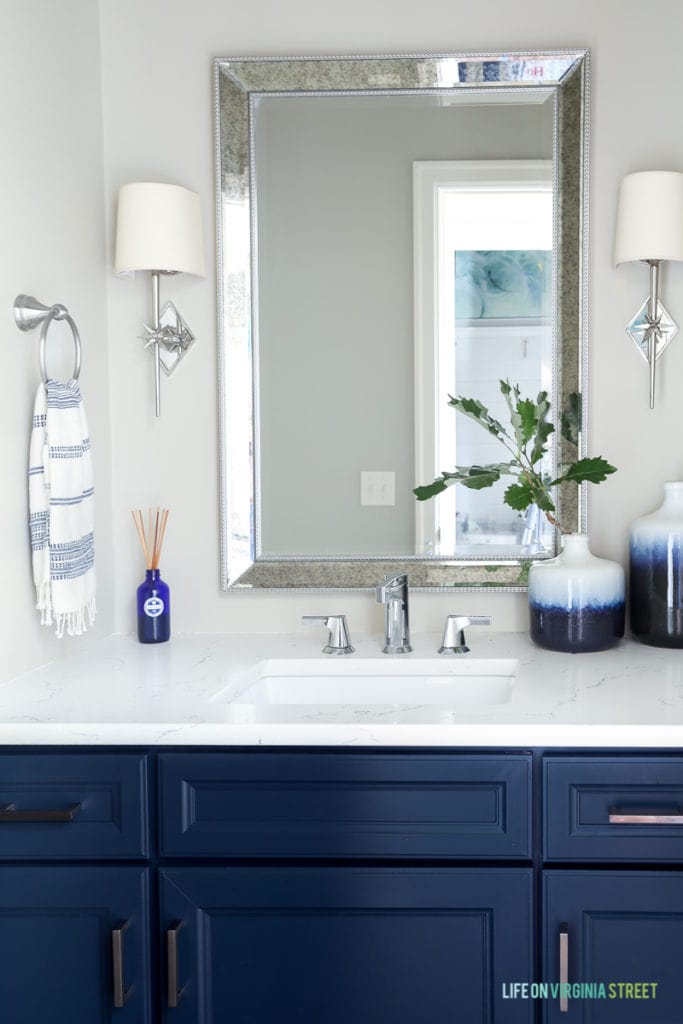 Mud Room Before & After
This year we finally made some progress in our mudroom. I think it sat with primer on the shiplap for four, maybe five, years. But, when we had the painters here for the kitchen and trim, we had them add this to the list since clearly I wasn't handling it. We still need to tackle the cabinet situation, but it already feels so much better now that the trim, bench, shiplap, ceiling and doors are all white!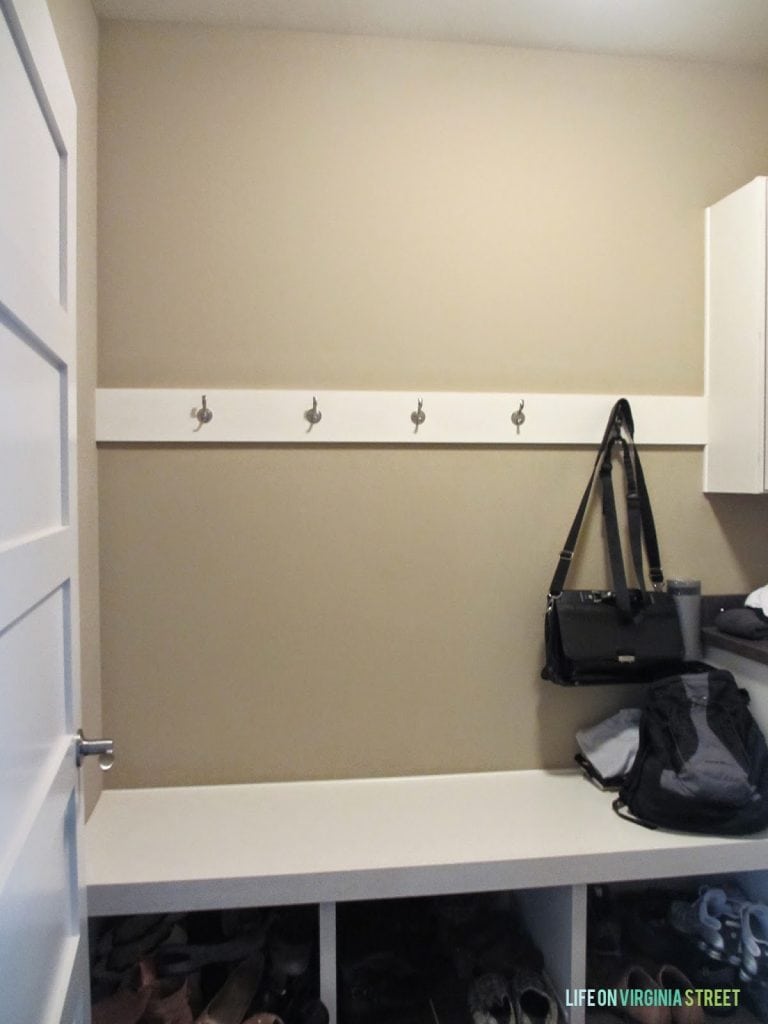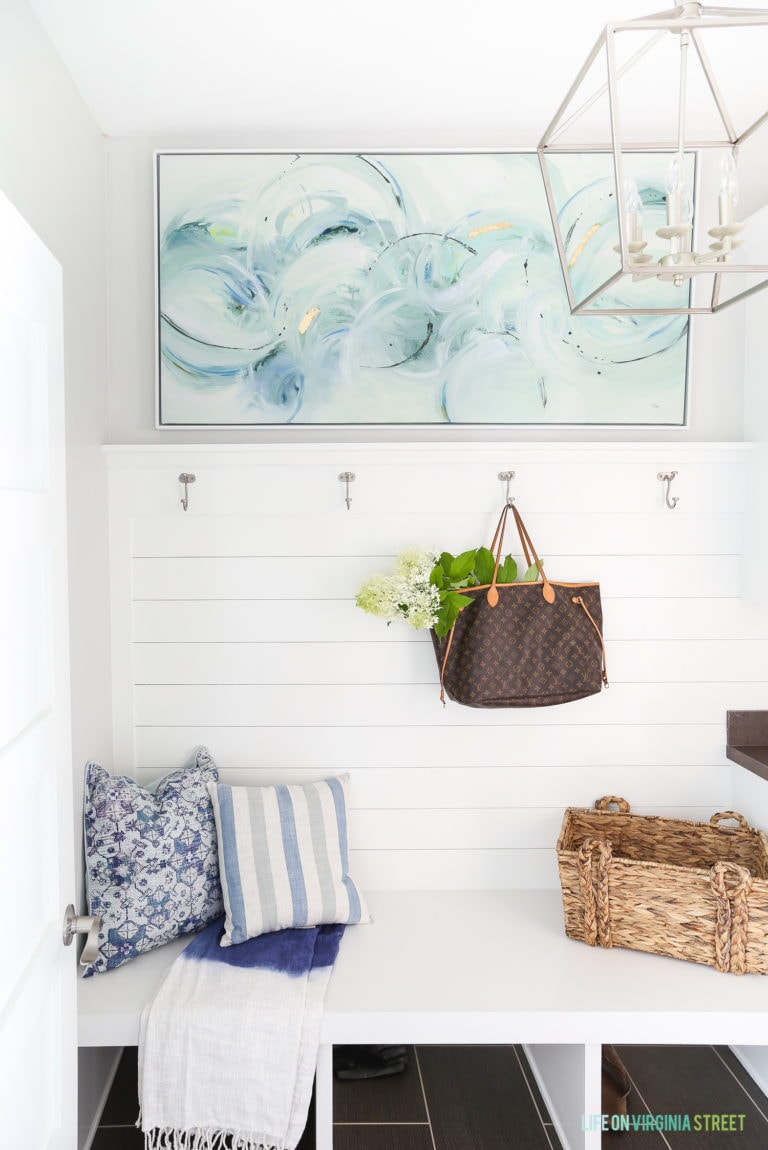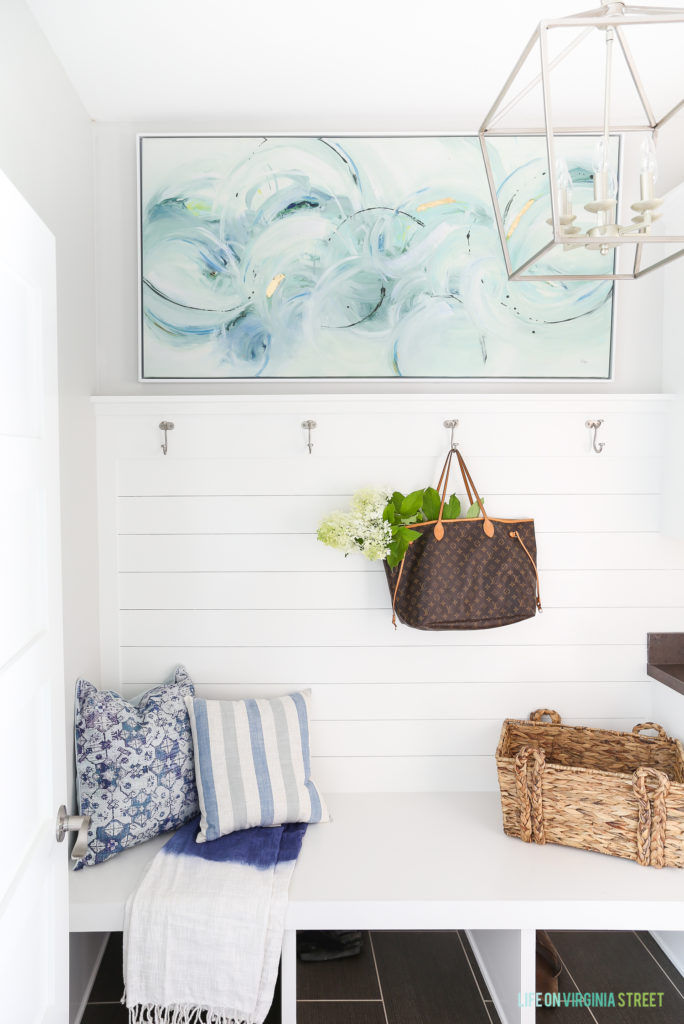 Courtyard Before & After
The courtyard was the feature of our home that very likely made us buy. It sounds crazy, but it's such a unique feature and we loved the fact that the home was built around this outdoor area. These before and after photos aren't great. But it's the only set that has the new paint color on the walls. Just don't mind the kitchen reno happening on the other side of the windows – hence the tower of paper towels 😉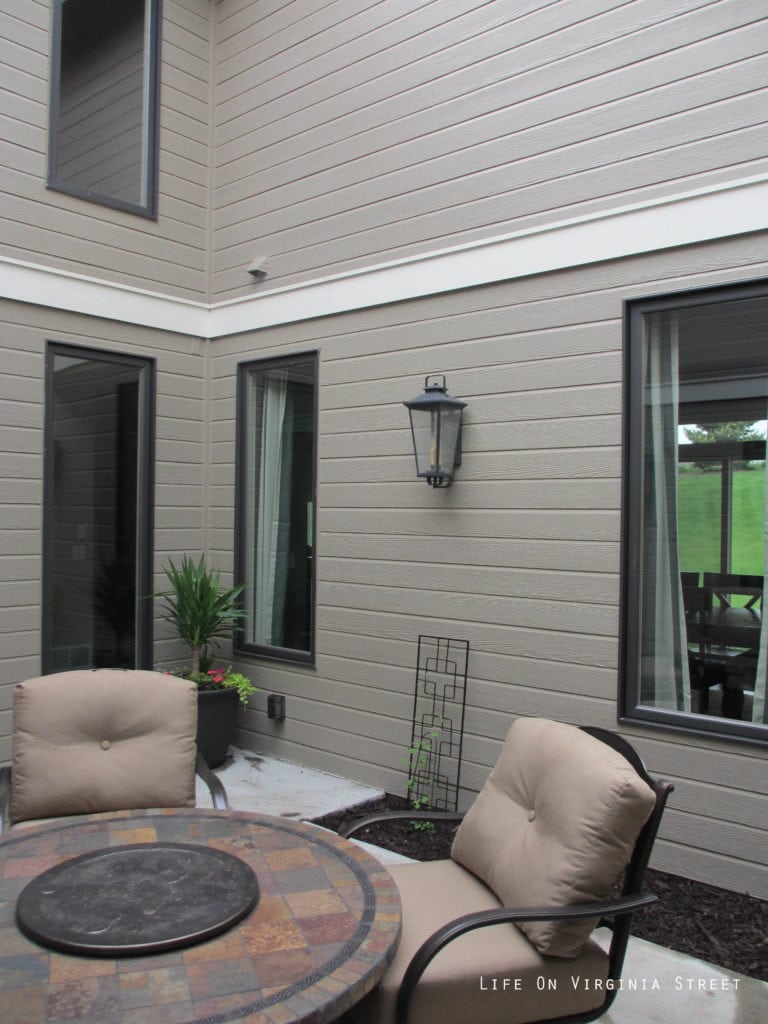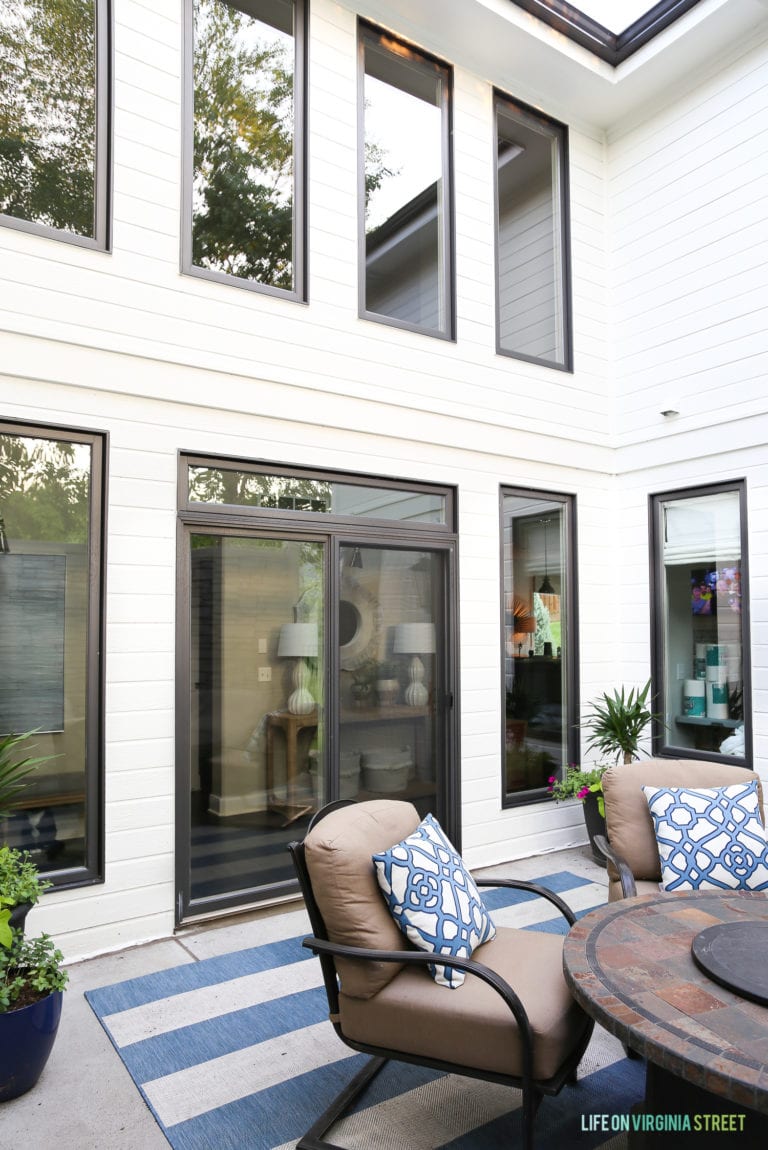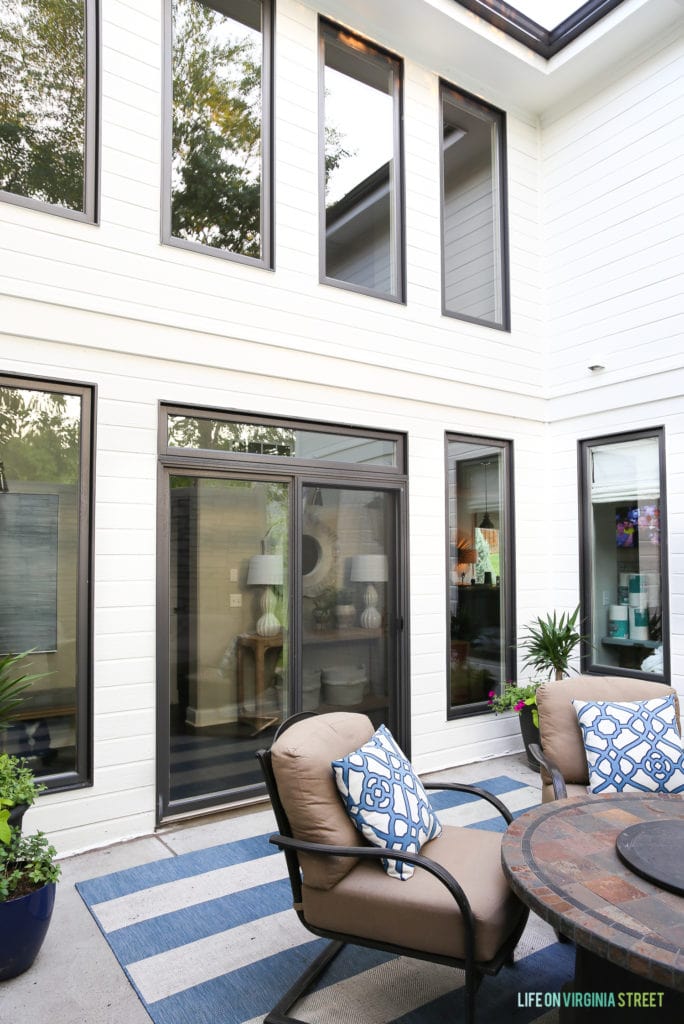 King Guest Bedroom Before & After
If you're wondering why I call this the "king" guest bedroom, it's simply because we aren't creative and we call each of our guest bedrooms by the size of their mattress. Hence, the king and queen. But, the king guest bedroom has probably been one of the most updated spaces in our home over the years. It's our most used guest bedroom and it's always been a fun and easy one to update. Our latest beachy guest bedroom makeover I revealed earlier this year is my favorite yet!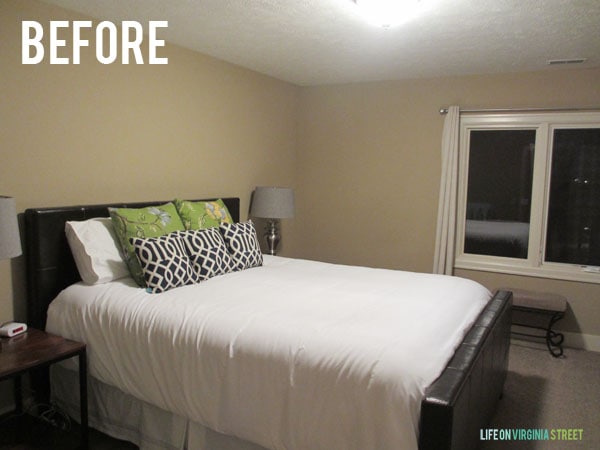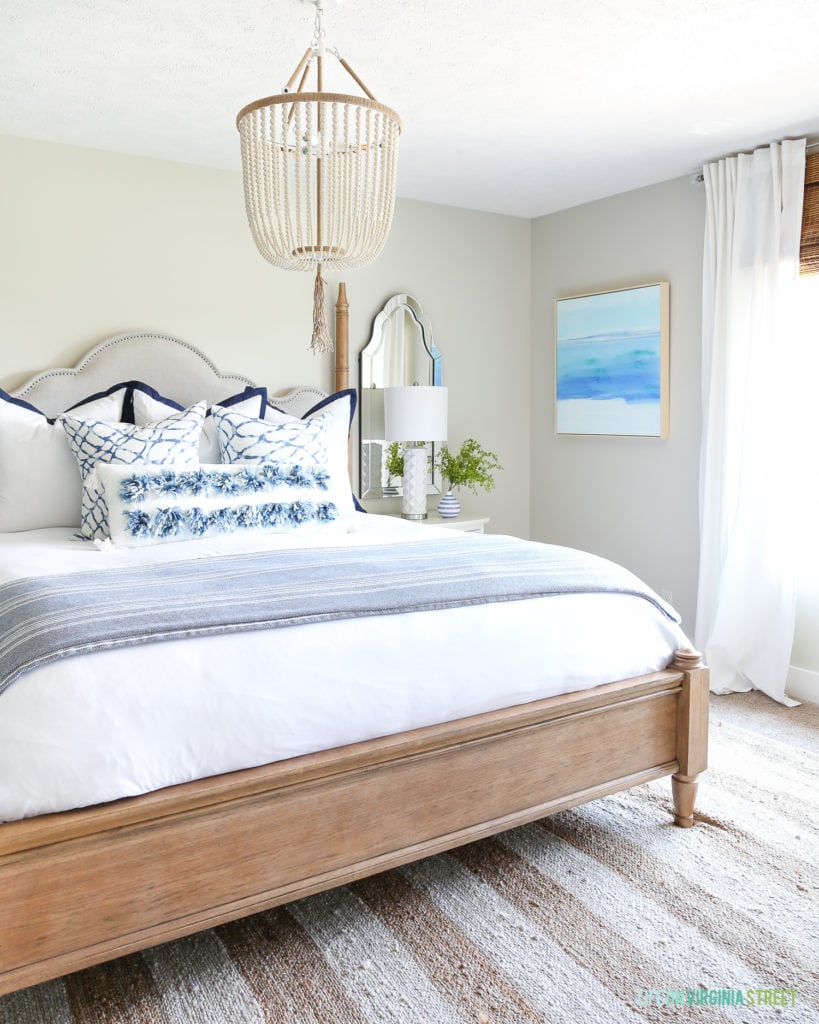 Queen Guest Bedroom Before & After
Our queen guest bedroom used to actually see very few guests. However, since the addition of the pool, it's seeing a lot more action! Over the past year, I've really tried to make it feel much more intentional and flow better with the rest of our home! You can get more info on the latest updates here.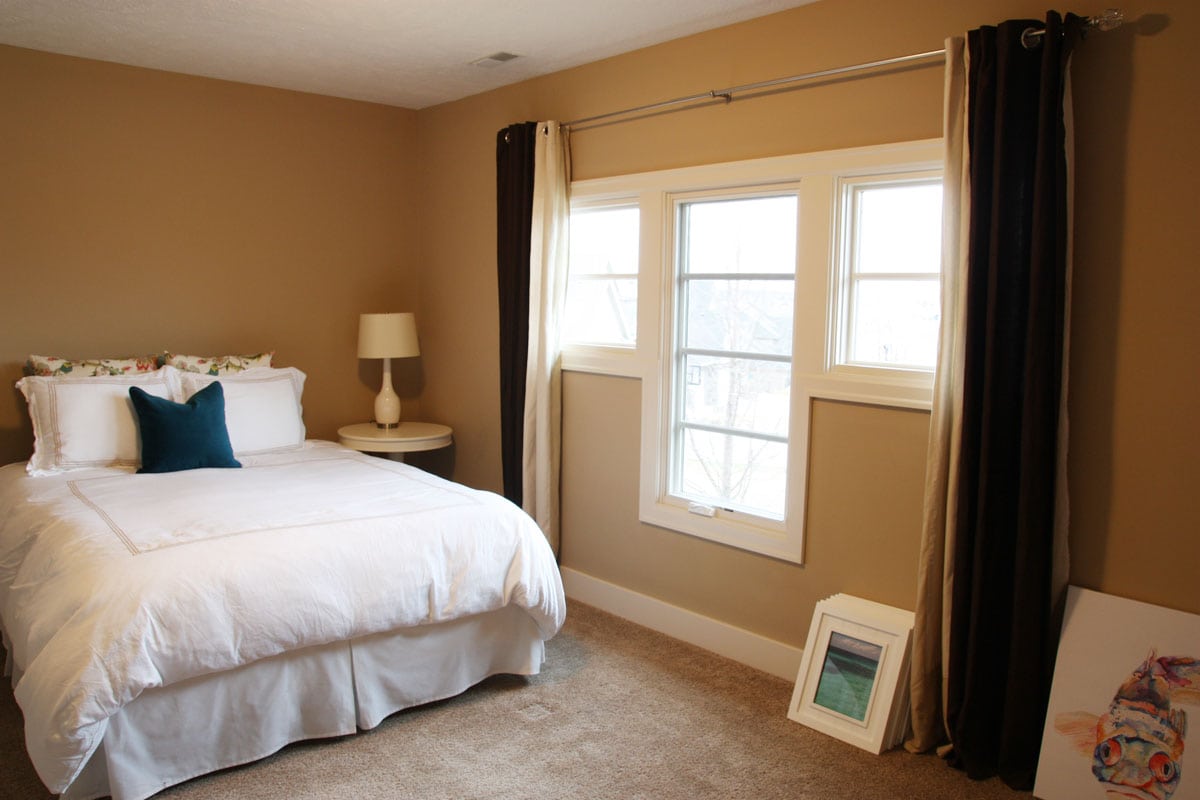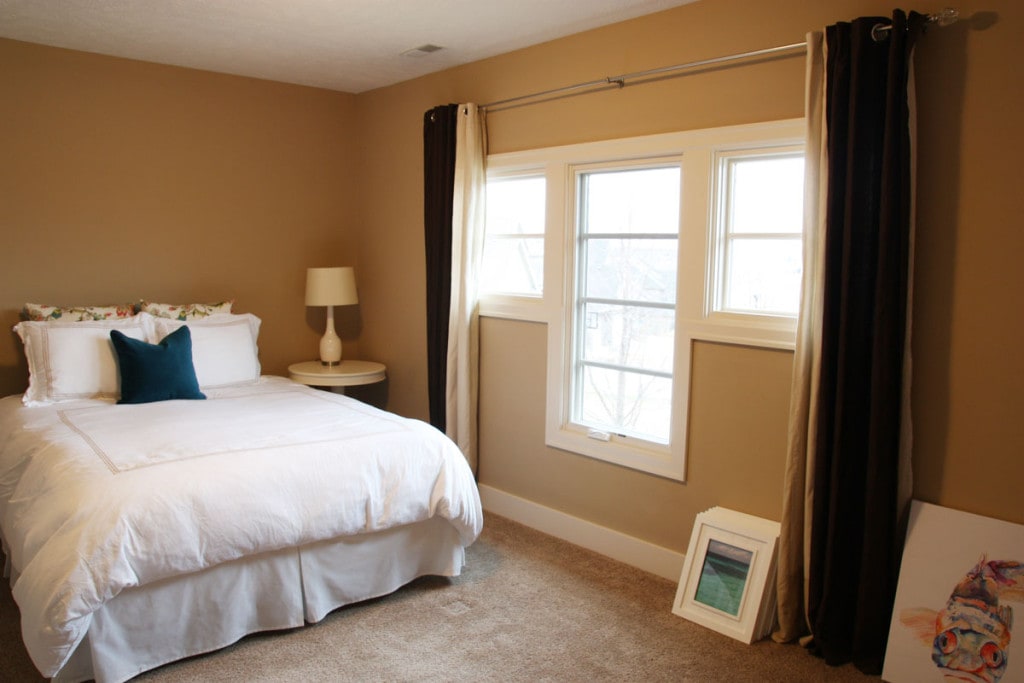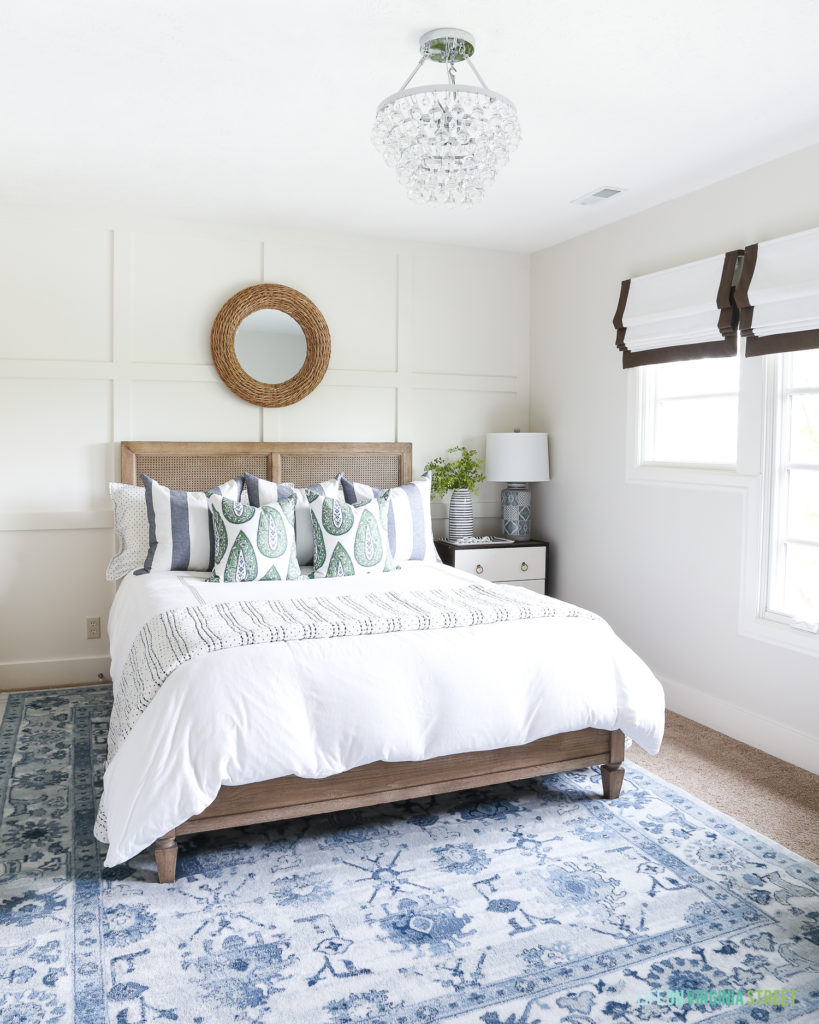 Queen Guest Bathroom Before & After
Whew! This makeover made it just under the wire with not even a day to spare! Yesterday I shared this fun transformation of our adjoining queen guest bathroom! It was a budget makeover (under $200) but has made a huge difference and is far less embarrassing now when guests arrive!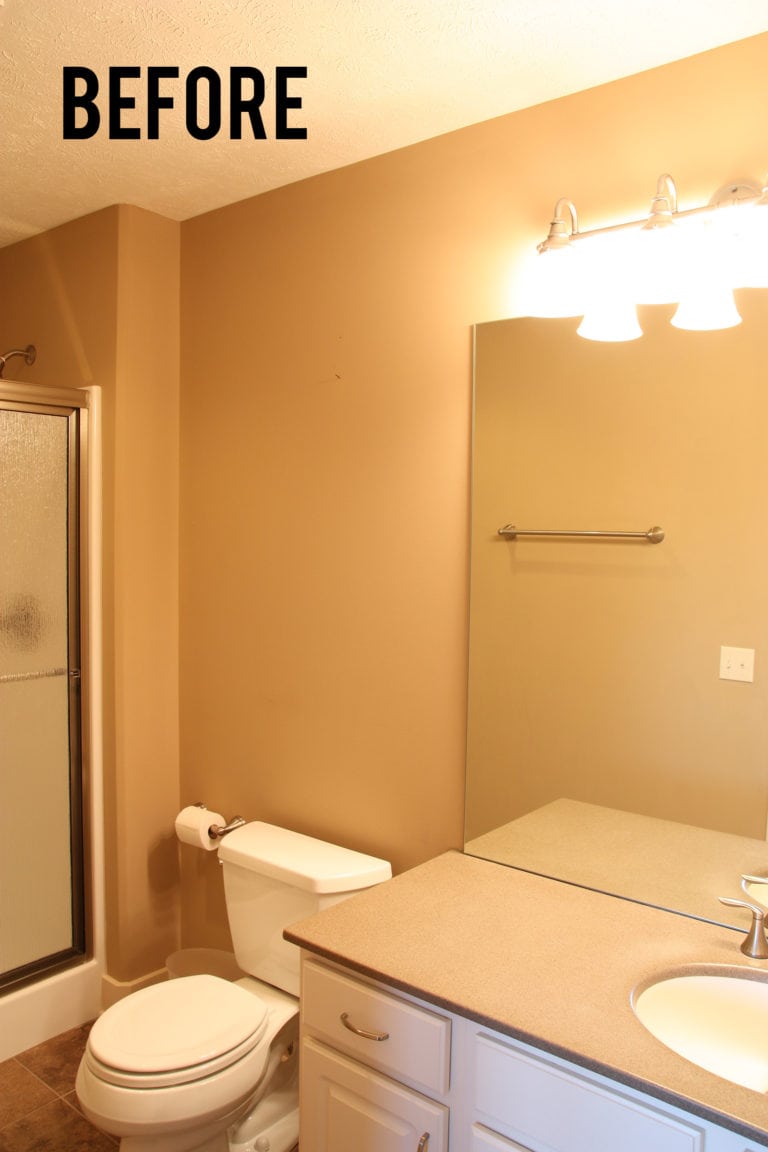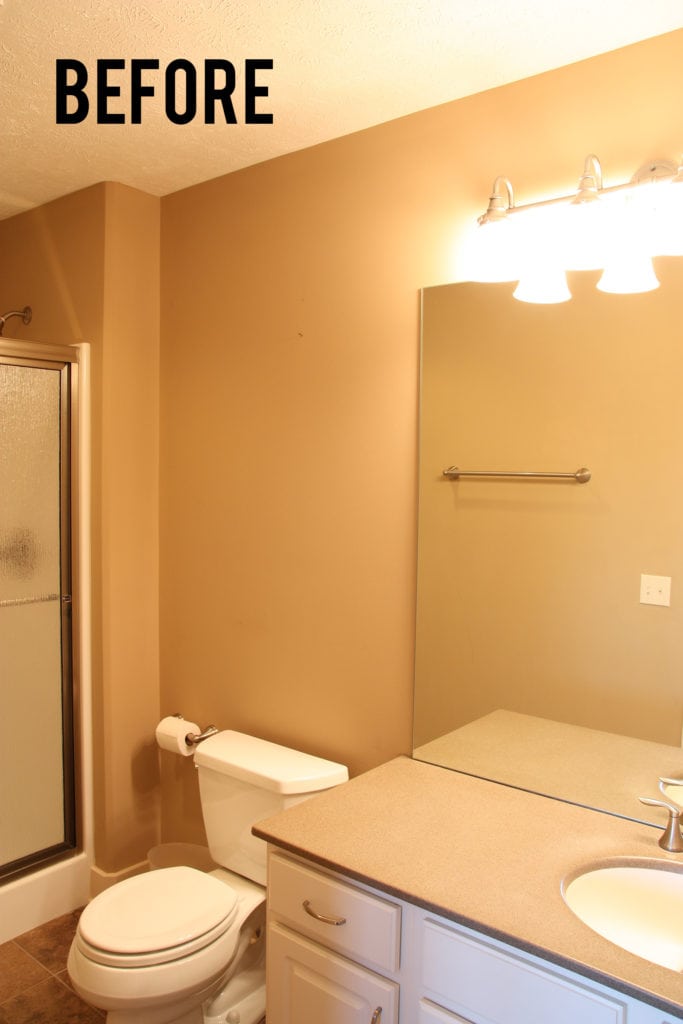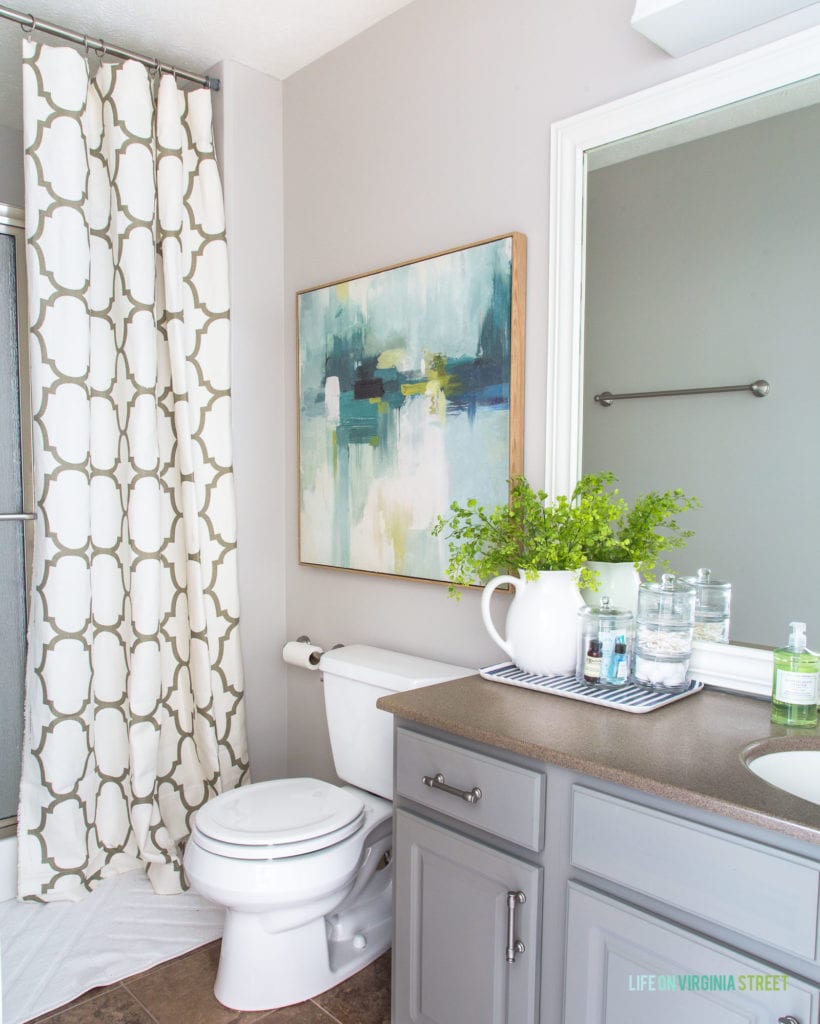 Master Bedroom Before & After
Moving onto our master bedroom. We have made next to no changes in this space over the years. I painted the walls and took down the ceiling fan almost immediately and then really haven't changed much since. This room nears the top of my to-do list in 2019! I'm determined to get the walls more neutral and finally paint the ceiling white (it's still the almond color all of our other trim used to be). Year seven is the year!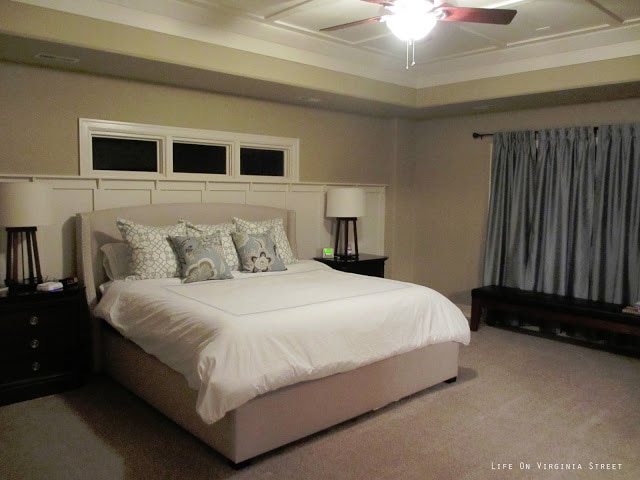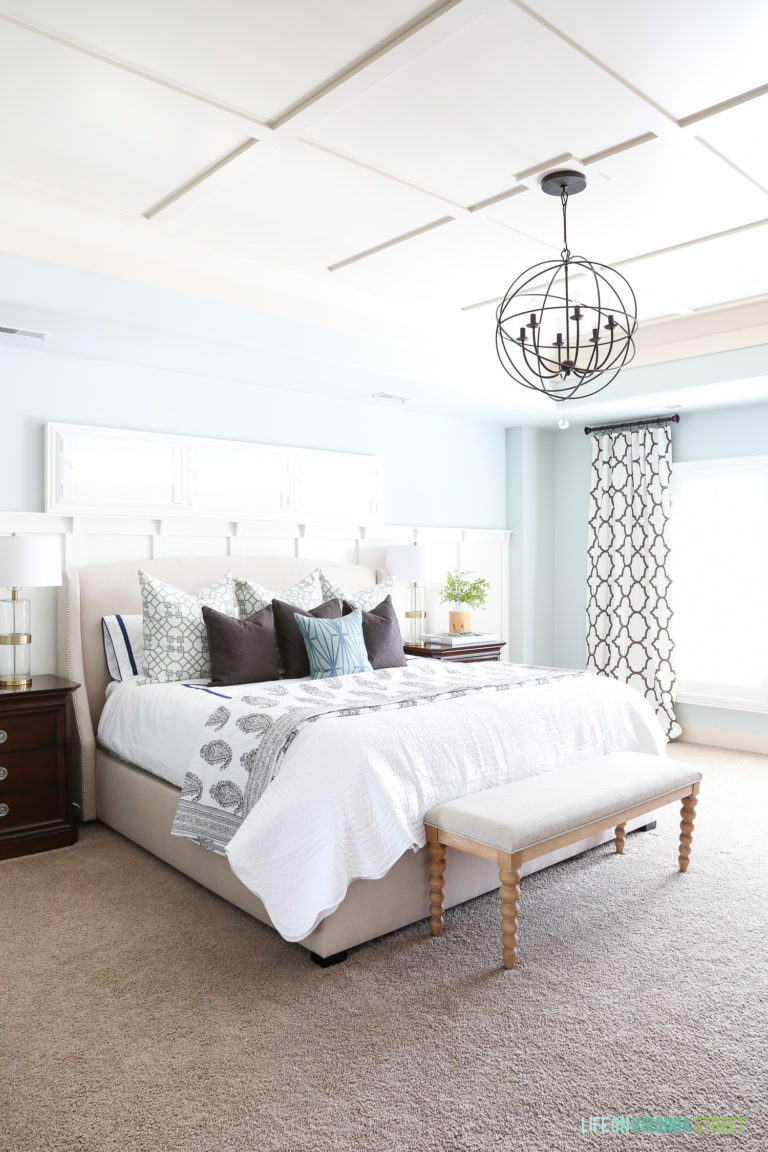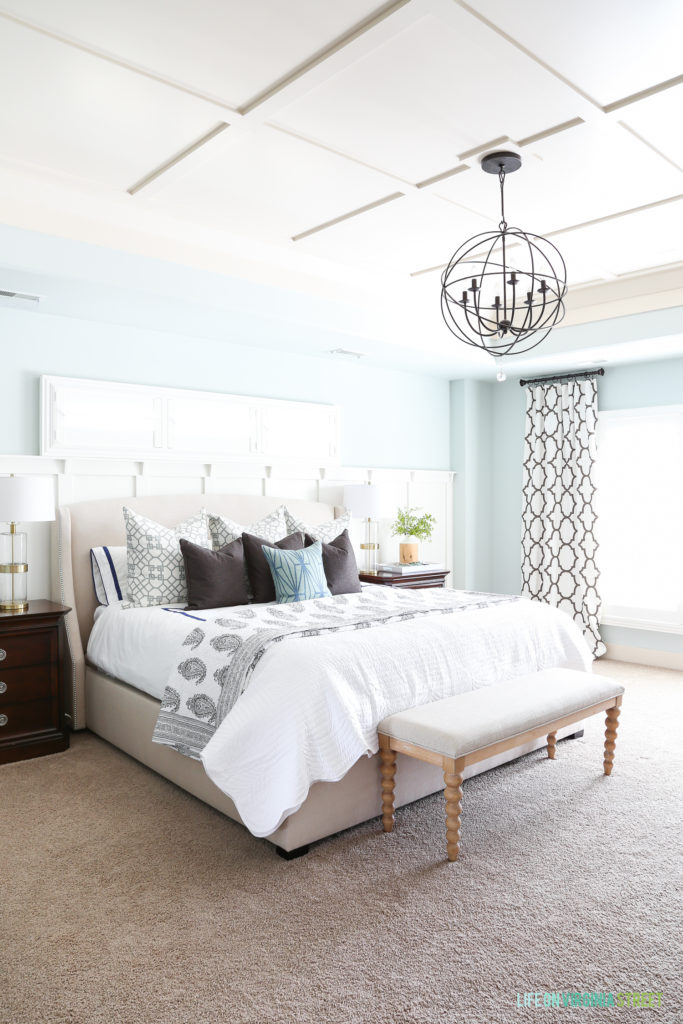 Master Bathroom Before & After
Our master bathroom is in a similar boat to our master bedroom. It's crazy how much I've worked on other areas in our home and neglected these two spaces so much! Eventually we'd love to get rid of the very dark brown tile, but I don't see that happening any time soon. For now the fresh paint and updated accessories are a good enough update!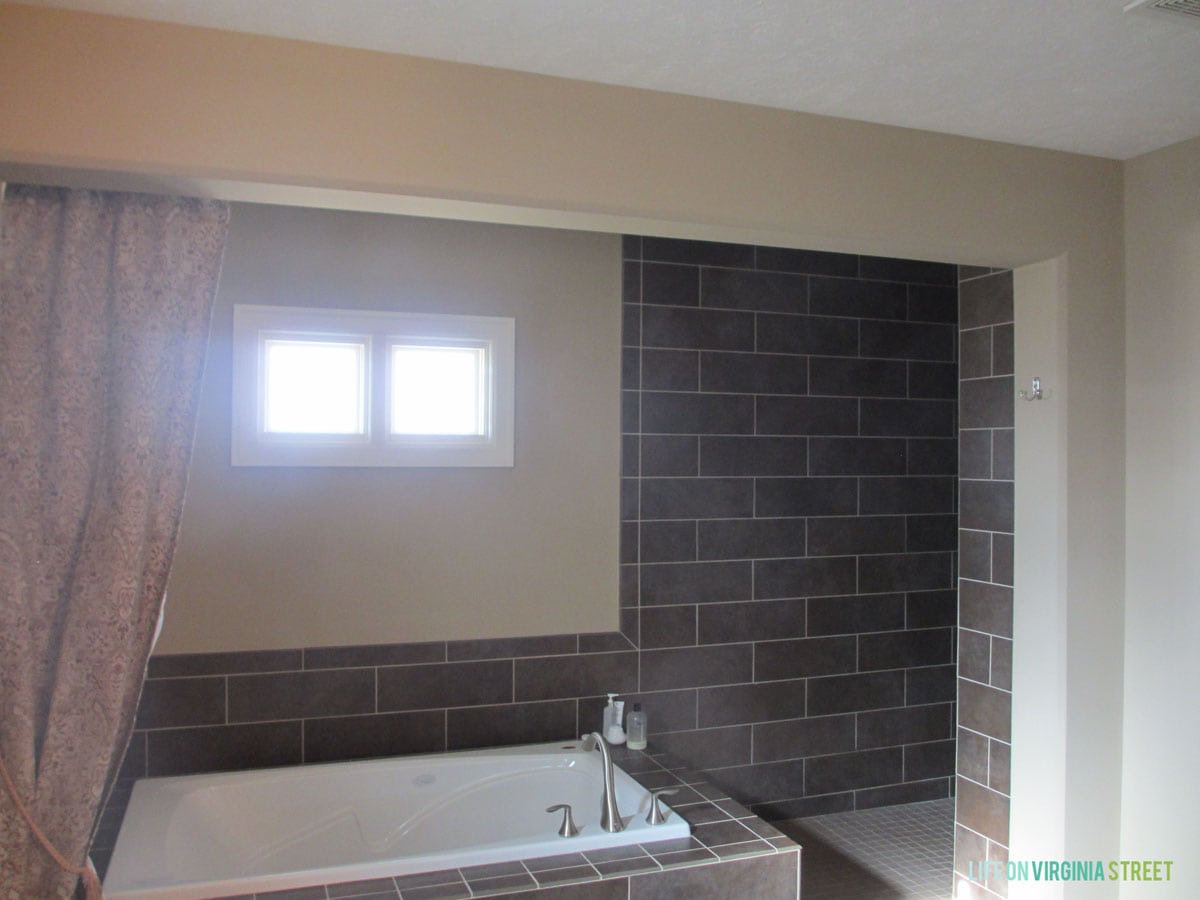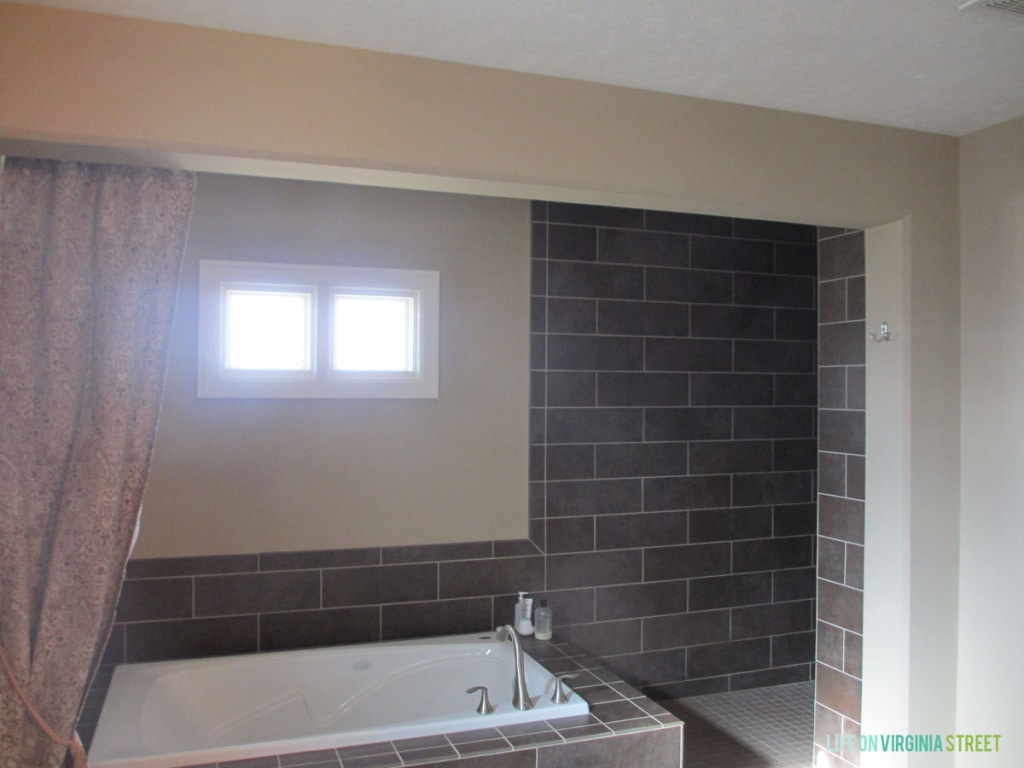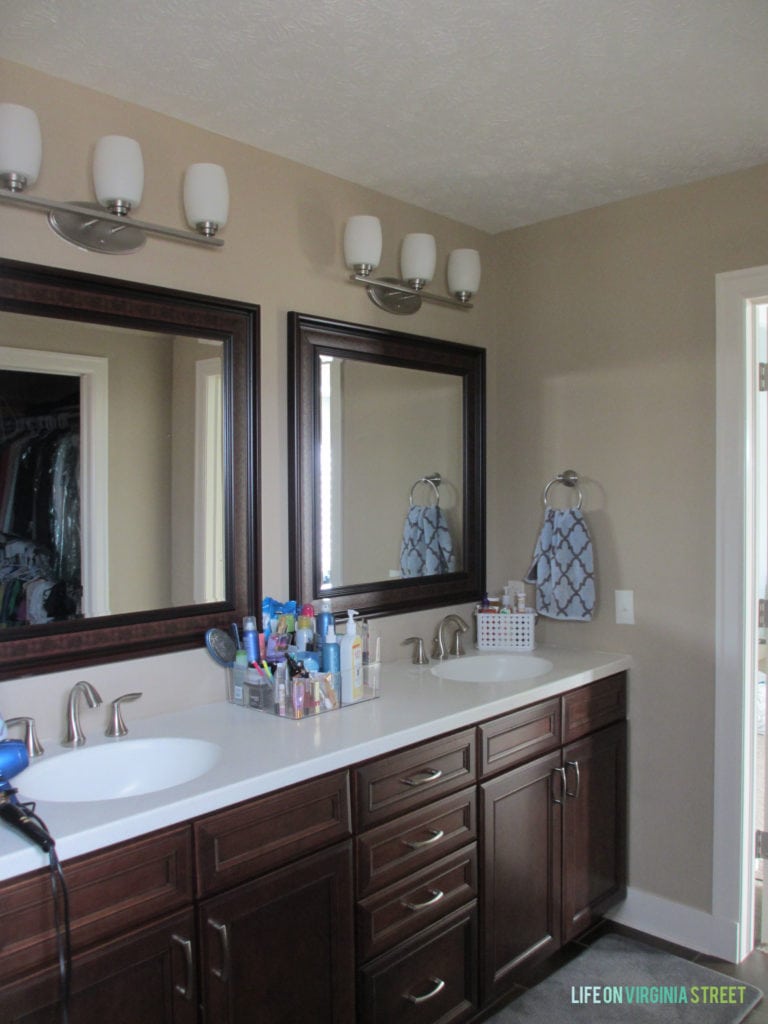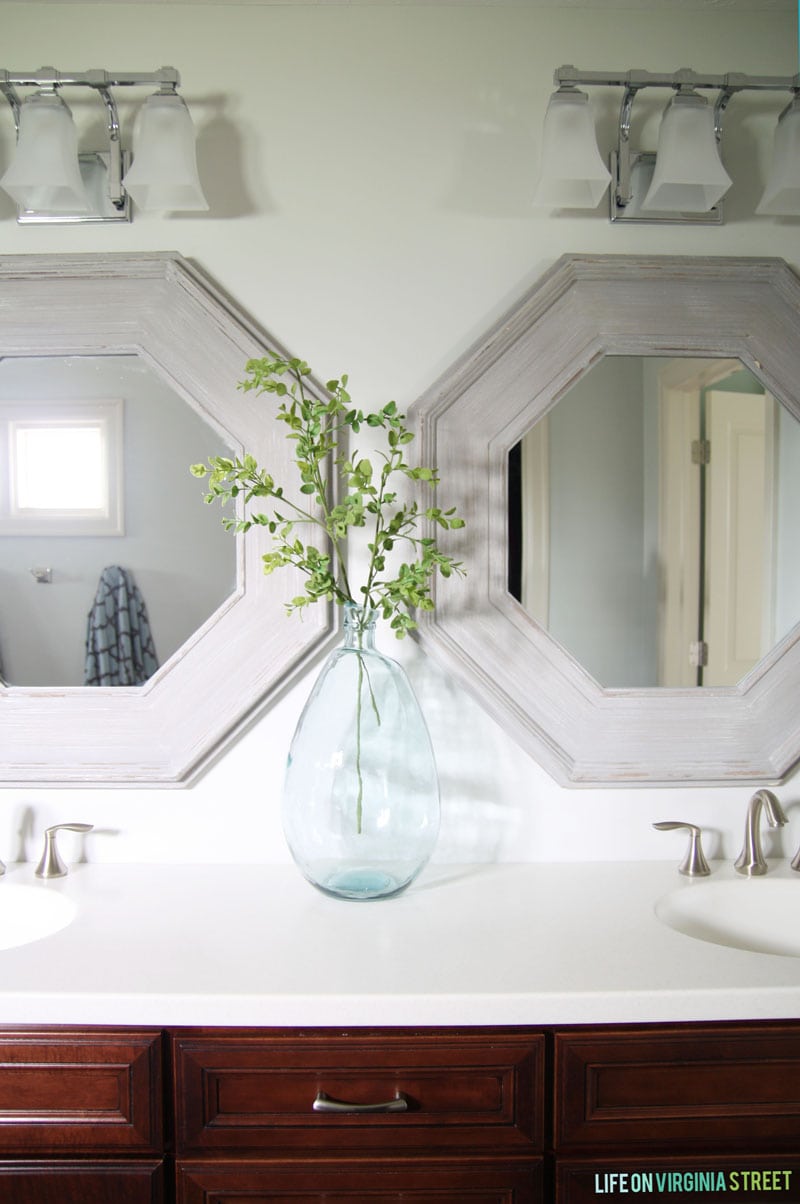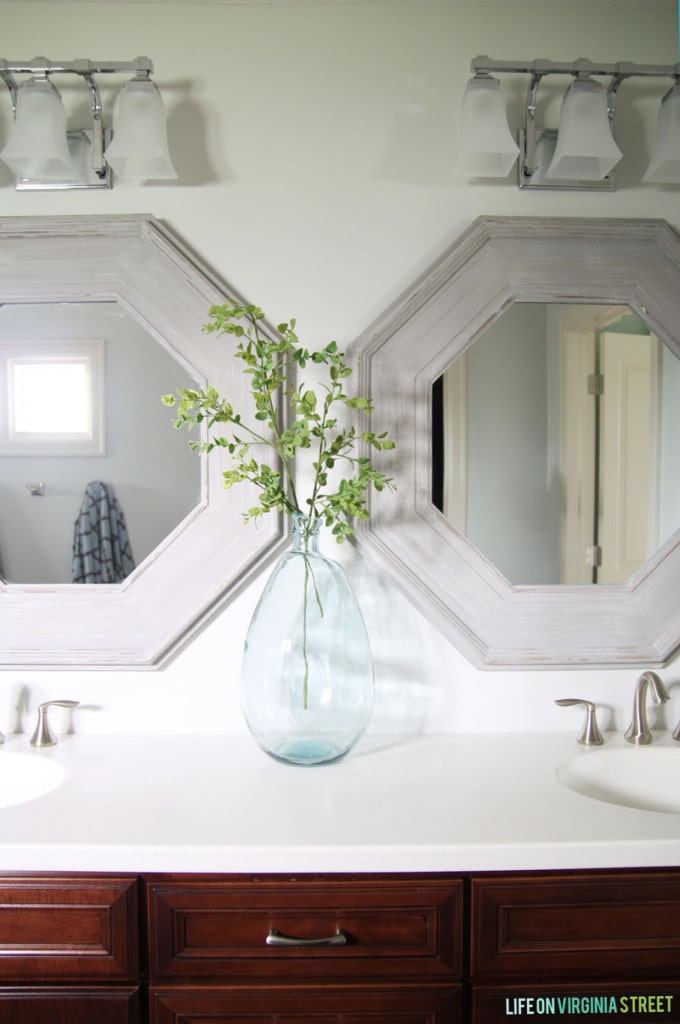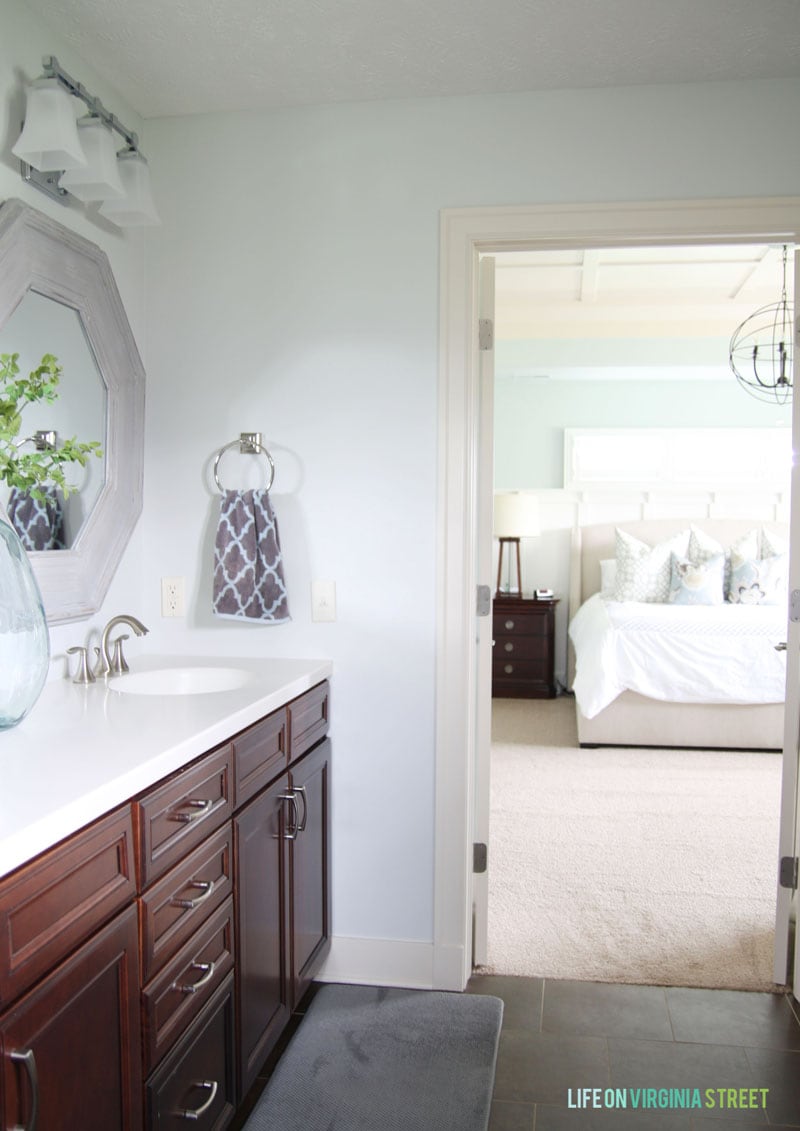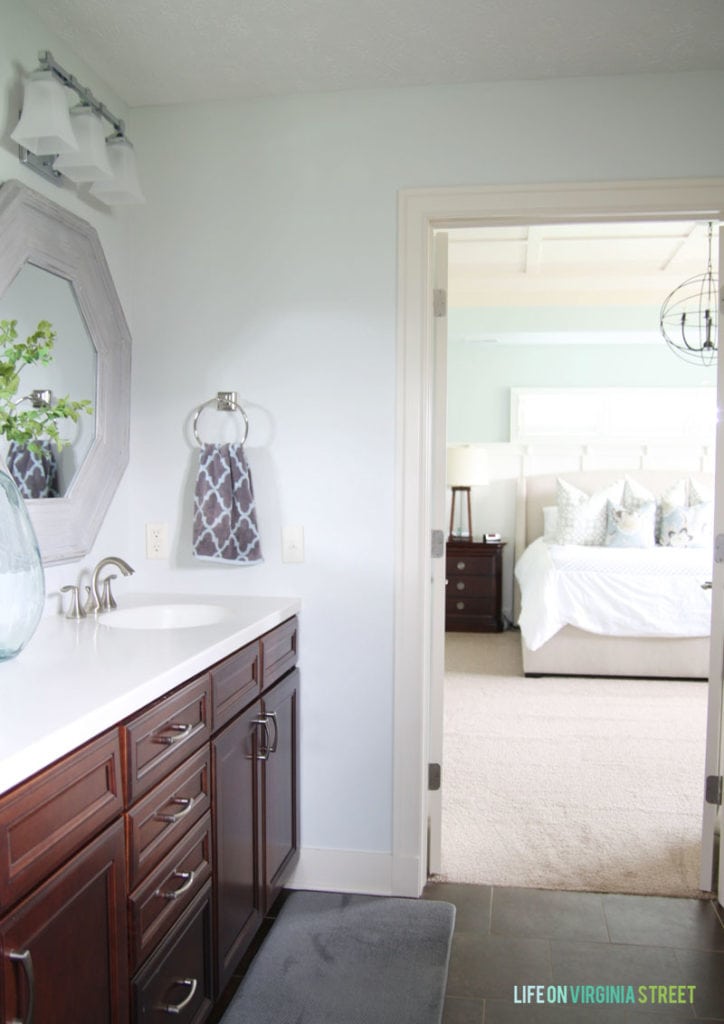 Craft Room Before & After
The craft room. Otherwise know as the "junk" room – which also stores all my home decor, is the only other place we have a TV in our home, and is an overflow guest bedroom. We've made some good progress in the space, but we're still not quite there. The addition of the IKEA cabinet has helped, but we've really got to figure out some organization in this space that truly works! Consider it on my list for 2019!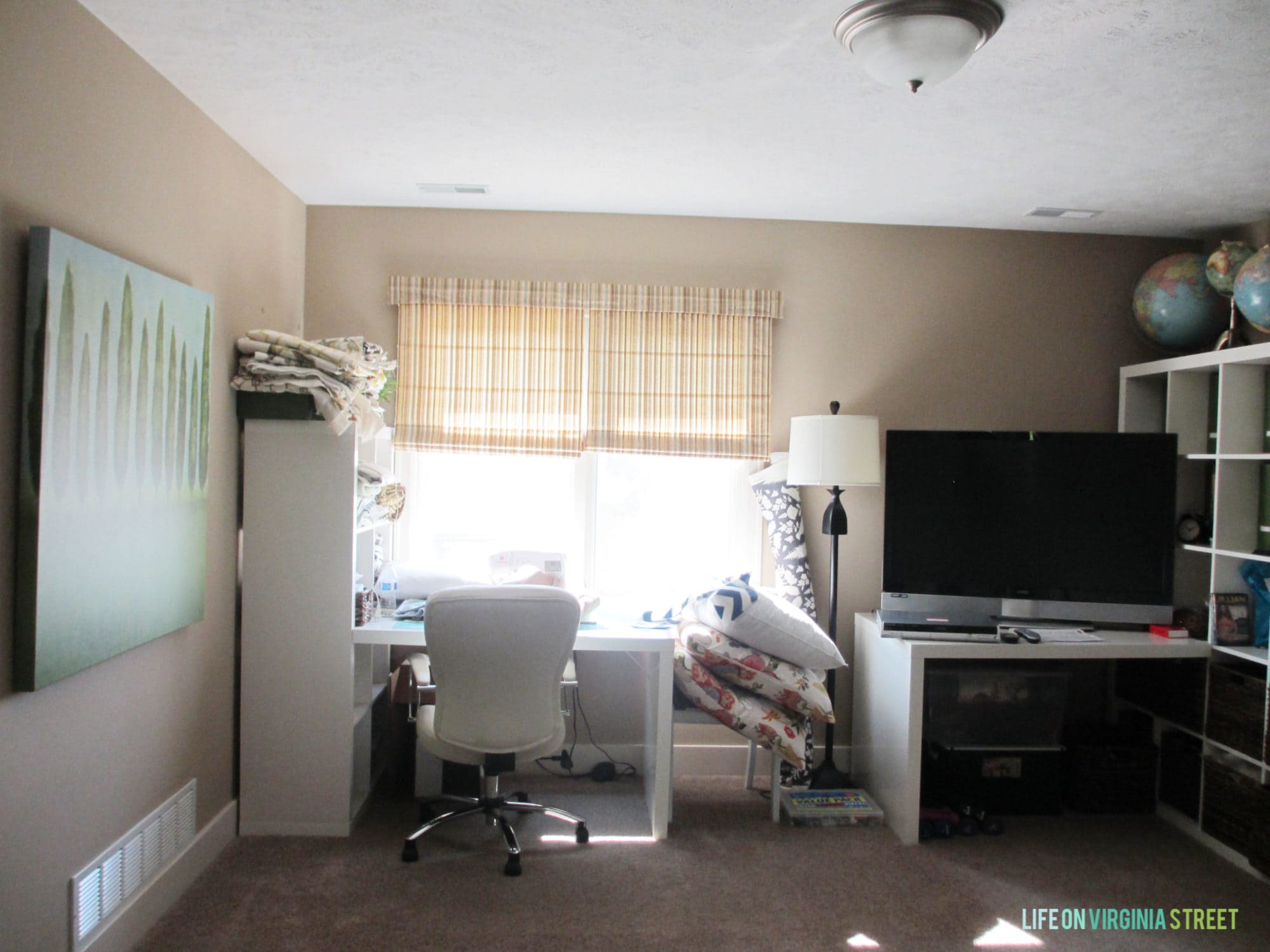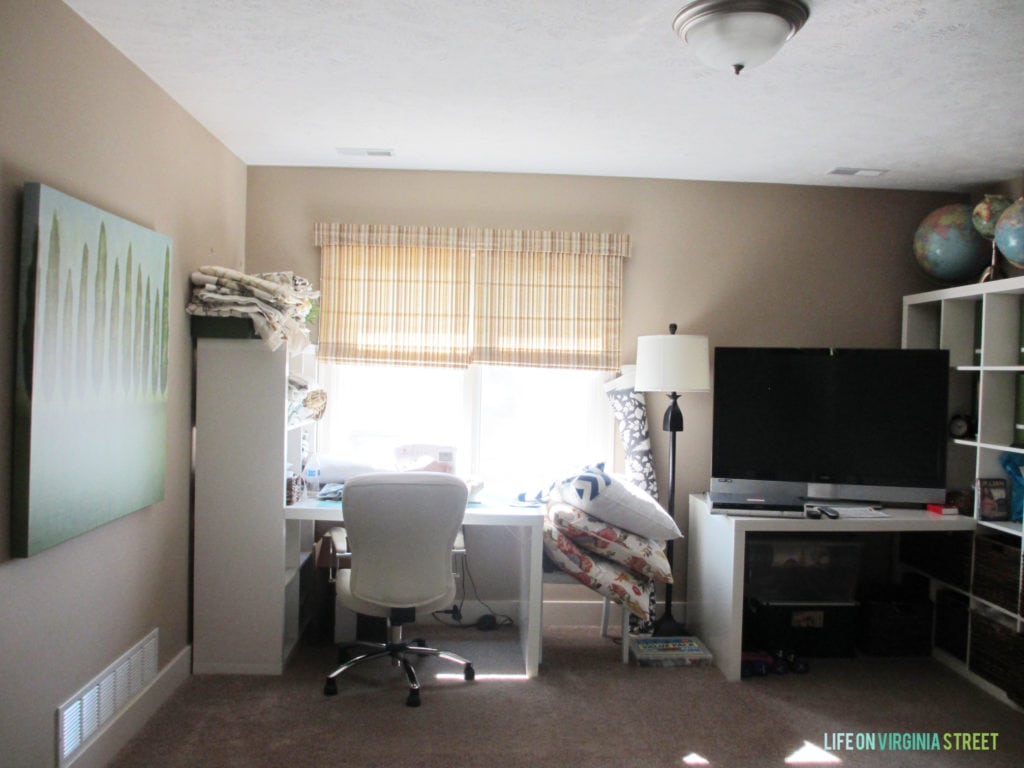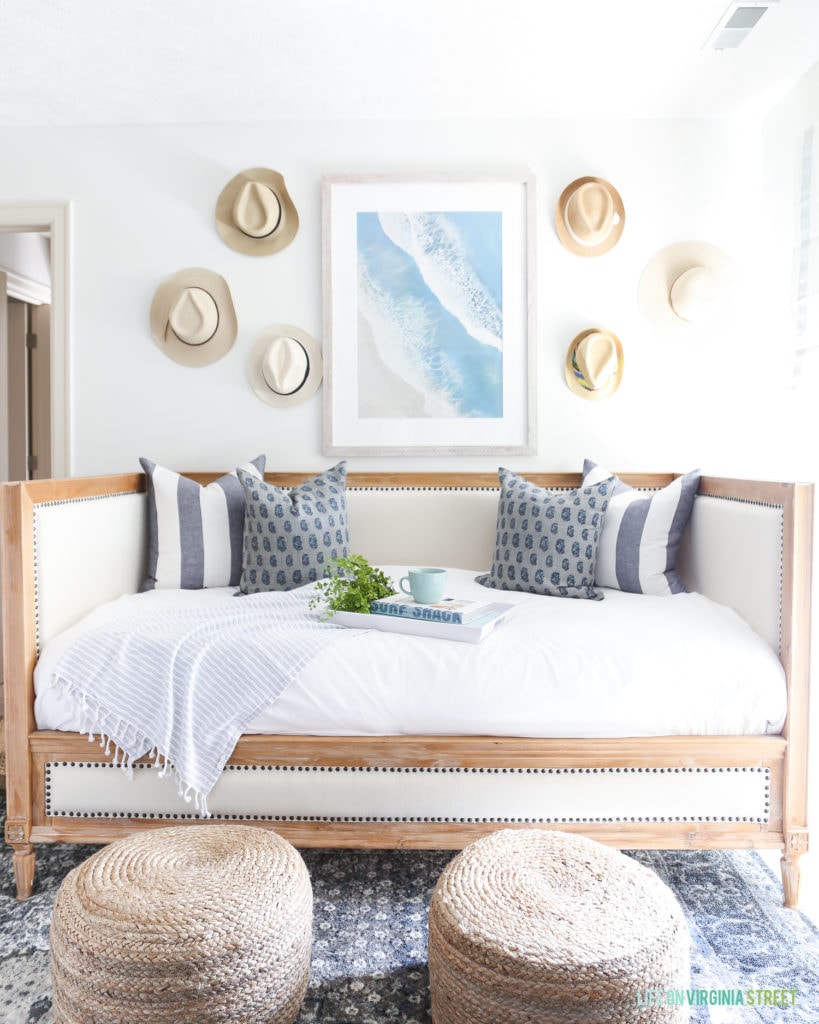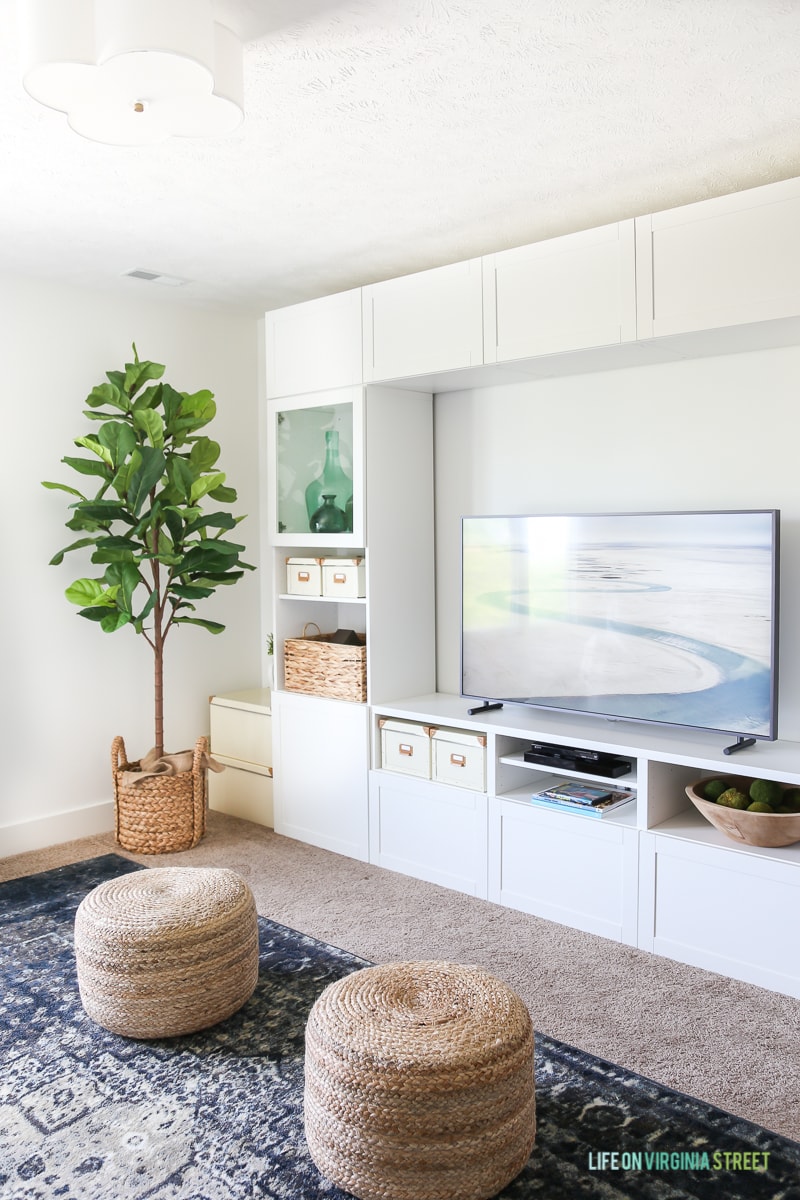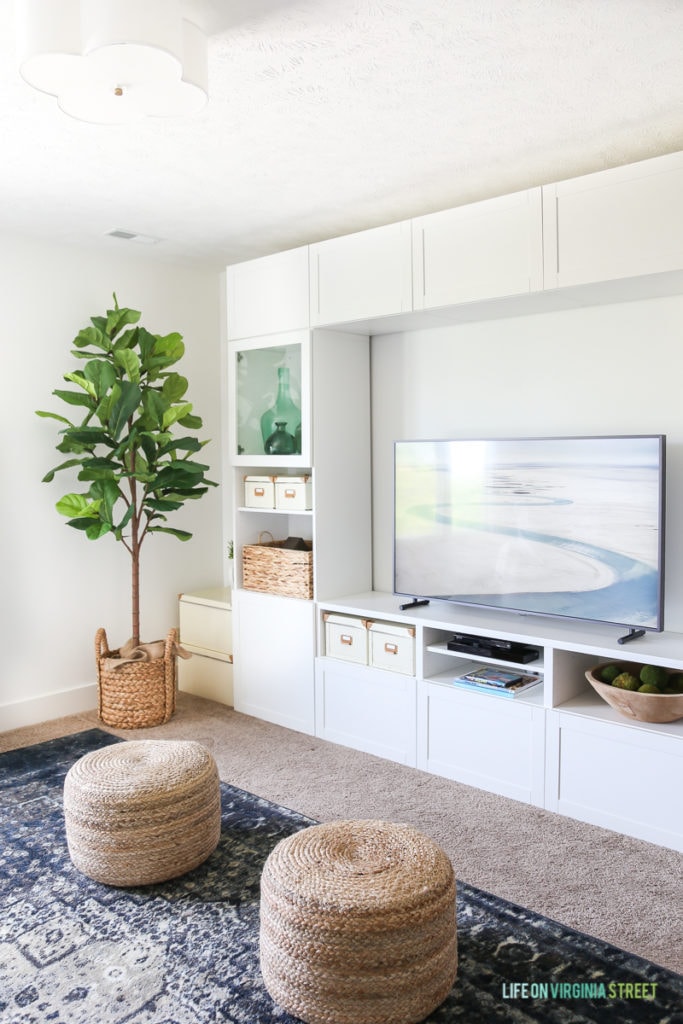 Laundry Room Before & After
One of my favorite makeovers of last year was painting the buffalo check pattern on the wall in our laundry room! Nothing has changed in here since that point and we still love the space!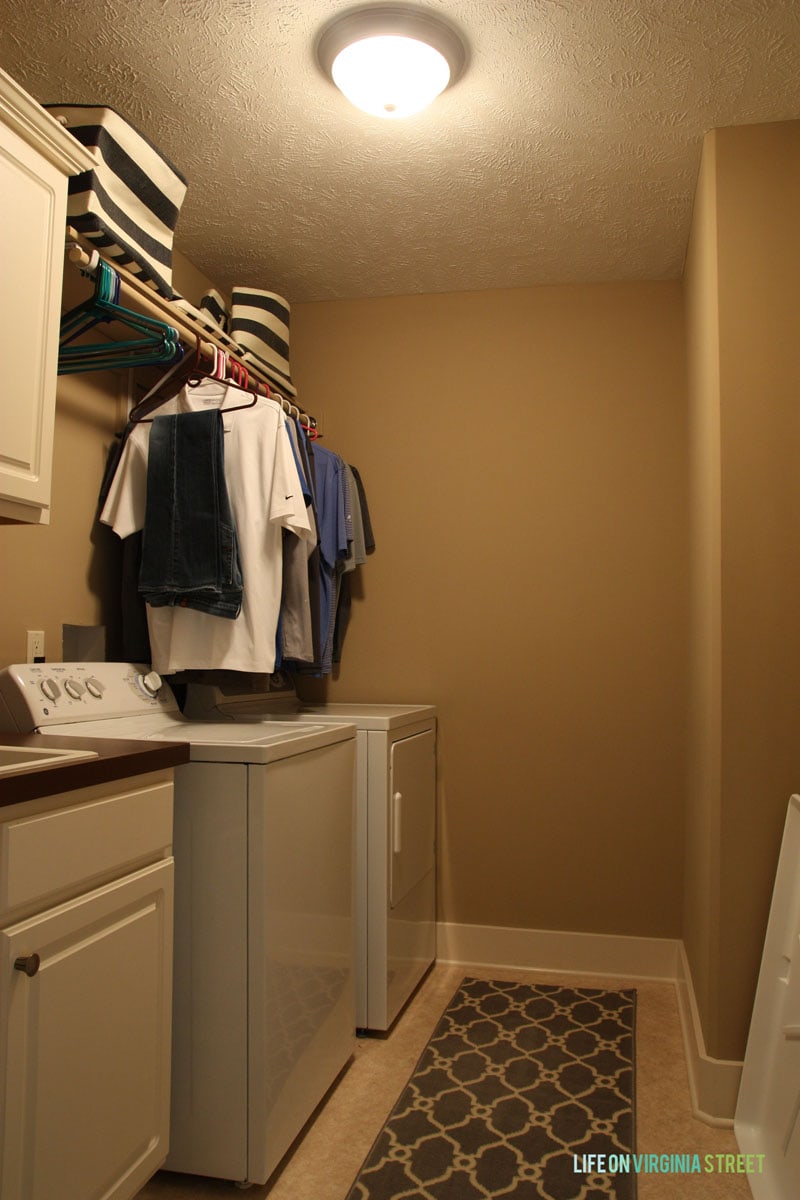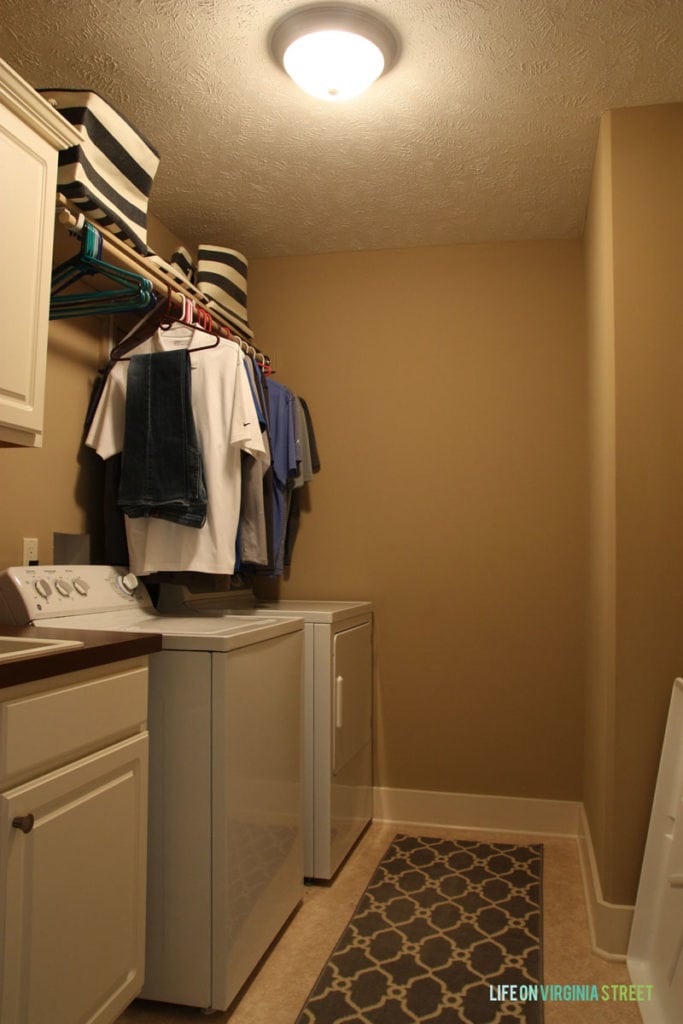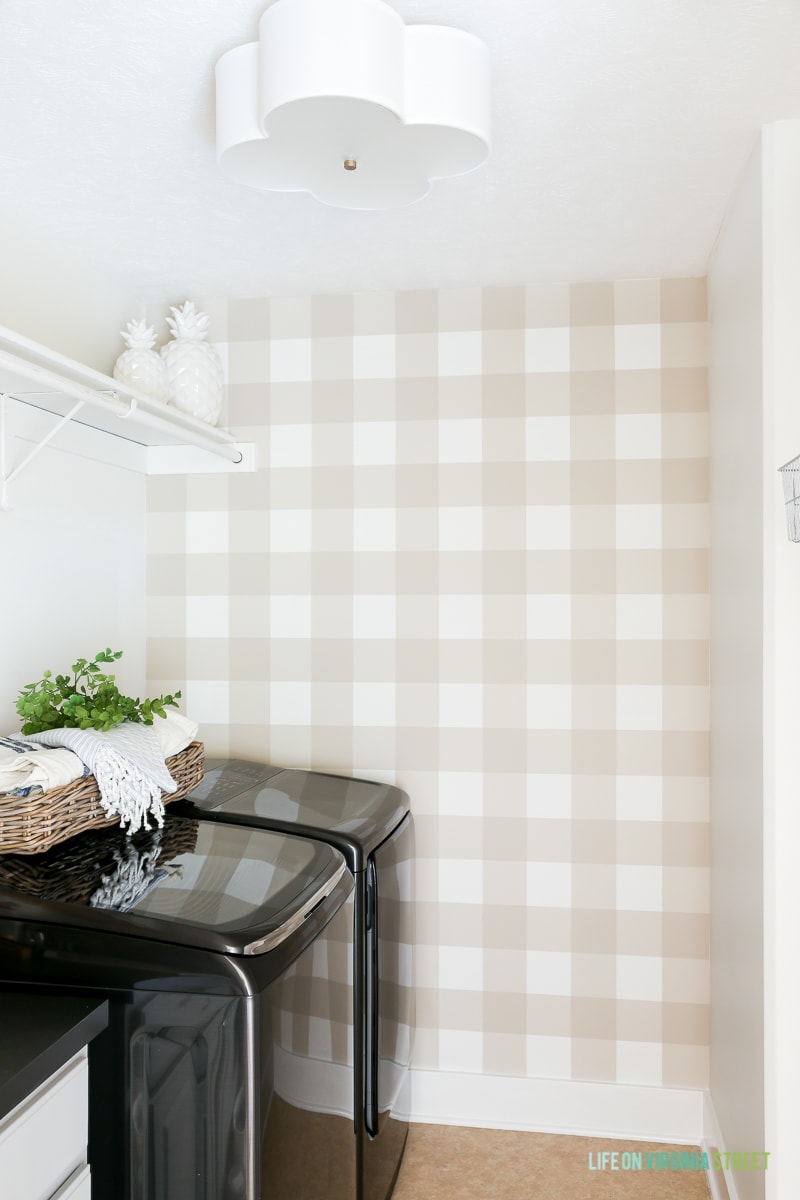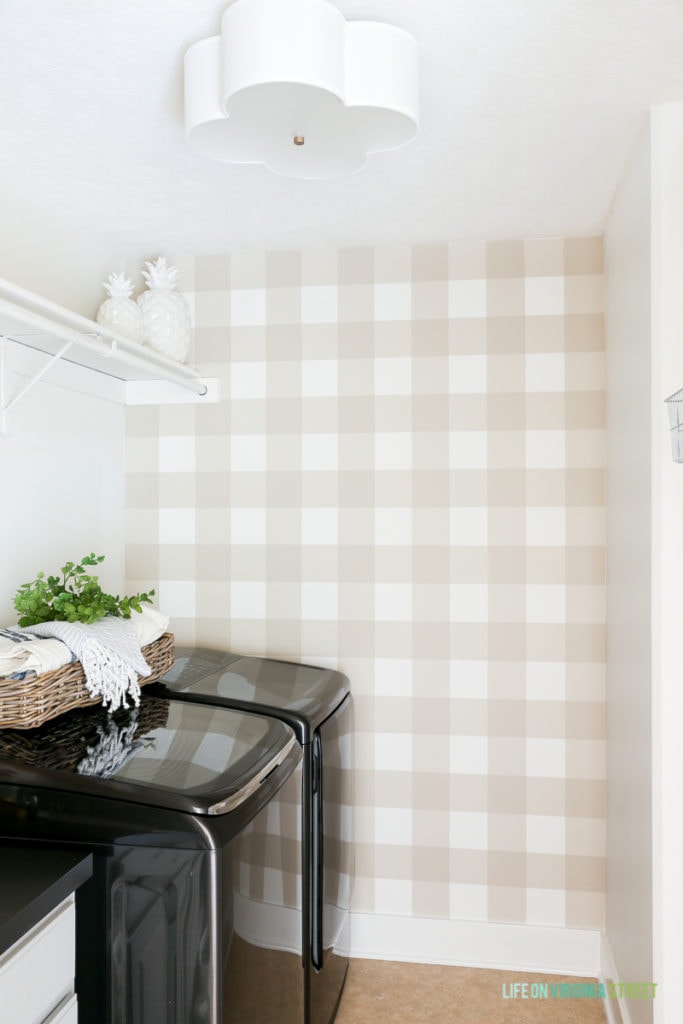 Backyard/Pool Before & After
This project is tied with the kitchen as the official favorite ever in our house. We've had our pool for three years now, and it has absolutely changed our lives. That may sound shallow, but I can't tell you how much more social and outgoing it has made us. We used to be such hermits but the pool has actually prompted us to invited new people over on a weekly basis and host parties we never would have dreamed of in the past. It's one of our favorite places to be and we love sharing it with others! So many happy memories back here already. And the new white exterior is just icing on the cake! Oh, we also got a new roof this year, but file that under a boring insurance claim thanks to hail damage 😉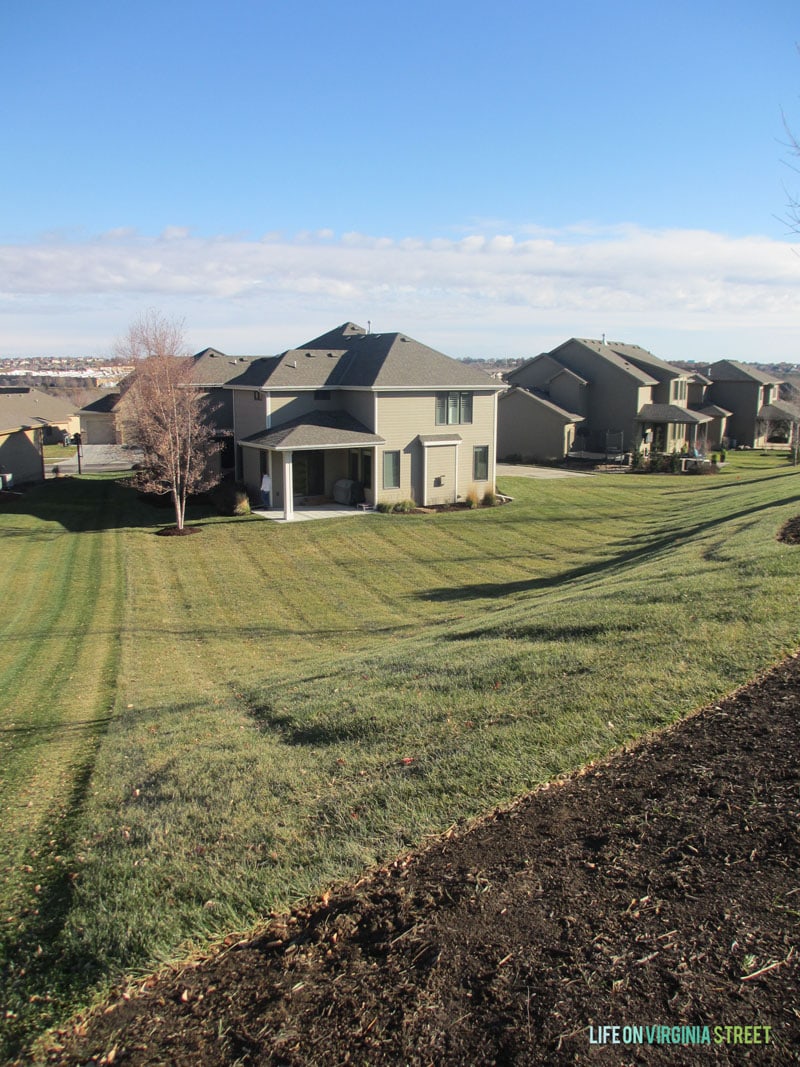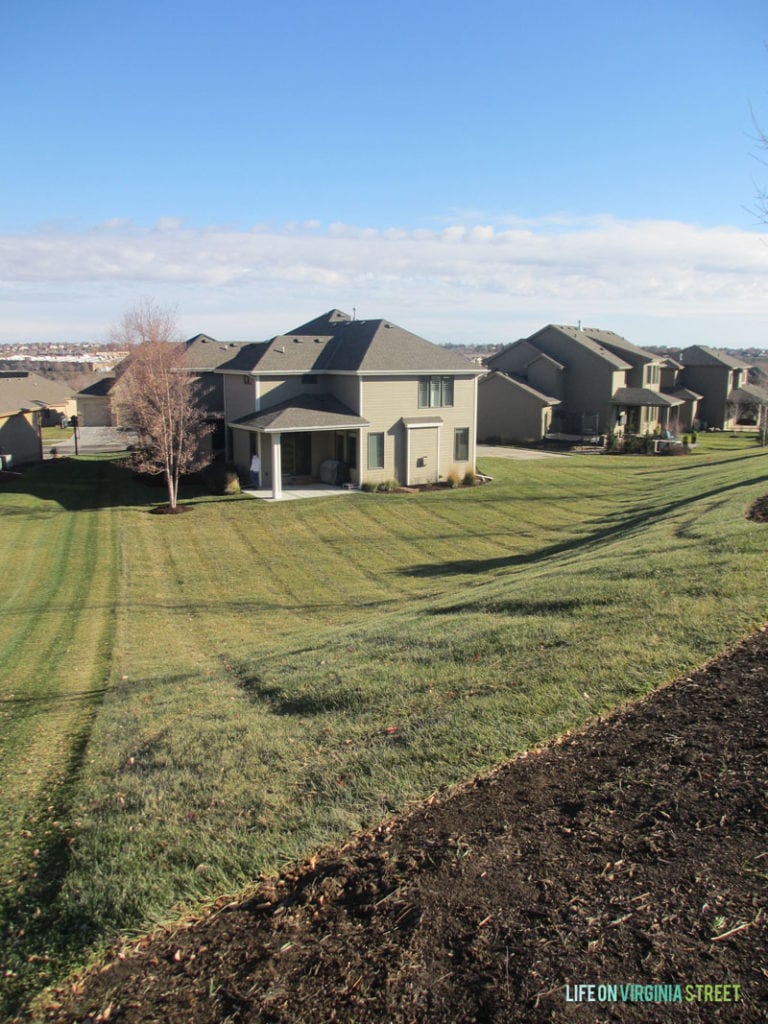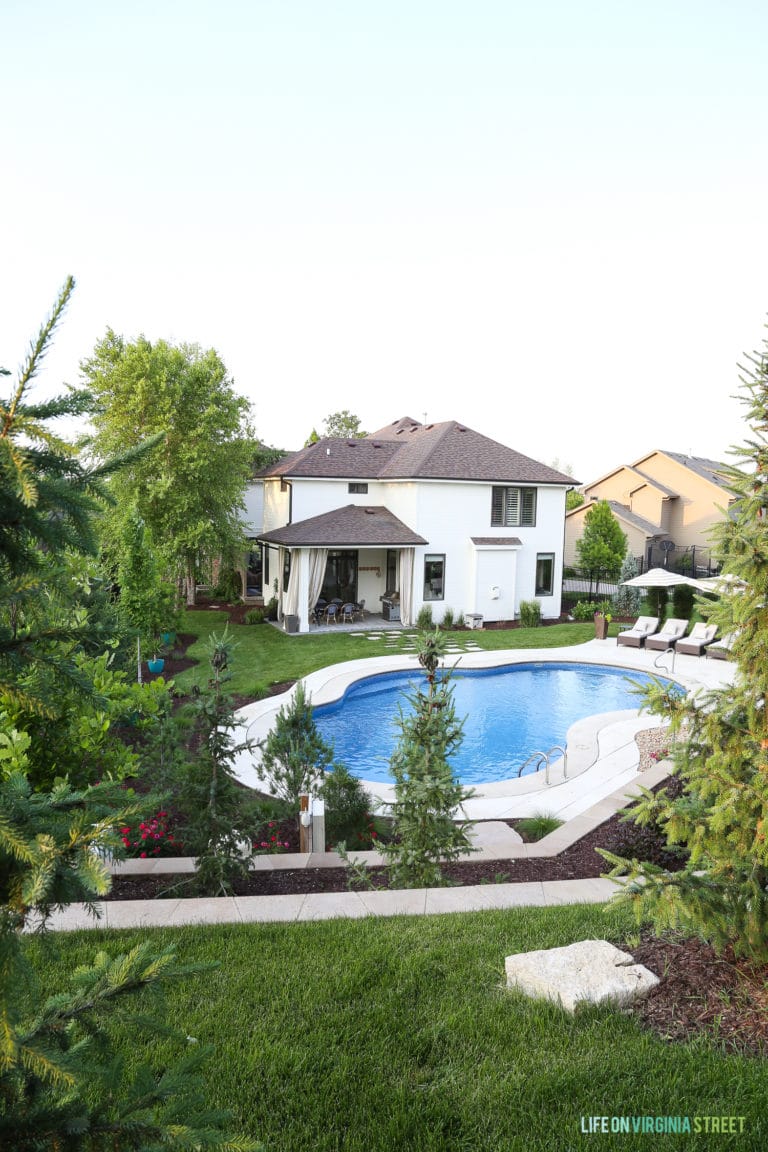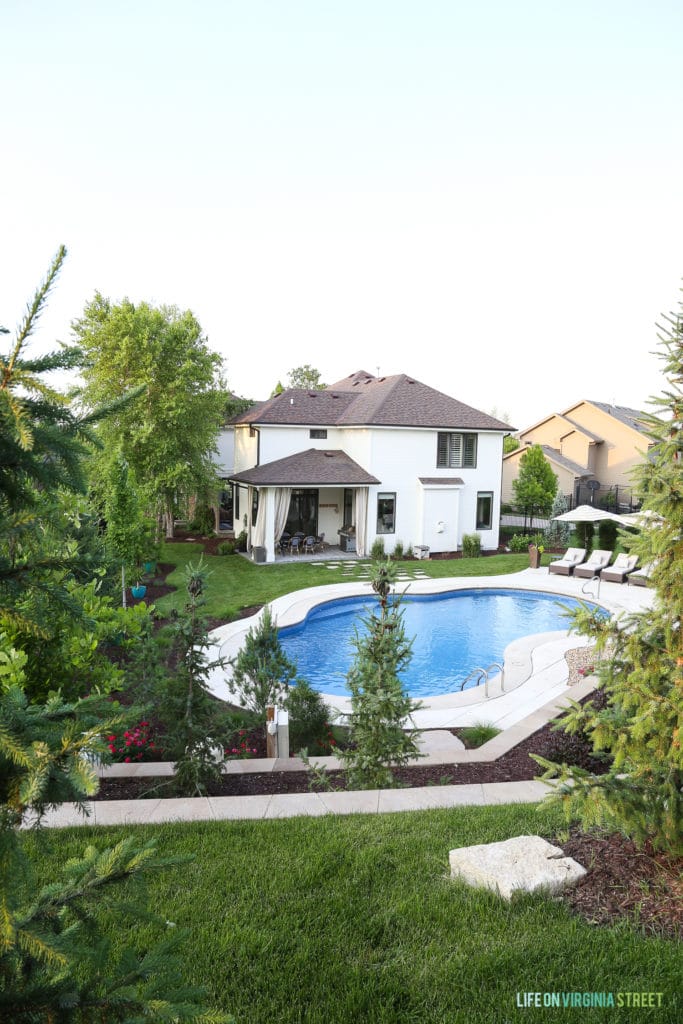 I hope you enjoyed seeing our progress over the years! I appreciate each and every one of you that has followed us along this journey. I think the updates next year will be just as fun!
If you would like to follow along on more of my home decor, DIY, lifestyle, travel and other posts, I'd love to have you follow me on any of the following:
Pinterest / Instagram / Facebook / Twitter
disclosure: some affiliate links used