Our goal this weekend was to build a pergola (and I also wanted to get some more landscaping done). Unfortunately our plan was stalled today due to several hours of rain. Starting last night, we began to deconstruct our deck. Our hope is to remove several of the posts and place with much taller ones so that we can build a pergola over our existing deck.This morning we rented a ghetto-fab UHaul (our version of owning an SUV) and made a trip to Lowe's to purchase all the lumber. So far we have managed to remove all the railings and necessary posts (its a little dangerous right now) so we hope the rain holds off tomorrow so we can finally start the building process. Here are a few shots of the below as well as along the way.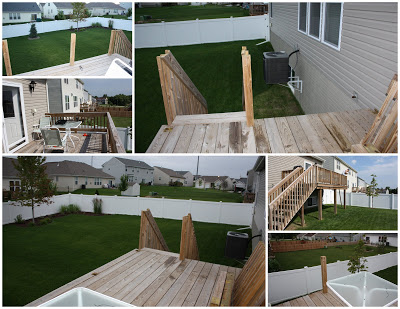 Due to the rain, we had date night (lets face it ~ since we don't have kids yet we pretty much have four or five date nights a week). We went and saw The Hangover. It was funny but not as great as everyone had told us it would be. We then had plans to go to Blue for sushi but it was packed so we settled on Roja (Blue's sister company but is Mexican food). It was okay ~ we kindof remembered why we never went back after the first time ~ the atmosphere is cool but the food is just okay.
We hope you all have a fun and safe holiday weekend and get to enjoy many great treats! Isn't that what holidays are for?!?