Since I didn't have to work Friday because of the trip, I finally finished up (i.e. cleaned up enough so they were presentable to photograph) some of our rooms we were updating. Here are the photos:
BONUS ROOM:
Before was not all that bad but it was pretty dark and dreary. I hated the fan that came with our light package so check out our new lighting from IKEA (my father-in-law says it looks like a five-gallon bucket) 🙂 I still have a lot of work to do but figure it will be awhile before I finish everything up. I LOVE my new desks from IKEA's Expedit collection. Notice how deep they are so you can only see all my junk if you face them (not when you are coming up the stairs). The paint is Ralph Lauren's Sunwashed Blue. I love how it looks robin egg blue or turquoise depending on the time of day.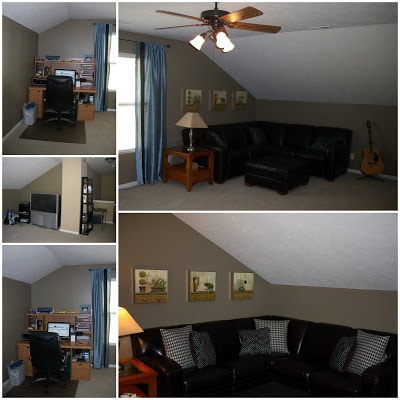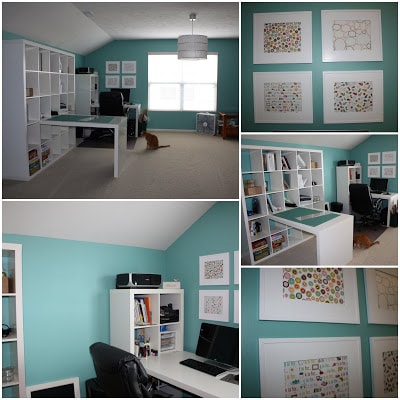 LAUNDRY ROOM:
Our laundry room is probably our least favorite room in the house. It is too small and it connects from the garage to the living room and it always looked so messy because of the open shelving (okay, and because we are just messy). Not a great sight for the first thing you see when you come and go from our house. I love how this turned out ~ and I love the cute pictures of our kids on the wall! The wall color is another Pottery Barn/Benjamin Moore (Pine Grove). The cabinets were a major pain (we bought unfinished oak but I wanted a high-gloss white. The oak is too textured/grainy to get the pain on smoothly) but I still like how it turned out. It looks so much better with everything in the cabinets. We still have to add the crown molding at the top of the cabinets and the filler wood on the far right side but again this will take a while so I wanted to get pictures up. There are five cupboards total plus an open shelving one ~ there is so much room! I used to leave or enter the house in the dark (I never turned the light on in there) but now I always turn it on just to see how cute it looks!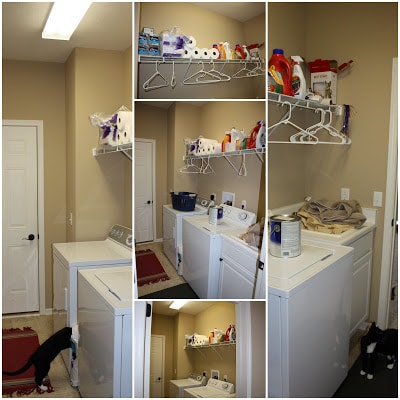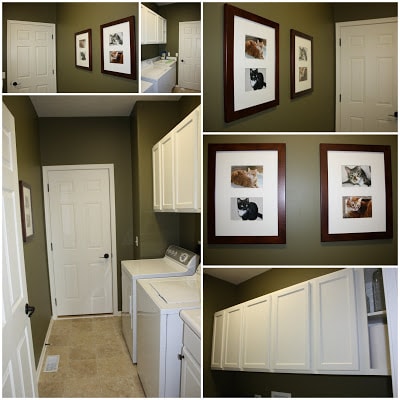 DINING ROOM LIGHT:
Another one of my favorite changes. I have HATED our dining light since the day we got this light package but I loved all the others included so I lived with it. We found a great deal on a light at Lowe's (I think it is for entryways because it is a 9-light chandelier) but I love how it looks! And great job to the husband for his first electrical job by himself (although I think I do count as a good helper). We still need to raise it a little higher (we have already done so once) because you can slightly see the bulbs out of the top which drives me nuts. However, it so much better than the original flying saucer light!