This post is sponsored by Samsung. As always, all opinions and thoughts are my own.
What I am about to tell you today is going to completely blow your mind and possibly change your life. I don't say this lightly – we're talking totally revolutionary here!
How many times have I said how much I hate televisions in our home? The giant, big, black box is a necessity but it can totally ruin a perfect design plan in a room. When I first made over my craft room, I was so excited to make everything so much lighter and brighter. But then we added the TV and the room felt a bit dark again with so much black added back in. With the white walls the contrast was even more stark. I really didn't love how the TV changed the entire vibe in the room I had created, but I also needed a TV here since it also functions as my workout/TV room. I didn't have many options.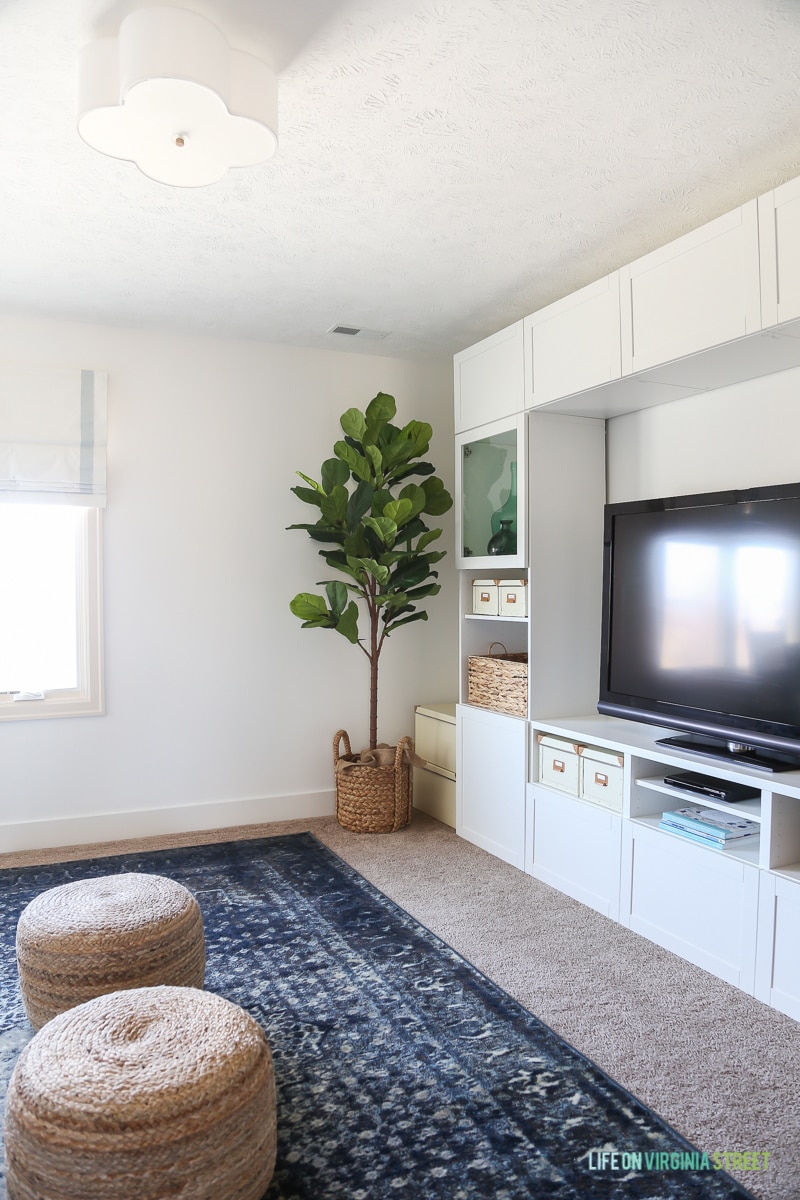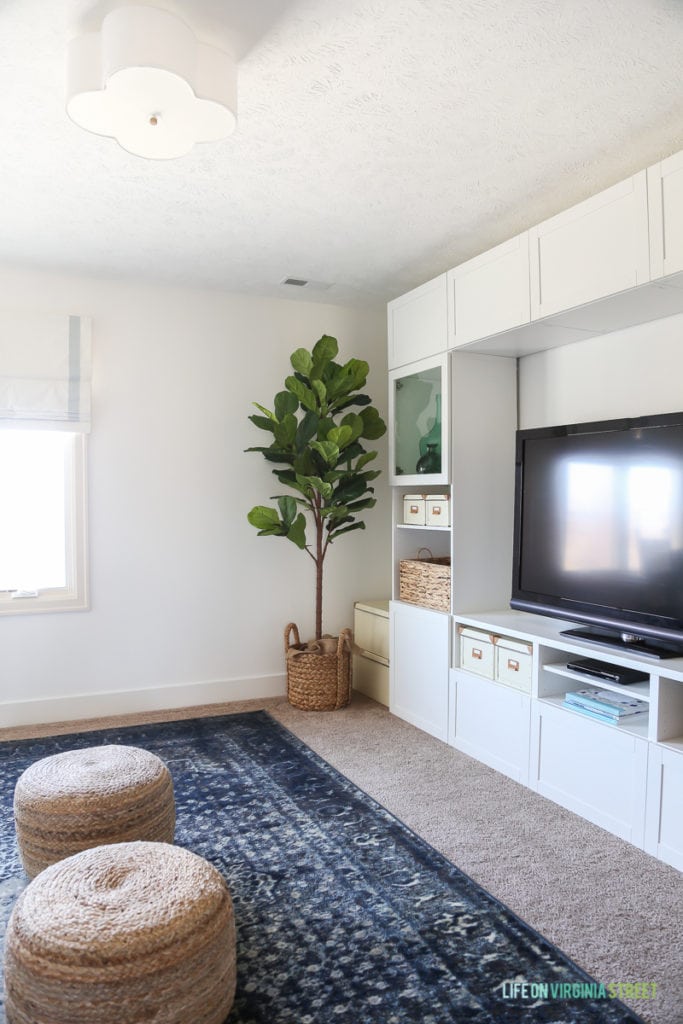 Until now.
Meet The Frame. Instead of resting on the dreaded black screen, The Frame is not only a 4k HDR TV, but also meant to be a piece of art as it has the option to display any one of over 100 pieces of art in multiple categories instead! Not only that, there are multiple layouts, colors, frames, and more. You can also upload your own images! For purposes of demonstration, I'm sharing some of my favorite pieces of art in the images below when the TV is in Art Mode. You'll see just how many beautiful options there are and how it can completely transform the room.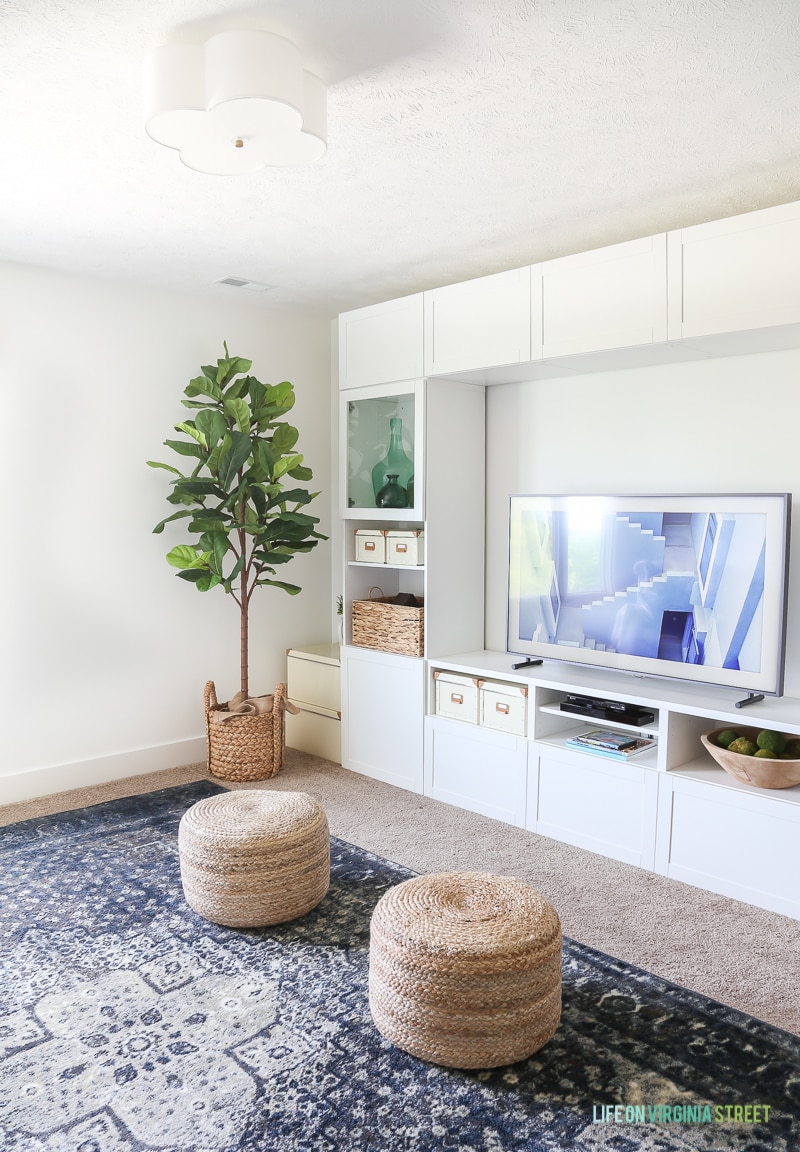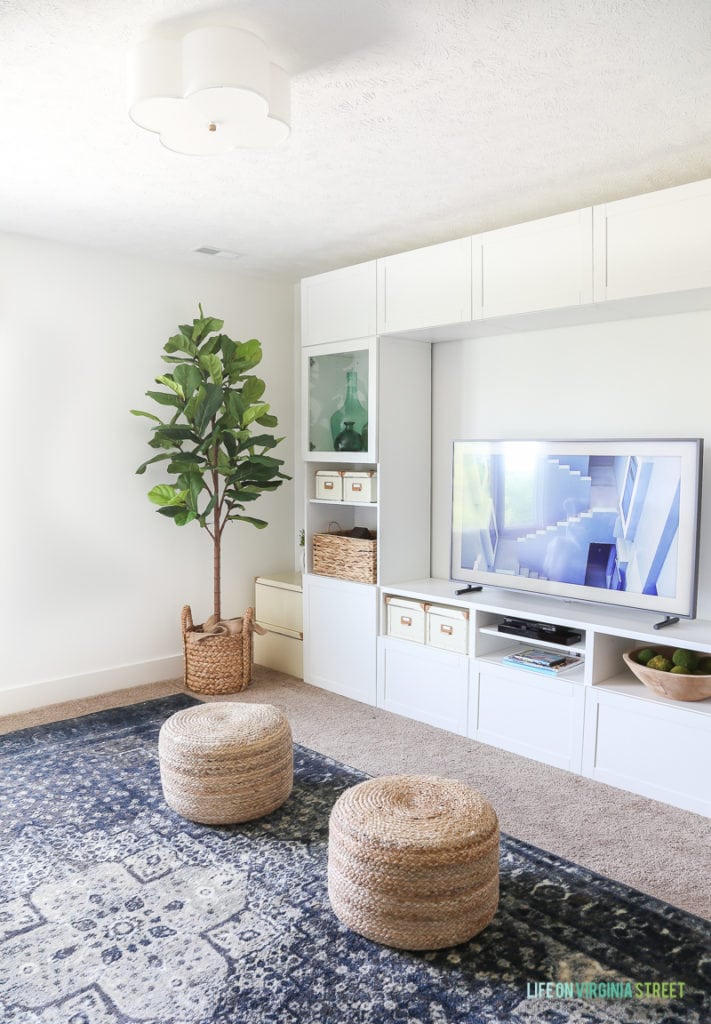 The TV also comes with a no-gap mounting system so it truly looks like a piece of artwork hanging on your walls! Although, you can still use a stand, as well which is what we chose to do in the craft room. There is a single (tiny) cord that manages all the cord chaos as well, so you're not running multiple cords for all your devices. The TV links to a small black box that then connects to all your devices.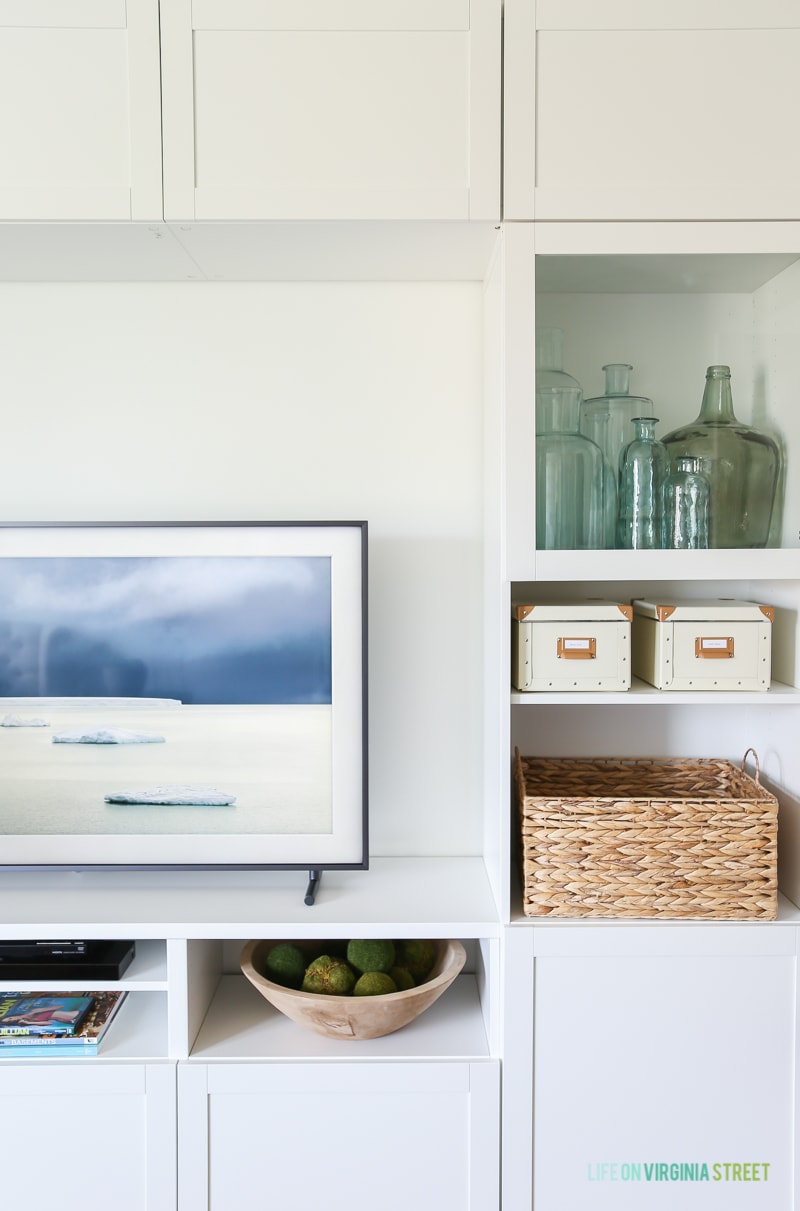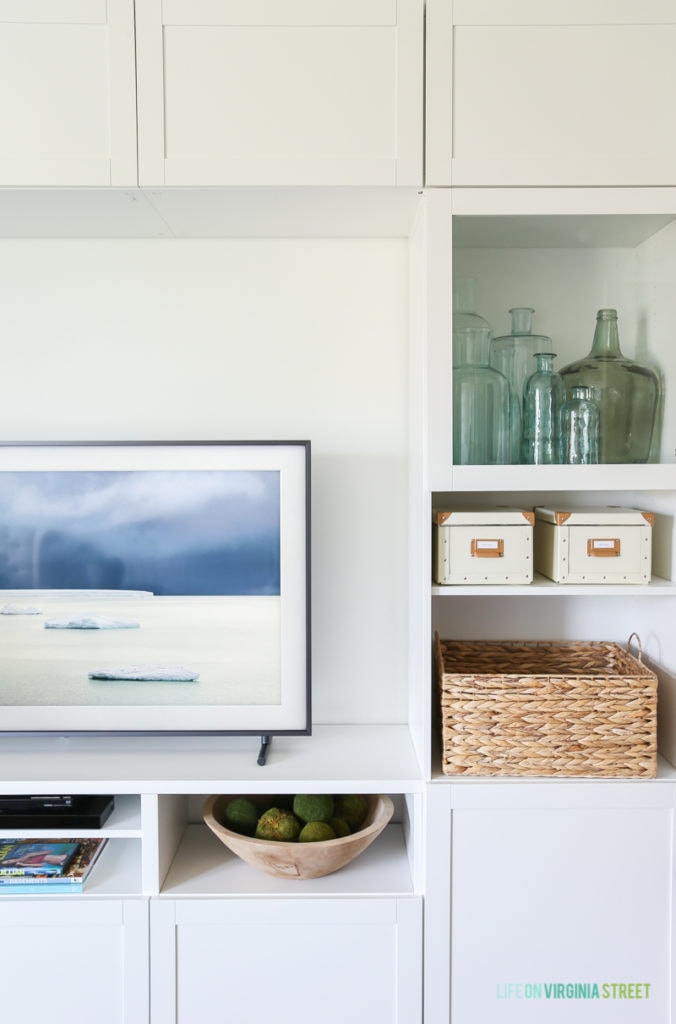 You can remove the matte or add it to any image you choose to display. Not only that, there are multiple colors to pick from. I also love that, as the lighting in the room adjusts, so does the power of the backlight, so that it doesn't look like a TV screen is illuminating the room at night. It always looks natural regardless of the time of day. It's seriously amazing.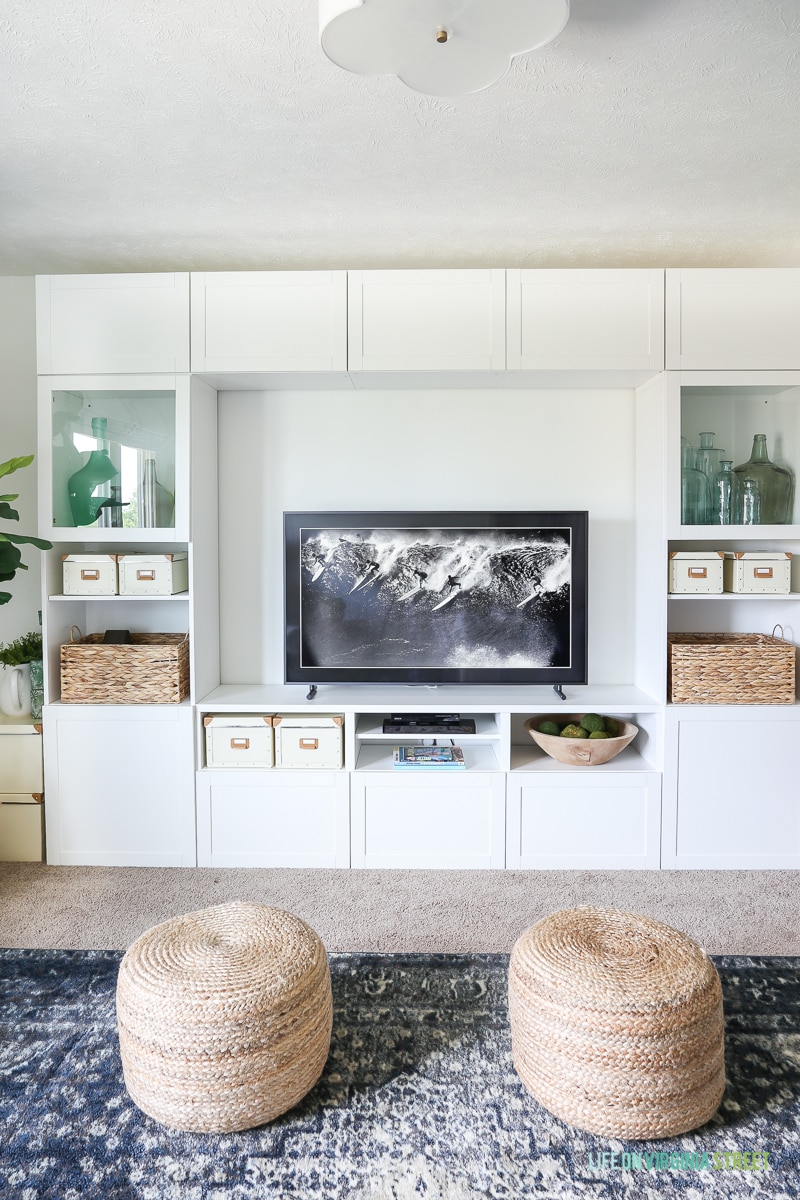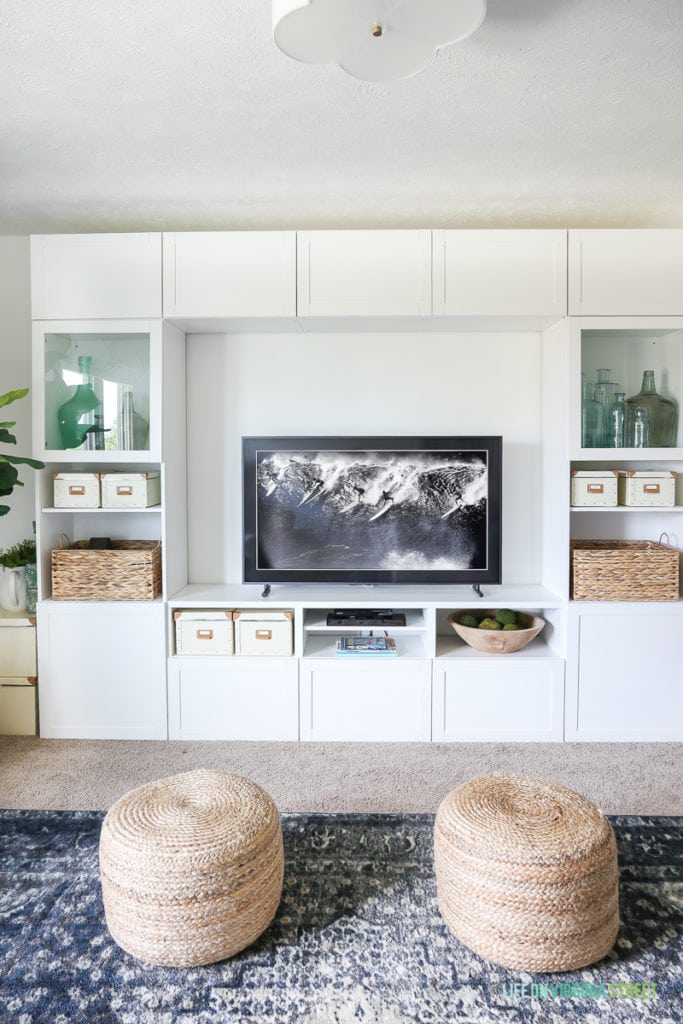 The matte looks so three-dimensional it's almost creepy! The image below shows just how life-like it looks! Keep in mind, it doesn't look pixelated like that in real life – that's just what happens when you try to photograph a TV screen up close.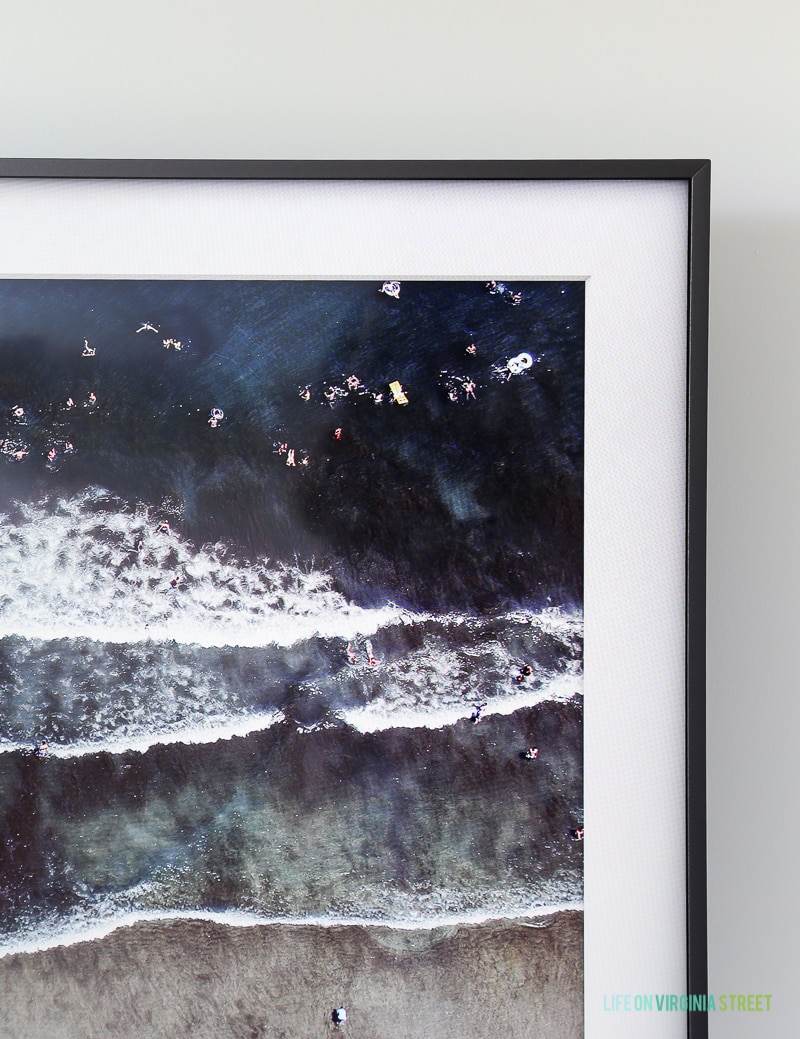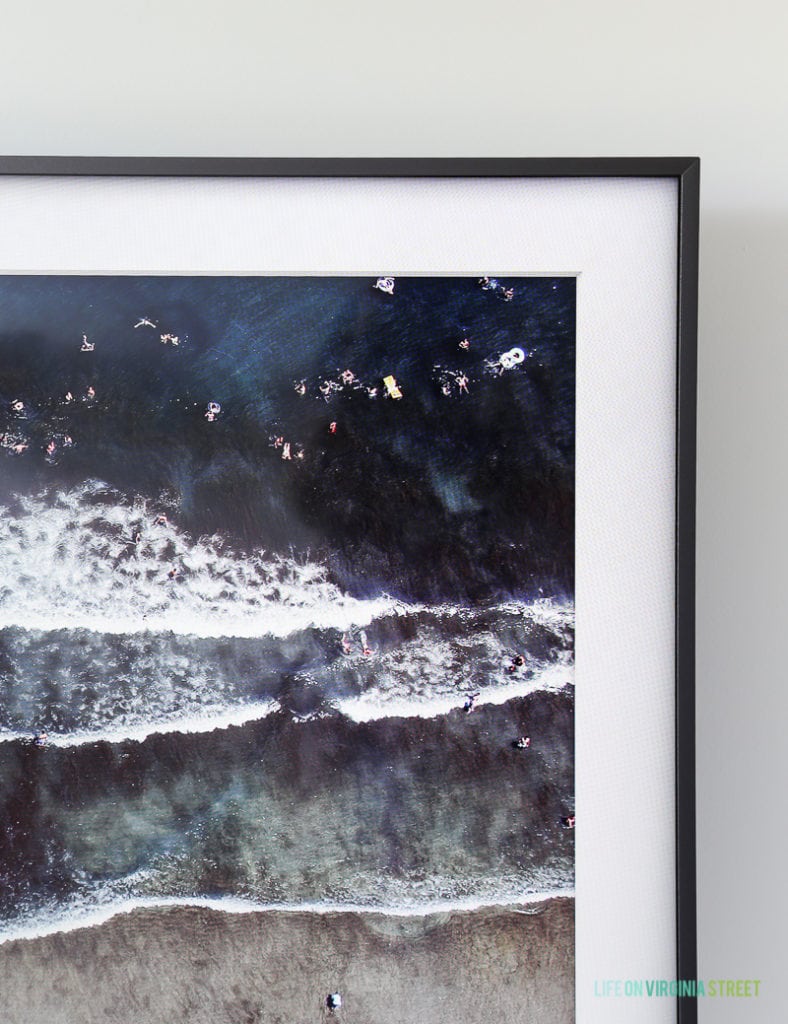 Even the remote is pretty (and not black)!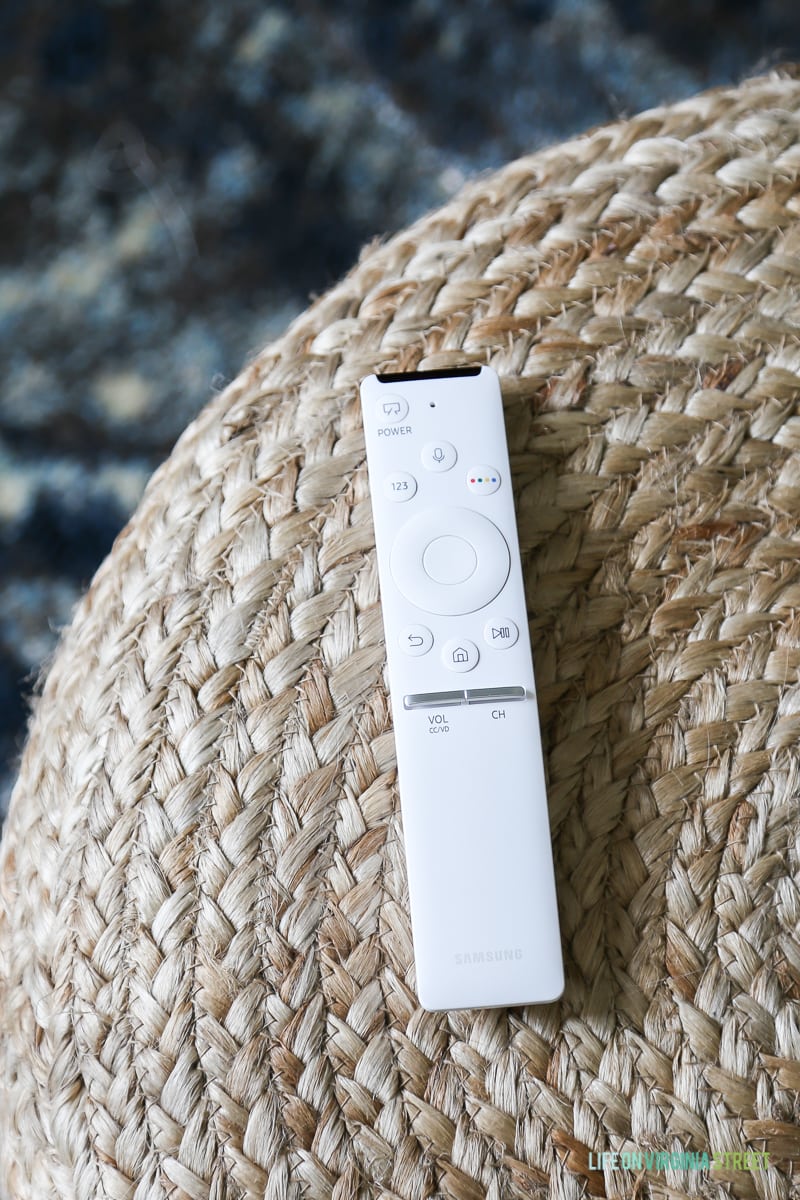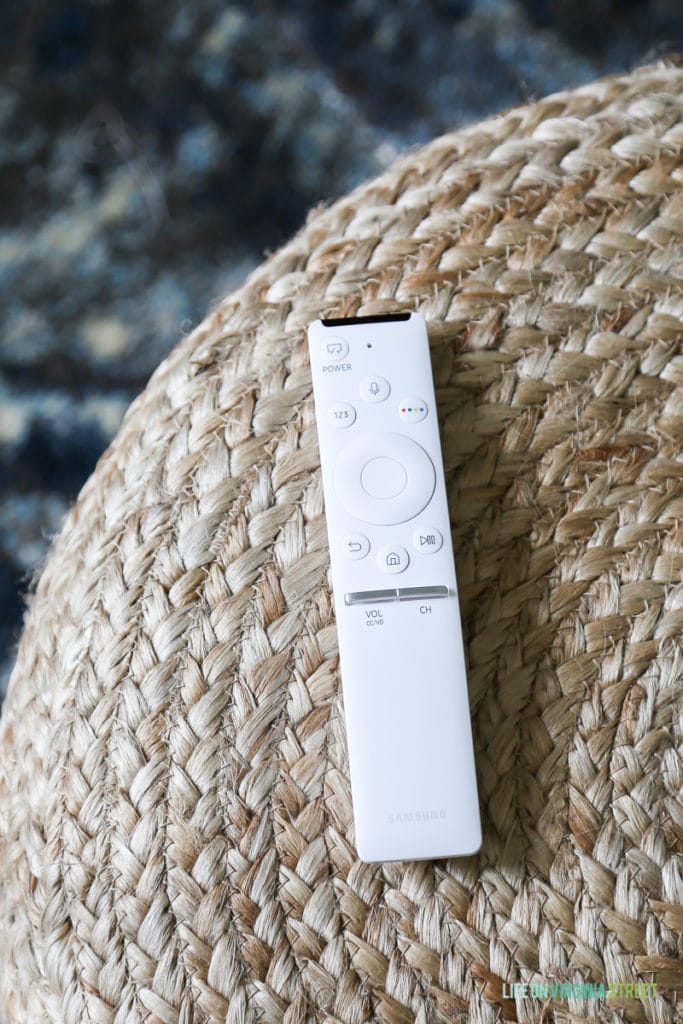 I was obviously geeking out over the aesthetics of the TV, but Kurtis was equally as impressed by the picture quality and options available. The images are super crisp in 4K HDR Pro and it's a smart TV and setup was a breeze. The craft room doesn't have a cable box so I've never been able to watch TV in here. But, since The Frame has wi-fi capabilities we've set it up so that I can now watch Netflix, Amazon Prime, etc. I'm no longer limited to just DVDs!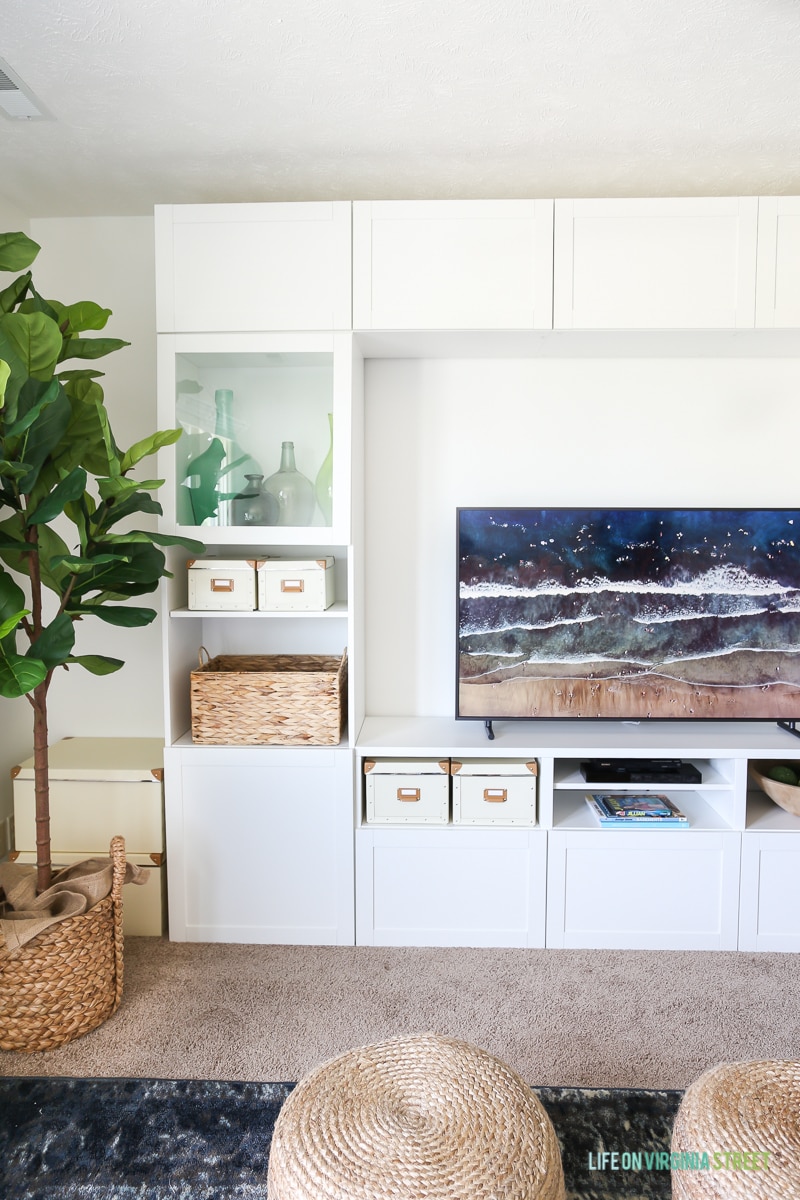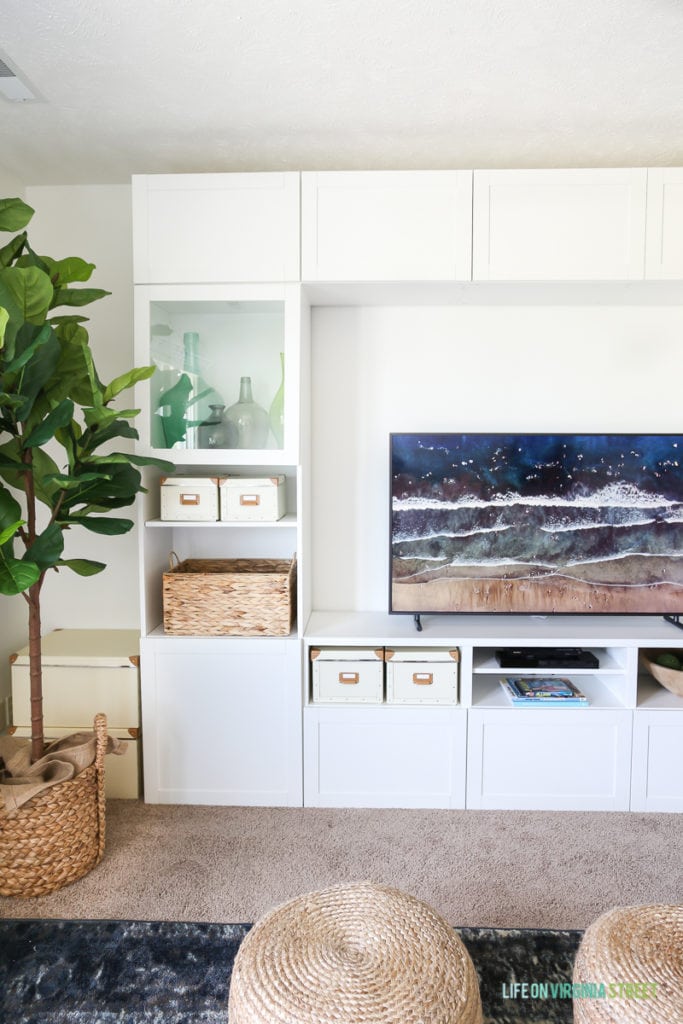 You can also add custom frame options to the TV. I'm likely going to order a white one to make it match the décor even more (it comes with the metal option, but you can also get light or dark wood). We may eventually try the no-gap wall mount system as well. SO many great options with this thing – it's so versatile! But truly the best part to me is I've eliminated the big black box in the room and everything feels light and fresh again!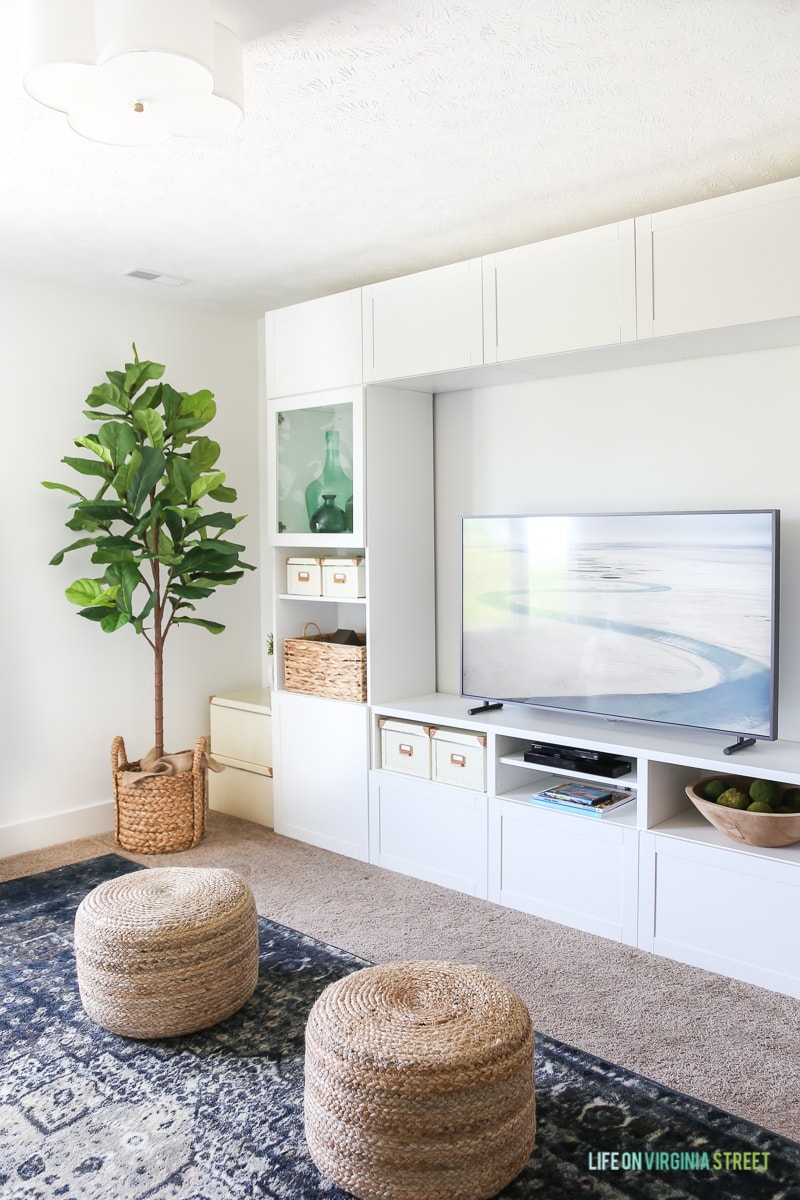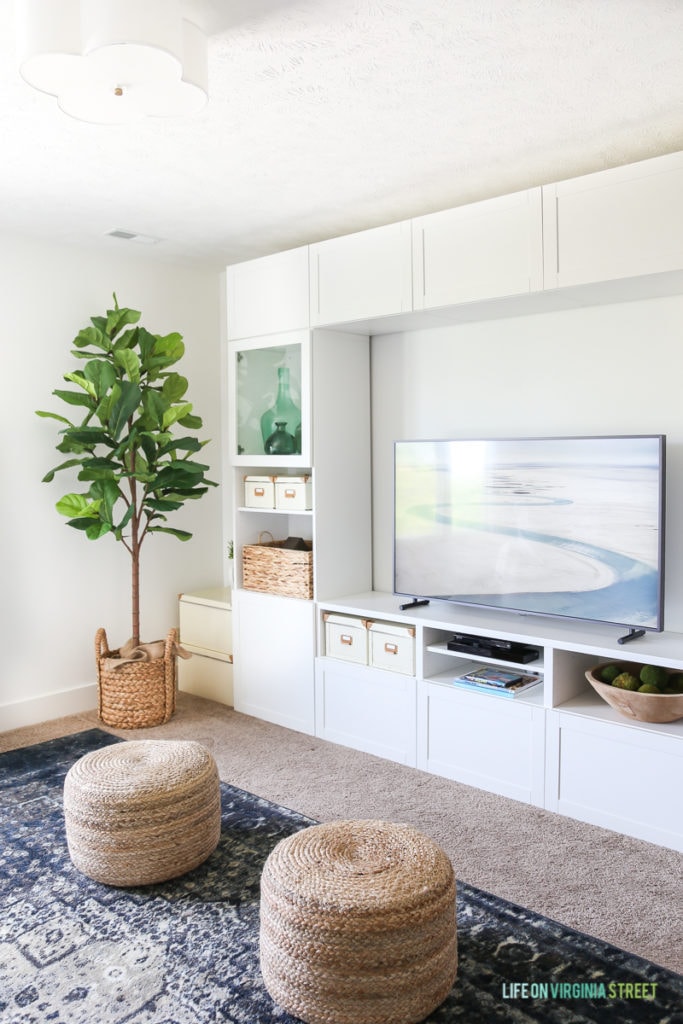 My dream would also be to now get the 65″ for above our fireplace (this is the 55″) to swap out our current 65″ regular-style TV. Can you even imagine how much better our living room could look without the black box?!
I've never envisioned myself as someone that would ever get excited about a TV. Ever. But, the day has come and I'm completely obsessed with The Frame. It's seriously the most beautiful TV you've never seen!
If you would like to follow along on more of my home decor, DIY, lifestyle, travel and other posts, I'd love to have you follow me on any of the following:
Pinterest / Instagram / Facebook / Twitter / Google+
How would The Frame fit in with your home décor?