I hope you all had a great weekend! It's always hard coming off a holiday week, but with such a short work week, it definitely made it much easier!
Kurtis had to head back to Iowa on Friday afternoon, but I stayed home to handle a few things here.  On Friday afternoon I had some free time and finally headed over to check out Rush Market. Several locals have asked me if I have been before and I figured it was time. It's members only (you sign up by email on their website for free) and then they have pop-up shops occasionally.
The one I went to was in an old grocery store so the space was huge. I'm still trying to figure out where or how they get their product because their prices were really good. The products and brands were very Wayfair-ish (I even found this light fixture there but it was gold). There were definitely some gems around but also a lot of stuff that wasn't my style at all. Since it's all one-offs, you have to buy it if you have any interest because it likely won't be there for long.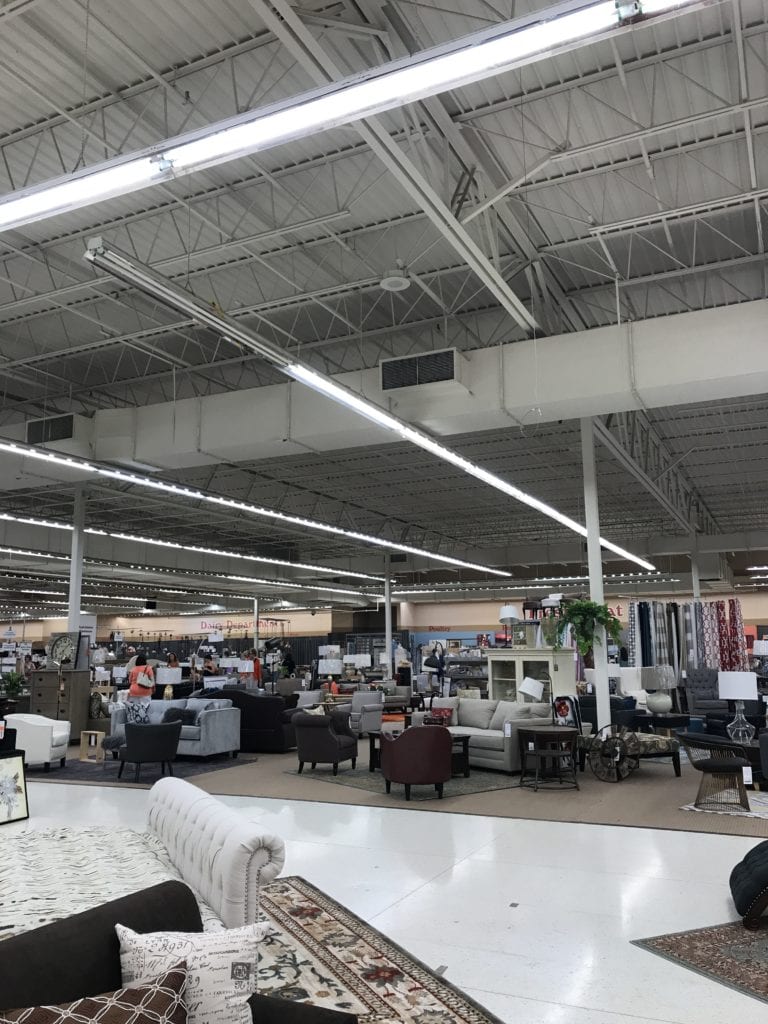 They had a big selection of rugs of all sizes.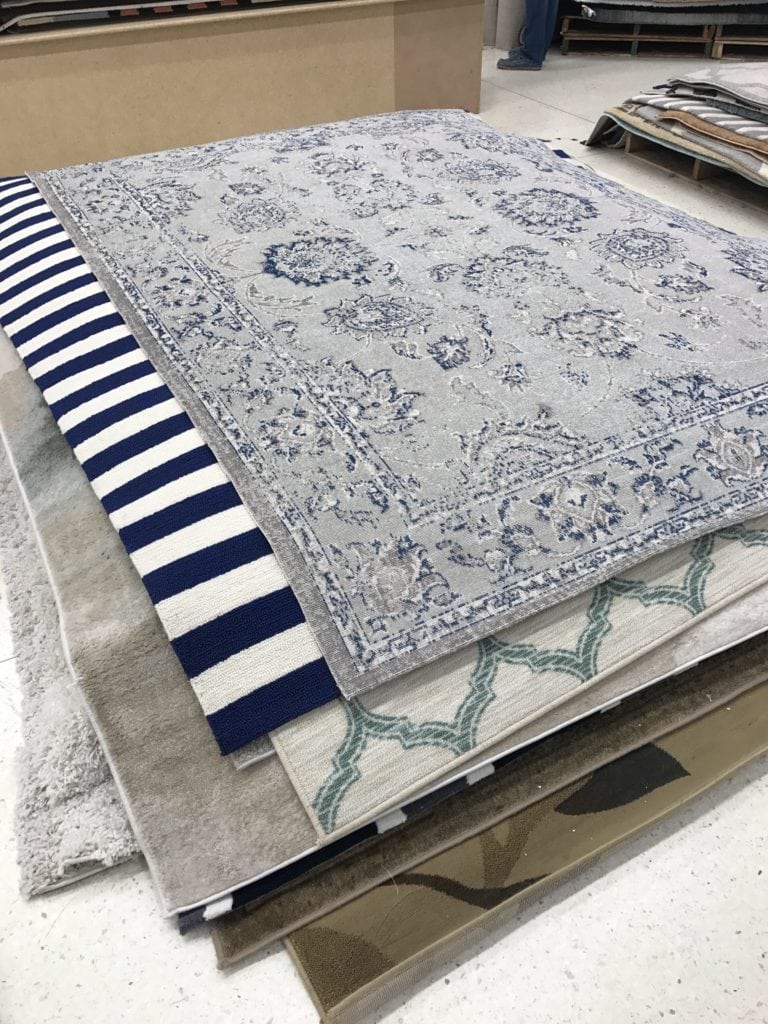 I almost bought these two chairs ($168 a piece), but I wasn't really sure where I'd put them.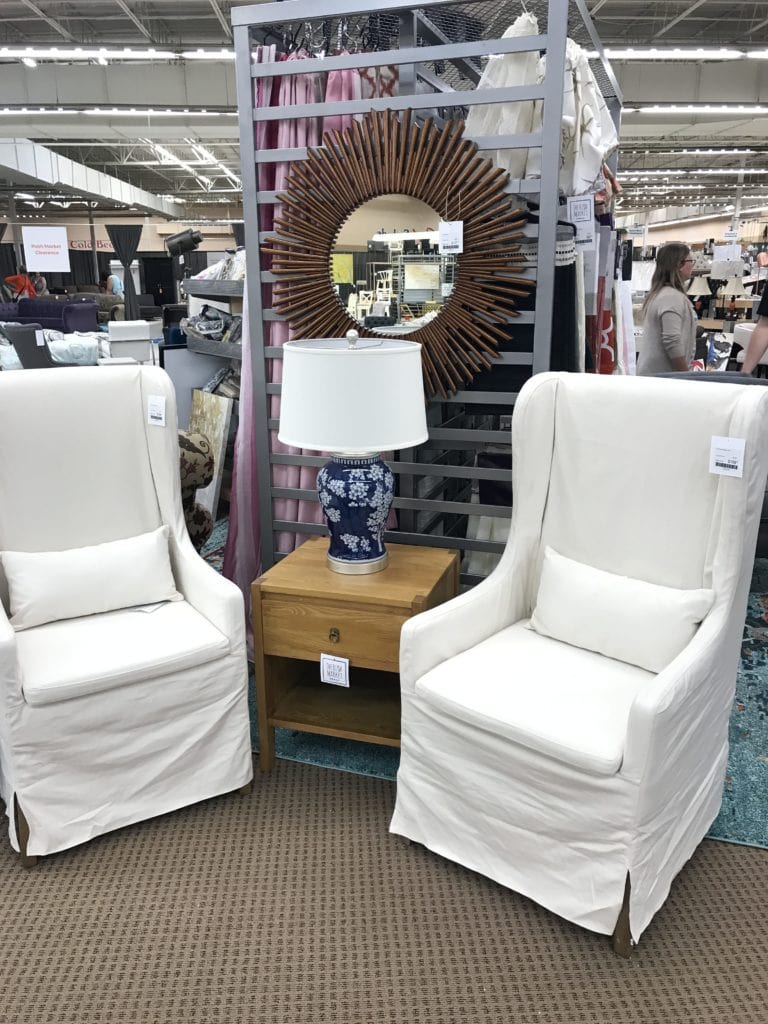 Bottomline – I didn't buy anything but I'll definitely check in on them when they're open. I think it could somewhere you'll find a gem every once in awhile!
I then headed to Pottery Barn and Anthropologie. I ended up buying this cute top in both the white and army green color. It's super comfy and I also love the longer length. They are doing an additional 30% off all their sale items right now (price updates at check-out) so it's a great time to shop!
Friday night, I finally watched The Girl On The Train. I'd read the book several years back but Kurtis never wanted to watch the movie with me. It was actually kinda creepy watching the intense parts as the moon was glowing so brightly outside! I thought the movie was very well made. Maybe not the best choice for staying home alone for the night 😉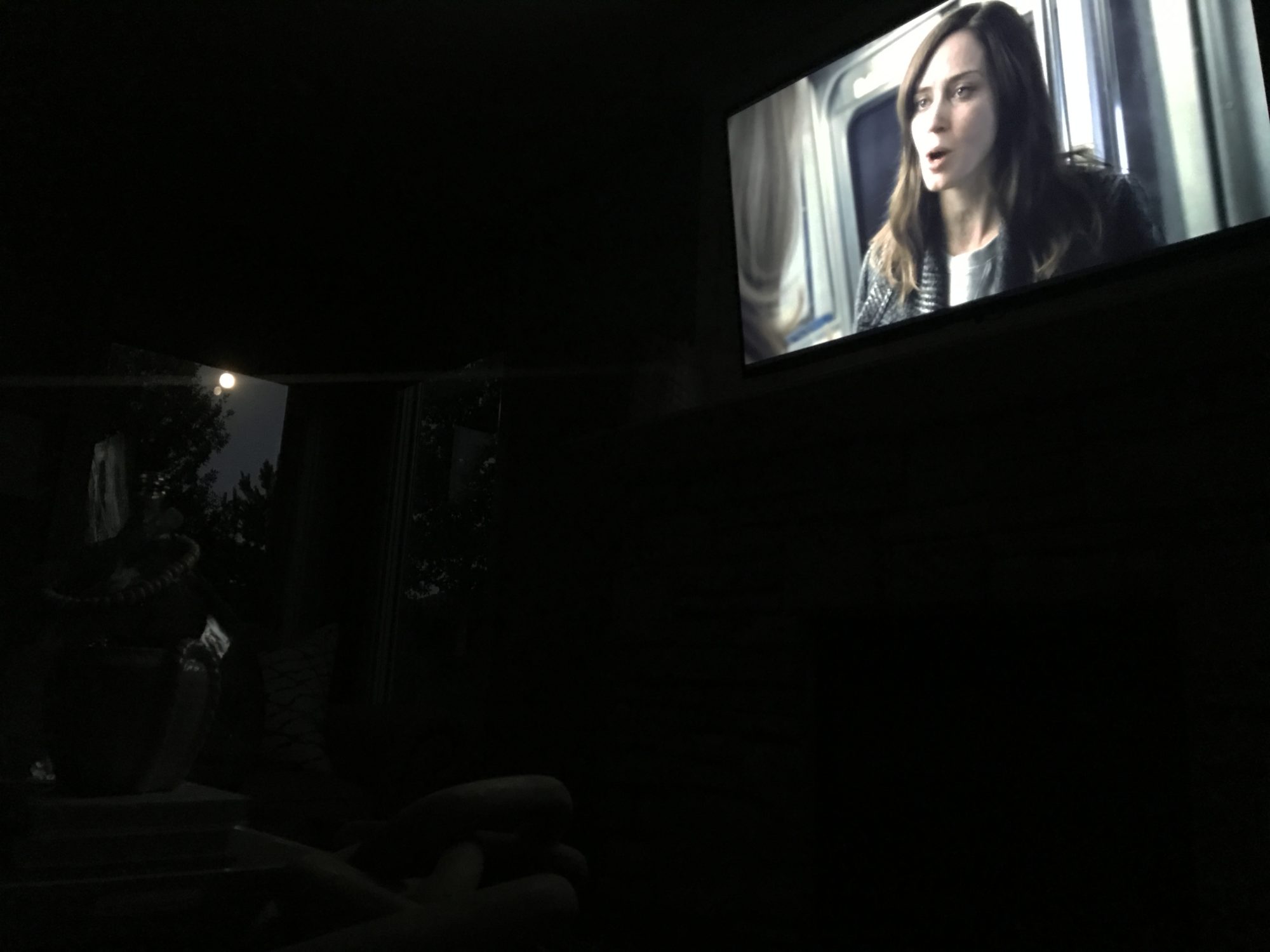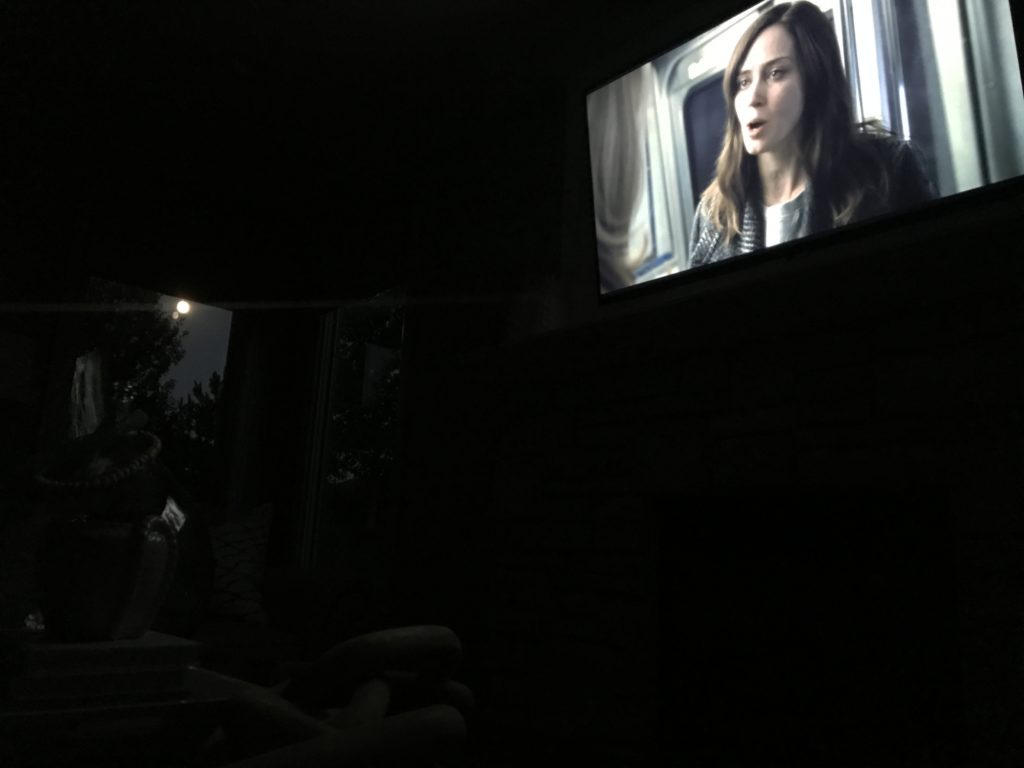 I'm not sure if you've heard, but the early access Nordstrom Anniversary Sale starts on Thursday for cardholders. I look forward to this sale every year because it's the only one I know of that you get sale prices pre-season rather than after the season is over! Every year I've been so frustrated that some of the stuff I've wanted sold out before the sale opens to the public, so this year I finally got their store card. I've got a list of everything I want so I'm ready as soon as the sale goes live! I'll let you know what I ultimately get – there are so many cute things I've seen so far!
Saturday I decided to list a bunch of stuff on our local Facebook buy/sell page. One person actually bought everything below other than the rooster and the word art. So that makes it really easy for arranging pick-ups!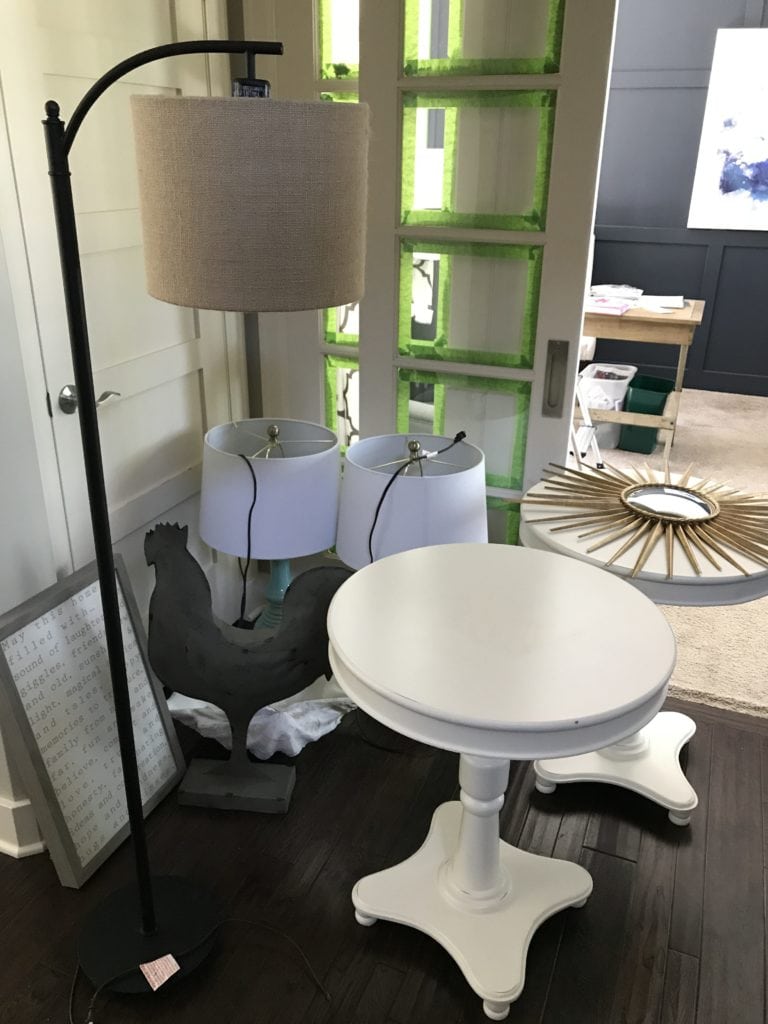 Kurtis got home Saturday night so we headed to Fuzzy's for dinner.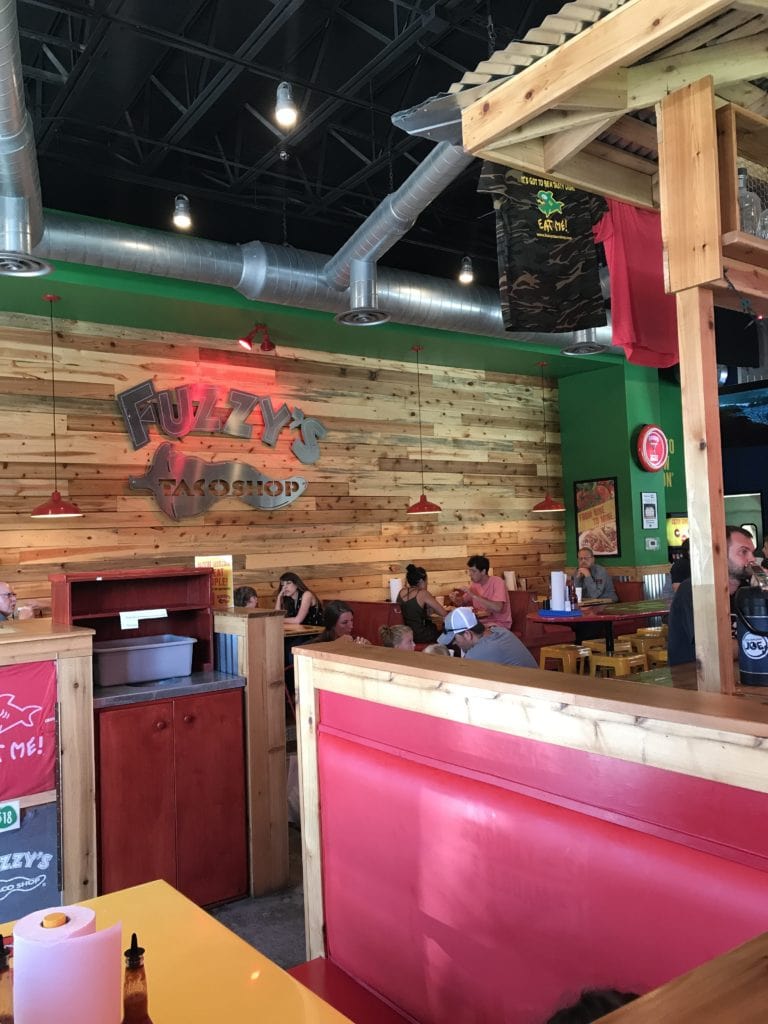 We got a text from Jill & Nick that they ran into Kurtis' sister, brother-in-law, and parents when they were out to eat in Iowa. It was actually Pat and Janine's 22nd wedding anniversary. Nick actually grew up about 15 miles from Kurtis but they never knew each other (even in small-town Iowa). We had to laugh that they all ran into each other in a town of about 2100 people!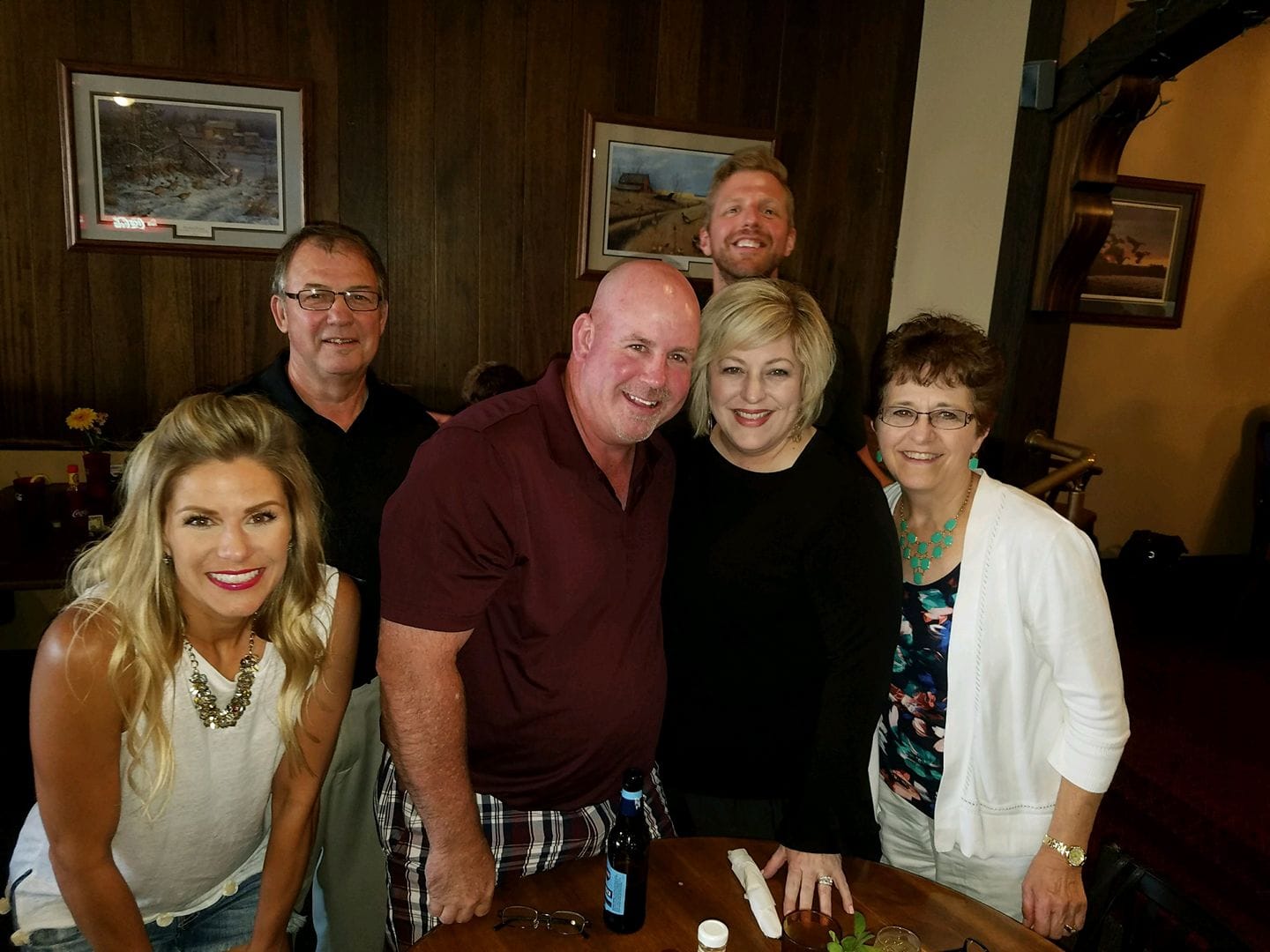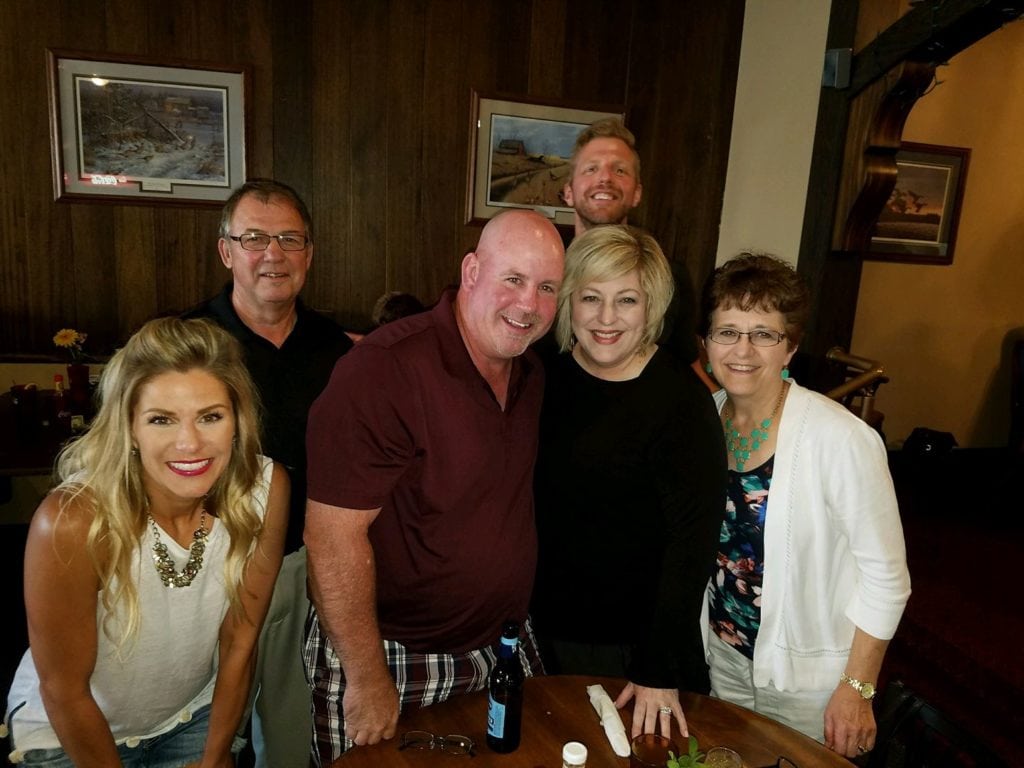 I posted a bunch of stories on Saturday and Sunday and as I heard them all play back, I had one thought: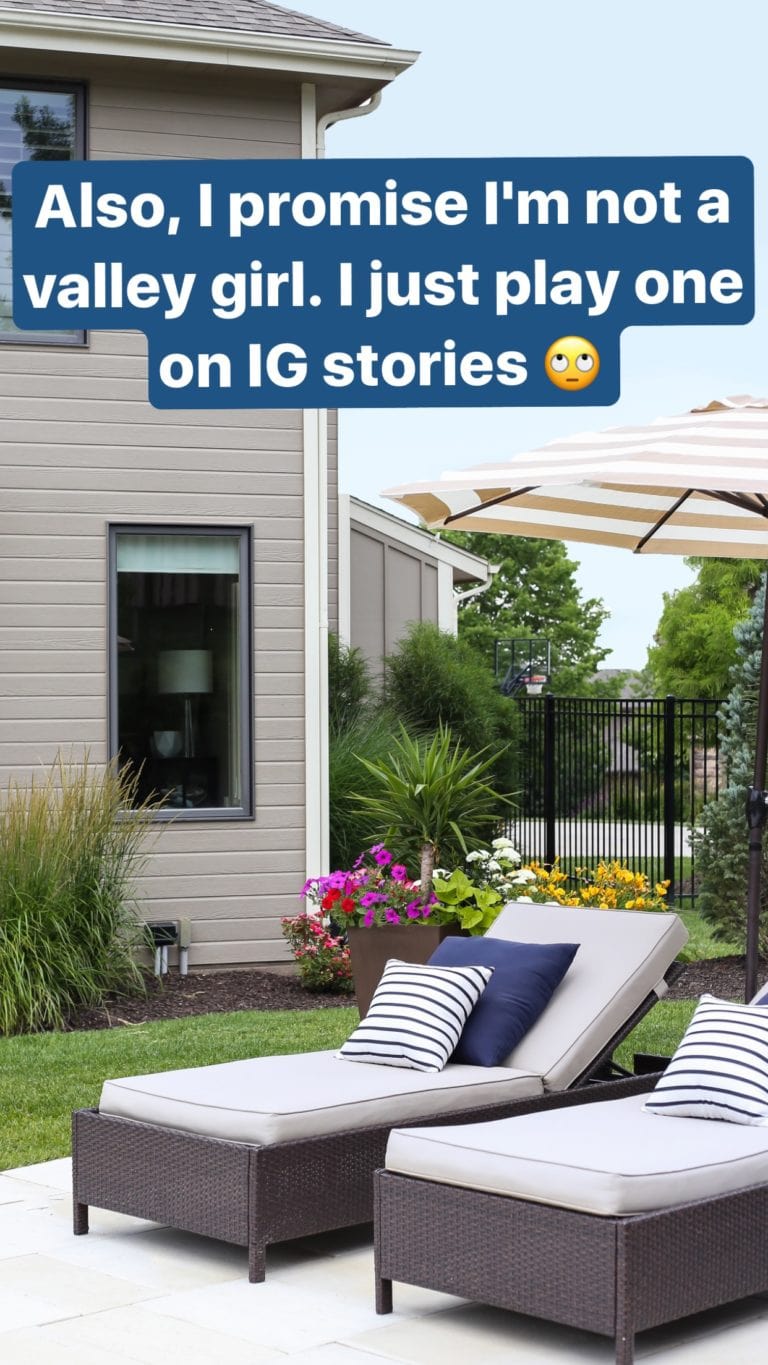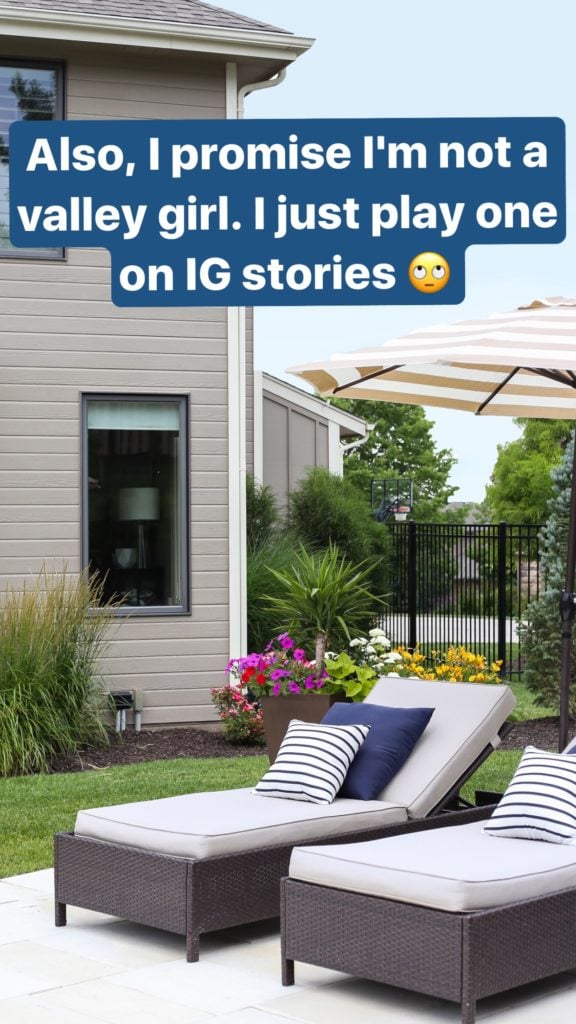 Sunday morning we got up and had to trim one of the large maple trees in our parkway. We think a combination of the storms and the garbage truck that hits this one weekly were to blame. But if you look closely, once section had a giant gouge out of it so we had to remove that whole section of the tree.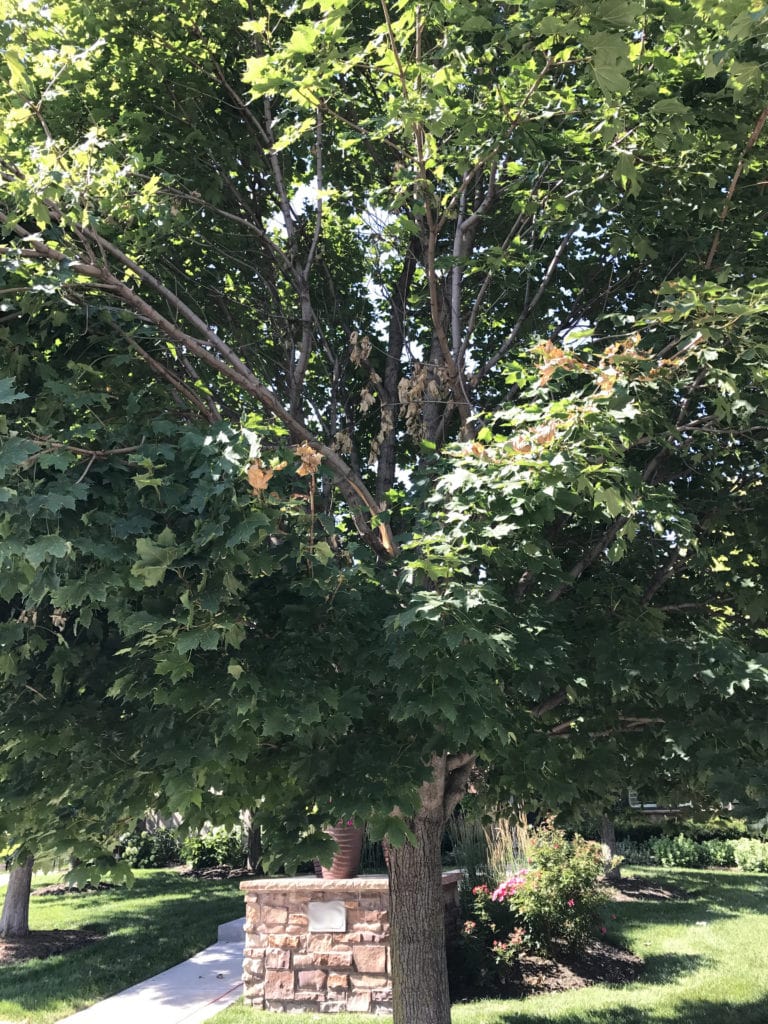 Here was the damage up close. About 20% of the tree is missing now so we hope that it fills back in on its own! I hate when trees are damaged 🙁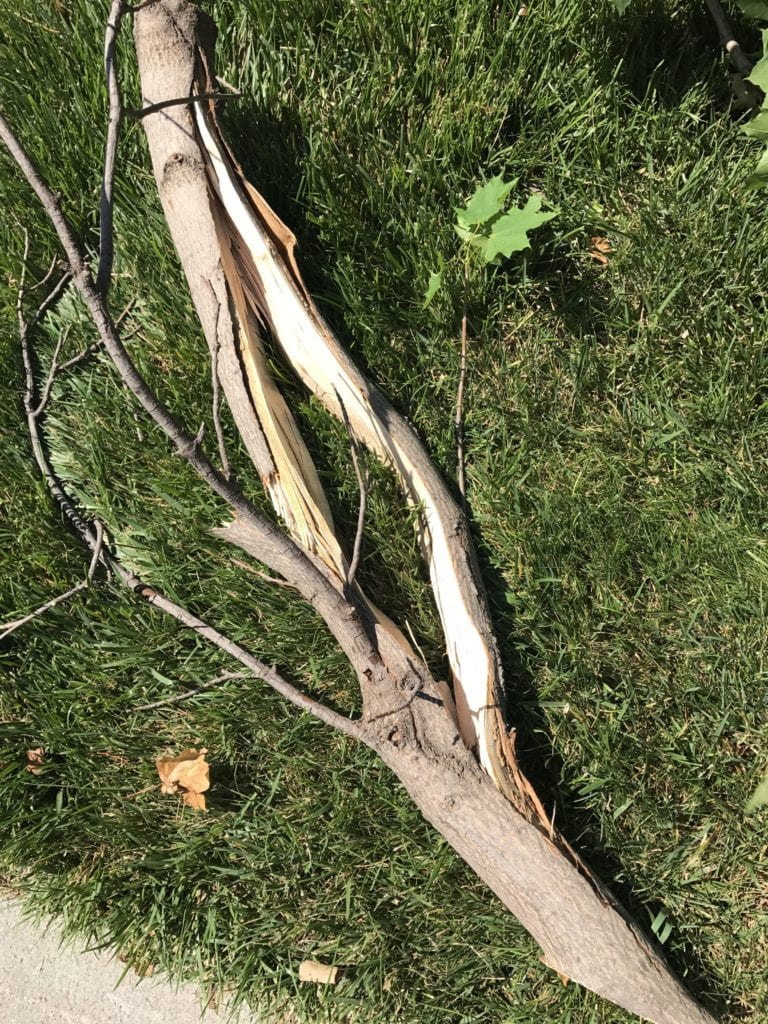 Our neighbors had a contractor at their house assessing storm damage while we were outside so we had him stop over at our house as well. I mentioned after the last hail storm, many roofs in our neighborhood were totalled. He looked at ours and said it has the same issues and we may even have to replace the gutters and some of the siding.
Our hardwood floors are supposed to get installed in the office today (fingers crossed) so I finally convinced Kurtis to build me the shelves I wanted in the office closet. I wasn't looking for anything fancy, just something similar to the shelf above so that the closet was more usable.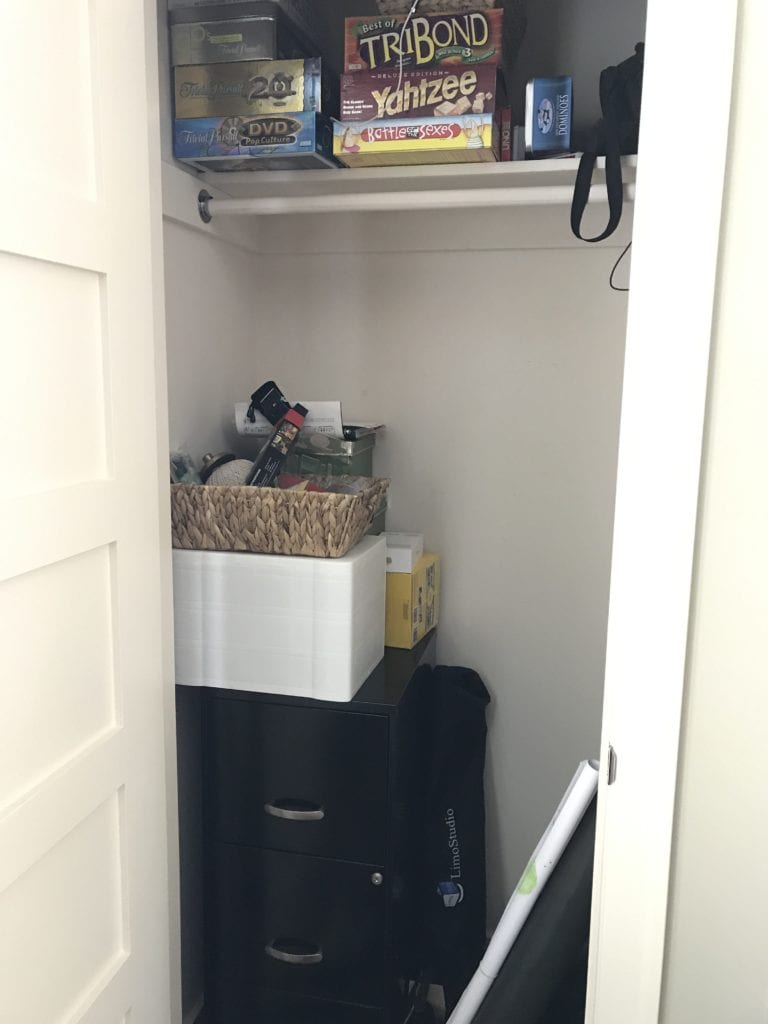 He went to Lowe's and actually had them cut all the boards for him. It's only $.25 per cut if you ever have a project you don't want to pull out your saws for! The closet isn't perfectly square but he took the measurements and had them cut as close as possible.
The new shelves are perfection! And they're already filled with a bunch of crap I needed to get off the floors for the flooring install 😉 Once the floors are done, I need to caulk and fill nail holes and then I'll likely paint everything in the closet white as well.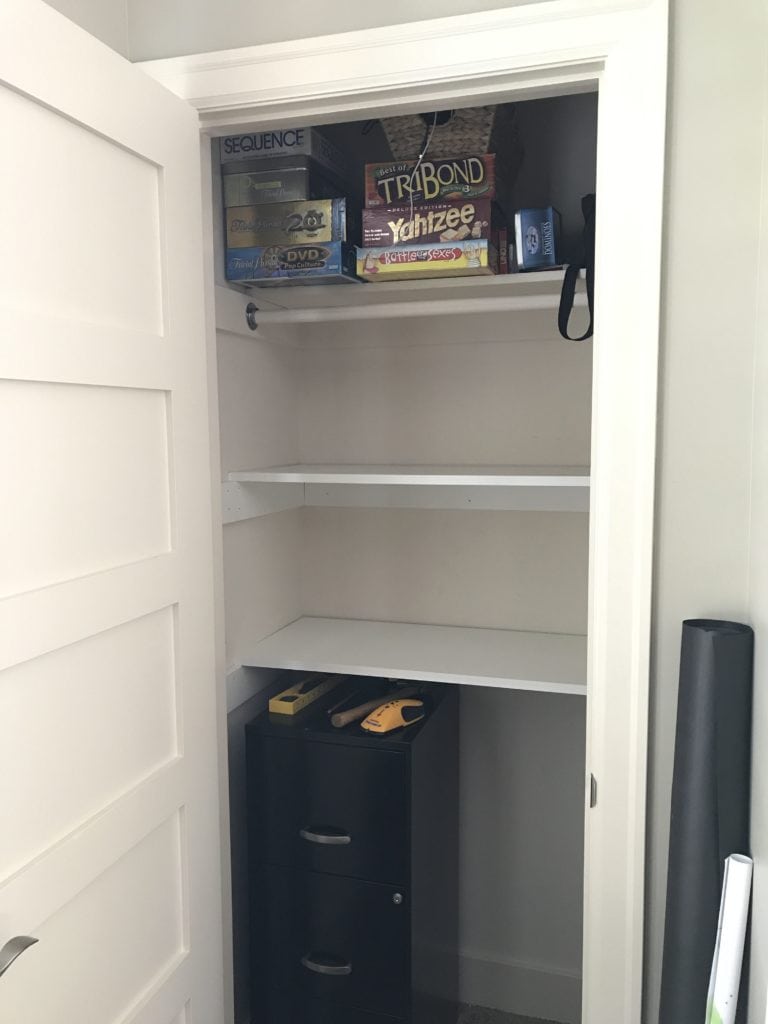 PS – Seeing these pictures reminds me. If you haven't played TriBond before, it's only my favorite board game of all time. You have to identify what three words have in common and it's like my life's challenge to get them all right 😉
I got another got of white trim paint on most of the office doors. And, since the ceiling is officially finished, Kurtis swapped out the cream can lights for the white versions. Everything is starting to get a bit closer to completion!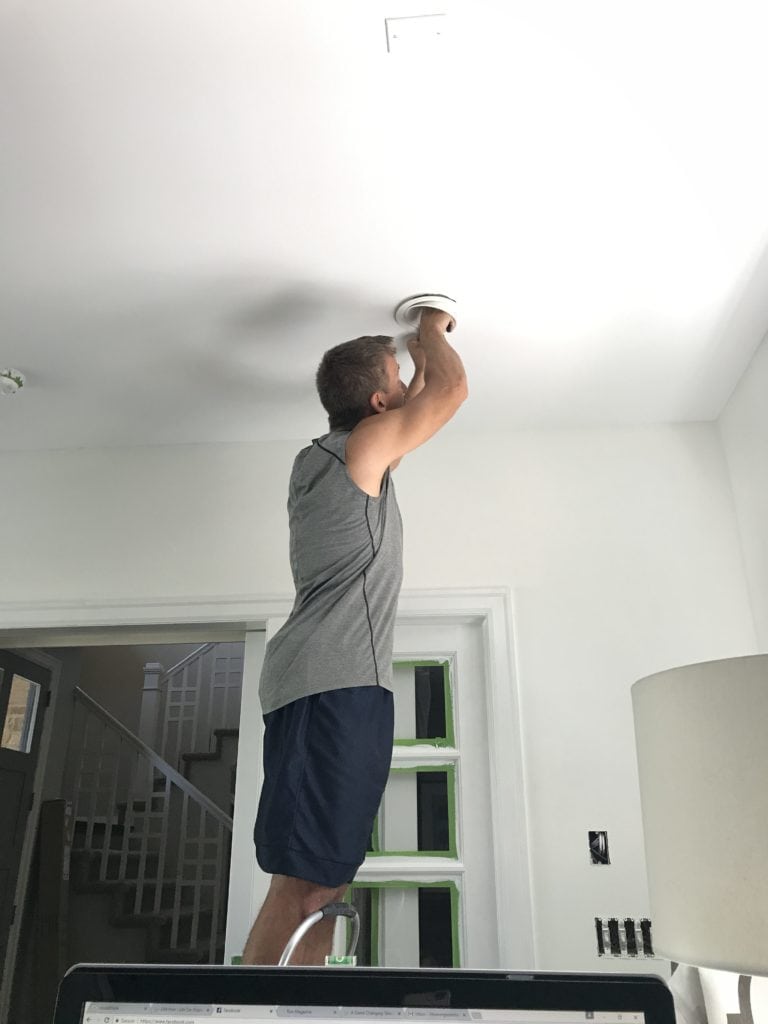 During my mom's friend weekend (specifically the day we had the barbecue with all the kids/friends), my glow-in-the-dark swan got a hole in it. We were using it as a lily pad to jump to other rafts and through the pineapple, so it's really no wonder. But yesterday, we cut out the section with the hole, and made it more of an inner tube shape. It worked perfectly! Thankfully Sunnylife makes multiple air pockets and section so that this was possible.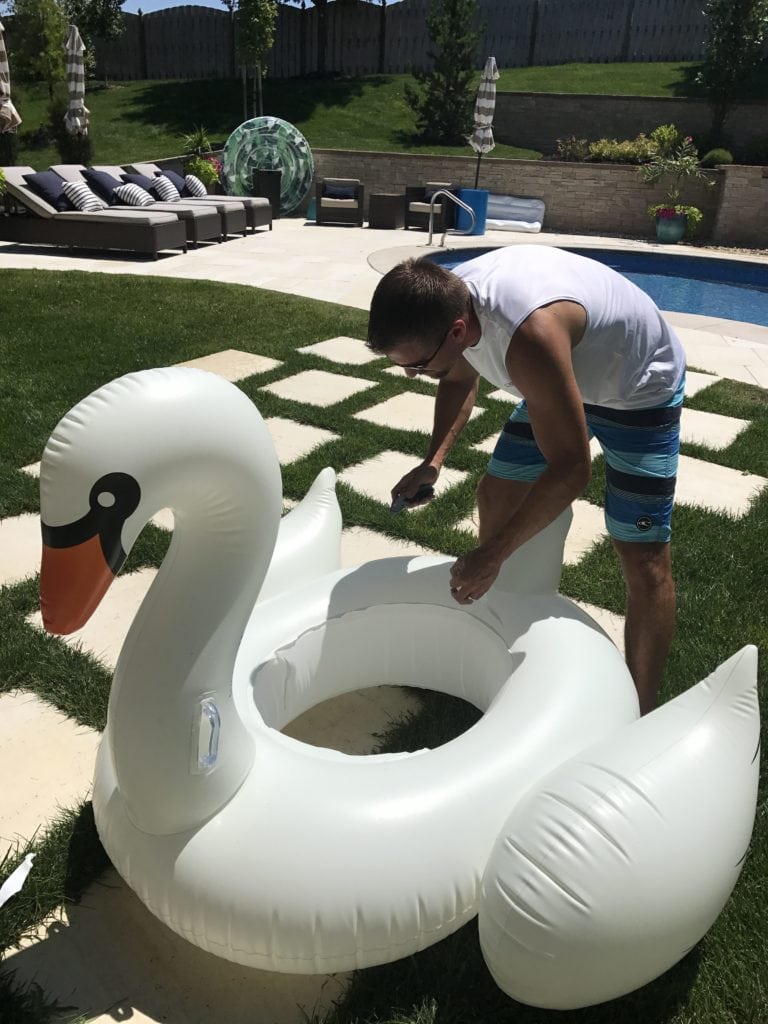 Our friends Jill and Scott (not to be confused with Jill and Nick) came over with their kids in the afternoon and we spent three+ hours in the pool. It has been so hot around here lately. The water is starting to feel a bit tepid, but considering the high 90 degree temps, even the 86 degree water feels refreshing!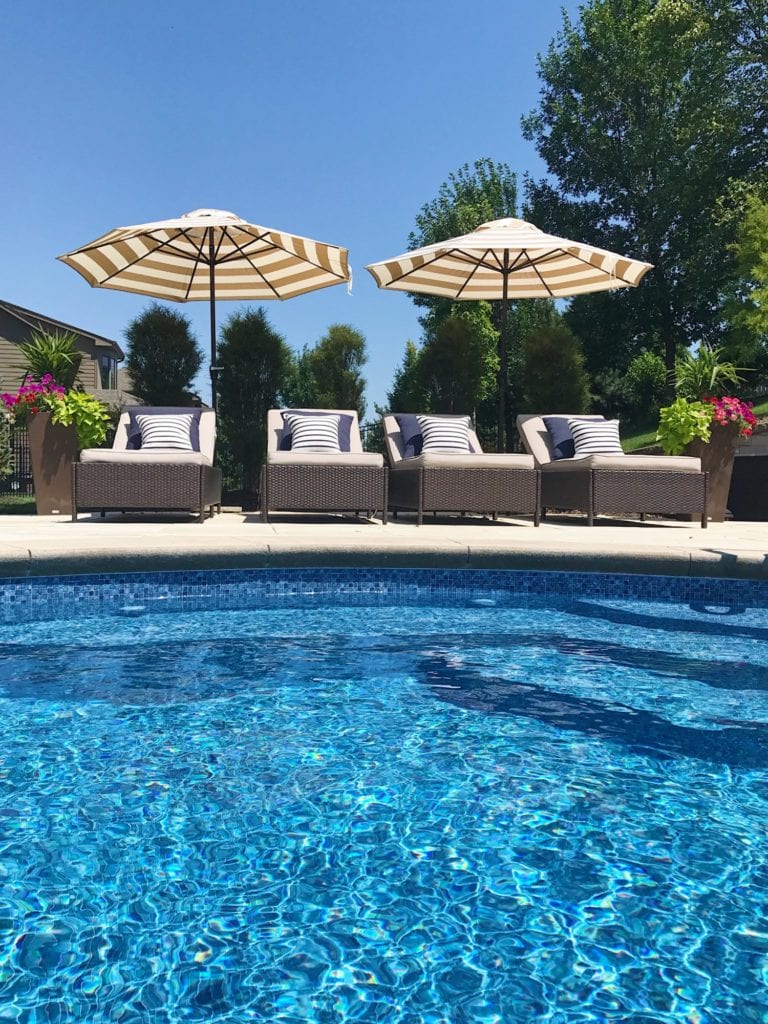 Lounge Chairs | Navy Pillows | Striped Pillows (also here with additional color options) | Umbrellas | Planters
Jill is like Martha Stewart and brought us some watermelon caprese skewers. So good!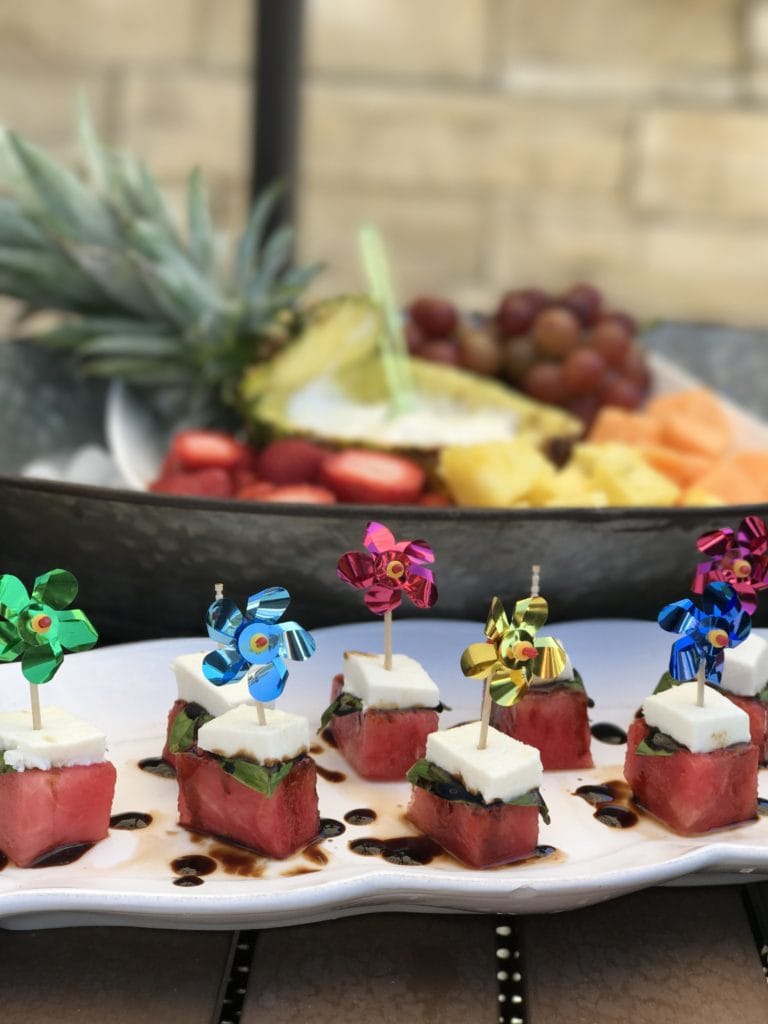 She also scooped out half a pineapple and filled it with a cream cheese/fresh pineapple dip that was to die for. It was so good with the fresh fruit! We'll definitely be making this one in the future! Jill told me she specifically used the Marzetti Cream Cheese Fruit Dip (comes in a container similar to sour cream) and then added the fresh pineapple to it.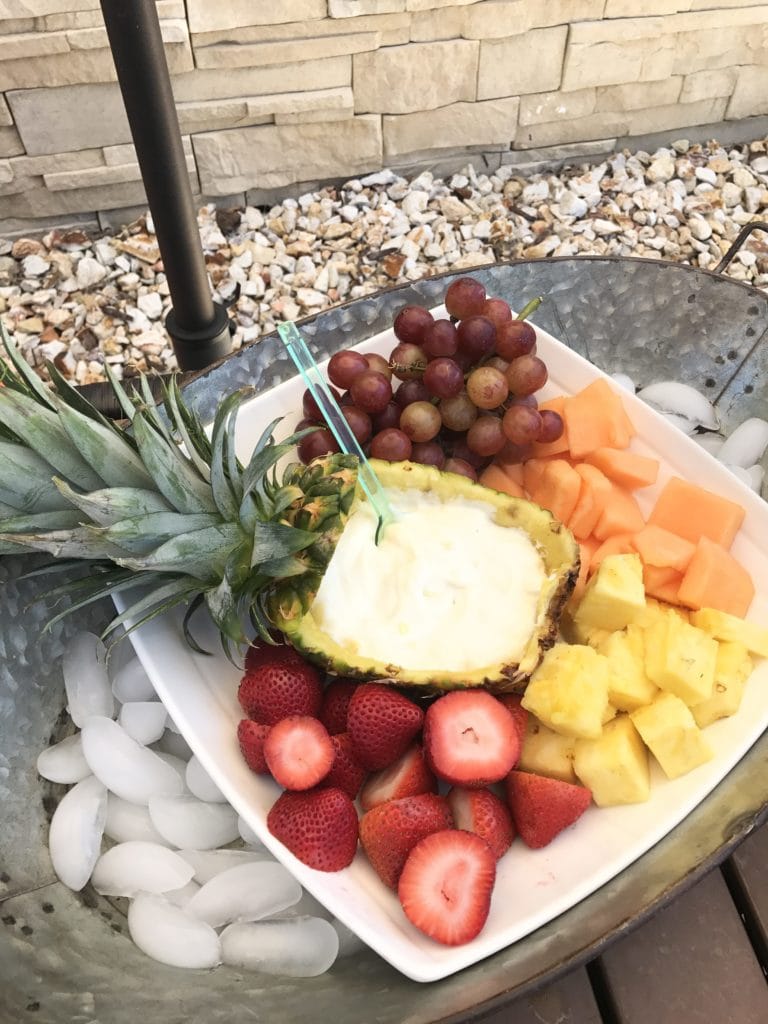 After the pool, Kurtis and I headed to dinner at Lazlo's because it just felt way too hot out to fire up the grill. We got home from dinner and I noticed that my limelight hydrangeas were starting to bloom! I swear just a few days ago the buds were super tiny. In a few days, I'm pretty sure they are going to be epic! That tallest one is already nearly six feet tall.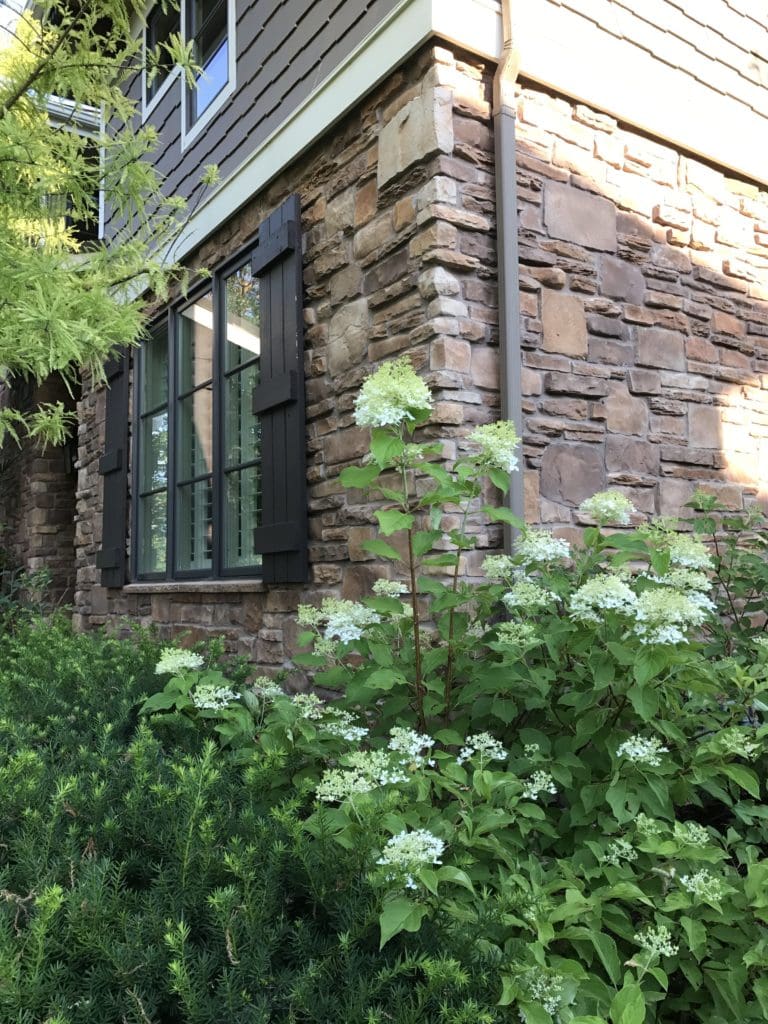 It's going to be a busy week, but I'm okay with that! Hot July summer days are the best. Enjoy your week!
If you would like to follow along on more of my home decor, DIY, lifestyle, travel and other posts, I'd love to have you follow me on any of the following:
Pinterest / Instagram / Facebook / Twitter / Google+
disclosure: some affiliate links used