Happy Monday! Today I'm joining the ladies over at 11 Magnolia Lane, along with six of my favorite blogging friends, to share a typical day in the life of a blogger. The women on this tour excel at running their blogs as businesses so I'm excited to also get a glimpse into their daily lives!
This was actually a top requested post when I did my survey earlier this year so I'm excited to share it with you today. I feel like most days around here are anything but exciting, but I know it's always fun to get a peek into other's lives and schedules.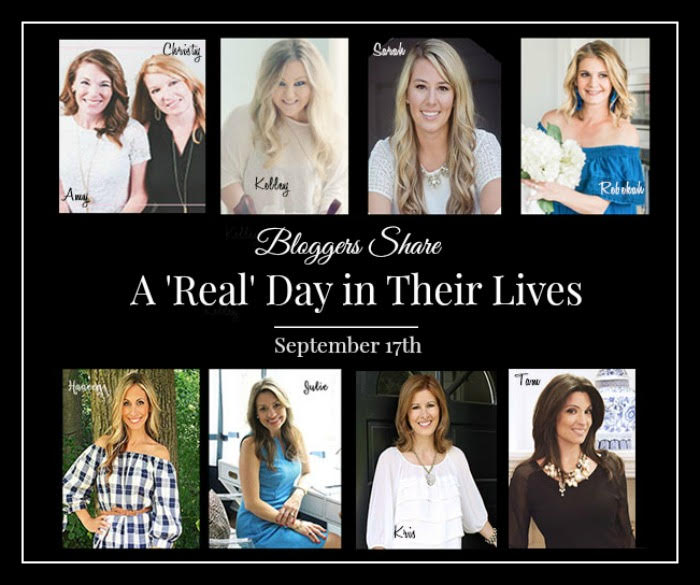 This post contains affiliate links for your shopping convenience. Click here to read my full disclosure policy.
My daily routine has changed quite a bit since I left corporate America and the insurance industry after 19 years last year, but my days always seem to be just as busy. Mix in blog work, rental work, daily life tasks and each day is different yet somewhat the same on a regular basis. Today I'm going to be sharing what a typical day around here looks like (along with some of the variations that may occur).
I set my alarm for 5:55 nearly every single morning. I then usually roll out of bed around 6:10. I'm definitely that person that cannot function without first grabbing my morning coffee – but I do consider myself a morning person. Once the coffee is poured, I head straight to my office and get on my computer. Typically this includes reading emails that came in overnight and/or wrapping up the day's blog post if I didn't completely finish it the night before. Although I have a laptop, I mostly only use it for travel. I am that person that has to be at an old school desktop, in my office, with no other distractions, to work.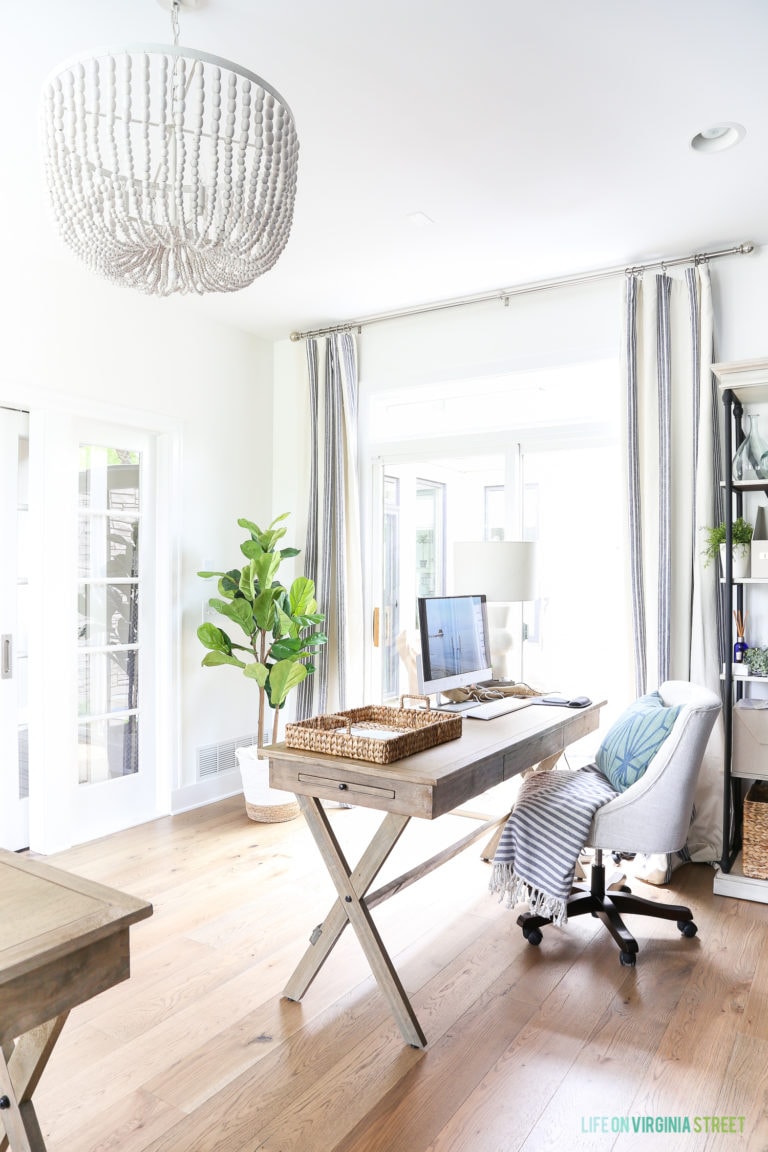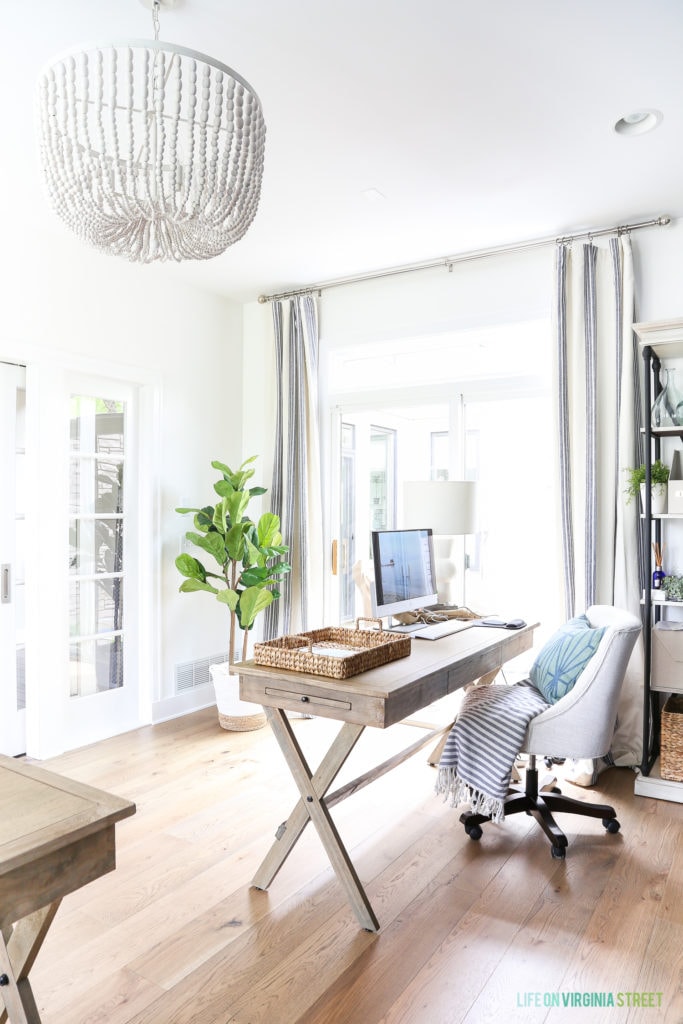 I'll usually work for a few hours until Kurtis goes to work around 8 am and then I get ready. It should come as no surprise (given I'm a math/statistics major with an MBA), that one task I look forward to every morning is updating my spreadsheet with all the stats from the prior day. This is a side of blogging I love – that most others hate!! I load my pageviews, ad revenue, commissions, and any other numbers I can into a spreadsheet that I look at multiple times a day. #nerdalert
I have an assistant that comes to my house, usually two days a week, for three hours (typically Tuesdays and Wednesdays from 9-12). She helps me with photoshoots, styling, etc. and then also does my Pinterest and some of my Facebook scheduling. On days she doesn't come to the house, I try to go to the 8:45 Orangetheory class with my friend Mandy. I haven't been super consistent about going, but have gone weekly for about five weeks now.
On days my assistant isn't here, I am basically on my computer all day. This includes scheduling some Facebook posts for the day, perhaps sharing a few items on Instagram Stories, responding to comments from the previous day's social media, etc. I'm also working on new blog posts, responding to emails, talking to brands and/or reading through contracts, etc. Our rental properties have now also become very time-consuming. We have four properties now, and with the renovation at one, I'm spending a lot of time making appointments, doing site visits, talking to the contractor, etc.
I have multiple calendars and to-do lists I use to try and keep myself organized. Admittedly, I am not the most organized person, so I prefer to see everything written down and refuse to use digital calendars. I have a color-coded calendar on my desk for posts, appointments, deadlines, etc. Green is for appointments, yellow is brand or other deadlines, pink is draft deadlines, orange is rental property related and blue is group project related. The colors help me to quickly glance at my calendar for a week or two at a time to see which of those more important items are popping up.
I also hand-write a to-do list every Monday morning after I wake up. I have a column for blog tasks, one for rental house tasks, one for personal items, and one for technical/blog tasks I need to do. I'm a big fan of the paper mousepad versions from Rifle Paper Co.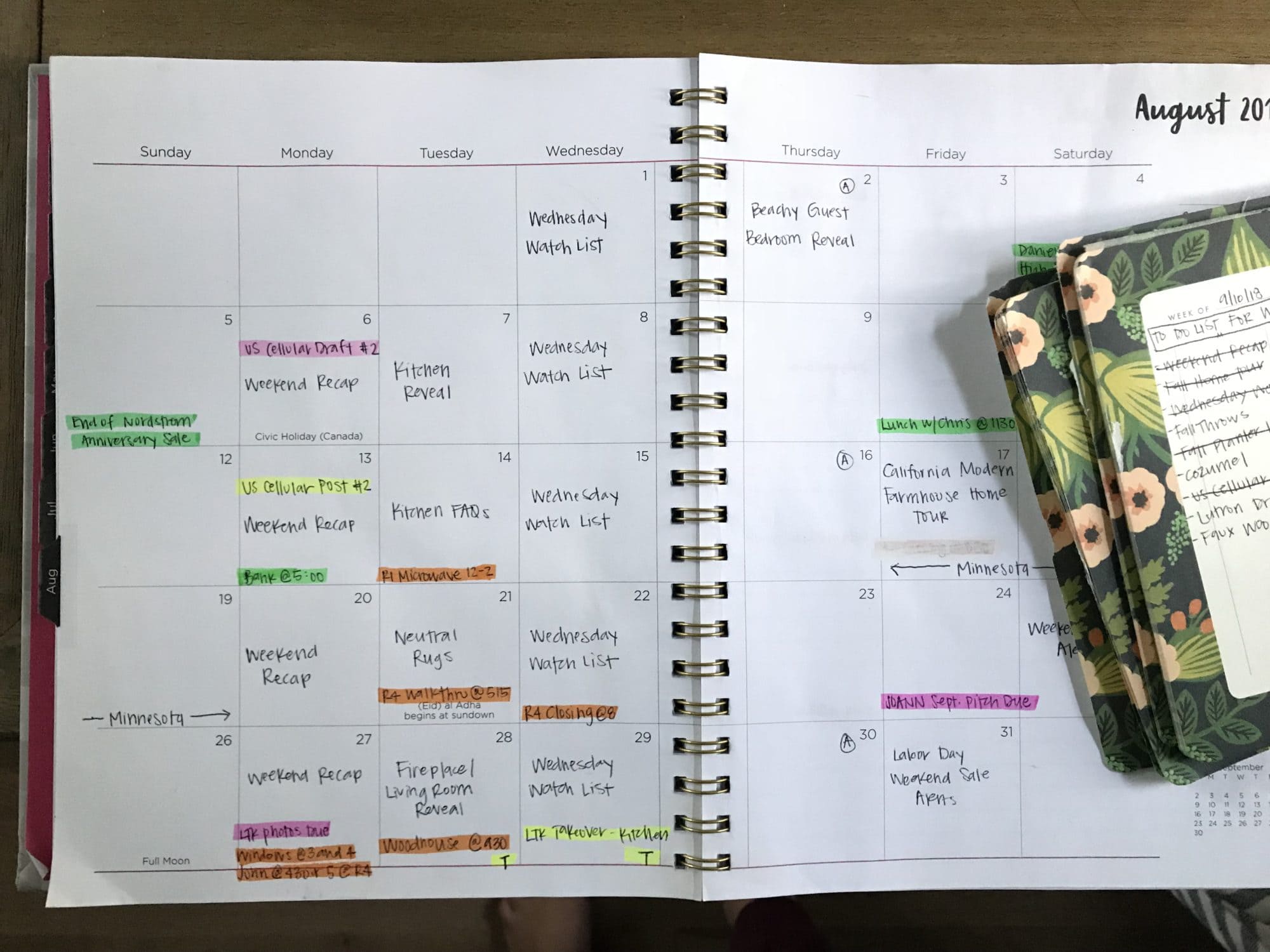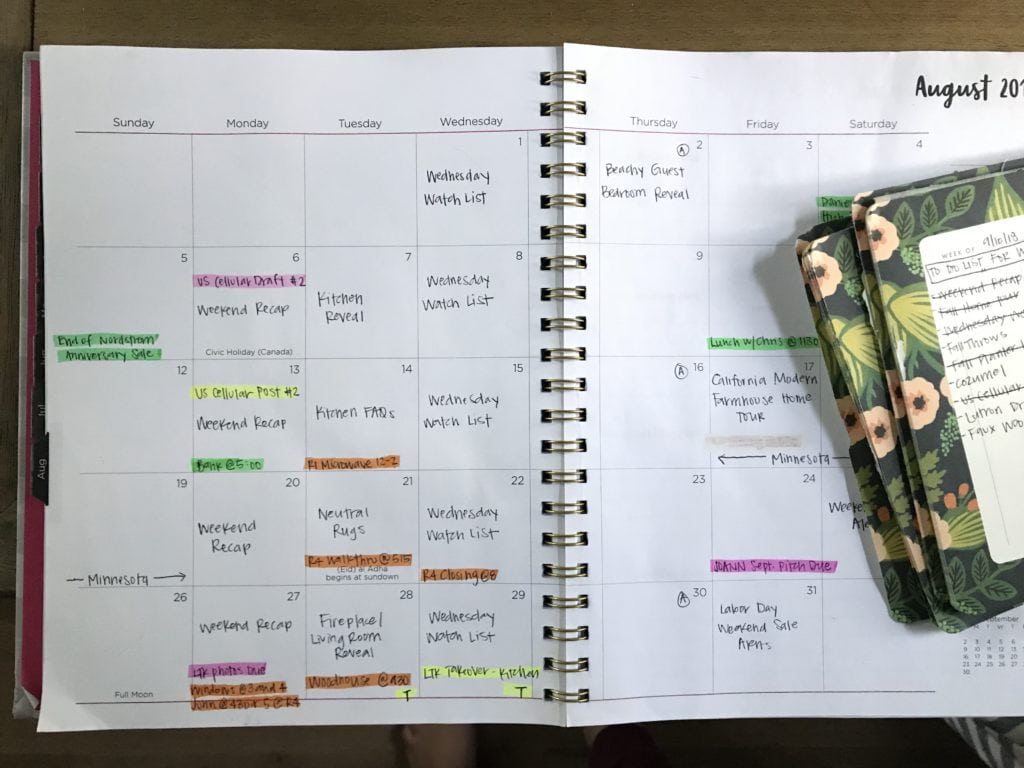 When I decided to pursue blogging full-time, I don't think I realized just how isolating and lonely it can be. I actually hated the first few months after I left my job. Apparently I'm more social than I realized I was 😉 But over the past year, I have built some very strong blogging friendships. It's gotten to the point where it's rare I don't talk to or text at least one other blogger a day. It's so great to have others that support you, encourage you, and can help with questions others may not understand. I am also a joint admin for a Facebook group with over 900 bloggers. It's a great place to bounce ideas and get input from others in the industry!
Some days, I get sucked into things that were never on my to-do list. Issues that come up in the blogging community, finding brands that have stolen images (which happens far too often), technical website issues, working with my accountant, working payroll and paying monthly taxes – things that feel nothing like blogging. But, they are items that usually require my priority list to shift so I re-prioritize and tackle what needs to be handled first.
If I have a photoshoot that day, most of my agenda is thrown out the window, so I usually try to block these dates out in advance. The day tends to be dictated by lighting, among other things. Most photoshoots take multiple days to prepare for. There is the shopping side, prep side, styling, photographing, photo editing, etc. that all has to occur before I can even sit down to write the post. It can be very time-consuming, but it's also one of my favorite parts of blogging!
In the afternoons, I try to mix in some house work along with computer work. I run loads of laundry, pick up the kitchen, empty the dishwasher, etc. I figure if I stay mostly on top of it with 30-45 minutes a day, it never becomes too overwhelming.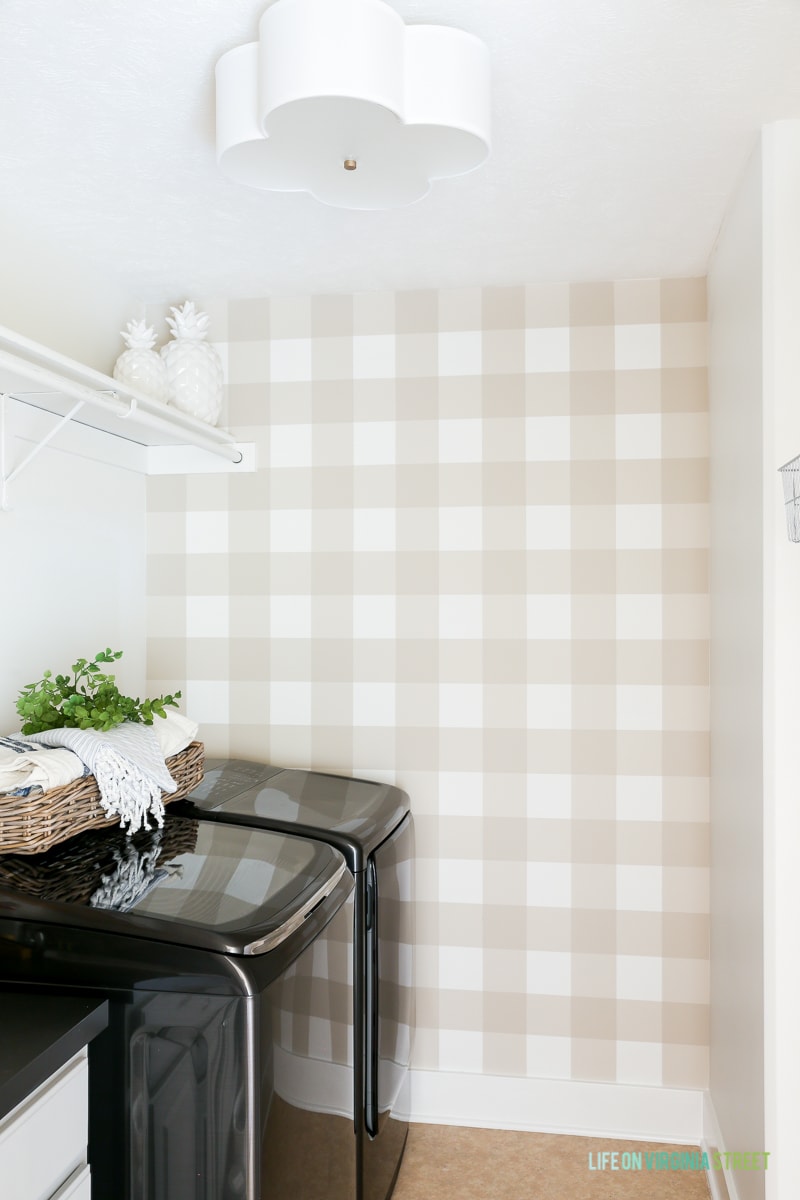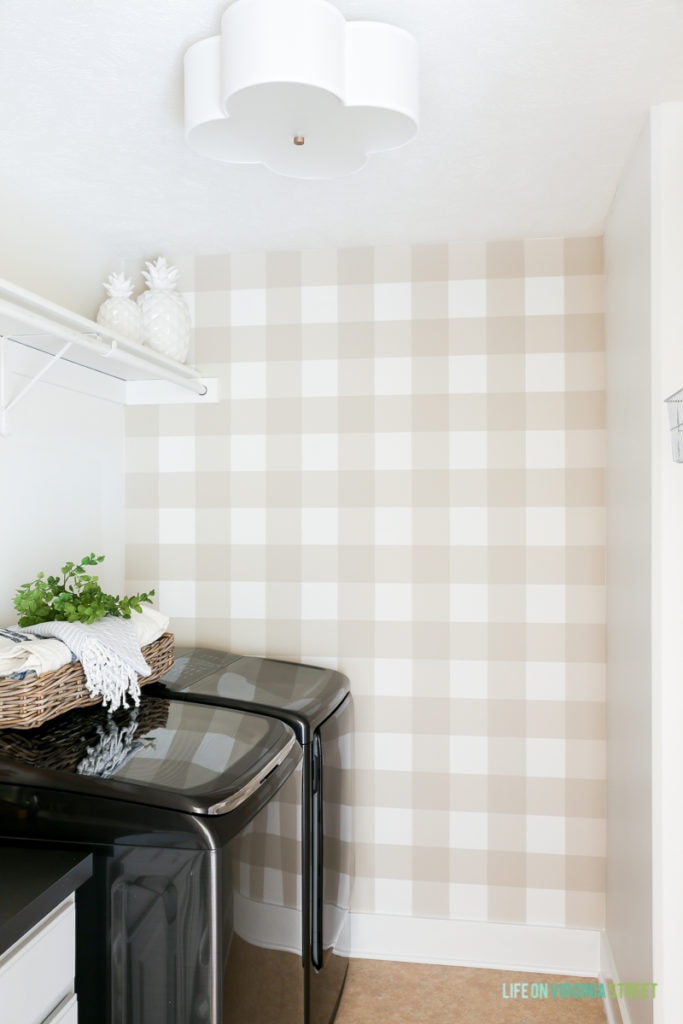 I'm also our "pool boy", so in the summer months, I clean the skimmers, check chemical levels, save frogs, etc. Up until a few weeks ago, I also would spend 30-40 minutes a day watering all of my planters in the yard. I get asked frequently if I spend half my days lounging at the pool. Ha! I wish! I actually make it a policy to not use the pool during the week unless Kurtis is off work. I'm just weird about it and feel like I should be working during the weekdays!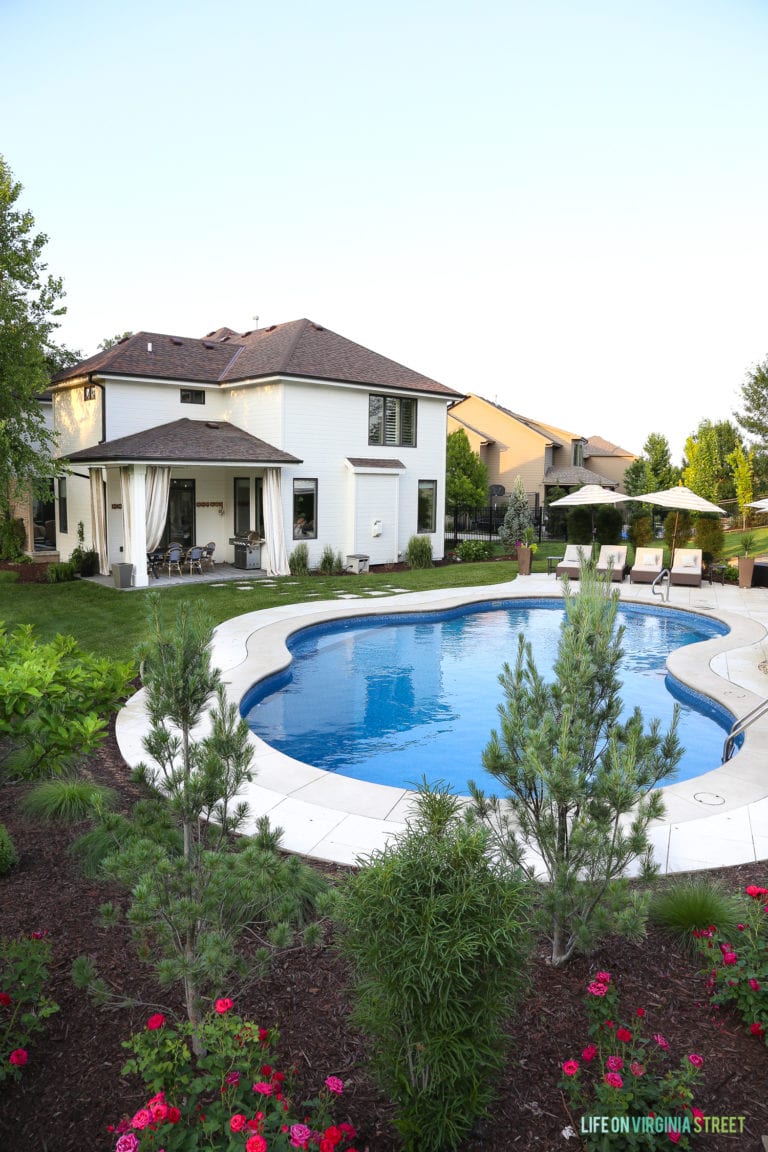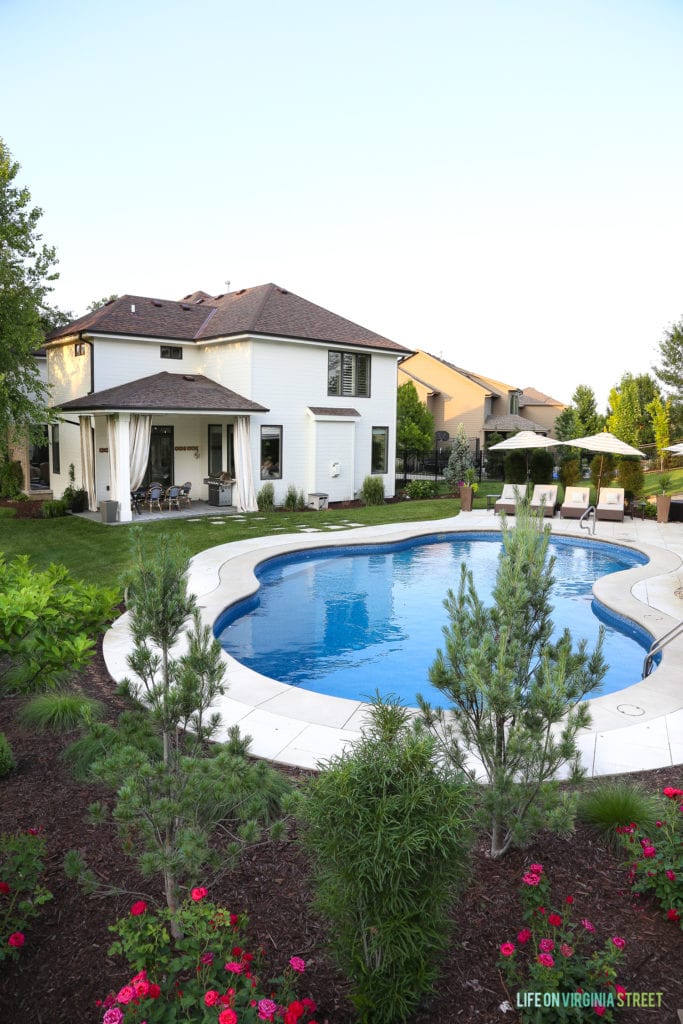 I've gotten a lot better these past few months about really trying to have my blog work wrapped up by the time Kurtis gets home around 6:00 or so each night. It's a struggle for me because. I find that there are always so many things I could be working on for the blog at any given time, I'm not great about sitting down and finishing a task at a time. It's definitely something I am trying to work on! But, with this new goal, I'm mostly finished by the time he gets home.
We've been trying to eat at home more this year. But, with our recent kitchen renovation, we got in a bad habit of eating out a lot again. We both have a tendency to get hangry if we don't have dinner around 6:00 or so. I'll either try and have something ready by the time Kurtis gets home or we'll head out once he pulls in the driveway. With the school season starting, we are teaching confirmation class at 5:30 every Wednesday night, which means we then also do church after class. So, Wednesday we usually eat on our own ahead of time, since we typically don't get home until 8:00 pm or so.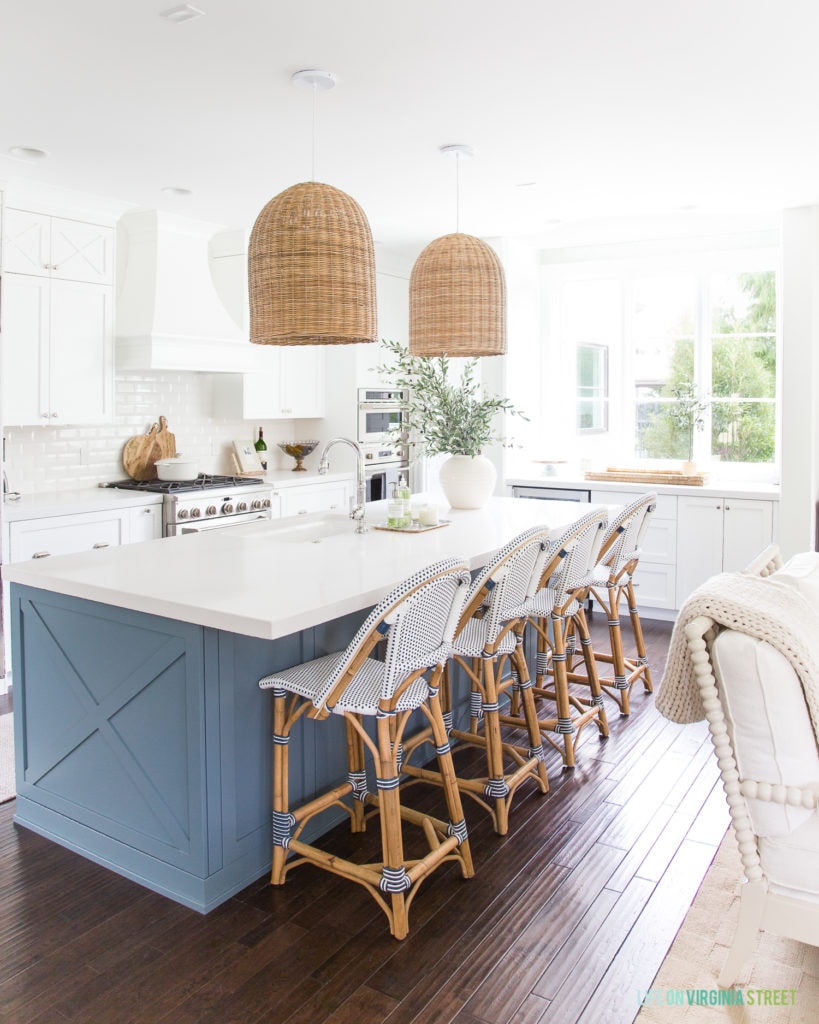 After dinner, we try to spend time together, which most nights means watching Netflix with the cats. I may still post on Instagram in the evenings (which is usually an hour long process by the time I post and then respond to comments for a while). But, I try to do it while we're watching a show together.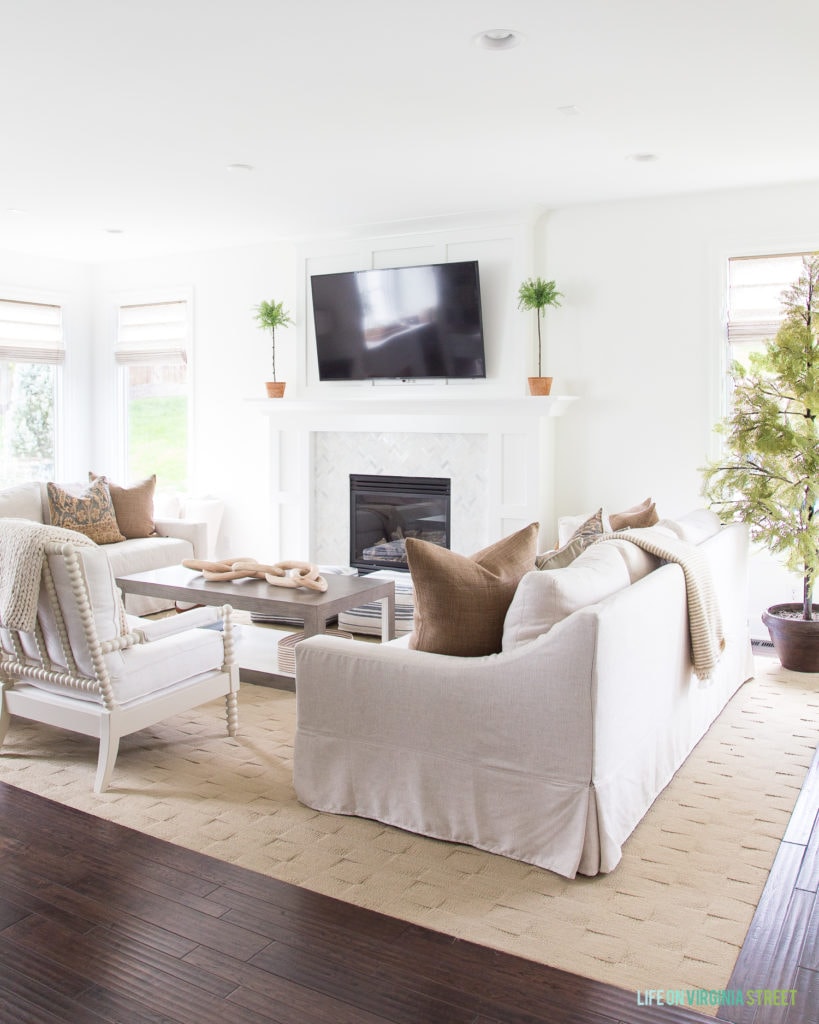 Just before bed, Kurtis usually gets the coffee ready for the next morning and I feed the cats. The cats have a "bedroom" in our basement, so they know every night they get their dinner and then it's time for bed. They are definitely creatures of habit too!
I like to head to bed by 9:30 or 10. I then allow myself to use my phone for about 20 minutes to unwind. I may read a book, play a game (I'm obsessed with Gardenscapes) or scroll Instagram. I like to be asleep no later than 10:15 if possible! And that about wraps up my days! I hope you enjoyed this little glimpse into a typical day around here. Now, be sure to visit by all the other stops to get even more insight into the day in the life of a blogger:
If you would like to follow along on more of my home decor, DIY, lifestyle, travel and other posts, I'd love to have you follow me on any of the following:
Pinterest / Instagram / Facebook / Twitter / Google+
disclosure: some affiliate links used