I hope you all had a wonderful weekend! I'm a day late in posting our Weekend Recap this week because of my Day In The Life tour I participated in yesterday. The weather was gorgeous here this past week – which for us means we finally got in some much needed pool time!
This post contains affiliate links for your shopping convenience. Click here to read my full disclosure policy.
Home Updates & Projects
I spent quite a bit of time last week dealing with the rental houses. Our gut job has officially started with our contractor, so I was the errand runner getting that wrapped up. We're hoping to share some good progress there in the coming weeks!
Our original rental home went back on the rental market this week, as our original tenants moved back to their home state. It was great having them for two-and-a-half years, but now it means a lot of work to get it back in rental condition! I had the carpets steam cleaned last week and yesterday we had cleaners come in to give everything a deep clean. We also bought a few new light fixtures to update some of the outdated ones and we hope to get them hung later this week. We had a few showings scheduled starting Friday so we're hoping to get it rented soon!
At our house, I finally wrapped up painting the dining room! It feels good to have it done! I'm just waiting on one item to arrive (it's scheduled for Friday) and then I'm hoping to share the updates with you early next week once I get it photographed! And this next photo proves that no matter how many times you paint your walls (which for me is a lot), you may still crash into a wet wall every once in a while 😉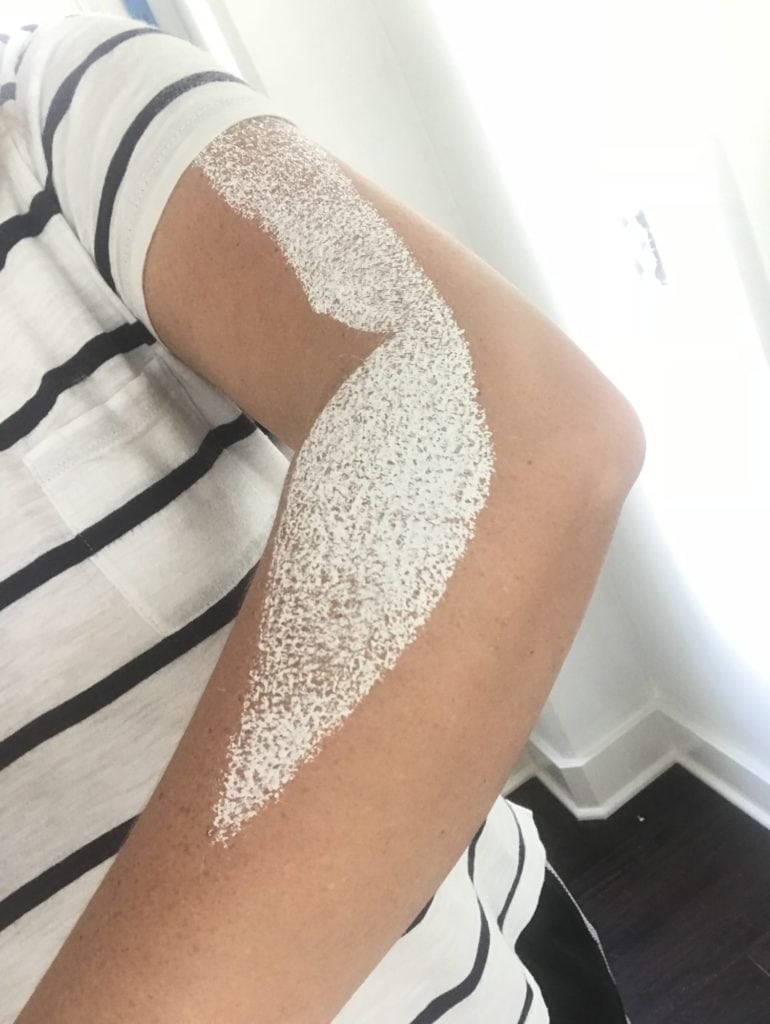 After the wall had dried for a few days, we finally got this mirror hung. It's even more beautiful in real life and I can't wait to share how it all looks shortly!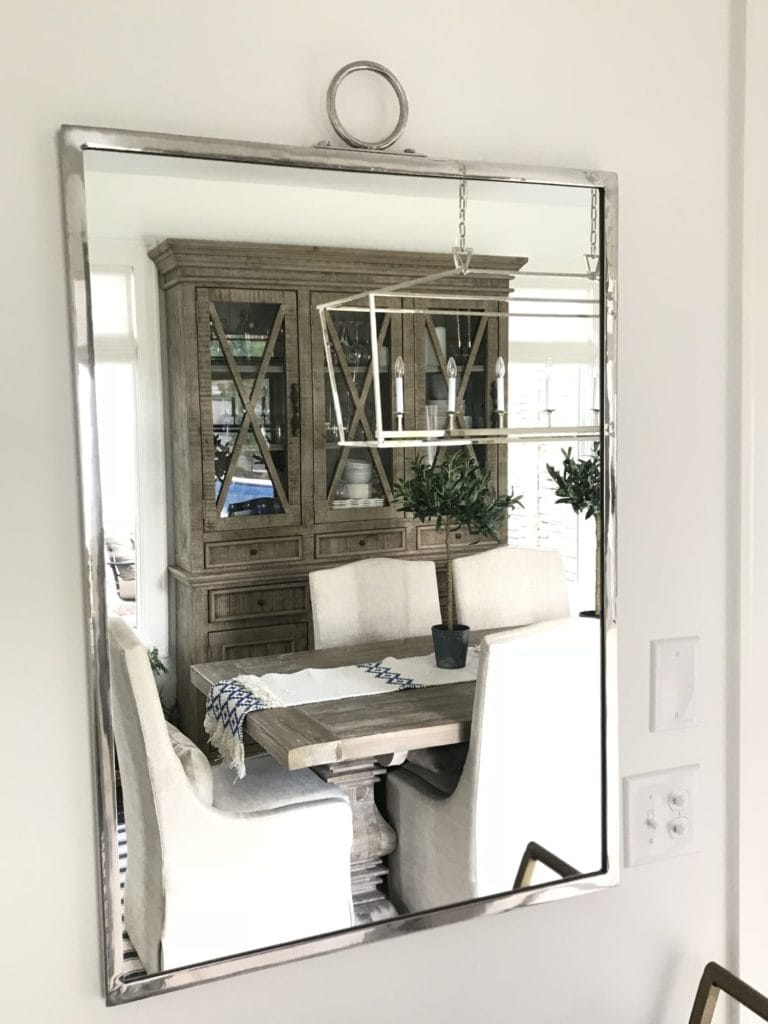 Around Town & For Fun
As I mentioned, the weather last week was gorgeous! It finally felt like summer again! We had a lot going on at our rental houses, which usually means we make an excuse to get to Lazlo's for dinner. We were a bit late going one night and watched the sun set from the patio.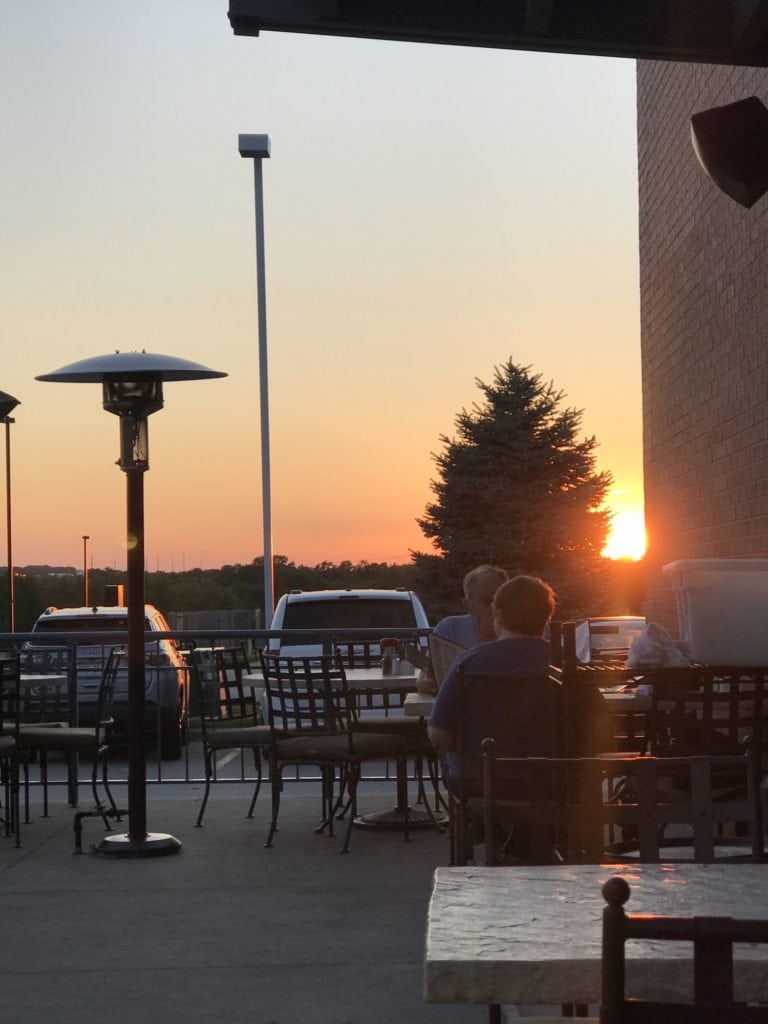 After work last Wednesday, we sat at the pool for an hour or two. With temps in the high 80's, it definitely made it worth it! As you can see below, my hydrangeas are all starting to turn that pink/rusty color as fall progresses.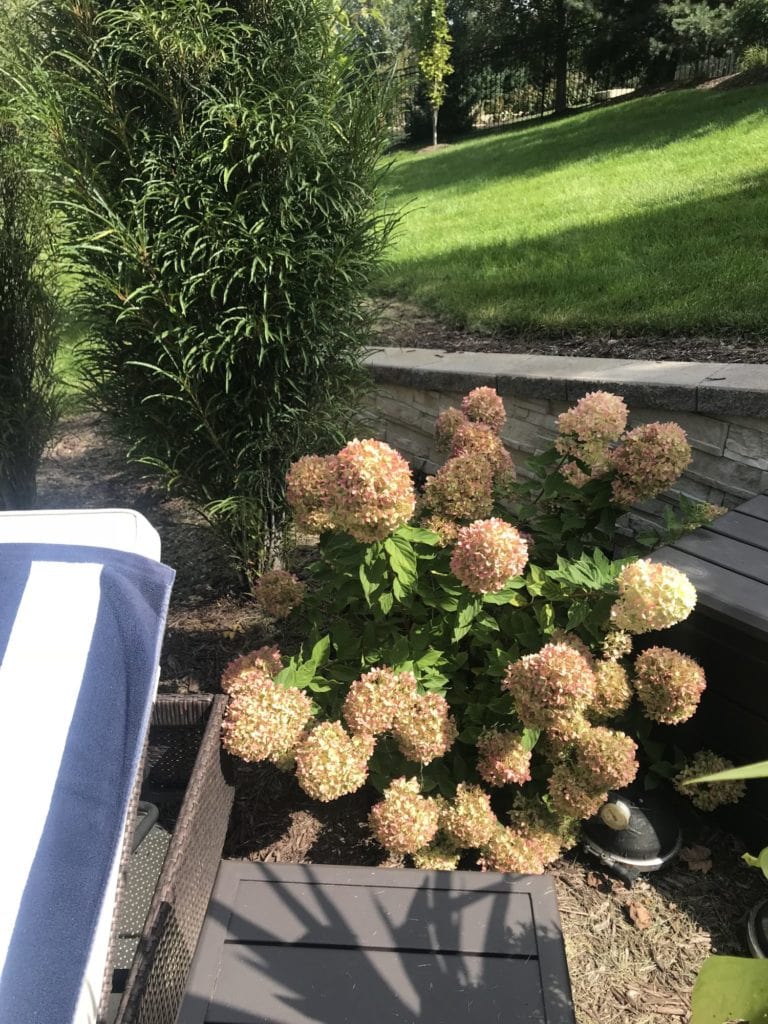 From Friday on, we basically went in the pool every day. We had rental showings scheduled Friday, Saturday and Sunday but we worked pool time in around that. On Saturday, little miss Zoe had her very first pool experience! She seemed to really like it even though she was only in for about five minutes before nap time.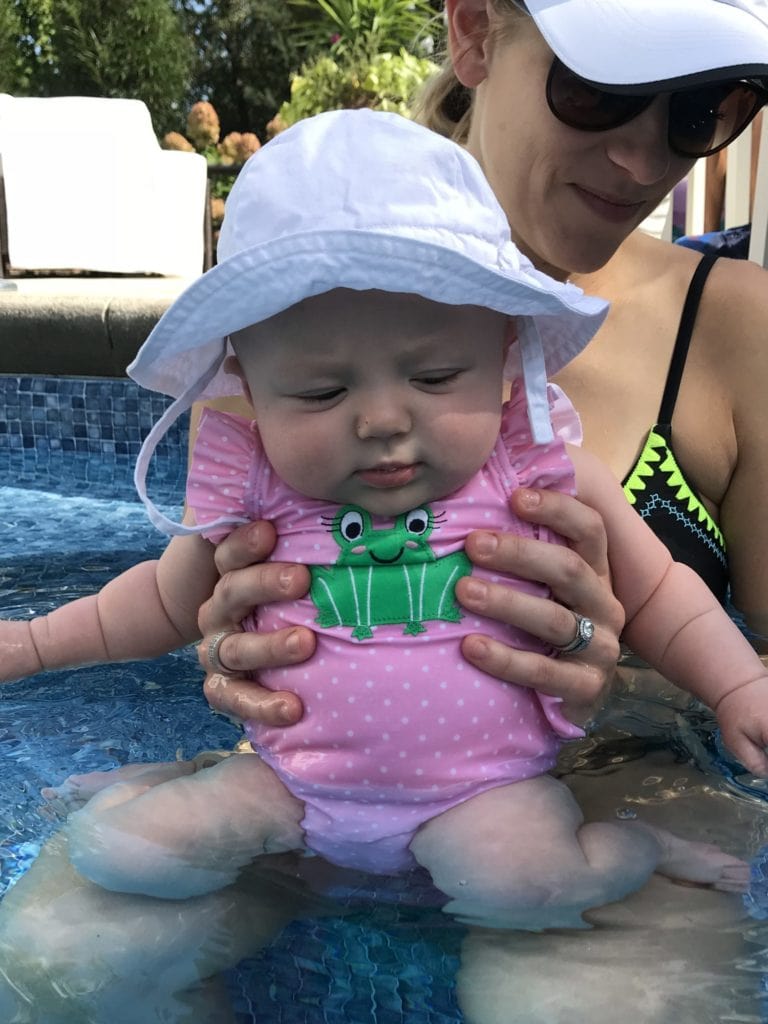 Sunday afternoon after our showing, we heading to Blatt for lunch. Once again – patio life was calling our name!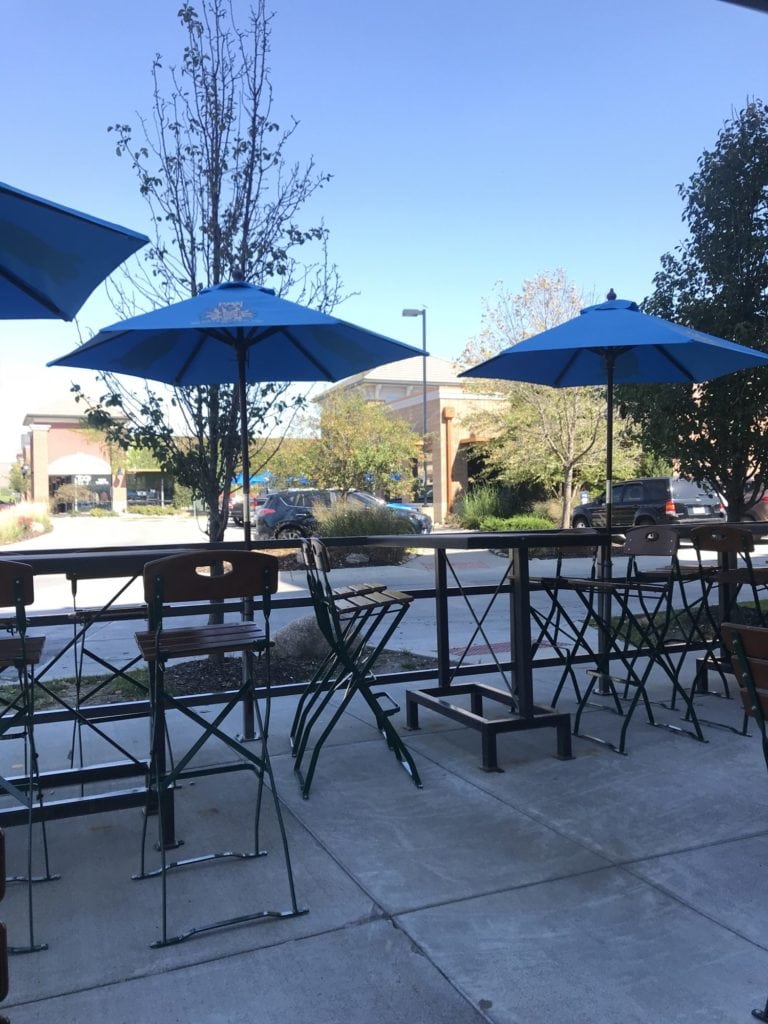 Their food is always so good – even if it's not always the healthiest! We shared their buttermilk chicken strips in sriracha (one of the best things ever) and then I had a salad and Kurtis had a waffle topped with pulled pork topped with other random stuff. I seriously have no idea what it was, but he loved it.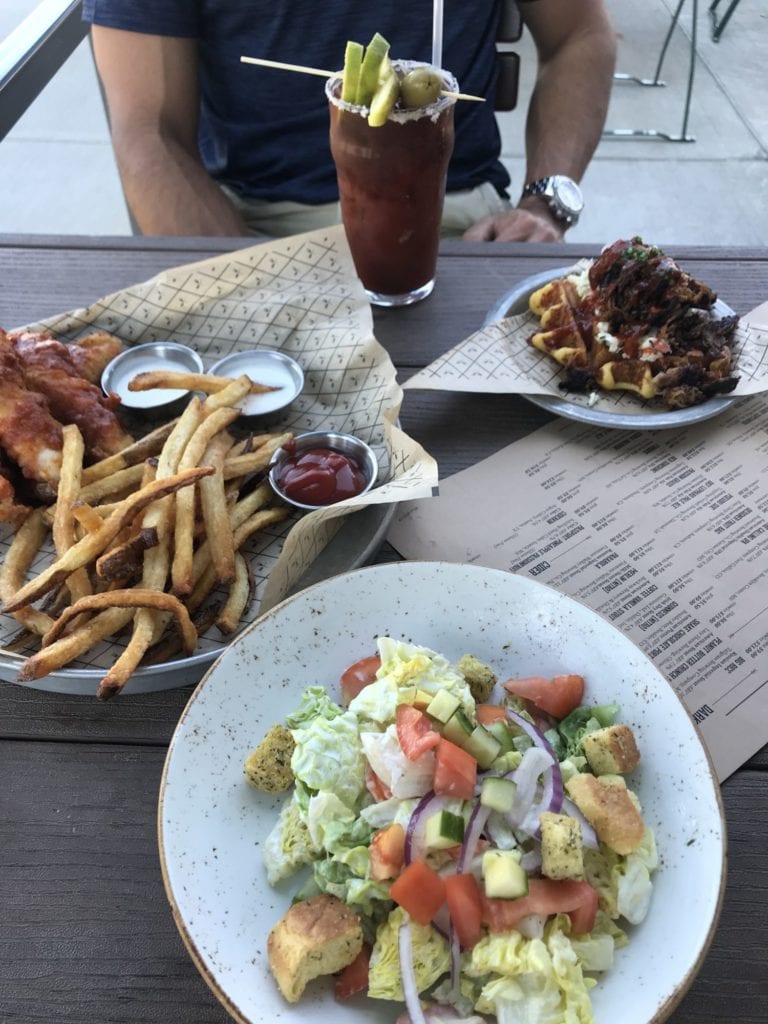 Once we got home we spent some time in the pool, and even tried to nap outside! It was so hard to not take advantage of the gorgeous weather!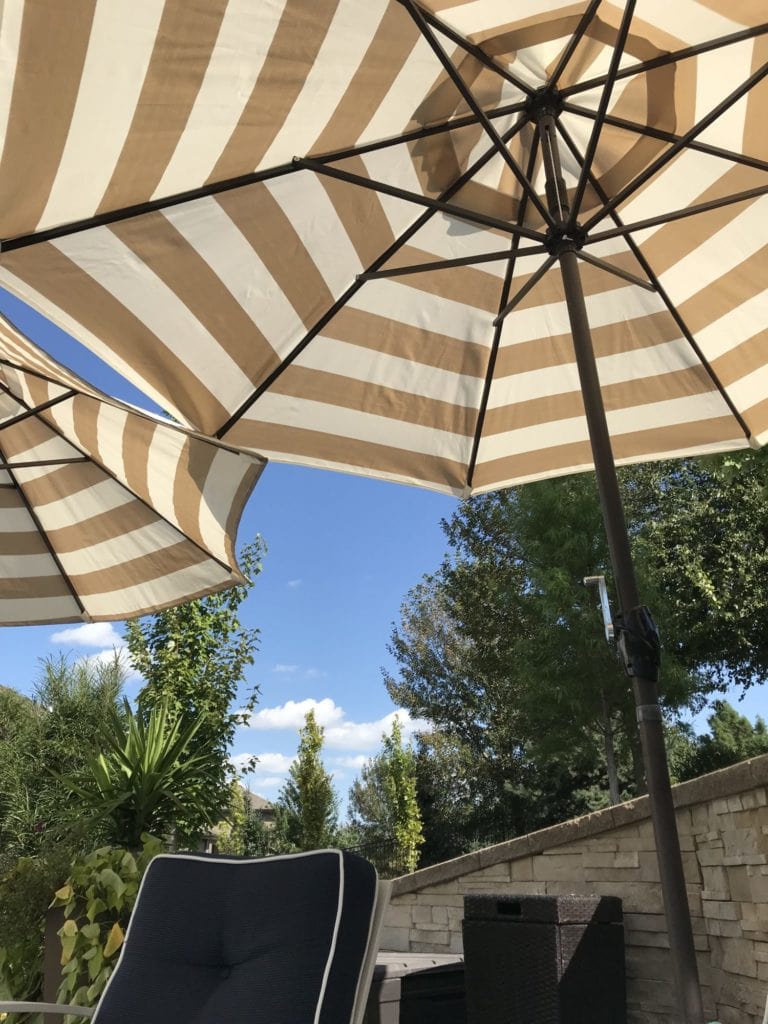 Since we wrapped up most of our other shows, we're now watching the last season of Scandal to get current there. I asked on Instagram what we should watch next, and overwhelmingly heard "Ozark". So, that may be next on deck!
Recent Buys & Sales
My olive tree I shared a few weeks ago arrived last week. If you don't watch my Instagram Stories, I basically learned from UPS it was in a vehicle accident. They still delivered it, but when it arrived the box was crushed and open in a few areas. Apparently the base of the tree was lost in transit. I went on Wayfair's website and was shocked at how easy the process is to file a claim. Basically within minutes, they already had a new one ordered for me! They're also letting me keep the damaged one, so I'll definitely be finding a way to rig it to still work!
Overall, I really love the quality of the olive tree! It's supposed to be about 5 feet tall, but feels a little wimpy right now without the base. It clearly needs some "fluffing" too to make it a bit fuller. But it is really beautiful, and about half the price of the Pottery Barn version and even less than that for the Crate & Barrel version. I'll keep you posted once the new one arrives and I get it set up!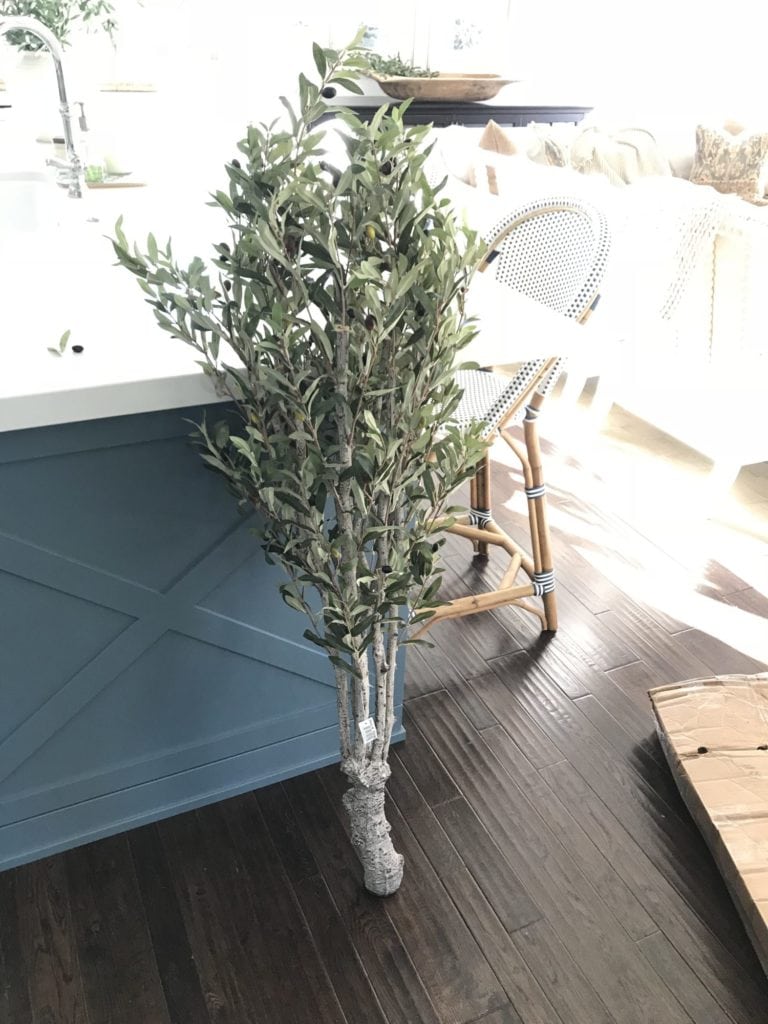 Following are some of the sales that are still going on this week. They're a bit limited since it's now Tuesday but still wanted to share:
I hope you all have a great week!
If you would like to follow along on more of my home decor, DIY, lifestyle, travel and other posts, I'd love to have you follow me on any of the following:
Pinterest / Instagram / Facebook / Twitter / Google+
disclosure: some affiliate links used