Looking for fall planter ideas? This post includes gorgeous inspiration photos along with ideas for the best flowers, plants, vegetables and filler to use in your fall flower pots!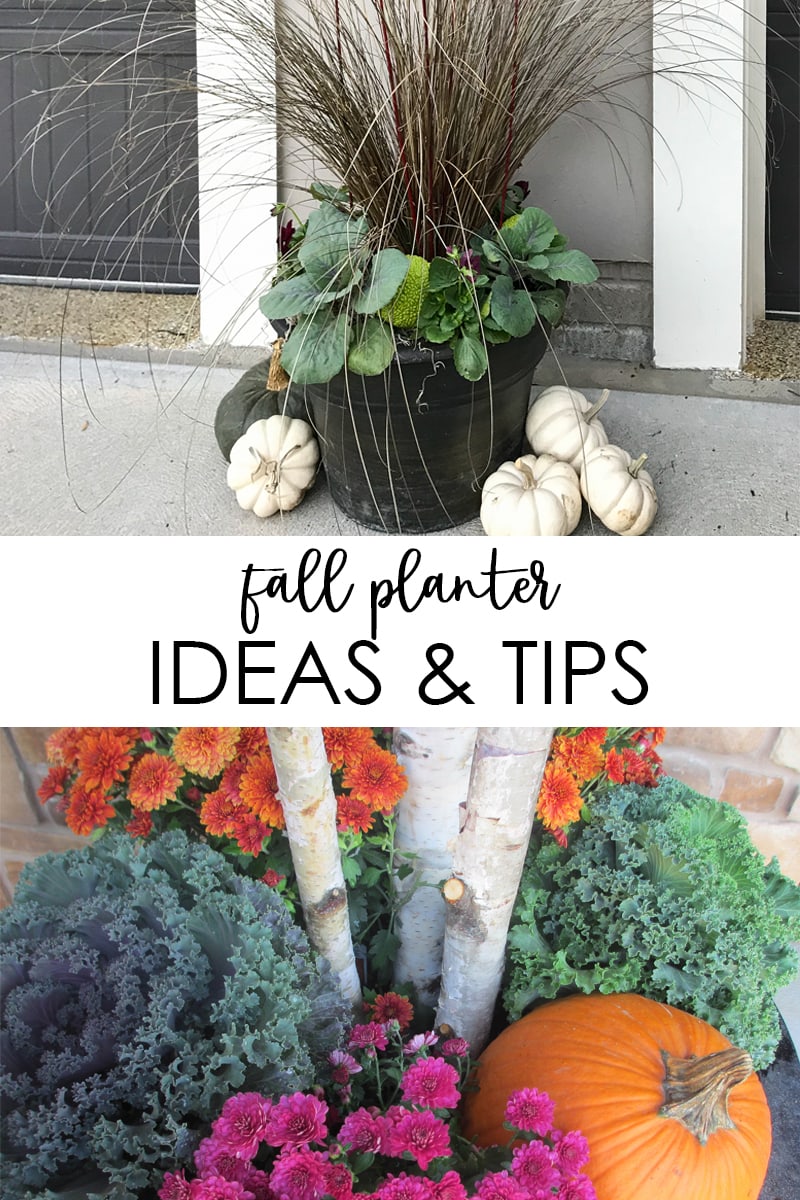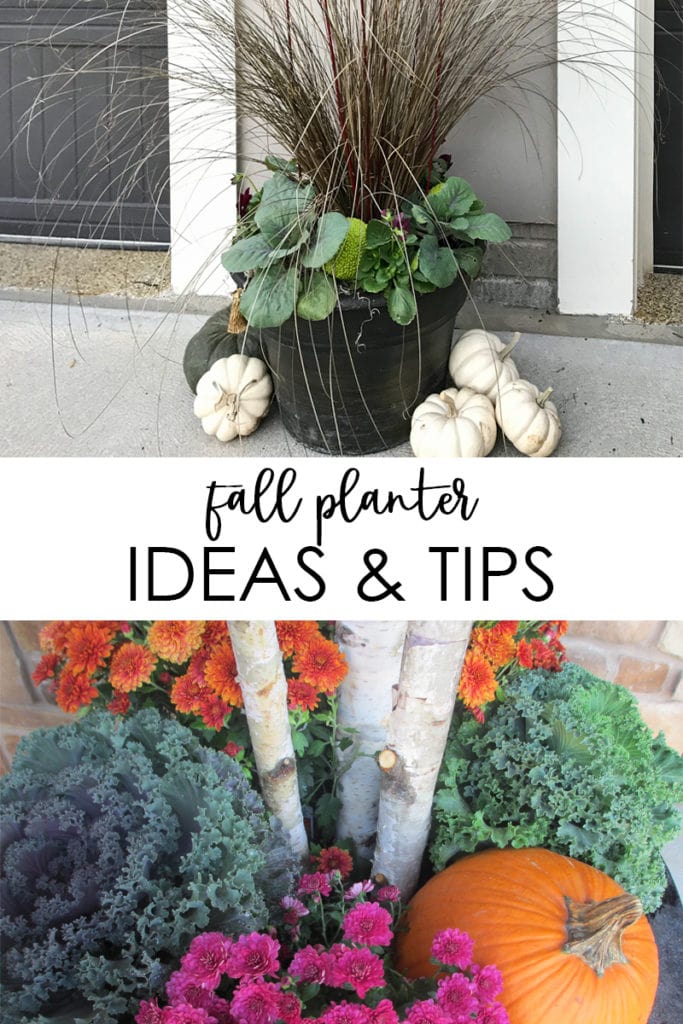 Earlier this year, I shared my summer planter ideas along with my tutorial on how to plant flowers in a pot. You seemed to love both posts, so I thought today I'd also share some fall planter ideas! I've also added a few tips on the best flowers and vegetables to use, as well as some unique ideas!
This post contains affiliate links for your shopping convenience. Click here to read my full disclosure policy.
Most of the planters in my yard are currently on their last leg. The overnight temps and a lot of rain with little sunshine has done a number on them. The only one that still seems to be thriving is my front porch (the one I want to update first for fall)! But, I usually find it takes me a week or two to plan out what I want each year (if anything) and I thought I'd share some inspiration with you today.
The Best Fall Flowers and Plants for Pots
Before we jump into to full fall planter ideas, let's talk about some of the best flowers and plants to use in your fall arrangements. Since fall temps can be all of the board, you need something hardy that can sustain cold overnight temps followed by heat and/or dreary days. Here are some top contenders of flowers and plants to consider for your fall planters:
Mums
Pansies
Ornamental Grasses
Pumpkins
Kale
Ornamental Cabbage
Sedum
Gourds and Squash
Sticks/Tree Limbs: Red-twig Dogwood and Birch Limbs are favorites
I love incorporating vegetables into my fall planters. I find that I have to wait until late September or early October though to add them, or they may rot a bit too soon. They add such a fun and unexpected twist to planters though!
I still try and follow my thriller/filler/spiller method I mentioned in this post, but it can get a bit harder with fall plants, especially as access to large varieties dwindles this time of year! In some cases though, you may be able to use portions of your summer planters. Simply remove the sections that aren't thriving and then add in fall elements! I still continue to fertilize with my favorite fertilizer into the fall months as well!
Fall Planter Ideas and Inspiration
Now to get the creative juices flowing. Many of the below ideas are from Better Homes & Gardens, because I love that the label and identify each of the plants used. If you click the appropriate link, it will take you to the "recipe" for each of the planters if available.
These are some fall planters I did back in my early days when I didn't really know what I was doing. But I still thought it was beautiful!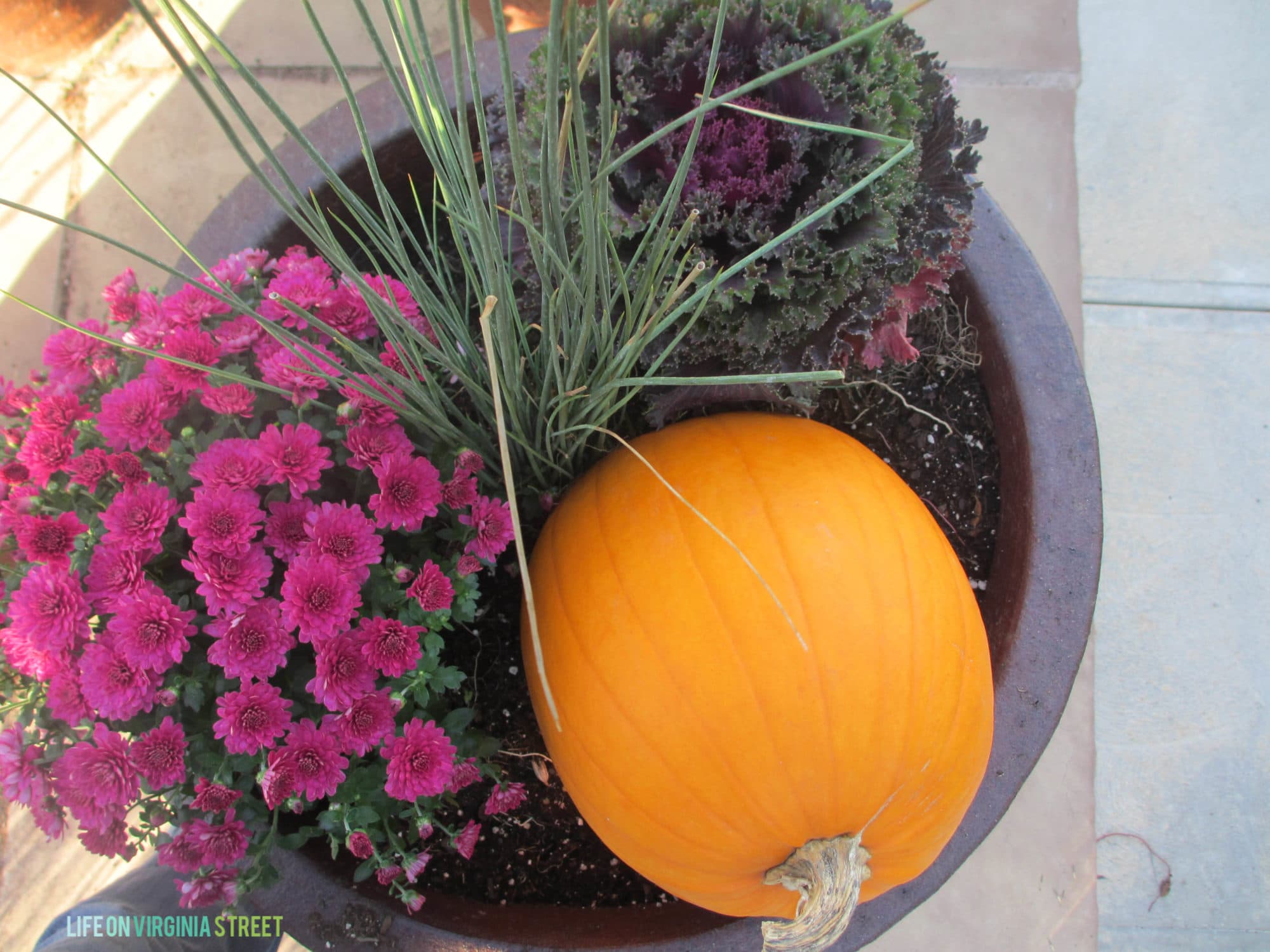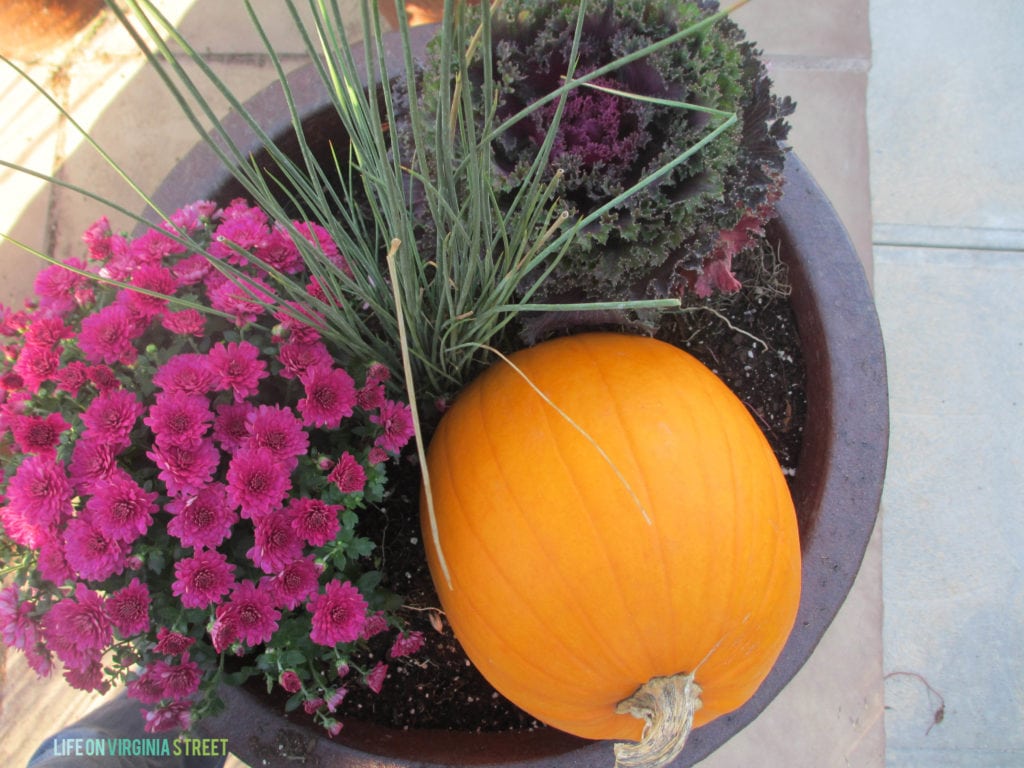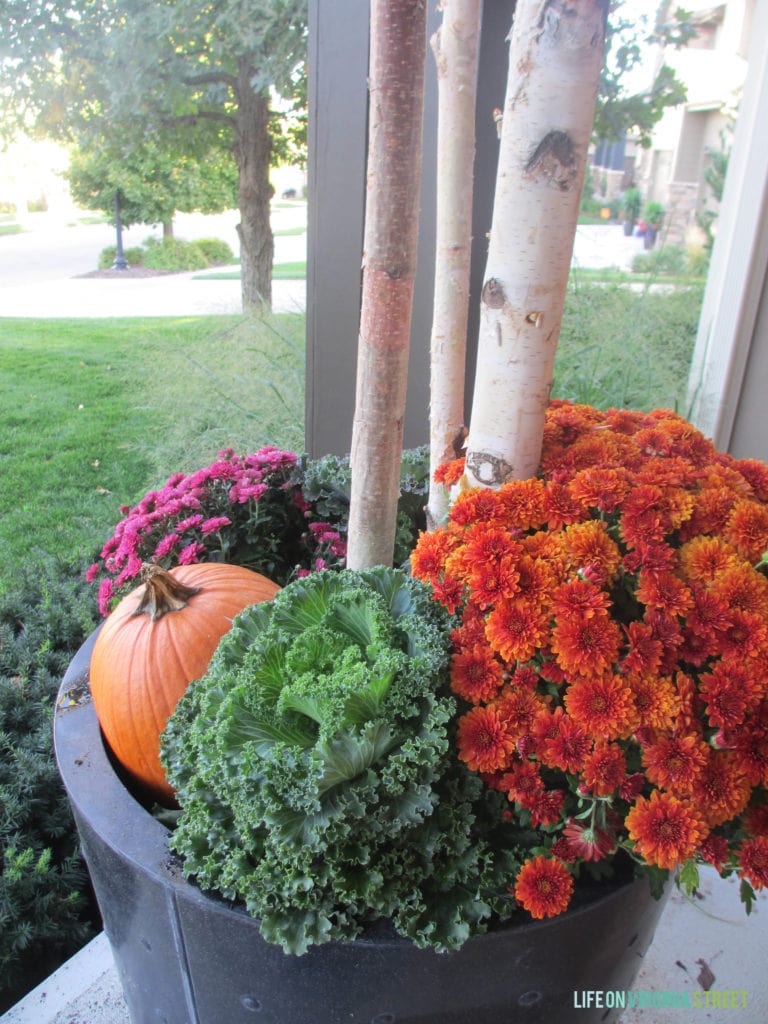 Ornamental grass makes such a beautiful statement in the center.
I love this next example! You can keep it really simple by layering pumpkins in a large urn or pot! If the area is covered you could likely use floral foam covered with moss as the center to avoid open holes and to use less pumpkins.
Think outside the typical planter! Use an unexpected element, like this wheelbarrow, to act as you pot!
Last year, I was running short on time and picked up this pre-made planter at a local nursery. I love the red-twig dogwood in the center mixed with the ornamental grass! I then just added some loose white pumpkins around the base and called it a day!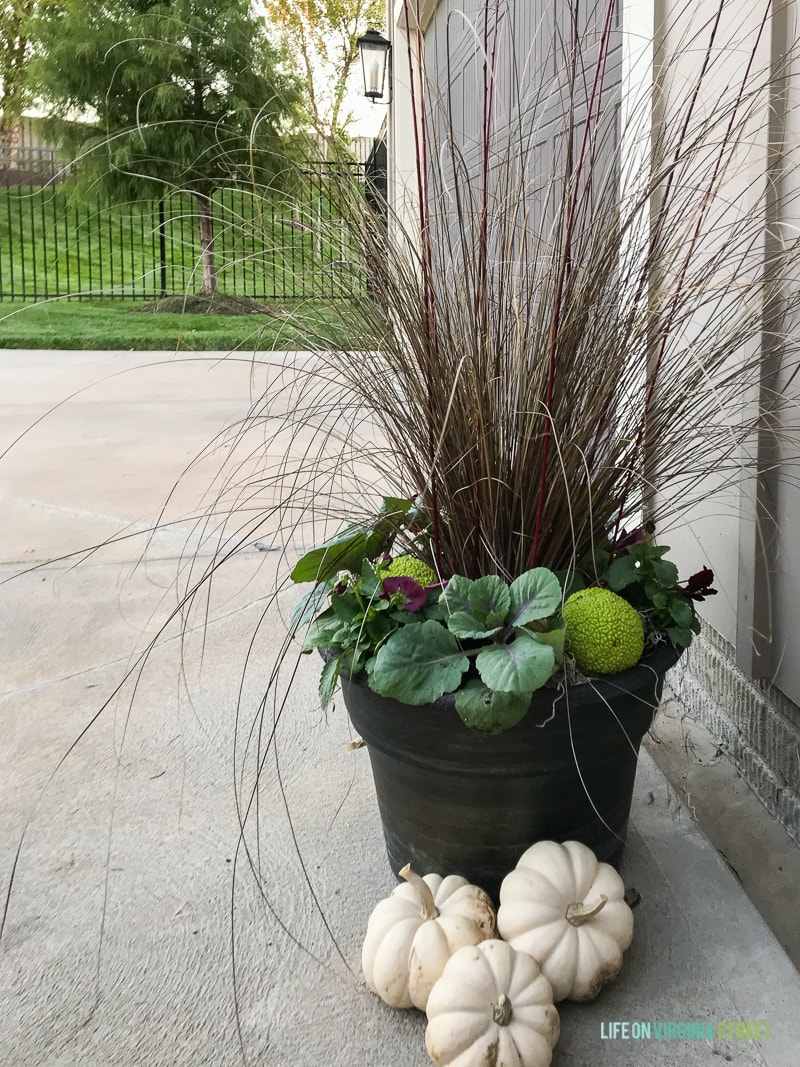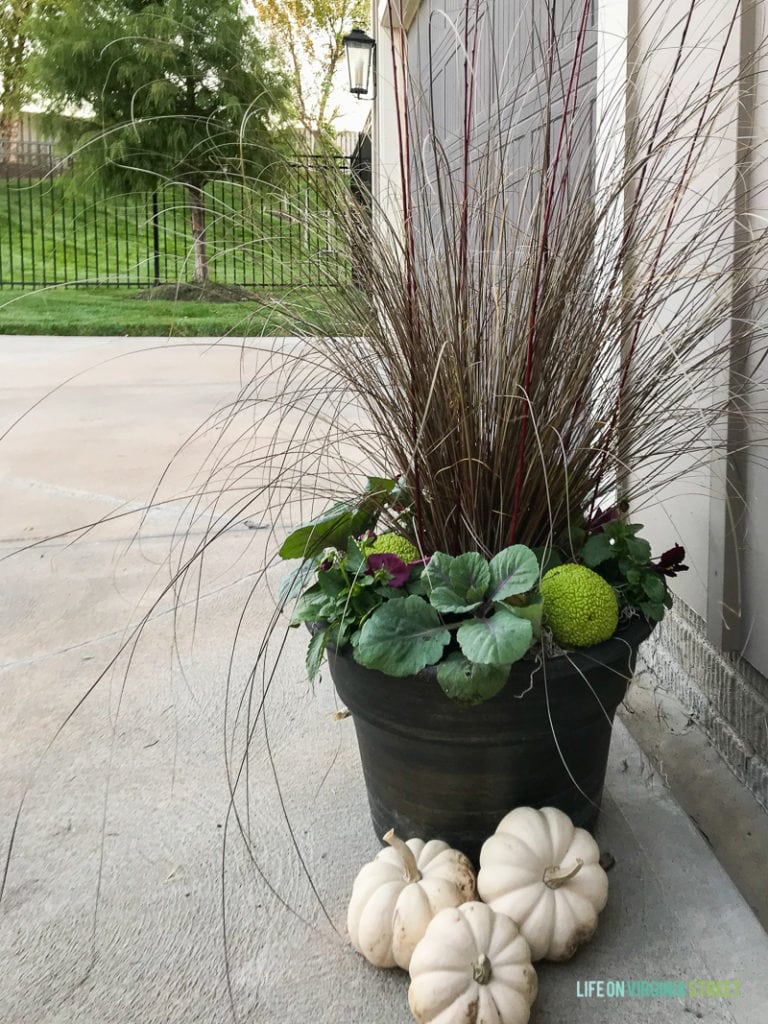 If you don't feel confident in your planter abilities, try a metal version of planters like this front porch.
Do you change out your planters for fall?  I hope to have mine ready in this next week or two to share with you. Have a great weekend!
If you would like to follow along on more of my home decor, DIY, lifestyle, travel and other posts, I'd love to have you follow me on any of the following:
Pinterest | Instagram| Facebook| Twitter
disclosure: some affiliate links used