I hope you all had a great weekend! We spent most of the week in Chattanooga and had a great time! I brought my laptop along with great intentions of working most of the time, but I didn't open it once (which is a rarity)! It was so fun to explore the city (more details below) and to come home with a full weekend ahead of us.
This post contains affiliate links for your shopping convenience. Click here to read my full disclosure policy.
Home Projects & Updates
First of all, I wanted to thank each and every one of you that attended our sale this weekend. It sounds like nearly everything sold out within the first hour of the sale! Completely blown away ny your support. We may try and do one or two of these a year knowing how popular it was! Thank you again to everyone that attended (and for all the fun pictures I received from people that bought some items from our home)!
I've been scheming up some simple changes for our smaller guest bedroom for some time now. I'm trying to make it feel a bit more mature and cohesive. So often it's the room that gets cast off decor from other rooms or from other seasons. I actually don't think I've even shown this room on the blog since the first of the year which is a bit crazy (and not intentional). But, I started with my progress yesterday when I convinced Kurtis to hang the larger version of the bead chandelier we already have in the room. I've always loved the smaller one in here, but it only took one 40 watt bulb (my fault for not reading more closely) so we knew as the shorter days neared, we'd have to make a change. When the larger version was on crazy sale during Premier Day a week or two back, I decided to order it since I knew I already loved the overall vibe!

We also moved the rug that used to be in the dining room under the bed in here. I think it's going to be so perfect for what I have envisioned. I'll share more plans soon. Trying to take baby steps and not rush anything. Here's a quick iPhone progress photo once we had both items in place! Although the light fixture is huge, the scale works so much better for me now in the space – and it takes 4 40 watt bulbs so it's much brighter too!

SOURCES: Cane Wood Bed | Rug | Bead Chandelier | Bamboo Mirror | Nightstand | Linen Desk Chair | Similar Roman Shades | Lamp – Lowe's (old)
Over the weekend, I worked on adding some more fall touches to our home. I can't believe my fall home tour is already on Wednesday! I still have a bit to wrap up before I photograph today and tomorrow, but I can't wait to share with you how the spaces have all come together. Here's a peek at our entryway hallway.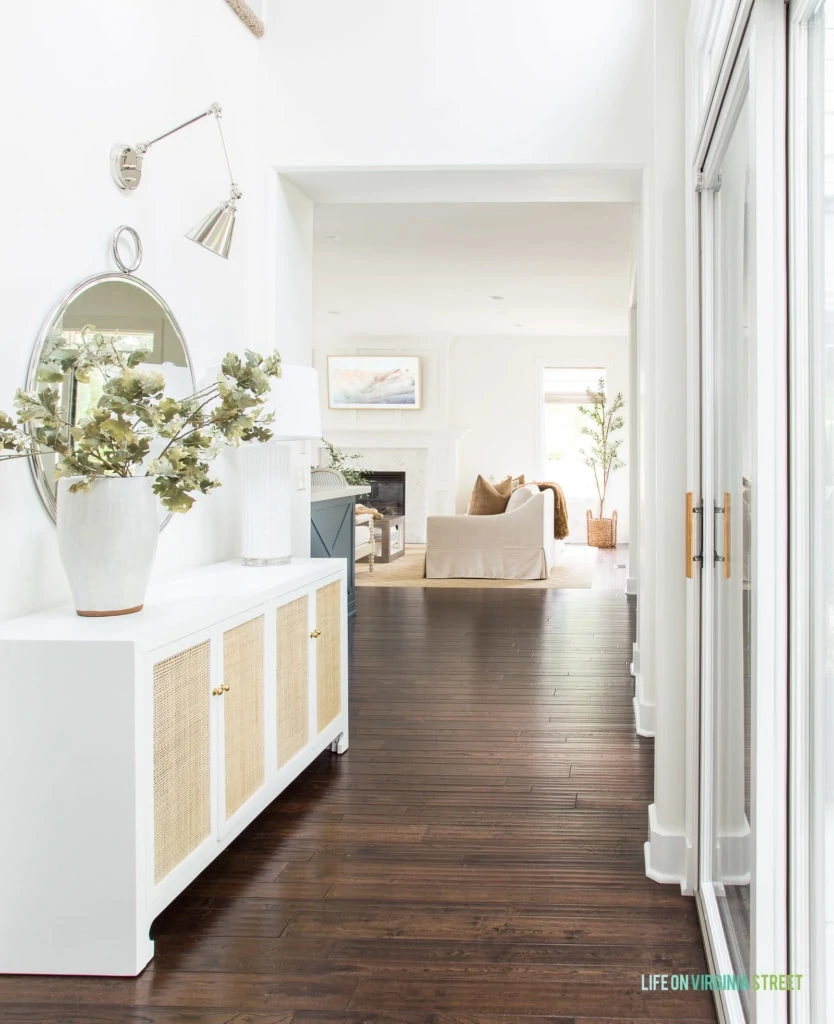 SOURCES: Cane Console Table | Similar Mirror | Vase | Faux Oak Leaves (old from Pottery Barn) | Swing Arm Sconce | Bamboo Lamp (old from HomeGoods but also available here) | Faux Olive Tree | Seagrass Basket | Bronze Linen Pillow | Linen Sofa (review here) | Faux Fur Blanket (old from Restoration Hardware)
Since I've given up on watering my planters, I also need to pull all the flowers from my pot this week before the weather gets too crazy. It's hard to believe it's already that time of year!
Around Town (and Chattanooga!) & For Fun
Tuesday morning we woke up to water in our basement, running under some of the drywall and out into the hallway. Our basement is unfinished, but we do have drywall up in some areas to block the cats. Thankfully we were able to get a plumber to come out early that afternoon. Turns out our main drain was backed up, and when I washed clothes that morning, the washing machine caused the water to rise. I'm just glad it was mostly clean, soapy water 🙂 Not a great way to start the week (on a day we were leaving town)! But I was grateful that we could get it resolved so quickly and we discovered it before we were gone!
Tuesday night, we flew to Chattanooga, TN. Kurtis had a business trip I decided to tag along on. We had a buy one, get one free airline ticket that was expiring, so it was a fun, last minute trip. As in – I think we booked less than a week before we left!
Chattanooga completely exceeded my expectations. Kurtis thought I would love it, but I really loved it. We stayed at the Westin downtown and it may be one of my favorite hotels ever. The rooms were your typical hotel room, but the grounds and location were so good! We started our days out front with coffee and scones enjoying their beautiful weather.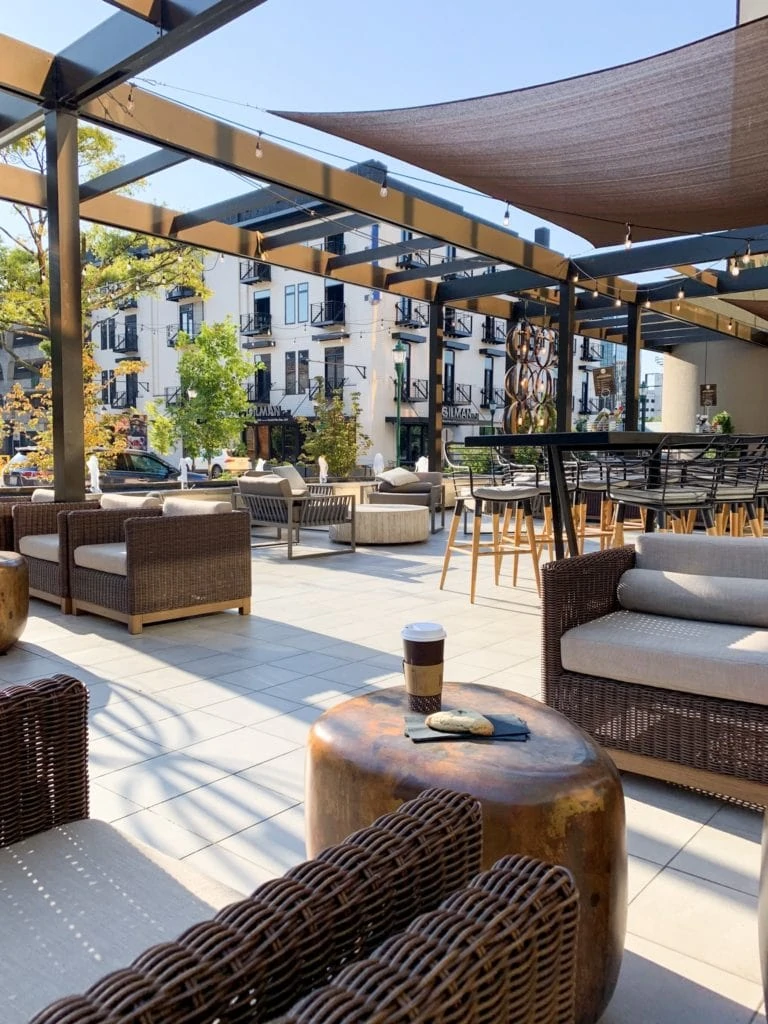 The pool on the second floor tempted me many times (especially with temps in the mid to high 90's), but I ultimately decided to go out and explore each day since I got a rental car.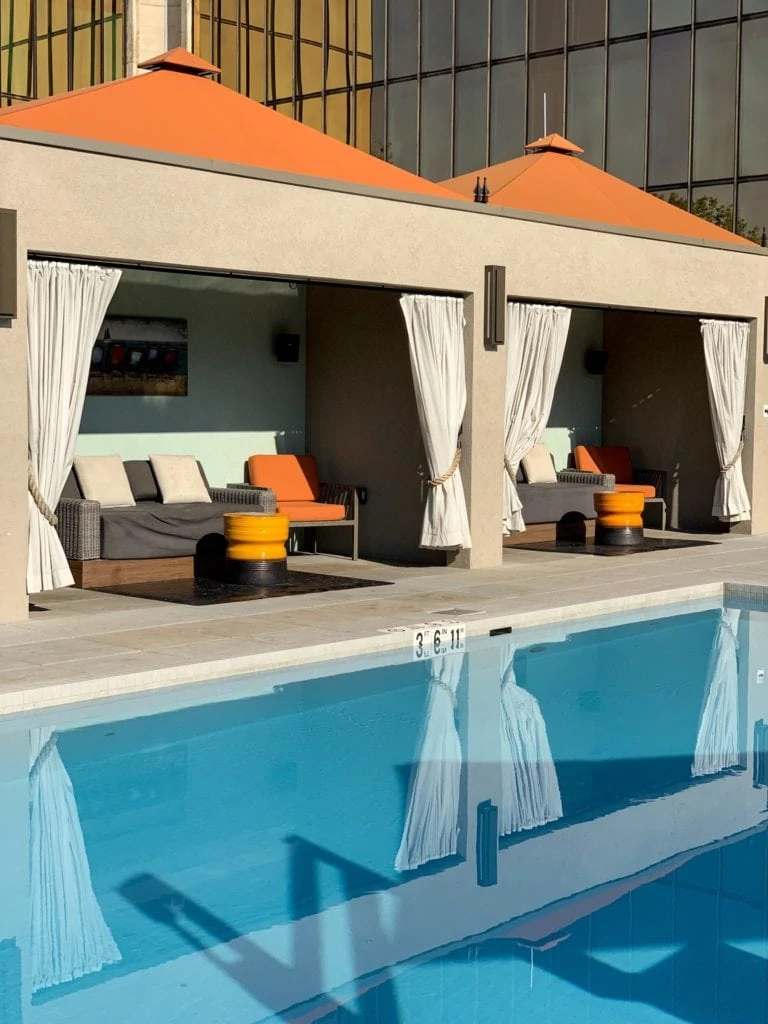 On Wednesday, I met my friend Jenna from Rain on Tin Roof for a fun afternoon and lunch! We headed to Taco Mamacita and I loved the southern take on Mexican food. I even added collard greens as my side. When in Rome! It was so fun to catch up and to hear all of Jenna's favorites from around the city.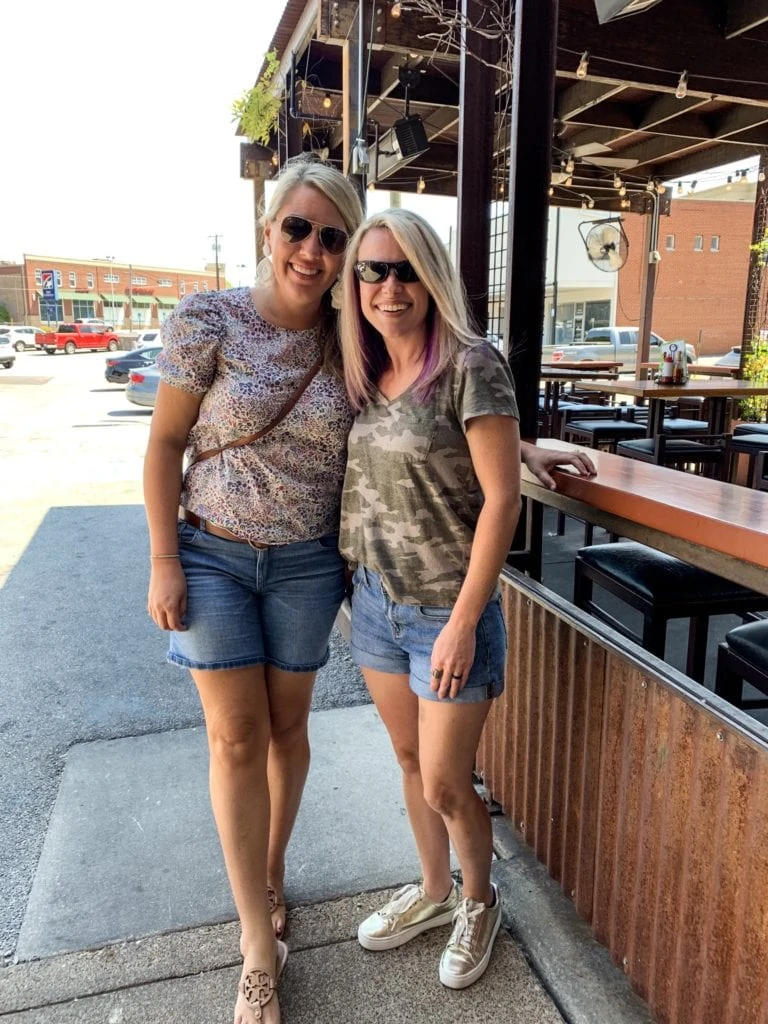 OUTFIT DETAILS: Floral Top | Denim Shorts | Earrings | Sandals | Sunglasses
Since Kurtis had to work most of the time, I was able to go out and explore quite a bit. I hit up a bunch of local home decor stores and boutiques and loved everywhere I went. I also couldn't believe just how nice everyone was!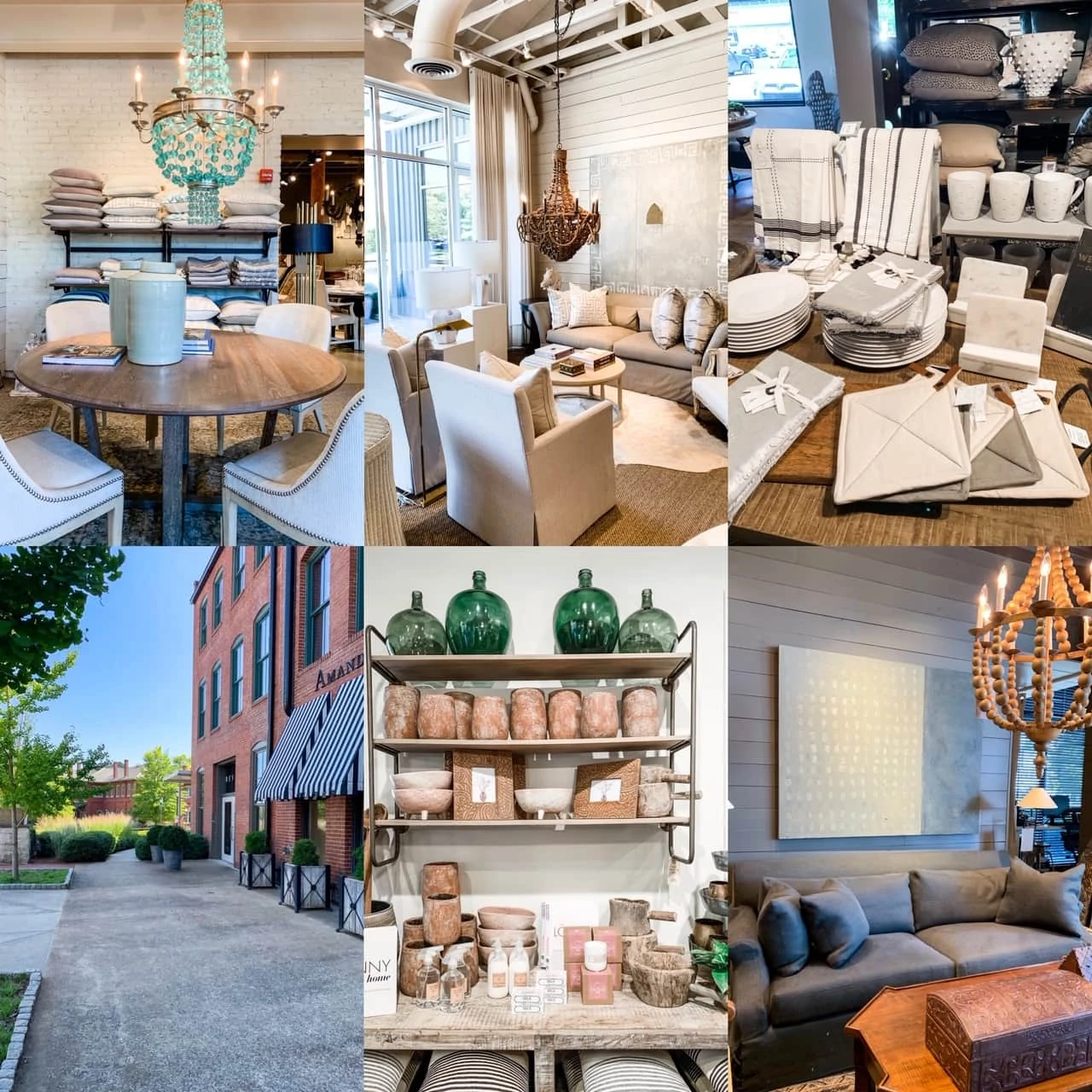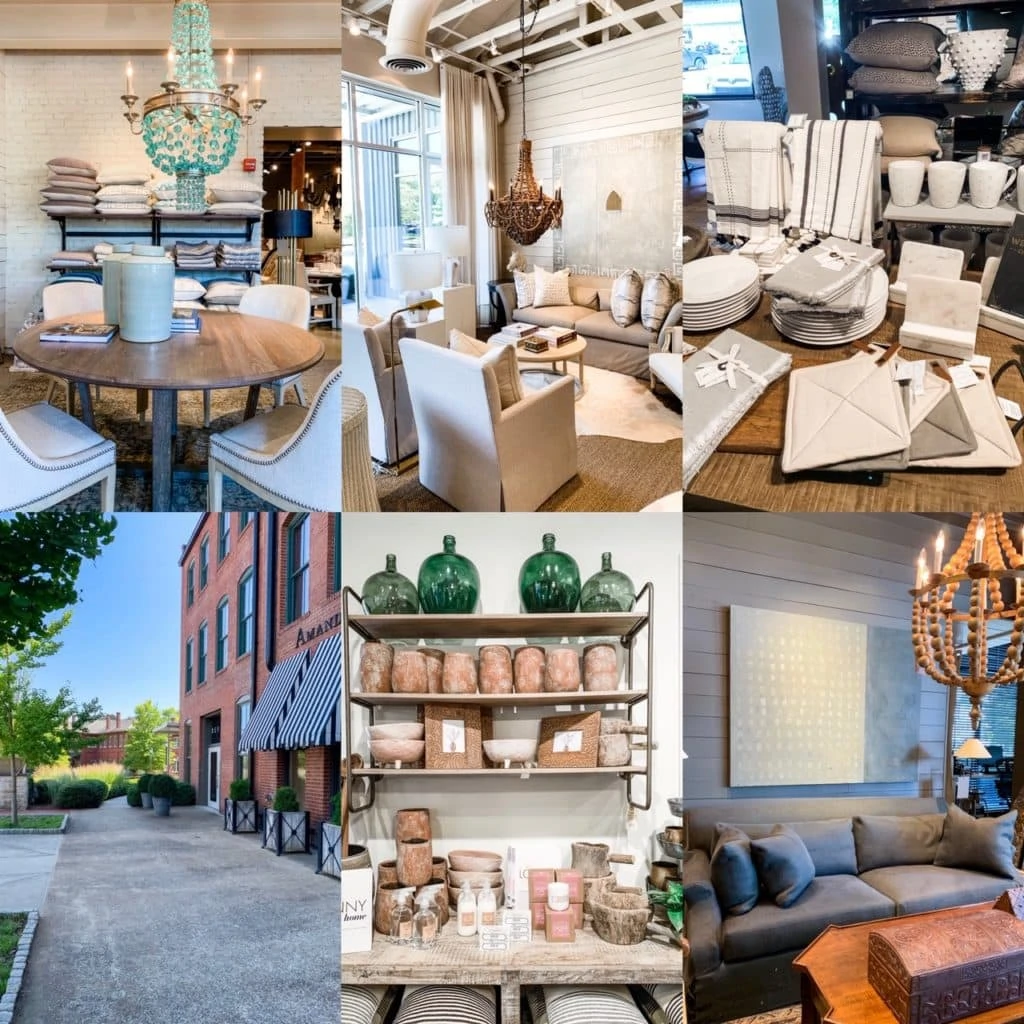 A few of the shops I loved were:
Mangos (I saw several items here that Studio McGee also carries and they were about 25% less expensive. I was just sad they couldn't ship!)
Danshire
Charlotte's Webb
Revival
Sophie's
Kurtis was done with work late afternoon on Thursday, so we decided to celebrate my birthday that night since we'd be traveling Friday night (my actual birthday). We did a little shopping, headed up to Signal Mountain and explored various parts of the city. We then headed back downtown for my birthday dinner. We started off with drinks at this amazing tequila bar, Citron Et Sel. We got there early so there wasn't much of a crowd but the drinks (and chips and salsa) were delicious!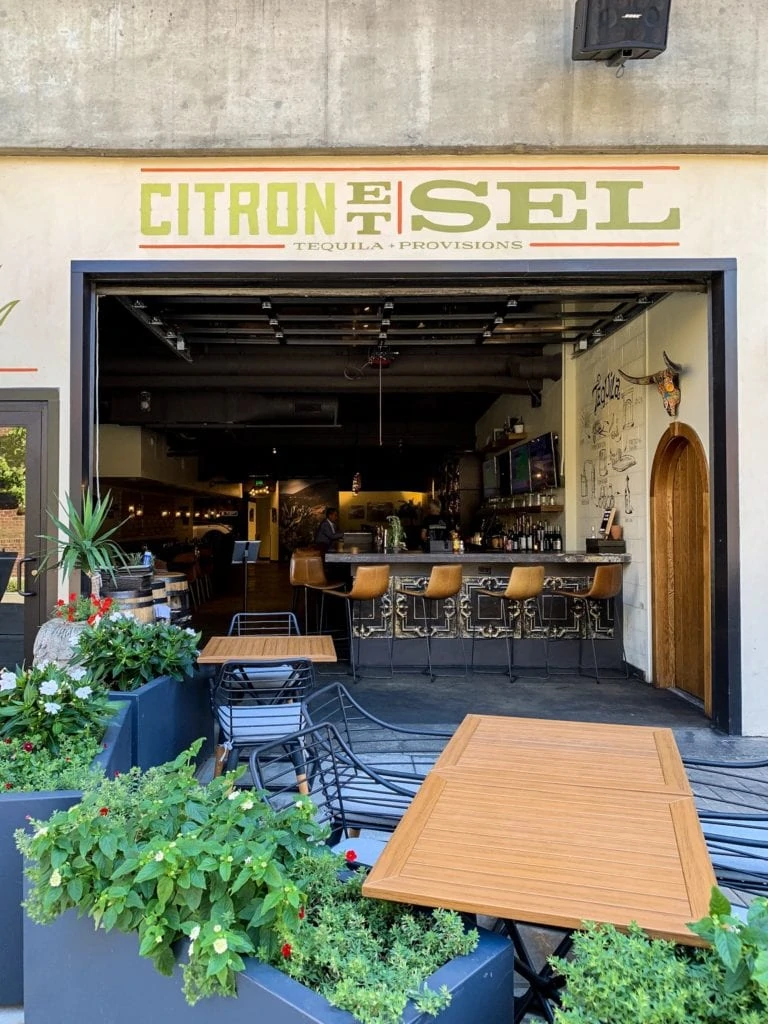 We followed it up next door with dinner at Old Gilman Grill. It was also really good and we loved sitting on the patio and listening to the live music down the street.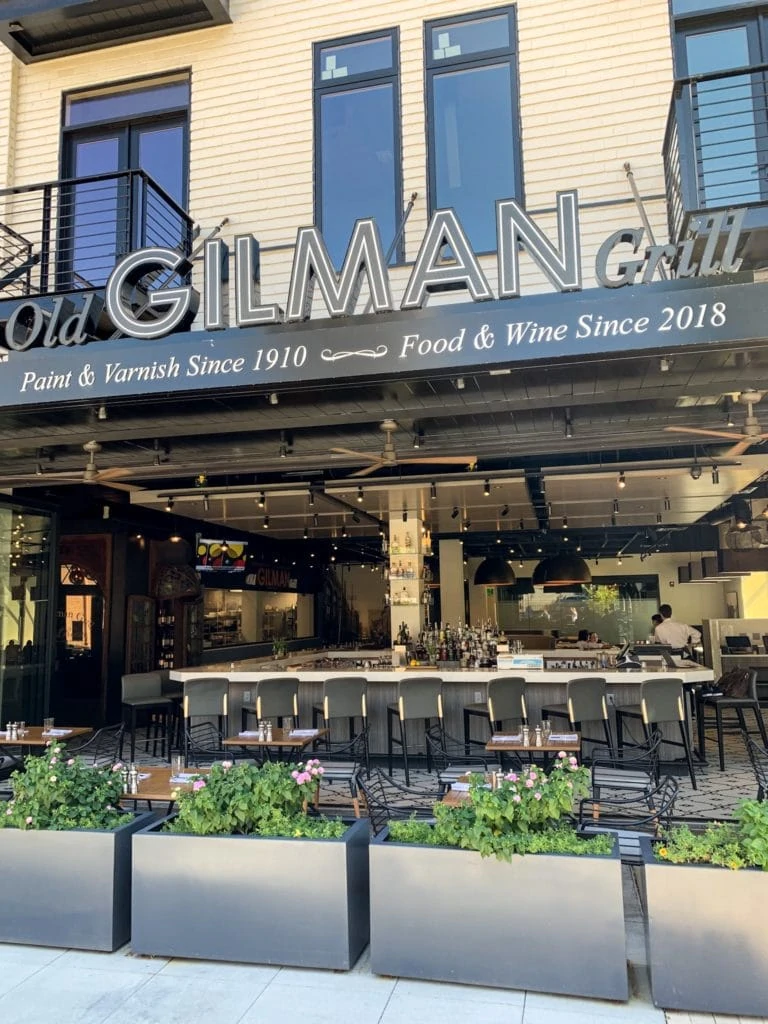 It worked out well that both the tequila bar and the restaurant were right across the street from our hotel.  I told Kurtis I wanted to get one of the condos about Old Gilman Grill. Until I saw the prices 😉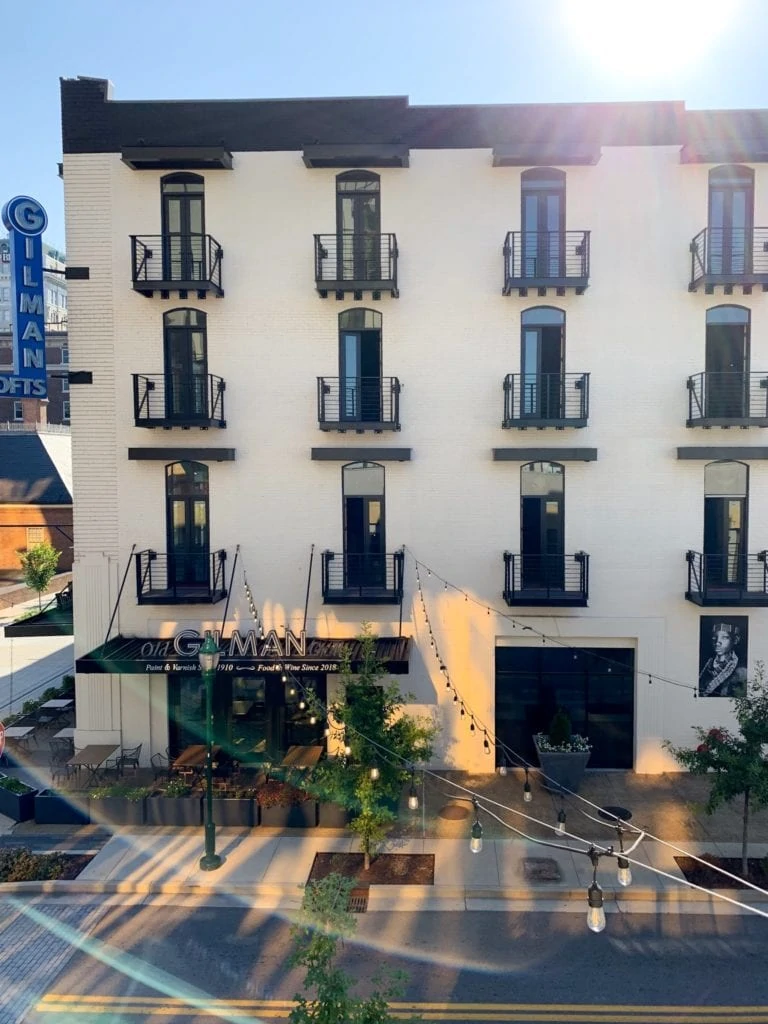 Friday morning, we spent some more time driving around and checking out various neighborhoods. I also got in a little more shopping and we made the trek to Lookout Mountain. The drive up was stunning and the homes were just beyond! The only small annoyance was that there wasn't really much parking allowed so I couldn't take any photos of the homes or the incredible views.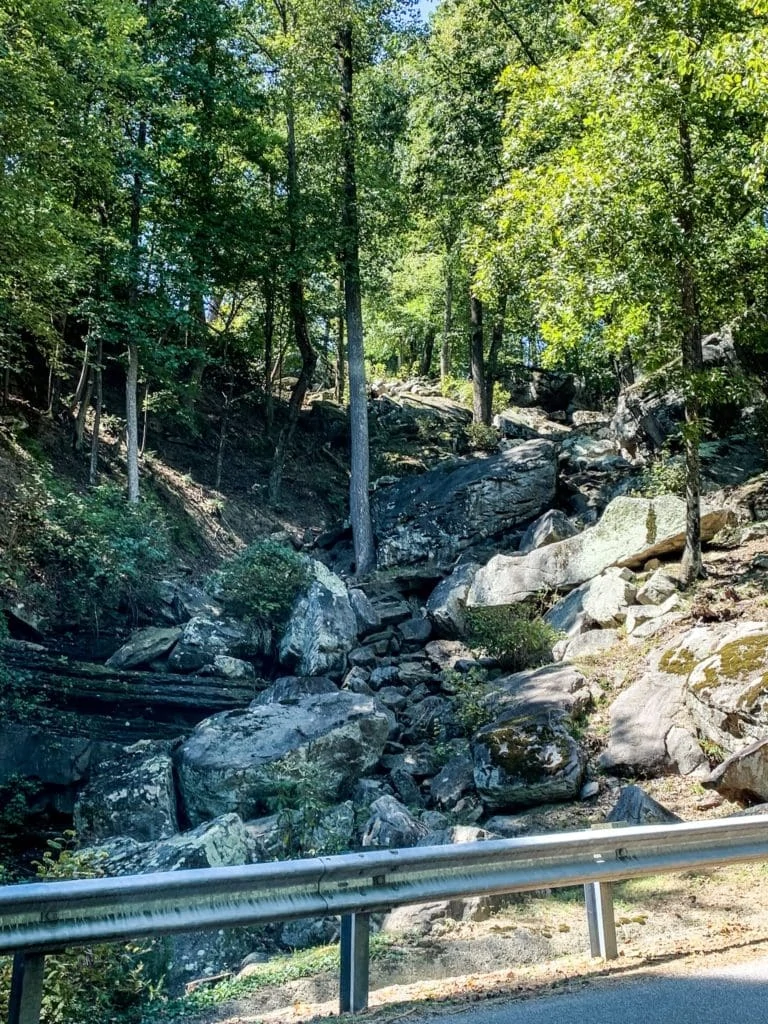 We had lunch right on the banks of the Tennessee River at Boathouse Rotisserie & Raw Bar. The food and drinks were excellent and the views were amazing. We had the perfect view looking down the river and into downtown. The weather was incredible and we soaked in our last few hours in Chattanooga as much as possible!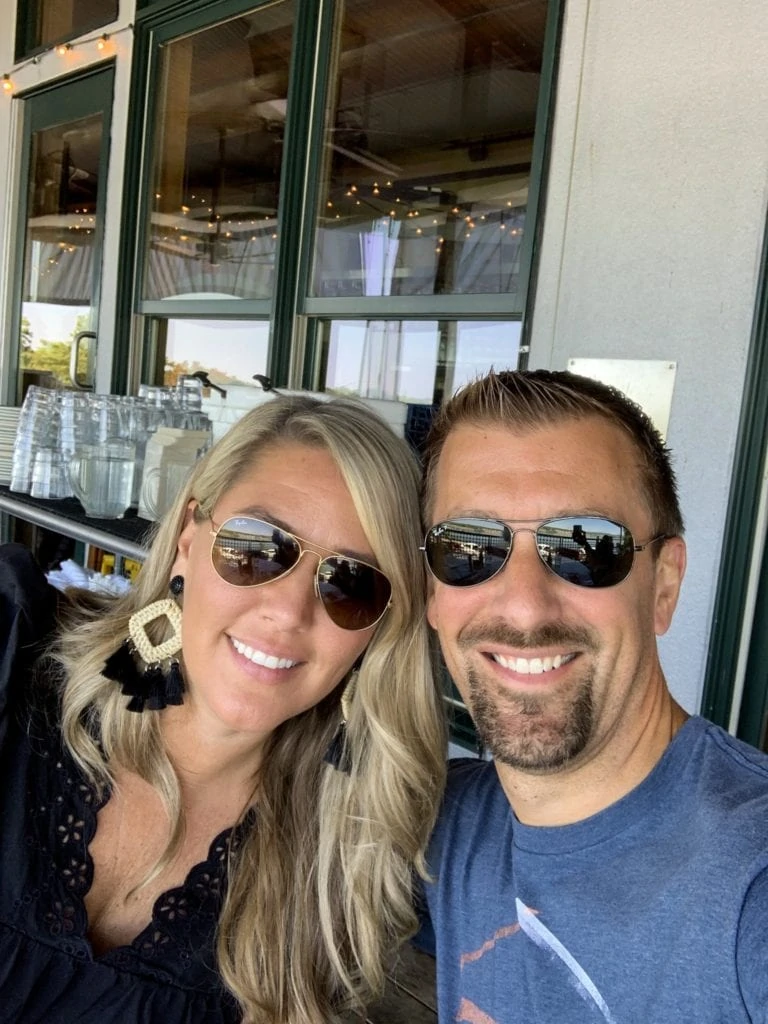 OUTFIT DETAILS: Eyelet Top with Puff Sleeves | Bamboo & Tassel Earrings | Sunglasses
We got back to Omaha late Friday night. We spent most of the weekend vegging out and hanging out with the cats. Kurtis isn't sad at all that college football season is here and I enjoyed the down time. It's a busy week ahead before flying to NYC next week for the Better Homes & Gardens Stylemaker event, but I'm ready to get back into a regular routine after the holiday weekend and our trip. I also can't wait to get back to Chattanooga sometime!
Recent Buys & Sales
Following are some of the sales that have carried over from the weekend.
I hope you all have a great week!
If you would like to follow along on more of my home decor, DIY, lifestyle, travel and other posts, I'd love to have you follow me on any of the following:
Pinterest | Instagram | Facebook | Twitter 
disclosure: some affiliate links used