The 2017 Nordstrom Anniversary Sale is now open to the public! Be sure to check out my top picks for women, shoes, beauty/accessories and home decor in this post.  Be sure to also check out my 2017 Nordstrom Anniversary Sale resource page. Today I'm also going to share what I ordered, and of that, what I'll be keeping and what I'll be sending back! I'll also include a few other items I have my eyes on at the end of this post!
Before you all think I'm completely loony for ordering as much as I did, I did so knowing I'd send back more than half of it once I tried everything on. Since we don't have a Nordstrom in Omaha, this seemed like the best option. Especially since I've heard the selections in stores has been slim. Many of the items I purchased were near duplicates. For example, I knew I wanted a long cardigan for fall/winter so I ordered a few options to try so I could keep my favorite.
Nordstrom Anniversary Sale – What I'm Keeping
I've mentioned it a few times already, but this flare sleeve sweater is my favorite purchase from the sale! I do feel like it runs a bit large, so I'd size down if you're between sizes. I love that the sleeves are long enough for the tall girls and the flare feels like just the right amount without being over-the-top.
These suede booties are the perfect height and perfect for fall outfits! They come in multiple colors, but I'm loving this taupe-y brownish gray color 🙂 If you prefer a bit shorter heel, I definitely recommend these booties. They are super cute on and feel a bit edgy and sexy with their unique cut-in!
I'll likely be getting an additional color in this tie-knot sweatshirt. It is super cozy without being overweight (it's not fleece lined). I love that the knot makes a really basic top look a bit fancier!
I am loving this lace top but it does run small and at first I was a bit concerned about the sheer areas. In the photo below, everything above the v-shape doesn't have a lining. So I felt like it showed a little cleavage (I tend to be pretty conservative in this area). But in the end, the mock-neck collar and pretty feminine details won me over. I also loved that my skin was a really close match color-wise to the lining on the lower half so it wasn't super obvious that it was open on the top.
My favorite cardigan of the sale! This is staple that can virtually be used year round because it isn't overly heavy and it comes in so many versatile colors. It's no wonder it was a top-seller last year! I bought the maroon and the gold/carmel color and I honestly may buy another like the cream version shown below. At this price, I don't feel all that guilty either.
If you're in the market for some jeans, these skinny jeans were my top pick. I even loved them more than the much pricier pairs I ordered (all of which will be getting returned).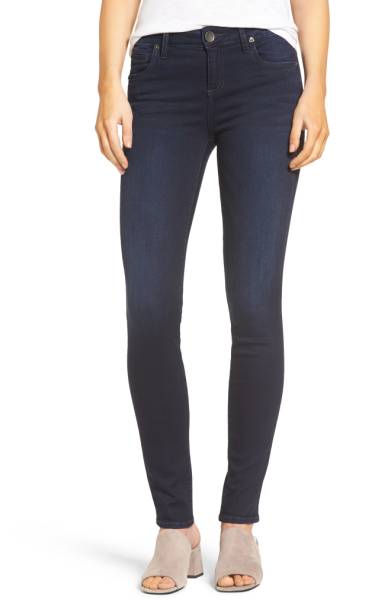 Nordstrom Anniversary Sale – What I'm Returning
I really wanted to love this bell sleeve sweater, but I ultimately decided it wasn't for me. I did love that double sleeve (there is an interior sleeve under the bell that is full length so it's not open underneath) but the bells were just a bit too big for me. They looked fine when my arms were done (like the model below) but I looked like a giant bat if I moved my arms at all. It could be really cute on the right person – just not me!
These Tory Burch sandals were the ones I had the most hope for. I have been needing to replace my Millers for some time now, and I thought this was my chance to get TB sandals at a major discount. But I hated how they looked on my feet – which is crazy because the reviews are really great. I think I'll be going back to the Millers next year instead.
This is actually an item I loved. I really wanted to keep this knit moto jacket (it's so cute!), but decided it was a bit too short for me (I'm 5'8″ but have a pretty long torso). I'm contemplating going up to the large to see if it gets any longer. I love it that much. It looks cute open or zipped up!
Guys, these whipstitch booties are so amazing. I'm actually obsessed with them. But sadly, I must have a giant/tall heel, because the back side of the shoe wouldn't fit me (even though the length was right). Not sure if they just run small? But my sizing is almost always consistent. Somebody please buy these so I know they're in a good home!
I really wanted to love this tie-hem sweater (I got the gray), but it felt baggy around the armpit area and it was really itchy.
 Nordstrom Anniversary Sale – What I'm still considering
There are still so many great deals and items I missed the first time around. This cozy cardigan and this hooded version are the items I've heard consistently are amazing and crazy comfortable! Following are some items I still have my eyes on! Click any image below (you may have to double-tap on mobile) to be taken to each item.

Be sure to check out my top picks for women, shoes, beauty/accessories and home decor in this post.
If you would like to follow along on more of my home decor, DIY, lifestyle, travel and other posts, I'd love to have you follow me on any of the following:
Pinterest / Instagram / Facebook / Twitter / Google+
disclosure: some affiliate links used