Thank you to Delta Faucet for asking me to be their correspondent at Haven Conference this year! This post is sponsored by Delta, but as always, all thoughts, opinions, and love of Haven Conference are my own.
I'm going to start by saying I think this was my favorite Haven Conference yet! For those not familiar, Haven is an annual home decor and DIY blogger conference in Atlanta, Georgia. This was my fourth year attending and today I'm going to give you an insider's view of what happens at the conference. This was the third year the conference was held at the Grand Hyatt in Buckhead and I loved the location!
I flew to Atlanta early Thursday morning. Since I had a little time before the event started, I decided to head to the nearby Nordstrom to check out the Anniversary Sale in person. To be honest, I didn't love the selection, so I walked away empty handed.
Once I got back to the hotel, I started to get ready for the night's events. The welcome reception was co-hosted by Delta and The Home Depot. As I mentioned in prior posts, it was also the evening I had the opportunity to interview HGTV's Brian Patrick Flynn. Admittedly, I was a bit nervous!
However, once I met Brian in person I realized I had nothing to be worried about. He was incredibly friendly, outgoing, and talkative and made me feel completely at ease! I'll be doing a full post dedicated to our interview shortly, but in the meantime, you can watch our full interview here!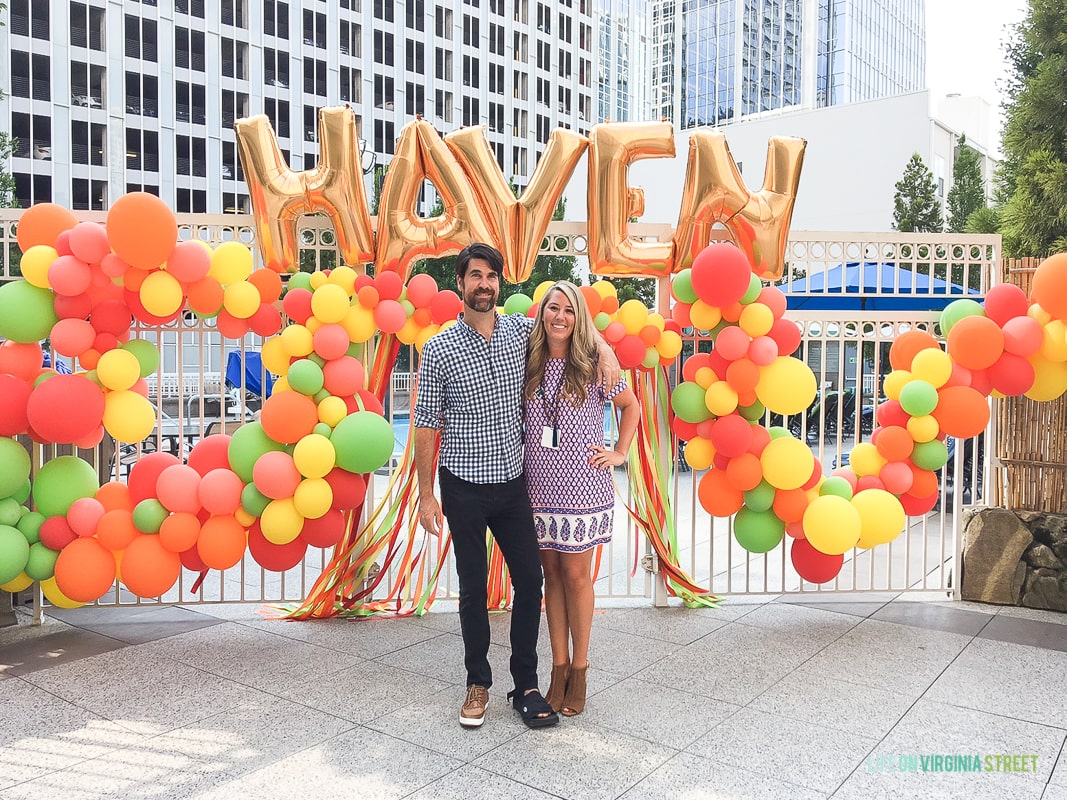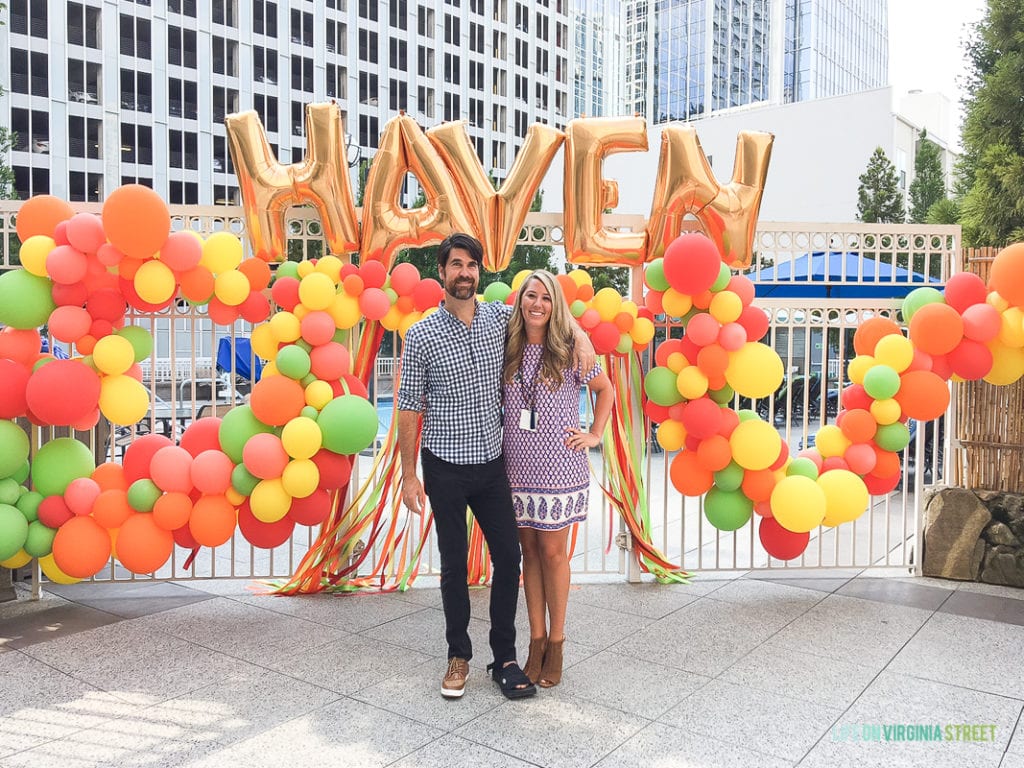 A big thank you to Yuni at Love Your Abode for capturing Brian and me during the heart of the interview!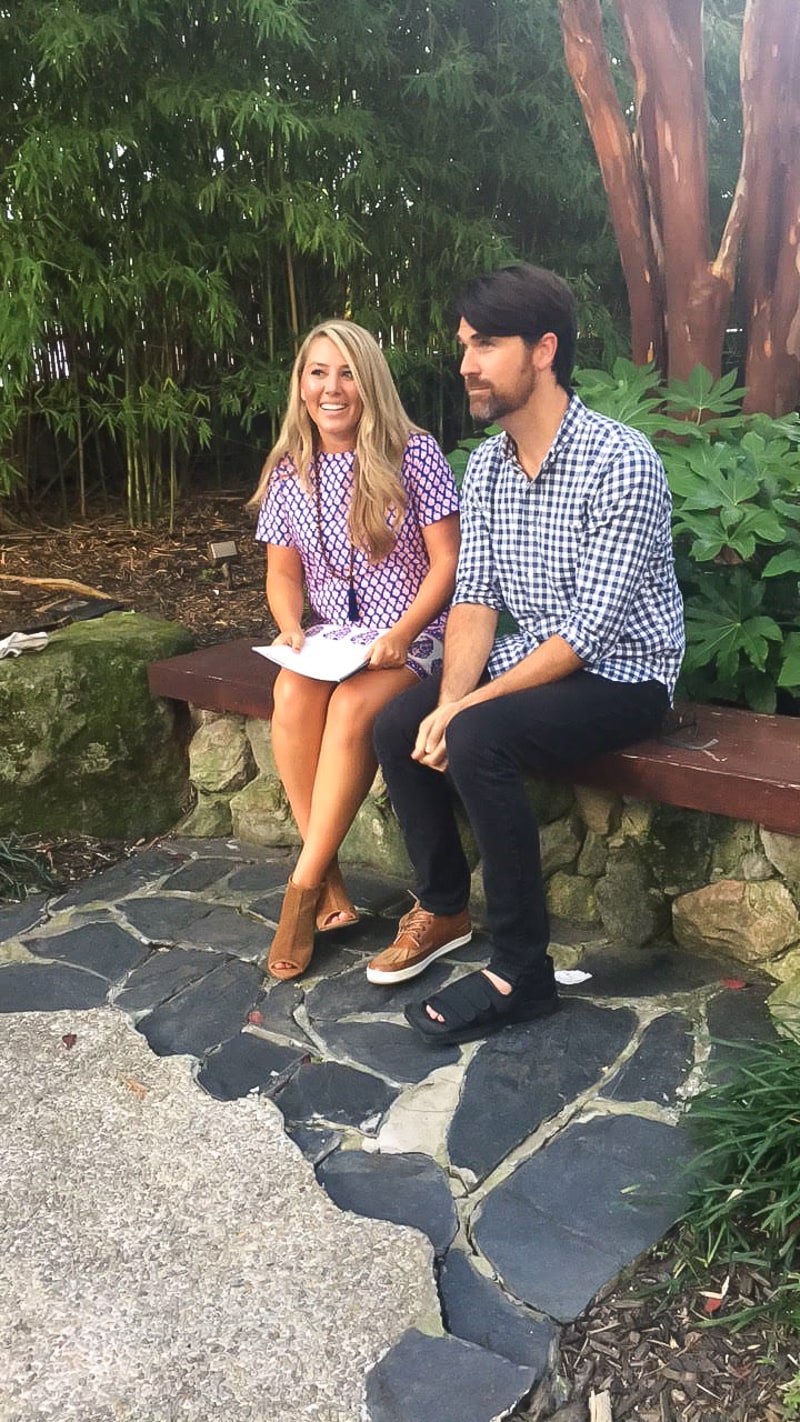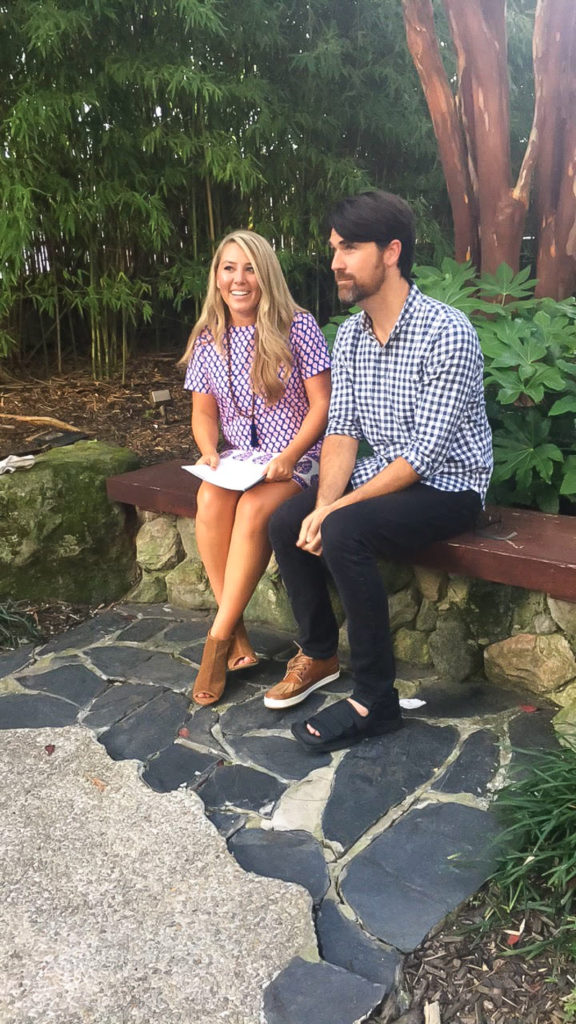 There were the cutest, branded sugar cookies at the event. There were also drink and h'orderves.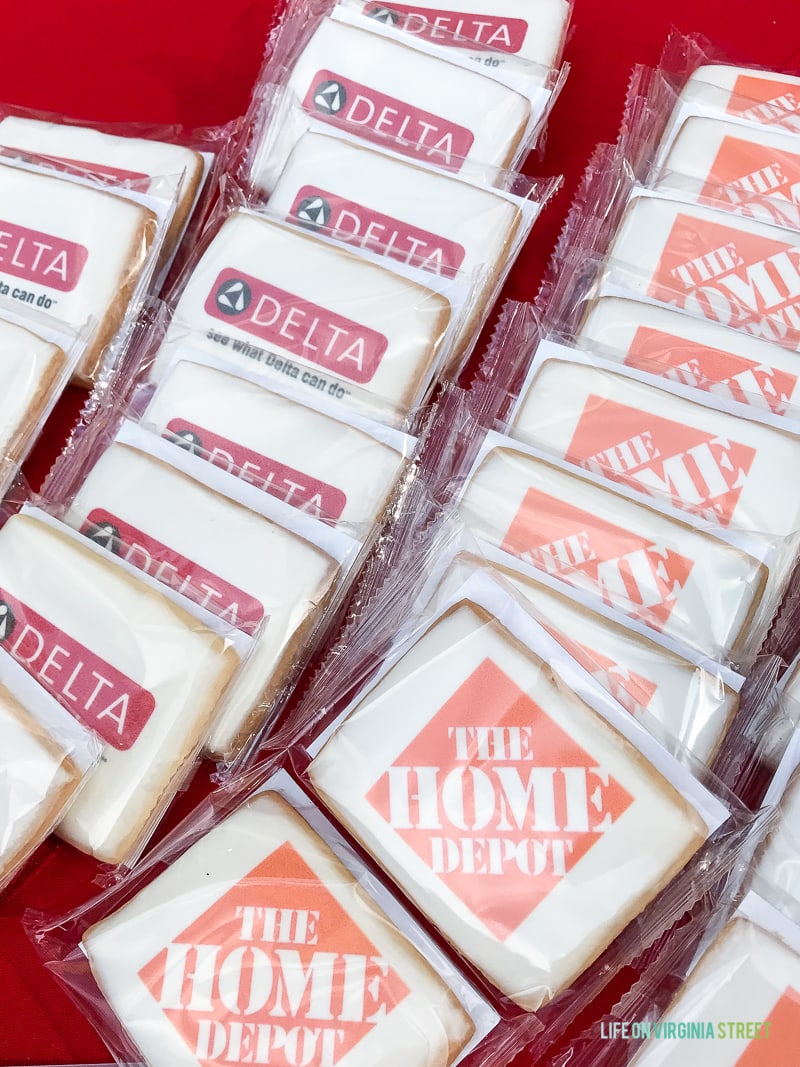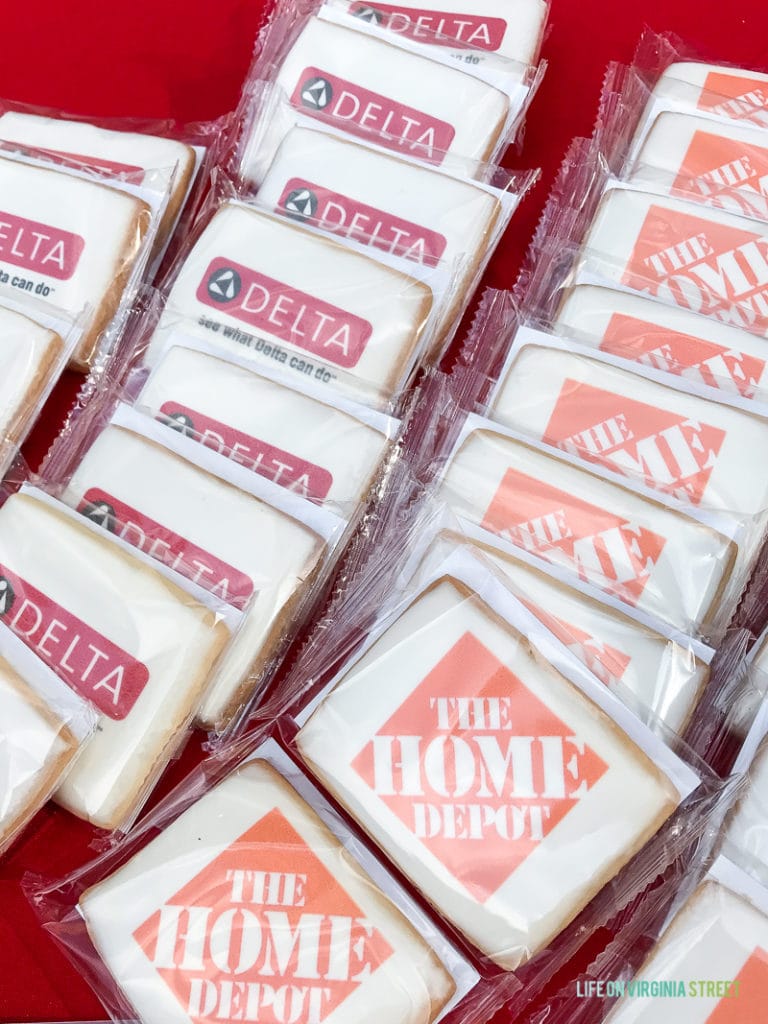 Delta also hosted a giveaway, offering one attendee their choice of either the Foundry Single-Handle Pull-Down Sprayer Kitchen Faucet, the Everly Two-Handle Centerset Lavatory Faucet, or the HydroRain Two-in-One Shower Head. I honestly would have loved any of these. But that kitchen faucet has the new ShieldSpray technology that is one of the coolest things I've seen a faucet be able to do. I witnessed it live in action in Indianapolis last year at the Delta headquarters and it was amazing!
The reception also gave me the opportunity to see some of my very best blogging friends again! One year apart is far too long! There were countless group photos taken under these adorable balloons that the Delta team used to decorate!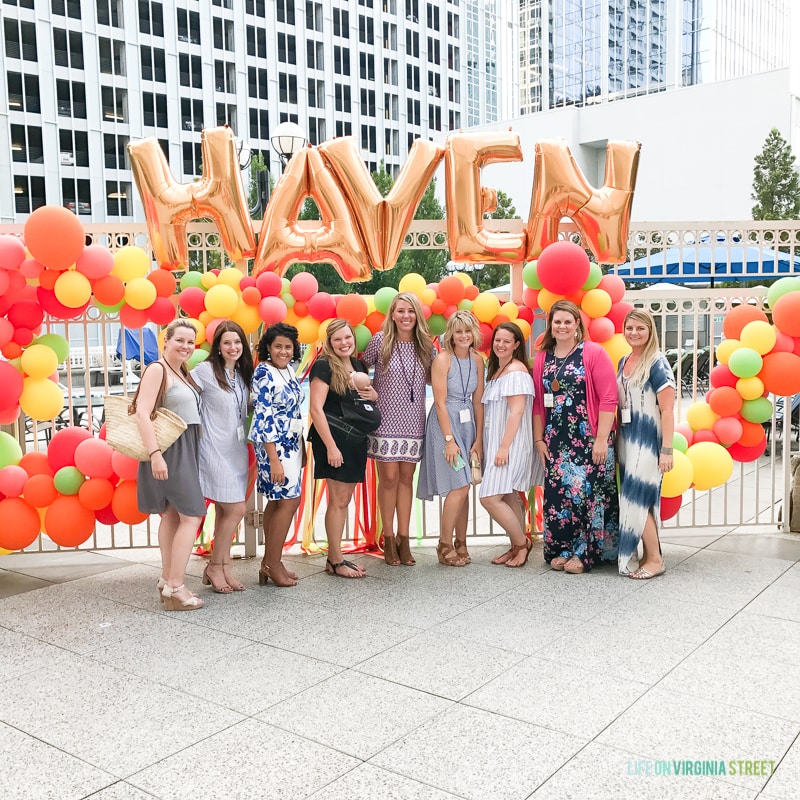 Jamie | Abby | Chelsea | Rachel | Me | April | Nina | Laura | Lauren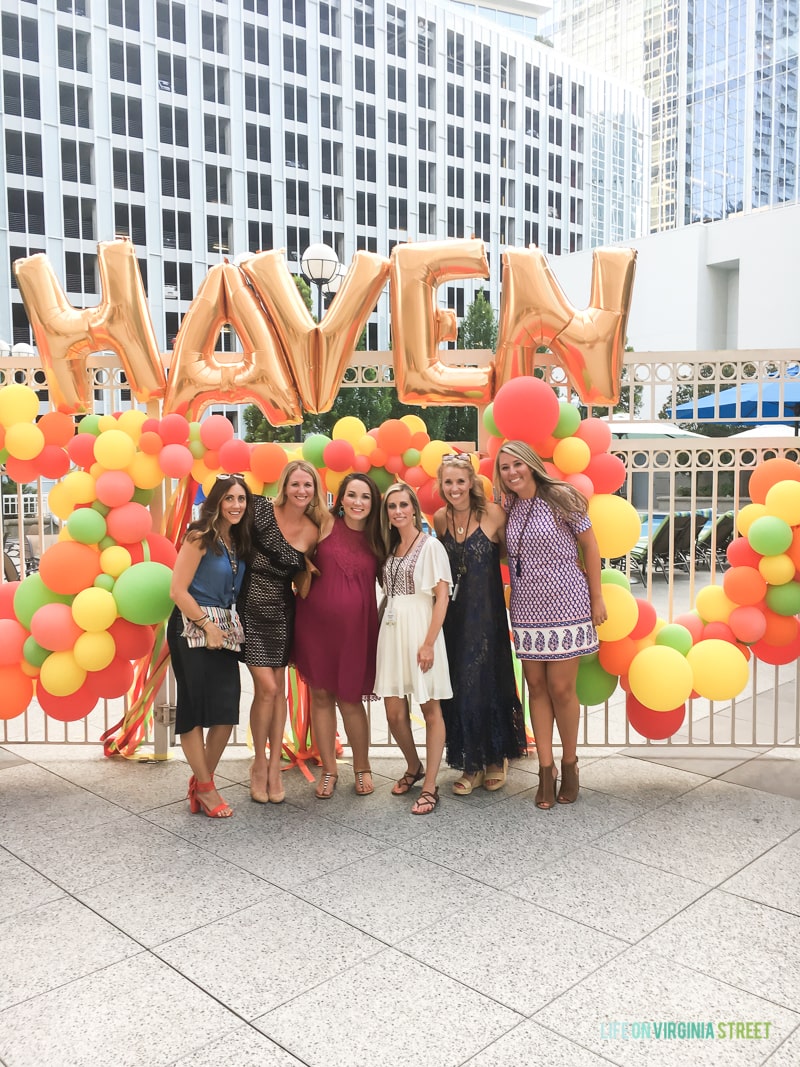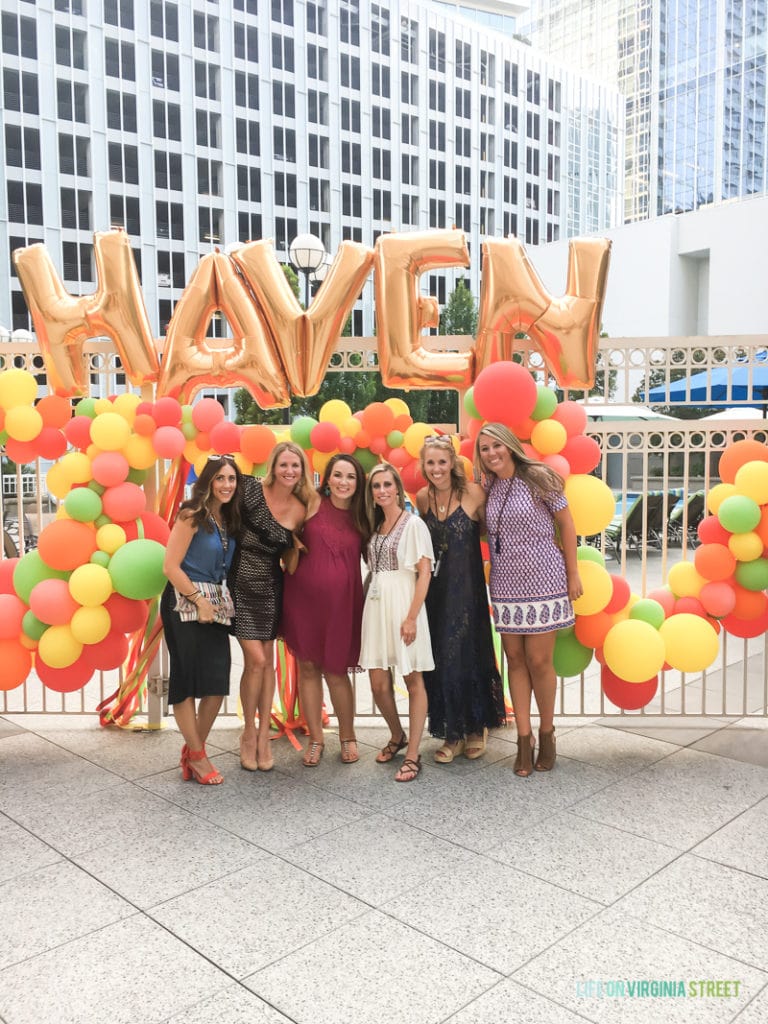 Rachel | Heather | Katie | Erin | Charlotte | Me
I can honestly say this was the best welcome reception at Haven I've ever been to!
That evening, I had a dinner with my ad network (AdThrive) at a cute rooftop restaurant called Gypsy Kitchen. Andrew Shue has ties to the company so it was a highlight getting to see him at the event!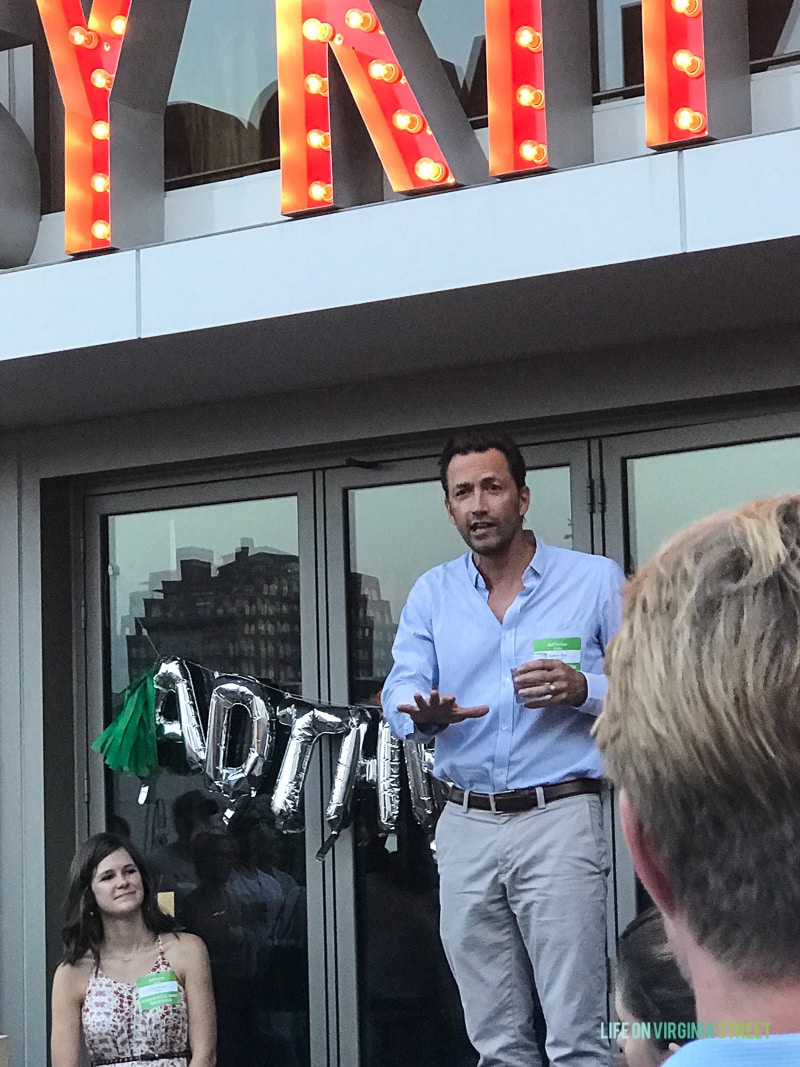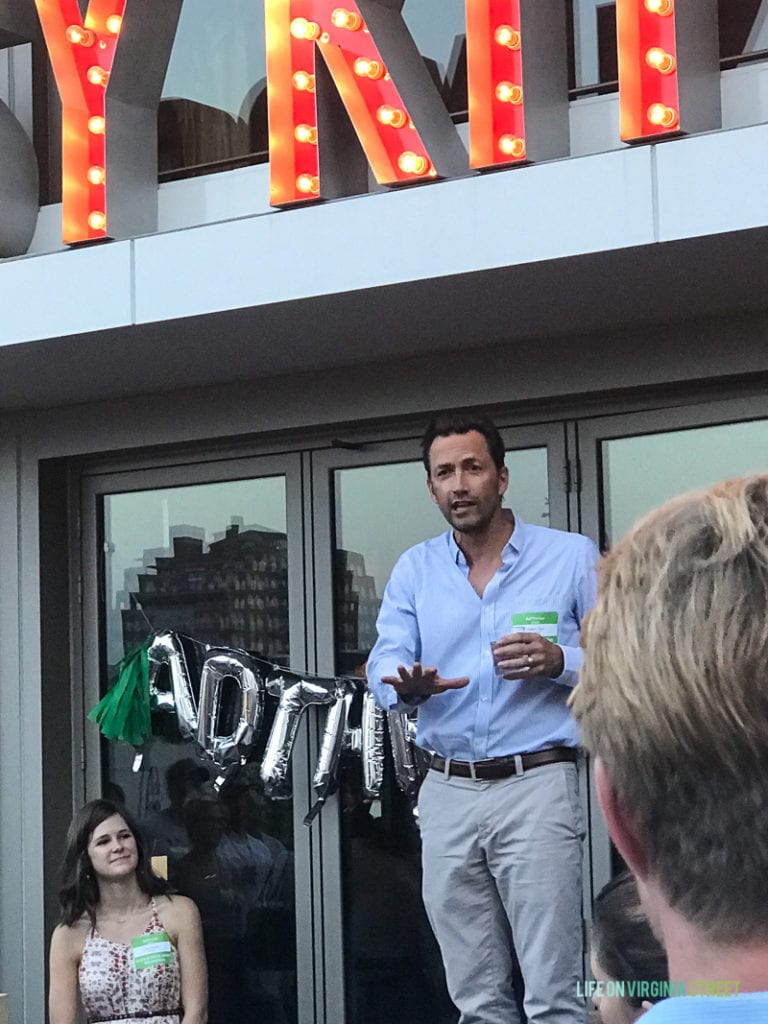 Seeing the crazy huge Restoration Hardware Store across the street was another highlight! How is that just one store?!?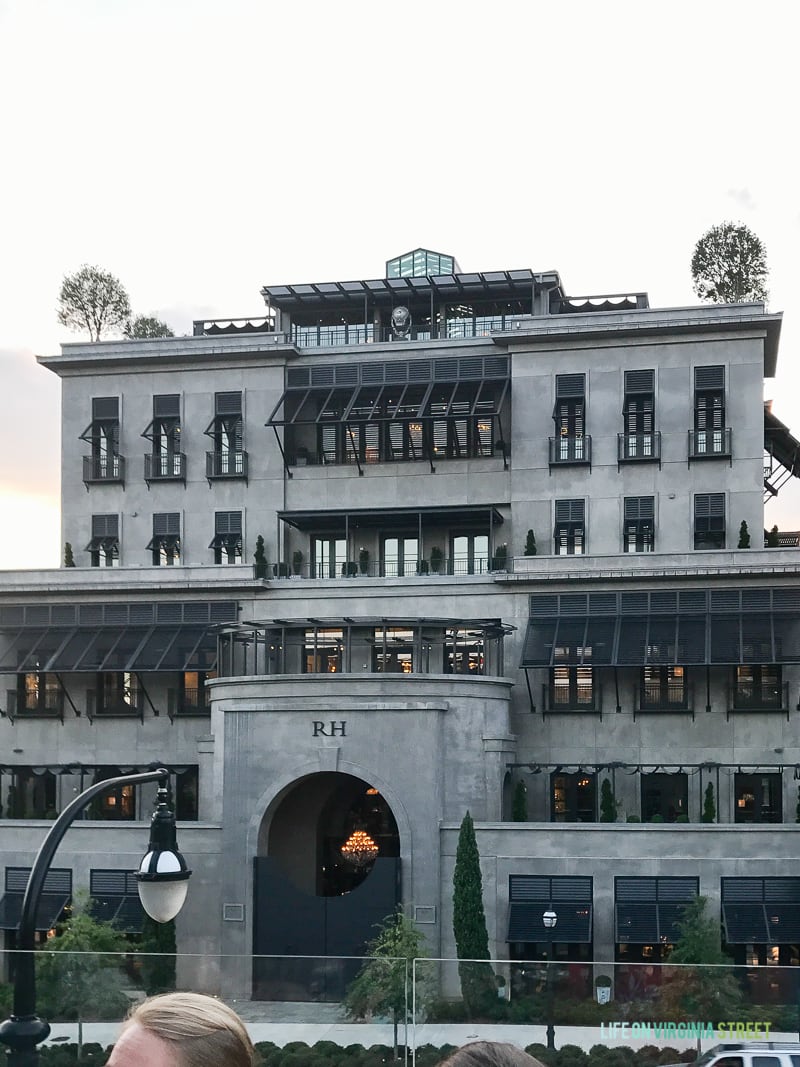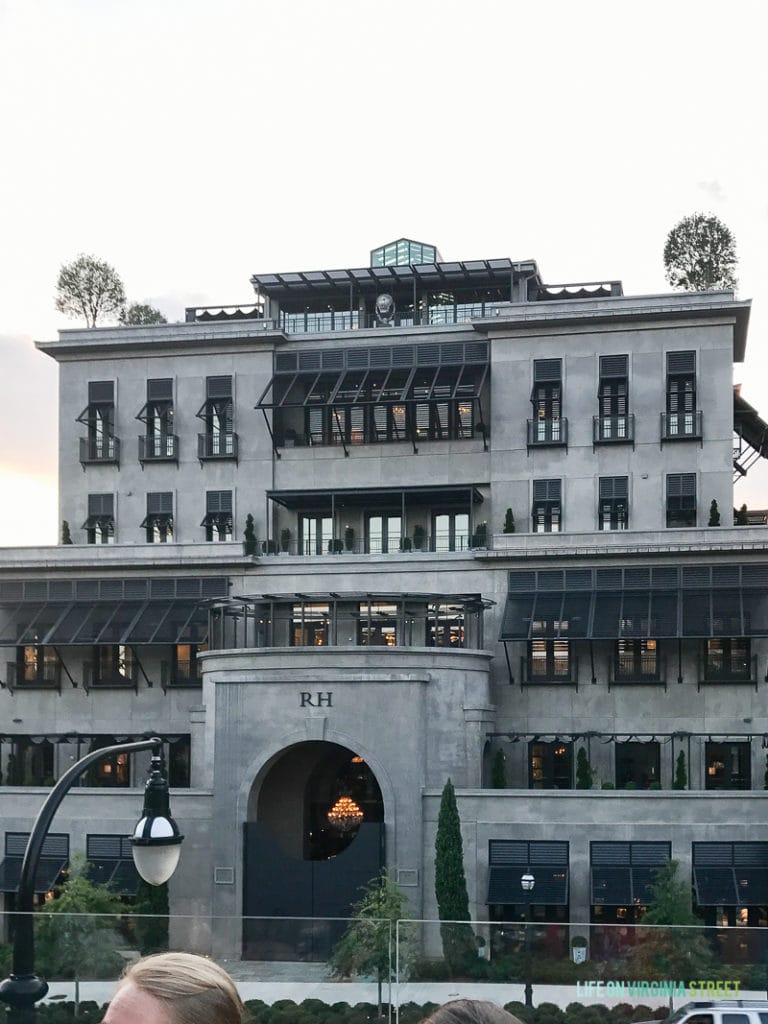 The next day started bright and early. Following breakfast, the main event kicked off with a keynote speech from Rachel Kate. She shared her story and the importance of what she considers her four most important values in the business world: persistency, being prepared, being outgoing, and having flexibility.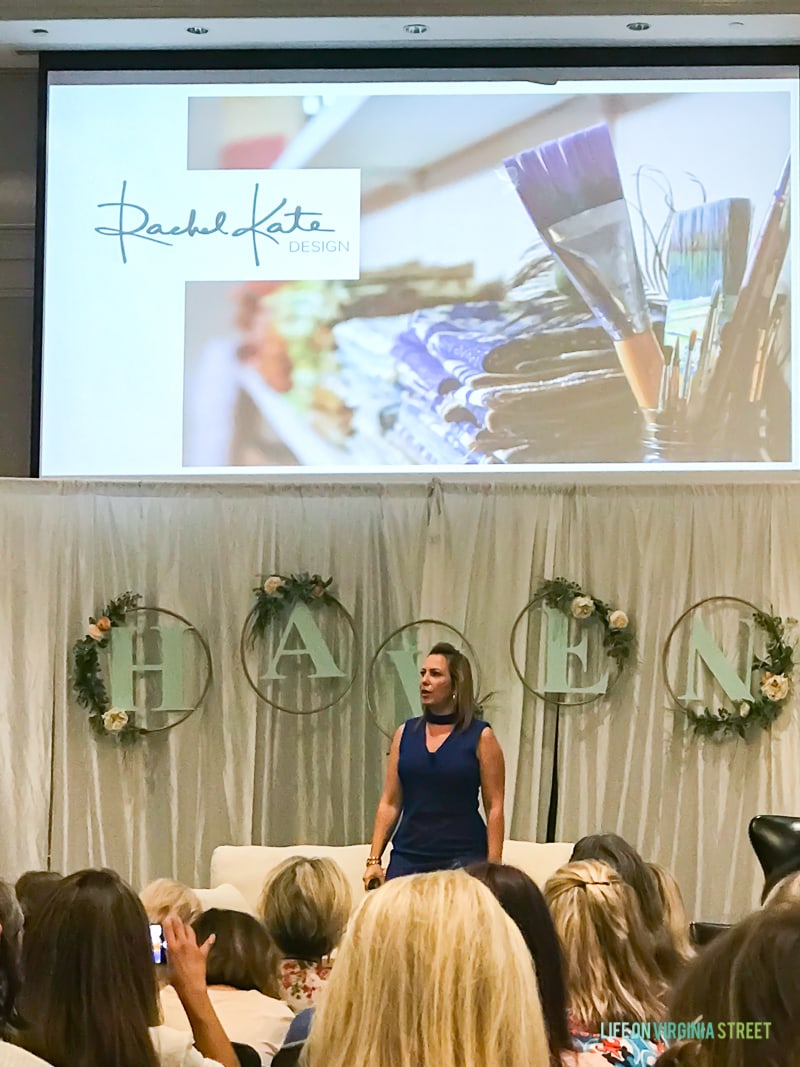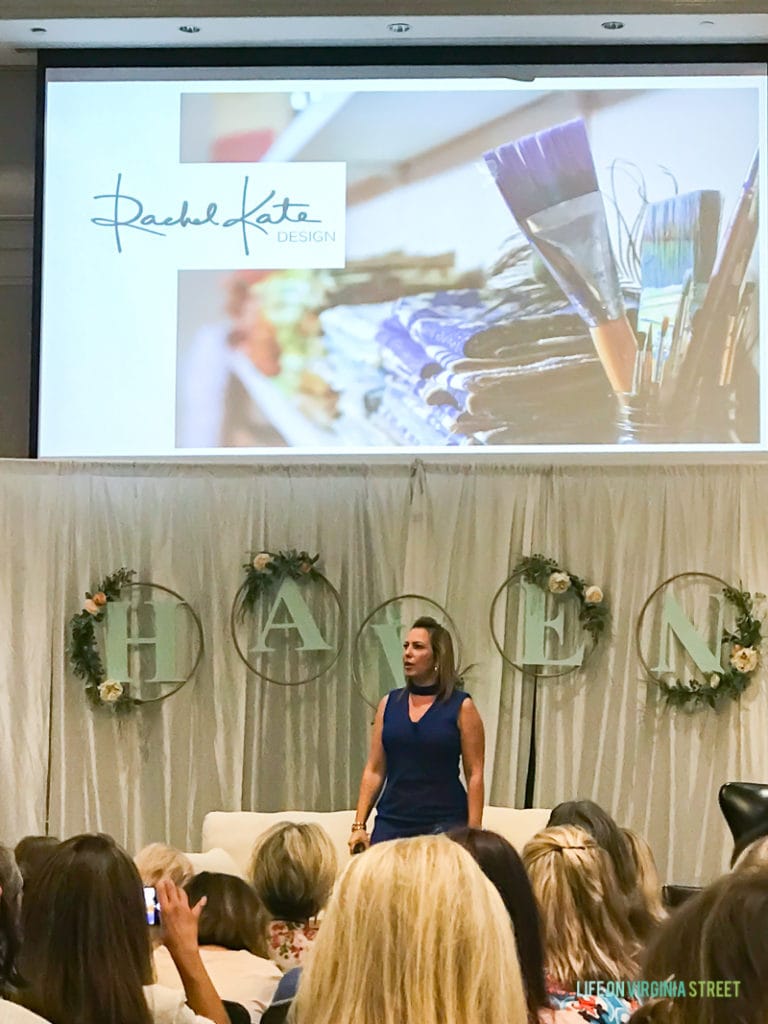 There are multiple opportunities to attend workshops and classes throughout the event. I attended classes with information on SEO (the non-fun side of blogging), Instagram, Facebook, and organization. There was such a great mix of classes this year, and I walked away with a wealth of information! Now, to actually implement everything!
There was ample time for us to explore the exhibit hall and hallways, which were filled with vendors. It's always a great way to meet new brands and interact with those you want to work with in the future.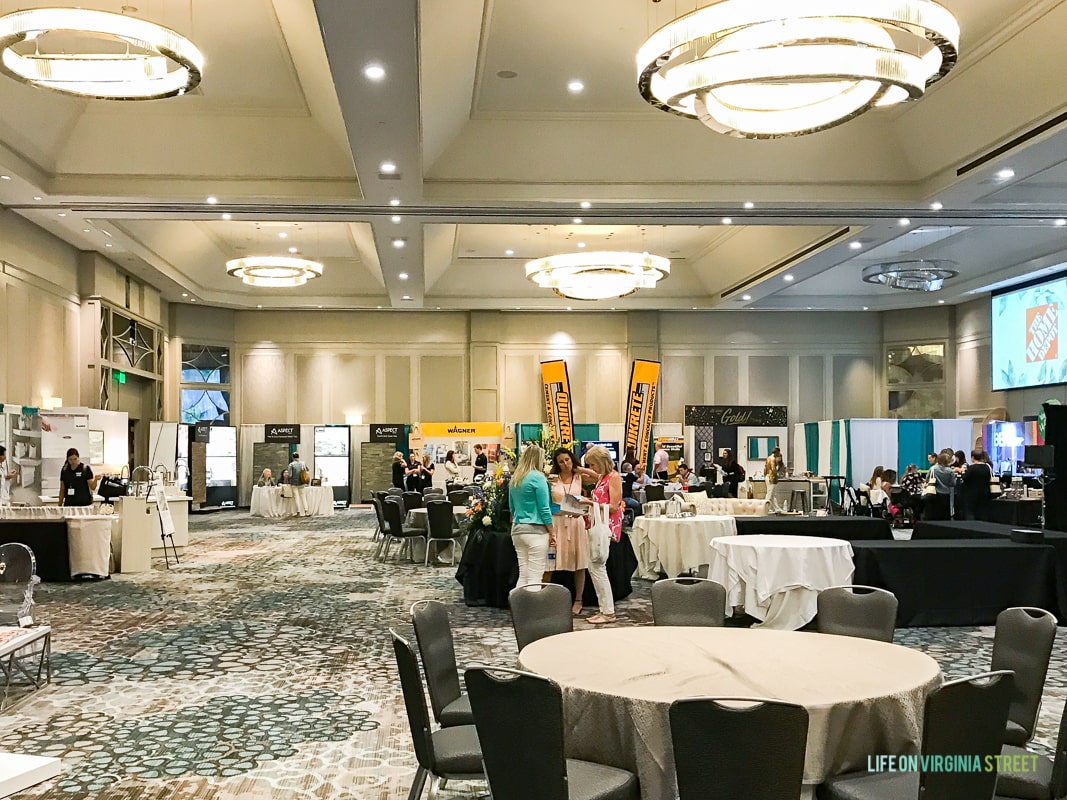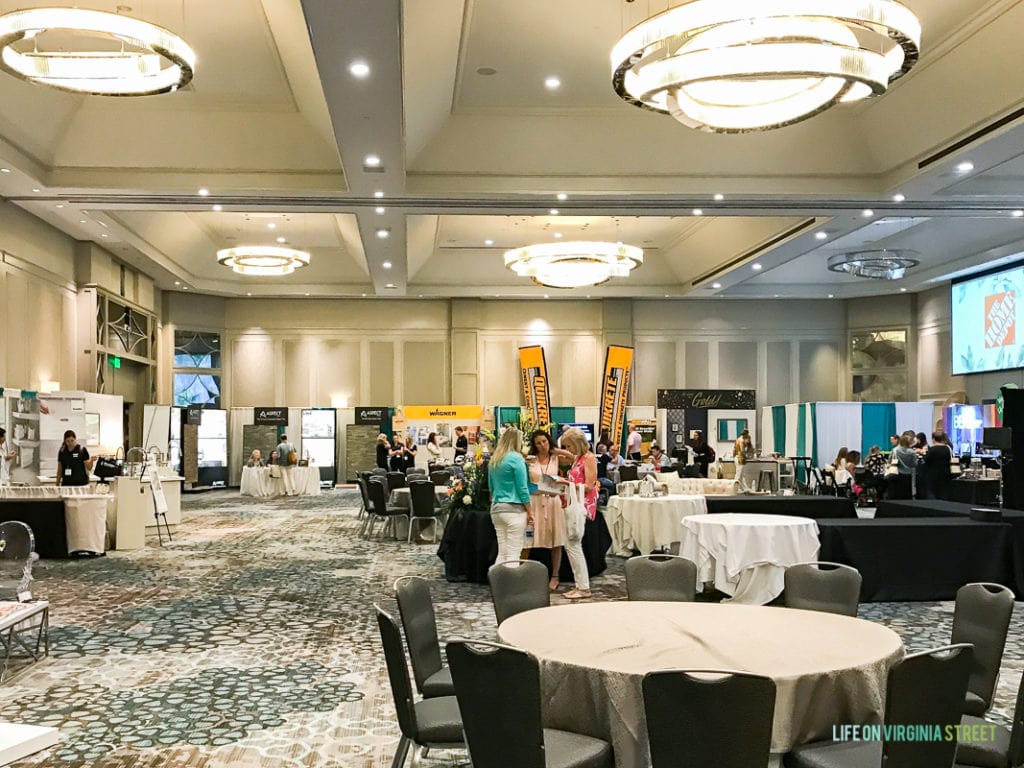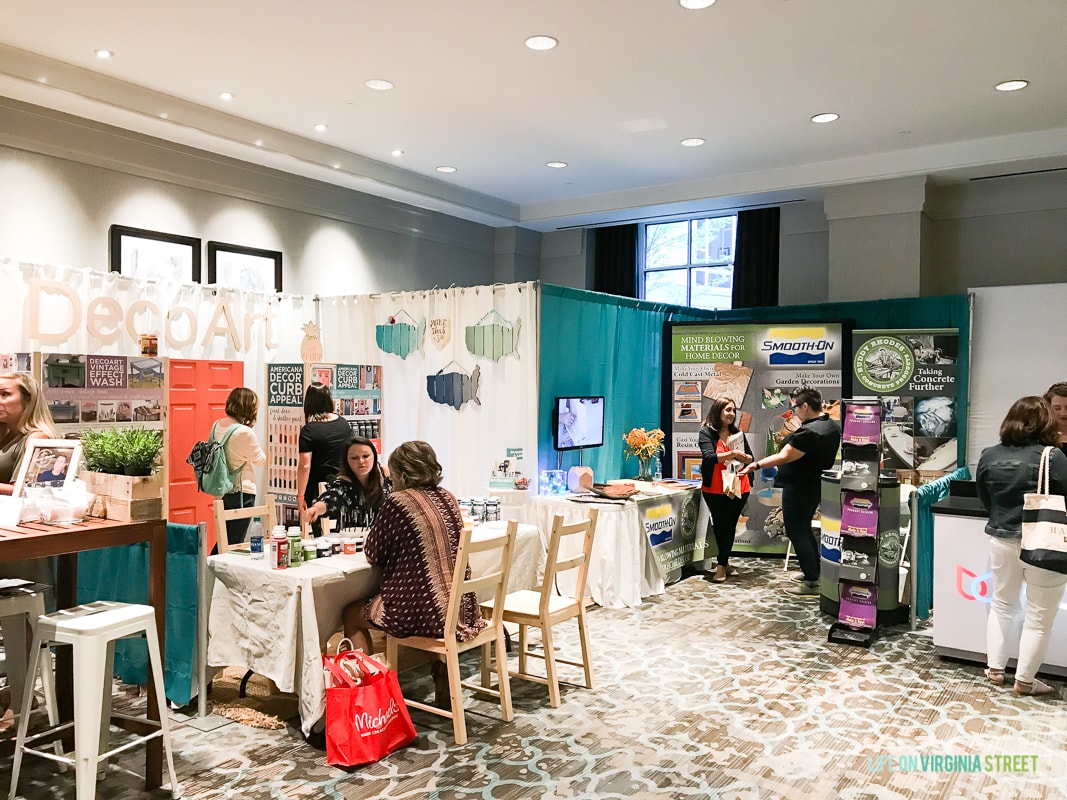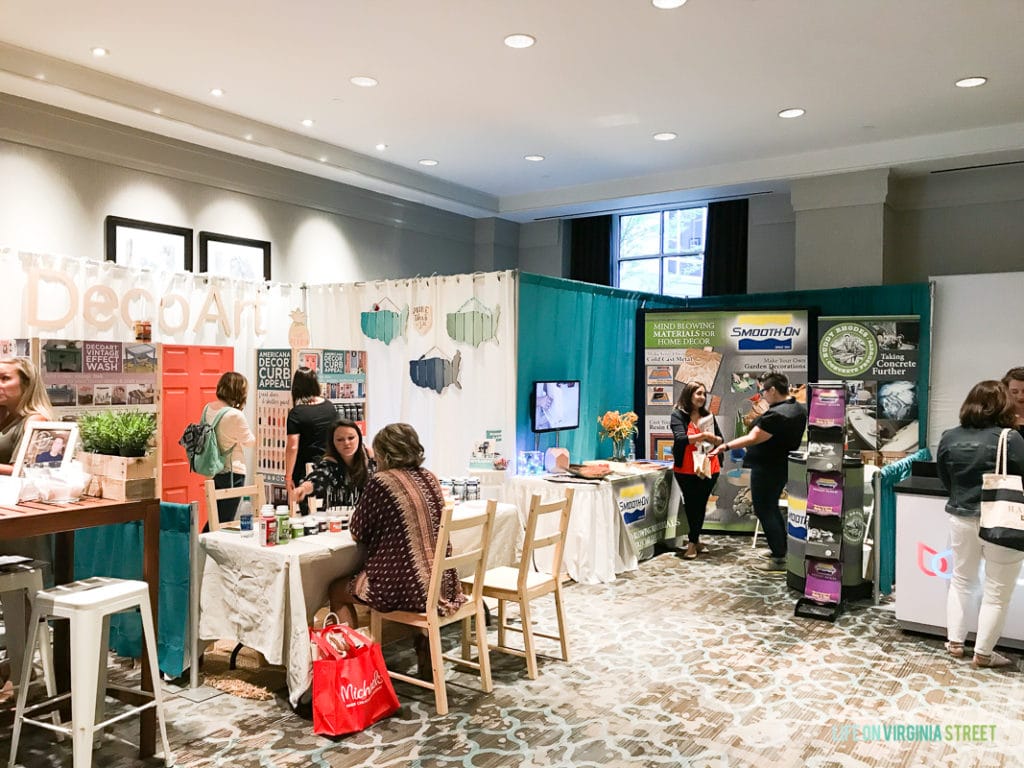 We had the opportunity to meet Clint Harp from Fixer Upper on Friday afternoon!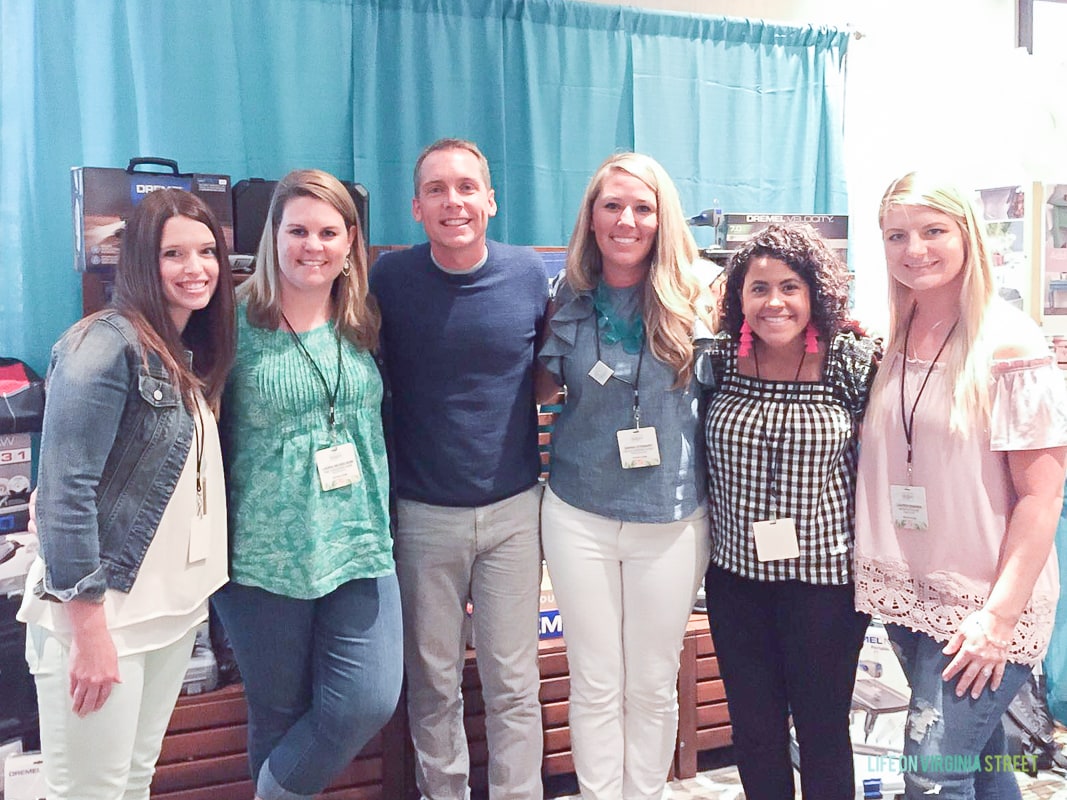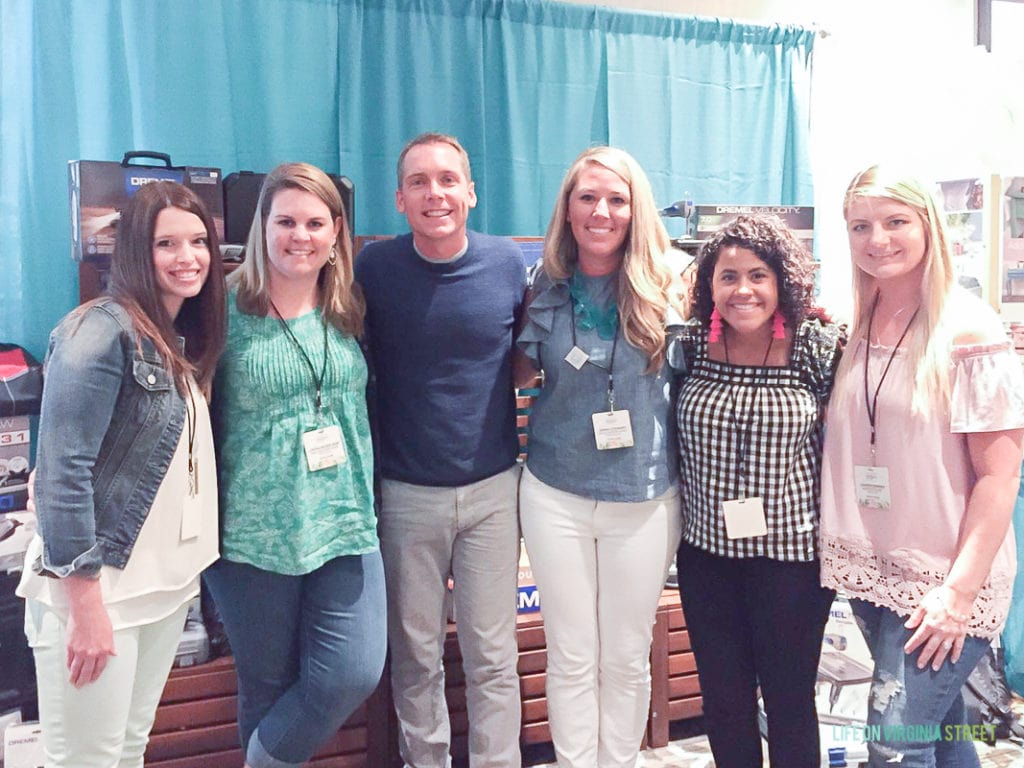 Abby | Laura | Clint | Me | Chelsea | Lauren
A few of the cute vignettes around the hotel that were setup for the event.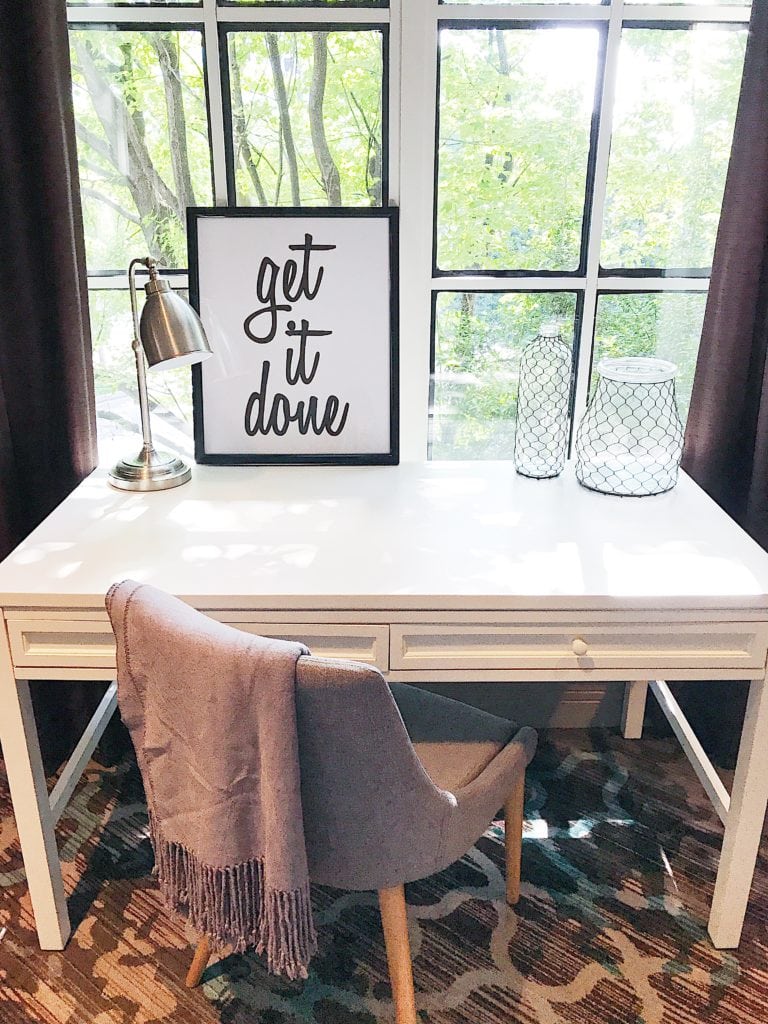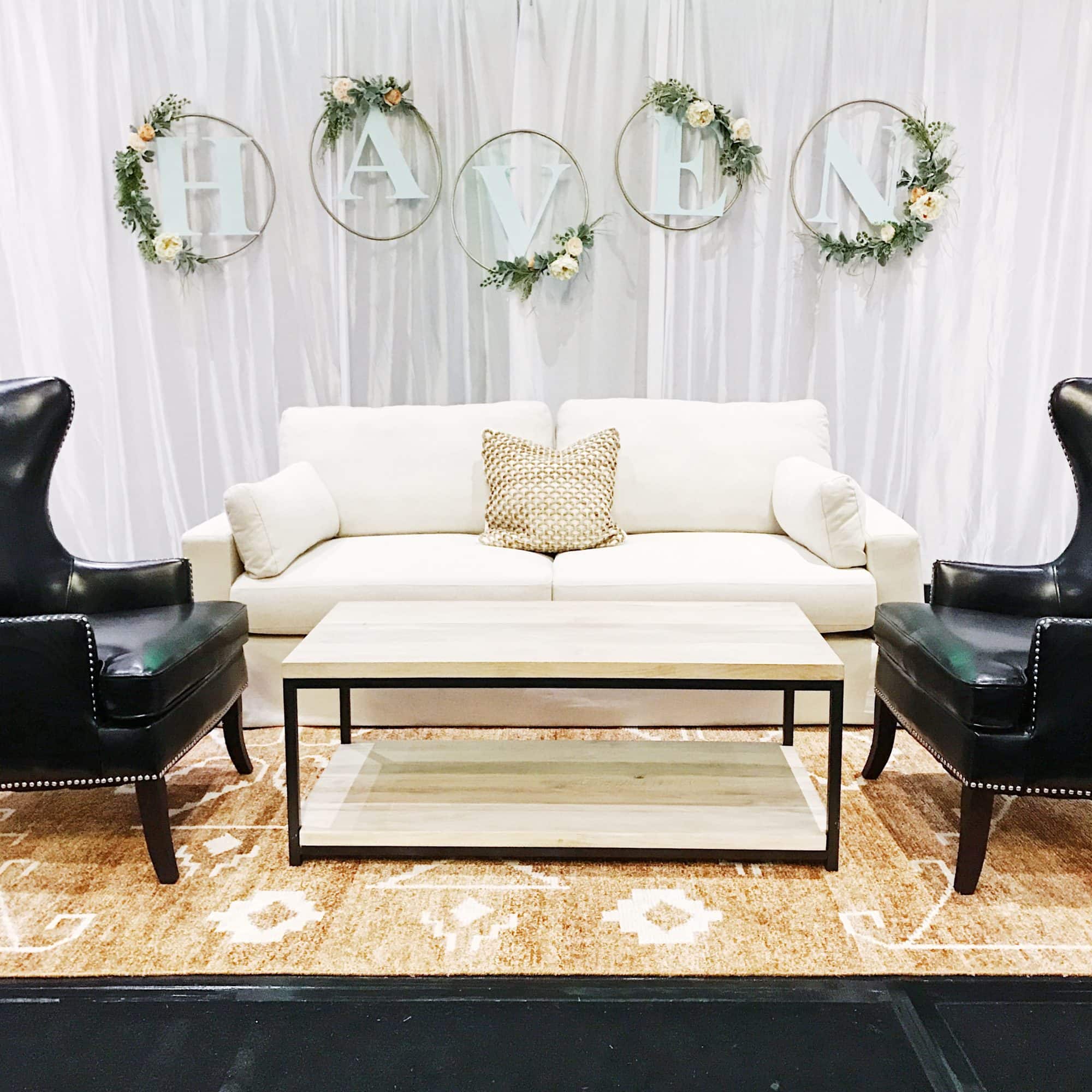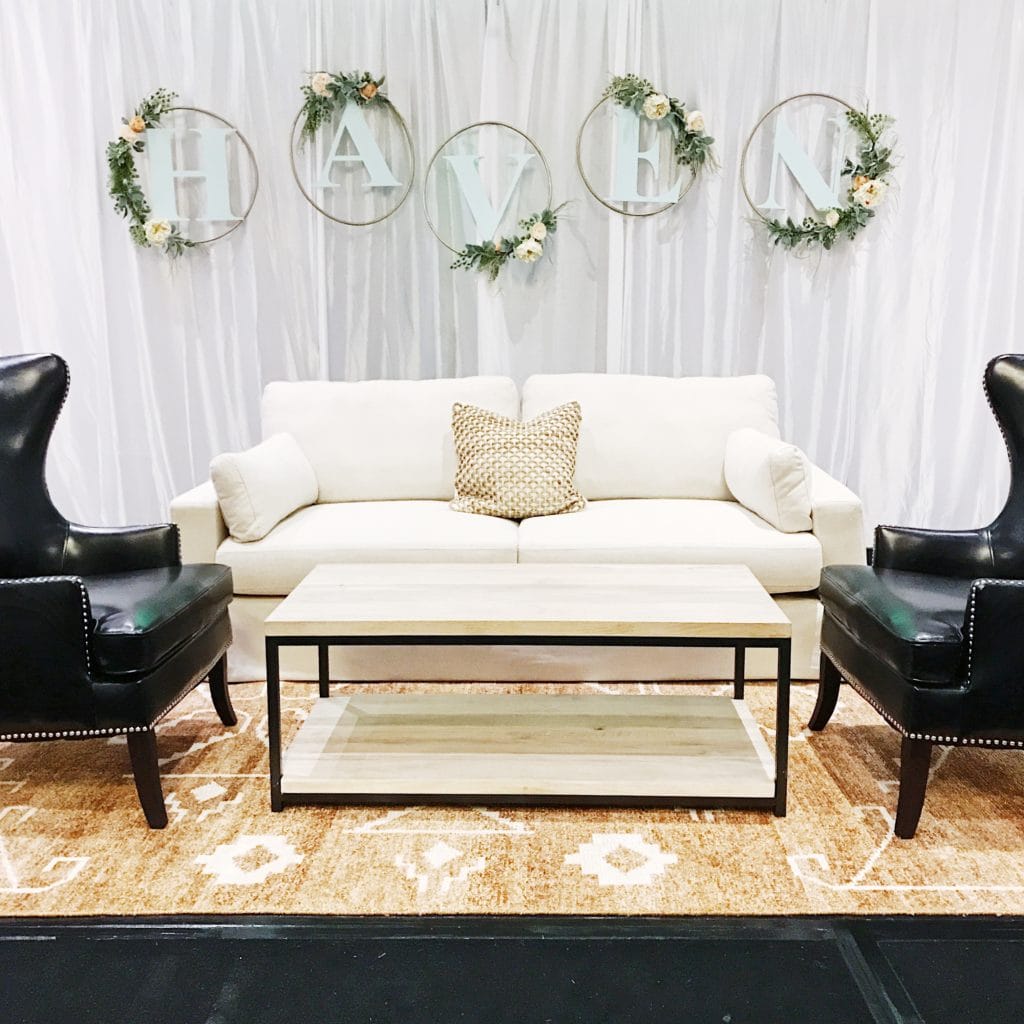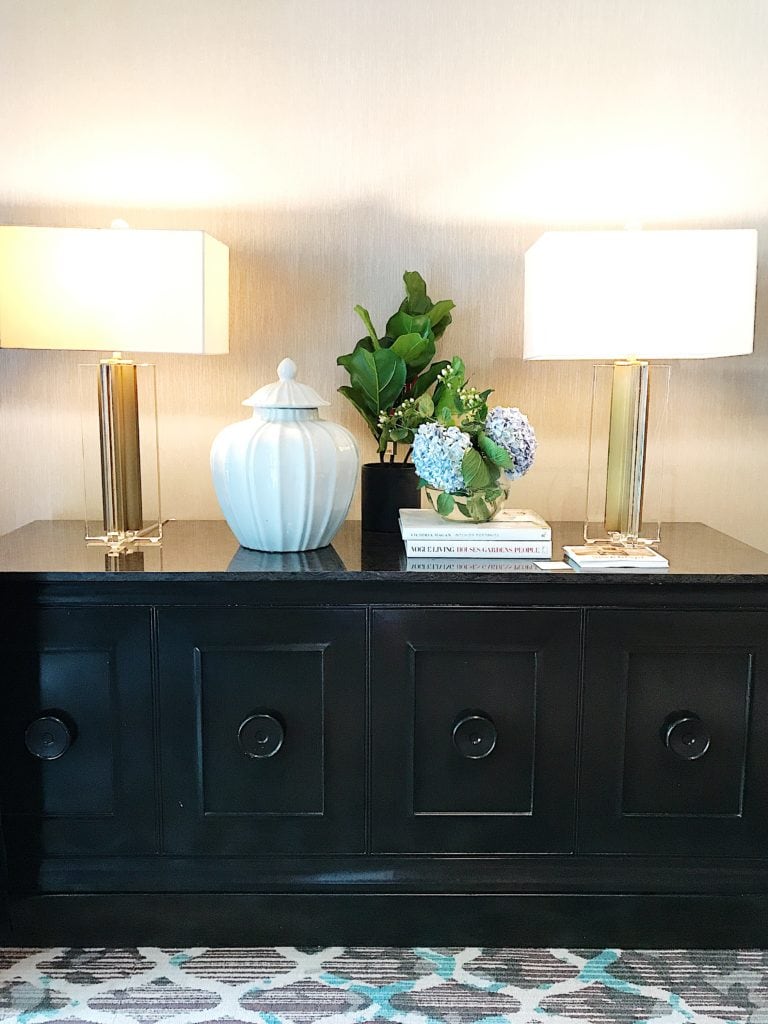 The view from the hotel's lobby bar is always a favorite. The waterfalls provide the perfect foreground for the city views beyond. Such a peaceful view after a long, action-packed day!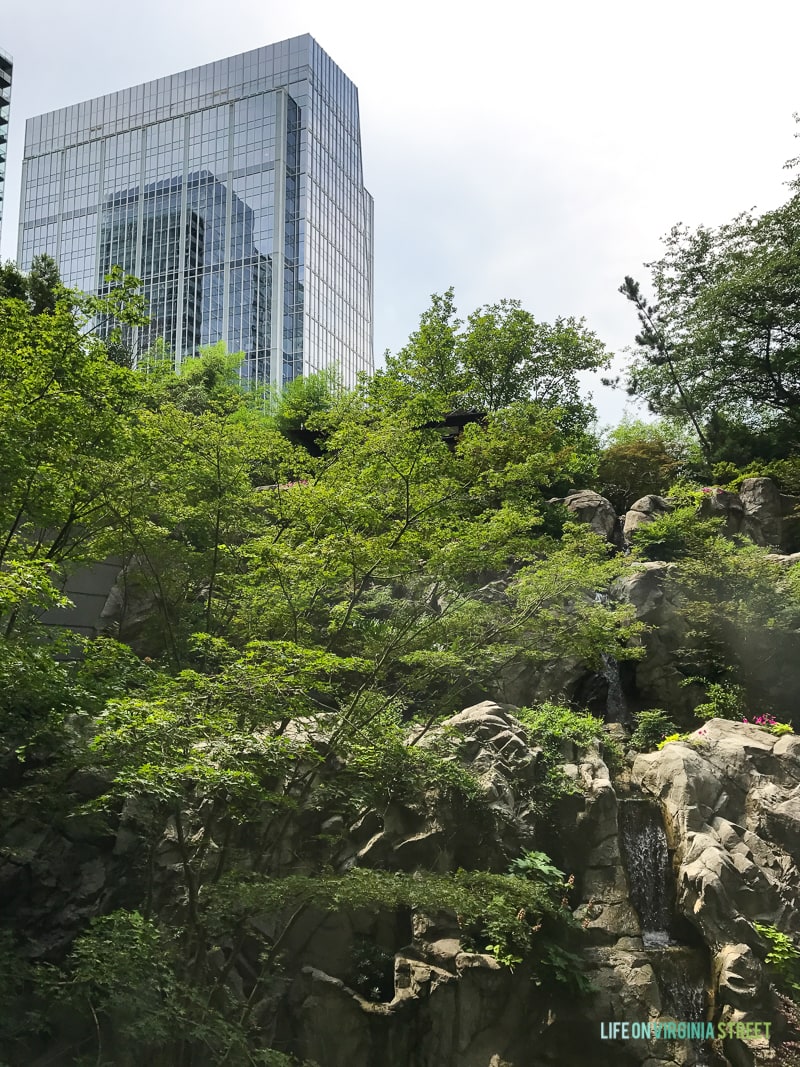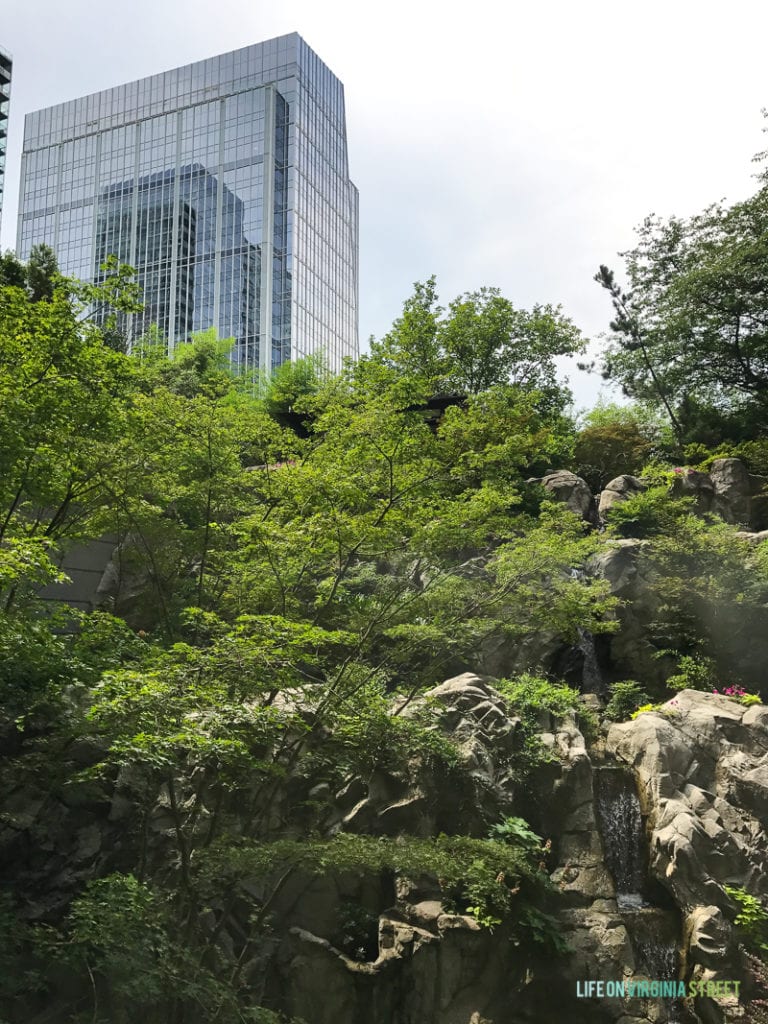 After a quick dinner in the lobby on Friday night, some friends (both new and old) headed to a gastropub called Southern Gentleman. I love when I'm with all my home decor friends that appreciate good decor and lighting as much as I do. The restaurant had the largest Darlana Pendant I'd ever seen and I was in love!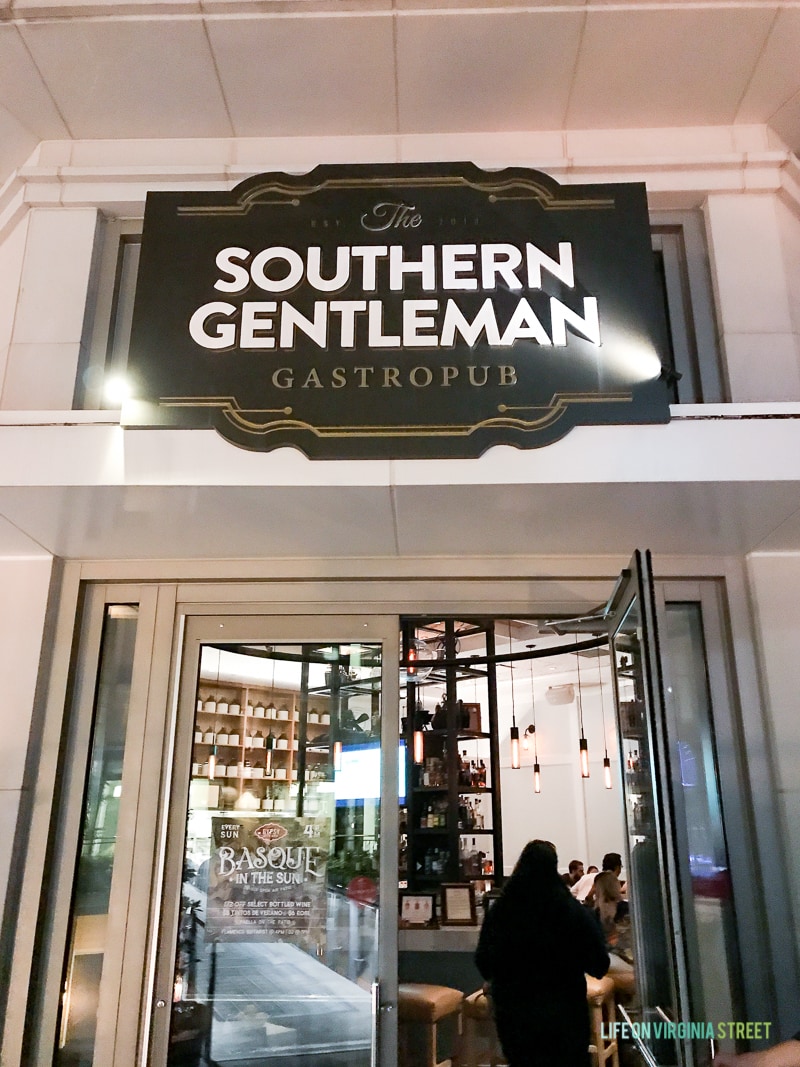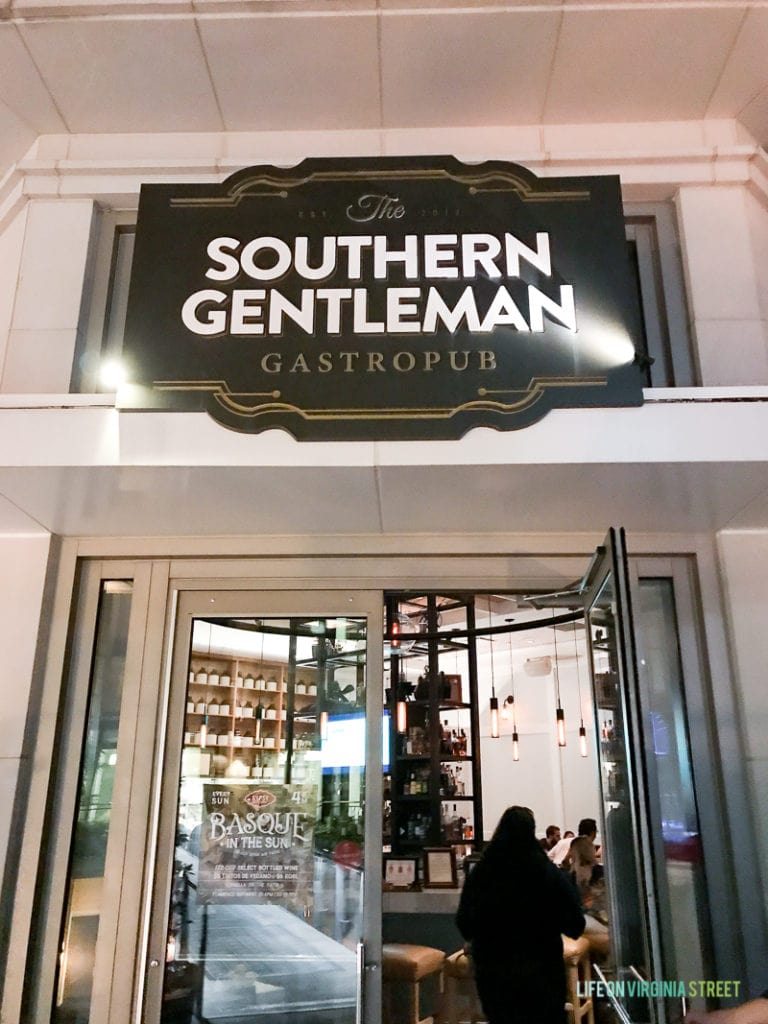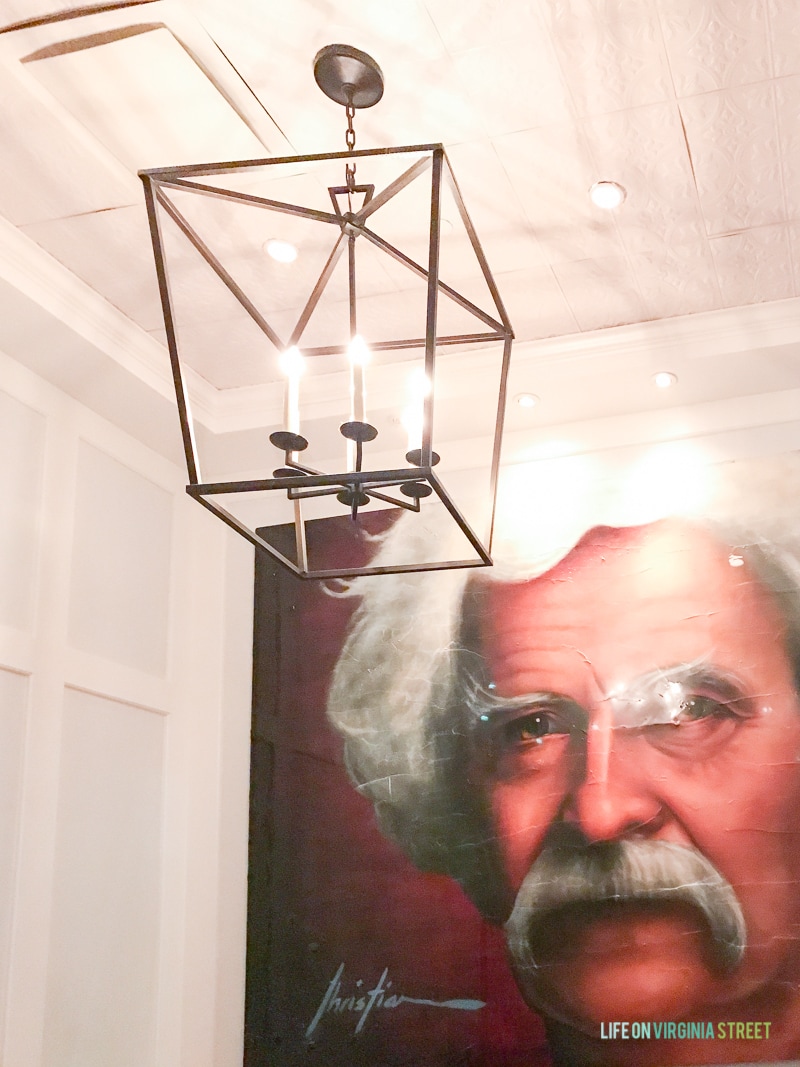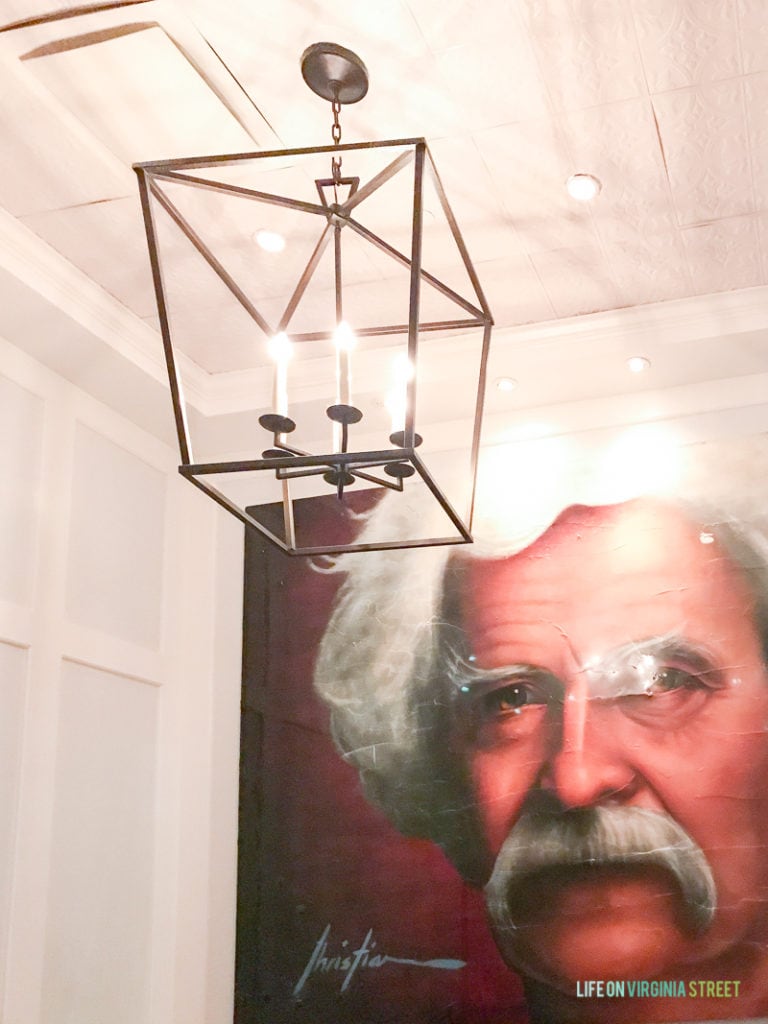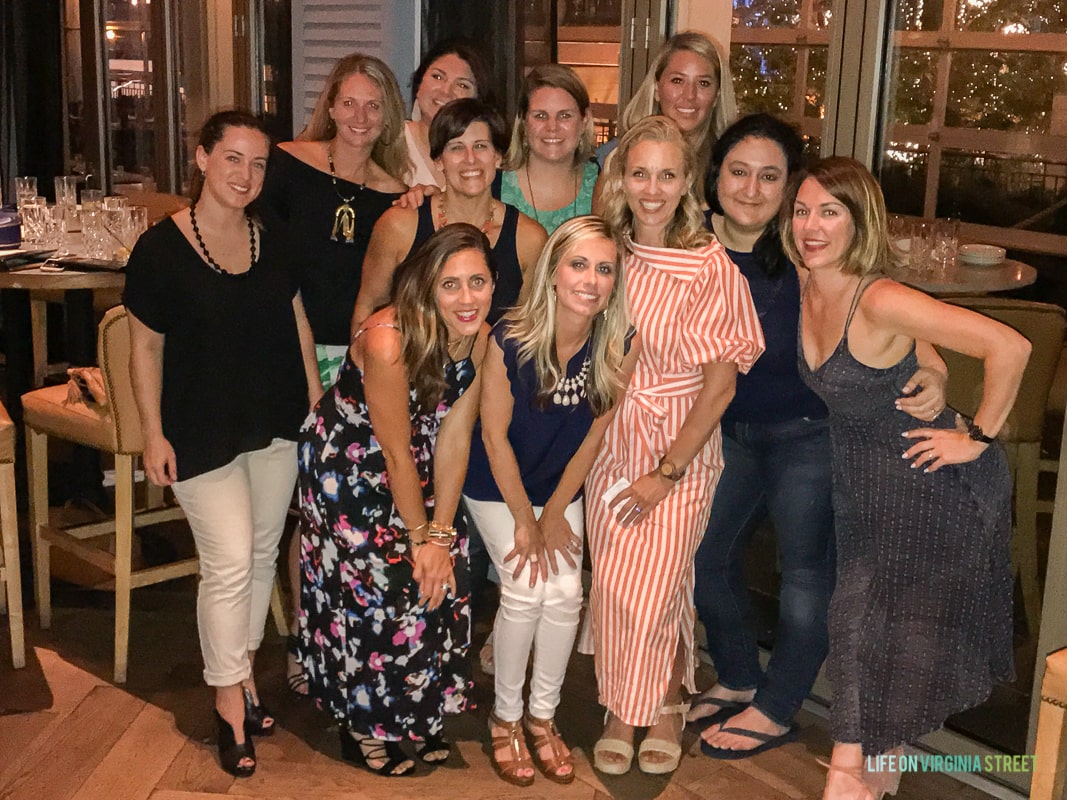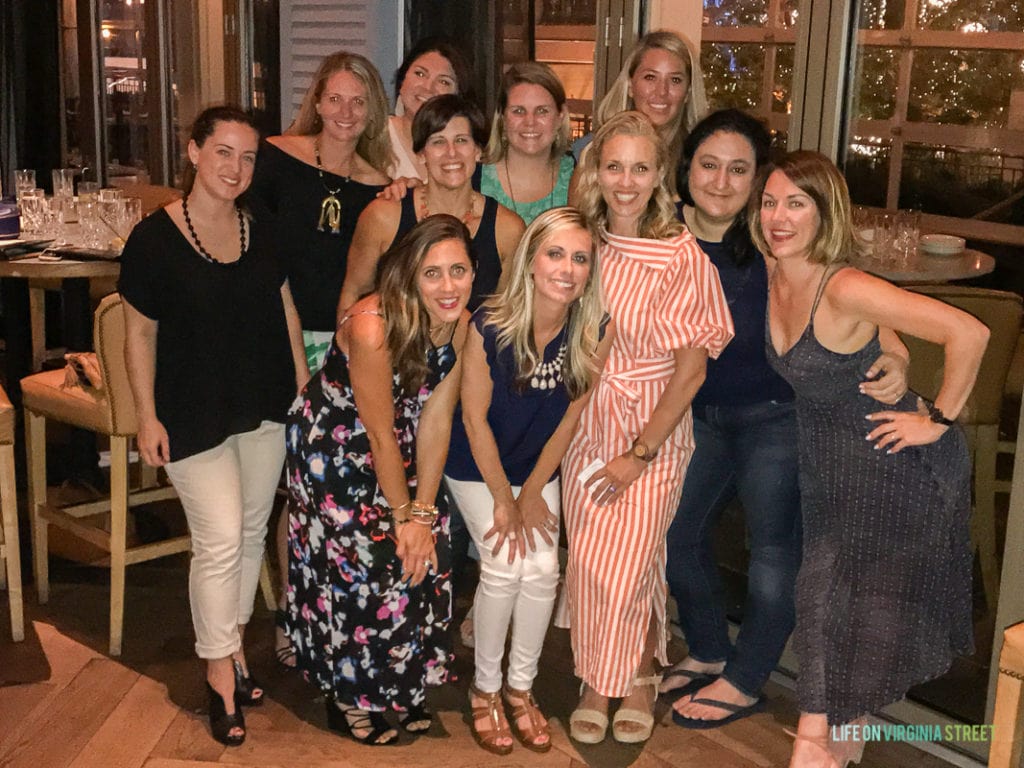 Back Row: Heather | Jen | Laura | Me – Middle Row: Sarah | Jenny | Sabrina – Front Row: Rachel | Erin | Charlotte | Laurie Beth
I was a mentor at Haven this year, as well. As a mentor, I was assigned a small group of women to meet with throughout the meeting. I had such a sweet and talented group and I loved getting to know each and every one of these bloggers! Some have yet to hit 'publish' on their first blog post, but I look forward to all the amazing work I know we'll be seeing from each of them in the future!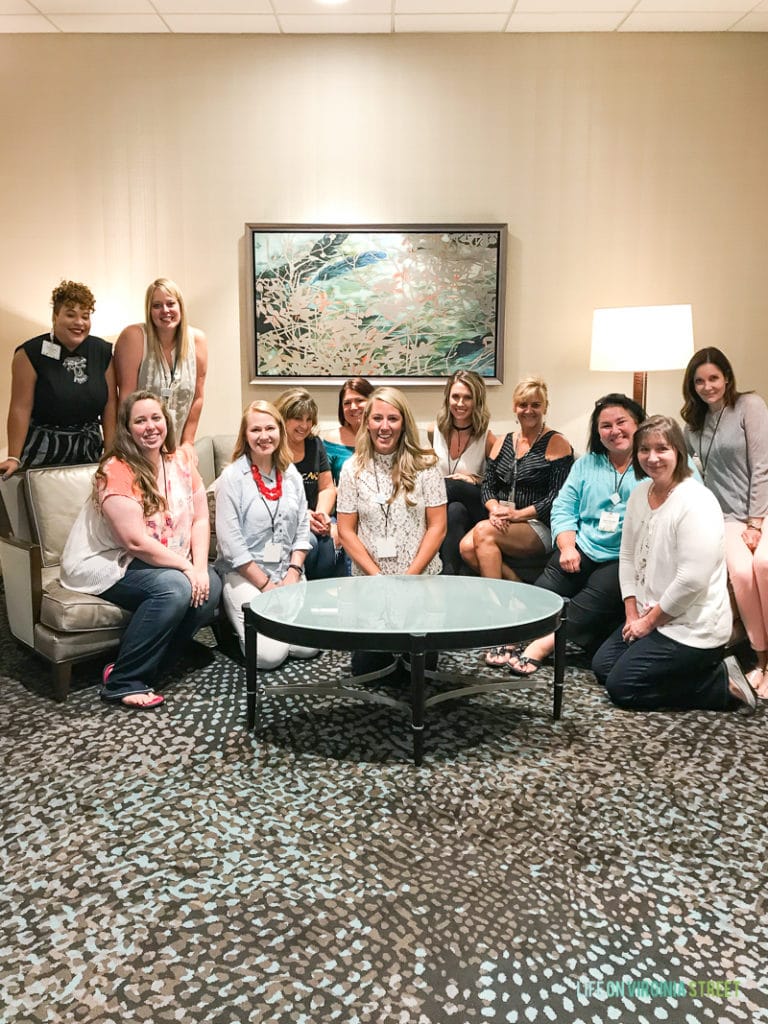 Rae | Casey | Betsy | Jenn | Jennifer | Jen | Me | Christina | Nancy | Cindy | Linda | Missy
The closing speaker was Kari Ann from Thistlewood Farm. She did an amazing job and it was the perfect end to an already amazing conference! Not only that, the Haven founders announced that the meeting will be moving to Charleston next year!
After the conference wrapped up, I headed to dinner with my original Haven posse. I met all of these ladies at my first Haven and we've built such a strong relationship over the years. I can honestly tell you that you could likely meet some of your very closest friends at Haven. All the women there "get" what you do and the bond is strong!
We had reservations across the street at Southern Art. The chef was Oprah's former chef, and the food did not disappoint. We enjoyed everything from fried chicken to fried green tomatoes to okra to bourbon and more. Sending the south out in style!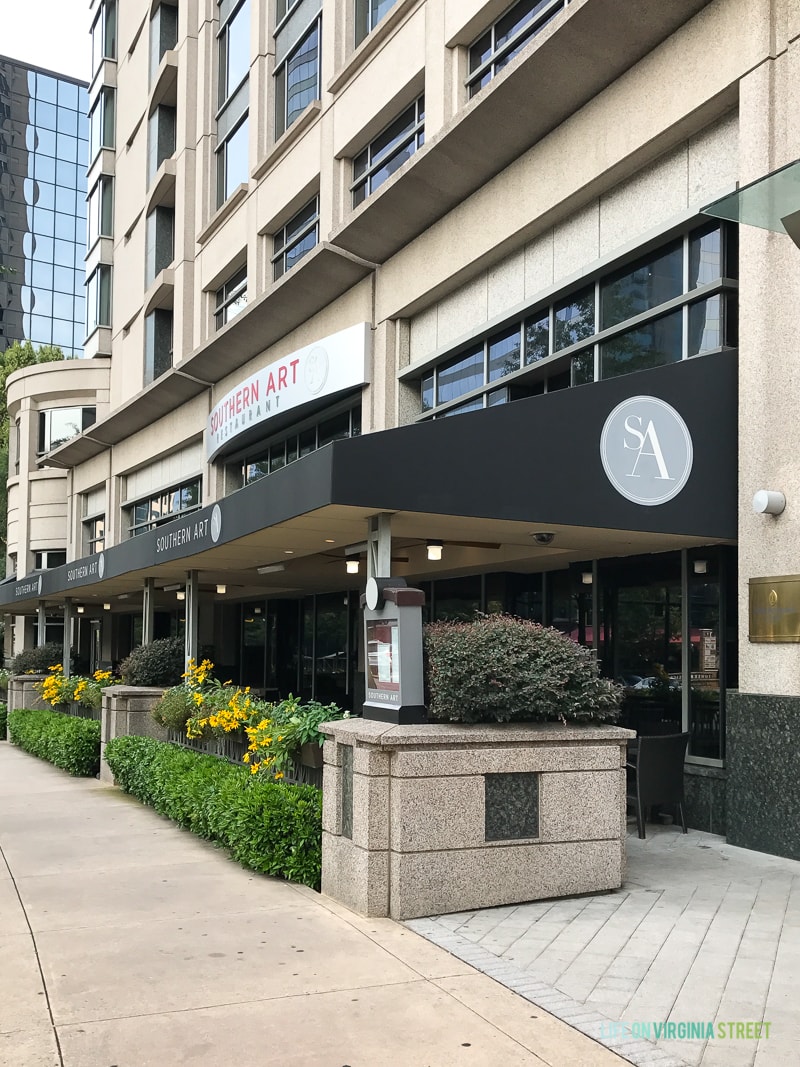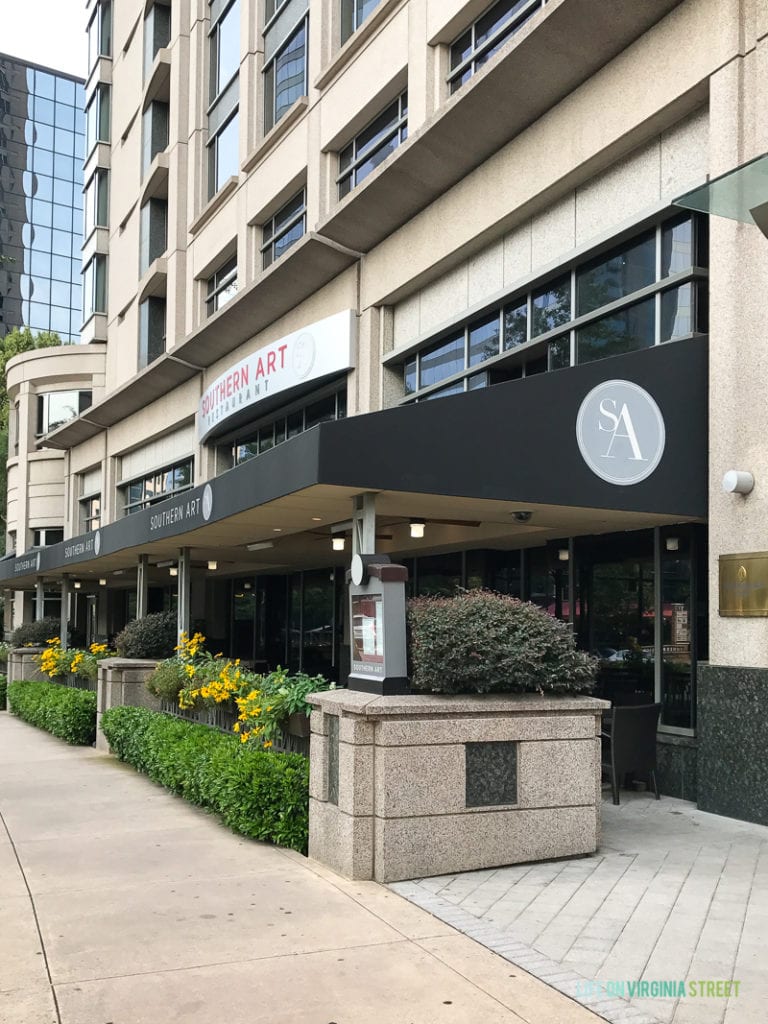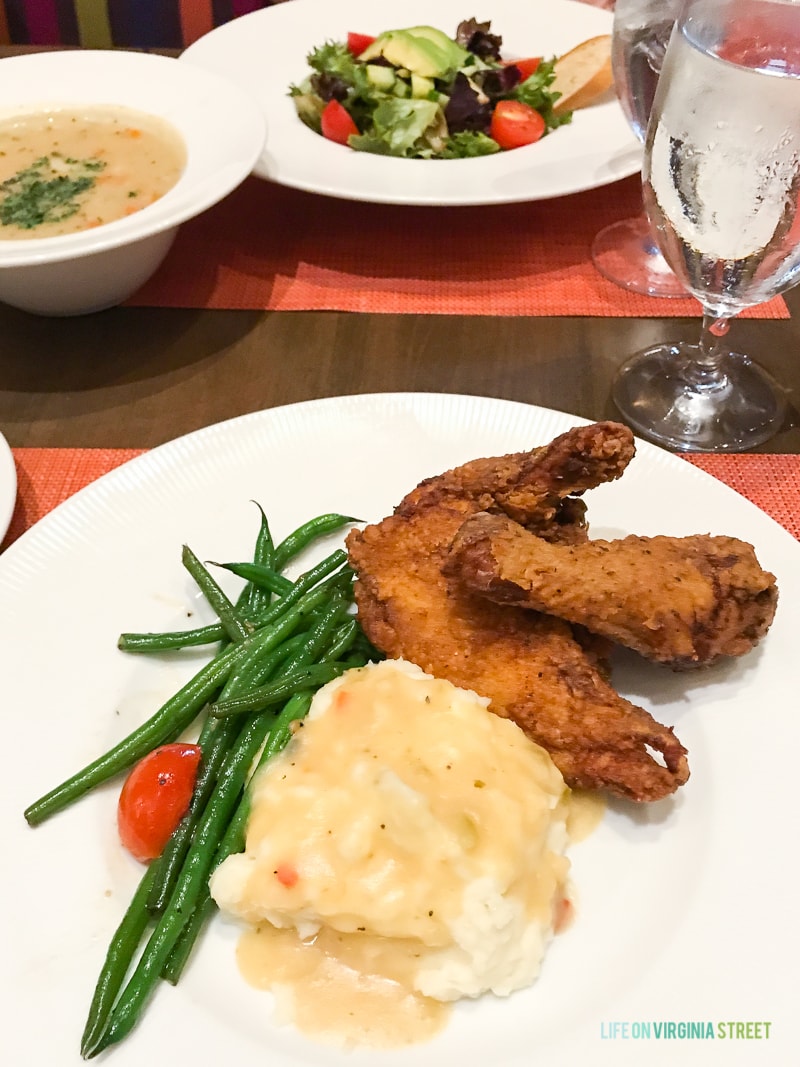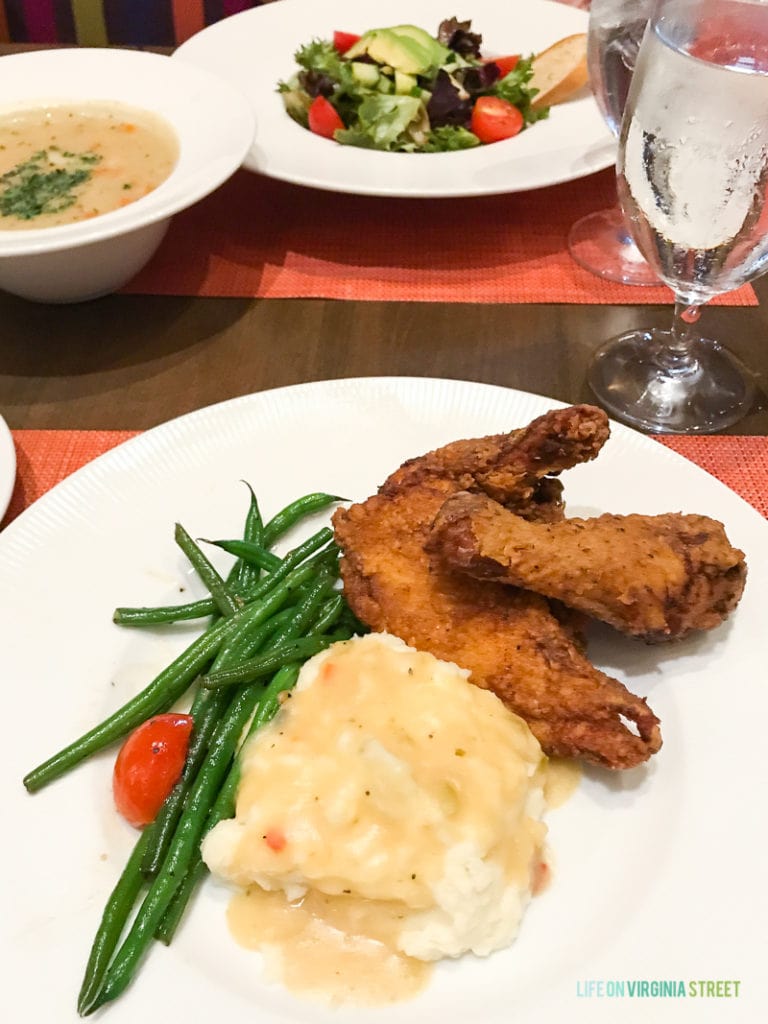 The Grand Hyatt was great to us, but I'm so excited the event is moving to Charleston next year!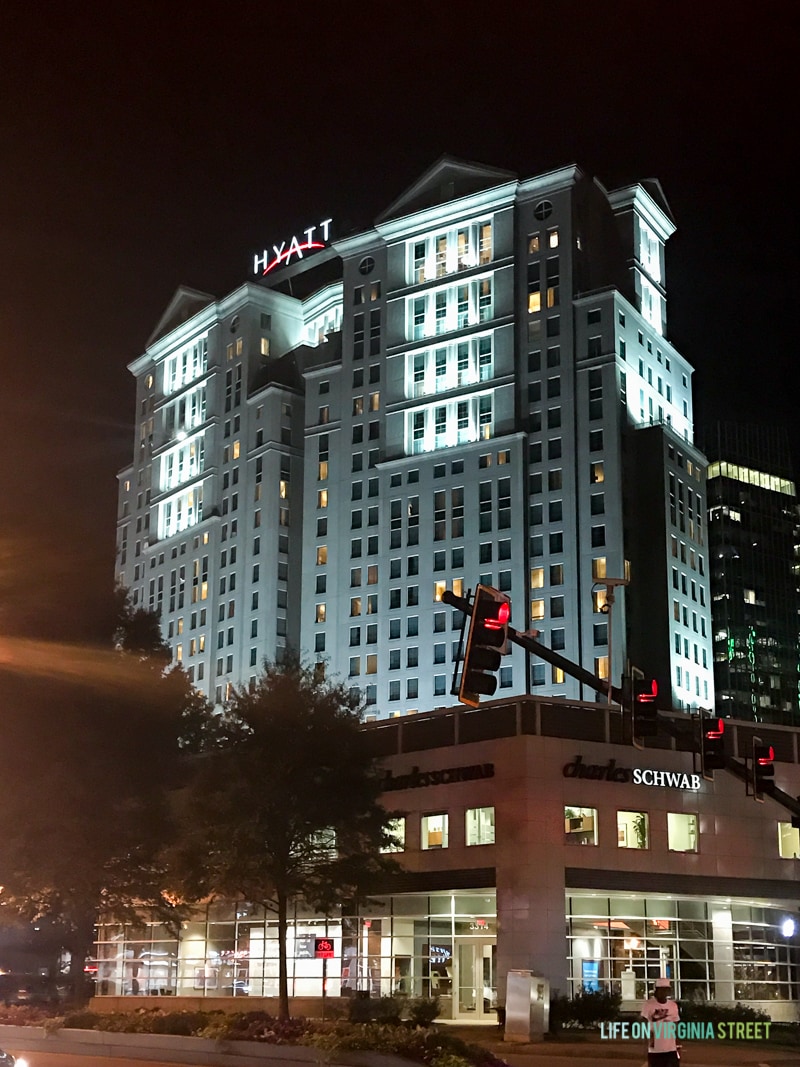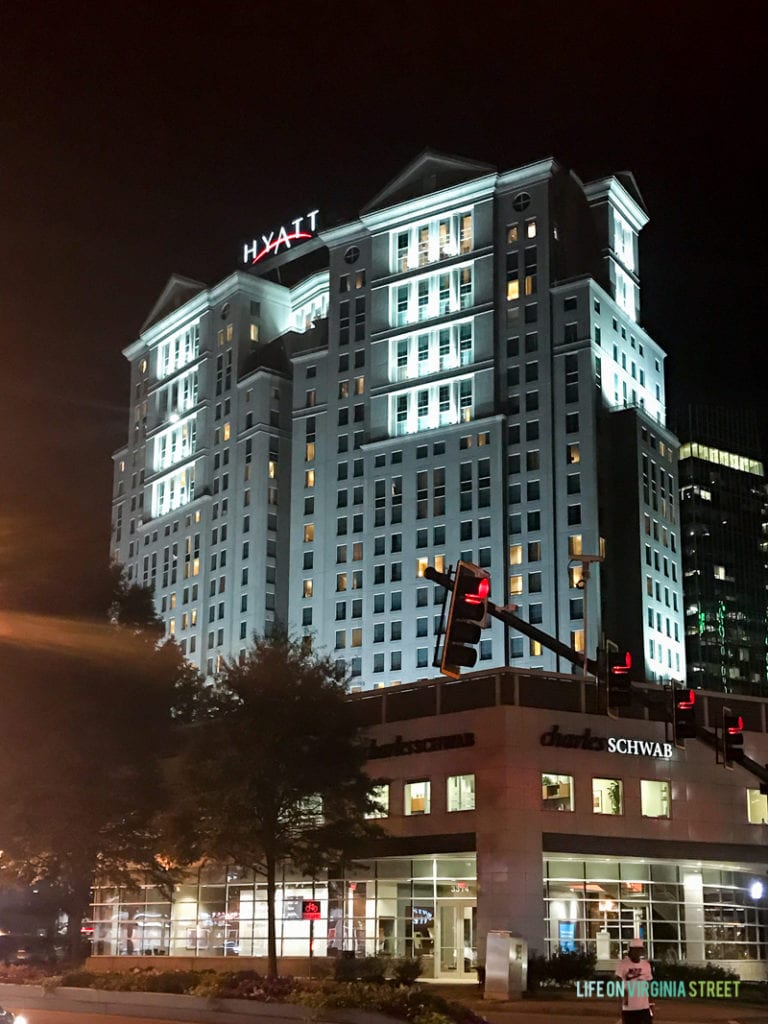 If you're a blogger and you've ever considered going to Haven in the past, I'd strongly encourage it. The amount of information gained and the lasting friendships that are made are priceless, and I'm already counting down the days until the 2018 Haven Conference in Charleston!
A big thanks again to Delta for allowing me the opportunity to be their correspondent at this year's event. Not only that, for their support in making the opening reception and Brian Patrick Flynn interview possible!
I hope you've enjoyed this insider's view of the 2017 Haven Conference!
If you would like to follow along on more of my home decor, DIY, lifestyle, travel and other posts, I'd love to have you follow me on any of the following: