A detailed and easy-to-follow tutorial on how to whitewash a stone fireplace. Follow these steps to transform your fireplace stone from blah to beautiful!
I finally finished my customized whitewashed stone fireplace! Without any further delay, here is how it looks now: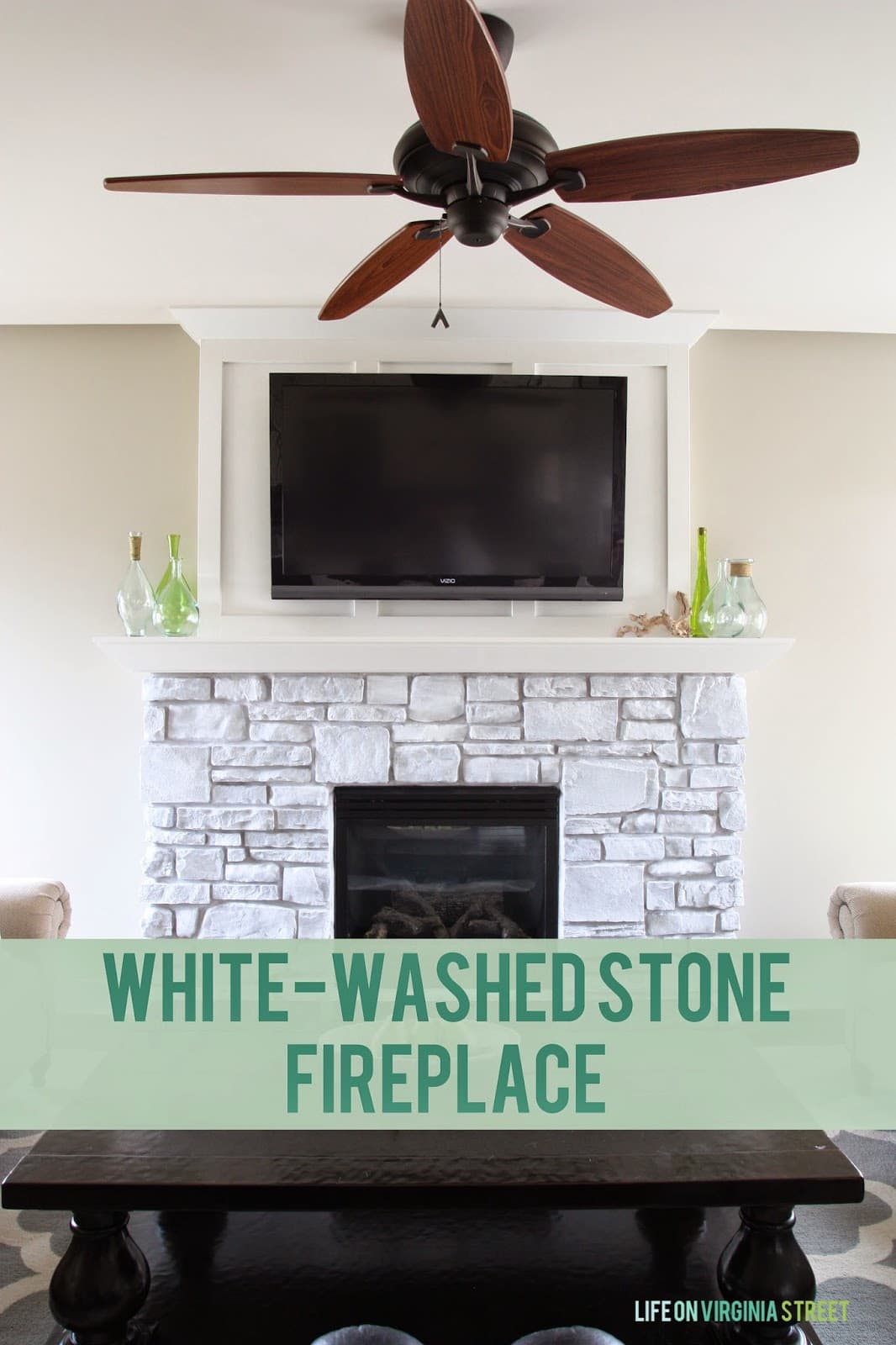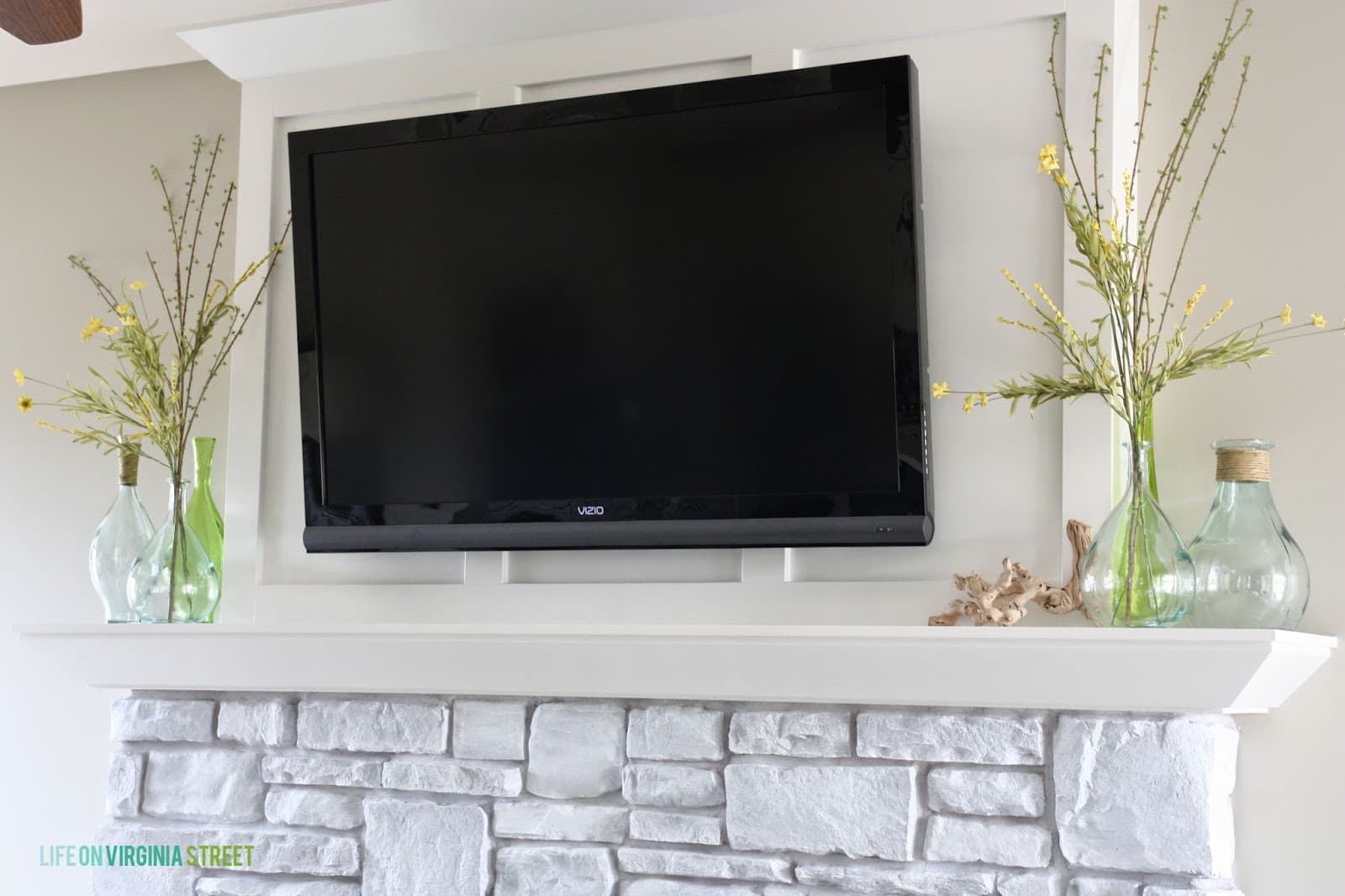 But first, a little history. The photo below shows our living room and the fireplace shortly after we moved in. Original pendant lights, paint color, etc. As you can see, our fireplace stone was originally varying shades of orange, beige and brown. It did not fit the light and bright coastal look we were after!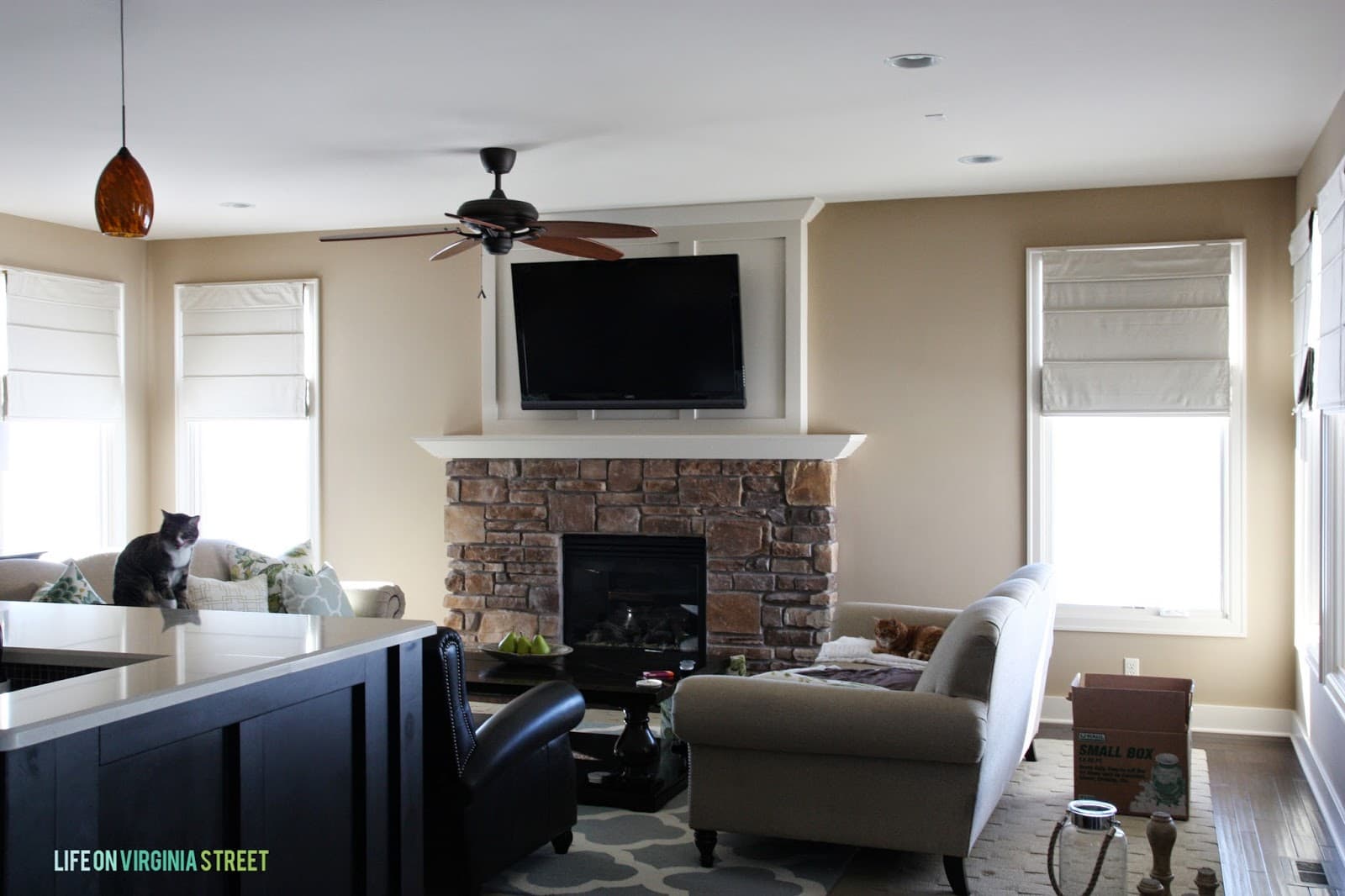 Last fall, I had some Annie Sloan Chalk Paint in French Linen on hand from my buffet and desk makeover and decided to graywash our stone fireplace. You can get even further details on the stone painting process in that post as well. The subtle gray color worked for awhile, but was still darker than I had originally hoped for. Here's the results of our graywashed fireplace stone.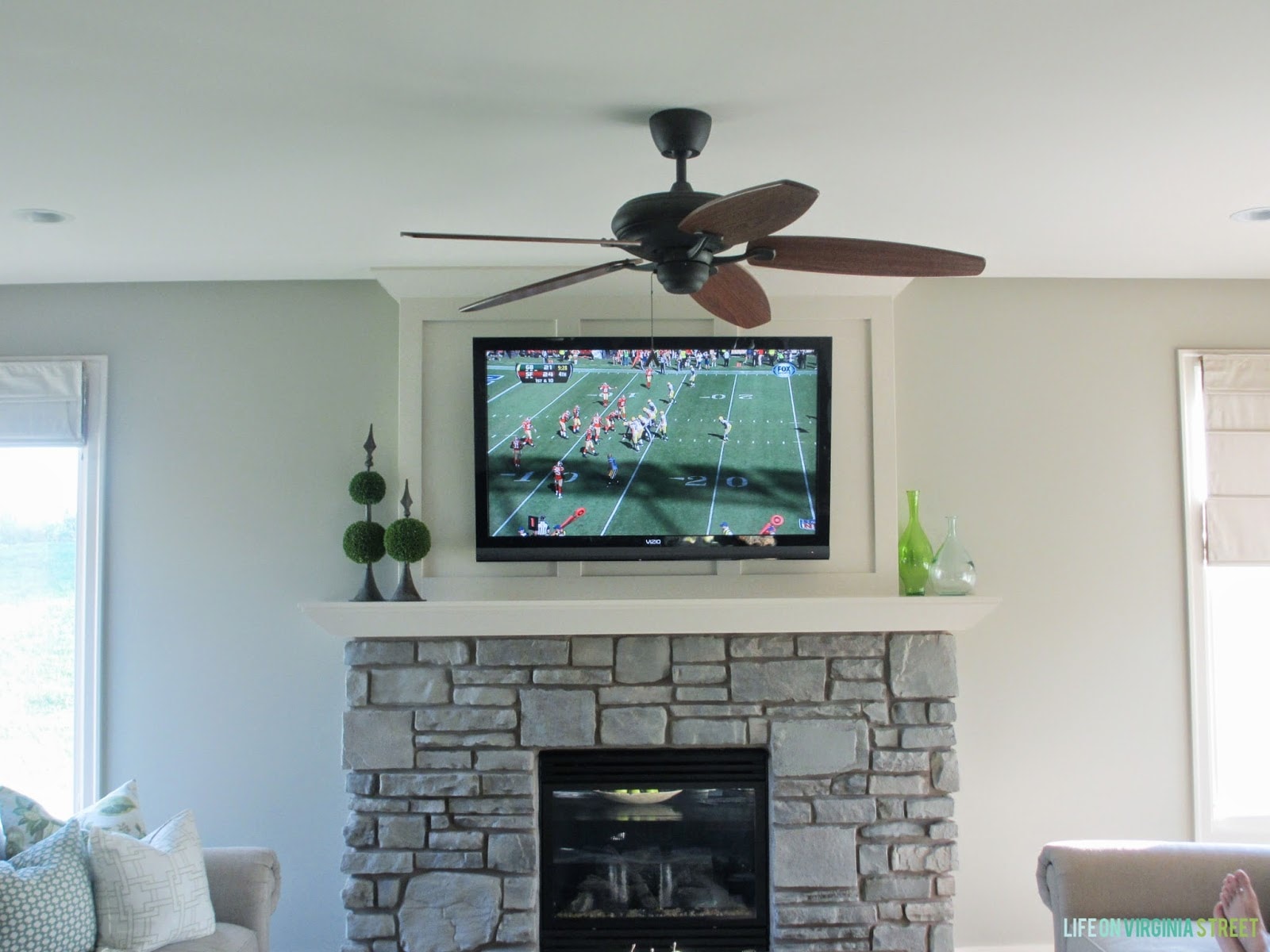 And here is how it looks now after a bold whitewashed over the gray paint! There were several other steps to get it from the photo above to the photo below that may not be readily apparent. Bottom line: I think this is the perfect fix until I decide if we need to do a full overhaul on the stone down the road. Continue reading below for more details.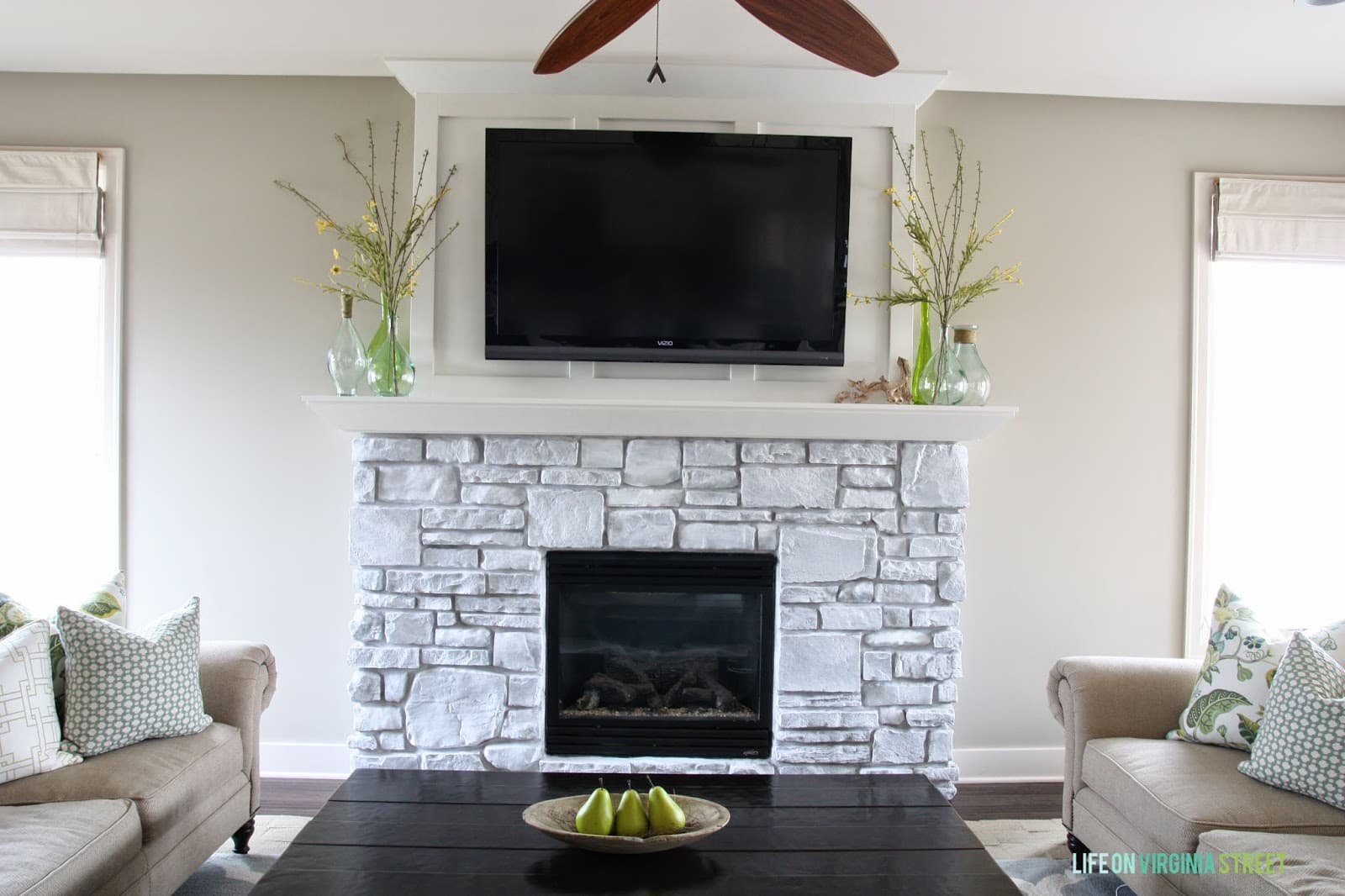 This post contains affiliate links for your shopping convenience. Click here to read my full disclosure policy.
Supplies Needed to Whitewash a Stone Fireplace
Following are the supplies I recommend to whitewash a stone fireplace. Please note the supplies are clickable if you want to purchase directly:
How To Whitewash Stone Fireplaces
Here are the details on how I got the whitewashed stone fireplace look.
One day while I was working on another project with Country Chic Paint's Simplicity (a white chalk paint) I decided to attack the fireplace again. Keep in mind it had already been graywashed at this point. If you're wishing to achieve a similar look, I would recommend following the steps I took in this post with a gray chalk paint and then following the remainder of this tutorial. I believe if I had skipped straight to the the white paint, the stone would have had a pink or peach undertone due to the original color.
I used a 50/50 mix of water and Simplicity. I didn't measure it out, but rather eye-balled it, so there isn't an exact science to it. Previously I had used a sponge brush to apply the gray layer, but this time around I used a stiff-bristle chip brush and it was SO much easier.
The major tip I have for this project is protect your floors. Because the mix is so watery you drip everywhere. But I wanted there to be some deep dimension and not just a flat, painted look – hence the reason I added the water to make it less opaque.
Start by painting a stone or two at a time. I also painted my grout/mortar because I didn't like the color of it. Most stones are super porous and will soak up your paint/water combo rather quickly. Occasionally I would blot the stone with a paper towel to help pull some gray through, helping to add the dimension I was looking for.  The extra mess is worth the extra effort!
One additional bonus of adding water? There are absolutely no issues with brushstrokes. By blotting the stones you also help add a bit of lovely depth and texture so the overall look tends to mimic natural stone so much more!
My best little helper/supervisor, Henley, gets partial credit for this work. Plus, she's even cuter than the end result so you can stop reading now if you want 😉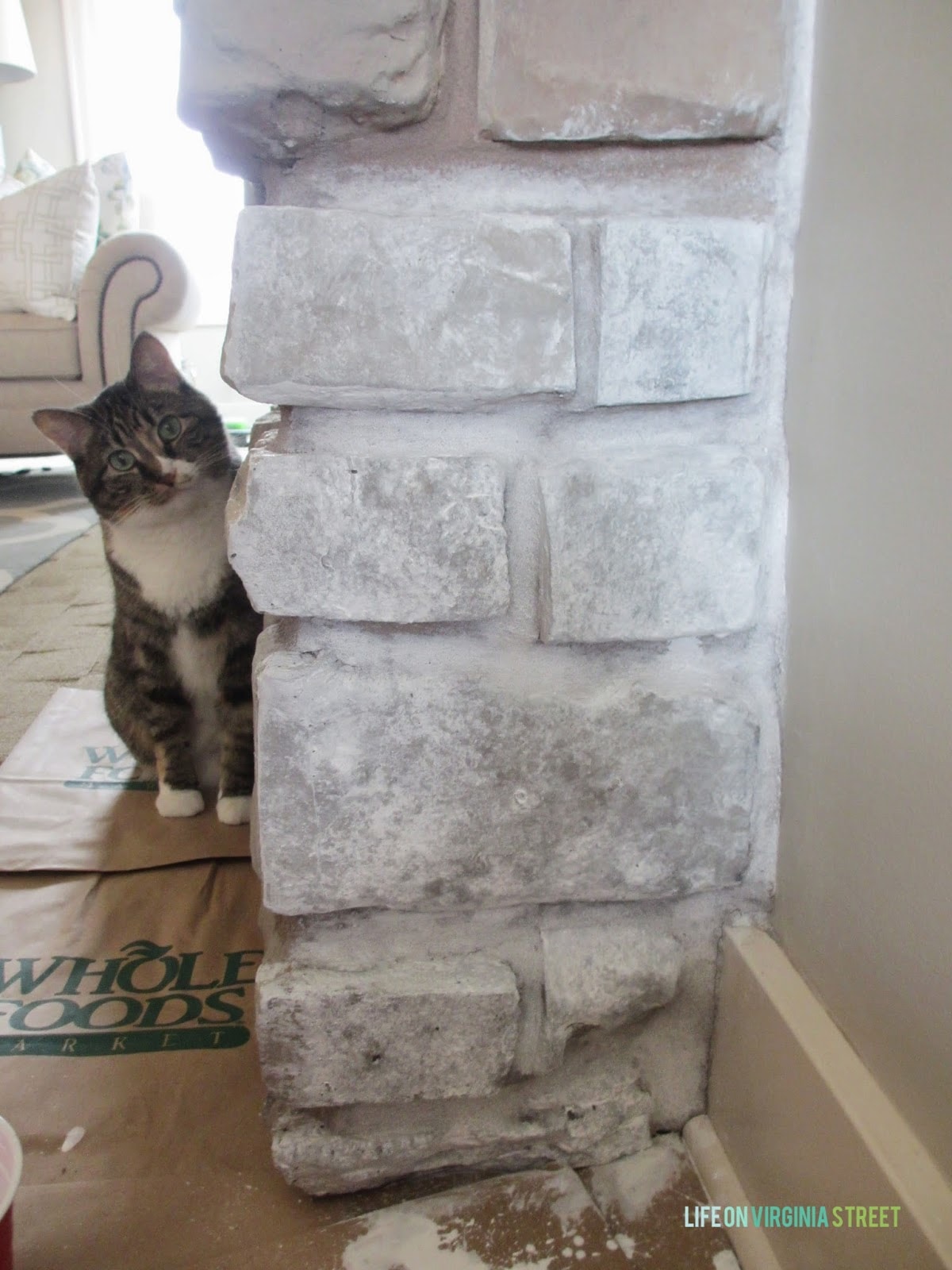 Continue all the way around your fireplace until you are finished!
Once I painted the stones however, the board and batten above our mantle looked awful. Like 100% pink/yellow and horrible (it was an almond color paint). Don't believe me? Here is a shot of the old paint with the painted stone. My cats are ridiculous when the cameras/ladders come out – they magically show up.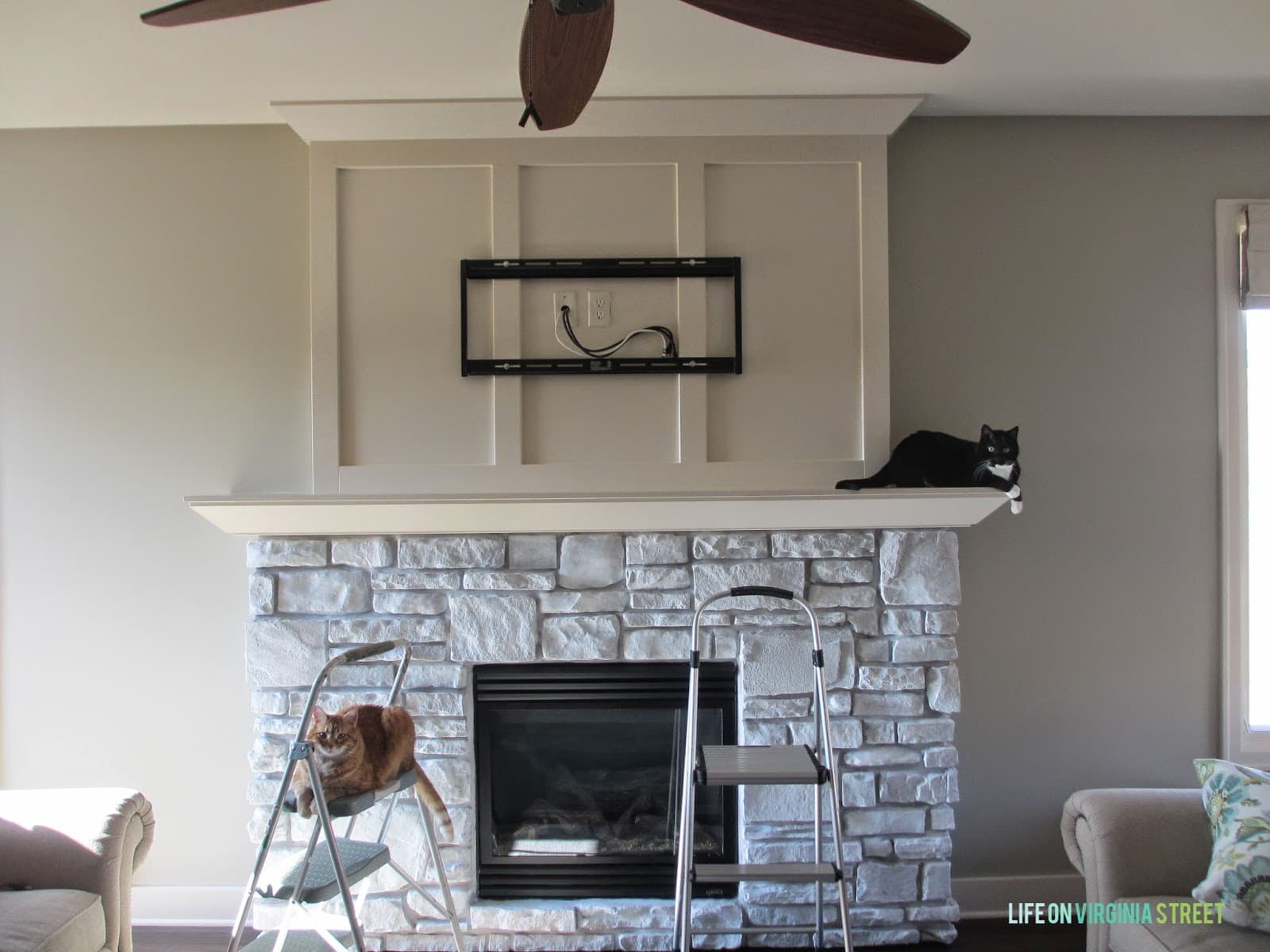 Now look at the area compared to the same paint and a very light coat of white primer on the right hand side. Even with the light coat of primer, the difference is dramatic.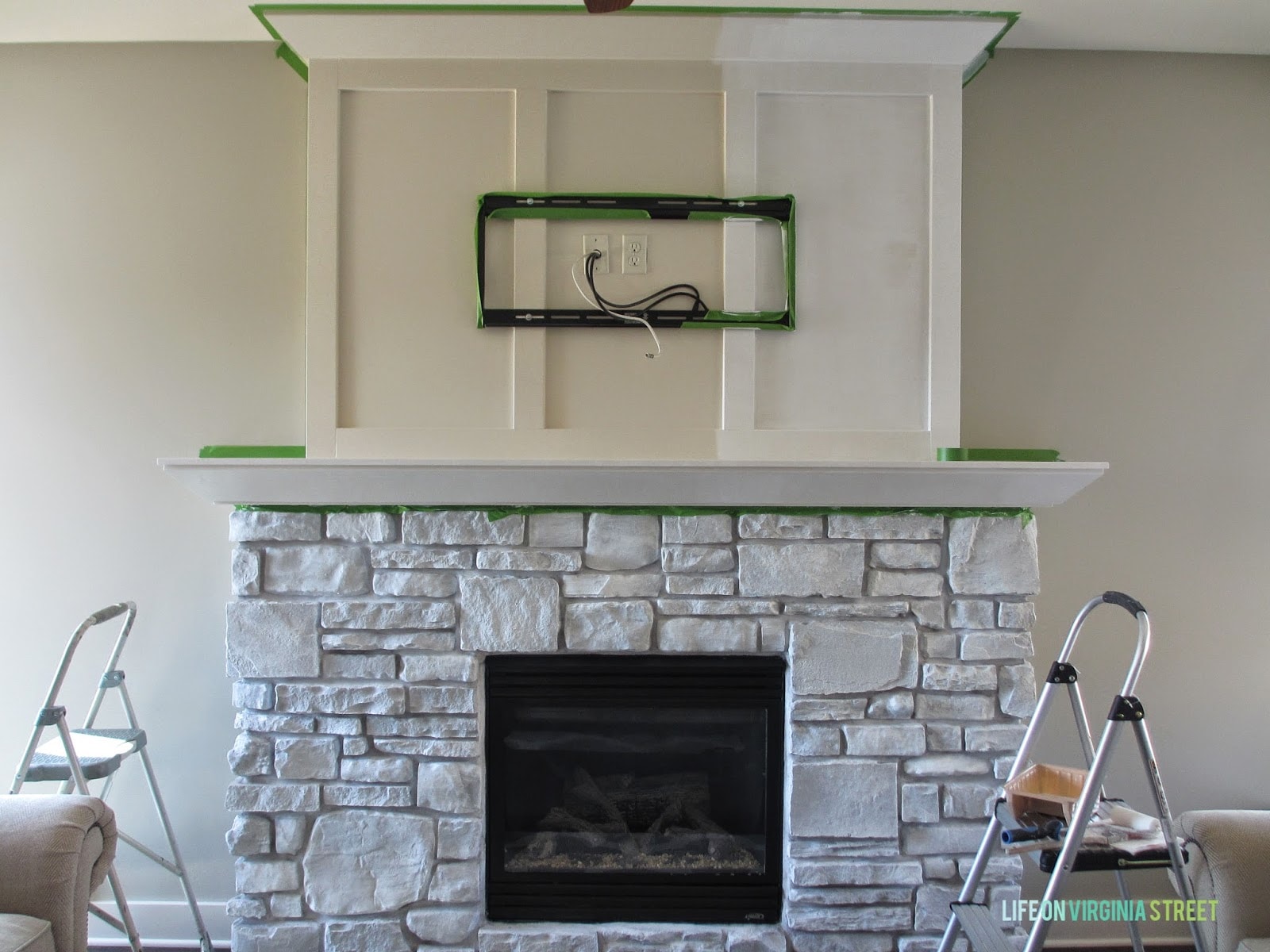 So, a few weekends back, I painted the board and  batten and mantle. It just happened to be fantasy baseball draft weekend for my husband so I was finally allowed to unplug the precious television – or I would have done it much sooner! I started with a coat of Kilz primer to ensure adhesion and then followed with two coats of Behr Swiss Coffee in a semi-gloss finish.
Whitewashed Stone Fireplace Results
I love the end result!! Doesn't it just seem to glow now?!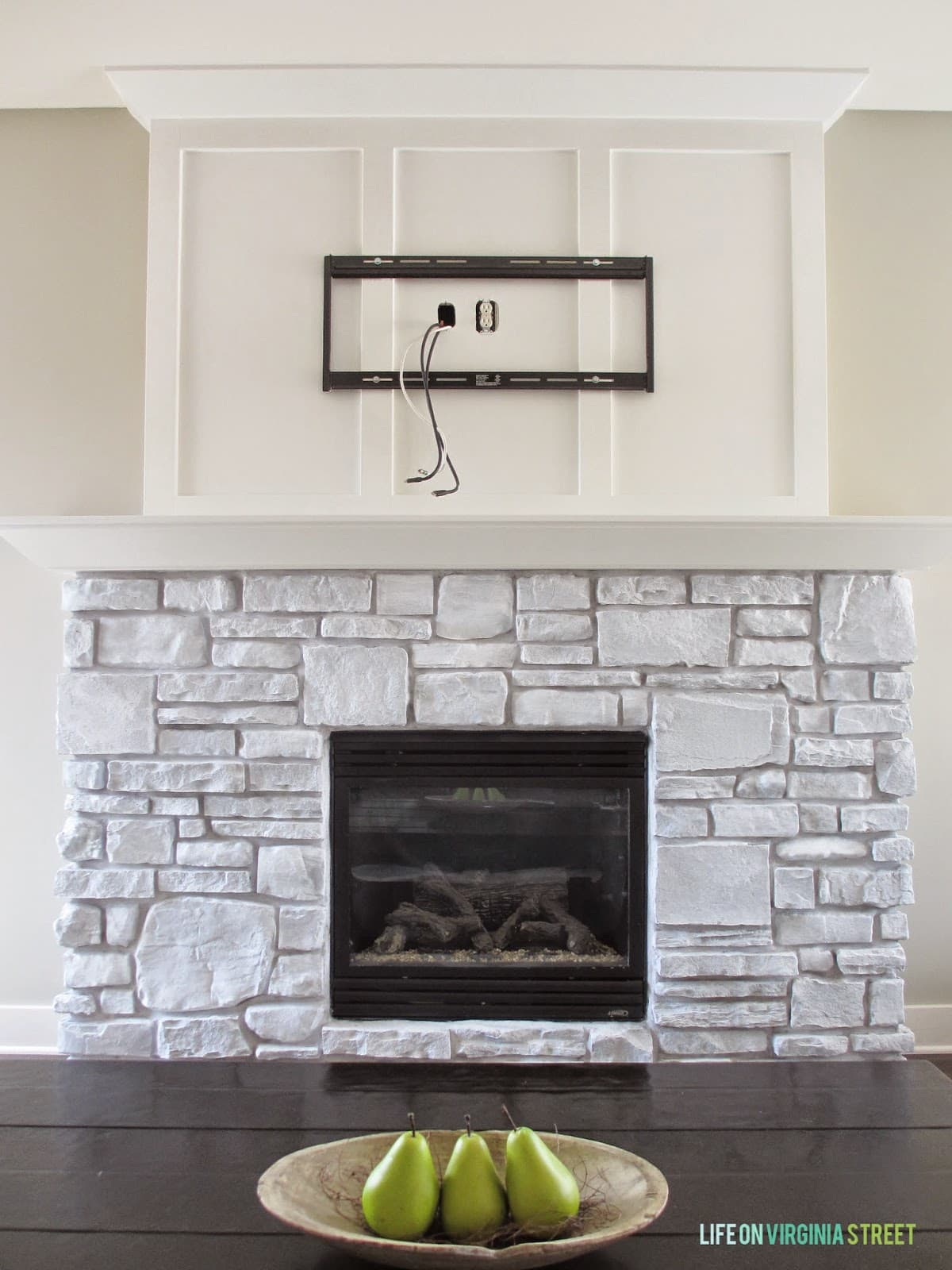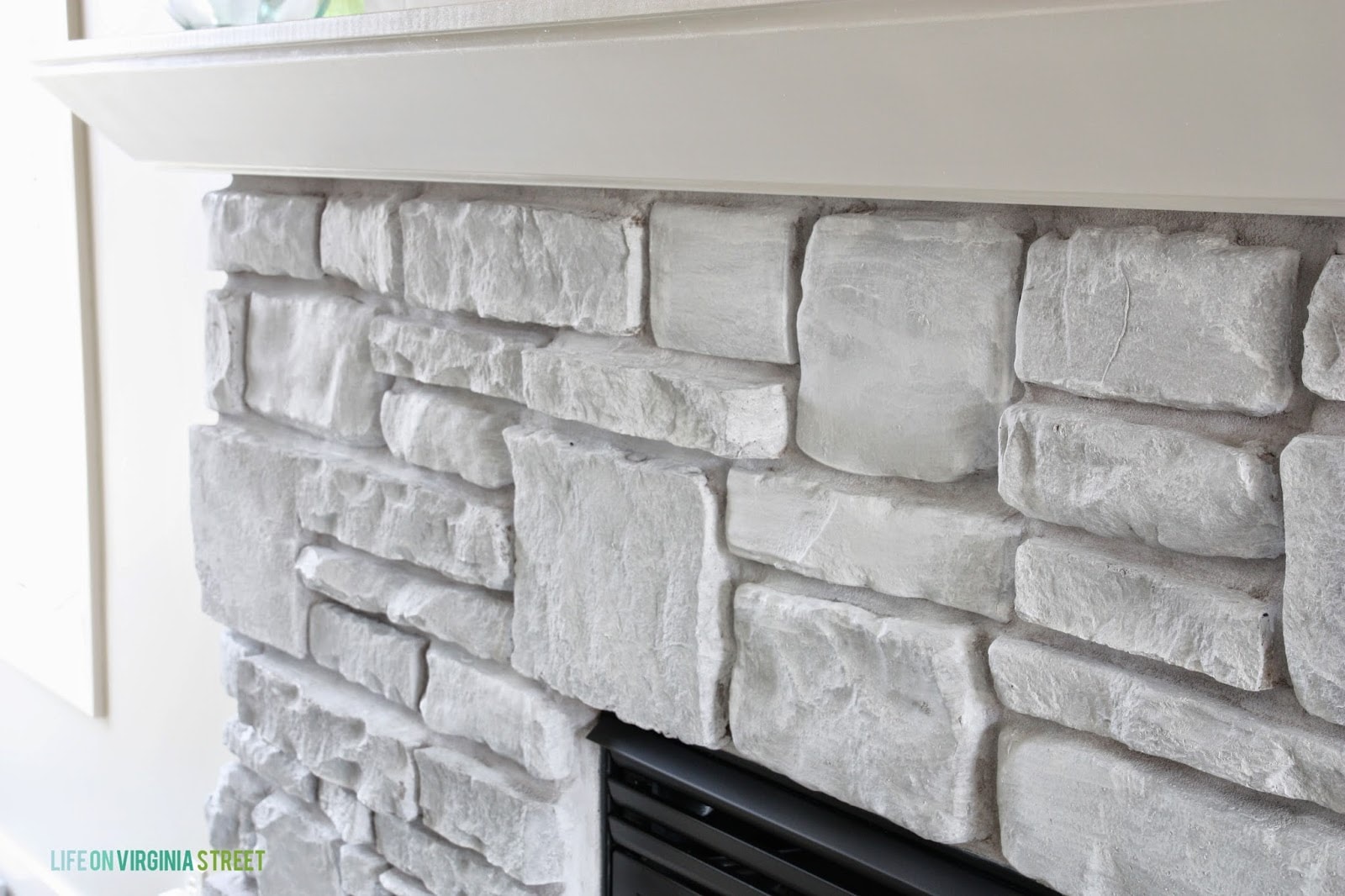 The stone still has some variation due to the mix with water and the trim all looks much crisper with the white  paint. I love that the gray still shows through in some areas on the stone, but the orange and dark gray tones are gone. Definitely the fresher, lighter and airier vibe I was going for!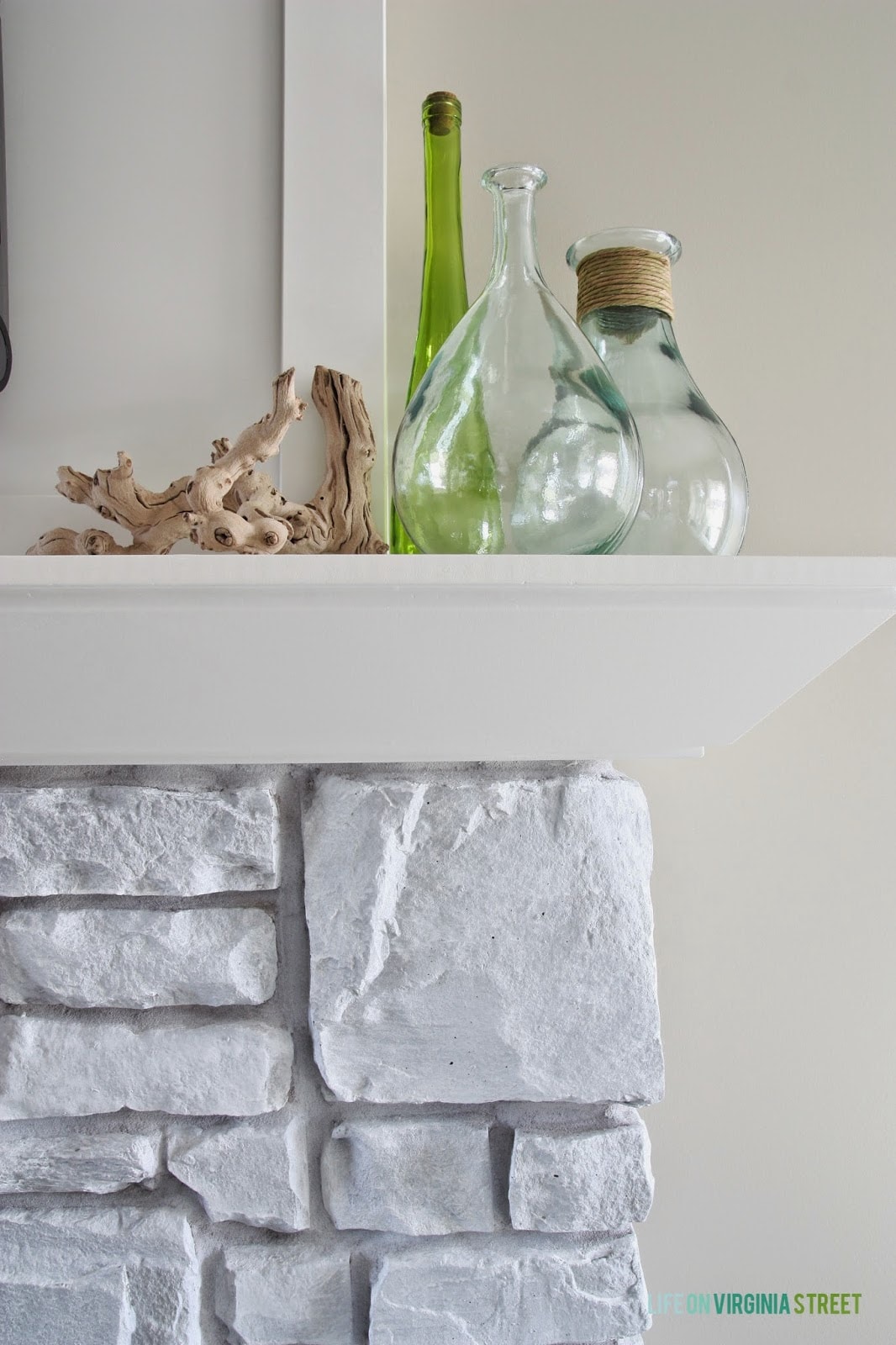 I couldn't be happier with the end result! Here's a little before and after comparison of how the space looks now with the new whitewashed stone fireplace!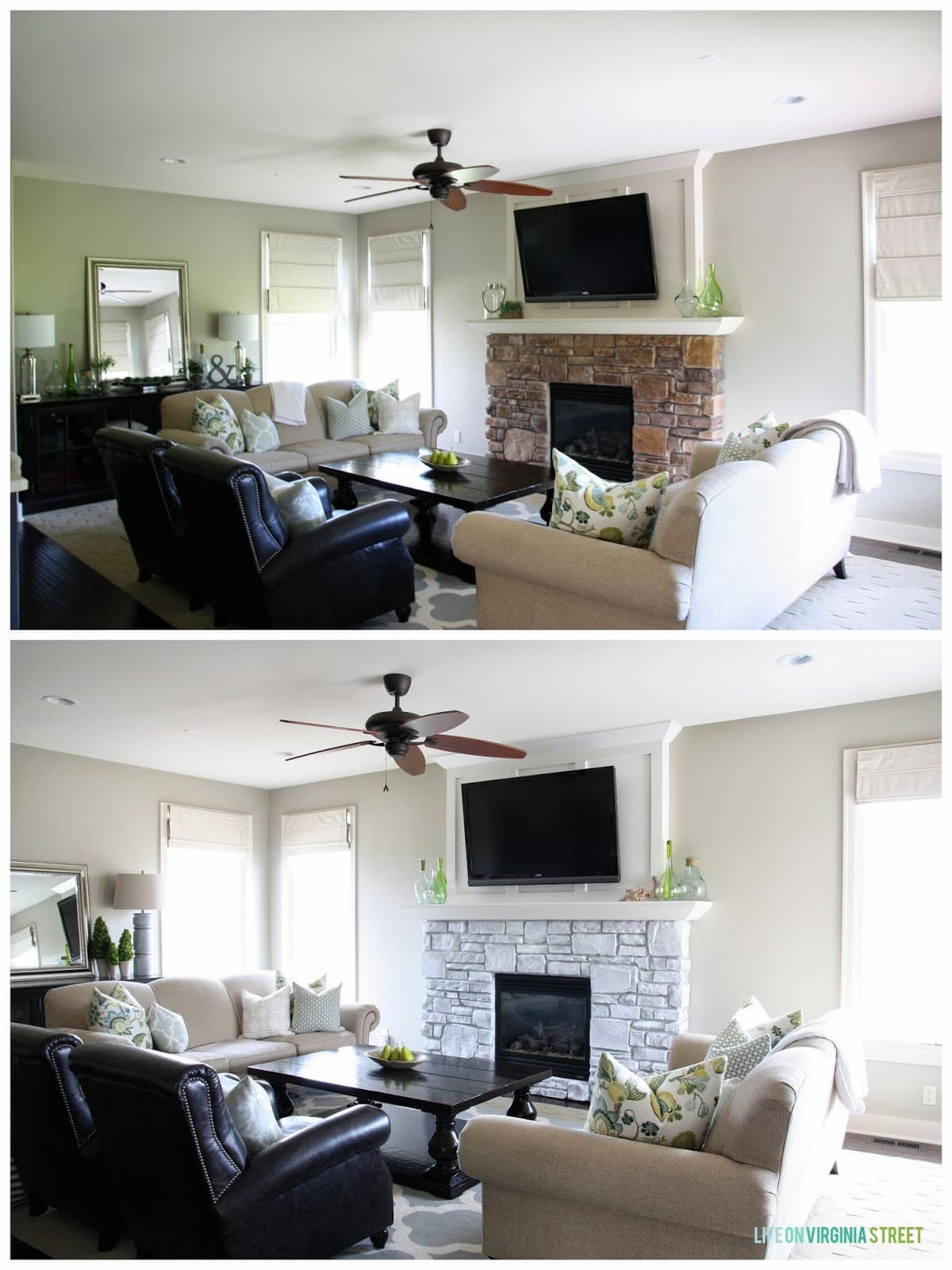 Next project? Painting the window trim and baseboards and likely changing out the roman shades that came with the house. Oh, and for sure that ceiling fan…it never ends!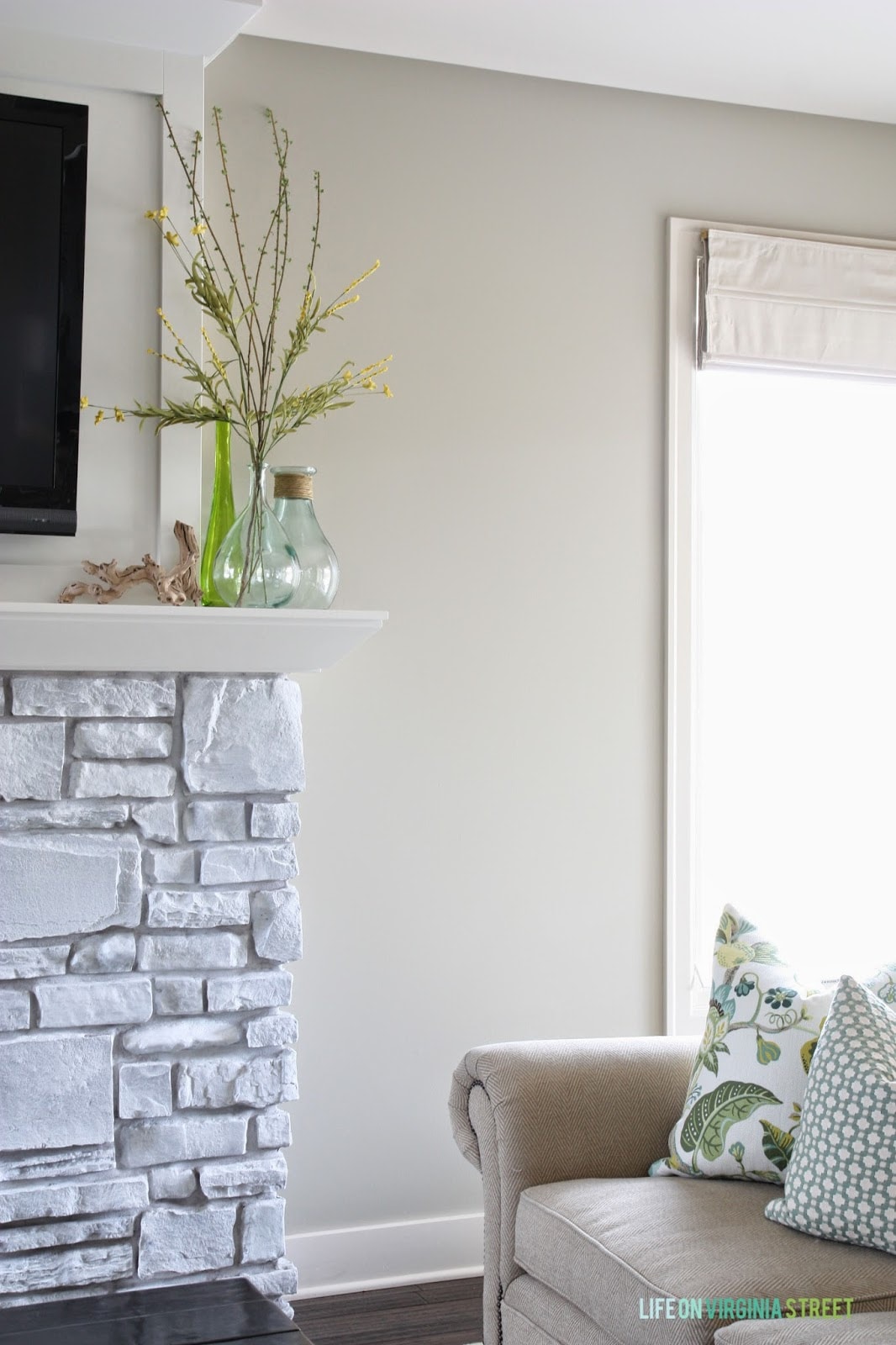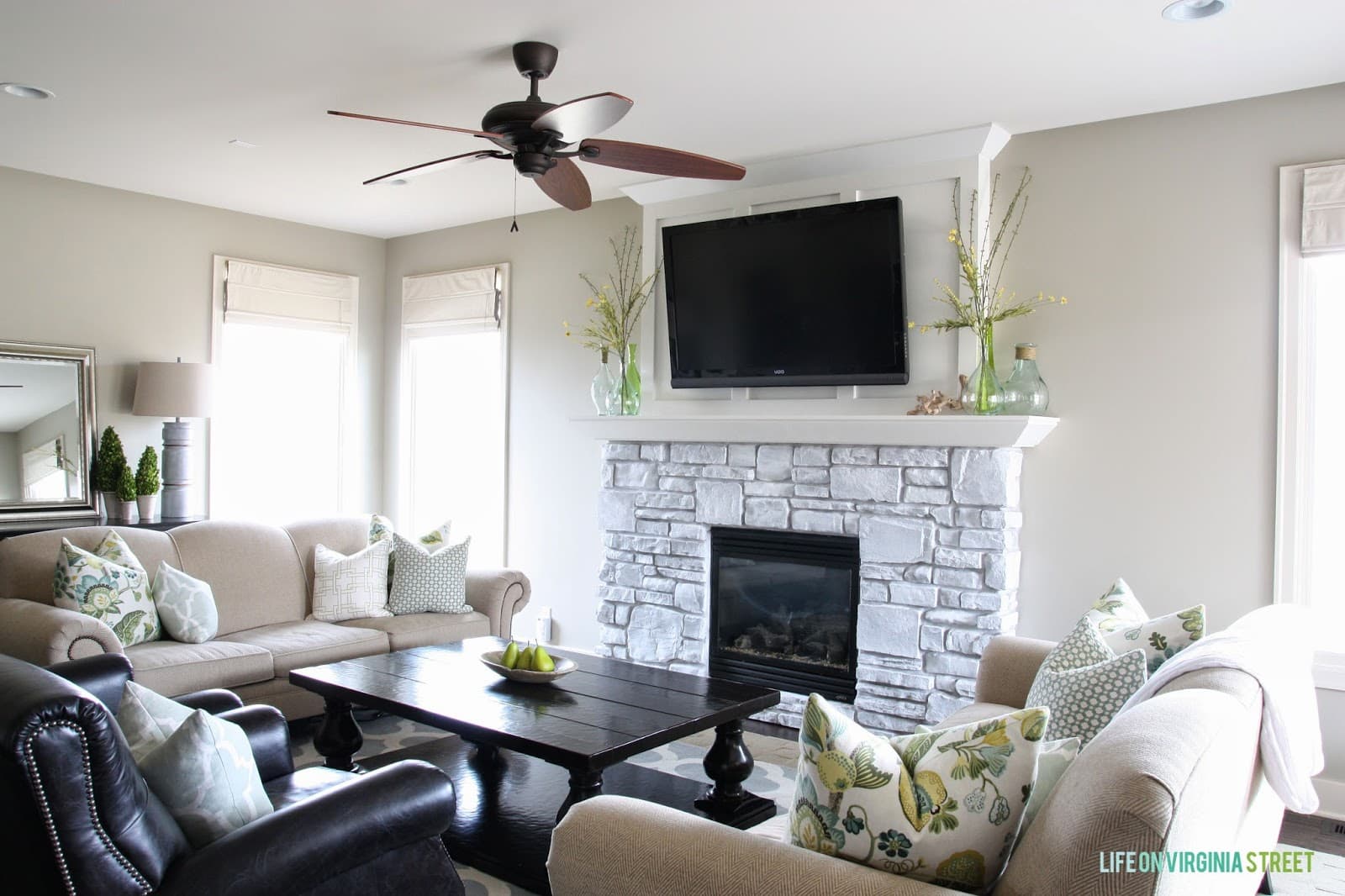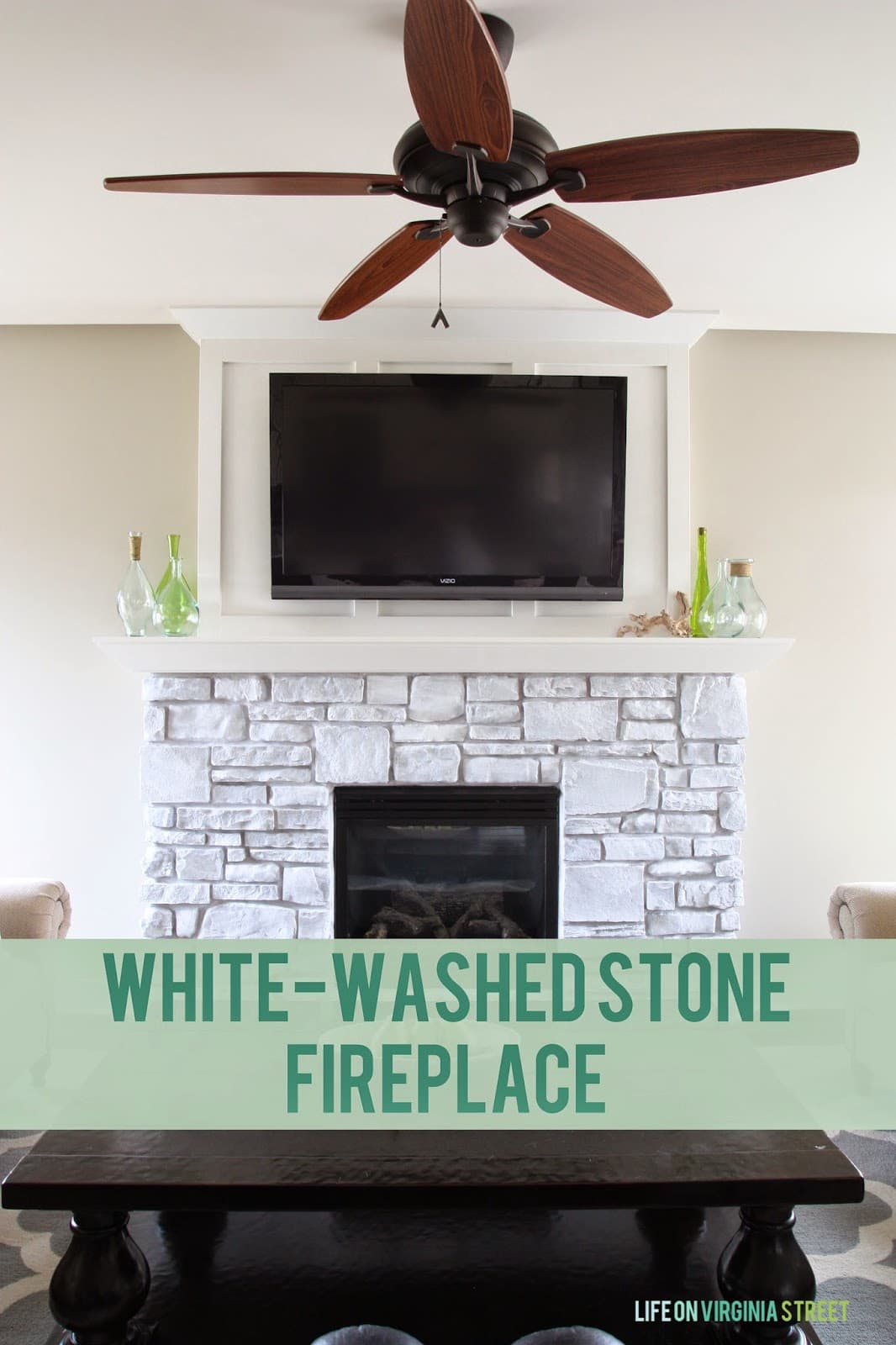 If you would like to follow along on more of my home decor, DIY, lifestyle, travel and other posts, I'd love to have you follow me on any of the following: