It's official. I'm a hoarder. Last weekend I struck gold at a nearby nursery (Lanoha for all you locals). They were doing 25% off all their tropicals and indoor plants – which also included the fiddle leaf figs! They had quite a few on hand and I was able to con my husband into letting me get two more. The four or five footish tree and one that is a three or four foot bushier one were each only $23 during the sale!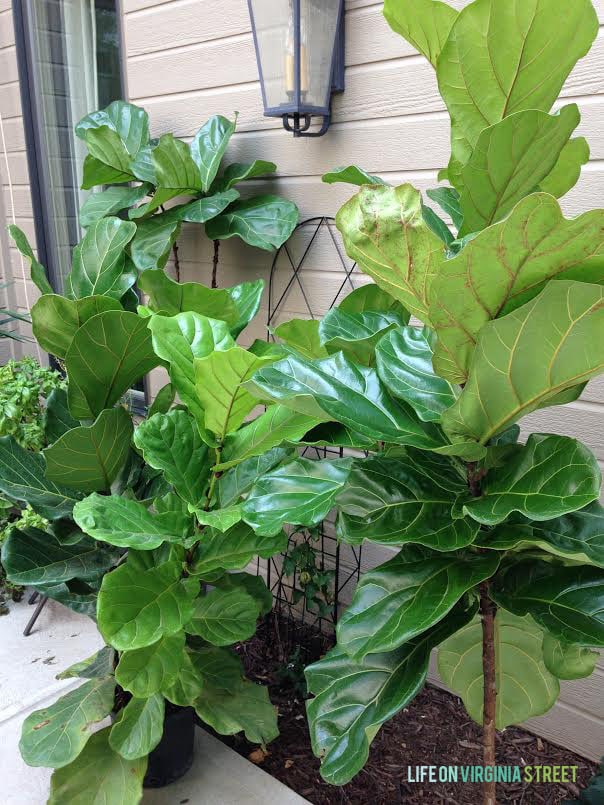 Do I know where I'll put the new ones? No. But I have some ideas. First I need to find some new pots/baskets to place them in before the jungle gets moved from the courtyard to the indoors. And you know I love some greenery in every room!
So, I figure there are worse things to hoard than fiddle leaf figs. Right?! Please say yes. Be sure to check back in tomorrow, when I will be do a Wednesday Watch List Update Version. This will include the updates on my experiment with my "dead" fiddle leaf fig (among multiple other updates on items I've posted about). But its pretty clear you can see that I'm store them outside for now if that gives you any hints on the update. Are you still (or were you ever) a fan of the fiddle leaf figs? I just can't get over their unique leaf shape and color. So happy I added two more to the family!
If you would like to follow along on more of my home decor, DIY, lifestyle and other posts, I'd love to have you follow me on any of the following:
Pinterest / Instagram / Facebook / Twitter / Bloglovin' / Google+