I hope you all had a wonderful weekend! We had a perfect mix of work, fun, and rest. We broke 50 degrees too, so the weather was beautiful for the most part. It made it feel like spring was inching closer, until a snowstorm and possible blizzard started hitting us this morning. The joys of January in Nebraska!
I'm going to try a new format for the Weekend Recaps and want to get your thoughts. It was pretty clear in the poll that this is one of my most divided posts. For many, it's their favorite post of the week and you want even more details. For others, it's a least favorite, because either you're not local (so restaurants don't apply to you) and/or you want less focus on personal life and more on design, etc. I get you! It's always been a mixed one for me, as well. So, what I thought I'd try is rather than posting it in more of a journal format of every single thing we did in order of Friday thru Sunday, I thought I'd break it into categories so you can skip right to the area you may want to read and/or that interests you. This format isn't set in stone, but I thought I'd give it a try to see what you all thought! It will still be a hodgepodge of topics, but more of an organized hodgepodge.
So, on to the new Weekend Recap format!
This post contains affiliate links for your shopping convenience. Click here to read my full disclosure policy.
Projects Around Our Home
If you follow me on Instagram stories, you know that I spent a lot of time in our guest bedroom this weekend. After buying this desk on a local buy/sell/trade Facebook group a few weeks back, I need to get the room taken care of so we didn't have random furniture sitting in our hallway any longer. Here's what I was dealing with that needed to get cleaned up. It never ceases to amaze me at just how much crap you can pack into one little EXPEDIT from IKEA!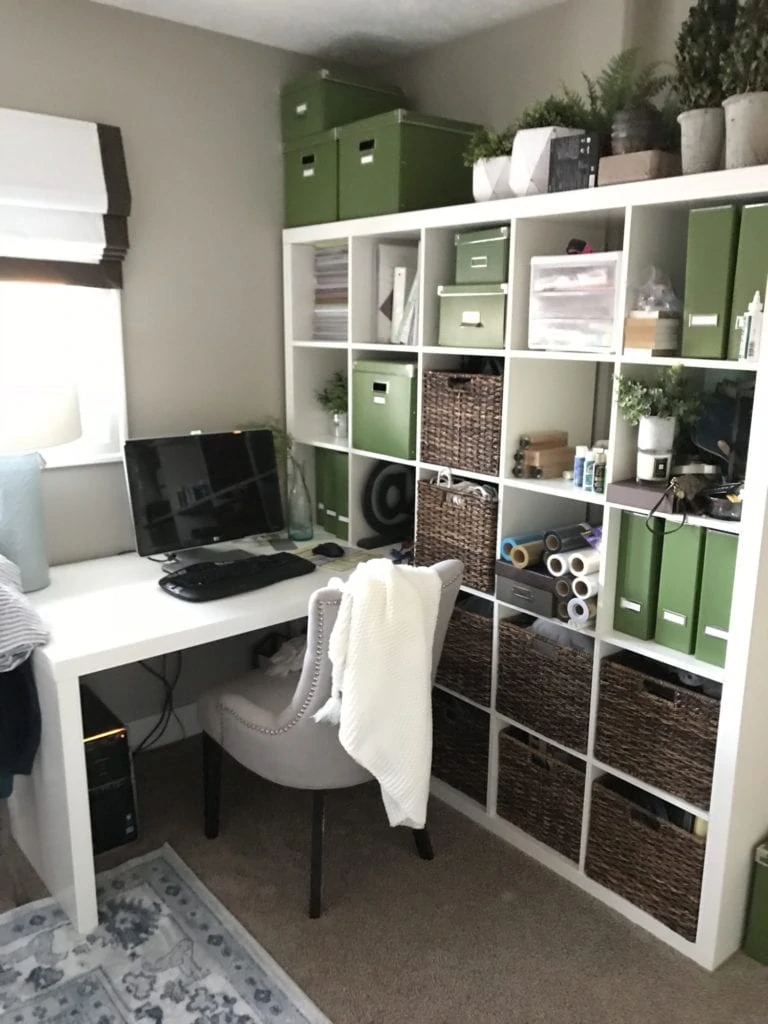 After a few hours of work Friday and Saturday morning, our hallway looked like this. Yikes.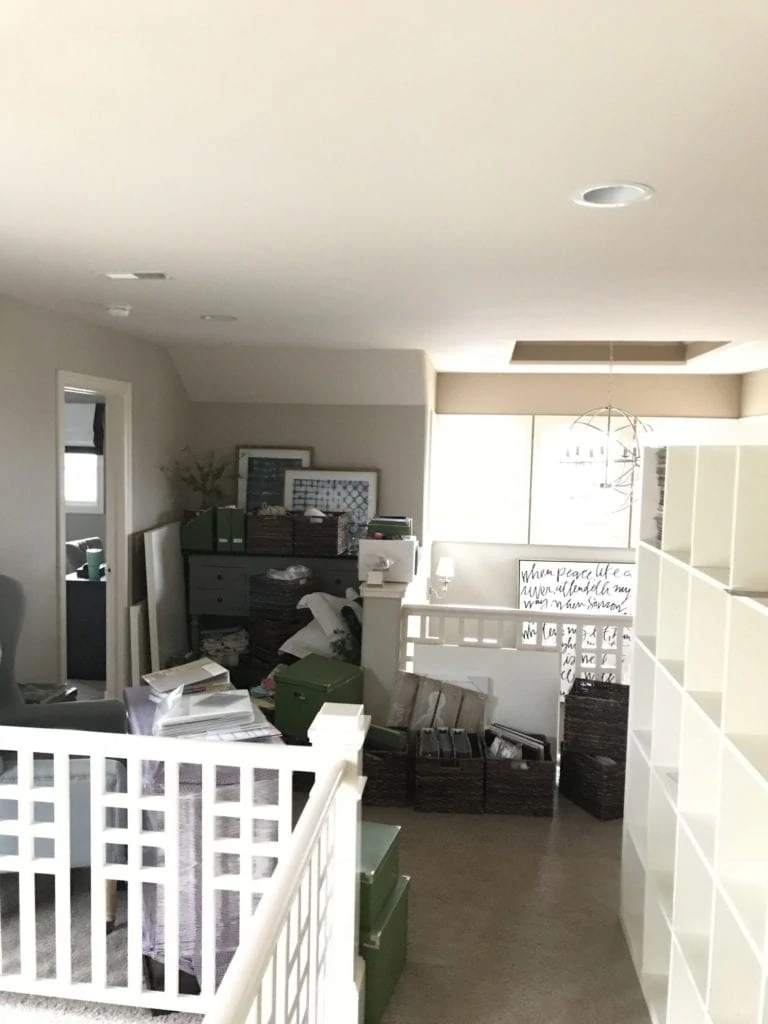 We went through all the storage baskets and ended up with a lot of shredding/recycling (medical EOB's from 2005?!). I also got two very large boxes prepared to donate to our church for the preschool and VBS programs that are filled with craft supplies and craft fabrics. I figured if I haven't used them in several years, I probably won't so it's better to let someone else use them!
Here's where we ultimately landed on placing the desk. It's a bit awkward with the small wall jut, but it really just looked off under the window. Not to mention, many of you freaked me out about having my back to the door 😉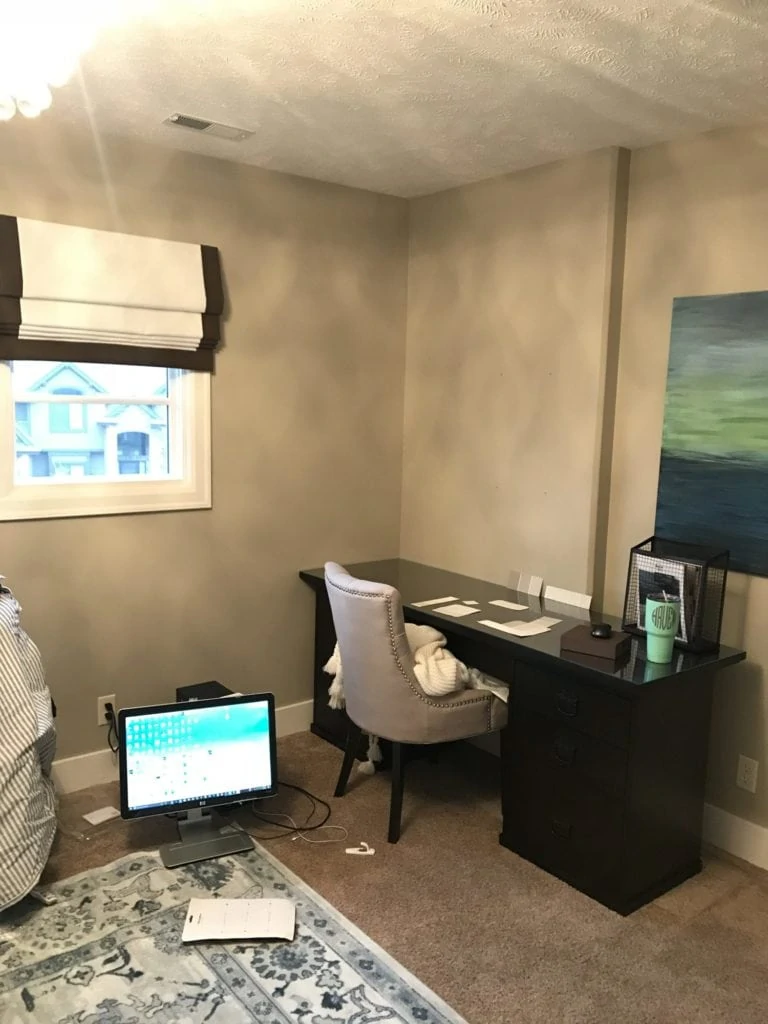 So, I've decided with the darker desk (which I'm leaning towards not painting at this point), I need to lighten the walls. They are currently Behr Castle Path, which we have in a lot of our home, but it is so dark in this north-facing bedroom. I think I've settled on a new color, and I appreciate all of your thoughts on Instagram about this topic! Hopefully next week I can share some more updates on the room!
Recent Outfits
As part of my blog organization attempts, I've been adding sub-headings under post of my headings on my blog. For example, you can now go to 'Fashion & Beauty' in the menu, and I now have a section called 'Recent Outfit Ideas'. My prior outfit ideas have always been added to random posts (and likely still will be) so I know they aren't easy to find at later dates. So, I'm hoping this will make it easier to find prior looks you may be looking for! I'll update it seasonally as I add new outfits to Instagram.
With it being in the 50's over the weekend, it definitely felt more spring-like! This poplin striped sleeve sweater is the perfect transition piece that comes in four color combos and is currently 40% off! I also got the skinny jean version of my favorite jeans and love these too!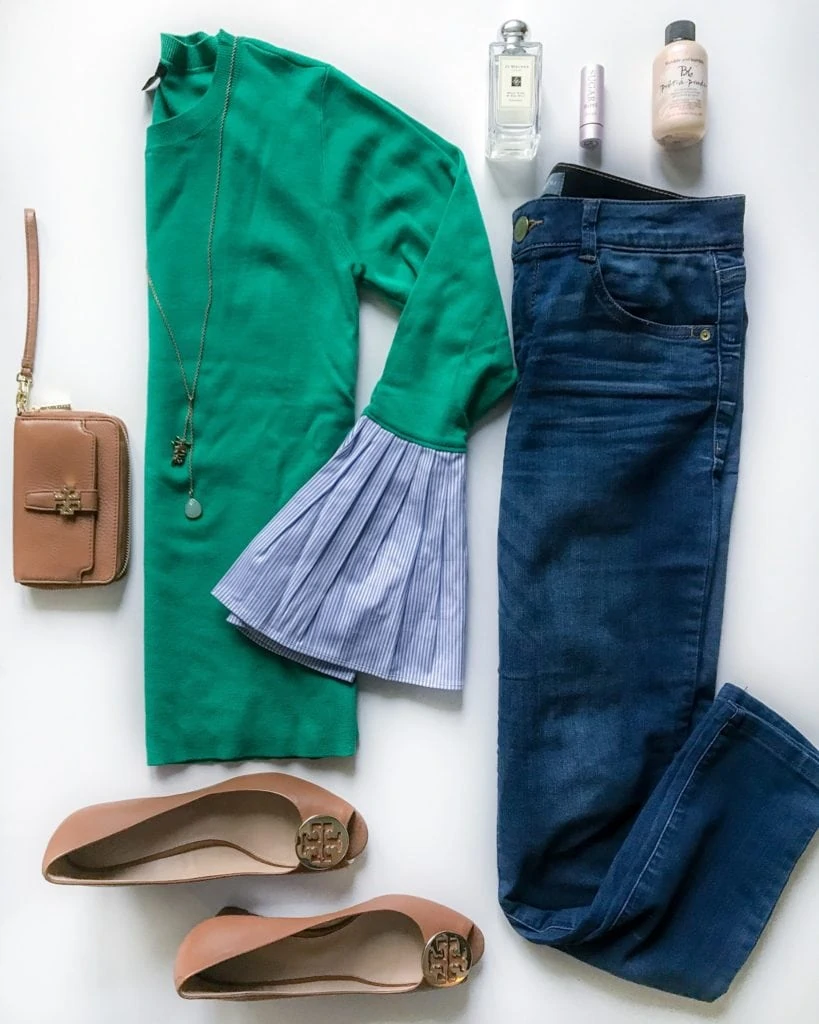 Sweater | Jeans | Shoes | Wristlet (similar) | Favorite Perfume | Lip Moisturizer | Favorite Dry Shampoo | Necklace
In my poll a lot of you said you'd like to see me wearing the clothes I share to get an idea on fit. The below photo shares why I basically stick to flat lays. 😉 I showed this striped sweater (now 40% off!) on my IG stories, as well, over the weekend, and hurry and took a picture trying to show the sleeves. Kurtis has zero interest in being my photographer, and I'm basically the worst at selfies.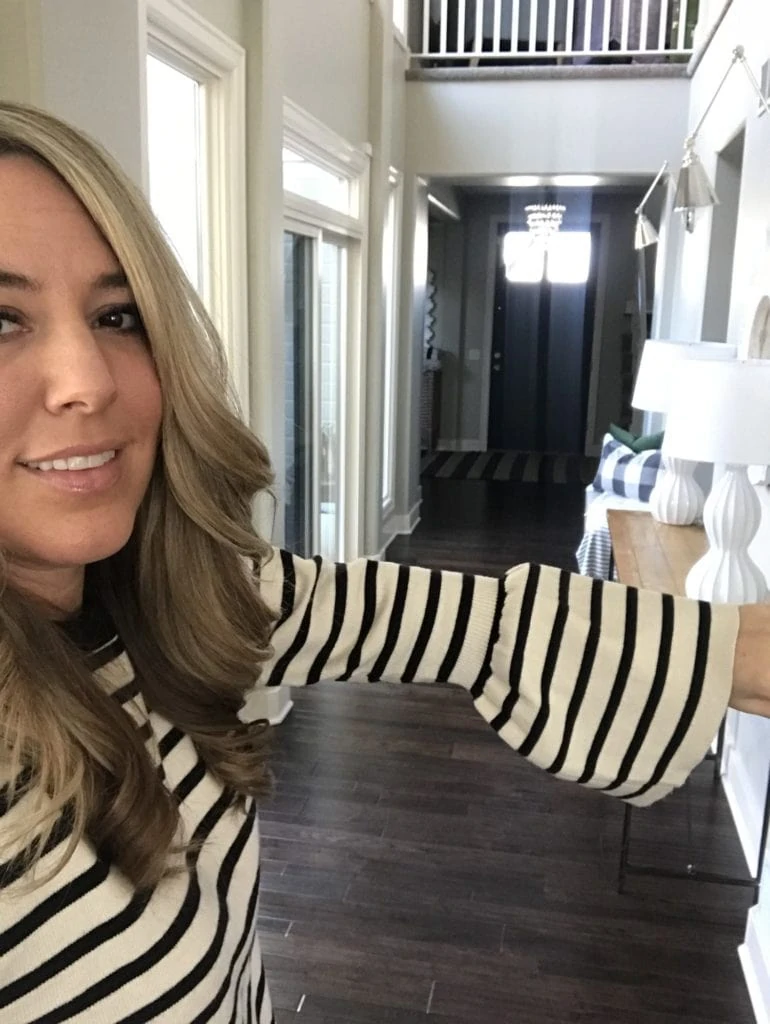 My mom is the cutest and has great fashion sense. She and I are built fairly the same but she's in a lot better shape and about four inches shorter than me, so our scale is a bit different. But, we usually have the same luck with clothes. She texted me yesterday and wanted me to share this sweater with you guys because she insists everyone will love it. She bought it at the same time as this side-tie sweater that I recommended and she said she's obsessed with both. So, if you're in the market for a tunic sweater, she swears by this one and said she has received tons of compliments on it (also 40% off right now)!
Around Town
I mentioned recently that we had only eaten out once in the last five or six weeks. Well, we totally blew that number by going out twice this weekend.
Saturday afternoon, we decided to finally go see The Greatest Showman. We both absolutely loved it, although we were worried the hype was going to kill it for us both. But, we both really enjoyed it and we're glad we finally saw it. We have been eating so well recently, but decided to have a splurge meal after the show. Both times in the last 5-6 weeks that we've gone out, we both wanted tacos. So this time, we went to Roja (we think their chips are the best). It was fun to get out of the house and not have to cook! If you've never tried their fresh jalapeno lime margaritas (called The Jorge, after George Clooney since they use his tequila), you are missing out!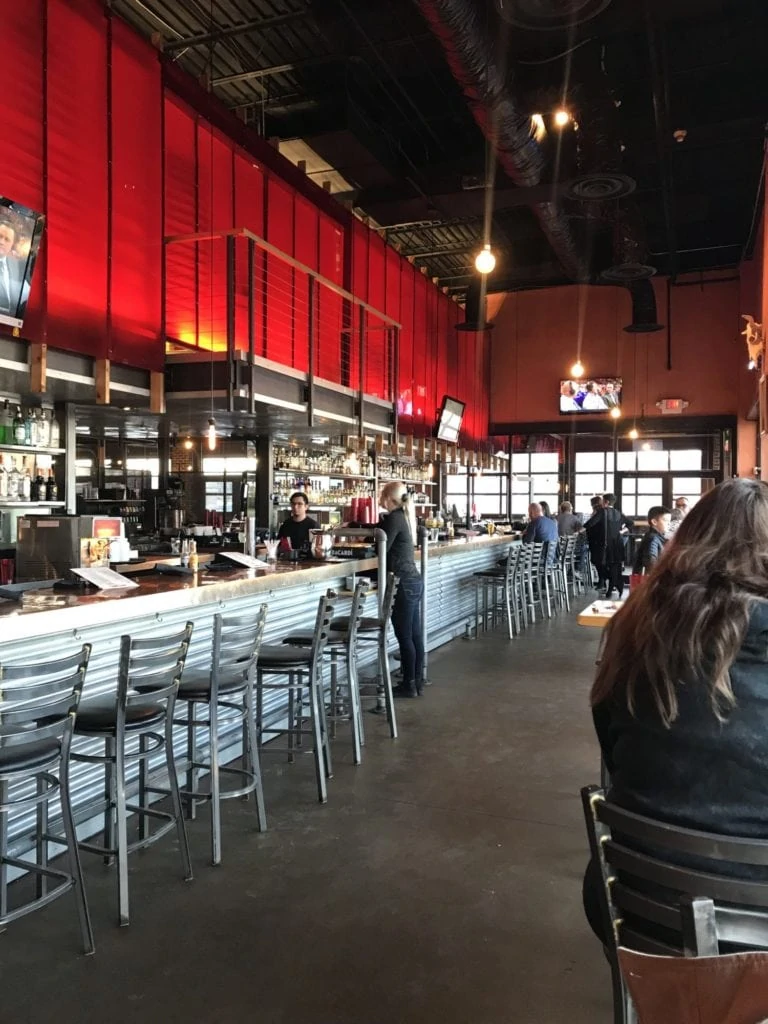 Sunday after working in the guest bedroom for awhile, Jill and Nick called to invite us to watch the football game(s) with them at Addy's in Elkhorn. Jill is due in less than three months so we have to get in all our adult bonding time while we still can 😉 We were there for about four hours and I had my first beer since Christmas time. It was just as good as I remember it being!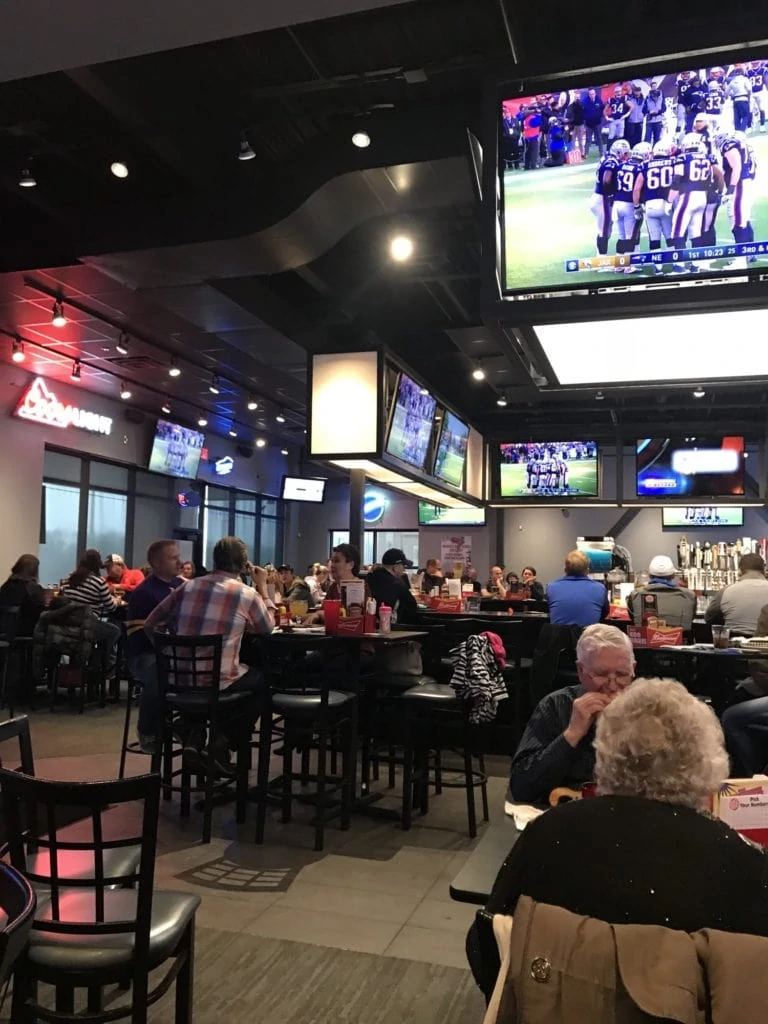 Noteworthy Sales
There are a few good sales happening today that I wanted to share with you.
I hope you all have a great week! I'll be back tomorrow with a tablescape idea to share with you!
If you would like to follow along on more of my home decor, DIY, lifestyle, travel and other posts, I'd love to have you follow me on any of the following:
Pinterest / Instagram / Facebook / Twitter / Google+
disclosure: some affiliate links used