Happy Monday! I hope you all had a great weekend! We mostly stayed at home (thanks to our running streak with not eating out at restaurants). But, that did allow me to refresh some things around the house!
Friday afternoon I started playing around with living room decor now that I've put away our Christmas decorations. The new furniture arrived right as I started decorating for Christmas, so this was the first time I really had a chance to get back to my core color scheme, and I love it so much!
It turns out after I made the below arrangement, I realized all of the pillows were on major sale (I have them all linked below the image). They're still on sale but colors are going quickly – and one has been marked up slightly more than it was Friday. Side note: I shared these right away on my Facebook page and on my Instagram, so if you love last minute sale alerts and don't follow me in either of those places, you may want to. I'm going to try and be better about sharing items I have that are on great sales in those places (since it's much quicker and more relevant than a full blog post on that one item). I'm also going to be adding these types of things to my new newsletter format!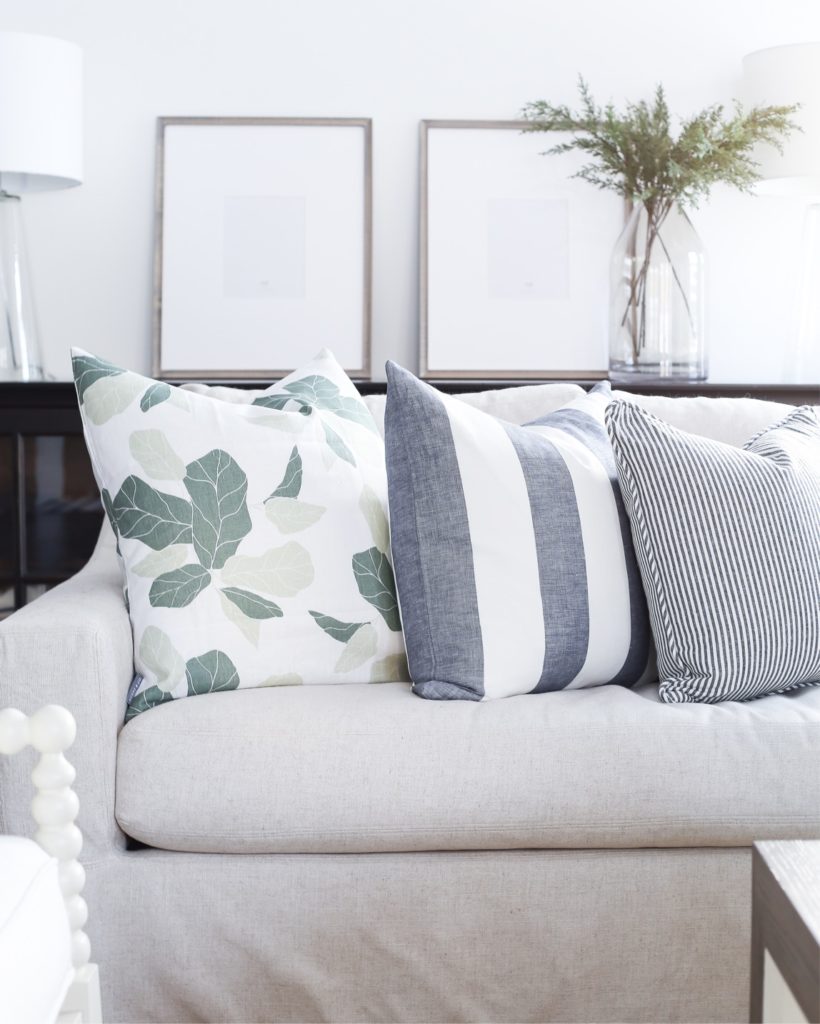 Fig Leaf Pillow Cover | Wide Stripe Pillow Cover | Ticking Stripe Pillow Cover | Frames | Sofa | Coffee Table | Spindle Chair | Lamps | Vase | Greenery (Hobby Lobby – old but I believe they still carry it at Christmas/winter time)
On Friday night, we decided to watch Home Again. I had heard really mixed reviews about it, but I typically love Nancy Meyers movies so I still wanted to see it. That being said, I went into it with pretty low expectations. So, I actually did enjoy it. There really isn't a romantic element like I expected, but it was a cute movie. Not sure I'll ever watch it again, but it was fun to watch. And the home where the story is set is stunning!
After not working on the puzzle all week, we finally finished it on Saturday morning. Now we need a new puzzle and we want to visit Cinque Terre in Italy 😉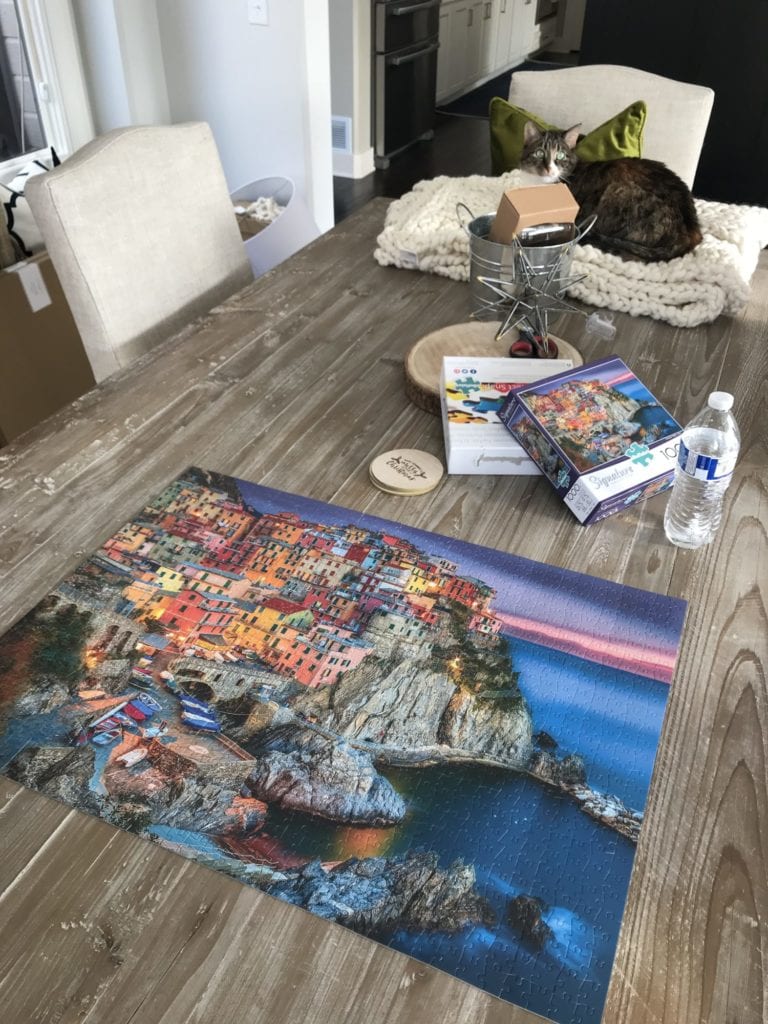 That night, I decided to watch The Host. I had read the book several years ago (written by Stephanie Meyer of Twilight infamy). The movie was just okay for me. I always struggle when I watch a movie made from a book because I feel like so much gets lost in the movie. Anyone else feel that way? I think there are very few books that have successfully been made into movies! But, I had been wanting to watch it for at least a year so I'm glad I checked it off the list.
I moved my faux fiddle leaf fig tree down to this corner in our living room for a bit of color after taking down our Christmas decor. I noticed they now have a slightly shorter version, as well, that has two stems. It may be a good alternative for when you're not wanting such a large tree. As an FYI, you can get 20% off your purchase and free shipping at Pottery Barn with code HELLO18 thru the end of the day. Also, I think my cats are all trying to ruin the cushions on the sofas. Just this week, Bearcat started sleeping on/hugging the bag cushions like the other cats had started to do. I'm trying to re-fluff them every other day or so, so I hope that helps!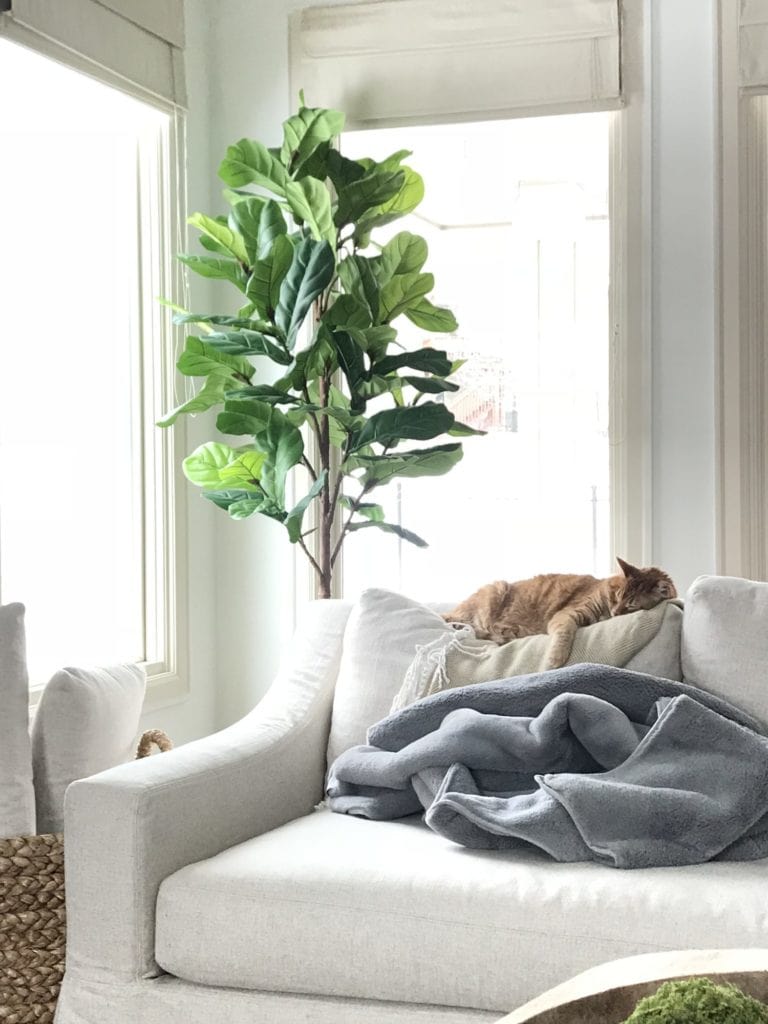 Random additional sale sidenote: LOFT is currently offering an additional 60% off their clearance items (no coded needed). You can see all the applicable items here. Tons of really cute items are included!
My two buffalo check stools arrived on Saturday and I love them even more in person! I feel like the quality really is great for the price! Now I'm just decided which of the two places I had in mind need them the most (they aren't staying in my office).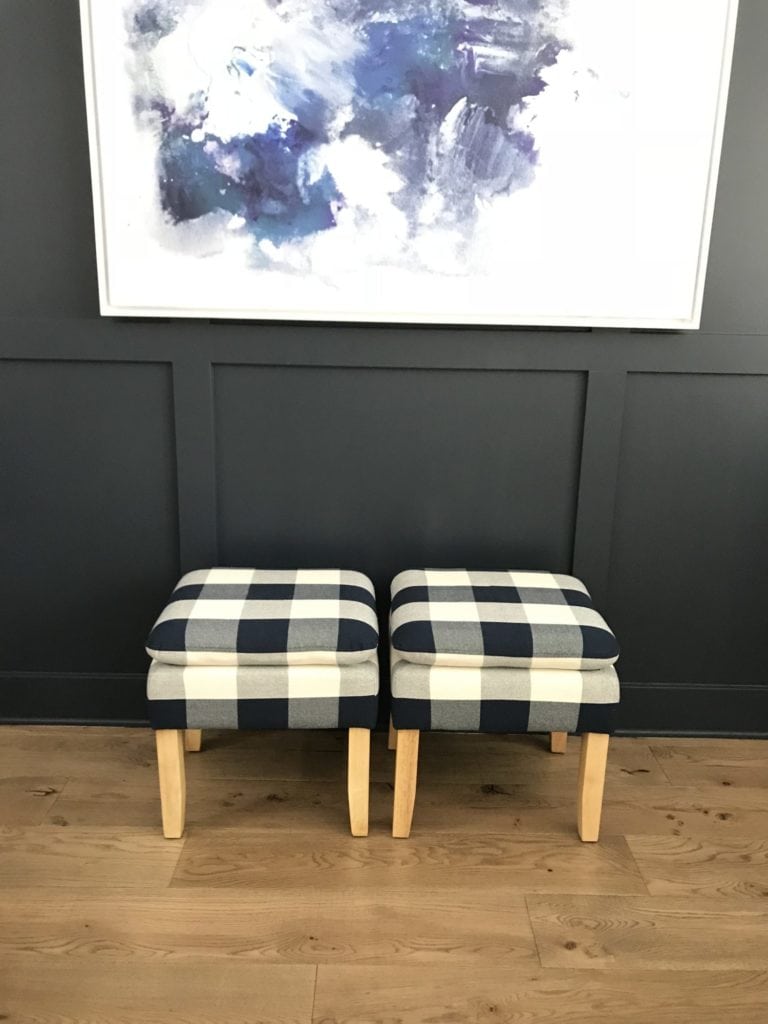 A few weeks back, I mentioned I was going to be adding a small desk to our smaller guest bedroom for days when Kurtis and I are both working from home and can't be in the same room. I also wanted something our guests could feel free to use since we have an extra, older computer for the space. I never showed how the space looked currently. Basically, I had attached my old IKEA Expedit desk back on the Expedit. It wasn't idea because it all takes up so much room (the door to the room is just to the right of this photo). So, I had been hunting for something smaller that was also affordable because it won't be getting tons of use.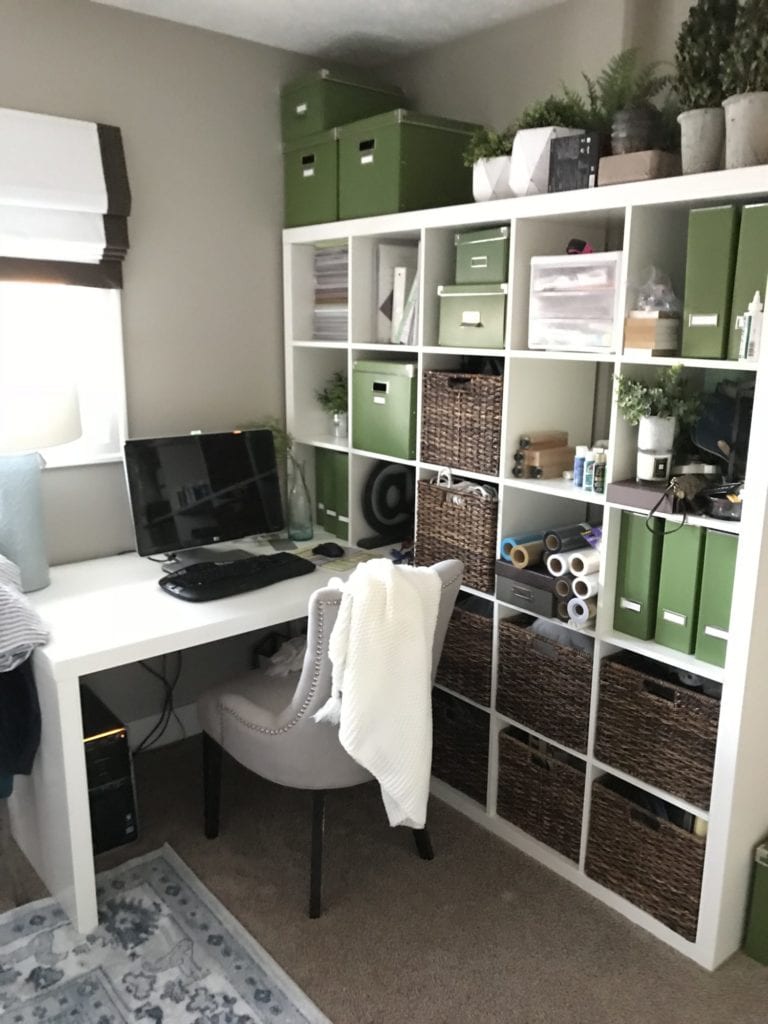 Saturday night, I saw a listing on our local buy/sell/trade group. I rarely actually buy things from there (usually only list our stuff). BUT, I saw this Pottery Barn desk and the coordinating lateral filing cabinet listed as a pair for $200. Basically about $1600 of product (plus the $299 it would have cost for me to have it shipped) for only $200. I knew a bargain when I saw it, especially since I had been eyeing the white version of this desk for some time. We went and picked it up Sunday morning. We didn't have time to move all the Expedit crap out, so the new desk is in our hallway. But, I'm excited to get it put together and then finally reveal the non-Christmas look of this bedroom! Sidenote: I'm still deciding if I should paint the new desk white or leave as is. I think I'll wait until we get it in the room to really make a decision. However, at this point, I'm thinking I'll just leave it as is.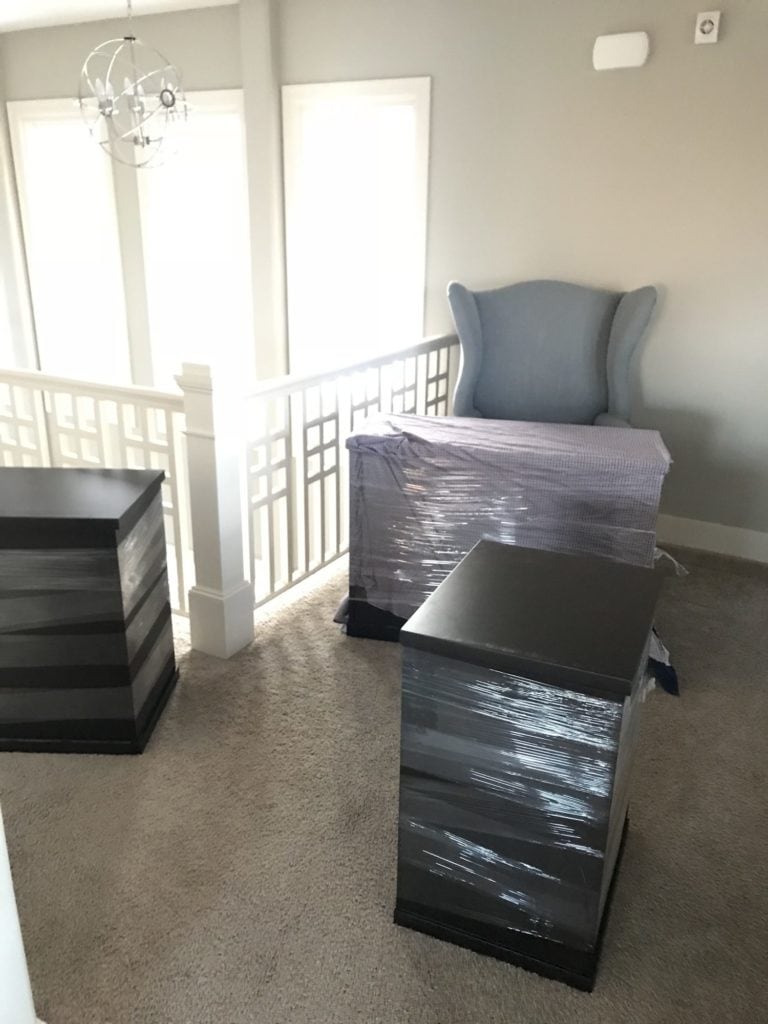 The prior owners even had a piece of plexi-glass custom cut for the top of the desk!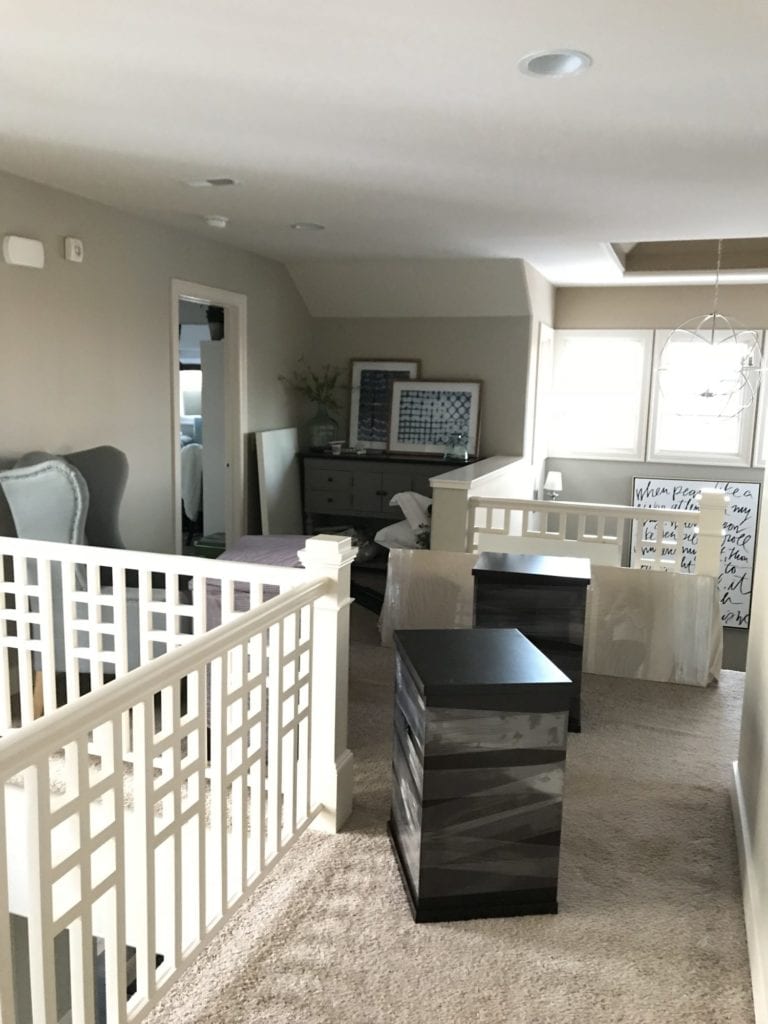 We ended the weekend watching the Golden Globes, but only made it about halfway through. I mostly watch for the outfits and see everyone, but otherwise, I could take it or leave it 😉 I hope you all have a great week!
If you would like to follow along on more of my home decor, DIY, lifestyle, travel and other posts, I'd love to have you follow me on any of the following:
Pinterest / Instagram / Facebook / Twitter / Google+
disclosure: some affiliate links used