The weeks are flying by this past month! Does it feel like that for anyone else? Christmas and the New Year will be here before we know it!
Last Thursday night, we went to Cirque Musica Holiday. It was for my husband's holiday party with his boss and peers and it was a lot of fun. We were in the suite so our angle was a bit off but it was so entertaining to watch. It was basically a human circus (no animals) set to various live holiday music. We were all entertained the whole time, even though I think we may have been a bit skeptical at first!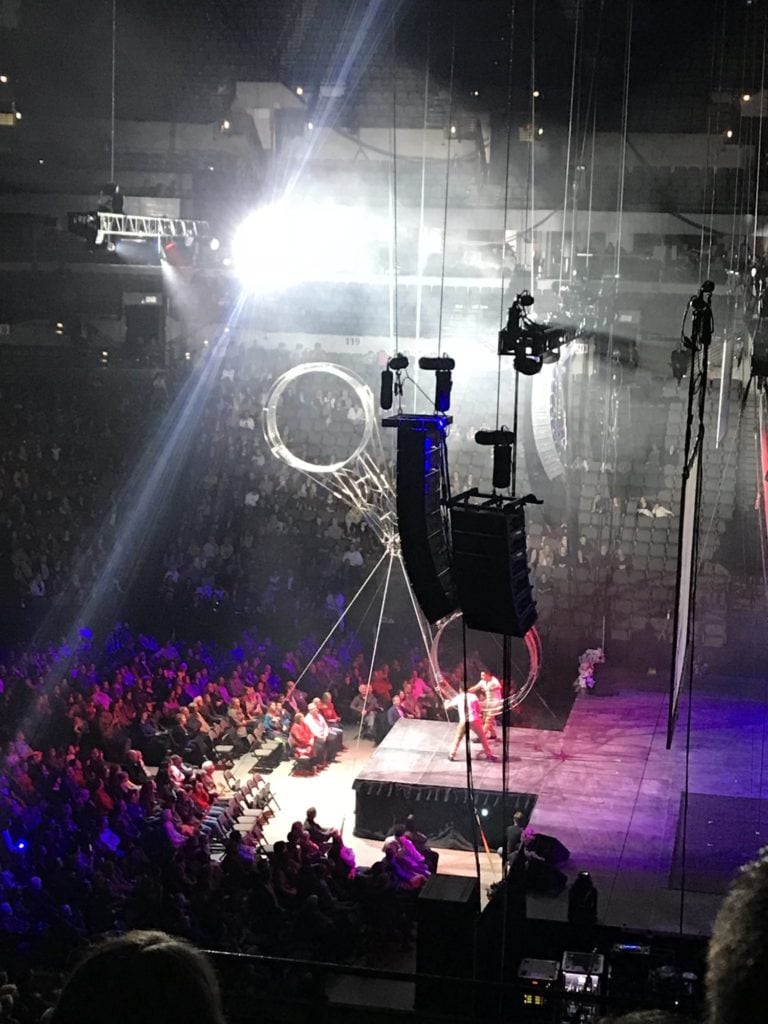 Random fact about me. I'm obsessed with music. But to be honest, over the last year or two, I really only listened to it in my car – which really didn't amount to that much. I don't recall why, but at the end of summer I randomly signed up for a free trial of Apple Music (I think it was for three months). I actually forgot about it until our credit card was charged the $10 for this month. So, I decided to make use of it. We've gotten rid of so many CD's over the years because we had downloaded them to our iPods. But it seems like we can't get most on our iPhones or they were never saved. Long story short, Kurtis had a work event and I downloaded close to 20 albums and created all sorts of playlists. I even downloaded this Yanni CD that I was obsessed with (either in junior high or high school). Don't judge! Please tell me somebody else out there was a fan?!? 'In The Morning Light' was my jam. I bought the piano book at the time and taught myself a handful of the songs (I played for about 15 years). It was crazy listening to it how I remembered every single note of those songs. Music is so crazy liked that! Anyways, I just though I'd throw that out there in case you love music too. You pay the fee and have access to downloaded unlimited music. Which is still so weird to me! It feels like Napster all over again, but it takes about 5 second vs. 5 hours 😉
Saturday afternoon, Kurtis' sister Teresa and our niece Katie came into town to stay with us the rest of the weekend. Katie decided a few weeks ago that she is going to graduate earlier. She's technically in her junior year but has enough credits to graduate in the spring. So, she asked if I would take her graduation photos for her. It was also her 17th birthday on Friday so we celebrated with dinner, cake and then dominoes with the family!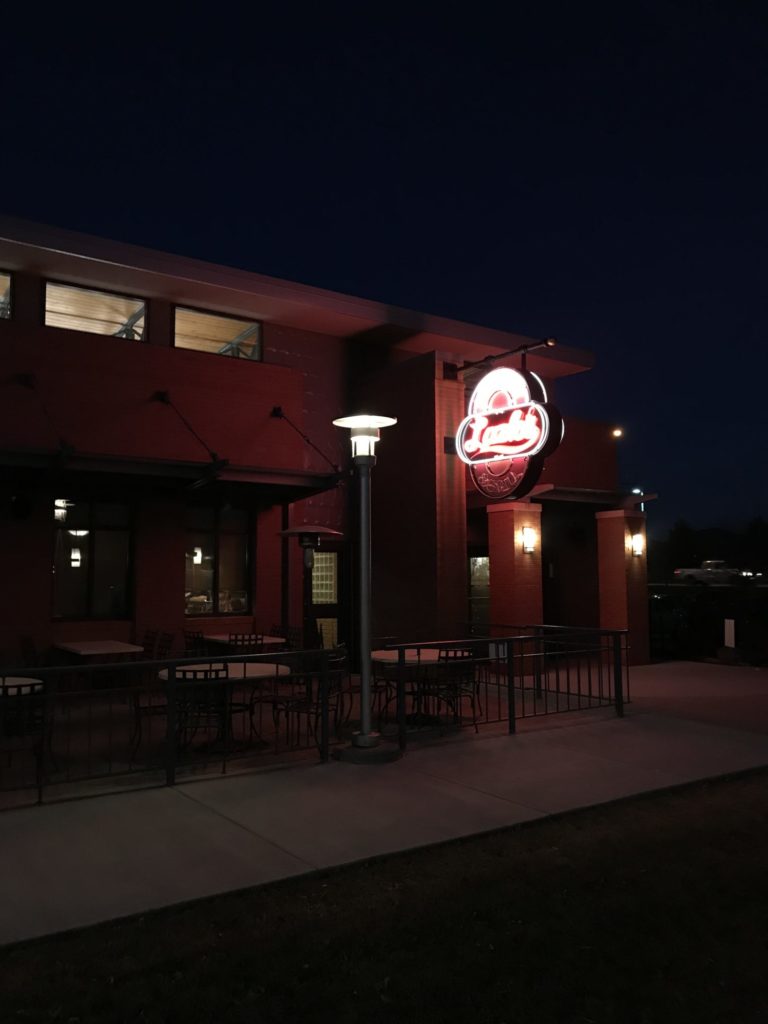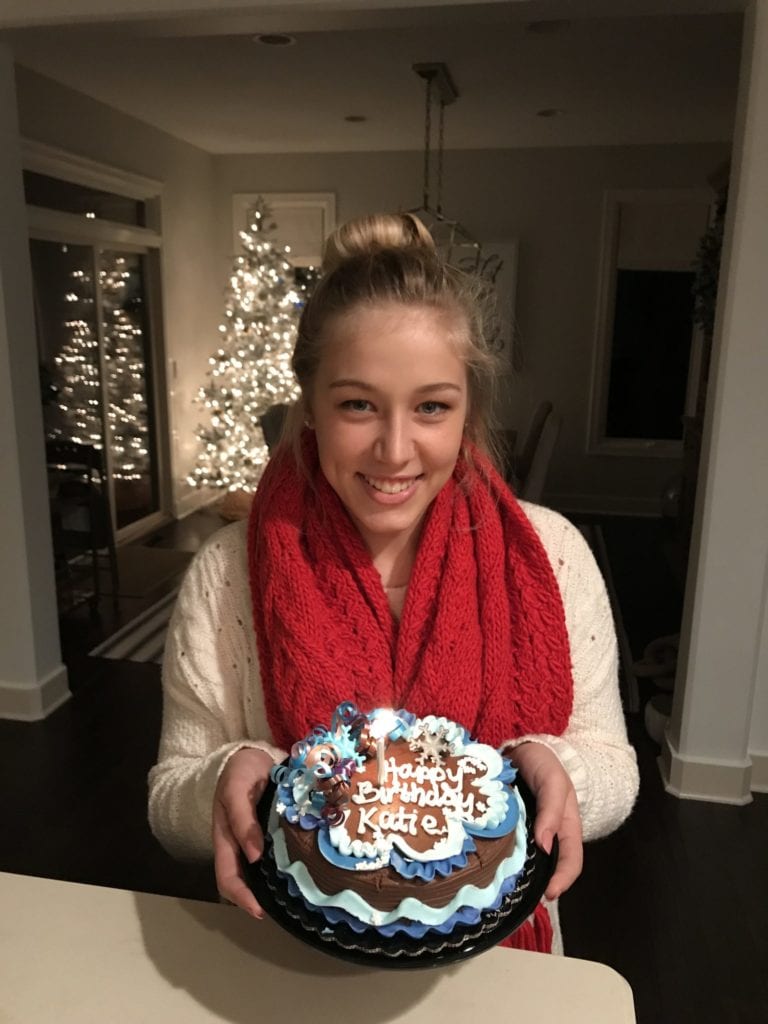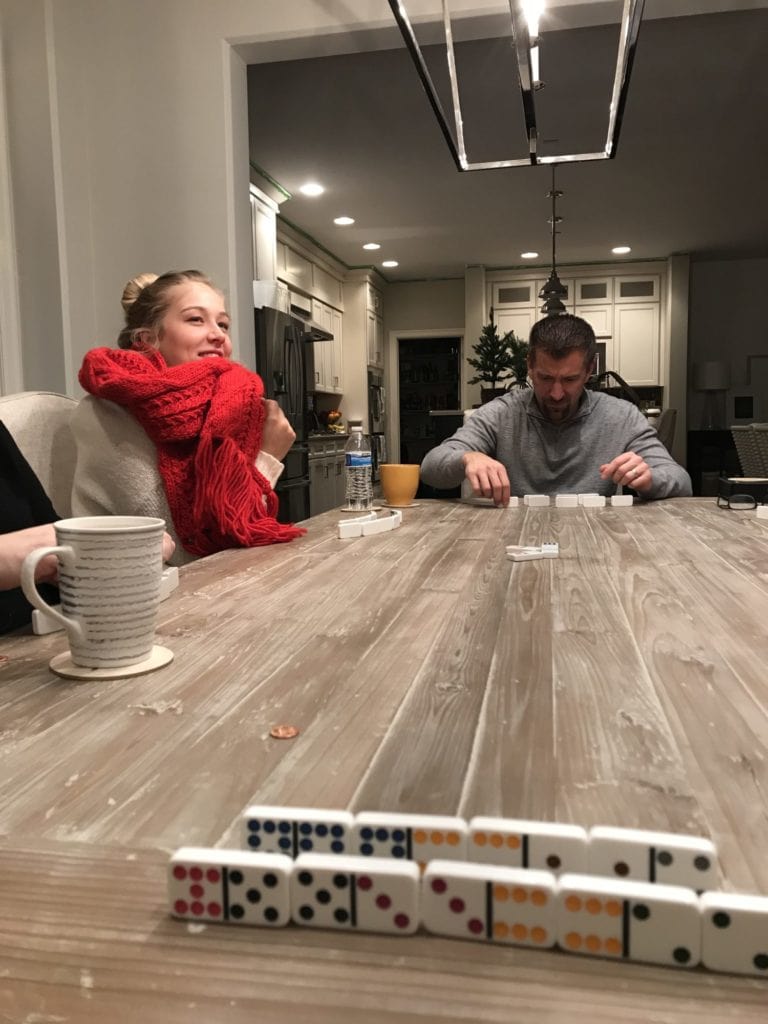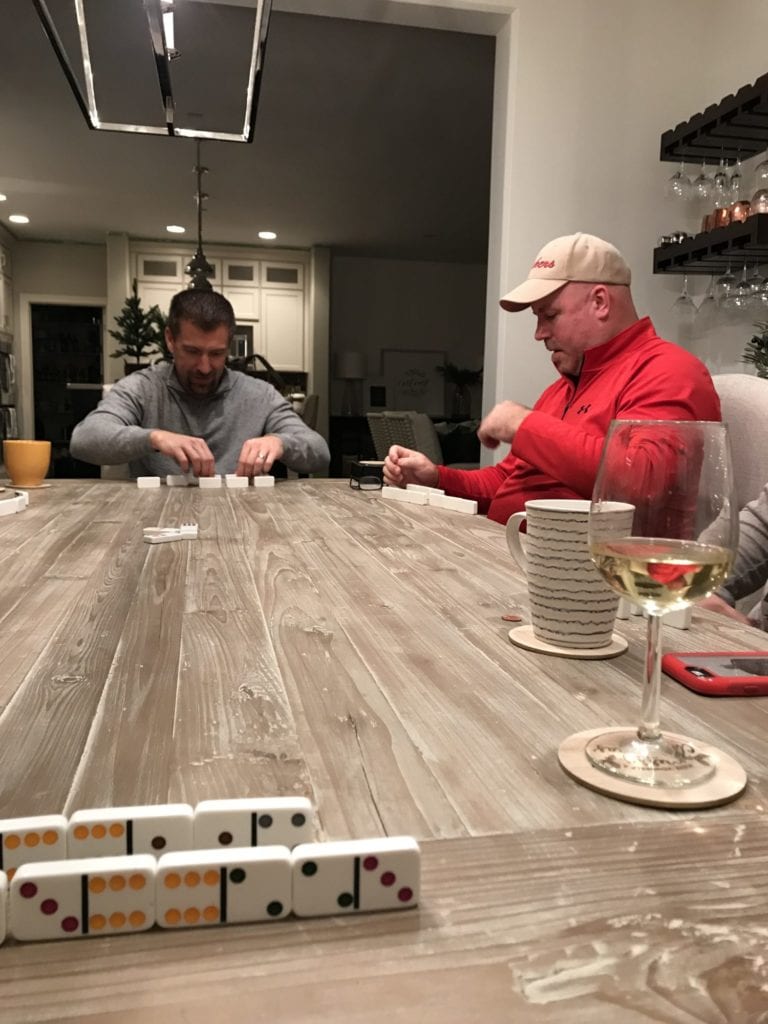 Kurtis convinced Katie to take some leftover Thanksgiving whipped cream right out of the can to go with her birthday cake. We're clearly the mature ones in the family…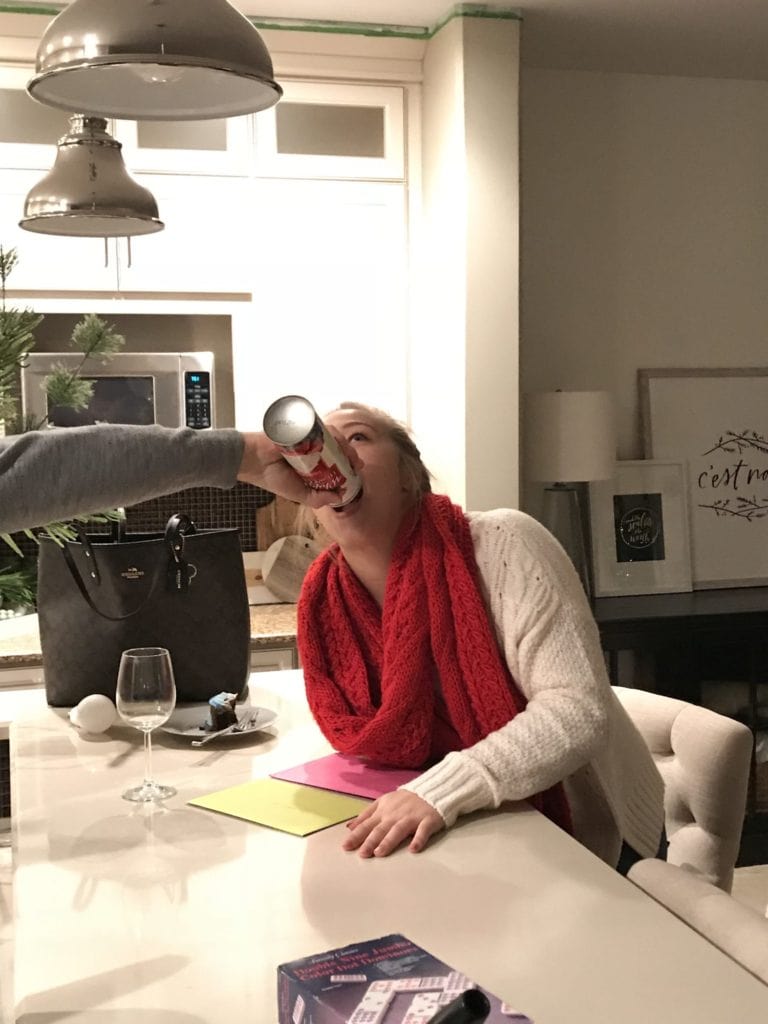 Here are a few of my favorites from the graduation shoots. I actually love 40 or more of them and it's pretty much impossible to narrow them down! I loved that she basically knew every type of shot she wanted and she was happy to do whatever, even when it was super cold out and she only had a tee shirt on in some cases!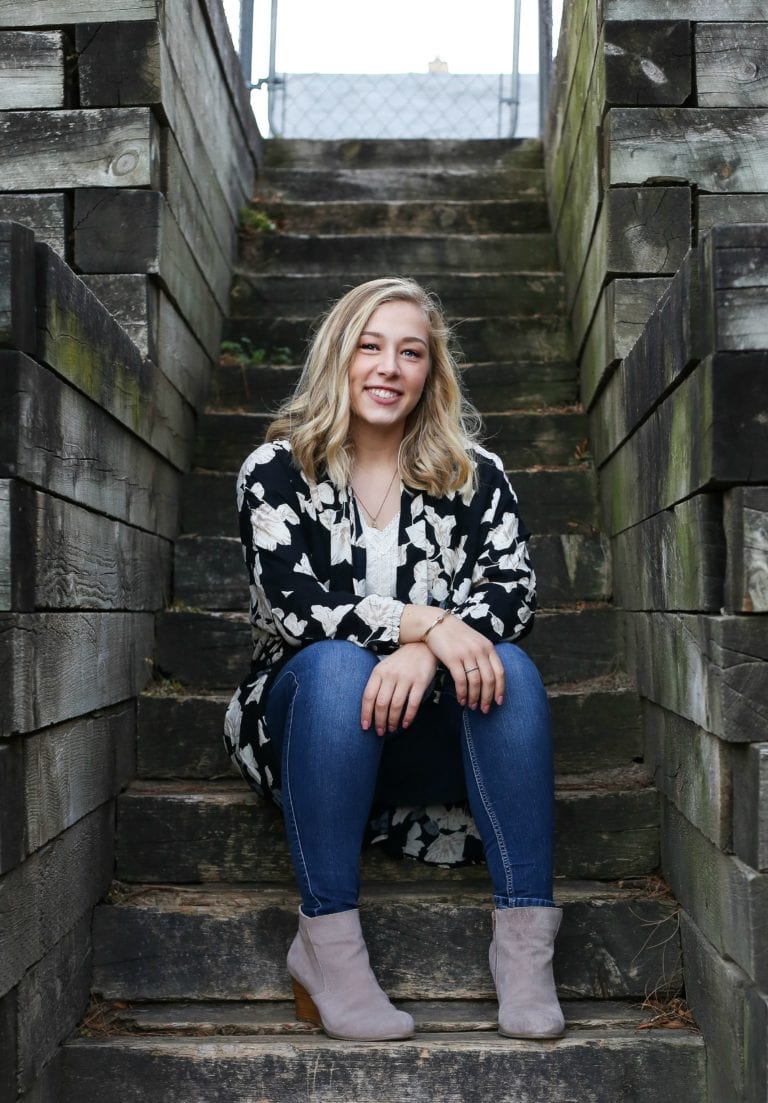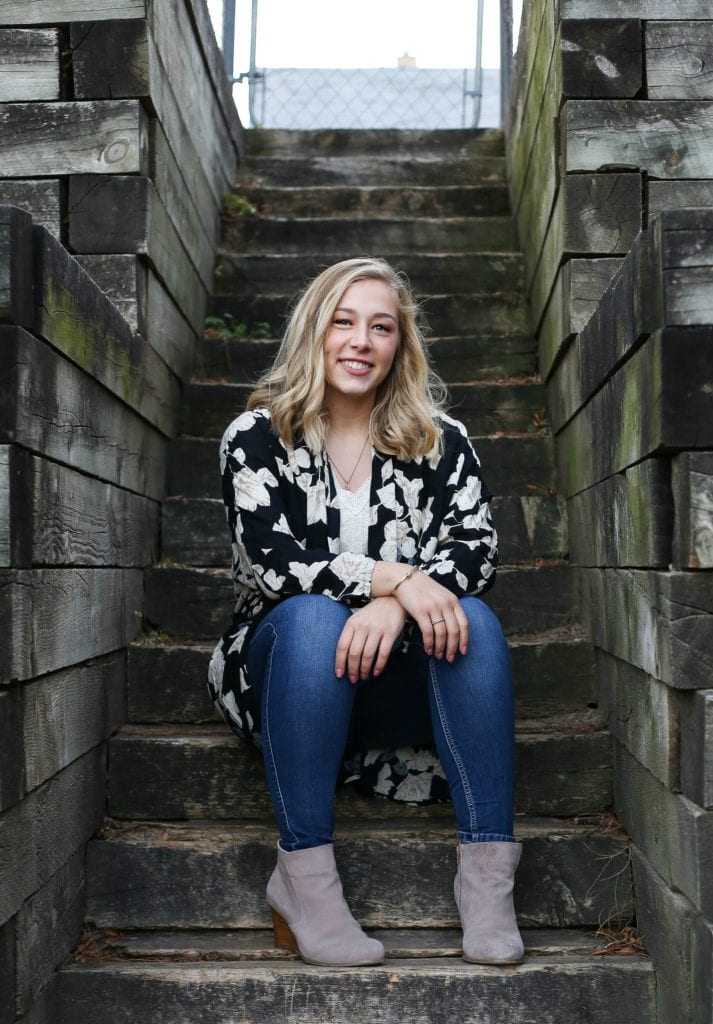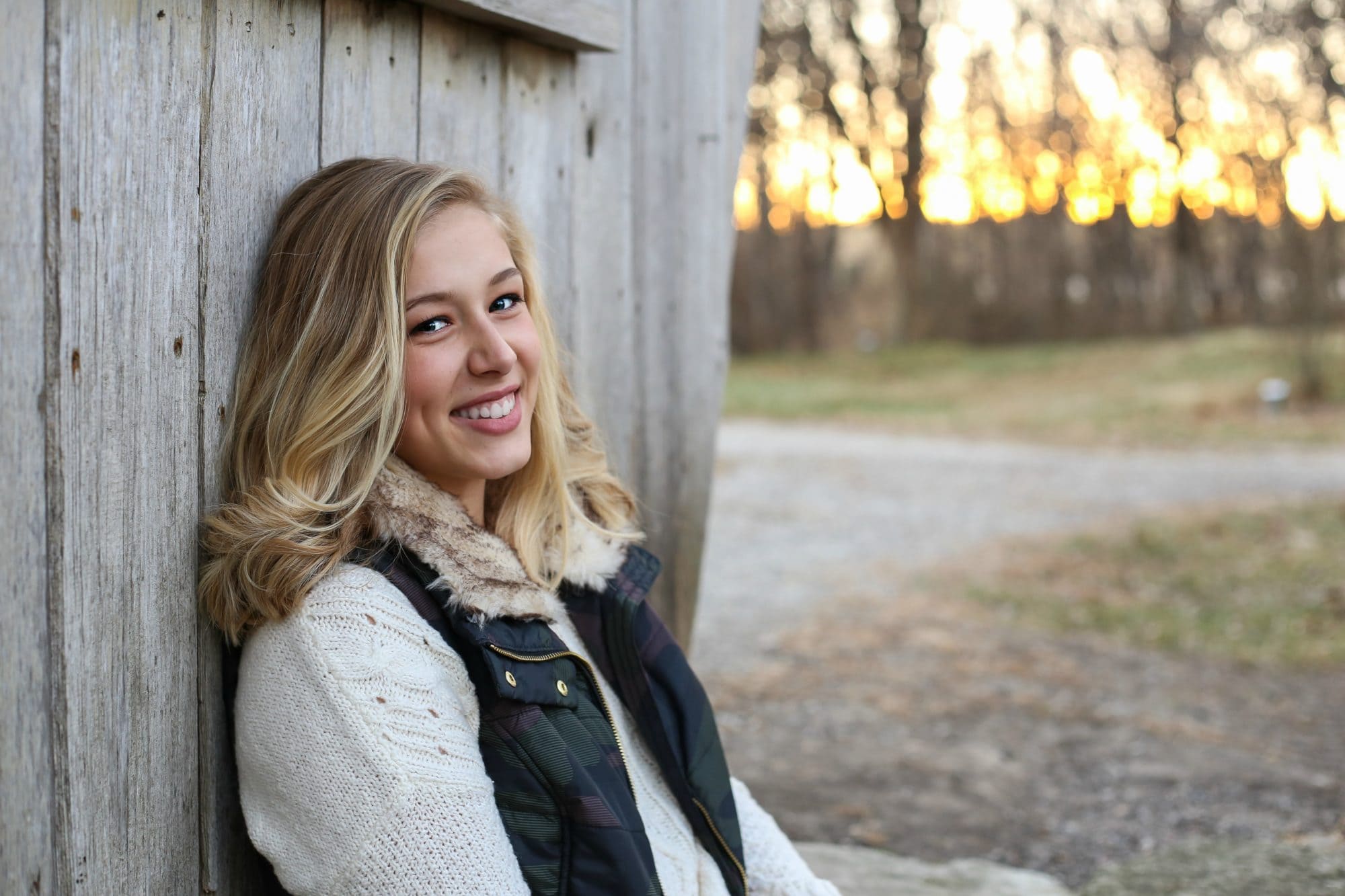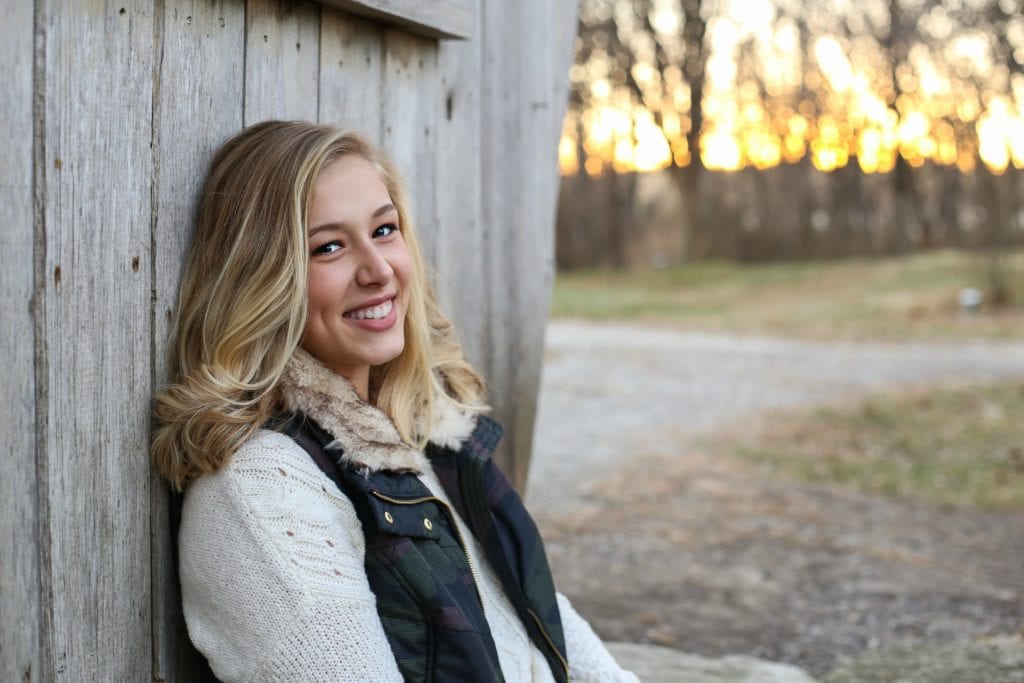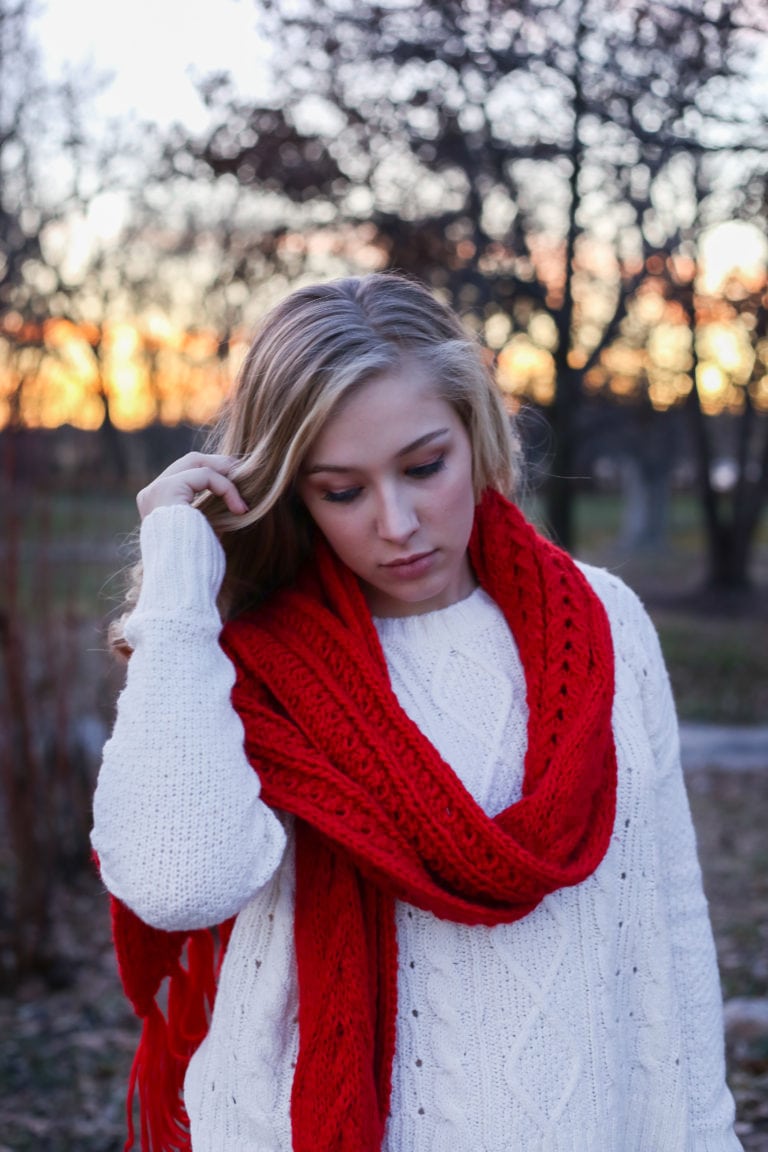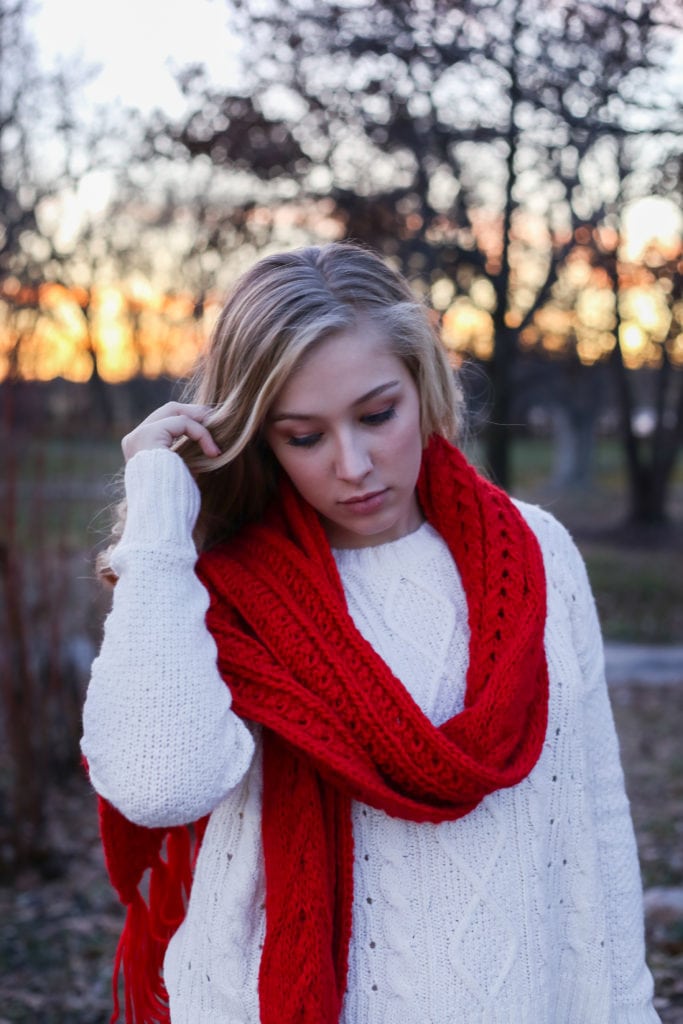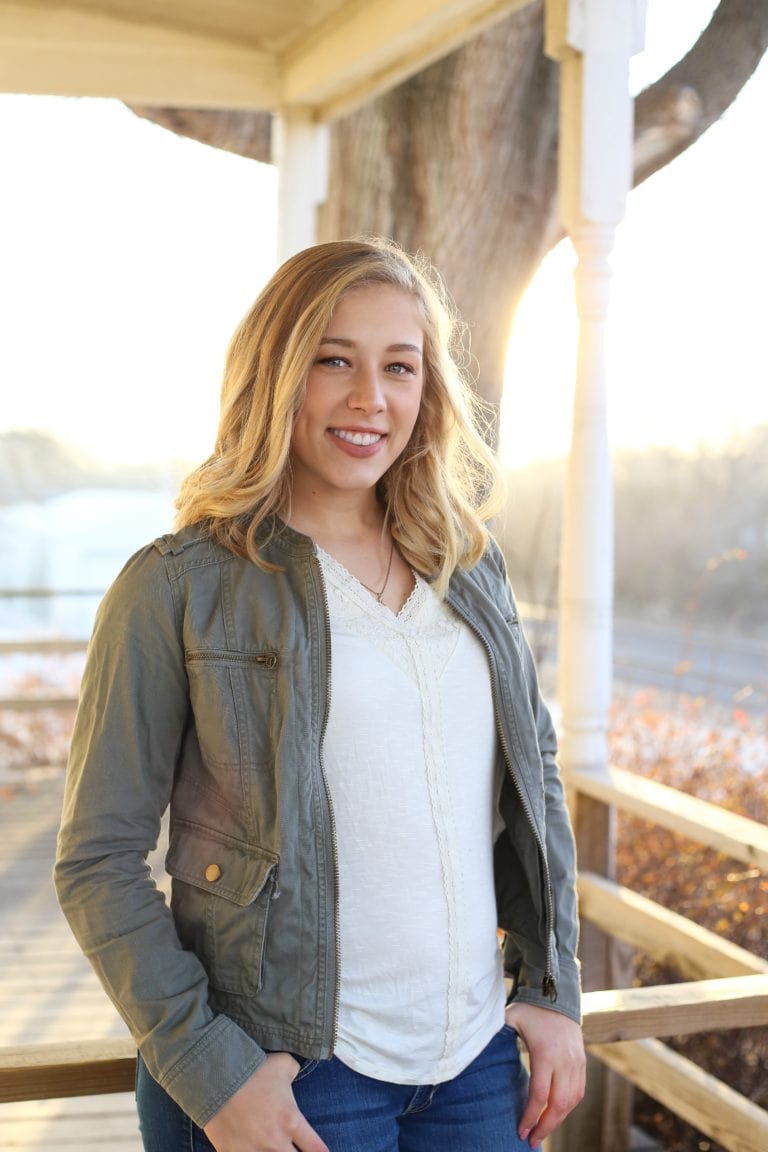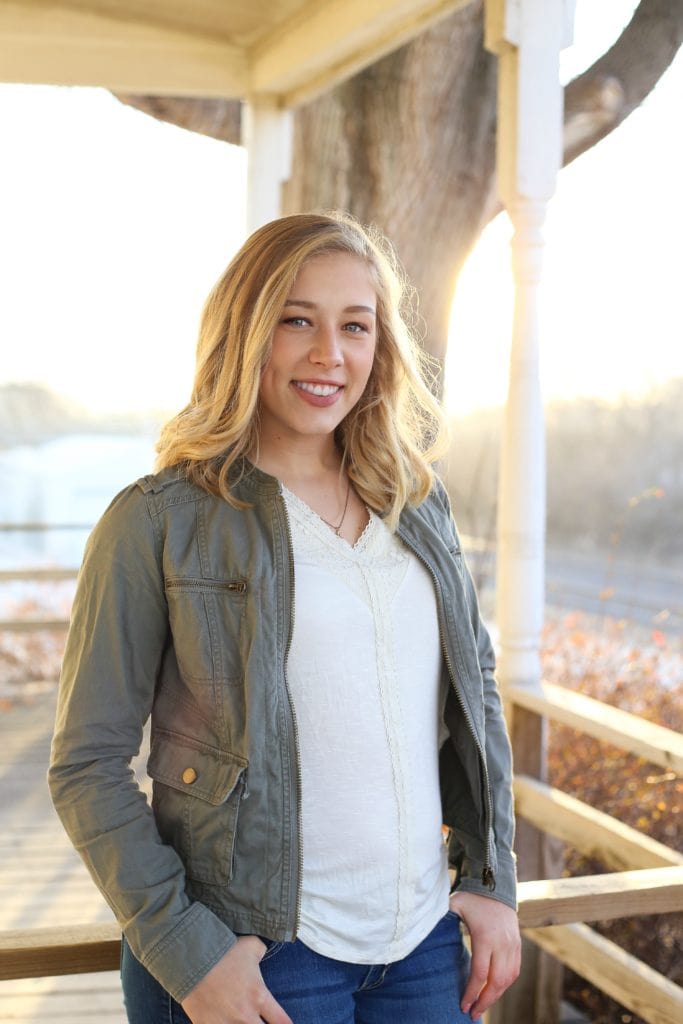 After shooting more photos Sunday morning, we grabbed some coffee and I started editing a few of the photos to make sure I knew how Katie wanted them edited. I shared a few sneak peeks on Instagram and it was funny how many people messaged me saying they could tell we were related because she and I look so much alike. I'll take it as a compliment – even though we have no blood relation!
After they headed back to Iowa, I worked on wrapping up a video for Instagram that went live today. I'd love for you to check it out here! While I was working, Kurtis whipped up a killer charcuterie plate. I've trained him well 😉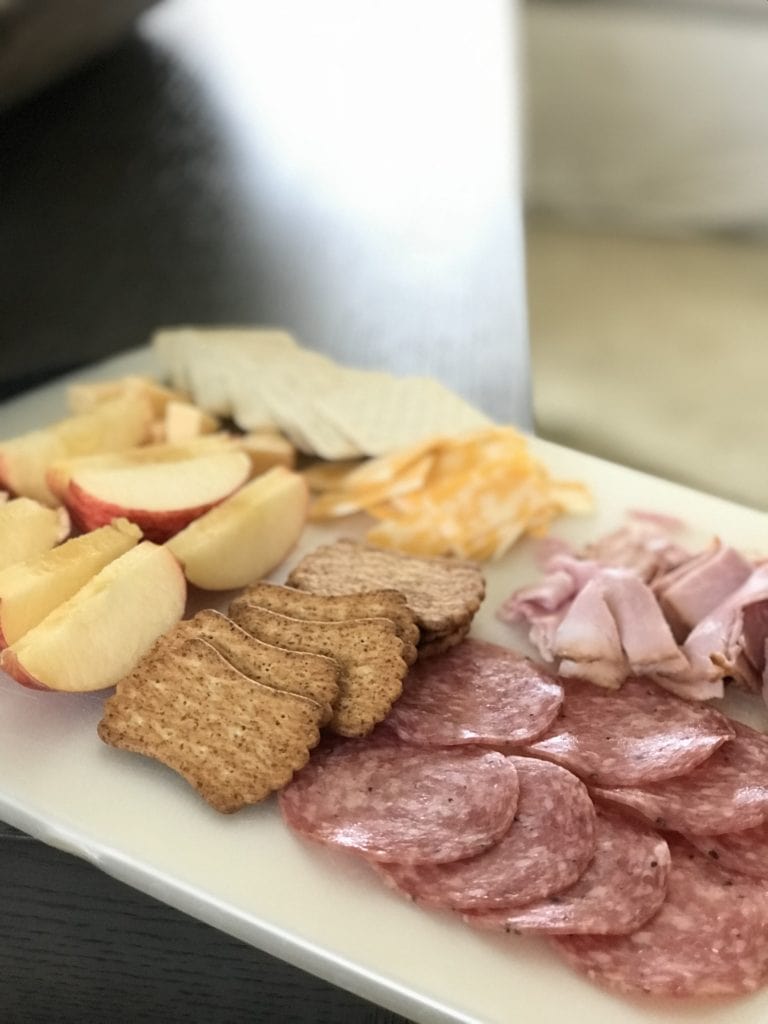 Here's a pretty night shot of our living room from the video! Is there anything better than Christmas lights at night glowing in your home?!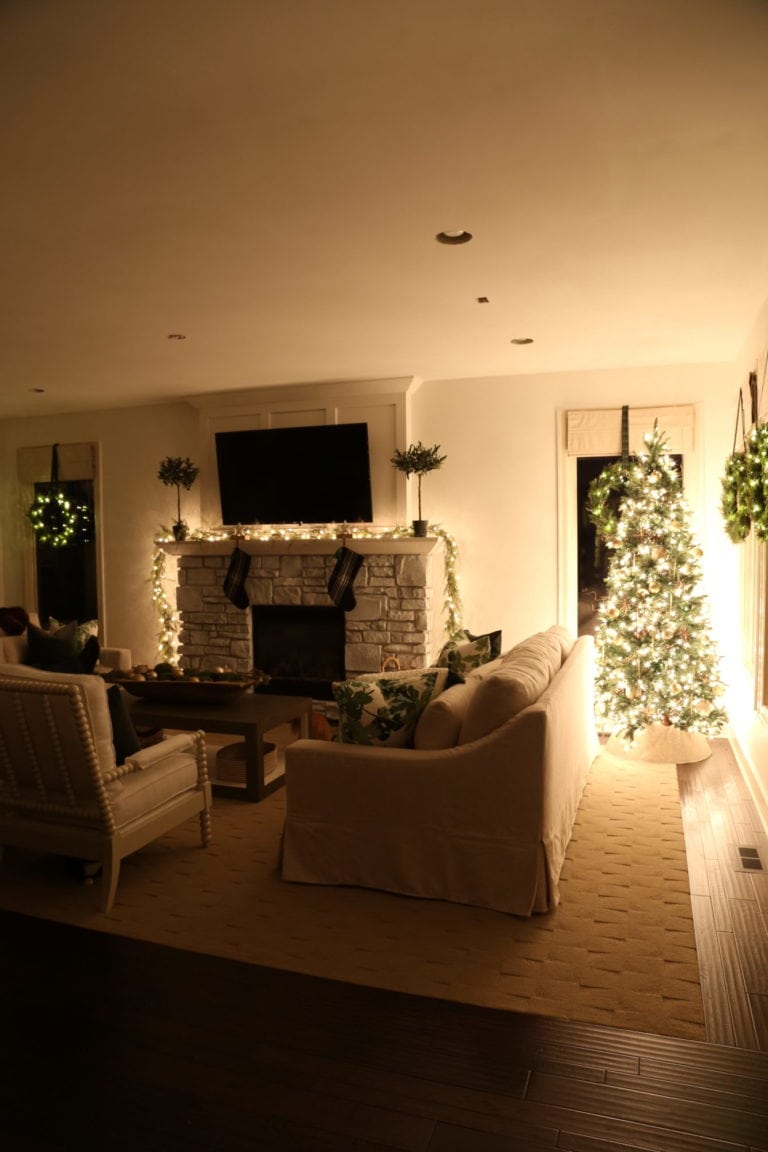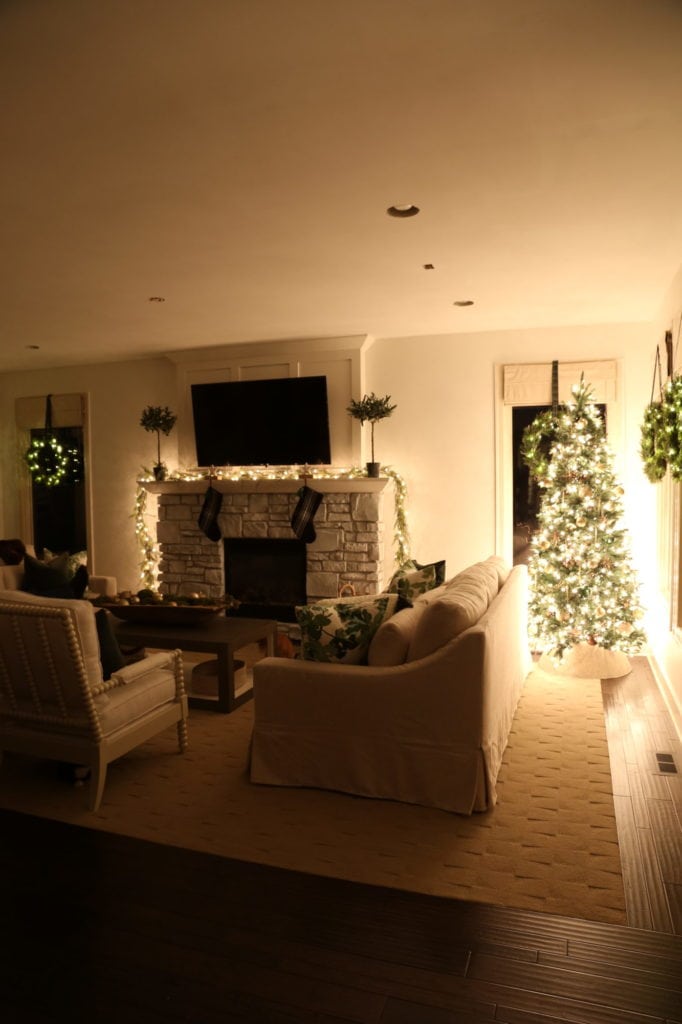 When my parents were in town, we went to Cabela's and I bought this sweater fleece hooded pullover. It's actually really cute on, and I love the longer length (it's nearly tunic length). I got the antique white color which is lighter than it looks online (more of a oatmeal heather color). The exterior is a sweater material and the inside is fluffy fleece. It is so cozy and has been perfect for the really cold days we've been having here lately! I paid full price but I see now its 40% off. A win for all of you 😉
My Black Friday order from Studio McGee arrived earlier this week, and I absolutely love every single item!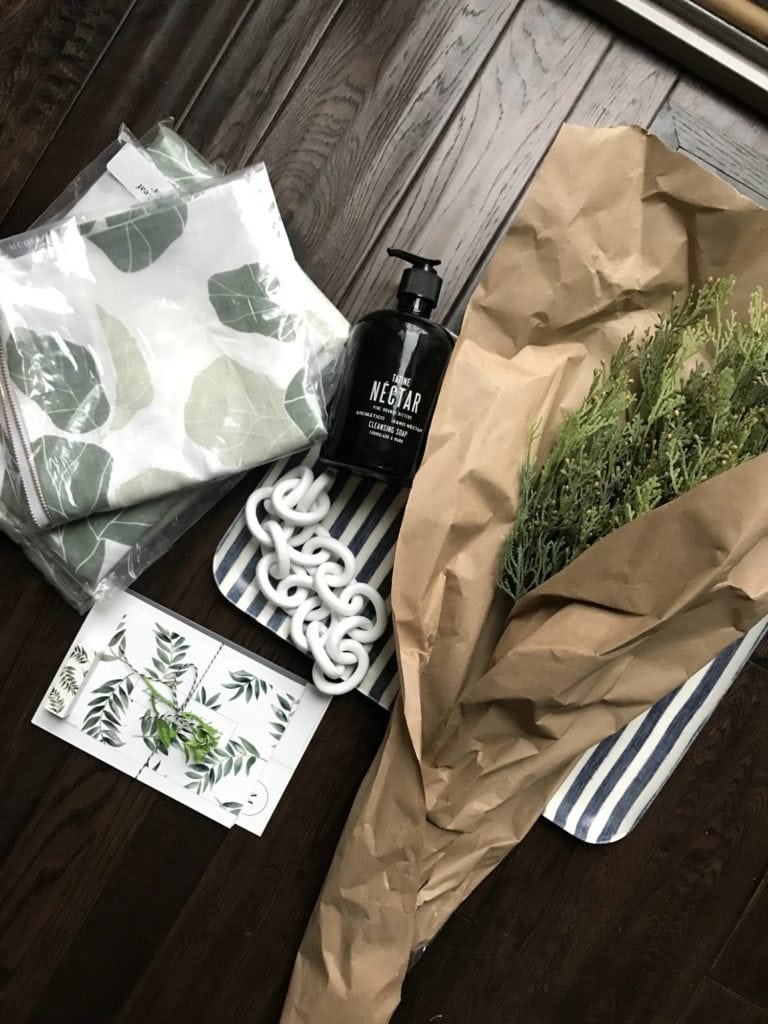 Fig Leaf Pillows Covers (still on sale!) | Navy Stripe Linen Tray | Ceramic Links | Pine & Orange Bitters Hand Soap | Faux Cedar Stems (I ordered 3)
For those that were interested in Kurtis' pulled pork recipe, here are all the details. Let us know if you have any questions as this is is first time typing out a recipe! Note that he cooks it in his smoker, not an actual grill.
Smoked Pulled Pork
modified from here:
Prep
•Clean up excess areas of fat. However, don't remove too much as the fat is the flavor. Using a paring
knife, lightly score the fat side in a crisscross pattern.
•Wash the roast thoroughly with cold water and then pat dry.
•Brush with olive oil and then using rub of choice, coat generously and work into all nooks and crannies.
•Ideally, cover and refrigerate overnight. However, a minimum of an hour will work in a pinch.
Grilling
•Turn your grill on to 380°. When the grill stabilizes at that temp, put the roast(s) in fat side down.
•Cook 30 minutes, turn the roast over, and cook another 30 minutes, fat side up.
•Turn the grill down to 215°.
•Barbecue the roast. Rough estimate is 1 – 1.5 hours/lb.
•Every hour or so, spritz (spray) the meat whenever you think about it with an apple
juice/Worcestershire/liquid butter mixture (to taste) using a small spray bottle available at most dollar
stores or super centers.
•Immediately after spritzing, lightly coat the areas you can with more rub.
•Insert a meat thermometer exactly halfway into the thickest part of the roast, but do not touch the bone.
•Finish the meat to an internal temperature on your meat thermometer of 193°. You can safely eat pork at
165°, but you will find it much more difficult to pull apart at the lower temp.
•Let the roast cool for about 20-30 mins.
•Now, just start shredding – pulling apart – the pork. We use this shredder claw set (the gloves are great for picking up the meat, too).
It was so good when he made it. We actually had enough left over that we tried freezing some, and we made grilled Cuban paninis over the weekend. We put them together with random ingredients we had around (like brat buns that were frozen for the summer) so it technically wasn't that authentic. BUT, they were super delicious, even if my iPhone photography may not make it look that way!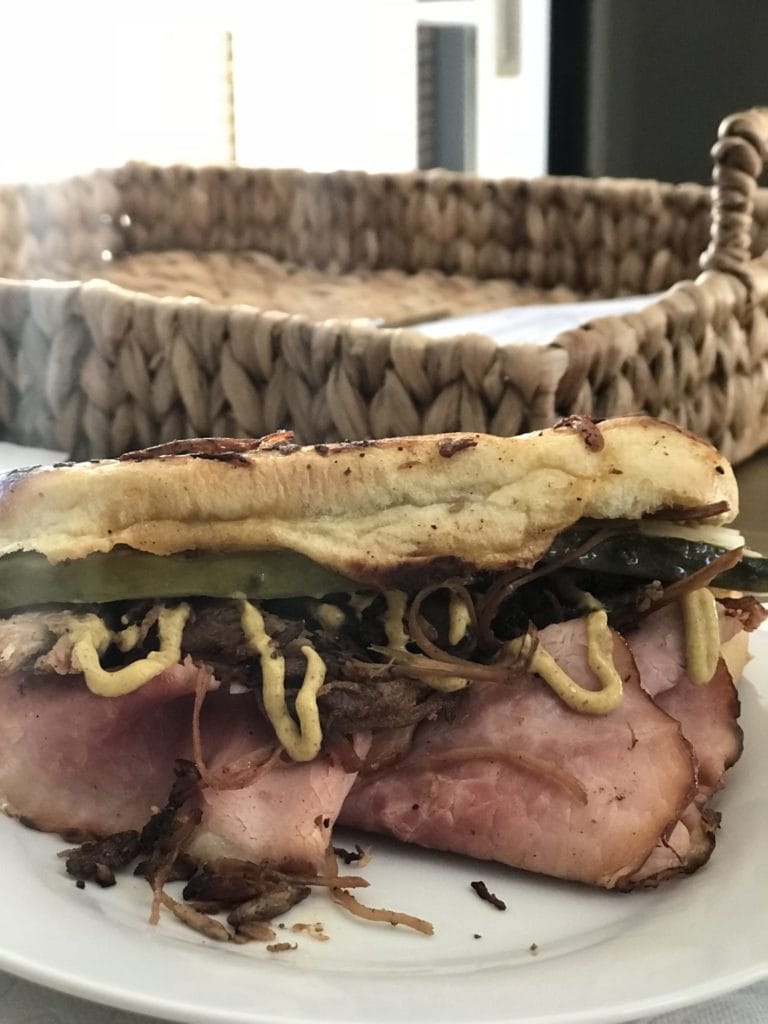 I hope you all had a great weekend (and are having a great week so far). I'm really excited for tonight. We're re-starting an old Christmas tradition with Kurtis' oldest sister and brother-in-law. For several years, we would have dinner at M's Pub in the Old Market (downtown) and then drive around looking at Christmas lights before ending the night with a competitive game of cards. Sadly, M's Pub burned down nearly two years ago along with a few other businesses attached, and it just re-opened in the last month or so. We're excited to bring the tradition back to life!
Cheers to a new weekend that's already about to start! Have a great one!
If you would like to follow along on more of my home decor, DIY, lifestyle, travel and other posts, I'd love to have you follow me on any of the following:
Pinterest / Instagram / Facebook / Twitter / Google+
disclosure: some affiliate links used