Today I'm back with part two of my Christmas home tour. I'm joining my friends Randi and Jen  for their Simply Christmas home tour, along with a few other bloggers to share Christmas in our homes. If you're stopping in from Edith & Evelyn, welcome! I'm so in love with Cindy's use of blues and greens in her tour! I'll be sharing our Christmas entryway and guest bedroom using non-traditional Christmas color ideas!
This post contains affiliate links for your shopping convenience. Click here to read my full disclosure policy.
My goal for decorating this year was all about simplicity. I'm in the throes of two room makeovers and I really wasn't interested in adding tons more to my decorating plate!  Welcome to our Christmas home!
Most of my decor this year consists of multiple forms of greenery and updated pillow covers. I'm loving the fresh and clean feel of it all! In our entryway, I added a simple garland swag down our banister and used this ribbon to add bows over the floral wire used to secure it in place.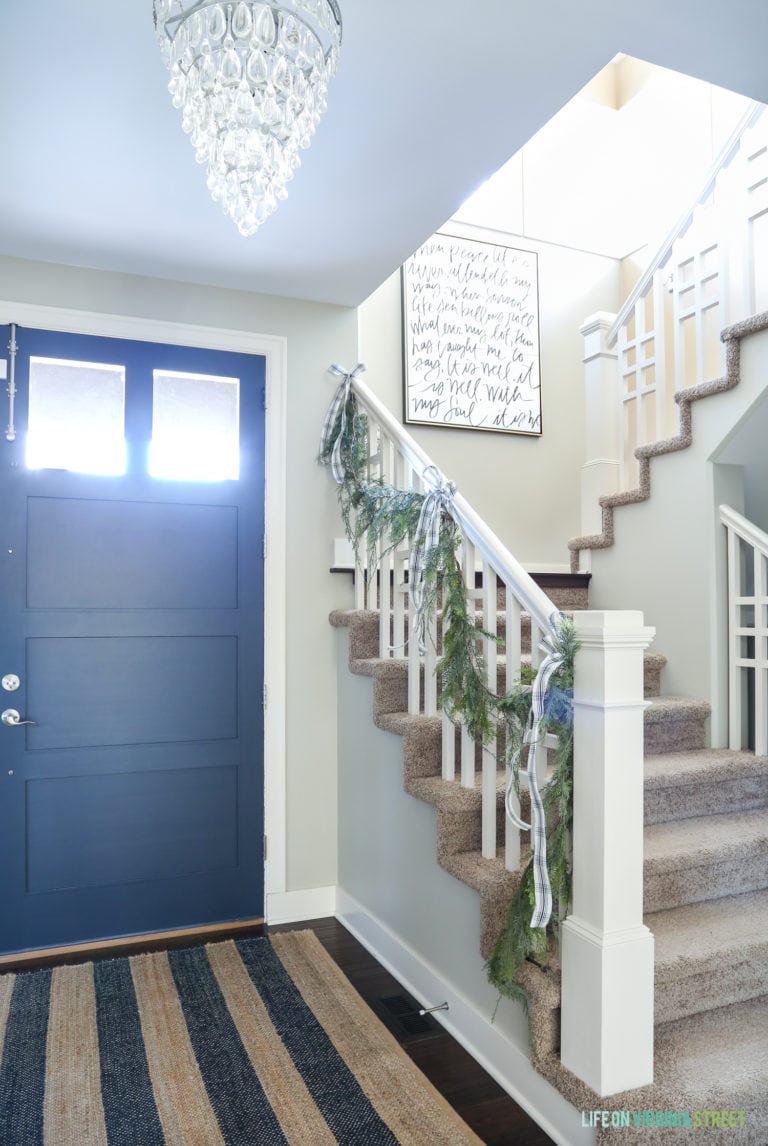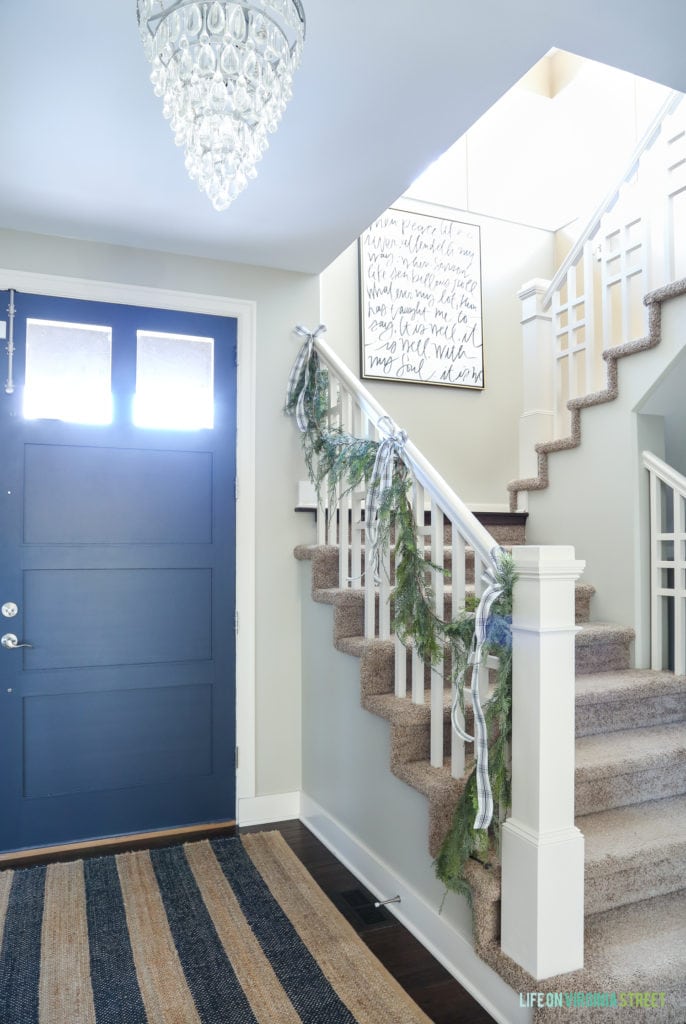 Our staircase gets a lot of natural light and my 'It Is Well' canvas doesn't need much else around it in the way of decor. I love the simplicity but powerful message we see each morning when we come downstairs.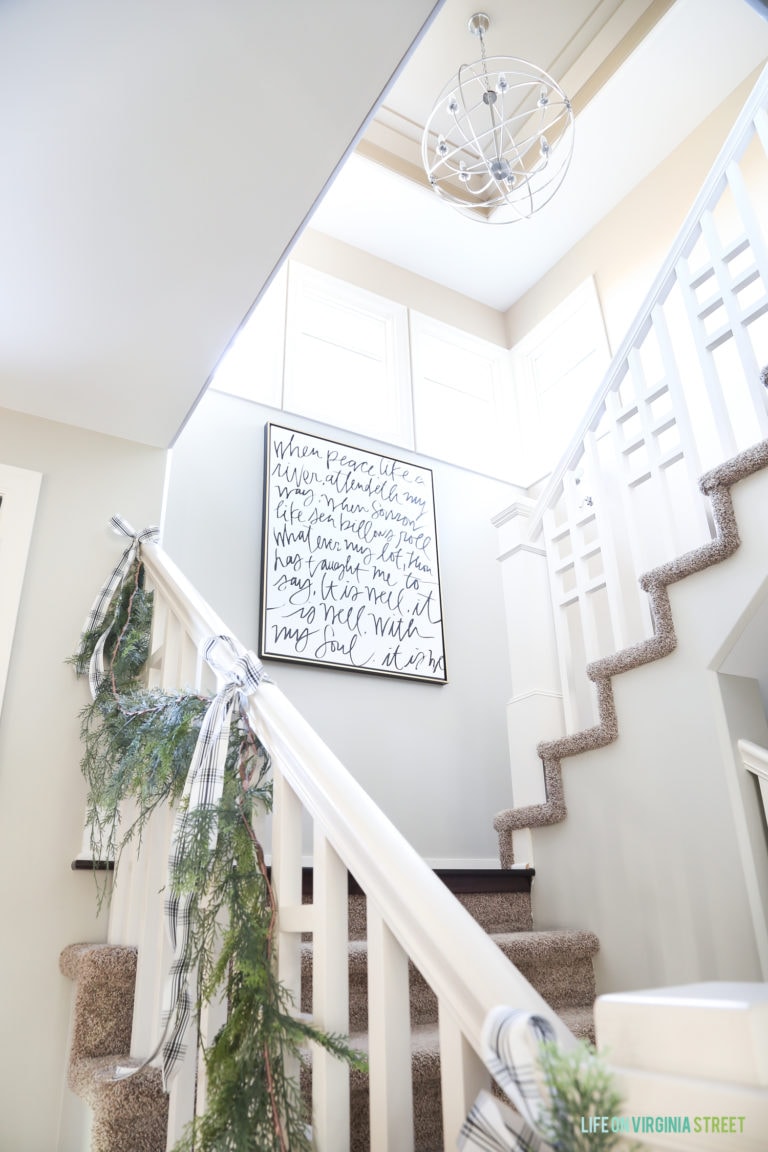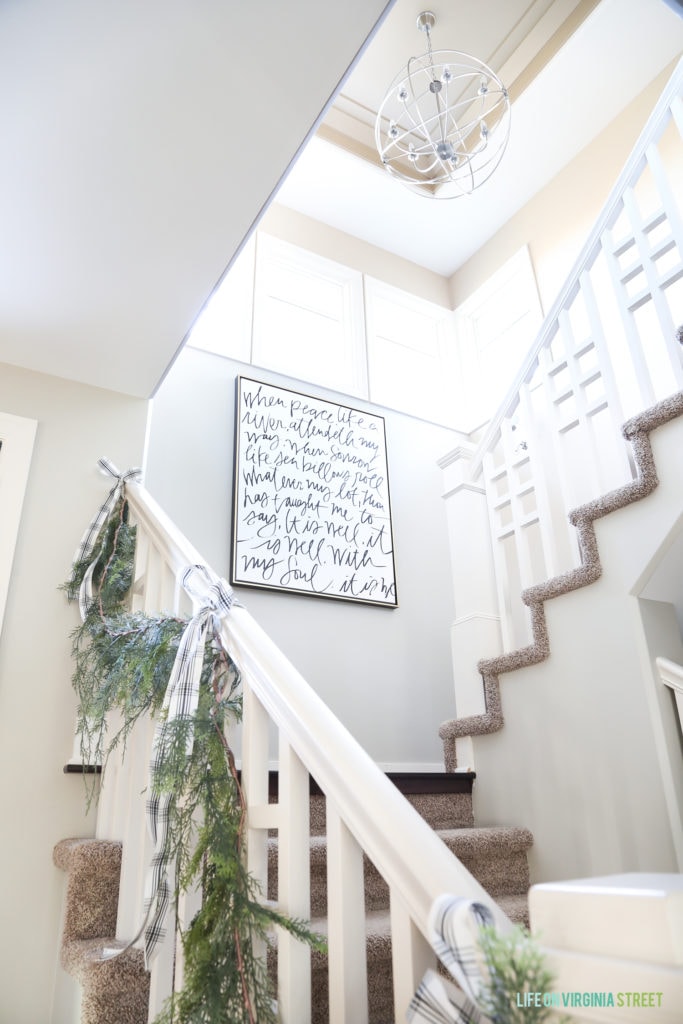 As you walk in our front door, you head down this long hallway that has two-story windows all along one side. We love all the extra light it provides! I added a simple wreath to one of our sconces and updated the throw pillows on our bench.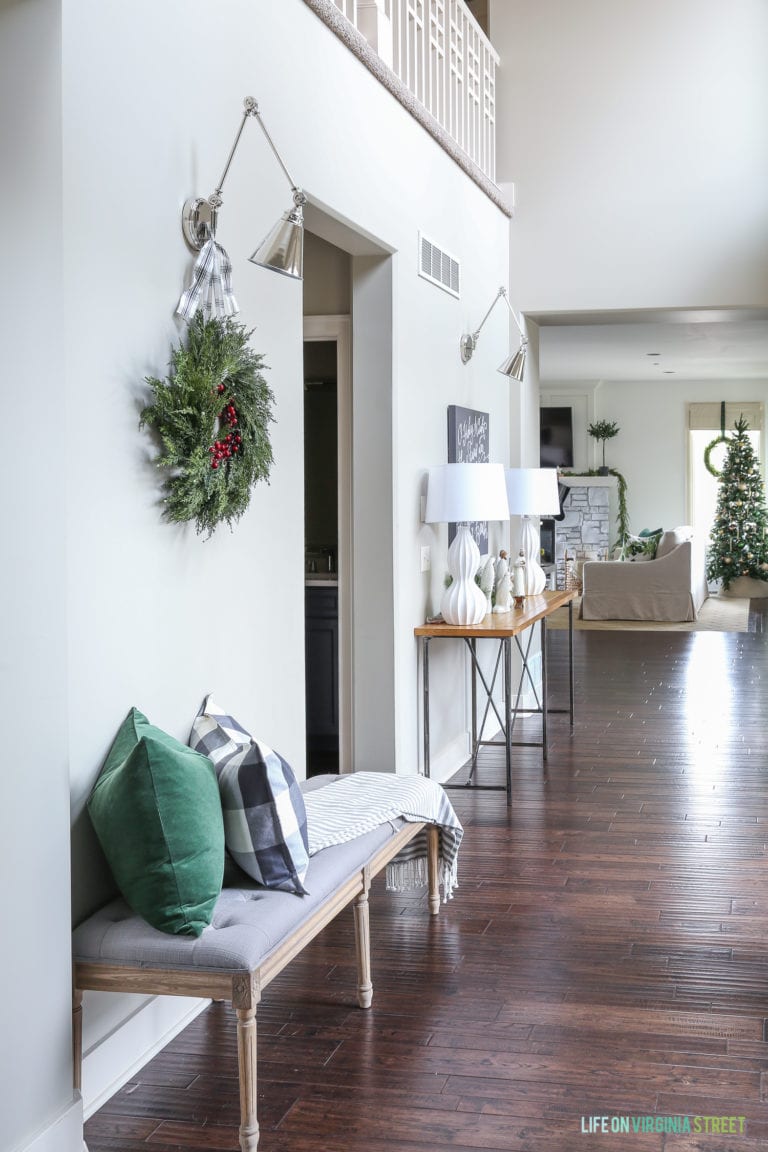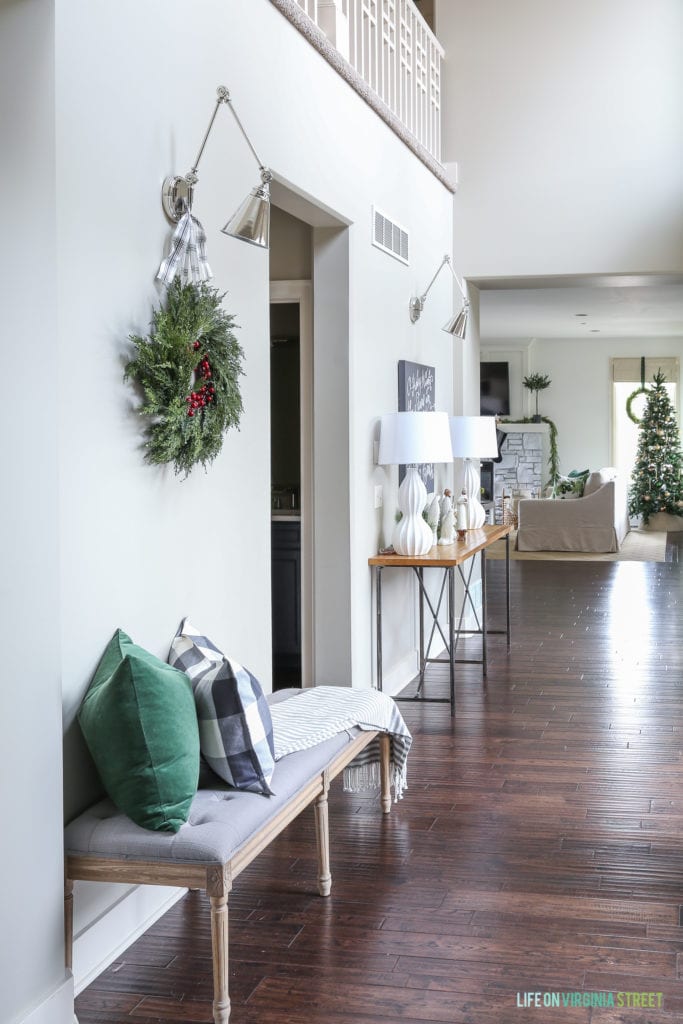 This year I decided to move my 'O Holy Night' canvas and nativity scene to the hallway, and I'm really loving it here! I layered in some mixed faux greenery and silver glass stars in the background.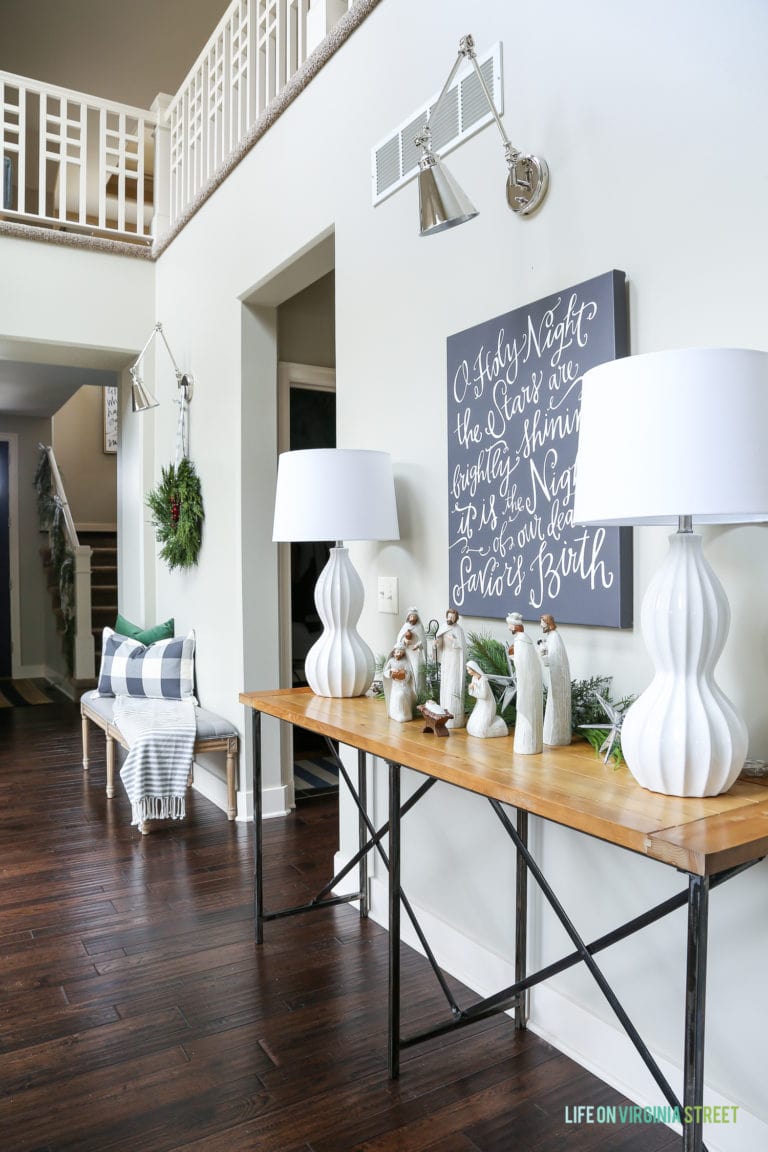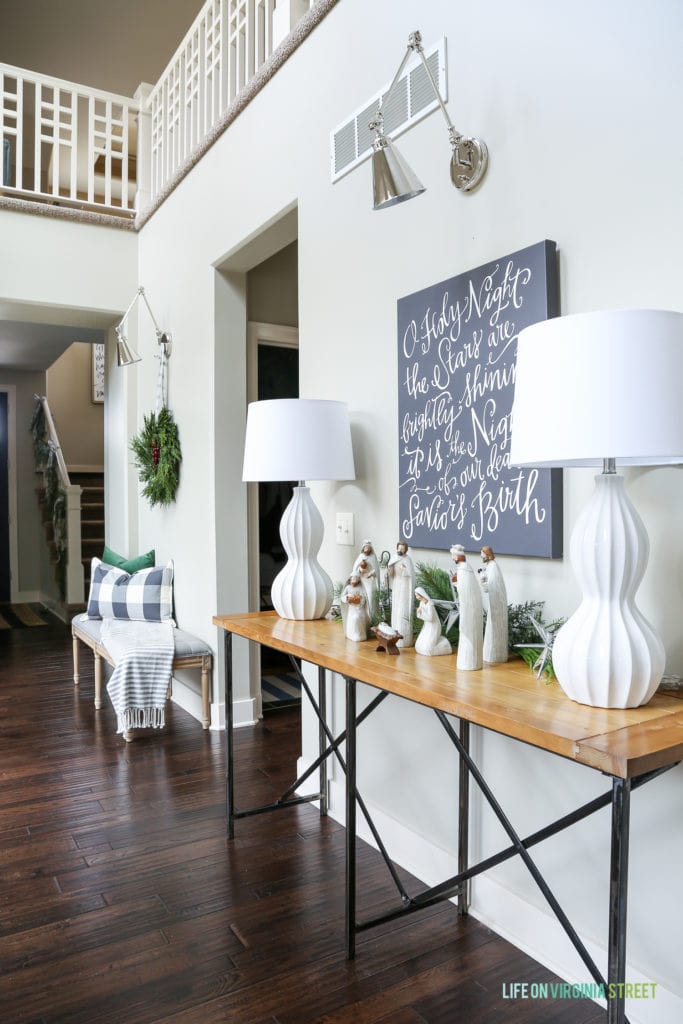 I picked up these lamps on a clearance rack at Lowe's recently. Pretty much the last place I expected to find cute lamps!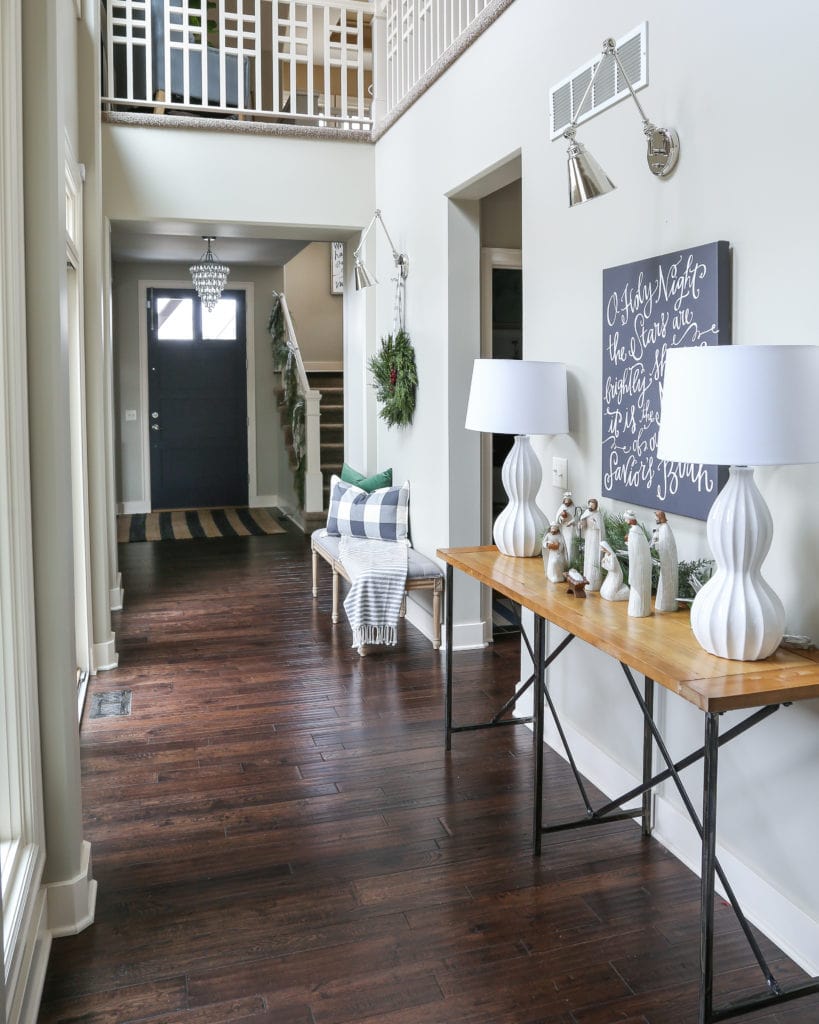 Since I'm in the process of redoing this guest bedroom (and I'm only about half way done), I kept the decor very simple. I added my DIY wreath over the bed and accessorized with buffalo check pillows and a rich navy blue velvet coverlet (it's technically a duvet cover). I'm loving the look with the new rug and bed! I think it will also be super simple to transition this into the winter months after the holidays. Like I said, I'm all about easy these days!
I kept the decor on the nightstand super simple as well. I filled this crock with some faux cypress stems. I picked that lamp up on major clearance at Pier 1. It was usually around the $120 mark and I got it for $30! I love the cement tile look of it all! I'm also loving the striped linen tray and ceramic chains I got on a Black Friday sale!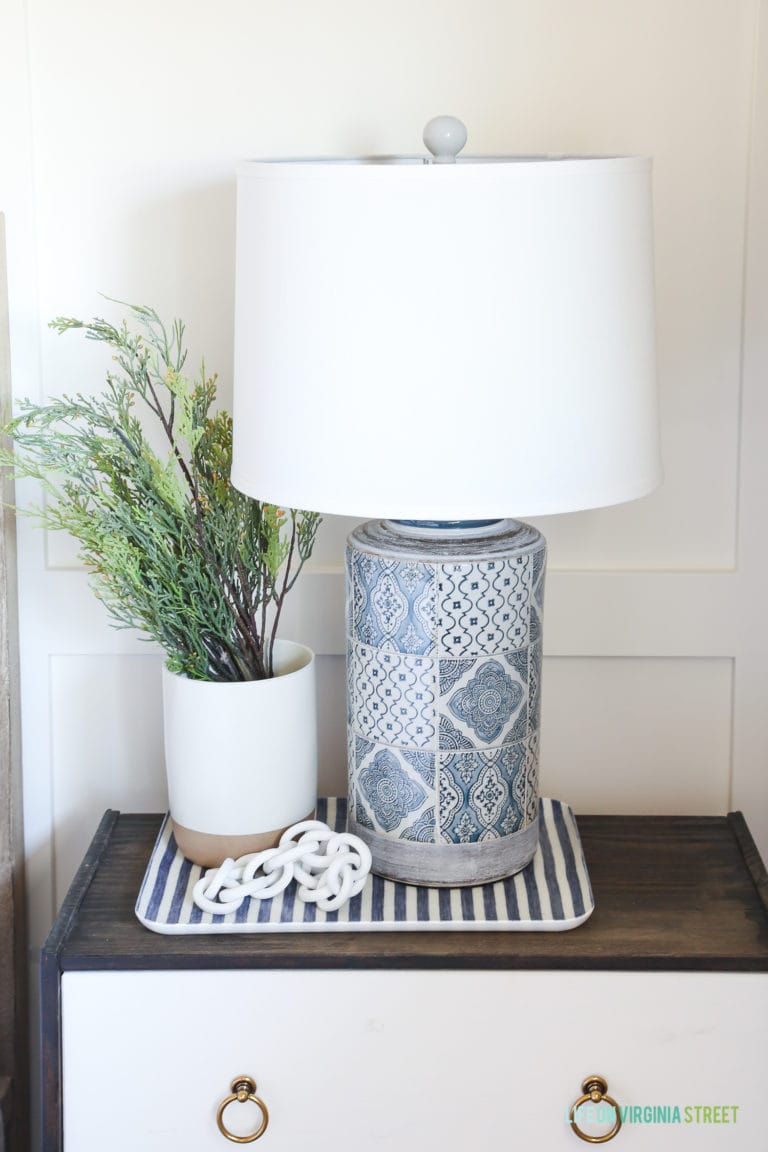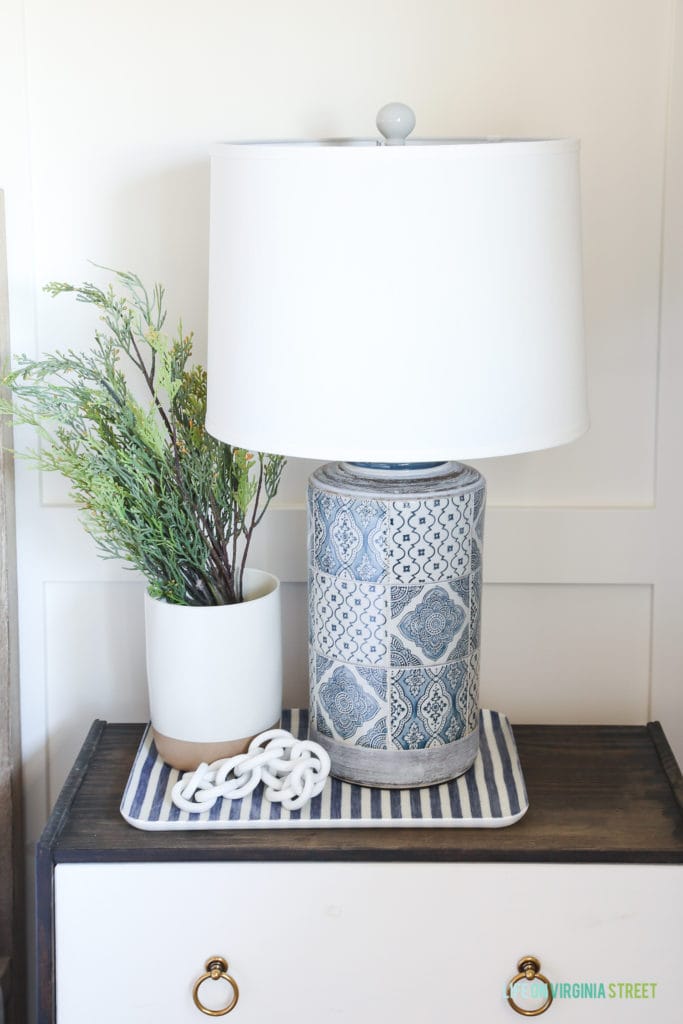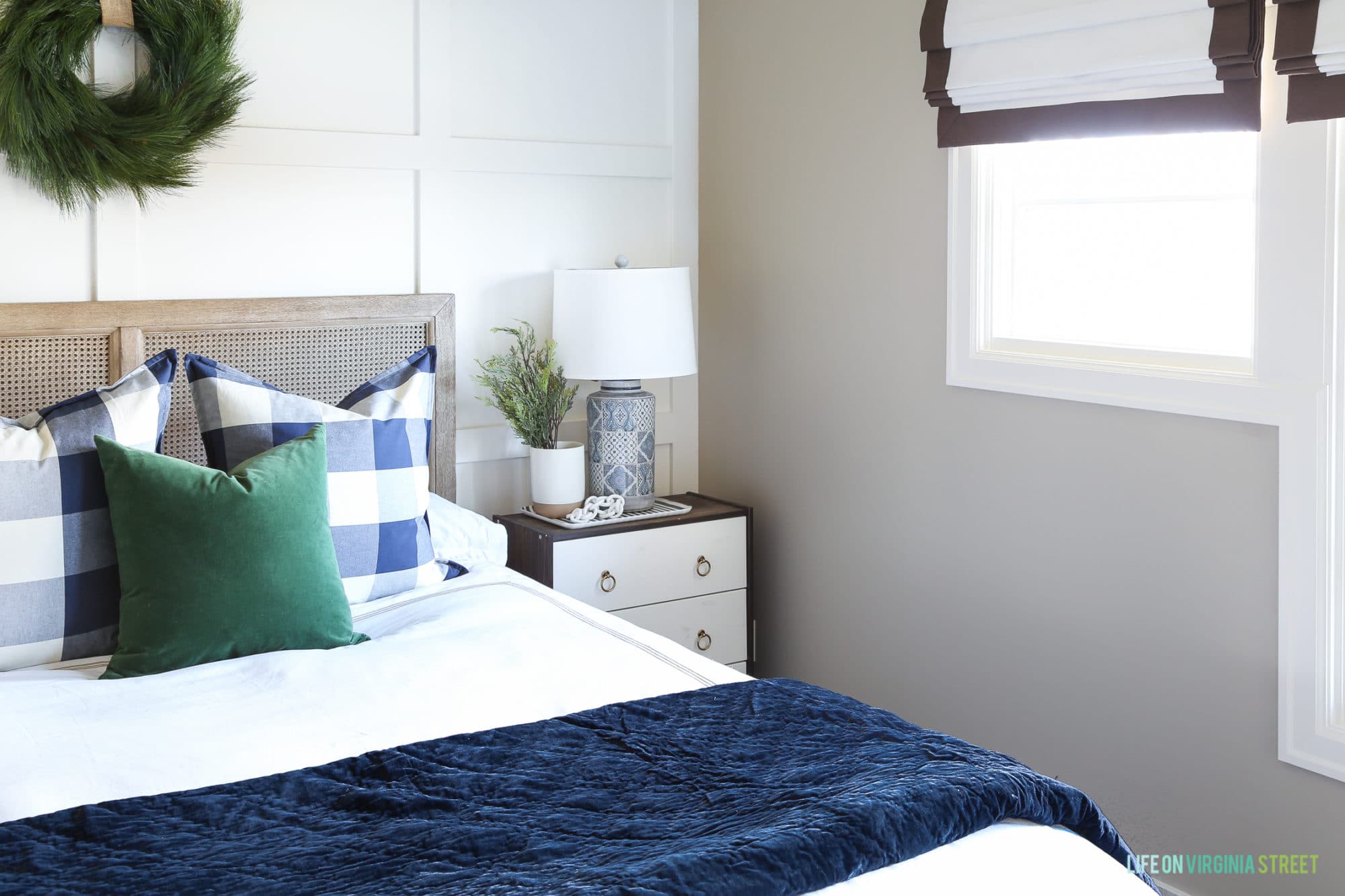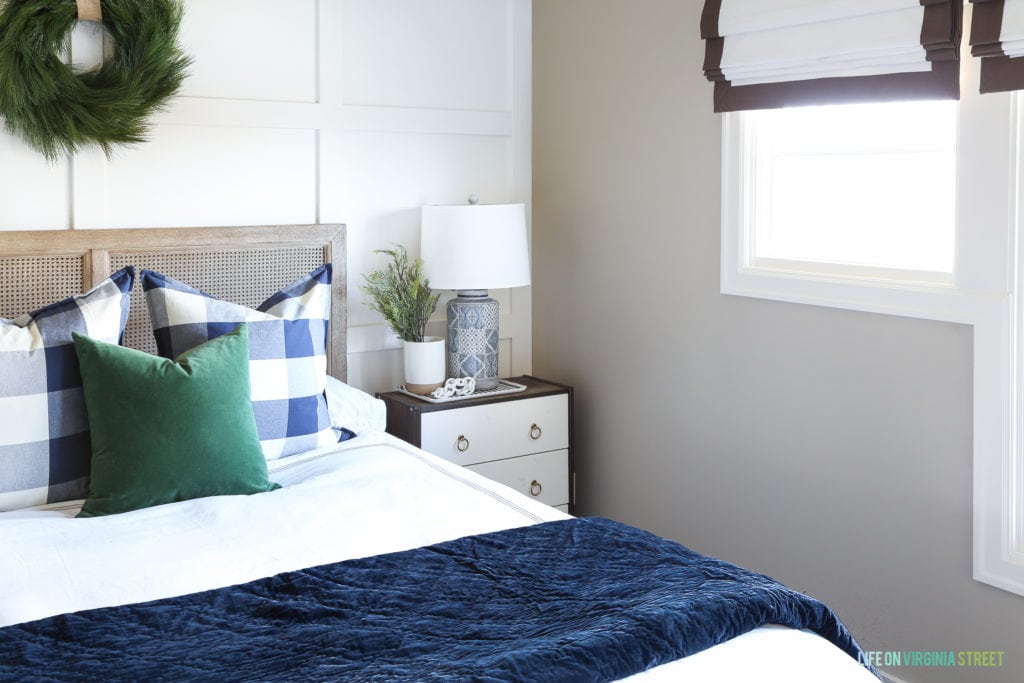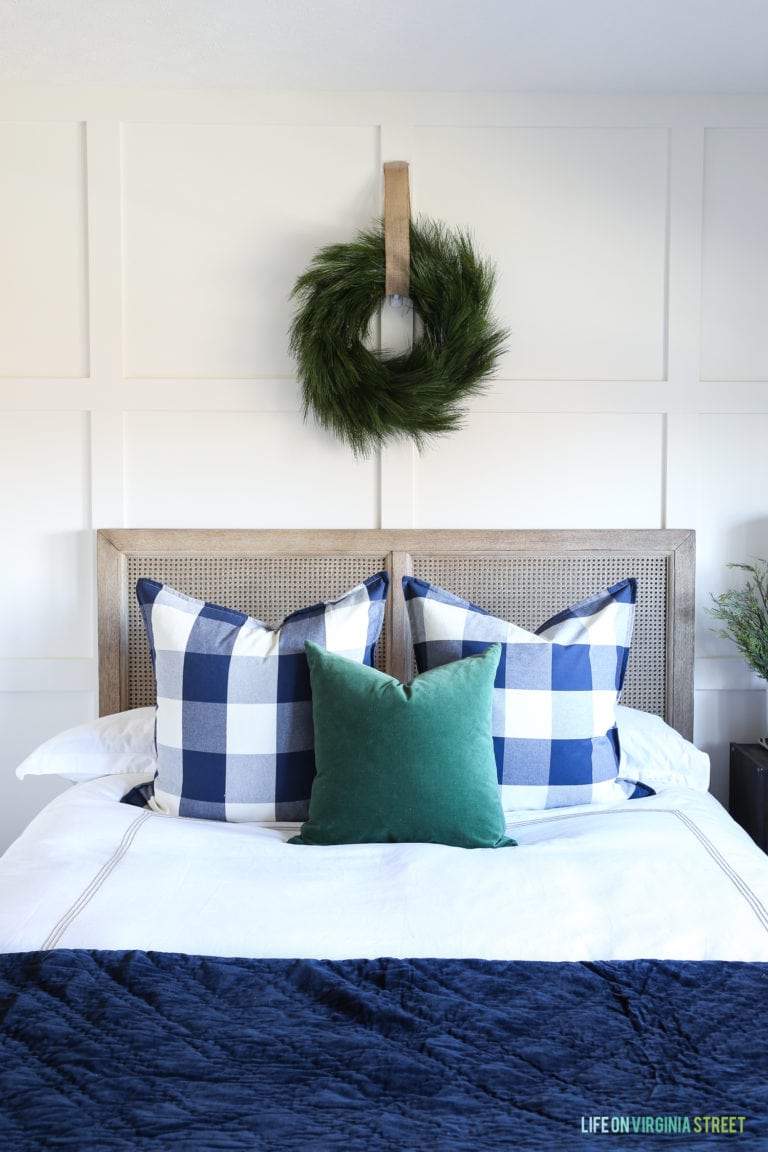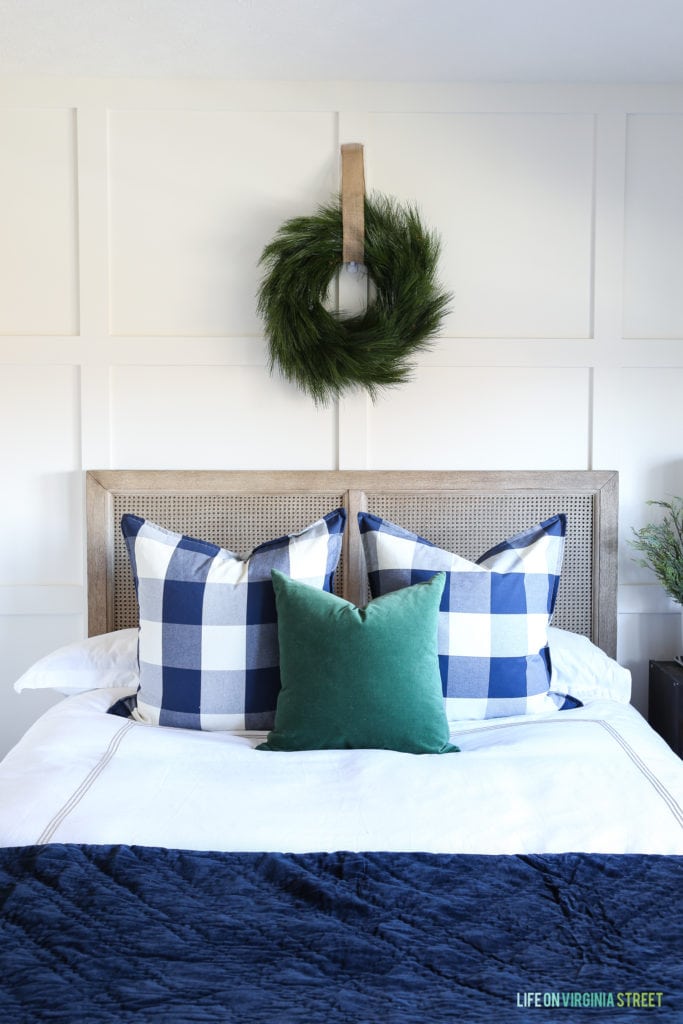 And in case you missed it, be sure to check out part one of my Christmas home where I shared all the details on our green and white Christmas living room and dining room!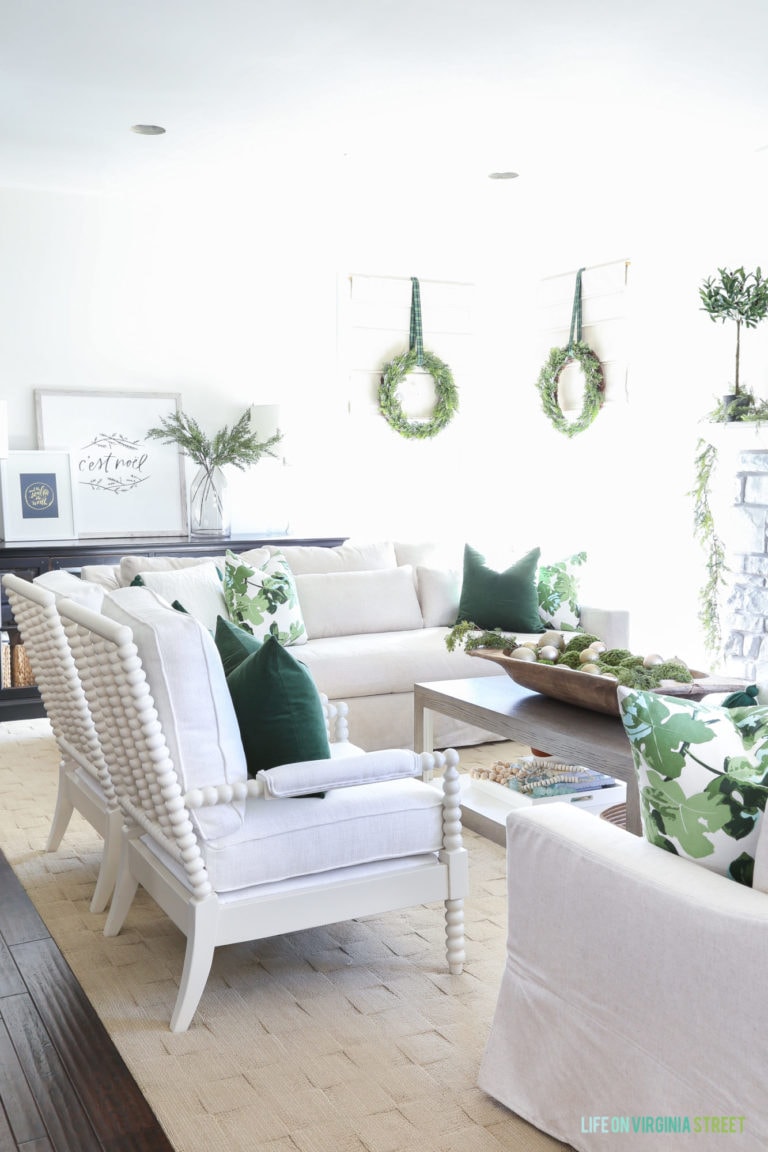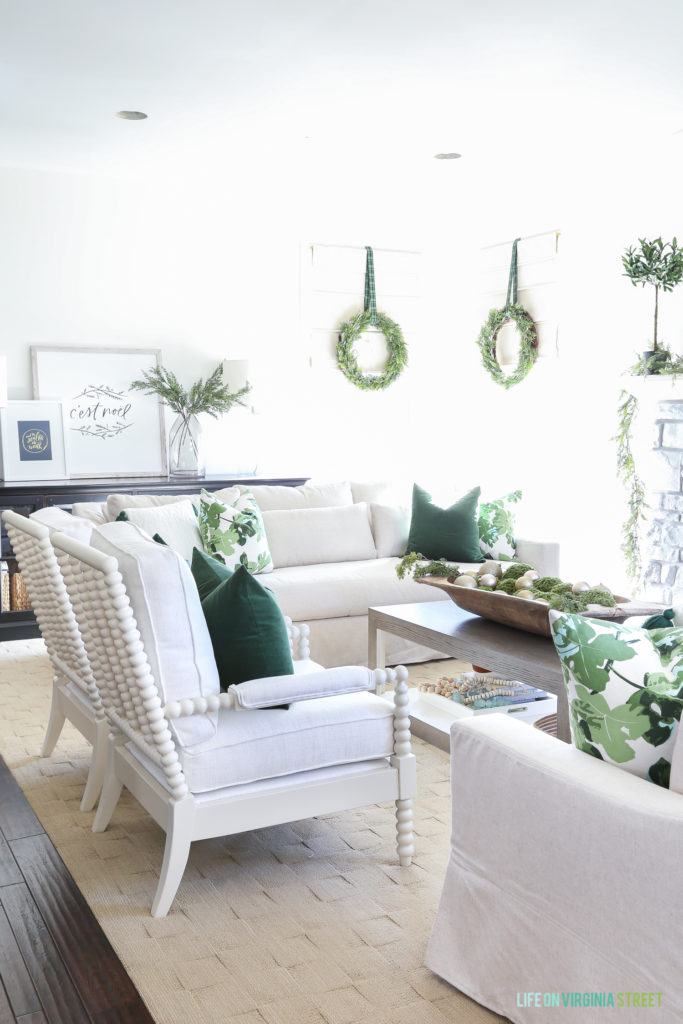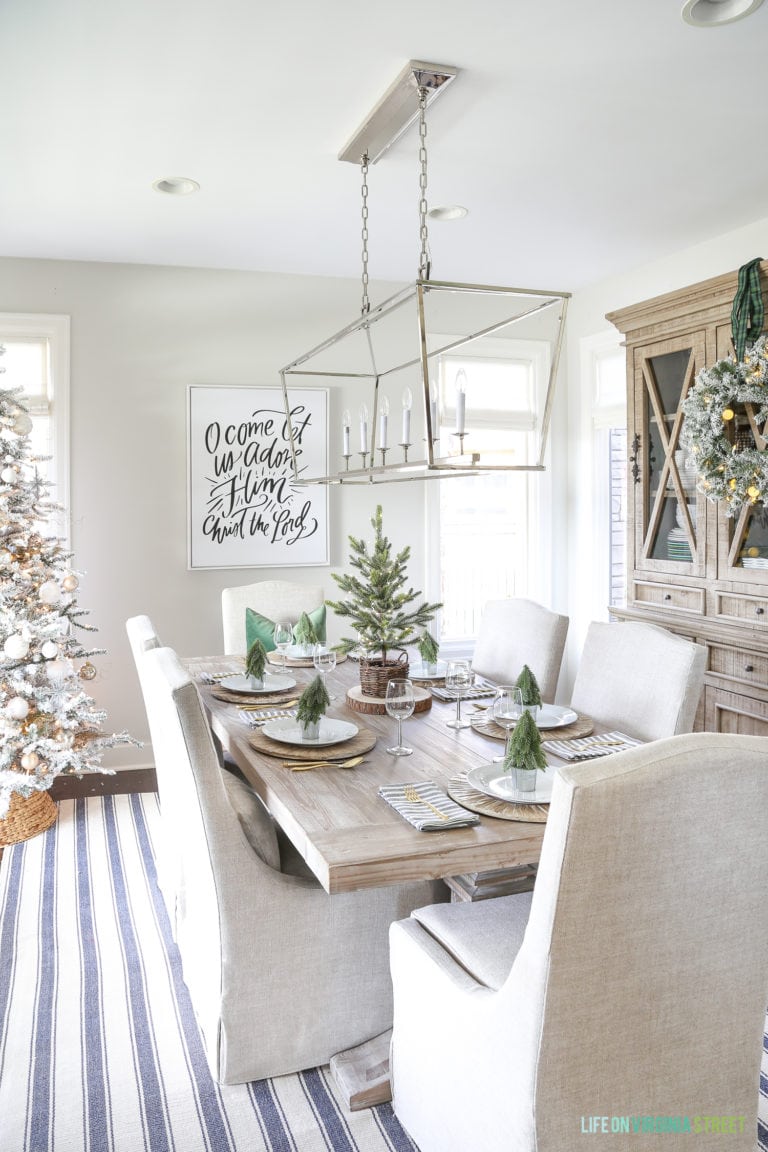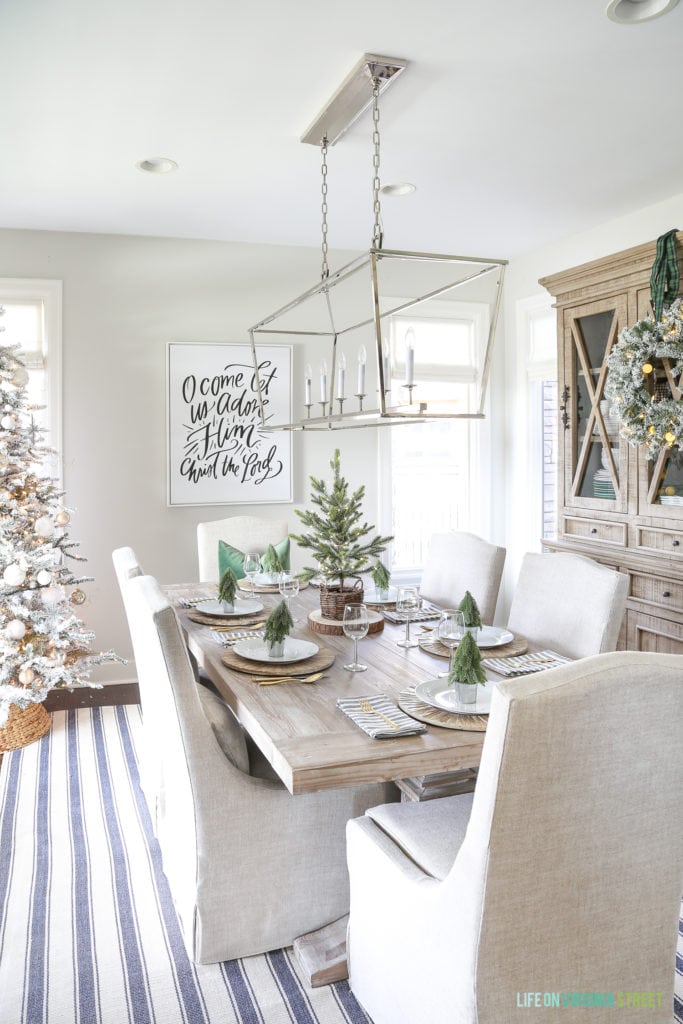 I hope you enjoyed this portion of my Christmas home tour!
The next stop on the tour is my Jennifer at Dimples and Tangles. I absolutely love her bold, preppy style and every year she amazes me with her stunning decor! And I think she loves buffalo check as much as I do 😉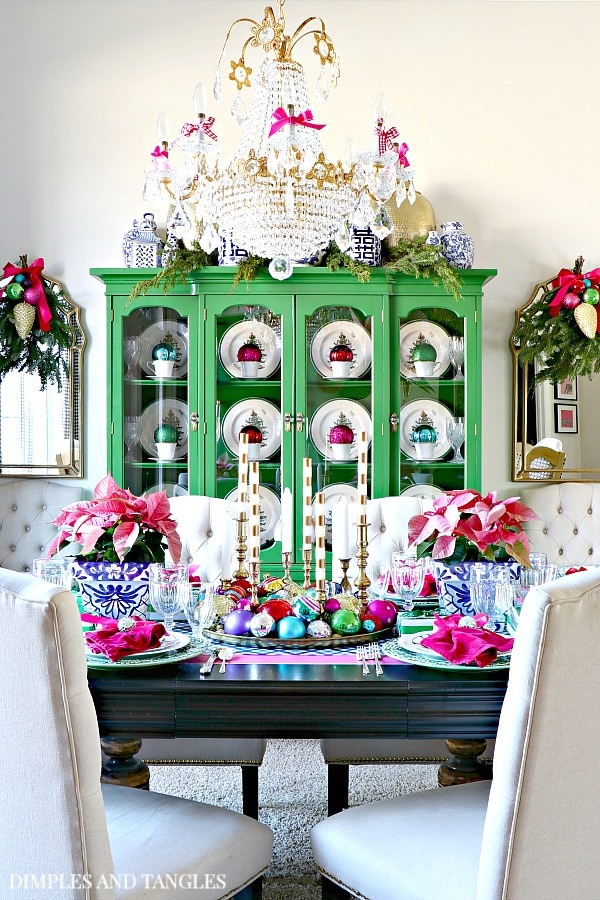 Be sure to check out all the other gorgeous stops on the tour as well: