I hope you all had a great weekend! We had a good mixture of a little work and a little bit of pure laziness. Just as weekends should be!
I ran to Pottery Barn late last week to ask about my sofas in person. While there, I swung into LOFT and anthropologie. All three stores were having great sales and I picked up several items.  You can see some of my favorite items I picked up below (I already had the booties, jeans and watch but the other items were sale finds). Many of the sales from the weekend are still going strong if you want to check out all of my top picks here.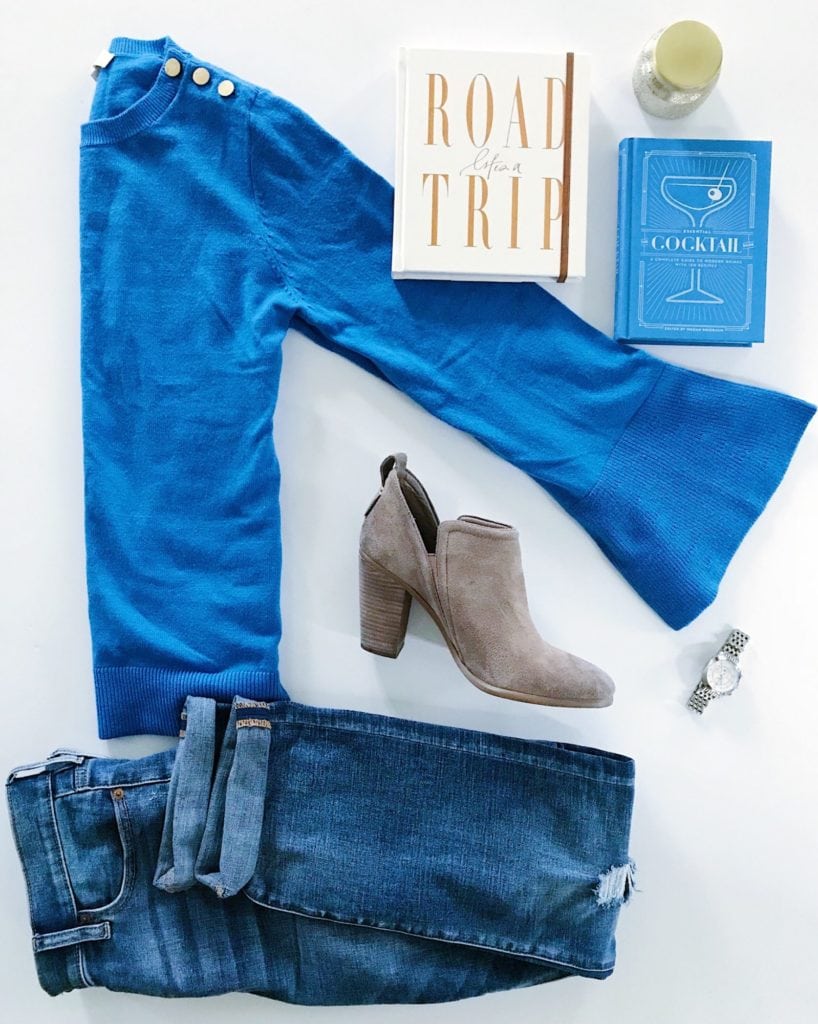 Flare Sleeve Button Sweater (40% off) | Jeans (50% off) | Booties (20% off) | Watch (similar here) | Road Trip Book (20% off) | Cocktail Book (20% off) | Capri Blue Cider Candle (20% off)
I was able to get quite a bit more painting done in the living room. The ceiling has about 80% of it's first coat of paint. I feel like there are areas where I'm going to have to add a second coat. With all the natural light this space gets, it's really obvious where the paint didn't fully cover. I was also able to put a second coat of paint on the walls to the left of the fireplace. They look so much better already, but I'll still be doing a third coat on all of the walls.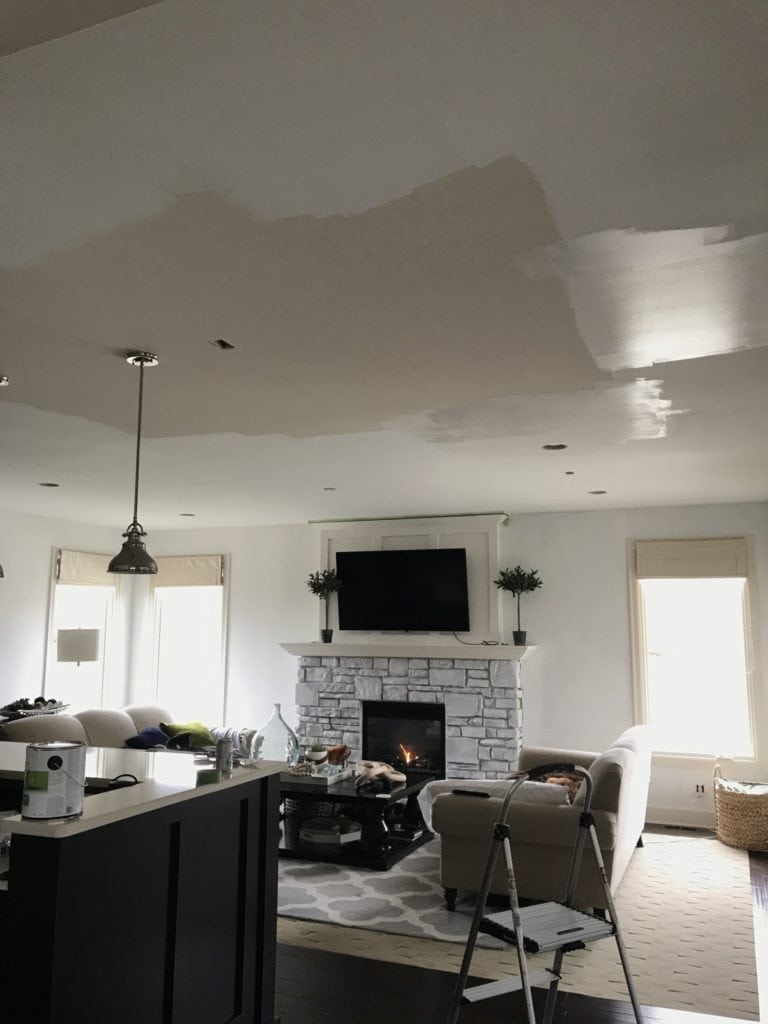 Last night as we were about to go to sleep, Kurtis realized this might be one of the first weekends in our entire 12 years of marriage where we didn't eat out on Friday, Saturday or Sunday. I told him we should celebrate by going out for tacos tonight 😉 Here's a kind of terrible shot of the likes of what we've been eating lately. We really wanted 'brunch' Saturday morning so we made Greek eggs, loaded with tons of spinach (which is why the egg whites are green), Roma tomatoes, Kalamata olives and some feta cheese. It was so good and made us feel like we had a fun brunch out.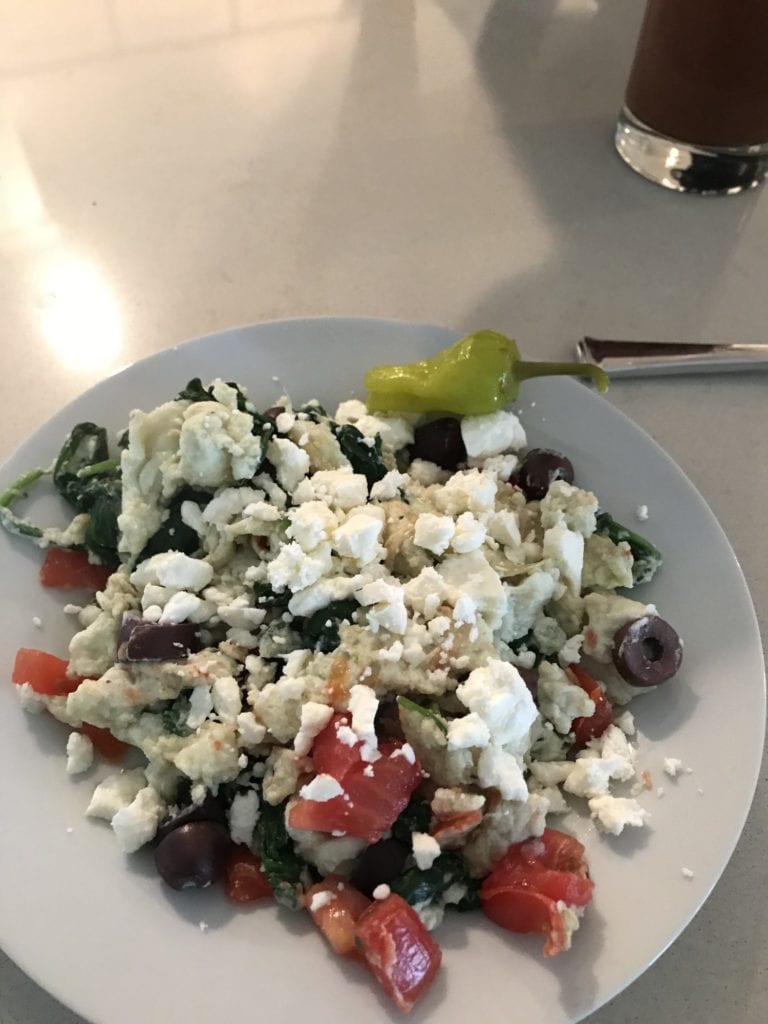 My fiddle leaf fig in the dining room was clearly not going to make it after watching it the past few months. Not sure if you remember, but, while we were in Italy this past summer, one of our cats decided to pee in the dirt several times. I'm going to go out on a limb and guess that that isn't in the 'how to care for fiddle leaf figs' manual. This was my healthiest tree in the house by far, but after that point, it's lost multiple leaves a week. I don't think it was going to come back at this point, so we sadly laid it to rest.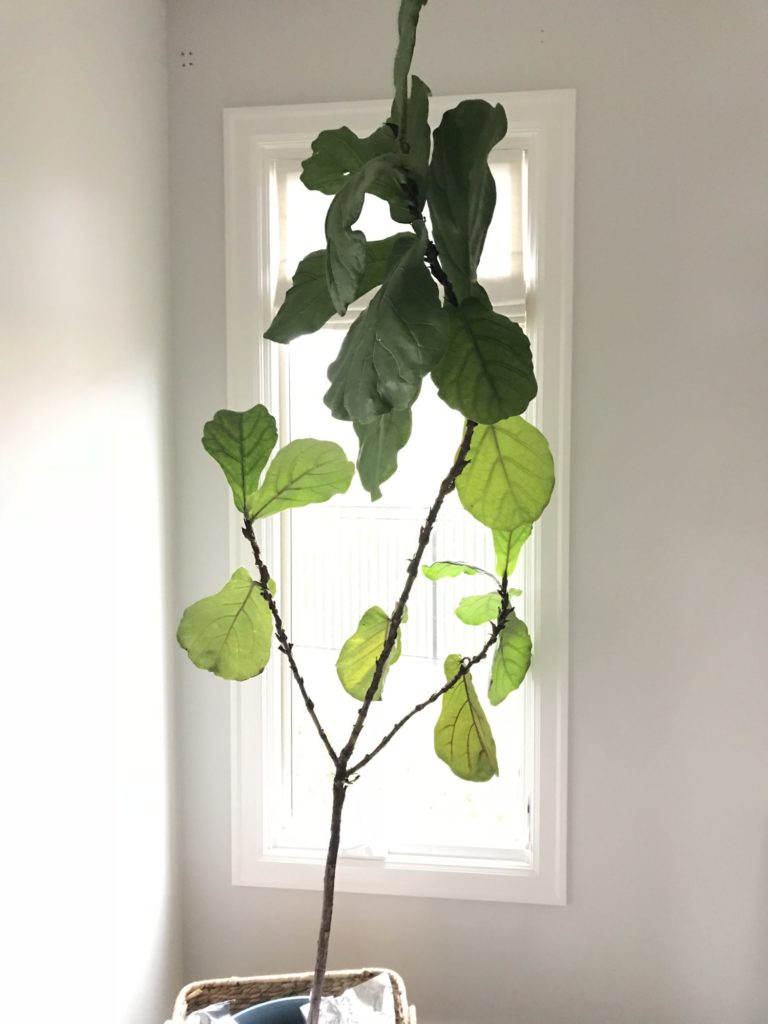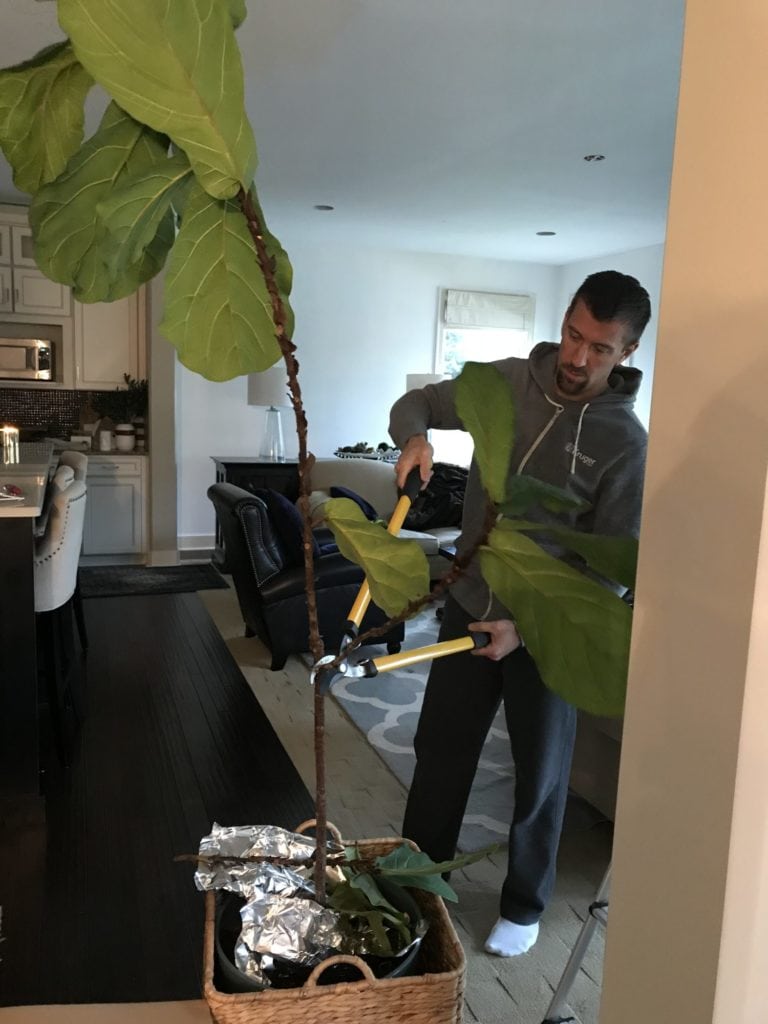 I mentioned on my post Saturday that I had bought this flocked tree on Wednesday and it had arrived by Friday! I actually shared about a dozen videos on my Instagram stories Saturday morning about the un-boxing process. However, since they disappear after 24 hours, I got a few requests to share more details here on the blog. Unfortunately I didn't take many still photos while un-boxing but I'll share a quick summary. Long story short, when I opened the box, I actually thought I was going to hate the tree. It's my first flocked tree ever, but what I saw was a tree that was completely smashed and had no resemblance to a tree. It was bad! But, as I started to assemble it, I could start to see everything taking shape. Guys, this is probably the messiest project I've ever worked on. EVER. The flock was everywhere. Compound that with all the glittery ornaments I got at Hobby Lobby and our dining room was a complete disaster!! But, as I 'fluffed' all the branches and followed the directions, the tree became absolutely gorgeous! I love how the flocking is uneven and actually mimics real snow on a pine tree. I want all flocked trees now!
I shared this shot on Saturday on Instagram with my 'O Come Let Us Adore Him' canvas in the background. I was so in love!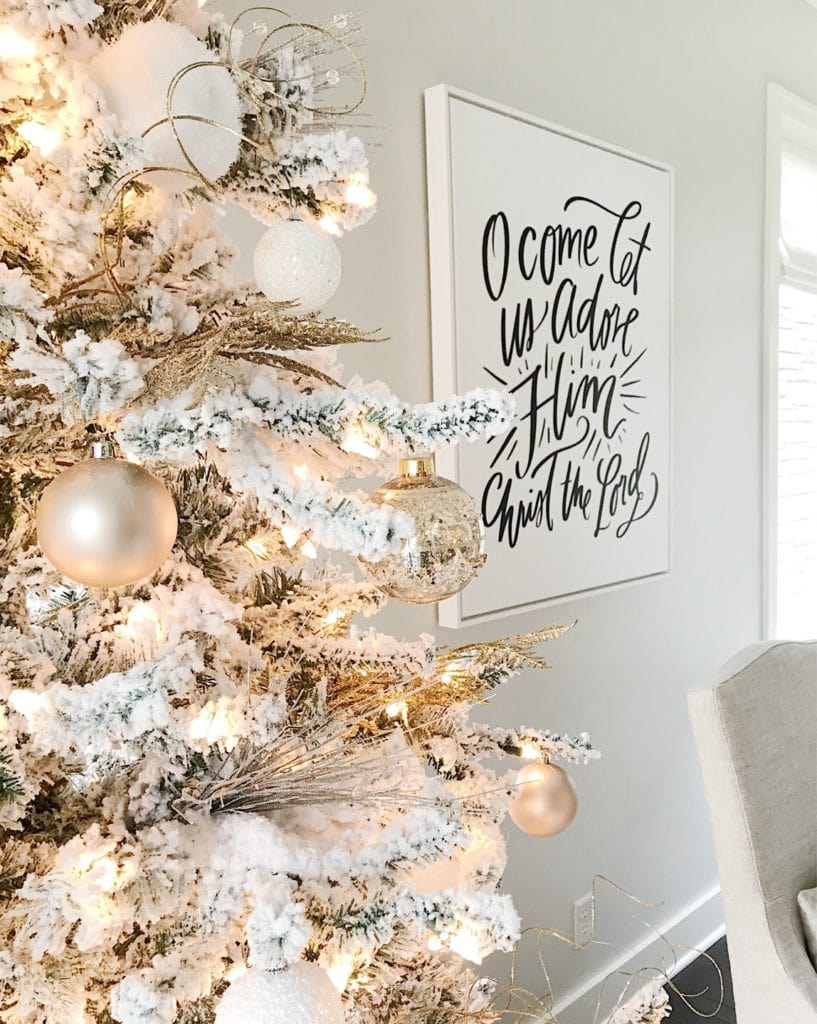 Paired with our striped rug and the woven tree collar, I'm loving the beautiful coastal vibe of this little spot!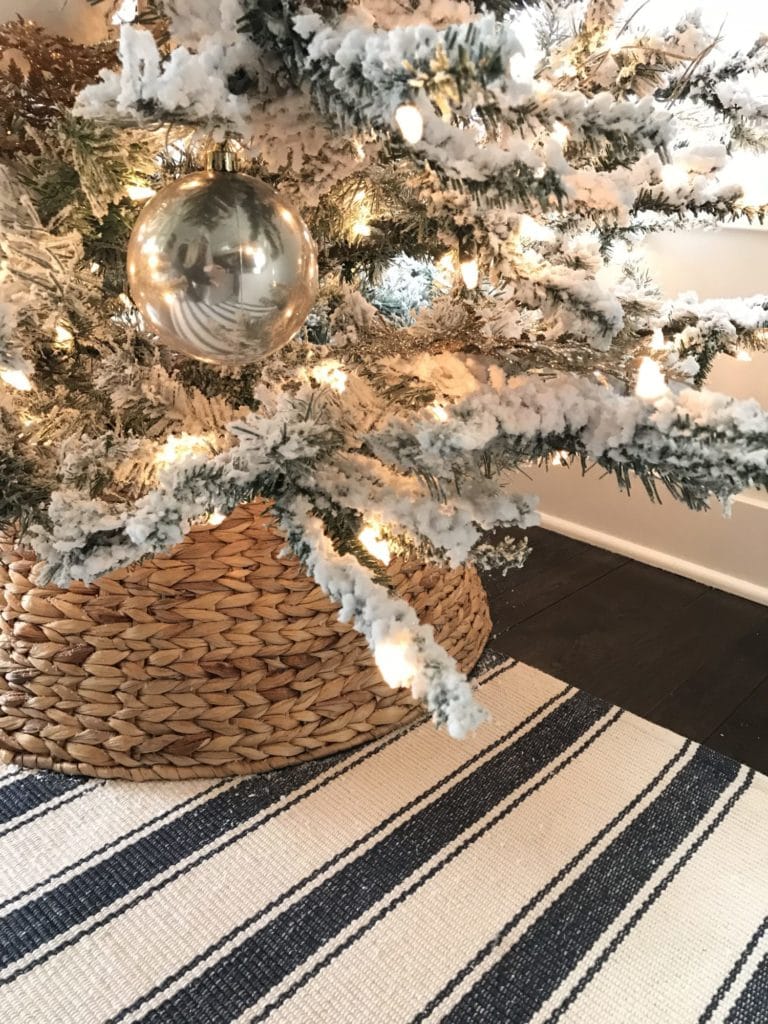 I got a few questions on the ornaments I used, as well. I actually picked up all of it at Hobby Lobby last week while it was all 50% off. Here are a few of the ornament styles I purchased. But basically, I got a variety of color and sizes in the round ornaments. I bought a bunch of metallic picks (which only ended up being $1 each) and then two packs of those twirly sticks, which were only $3 each for a pack that had 30-ish sticks or so.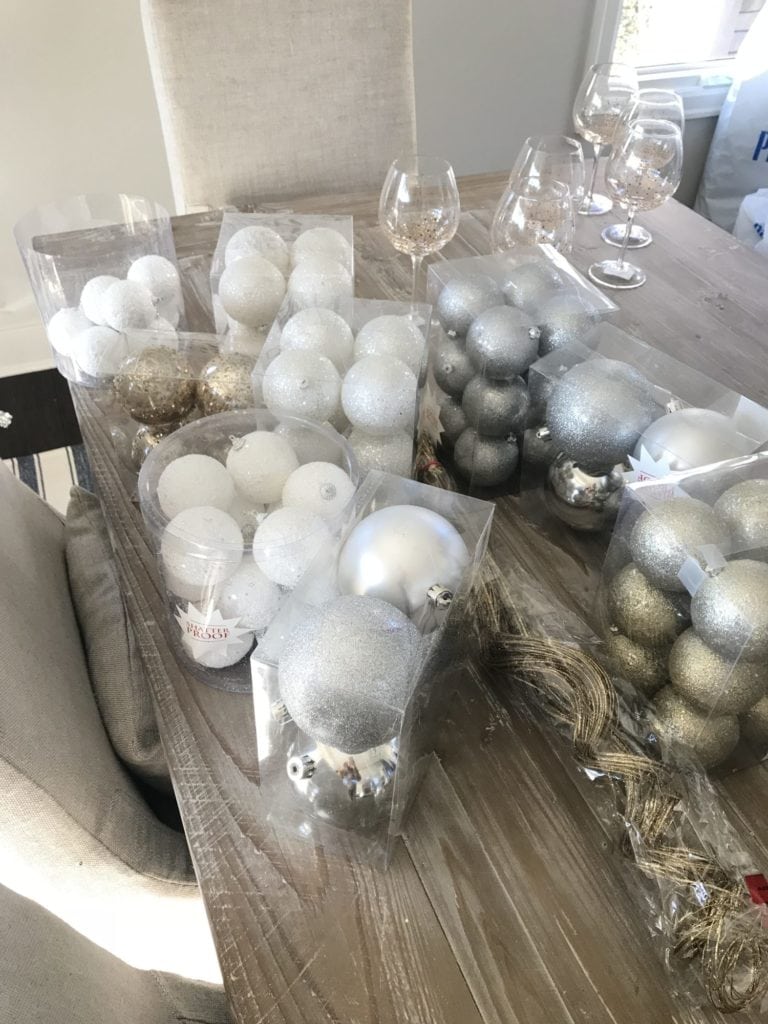 And here's how it all looks at night. Kurtis really loves it too! I actually didn't finish decorating it yet because I ran out of ornament hooks. But hopefully, I'll have it wrapped up shortly!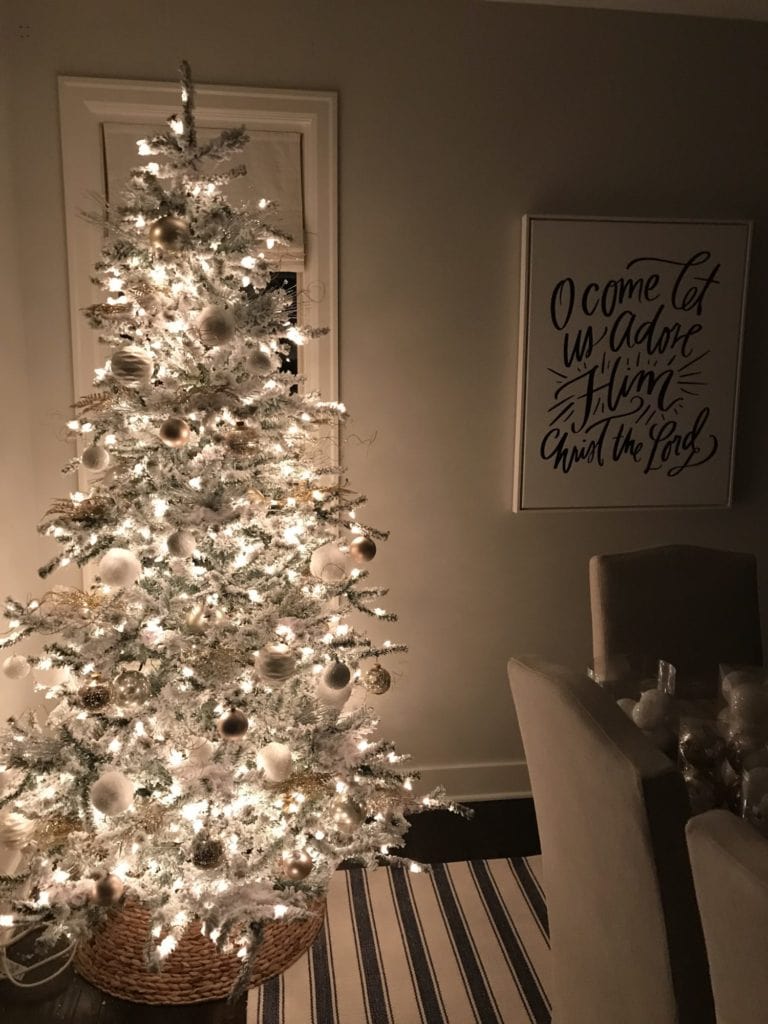 I actually won't be decorating for Christmas for another week or two, but I really wanted to get this tree setup so that I could tell if it would work or not. Bottom line, I am super happy with the tree at this point! For me, it was totally worth the mess!
Friday, I also received the bench I shared in my Wednesday Watch List. I was also really happy with the quality of this item as well. I can't wait to get it in place and styled for all of you to see!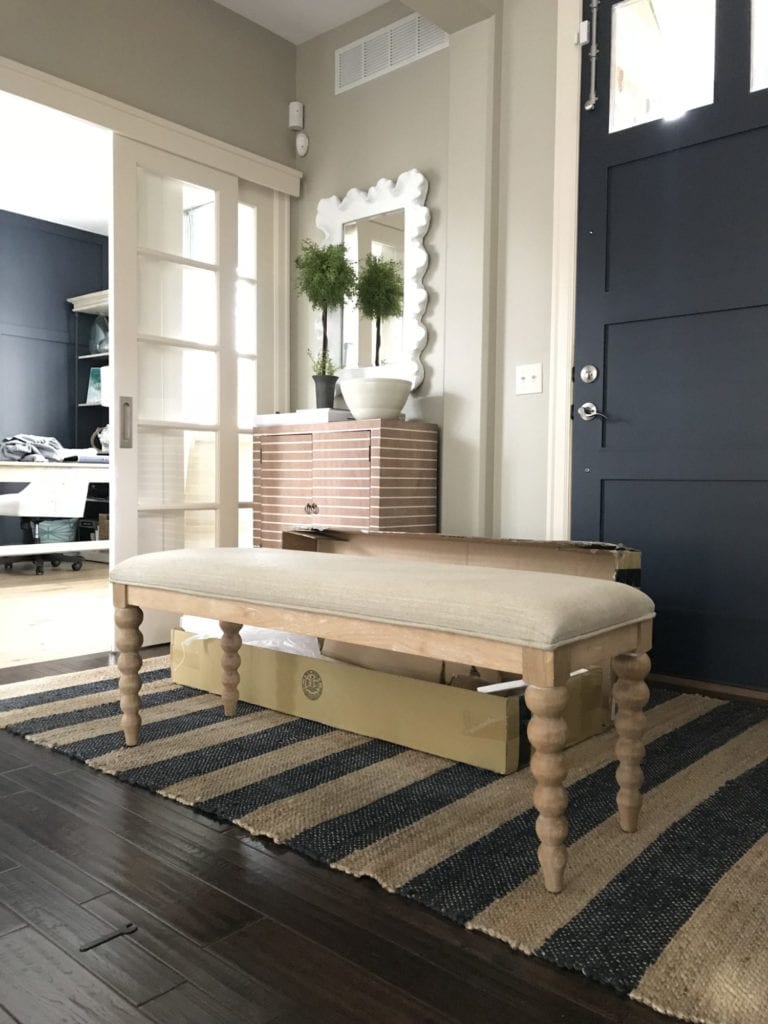 Saturday, in our attempt to be extra healthy, we roasted some carrot sticks in the oven to give us the placebo effect of eating french fries. It definitely wasn't the real dead, but they were really good! We basically tossed them in a little olive oil, garlic powder and kosher salt and then baked them at 350 degrees for about 30 minutes. I was bad and had a little Freddy's fry sauce with mine because it's so good. Side note: for those of you that asked for Kurtis' pulled pork recipe he's working on it for you, and I'll probably add it to next week's weekend recap.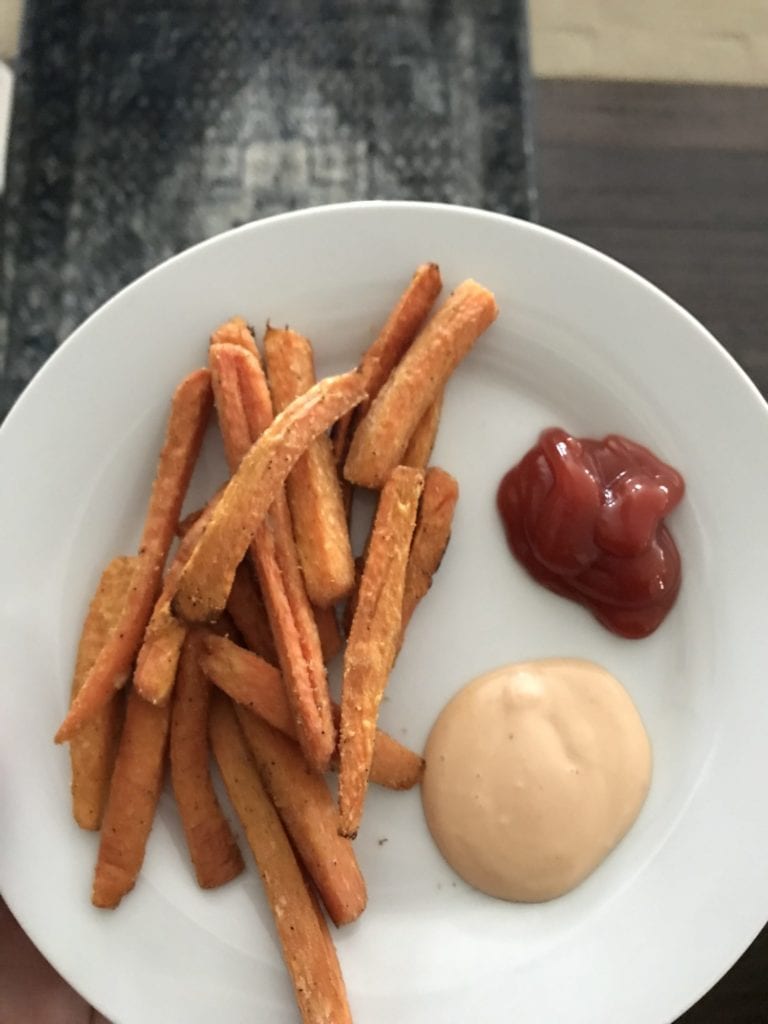 Last week, the we had all the roofs re-done at our rental houses. If you recall, they had all been totaled in a hailstorm we had back in June. So many roofs in Omaha were damaged (including ours) that this was the soonest we could get them repaired! They company left some extra supplies in each of the yards, so we started the  morning off by running around and picking things up. We then headed to Target to grocery shop for the week.
Our neighborhood has a tradition of lighting all of our tree trunks in our parkways. We're one of the few newer neighborhoods in Omaha that even allows trees in the parkway, so it's fun to take advantage of these trees for the holidays. Most houses only have one of these trees as they're in between each property line. Even though it was only in the 40's, it was sunny and not windy, so I decided to go get ours taken care of. We're actually thinking of wrapping all of the trunks in our front yard, as well, but I only got the "required" one done. We have to use white, 300 count lights on each tree, and we start lighting them the day after Thanksgiving. It really does make our neighborhood look so beautiful for the holidays!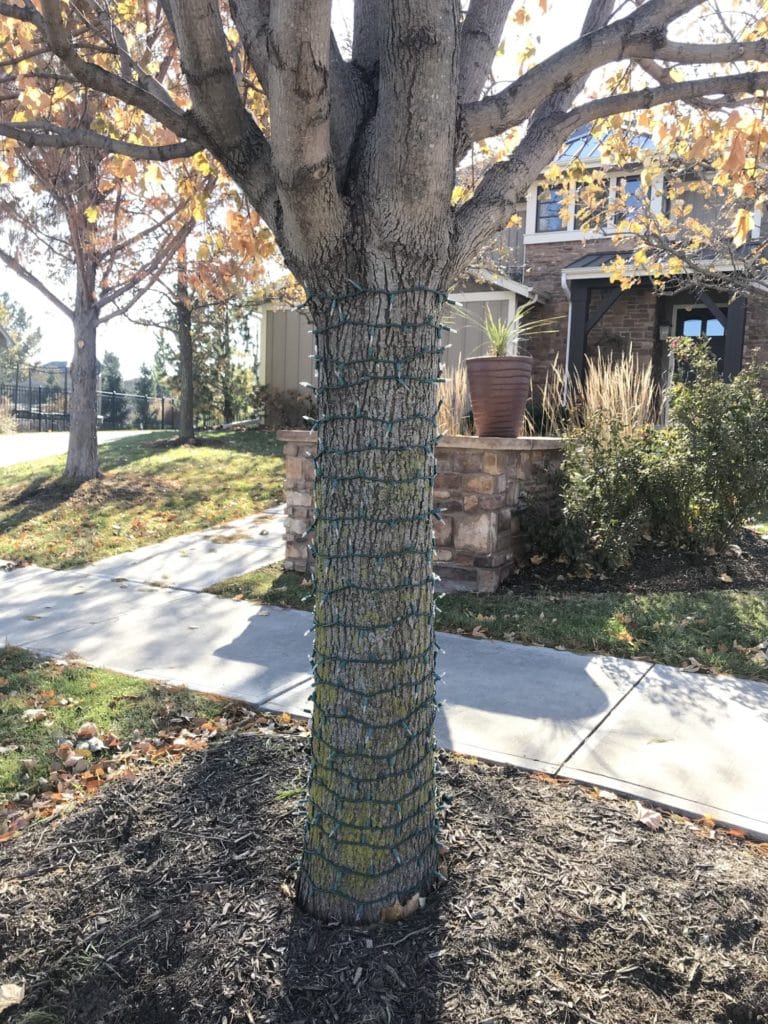 We rounded off the holidays with a mix of watching Justified and VEEP. We're really liking the rotation, so we can mix in a bit of humor with the serious drama. Have a great week!
If you would like to follow along on more of my home decor, DIY, lifestyle, travel and other posts, I'd love to have you follow me on any of the following:
Pinterest / Instagram / Facebook / Twitter / Google+
disclosure: some affiliate links used