I hope you all had a great week! Now that October is over, I'm trying to fully embrace fall. It's hard to believe Thanksgiving is less than three weeks away! It's practically almost pool season again!
We dressed up one of "the kids" for Halloween. We couldn't find Bearcat's usual pumpkin shirt he loves to wear, so he was a bee (it was in our stash from years ago). He loves to greet the trick-or-treaters and get all the attention he can. He was pretty adorable. It was actually snowing lightly here on Halloween, which was crazy!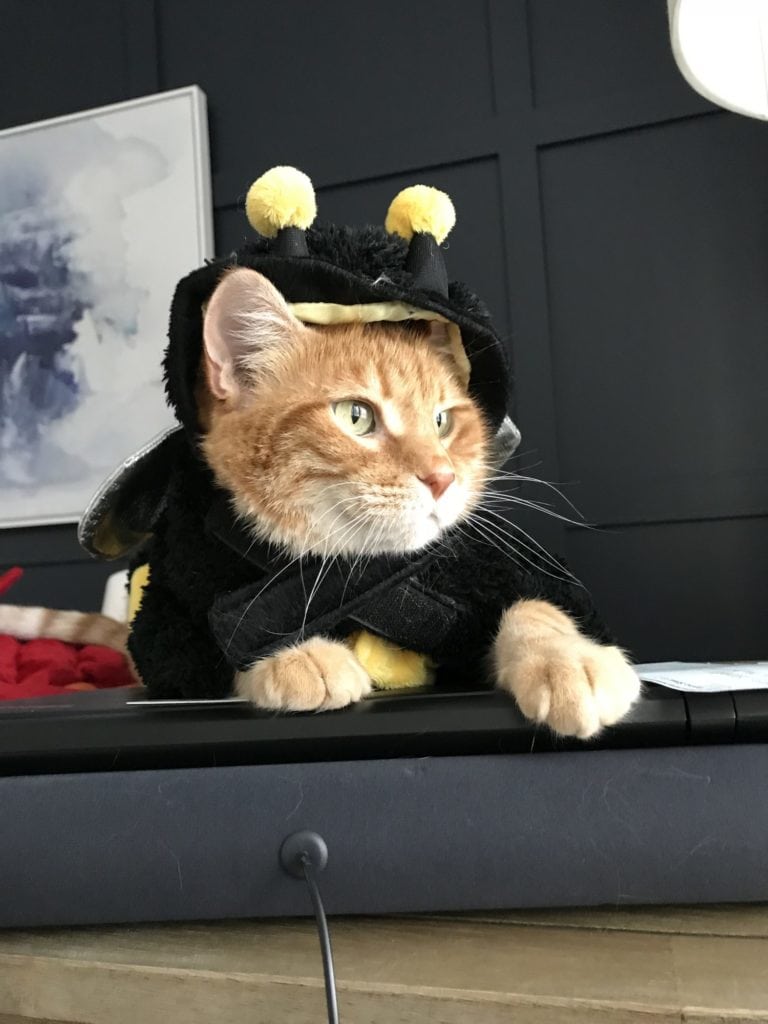 On Thursday, I made this spicy chicken crockpot soup and we both really liked it! It's a really clean meal that isn't too heavy on calories. We used a scoop of greek yogurt to act like sour cream. If you haven't seen it, I have an entire post dedicated to crockpot soups and stews. So perfect for this time of year!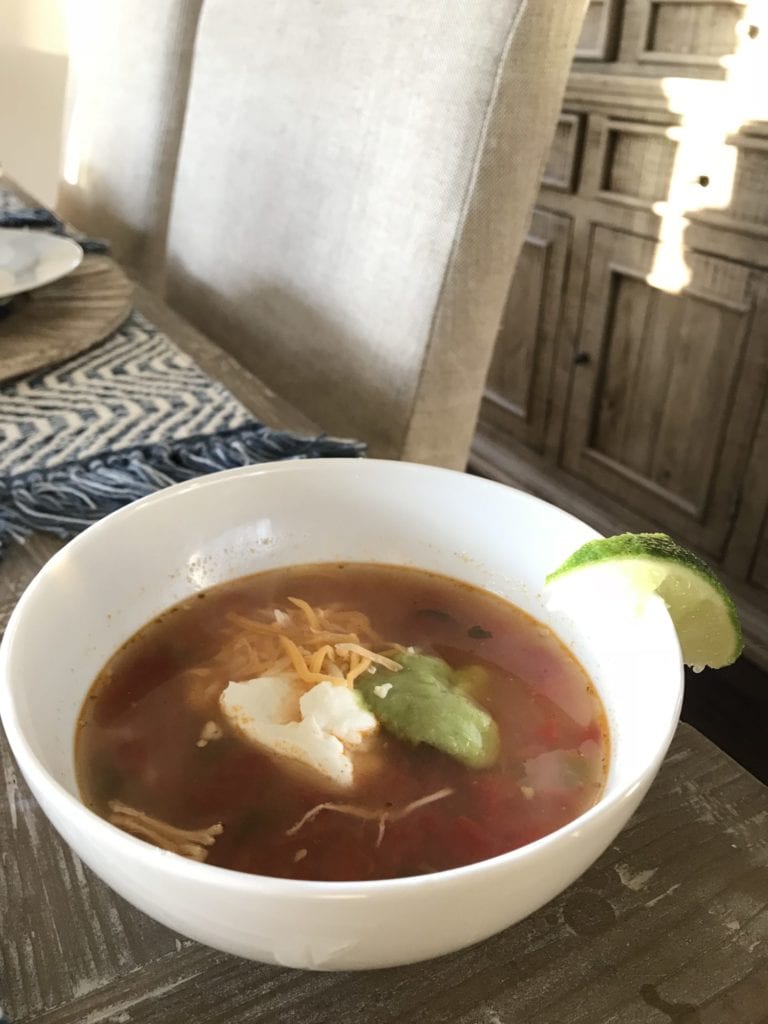 We also made "healthy" margaritas that night to go with the soup. We used Fresca, fresh lime juice, tequila, and our favorite pink Himalayan salt on the rim.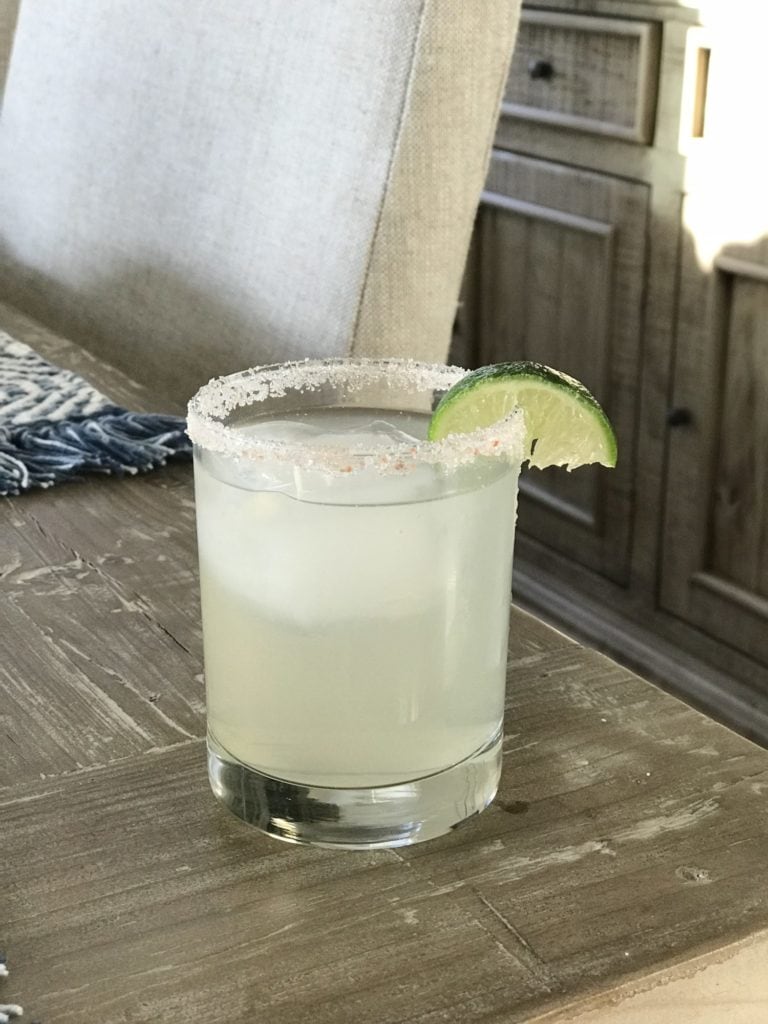 Here's my weekly picture of the cats crashed out by the fireplace 😉 This one might be my favorite yet! We started watching Justified on Amazon Prime and we're really enjoying it!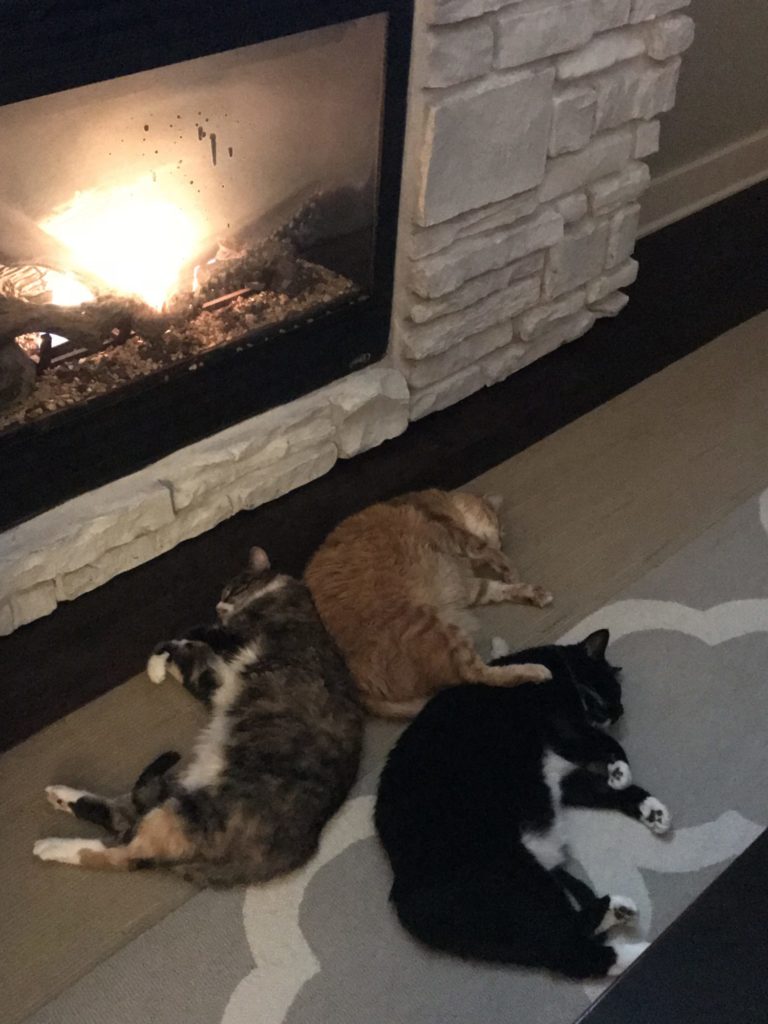 I finally ended up ordering these chairs after sharing this image on Instagram which totally inspired the purchase. Or I should say, it helped convince Kurtis the chairs weren't weird and that they achieved the look we wanted. It helps the price is so good compared to our other options 😉 I ended up getting the ivory frame with the Bevin Natural fabric. Looks like it will be at least four weeks before they arrive though, since they are custom built.
The purchased then really prompted me to really starting thinking about our living room. While Kurtis was at Jill and Nick's Saturday morning working out, I randomly decided to paint a test wall white. There's no going back now!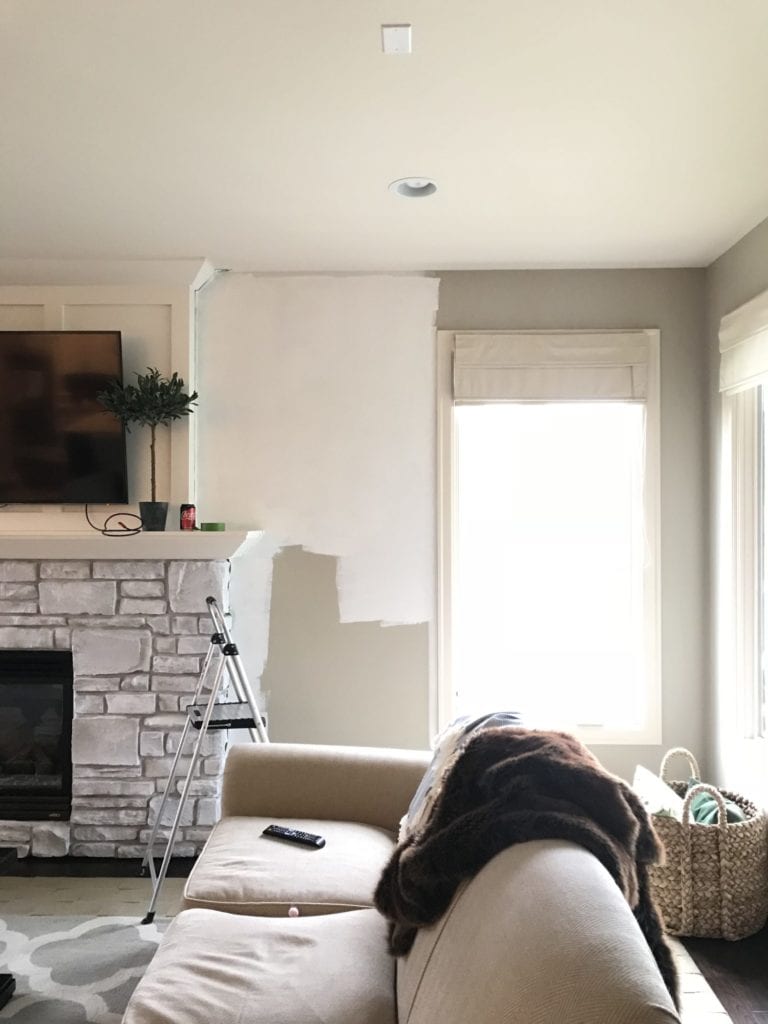 One wall led to two walls, which led to three walls.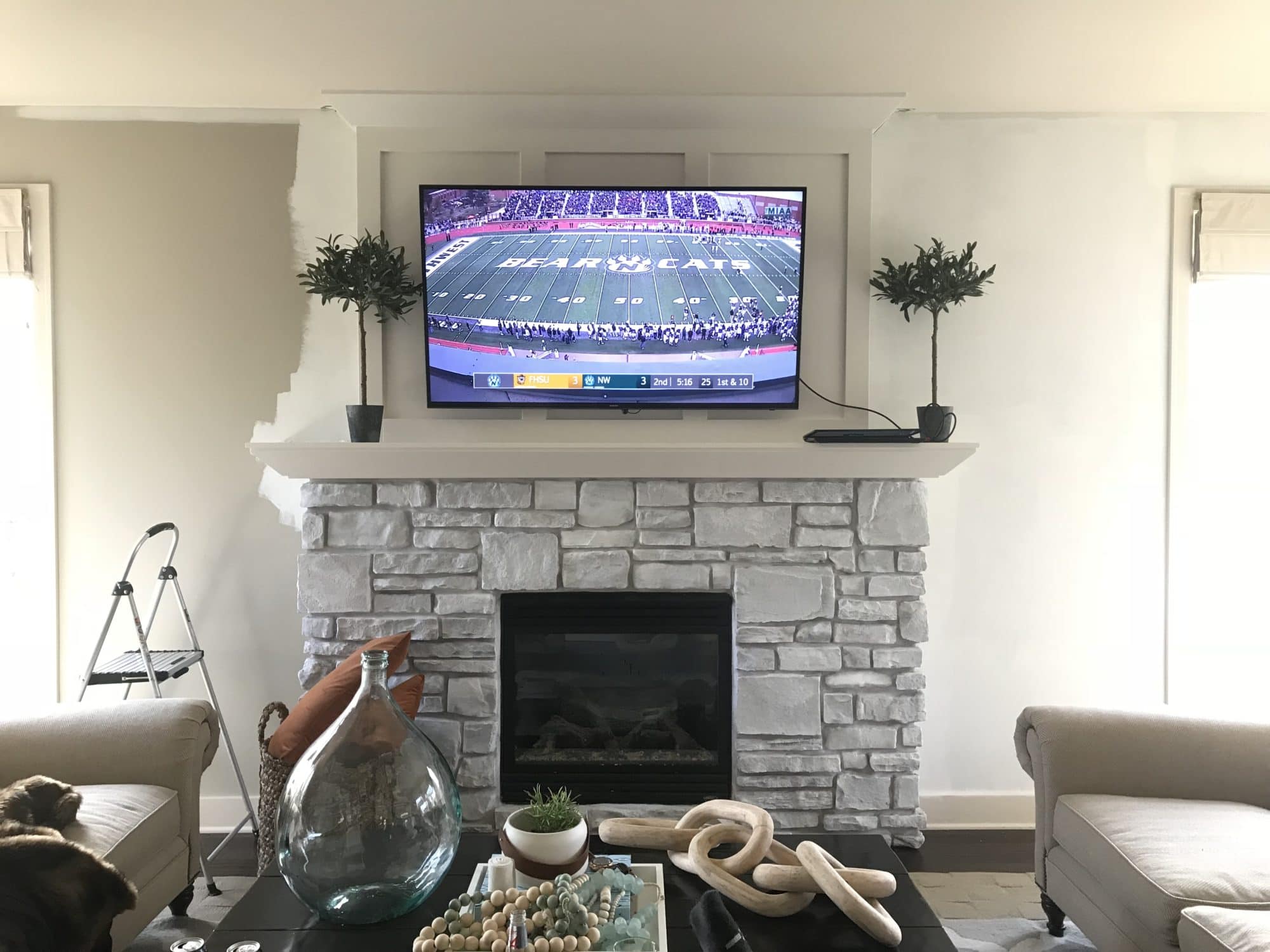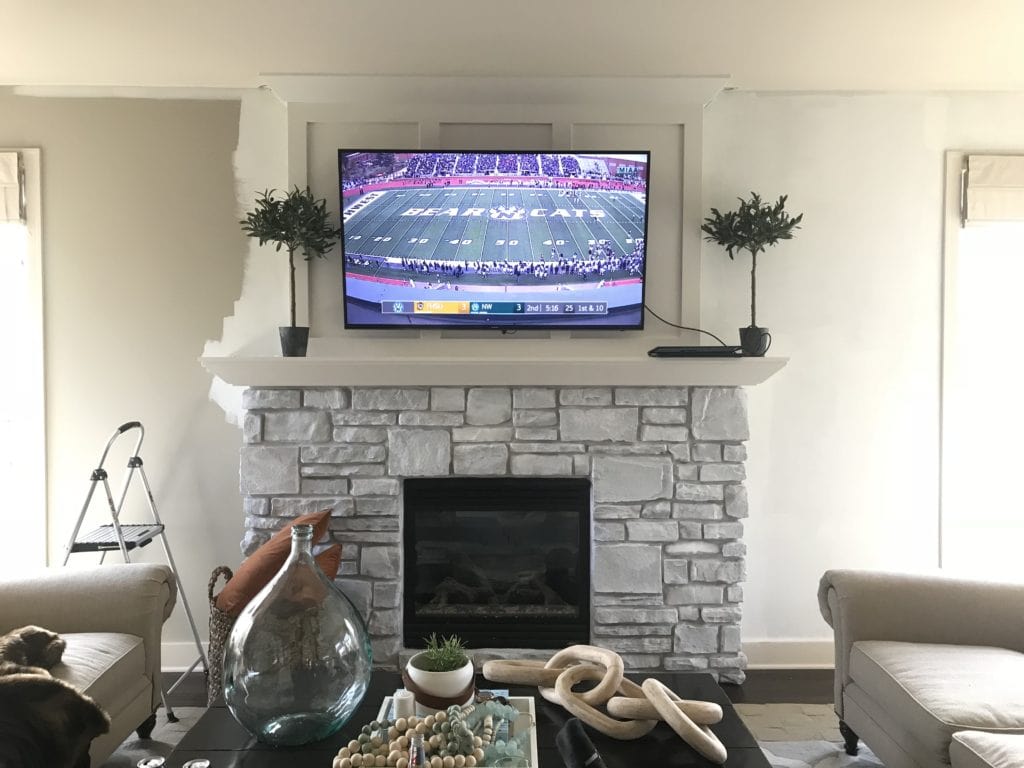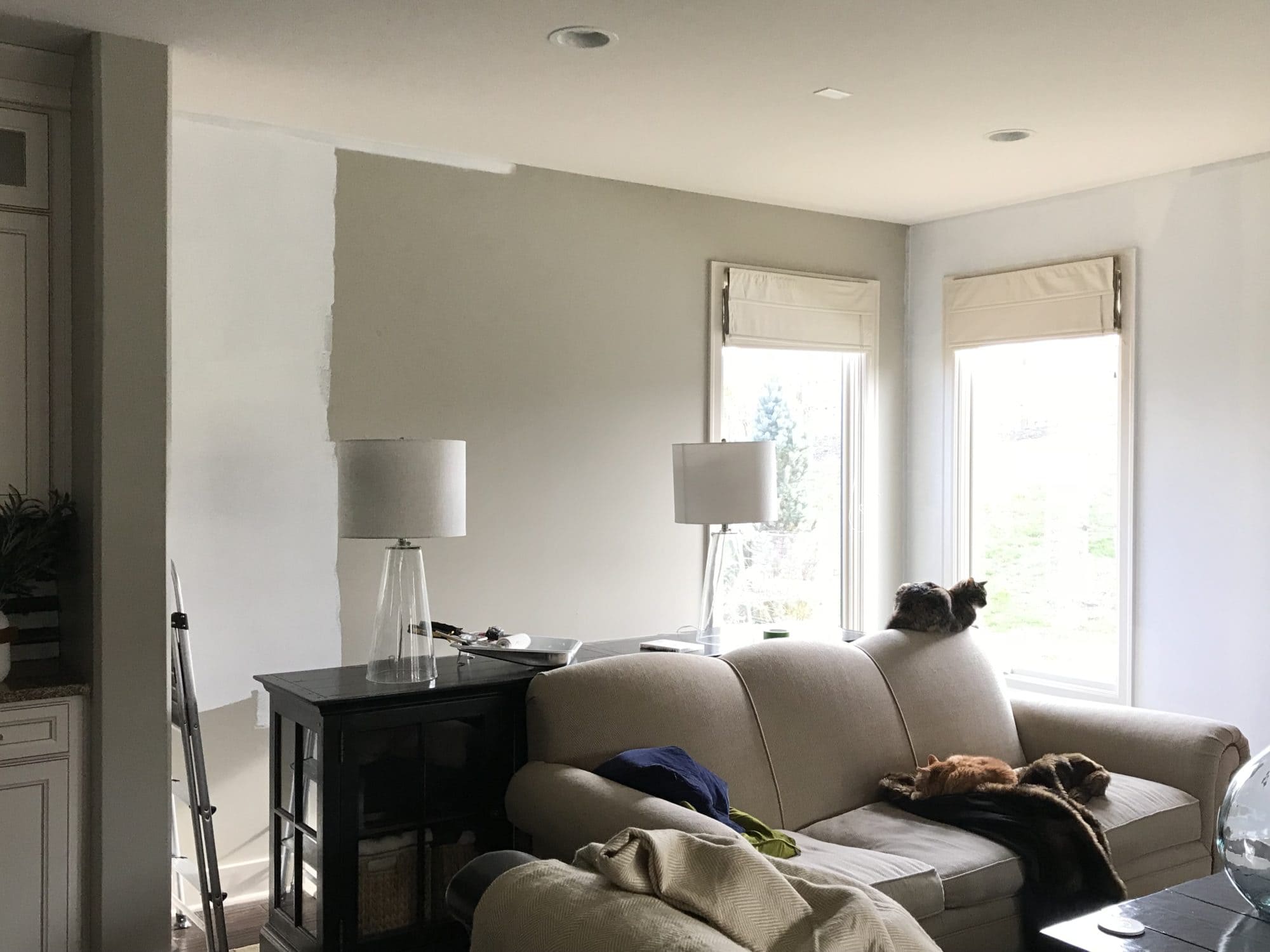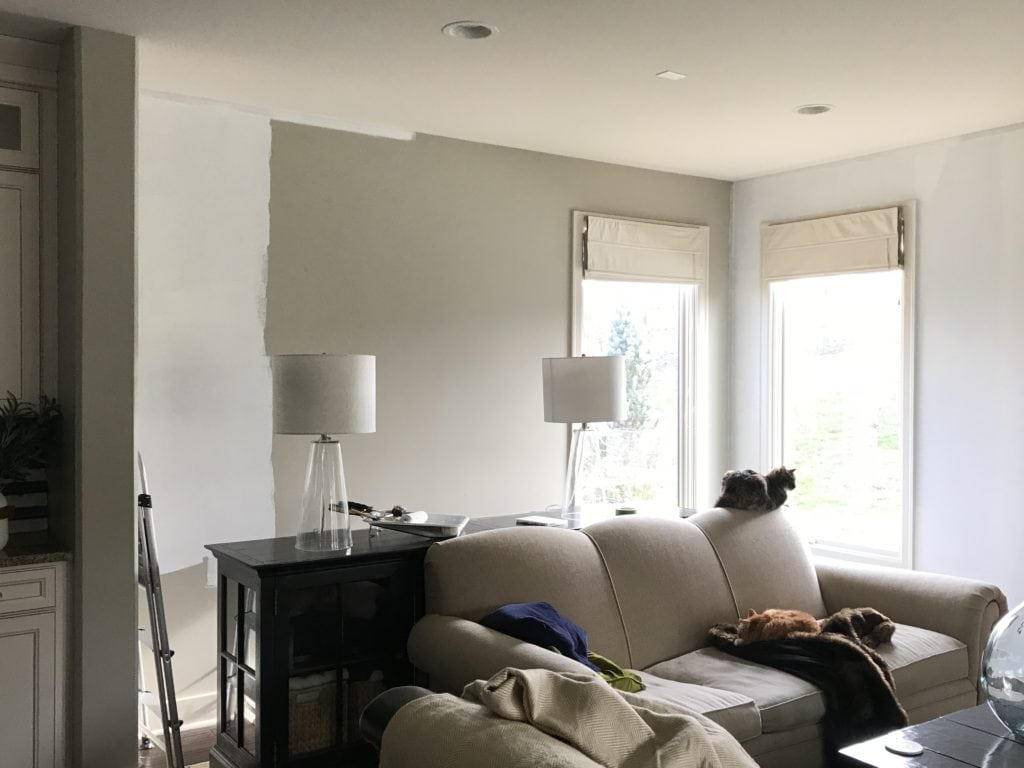 If you missed my weekend sale post, many of the sales are still going on through today so it's worth skimming if you haven't already!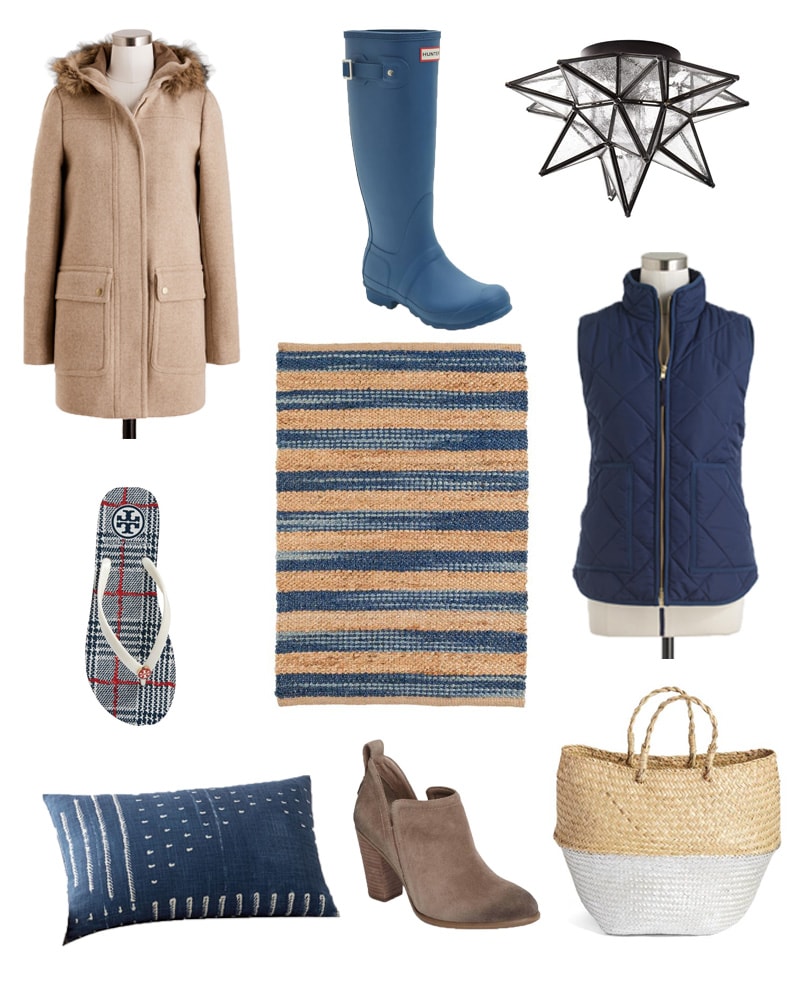 Saturday night, we went out to dinner with Jill and Nick at Stokes. They have Southwestern food, and although it's a local favorite, I've only been there two or three other times. It was so good, and our meal was even better because Iowa beat Ohio State, so Kurtis was in an exceptionally good mood. Afterwards, we headed out to Village Pointe to see the new Thor movie in the reclining chairs. I haven't ever seen any of the prior Thors, but it was still good and pretty entertaining, even for a non-Thor enthusiast.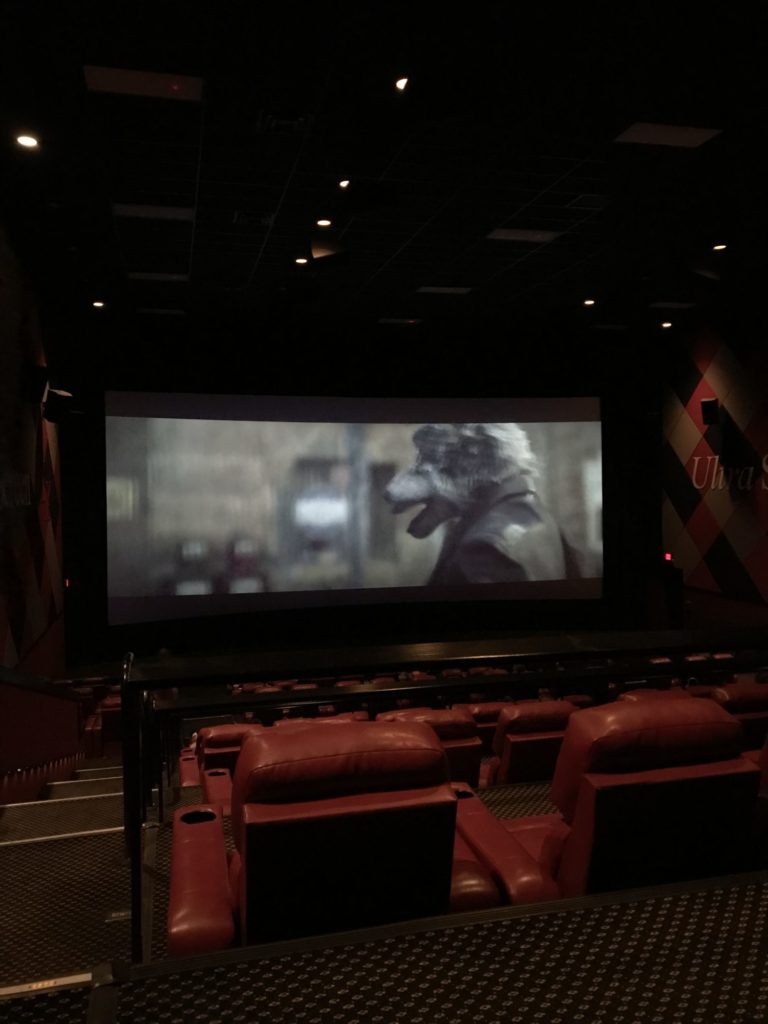 Sunday morning, we turned over the keys on our rental to the newest tenant. The timing worked out such that we didn't have any lapse in rent payments during the transition, so that worked out really well! It's a relief to have all of our work done there for the time being and now have it rented again.
Sometimes all of the cats like to help me on the blog. Talk about looking like a true crazy cat lady!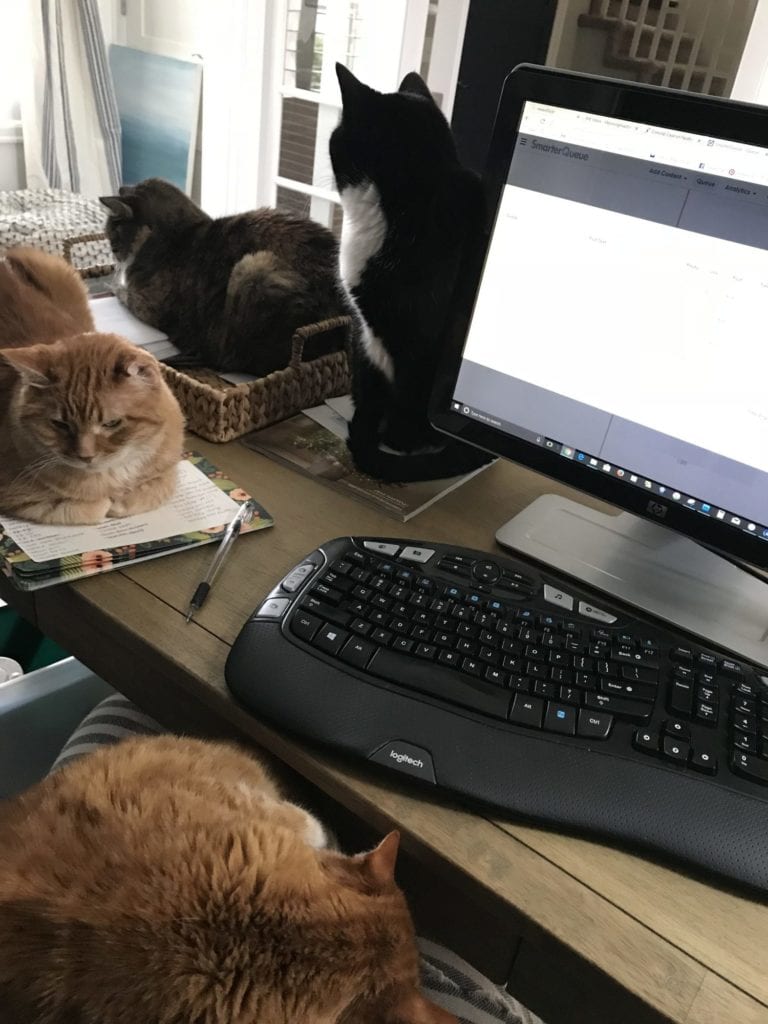 And if you hadn't already heard, the new Chip and Joanna line launched at Target yesterday morning! I just can't get enough of this cute holiday porch! I heard the stores have really slim pickings left and lots of things sold out already, but the online selection is still really strong! I'm for sure buying this plaid mat for our front porch and I'm considering this throw as well.
Before I got any further with the wall paint,which still needs two more coats, I started painting the ceiling. Every time I start painting our ceiling, I remember just had badly it needed to be done. The old color is so saturated and nowhere near white.
This room is going to be much like my office where one thing leads to another and suddenly I have two months worth of painting in the update. But, it's desperately needed and I'm excited I'll finally have the last of the main floor ceiling painted once I'm finished! Much like the office project, I'm guessing this will likely take me two months to fully wrap up between the walls, ceiling, window trim and baseboards. But again, it will be so worth it in the end!
I only got about 15% of the ceiling done, because it isn't an easy job. My shoulders and neck can only take so much!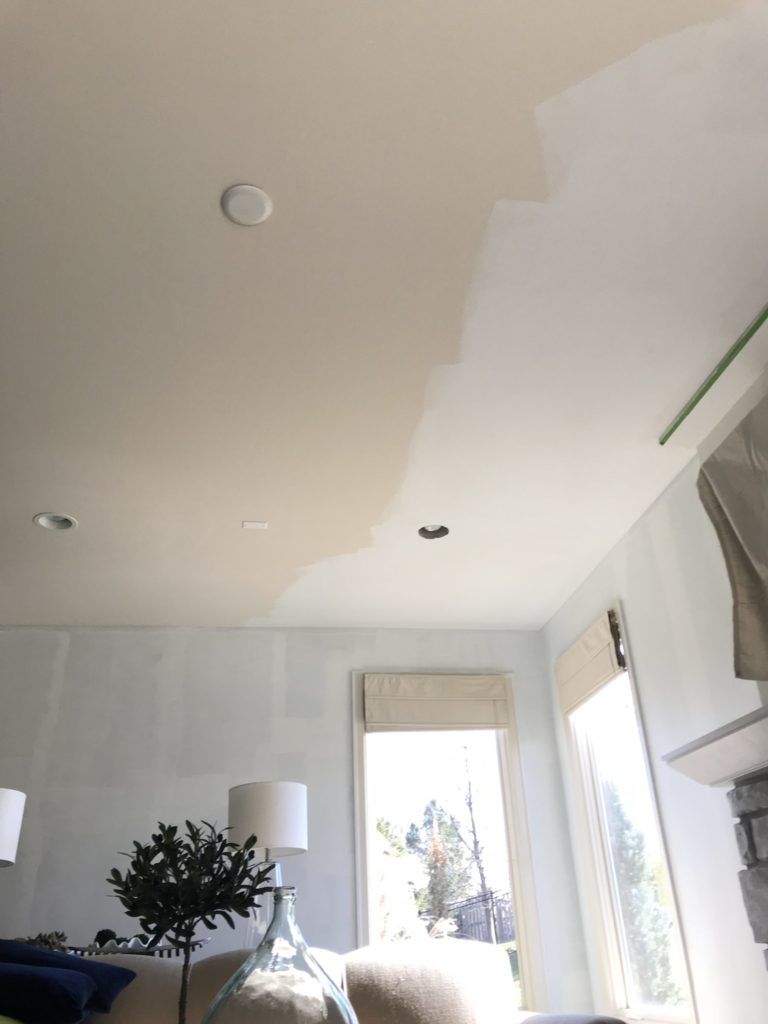 While I worked on the ceiling, Kurtis worked on the 'leaf situation' that had accumulated around our fence. It was nearly three feet deep on both sides of the fence in some parts. Earlier in the week, I found two Amazon boxes, an Ugg box, a Nike box, a water bottle and some newspapers in the pile – none of which were even ours. I don't know what was going on!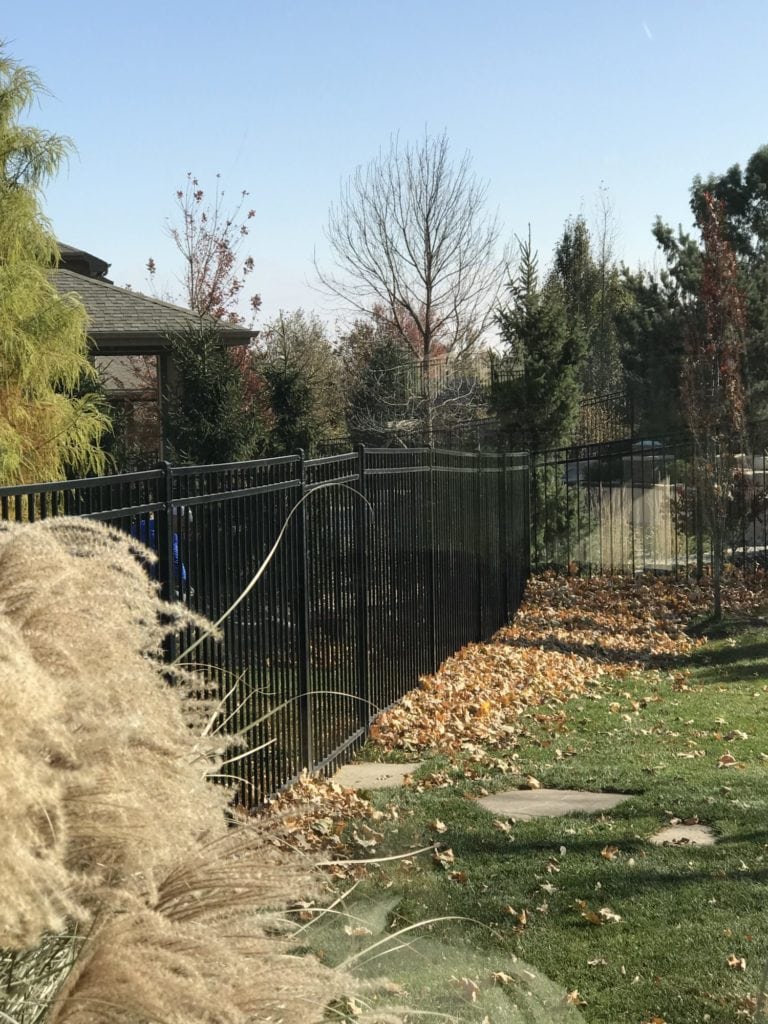 Kurtis made pulled pork in the smoker outside all day yesterday. We declared it his best batch yet. It was so good!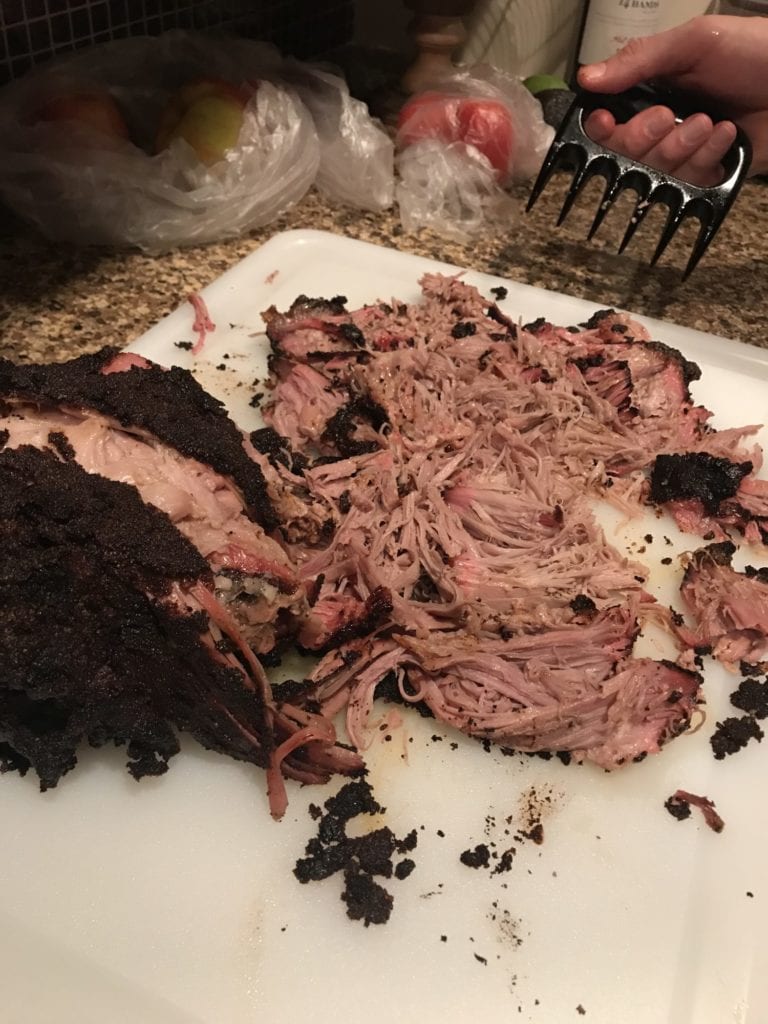 Have a great week!
If you would like to follow along on more of my home decor, DIY, lifestyle, travel and other posts, I'd love to have you follow me on any of the following:
Pinterest / Instagram / Facebook / Twitter / Google+
disclosure: some affiliate links used