What a week! It feels like yesterday I was saying I couldn't believe it was already September, and now here we are already in October. This year has gone by ridiculously fast!
Wednesday morning, I had to get up at 3:30 am for a 6 am flight to NYC for the Better Homes & Gardens Stylemaker event. You know it's an early flight when you get to watch the sunrise well into your flight!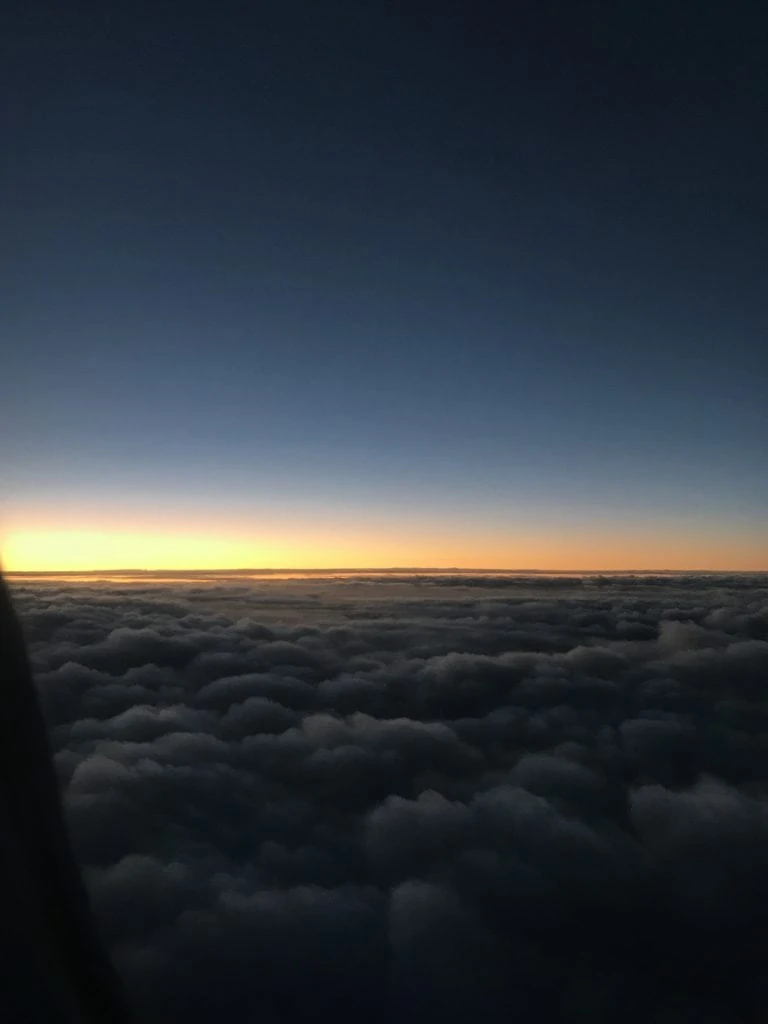 Our event was actually held in Brooklyn at 1 Hotel Brooklyn Bridge. The hotel was absolutely gorgeous, and the views of the city were absolutely stunning! I could see the Statue of Liberty and Freedom Tower from my room!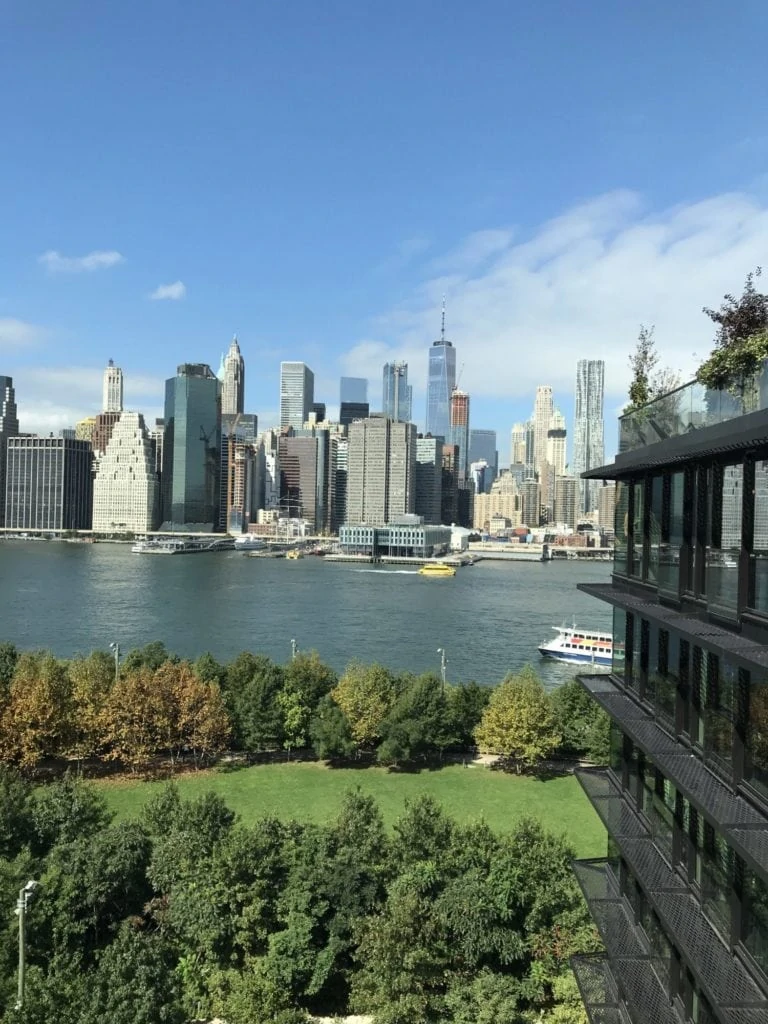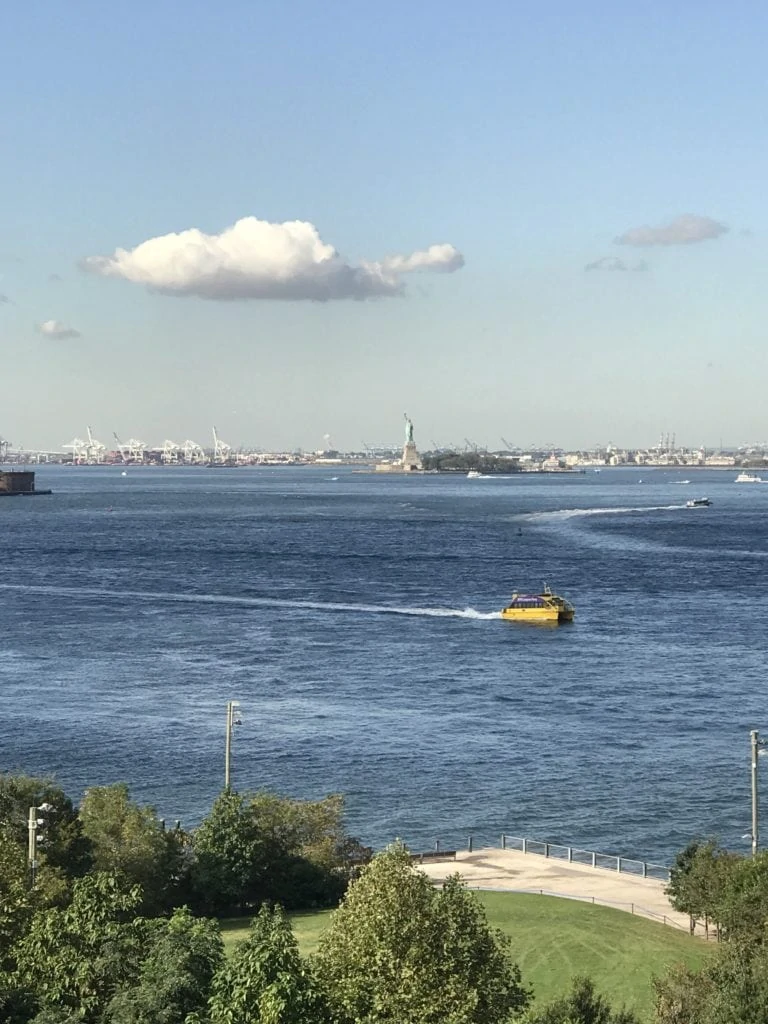 The rooms are fairly small (as is typically the case in NYC), but I loved the modern rustic design and the wall of windows looking out to the city helped the space to feel much larger!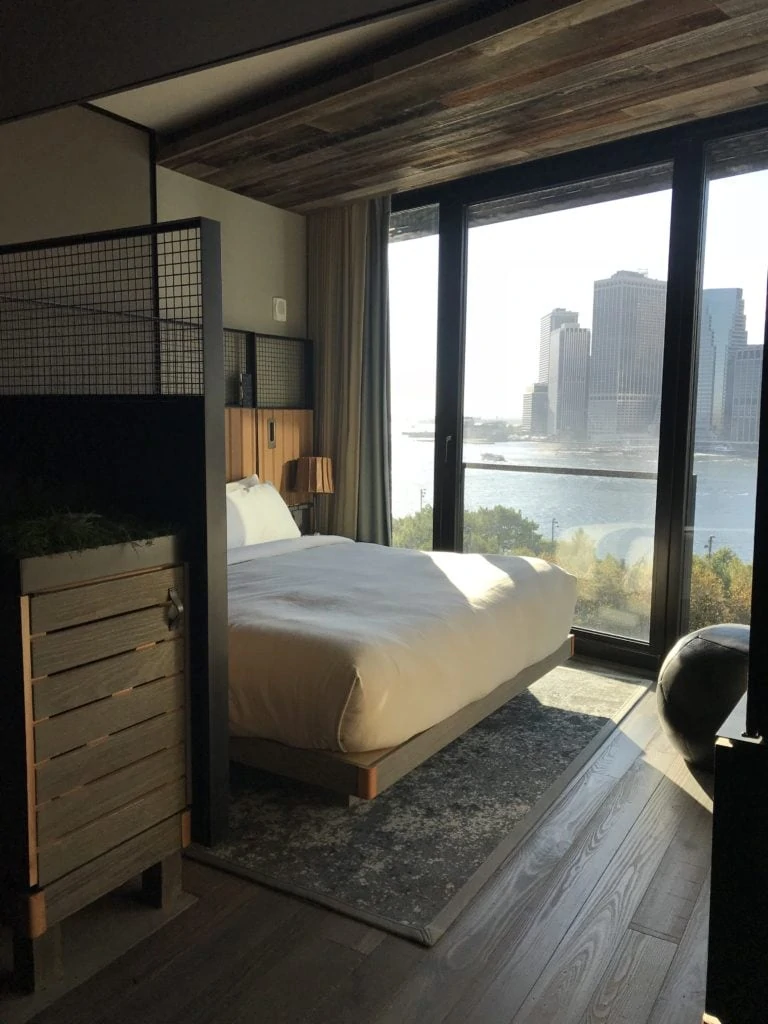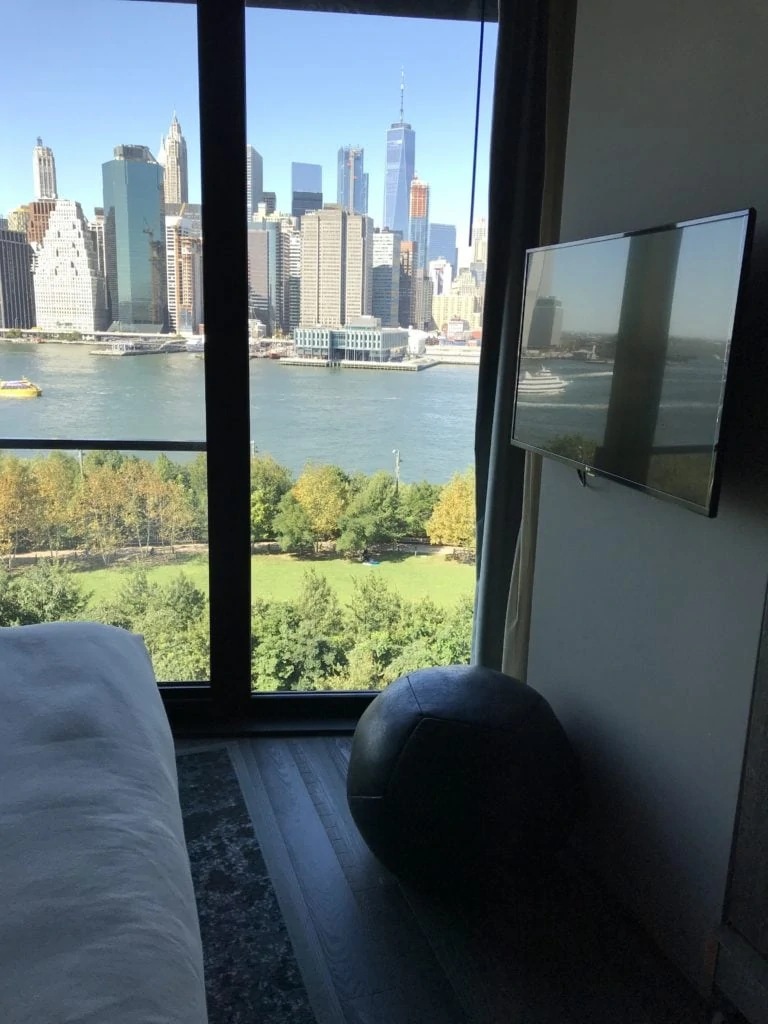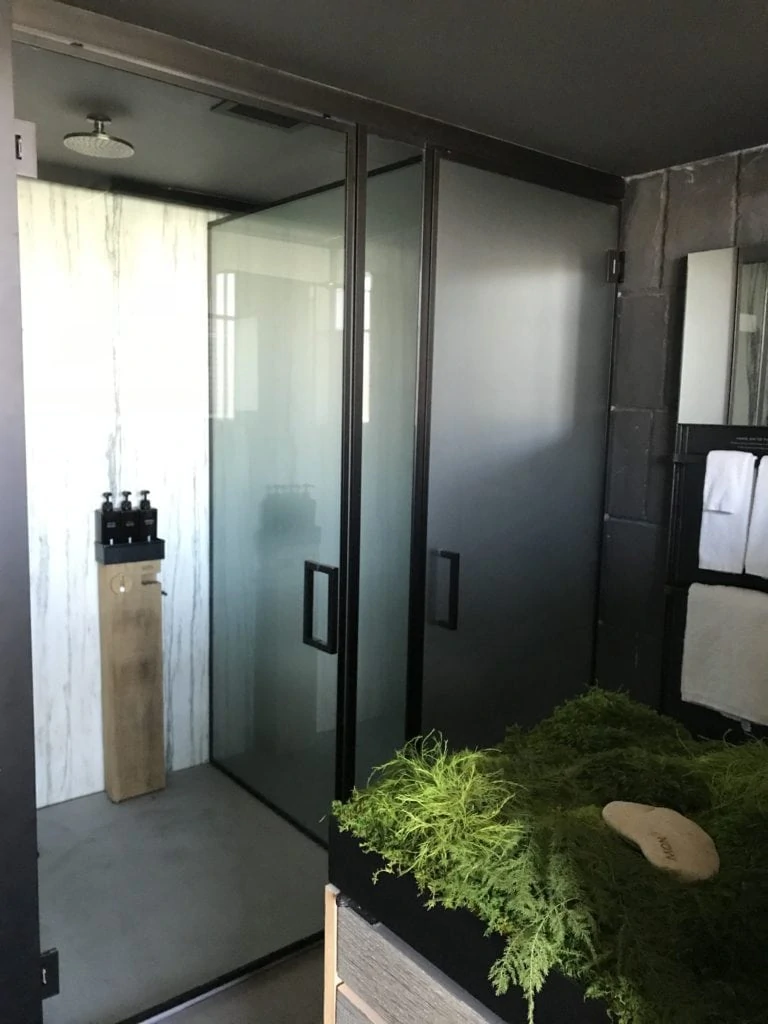 The rooftop bar had even better views of the city and the Brooklyn Bridge. I spent some time up there each of the three days I was there because the weather was gorgeous and the vibe was so great. It's like you were in the city but at a distance, so it was almost peaceful!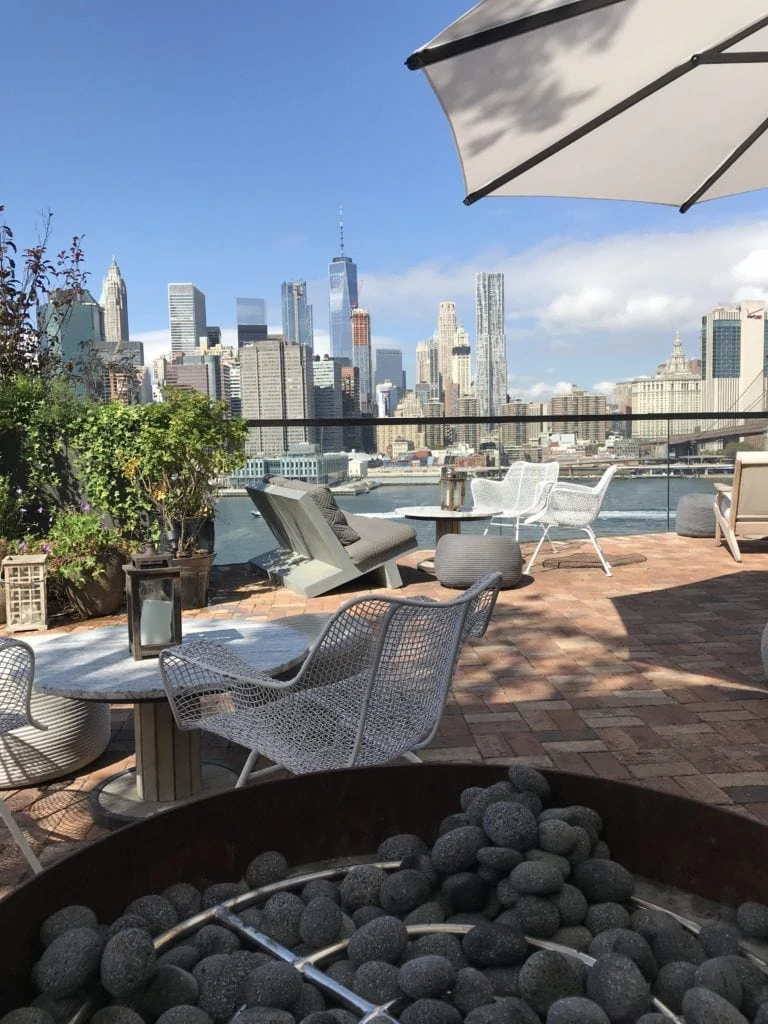 Shortly after I got to the hotel, I had lunch on the rooftop with some of my friends. It was actually in the mid-80's at this point so, between the heat (hence the pulled back hair) and how tired I was it isn't the most flattering pic. But, I wanted to share because I had so much fun with these ladies all day. Pictured: Haneen from Haneen's Haven, Chelsea from Two Twenty One, and Charlotte from At Charlotte's House (formerly Ciburbanity).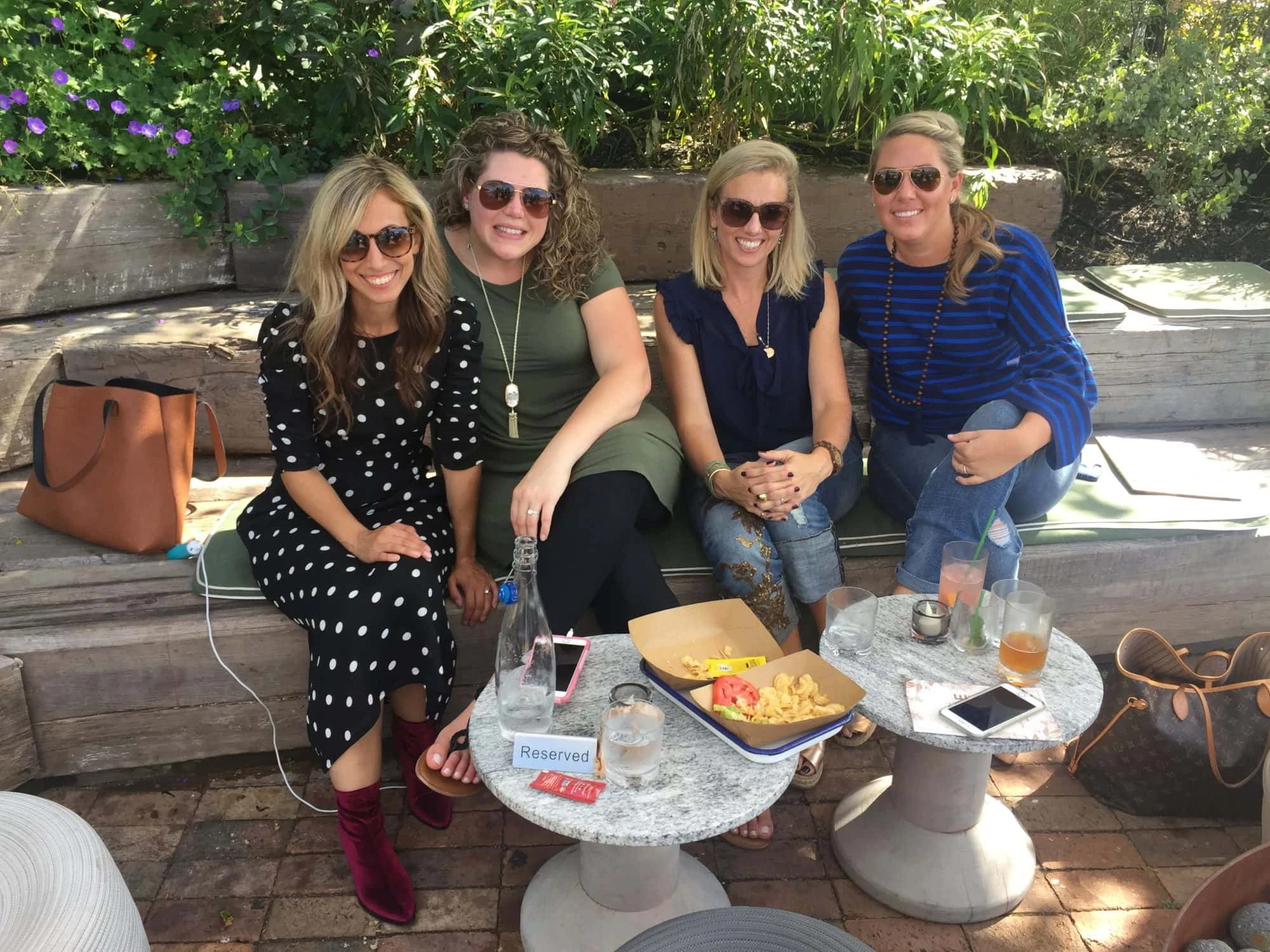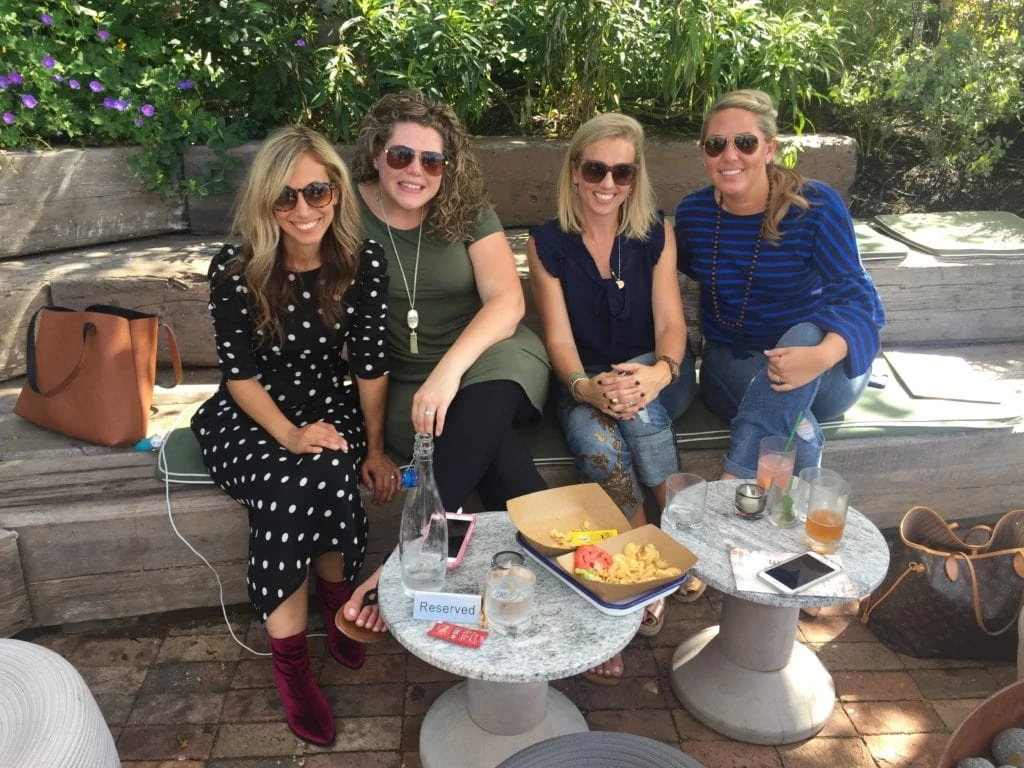 Charlotte, who lived in the city several years ago, took the four of us across the bridge via taxi to Washington Square Park.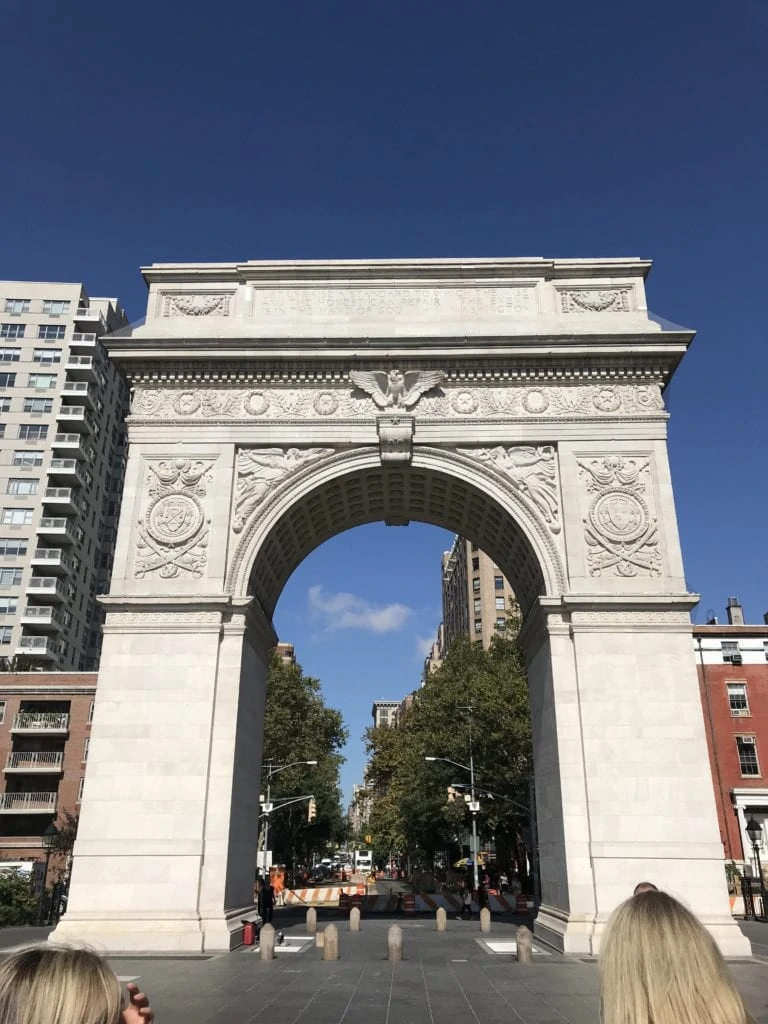 From there we walked through a farmer's market, went to Dylan's Candy Bar and then had drinks at ABC Cocina before hitting up the infamous ABC Carpet & Home store.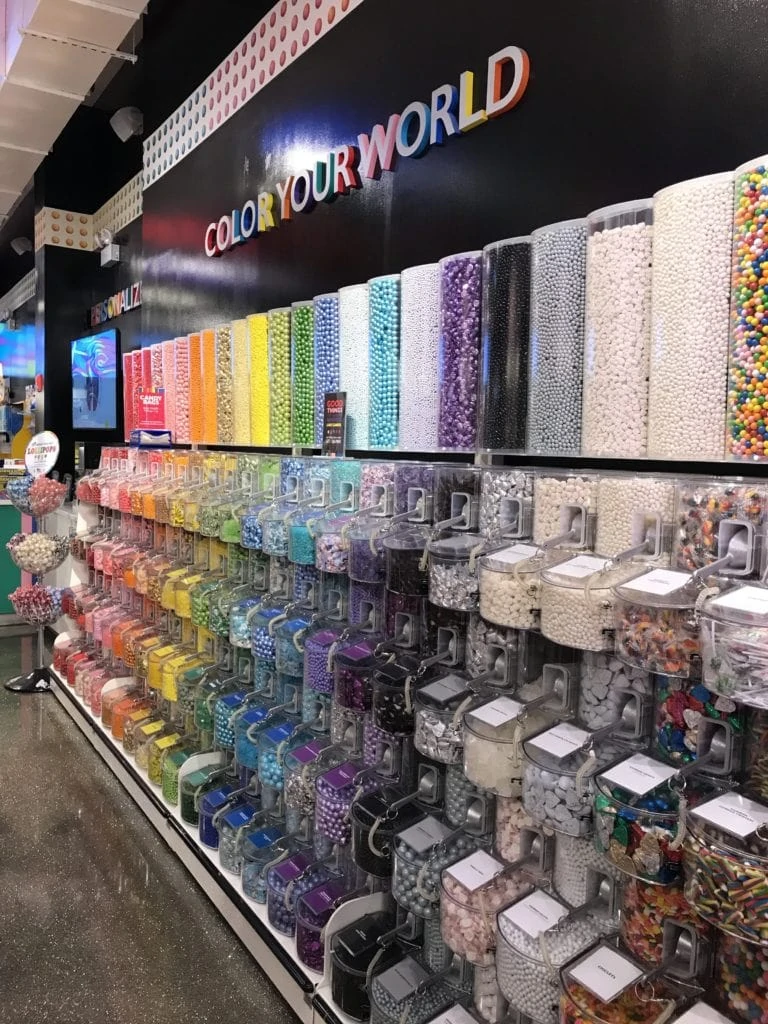 My $4 bag of candy (their candy is $8.99 per half pound) and our photo book images. I think the booth was made for very small children, not four adults 😉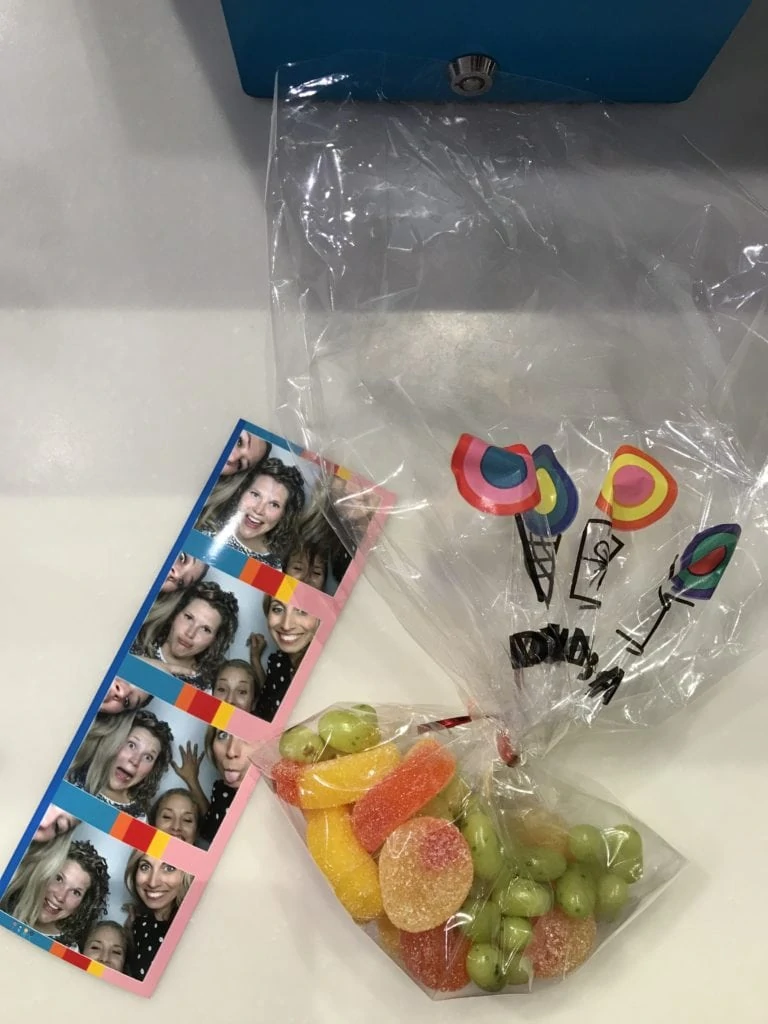 The grapefruit margarita at ABC Cocina was so good!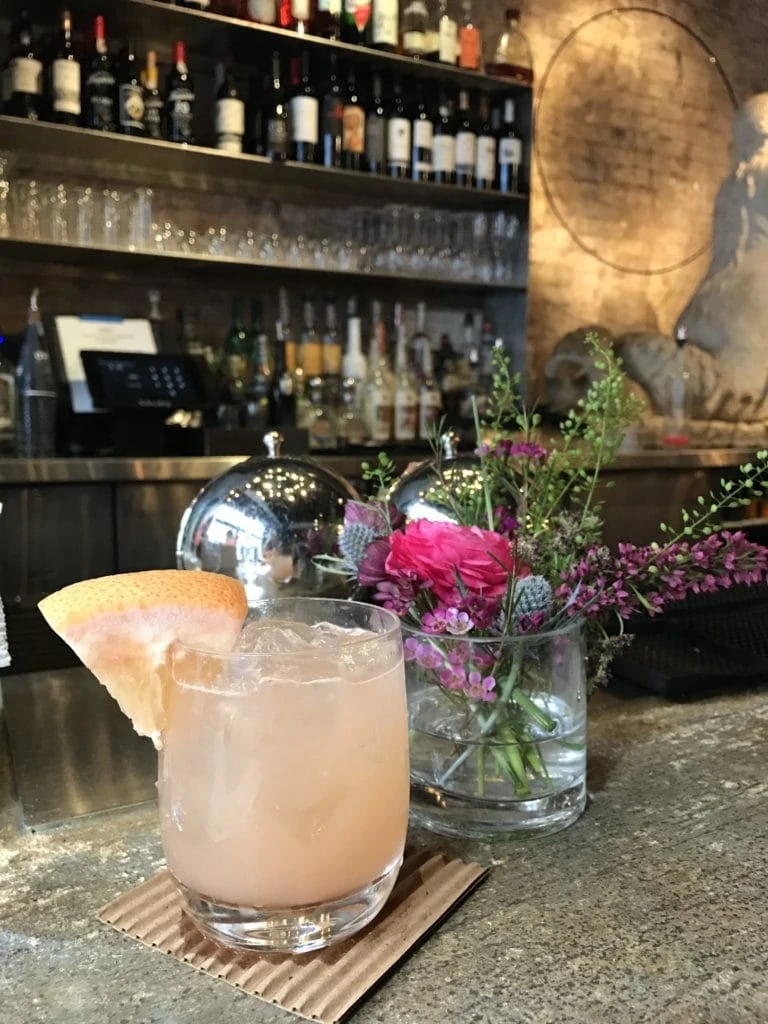 When we got back to the hotel, we headed back up to the rooftop bar where all the recent arrivals had congregated. We hugged friends we hadn't seen for awhile and enjoyed drinks and appetizers. I have to believe there aren't many views that are better in all of NYC!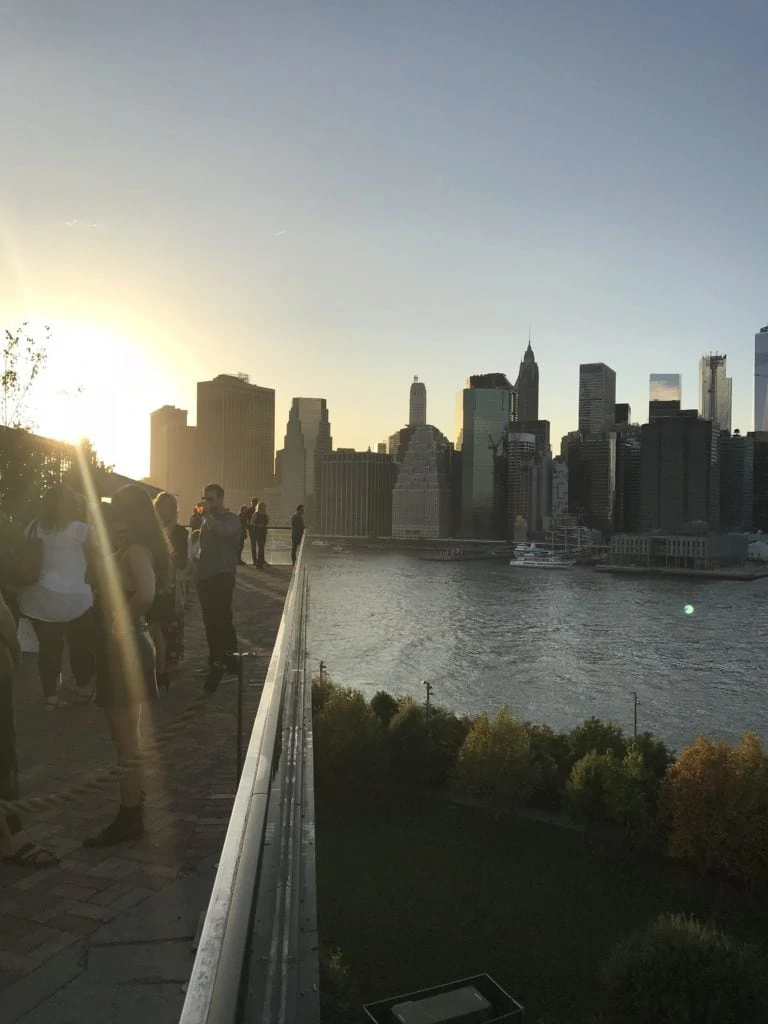 By the time I headed to my room to change for dinner, the sun was setting and it was such a gorgeous view from my room!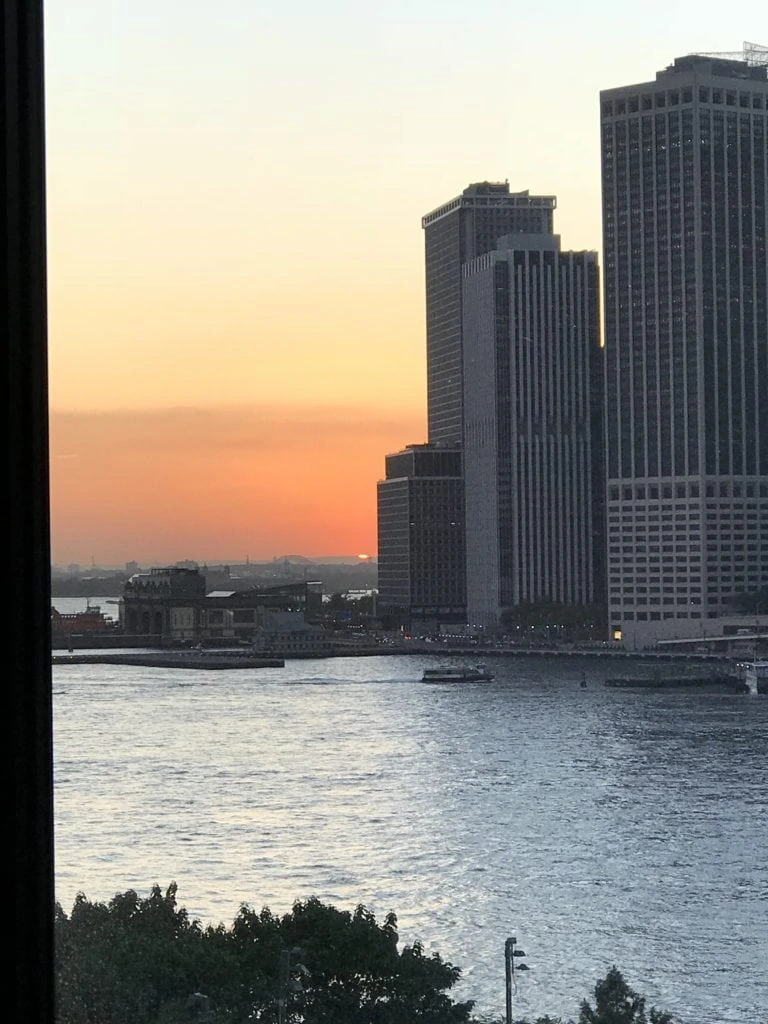 That night I went to dinner at Atrium with seven other bloggers. It was a quick five minute walk from our hotel, and the food was great!
Thursday was the actual event. Better Homes & Gardens hosted about 75 bloggers for a day of inspiration and learning. This was my second year attending, and it always proves to be such a fun event!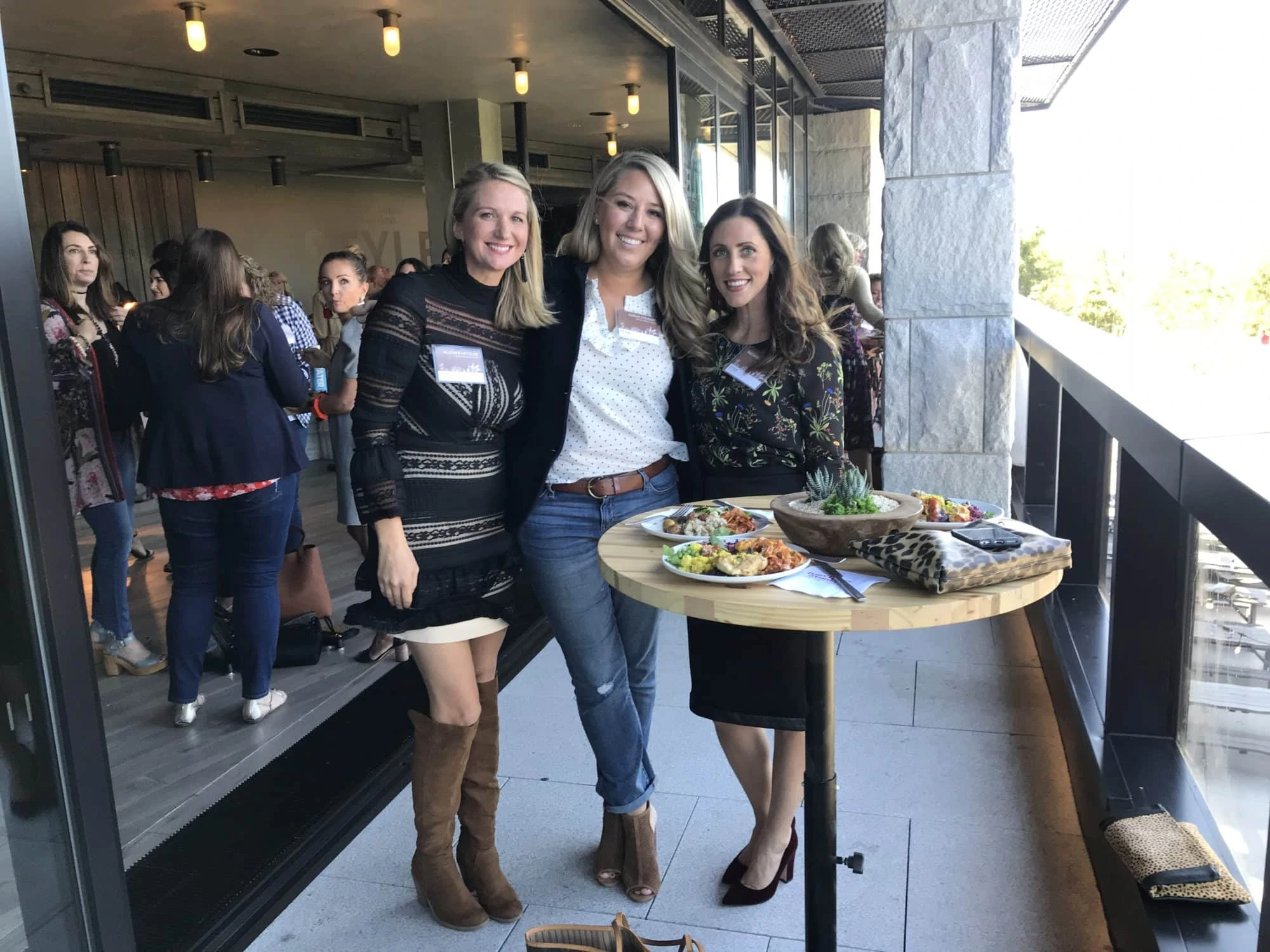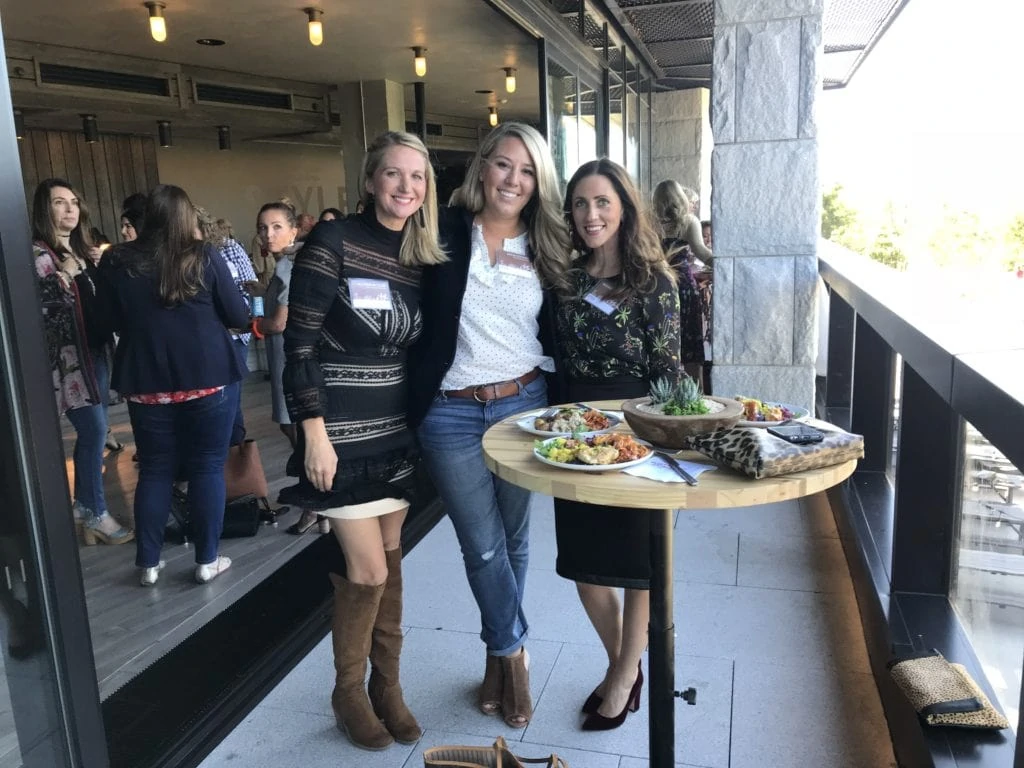 Lunch from Bertolli pasta – so many yummy pastas to pick from!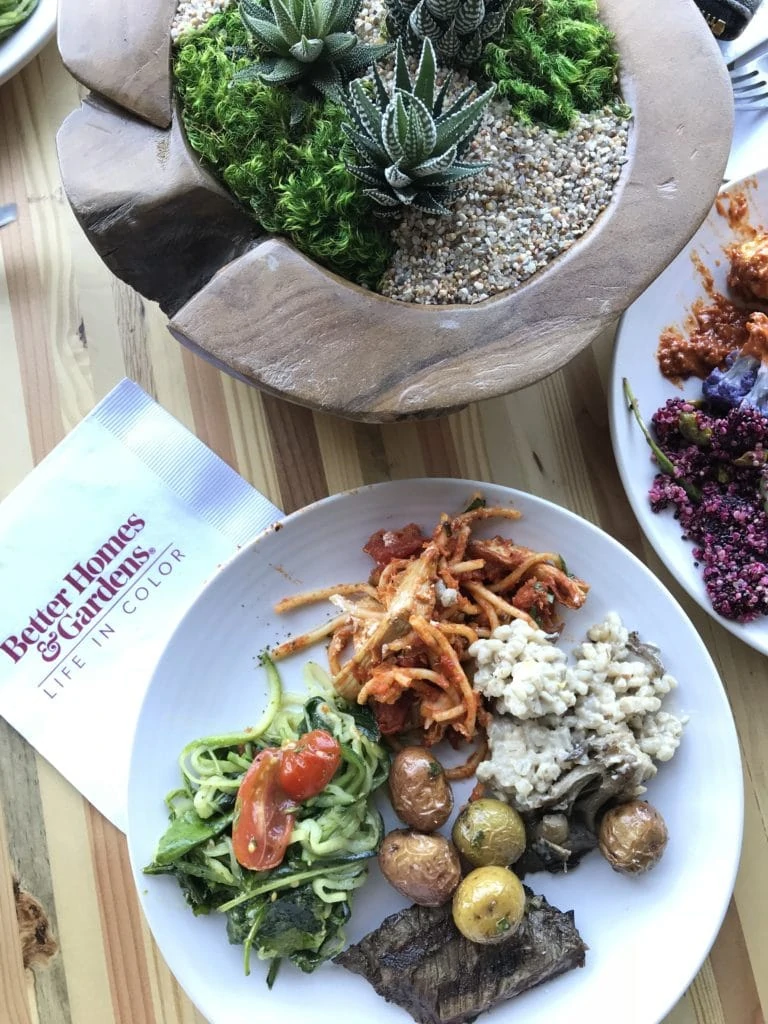 What I wore: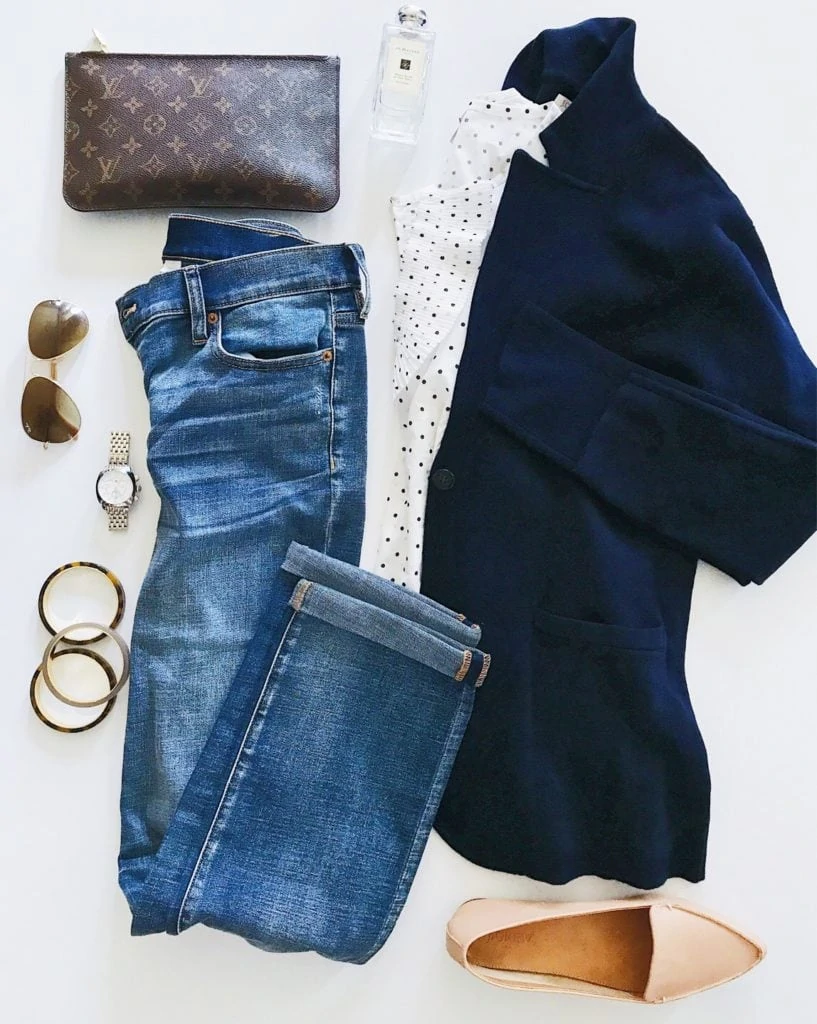 Sweater Blazer | Polka Dot Ruffle Top | Boyfriend Jeans | Loafers | Bangles | Watch | Perfume | Clutch
Two of the sweetest blogging gals I know: Bree from Z Design At Home and Erin from The Sunny Side Up. Here we are critiquing all the photos that were taken of the three of us. Needless to say, I vetoed all of them for the blog other than this one 😉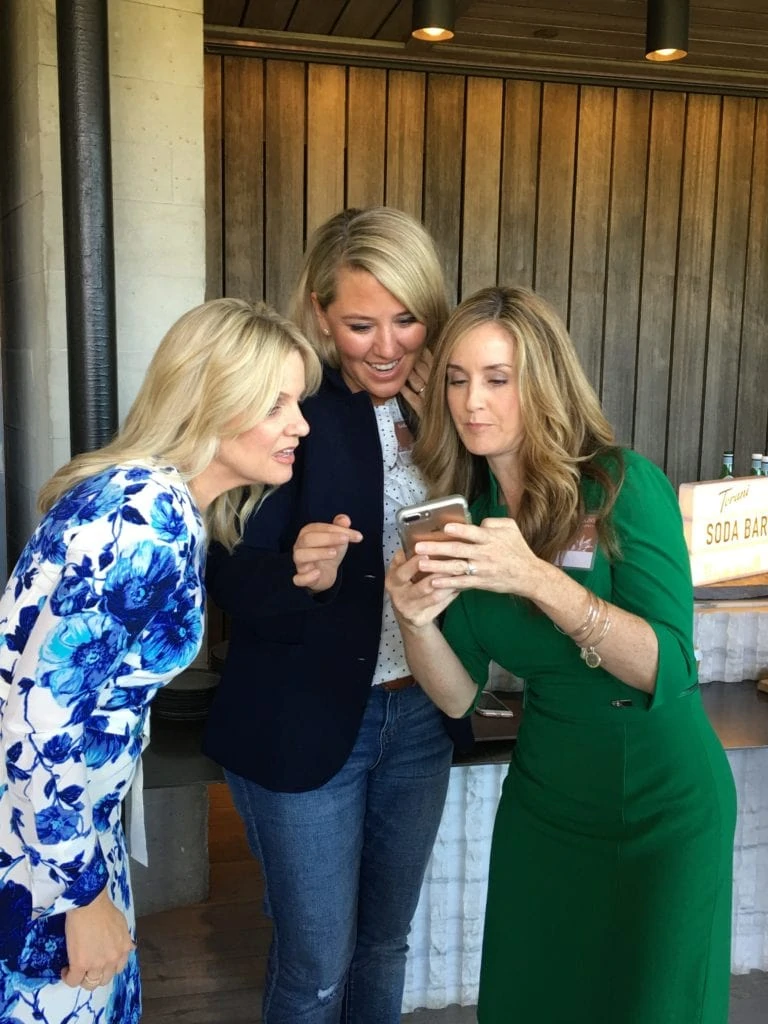 After a full day of conference material and breakout sessions, there was a cocktail reception for the attendees. I'm pretty sure I was the only person at the event that didn't buy a new dress for the cocktail event that night. I opted to wear the dress I wore in April to other blogging conference since I had yet to wear it again.
My friend Heather who happens to be one of my favorite people ever. We always manage to have nearly identical outfits at every event we attend together.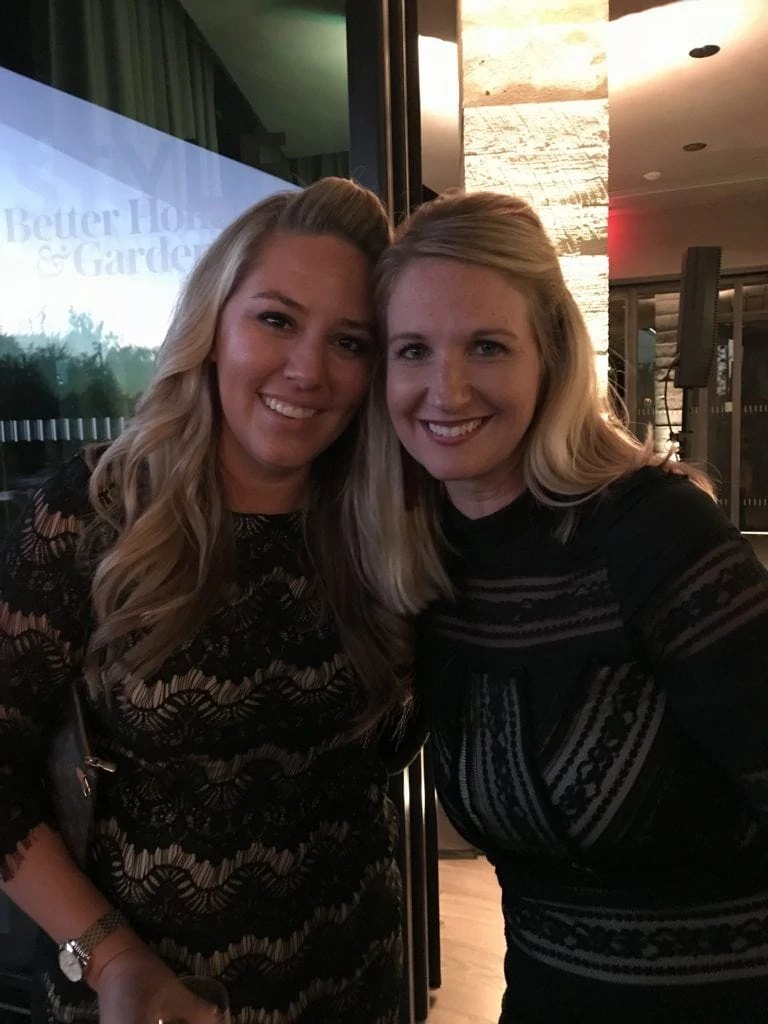 Me and Chelsea. This girl always keeps me laughing!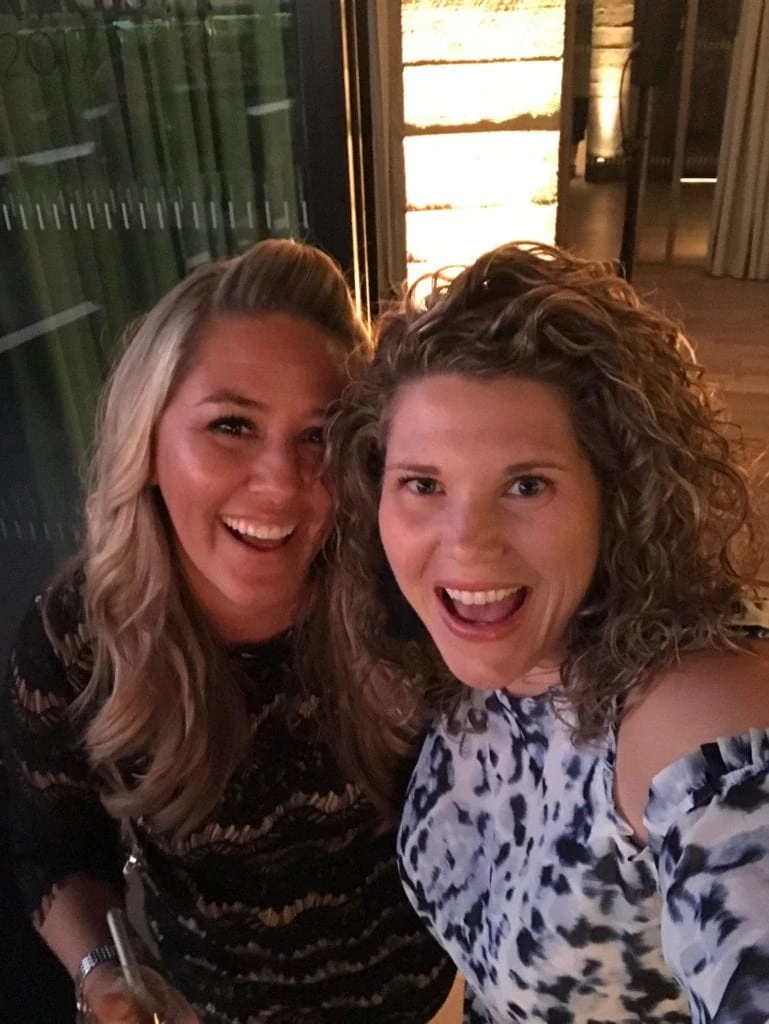 This is what most blogger conversations look like. Kidding! But I love that we totally all get each other's need for photos and content 😉
After the reception, I headed to dinner (at Atrium again) with my friends Rebekah and Jessica.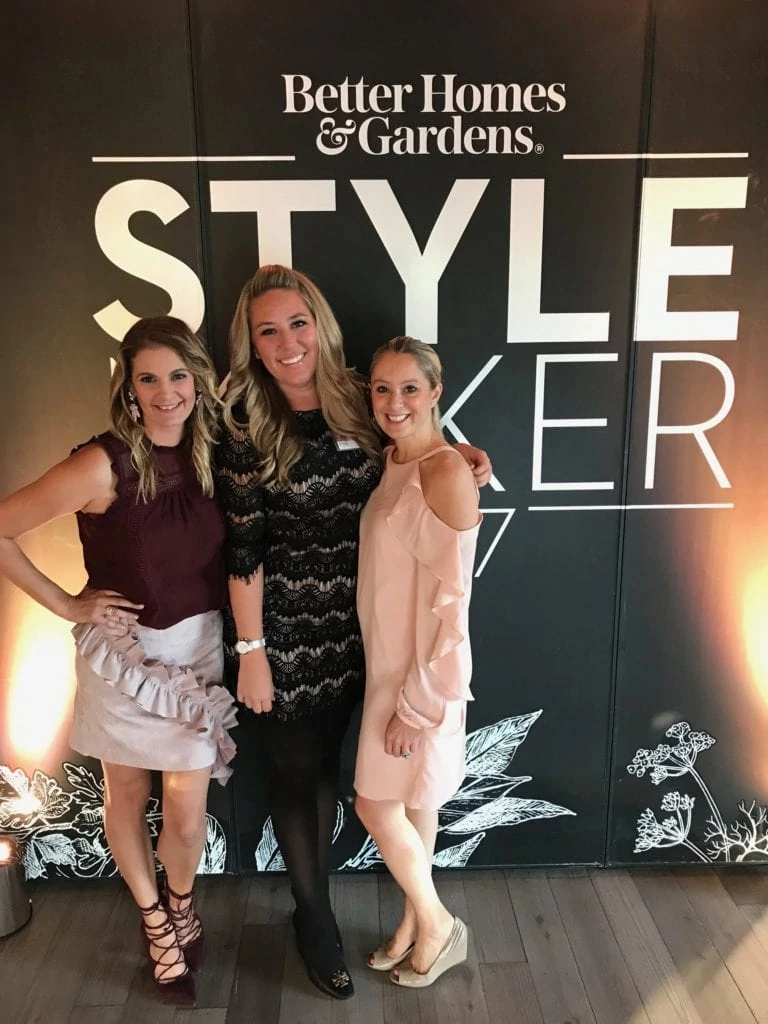 There were so many other friends I meant to get pictures with but then one thing leads to another, you're talking too much, and it just doesn't happen. I'm hoping I get some other good options when the professional photos come back!
My flight on Friday didn't leave until after 8 pm, so I took advantage and slept in and then ordered room service. It was probably kind of lame to be in NYC and sit in my room half the day, but it was so relaxing!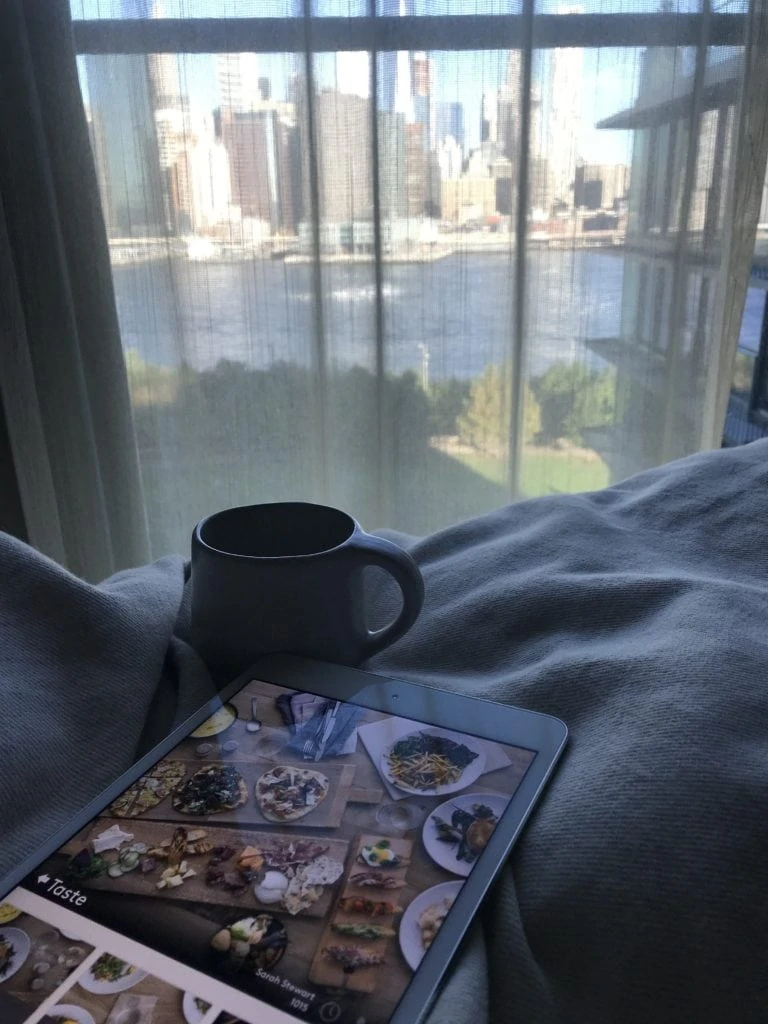 I ordered the pancakes with lemon ricotta cream and rosemary maple syrup from room service. It was all insanely good! I forgot just how amazing and relaxing breakfast in bed is!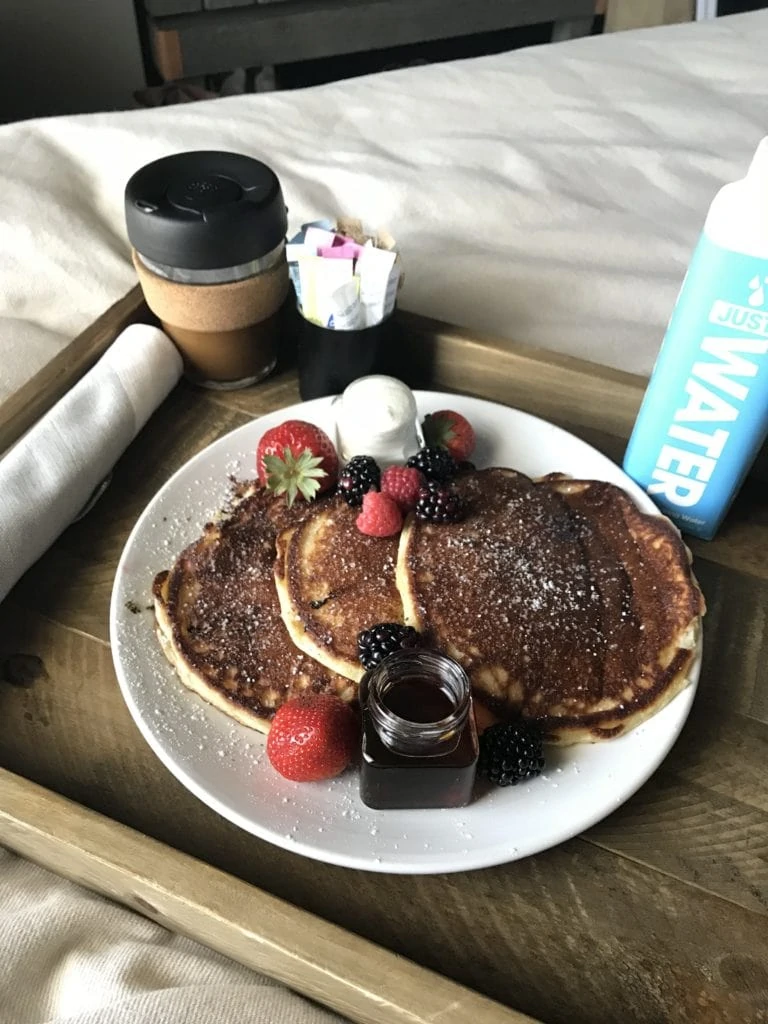 Since I had to check out at noon, I then headed back to the rooftop to enjoy the beautiful weather and grab some lunch. It was so nice to just sit outside in the peace and quiet for a few hours! I sat on the Brooklyn Bridge side this time so it was fun to change up the view a bit.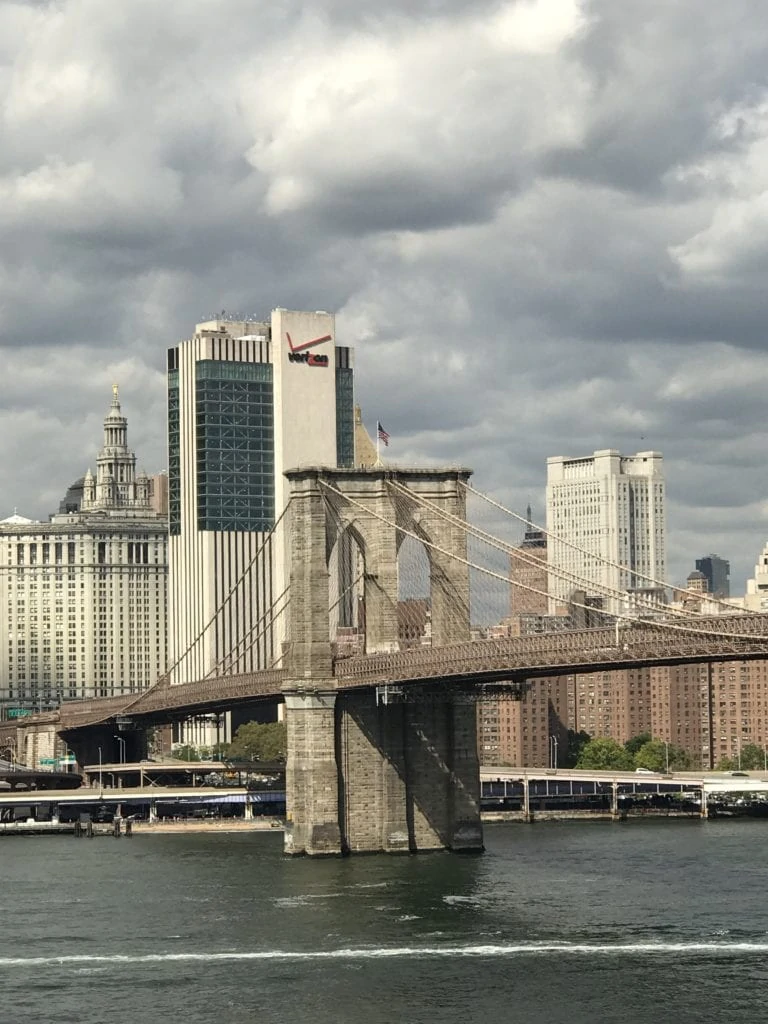 I love this event so much because it includes some of my favorite bloggers on the planet and I always leave feeling inspired and motivated. Such an uplifting conference and an honor to be invited again this year! I plan to share a few more photos once the photos from the professional photographer come back.
Saturday, I continued to work on sanding the walls in our guest bedroom.  I'll be sharing a full tutorial (hopefully next week?) but I'm not gonna lie. This project is one of my least favorites ever. The stripes have been ridiculously hard to remove, and I'm still battling them even after sanding by hand and then sanding with my electric sanders. Still working on it, but hopefully I'll have some good progress soon!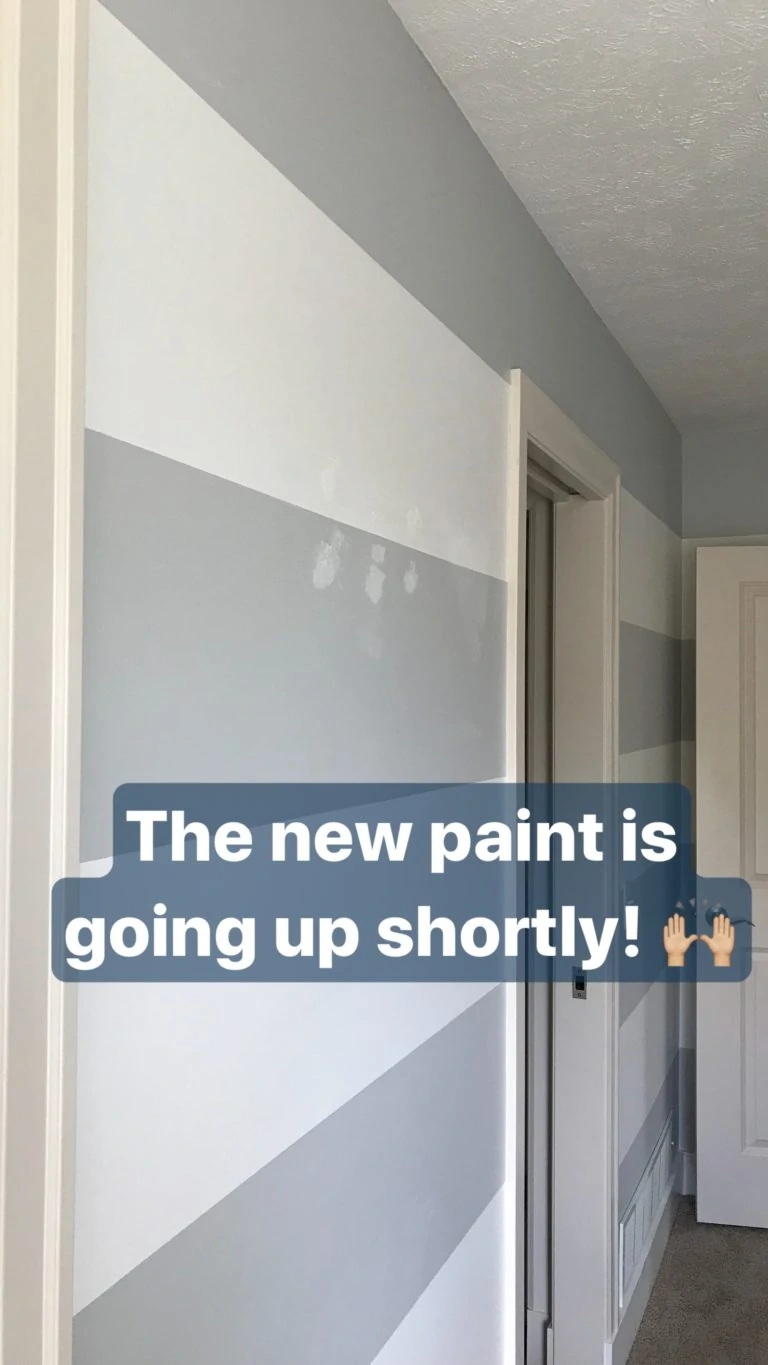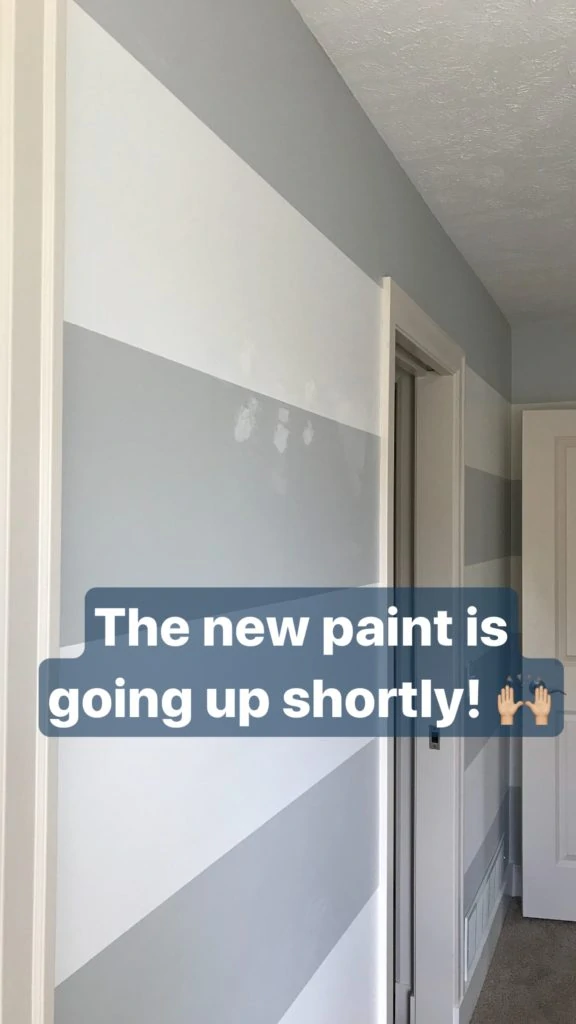 Saturday I noticed a few random buds on my hibiscus bush. Kurtis swore there was no possible way they would actually bloom this time of year. But, yesterday I looked out and saw all these new blooms! Take that, October 1st!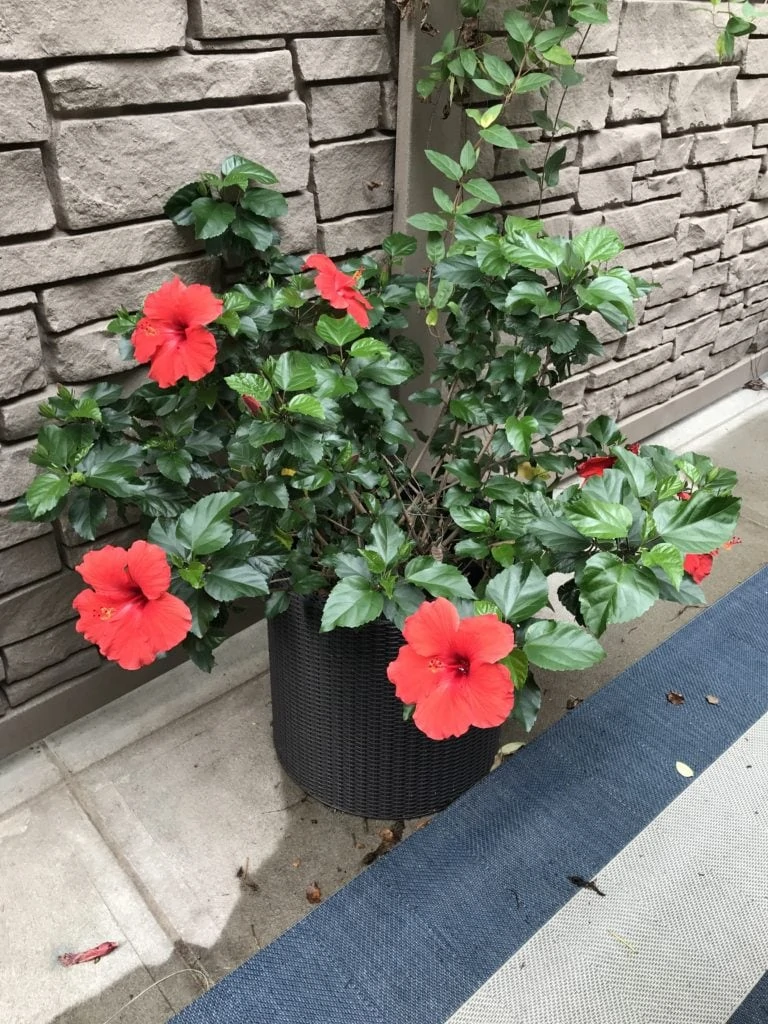 We actually sat out by the pool yesterday for about an hour. It was near 80 degrees out, but the clouds came and went. The view has definitely changed now that I've pulled most of my annuals and so many trees have started to lose their leaves. But, we had to soak up the view for our last time in 2018. We're officially closing the pool on Tuesday. Insert major sad face here 🙁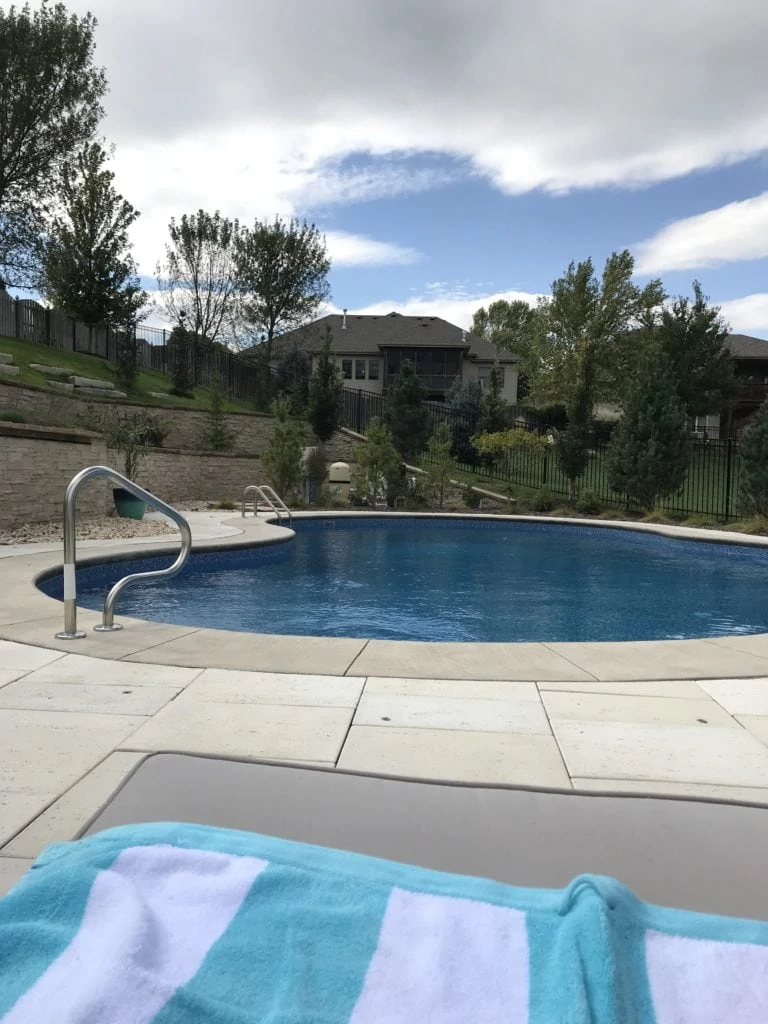 As we were heading back inside, we let the cats out (or rather, they pushed their way out). They are so horrible about eating grass though so we put them on the table. It lasted about two minutes before we were chasing them and then ushering them back inside 😉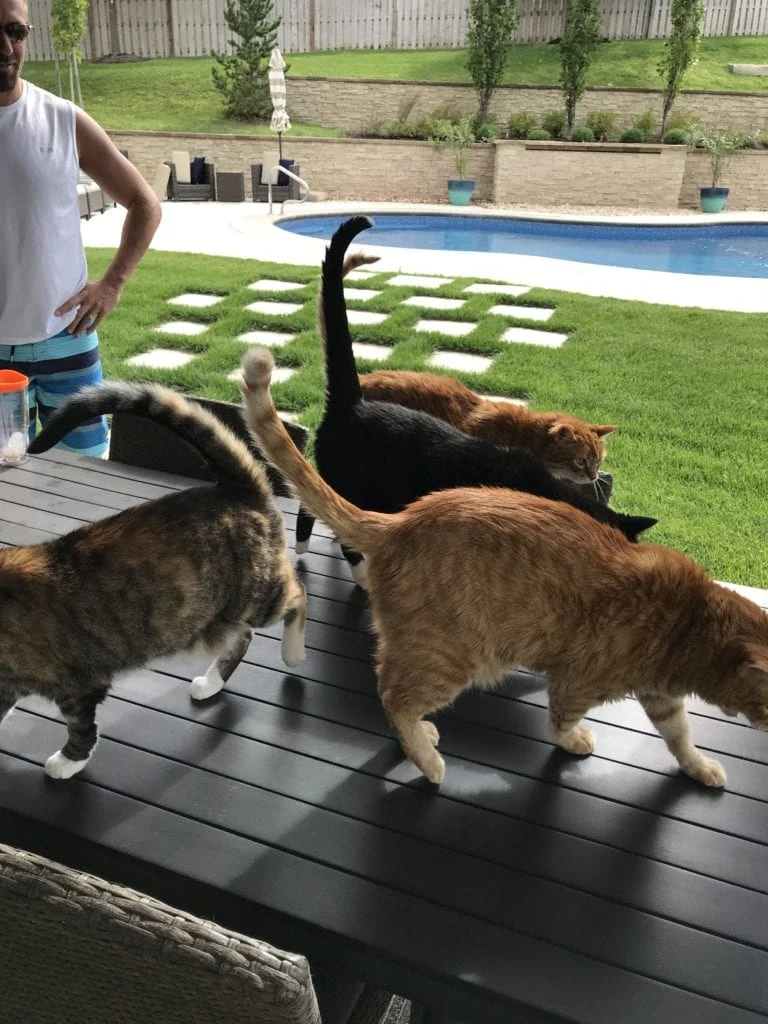 We started watching VEEP last night. We really need a lighter/less serious show after watching some of our latest series. We only got three episodes in so I'll keep you posted if we stick with it!
After this week, and my time in NYC, I'm feeling inspired and motivated to tackle a bunch of projects on my to-do list. I'll be sharing more later this week about what I'm hoping to accomplish over the fall and winter months!
Now that October is here and our pool is being closed Tuesday, we're back to the grind and forcing ourselves to eat better and get back into better habits. I really need to start working out again, so the plan is to start today. We always find it is so much easier to eat better in the colder months, so we're going to be hitting it hard. I've mentioned in the past that I've had luck with 30 Day Shred, but we also very closely followed the Jillian Michaels eating plans at the time and it made a huge difference. We re-enrolled in this program because it's pretty affordable and mostly because it's an easy way to get a meal plan and grocery list each week to make shopping a breeze! I'll keep you posted on our progress.
Enjoy your week!
If you would like to follow along on more of my home decor, DIY, lifestyle, travel and other posts, I'd love to have you follow me on any of the following:
Pinterest / Instagram / Facebook / Twitter / Google+
disclosure: some affiliate links used