I can't believe we're already less than a week a way from October! We spent most of last week in Rhode Island for a wedding and this week I head to Brooklyn for the Better Homes & Gardens event. It will definitely be October before I know it!
Following are a few recent outfit favorites!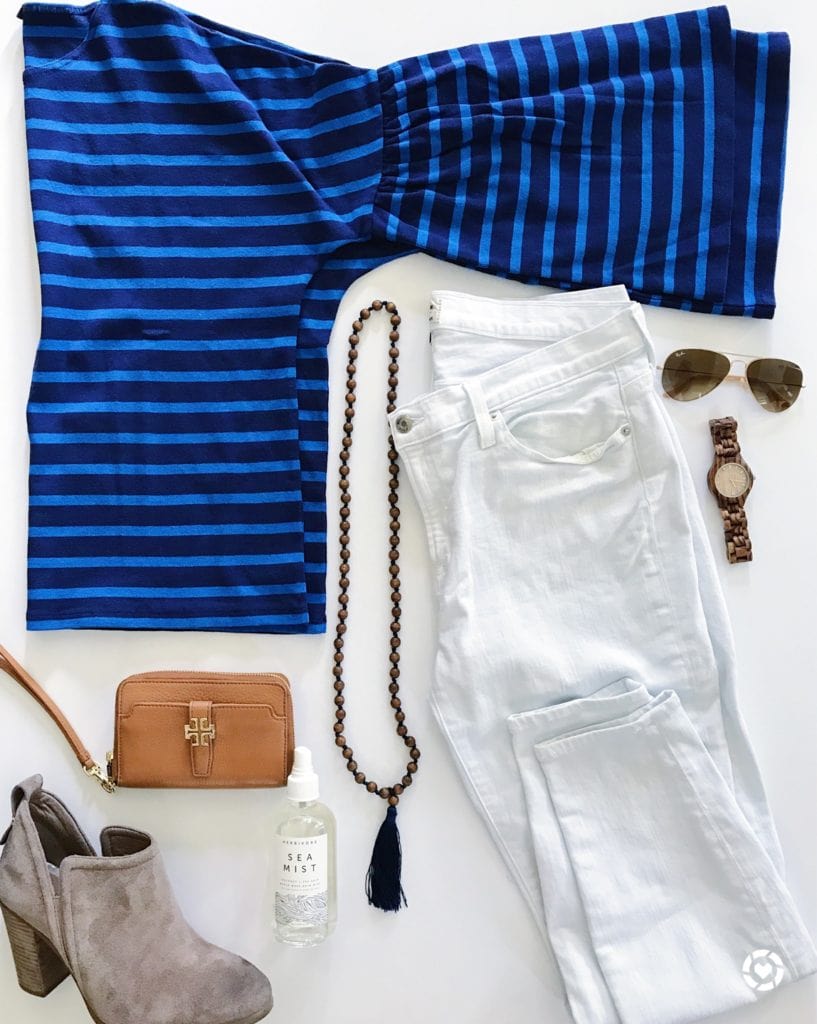 Bell-Sleeve Striped Top | Favorite White Jeans | Sunglasses | Wood Watch | Bead Necklace | Tory Burch Wristlet (similar) | Suede Booties | Wavy Hair Mist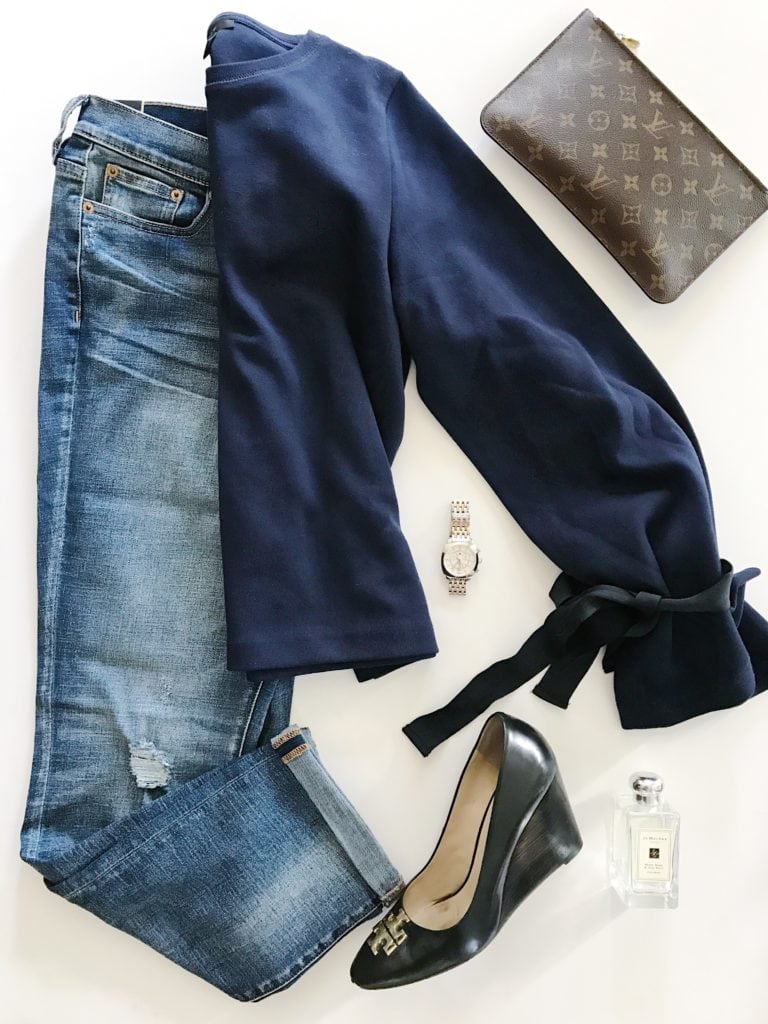 Tie-Sleeve Sweatshirt | Boyfriend Jeans | Clutch | Watch | Favorite Scent | Tory Burch Wedges
We flew to Rhode Island on Wednesday morning. When we woke up, we were alerted that our flight was delayed and that we'd miss our connection in Detroit. So, by 6:30 am we had re-booked our flights and ended up going through Atlanta. We were in town for a wedding. The bride's mom used to work with my mom and I actually used to babysit the bride occasionally back in the day when we all still lived in Utah. Kurtis and I had also been on a cruise with my parents and the bride's parents about six years ago. My mom was doing all the flowers for the wedding, so the bride's parents rented a house in Providence for all of us to stay in.
Thursday while my mom worked on flowers, Kurtis, my dad and I headed down to Newport to explore for a few hours. I loved looking at all the gorgeous New England homes on the drive down! Our first stop was at The Breakers, one of the famous mansions on the coast. We didn't have enough time to go inside and take a proper tour, but it was fun to wander the grounds – even if the wind was blowing like crazy!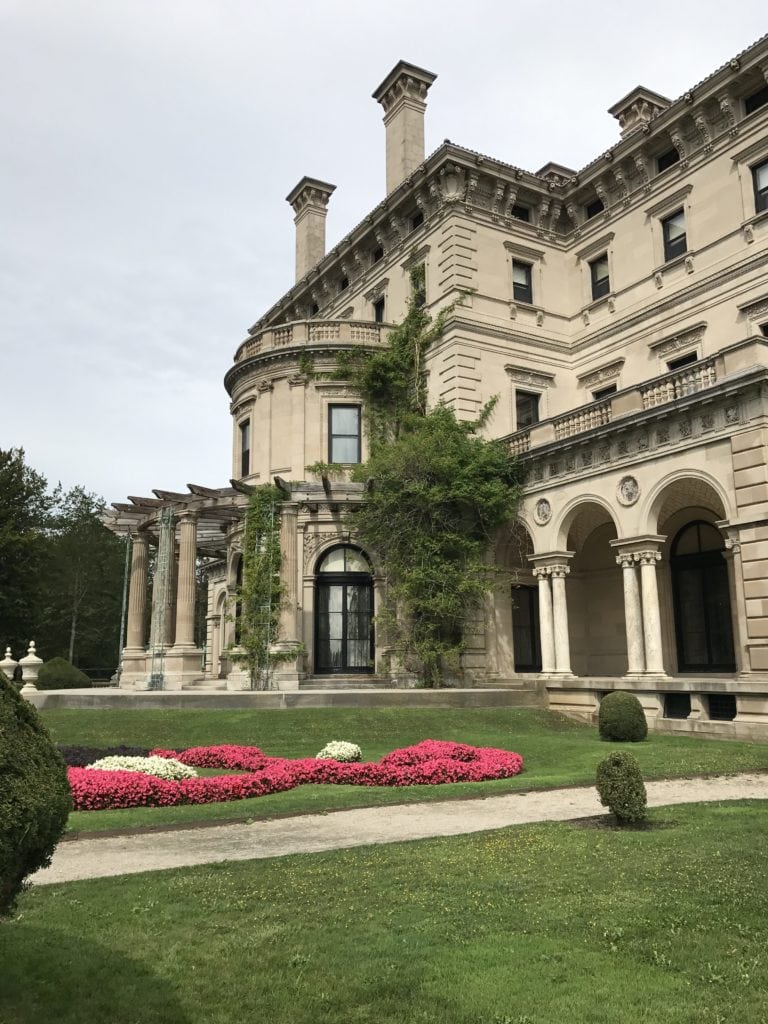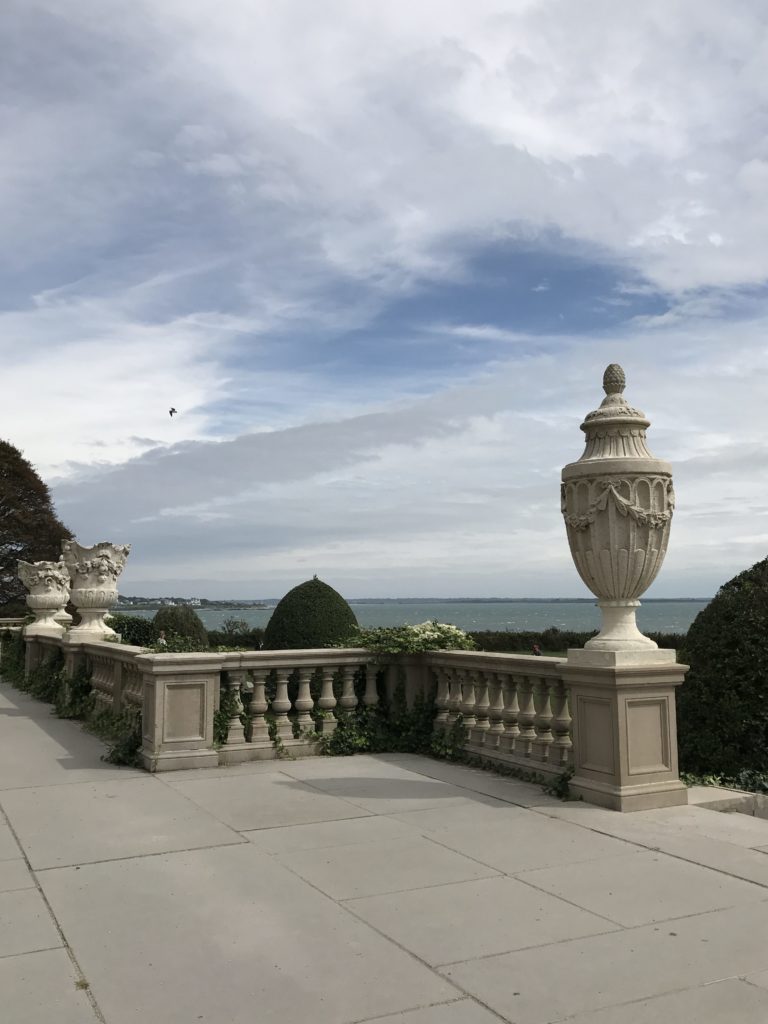 We headed to downtown Newport for lunch at the recommendation of the bride and groom. We hit up Midtown Oyster Bar and the guys said they ate the best oysters of their entire lives (Ninigret Nectars). I had an heirloom tomato salad that I would argue was equally as amazing!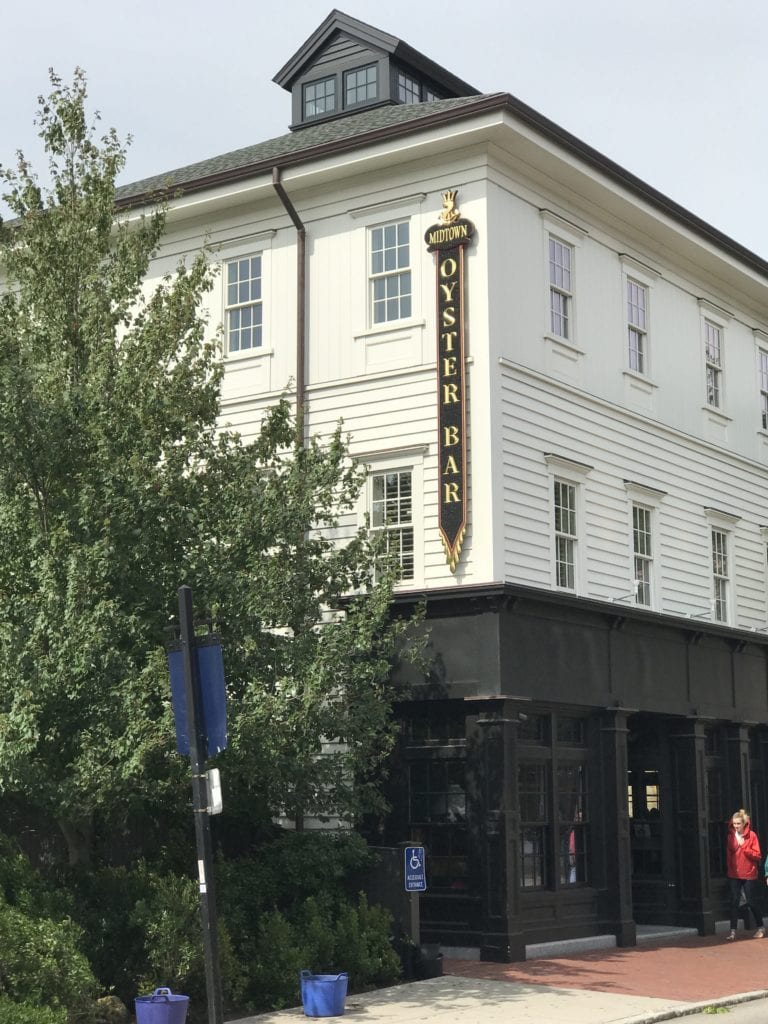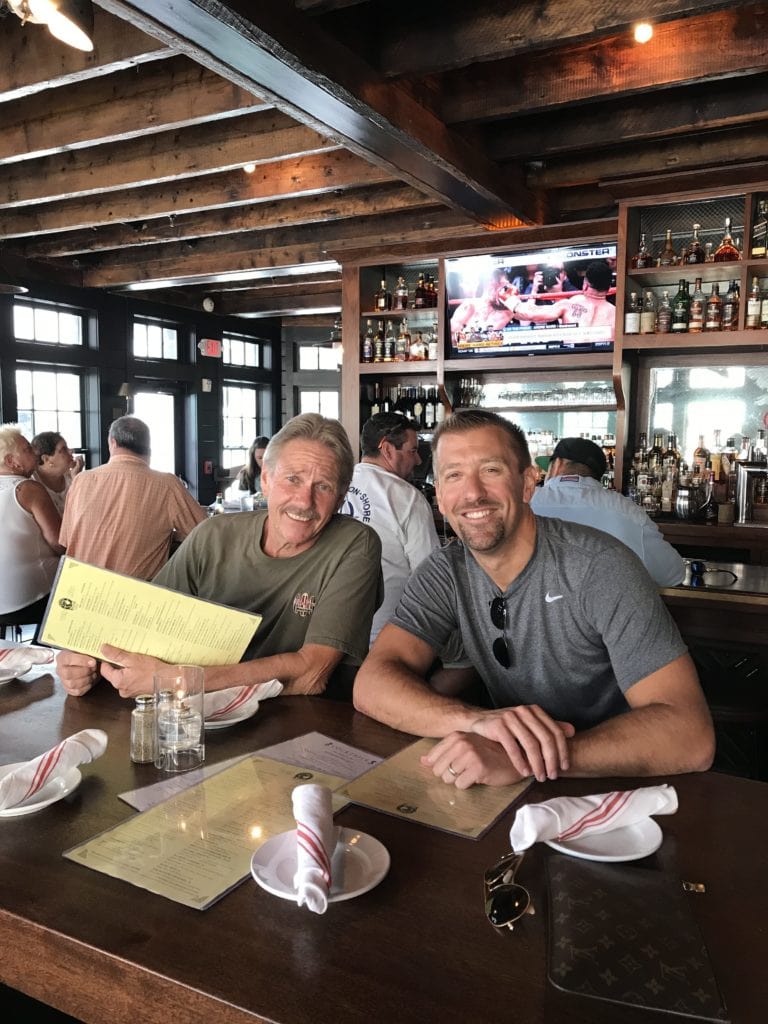 The bathrooms were perfect New England style and I had to take a picture!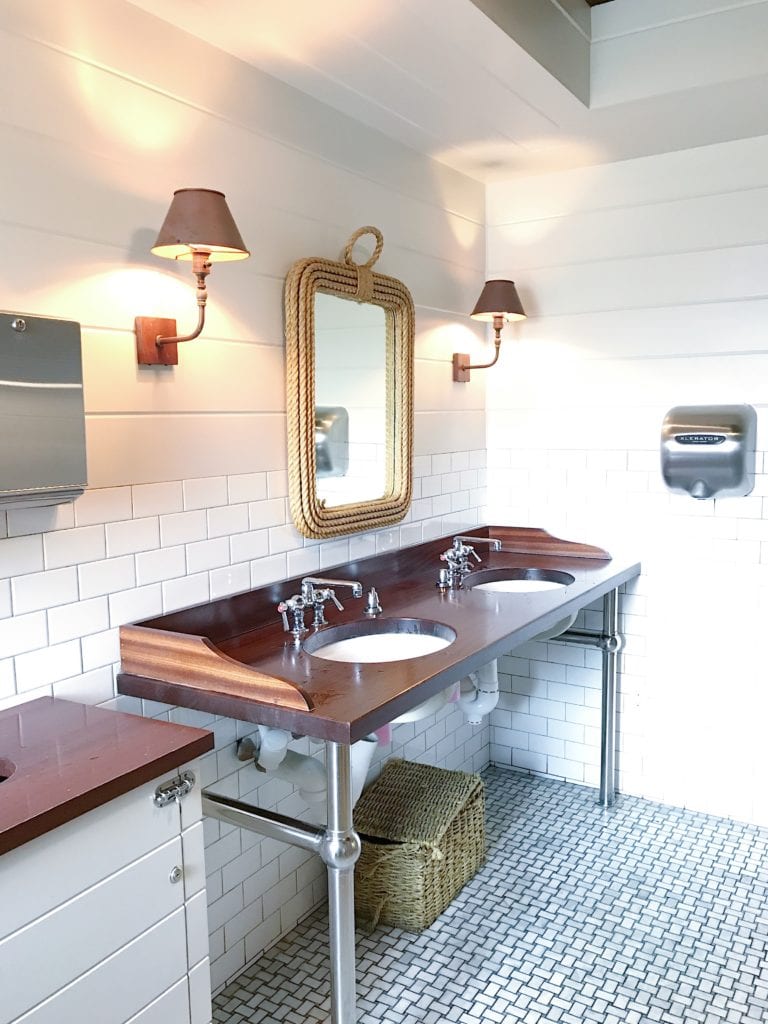 I basically lived in a tee-shirt and this extra long sweater cardigan the whole trip. It's super soft and comfy (I have the oatmeal color) and I'm thinking of ordering a few more since the price is so great! They're doing 40% off your order with code FAMILY today, so they come in at around $18!!
My brother and sister-in-law flew in that evening so we headed to downtown Providence for dinner. We always love to try local beers and cuisine, so after searching Yelp, we ended up at Rogue Island. We all loved it!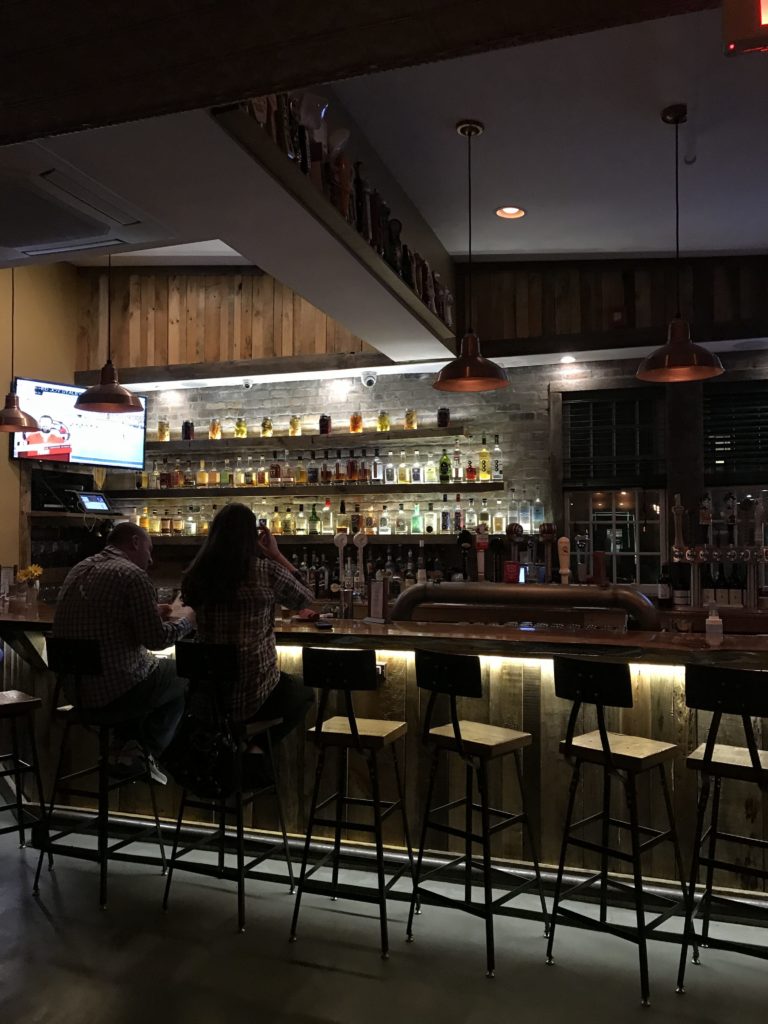 Friday (the day of the wedding) was a bit chaotic. The flowers for the bride's bouquet had a delivery issue so I had called a local florist (Blooming Blossoms) Thursday night to see if she had any of the orchids my mom needed. The owner was so sweet and offered to look at the market first thing in the morning and would get some for us. She ended up delivering them to the house we were all staying at and was a total lifesaver! My mom had about a two hour window to make the bouquets for the bride and five bridesmaids! But she got it done!
While she was working on those, my sister-in-law and I headed out with the parents of the bride to help set up the centerpieces at the reception venue. It was go-time all day long! We headed out for the wedding around 1 pm, because we still had to add all the flowers at the church. It was downpouring rain, so I had to make a creative solution to cover my hair. I may start selling these 😉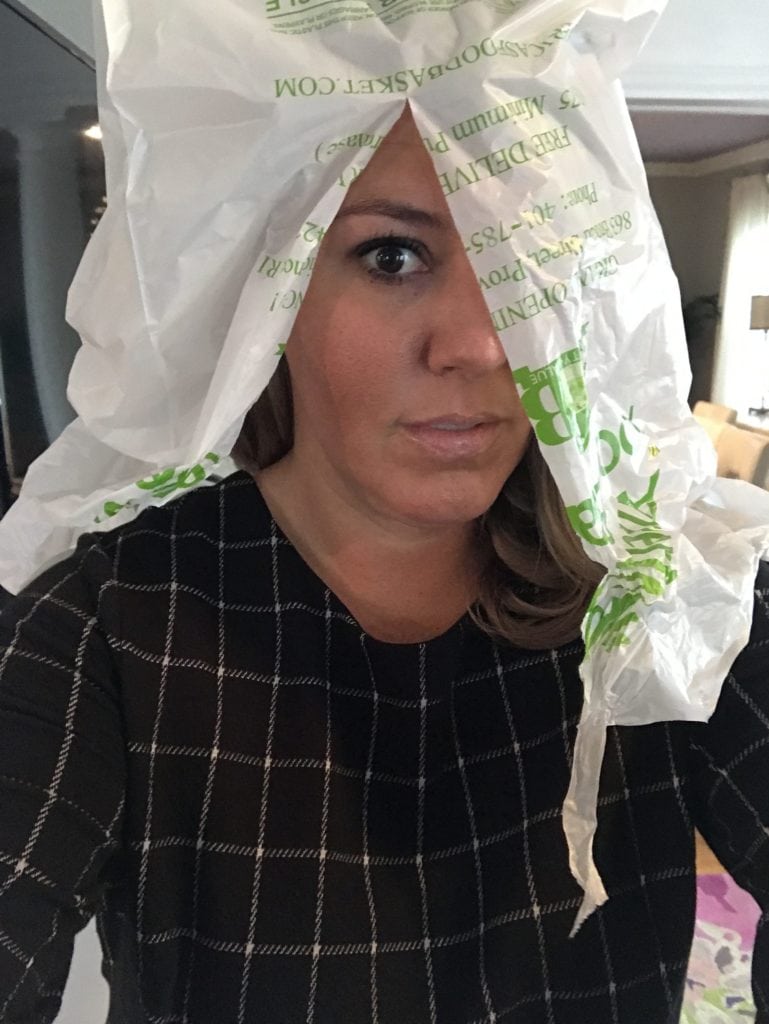 The wedding was so beautiful! Here is a shot of my family at the reception center. I think I was laughing mid-take, but we didn't have a group photo that was less than a few years old, so I love it!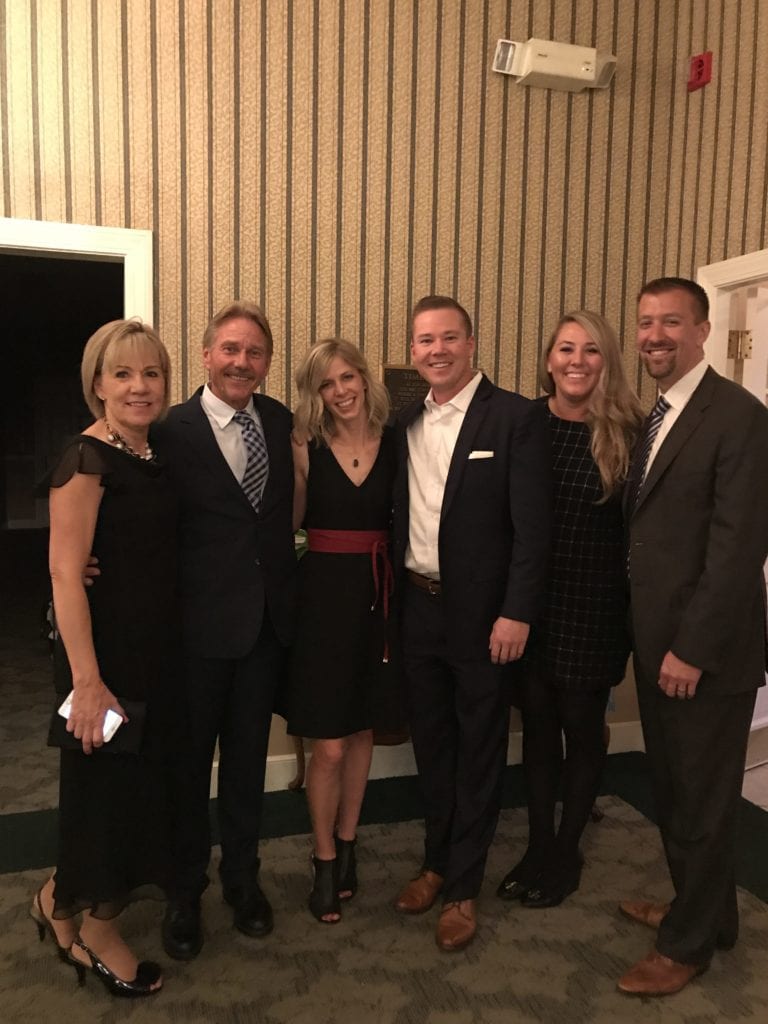 The reception center turned out beautifully. This is before we lit the hundreds of tea-light candles around the room.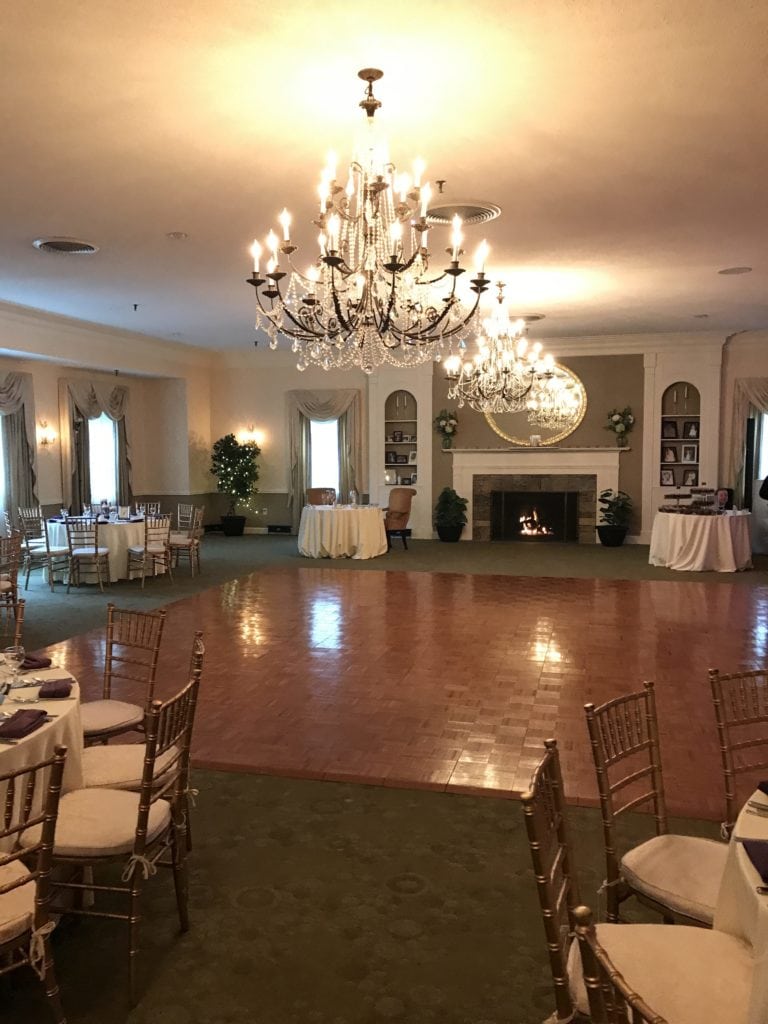 Saturday, we had breakfast at the house before we had to head to the airport.
We didn't get home until close to 8:30 PM on Saturday night, but it was pretty clear the pool was a disaster. We had to shut our cleaning system down before we left because the pump sounded off, and with the volume of leaves blowing in daily, we were worried it would hurt the system while we were gone. Once we got home, Kurtis scooped out several basketfuls of leaves, but we could tell the water was still really murky. But, he added a bunch of chemicals in hopes we could turn it around overnight.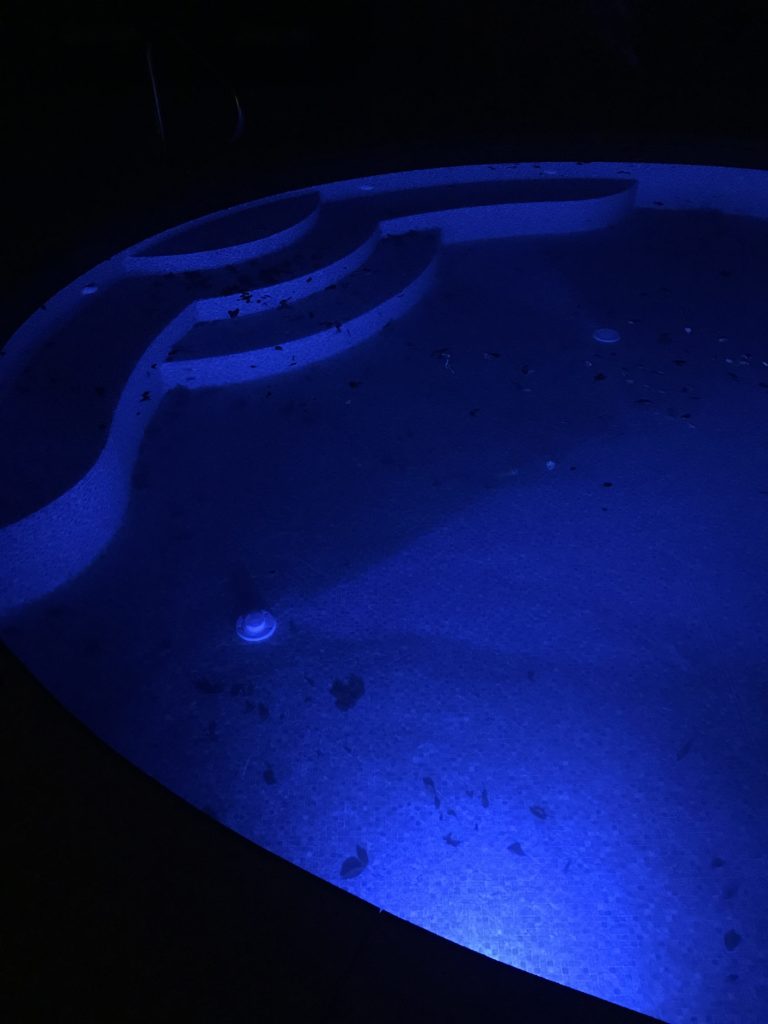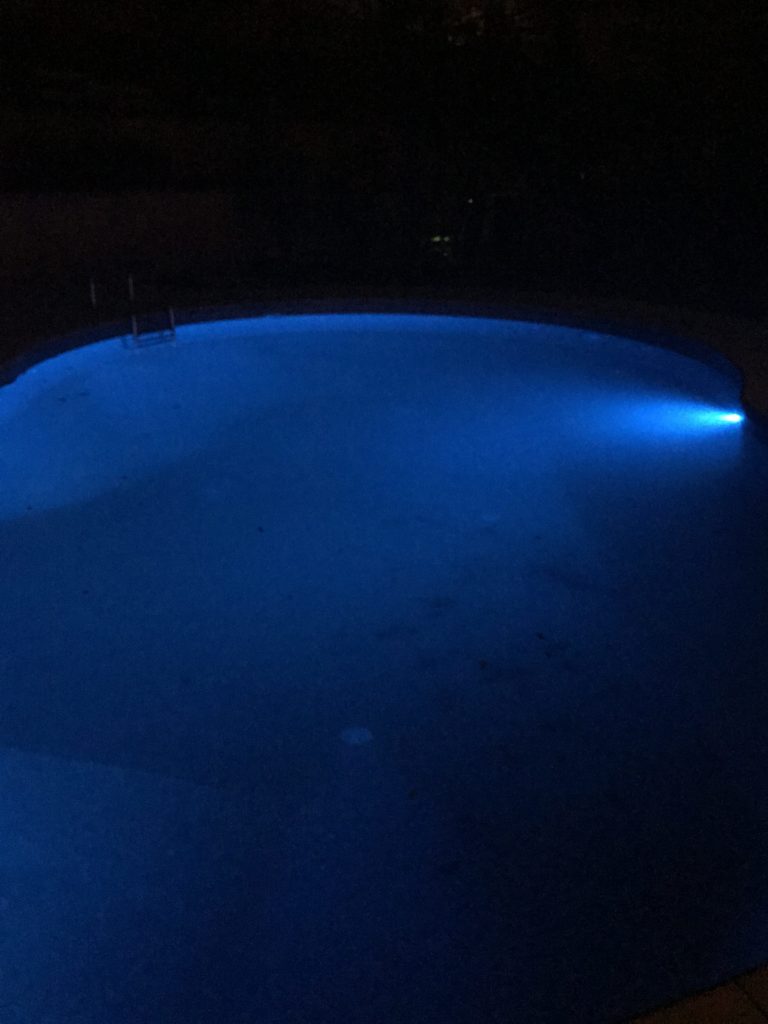 When we woke up Sunday morning, it was pretty obvious the pool had turned a bit green as expected.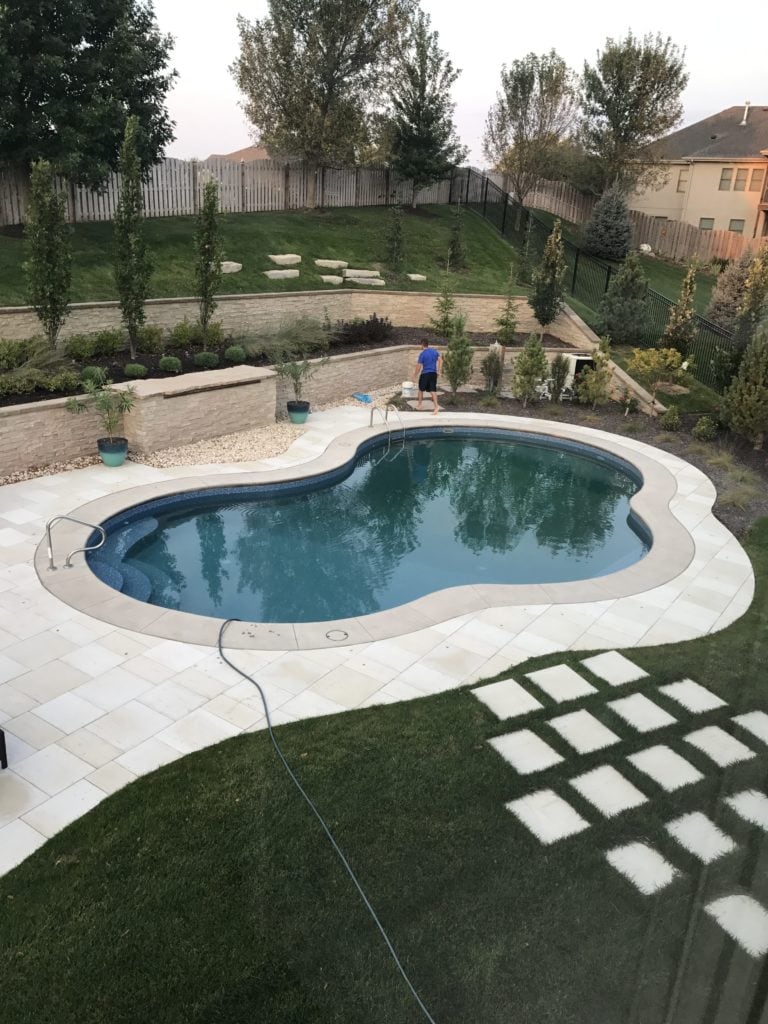 No swimming in our future! I had to pick up some paint at Menards, so we headed out around lunchtime and also grabbed a bite to eat at the new Spin Pizza that opened by our house. We thought it was really good and we loved the "pick two" type combos with salad and custom mini-pizzas! They also had a bunch of local beers on tap which is always cool to see.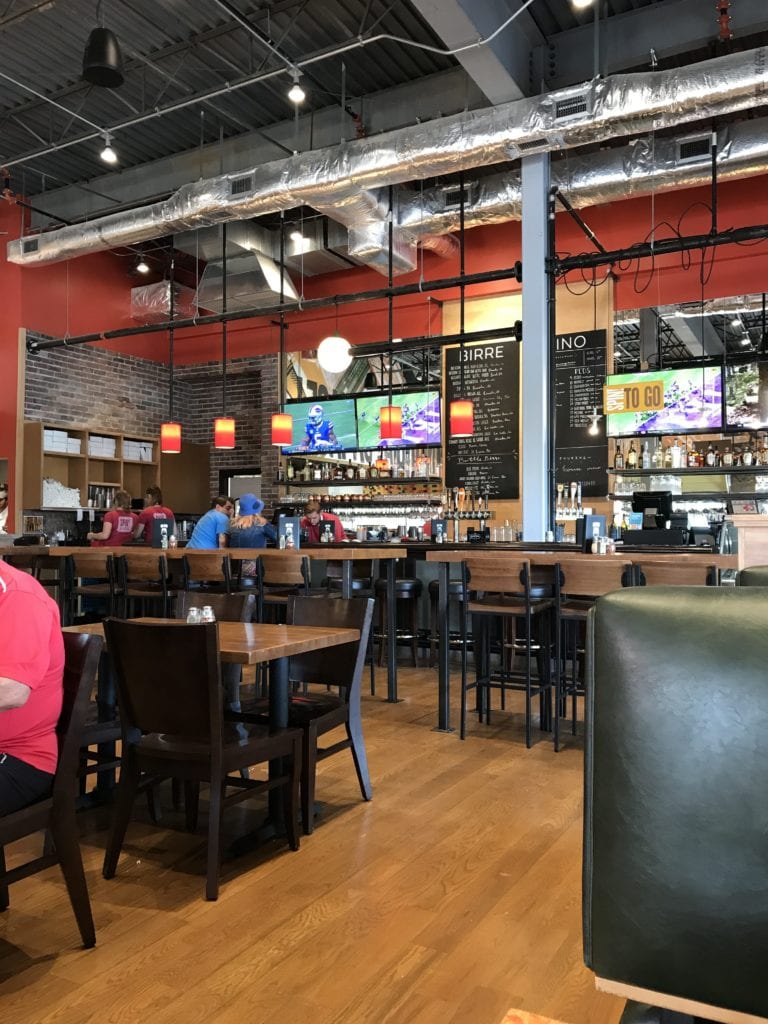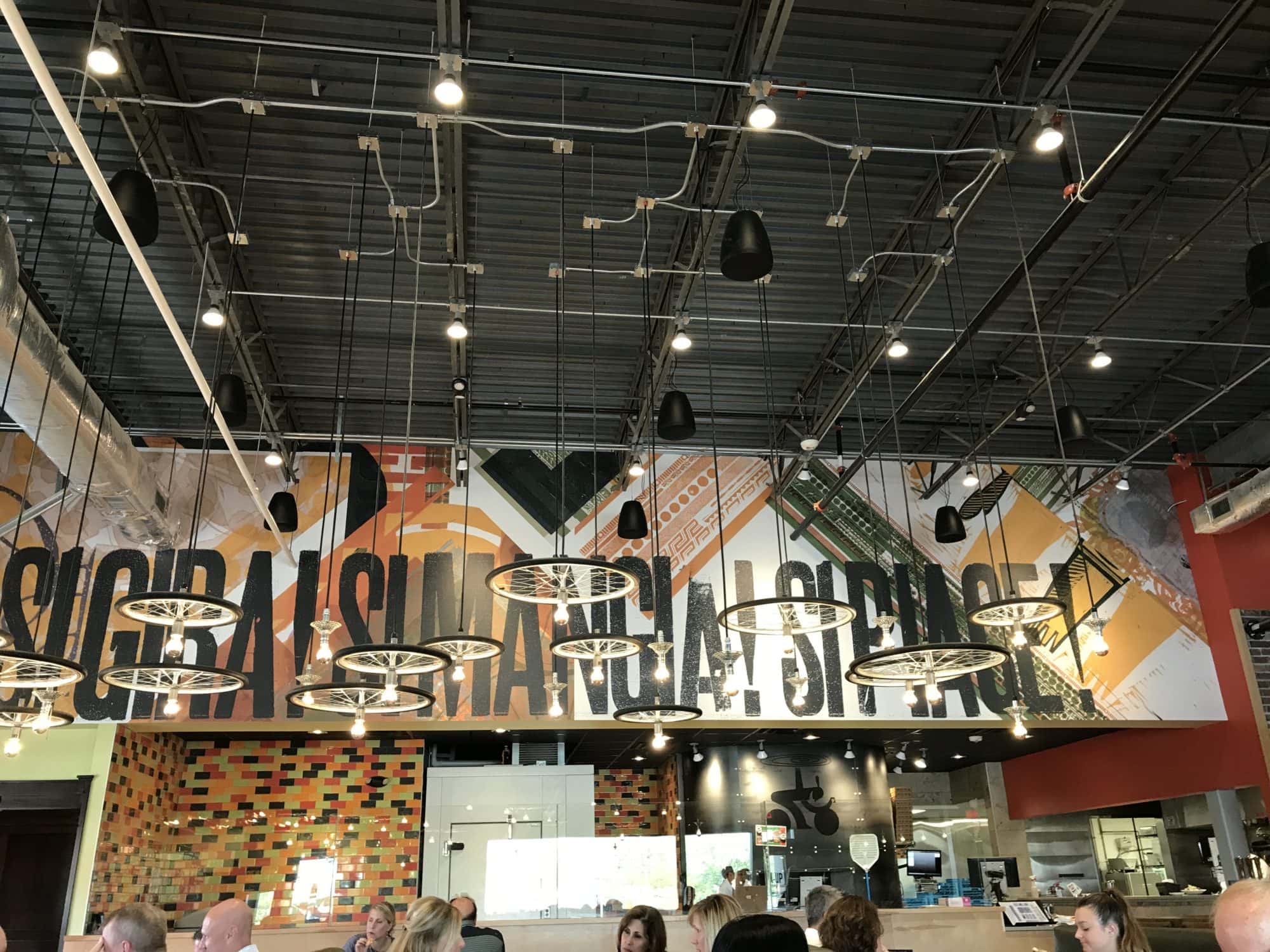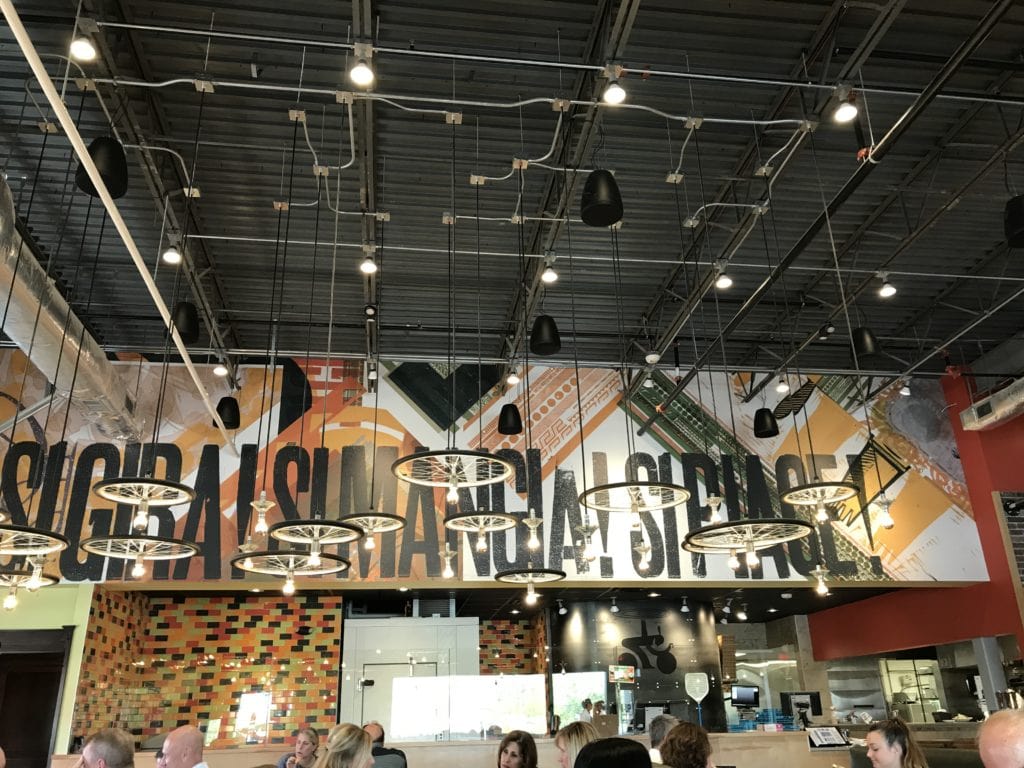 It was supposed to be sunny and near 90 degrees all day, but it was actually pretty cloudy and around 3:30 it was borderline getting dark in my office. Here's the view, keeping in mind that I have a wall of windows on two out of four sides of this room. It made me think it was so much later than it actually was! The one benefit was that it didn't make us as sad that the pool had turned green 😉 About five minutes after I took this picture, it actually started down-pouring.  So much for a completely sunny day!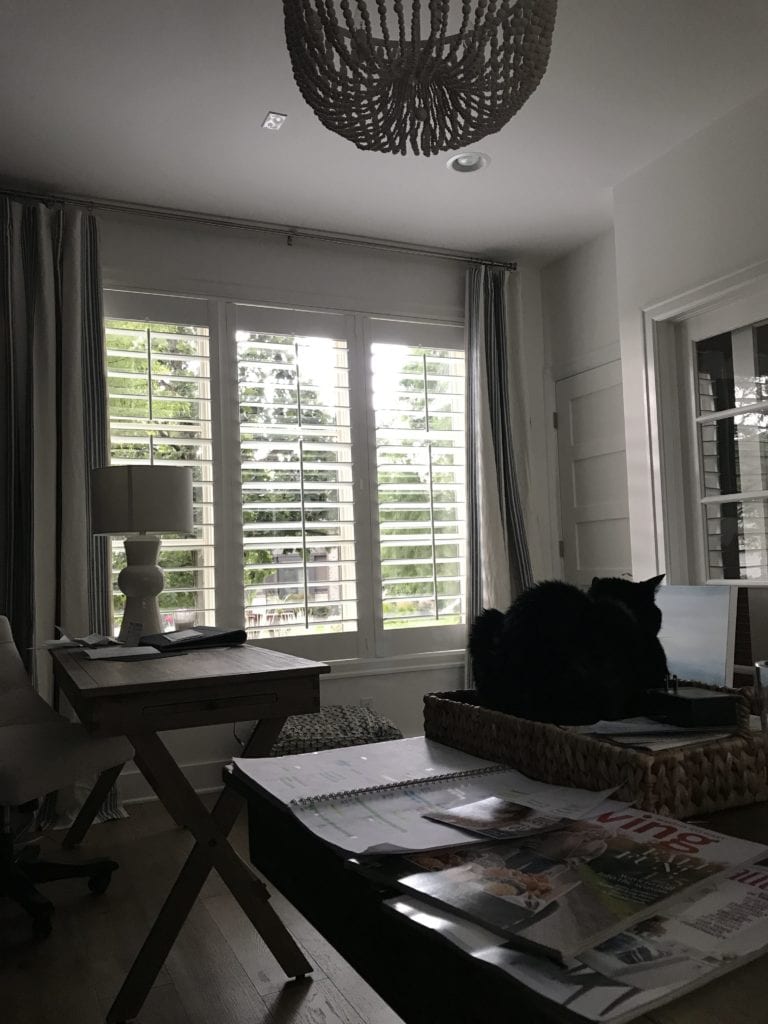 My new daybed arrives on Tuesday and I can hardly wait! But, I still need to go buy a mattress before I'll be able to start binge-watching shows on it.
I head to Brooklyn super early on Wednesday for the Better Homes & Gardens event. A few friends and I have a dinner reservation at Atrium that first night. But I have some free time both Wednesday and Friday before I fly out, so if you have any Brooklyn recommendations, I'd love to hear about them!
Have a great week!
If you would like to follow along on more of my home decor, DIY, lifestyle, travel and other posts, I'd love to have you follow me on any of the following:
Pinterest / Instagram / Facebook / Twitter / Google+
disclosure: some affiliate links used