I want to share with you my best yard and rose maintenance tips for fall!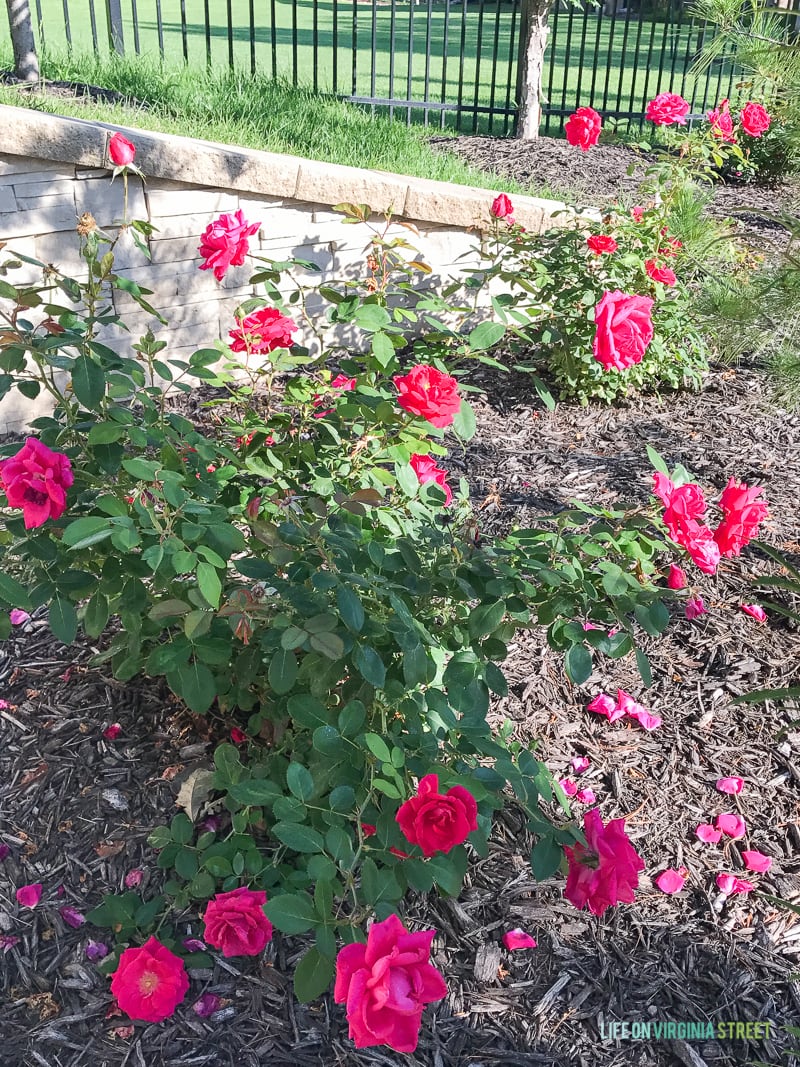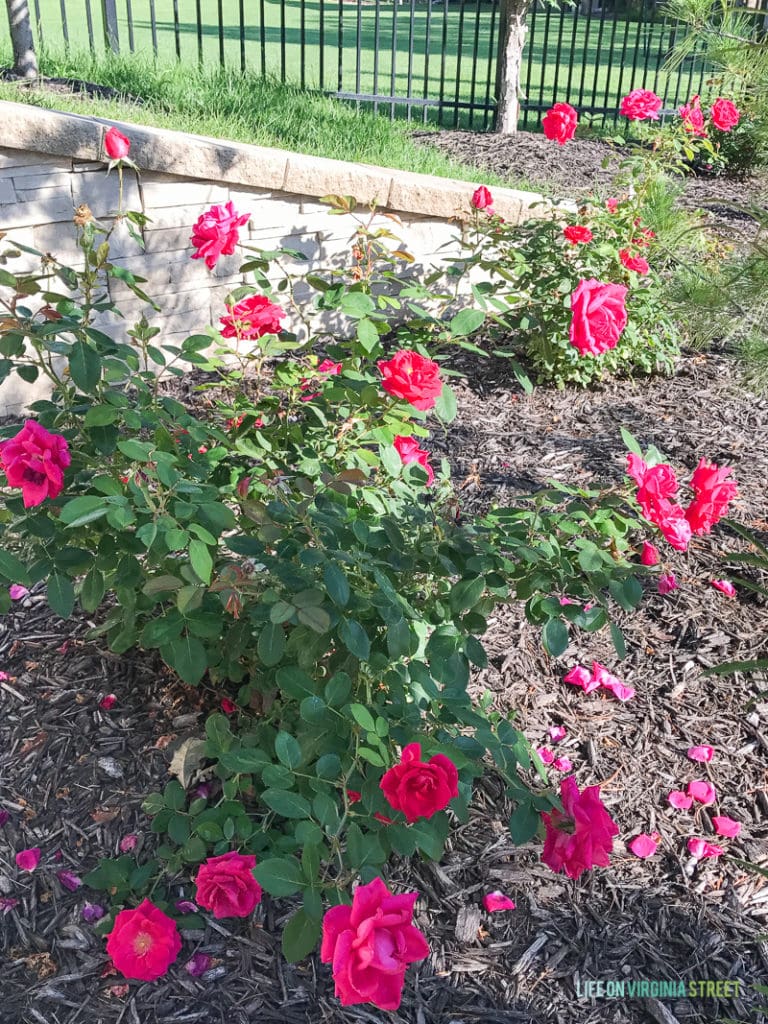 This is a sponsored conversation written by me on behalf of Easy Elegance® Roses. The opinions and text are all mine. Be sure to check out the giveaway at the end of this post!
Throughout this year, I've been sharing updates on our backyard and how I've recently added color to our otherwise very green space. In May I started by adding in some Easy Elegance® Roses (My Girl variety) and potentilla shrubs, and in July I gave a mid-year update, including info on some of my planters filled with annuals around the pool. Today I'm going to share some additional progress, as well as how I'm preparing our backyard for fall and winter.
One of my favorite features of the roses I added is that they re-bloom all year long! Even after being hit by a massive hailstorm in June (the one that totaled our roof), the shrubs recovered quickly and even now, several of the shrubs still have colorful blooms! This picture is from three weeks ago. Can you believe how much these new shrubs have already grown? And how many blooms there still are?! I'm thinking that by next year, the pool equipment will almost be fully covered.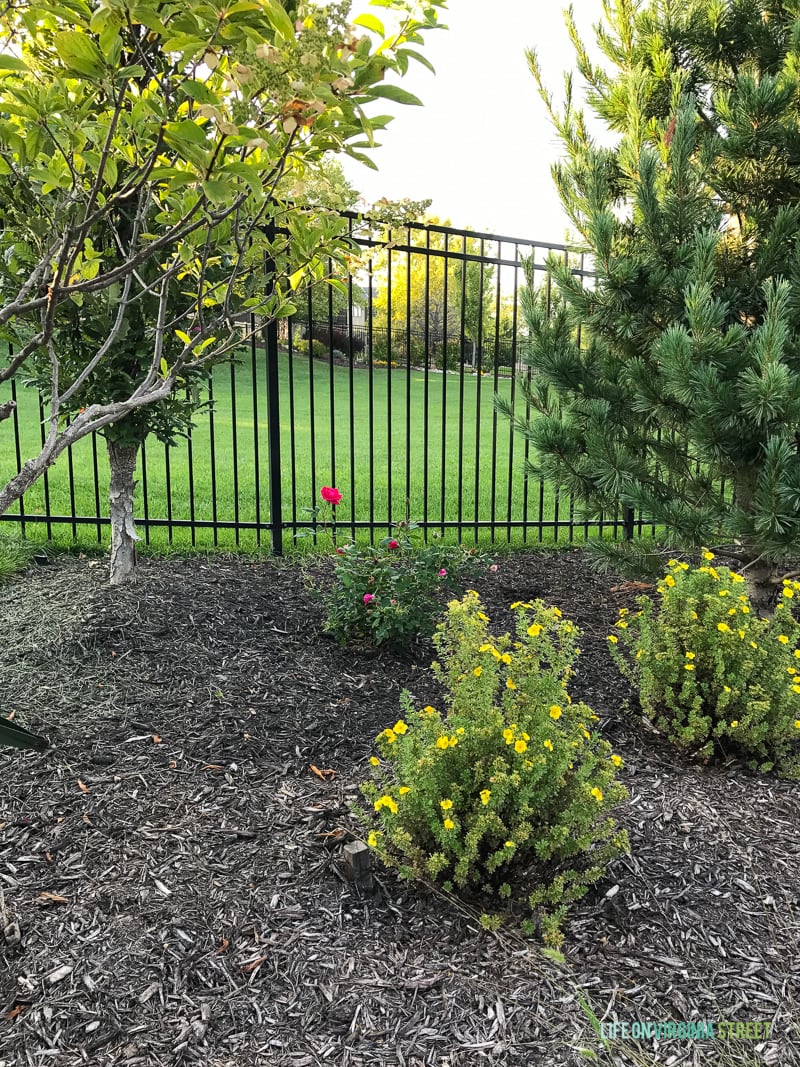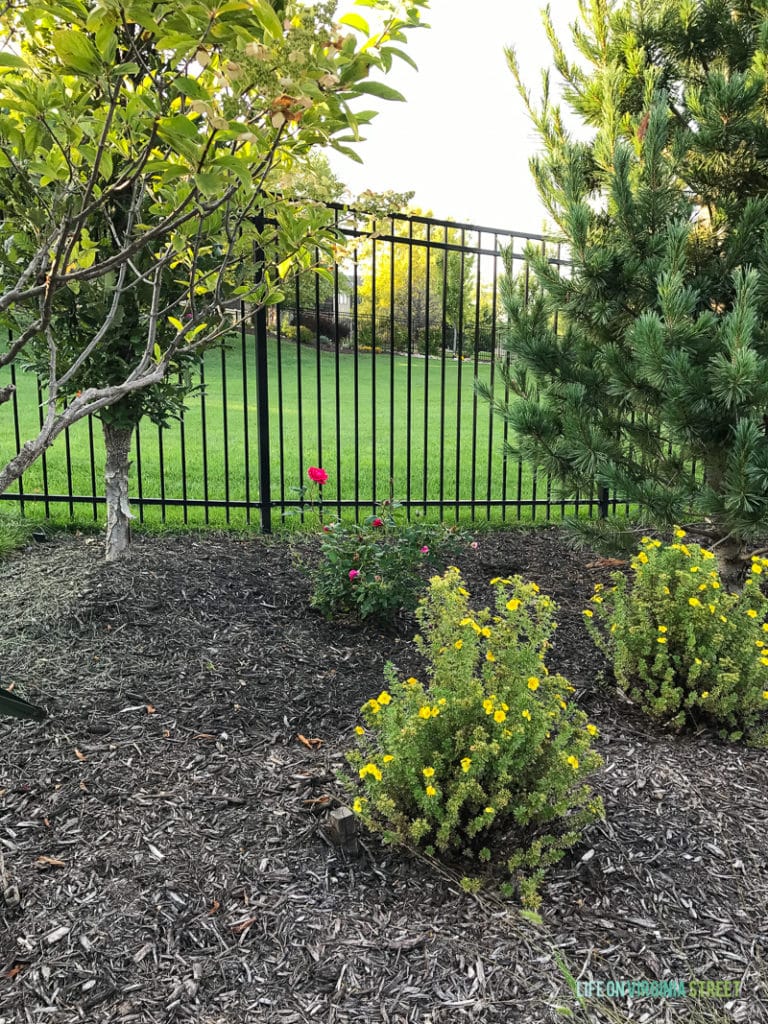 As of last week, it's definitely looking more like fall around here, but the pretty roses are still providing some color even into early fall! Sadly, we'll be closing our pool in another week or two, so I'm enjoying this view while I still can!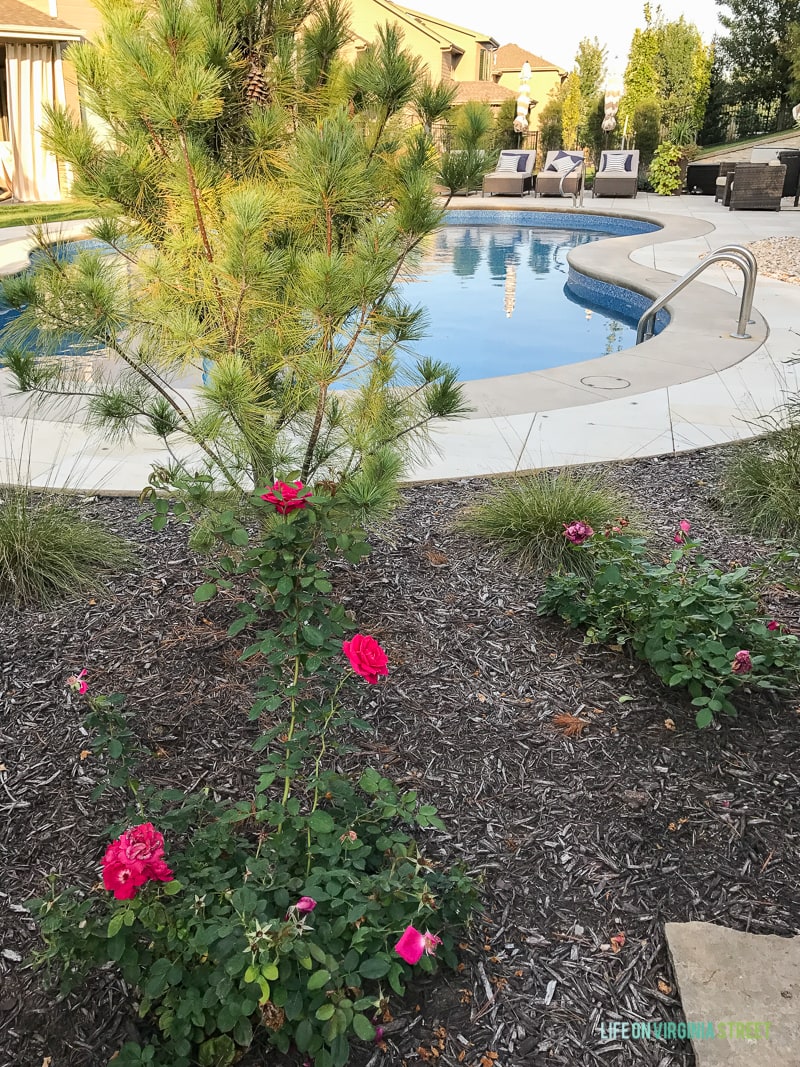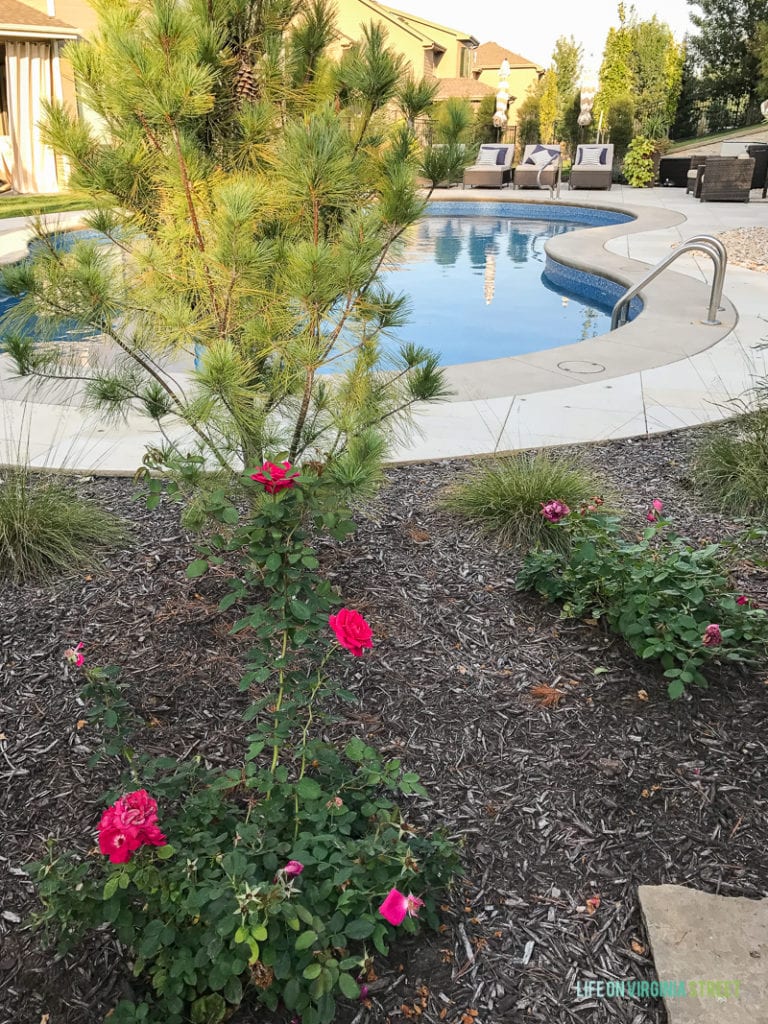 The great news is, Easy Elegance® roses are specifically bred to stand up to winter cold. This means you don't need to do any of the in-depth winter protection like you do for many other roses! I see so many houses in our neighborhoods that cover their roses with buckets or other forms of protection, but thankfully, these hardy rose shrubs are carefree and don't require any of that! I'm not sure I could handle looking at a covered pool and buckets all over our yard!
I did some minor deadheading last week in prep for winter, but it really isn't necessary with these roses. You'll want to ensure you stop deadheading roses by August or September to allow the stems to harden and form hips. If you deadhead too late, the frost can kill the stem. For additional helpful tips throughout the seasons, text EASYELEGANCE to 73095 for timely care tips. I just love how little maintenance these require – they truly are roses anyone can grow!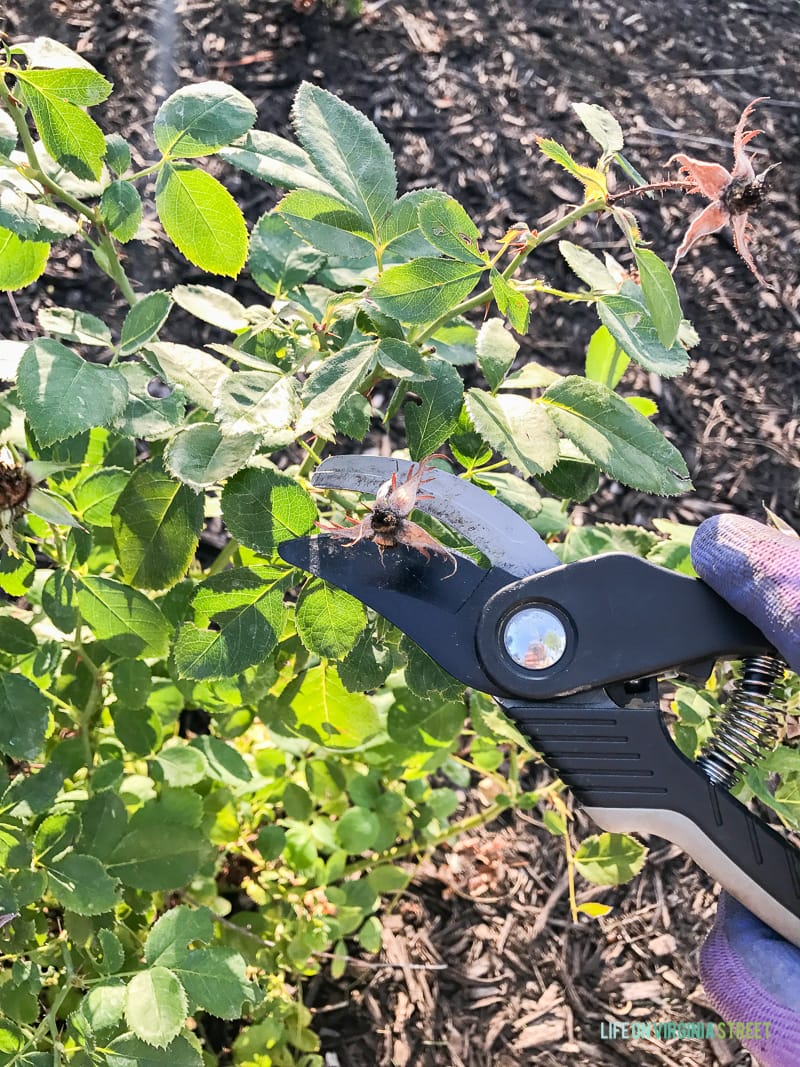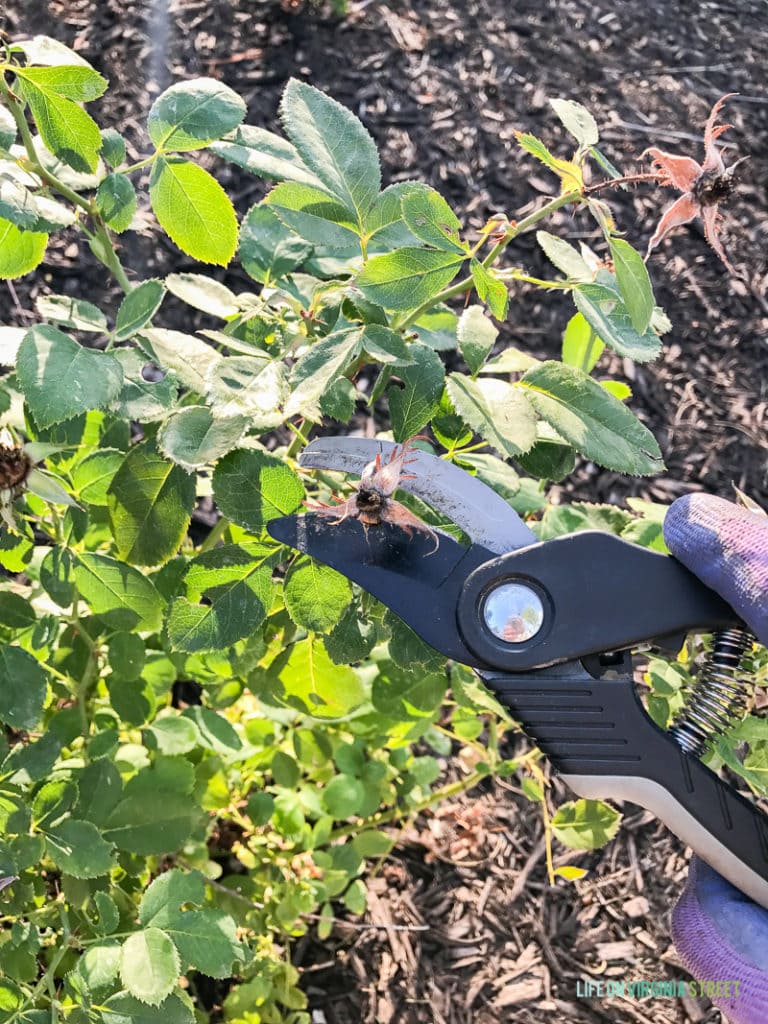 Since our fall seasons tend to be drier than spring, we like to give our trees and shrubs several deep waterings in the early and mid-fall days. This will help ensure they stay hydrated should we have a dry winter. If your beds don't already have mulch, you may want to add that around the base of your plants in case you do have an extremely cold winter.
In terms of our annuals, I also pulled many of them last week as well. We've still had several days up into the 90's this month, but we've also had nights that have dropped into the 40's and 50's. I think it's confused so many of my annuals and I decided to pull the ones that weren't doing as well and leave the more hardy versions. Admittedly, I wasn't watering them as much these last few weeks either, but that can be the issue with annuals. They need so much water and nearly on a daily basis, so I was getting a bit lax. I'll likely pull those as well in the next week or two, since they're so much easier to remove before it really starts to freeze.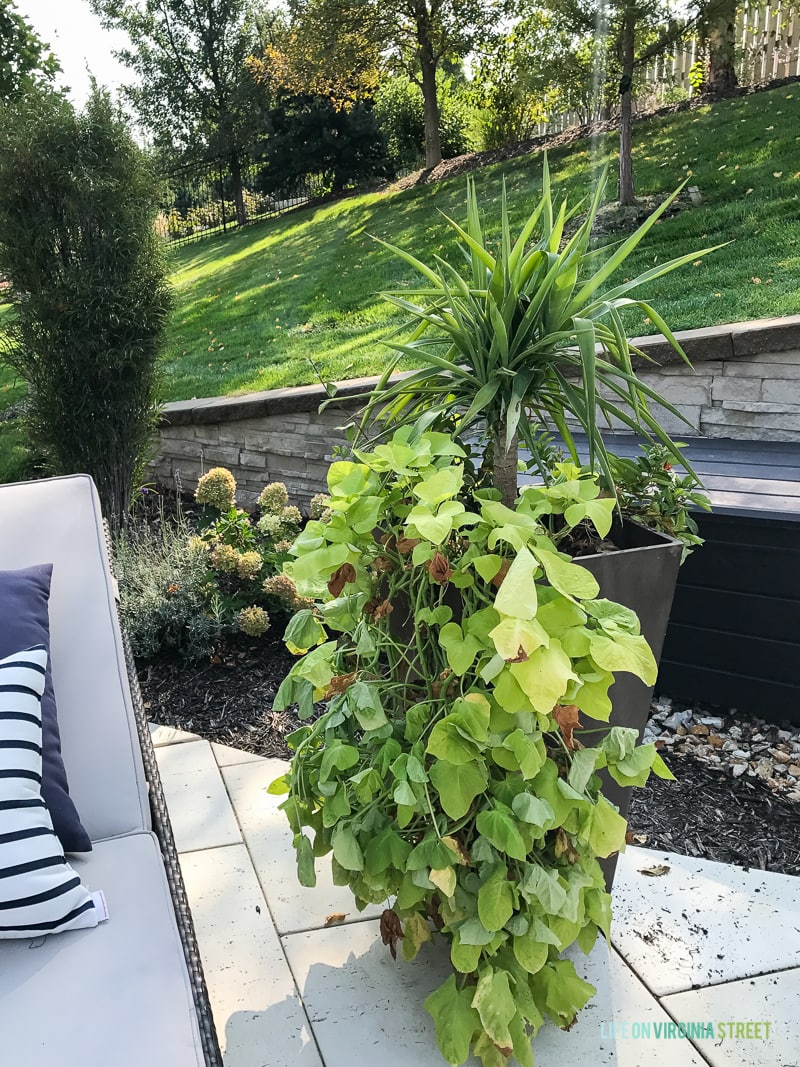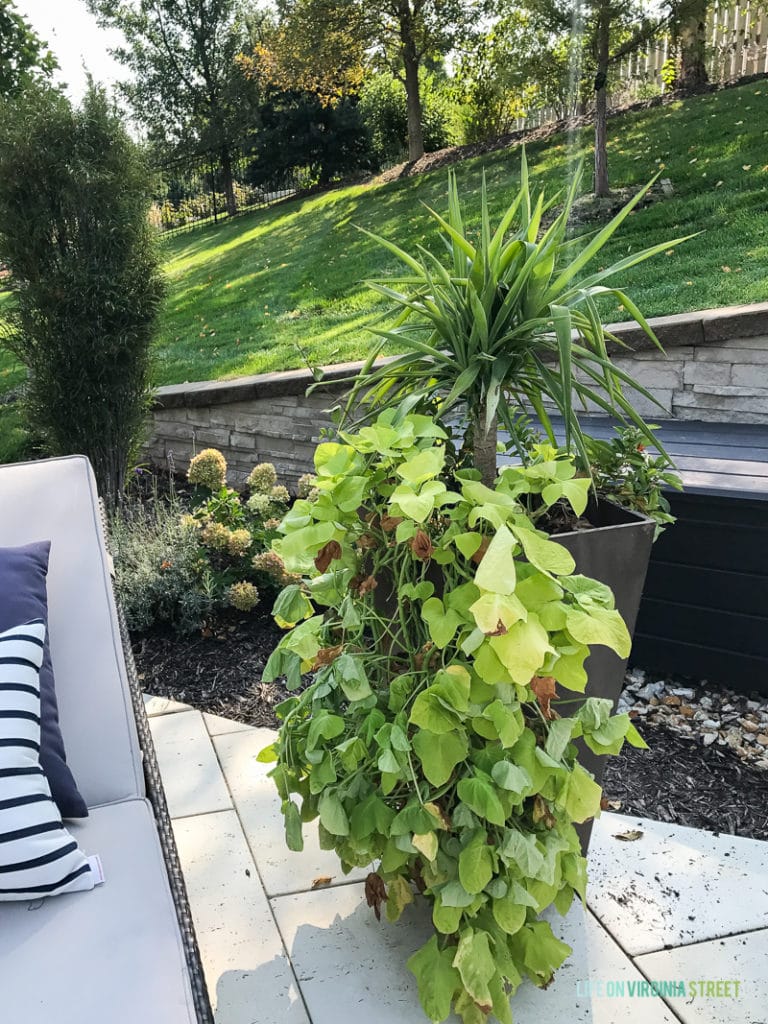 Random aside. Did you know sweet potato vines actually grow potatoes? I have no idea if they're edible or not, but it's always fun to find them! These were actually the smallest ones I "grew" and they came from just one of the vines.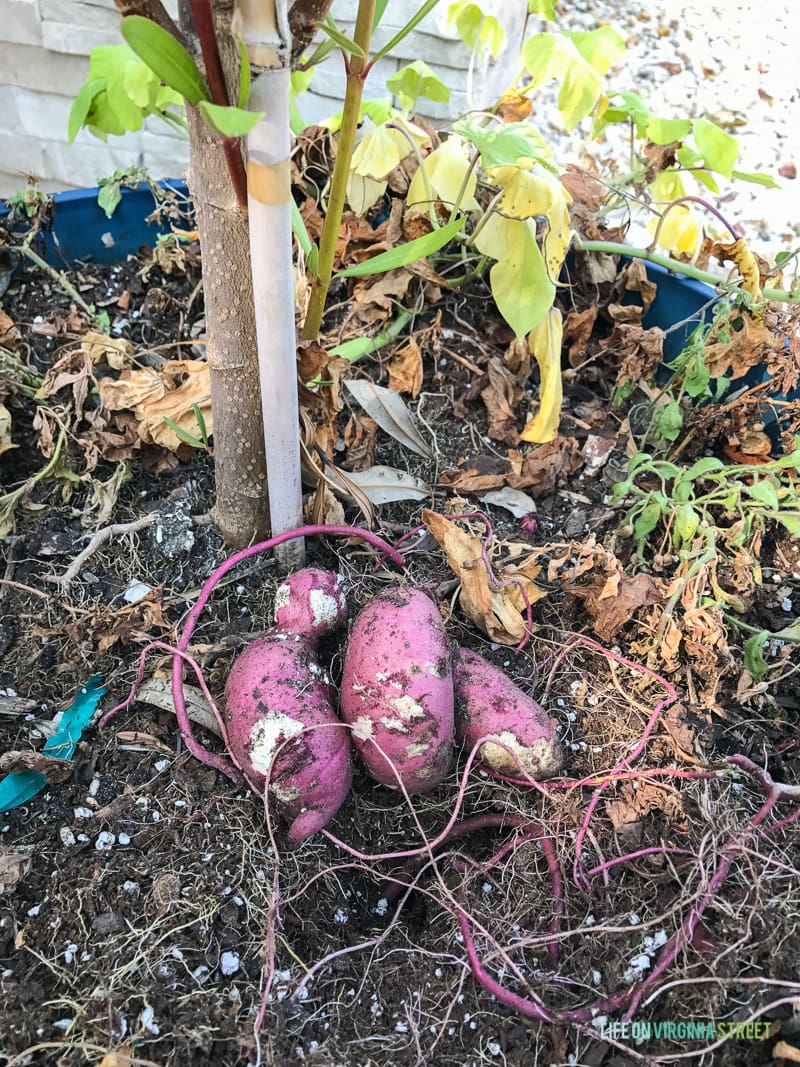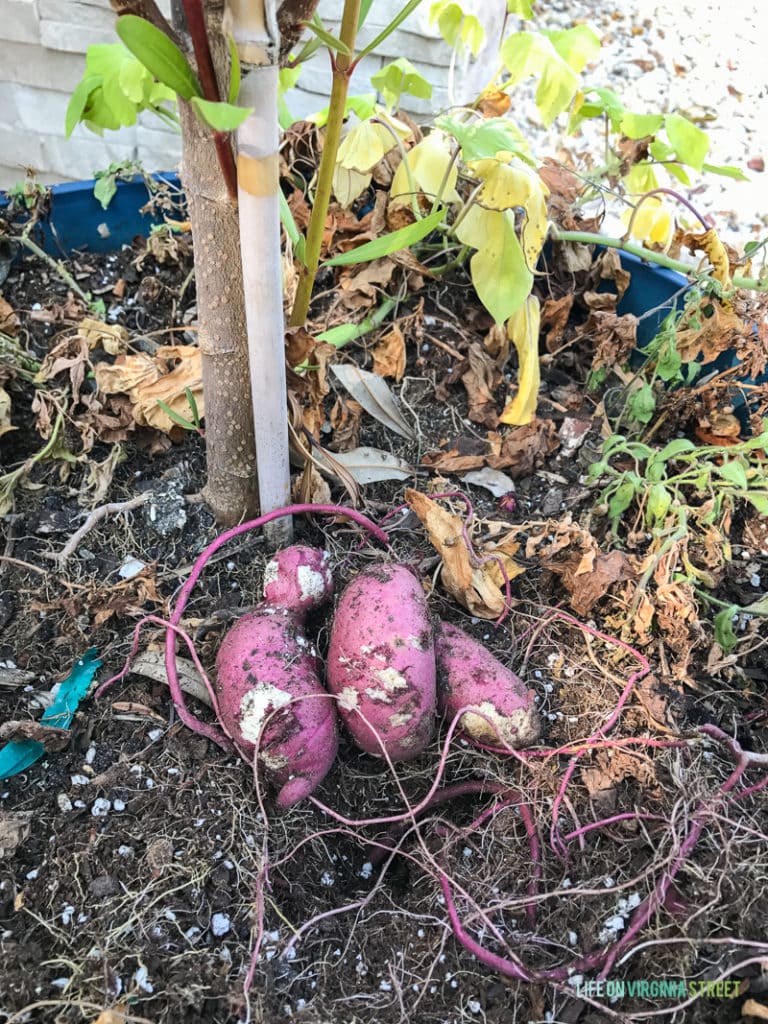 It feels good to have most of the backyard cleaned up and ready to go for the colder months. Especially since I got most of it done while the weather was still beautiful!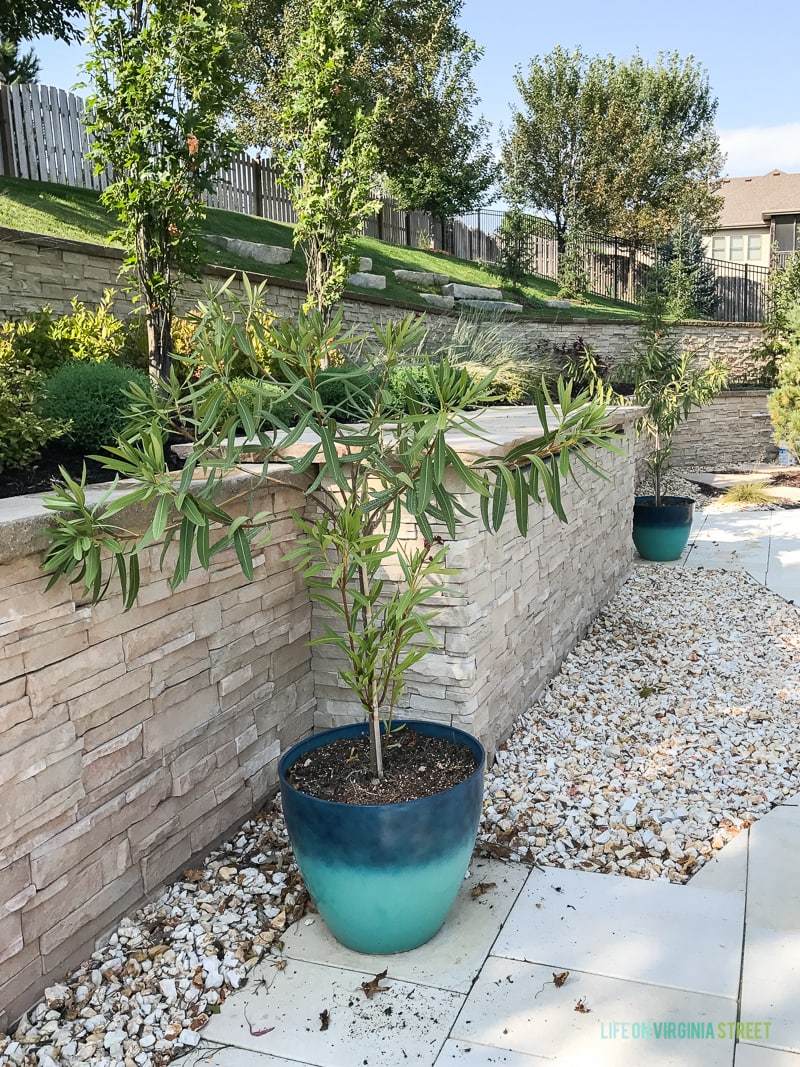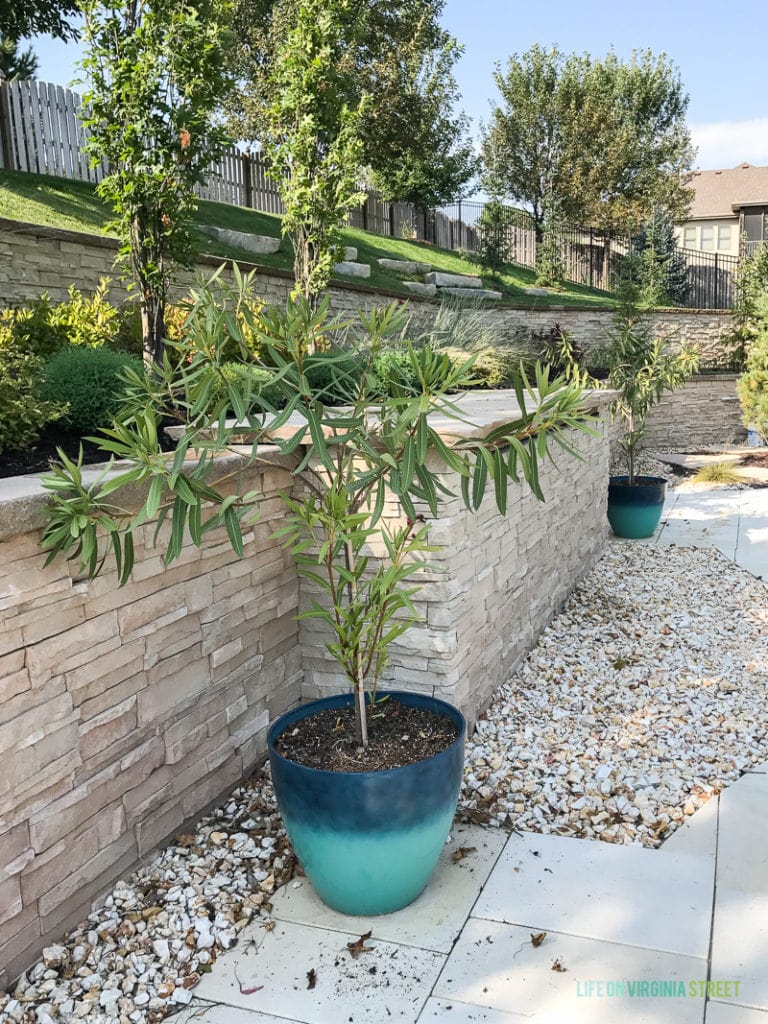 As we look into 2018, we have some small plans to add a few more evergreen trees, additional colorful perennials, and more roses throughout our backyard. We're also looking to expand our back patio and possibly build in an outdoor kitchen (if budget allows). After that, dare I say we'll be 100% finished with backyard landscaping? I'm already looking forward to spring and summer next year when I can see all of my plants blooming again!
**Giveaway is now closed. The winner (Pam) has now been notified by email**
Now for the giveaway! We are giving away One (1) pair of Rose Gloves, one (1) Pocket Pruner, and one (1) pair of Easy Elegance branded gloves. Simply leave a comment telling me how you prep your gardens or planters for fall/winter! The giveaway will be open until Friday, September 29th at 11:59 PM Central. Must be 18 years or older and a US resident to enter the giveaway. Good luck!
This is a sponsored conversation written by me on behalf of Easy Elegance Roses. The opinions and text are all mine.
If you would like to follow along on more of my home decor, DIY, lifestyle, travel and other posts, I'd love to have you follow me on any of the following: