I hope you all had a great weekend!
Ours was a total blast and our house was filled with family and friends for nearly a week. This past week we hosted more visitors than we likely have hosted combined the whole time we lived here. We loved every minute of it!
Tuesday night my mom flew out, as we were hosting her college friends celebrating their 40th anniversary of graduating nurses training. The three other ladies that came are all so wonderful. Two are my godmothers and the other is the mother of some of my dearest and oldest friends. They were all coming in from Utah, North Dakota and Minnesota.
My mom and I spent Wednesday loading up on food and drinks for the weekend ahead. By late afternoon into the evening, the others started to arrive.
They'd get up early each morning to go for a walk around a nearby lake, come home, make us breakfast, and then we'd head out to the pool. Pretty much the perfect start to each day!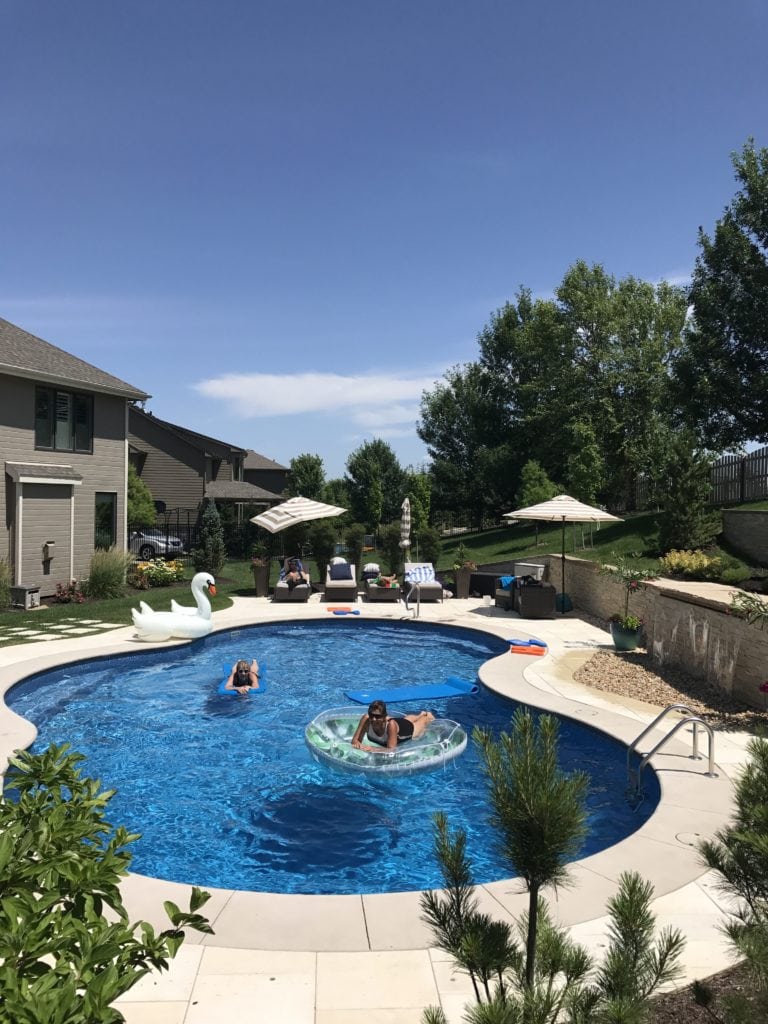 We had killer charcuterie spreads on a daily basis.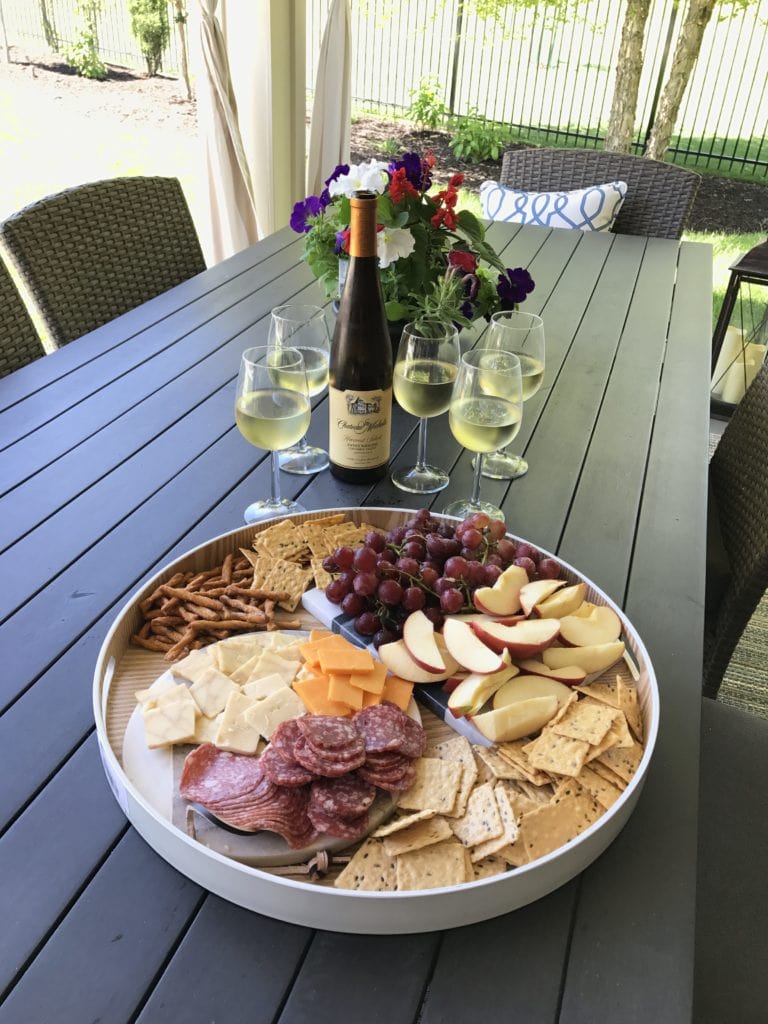 I told Kurtis I fell off the swan multiple times throughout the day and that it was super unstable. He decided to try it with his clothes on to prove me wrong. Insert eye roll emoji here.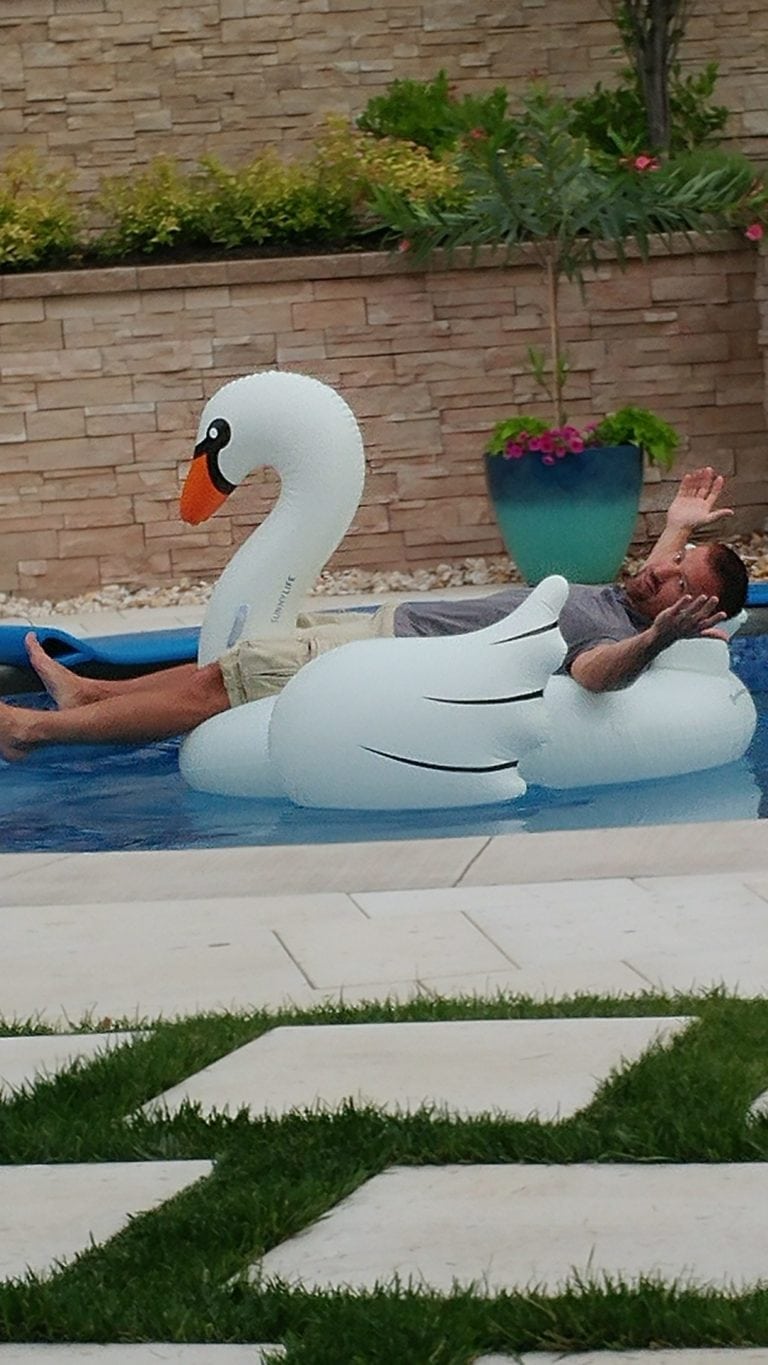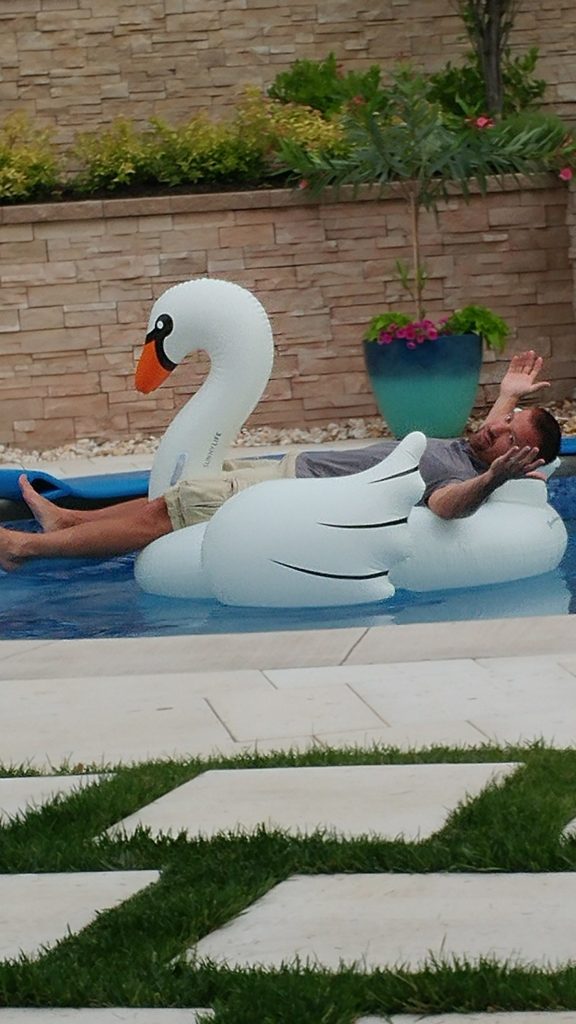 The first night everyone was here, we vegged out outside on the loungers and enjoyed the beautiful night. I couldn't believe how many lightning bugs were out!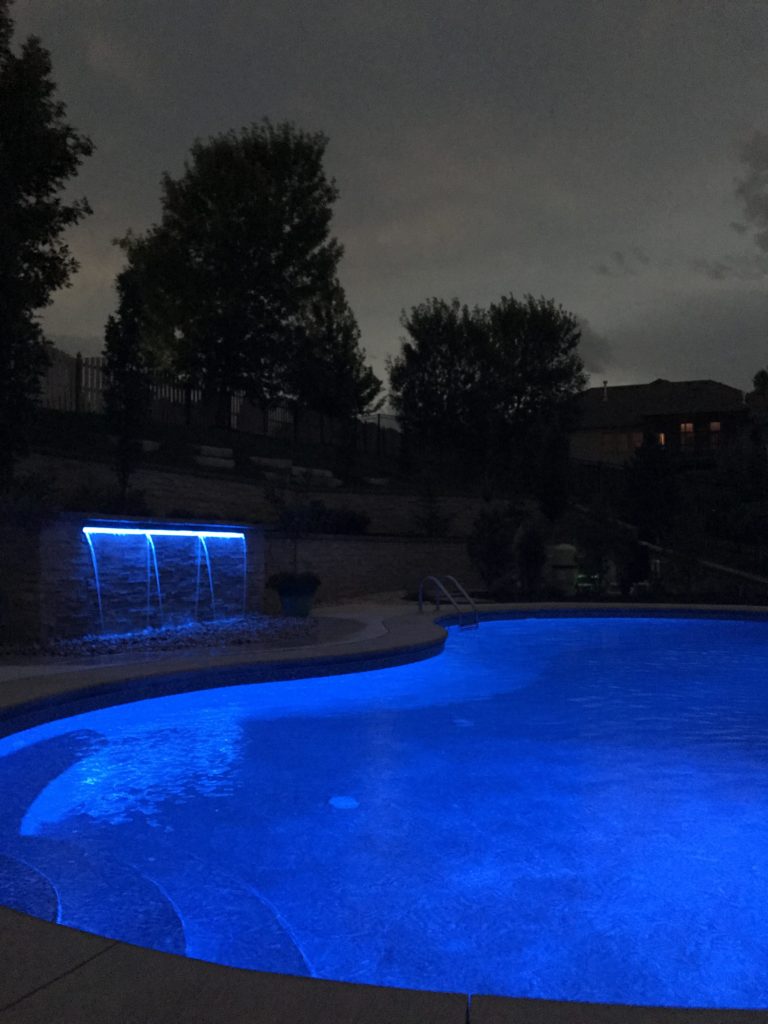 I had to laugh when I looked over to see all four of the girls on their phones not talking to each other.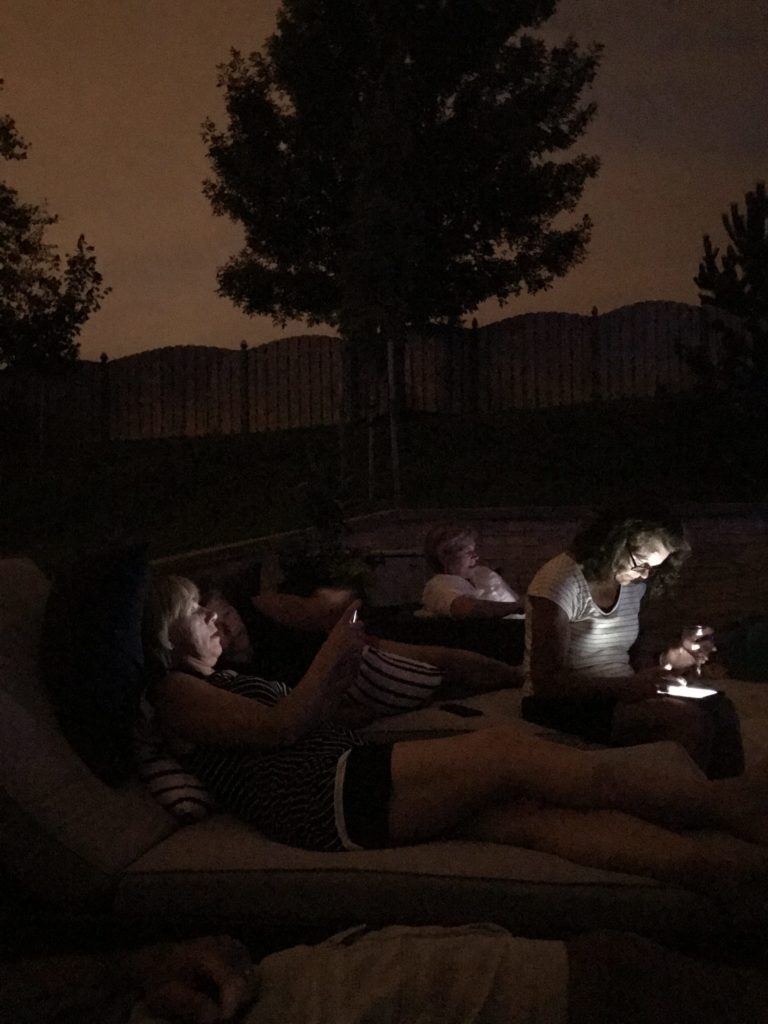 Friday was more of the same. Lots of pool time and sunshine!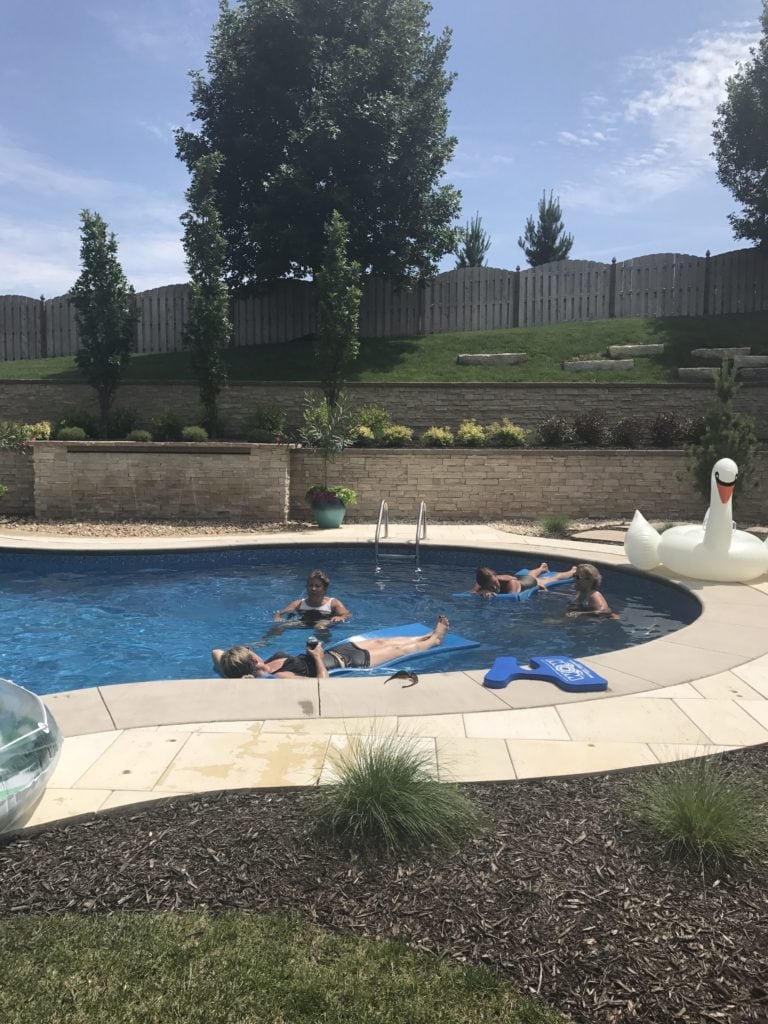 In the early afternoon, we pulled out the "pool pong" table and had a total blast. The girls were all just a little competitive (and I was super terrible).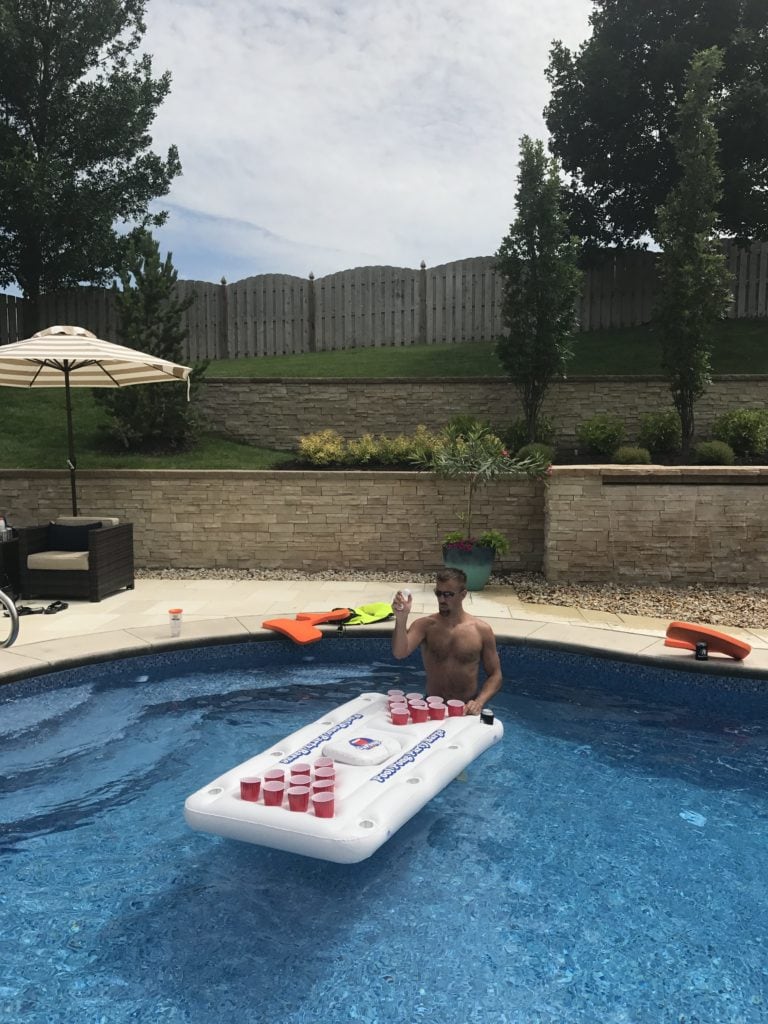 That night, my mom made her famous shrimp risotto in the pressure cooker. I hadn't ever tried it before, but I'll be sure to get the recipe for all of you because it was amazing!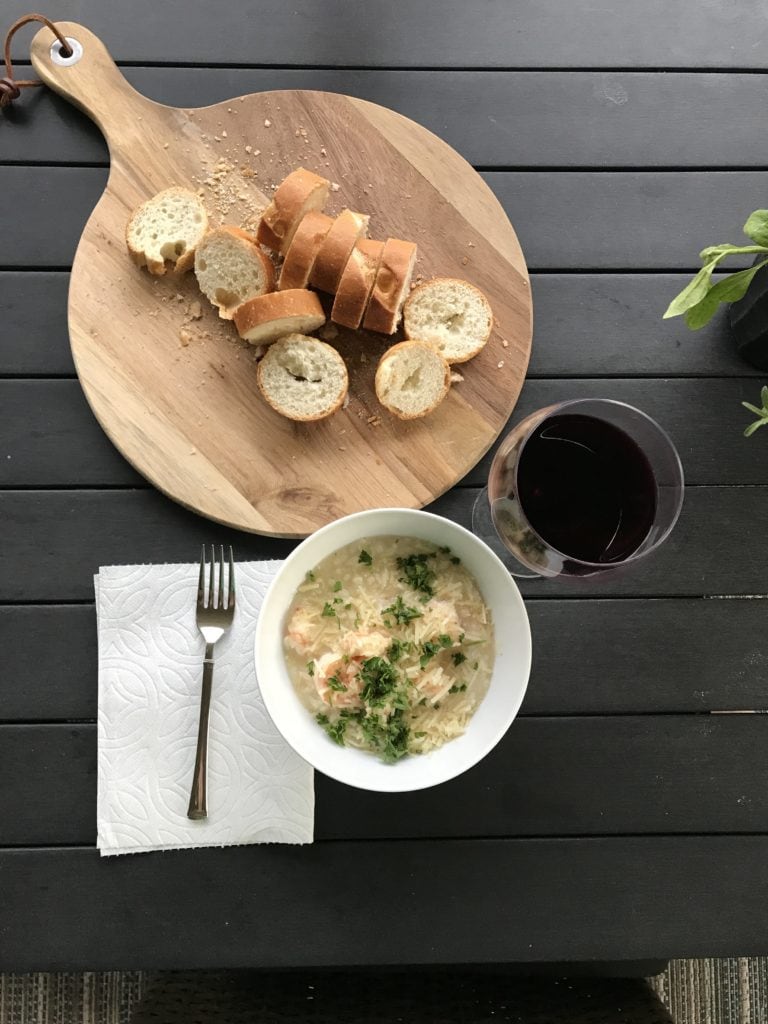 After dinner I randomly took some pics of the pool area on my iPhone.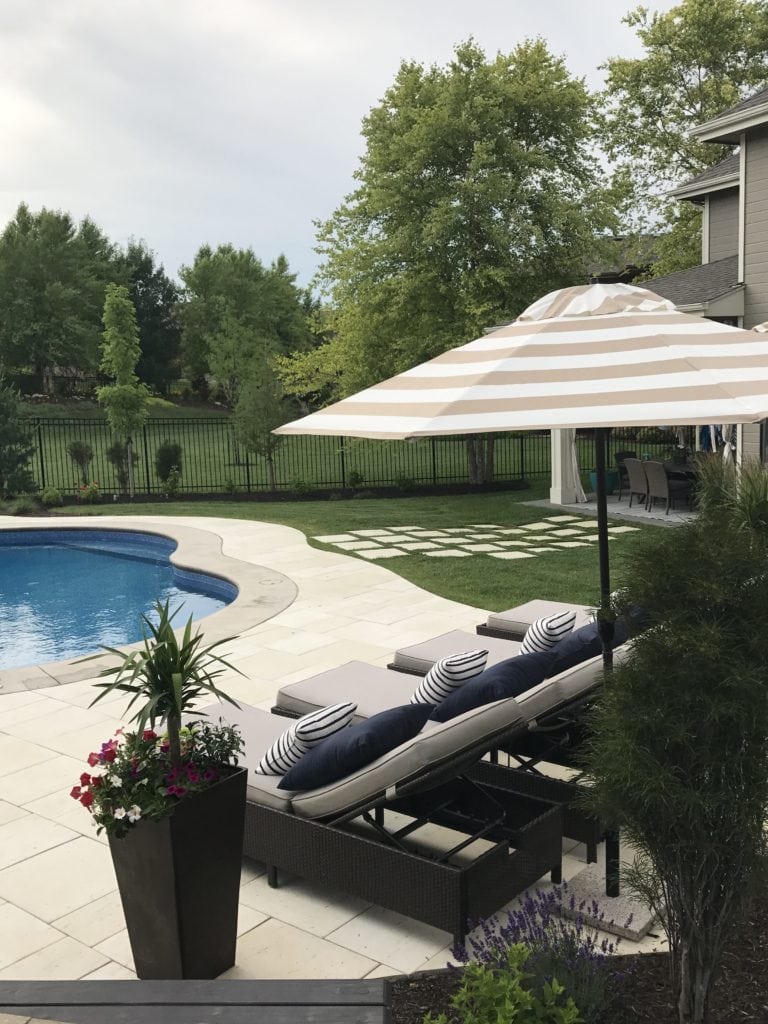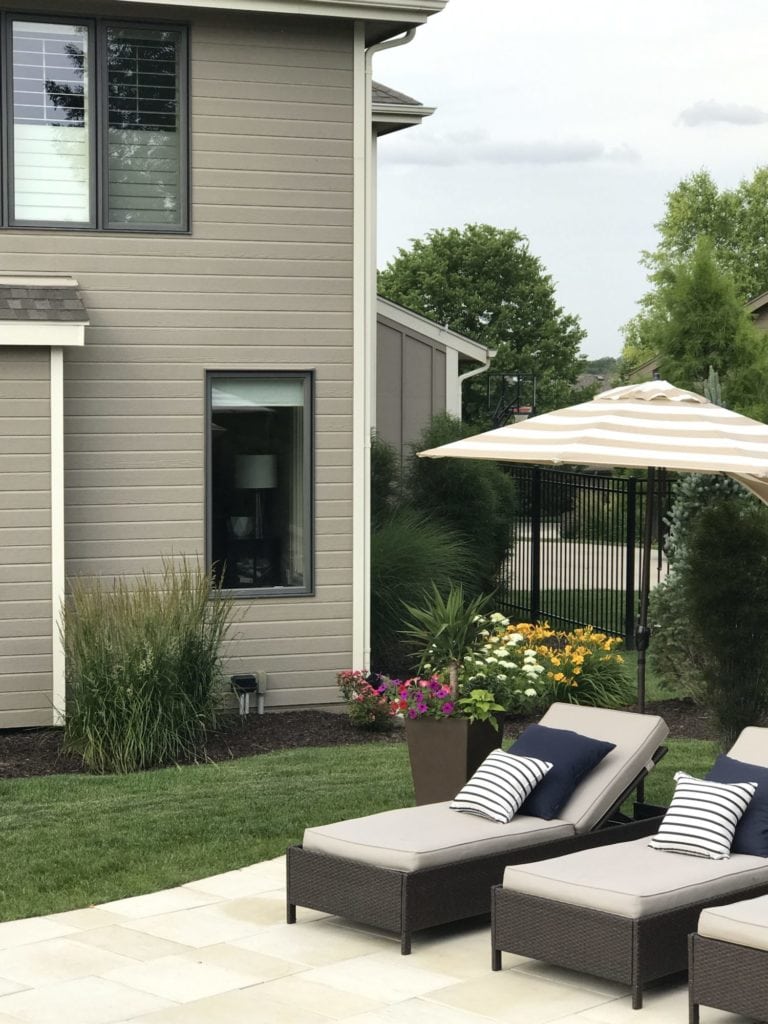 About two hours, we were in one of the worst storms I've ever seen. Parts of Omaha had 135 mile/hour winds. Many of our trees looked horizontal and we actually had major damage to one of our large birch trees.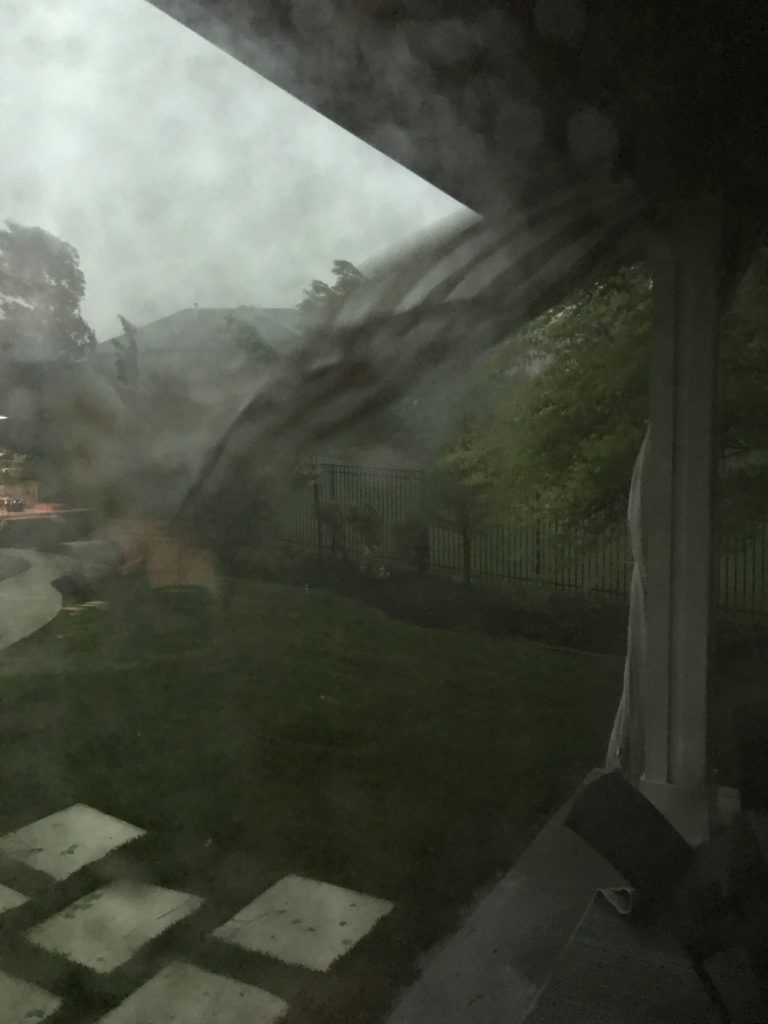 It was pretty freaky but in the end, we weren't left with much more damage other than the birch tree and a big mess of sticks and leaves to clean up. A lot of Omaha went without power all night, but ours just flickered a time or two.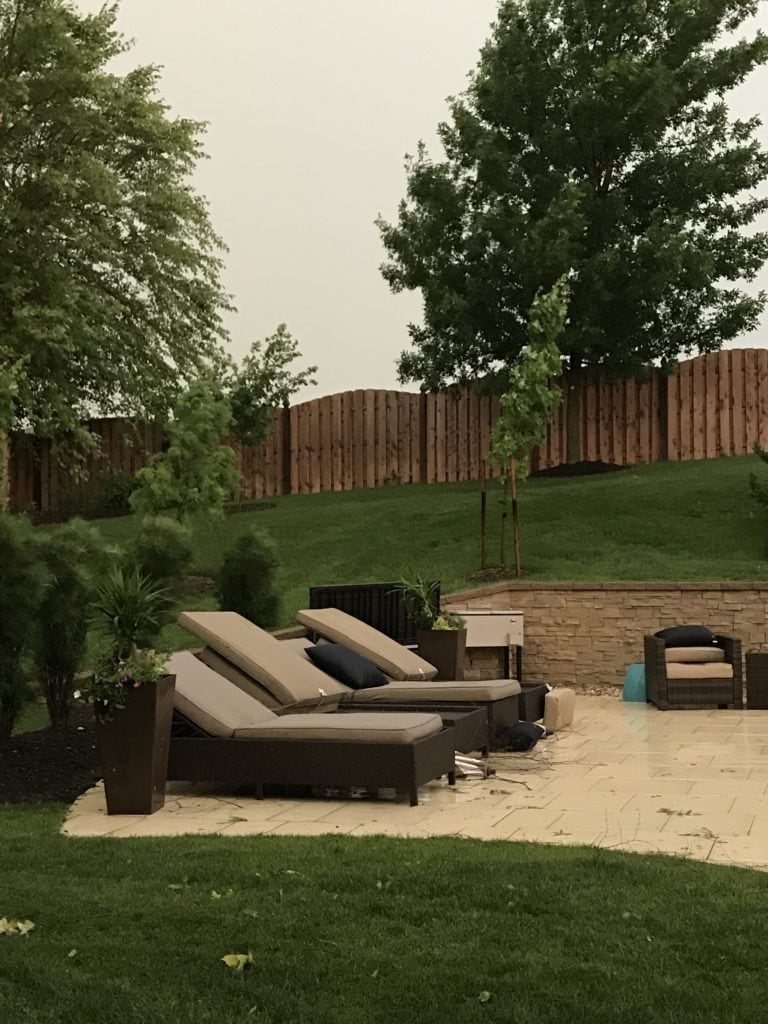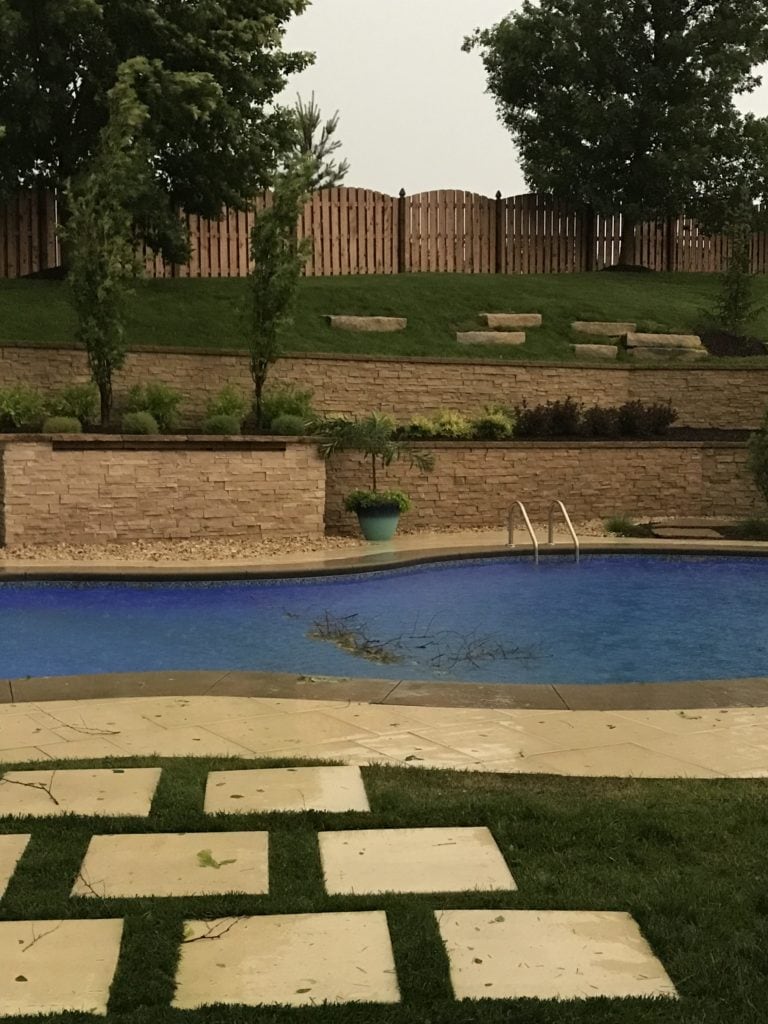 My brother had actually flown in just before the storm. Once it was over, he volunteered to jump in the pool with a net and clean up all the debris there. This next picture shows just how creepy the sky got after the storm. Everything was glowing orange.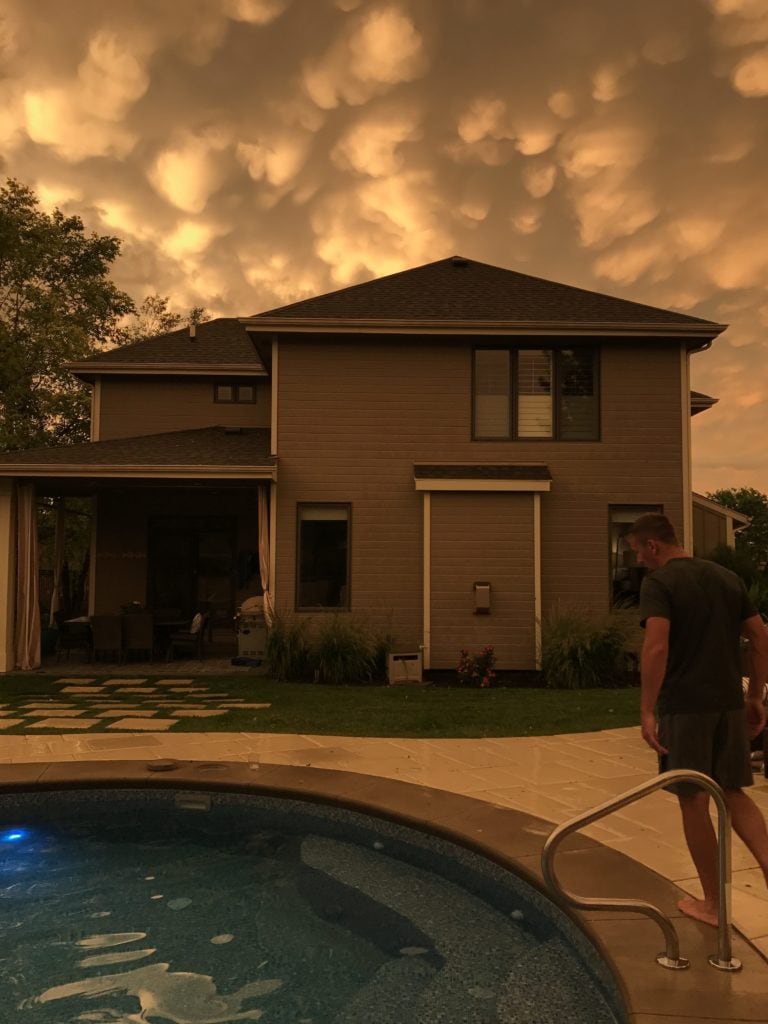 All of our house guests helped with cleanup and we were able to quickly fill the garbage can with debris.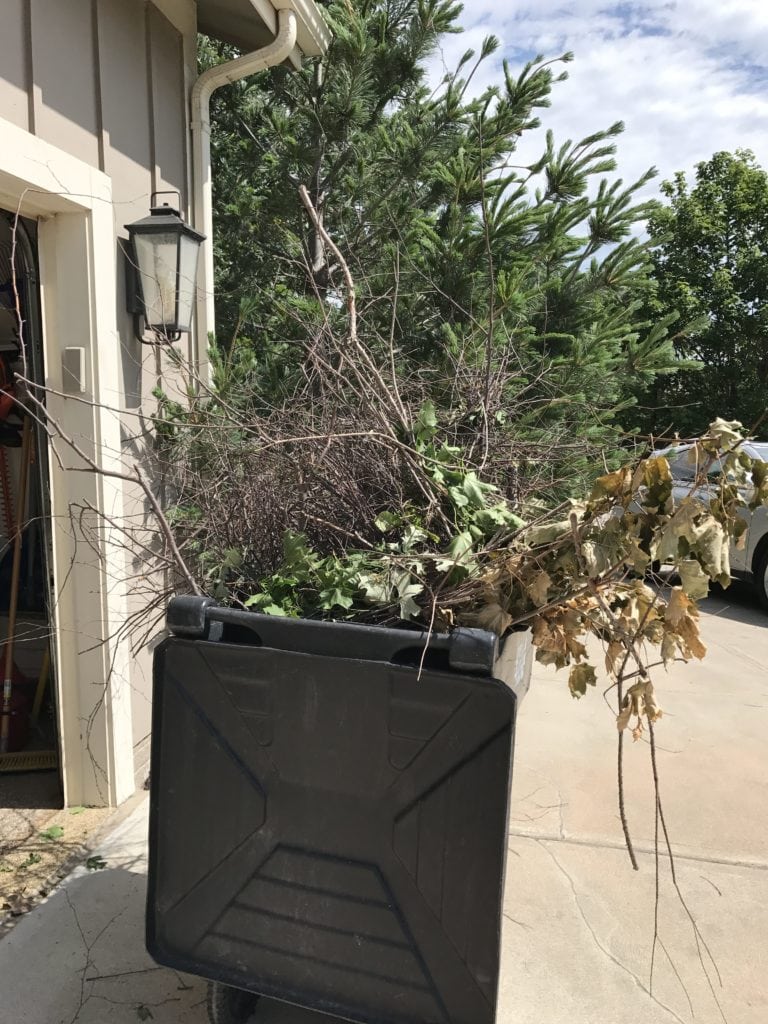 My dad flew in late that night to join in the fun.
The next morning, my mom made waffles and her famous buttermilk syrup. Have you realized yet my mom is an amazing cook? We ate like kings all week!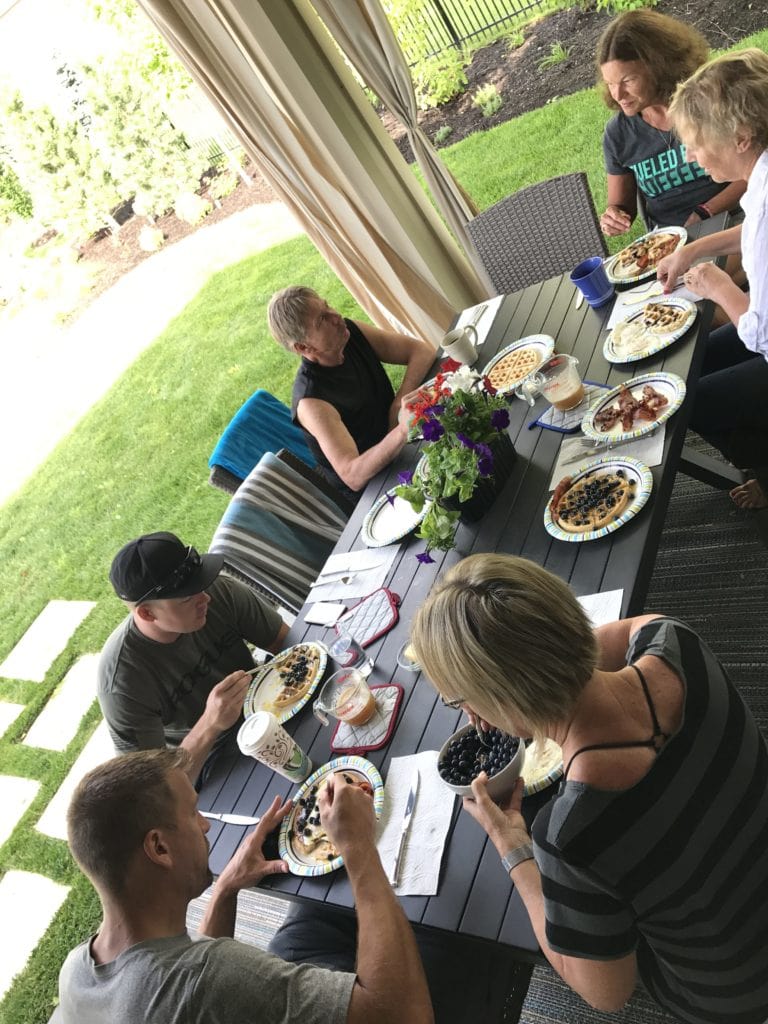 That afternoon, we invited over family friends to join in the festivities. The cutest baby ever also joined the party and I think he had a blast.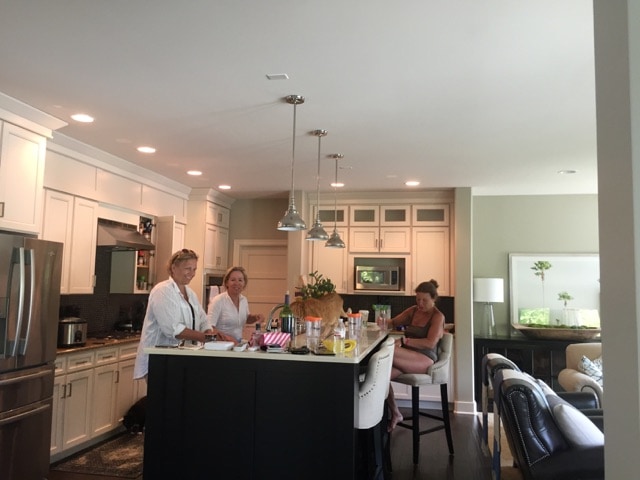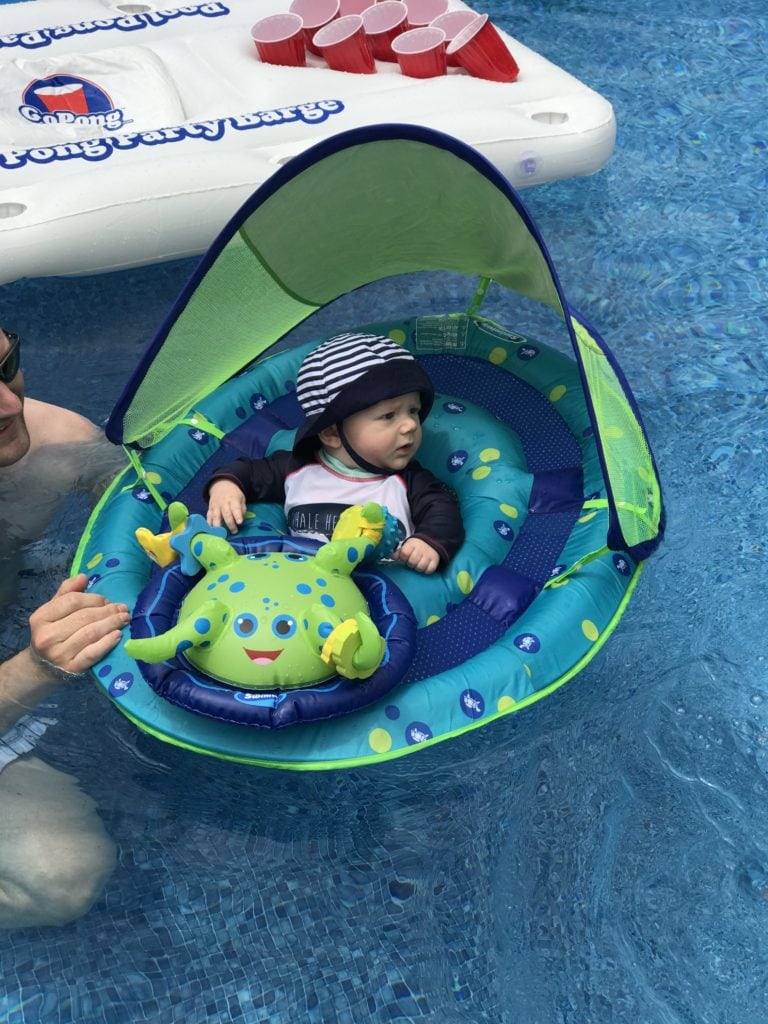 If you follow me on Instagram, you probably saw that I shared story after story of all the tricks, crashes and fun we were having on all the pool floats!
Sunday, most of the visitors took off. Then my two aunts, uncle and cousin drove up from Kansas City. It was a bit cooler that day and they didn't bring their suits so we played yard games. Cornhole is always a favorite, and I love that pretty much any age range can play.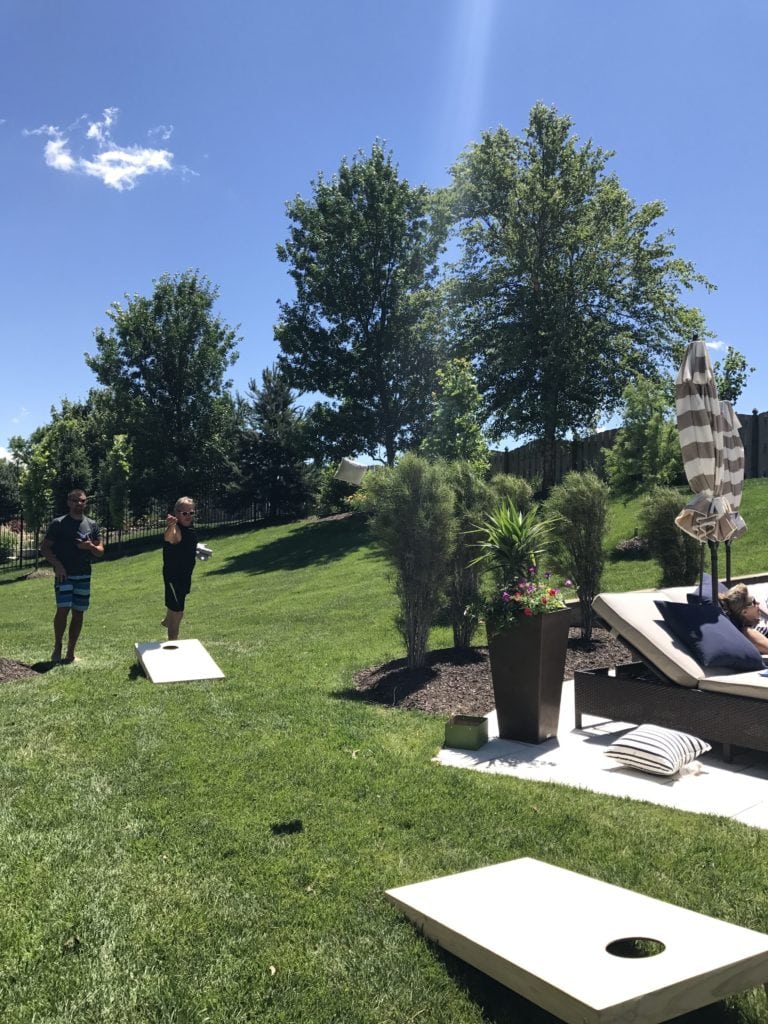 The corn hole champions – my mom and cousin Jon.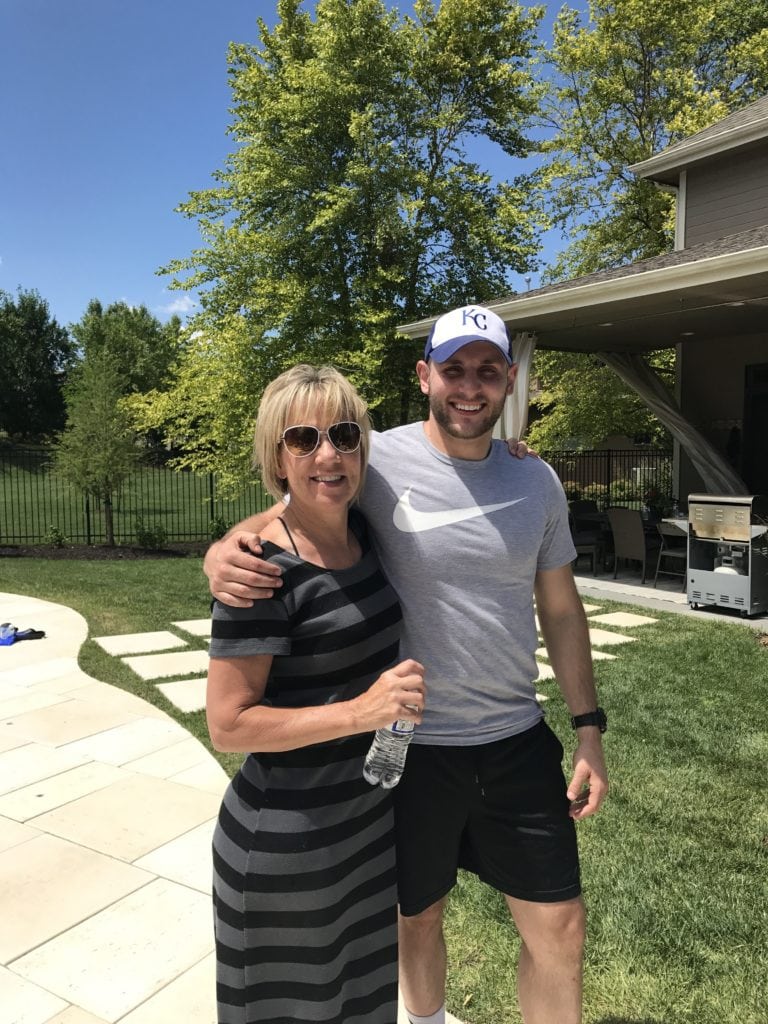 My brother flew out that evening around the time our KC visitors left. We ended up watching Hot Fuzz, which was recommended by Netflix. It was different but pretty funny and worth watching.
Monday, it was just my parents still in town. We spent the late morning/early afternoon at the pool and then headed to Shucks for a late lunch. My dad loves oysters and their food always sounds so good after a day in the sun!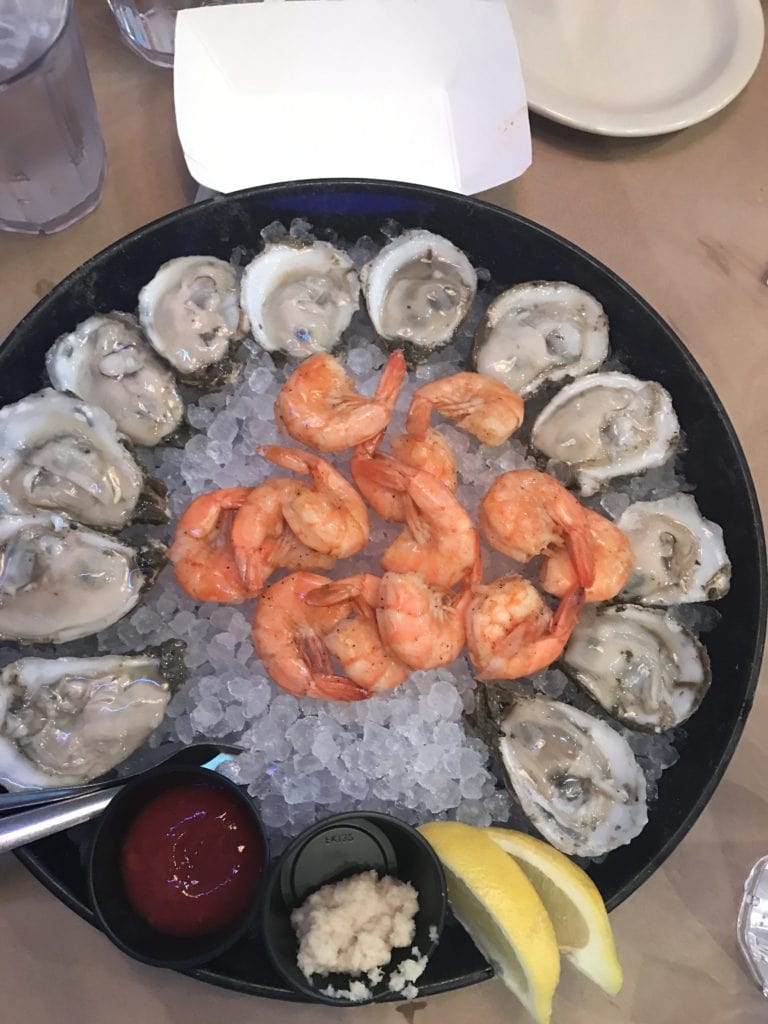 We then headed to the airport around 4 to drop off my parents for their flights.
We had such a fun week with everyone here! All the houseguests were so great and tons of fun. But, by Monday night we were exhausted! We even had to take a quick nap after we dropped my parents off at the airport. I'm sure we'll be missing all the guests in a week or two when our house is empty and quiet. We're already thinking this should be an annual weekend though. We all had so much fun!
I hope you all have a great week!
If you would like to follow along on more of my home decor, DIY, lifestyle, travel and other posts, I'd love to have you follow me on any of the following:
Pinterest / Instagram / Facebook / Twitter / Google+
disclosure: some affiliate links used