It's May! I hope you all had a great weekend and are as excited as I am that the colder months are finally behind us (hopefully)!
This was a crazy week for us. Kurtis turned 40 on Tuesday and I spent Monday night trying to decorate our office with cheapy mementos I found at a local party store.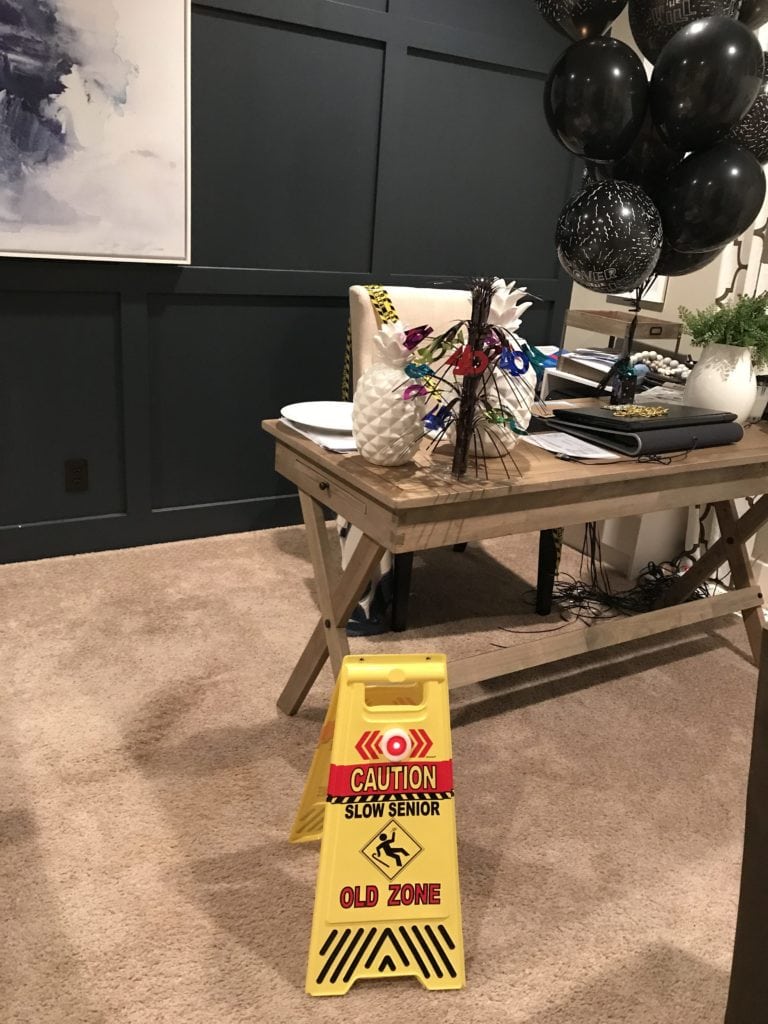 This "gold" chain necklace was everything.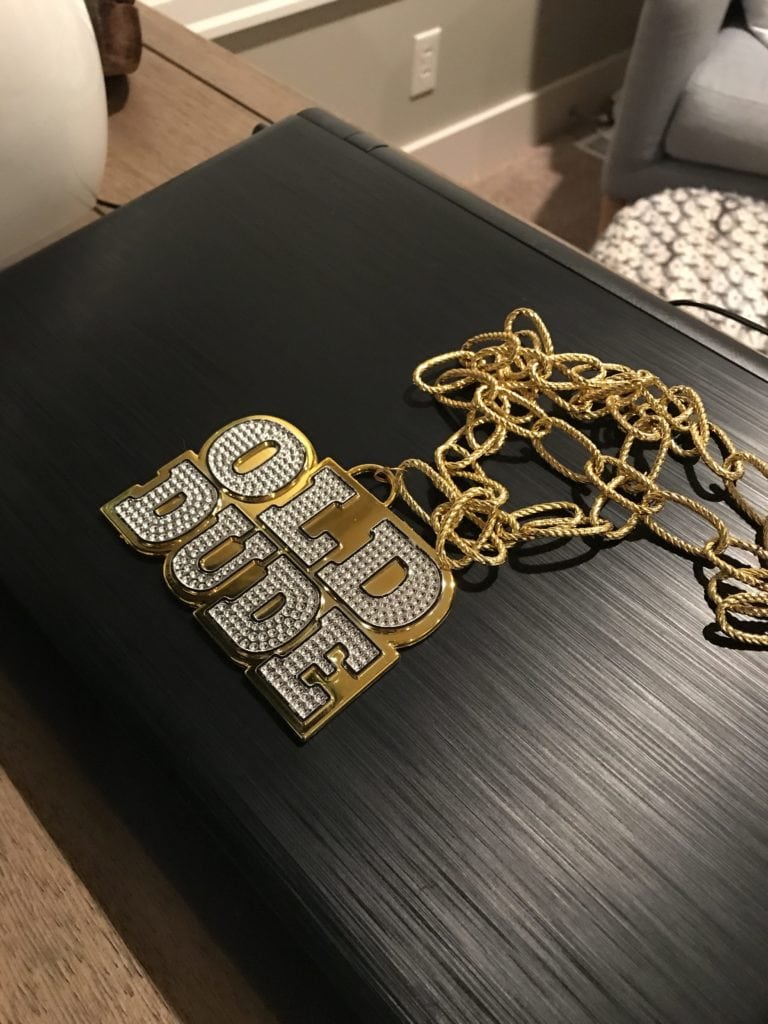 His co-workers planned a party at their office so I headed downtown Tuesday morning to help them celebrate. I loved that they got him a wheelchair and shawl to wheel him to his party. He loved the surprise they planned for him!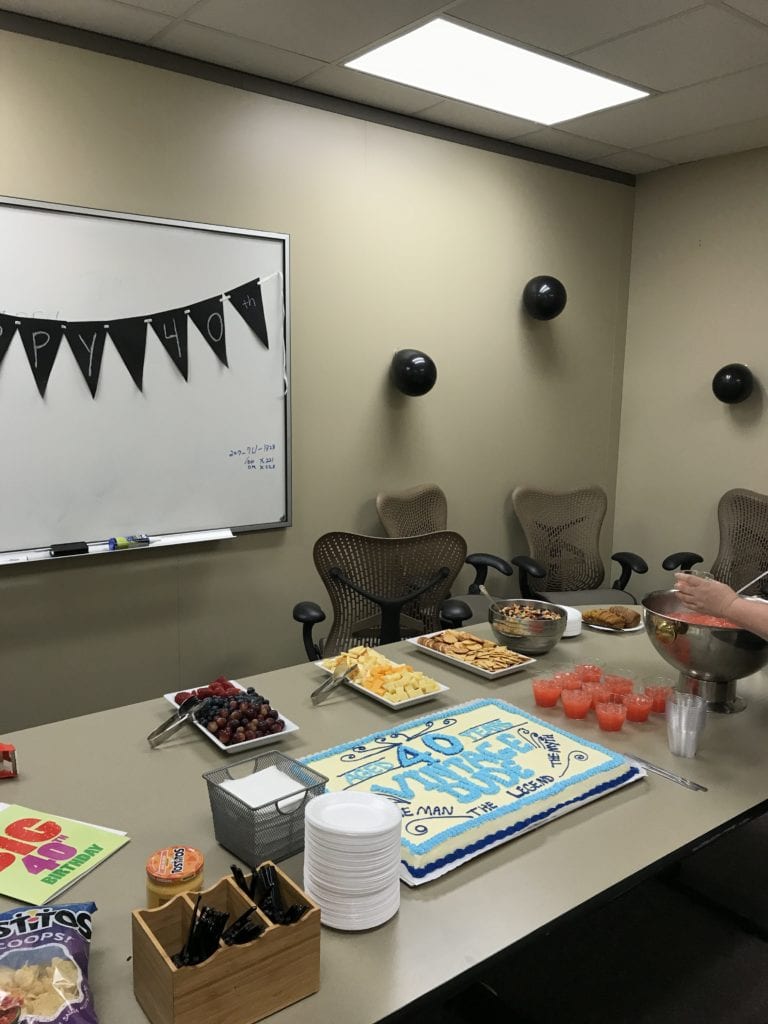 We headed to dinner that night at one of his favorite steak houses, and I bought him this speaker he's had on his wishlist for awhile. We're excited to use it at the pool this summer. I didn't' think it was a big deal until I heard it in real life, and then, WOW! I'm pretty excited about it too!
After dinner, we found a duct taped packaged on the porch from my brother and sister-in-law. Turns out it was this man crate. Kurtis got so annoyed trying to open it that he finally took his saw to it. I was entertained the entire time and just took photos 😉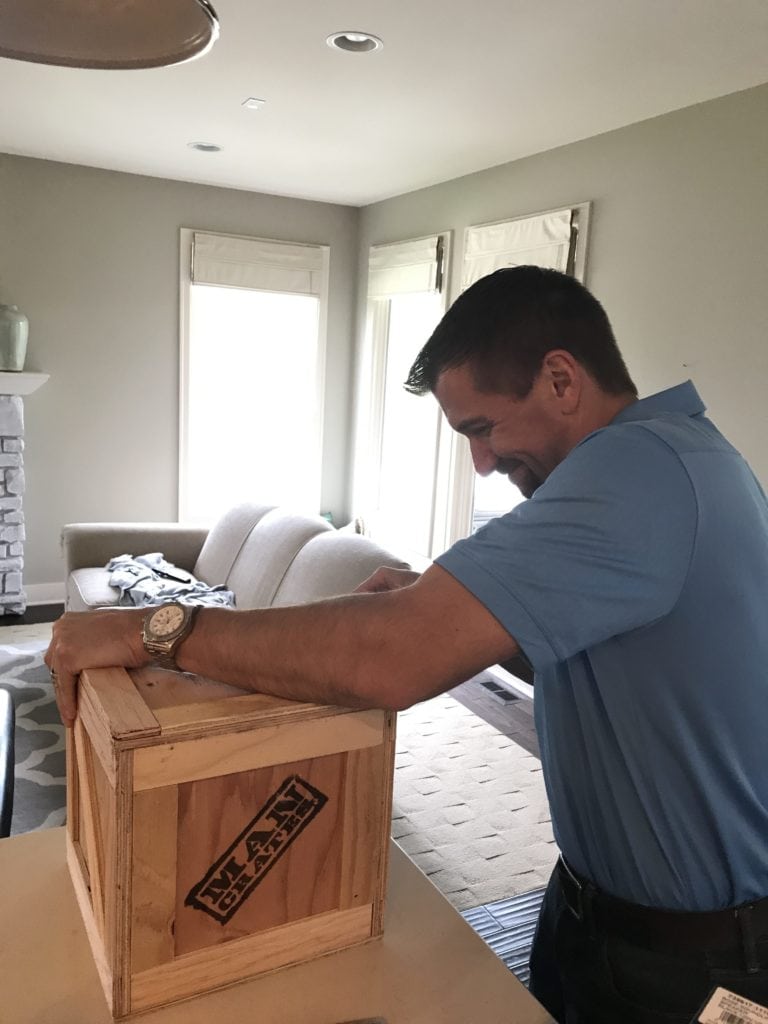 On Thursday and Friday, we had Outdoor Inspirations (the same company that did landscaping for our pool project – formerly Kloos Kutters) freshen up our landscaping beds and add mulch. I think Kurtis thought I had gone insane because I was so excited with the changes. I seriously couldn't stop looking out the windows. They did such an amazing job expanding our beds, pruning everything and adding mulch. This isn't sponsored or anything, I just really really love these guys!!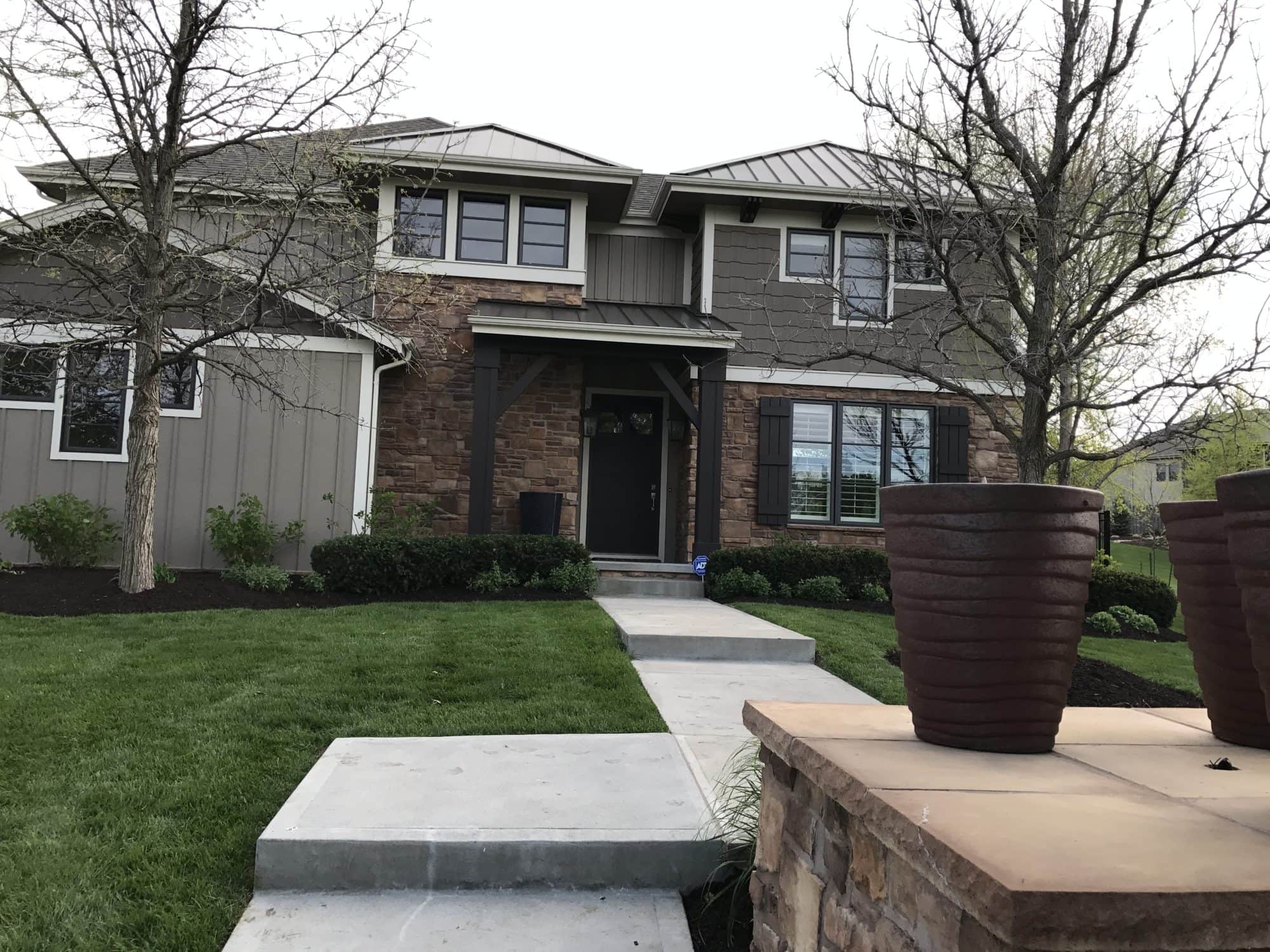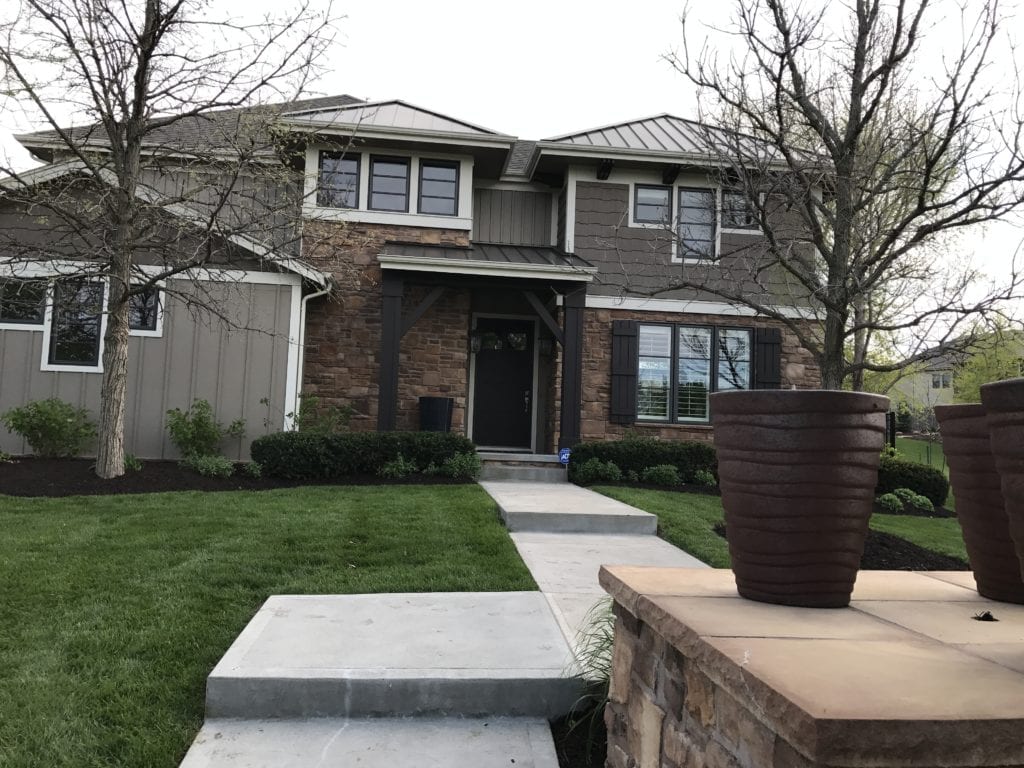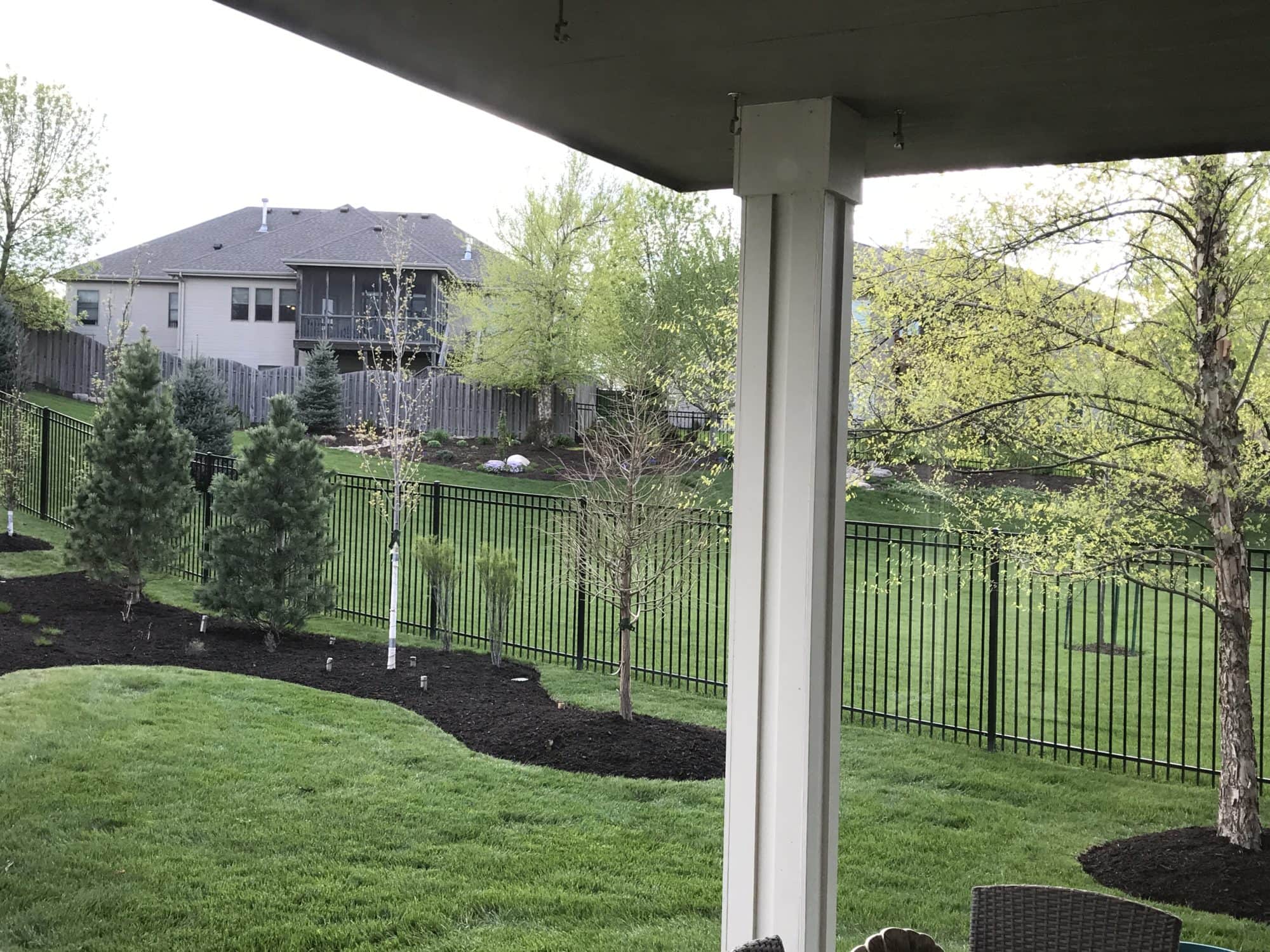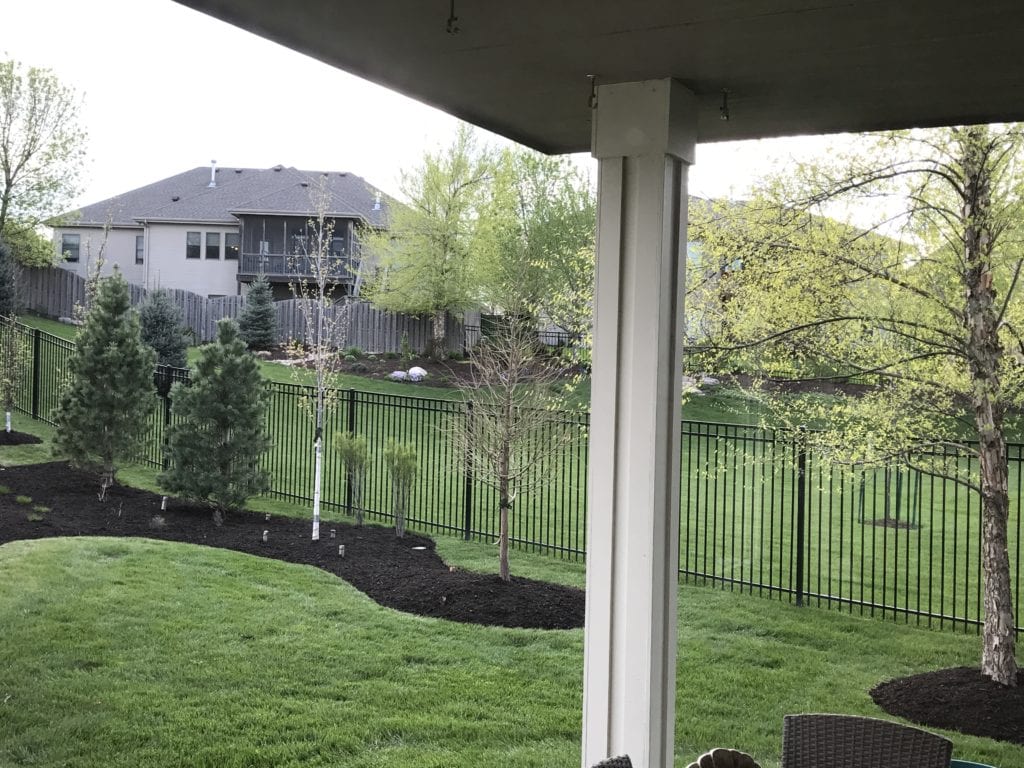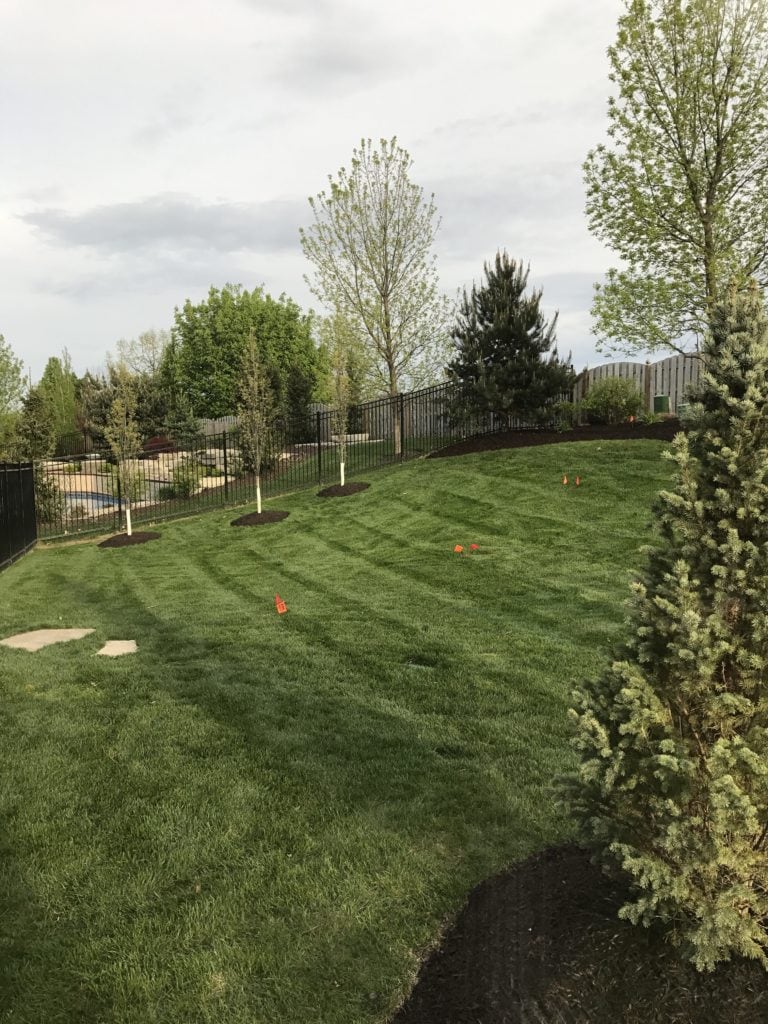 Remember the trainwreck of our side yard I showed you last week? They took care of all of that too! They were super thorough with the weeds, grass, plant overgrowth and re-trenching our landscaping beds. I couldn't be happier with how it turned out!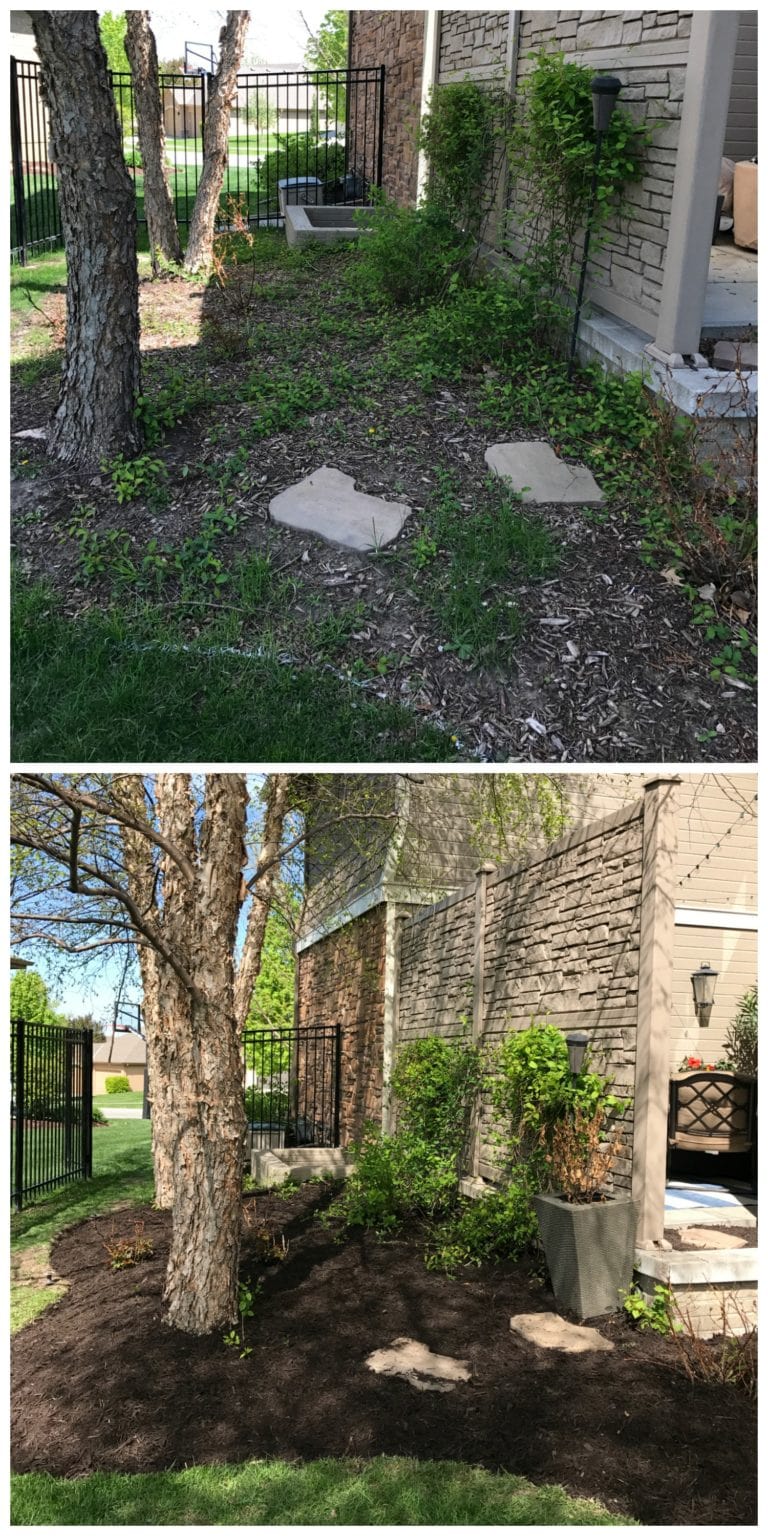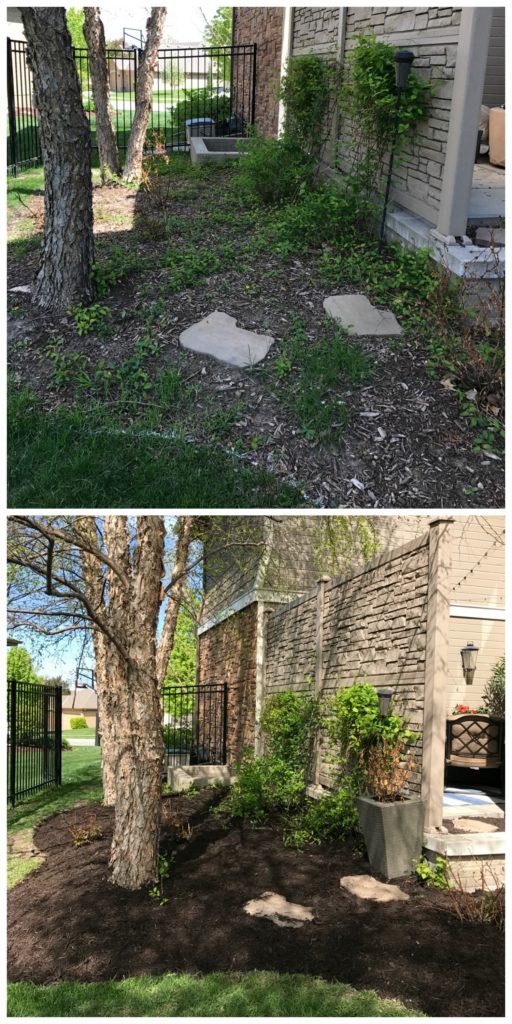 Crazy difference right?  Now I just need to get some shade-loving plants in the ground next weekend so this spot doesn't turn into crazy town again.
Next week, they're coming back to add some plants to the second-tier of our pool wall. Here's how it looked last summer before we added the three columnar oaks and five shrubs behind the water feature. The second image is a close-up last fall once we added those. As you can tell, it still needed a lot more plants!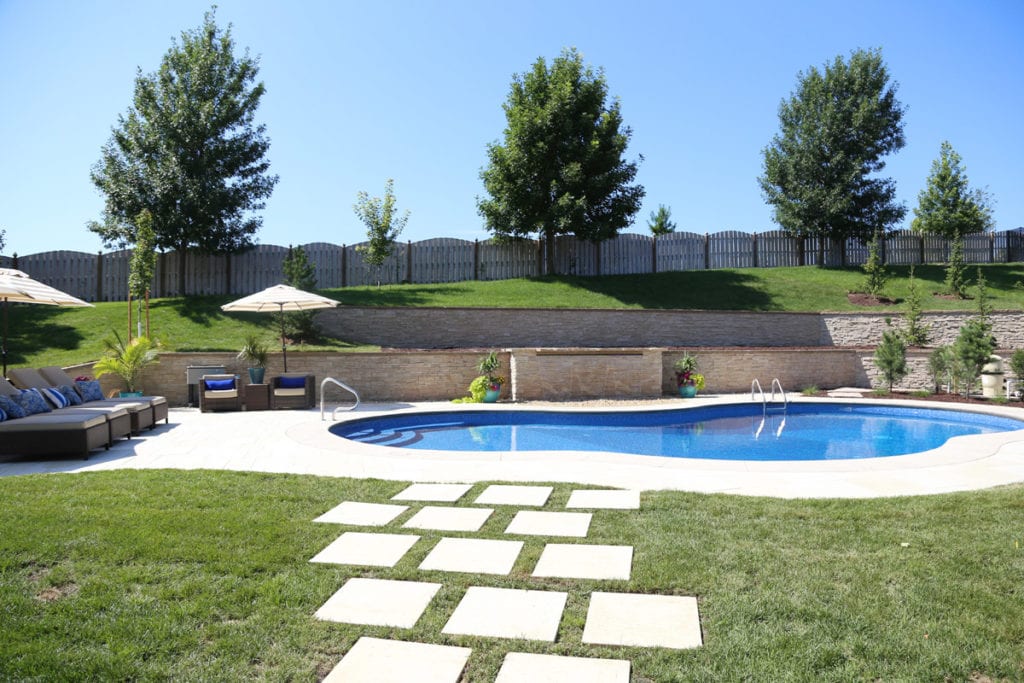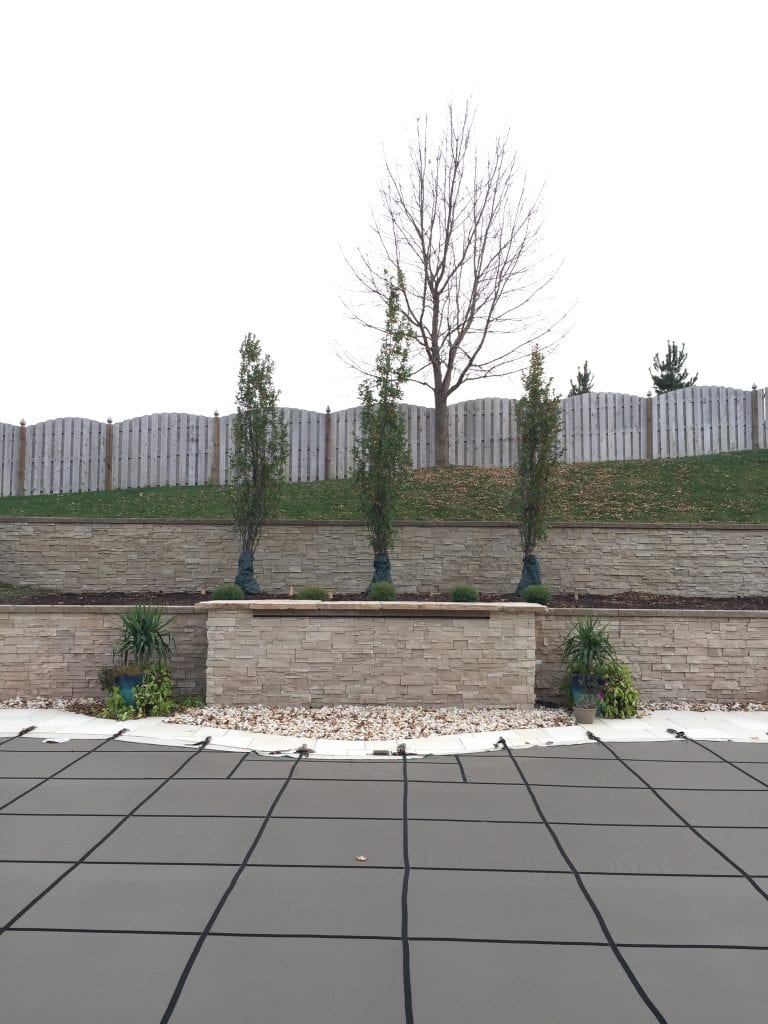 Here's the awesome plans Justin at Outdoor Inspirations made for us. I know you can't actually see any of the text, but that middle section is where we'll be adding lots of shrubs and grasses that have pretty colors every season of the year. It includes firedance dogwoods, bluestem "the blues" grasses, little Henry sweetspire, spilled wine weigela, and goldmound spirea. Lots of color and texture with fairly low-maintenance perennials. I'll be adding even more color in front of that wall in the form of my planters filled with colorful annuals! You can read more about those in this post. We're also adding some small limestone outcroppings to the top part of the hill (towards the right corner where those pines are), because the hill is still ridiculously steep up there and the lawn mower doesn't work up there. We'd still love to add a few more trees up on that top level by the fence, but they likely aren't in the budget this year. I'll be sure to share an update once everything is done next week!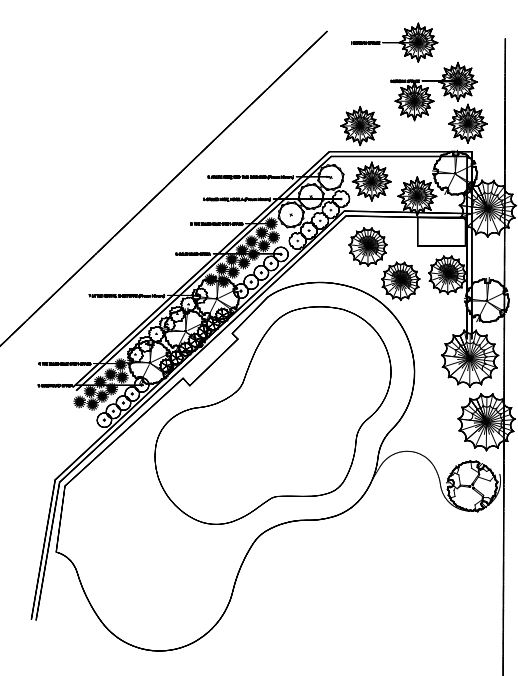 Saturday morning we ran a few errands and then headed to rental house #3 to get some work done. There have been a few slight delays on the flooring, so we've kind of slacked off on our tasks since we aren't under as tight of a deadline now. I never thought I'd add boob lights to a space but they are so affordable (we got two-packs of lights at Home Depot for $22) and they were a lot better than the versions that were already in place.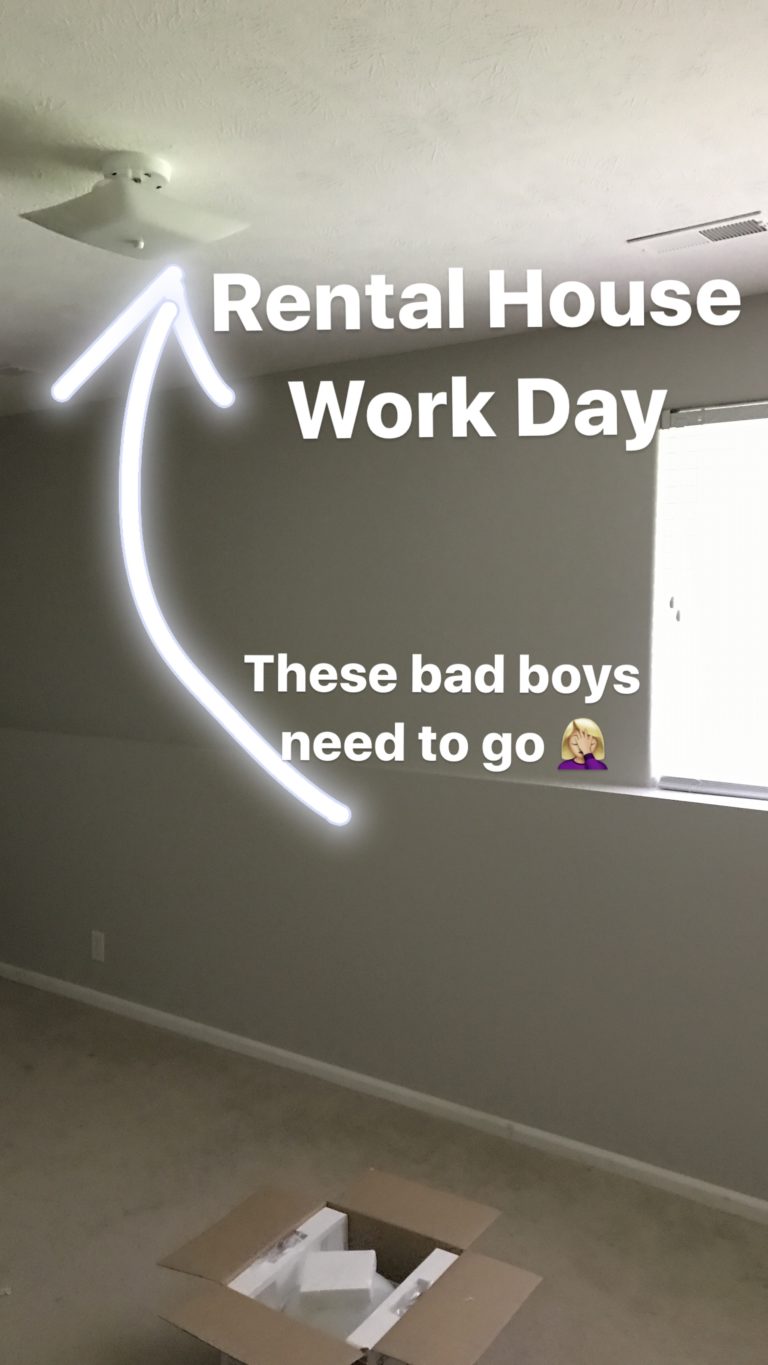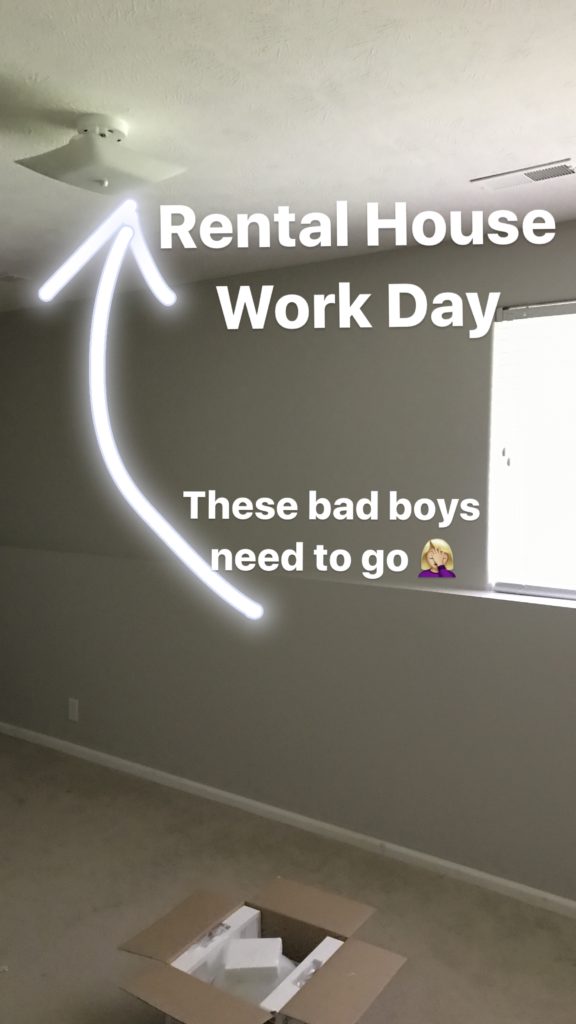 I'm hoping to share a full before and after tour of this rental with you guys soon! All of the changes are extremely budget friendly and I've tried to make selections that will appeal to the masses. Nothing too taste-specific that could turn off potential renters.
After a few hours of work, we headed to Blatt for some beers and food.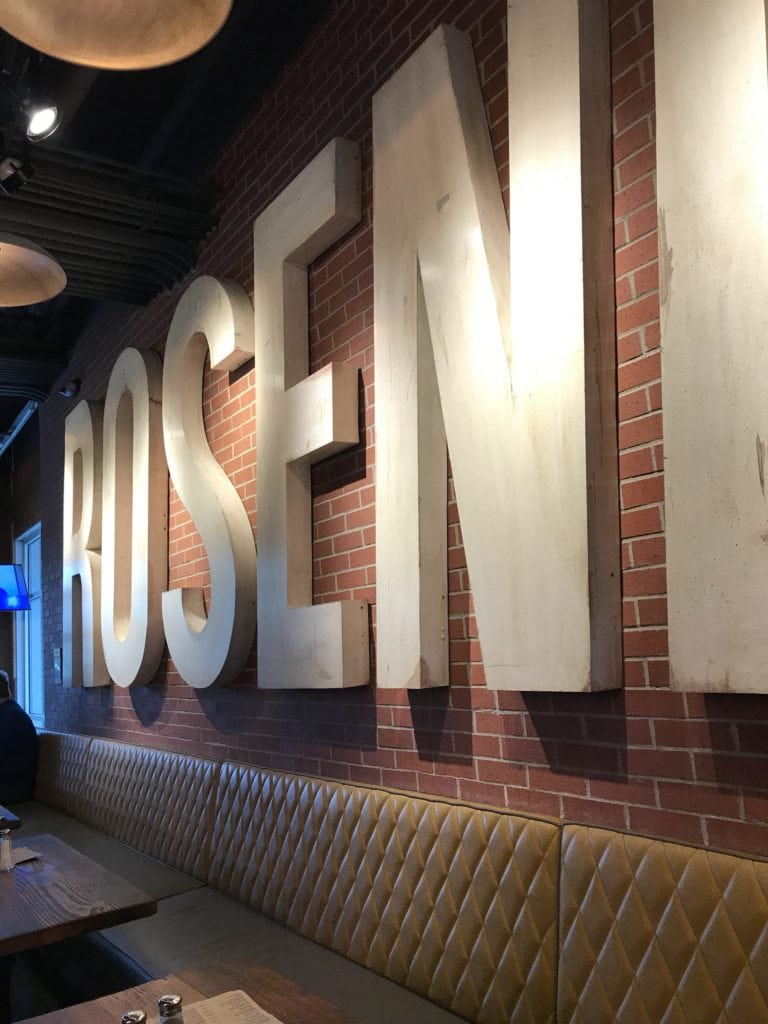 We were obviously super healthy in our selections… But guys, this food was so ridiculously good. Kurtis had the chicken and waffles and I had the sriracha buffalo mac & cheese. We were basically in a food coma the rest of the day.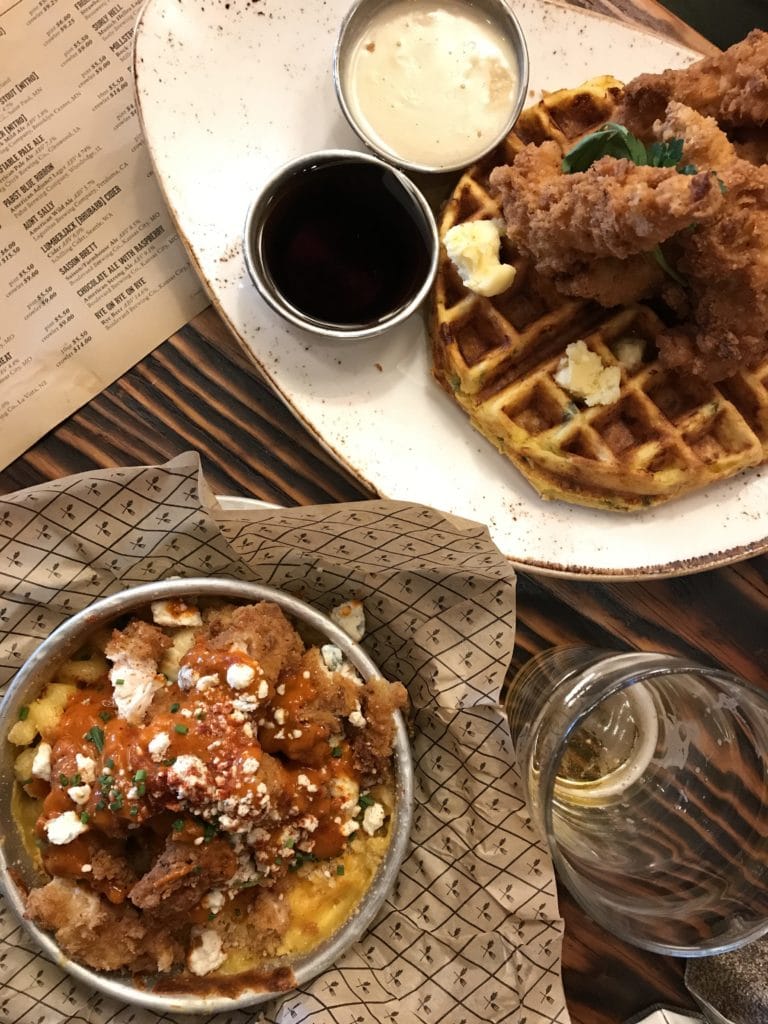 Sunday, we headed back to the rentals to get even more light fixtures installed. We are replacing literally ever light and fan in the home so it is taking a lot of time to get them all changed out. But, we're nearly done now!
And PSA for all of you. This is why you don't install a ceiling fan in your kitchen above your stove. Unless you plan to clean it frequently. These chunks of dust likely were flying around every time the fan got turned on. This weirded me out more than maybe anything in my life ever.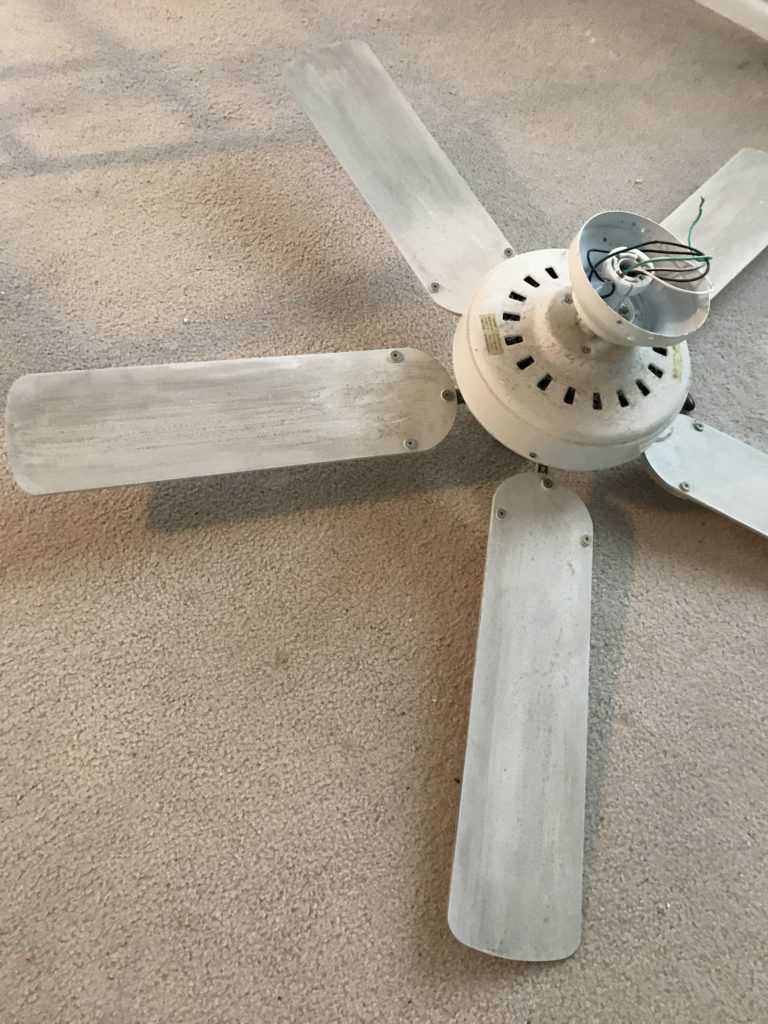 But, it's starting to look a lot more livable now! The carpet is still really gross (which is hard to tell in this photo), but once all the new floors are in, it's going to be really nice! I'm still really loving the Sherwin Williams Agreeable Gray I picked out for the entire house. It looks gray and beige and warm all at the same time.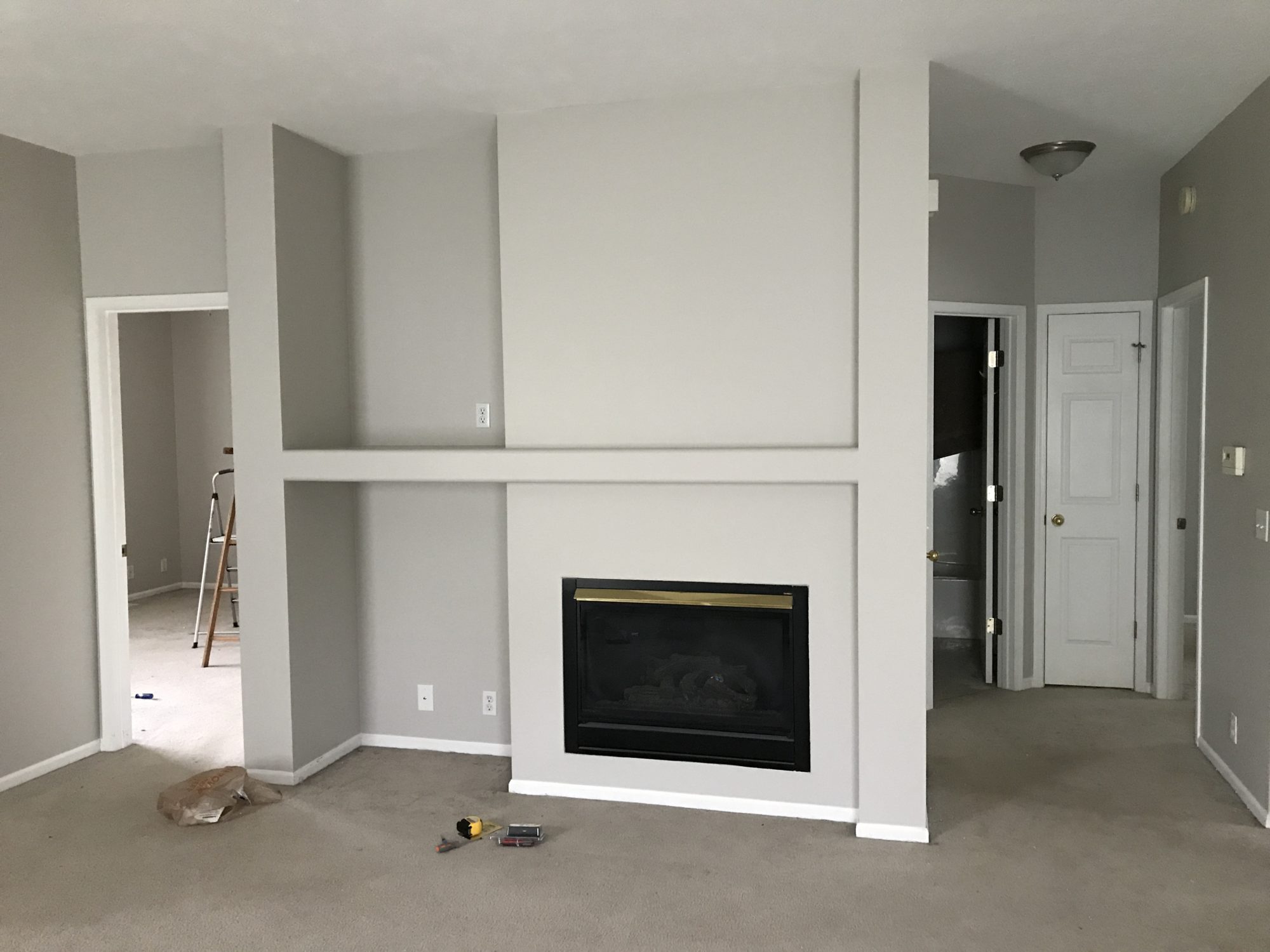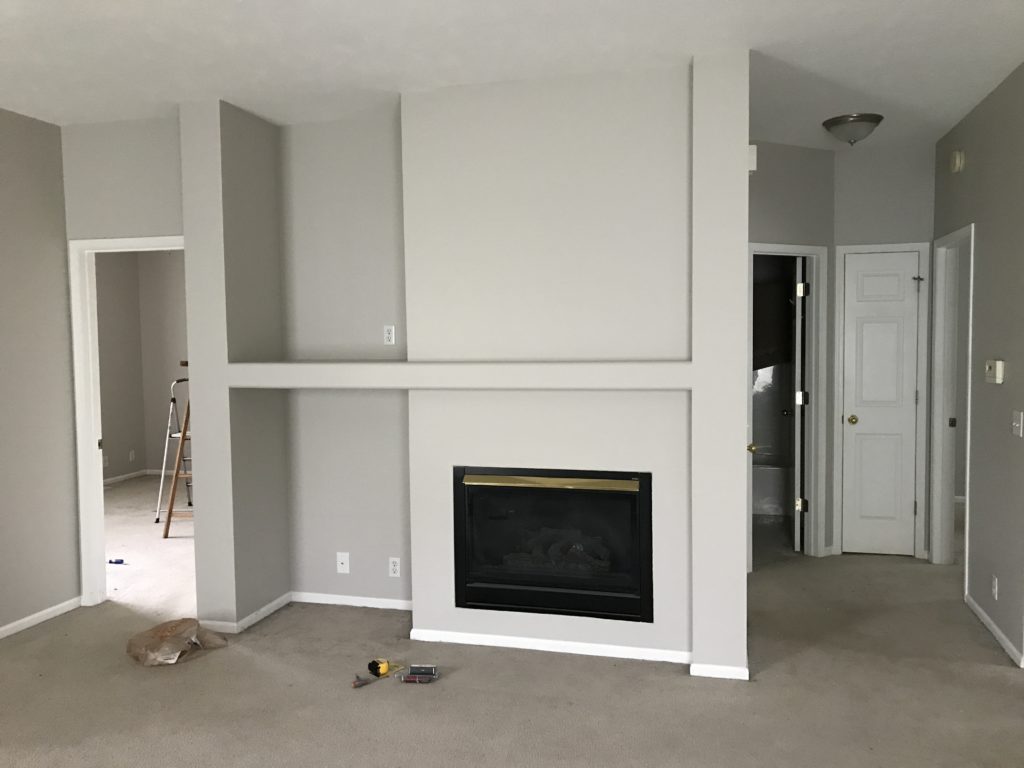 Sunday evening we headed to Lazlo's for dinner and then to Jill and Nick's because we hadn't seen them for a week. #bffwithdrawals. I'm kind of obsessed with the lilac tree that is outside of their dining room window. And this greenhouse light fixture they have in their dining room. Such a pretty combination!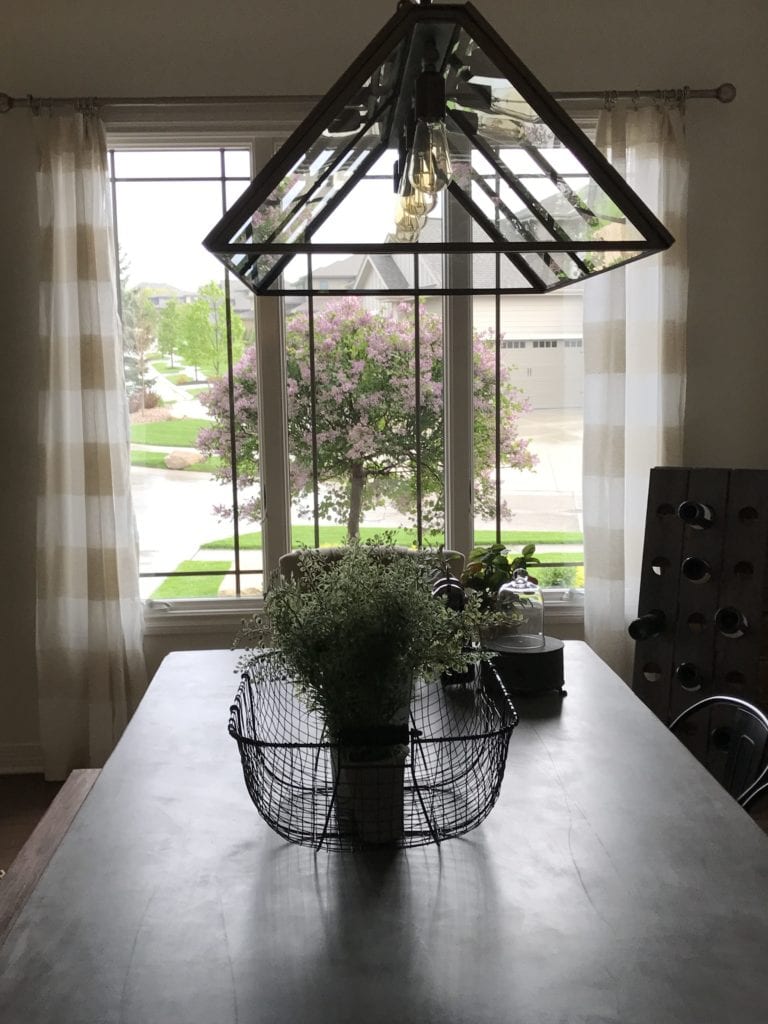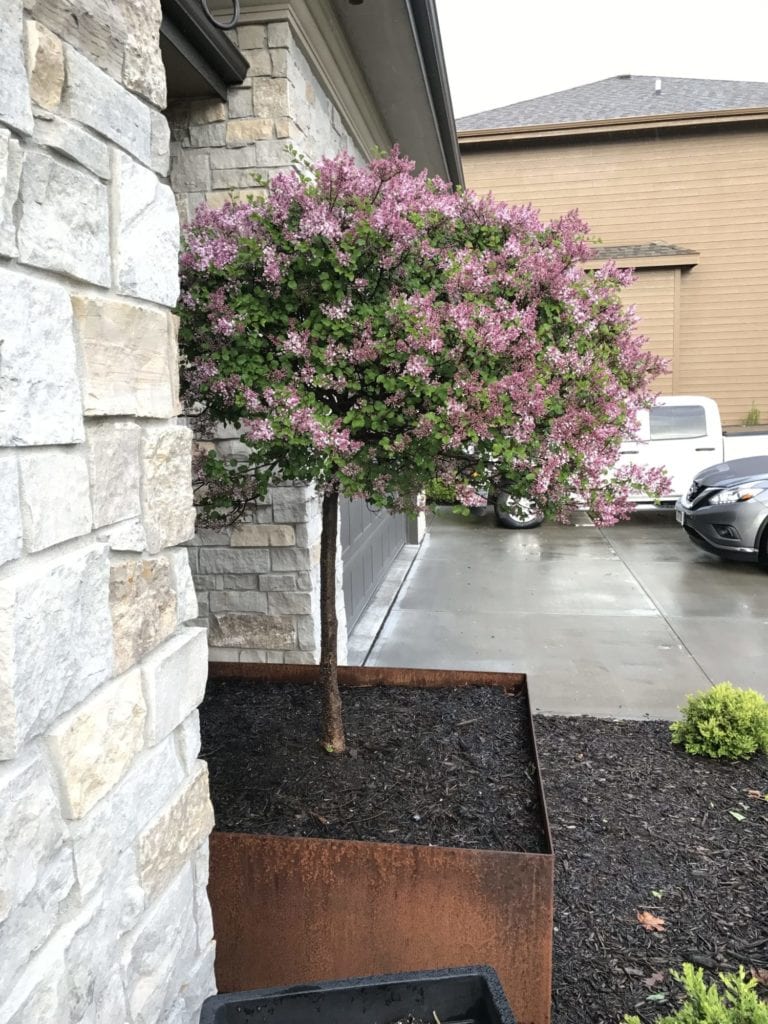 We've decided to go hardcore now with eating right and working out until our trip to Italy in several weeks. I'm about halfway through this program but now I need to really focus on it in addition to better food choices!
The pool crew is supposed to come open the pool this week, and even if it isn't warm enough to swim, I'll be so excited to look out and see the blue waters again! Tomorrow I'll be sharing all the updates to our courtyard. I absolutely love how it turned out and can't wait to share it with you! Have a great week!
If you would like to follow along on more of my home decor, DIY, lifestyle, travel and other posts, I'd love to have you follow me on any of the following:
Pinterest / Instagram / Facebook / Twitter / Google+
disclosure: some affiliate links used