I skipped last week's weekend recap and honestly not much has changed around here the past two weeks. Other than the major sneak peek I have at the end of this post! 😉 It's amazing just how boring and uneventful your life seems when you don't go out to eat 4-6 nights a week. The crazy thing is I didn't take any photos these past two weeks either. Unless you count this one of Bearcat in a tote in the hallway.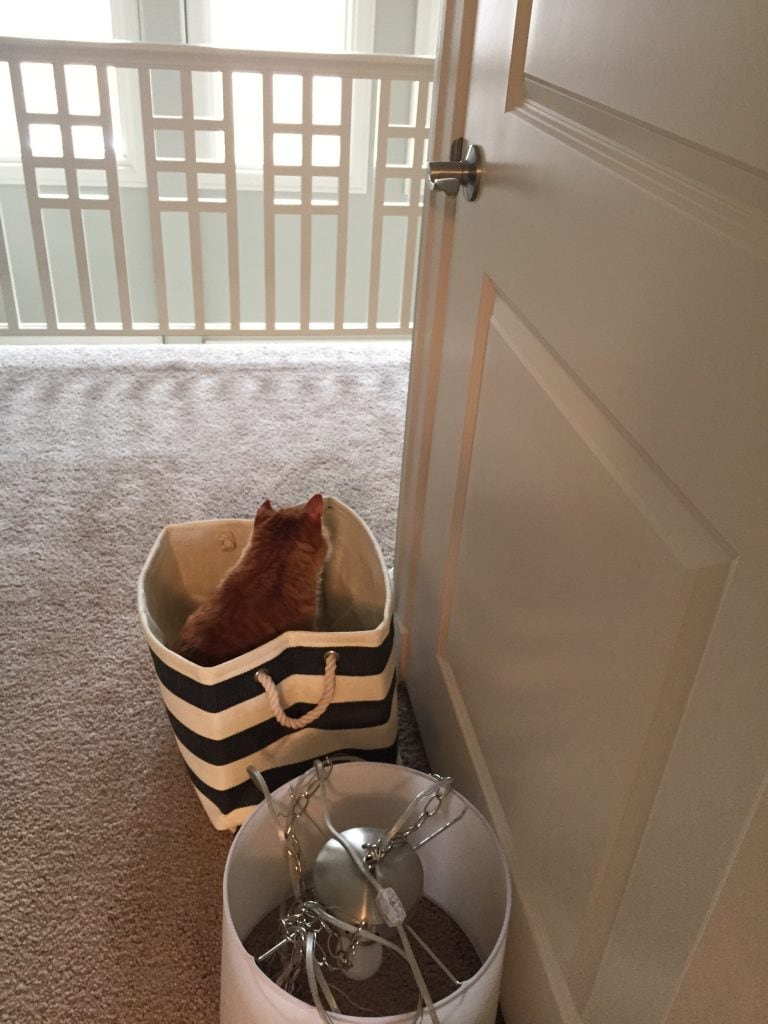 I've been selling up a storm on our local Facebook pages again over the past few weeks. I have sold so much and it feels great! Not to mention, I've had a lot of extra cash to help fund the recent makeovers I've been working on. Less clutter around the house and extra cash is always a good thing!
Kurtis went with Nick to a used exercise equipment store on Saturday to look at treadmills. Not only did he find a treadmill, he likely found another rental house for us. Talk about a surprise announcement there when he got home. We're still working through the details since it's a 'For Sale By Owner' property, but I'll keep you posted if it comes through. It's one we may have to put some work into so it could mean some fun updates to share here on the blog. The goal would be a higher-end look on an extremely tight budget. We've designated March to be the month of 'rental house work' to try and save on costs and do a lot of the work on both homes ourselves. The great news is the tenants in our first rental re-upped their lease this past week so we don't have the added stress of finding new occupants!
In binge TV world: We wrapped up Orange is the New Black and have moved on to Mad Men. We're only a few episodes in and I'm not as hooked as I expected to be. Is this one we need to keep watching though?
I ordered Chasing Slow by Erin Loechner and I'm really looking forward to reading it. It arrives today just in time for a business trip, so I'm hoping to read on the plane. I actually met Erin on my Delta Chicago trip, and she was super sweet. I've heard excellent things about the book and I'm really looking forward to hearing Erin's message.
We're headed to Southern California at the end of the month and I am severely underprepared. I haven't been shopping at an actual clothing store in ages (online is so easy!) but I definitely need to get a few items, including a new cocktail dress. I likely don't have time to deal with the return process at this point if I need different sizes, so I'm thinking I'll have to go out in person. Have you seen any cute stores carrying spring clothes yet? I usually just hit up J. Crew because it's an easy one but I'm trying to branch out a little 😉
We watched the Super Bowl at our house last night with Nick (Jill was out with a friend that was in town). I have to say, Lady Gaga blew me away. I used to really love her and lately I've lost interest. However, her performance was stellar and I remembered all over again why I used to love her!
I spent a lot of the weekend wrapping up the paint in the craft room (Benjamin Moore Simply White). Now for the moment you've all been waiting for and really the only truly exciting information I'm showing on this post. I shared this sneak peek of the space last night on Instagram. Guys, it is all so good and I'm so excited to share more about it (hopefully later this week)!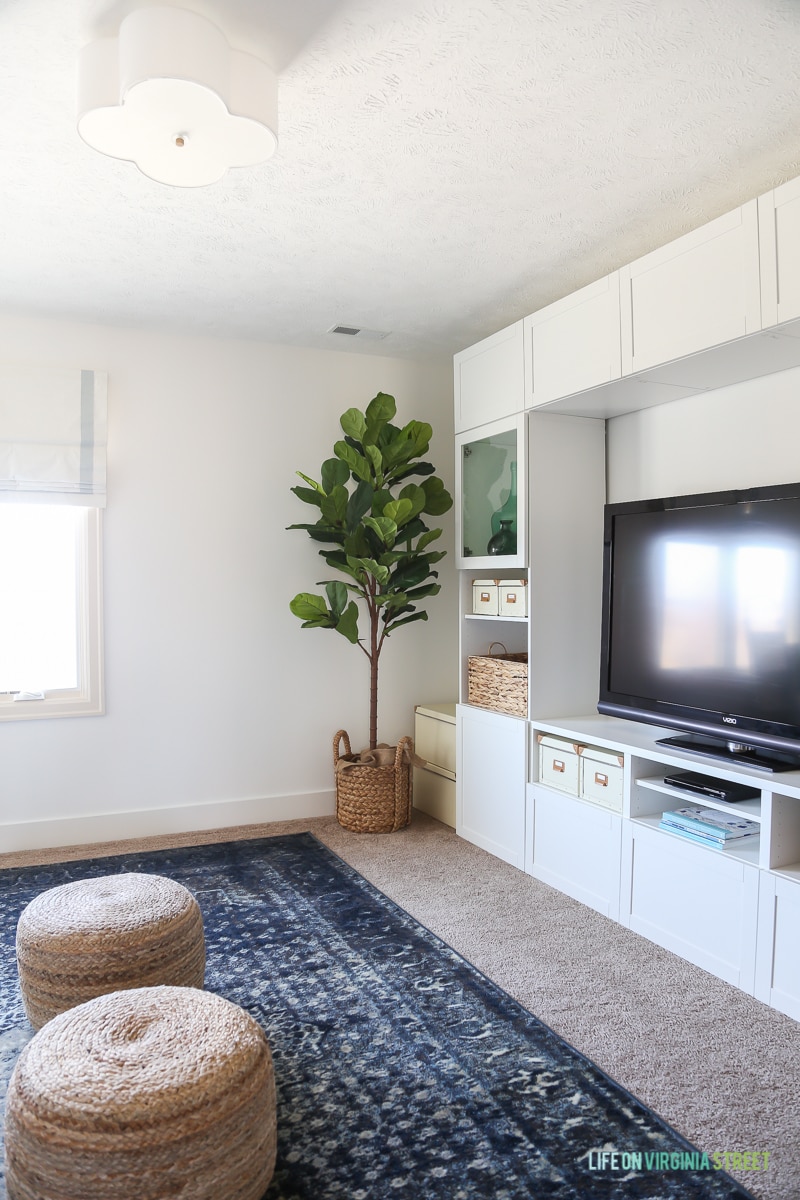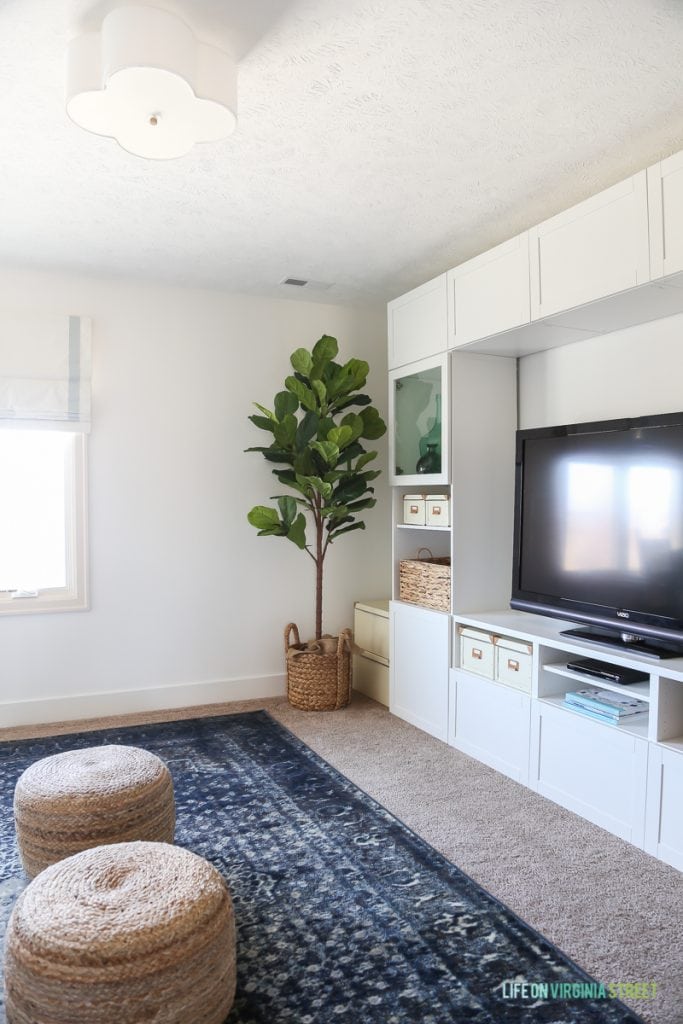 Entertainment Center (IKEA) | Rug | Poufs | Fig Tree | Basket | Light Fixture | Roman Shades | Storage Boxes
I still have some work to do in the space, but I'm so excited to share the rest of the space with you!
I'm headed to Tucson Wednesday thru Friday for a business trip so I'm looking forward to some warmer weather (even if I'll be in a conference room most of my stay). Have a great week!
If you would like to follow along on more of my home decor, DIY, lifestyle, travel and other posts, I'd love to have you follow me on any of the following:
Pinterest / Instagram / Facebook / Twitter / Google+
disclosure: some affiliate links used