I'm the first to admit that I'm super surprised by how well Kurtis and I have stuck to our resolution to eat at home more this year! We honestly haven't eaten out for dinner more than once a week and are officially cooking ninjas. At least in our minds 😉 Today I've partnered with ServiceMaster Restore to share one of our favorite healthy meals lately (lettuce fajitas) along with some cooking safety tips to keep in mind.
I would guess that even if you're resolution wasn't to eat more at home this year, you (or a family member) are likely spending more time in the kitchen during these cold winter months. It's not as easy to fire up the grill in January and sometimes it's so cold out, you don't even want to leave the house. Today I'm sharing some basic safety tips to keep in mind as you're cooking and a recipe that actually gets us excited to eat at home more frequently!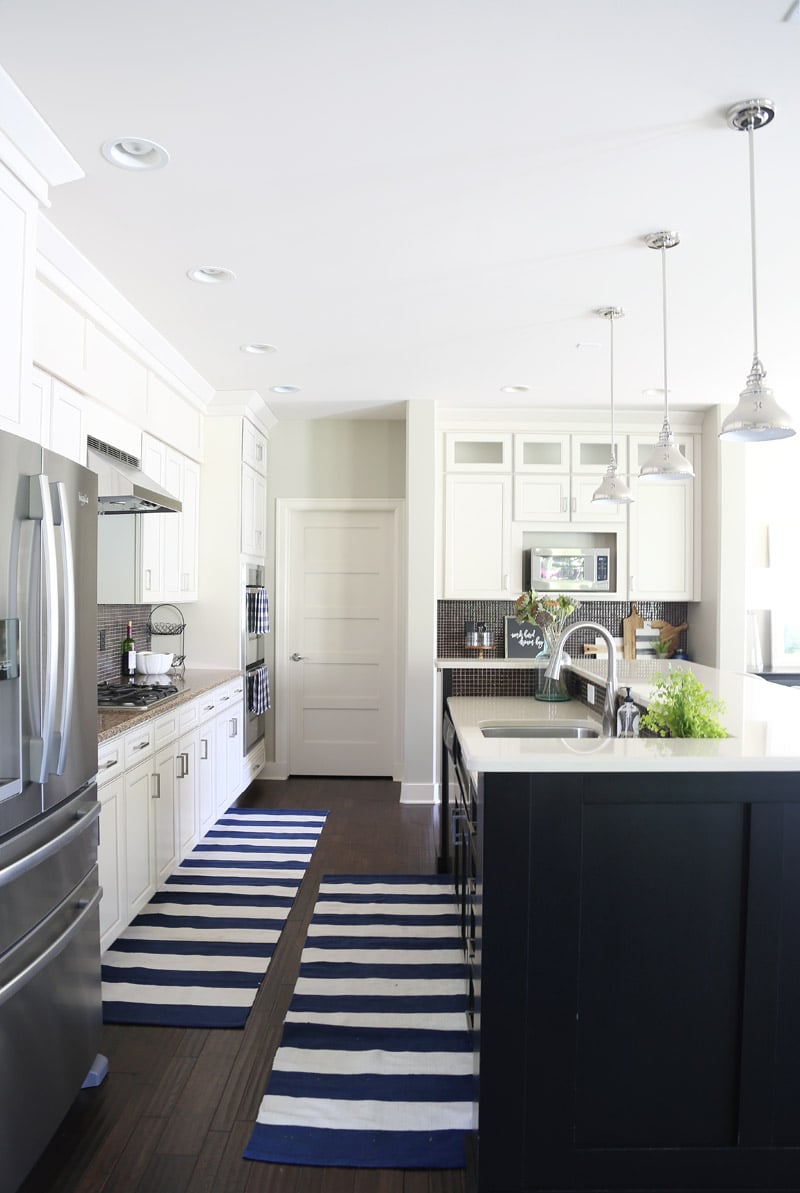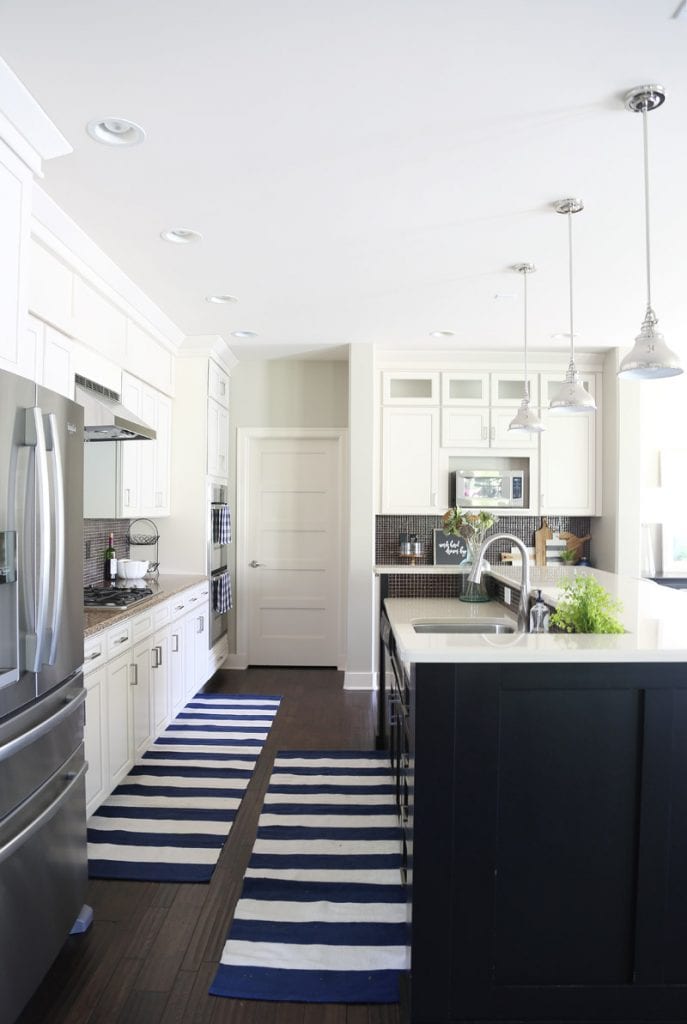 Cooking Fire Safety Tips
Cooking at home seems like such a basic activity that many of us don't take some necessary precautions to ensure we're cooking as safely as possible (guilty!). But, according to the NFPA, cooking causes almost half (48%) of reported home fires and (45%) home fire injuries, one of every five (22%) home fire deaths, and one-sixth (17%) of the direct property damage from home fires. Following are some easy to follow tips to ensure your home doesn't become one of these statistics!
Test all of the smoke alarms in your house and change the batteries if you can't remember the last time you did it! Keep in mind, batteries should be changed every six months.
Keep a fire extinguisher (or two) in the house and never use water to put out a kitchen fire. It is a good idea to regularly make sure to check that the extinguisher is fully charged. You'll notice below, it is really easy to check if you're extinguisher is ready to go. Green – good, red – bad. Both of our extinguishers (different models and brands) have a similar gauge to help you know if you need to replace.
Make sure electrical outlets throughout the house aren't overloaded with plugs, and that cords aren't frayed or cracked. We need to keep an extra eye around our house because one of our cats likes to chew our phone cords (of course it's the expensive Apple lightning chargers too). If you have pets, plan to check cords more frequently.
Don't eat or drink anything that's been near smoke – no matter how good it looks.
Make sure the stovetop and counters are clean of any grease before you start cooking up a storm. I'm a super messy cooker, which always requires extra clean-up on my part in between meals.
Never leave the kitchen unattended, and make sure to check the oven often if you are roasting or broiling food. We have also really loved shredded Brussels sprouts lately. We mix them with a bit of olive oil, garlic salt, and pepper and then bake for 18-20 minutes at 400 degrees on a cookie sheet. We broil them the last few minutes to get the outer shells a little crunchier, but you really have to watch these or they will char pretty quickly! They are so good though!
Blow out candles every time you leave a room; you never know who might knock them over (pets included).
Keep anything that can catch fire — oven mitts, towels, napkins, etc.— away from your stovetop.
If your clothes catch fire, remember the golden rule from your elementary school days: "Stop, Drop and Roll." This little dance can actually prevent you from getting hurt.
If you do accidentally start a fire, don't be a hero – call the professionals.
These basic steps help ensure you keep you and your home safe during the winter cooking months!
Lettuce Fajitas
Lettuce fajitas have become a fast favorite of ours over recent months. It feels a bit like a restaurant indulgence but is a healthier alternative to traditional fajitas. Here's what you'll need to get started, but there are so many ways you can alter and customize this meal!
3 bell peppers – we like one red, one orange and one yellow
1 onion
3 cups cooked chicken (we like to buy the Costco rotisserie chicken that they've already removed from the bone)
Taco seasoning (we prefer this over fajita seasoning)
Romaine hearts
Greek yogurt (optional)
Finely shredded cheese (optional)
This amount of ingredients makes about four servings for us. We save the extra two for lunch the next day.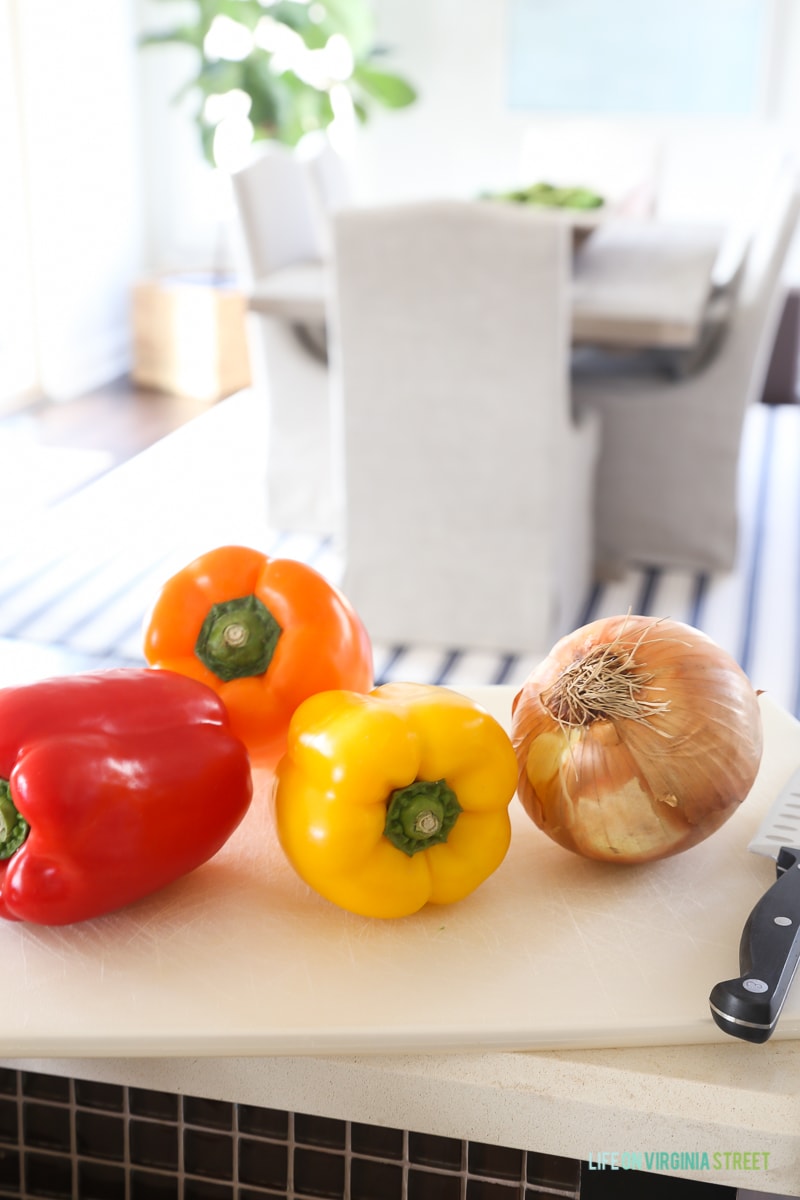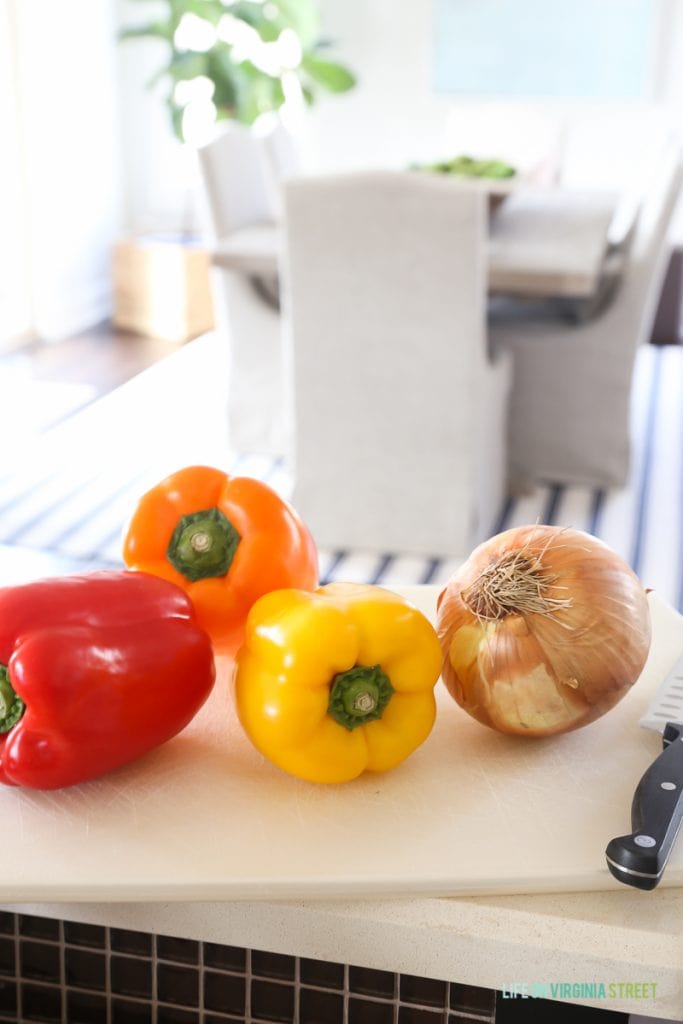 I start by sauteeing the sliced onions in olive oil for about five minutes. They tend to take longer than the peppers to cook so I like to start them a few minutes ahead of time. Sometime I'll cover to let the steam cook them even more quickly.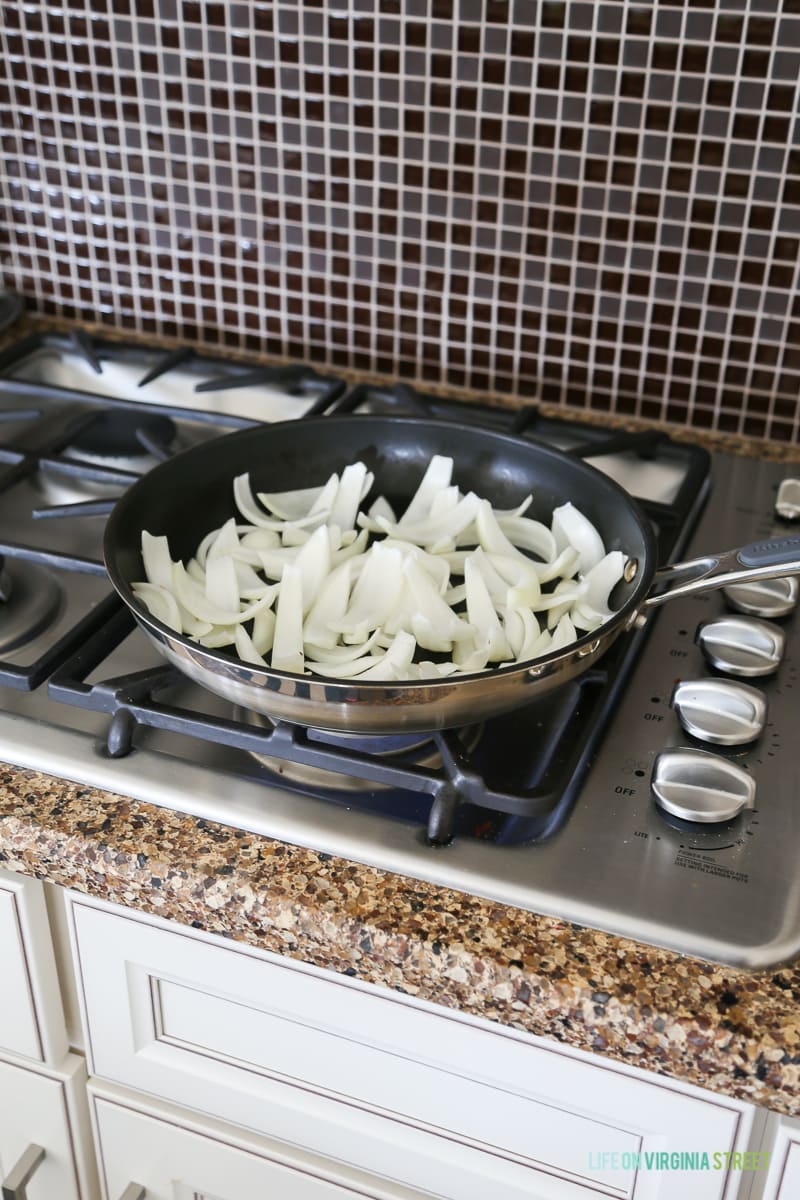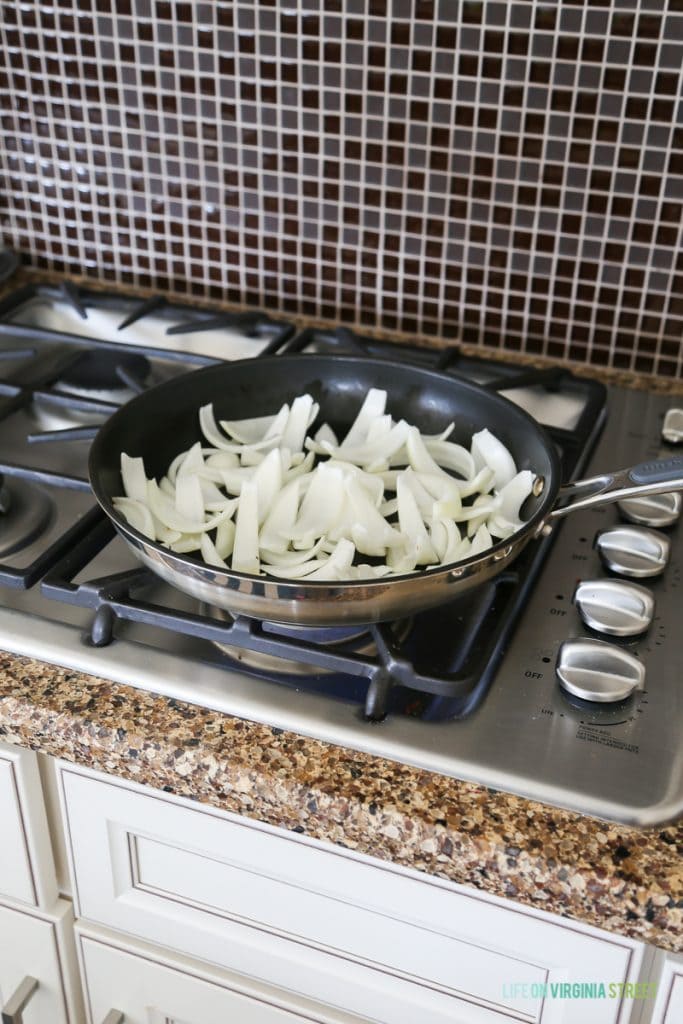 Then, add in the peppers (I cut ours into strips) and add the taco seasoning and water (as indicated on the packaging).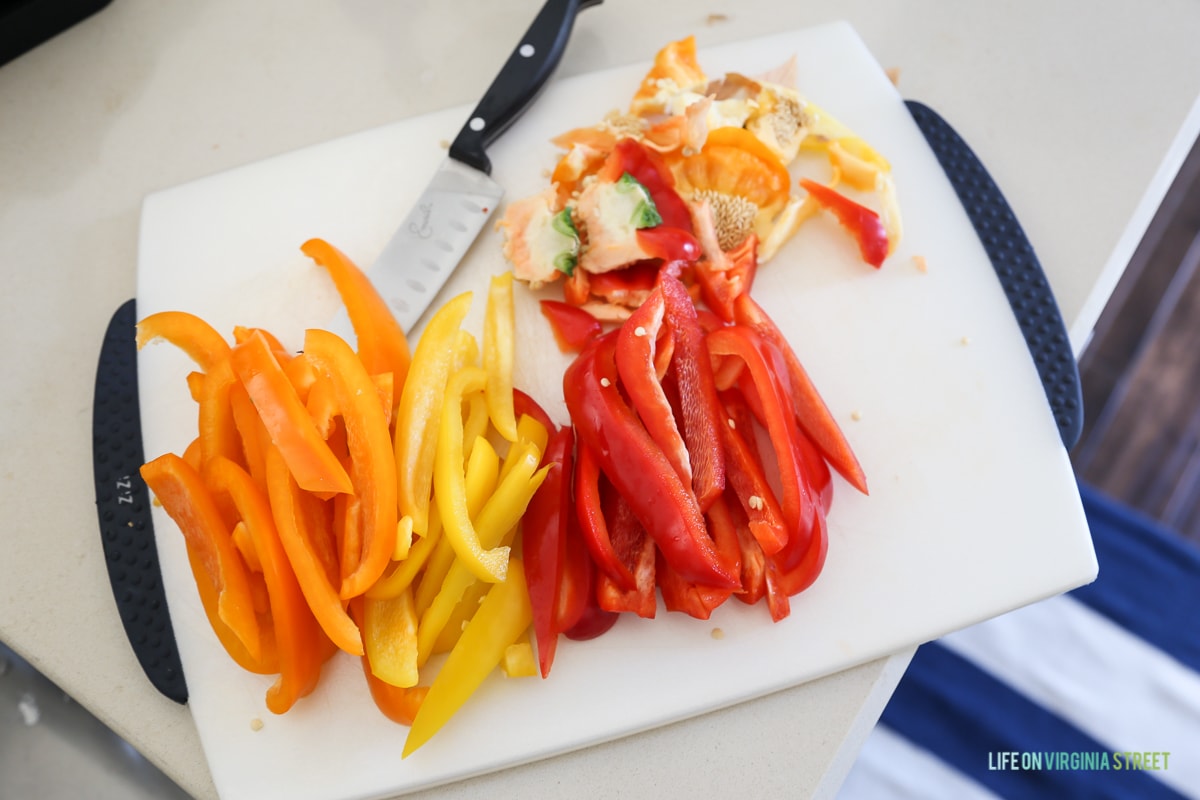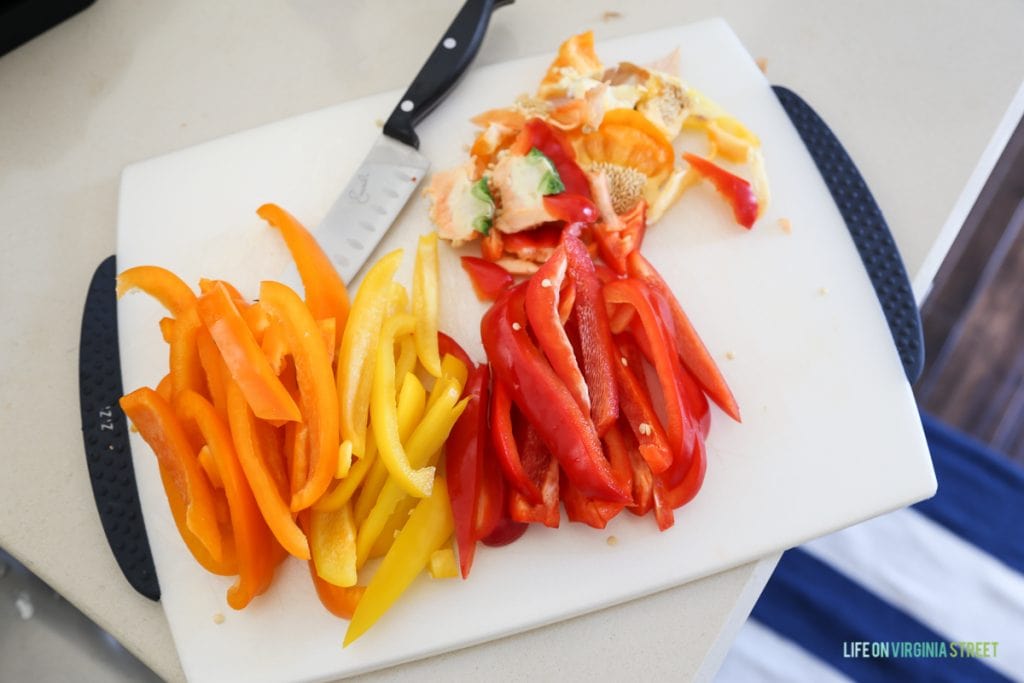 Just prior to the veggies all being ready, I add in the chicken and stir thoroughly (and usually adding in a little more water and seasoning).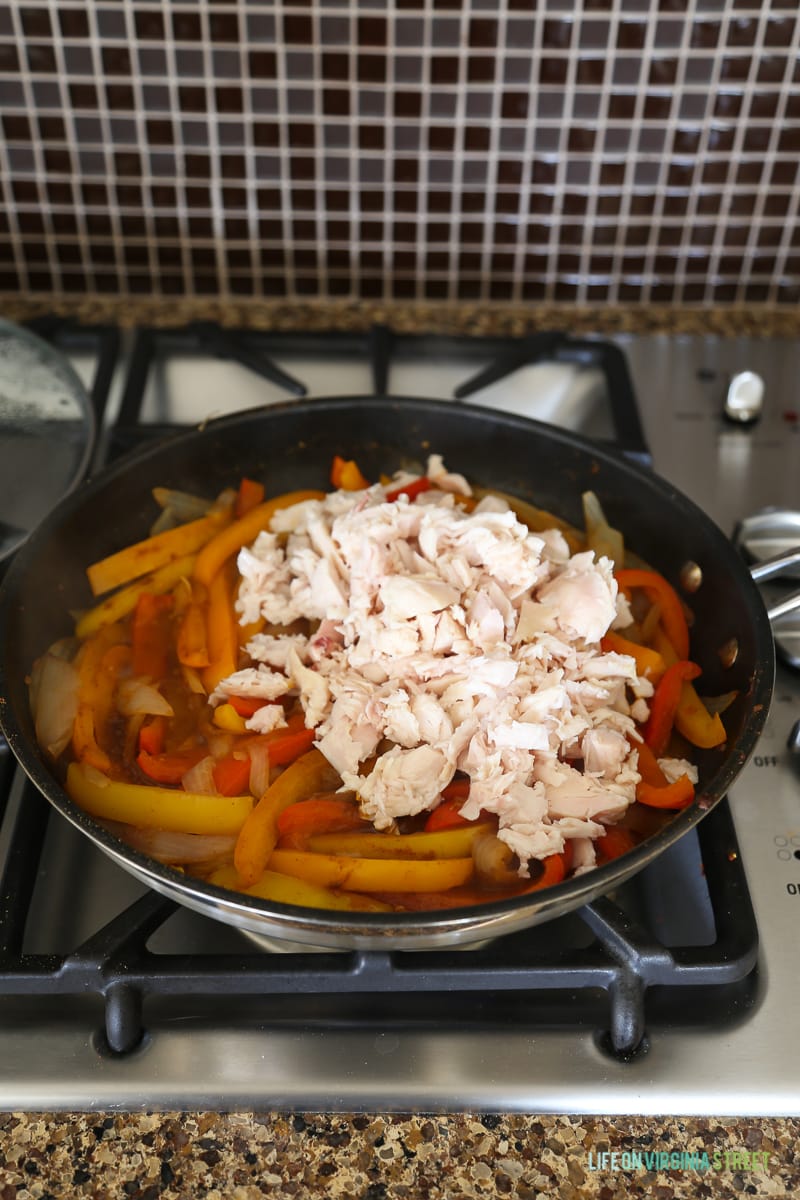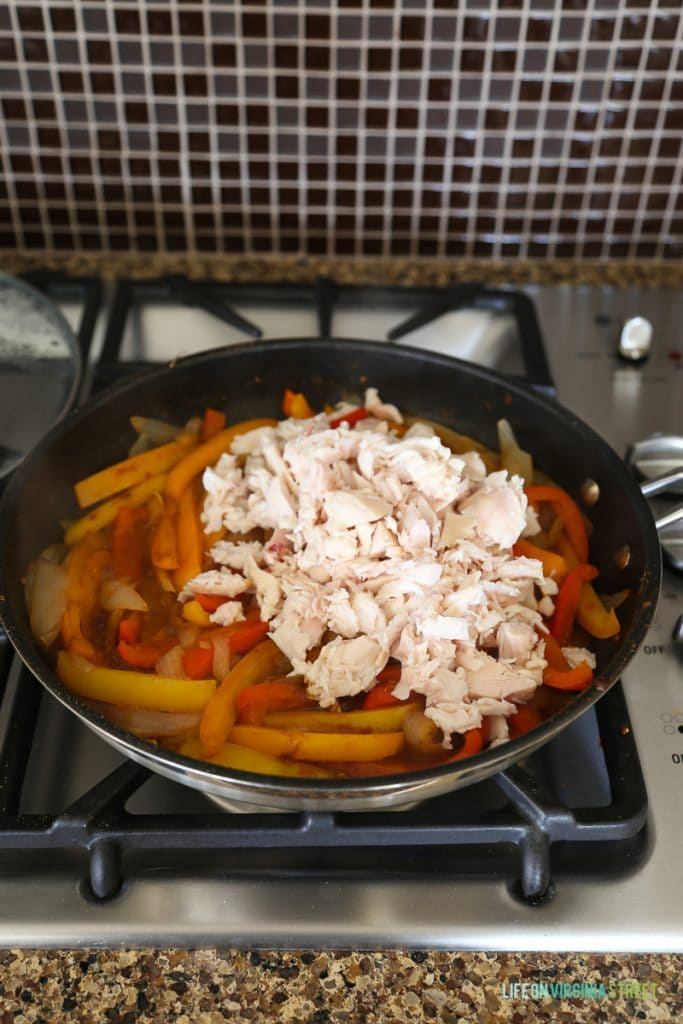 Once the bulk of the water has evaporated, everything is usually ready!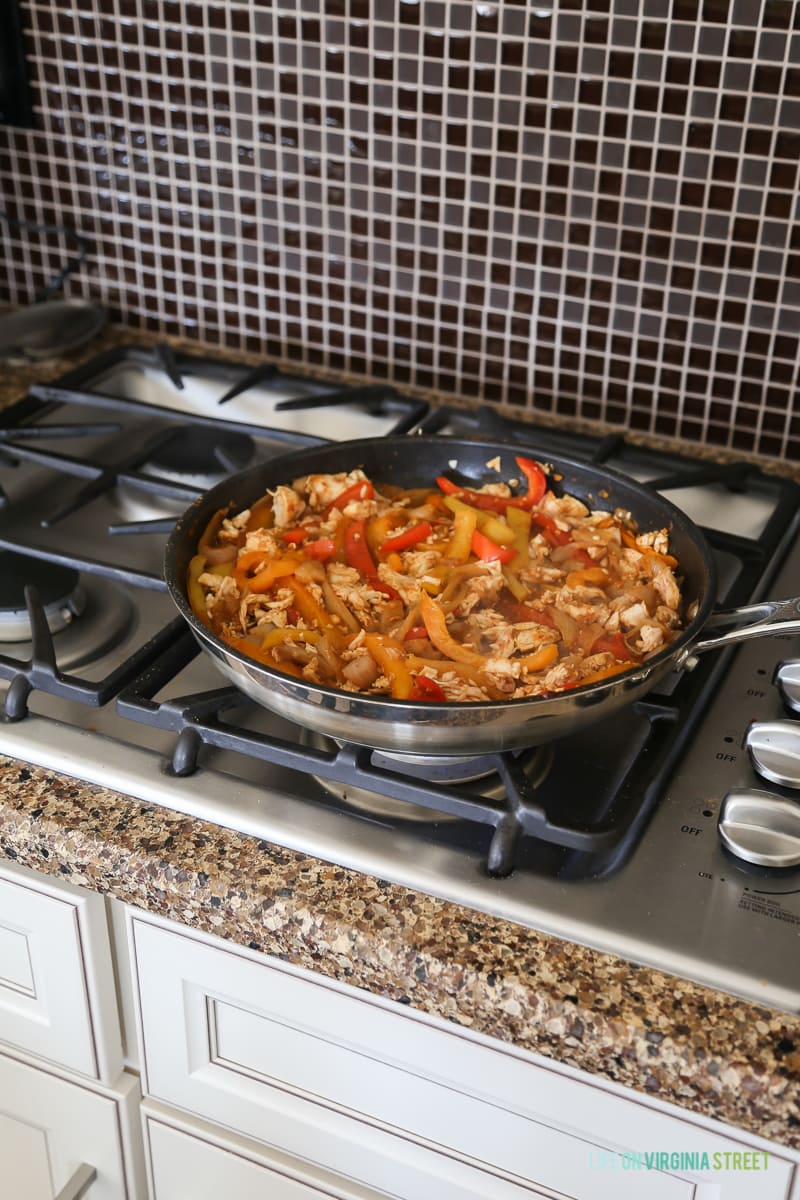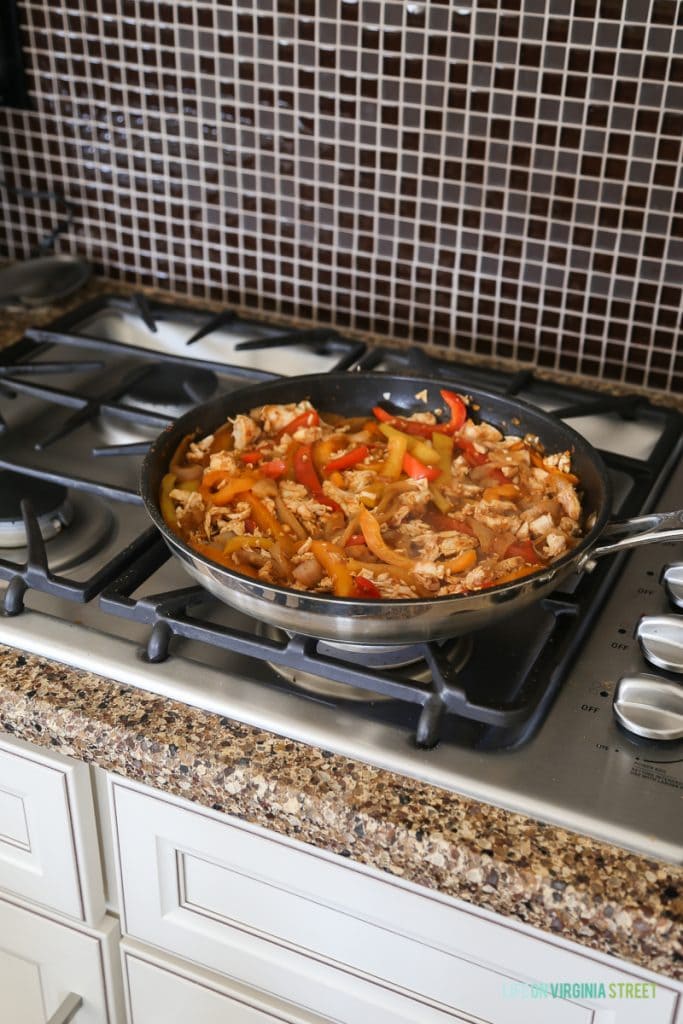 We like to double up our Romaine hearts for added strength to the "shell" and we lightly add Greek yogurt to the inside of the hearts to act as a paste. Fill with the hearts with the veggie/meat mix and lightly sprinkle with cheese. Enjoy!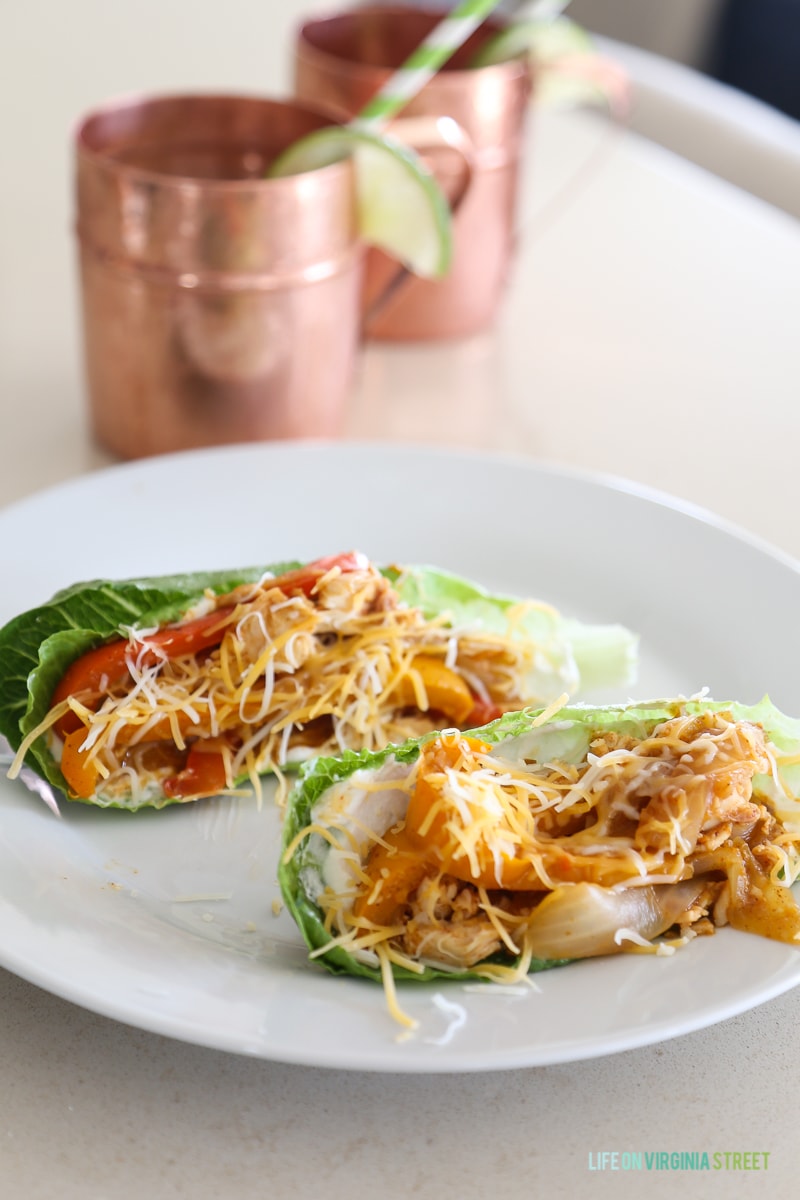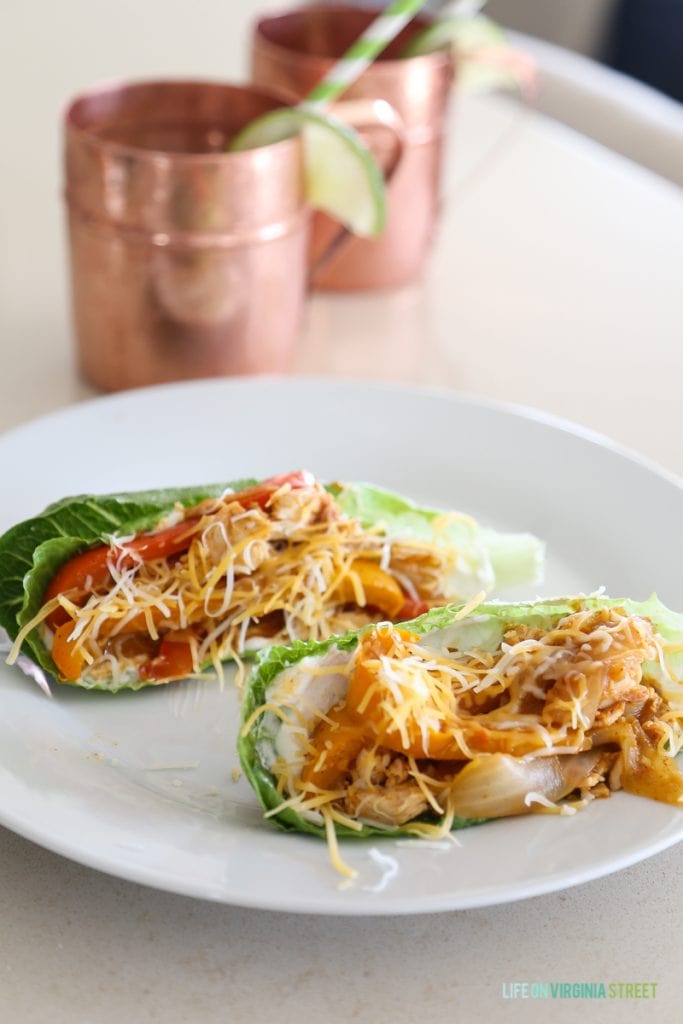 You guys, this meal is so good! And it feels like a major guilty indulgence even though it is packed with veggies. We love pairing this meal with a Mexican Mule, which is a Moscow Mule using tequila instead of vodka.
We are really starting to enjoy cooking at home more and hope you found these tips and recipe helpful!
If you would like to follow along on more of my home decor, DIY, lifestyle, travel and other posts, I'd love to have you follow me on any of the following:
Pinterest / Instagram / Facebook / Twitter / Bloglovin' / Google
Disclosure: This is a sponsored post in partnership with ServiceMaster Restore. As always, all opinions and thoughts are my own.