I hope you all had a great weekend! I got back yesterday afternoon from Wilmington, NC after a 4:45 am wake-up call so I was dragging a bit all day! But I had such a great time there and am ready to kick off the new week today!
This post contains affiliate links for your shopping convenience. Click here to read my full disclosure policy.
Home Projects & Updates
I continued my spring decorating last week and love all the simple touches I added to various spaces throughout our home. As I mentioned in my Wednesday Watch List last week, I couldn't be happier with the cute the little ceramic pot I added to our kitchen counter. I found a similar faux asparagus plant here if you're looking for similar greenery! It might be slightly larger than mine but would give a nearly identical vibe.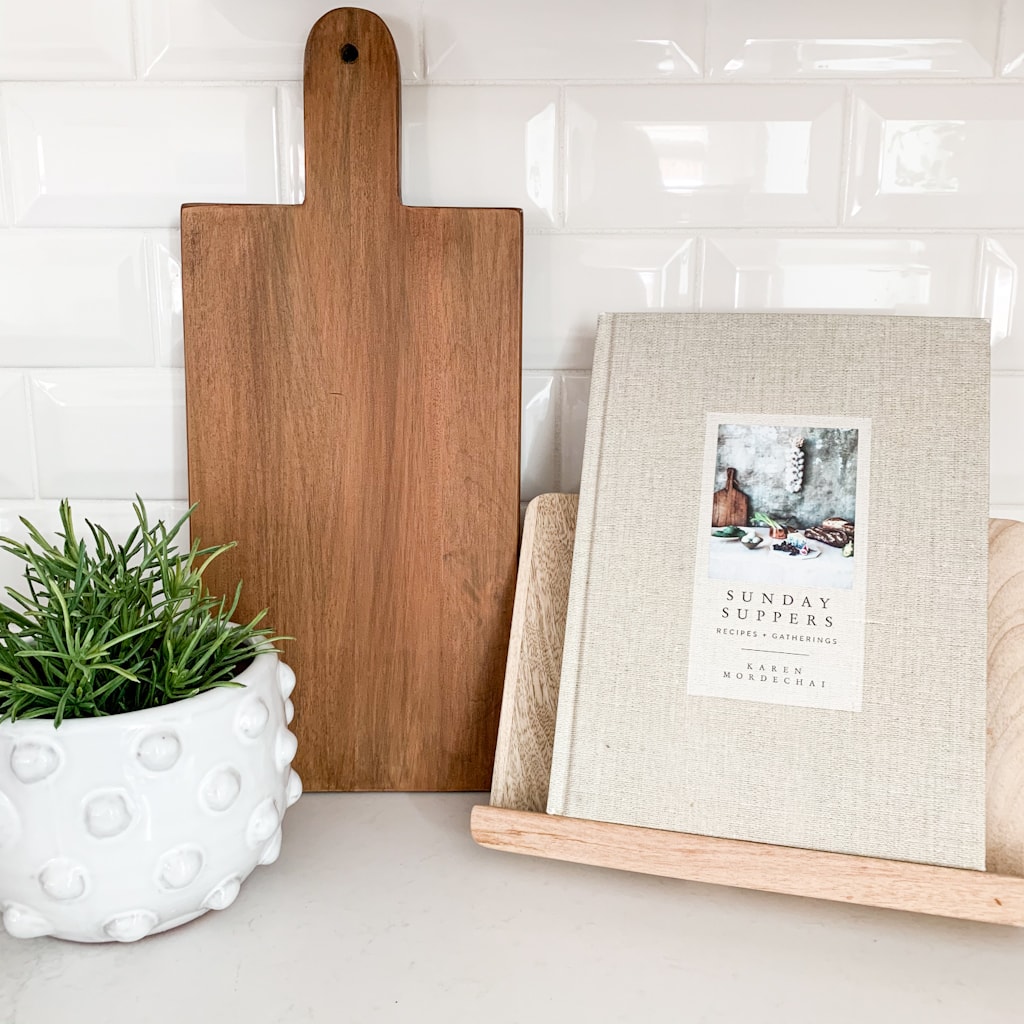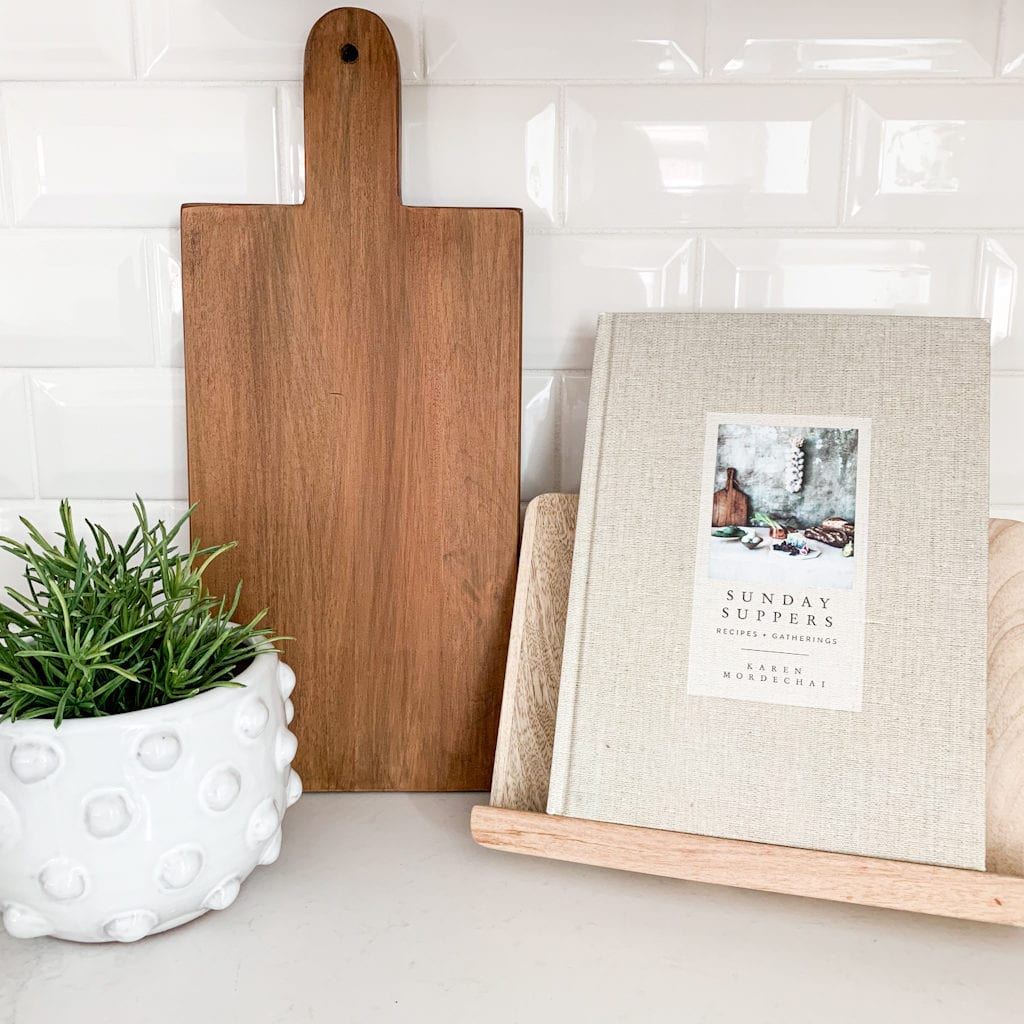 KITCHEN SOURCES: Planter | Wood Board | Similar Recipe Book Stand | 'Sunday Suppers' Book
Last week I took a few more photos of the spring decor I added to our living room. I'm so ready for winter to be over! And good news – my paisley striped pillows I added have been re-stocked! She wasn't able to offer them at the sale price I got mine for since she had to order new fabric, but I wanted to be sure to let you know in case you were one of the ones that requested a re-stock!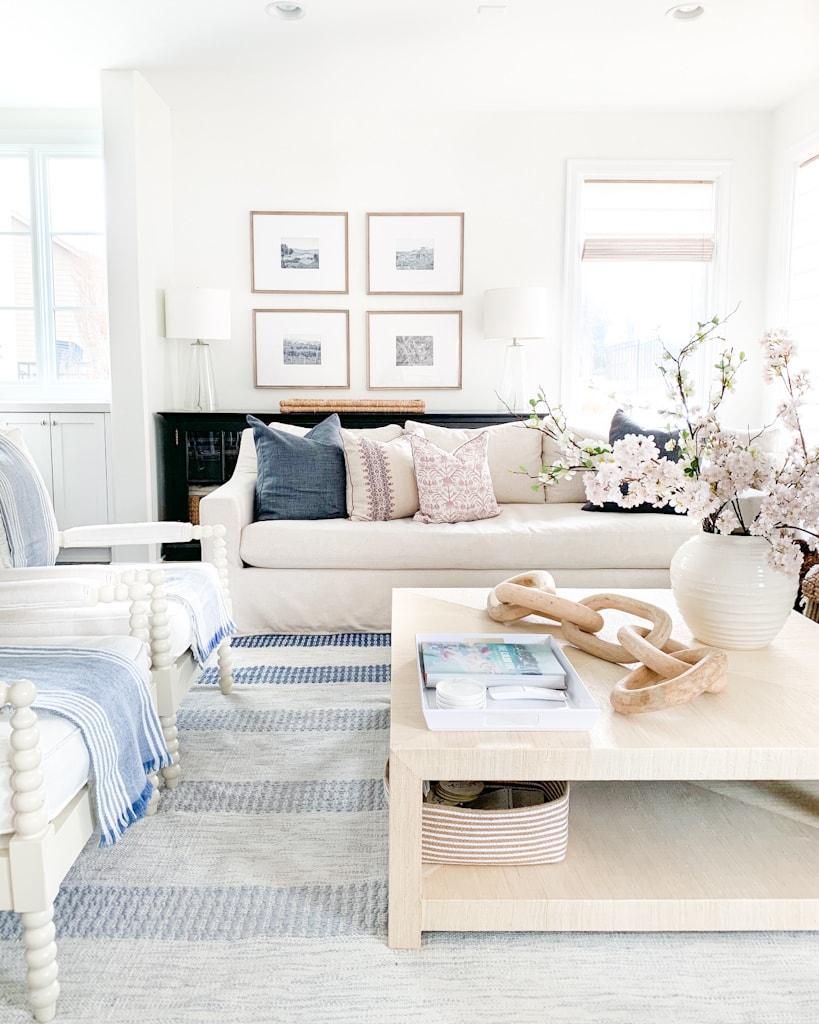 LIVING ROOM SOURCES: Striped Rug | Linen Sofa (full review and fabric details here) | Spindle Chair (Bevin Natural fabric) | Striped Throw | Linen Pillow | Pink Patterned Pillow | Paisley Stripe Patterned Pillow | Coffee Table | Similar Wood Chain | Vase (similar here) | Cherry Blossom Stems (similar here) | Striped Basket | White Tray | Coffee Table Book | Marble Coasters
Nearly ever time I pull out the camera (or my iPhone in this case), these two little stinkers seem to get right in the middle of everything and take over my shot! They sure do make cute accessories though 😉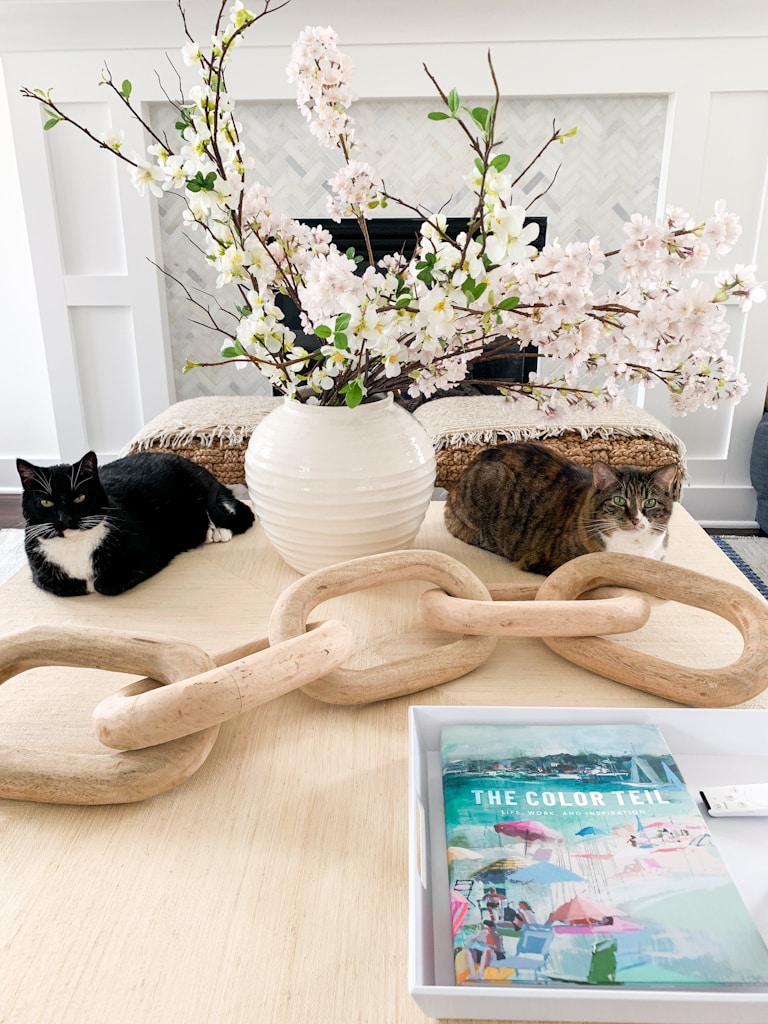 A little closer look at the coffee table texture and the cute coffee table book filled with beautiful beachy art! We've had this white tray for years and years, and I'm so glad they still have it! It's actually the one I would serve all of Kurtis' meals on when he couldn't walk, we use it at the pool, and I use it in our decor. It's so affordable, I should probably just get a second one 😉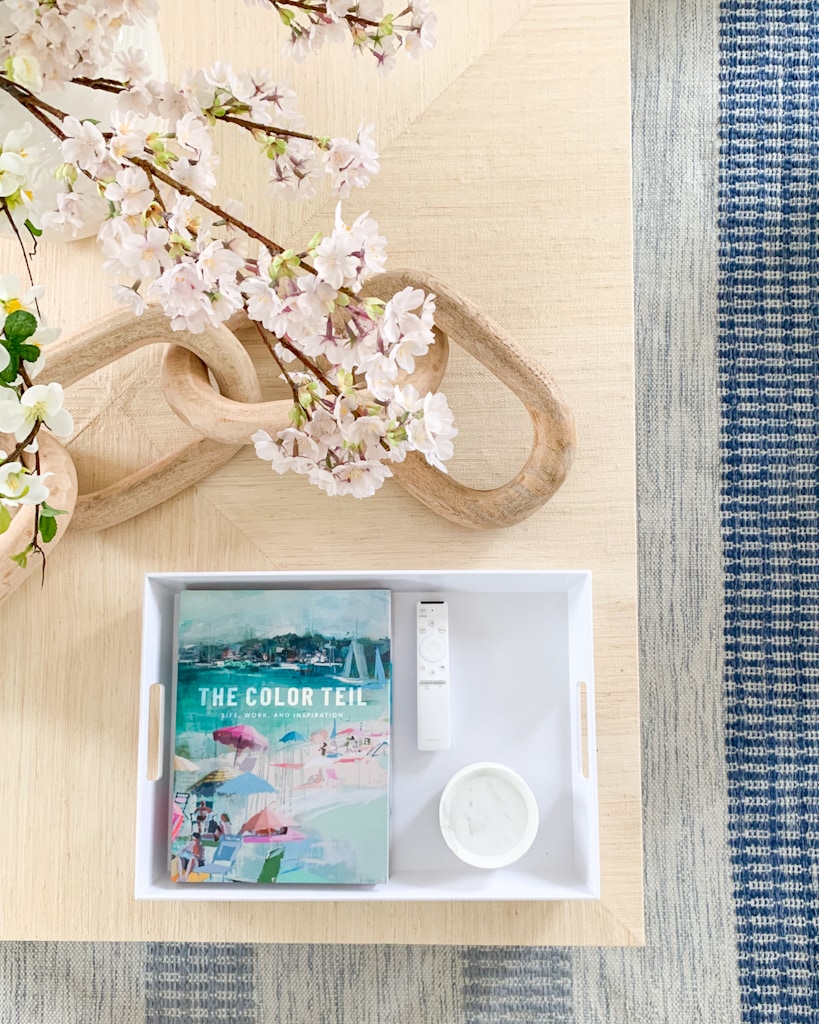 I never got around to visiting more paint stores last week, so I'm hoping to get there this week and get a few more samples for the office. I'm also hoping to wrap up our spring decor and get it photographed so I can share a full tour next week or the week following!
Top Sellers Of The Week
Following are the top sellers across all of my channels for the past week! After getting several requests, I am going to try and hop on Instagram Stories this week to do a try-on with this dress. Not sure yet which day I'll do it, but wanted to let you know to be on the lookout if you were interested!
Around Town And For Fun
Thursday I flew out bright and early to Wilmington, NC! I was meeting up with my two blogging besties, Kris and Kelley. Kris lives in Connecticut but recently just bought a home in North Carolina that she and her husband plan to move into in a few years. Her daughter goes to school nearby, and her parents live in the neighborhood. But since it's more of a vacation home now, it's a fun work-in-progress for her! We thought it would be the perfect place
There were some really bad storms in Atlanta (my layover) on Thursday so I think I was delayed about five hours. The humidity must have made it into the airport based on my hair situation… 😉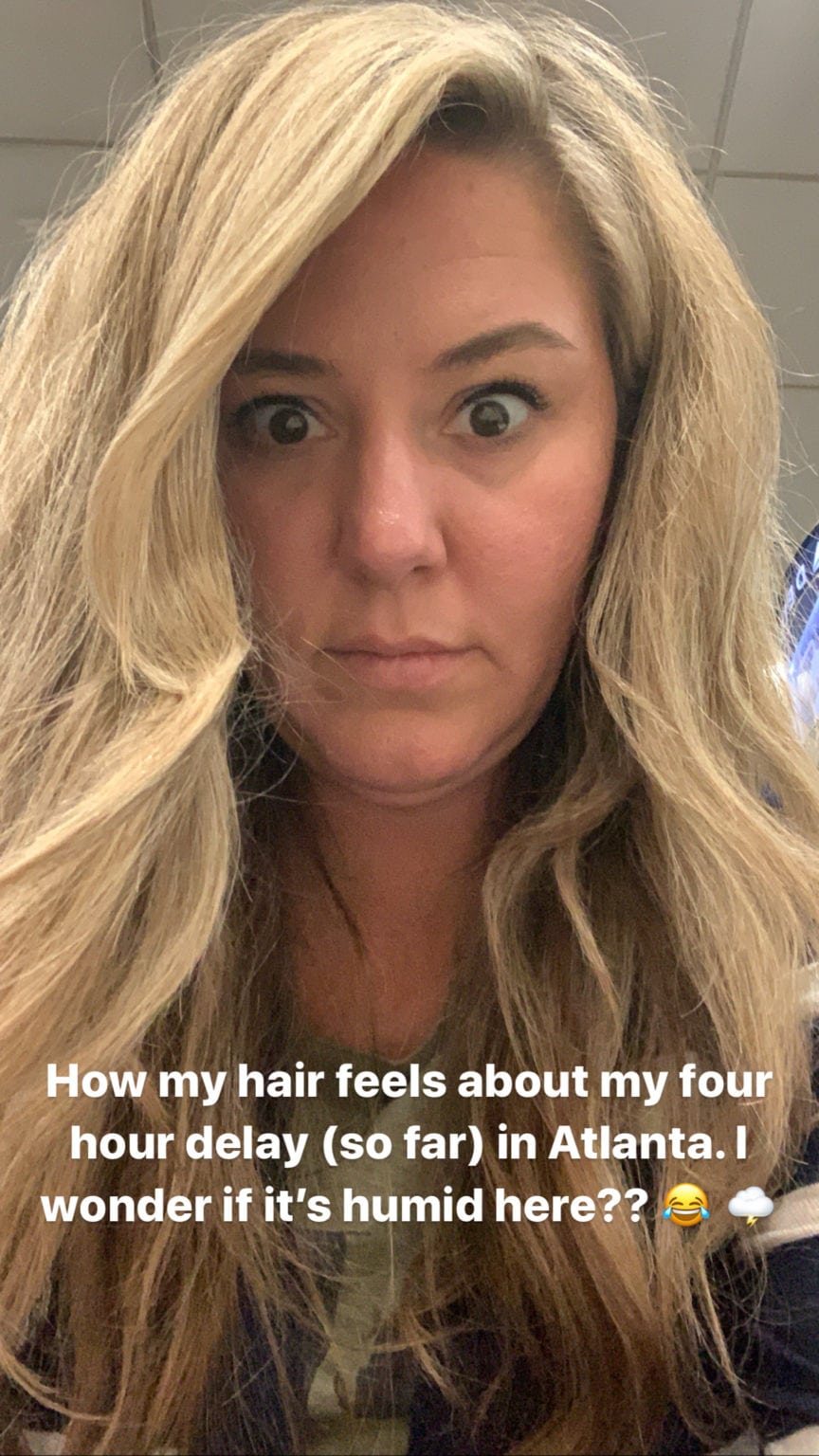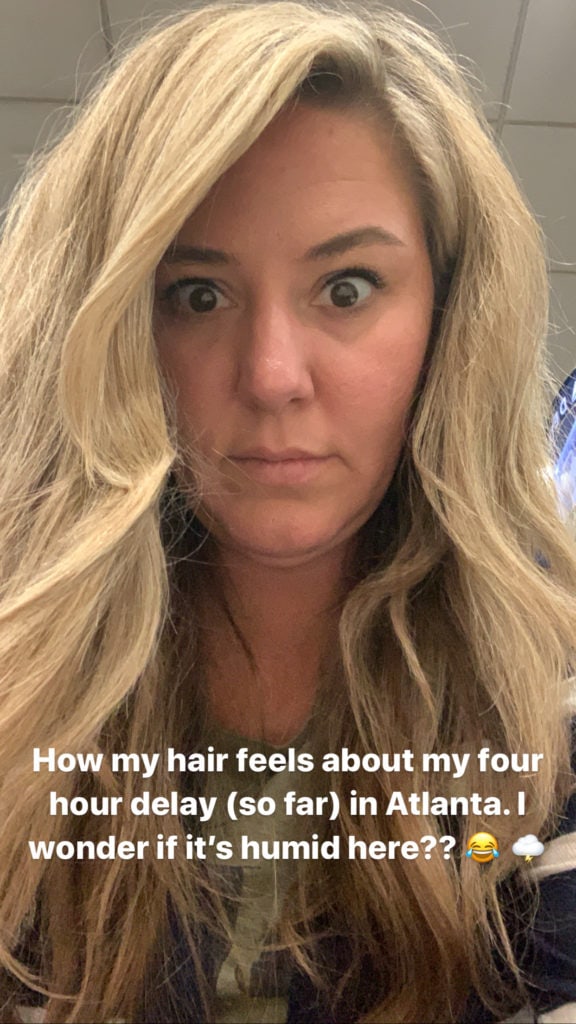 We tried to be good about making time for both work and also a few touristy activities while we were there! I know a few of you asked for a Wilmington Trip Guide once I got back, but we definitely weren't thorough enough to qualify me to cover a full trip guide! But I'll share some of the things we did.
Although it was pretty cold and windy the whole time we were in Wilmington, we made sure to get to the beach one of the nights! It was beyond beautiful! We dined at Oceanic and loved every minute of it!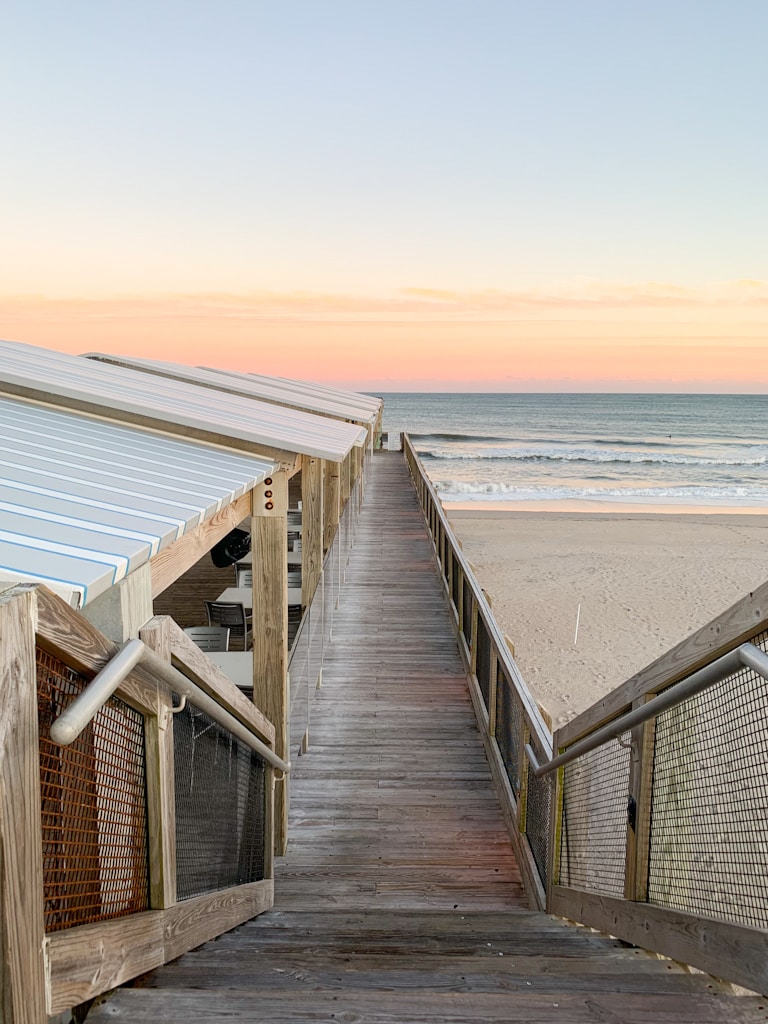 Thanks to the wind, this is how most of our pictures turned out.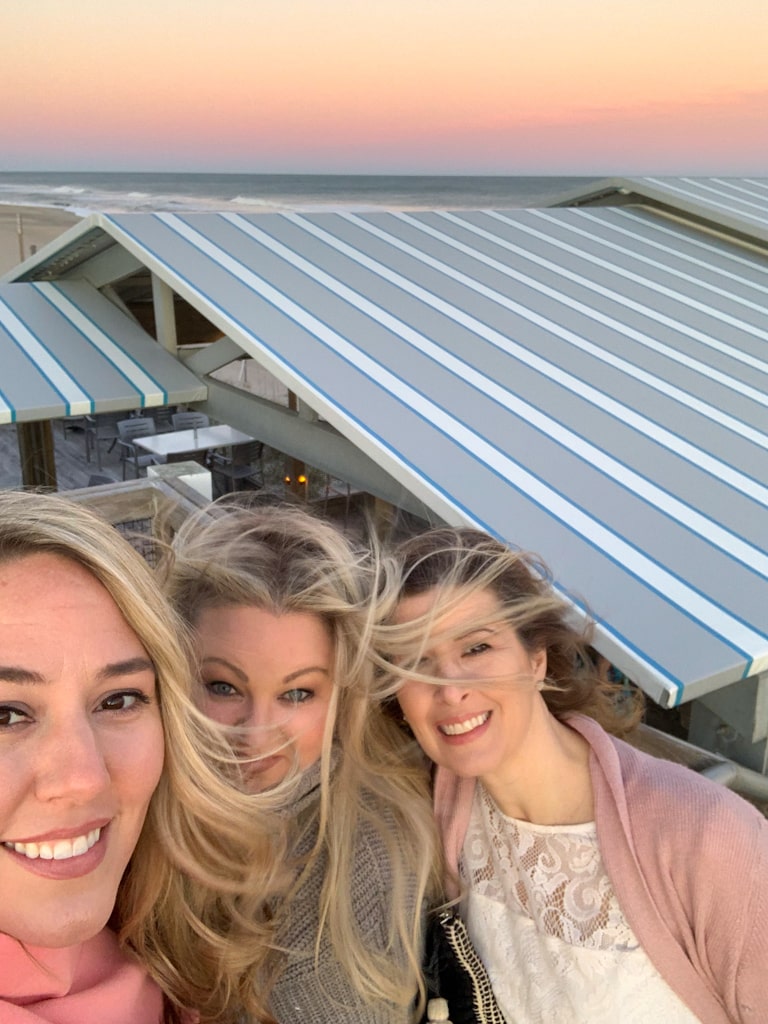 Kris also took advantage of my height to help her plan where she wants her new sea grass pendant hung in her breakfast nook 😉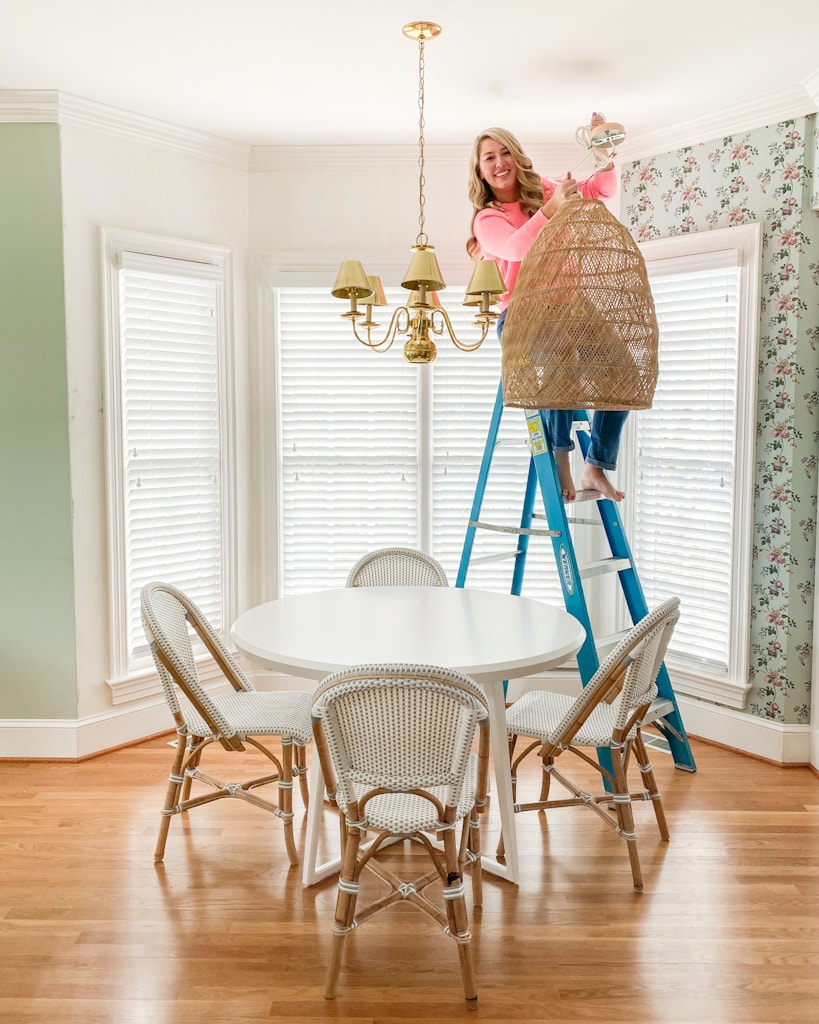 We hit up a bunch of home decor and design stores. There was so much to love!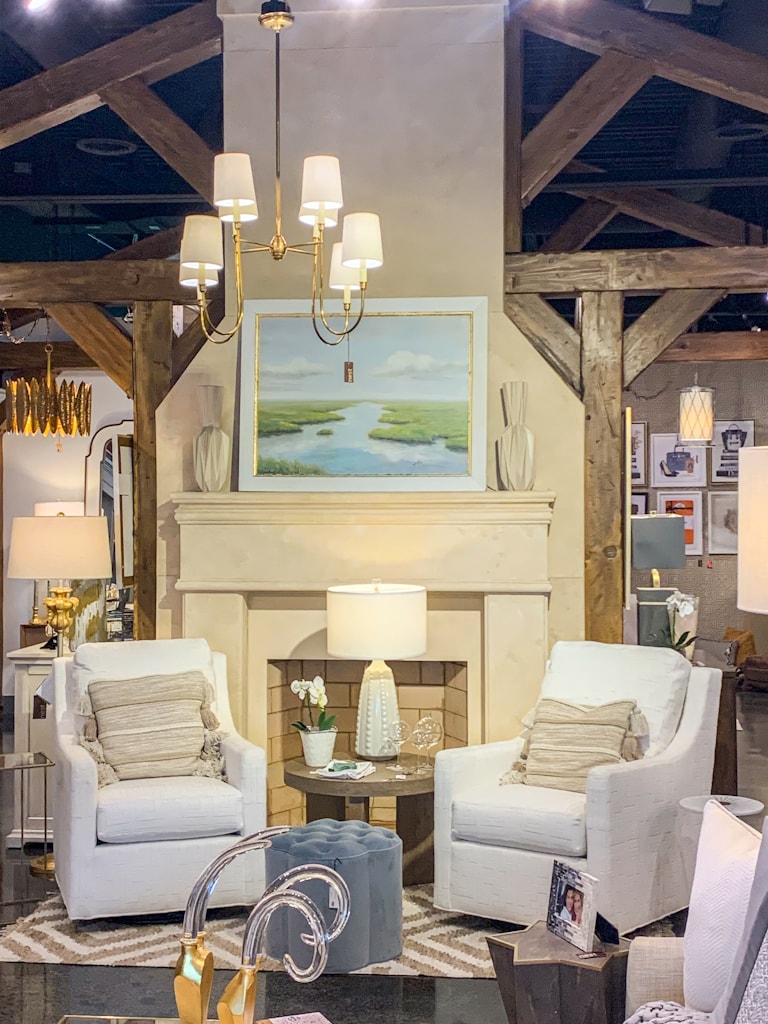 Airlie Moon was the most recommended to us on Instagram.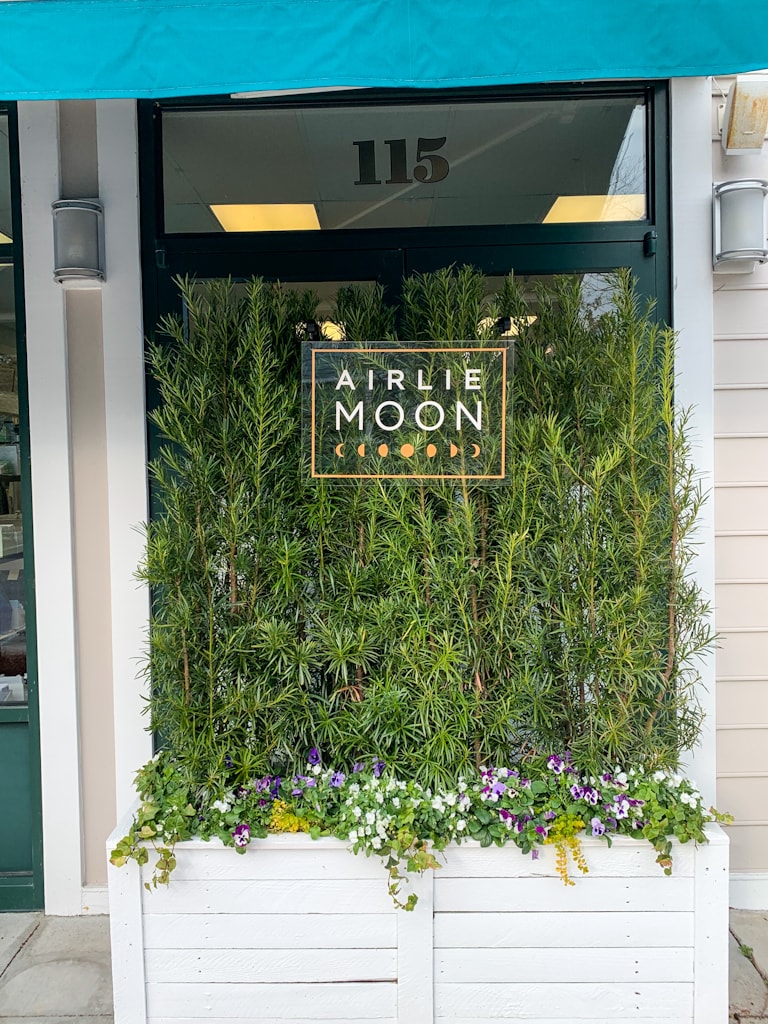 It was one of my favorites and had such a fun coastal vibe! It was also the only store I bought a few items from! Blue Hand Home was another favorite store that had furniture, rugs, and decor. But honestly every place we went was so cute!
We had breakfast twice from Sweet & Savory (once at the restaurant and once via Uber Eats) and we all agreed it was so good! We also went out for Mexican food one night at Tower 7 Baja Mexican Grill. I loved my shrimp tacos and skinny margarita!
Kelley had to start her drive back to Atlanta early Sunday morning, but Kris and I didn't fly out until Monday morning due to flight costs and availability. So, we did some lounging mixed in with some house stalking and then dinner with her parents that night. The house below was my favorite. Isn't it stunning?! I would love to see it in season when the grass is green and plants start blooming! Needless to say, I absolutely love Wilmington!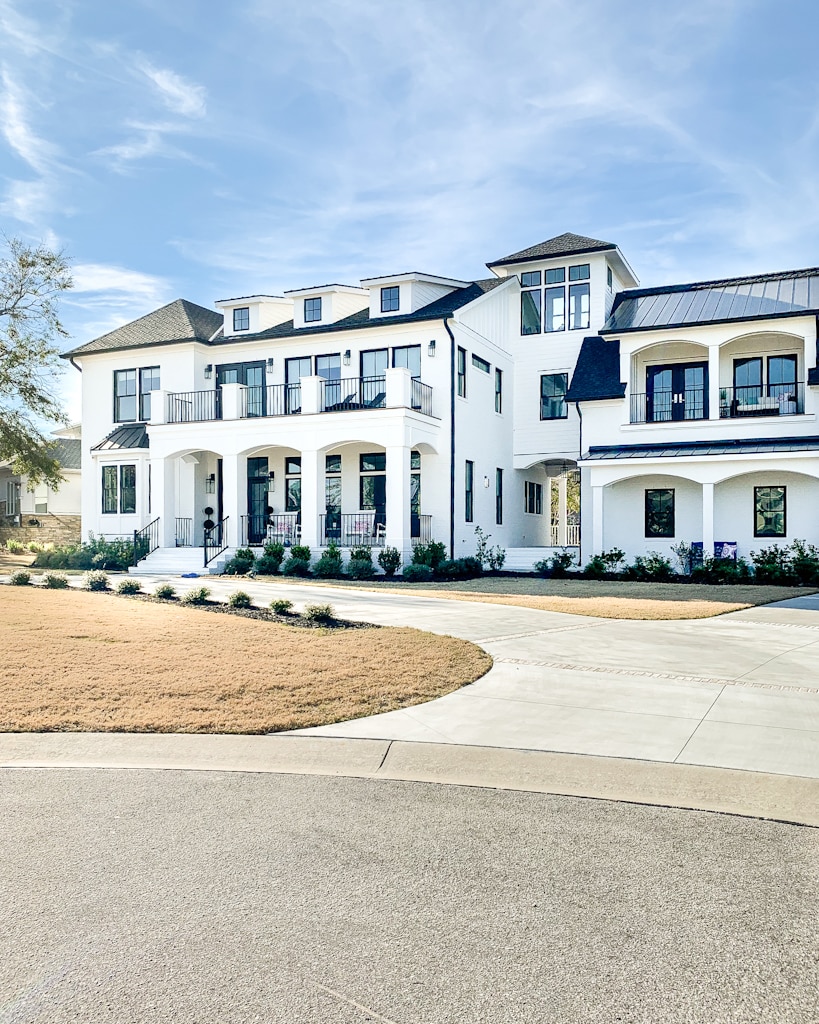 I made it home yesterday afternoon so Kurtis celebrated by taking me out for tacos and margaritas!
I have a busy week ahead with random things like my car's lease turn-in inspection today (four hours?!?), the plumber coming to the house tomorrow to look at the guest bathroom, a service event at church tomorrow afternoon, lunch with a friend Thursday to discuss a new venture, and a vet appointment for Hawkeye Friday.
And it's hard to believe, but we already leave late next week for Kurtis' company trip to Nevis! When we get home it will basically be March and I'm totally ready for that!
Recent Buys & Sales
Following the sales that have carried over from the weekend! You can see all of my top picks here.
I hope you all have a great week!
If you would like to follow along on more of my home decor, DIY, lifestyle, travel and other posts, I'd love to have you follow me on any of the following:
Pinterest | Instagram | Facebook | Twitter
disclosure: some affiliate links used