I hope you all had a great weekend! It's a balmy -2 degrees outside right now, so we're off to a warm start this week here in Omaha 😉
This post contains affiliate links for your shopping convenience. Click here to read my full disclosure policy.
Home Projects & Updates
I've been alluding for a few weeks that I made a big Cyber Monday purchase. Well, it was finally delivered on Monday. If you look closely, you can see I finally ordered these cane dining chairs after talking about them for almost a full year! Not only were they on sale, but they also waived the freight delivery fee that day. So, here's my dilemma. I only ordered four, thinking that I'd leave two of the linen chairs at each of the heads of the table. However, the height difference in the two chairs is so dramatic in person they look a bit ridiculous paired together. So, now I'm wavering on if I just order two more of this chair or find another option for the head chair. I don't want to sell my linen chairs until I decide, so I'm torn! I love the new chairs so much though and I can't believe how much larger they make our relatively small dining room feel! And you can actually see the shape of the table now that all the skirts aren't in the way!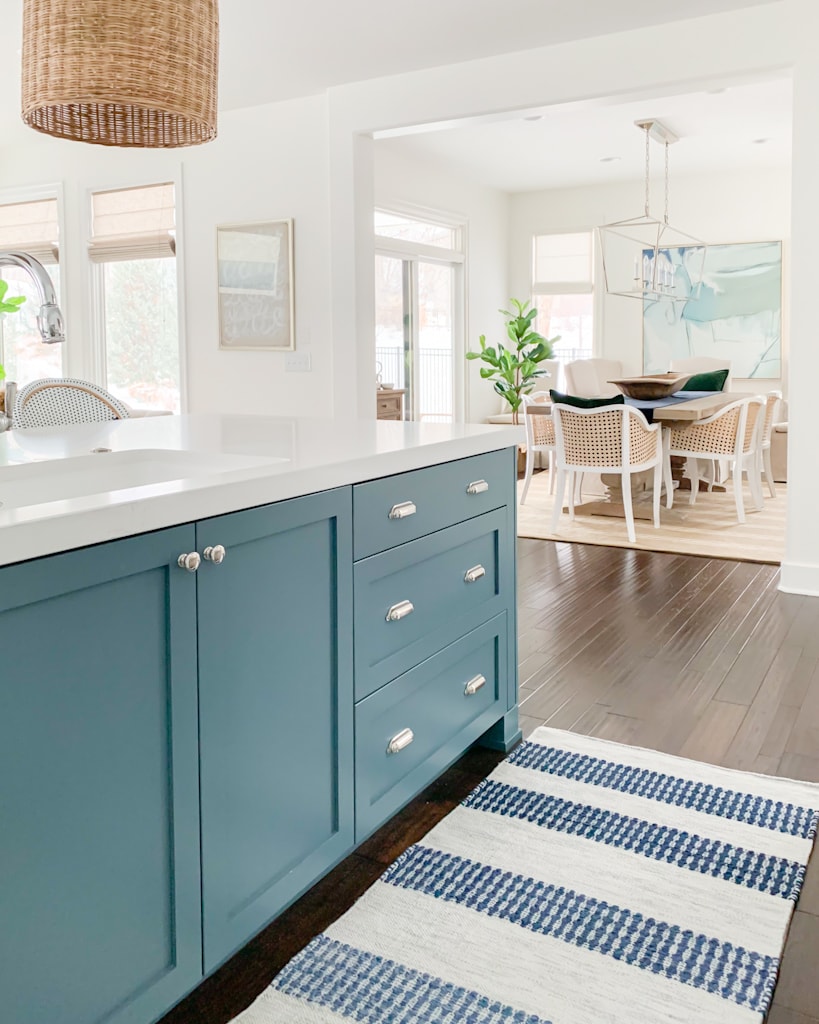 KITCHEN & DINING ROOM SOURCES: Runner Rug | Pendant Light | Cabinet Hardware | Dining Room Chandelier (look for less here) | Cane Dining Chairs | Linen Dining Chairs | Wood Table | Abstract Art | Striped Rug | Faux Fiddle Leaf Fig Tree | Dough Bowl
I mentioned in my Weekend Sale Alerts post that I did an Instagram story about the size of the citrus trees I ordered. The two on the outside are the kumquat size and the one in the middle is the tangerine size! I'm super happy with them and they add such a nice pop of color this dreary time of year!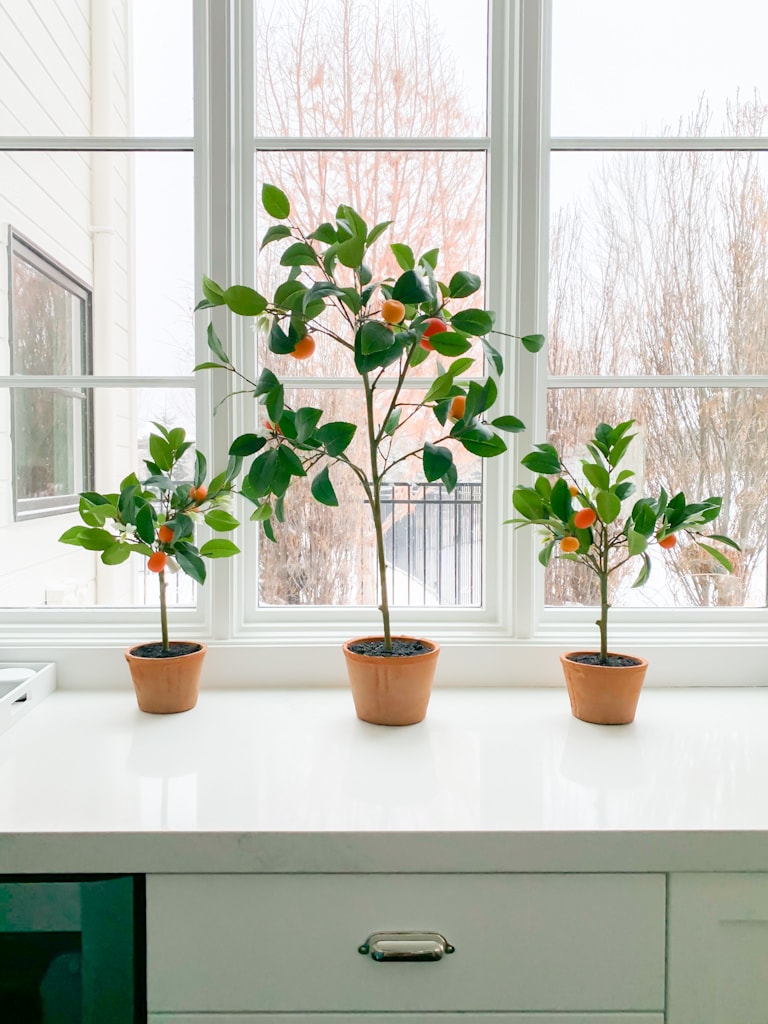 I had mentioned a few months back that I had a credit from Serena & Lilly that needed to be used by mid-December. So, I ordered a few things that finally got delivered on Friday! I'm sharing a sneak peek at a few of them below. The first is this console table I have wanted for years! It's even better than I expected – even though it's not officially styled yet! Kurtis also said it's favorite table by far of any I've ever had here, so I'm considering that a win too! I'll be sharing where I moved the old console table soon!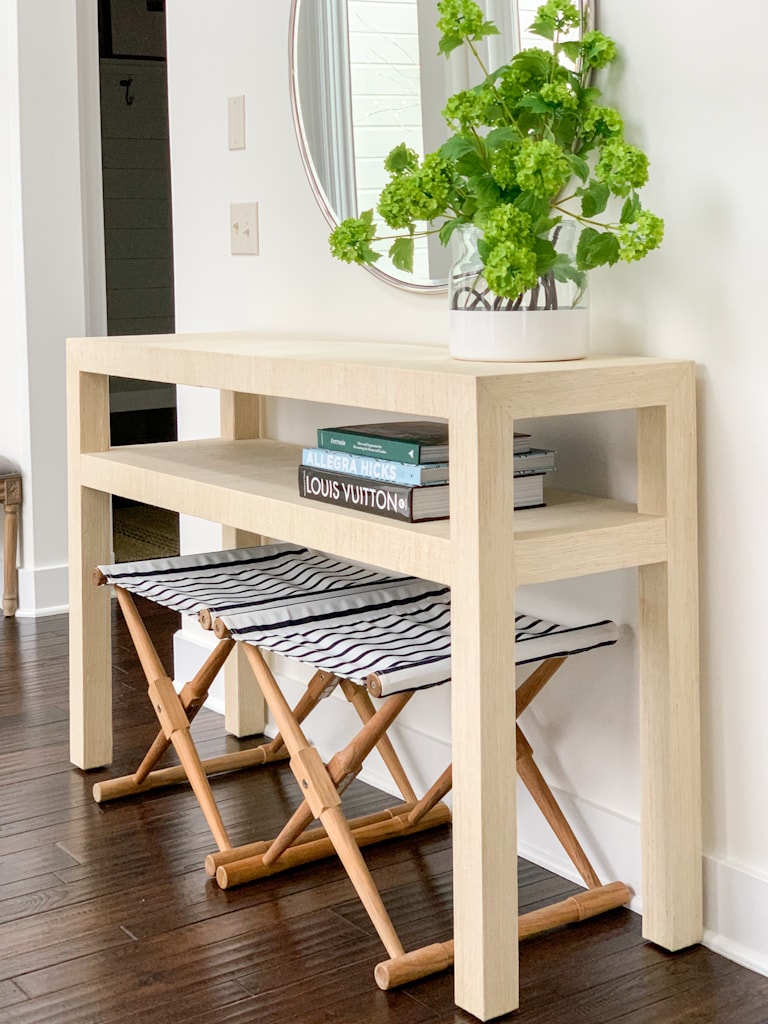 ENTRYWAY SOURCES: Console Table | Stools | Similar Mirror | Dipped Vase | Faux Viburnum Stems
With that, we finally got a new rug for our living room! If you've been a long-time reader, you may remember we used to always have a rug in here. But, when we changed up the furniture, it was so sunbleached that we had to move it down to the cat room. Buying rugs is actually one of the scariest purchases for me so the room sat without one for the last two+ years. But I finally found a soft indoor/outdoor one I loved!
It was a beast to get everything moved out on my own (Kurtis still can't help), but thankfully my brother-in-law stopped over to help me finish putting everything back once the rug was in place. I was worried the rug may be a bit too bold for an every day rug in here, but once all the furniture was moved back (including another surprise I haven't shared yet), I loved it! Our inlaid carpet is in pretty rough shape, so the room suddenly feels so much more fresh and clean! The cats loved the little jungle gym and floor space while it lasted 😉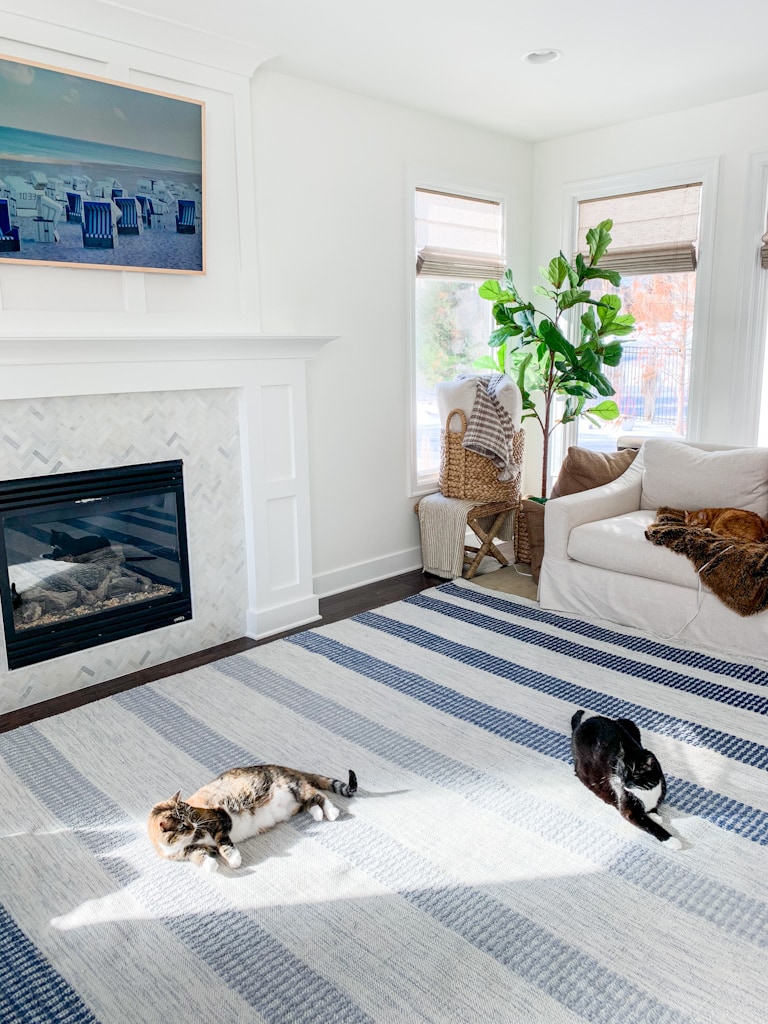 LIVING ROOM SOURCES: Striped Rug | Linen Sofas | Faux Fiddle Leaf Fig Tree | Woven Baskets | Frame TV
I also cleaned our mud room over the weekend and added some decor from around our house. I have a few more things to do in there but I'll be sharing that later this week or next, as well!
Despite being sick most of the week, I also got all of the remaining Christmas decor taken down with the exception of one tree (it's undecorated though). So, I'm hoping to handle that yet this week. It's finally feeling "clean" around here again after the chaos of all the holiday decor!
Top Sellers Of The Week
Following are the top sellers across all of my channels for the past week!
Although the tote sold out pretty quickly early in the week, there are still tons of items that qualify for the extra 30% off the sale price through the end of the day today!
Around Town & For Fun
I was sick most of the week last week, but finally hit a turning point around Wednesday (thankfully)! The cold symptoms have still hung around, but at least I was able to get out of the energy funk! It actually made the week fly by. I'm actually a bit in shock that we're two-thirds of the way through January! I'm not sad about that one bit, but it literally feels like the holidays were last week.
Kurtis is still working from home, and likely will this week and next. Next Tuesday actually marks the six week mark since his surgery! So, that means he'll slowly be able to start weaning himself off crutches at that point. They said he still has to use them until he can walk without pain and without a limp. Once he's officially done with the crutches, he'll then go back to work. Which will be great for both his sanity and mine 😉
The weather in Omaha (and I know much of the country) was freezing cold last week and we had a huge storm come through on Friday. It's a little hard to see in the photo below (thanks to our hazy windows) but the trees and basically iced over and when the sun came out Saturday afternoon they were all glowing and sparkly!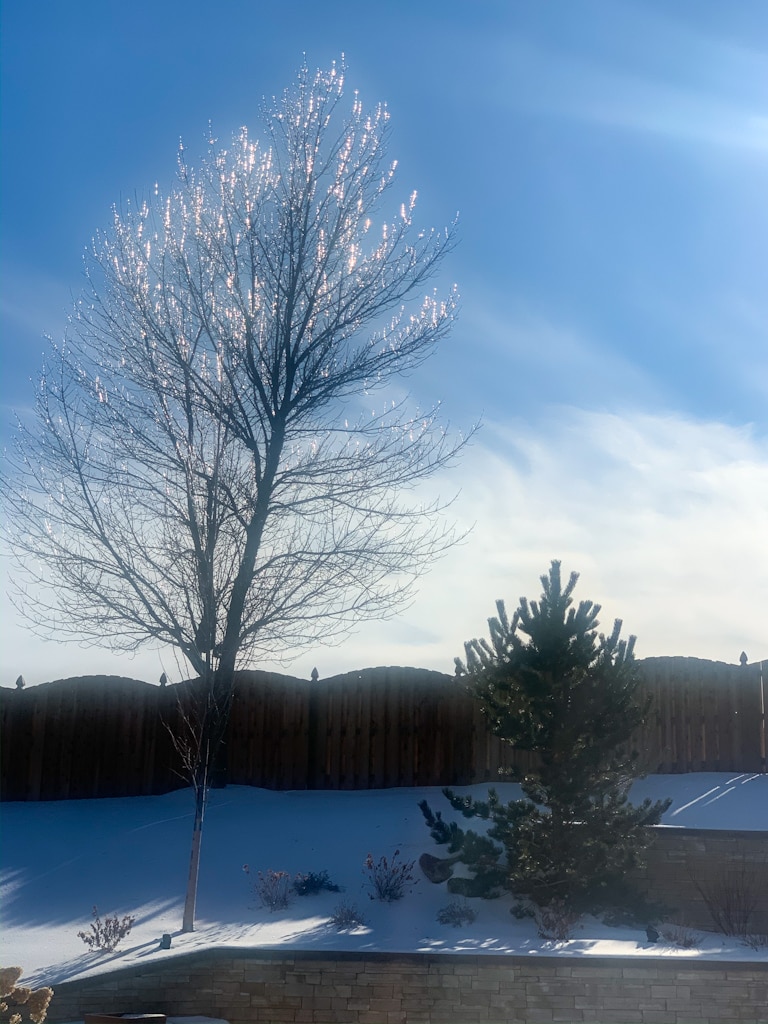 Thankfully we planned ahead of the storm, and got groceries for all the comfort foods we wanted for the weekend! We made a pot roast and veggies in the crockpot on Friday. Over the weekend, I made a huge batch of soup with tons of veggies (onions, celery, carrots, zucchini, yellow squash, spinach, tomatoes), Costco rotisserie chicken, and chicken stock. I don't have a recipe and basically just throw everything together and then add spices like Italian Seasoning, garlic salt, pepper, etc. until we like it. It's a great way to get a bunch of veggies in and we loved having it simmer all day Saturday so we could take some when we got cold!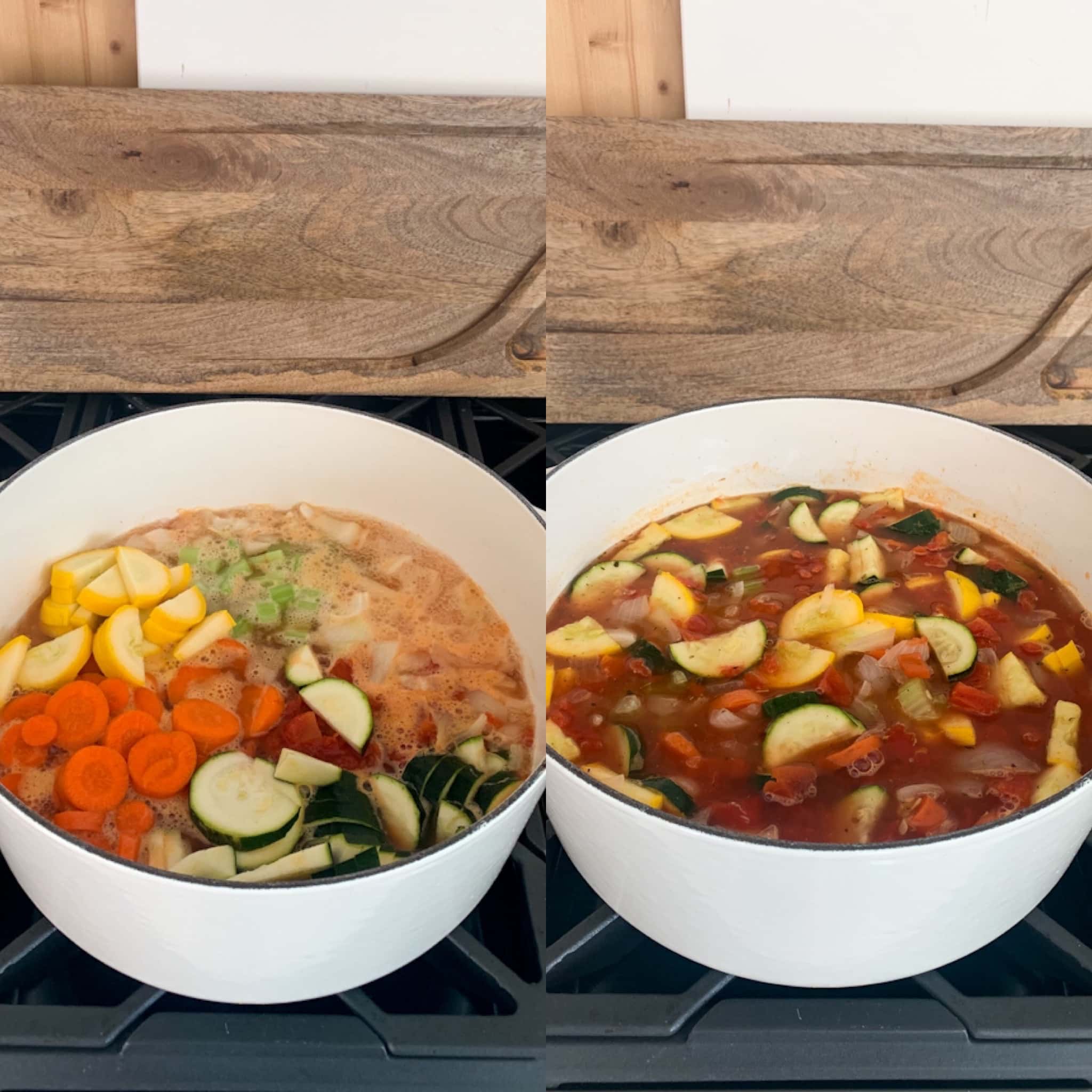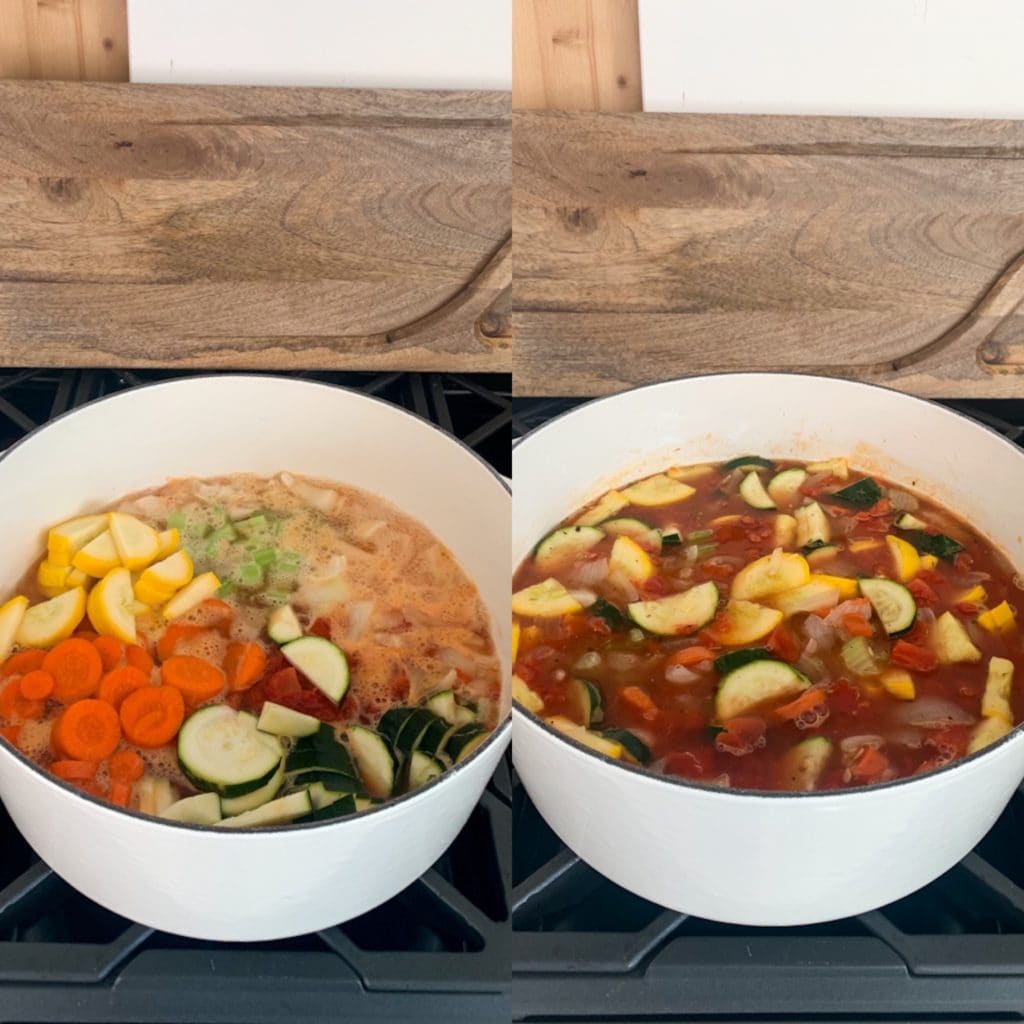 There was also a lot of this this past week. Apparently mom and dad need to stop being so cheap with the heating in the house 😉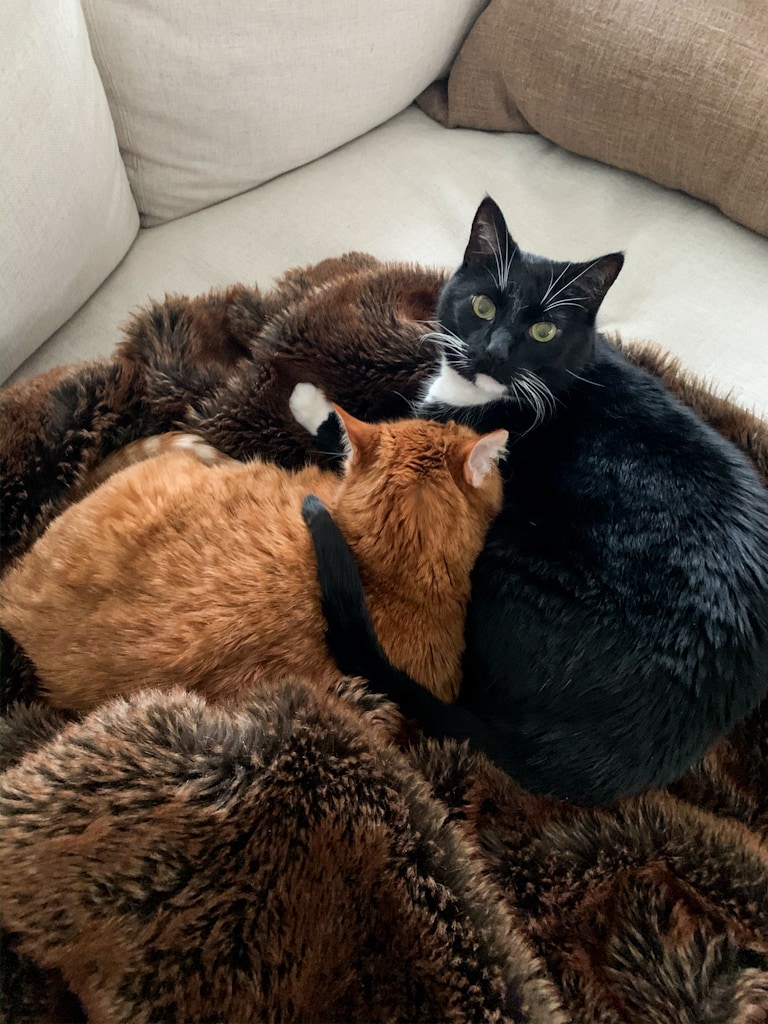 With the storm, and the fact we're eating healthy and not drinking, our weekend felt very boring 😉 I actually was able to devote quite a bit of time to figuring out my spring decorating plans, which feels great! I'm so ready to get some new color in our house and for things to start melting outside. I know spring is still a little bit out, but we have a busy February so I want to get a head start on all of it and try to be semi-prepared!
Recent Buys & Sales
With today being the actual holiday, most of the sales are still going strong (or even improved) since the weekend! You can see my top picks here.
I hope you all have a great week!
If you would like to follow along on more of my home decor, DIY, lifestyle, travel and other posts, I'd love to have you follow me on any of the following:
Pinterest | Instagram | Facebook | Twitter
disclosure: some affiliate links used