Happy Monday! I hope you all had a great weekend! It was a busy first full week of 2020 for us so I'm sure things were a bit crazy for all of you too!
This post contains affiliate links for your shopping convenience. Click here to read my full disclosure policy.
Home Projects & Updates
Between Saturday and Sunday, I got most of our Christmas trees taken down. It was my one mission to accomplish over the weekend and it already feels so good to have most of it packed away! As I was tearing down the tree in our office, I realized I never even photographed it this year. Oops! Here it is in it's half-undressed state.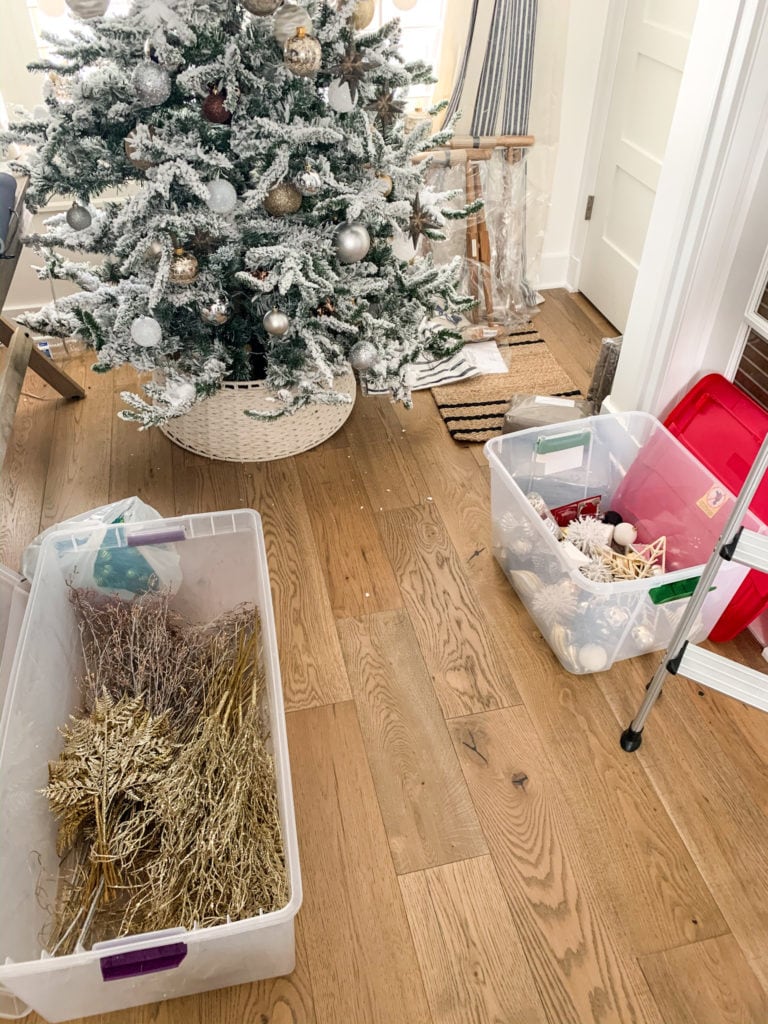 Ignoring the Christmas ornament containers, can you tell I was out of town the better part of last week? I love the random pillows and cushions just thrown and smushed everywhere. I'm sure Kurtis would blame it on the fact he's on crutches, but I think we all know better 😉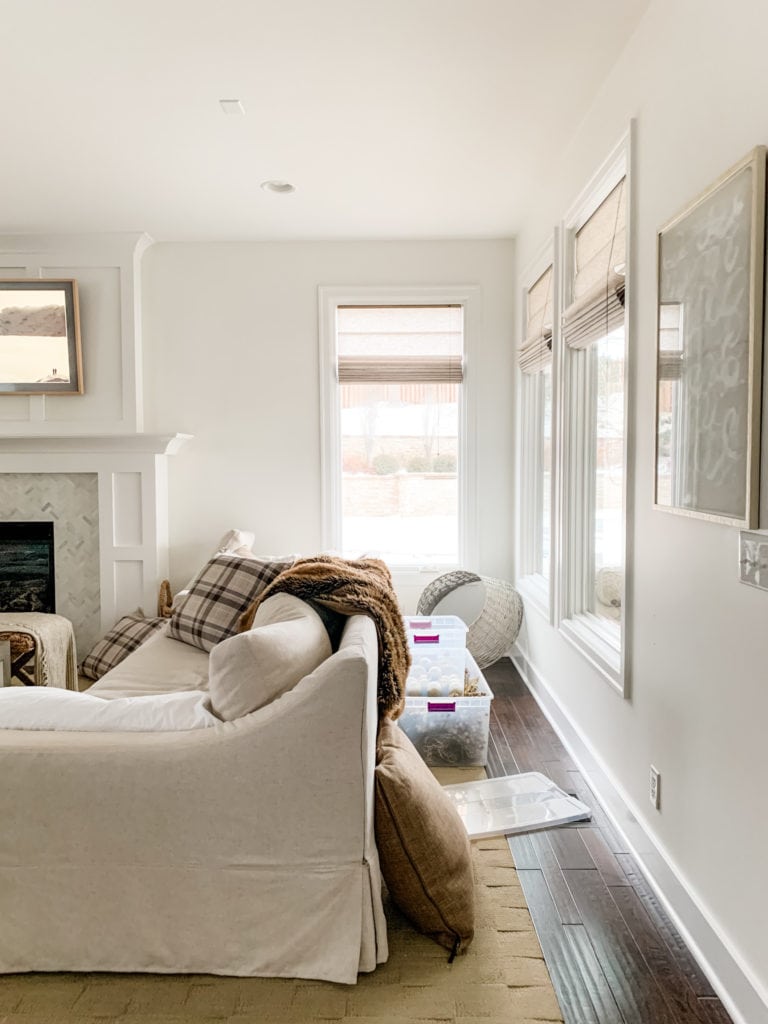 I was able to get a good start on a few projects over Christmas break, so I'm hoping to get them wrapped up and photographed this week so I can share them all with you! I'm hoping to share our 2020 home goals tomorrow, with all the projects we plan to complete, and then throughout the next month or so, I'll be sharing specific design plans and more!
Top Sellers Of The Week
Following are the top sellers across all of my channels for the past week!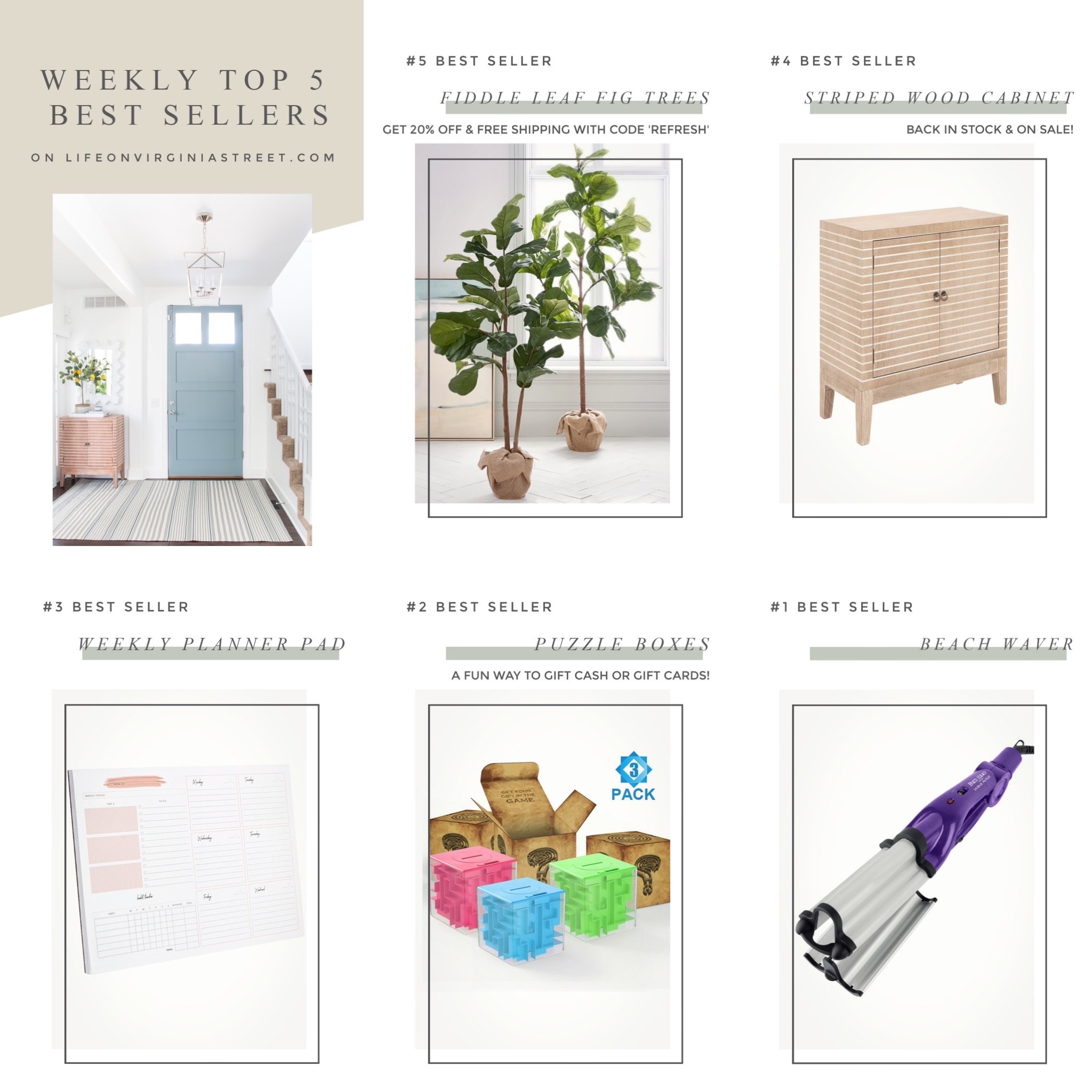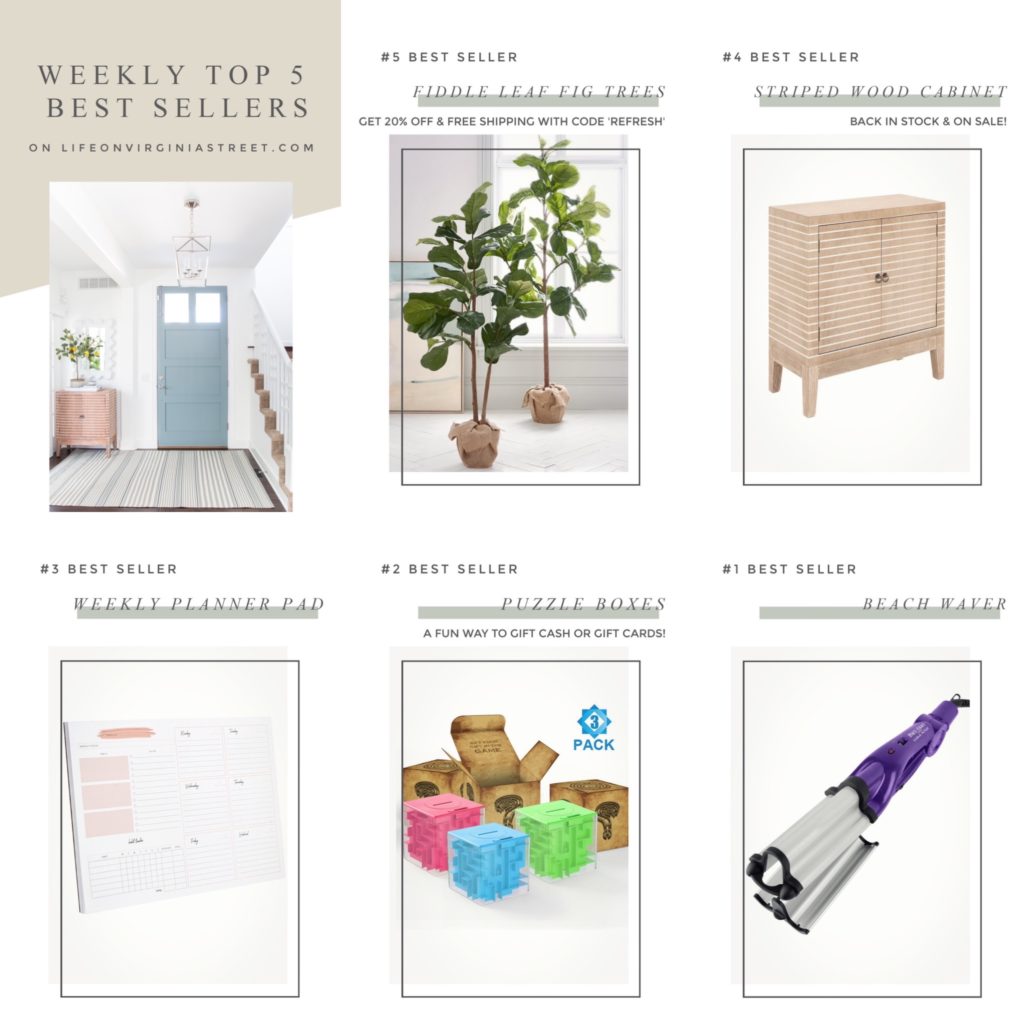 BEST SELLERS (each number is clickable): #5 | #4 | #3 | #2 | #1
Around Town (& Vegas) And For Fun
Kurtis had to go downtown to his office on Monday last week for a few hours. And since, at the time, he still wasn't cleared to drive, I took him down. I found a little coffee shop nearby and worked for a few hours while he was there.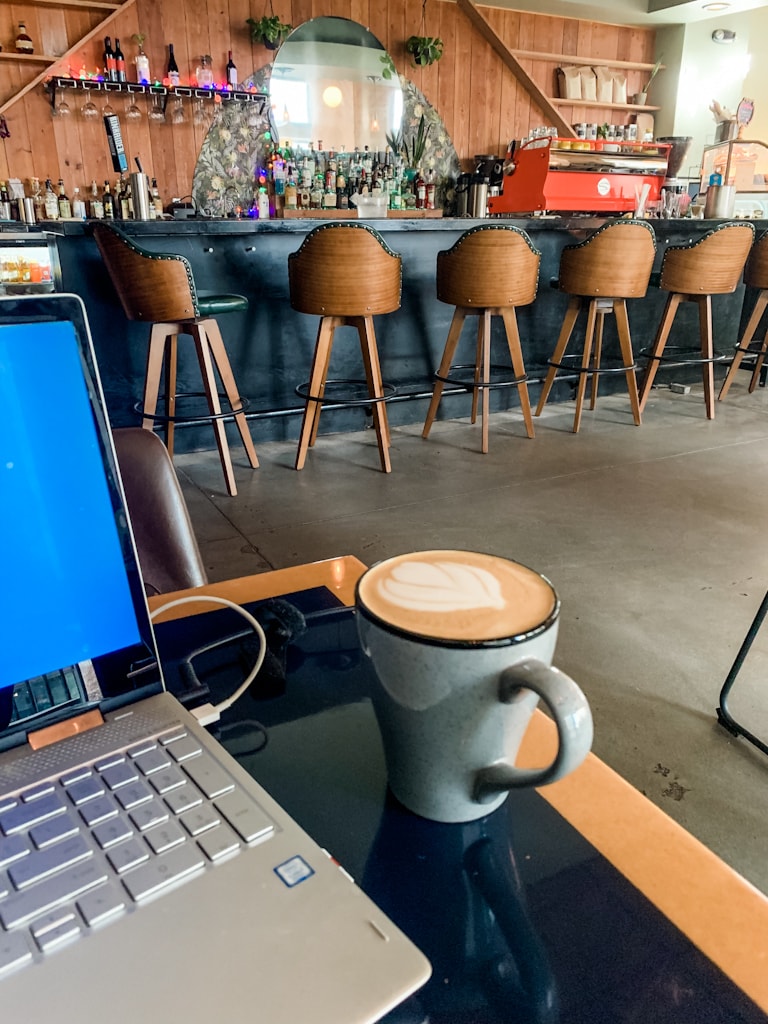 He had FOUR doctor's appointments last week too. Thankfully, one was with his surgeon while I was in Vegas (he had to get an Uber ride there). The surgeon cleared him to drive but didn't recommend driving long distances at this point. Their biggest concern is if he has to hit the brakes too hard and put extra pressure on his hips. So, he drove himself to PT on Friday (which is only about 2 miles from our house) and took all the backroads. I don't know who was happier that he can drive again – me or him 😉
Henley's latest thing? To stand guard over baby Jesus. She'll even curl up and sleep here for hours at a time without knocking any of the figurines over. It's pretty hilarious!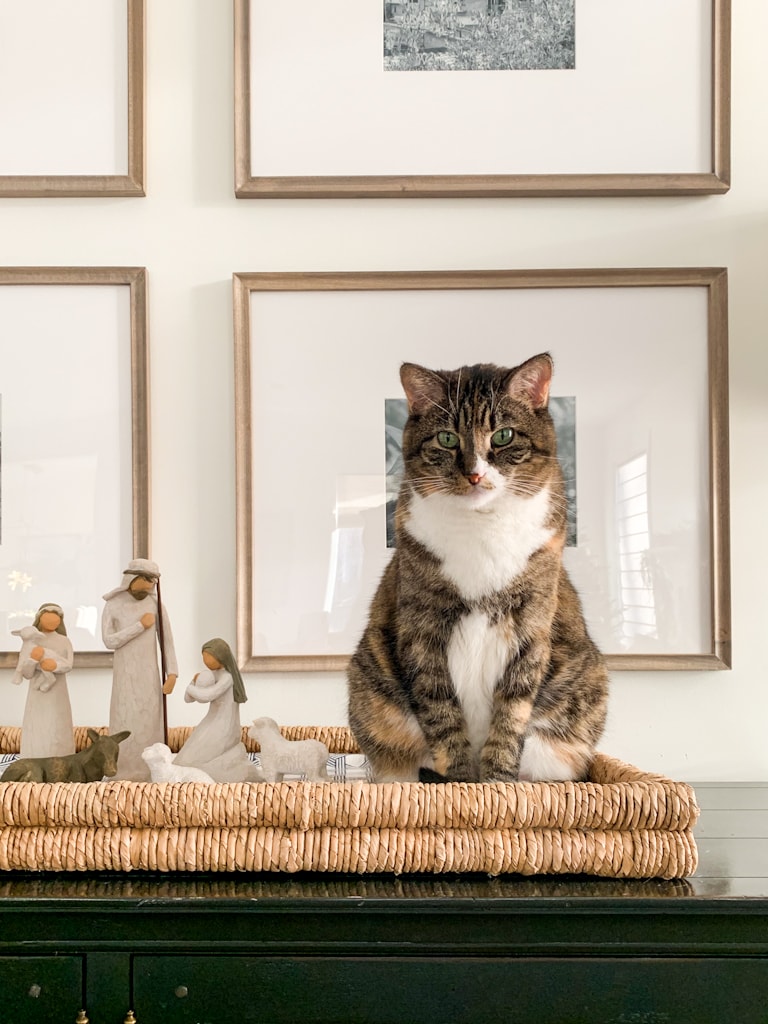 Wednesday I headed to Vegas bright and early for CES (Consumer Electronics Show). I stayed at Nobu Hotel, which is a quiet little boutique tower at Caesar's Palace. Since most of my events were at Venetian, the location worked out well so I could walk everywhere! Here's a pretty view at Venetian as I made my way to the convention center on Thursday.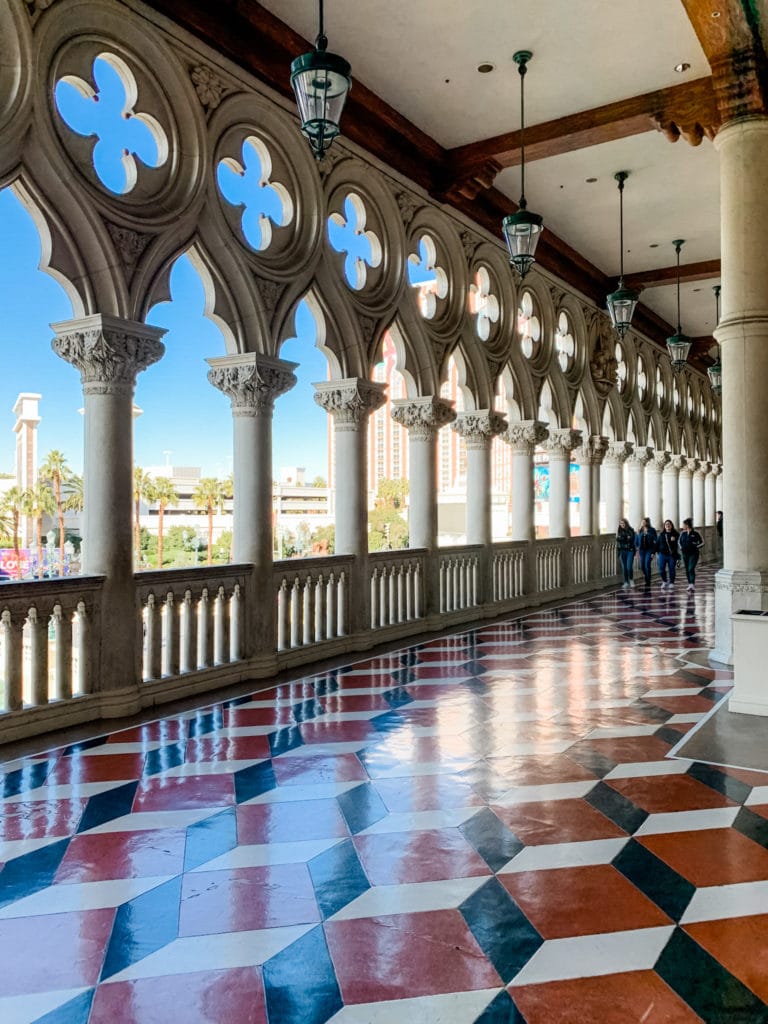 It was fun to wander around the booths and see what was new in the "home" space! This mirror has you take a selfie (you can see it off to the left) and will then grade your skin and give you tips on how to improve it. It also lets you "apply" makeup to see how various colors will look on you without actually putting it on! It was slightly depressing and interesting at the same time!
I got a lot of questions on my ruffle-neck top I wore at CES. And while it's basically one of the cutest tops ever, I'd probably wait until it is included in one of their sales! I got it for 30% off a few weeks ago. I love the heavy crepe material and I can't tell you how many compliments I got while I was there. Not sure if it was because I was the only person not in black, but I'd like to think it's because it really is that cute 😉 The pink is slightly less vibrant than in the photo above (the lights at the convention were crazy) but it's still a really pretty bold pink (and comes in several other color options).
One of my favorite new releases was from Lutron. We have their lamp dimmer kits and wall switches in many of the rooms in our home. They just launched a discrete motion sensor that will turn lights on and off in your home after a preset amount of time! There's even a way to adjust sensitivity so your pets don't activate it!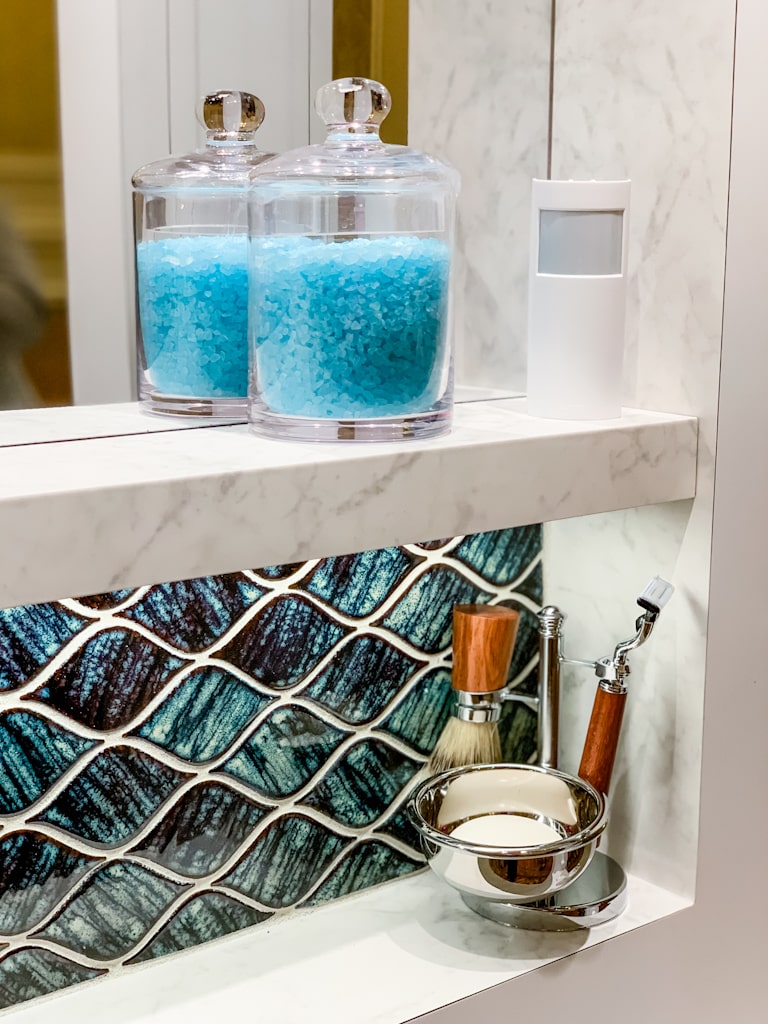 I was able to meet the crew from Construction2Style (love them!) and they let me tag along to drinks and dinner with Alma Homes & Danny Wang Design. It's always fun to meet new people in the industry! Here's me an Morgan with my virgin margarita since we gave up drinking for the month 😉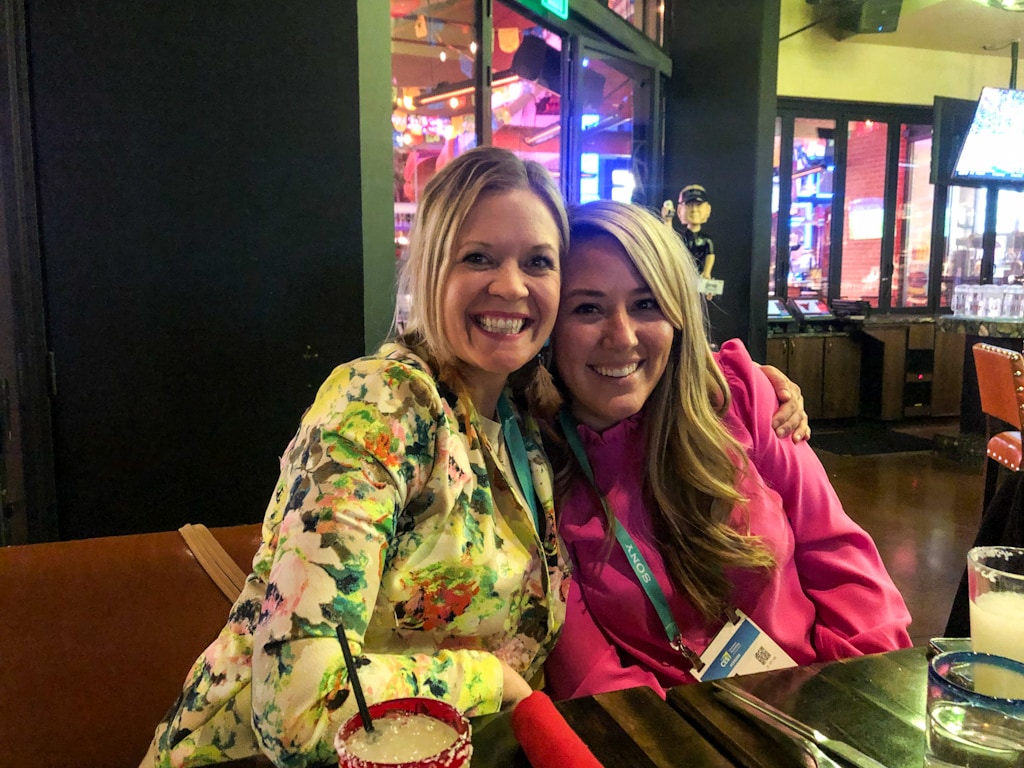 Home sweet home! This picture was actually taken right before I left. I arrived home to a snowstorm and freezing temps! We have several lights in our home on timers (using this system) so we never come home to a dark house. They also have a feature we just started using that is great for when you're out of town. You can turn on the Smart Away feature and it will randomly turn lights on and off around your house between 6-11 pm to make it look like someone is home! I have a quick demo right now in my Instagram Stories right now if you're interested!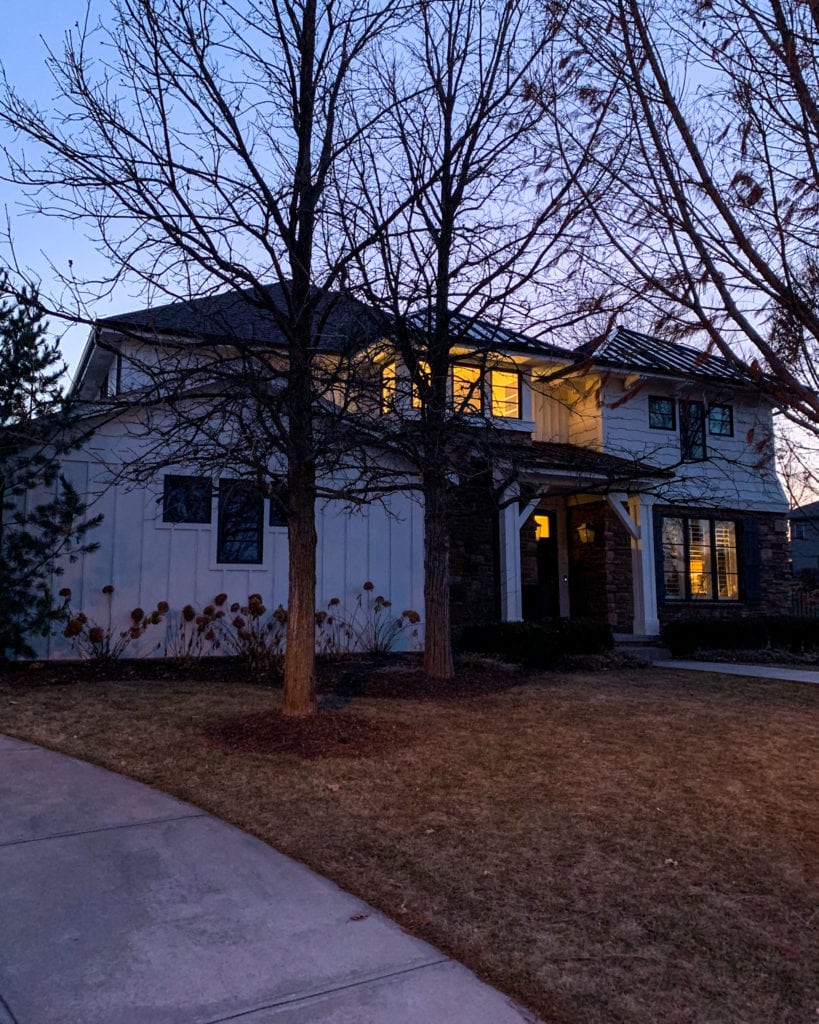 I'm pretty sure I caught a bug on the airplane or while I was in Vegas. I'm hoping it's not the "f" word, but I was down for the count most of the weekend. I'm hoping today is a turning point and I can start feeling better!
Although I already started with my intermittent fasting last week, today is the officially start of my FASTer Way to Fat Loss round. There's still time to sign up if you want to be in our group! I'm excited to hit the ground running this year, and I actually enjoyed doing the morning fasts last week! It's amazing how much less bloated I feel when I wake up!
I'm hoping it's a very productive week this week!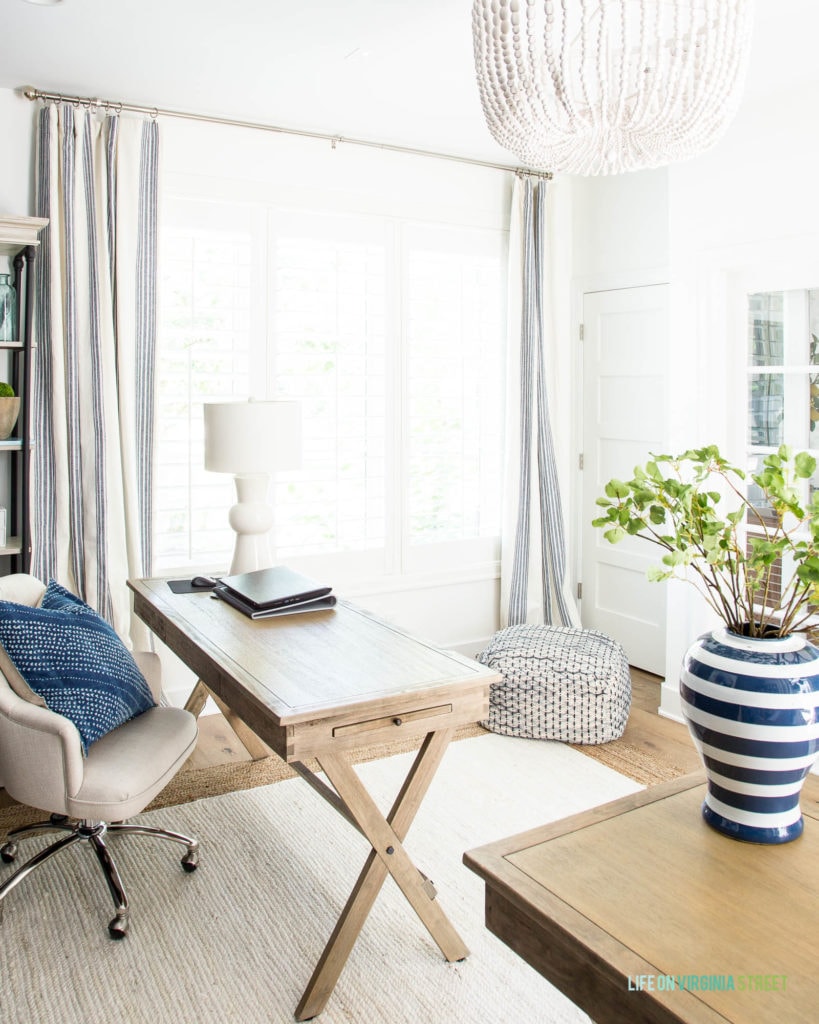 OFFICE SOURCES: Desks | Bead Chandelier | Rug | Chair | Blue Dyed Pillow | Bookcase | Striped Drapes | Similar Pouf | Similar Vase | Faux Ginkgo Stems | Similar Lamps
Recent Buys & Sales
Following are the sales that are still going on from the weekend!
I hope you all have a great week!
If you would like to follow along on more of my home decor, DIY, lifestyle, travel and other posts, I'd love to have you follow me on any of the following:
Pinterest | Instagram | Facebook | Twitter
disclosure: some affiliate links used