I hope you all had a great weekend! Coming off of vacation, it was a short week for us, but actually felt like a long one because of how much we had going on! Last night I looked at Kurtis and said "Wait. Did we just get home on Monday this week?!" It legitimately felt like two weeks ago!
This post contains affiliate links for your shopping convenience. Click here to read my full disclosure policy.
Home Projects & Updates
With Kurtis' hip surgery this week, I knew we had to tackle a bunch of little projects that had been on our to-do list for some time. Since he'll likely be out of commission for most of these things until February, we got to work over the weekend. Nothing major, just things that required lifting, shifting and moving things around.
I finally ordered a rug pad for our dining room a few months ago, and it had been sitting it it's package ever since. So, we cleared everything out of the dining room to finally put it down. Since we're hosting Christmas, I didn't want to delay it any longer.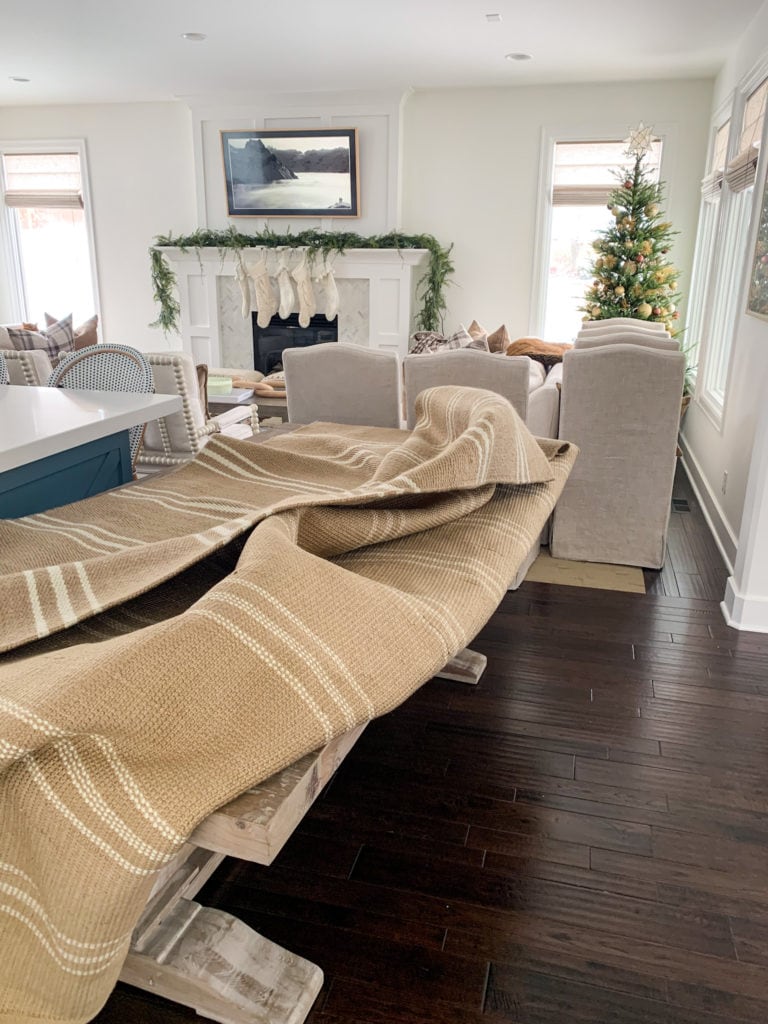 SOURCES: Striped Rug | Dining Table | Dining Chairs | Christmas Tree | Moravian Star Tree Topper
It's always such a process to clear all the furniture out and get it back in place. But it feels so good to have this one checked off our list!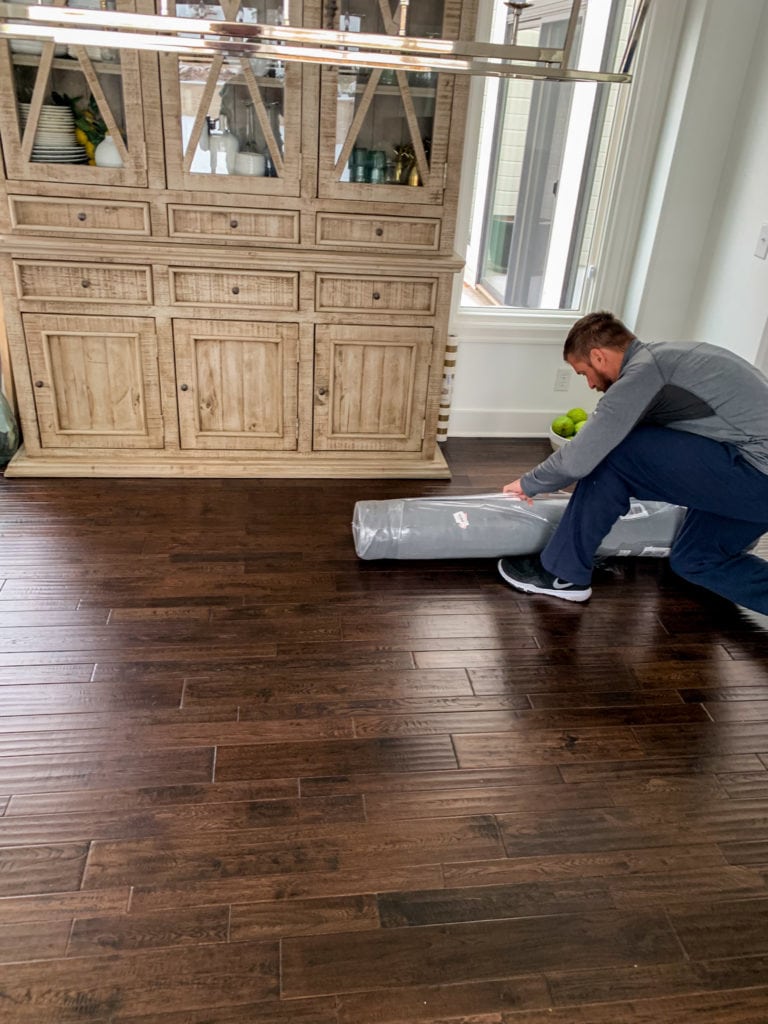 Now a question for you guys! Our dining room chandelier has started to patina/age but I'm thinking it may just needed to be polished like silver? Over the past month or two, these fingerprints from the original install (which I had cleaned off years ago) have started showing up. I'm guessing the oils started coming through? It's like a purple haze around the areas. No idea, but it's driving me crazy, and it's not working for me to just wipe them off. I'd love to know if you use a non-abrasive product you love that might fix this!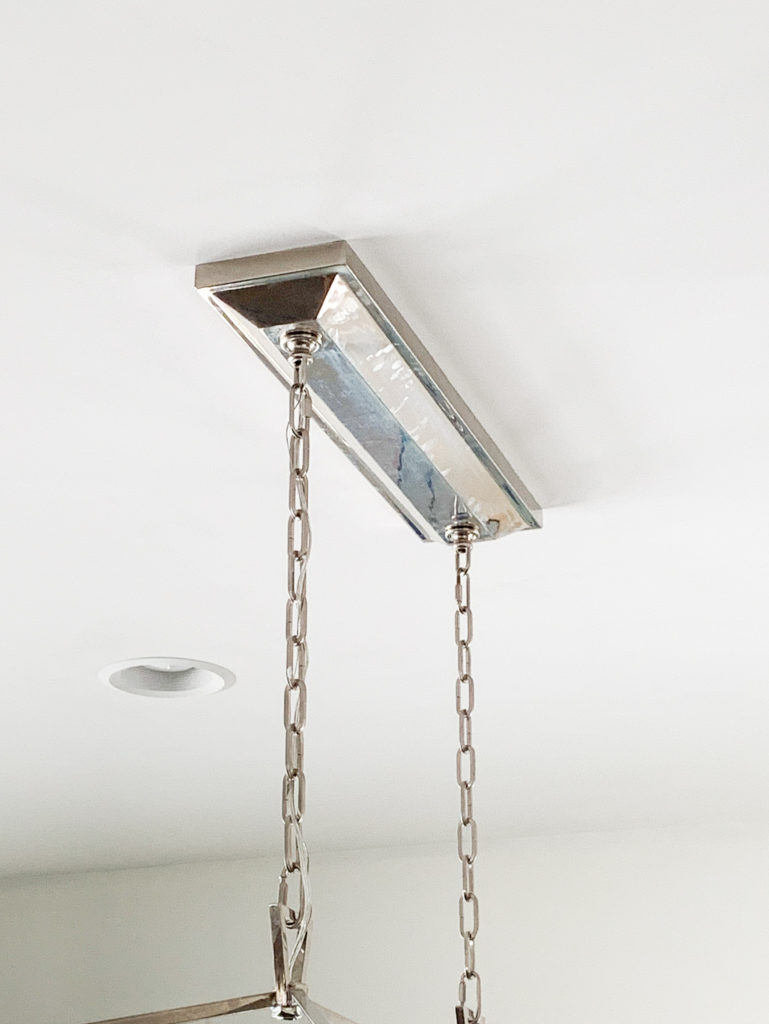 We then moved our office rug up into our bedroom because the jute wasn't working great with the rollers on our chairs. Not sure which direction I'll go yet in the office, but our bedroom already looks so much better!
We also moved the cabinet in our entryway to a new home in our house. I think I'll wait to share where it's going and what will replace it here in the entryway. But, since I know Kurtis wouldn't be able to help me move everything for a while, we did it this weekend even though we're a ways out from the new piece arriving! I'll be sure to share the design plans for the space where the cabinet was moved to soon!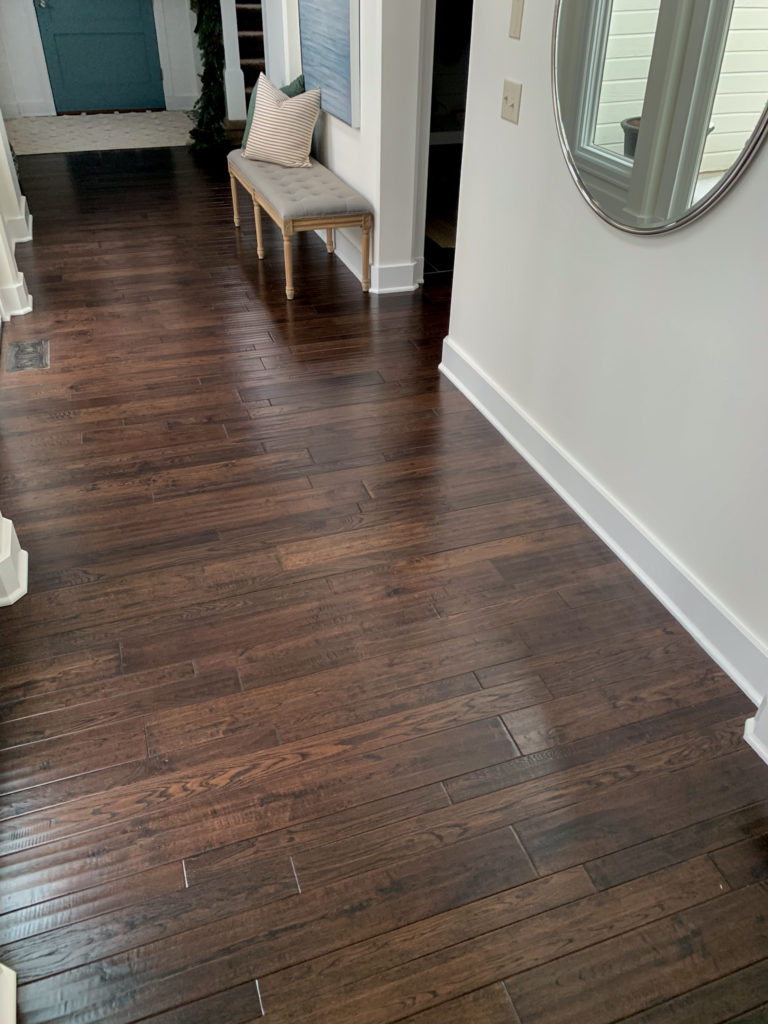 I also did a super easy, mini makeover on our master bathroom that I'll be sharing on Thursday. It seems like any time a new year draws to a close, I always won't to cross a project like this off my list to start the new year off right!
Today I have to put the finishing touches on Kurtis' "new room" before his surgery tomorrow. We're trying to put together a home base for him in our little guest bedroom where he can sleep, work, use the bathroom, etc. This mostly involves me cleaning out all the crap I've been storing in there for the past few months 😉
Top Sellers Of The Week
Following are the top sellers across all of my channels for the past week! I'm actually including the past two weeks, since I didn't share a Weekend Recap last week. Here are the top sellers for 12/1-7.
And here are the top sellers for 12/8-14.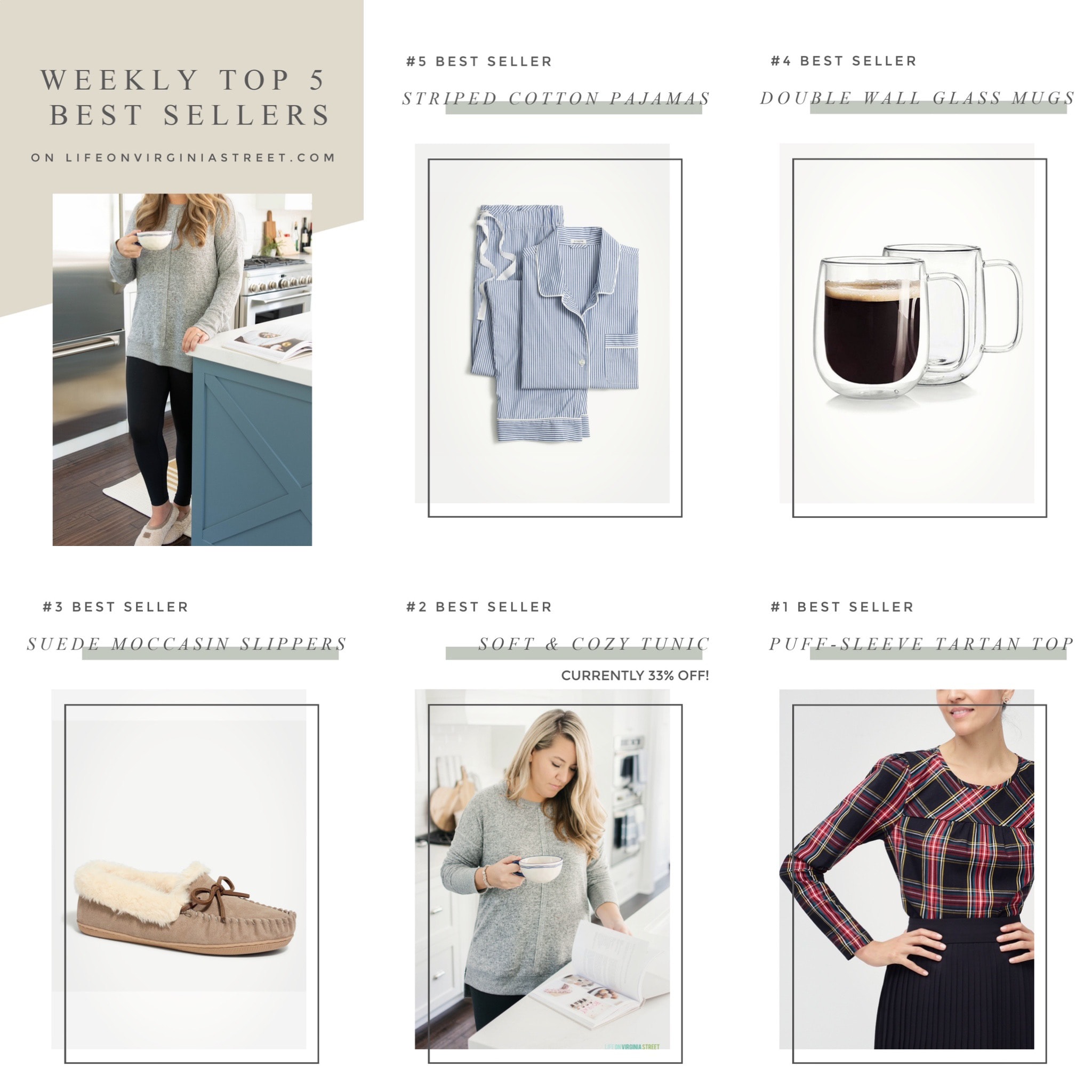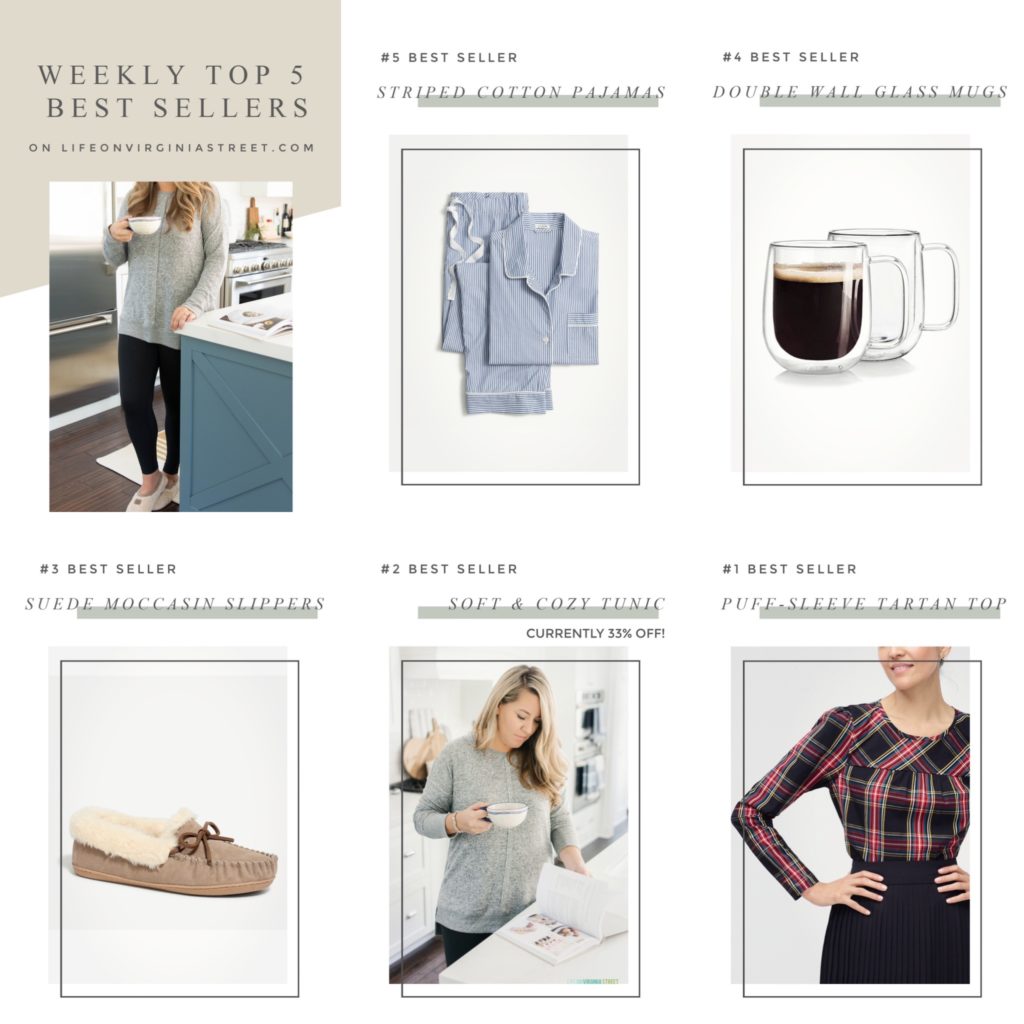 BEST SELLERS (each number is clickable): #5 | #4 | #3 | #2 | #1
It was funny to see that two weeks ago, it was almost all home items. And then this past week it was almost all fashion items!
Around Town & For Fun
We left Kauai last Sunday night and didn't arrive home until Monday night. I'm planning to write a full post of everything we did and would recommend. I took this photo our first morning there when my entire family was working out, and I was just strolling the property. The rainbows on Kauai are unbelievable!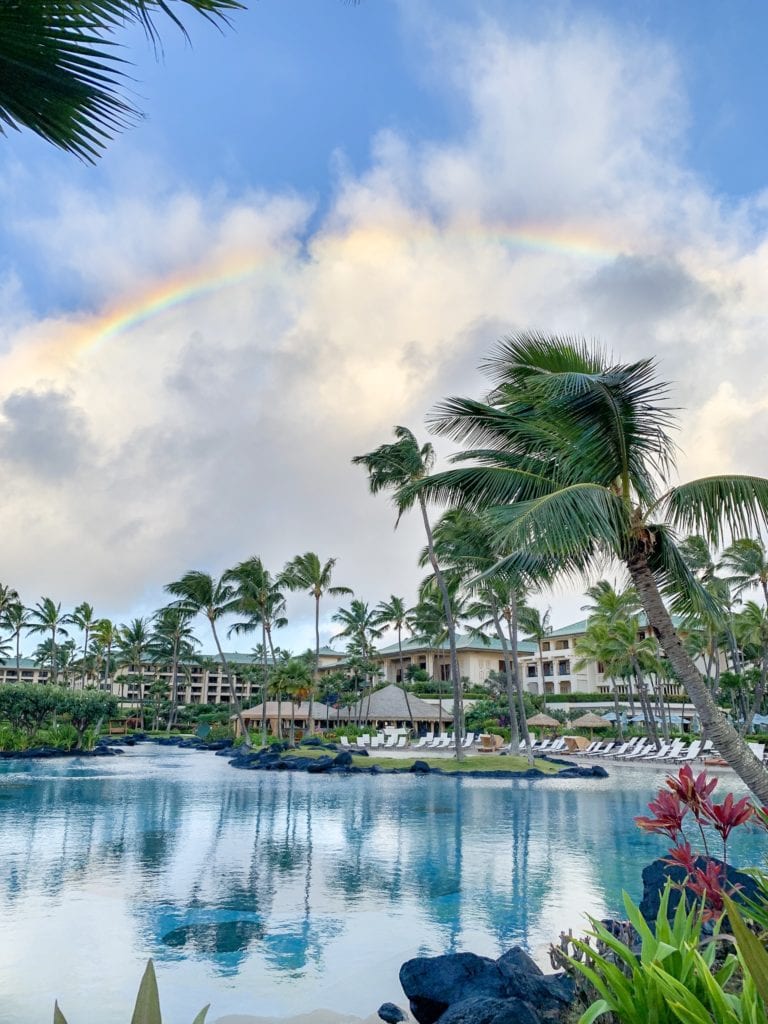 And if you ever have mistakenly made the assumption that I'm always put together, here was my look from the Minneapolis airport until we got home Monday night. Flip flops seemed like a good idea until we got to much snowier/colder climates. So I had to put on my Barefoot Dreams socks with them. And yes – I really walked around like this despite all the strange looks I was getting. I hate being cold!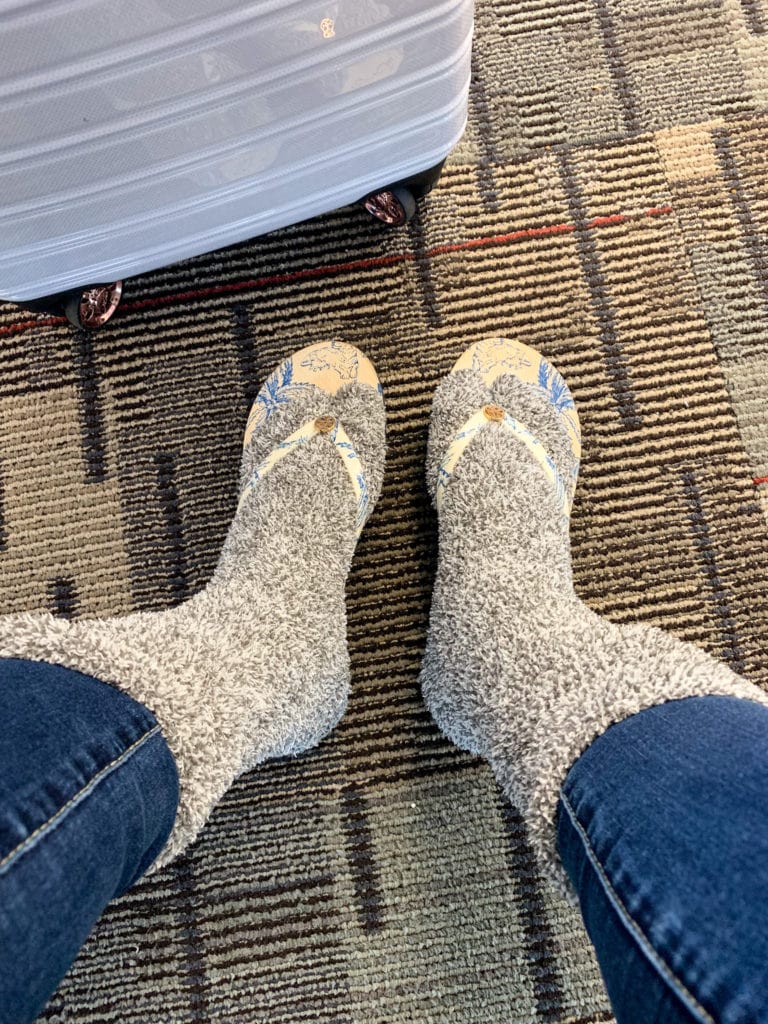 Tuesday night, Kurtis had a work party with his peers and boss. As I mentioned in my Wednesday Watch List last week, I wore this tartan plaid puff-sleeve top. I paired it with these starburst earrings, black jeans, and Tory Burch wedge heels (old, but similar style here).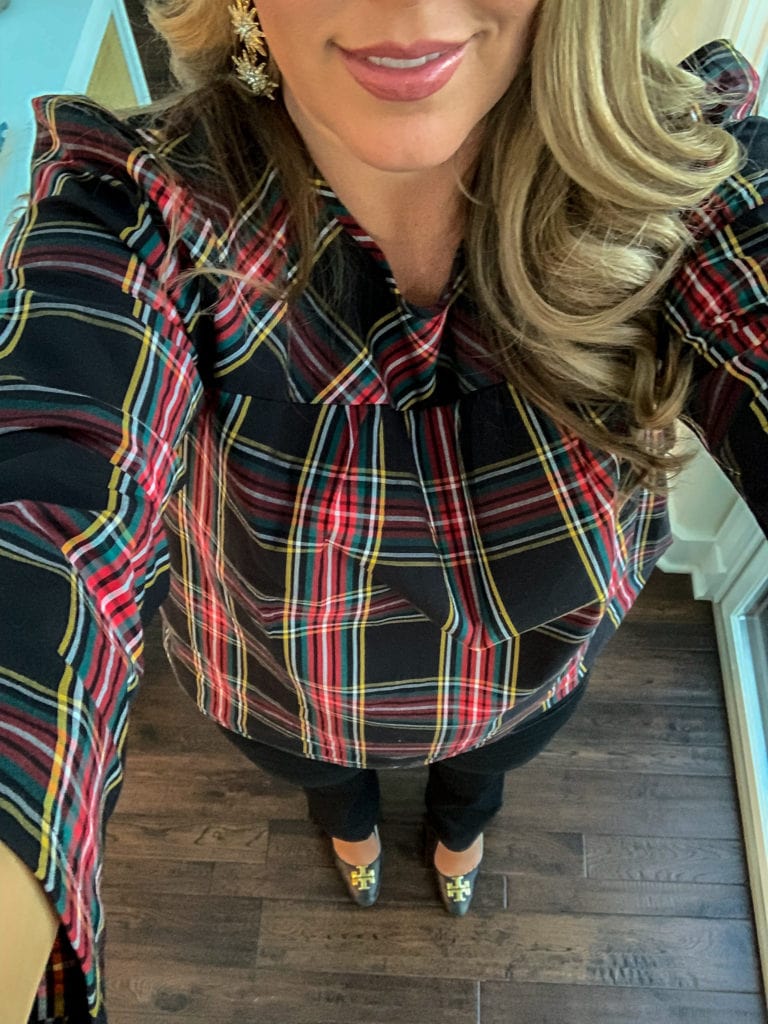 Such a great group of people! Nearly half of them flew in from other parts of the country and it was so great to see everyone outside of our one time a year on their company trip!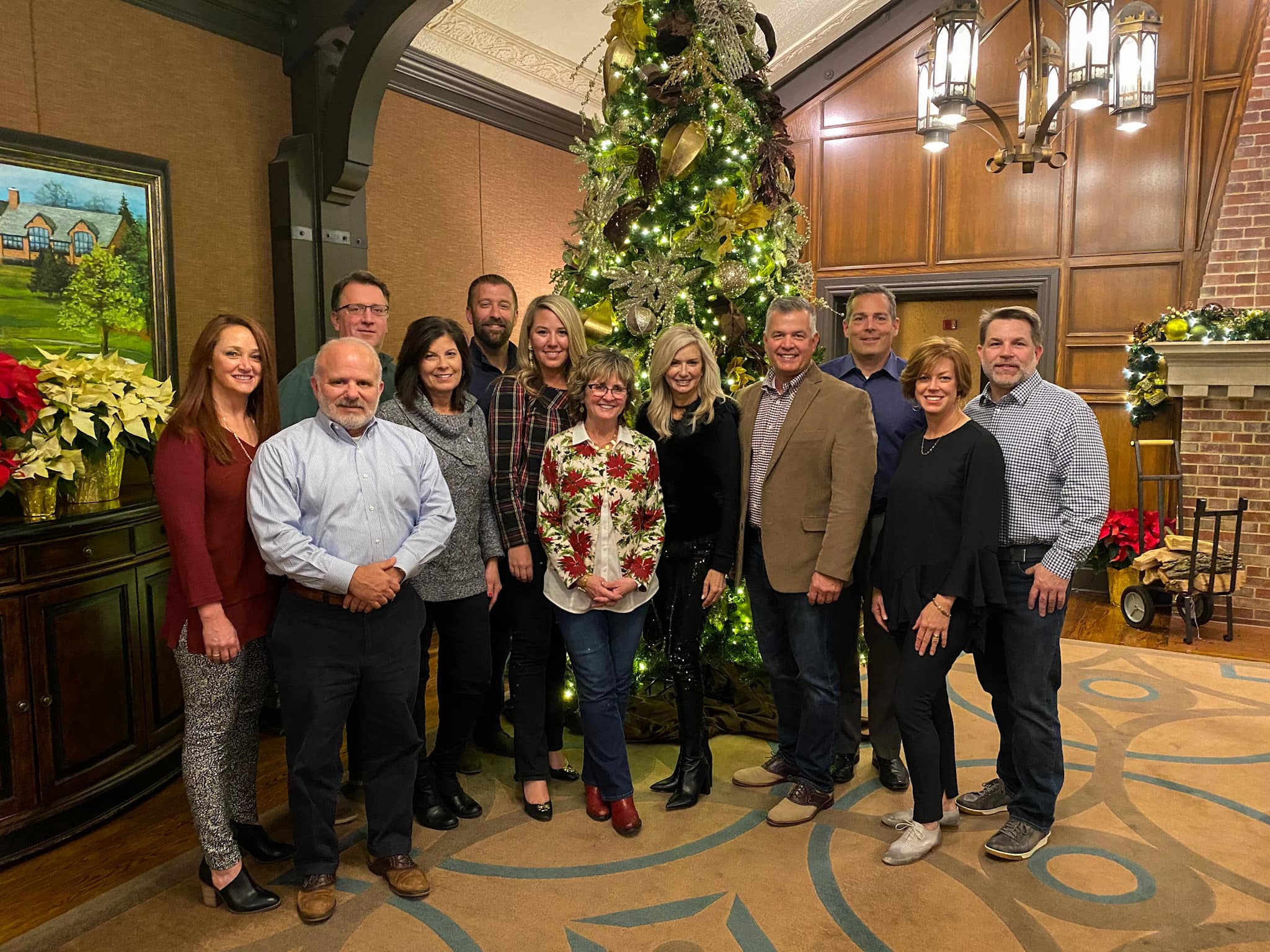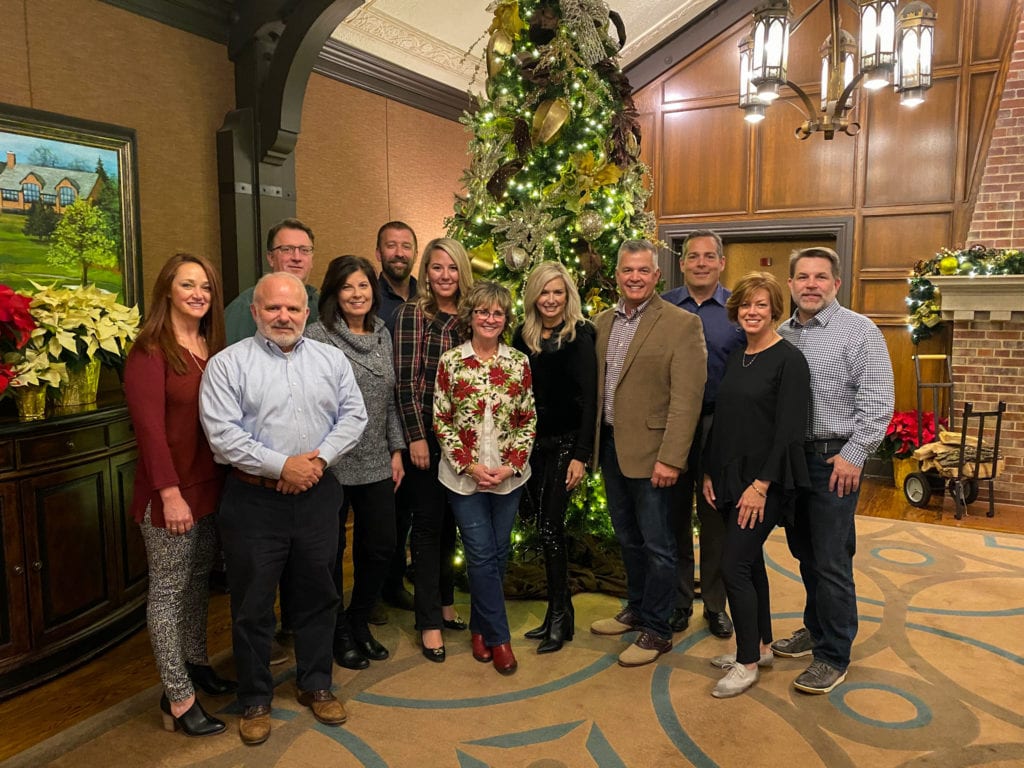 You may recall I mentioned little Hawkeye hurt his front right leg a few weeks back. It seemed to get better while we were gone and he was on medication. But it ended up getting worse last week. We ended up having to take him in to the vet for xrays. While he was there, they didn't find any broken bones or arthritis so it's likely just strained or pulled and he's now on Prednisone. They also found he has some stones they're trying to break up with a prescription food. Hopefully that works or he'll have to have surgery in January. Poor little buddy! He's been my cute little shadow since we got home, and follows me everywhere even with his limp.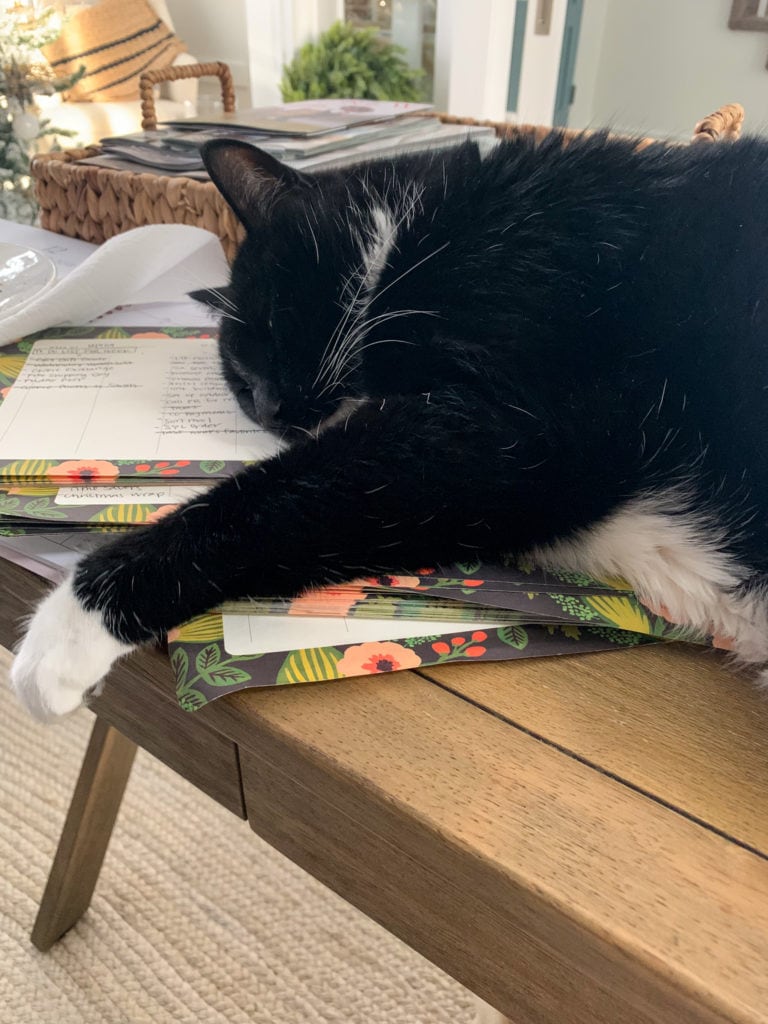 Saturday night, we had our annual Christmas dinner with Kurtis' sister and brother-in-law. We always eat at M's Pub downtown in the Old Market, look at Christmas lights, and then play cards and have dessert/drinks at one of our houses.
I also mentioned this black watch plaid top in my Wednesday Watch List last week, and wore it for our night out. And because it worked the first time around, I ended wearing the same starburst earrings, black jeans, and Tory Burch wedge heels (old, but similar style here). But it was so freaking cold out, I had to wear real socks with the wedges – even if they looked completely ridiculous! Are you having flashbacks of me at the airport yet?!? 😉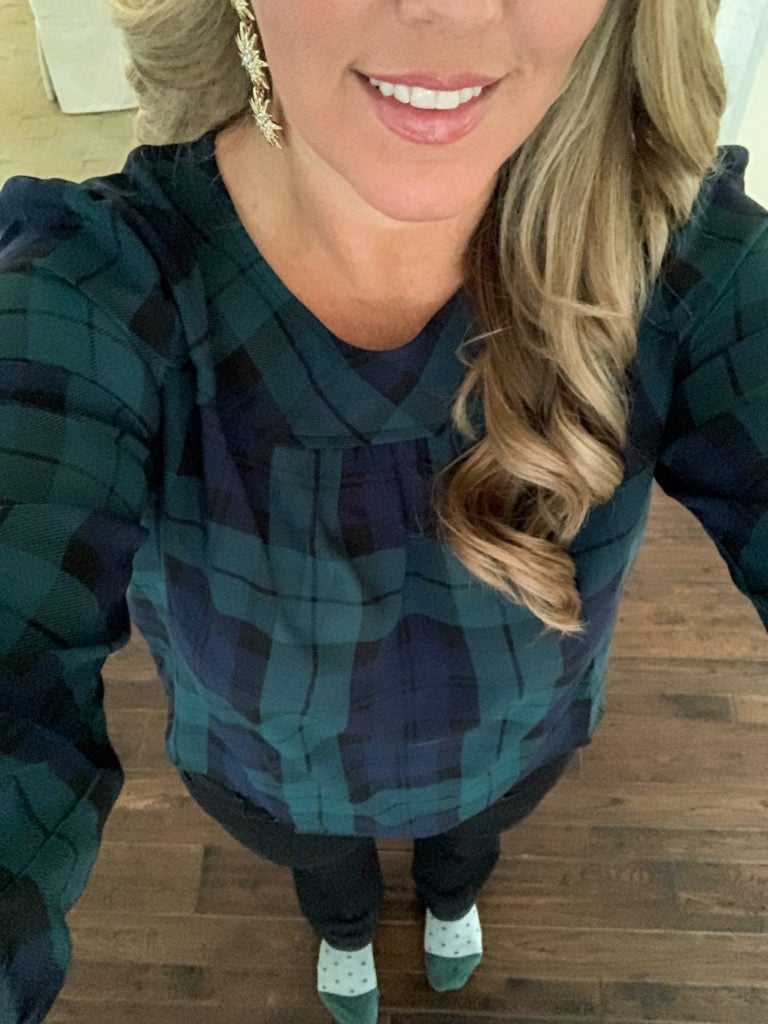 Downtown Omaha always looks so beautiful this time of year!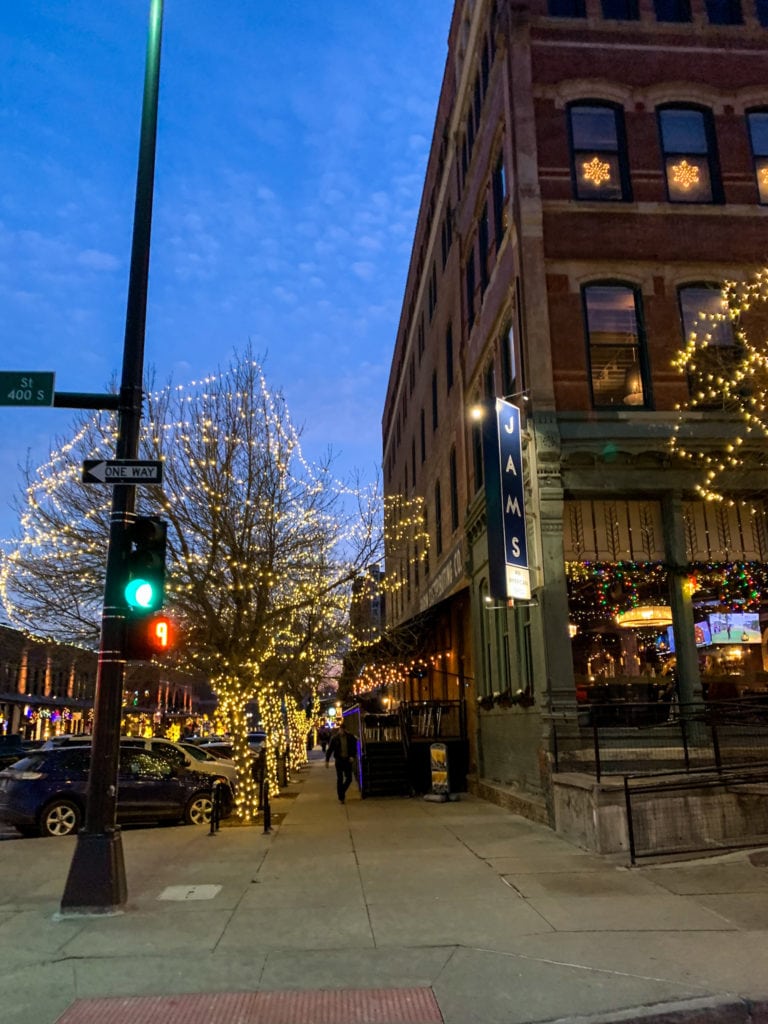 You can never go wrong with M's Pub during the holidays. Always so festive and beautiful!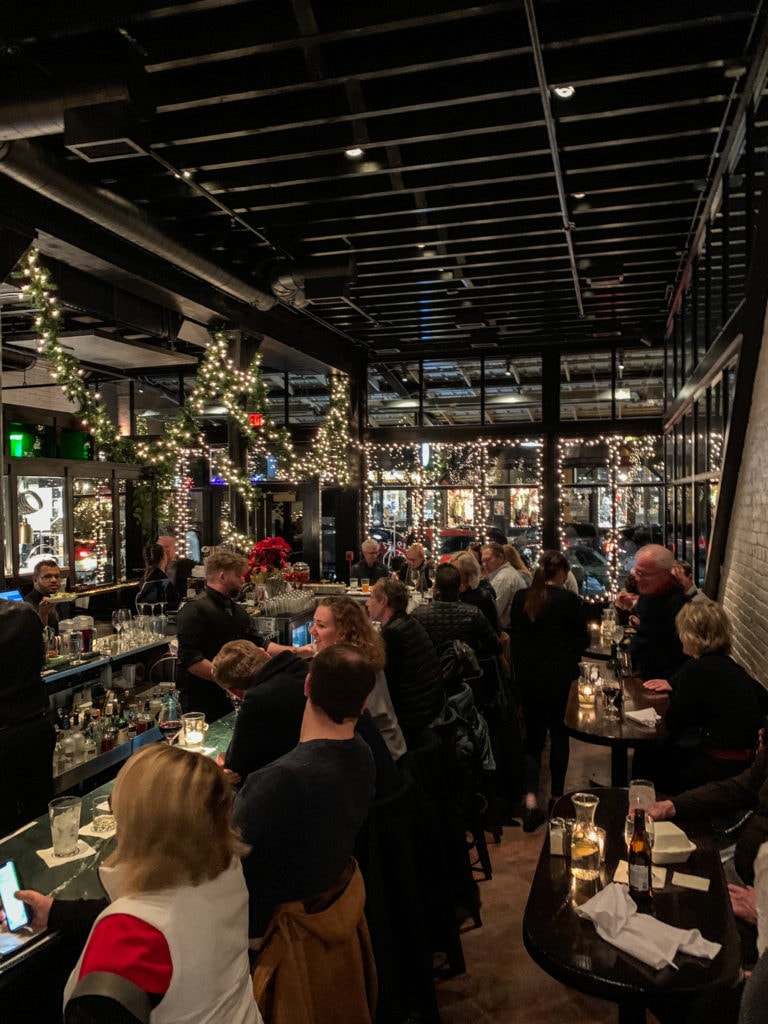 We headed back to our house afterwards for cheescake and some intense games of Euchre. It's always one of our favorite nights of the year!
Sunday, after wrapping up all our tasks around the house, Jill, Nick and Zoe came over for a visit. Nick and I had added whipped cream to our coffees and Zoe really wanted some. So we gave her a tea cup with some. She took eating it very seriously. I was dying of laughter. Every time she took a bit (very aggressively) she would get the biggest smirk on her face.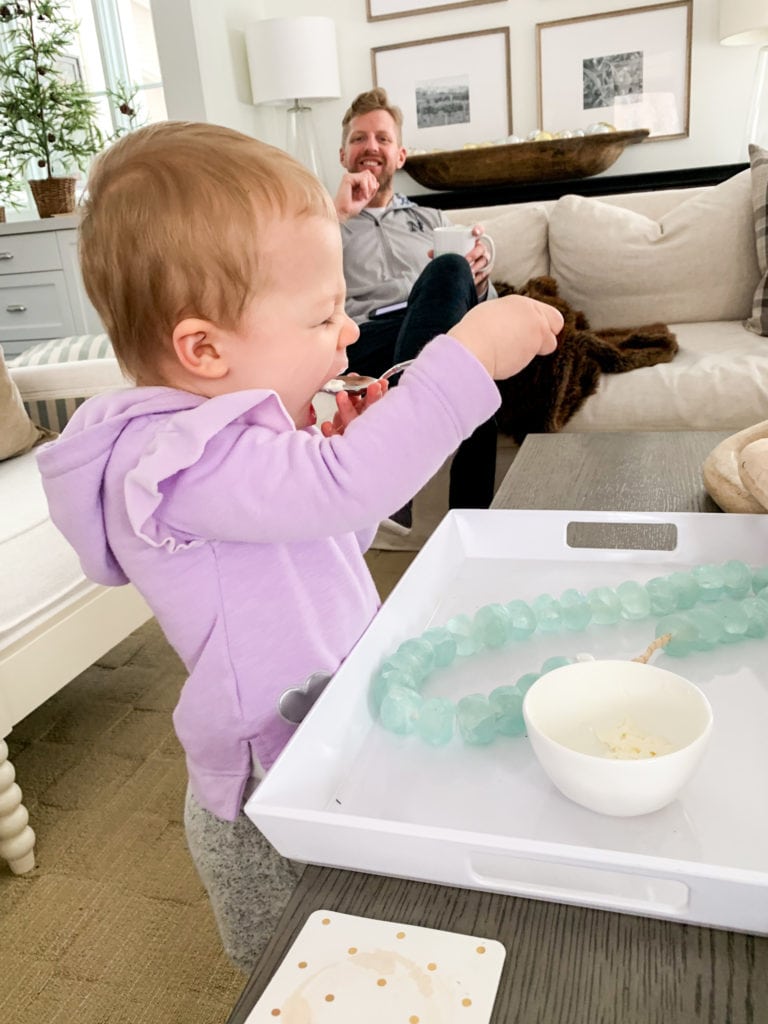 She also got to spend time with her real favorites – our cats.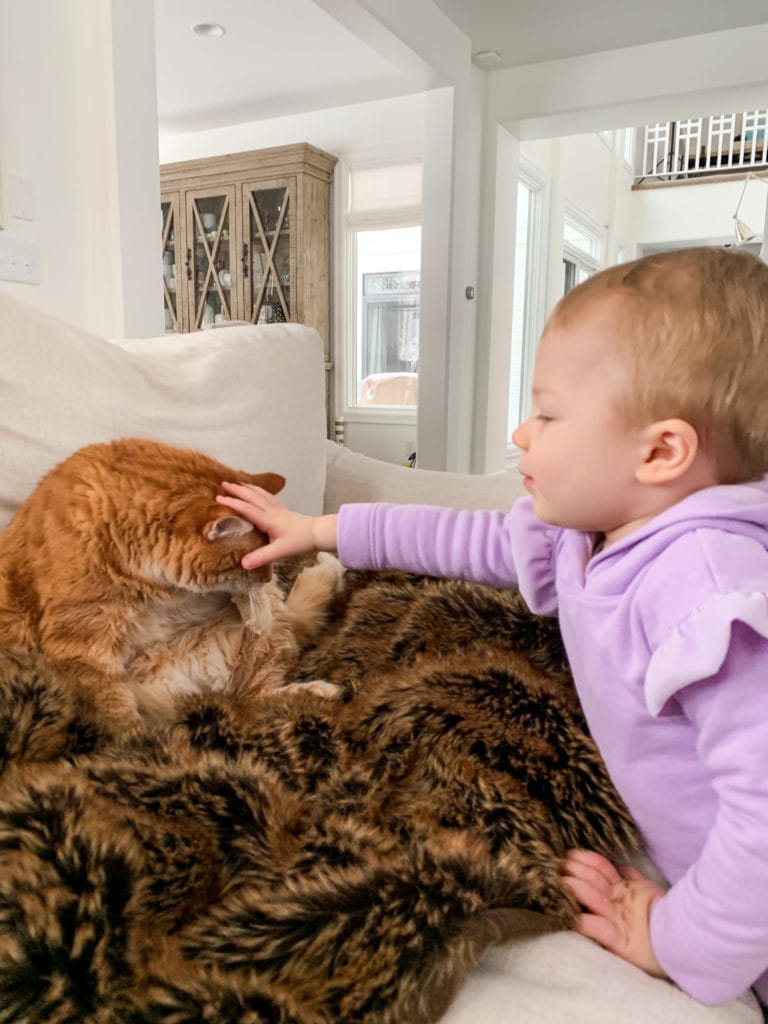 Just had to share this photo because it captures the barricade we always have to build at the end of the hallway so she can't go up or down the stairs 😉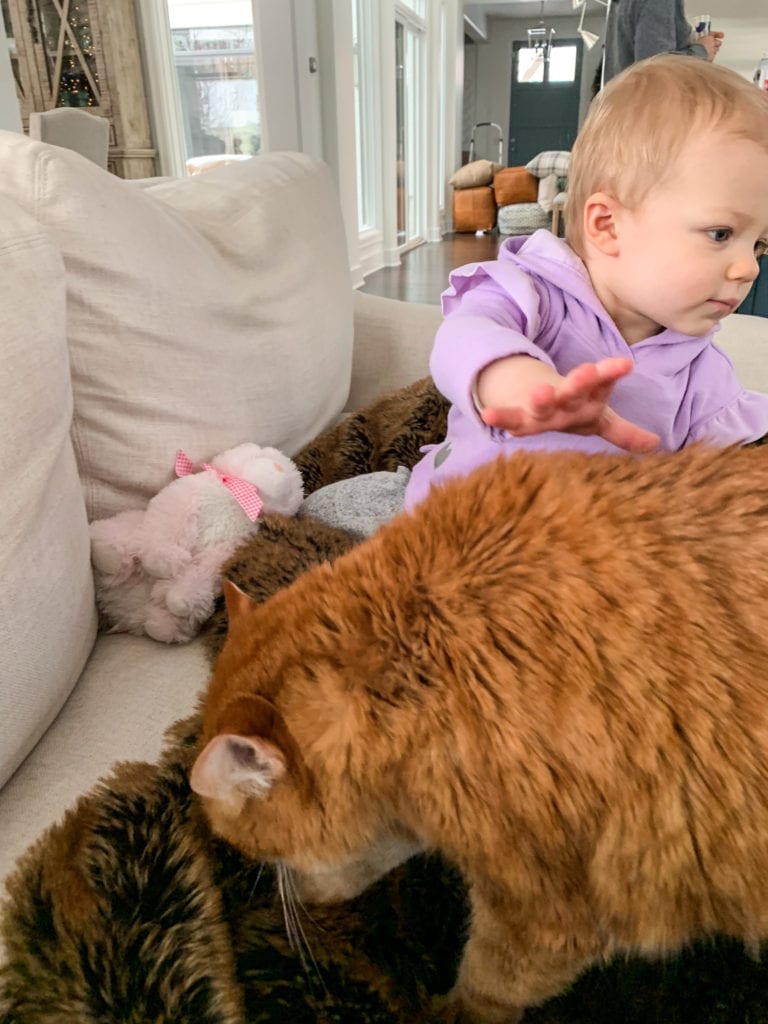 Kurtis has his hip surgery for his torn labrum tomorrow. He'll likely be home for the next six weeks or so, so things may get a little interesting around here as we both try to work from home 😉 We'd appreciate any thoughts and prayers you can send his way for a successful surgery and healing! Thank you!
Recent Buys & Sales
Following are some of the sales that have carried over from the weekend! You can see my top picks in this post, many of which are still on sale.
I hope you all have a great week!
If you would like to follow along on more of my home decor, DIY, lifestyle, travel and other posts, I'd love to have you follow me on any of the following:
Pinterest | Instagram | Facebook | Twitter 
disclosure: some affiliate links used