Happy Veterans Day! I want to start today off with a heartfelt thank you to all of the Veterans and families of those who served!
Here's a photo of two of my favorite vets: my dad and my maternal grandpa. My paternal grandpa also served, but I don't have a picture of him! Thank you all for your selfless service!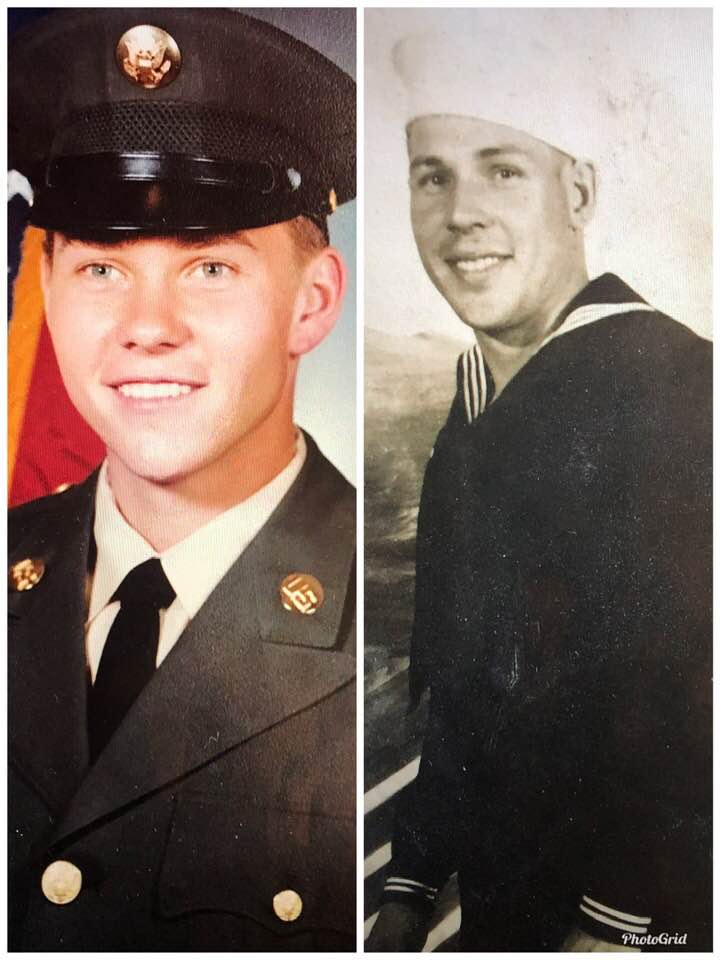 This post contains affiliate links for your shopping convenience. Click here to read my full disclosure policy.
Home Projects & Updates
Last week I started to officially set up our Christmas decor. I have a long ways to go, but with our schedule these next few weeks (more on that at the end of the post), I figured I'd do a little bit at a time so I'm not rushed!
I couldn't resist ordering these pom pom stockings after I shared them last week! I bought three (one for each cat) to mix in with the chunky knit stockings Kurtis and I already have. I was shocked by the quality for a $13 stocking! They have a really subtle gold thread woven throughout, as well. And they look so cute with our stockings. The gardland here is an old one I've had for years from Pier 1.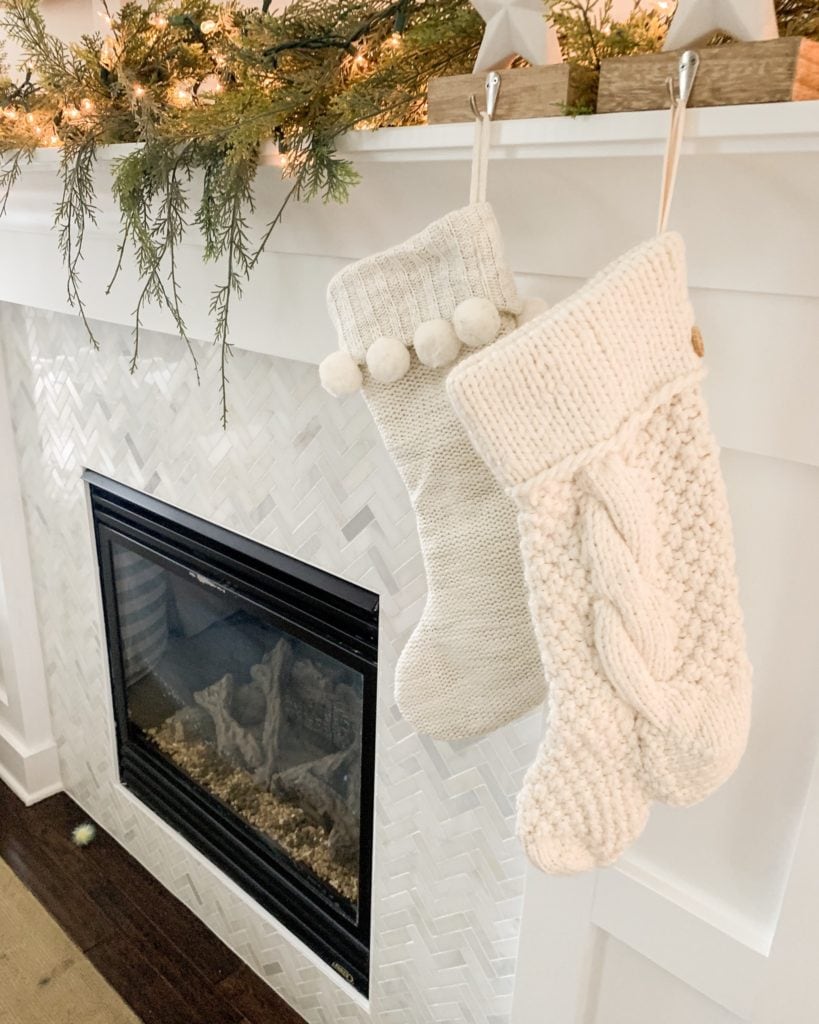 I moved the bench back into the entryway after this shoot and just leaned this wreath here at the time. It wasn't intentional but I think it looks cute like this! I'll probably still hang it (for the cats' sake) but it could be a fun idea.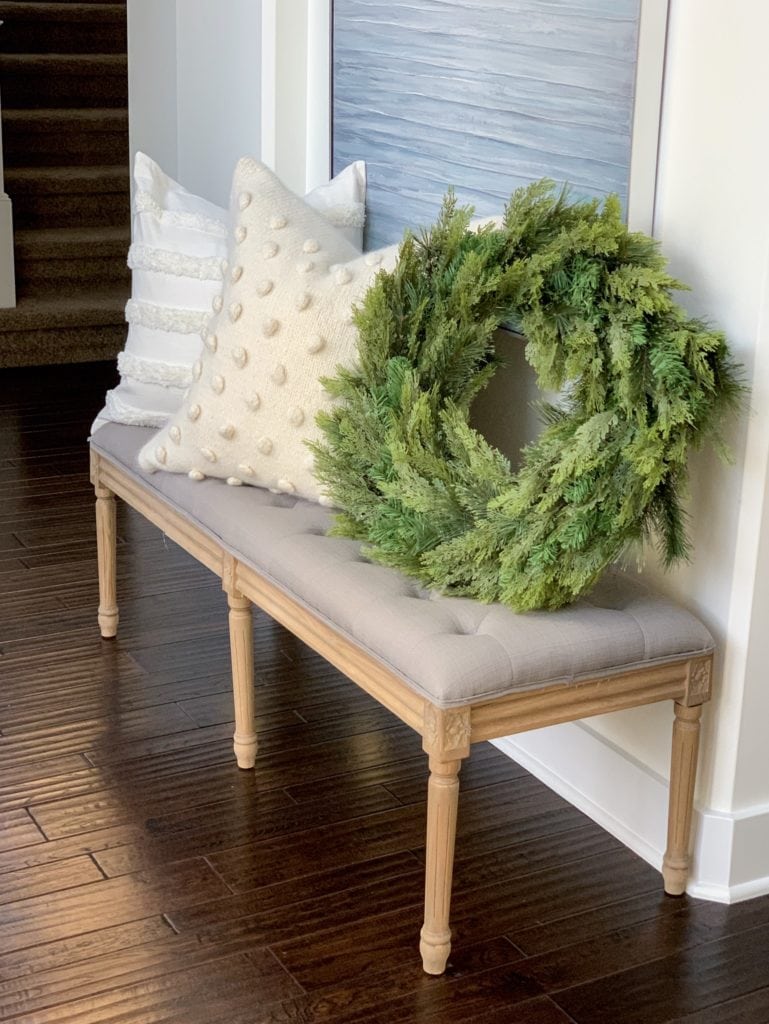 Our flocked Christmas tree we bought and loved a few years ago is back in stock and on sale today! I actually have it set up in our den this year (you may remember the sneak peek from this post).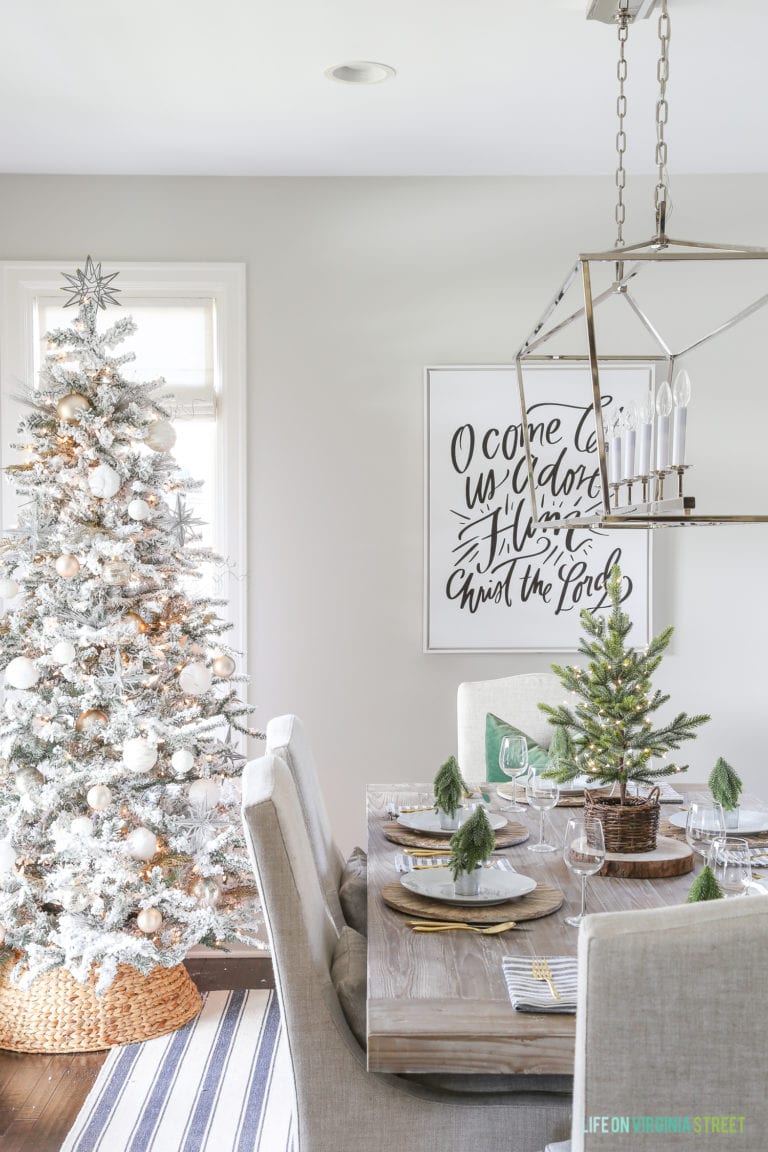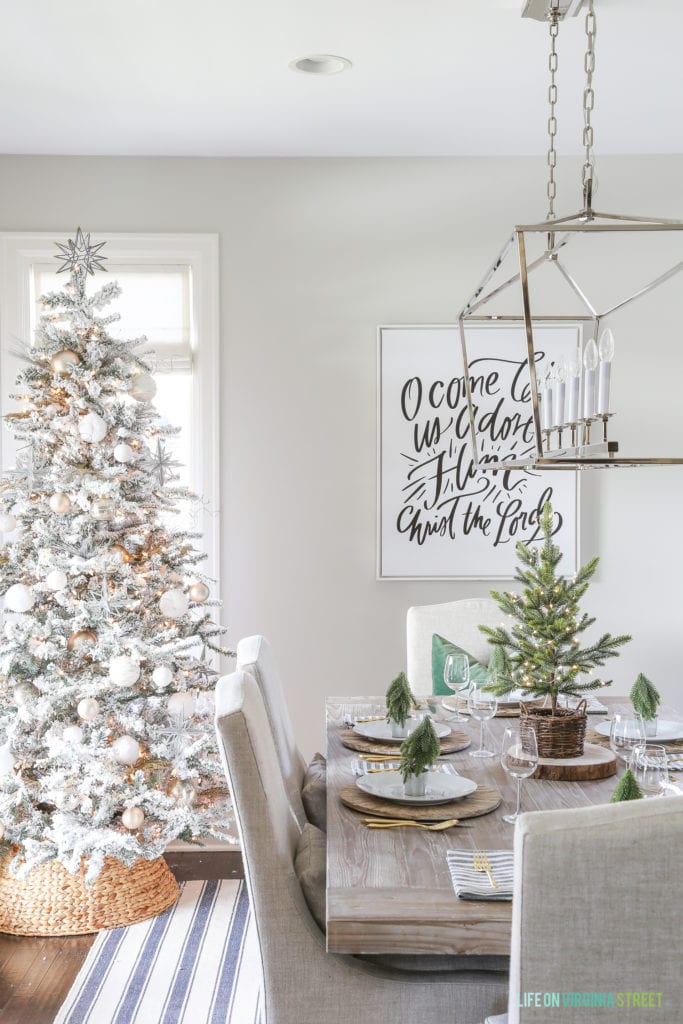 CHRISTMAS DINING ROOM SOURCES: Flocked Christmas Tree | Woven Christmas Tree Collar (similar here) | Canvas Art | Chandelier (knock-off here) | Dining Table | Dining Chairs | Wood Chargers | Potted Mini Christmas Tree (similar) | Rug | Velvet Pillow Cover
So, our new guest bed finally got delivered on Tuesday! But…they forgot the dresser that had been waiting in the warehouse for a month (waiting on the bed). The bed is really good, and I'll share more about it soon. But here's a quick iPhone picture when the bed was only kind of made correctly 😉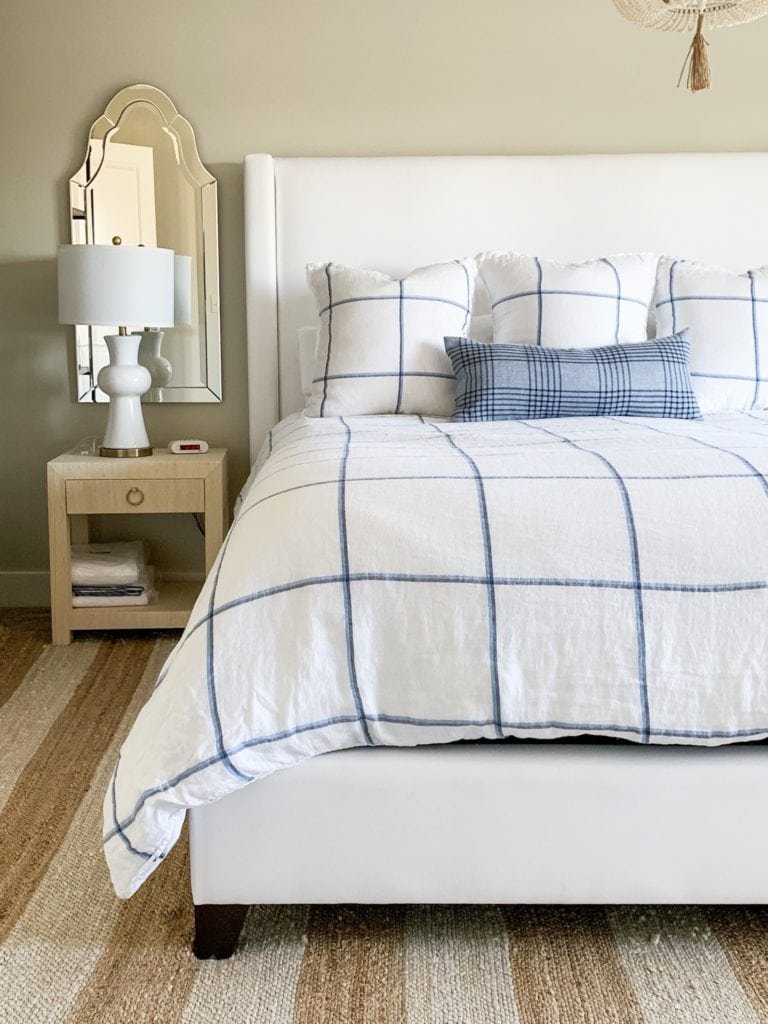 SOURCES: Bed | Plaid Duvet Cover & Euro Shams | Plaid Lumbar Pillow | Nightstand | Beaded Chandelier | Lamp | Mirror | Striped Rug
I went with the base fabric on the bed over a performance fabric since it's a bed. And a secondary one at that. It also saves a lot of money that way. So, if you have any great fabric protector recommendations, I'd love to hear them!
So back to the missing dresser. After a few phone calls with Pottery Barn and their third party delivery service, the dresser arrived Saturday. But it was damaged and had a gouge taken out of the wood. They delivery guys recommended I refuse delivery. You can see the gouge below, and then there is about a there inch section to the right of that where the wood was ripped off. It was right on the face of the dresser so it was really noticeable (as hard as it is to see in pictures).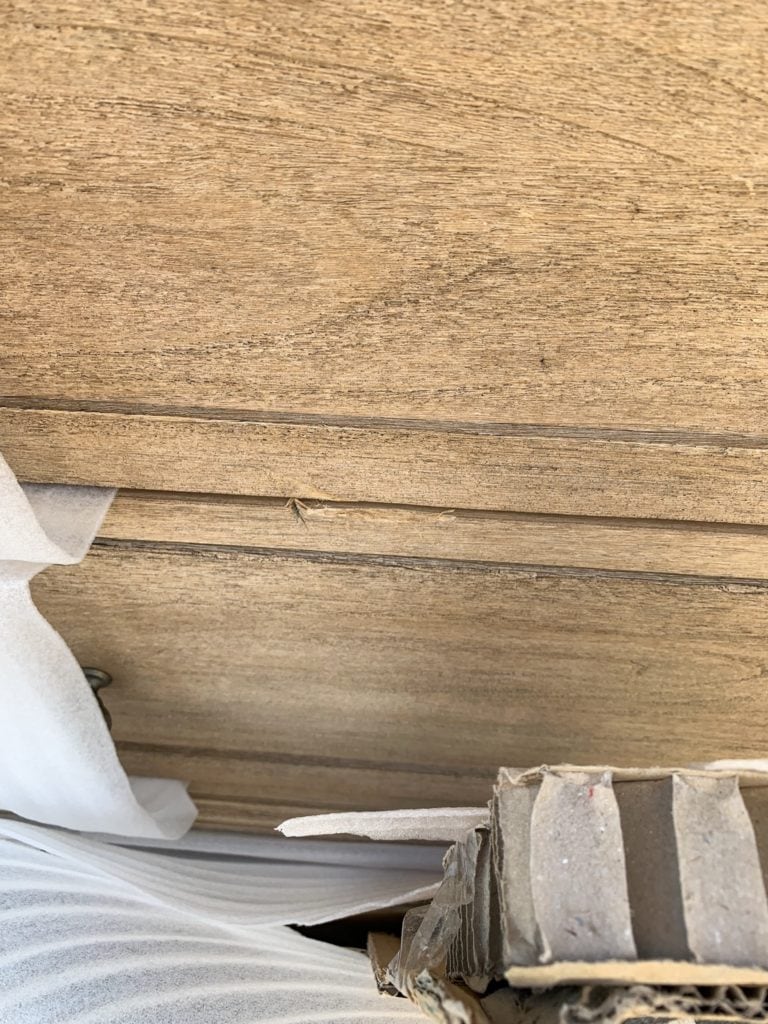 It's like they all read my review post on Friday and made everything I said come to fruition and prove my point. Again 😉
The bad news is, it may be another month or two before I can get a replacement. So, I actually cancelled the order and considered going with one of my other options. But, after buying some fabric storage cubes at Target, I have temporary dresser solution set up and decided to wait for this one. It was so good when I saw it (better than expected) and as long as I searched, I don't think I'd be happy with any other alternatives. So, I re-placed my order yesterday (it's actually about $75 cheaper now with their sale than when I bought it) and now have it wait it out again. But I know it will be perfect for our space when it arrives!
Top Sellers Of The Week
Following were the top sellers across all of my channels for the past week! Our natural faux Christmas tree made the list for the third week in a row!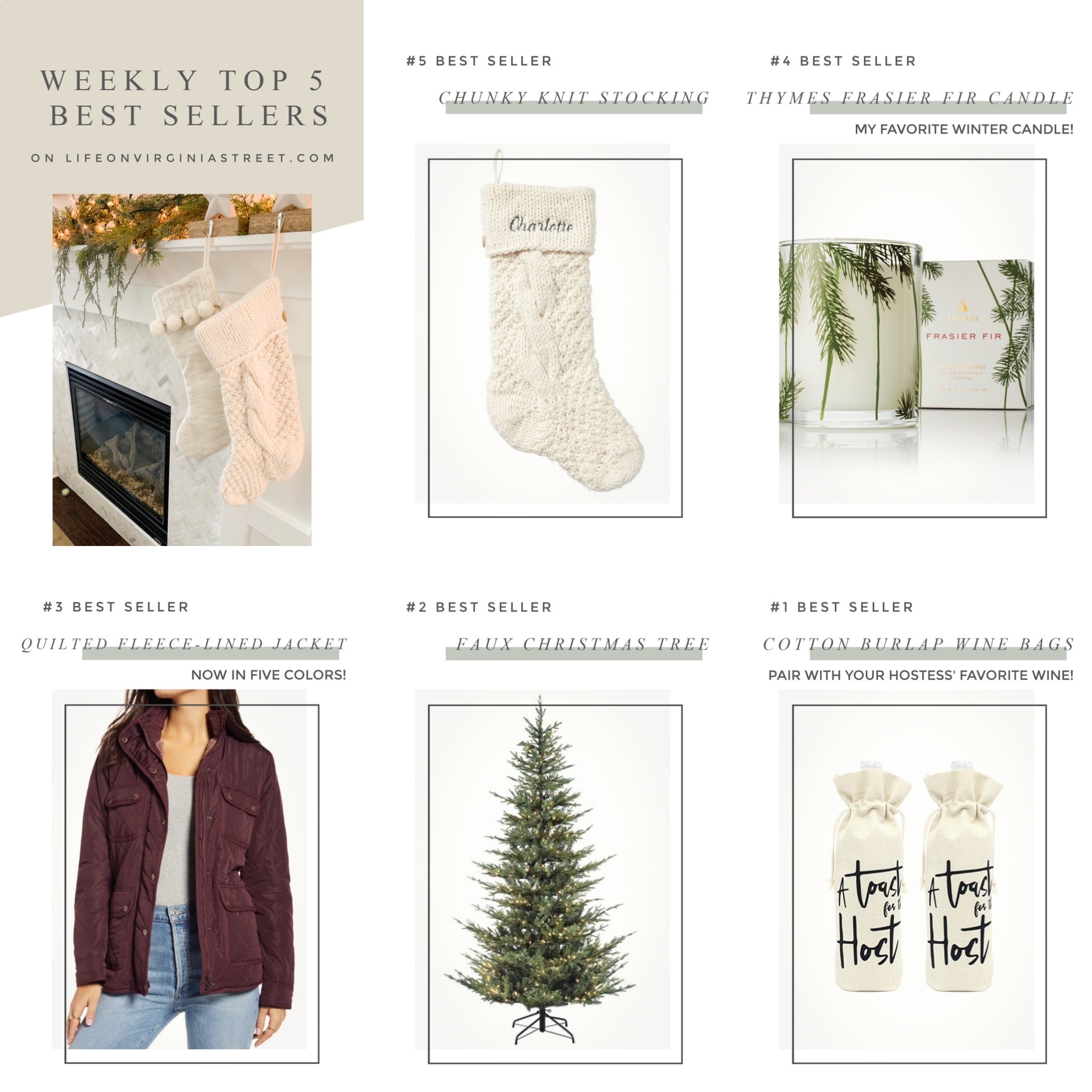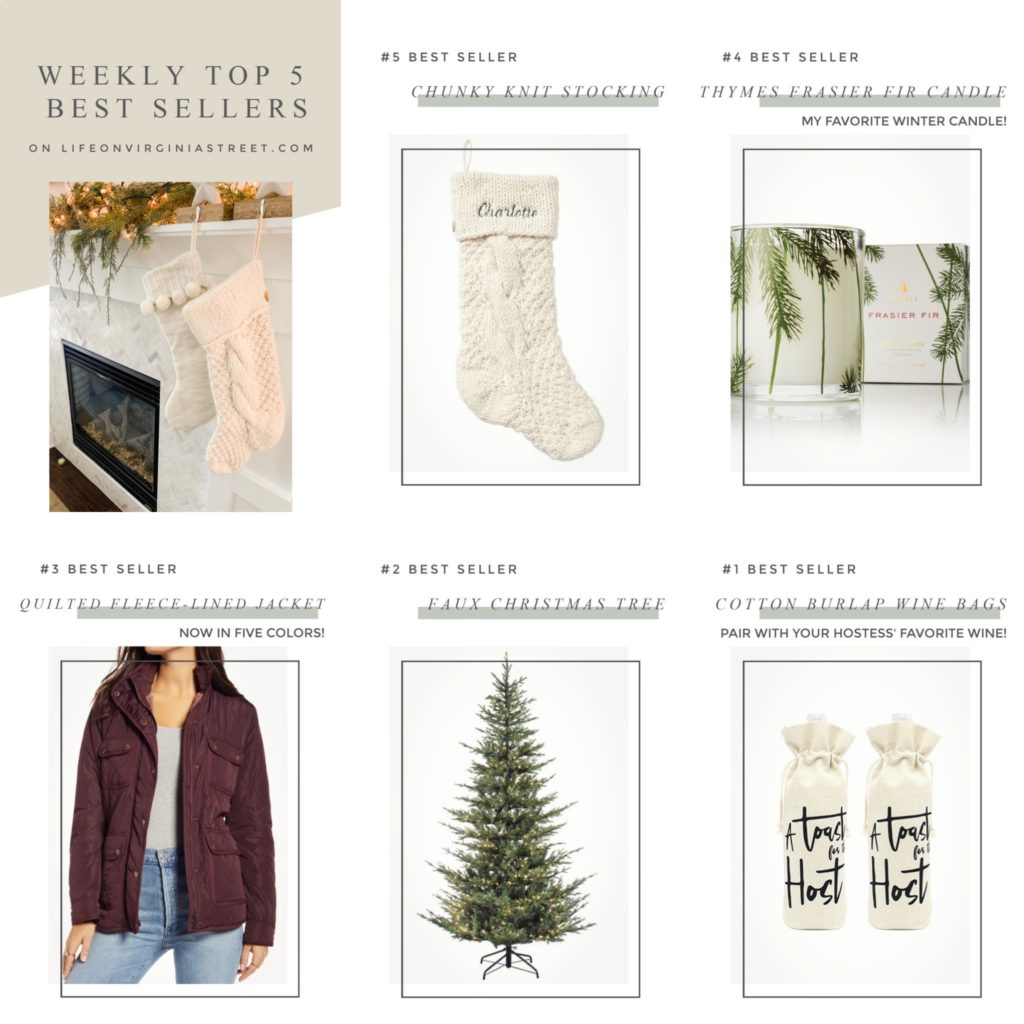 BEST SELLERS (each number is clickable): #5 | #4 | #3 | #2 | #1
Around Town & For Fun
Friday, our giant dead maple tree in our parkway was cut down. It was sad to see it go after so many years, but given that it didn't have one leaf on it for more than a year, it was time.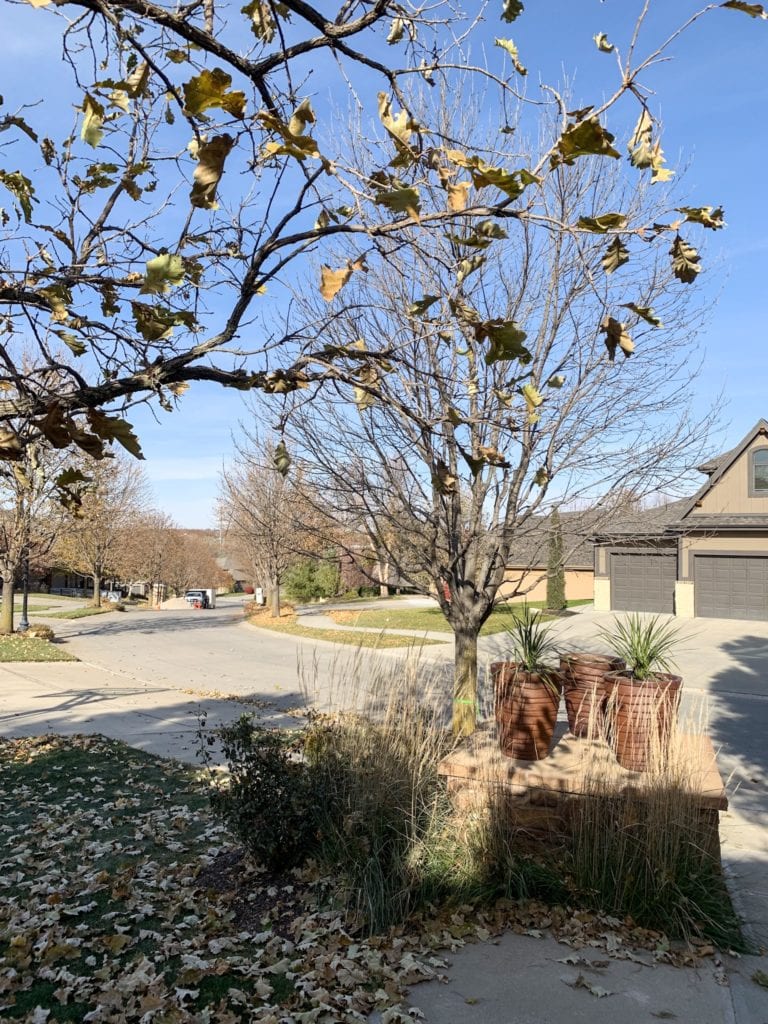 When I was working in my office Friday, I had a little visitor in the courtyard. He was contemplating hiding his acorns in my pot or herb garden. Probably not the best of decisions. As I'm sure you can imagine, the cats were freaking out just a little bit 😉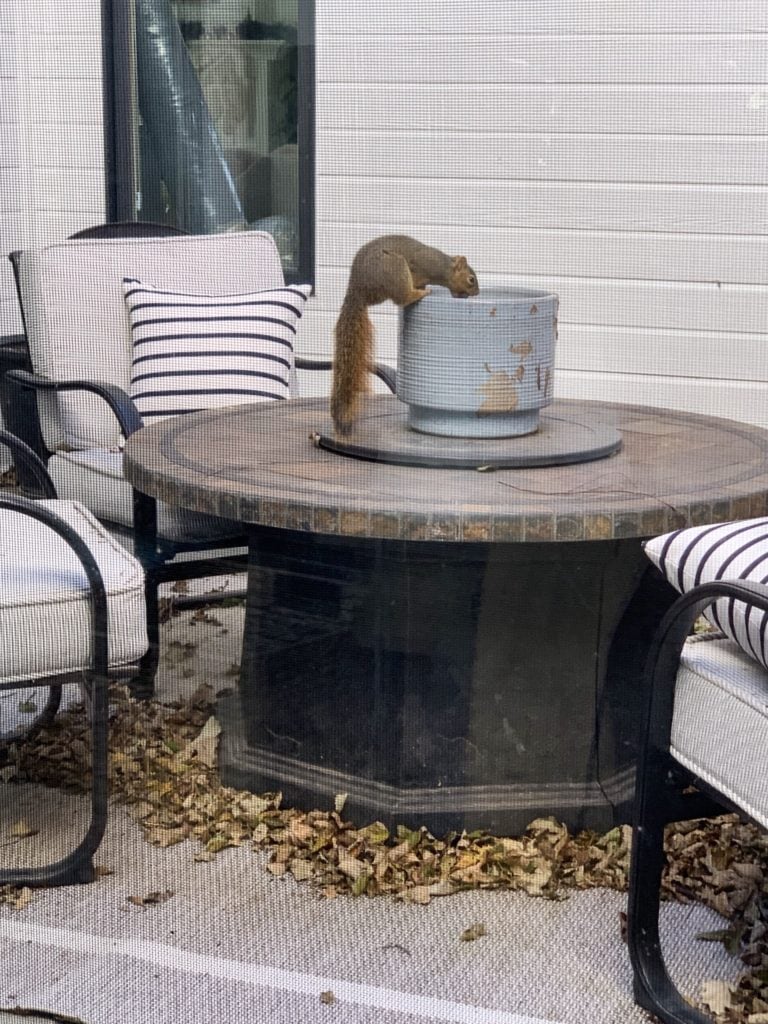 Friday night we celebrated my birthday at Kurtis' sister and brother-in-law's house. My birthday was September 6th but this was the first weekend we were all free to get together! Janine made her famous homemade pizza, we played cards, drank wine and laughed a lot! I'm always so impressed by her giant Christmas village she puts up each year! I loved her new little tree lot she got this year.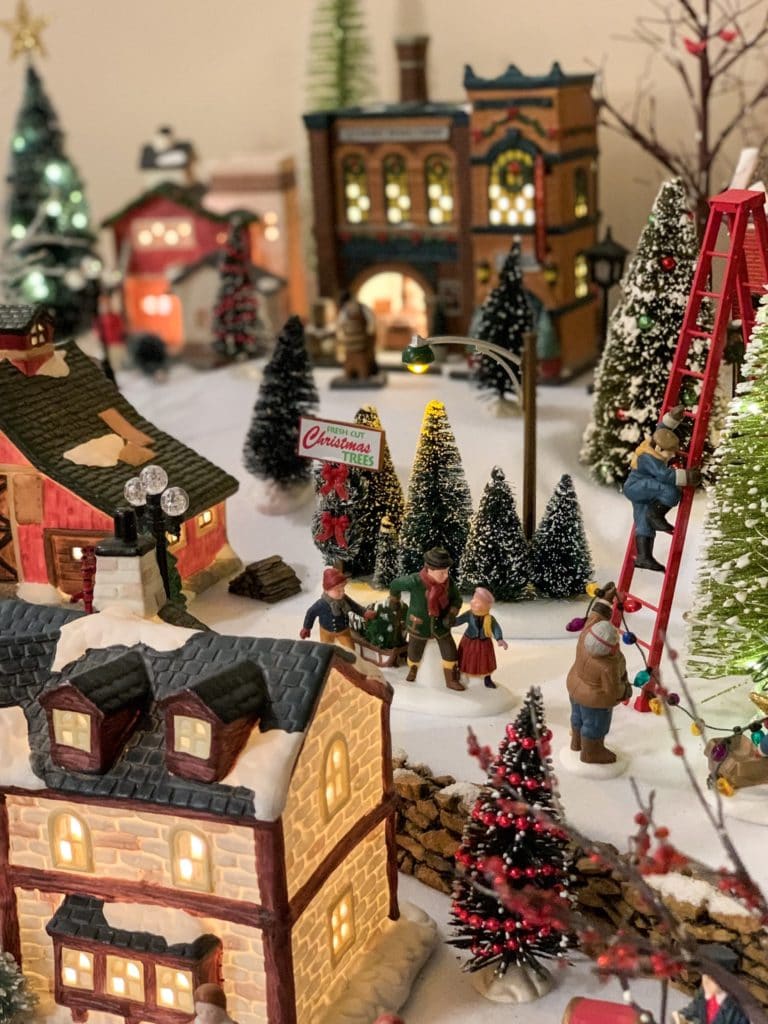 If you read my Pottery Barn sectional review last week, this photo of Bailey proves the cats get to do whatever they want to the cushions 😉 Thankfully they've held up remarkably well, even on our 2+ year old sofas!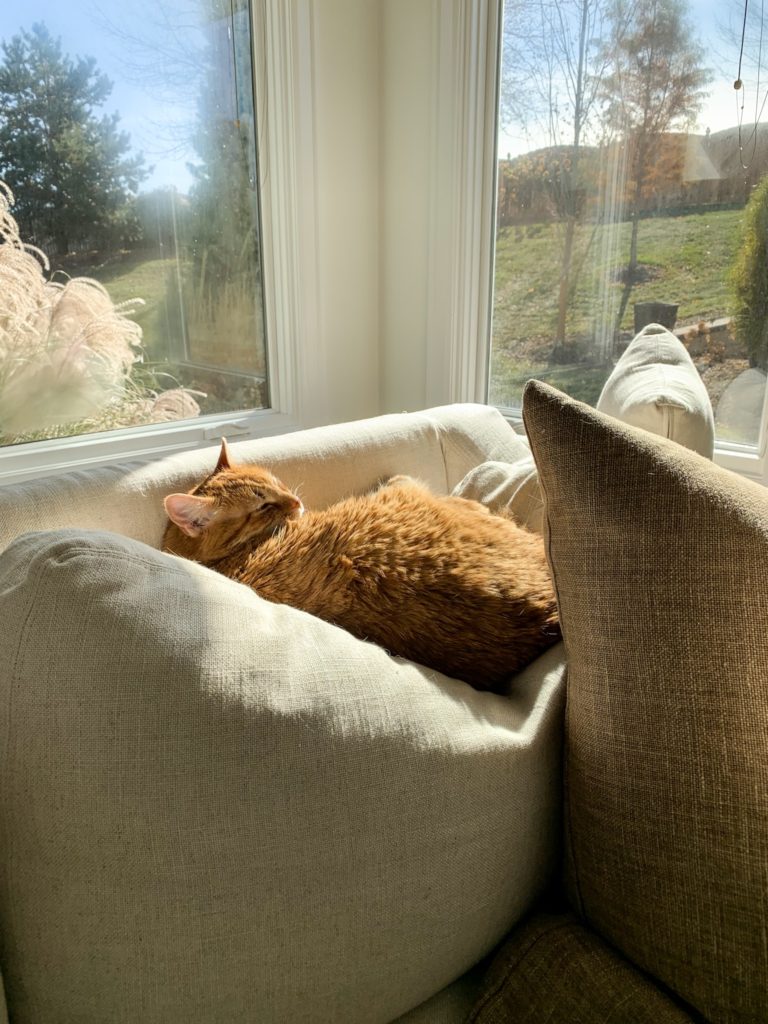 Saturday we had dinner with Jill, Nick and Zoe. Any time Zoe does something she thinks is impressive, she stops and makes all clap and yell 'yay' or 'good job' to her 😉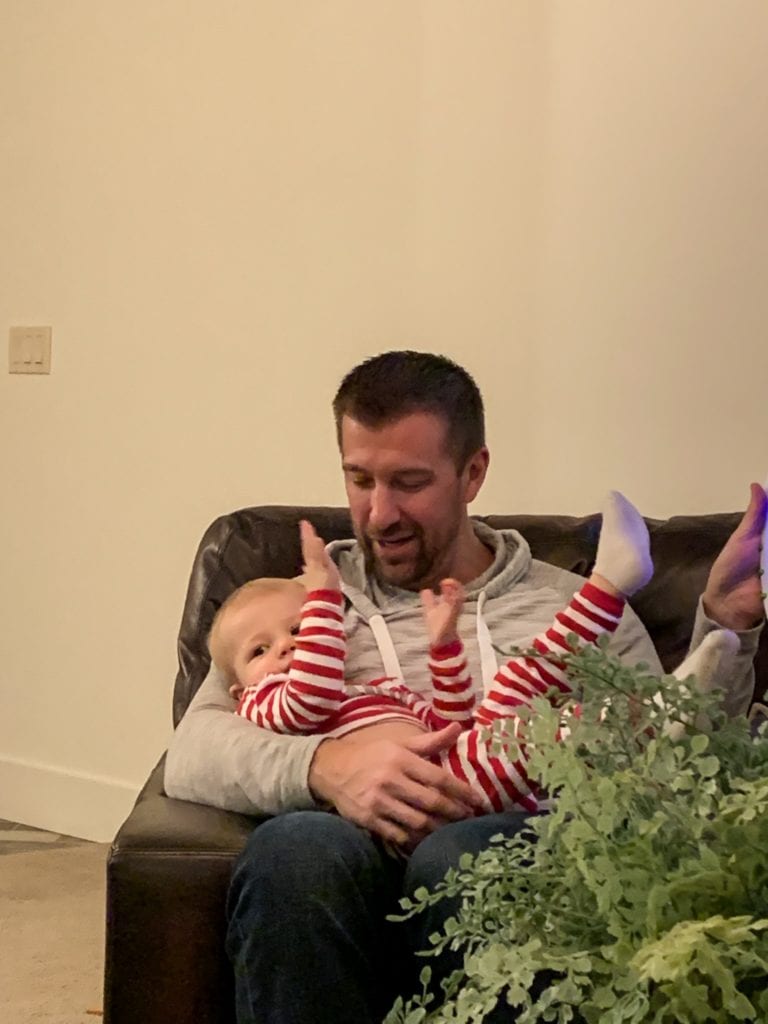 Sunday I spent spent a lot of time at the computer trying to get stuff wrapped up for this week (more on that in a minute). So, by late afternoon, I decided the cats needed some love and we spent some time upstairs on the sectional reading (them sleeping). It's gotten really cold here again so they are all about their faux fur blanket and my body heat! Here the flocked tree is looking a bit pitiful because I haven't actually fixed the branches since I took it out of it's storage bag. But it was still fun to turn the lights on regardless. It makes such a cozy effect!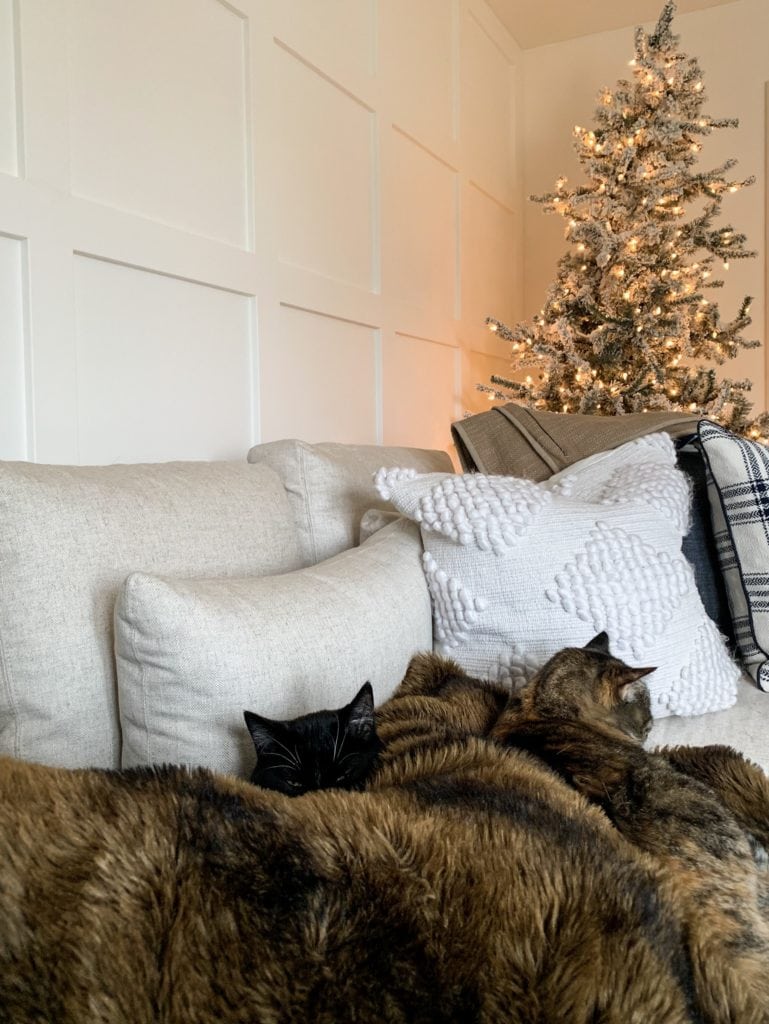 We ended the weekend by starting the new season of Schitt's Creek. We were in a winter weather advisory so it was totally acceptable to turn on all of the Christmas lights!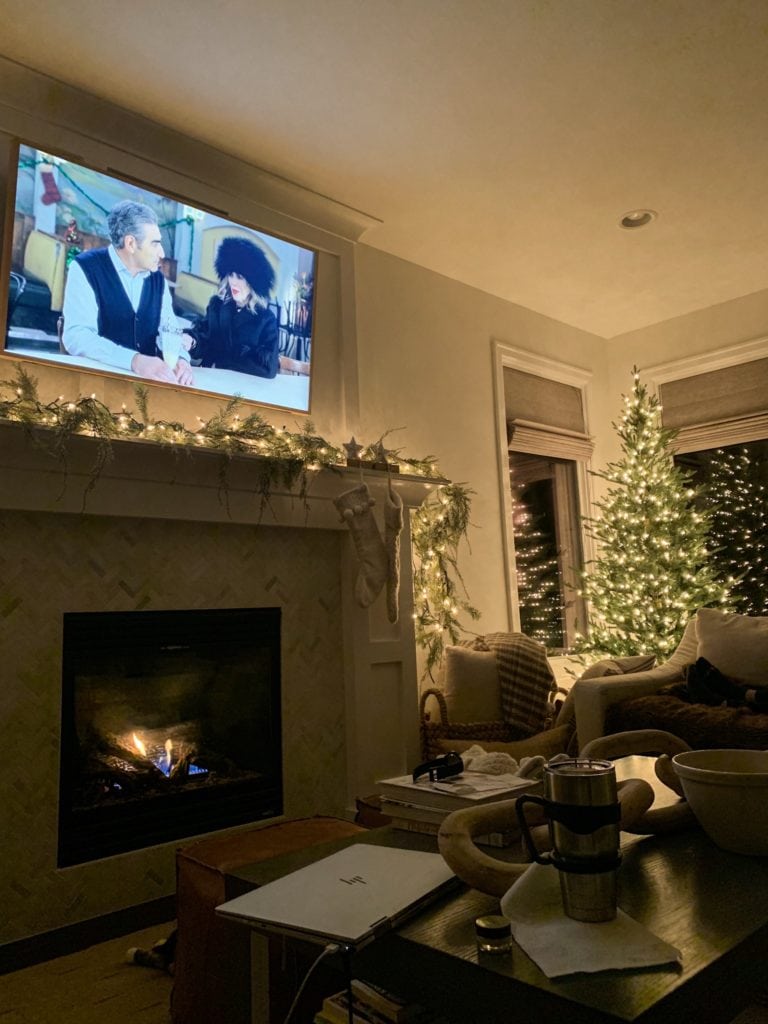 So a couple of updates.
The first is one we've known about for some time but I didn't want to share until things were official. Kurtis will be having hip surgery next month for a torn labrum. He's known about it since summertime, but insurance required he do physical therapy for a few months and then get another MRI before approving it. He had his MRI about a week ago and we got the results back last week. He officially is approved now. So, this means once he has his surgery in mid-December, he can't be weight-bearing for 6-8 weeks or likely drive during that entire time. He'll most likely be home from work for a few weeks through the first of the year (thankfully he can still do a lot of work from home). On days he does need to go to the office, I'll have a 2+ hour a day commute (round-trip) so my days will definitely be looking a little different too. The good news is, the surgery is scheduled over a really slow time of year for both of our jobs, so I think he's anxious and ready to get it behind him!
Knowing Kurtis has surgery that will make him unable to travel for nearly two months, we're headed to Chattanooga this week for a quick, last-minute trip. We'll only be there for a few days and have a lot of meetings lined up through our real estate company. I'll share more details on this if anything actually happens but it's still very early stages. We just wanted to get this trip in rather than wait until March, which would be the next time we'd be able to go. It makes things a bit crazy around here with the upcoming holidays and trip with my family, but it made sense for us to squeeze it in! I'm sure I'll be sharing plenty on my Instagram Stories while we're there!
Recent Buys & Sales
With Veterans Day today, some of the sales from the weekend have actually gotten even better! Following are the current sales worth knowing about.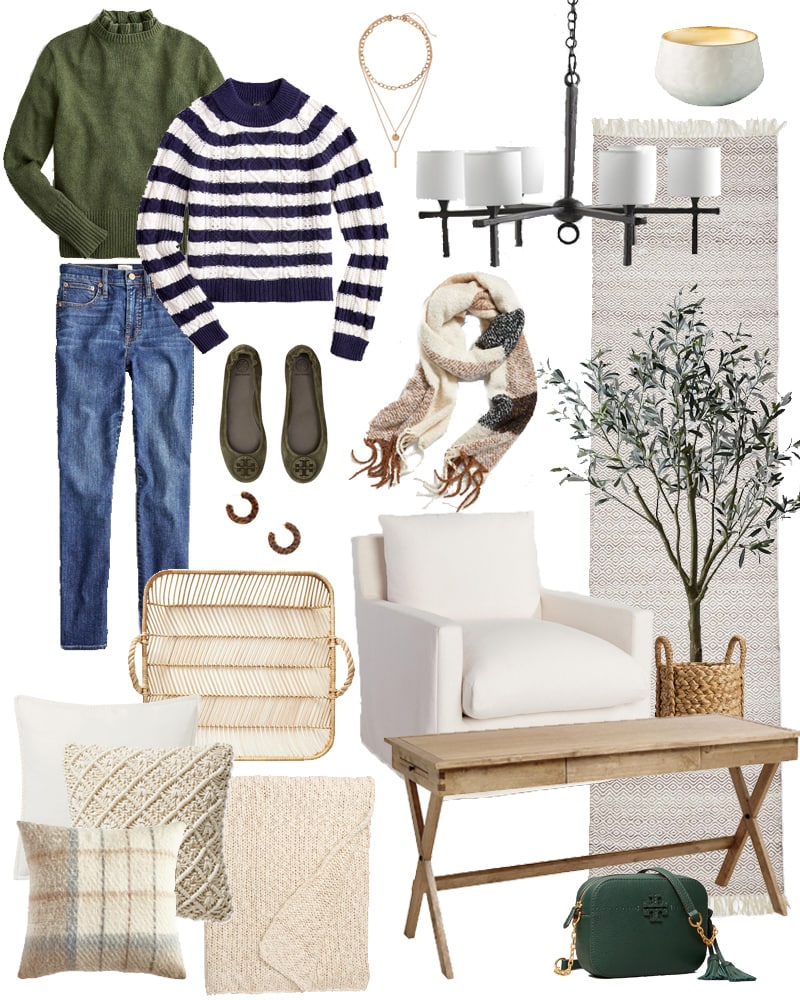 SOURCES: Ruffle-Neck Sweater | Striped Pom-Pom Cableknit Sweater | High-Rise Straight Jeans | Layered Necklace | Suede Ballet Flats | Flat Tortoise Hoop Earrings | Chandelier | Scarf | Runner Rug | Capri Blue Capiz Candle | Faux Olive Tree | Woven Basket | Swivel Armchair | Rattan & Iron Tray | Slub Knit Throw Blanket | Washed Velvet Pillow | Macrame Pillow | Plaid Pillow | Wood Desk | Tory Burch Camera Bag
I hope you all have a great week!
If you would like to follow along on more of my home decor, DIY, lifestyle, travel and other posts, I'd love to have you follow me on any of the following:
Pinterest | Instagram | Facebook | Twitter
disclosure: some affiliate links used