I hope you all had a great weekend! The temps here got crazy low (including below freezing overnight) and we even saw a few snow flurries Friday! Hopefully it doesn't just jump into full-blown winter mode around here. Let's jump into what we did around here this past week.
This post contains affiliate links for your shopping convenience. Click here to read my full disclosure policy.
Home Projects & Updates
I finally got around to assembling the bench I ordered for our smaller guest room. I had previously opened the packaging to make sure I liked the looks of everything and then it just sat in our entryway. This thing is super heavy and solid despite the hairpin legs. I love the wood mixed with the faux leather and other elements! I don't know why I've been dragging my feet so much on wrapping up this space. There isn't much left to do after we moved the rug in from our dining room. I need to get on it, especially since we have a lot of work planned for our other guest bedroom!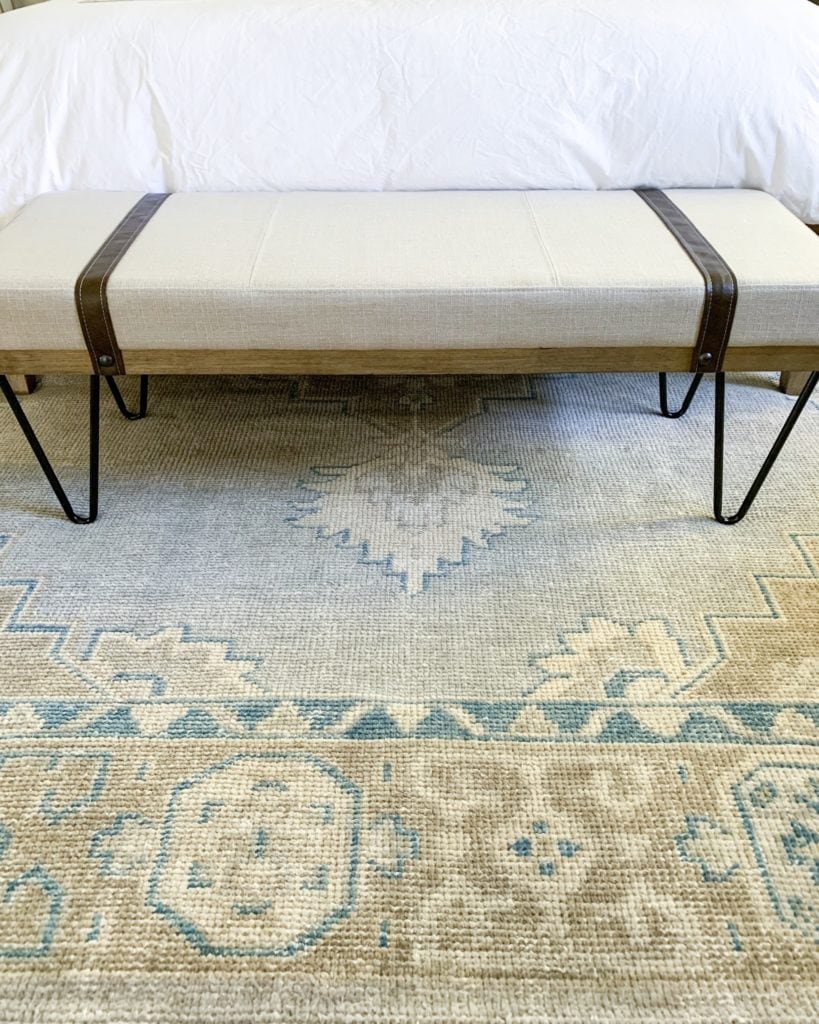 I'm out of town for several days this week (more on that later) so I also spent quite a bit of time getting all of this week's blog posts ready. When I wasn't working on that, I put some of the finishing touches on my Christmas decor mood boards. I think all the cold weather made me a bit crazy! 😉 But, it feels good to have most of my plans ready so I can slowly start working on some of the decor over the coming weeks. I'm really excited about the direction I've decided to go this year! But I'll plan to wait a few more weeks before sharing any of it with you since I know it's still a little bit early!
Although in true crazy form, I had Kurtis help me pull one of our Christmas trees out of the basement. Eek! I actually haven't even take the cover off yet, but I have a photoshoot late this week that I think requires a bit of holiday cheer. My friend Cassie with Hi Sugarplum is launching her holiday collection at Nordstrom next week and she offered to let me pick some of the clothes to share if I wanted to. I was freaking out the whole time. It's full of so much plaid and velvet and sequin goodness and I can't wait until my pieces arrive so I can share them with you! If you do holiday family photos or have a party or two to attend this year, you're going to love this collection! Assuming all my clothes arrive on time, I'll be sharing my picks next Tuesday (the day the collection launches) so you can shop before anything sells out!
I also played around with some ideas for our office. I have a set of gallery wall frames I bought for our upstairs hallway and played around with the idea of hanging them inside the grids in the office. I mocked up a few scenarios in PhotoShop. I didn't love any of the options (our number of squares just doesn't accommodate this very well) but it got me thinking again about lightening this wall up somehow. Either with paint or some other option. I thought I'd share the various looks below even though I won't be moving forward with them. Sometimes it's fun to see the process!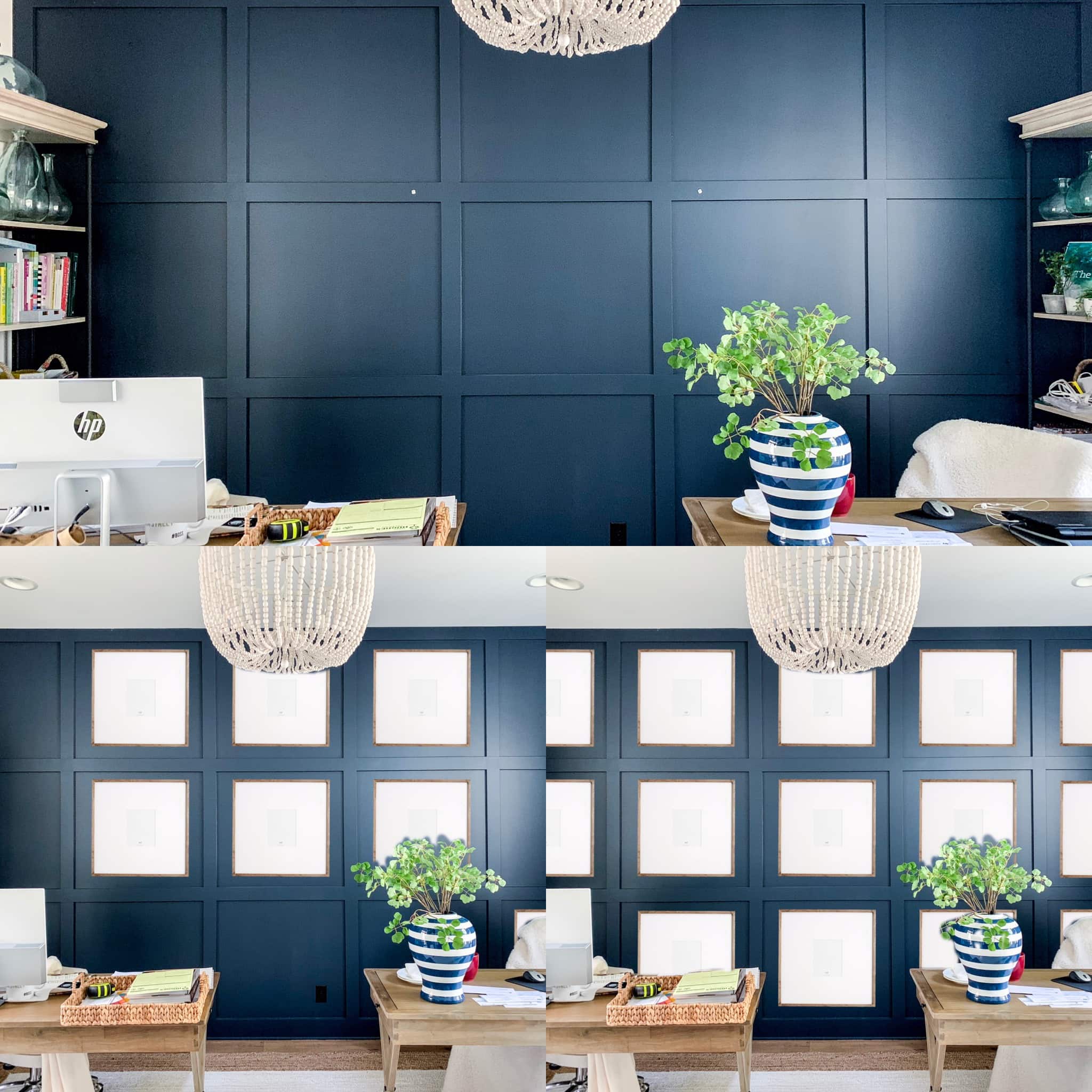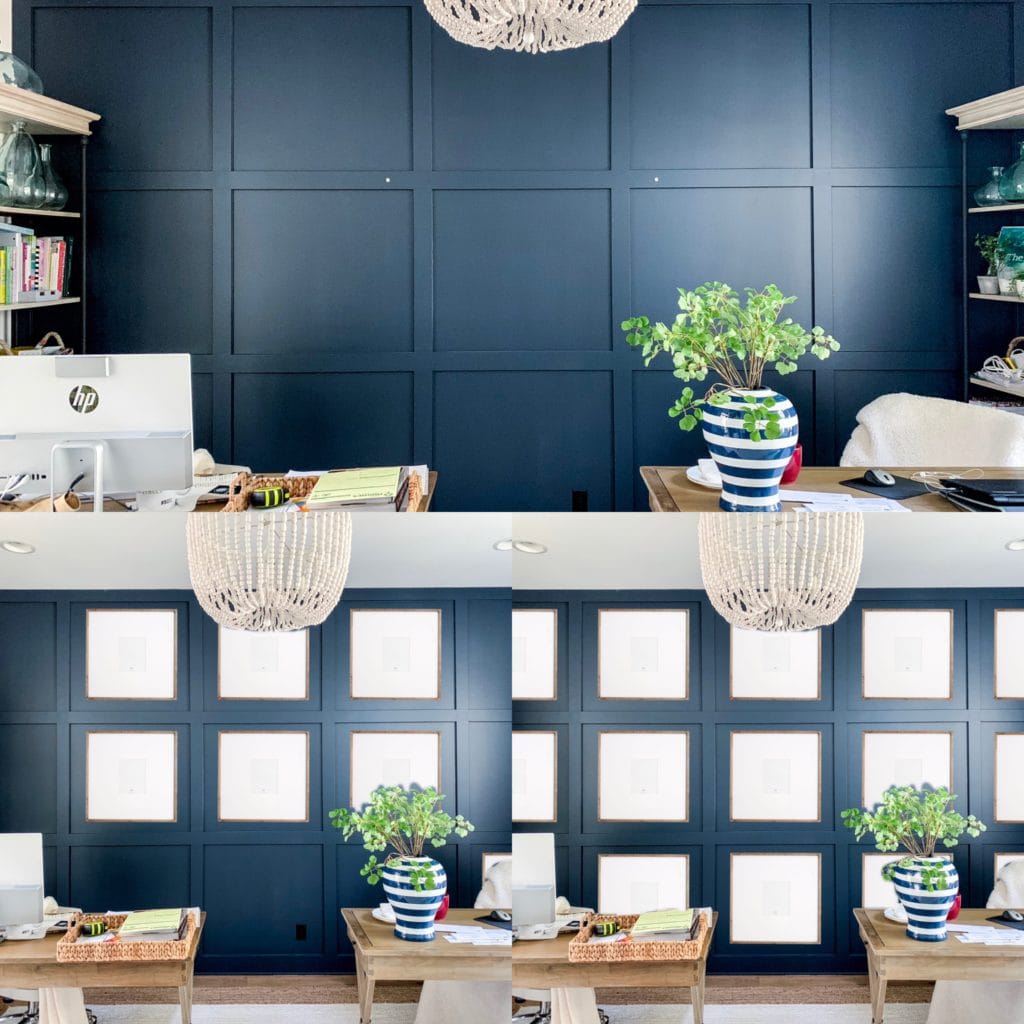 Our goal for this coming week/weekend is to pull all my remaining annuals and then start putting all of our pool furniture away. It's a necessity but one of our least favorite tasks because the end of summer just feels so official at that point!
Top Sellers of the Week
Following are the top sellers for the week of 10/6-10/12 across all of my channels. And the good news is many of them are on sale today!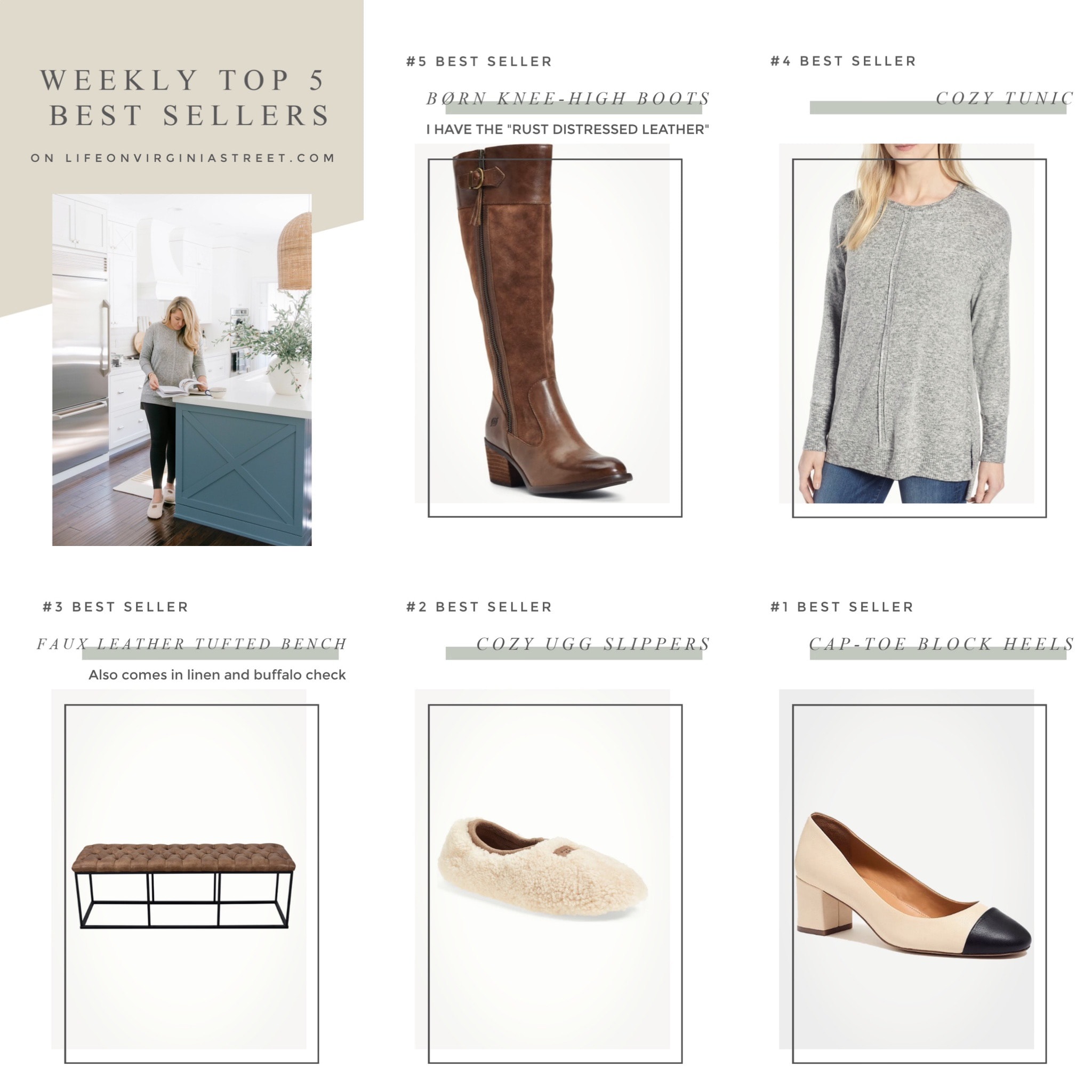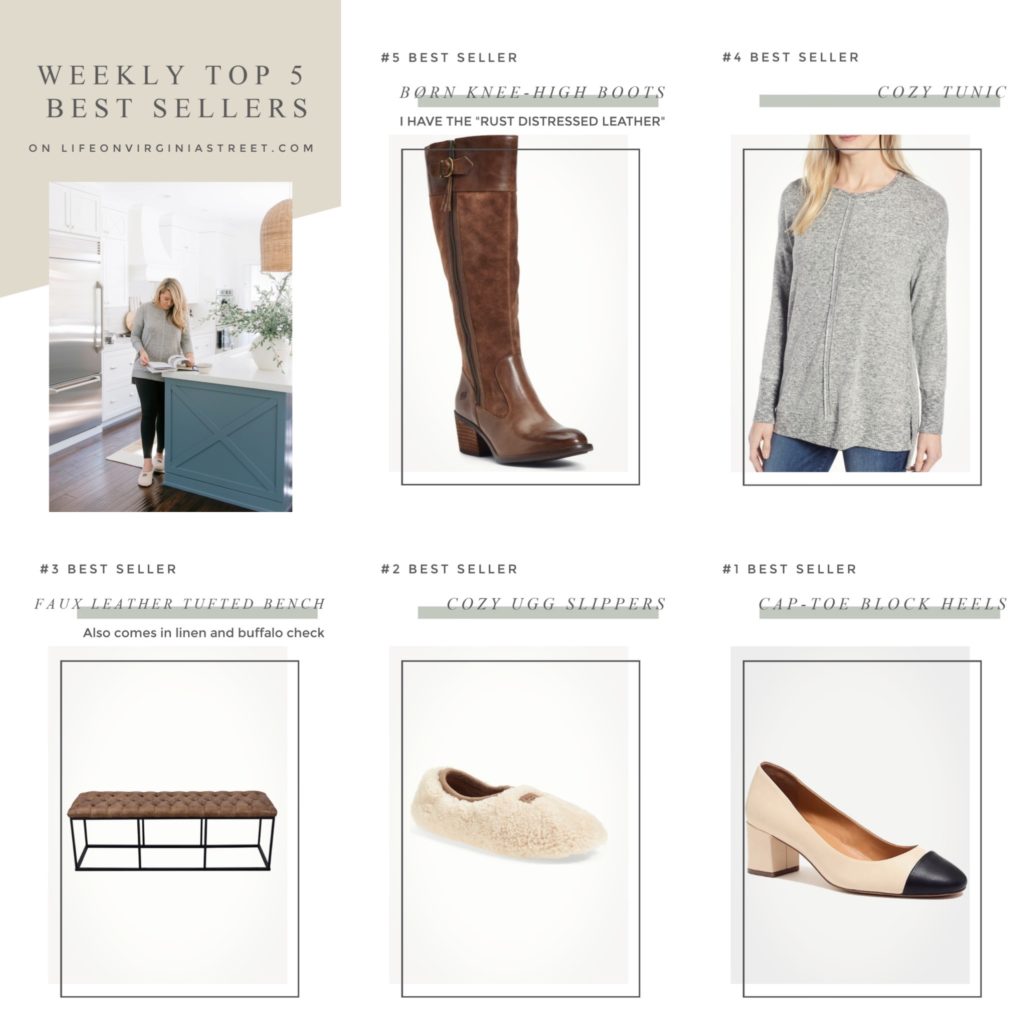 BEST SELLERS 9/29-10/5:  #5 | #4 | #3 | #2 | #1
Around Town & For Fun
Bailey had to get her teeth cleaned last week at the vet. We had been putting it off for too long and finally decided to make it happen. It always makes me so nervous when they have to go under anesthesia! But she handled it like a true champ and milked it the rest of the day once she got home. We basically gave her anything she wanted. It was probably much harder on us than it was on her 😉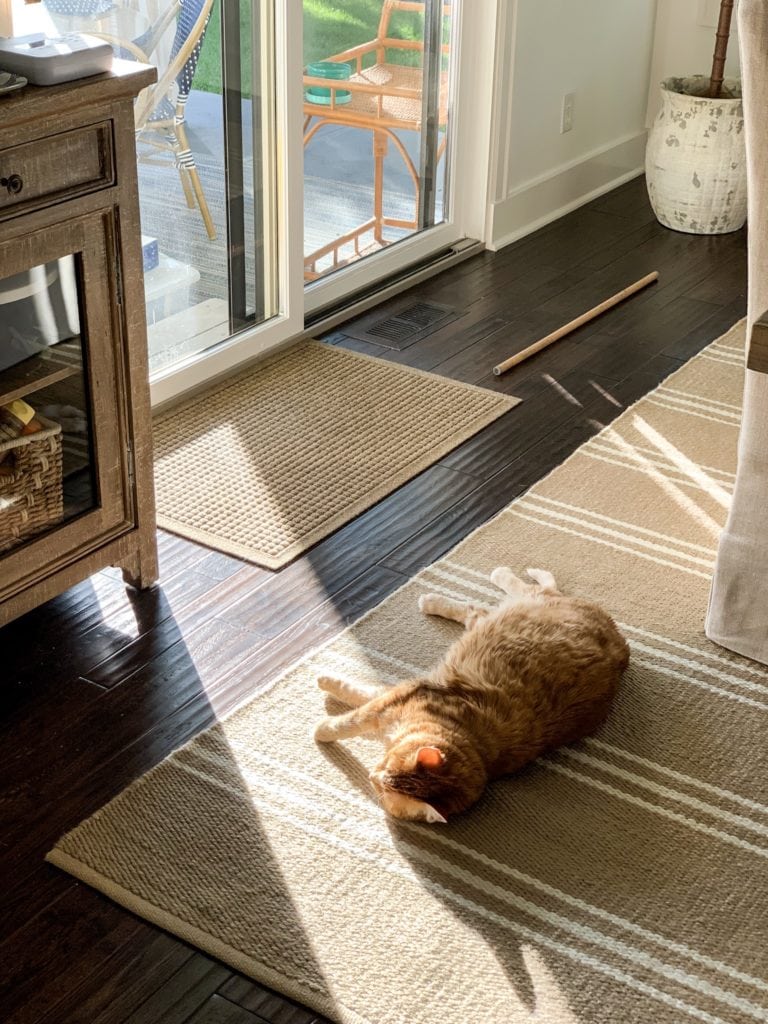 SOURCES: Striped Rug | Buffet Cabinet
My excitement for the week was that I finally got to make a big batch of soup! I didn't follow a recipe but just basically added a bunch of the following to fill our Dutch oven:
Chicken Stock
Rotisserie Chicken
Spinach
Zucchini
Yellow Onion
Yellow Squash
Diced Canned Tomatoes
Seasonings to Taste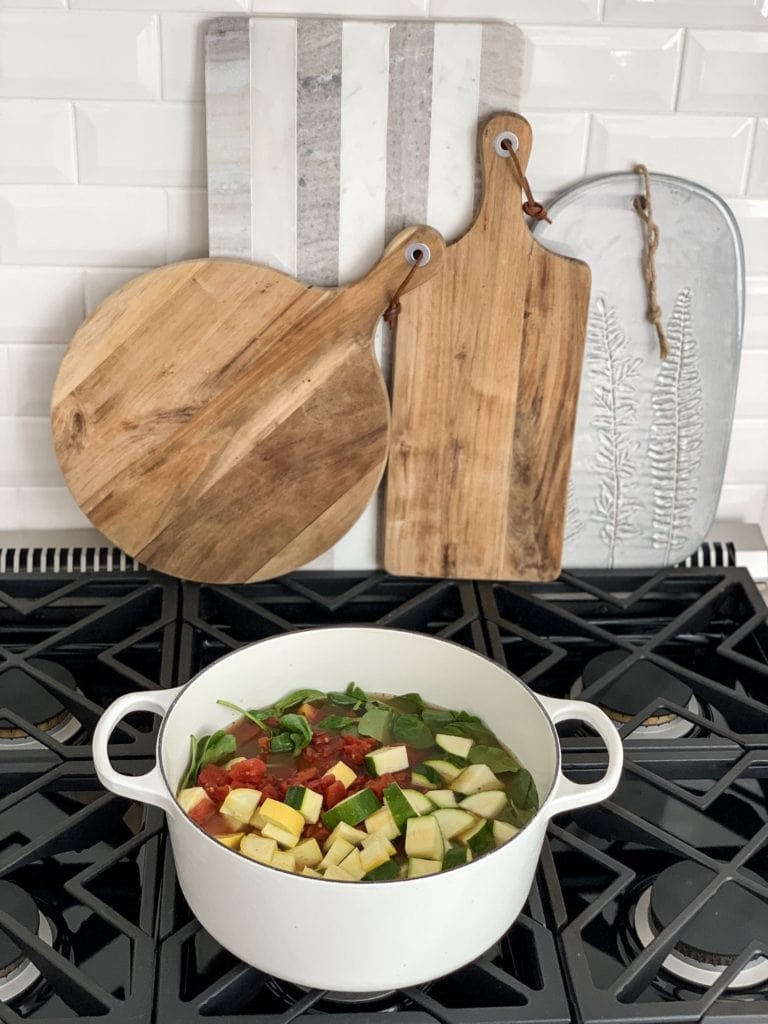 SOURCES: Dutch Oven | Wood Boards – Homegoods | Striped Marble Board | Frond Impression Porcelain Board
It was a so delicious and I loved that the batch was big enough to eat on for several days! I could eat soup every day if it were available!
One of the other highlights of my week was getting a new coffee maker. Haha! I can't make this up. It's actually the exact same one we had before that we bought several years back. But, the old one somehow got left on for a few hours last week without the pot on the burner, and ever since, it leaked water non-stop.
So, when we saw they had a white version of the same one we knew it was the winner. Kurtis had actually done quite a bit of research the first time around because we needed one that held more than 10-12 cups (this one holds 14). We also needed one that stayed on for more than two hours (this one goes up to 4). Once I started working from home, these features made the most sense. And now that it comes in white (and other colors) I'm even more in love with it! So ridiculous, but it's the little things in life that you didn't realize bugged you until you change them! It looks so much better in our kitchen now!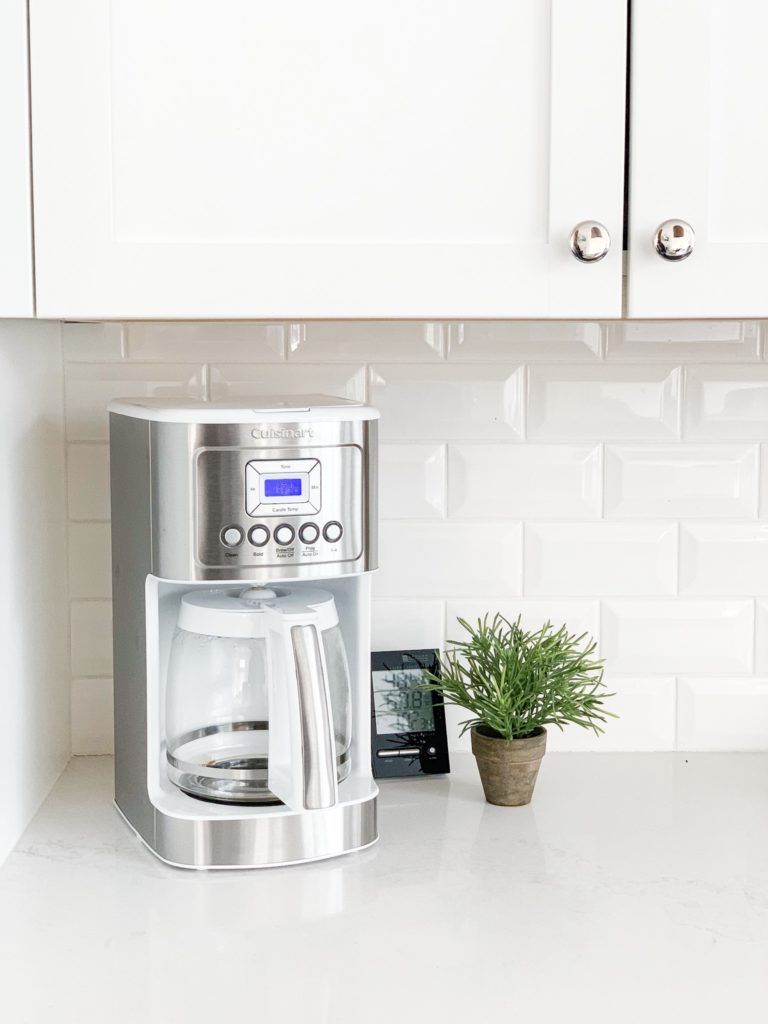 Friday night we headed to the UNO (University of Nebraska – Omaha) hockey game with Kurtis' sister and brother-in-law. It was with some of their other co-workers and ended up being a lot of fun! The arena is new and small and so easy to get in and out of. Every time we go, we say we need to do it more often and then never do! So I'm glad we ventured out (even with the highs only in the 40s that day)! And thank heavens for Amazon's new one-day ship on most items. I found out on Thursday about the clear bag policy here but was able to order this one just in time! While at the game, we both said that we often forget we're considered alum of UNO. We both got our graduate degrees there, but I still think of myself as a Ute and Kurtis still thinks of himself as a Bearcat even though we both really enjoyed attending UNO!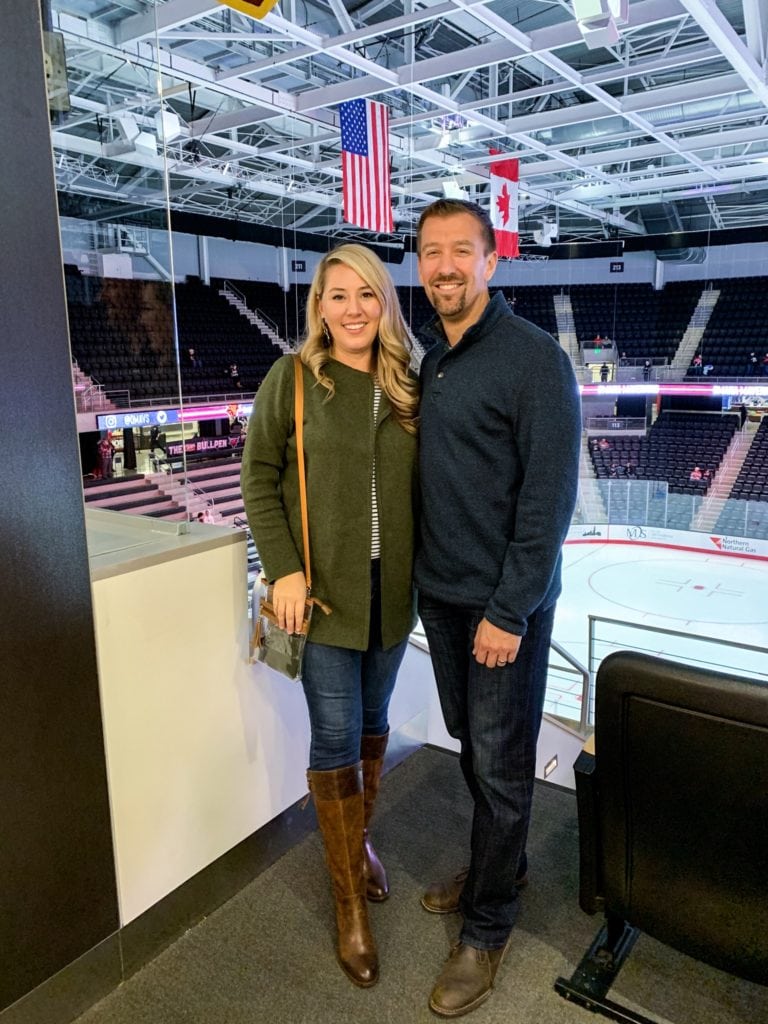 OUTFIT DETAILS: Sweater Jacket | Striped T-Shirt | Knee-High Boots | Skinny Jeans | Gold & Tortoise Earrings | Stadium Approved Clear Bag
Zoe (and Nick and Jill) swung by our house Saturday afternoon after playing with her cousins. She loves to come visit the kitties but this time around, she wanted to "work". She went right to my laptop, got on her cell phone and jabbered away. It was hilarious. She also managed to make a few runs over to her buddy Hawkeye.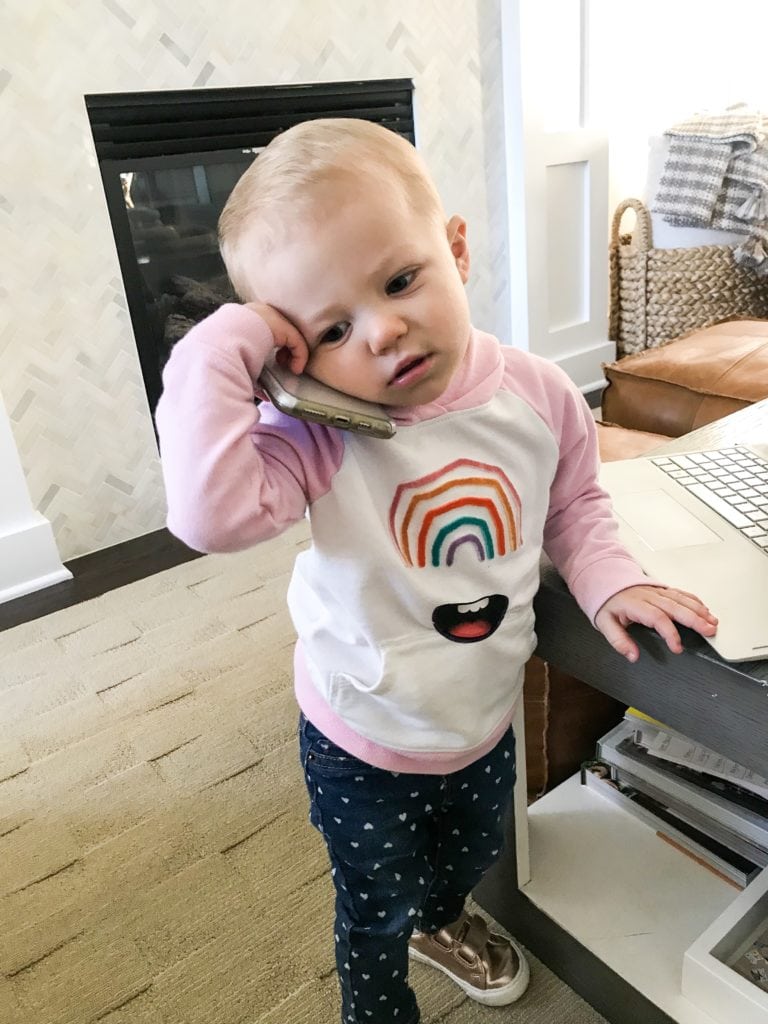 I don't know if it's the cold weather or what, but the birds have all been super active outside lately! It's been driving all three cats nuts.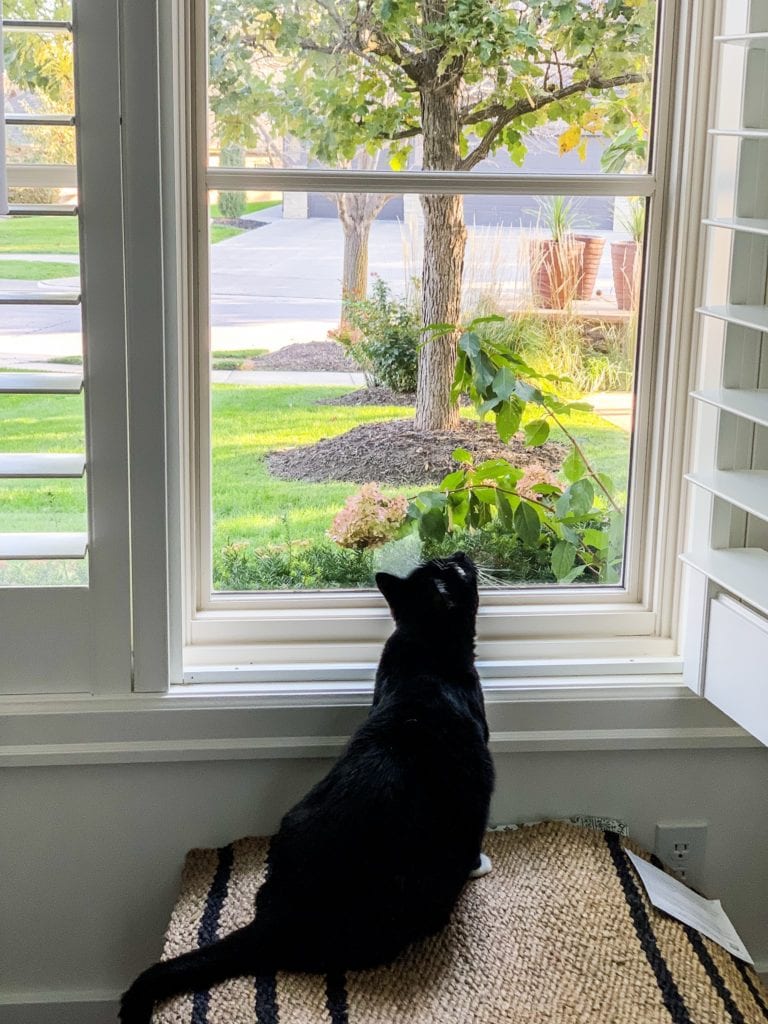 They'll literally sit there an watch them for an hour each morning! Here's the scene I caught while working in the office yesterday. Also note: the remaining potato vines I hadn't pulled yet that clearly can't tolerate 30 degree weather!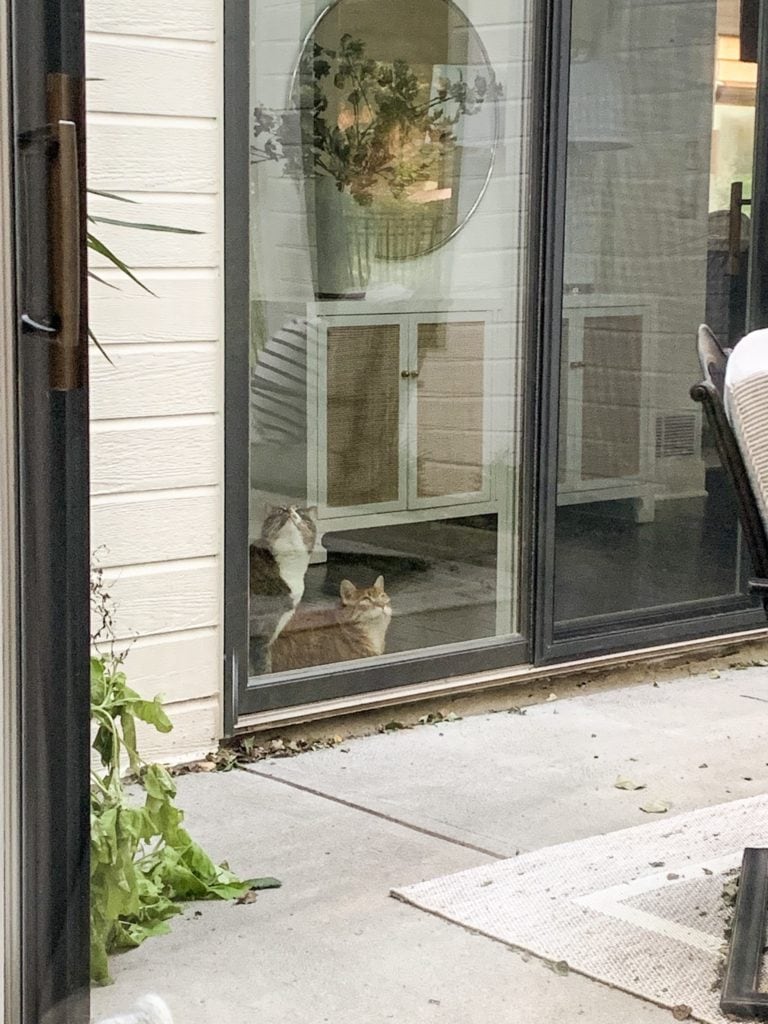 With the weather being ridiculously cold these past few days we spent most of the remainder of our weekend inside. Which meant I finally started reading a new book and started watching Big Little Lies, thanks to all of your recommendations. So far I'm enjoying both even if I do get a bit creeped out at night now! 😉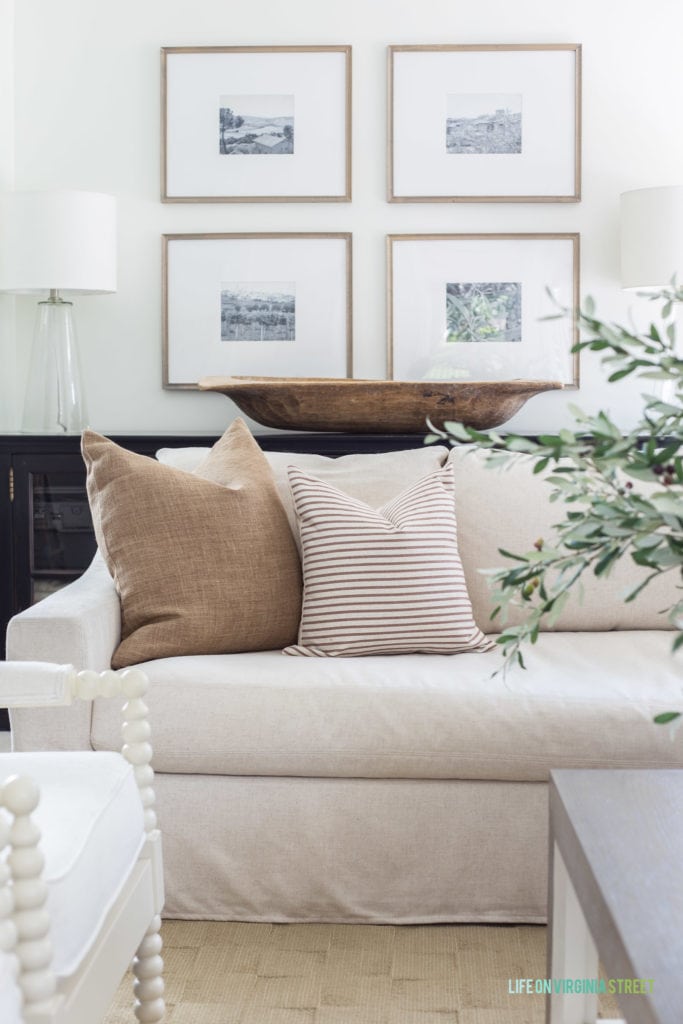 LIVING ROOM SOURCES: Linen Sofa | White Spindle Chair (similar here) | Bronze Linen Pillow | Striped Pillow | Lamps | Wood Dough Bowl | Gallery Wall Frames | Faux Olive Stems
I'm headed off to New York City again tomorrow! This time around, I'll be going with FrogTape and Taniya Nayak from HGTV. I'm really only there for one full day with travel time allowed tomorrow and Thursday. Wednesday we have a bunch of interviews lined up with various magazines and online publications so I'm a bit nervous! But I think it will be a lot of fun! I'll try and hop on my Instagram Stories as much as possible while I'm there!
Recent Buys & Sales
Since today is the actual holiday, nearly all of the sales from my holiday weekend sales post are still going strong! A few have actually gotten even better!
I hope you all have a great week!
If you would like to follow along on more of my home decor, DIY, lifestyle, travel and other posts, I'd love to have you follow me on any of the following:
Pinterest | Instagram | Facebook | Twitter 
disclosure: some affiliate links used