Today I'm sharing my favorite pom pom sweaters, decor and accessories! Includes items considered bobbles, hobnail, and popcorn – one of my favorite design trends for both fall and winter!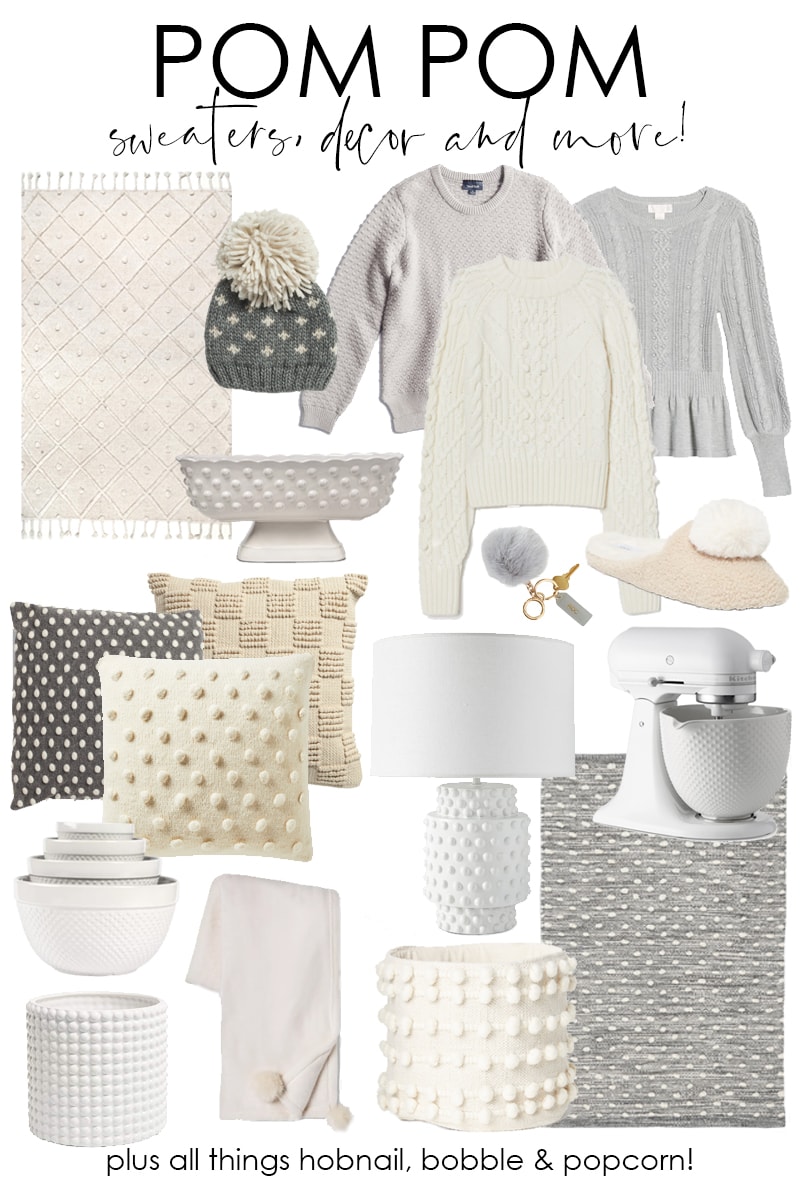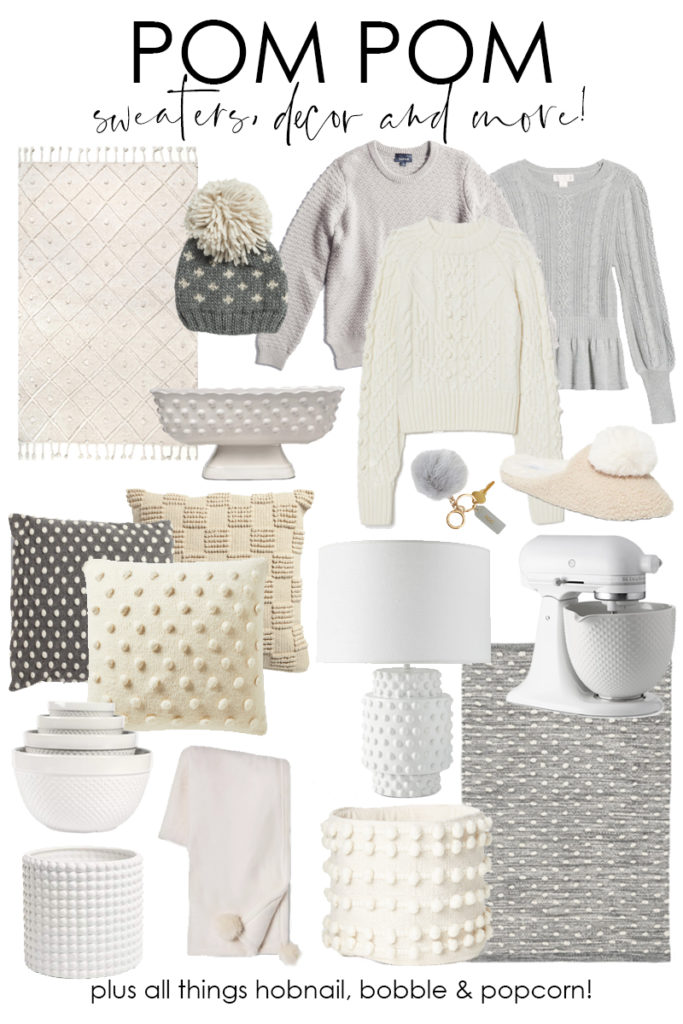 I've developed a serious obsession lately for all things pom pom and hobnail! And bobbles, and popcorn and all the other names this design look can be called! I love that even on the most neutral of pieces, it brings a whole additional level of cozy texture and interest! Today I'm going to be sharing tons of pom pom sweaters, pom pom decor and accessories that master this look.
This post contains affiliate links for your shopping convenience. Click here to read my full disclosure policy.
The Pom Pom (And Bobble, Hobnail, and Popcorn) Trend
I've always loved this look, but realized over the past few weeks just how much I'm loving this trend the more I see it. It's so perfect for fall and winter and adds all levels of texture and coziness to everything! It really started this year when I started seeing different versions of this lamp and this lamp popping up in home design. But the price on every version I saw was astronomical. So I contemplated a DIY since sadly I couldn't find an affordable dupe. This lamp and this lamp were the closest I could find, and they aren't really that close (but still cute!).
Then I stumbled upon this pom pom indoor/outdoor rug last week. Followed by finding this pom pom sweater in the Tuckernuck weekly email. I was officially obsessed. But I couldn't really justify the large price tag on either of these items either. Although I almost talked myself into the pom pom rug since it's one of my favorite brands and they always hold up so well! If it came in a beige/camel-tone colorway, it would have been a done deal.
After looking for some more affordable option, I discovered this rug and this sweater (in ivory) and figured they were decent enough copies at much better price points. But while searching, I found so much pom pom, hobnail, bobble and popcorn goodness I thought I'd share it all with you today. And if you saw my Instagram stories yesterday, I picked up this sweater while I was out running errands and it's so good in person! I got the camel and it fits true to size, with a nice fitted shape.
Following are tons of other cute items. Several of these items come in other fashionable colors too if you want a more saturated look! I categorized them by home decor and fashion so you can search them a bit easier!
Popcorn, Bobble, and Pom Pom Sweaters & Other Fashion Pieces
These popcorn, bobble and pom pom sweaters are one of my favorites ways to use this on style trend! Simply click any of the images below to learn more about each item.

Pom Pom and Hobnail Home Decor
As mentioned above, I'm also loving so many pom pom pieces in home decor! This also includes hobnail ceramics and larger versions of that look. Simply click any of the images below to learn more about each item.

I also still have this sweater from last year (it's back in tons of colors this year) and can't wait to wear it again soon.
So, are you loving this pom pom  trend too? I just can't get enough of it!
If you would like to follow along on more of my home decor, DIY, lifestyle, travel and other posts, I'd love to have you follow me on any of the following:
disclosure: some affiliate links used