I hope you all had a great weekend! The weather has not been cooperating and most days this week felt like spring, rather than summer. But, it gave us an opportunity to get our house better prepared for all the guests that start arriving this week. July is going to be a really busy month and we can't wait!
This post contains affiliate links for your shopping convenience. Click here to read my full disclosure policy.
Home Projects & Updates
I found out yesterday from a reader that a lot of people that were receiving my email updates may have stopped receiving them recently. If you were one of them, I apologize! But, we think everything should be working again properly now. Feel free to let me know if you see anything weird! The good news for those of you that weren't getting them – you now have about two weeks of content to read 🙂
I mentioned last week that I'm super behind on planting my flower pots this year. But, I wrapped up the bulk of them last week finally!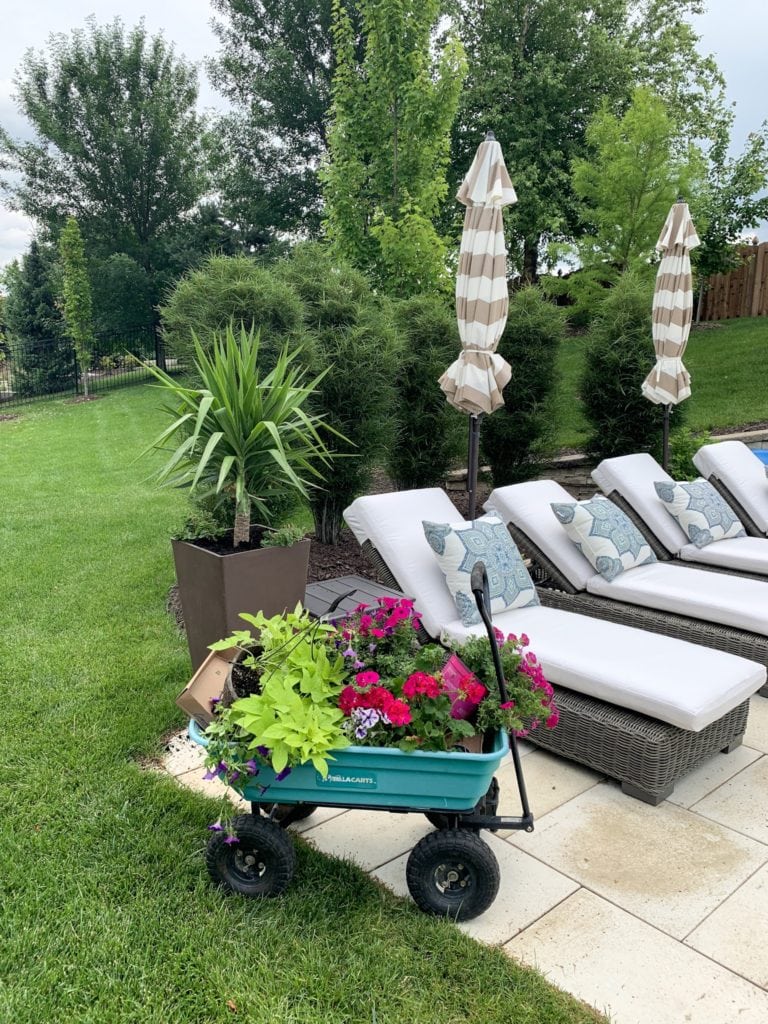 Chaise Lounge Chairs | Medallion Pillows | Planter | Umbrellas
Now I just need them to grow super quickly. I couldn't find any sweet potato fines anywhere, so I actually had to chop up a hanging planter that was on clearance that had some in it. I'm hoping they'll survive the transfer! Especially with the extreme heat we're supposed to start seeing this next week. I'm hoping to get a yard tour ready for you soon, too, since I've been getting so many questions about various plants in our yard.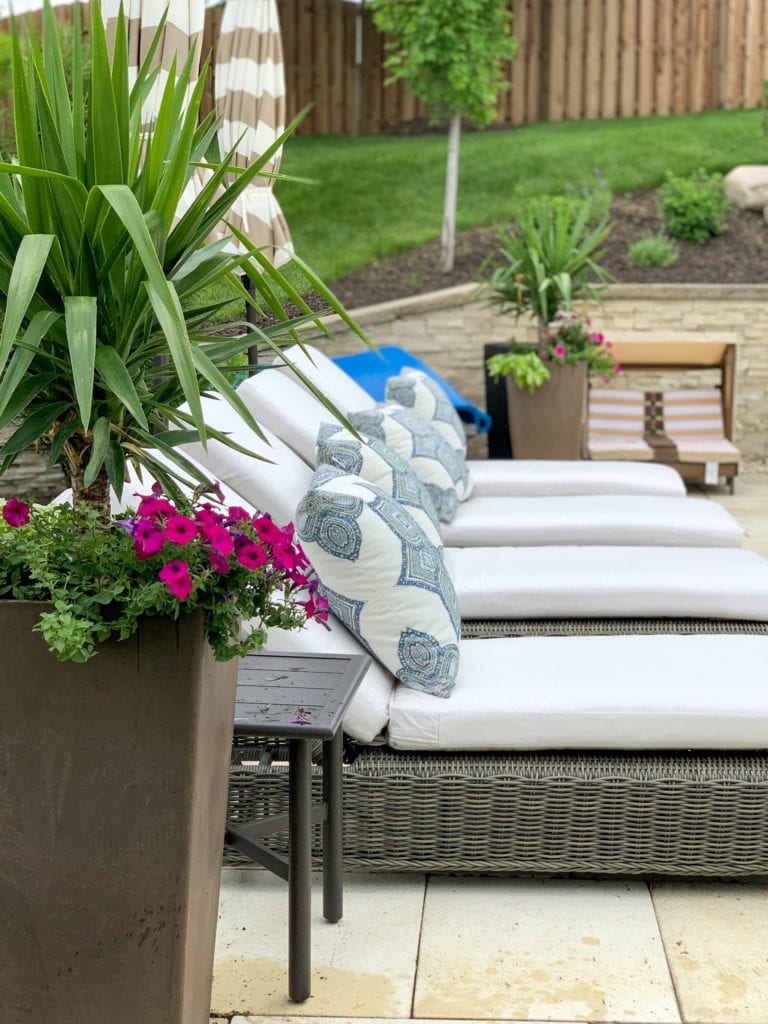 Mini Cabana | Chaise Lounge Chairs | Medallion Pillows | Planter | Umbrellas
Our hydrangeas are about to explode and I can't hardly wait! It seems just my Annabelle's are blooming right now, so I'm guessing my Limelights (my favorite!) are another month out. It's kind of ridiculous just how happy hydrangeas make me!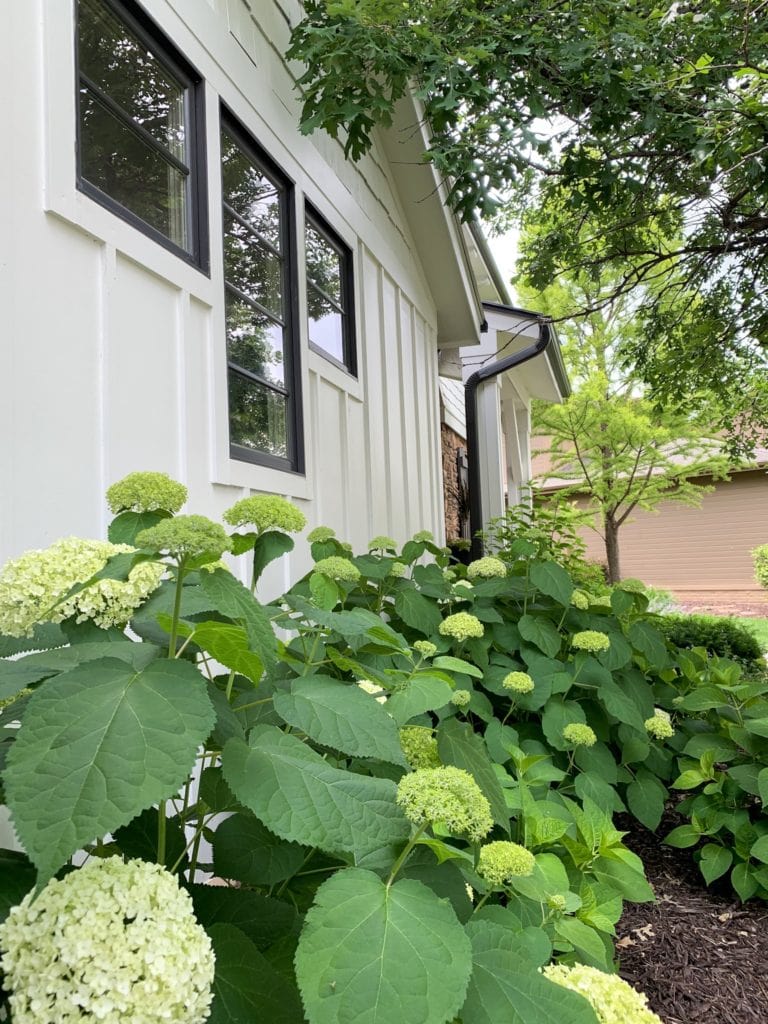 I had to get an oil change and recall issue resolved with my car last week, so while I was in the area, I swung into Pottery Barn and Anthropologie. After a bit of time browsing, I feel like I'm officially ready to start decorating for summer! I found these viburnum stems in stock and scooped them up right away. It's amazing how one great find can inspire me to finally get my butt in gear decorating!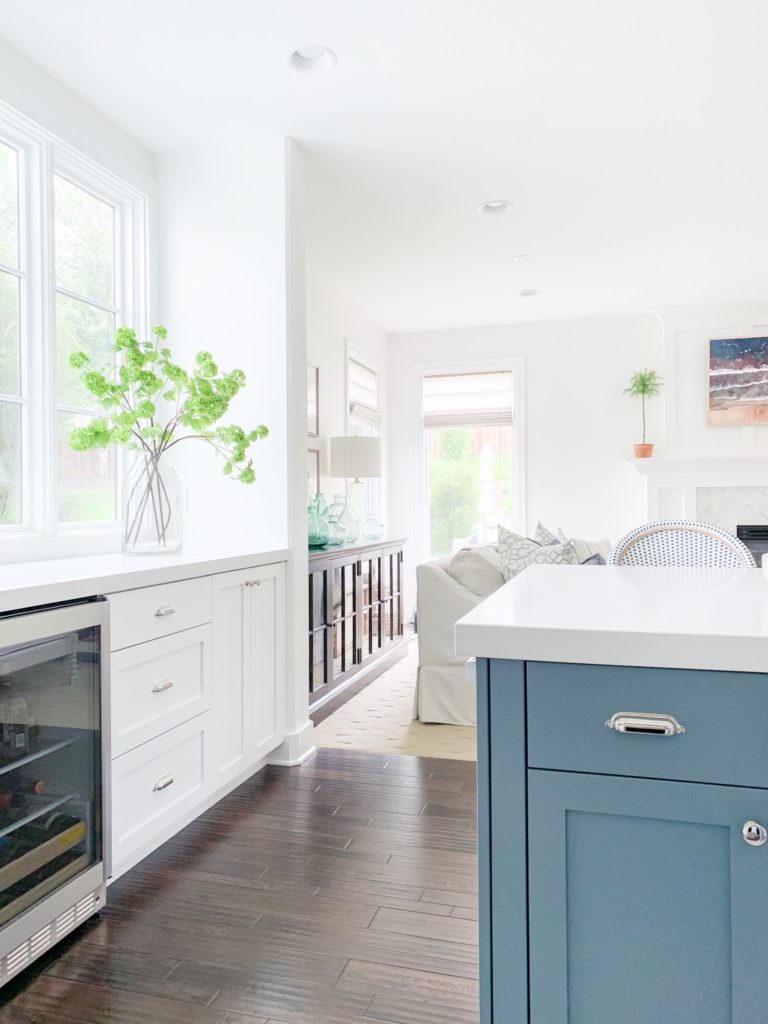 And with how much rain we've been getting these past few weeks, it's definitely green outside. I love seeing all of the landscape with our blue and white colors inside.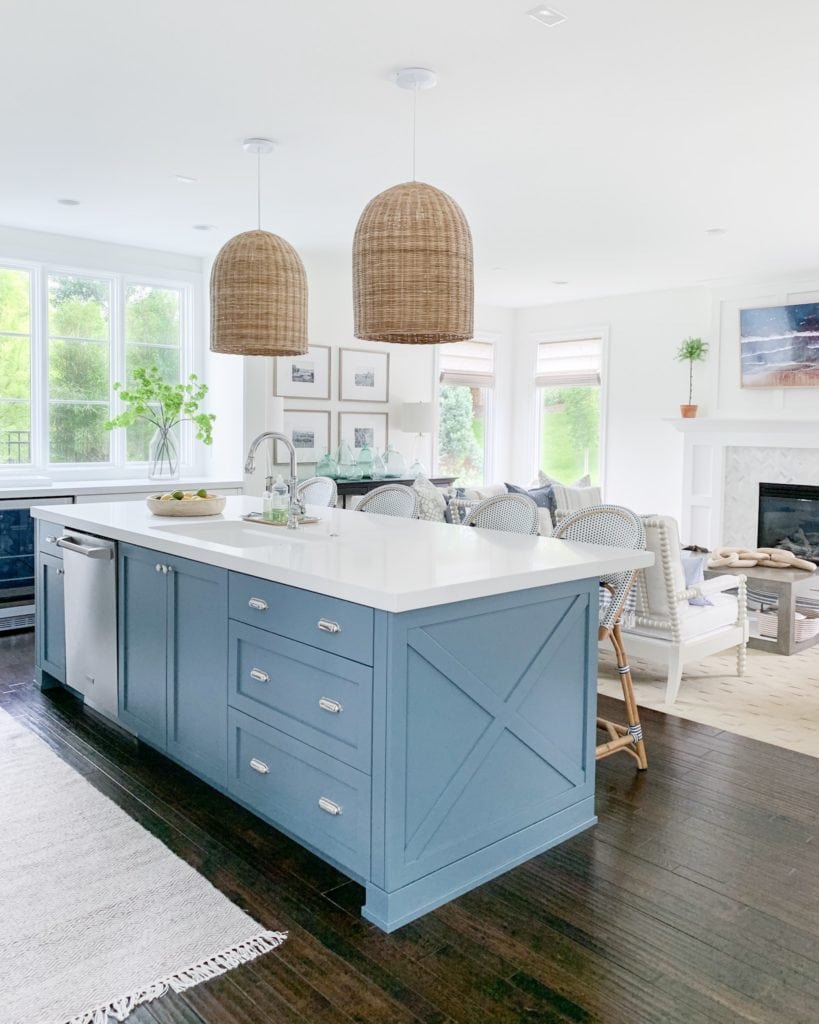 Viburnum Stems | Vase | Rug Runner | Basket Pendant Lights | Barstools | Large Wood Bowl was a recent At Home find
I also finally started sewing my summer pillows! If you've followed my blog for a few years, you know I feel in love with this Citrus Garden fabric several years ago but refused to pay retail on it. Over the winter, I was able to find a remnant on eBay for an incredible deal. I can't wait to show you how they look in our living room! I'll also try and find some Etsy sellers that offer the look too, if you're not interested in making your own.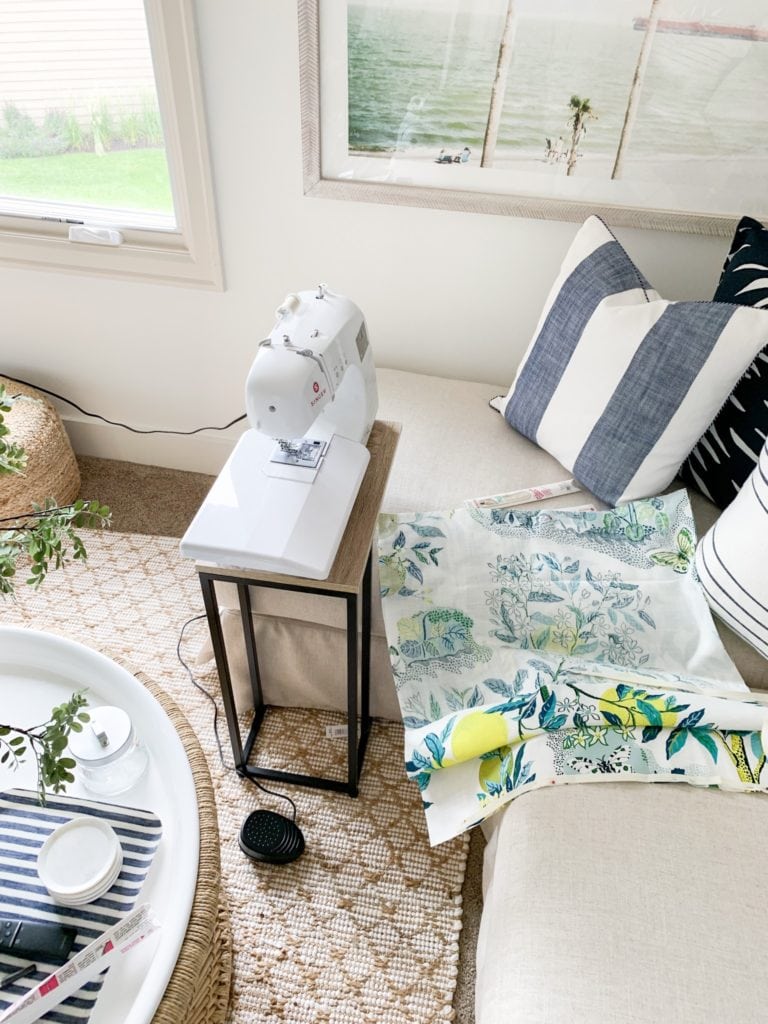 I'm also hosting a fun sponsored giveaway over on Instagram (on this post) if you want to hop over and enter! I had a lot of fun creating this kitchen design board. You can find all the sources for the mood board here (just click on any of the stock images below my graphic on that page).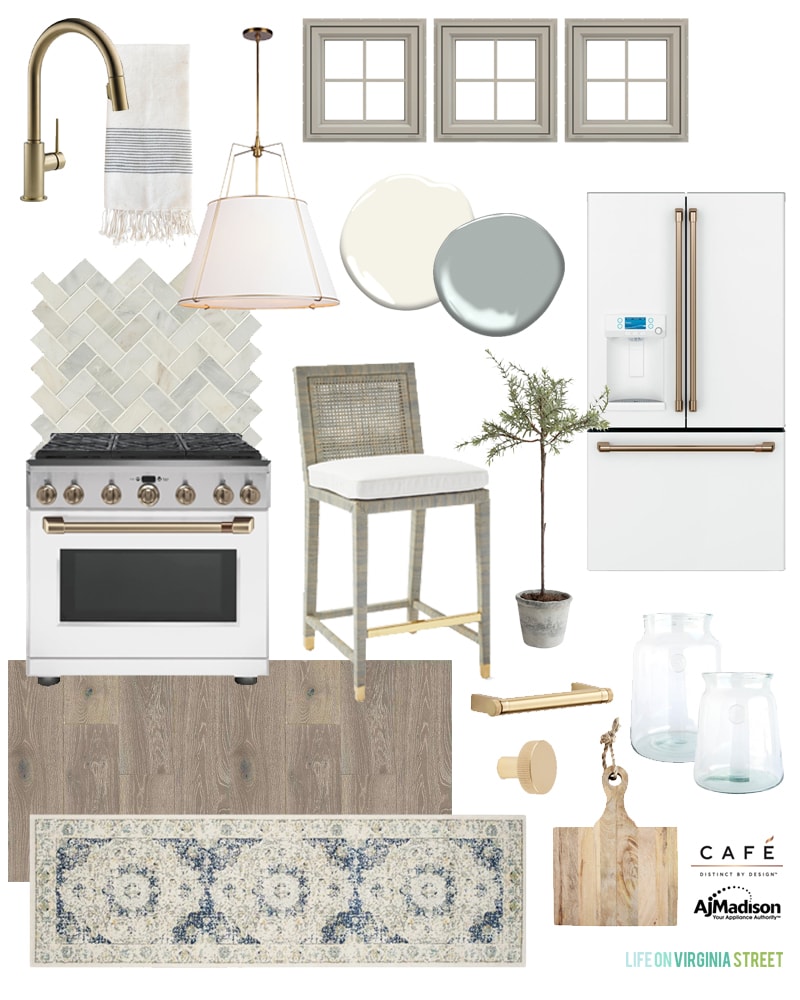 I'm hoping to wrap up the rest of my summer decorating with you this week so I can share it! I did also get our guest bedroom refreshed for summer (and for all the guests that start arriving this week)! I'll be sharing that with you on Thursday.
Around Town & For Fun
After I ran into Pottery Barn and Anthro last week, I also stopped by Trader Joe's. They had samples of this little appetizer spread and I immediately bought all the compontents. It's essentially a quick version of a caprese salad and it was so tasty! You jsut use mozarella cheese, pesto, and their semi-dried sundried tomatoes.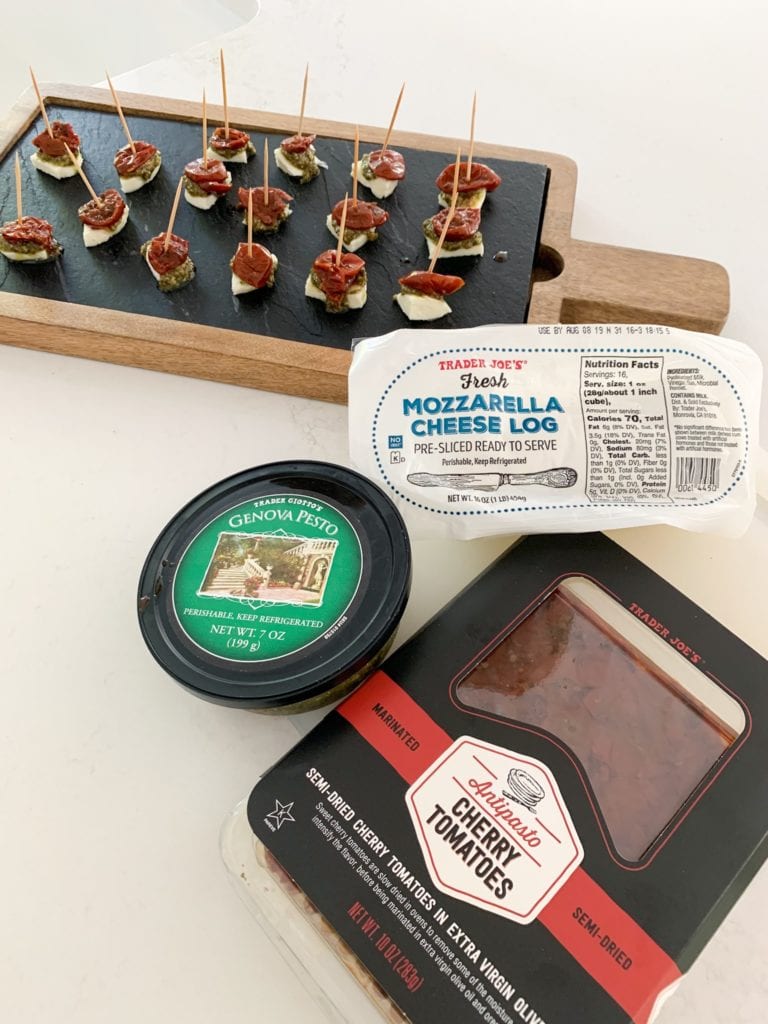 It honestly took me about three minutes to put together. It's officially going to be my new go-to summer appetizer!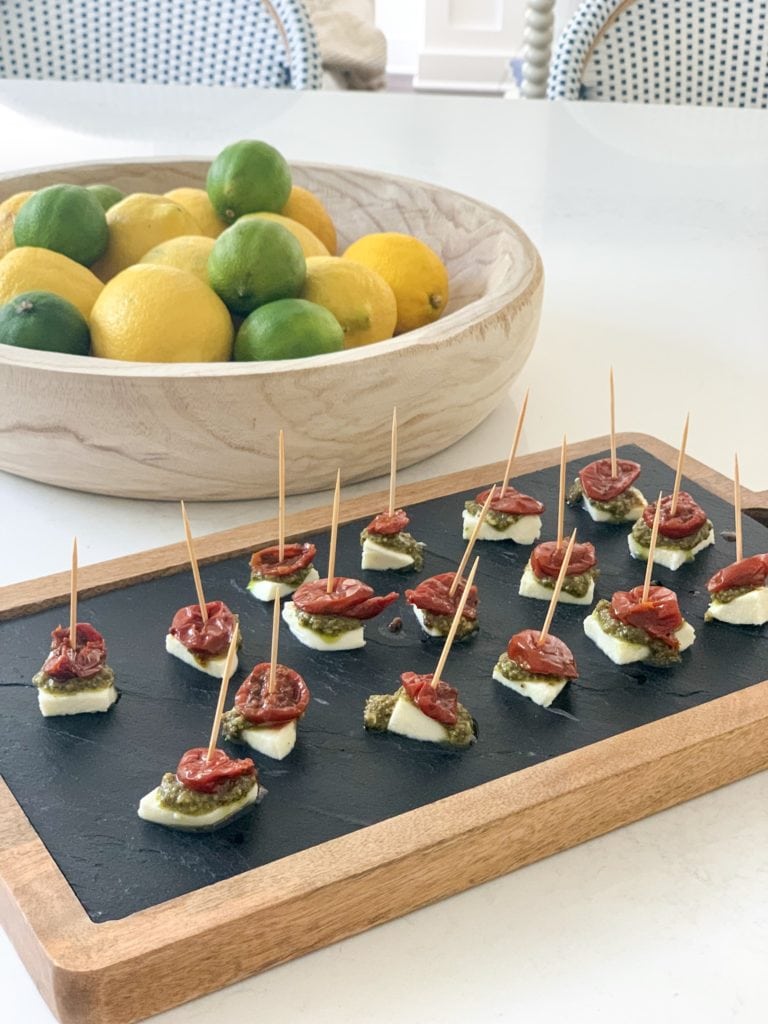 Friday night was my brother-in-law's birthday party. We had a total blast catching up with friends we hadn't seen in awhile!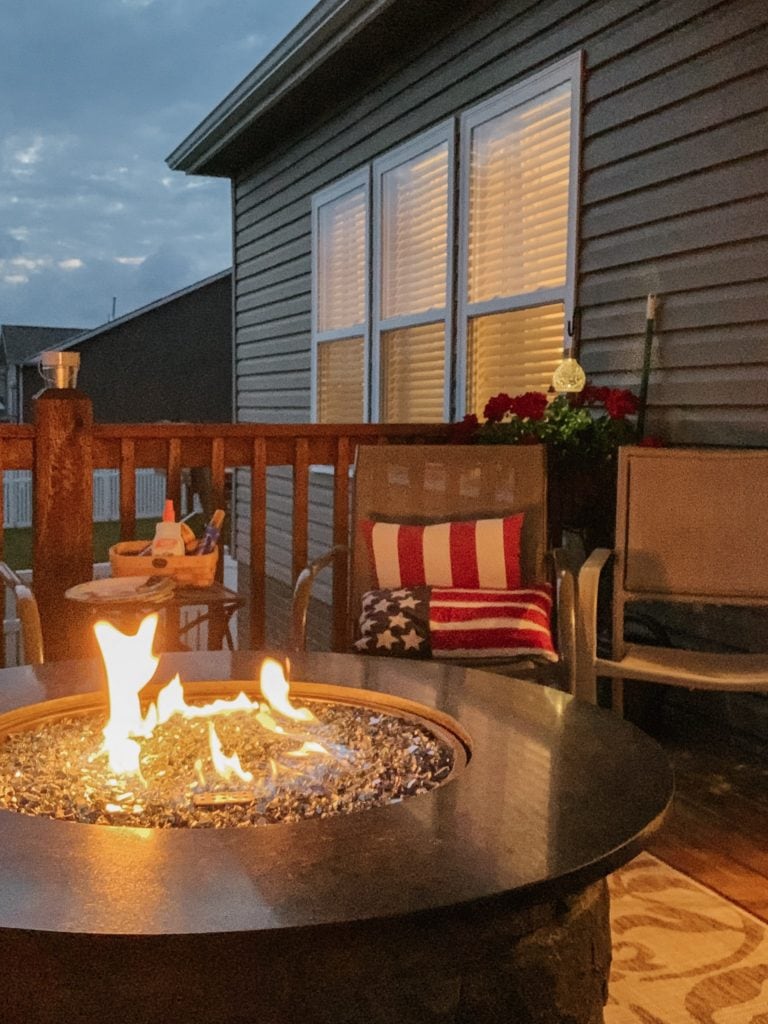 At one point, Janine and I came inside to find that Pat had decided to cut his own birthday cake. I think he may have been a little too eager to start eating it and his knife selection may not have been ideal 😉 We couldn't stop laughing.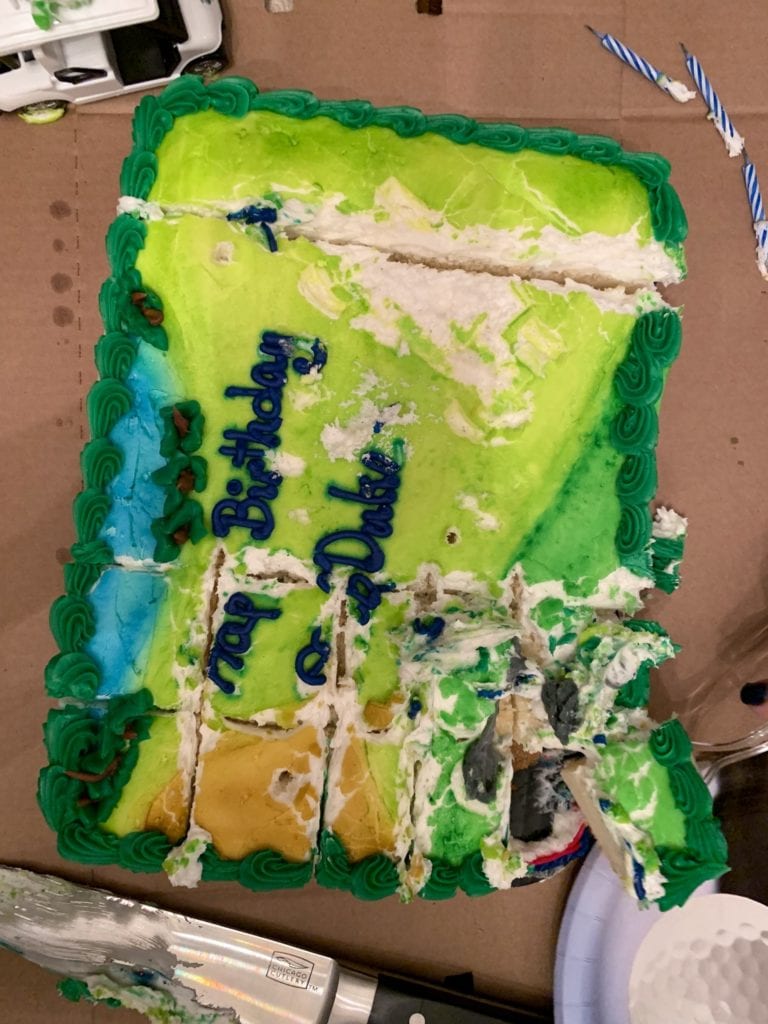 Saturday the weather was rainy so we knew a pool day was likely out. Our next door neighbors are moving at the end of the month and invited us to see their new build. They know what a geek I am when it comes to houses so I was so excited to check it out. I'm kicking myself for not having taken any photos, but next time we're there I'll be sure to remember. Their style is much more modern than ours, but their house is going to be stunning and I absolutely love the layout!
Hawkeye is slowing starting to learn that if he doesn't beeline it straight for the grass to eat it, he actually gets to stay outside. We've been trying to get him to stay on the table so he isn't tempted and it's a bit of a work in progress 😉 But, he was so good this past week, and all three cats loved spending time outside while it was a bit cooler. Now we just need all the mosquitos to stay away!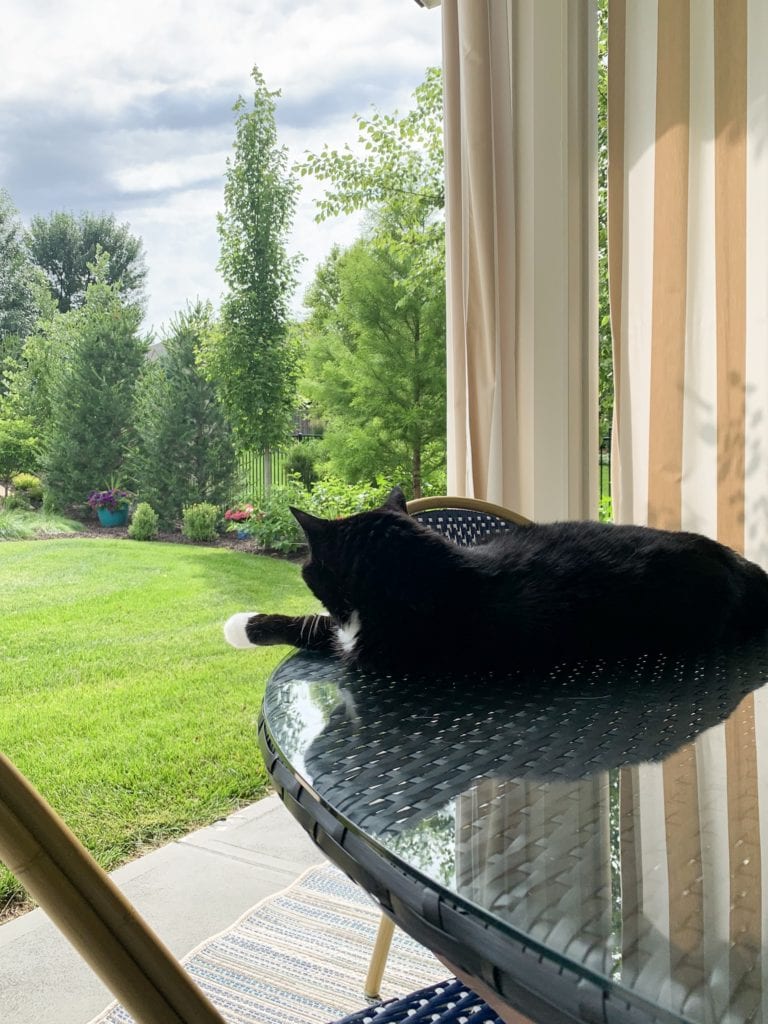 Outdoor Table | Outdoor Rug | Outdoor Curtains
Sunday we hung around the house (again too cold and rainy for a pool day). I worked on my quarterly closet purge and donation piles and on photographing the guest bedroom updates. I also made a real caprese salad for dinner because we loved the appetizer version so much earlier in the week! I used the herb scissors I mentioned in the Wednesday Watch List two weeks ago and we loved the basil like this so much better than full leaves! Plus it took me about 15 second to cut all of it. Definitely a good buy!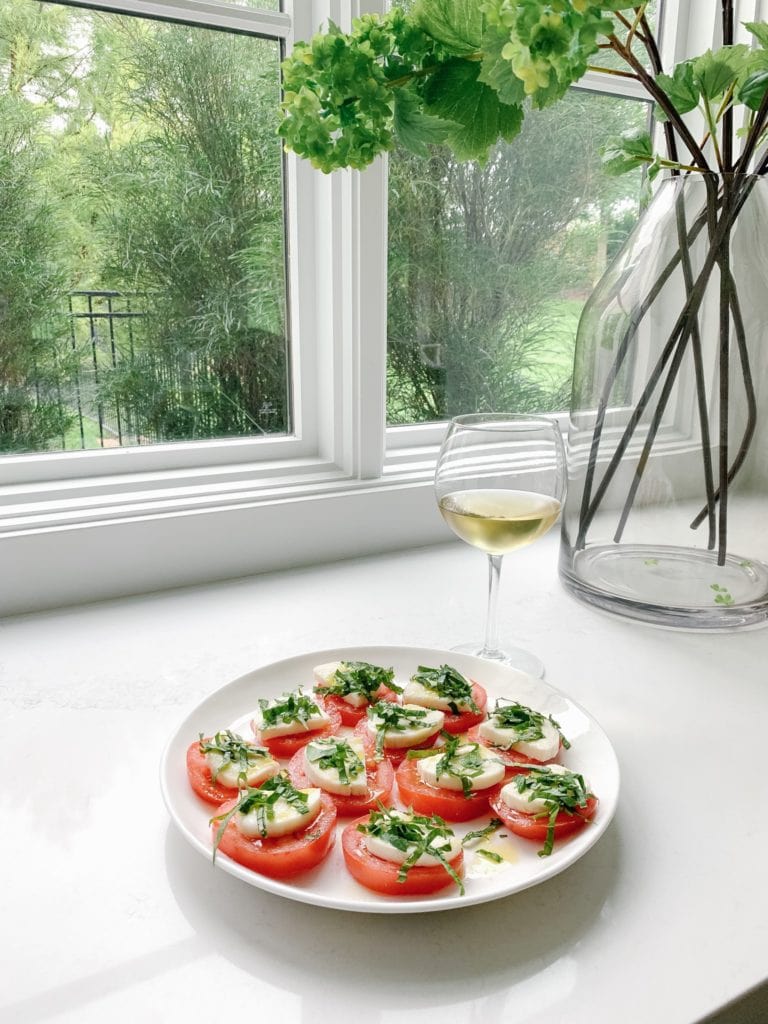 Recent Buys & Sales
Following are some of the weekend sales that are still going strong!
I hope you all have a wonderful week!
If you would like to follow along on more of my home decor, DIY, lifestyle, travel and other posts, I'd love to have you follow me on any of the following:
Pinterest | Instagram | Facebook | Twitter 
disclosure: some affiliate links used