Today I'm sharing all of our Mediterranean Cruise tips, highlights and recap from the trip we took in May. It truly was one of the best trips of our lives and it was so fun to visit new-to-us countries! I've long-proclaimed that Italy is my soulmate, but I've always felt like Greece may have a piece of my heart as well. And I was so glad to learn I loved it as much as I expected to, if not more!
We were on Royal Caribbean's Jewel of the Seas for the cruise portion of our trip. Since I know that is pretty specific to a precise itinerary, I'll include our review of the ship at the very end of the post. Otherwise, I'll mainly be focusing on the various ports and excursions we took.
And because this post is so lengthy, I broke the content down by port (in case you want to jump to a specific location). I'll also plan to do a separate post with all the details on what I packed, as well, since I know that's a common question. I'll format each day by port, the excursion we booked, our tips/what we did and then share images from the day with captions so hopefully it's easy for you to jump to the areas you want to read/look at! Side note: I think this may be my longest post yet, and I'm quickly remembering why I broke our last Mediterranean Cruise into eight separate posts 😉
We booked the cruise and most of the excursion portions of our trip through a friend, Tracy Michel of Experience Serenity Travel. You can email her at tmichel@dreamvacations.com if you're interested in a similar trip and looking for some guidance. She was great to work with!
Before we jump into all the details, I want to also mention that I saved all of my Instagram Stories from the trip in a highlight called Med Cruise. This will give you a live video view of some of the places I mention, so it's worth checking out! You can also see my Instagram posts from the trip (which can sometimes have helpful comments and more photos):
Amalfi Coast (stay tuned – this will be likely be updated later today)
This post contains affiliate links for your shopping convenience. Click here to read my full disclosure policy.
Civitavecchia, Italy
Civitavecchia is the main port city about an hour away from the Rome airport.
We took a private driver from the Rome airport, booked through our travel agent, with a company called Blacklane. After getting multiple bids (and rates from our hotel for their shuttle), it wasn't that much more expensive to get a private driver. We loved that as soon as we exited customs, we met our driver. No waiting on other passengers or searching for someone to give us a ride. About an hour before pick-up, I got a text with the driver's name and phone number.
We stayed at Hotel San Giorgio in Civitavecchia the night before our cruise departed. It was clean and convenient to the port, and a typical Italian hotel. The staff was all very friendly and helpful.
If you're looking for a fun, casual place to grab a drink and snacks, try Chalet La Marina. It's on the sidewalk outside of the hotel and across from the sea.
There isn't much to do in Civitavecchia, but we did enjoy several meals and drinks at Bistrot 34 at our hotel. The staff was friendly and we had several excellent meals there.
If you've never been to Rome before, I would highly recommend going a few days early, if possible, to explore Rome (rather than going directly to Civitavecchia).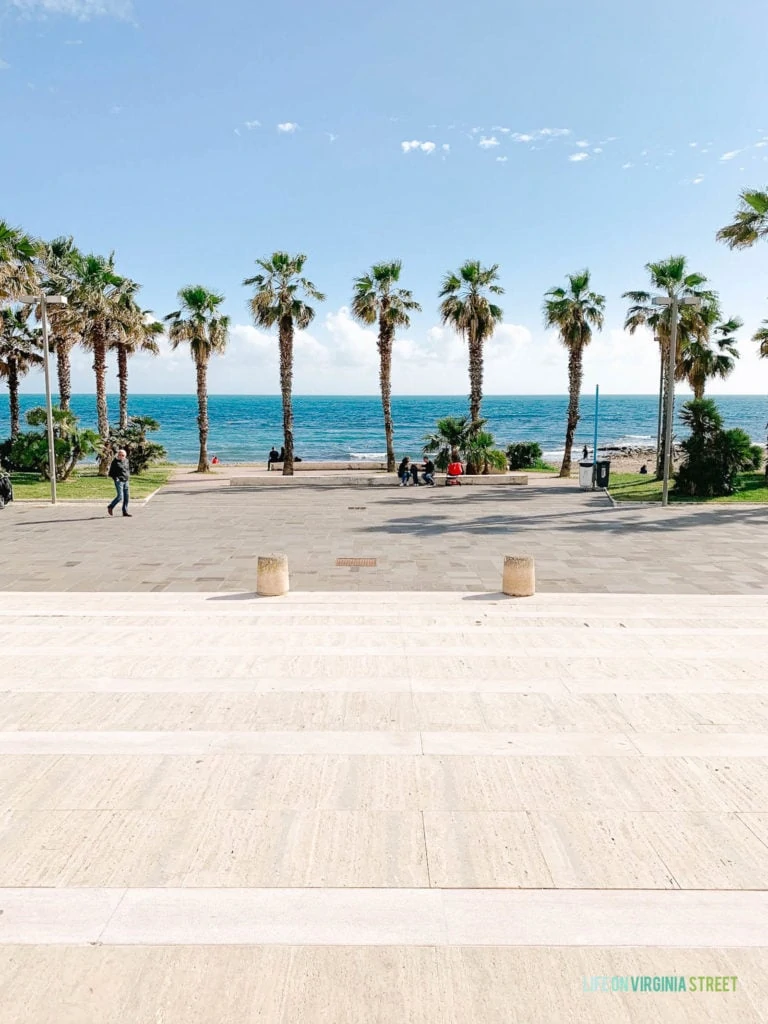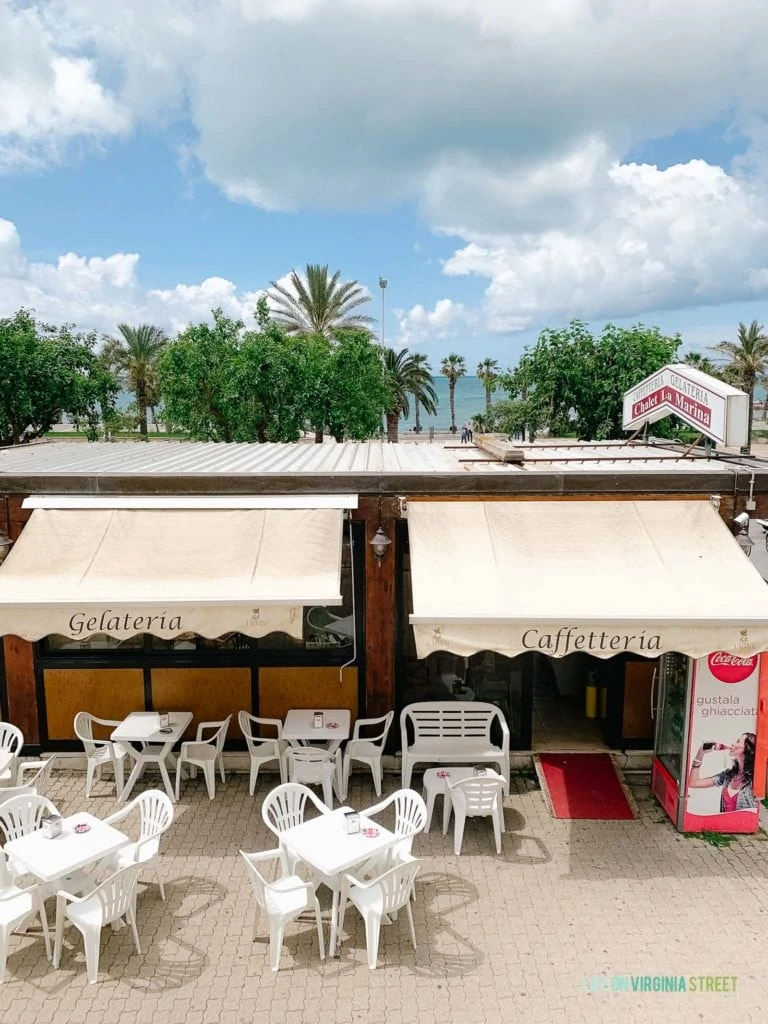 Day 1: Port & Set Sail
We strongly encourage not walking from your hotel to the cruise port. Even if your hotel looks close on a map, the cruise terminal is very industrial with multiple piers and very windy roads. The ships all looked fairly close, but after experiencing the drive, we're so glad we booked the hotel shuttle. We did try getting a cab and an Uber, but apparently on cruise sailing days, they're very hard to book at prime time.
We've found that it's typically best to head to the cruise terminal an hour or so after opening time. This helps you to avoid the long lines that build during the first hour.
Unpack upon arrival on the ship (assuming rooms have been opened – typically around 1 pm).
If you're on Jewel of the Seas, we enjoyed Vortex 13 for drinks for setting sail. The weather was rather cool when we left so this still gave us the views without the wind and cold!
All other ship details/thoughts/recommendations can be found at the end of the post!
Day 2: Sicily, Italy
Excursion booked: Taormina and Isola Bella Tour via Shore Excursions Group
Sicily was an unexpected gem for us and we are absolutely going to plan a trip back at some point. If you're not familiar with Sicily, it is the island off the "boot" of Italy and is still a part of Italy but with a unique culture of it's own.
Famous Sicilian foods to try: canolis, granitas, and aracine (fried rice balls). Our tour guide also brought us some homemade almond pastries that were delicious and she said the region is also known for almond products.
The area has part Greek and part Italian roots, so you'll see a combination of the two languages and cultures throughout the island!
If you're on a cruise, it's worth watching coming into port about an hour early to watch the arrival.
On our excursion tour, we started at Giardini Naxos beach and then took a small boat to Isola Bella and also saw the Azurra Grotto and orange coral. This was one of our favorite highlights of the entire trip. We had an excellent small group of tourists with us (a few who joined us on other excursions) and we had a blast! Note: our little boat did not have a bathroom on board (and that wasn't made clear until we were loading). If you need a restroom, be sure to go before you get on board!
At the midpoint of our boatride, we stopped on the way back for fresh fruit and prosecco.
Our guide (Cecilia with Discover Messina) was amazing and hilarious and I'm pretty sure we'd be friends if I moved to Italy. Which I still would be totally open to doing 😉 On the water tour, she gave us all the details on the resorts, island dynamics, history of Mt. Etna and more. It was such a fun tour and a reminder that an excellent tour guide can make (or break) your day and experience in your port!
Our group then took a shuttle up to Taormina to explore the gorgeous mountain town directly above where we toured on the water.
Since we had some free time, Kurtis and I had a pizza lunch with Aperol spritzes at QLoungeBar. I have a picture below, but it was the perfect stop (in the shade) to slow down and enjoy our day.
If you want the best views in Taormina, go through the second gate to Piazza IX Aprile. The views are pretty spectacular! On a clear day, you should be able to see all the way to Mt. Etna!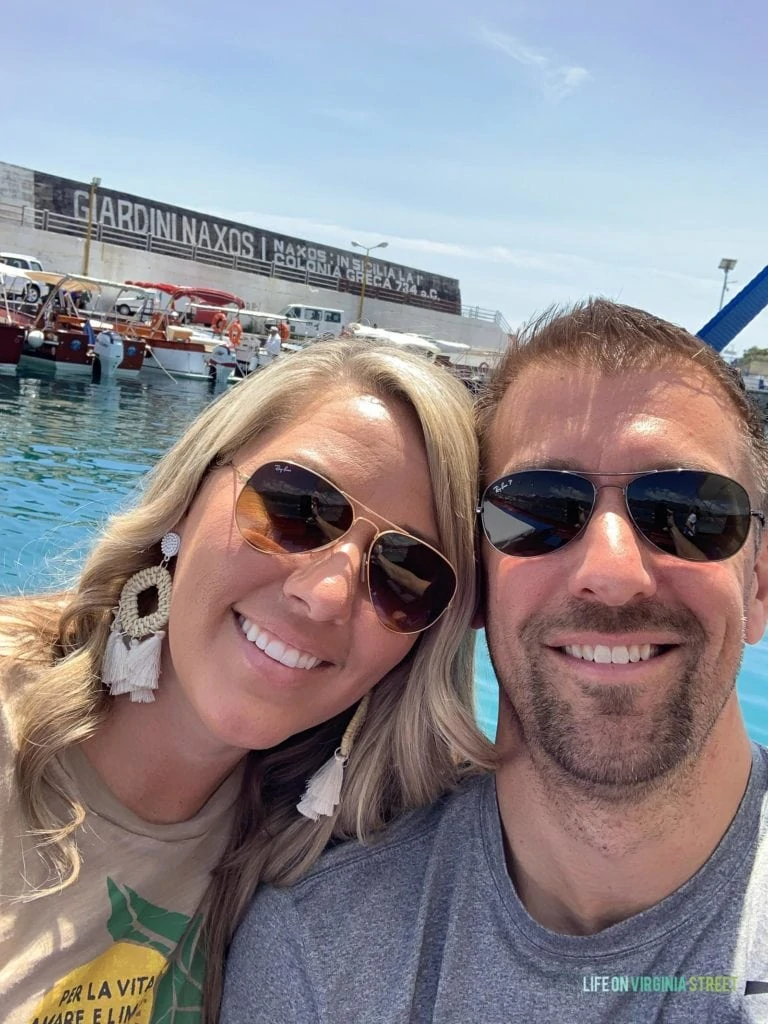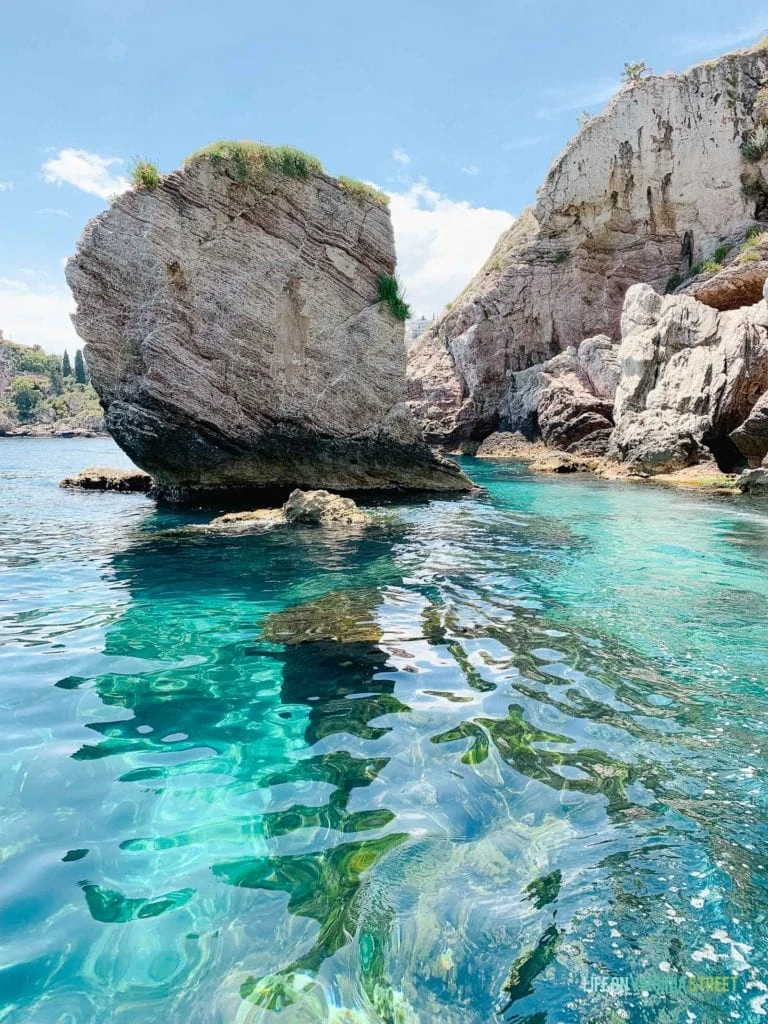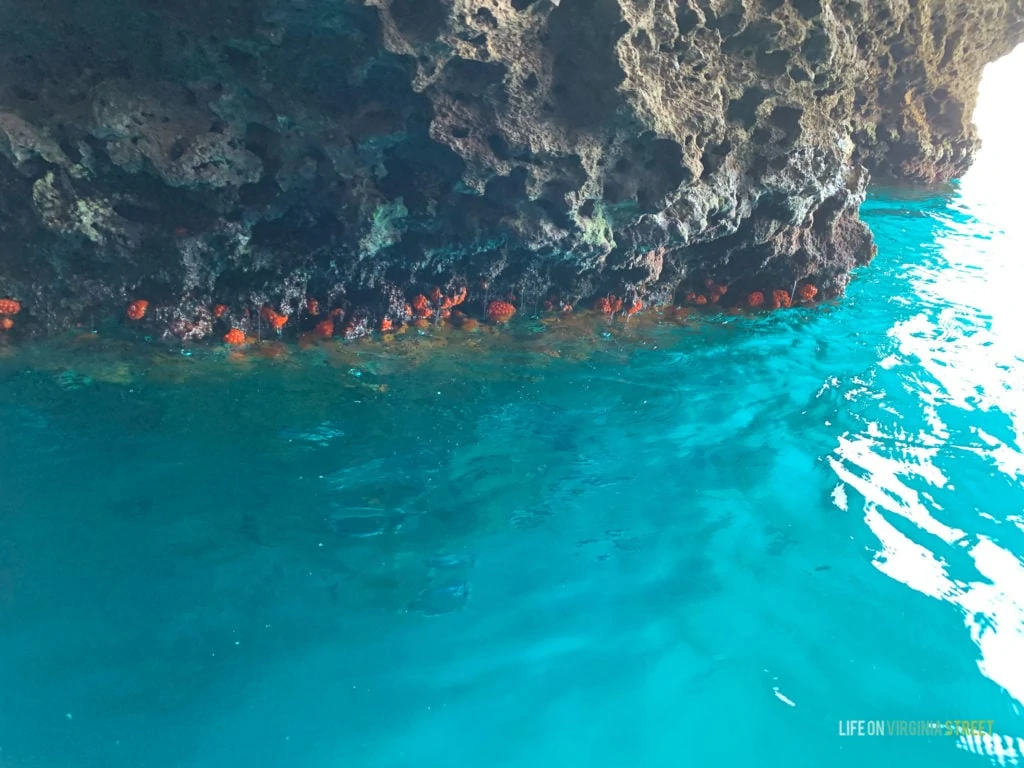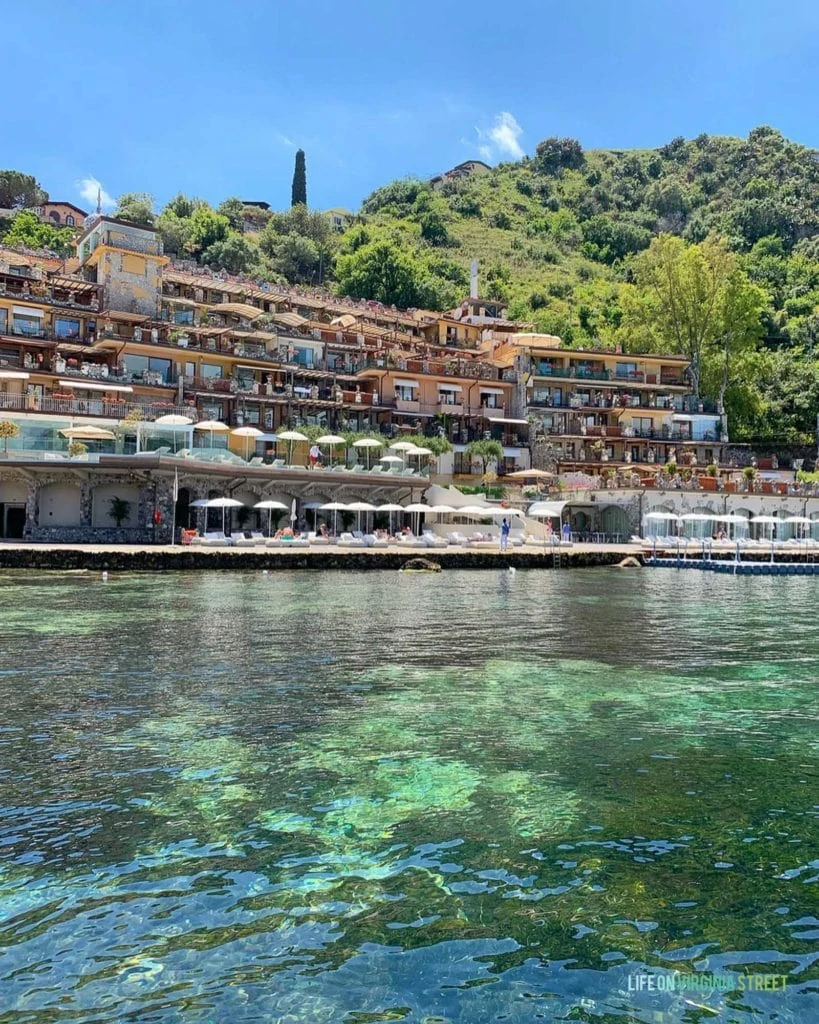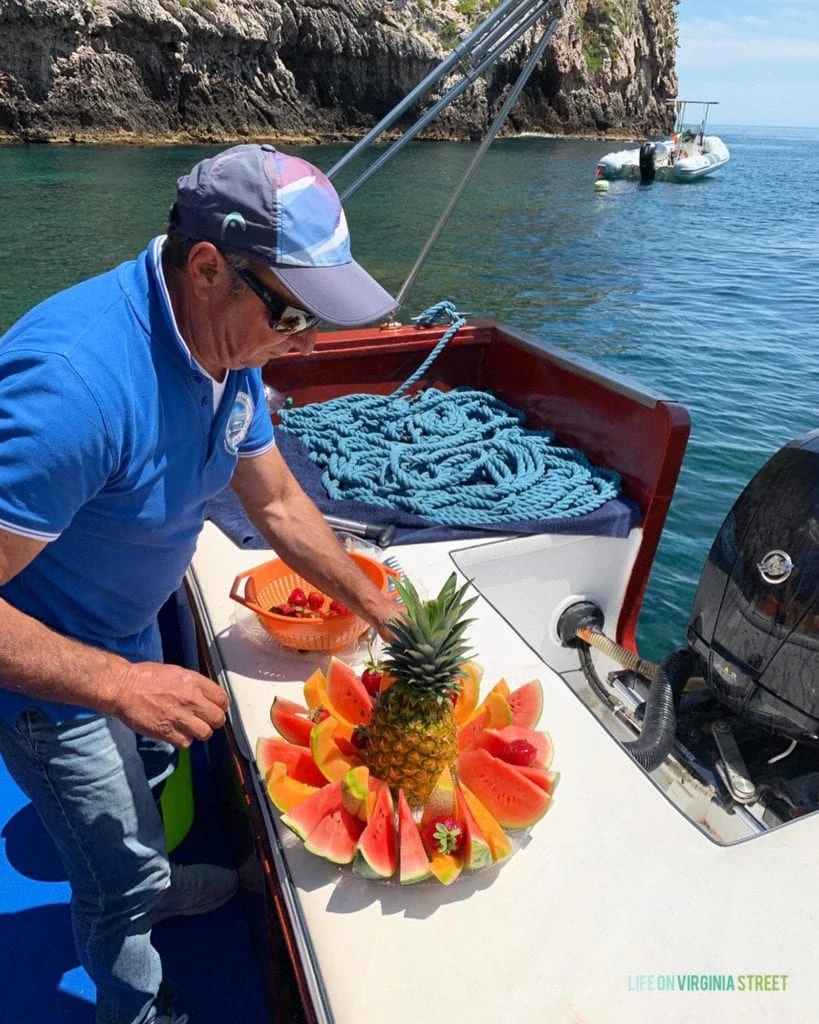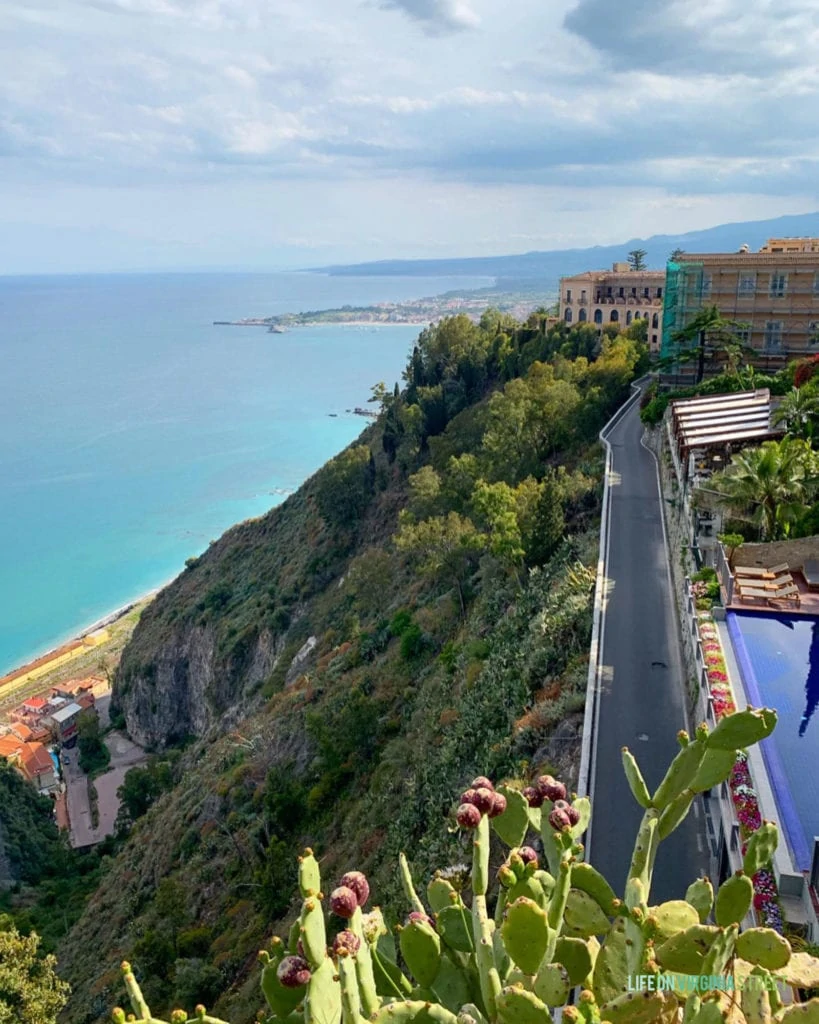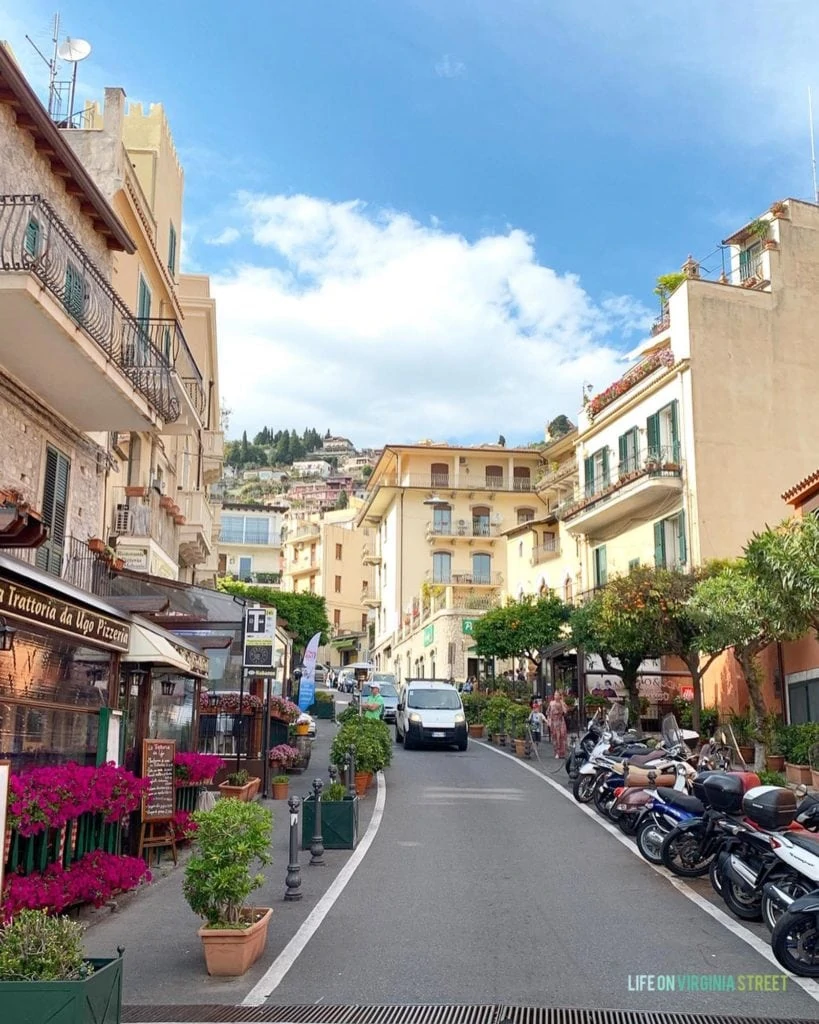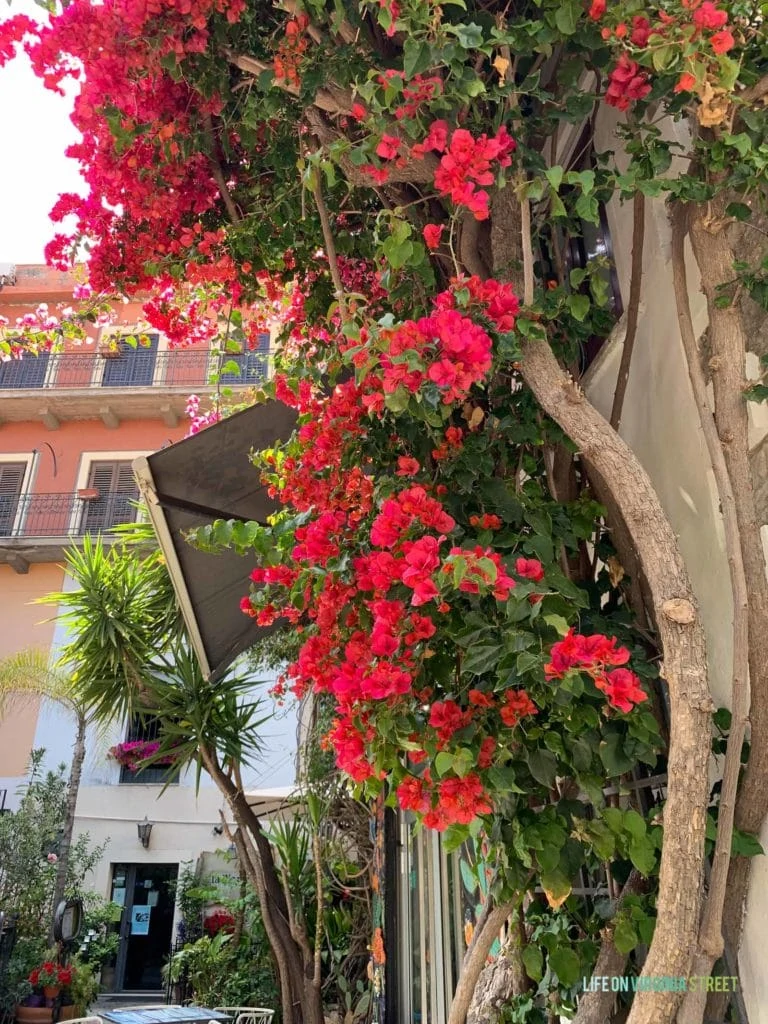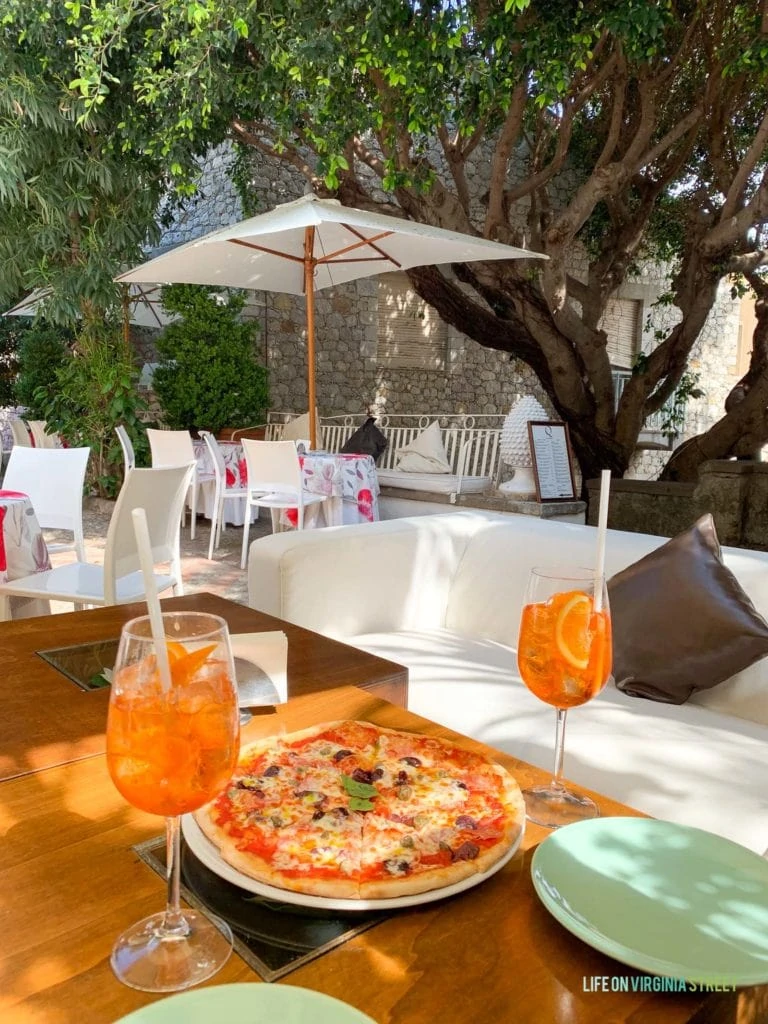 Day 3: Malta
Excursion booked: The Three Cities Tour via Shore Excursions Group
This is a port we would recommend getting up early to watch arrival an hour or so early. It was clear pulling into port that Malta was incredibly beautiful and a contradictory mix of very new and very old. However, we found out later in the day that everything was instantly even more beautiful when the sun came out.
This excursion we booked was proof to us that tours make the port. This one was very slow and unfortunately, not all that interesting to us. The tour also made us realize that we prefer smaller groups on tours rather than large groups where you have to walk around listening through headsets to hear your guide. Basically, the larger the group, the more likely you'll have people in the tour that don't respect anyone else's time. Which means you are wasting a lot of time waiting on others.
On our excursion, we did a walking tour and then a gondola ride of the inlet (a fun way to see the cities) followed by another walking tour.
We opted to leave our tour for the last hour or so, after our guide offered free wandering time. It gave us a good opportunity to grab lunch and drinks and then to stroll along the pier and see the yachts before we had to catch the shuttle back to the pier with our group.
After the tour and we were back at the pier, the sun was out in full force so we opted to head up to the sun deck on the ship for a little R&R!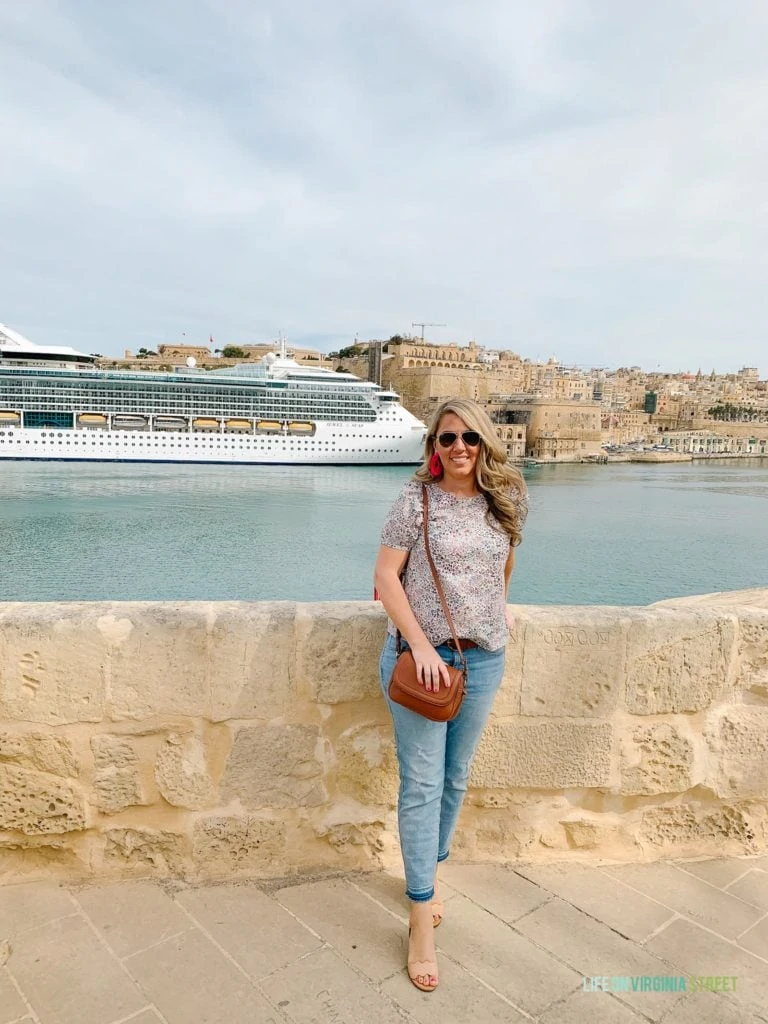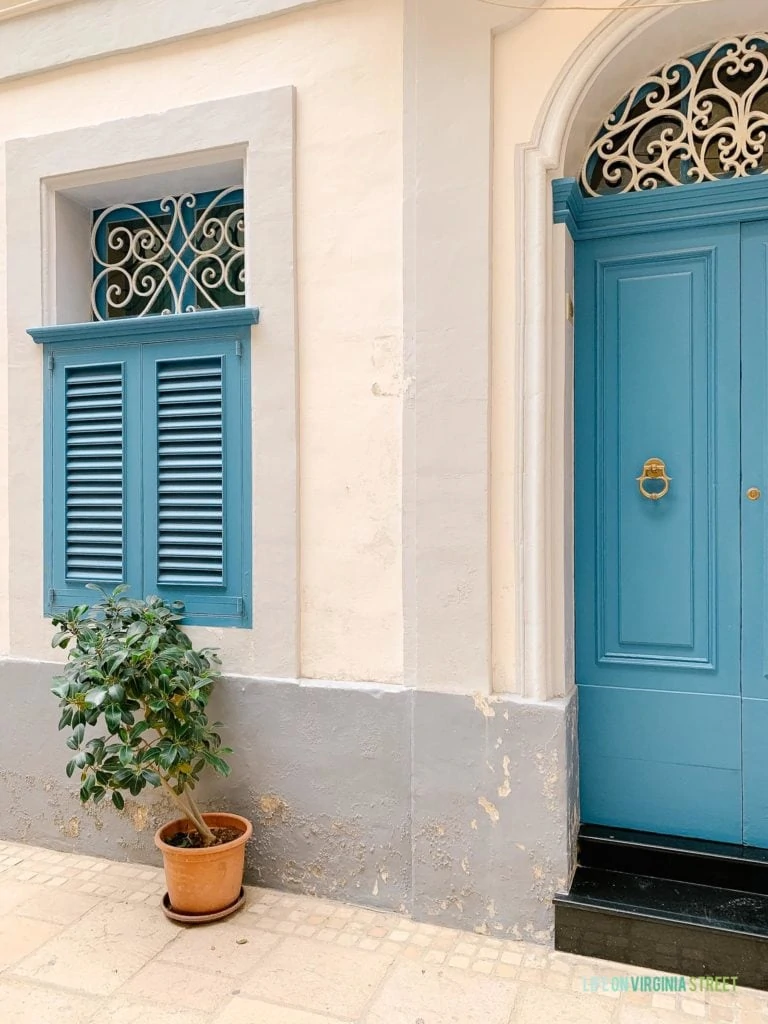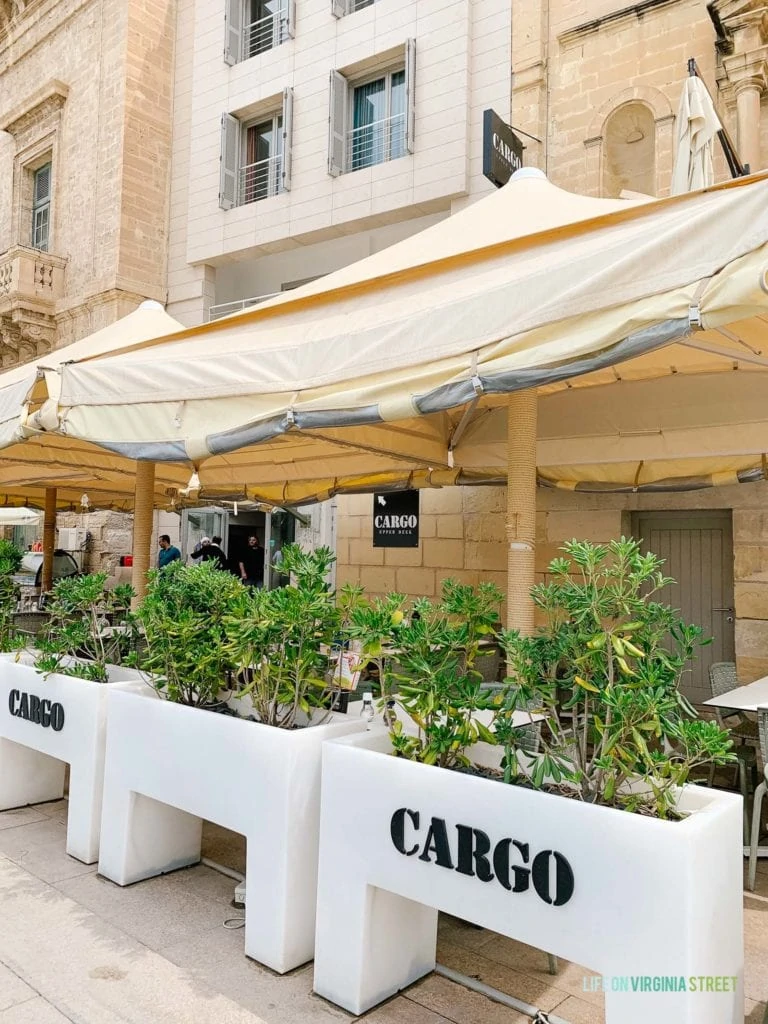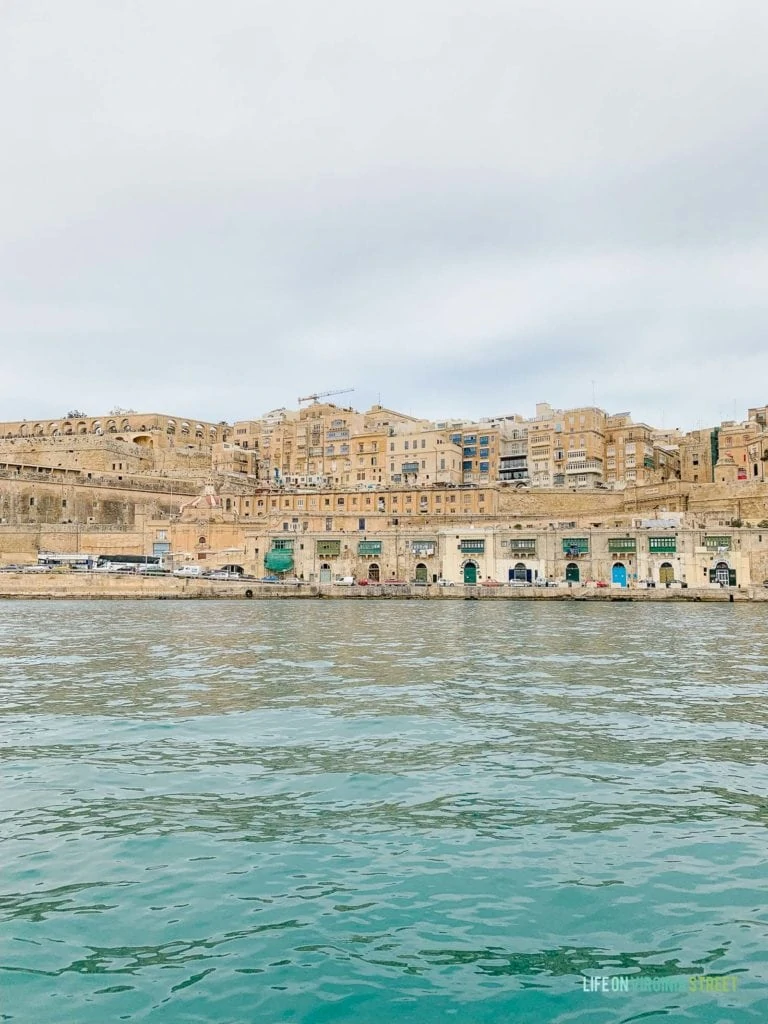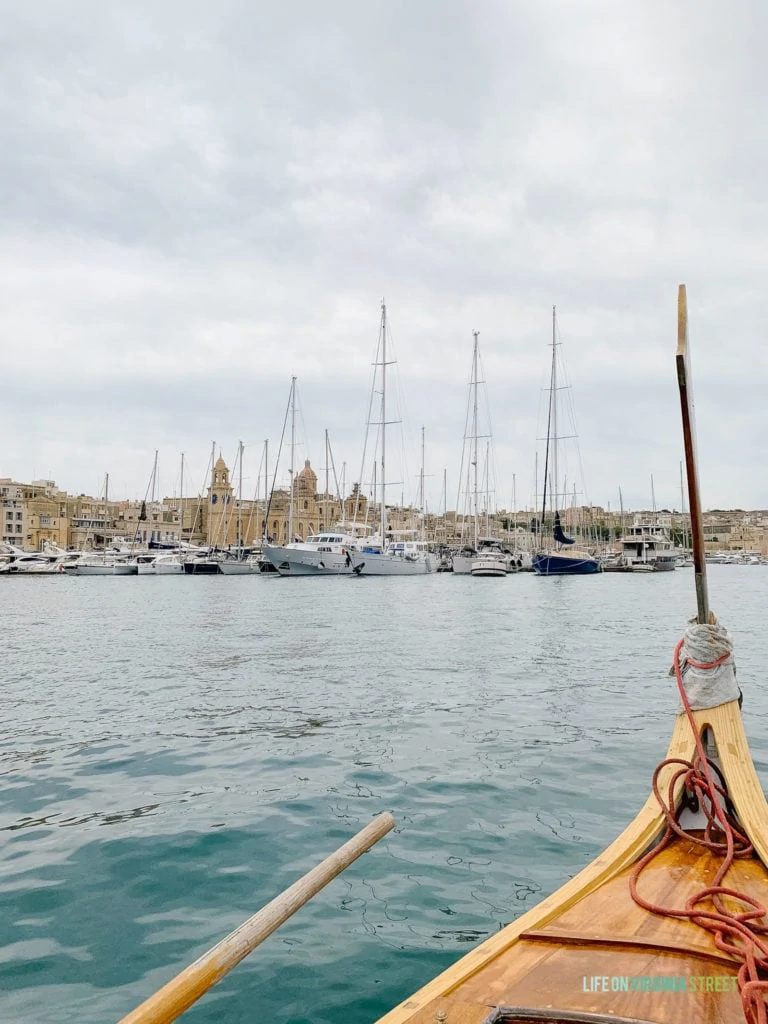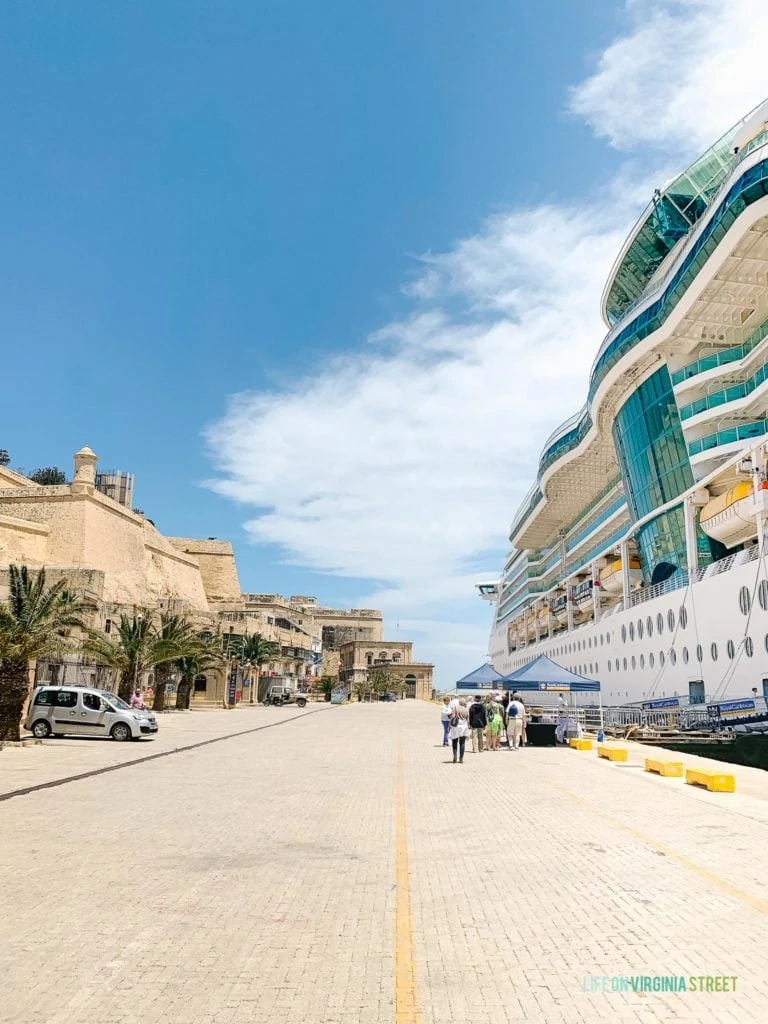 Day 4: At Sea
See notes on ship at the end of the post.
Day 5: Mykonos, Greece
Excursion booked: Highlights of Mykonos Tour via Shore Excursions Group
The port is not convenient to Mykonos Town. Be prepared to walk, get a taxi or take a Sea Bus (our choice) to get into town.
On the particular day we were there, the lines for the Sea Bus were pretty long. This was especially true in the afternoon when everyone had to be back on the ship by a certain time. So, allow plenty of time to get back, but know that they ferries are very efficient and we didn't see anyone left behind 🙂
Unlike any of our other ports, Mykonos felt much more like a desert-like climate. It is clearly very dry (during the summer months) and you'll see a lot of cacti, etc.
Our excursion consisted of a bus tour of the island. There were only about 14 of us on a full-sized travel bus, so it was a bit difficult navigating the narrow, busy streets. I actually have video footage of our bus driver about to get in a fight with a cement truck driver when we were both stuck on a narrow street and neither would back down. But I'll save that for our personal memories to spare the driver's reputation 😉
We headed to Paradise Beach which looks like a lot of fun during the day. However, we heard it gets crazy at night and is a major party spot in the summers for the wealthy kids in the Mediterranean. It was pretty tame when we were there and we would have liked to spend a little more time exploring there.
Be sure to allow yourselves several hours to explore Mykonos Town. The winding, charming streets are so beautiful and the shops are worth visiting. We were very limited on time by the time we got back to town so unfortunately, we didn't get to do a lot of exploring.
The famous windmills are only a short walk from Mykonos Town if you're looking for a fun photo opp.
Little Venice is just a short walk in front of the windmills, as well!
We ended our day with gyros and souvlaki at Raya (on the waterfront). I've never been a huge Greek food fan, but these made me a believer. The food and views were excellent and it was the perfect end to the day!
One of our favorite memories of the trip was watching the dolphins swim alongside our ship as we were leaving Mykonos. You could tell they were having so much fun riding our wake! You can catch a glimpse of this on my Instagram Stories, as well!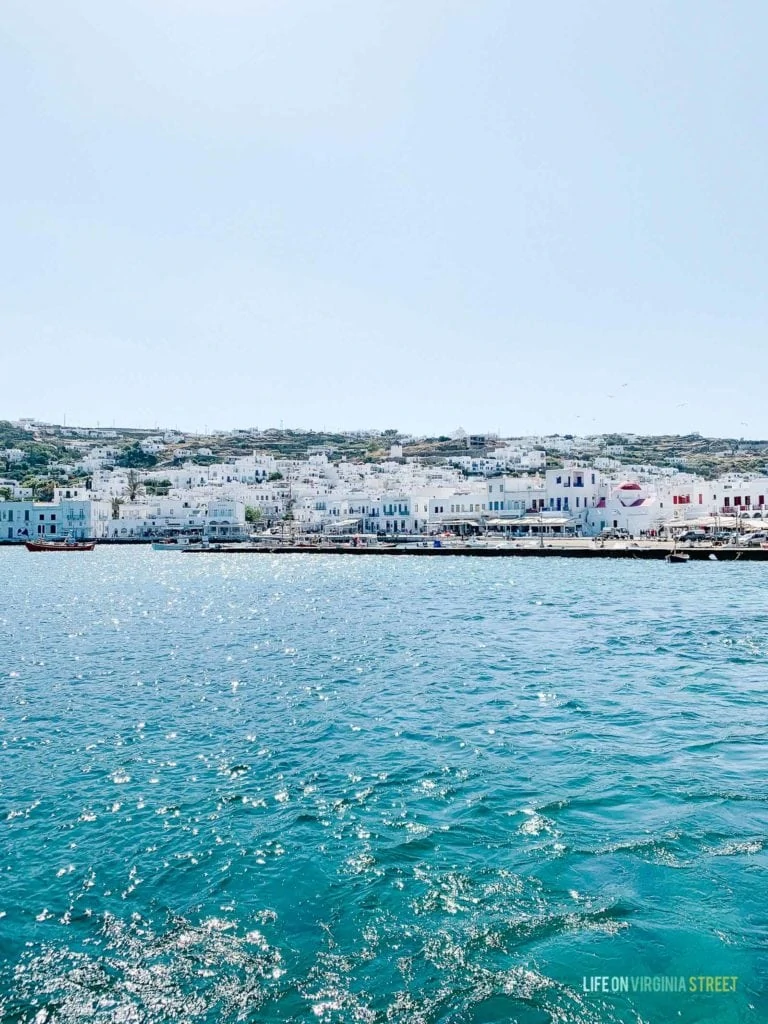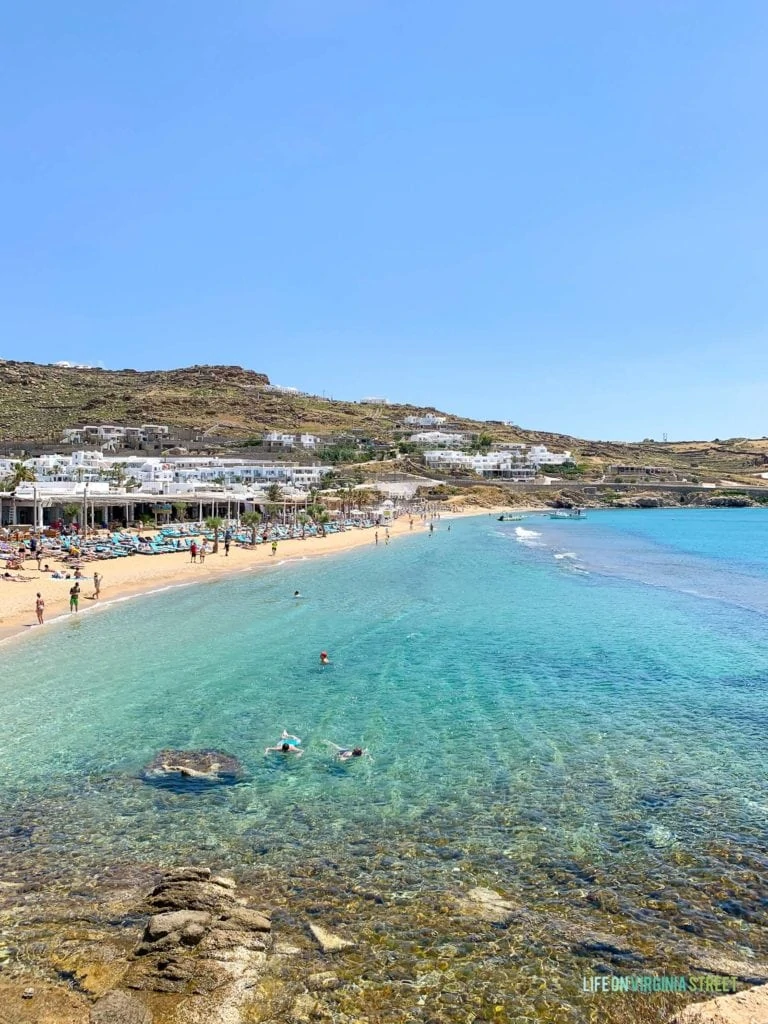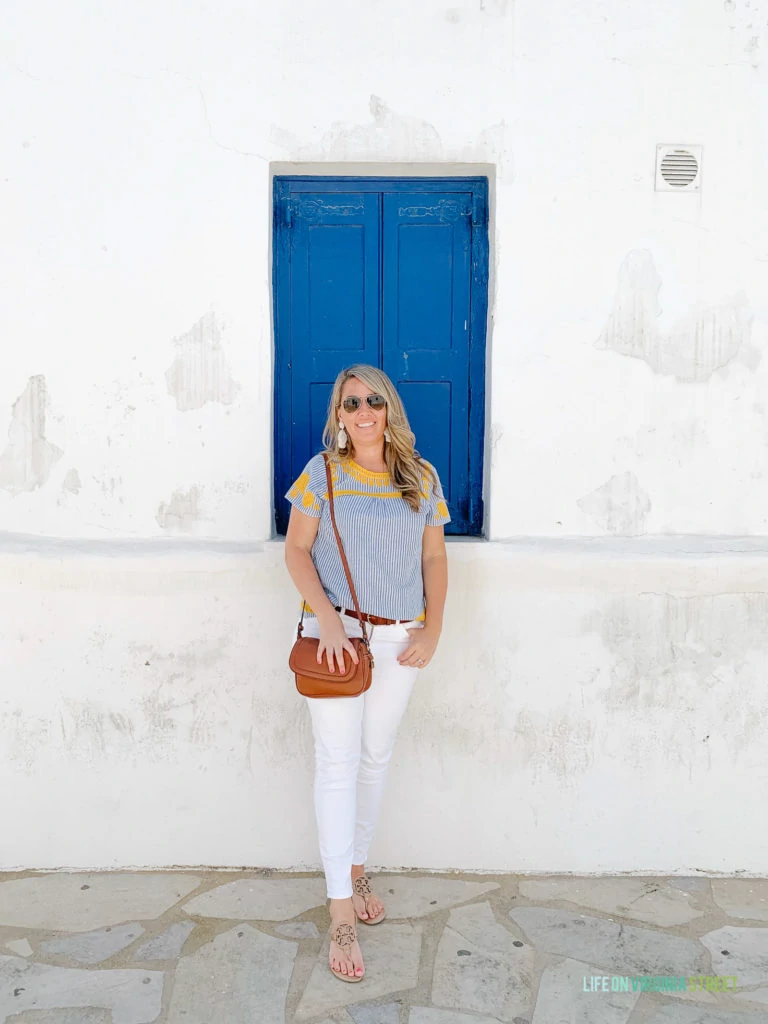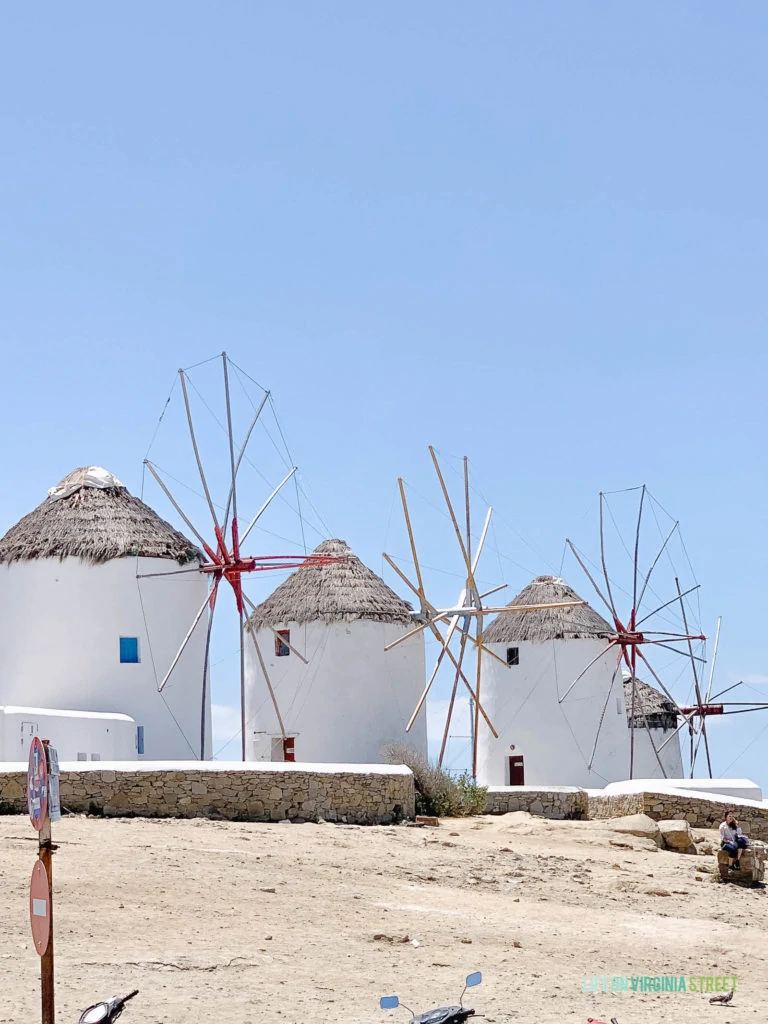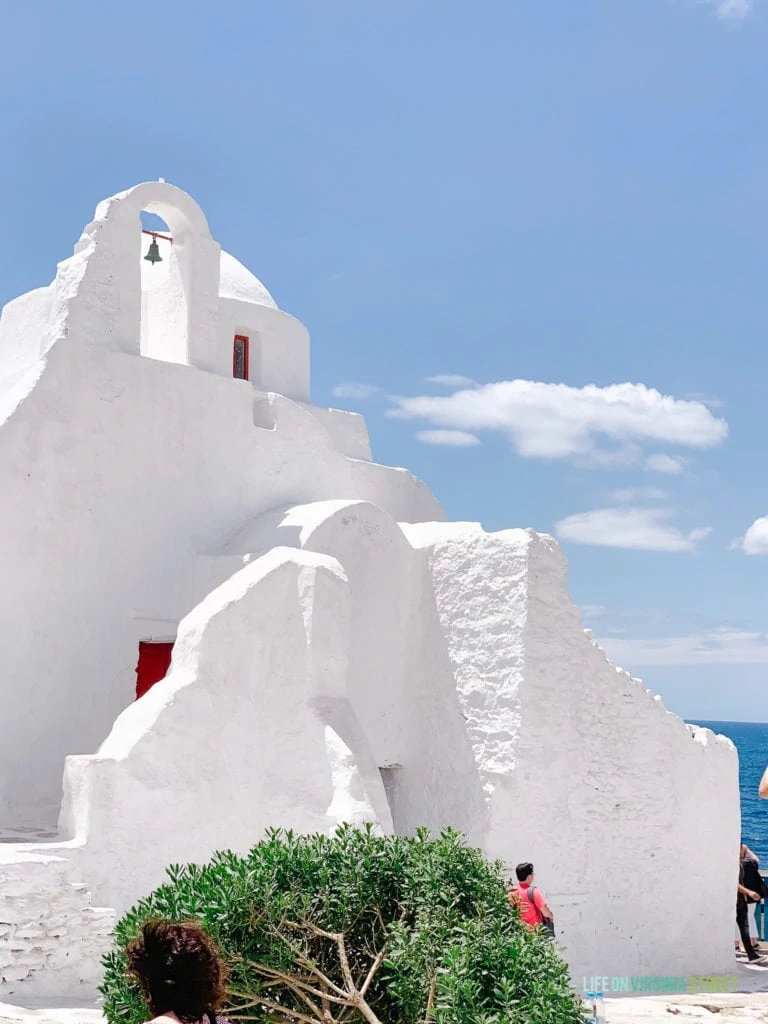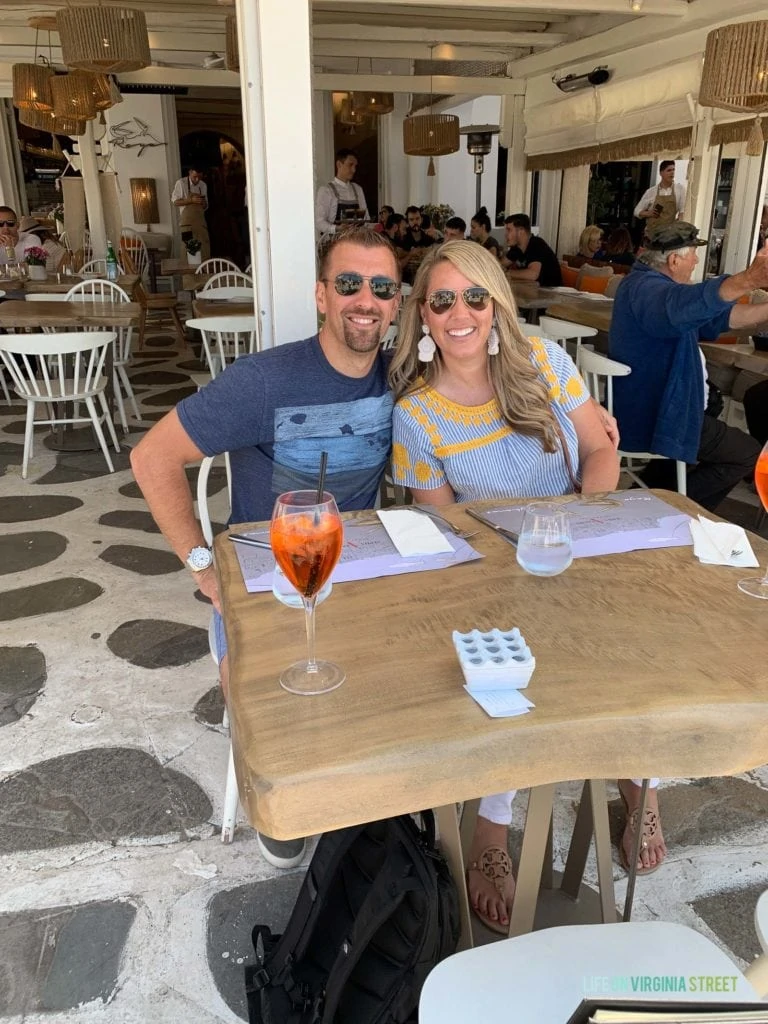 Day 6: Santorini, Greece
Excursion booked: Intimate Santorini Tour via Shore Excursions Group
Definitely worth waking up early to watch coming into port. The history of how Santorini was formed is pretty amazing (you can learn about it on my Instagram Stories). Sailing into the crater was pretty unreal!
Consider breakfast in your room if you have an early excursion because most arrivals are fairly early.
If you have to tender in to port like we did, allow 30+ minutes from stateroom to shore during non-peak times.
The cable car from the tender port to Fira is 6 Euro per person, each way (moves fairly quickly even with long lines).
The views from the cable car stop are pretty unreal so it's worth looking out over the edge before heading into Fira!
The island was so much more easy to navigate than other places we visited. The roads were modern and wide in most places. We spent very little time stuck in traffic, which was a huge relief! More time to explore!
Fira was the meeting point to begin our excursions and headed via shuttle to the castle in Pyros. Unfortunately it was still cloudy and hazy when we got to the top of the town so our views were a bit blocked. However, I would highly recommend trying this on a clear day!
After Pyros, we headed to Megalochori for wine tasting at Gavalas. It was a lot of fun to walk around the town square to get to the wine tasting. We also really enjoyed trying the local wine and charcuterie spread!
Our excursion ended the day with a trip to Oia. We would have loved to spent more time here, as I feel like you could easily explore for a few days. It's unlike anywhere else I've ever been! It was 100% worth the wait to finally get to see it in person!
We had drinks at Red Bicycle in Oia and the views were spectacular. It was definitely pricey (four drinks, bread, & olive oil (+ tip) were about $100 Euros) but it was worth a bit of relaxation with such indredible views!
Our tour group then took us back to Fira and we at dinner at Zafora Restaurant by the cable car station because the line was so long. We had a traditional cold Greek appetizer platter (so good), pizza (definitely a bit different) and beer. The views were once again, totally worth it all!
My biggest piece of advice in Santorini (especially Oia). Be patient: be prepared for people wanting to be Instagram famous. Tourists are everywhere and many don't understand the concept of waiting in line! Expect wall to wall people. But, if you know this going in, you're much less likely to be disappointed. It's still so incredible!
My second piece of advice. Sunscreen! Even when it was only 69 degrees, there were areas of the island that were crazy hot and people were very sunburned.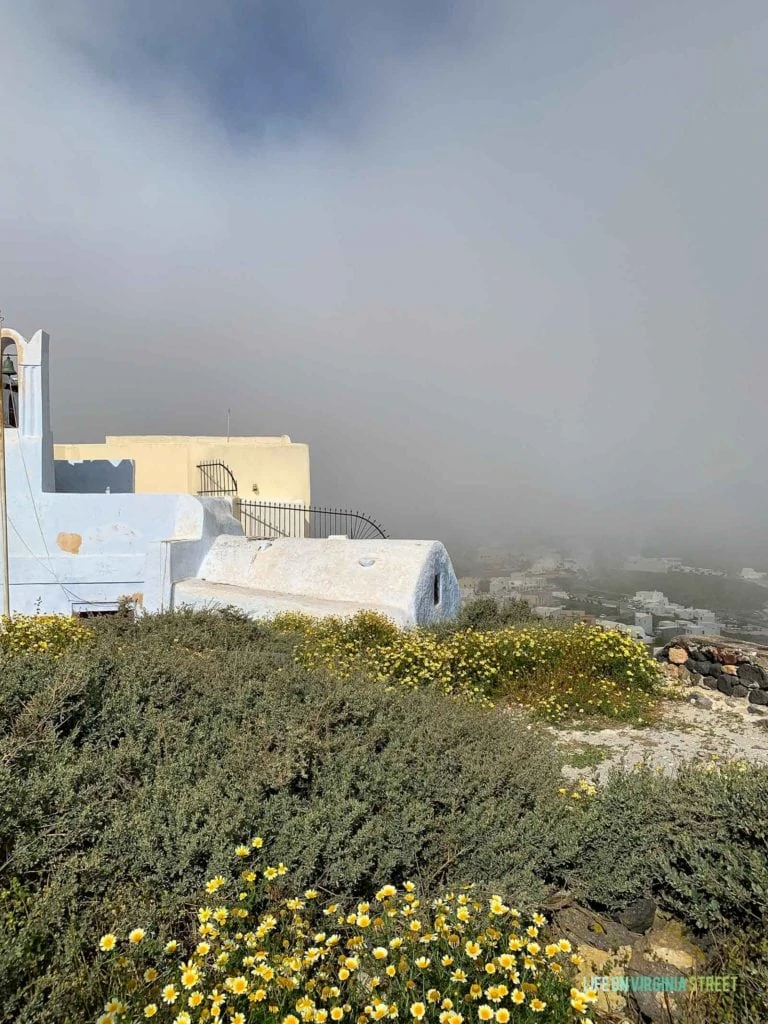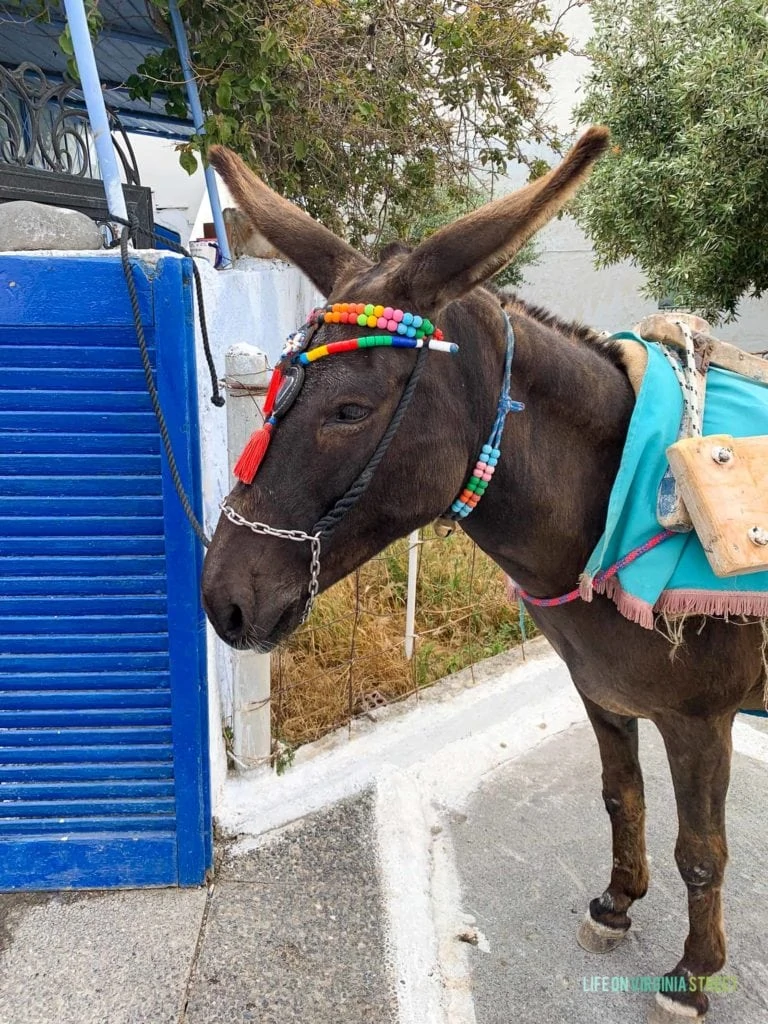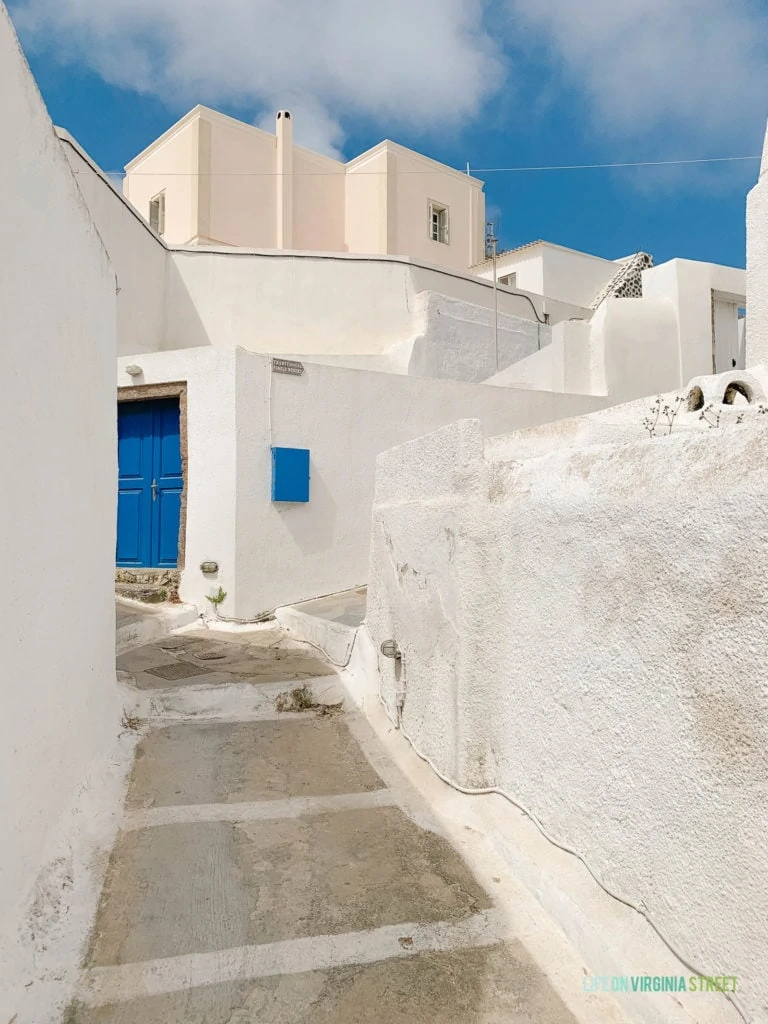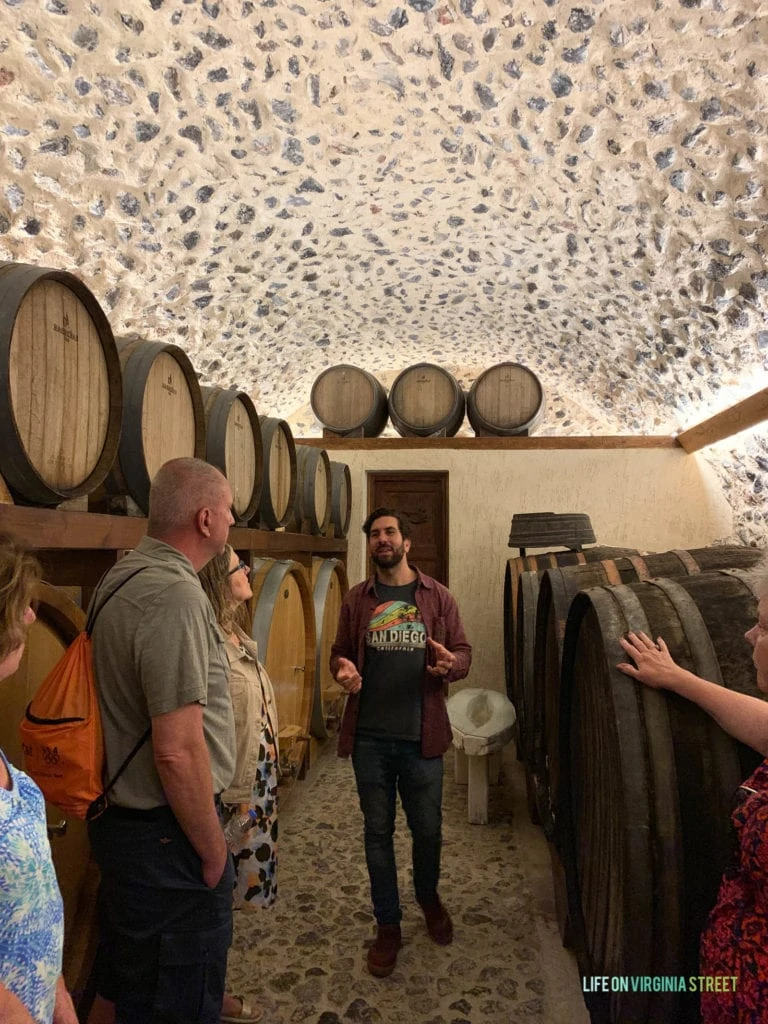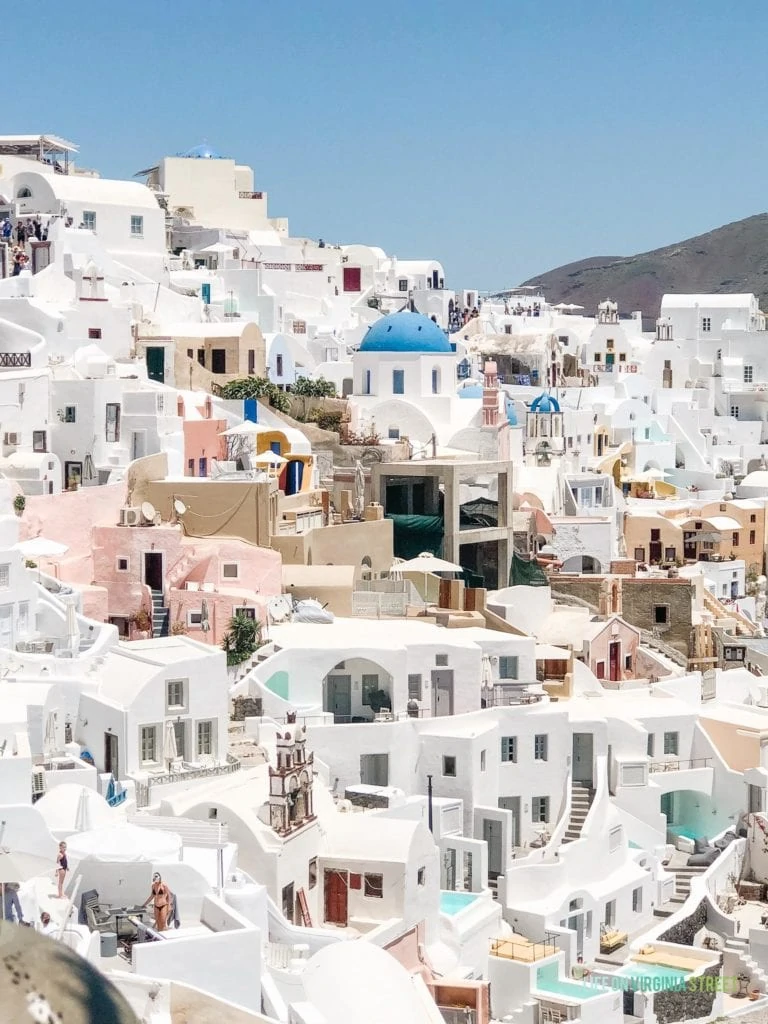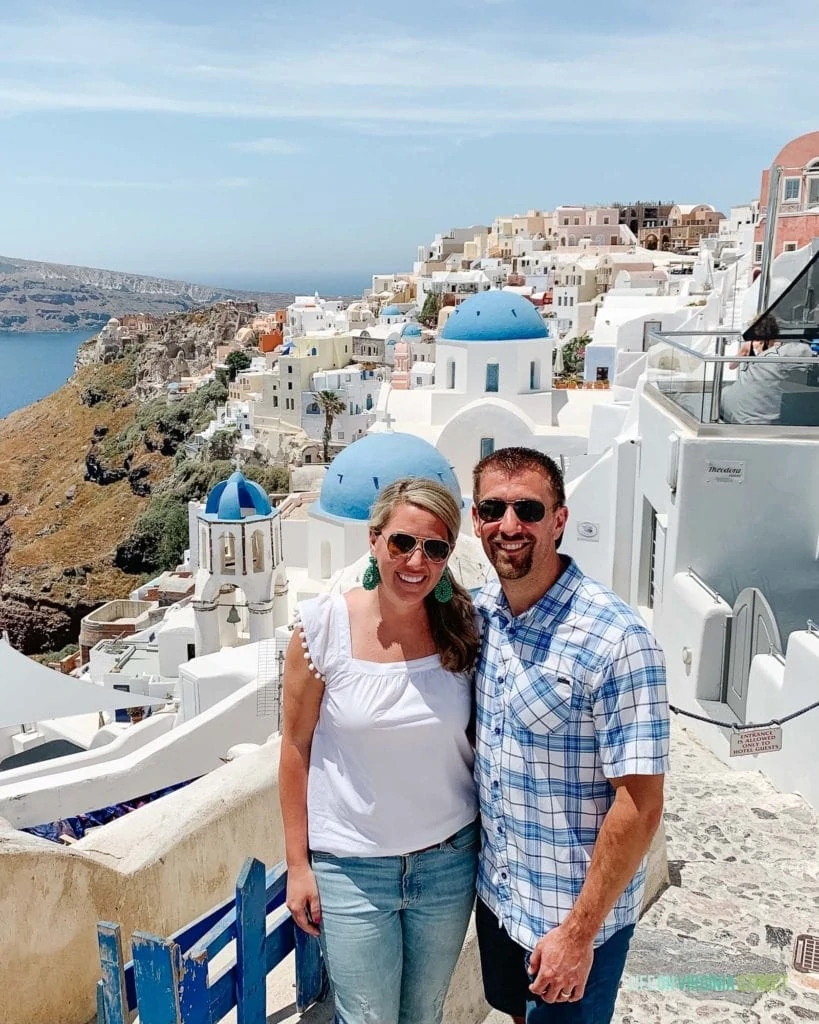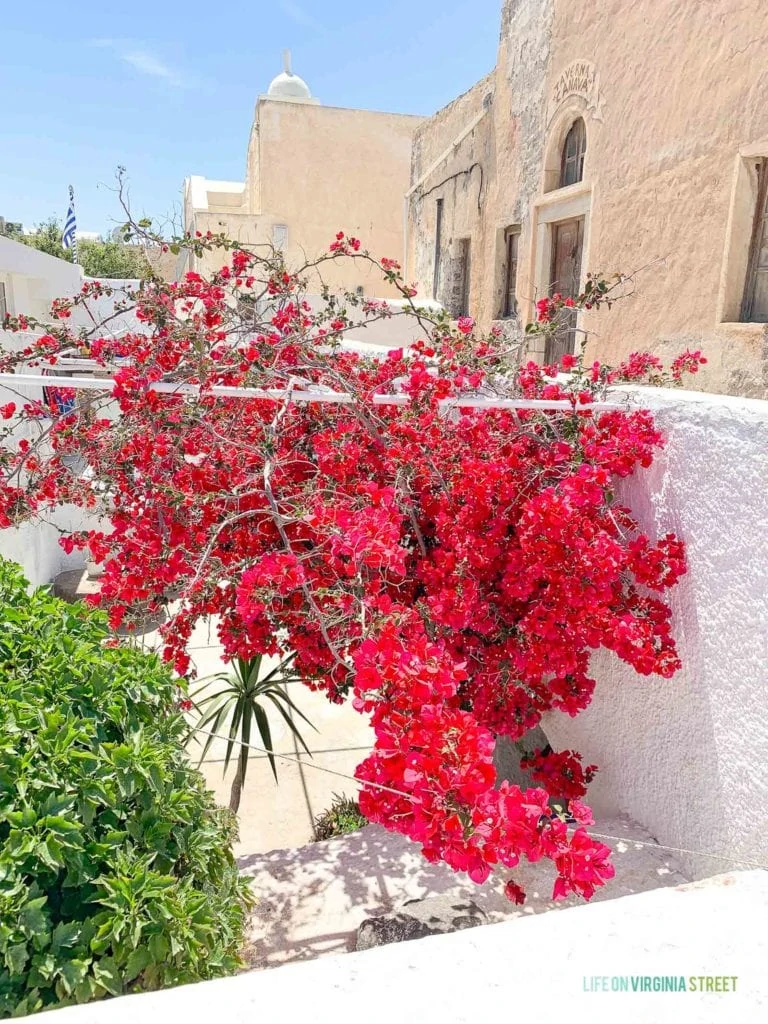 Day 7: Athens, Greece
Excursion booked: Higlights of Athens via Royal Caribbean
We had heard a lot of mixed reviews about Athens prior to our departure. So, we didn't have super high expectations. However, we both absolutely loved it and would definitely go back to explore further! It reminds me a lof or Rome, but in some ways is even more beautiful, with the green hills and views of the sea!
We learned/were reminded that you shouldn't book excursions through the ship if you don't want to waste time in "preferred" shops. Our excursion itself was great, but we were forced to take a "15 minute" stop at a gold store in Athens that turned into about 40 minutes which burned our limited free time. The guide also suggested lunch at a "family friend's" restaurant and when we got there with the others in our tour, it was clear half of all the other guides were taking tourists there. So, we opted for lunch on our own!
Go early to the Acropolis to beat the heat and crowds. And be prepared for a lot of people regardless of what time you go! It's quite a hike up the hill, but we were both blown away by it's beauty! It's really hard to put into words!
Pick clear day if possible for the incredible views. The views from the Acropolois are unreal.
Lots of hop on/hop off buses available. We've used these in other towns with great luck, so if you're spending more time in Athens, it may be a great way to quickly see a lot of the city.
Look for a rooftop restaurant for lunch/dinner/drinks. Most of the city should see the Acropolis. We ate at SENSE Restaurant and their fresh herb garden and rooftop views were hard to beat! The food was excellent too, and the prices were pretty fair.
You'll see a lot of graffiti in town, but honestly, it's no different than what you would see in Rome.
People are very friendly but seem a bit less comfortable with English in many places.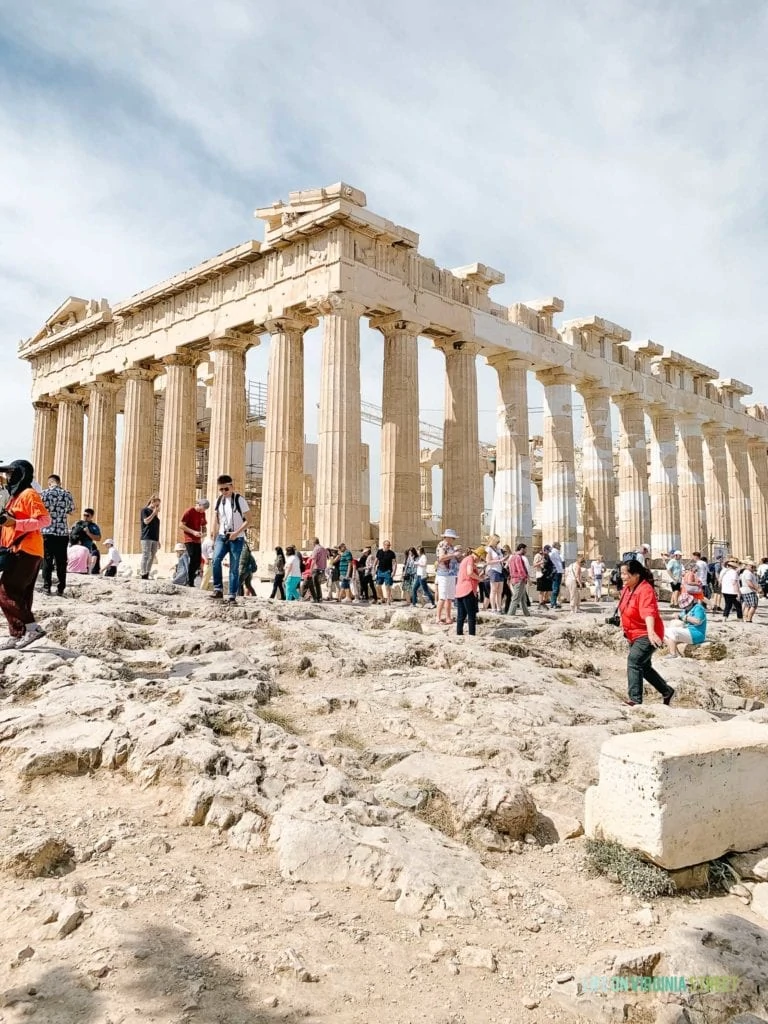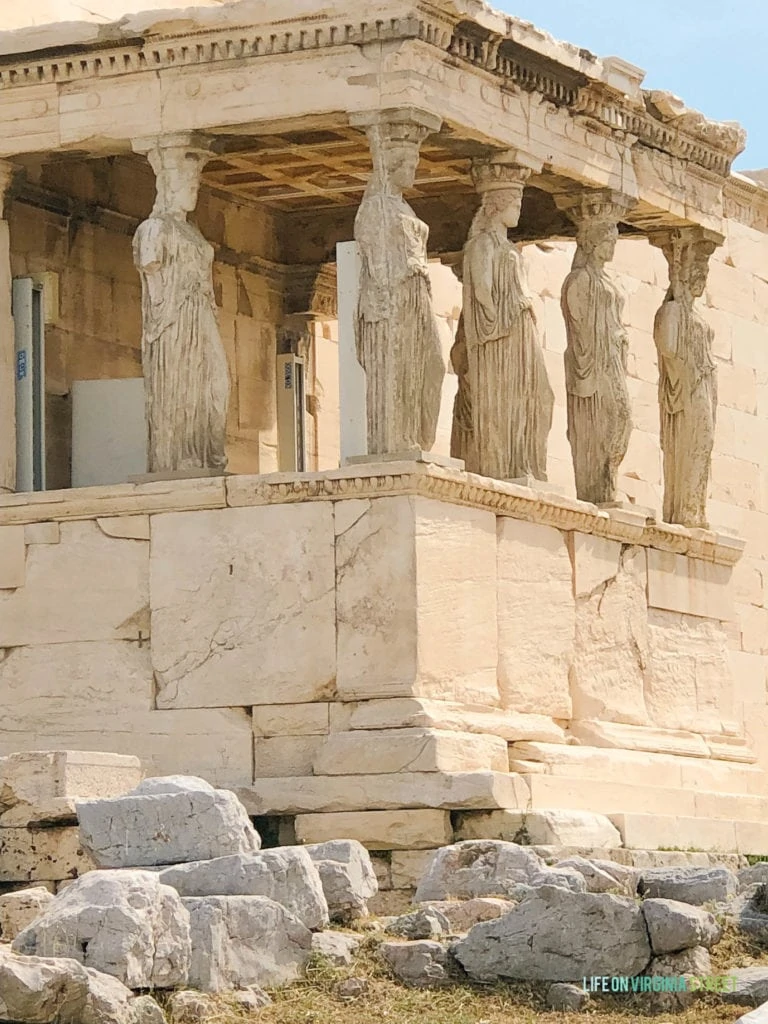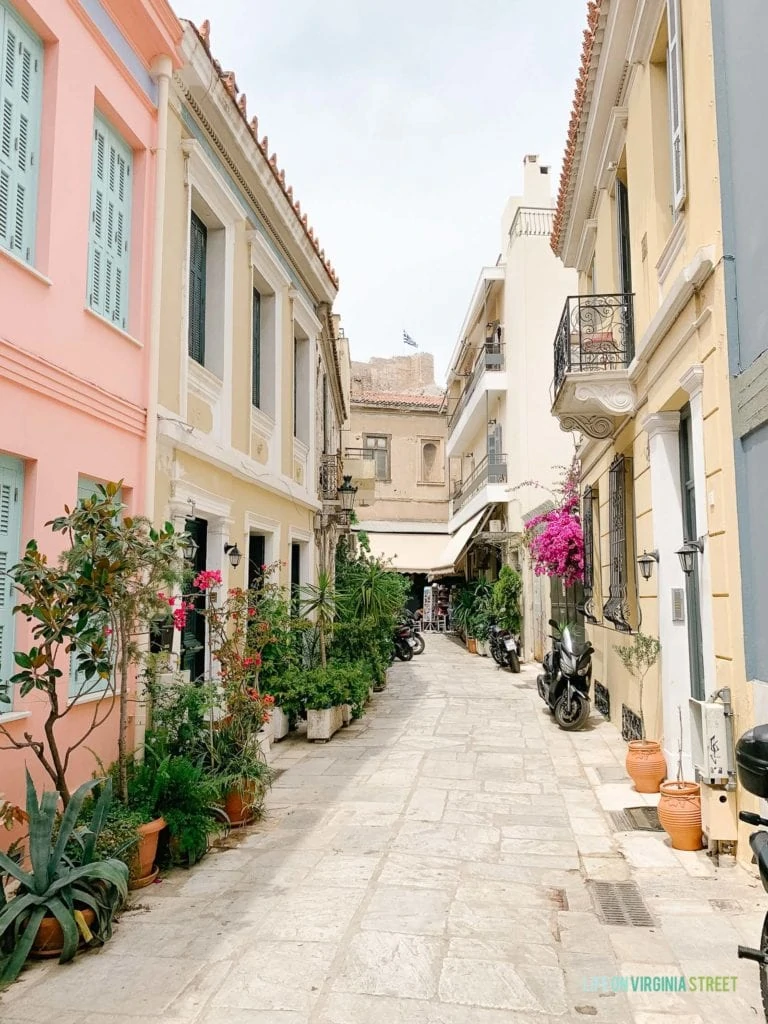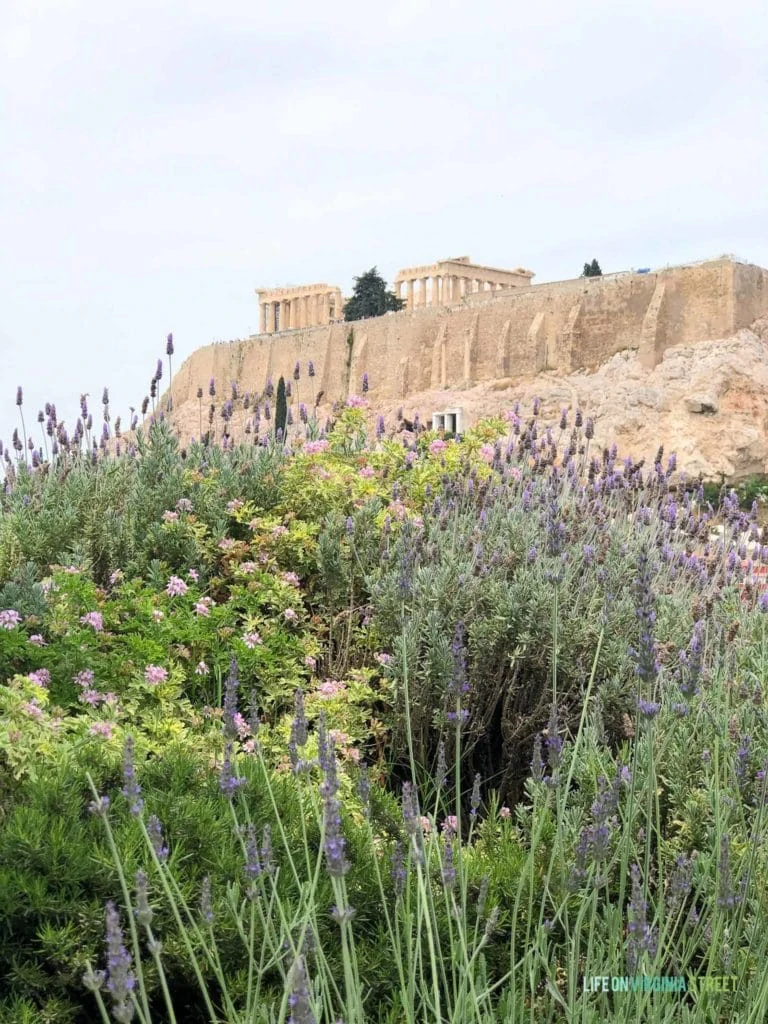 Day 8: At Sea
See notes on ship at the end of the post.
Day 9: Naples (The Amalfi Coast)
Excursion booked: Ravello, Amalfi and Positano Tour via Shore Excursions Group
The Naples port was chaos the day we were there. All excursions had to meet outside the port terminal and it was raining. Traffic for industrial and cruise traffic was all routed the same way, so we spent a lot of time waiting just to get into/out of the port.
Sadly, the Amalfi Coast is currently completely overrun with tourists in prime season. This becomes challenging on the narrow roads and small towns. On the way to Positano, we had to wait for a car accident to be cleared. Traffic was heavy prior to that. Our drive from Naples to Positano should have been just over an hour and took nearly three hours. So, when you're on a one-day trip, this can quickly eat into your time. The drives from Positano to Amalfi and then Amalfi to Ravello were nearly as bad due to traffic.
This is the second time we've tried to hit these three towns in one day, and we've learned that to truly explore the area, we need to allow for one day in each town. As dreamy as it is to pack them all into one day, it's also exhausting (and a bit frustrating) because you'll be doing a lot of sitting in your car. Especially during peak season!
There is a lot of great shopping in Positano and the pricing in several stores is surprisingly not that bad. The only issue is wanting to buy one of everything and figuring out how to get it home! 😉
The area is truly magical and is absolutely as dreamy as you likely picture it in your head. It's one of my favorite spots in the world and absolutely will take your breath away!
Since Amalfi was our mid-point for our stops, we grabbed a pizza lunch in the tour square and did some people watching. We were still battling a bit of rain, so it was nice to get under a patio umbrella!
The area is known for ceramics and lemon/citrus products so it's fun to pick up something unique in one of the towns to bring home.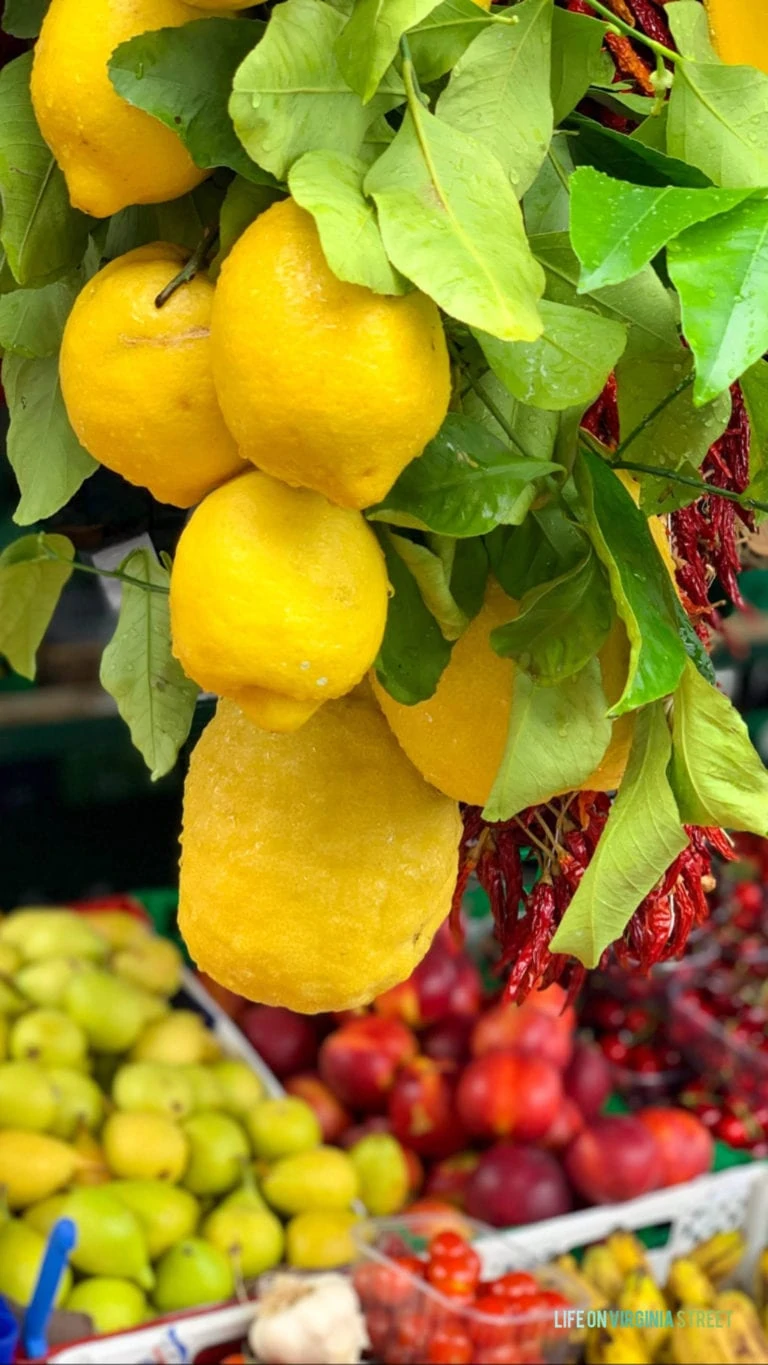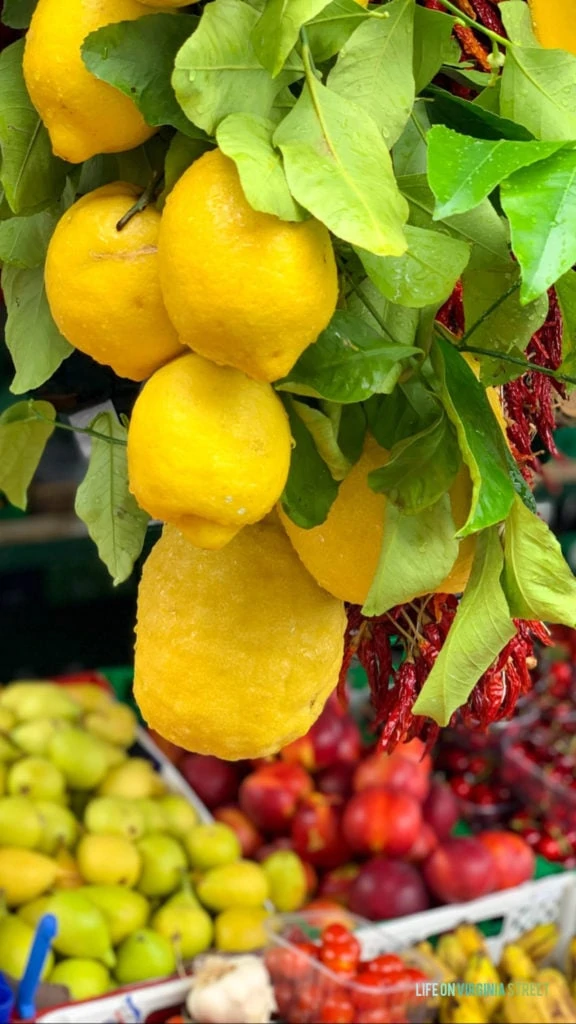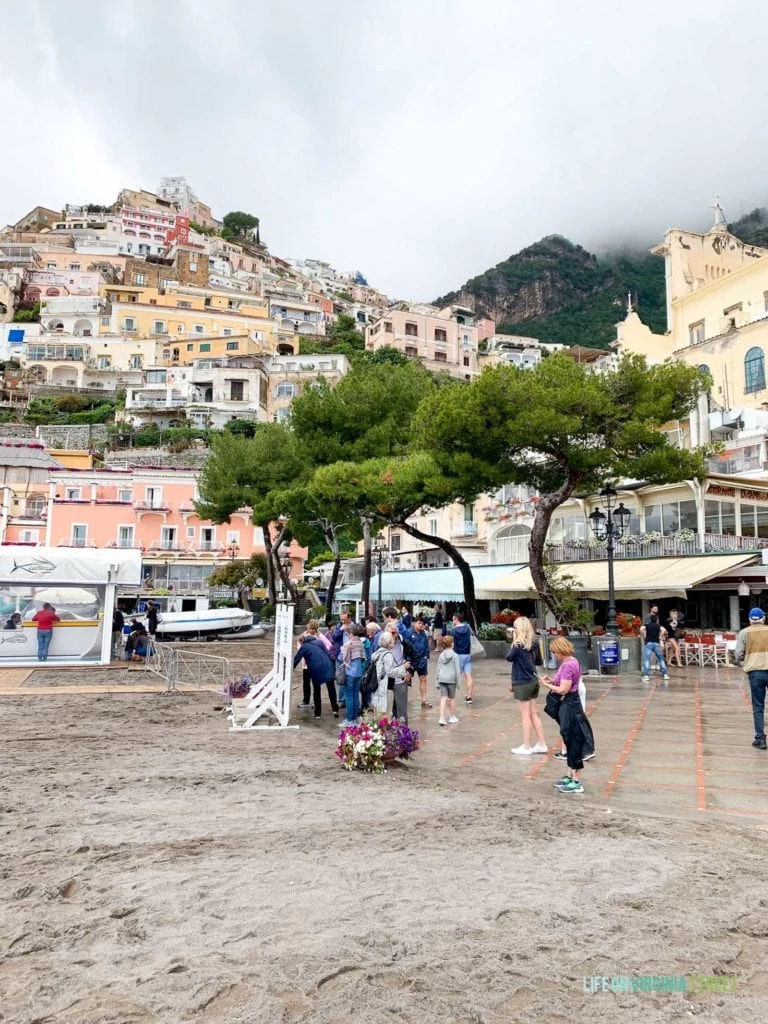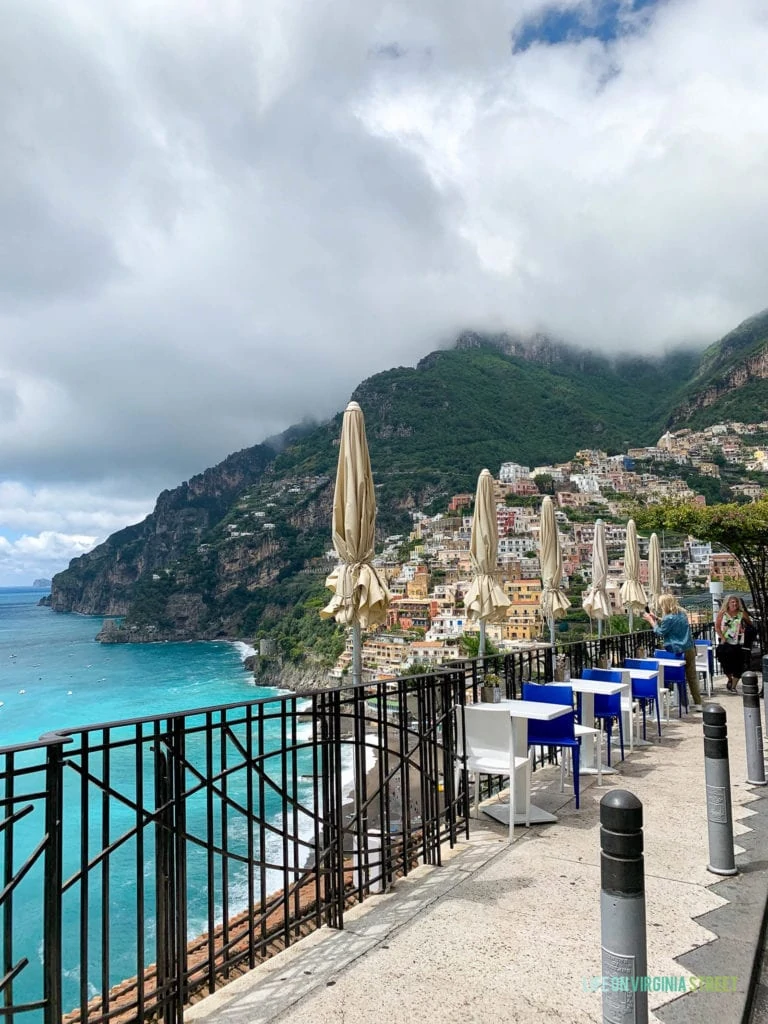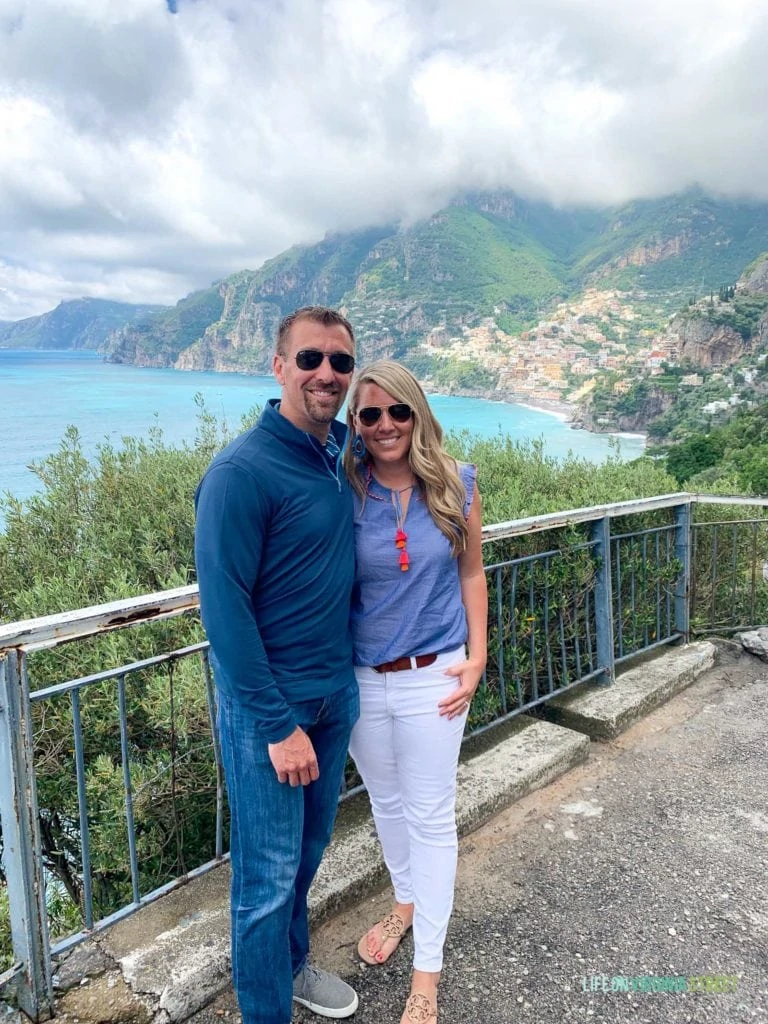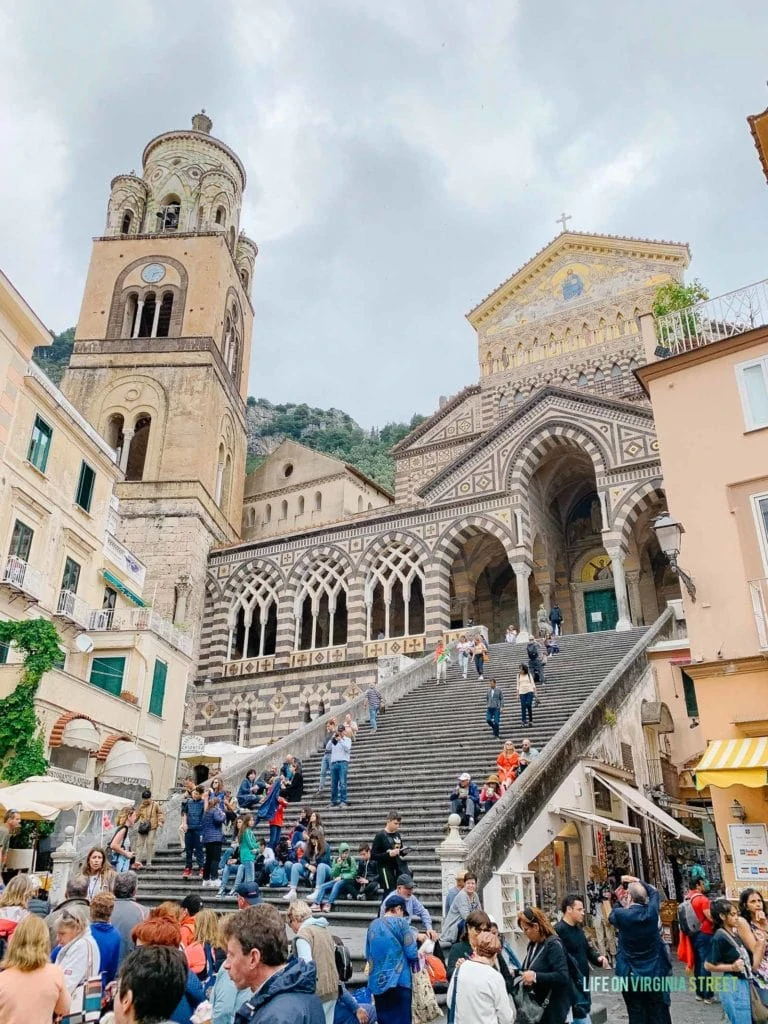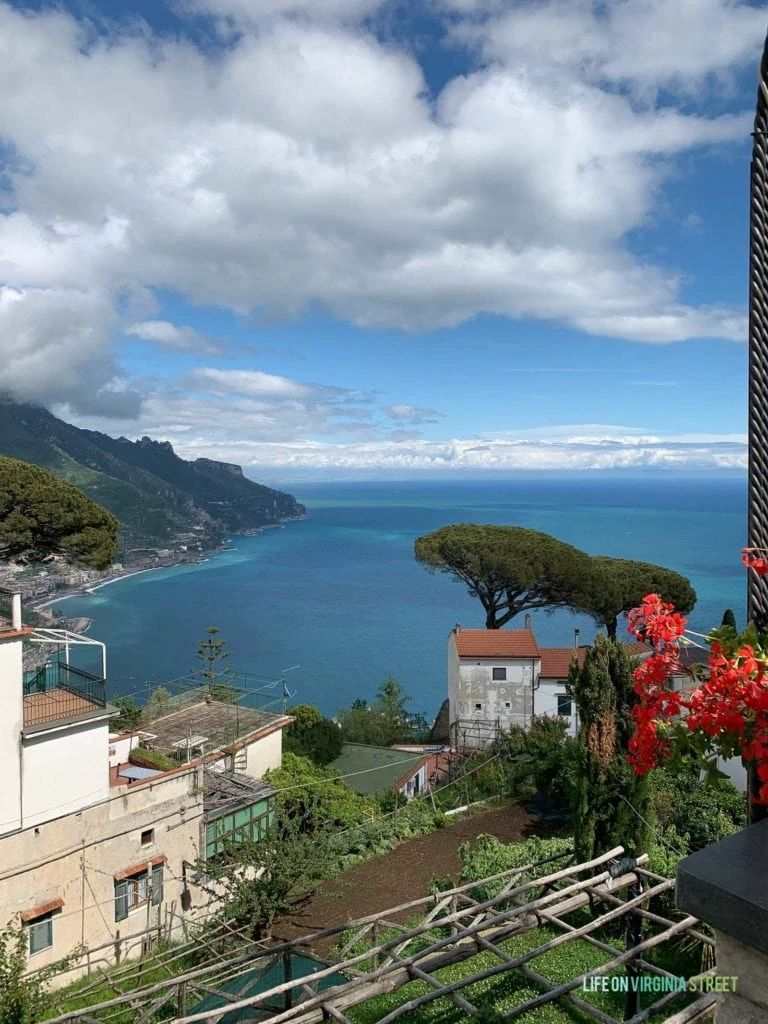 Jewel of the Seas Review and Random Itinerary & Cruising Thoughts
If you thought I was wordy above, get ready for even more details below! I'm talking specifically about our ship (the Royal Caribbean Jewel of the Seas) and cruising in general.
To give a little background before I did into the ship specifics, we are cruise fans. I know reactions tend to be in the love or hate camp, with usually no in-between. We love to use cruises as a way to visit places we've never been so that we can get a taste for where we want to go for an entire vacation. I believe this was my ninth or tenth cruise and Kurtis' eighth or ninth. I told you we like them 😉 This was our second Mediterranean cruise. And although it was our fifth time to Italy, it was our first time to both Malta and Greece. Please know I don't say all this to brag or be showy, but rather to give background and context for my comments below and above.
I searched for months and months for an itinerary that hit my top requests. Since we were mostly looking to see Greece (specifically Santorini and Mykonos) and I looked for options that had both. And to be honest, there weren't a ton! I was also hoping to hit Dubrovnik, Croatia, but I couldn't find a cruise during the time we wanted to go that hit all three. So, I felt like the Jewel of the Seas itinerary was by far the best of the other options I looked at (for the price)!
Jewel of the Seas is a good size ship for first-time cruisers. We've been on larger and smaller ships and this was a good in-between size. It has undergone some recent renovations so it felt clean and well-maintained.
In the past, we've stayed in interior rooms without windows for every cruise we've been on with the exception of one where we booked a balcony. Because of the length of this cruise (9 nights) we opted for a balcony again and we can say it was worth every penny! Typically the balcony rooms aren't any larger than an interior or exterior room, but the addition of the balcony gives the illusion of a bit more space. These were some of the most beautiful ports and the weather was so great, we found ourselves on our balcony for many meals, drinks and early morning coffees! I have a tour of our room at the end of my Med Cruise highlight on Instagram Stories if you're interested.
The first day you're on the ship, you're going to be approached to buy tons of packages. I feel like this is a relatively new thing in the cruise world. We both said we weren't going to buy anything (like the drink package, photo package, food package, etc.) and ultimately caved. We decided to buy three nights in the specialty restaurants (you basically just pay a cover charge since all other food on the ship is free) and the drink package.
We actually thought the unlimited beverage package was a joke initially, since we knew most of our days would be spent offshore. However, the first day it hit us pretty quickly how much drinks were going to add up if we didn't buy it. On our ship, only tap water, iced tea, and coffee were included. So, although we initially thought of the beverage package only as an alcohol package, we saw the benefits of having free specialty coffee drinks and bottled water (so we could take it back to our room), in addition to the free alcohol. It ended up more than paying for itself, since the first day they offered by one, get one 50% off.
We also signed up for My Time Dining (rather than an assigned dinner time). This is for those times you want to do the main ballroom dining. We actually only went one night this entire cruise. We had to use our specialty restaurant vouchers and I think once you've done cruising enough, the novelty of the more formal dinners tends to wear off.
You don't need a voltage converter on board, although we found ours useful so we could use the standard US outlets as well as the European outlets in our room.
Our trip was essentially the last ten days of May. When we looked at the forecast we were worried we'd be cold since many days showed temps in the high 60's and low 70's. But, the temps consistently were better than what was reported and many days were actually quite hot. I share all this to recommend if you go the same time of year to plan your outfits in layers. Some mornings may start off cooler but it definitely was warm! I'll be sharing my packing post soon and will link to it once available!
As mentioned, we went to two of the specialty restaurants on the ship (twice each). We went to Izumi (the sushi restaurant) and Chops Grille. The food and service were excellent at both and we felt it was well worth the cover charges (one of the four times was a free voucher we got through the travel agent). At Izumi, our favorite roll was the Izumi Ryu Futomaki and our favorite appetizer was the Pork Gyoza Dumpling.
If you happen to order room service on your trip, order extra coffee (we felt like they served European portions). Also, be sure to always select a time earlier than you need your food (especially if you have an excursion that day). Some days ours came even earlier, but other days, it arrived late, so we were glad we added in the buffer.
Listen to captain's notes on speaker about ports. Our captain shared a lot of great info so we made a point of listening to his announcements about each of the stops.
Although I packed a "real" camera, I think I took less than 50 photos on it. Every photo you see in this post was actually taken on my iPhone. So, if you have a decent phone camera, it may not be worth packing a full-size camera!
Because I have a really hard time unplugging and actually feel more relaxed when I can periodically check in, we paid $50/day (for two devices) for wi-fi. The coverage was spotty and pretty slow considering this was the more expensive package for streaming (and I was basically checking emails and responding to social media comments). I also have Verizon, and if you let them know you want the TravelPass (it's a one-time call) any time you travel it gets activated. You then essentially pay $10 a day for a 24 hour window to access the benefits you already have back home. It doesn't cost any extra for text, phone calls, data, etc. if you're within your plan limits. I love this option when we're traveling because it works in 24 hour increments, so if you don't use it, they don't charge you. It worked out great though since we were getting periodic calls from our vet with updates on Bearcat. We try to only activate it on one phone on any given trip to keep costs done. But it's worth checking into if you have Verizon!
The staff on our ship was excellent! It's amazing how quickly they learn your names (even at the coffee shop we went to nightly)!
I hope you found this post helpful! And hopefully it's inspired you to want to travel somewhere new! I'm sure there's info I've forgotten to include, so I'll be hopping back on later to re-read (again) and add any info I may have missed! If you have any questions at all about this cruise or the ports we visited, feel free to leave me a question or comment on this post and I'll be sure to get back to you!
If you would like to follow along on more of my home decor, DIY, lifestyle, travel and other posts, I'd love to have you follow me on any of the following:
Pinterest | Instagram | Facebook | Twitter 
disclosure: some affiliate links used